Family Camping 101: How To Go Camping with Kids
Learn our tried and true tips for how to successfully go camping with kids including tips on how to prepare, what gear to pack, & more!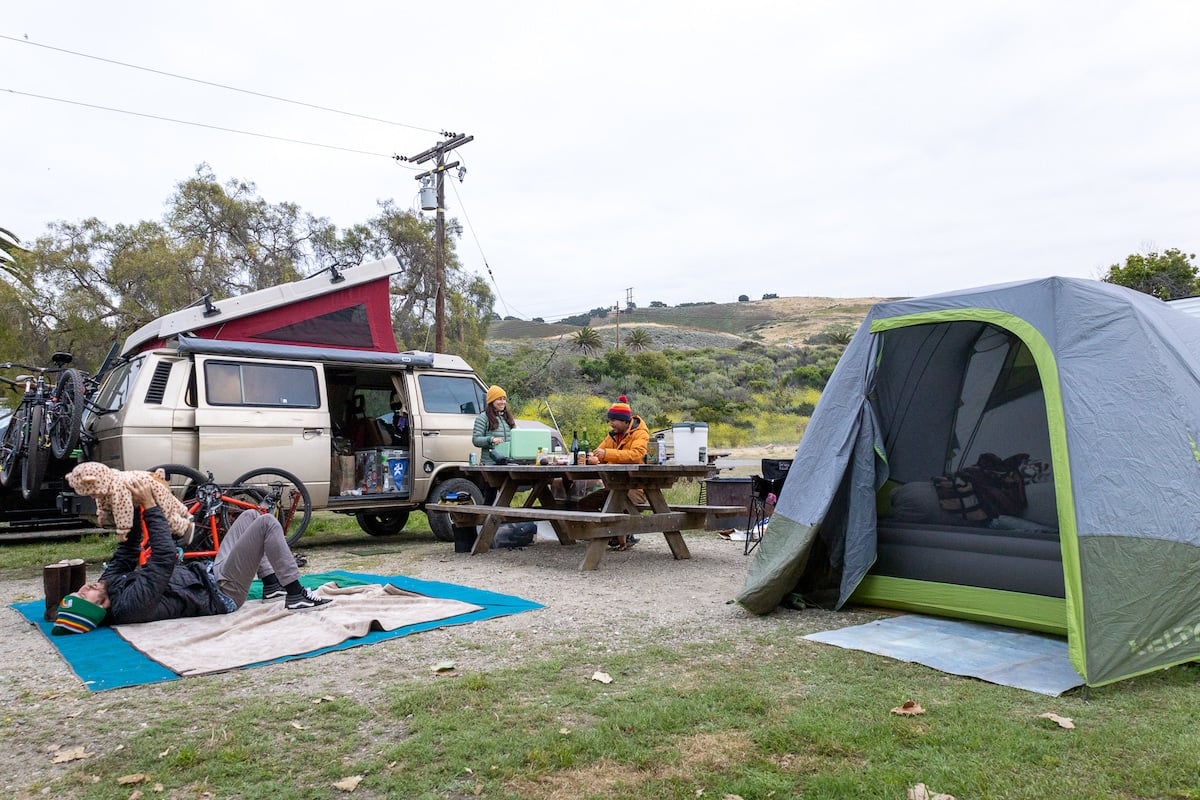 So you've decided to take the plunge and go camping with your kids. Congratulations! This is one of the quintessential ways to bond as a family and create lasting memories.
I know what you might be thinking: Oh God, what have I gotten myself into!?
Never fear! We're here to help with our complete guide chock-full of tips for camping with your kids.
From equipping them with their own gear to keeping everyone entertained around the campfire, we've got you covered.
So sit back, relax, and let us help you plan your next family camping trip.
---
Benefits of Taking Your Kids Camping
As a dad myself, I consider camping the ultimate family therapy. It's a chance to unplug from the technology and the busyness that too often separates us from that which makes us completely human – our connection with nature and each other.
There are few experiences that can match the feeling of waking up in nature, breathing in the fresh air, and exploring the great outdoors together.
It provides quality time to cultivate bonds and memories that are simply unparalleled in today's social-media culture.
If you need some more reasons to pack up the car, here are a few benefits of camping with kids:
So if you're looking for an adventure that will create lasting memories, challenge your family, and teach your children new skills, camping is the perfect activity.
And you might be surprised at how much they enjoy doing things without screens or electronic devices, especially when they're doing these things with you!
---
4 Helpful Tips for Camping with Kids
Of course, camping with kids does require a bit of extra preparation and planning, even if you're a veteran camper.
Just as having kids in the first place requires substantial lifestyle adjustments, taking your kids on a camping trip is a much different game than camping solo or with an adult partner.
The key to success is to be prepared and nothing more prepares you for your first family camping trip than to JUST DO IT!
Here are some tips to help you prepare and get out the door.
1. Do a backyard campout trial run
If you're new to camping or just new to camping with kids, initiate things by pitching camp in your backyard and camping out for a night (or two). You'll discover very quickly what works and what doesn't as well as what you need and what you don't.
The last thing you want is to be stuck in the woods without a critical piece of gear and too far from home (or civilization) to make a quick pit-stop.
Doing a backyard campout is a great way to get your kids adjusted to camping without having to deal with the logistics of getting to and from a campsite. It will also give you a good sense of what gear you need to buy or borrow.
While you're setting up, create a list of gear and supplies (here's our packing checklist) that you see your family will need for an overnight campout.
As you camp more and more, your list will grow (or even shrink) and evolve.
2. Delegate roles and responsibilities
I've had parents ask me how I keep my boys engaged and entertained on our long camping trips.
Well, I don't.
Not completely anyway. I get the kids involved in the trip planning, give them specific roles and responsibilities to help with setting up and taking down camp, and let them choose activities that interest them from the options available.
This not only keeps them engaged but also teaches them new skills and confidence. And it's a great way for me to get some help with all the work that goes into camping!
Of course, you'll want to tailor these roles and responsibilities to the age and ability of your child. But here are some ideas to get you started:
Of course, you don't want to have them so focused on the "work" of the trip. Give them lots of time to just explore and play; but, involving them in the trip will help to make it a success for everyone.
Sure, there will be downtime. Below, we'll discuss some great ways to keep the whole family engaged and entertained together when all the camp chores are done.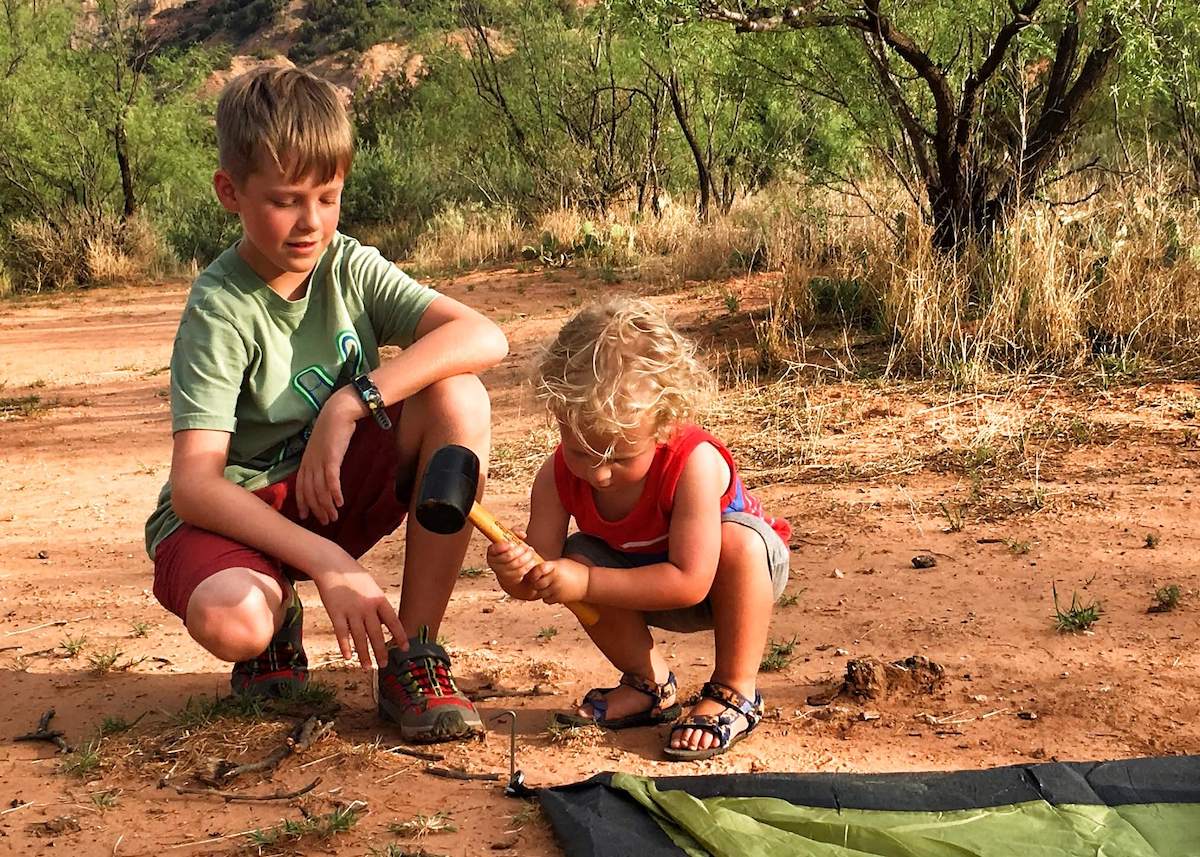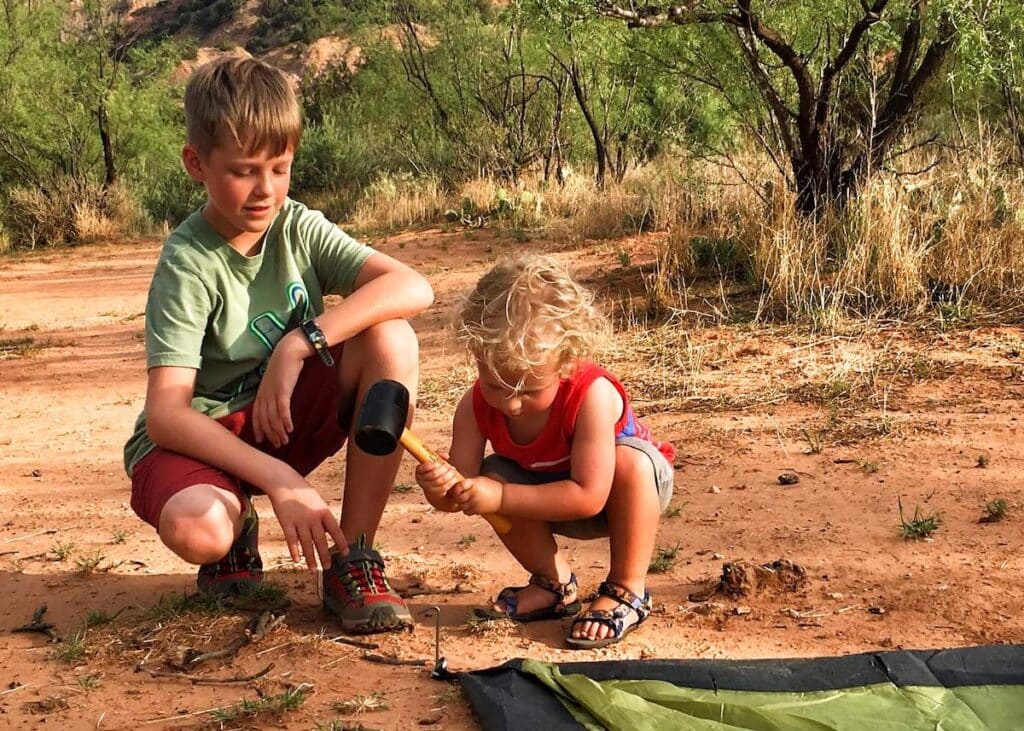 3. Create an itinerary (but be flexible)
One mistake that I see new campers make is to try and pack too much into their trip. They want to do everything and see everything and end up running themselves (and their kids) ragged in the process.
A better approach is to focus on just a few activities each day (hiking, swimming, Geo-caching, fishing, etc.) and leave some time for downtime. This is especially important with young children who can get overstimulated and cranky if they're on the go all the time.
So, take some time to sit down and map out a rough itinerary for your trip in a small notebook. This will give you a good sense of what's possible and help you to avoid over-scheduling.
But, remember to be flexible! One of the best things about camping is that it allows you to slow down and go with the flow. If someone wants to sleep in or spend an afternoon exploring on their own (teens especially), roll with it!
You can always adjust your plans on the fly as needed.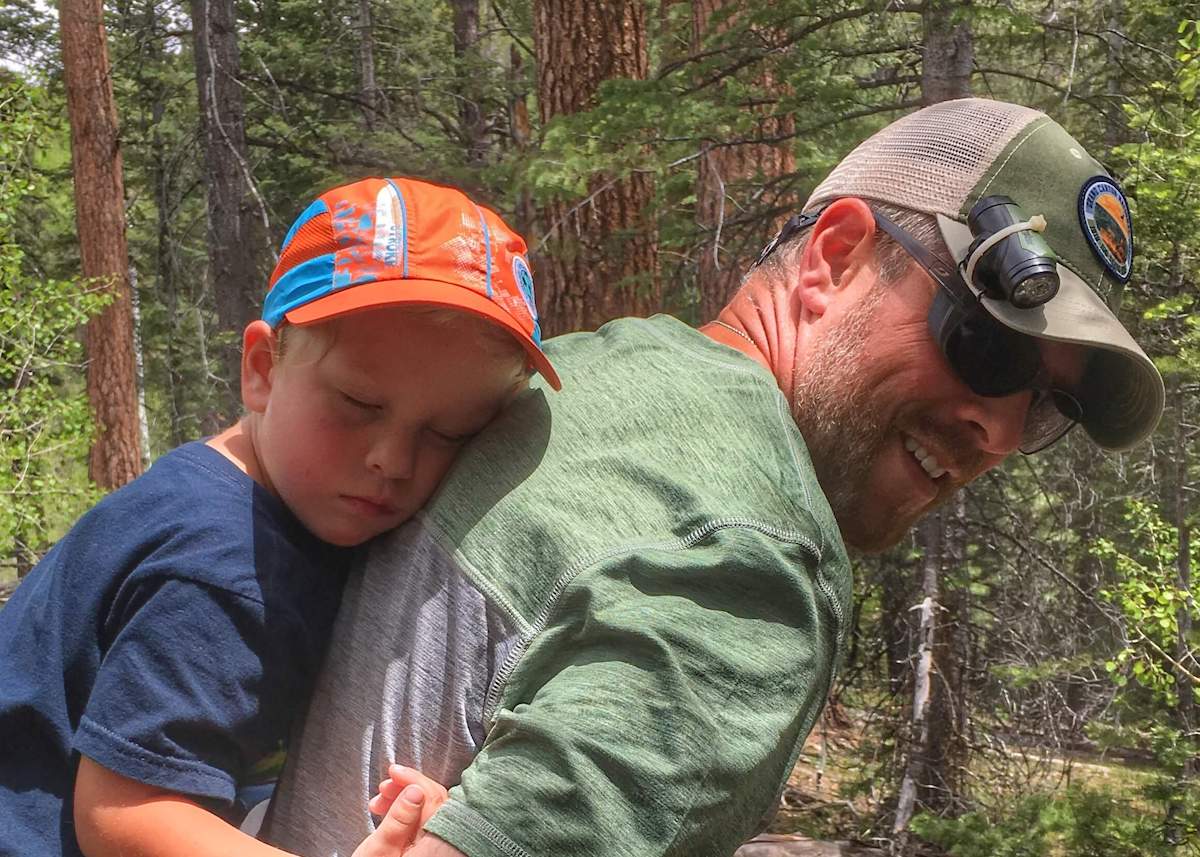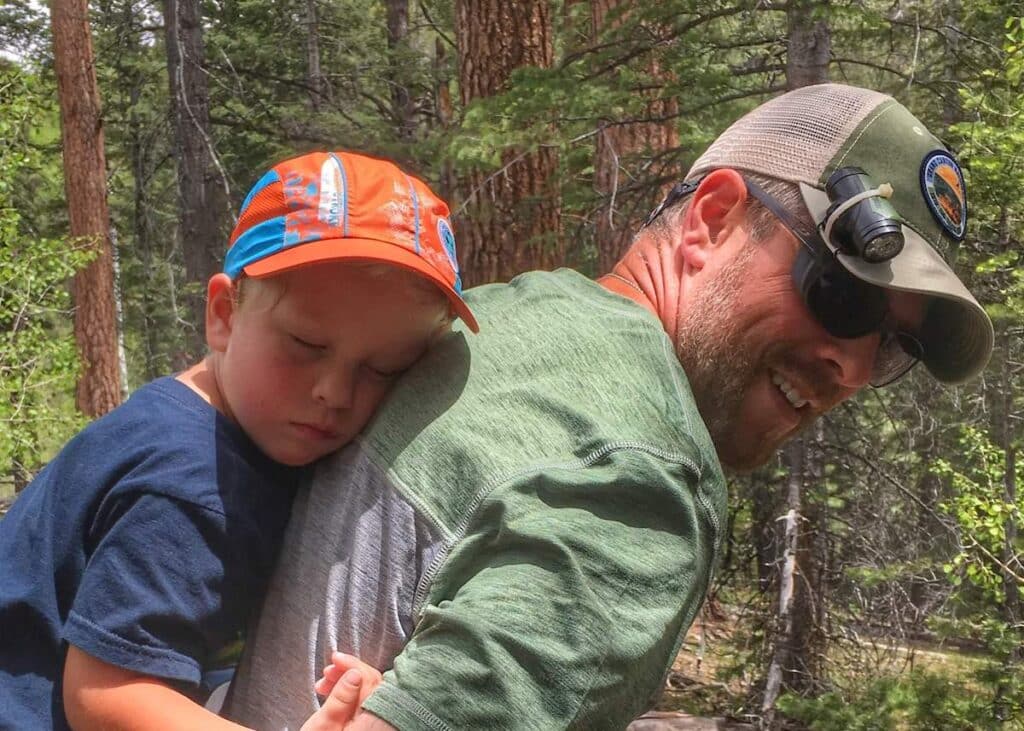 4. Get your mind right
Patience and Grace should be at the top of your mind when planning a camping trip with your family. Both for the kids and for yourself.
Make your plans and then remind yourself that much of it just may not pan out. After all, you're not just camping alone… the kids are coming along. Kids will be kids and they'll test your patience (along with your sanity) on a regular basis. But, try to remember that this is all part of the experience!
Bumps, bruises, scrapes, cuts, and stings are inevitable. So is losing or breaking gear. But that's all part of the fun, right?
Part of the camping experience is learning how to deal with adversity, how to problem-solve and work together. It's also a great opportunity for kids (and adults) to learn about grit.
So, when things go wrong (and they will), take a deep breath, count to 10, and remember that this is all part of the adventure.
Relax. Teach your kids to laugh at mistakes and inconveniences. If this is hard for you, camping is the best time to practice!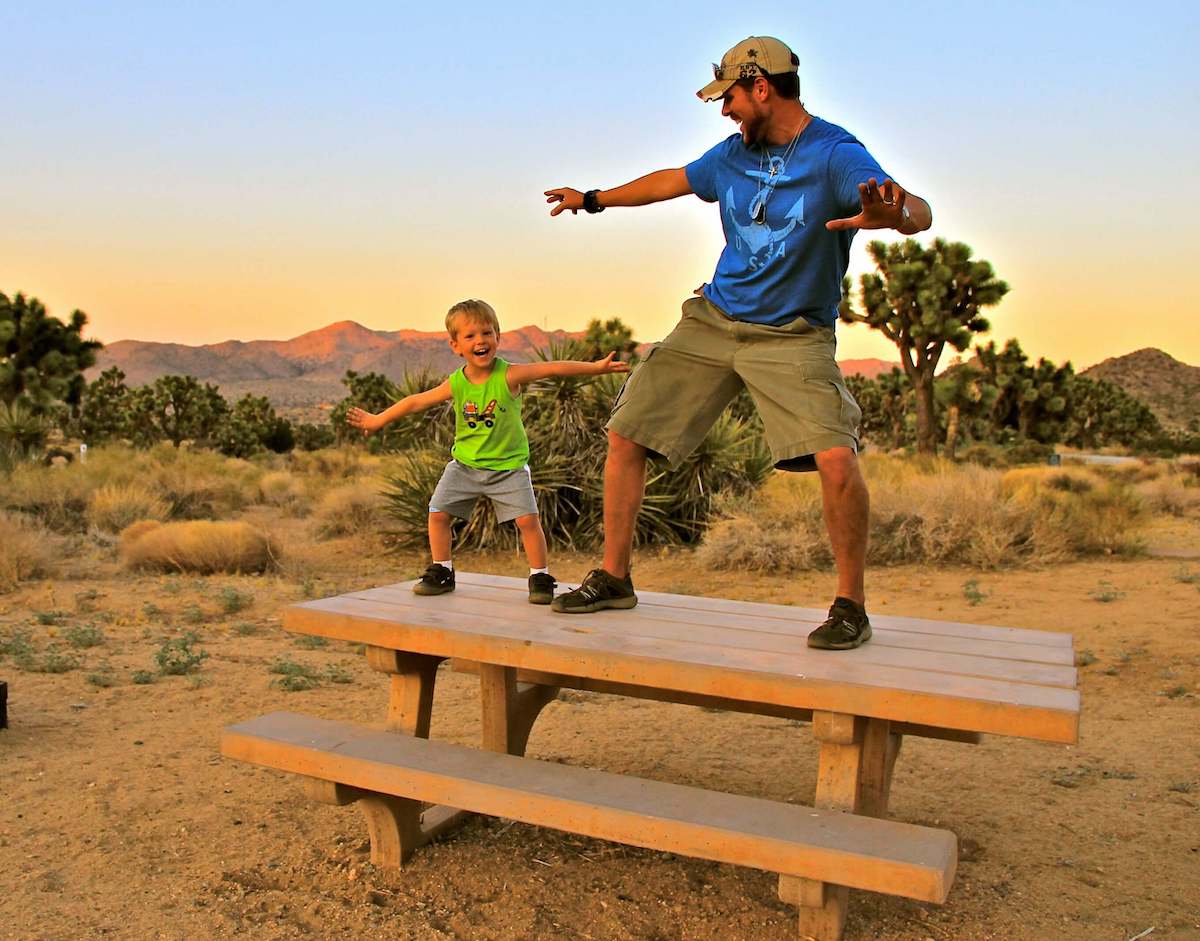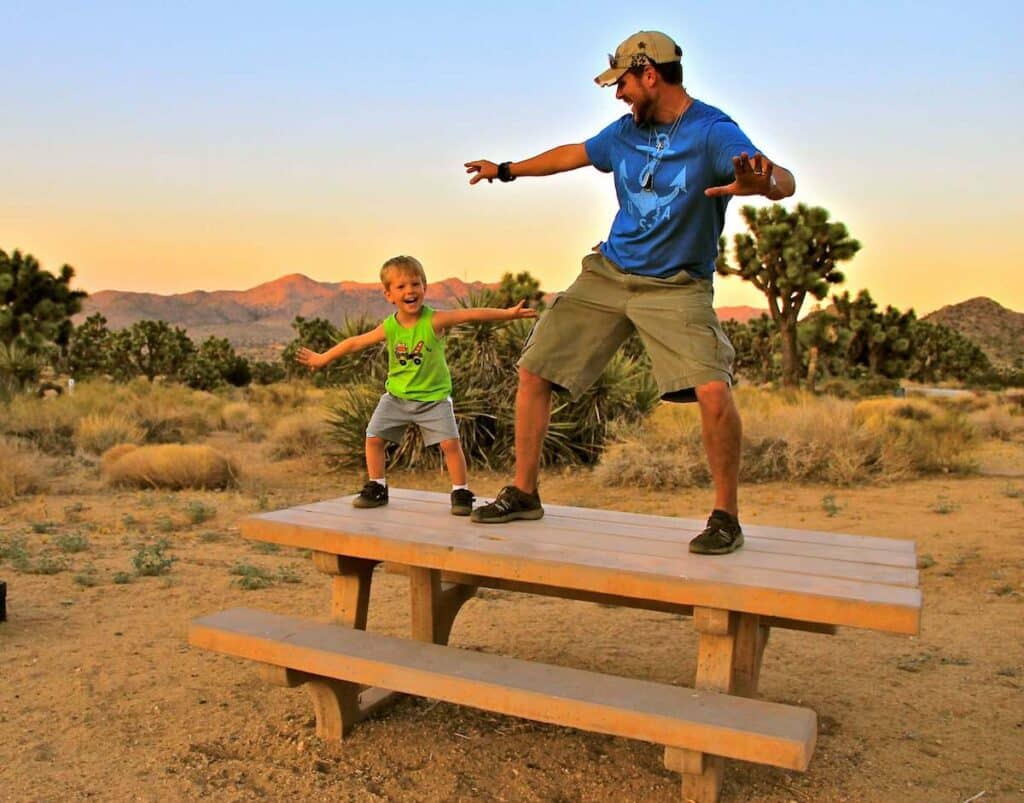 ---
What to Bring Camping With Kids
While staging your own backyard family camping adventure will shed light on some of the camping gear and supplies that you need, it's still a good idea to do some research before heading out on your first family camping trip.
If you're an experienced camper, you probably already have your basic camping gear arsenal and just need to tweak and expand it to accommodate your kids.
If you're new to camping or backpacking, you are probably beginning to acquire your gear from the ground up and need gear that caters to the whole crew (if this is the case, you may want to check out BFT's Car Camping Essentials post in addition to this one).
Here is a list of essential camping gear for families with kids. This list focuses on those items needed to expand an existing set of camping gear and at the same time serves as a starting point for those just getting their feet wet.
Depending on the type of camping you do (car-camping, van, trailer, backcountry…), the age of your children, and the climate you'll be camping in, this list can easily be expanded and revised.
Family-sized tent
Whether you already have a tent or are looking to buy one, be sure that it is spacious enough for everyone to sleep comfortably.
A few things to consider:
If you only camp occasionally (2-3 times a year), look into Coleman's line of Sundome Camping Tents. This was our first family camping tent and it lasted for 10 years of casual use.
If you plan to take your family camping more frequently, consider upgrading to a more robust quality tent such as the REI Co-op Base Camp.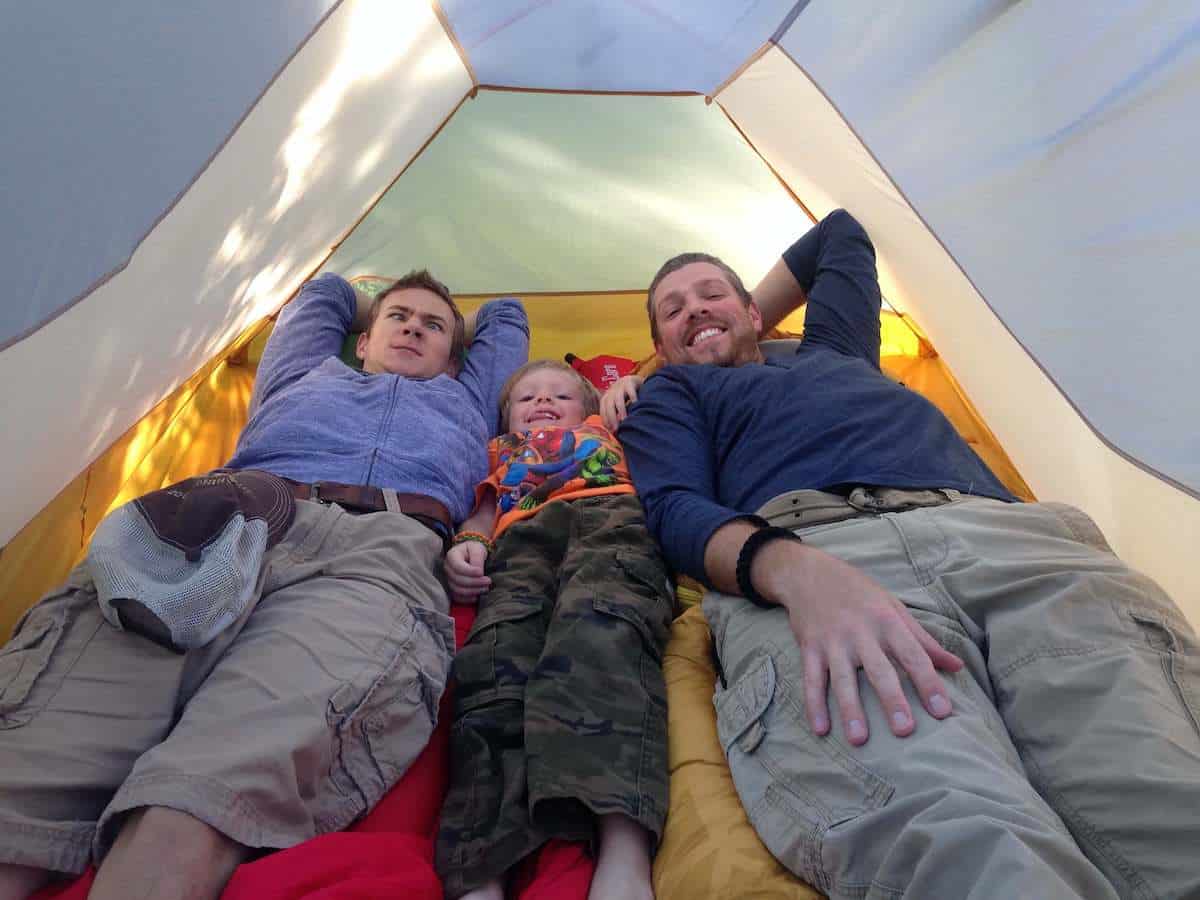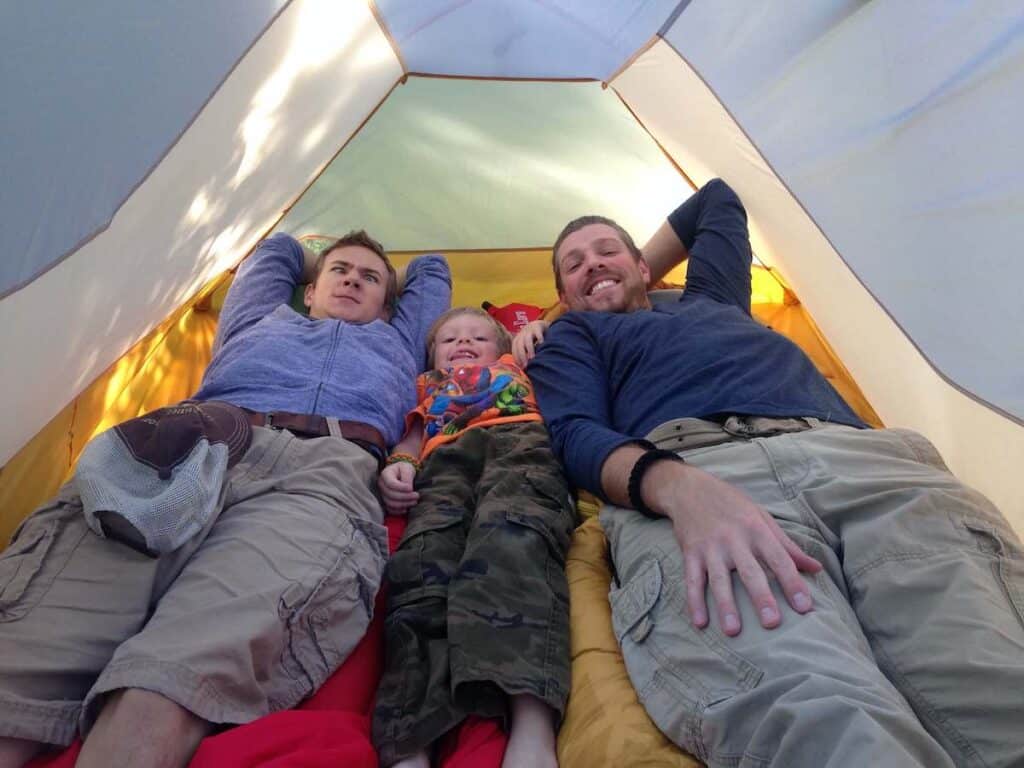 Dustpan and brush
Everyone tracks dirt into the tent. Kids, however, bring it in by the front-end-loader-full.
Keep this handy item inside the tent … and delegate that repetitive responsibility to one of your little dirt-magnets.
Shade shelter
Kids overheat much easier than adults and require more time to regulate their body temperature afterward.
And while a tent provides shade, its enclosed construction can become an oven in warm temperatures.
If you're camping in warmer climates, be sure to bring along a shade shelter of some sort. A tarp strung up between trees with some paracord will do the trick in a pinch, but if you have the space, I highly recommend bringing along an actual freestanding shelter.
We recommend pitching the Coleman SkyLodge Instant Screenhouse over and around the site's picnic table. It's lightweight, easy to set up, and provides a great respite from the sun and bugs.
Sleeping bags
When selecting a sleeping bag for kids, use the same common sense as when buying them clothes or shoes: don't spend a lot and try to buy used whenever possible… they'll outgrow them soon.
Traditional sleeping bags can be dangerous for babies and toddlers since they can lead to suffocation, so look for safe-sleep options for young kids.
BFT Director Linda uses the Morrison Outdoors 40F bag for her 16 month old on camping trips. Morrison makes a variety of sleep-safe bags for kids 6 months to 6 years old.
*Use the code BEARFOOT10 to get 10% off your purchase at Morrison Outdoors*
Once my kids got old enough, I bought them adult sleeping bags and just cinched a belt at the bottom to keep the heat in, that way I don't have to keep buying them new sleeping bags as they grow. My 13-year-old uses his Marmot NanoWave when we go car camping, which should last for years.
Also, unless you plan to take your family camping in extreme cold (extreme here means below 15°F at night), don't drop a lot of coin on highly technical bags with super-low "EN" or "ISO" temperature ratings.
For most families with kids, a basic 3-season (15°-35°F) bag will meet the mark.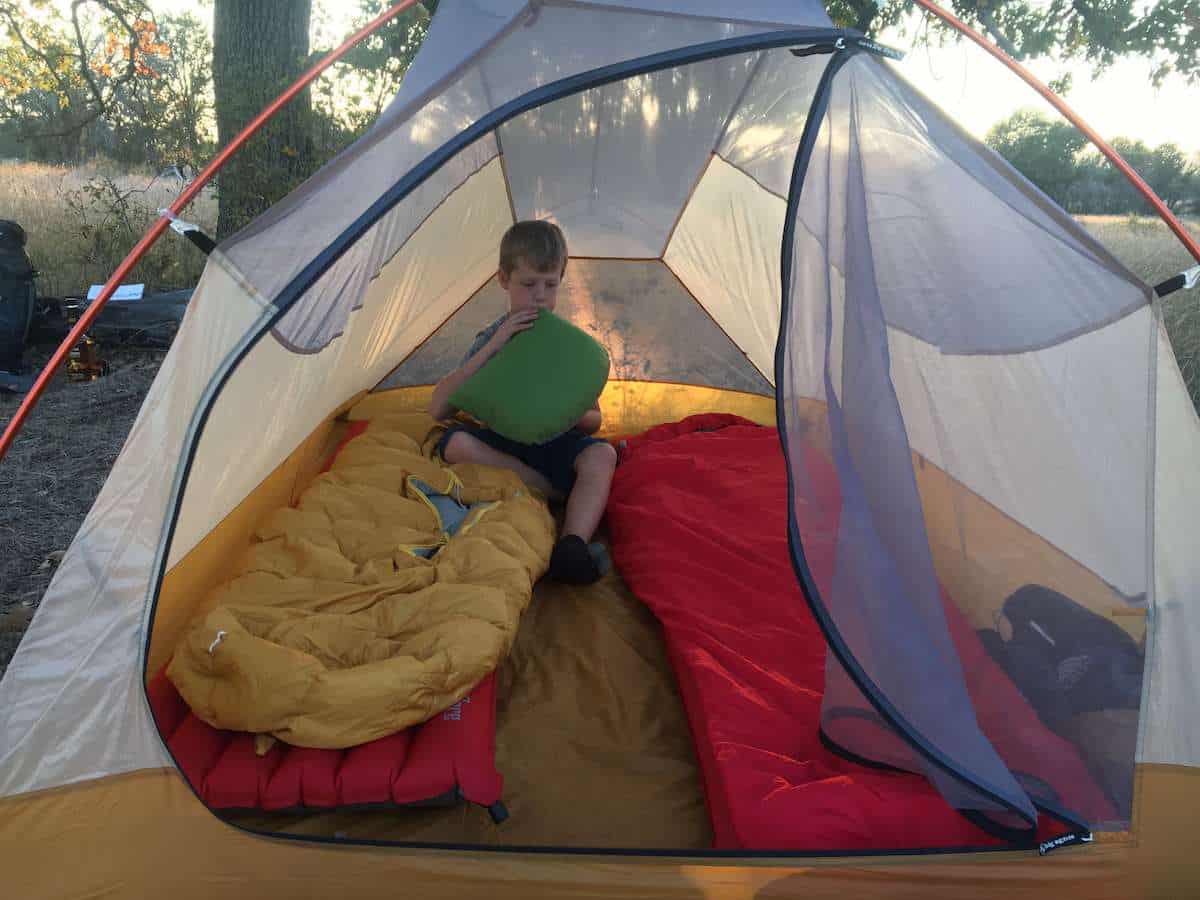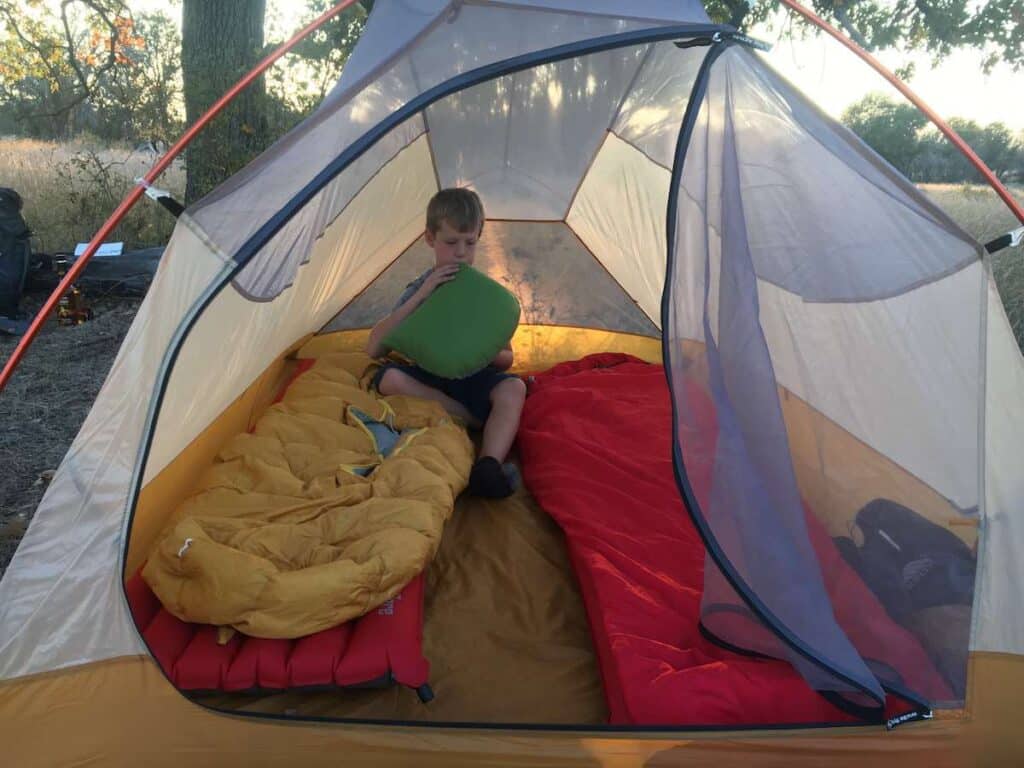 Sleeping mats
Up until they turned 6 years old, I simply placed a folded extra-thick blanket underneath my boys' sleeping bags to provide some extra padding. As they grew, I needed to upgrade.
Sleeping mats are not just necessary to prevent waking up like you've been beaten by the hard ground you slept on, they also prevent body heat from escaping into the ground on cold nights.
Ranging from a rating of R2 (minimally insulated) to R5.5 (super insulated), the warmer the mat, the warmer (and more expensive) it is.
For most family campouts, mats ranging from R2 – R3.5 (30-20°F) will suffice. For 15° or lower, grab them something with more insulation.
We prefer inflatable sleeping pads like the Exped Ultra 1R Sleeping Pad (R1.3) which works great for us southern Texans who camp in humid-warm weather.
If you camp in cooler temps, we recommend something with a higher R-rating like the REI Trailmade Self-Inflating Sleeping Pad (R5.5).
Camping pillows
If you're going car camping (as opposed to hike-in or backcountry camping), bringing along your child's pillow from home will do just fine.
However, if you want to save space and require something more lightweight, consider getting a compressible pillow like the NEMO Fillo.
Pillows are optional but definitely help prevent the morning grumps by adding a little extra comfort through the night.
Camp chairs
One of the best parts about camping is gathering everyone around the fire after a long day of hiking and exploring.
When my older son first came camping with us, I had forgotten to get him his own camping chair. When the evening came and we gathered around the fire, it wasn't my wife who gave up her chair when he didn't want to sit on the ground.
Hmm…
Again, there's no need to get pulled into buying kid-sized chairs that will only be replaced after a short bit. We recommend the GCI RoadTrip Rockers for car or RV camping.
If you prefer something lighter and less space-consuming, check out the Helinox Chair One.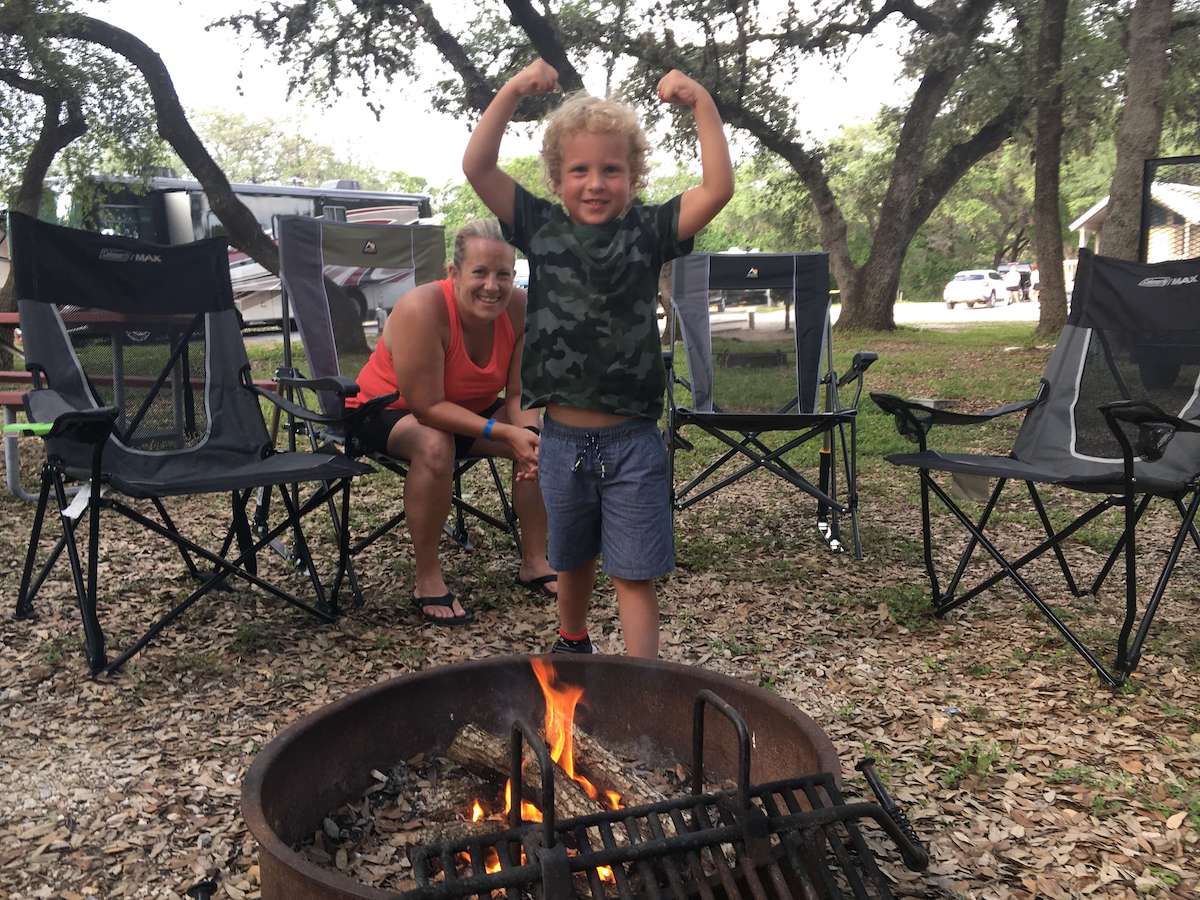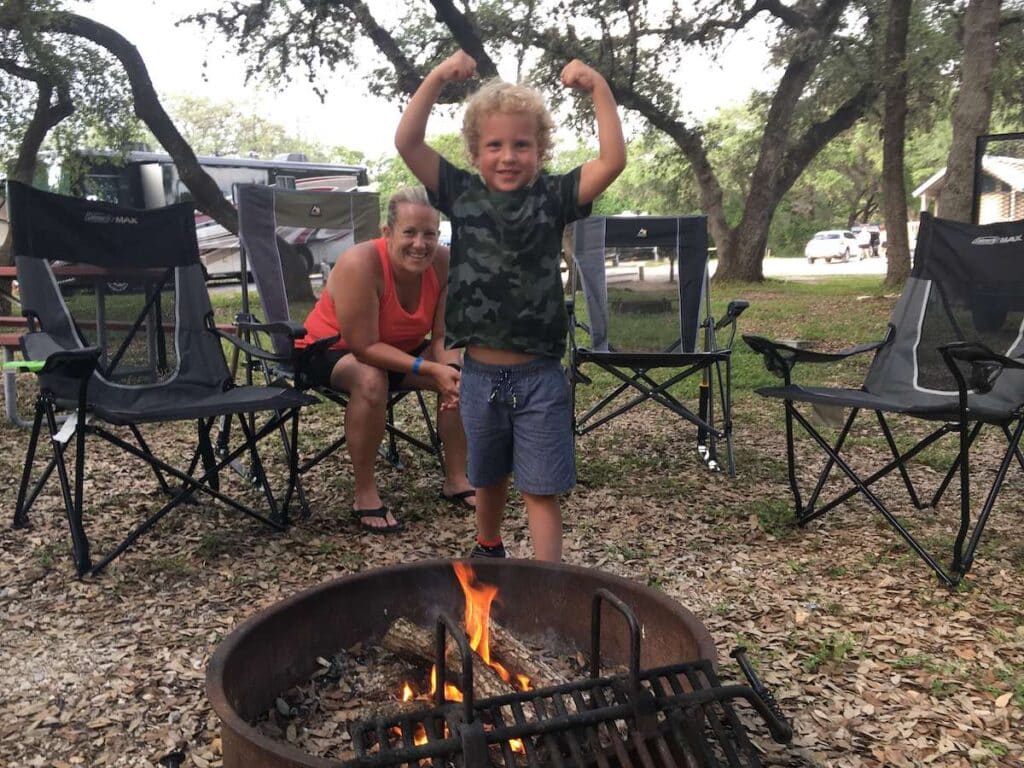 Outdoor ground blanket
Remember when you were young and sitting on the ground didn't hurt? Kids love sitting on the ground to eat and play, and will often spontaneously pass out for a nap (if you're lucky).
The problem is, the grass in many campsites has been worn to non-existence leaving only grit and gravel to park your caboose on.
Having a Water-Resistant Outdoor Blanket to spread out on has become a must for our family camping trips.
For when the ground is damp or rocky if you simply want an extra layer, the CGEAR Sand Free Mat is great for putting down below your camp blanket or for using on its own.
*Get 15% off with the code BEARFOOT15 when you order direct from CGEAR*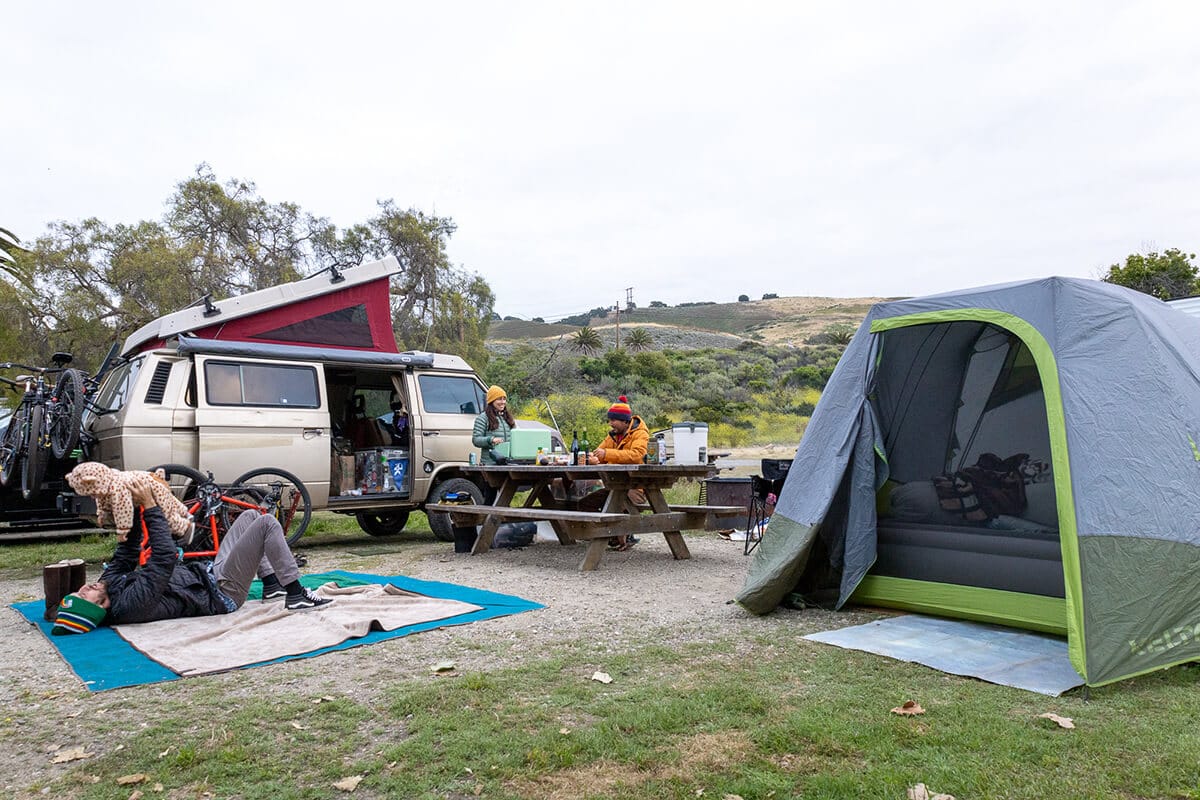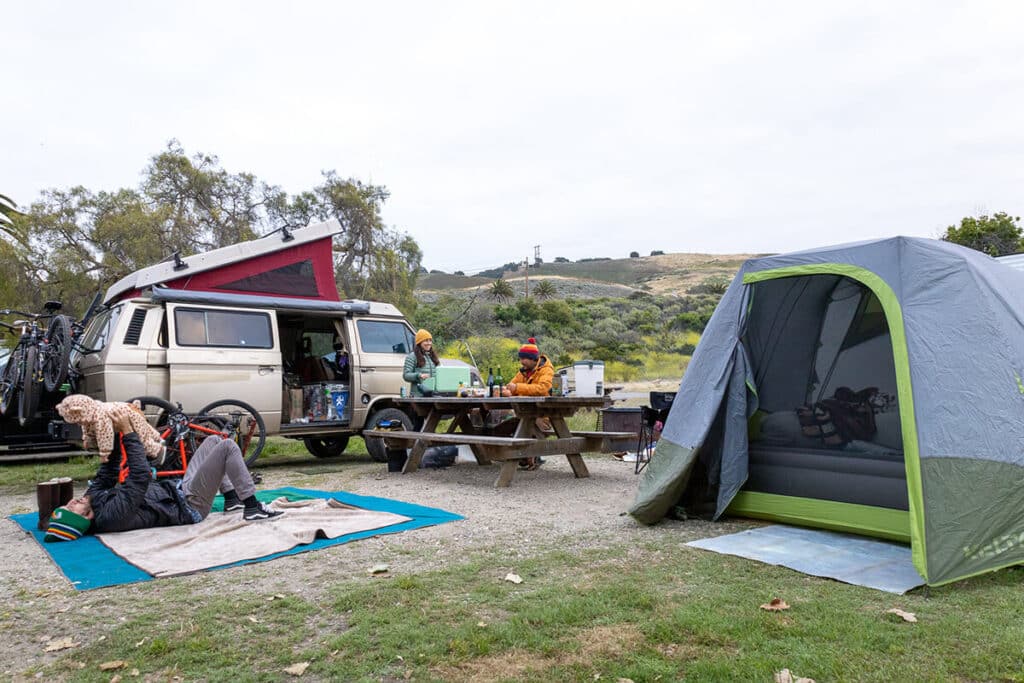 Headlamps and/or flashlights
For safety as well as convenience, everyone needs a headlamp, especially when leaving the campsite (even during the day because anything can happen…).
Depending on the child's age and their willingness to hold something, consider a flashlight with a lanyard or a clip light for a cap (young children often have trouble adjusting to the feel of the elastic band of a headlamp).
We like the GearLight S1000 Tactical LED Flashlight 2-Pack for its cost-to-quality ratio.
If you'd prefer a headlamp, the Petzl Tikkina Headlamp is affordably priced and adjusts to fit all head sizes. It's also compatible with the Petzl Core rechargeable battery (sold separately).
Lantern(s)
It gets very dark in state and national parks and ground fires are not always permitted to illuminate the campsite.
Having a camping lantern or two helps brighten up the area, providing light for cooking, reading, and gathering around the table.
It also helps to identify your campsite when walking back from an after-dark outing.
We've used the Coleman gas lanterns for decades with great success.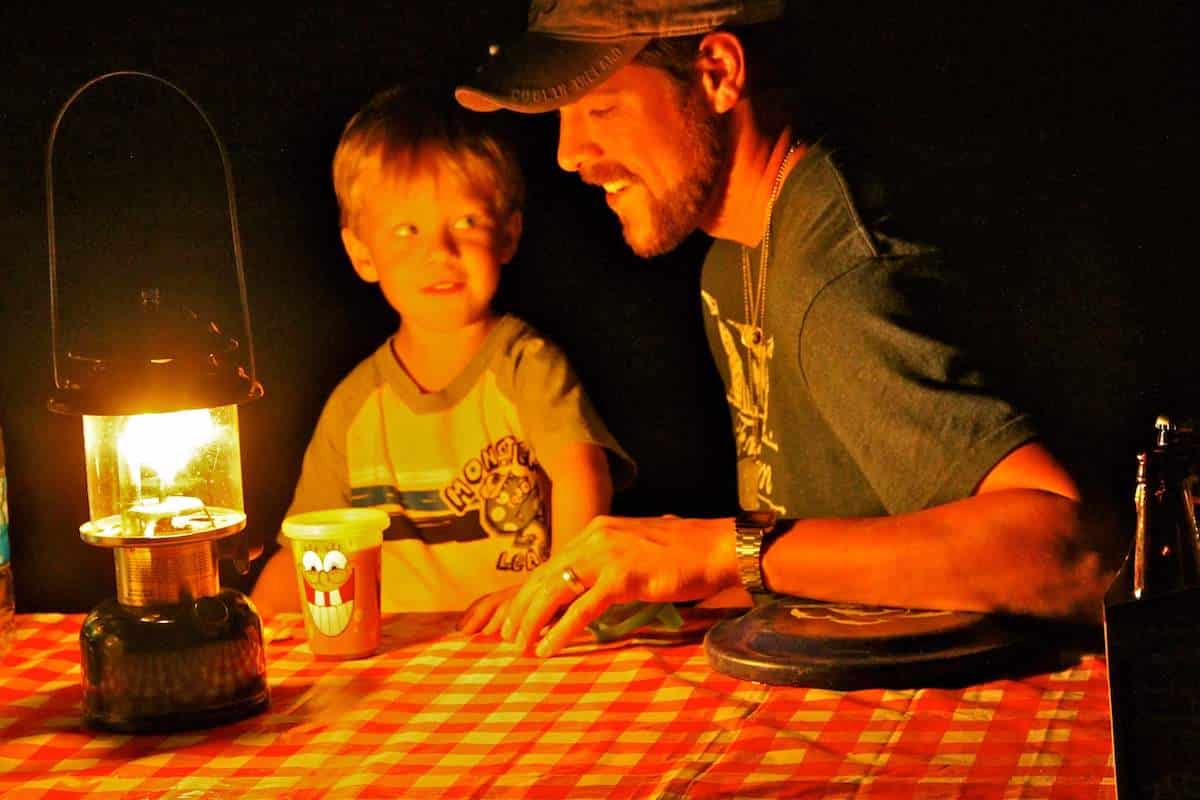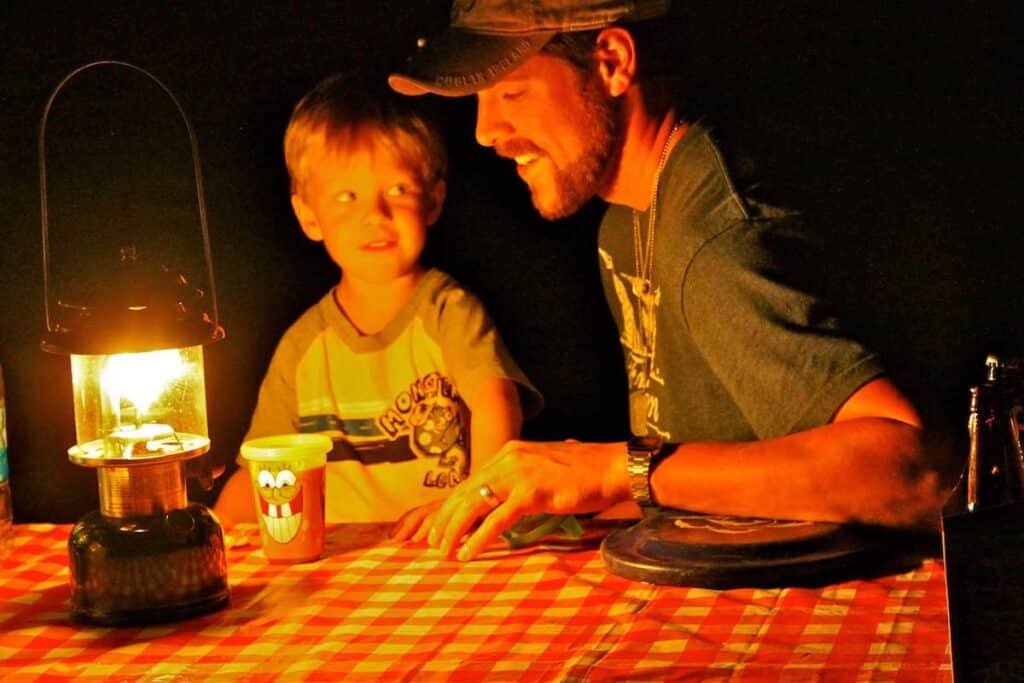 This BioLite rechargeable LED lantern is great for kids as well. They can easily turn it on and off with the push of a button and it has a variety of fun colored light settings. This works great as a nightlight in the tent for reading and night wakeups (although let's hope there are not too many of those).
Field guides to plants and insects
Yes, you could use your phone and Google Lens to identify just about everything you come across; however, books can go where 5G doesn't tread, and, in most national parks and many state parks, cell service is unreliable at best.
Grab a book, like the Kaufman Field Guide to Insects of North America, the Field Guide to North American Wildflowers by the National Audobon Society, and the Peterson Venomous Animals and Poisonous Plants.
Learning about the local flora and fauna of where you'll be camping is not only a fascinating experience but, it's also critical from a safety standpoint.
Being able to recognize poisonous plants and venomous insects ahead of time will not only prevent unpleasant encounters; but, also equip you and your kids to deal with them efficiently if and when they happen.
Eating utensils and dining ware
When taking your kids camping with you, be sure to have enough forks, spoons, bowls, plates, and cups to go around.
If you already have cookware and just need things for the kids to eat with, check out the Light My Fire 8-Piece BPA-Free Meal Kit.
If you are new to camping and need to build your camp kitchen from the ground up, check out our Camp Cooking Essentials post.
Roasting sticks
Young kids. Older kids. Doesn't matter. Kids love roasting anything over a campfire.
Hot dogs. Marshmallows … an unfortunate pine cone.
Jolly Green's Rotating Roasting Sticks will do it all and come with a convenient case to hold all 5 in the set. Don't forget the chocolate and graham crackers!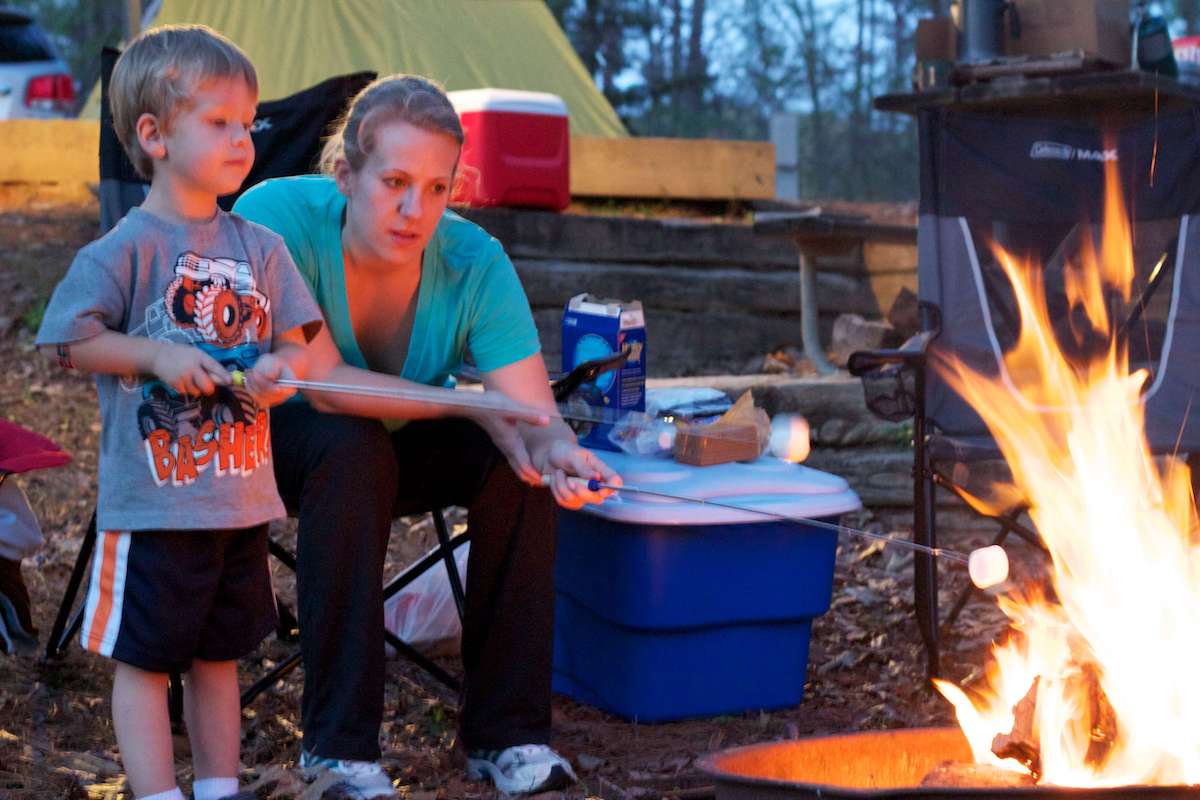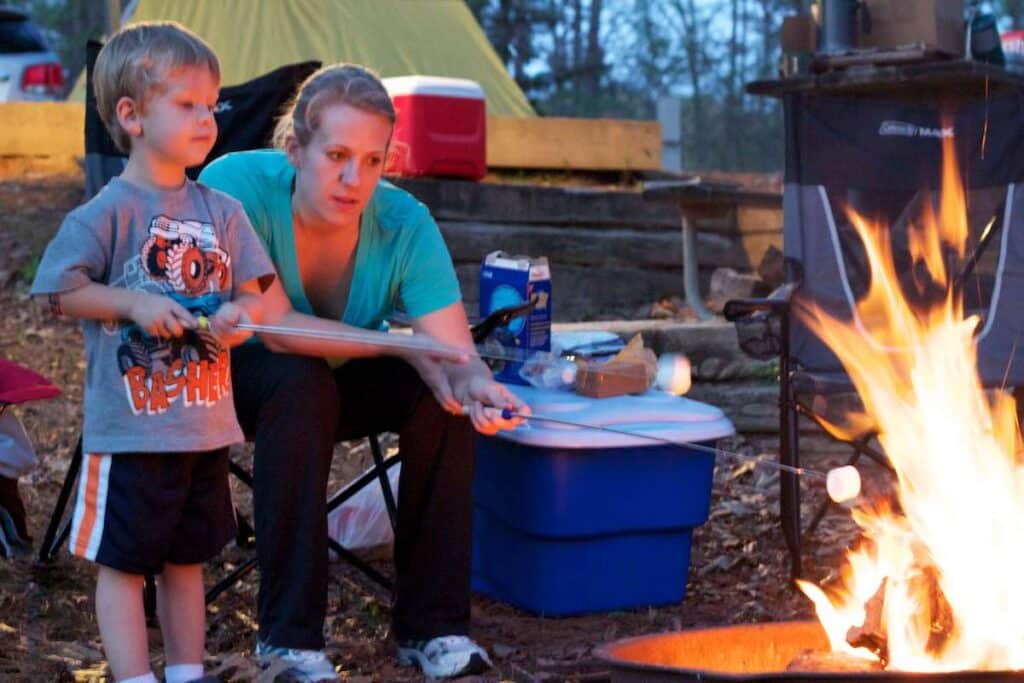 Collapsible 5-gallon water jug
Before we had kids, my wife and I could subsist on the water from our 3-liter hydration packs for drinking, cooking, washing, everything… We only need to refill them occasionally.
With two boys, forget it.
Having a large reservoir of drinking water centrally located in the family campsite is a huge time-saver. When car camping, we take along our GSI Outdoors 5.3-Gallon (20 liters) Folding Water Cube.
Hydration backpack
It's critical to remind your child to drink plenty of water regularly when enjoying the outdoors.
Consider getting each child their own hydration backpack. This way, they can easily access water without having to ask you or having to carry around water bottles.
There are lots of great options out there for kids' hydration packs, but we really like the Osprey Hydra Jet 12, which is specifically designed for kids. It's adjustable for most kids from 4-12 years and carries up to 1.5 liters of water.
And you can't go wrong with Osprey's free-of-charge pack repair program, which we love!
Emergency whistle
If you have more than one child, each should have their own whistle to wear around their neck. Why? Because if they get lost, a whistle is much easier to use to get attention and be heard than yelling.
Some backpacks, like the Osprey HydraJet above, have a whistle built into the sternum buckle across the chest.
A safety whistle is not a toy and any child who carries one should be taught when and how to use it before their first time camping with it.
When we hike with our boys, they wear a Fox 40 Classic Safety Whistle on a paracord lanyard.
Loud, light, and cheap … the perfect trifecta.
Duffel bag or backpack
Take it from me: Don't pack your kids' clothes in the same bag as your own. At some point, they'll disappear into the tent looking for a fresh pair of skivvies and by the time you get there, it will look like an ICBM missile hit the place.
At the very least, provide each of your kids with their own different colored duffel bag like a simple Adidas Diablo.
Rather than a duffel, I equipped my boys with the Osprey Ace 38 at a young age so they could become accustomed to packing and using a technical backpack. It also comes in a larger 50 L model.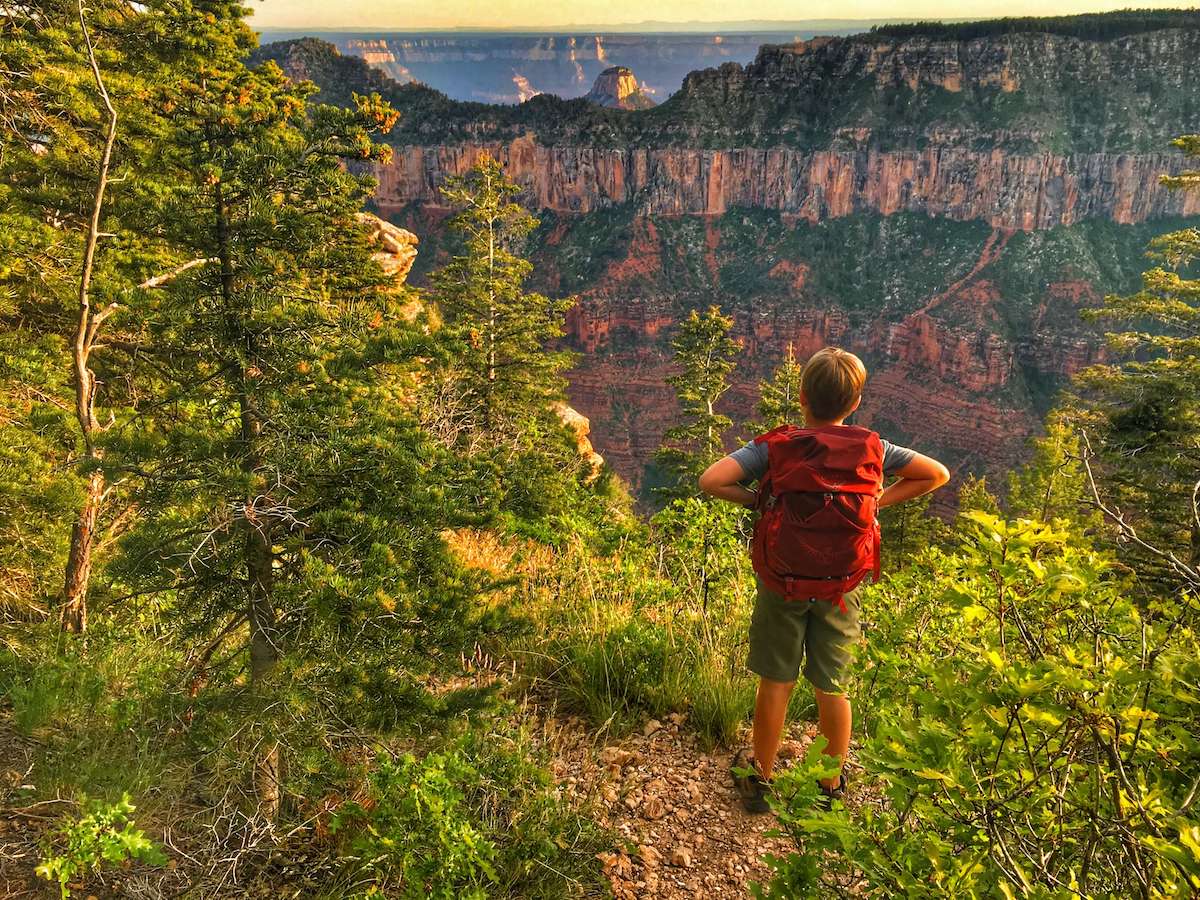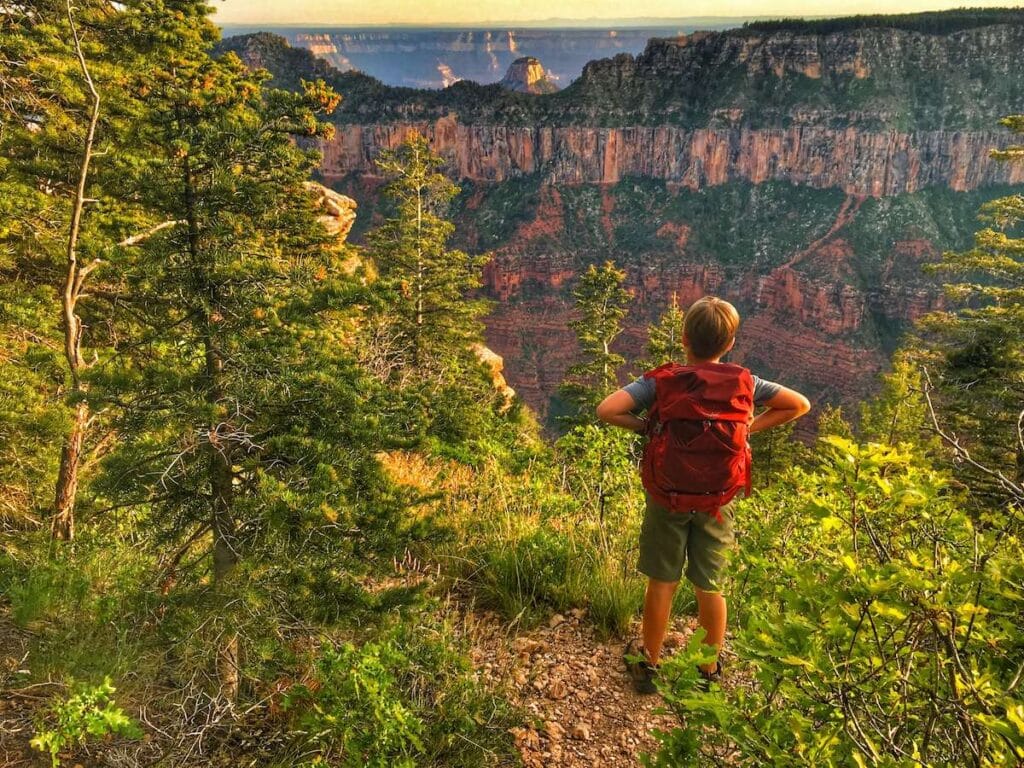 Packing cubes
Every parent knows kids need help with organization. Keeping a personal camping backpack or duffel organized is one of the best ways to learn, especially on longer trips.
These Expandable Packing Cubes must have been invented by a parent. These marvelous "mini duffels" enable your child to keep their clothes organized, even if they have to unload the whole bag to get something at the way-bottom. Have them use one for tops, one for bottoms, and one for socks, undies, and other miscellaneous items.
Clothesline
Everything takes forever to dry when you're camping… forever!
Whether drying everyone's bathing suits and towels from an afternoon plunge, towels from the evening showers, or sweaty, mud-encrusted socks, a clothesline is a must.
A simple length of cord running between two trees works miracles. If you want a cleverly designed clothesline, the Sea to Summit Lite Line has integrated beads that act as clothespins.
Biodegradable wet wipes
No other supply item deserves the honor of being at the top of a camping with kids checklist than the almighty wipe.
From initiating an emergency hand cleaning to dispatching a particularly nasty set of dirt nose-sickles or executing a thorough cleanup after a healthy poop in the woods, the wet wipe is an indispensable camping asset when children are involved.
We like Surviveware Biodegradable Wet Wipes because they're large and thick.
Well-equipped first aid kit(s)
Accidents happen. But with kids, accidents abound!
It's a good idea to have a larger, well-stocked first aid kit in the car and then smaller ones in the backpacks of those who are old enough to know how to use them.
For the car, the American Red Cross Family First Aid Kit is a comprehensive and affordable option.
A great smaller kit for backpacks is the Adventure Medical Kits Mountain Series Hiker Medical Kit.
The following items won't often be included in your first aid arsenal so, you'll want to add them:
If you'd rather build your own, check out our post How to Build a Hiking First Aid Kit, and get your DIY on!
Personal toiletry kit
Whether you're using the community shower or bathroom house on the campgrounds or taking care of hygiene at the campsite, it's good to equip your child with their own set of toiletries.
A small, personal toiletry kit should include:
If your child is old enough to keep track of their own toiletries, get them their own camping toiletry bag like this small REI Travel Kit or a larger one.
Lots of snacks
When camping and backpacking alone, I pride myself in only packing the food I absolutely need.
That doesn't fly when camping with kids.
Kids burn calories at an accelerated rate when playing outdoors; much more so when temporarily living outdoors on a camping trip.
Pack an extra cooler or tub (separate from food for meals) and stock it with (relatively) healthy energy-rich snacks like:
Trail mix (low sugar)
Energy or granola bars (low sugar)
Dried fruits
Fresh fruits (bananas, apples, oranges, grapes)
Fresh veggies and hummus
Beef jerky
Dried sausage and hard cheeses
Baked chips (not a fantastic choice, but better than some)
Need some more easy snack ideas? We've got some great ideas in our Best Hiking Snacks post!
Clothing, outerwear, and footwear
Obviously, you'll be packing a similar wardrobe for your kids as you would yourself depending on the climate and weather.
Since kids grow out of clothes quickly, we recommend buying secondhand whenever possible. We love REI's used gear section which offers high-quality clothing and gear with a ton of life left.
However, when your brain is full of everything else, it's easy to forget a few important things other than standard clothing:
Favorite blanket or teddy
Sometimes, little ones have trouble adjusting to sleeping outdoors surrounded by the sounds of the night.
Having a familiar companion to sleep with goes a long way toward helping them feel safe and comfortable.
Bedtime and campfire stories
In addition to a favorite teddy or blanket, bedtime stories are another way to ease the transition of sleeping in a tent.
Also, the great thing about reading stories around the campfire is that they don't have to be long. In fact, shorter ones are often better because they help keep little ones' attention focused.
Don't wanna lug books along? No problem! A good (ghost) story made up on the spot is a classic camping tradition. Give it a go!
Rainy day bag
Sometimes, the barometer decides to frown on your otherwise perfect forecast. It's always a good idea to have a bag packed with activities to keep kids entertained if the weather traps everyone in the tent.
A few fun ideas:
Even if the weather remains fair, having games the whole family can gather around the picnic table and enjoy is always a good idea.
If you need even more great ideas for games to take on your next camping trip, check out our post on 15 Fun Camping Games to Bring on the Road.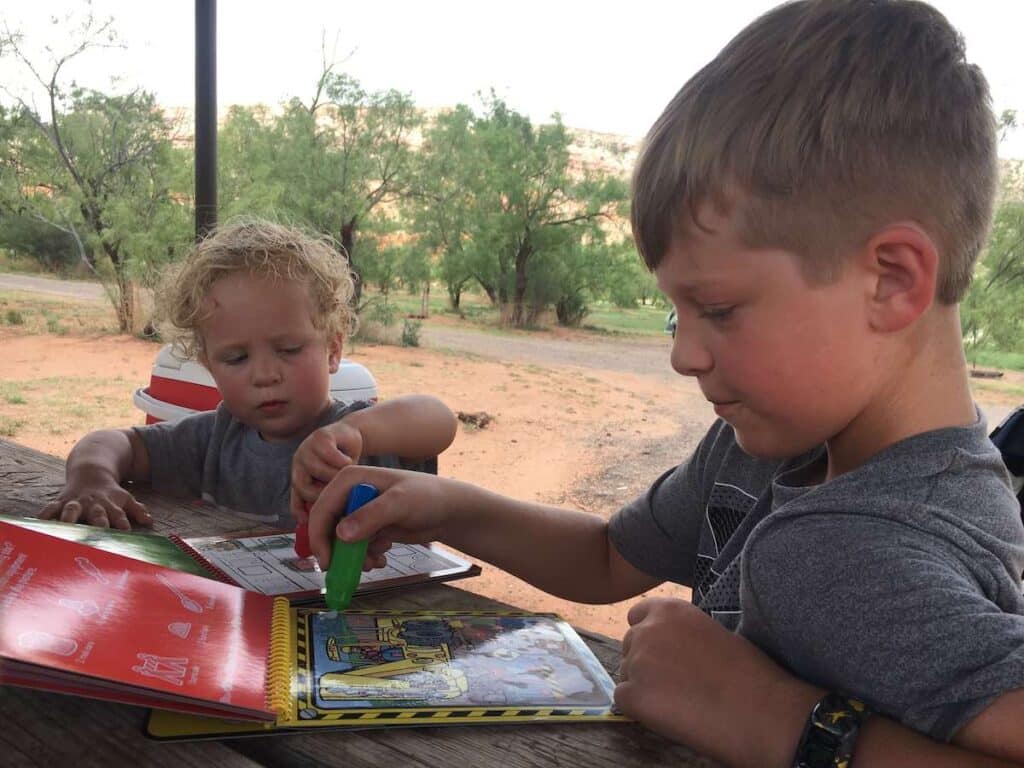 Their very own camera
Before we became parents, I took countless pictures to document our adventures.
As the family grew, I kept finding myself missing opportunities to capture priceless moments. I was always preoccupied with the increasing responsibilities.
Solution? Equip everyone with a camera!
Kids love taking pictures (and excel at capturing the weird, wild, and otherwise embarrassing moments) and are sure to provide you with hundreds to sift through when you get home.
If they don't already have a camera-equipped device, the Fujifilm Instax Mini 11 is a Polaroid-style instant camera that generates prints on the go, just like the old Polaroids!
Campground toys and activities
Don't overthink this. Kids (especially younger ones) will make toys out of anything – sticks, rocks, leaves, that unidentifiable brown thing… you name it.
However, there are a few basic campground toys that can help facilitate some fun and can enhance the experience:
Other engaging activities the whole family can get in on include:
Let's get packing!
Phew! That was a lot, but don't get overwhelmed. You don't need to take it all to have a great time. Allow yourself to learn as you go. As you camp with your kids more and more, prepping and packing for these trips will become second nature.
The most important thing is that you and your family have a great time on your next camping trip! Do your best; don't sweat the rest.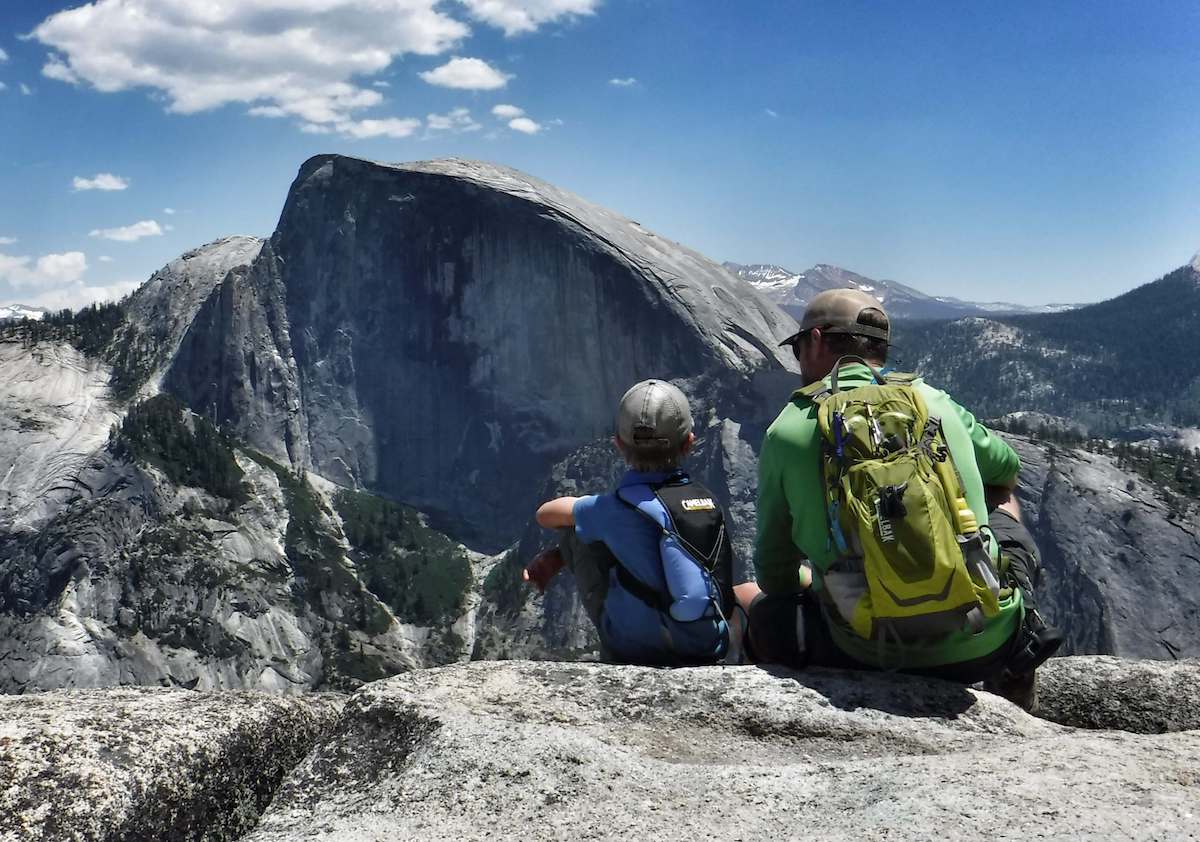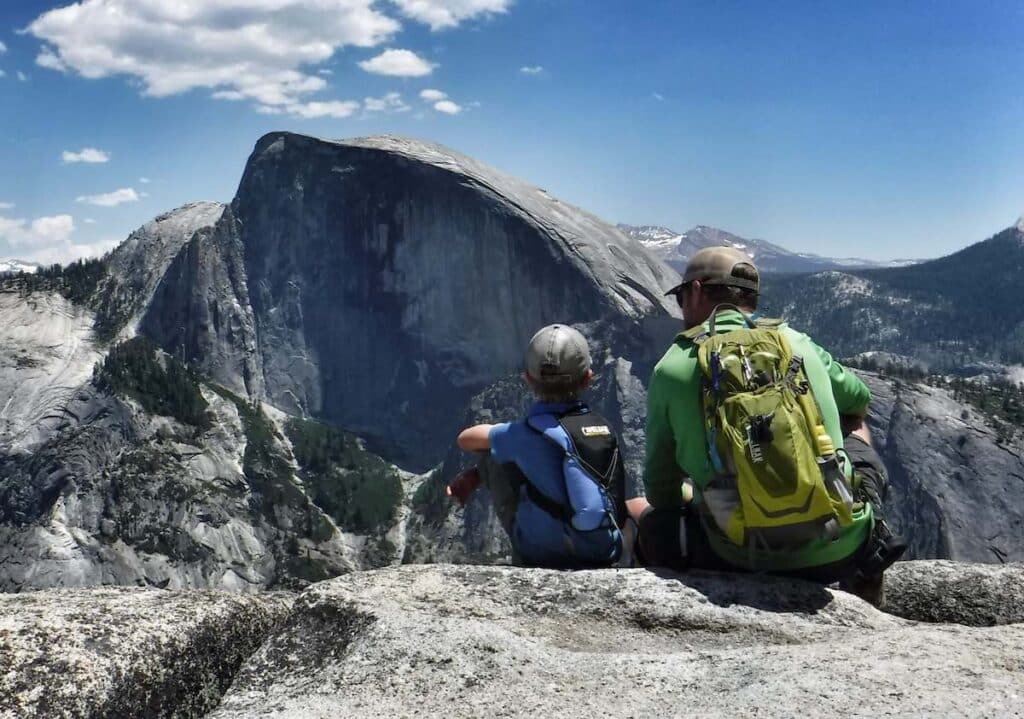 What are some of your must-have items when packing for a camping trip with kids? Let us know in the comments below!
To see more of Joshua's work, check out OutdoorFamilyHQ.com