Fall Camping Tips: How to Prepare and Stay Warm
Get prepared and stay warm with our best fall camping tips including what to pack.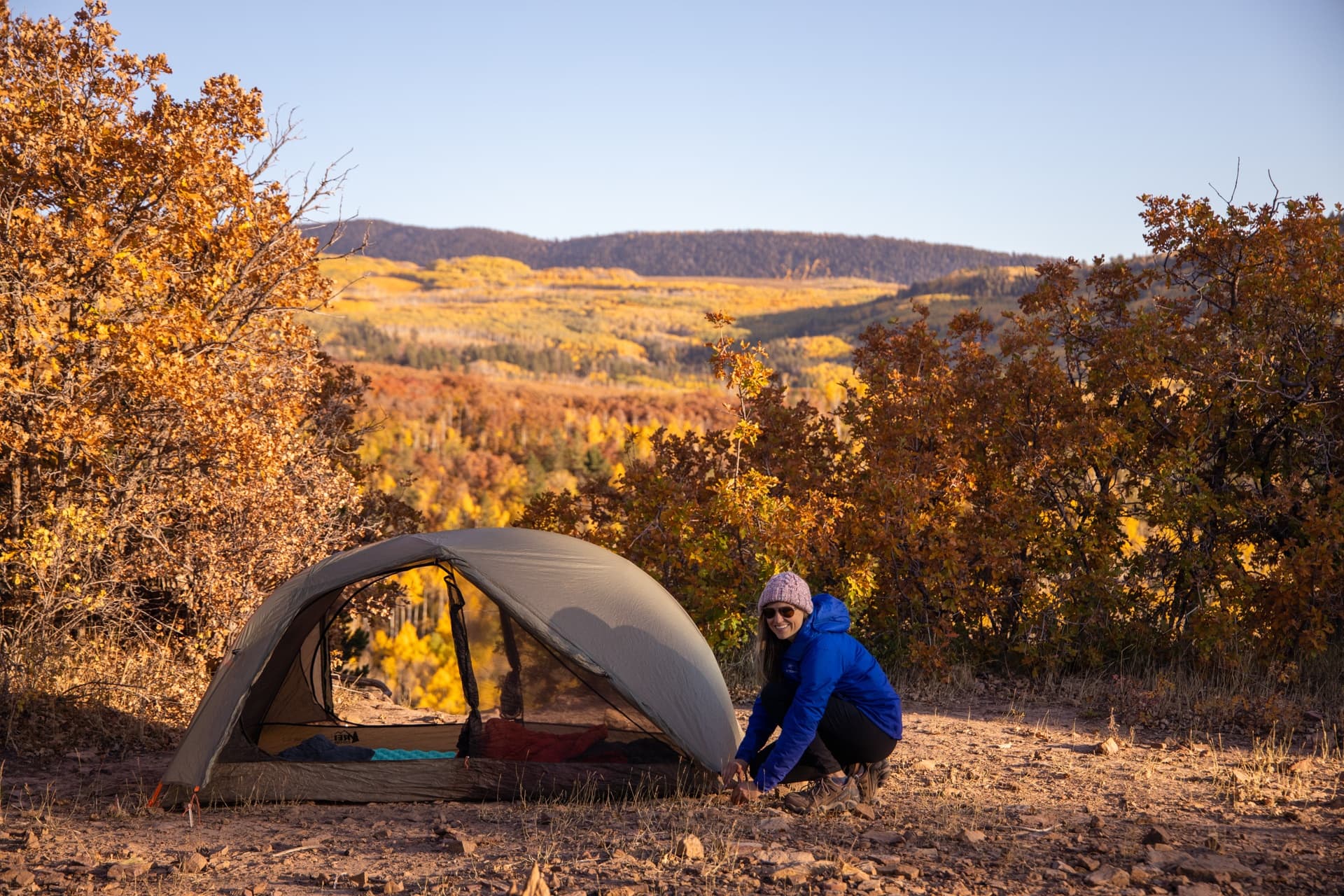 Just because it's fall doesn't mean camping season has to be over. In fact, camping in the fall can be gorgeous with bursting colors, fewer crowds, and nice campsites that would be impossible to score in the busy summer season.
Sure it may be cooler and the days shorter, but all it takes is a little extra prep work to make sure you're ready for an epic fall camping trip under the stars. We've got you covered with these fall camping tips that will help you prepare and know what to pack so you can enjoy being outside without freezing your butt off.
Get out and enjoy the crisp fall air with these fall camping tips.
#1 campsite finder app
Try The Dyrt PRO free for 30 days
Get a FREE 30-Day membership to The Dyrt PRO, one of our favorite apps for finding campsites.
Perks include:
• 5,000+ free camping locations
• 1,000+ campground discount network
• $0 extra booking fees
• Get reservations at sold-out campgrounds, and more
Use the code BEARFOOT to get 30 days free!
Fall Camping Weather Tips
Perhaps this is a given for any time of year, but checking the weather is one of the most important fall camping tips, especially as the seasons begin to change. Hopefully, you'll get clear sunny days, but knowing what to expect will help you pack accordingly.
Even if rain isn't predicted, be sure to bring your tent's rainfly and an extra tarp or footprint that fits under your tent. The weather can change rapidly in the fall and you just never know! In addition to weather protection, the rainfly also adds warmth by reducing the cross breeze in your tent at night.
If the weather forecast calls for rain, bring a tarp and know how to set it up before you get to camp. This Kammok Kuhli Shelter will keep you dry at camp if it starts to rain. You'll be thankful you have somewhere dry to relax other than being couped up in your tent.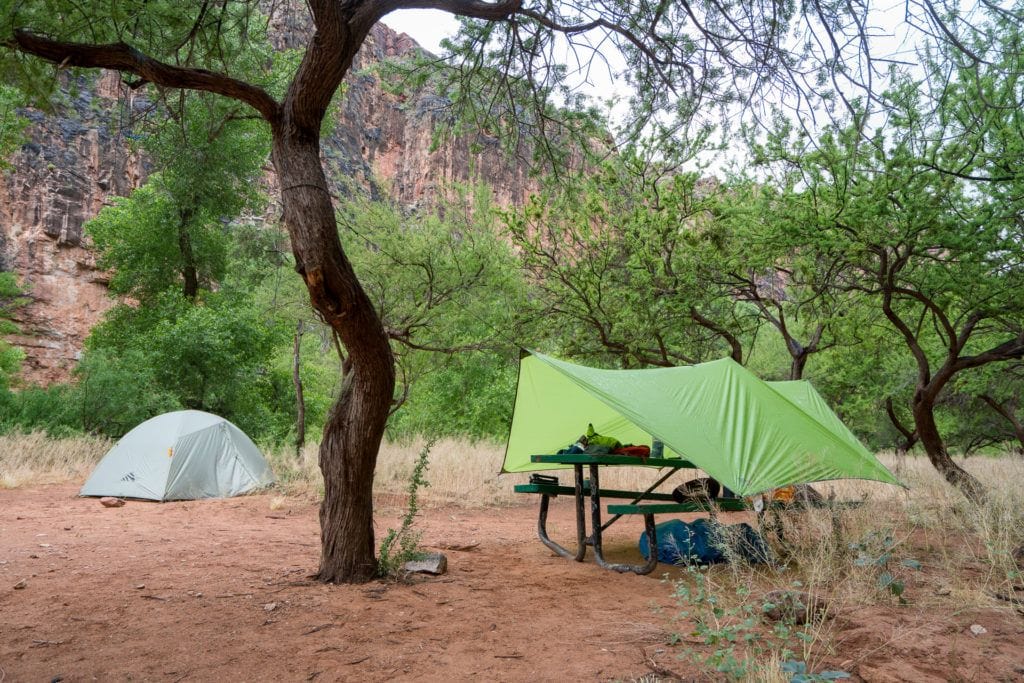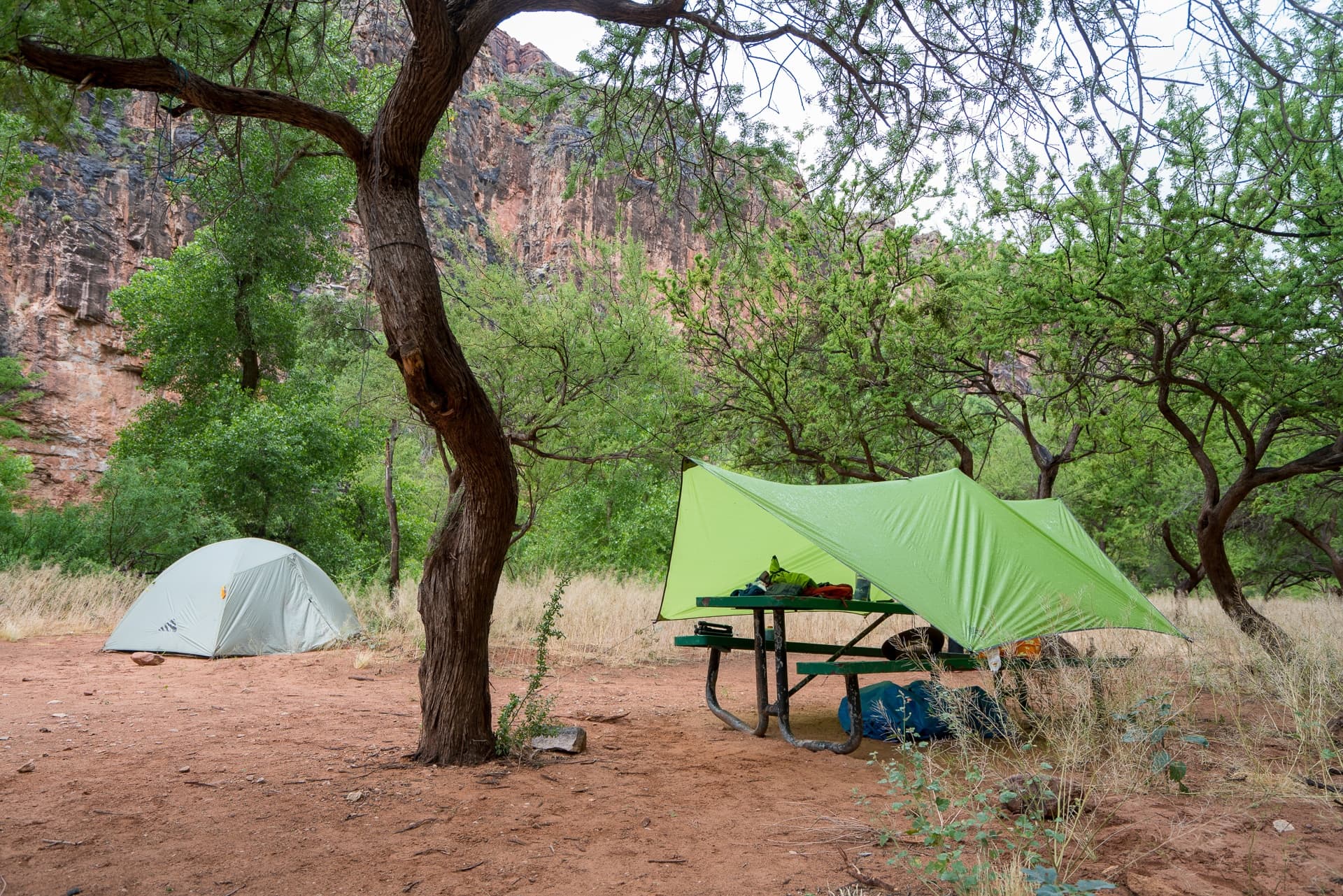 ---
Fall Camping Apparel Tips
In fall, you can get huge swings in temperatures. It might be in the upper 60s during the day and down in the 30s at night. Nothing ruins a camping trip like freezing your buns off the whole time.
The key is to layer, layer, layer. If you're car camping and you can easily throw in a few additional items, it's always better to pack a little extra warmth just in case. Depending on the forecast, this might mean:
Insulated Jacket
The Patagonia Nano Puff Hoody is a Bearfoot Theory favorite because it's warm and cozy yet packs down small.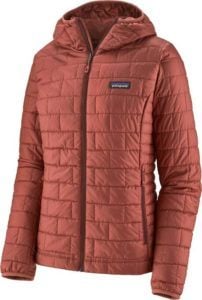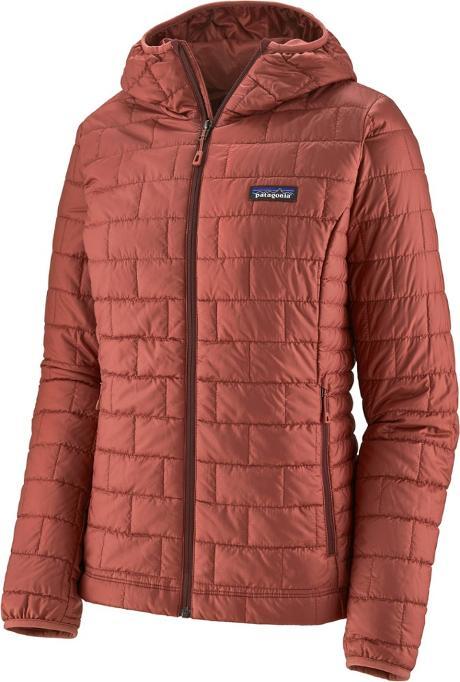 Check Price: REI / Backcountry / Patagonia
Rain Jacket & Rain Pants
We love the REI Rainier Rain Jacket – it's budget-friendly and comes in lots of great colors. If rain is in the forecast, throw in a pair of rain pants too.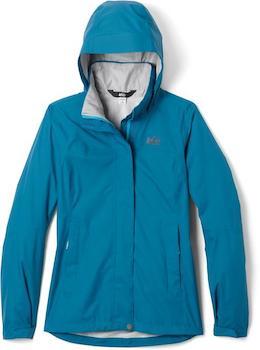 Check Price: REI
Warm Leggings or Long Johns
Basic leggings aren't enough on fall evenings. You'll want a pair of thicker leggings like these REI Active Pursuits Tights or a pair of base layer leggings that you can wear under a pair of heavier pants at camp, like the Prana Halle Pants.


Check Price: REI
Long Sleeve Base Layer
A warm, long sleeve top makes for a cozy base layer that you can build upon as needed and even sleep in.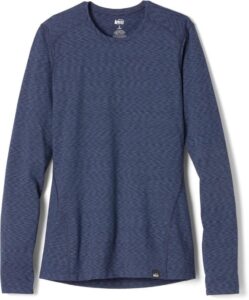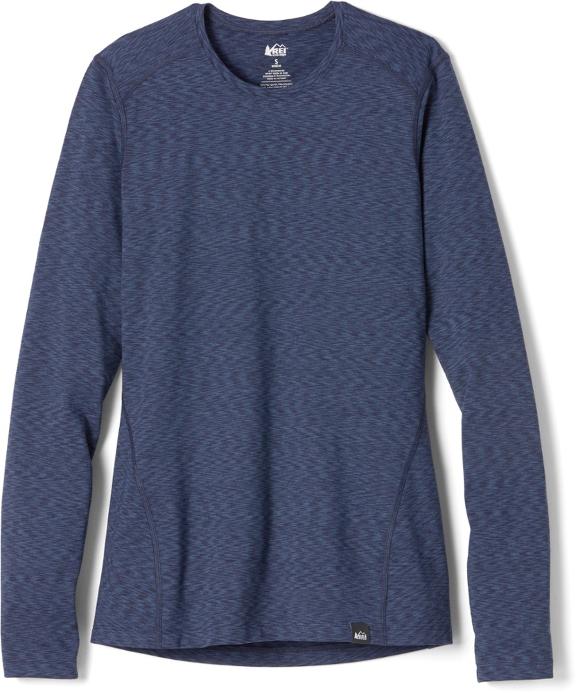 Check Price: REI
Warm Mid Layer
For when it's not quite cold enough for your insulated down jacket, a cozy fleece vest or jacket is a nice layer to have. This Patagonia Better Sweater Fleece Vest and Fleece Jacket are low impact, Fair Trade Certified, and made with recycled materials.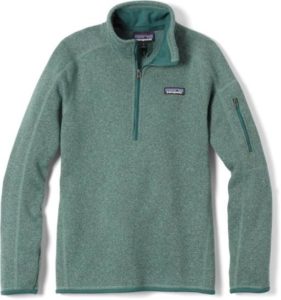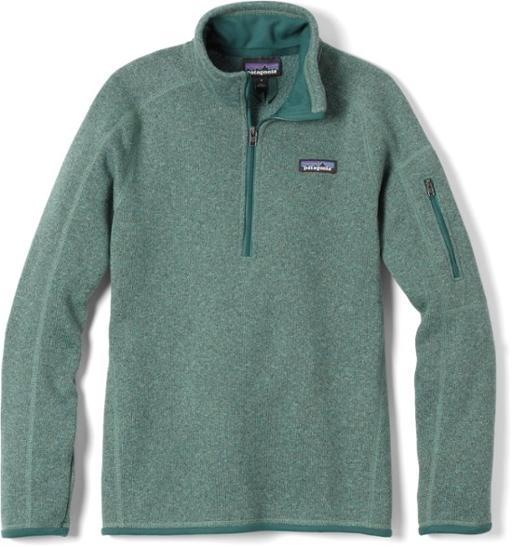 Check Price: REI / Backcountry / Patagonia
Warm Beanie
I tend to like extra cozy knitted beanies like this one by The North Face.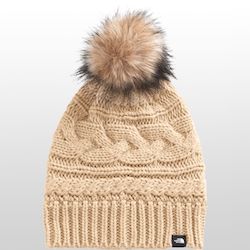 Check Price: Backcountry
Gloves
Look for a thin, yet warm pair of gloves so you can keep your fingers toasty while still being able to use your hands. I like gloves with touch screen capability like these by Outdoor Research so I can use my phone and camera without taking them off.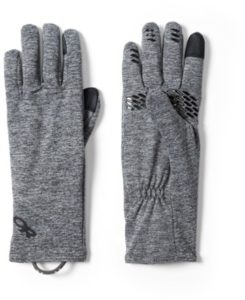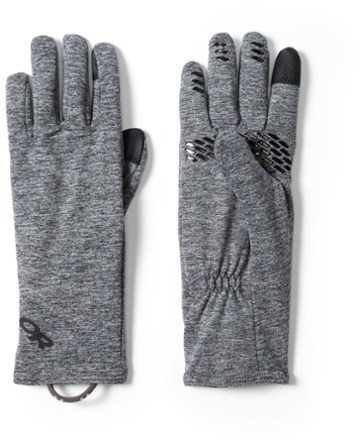 Check Price: REI
Warm Socks for Sleeping
For car camping in the fall, I always bring a pair of mountaineering socks. These stay in my tent and only go on my feet when I'm about to get in my sleeping bag.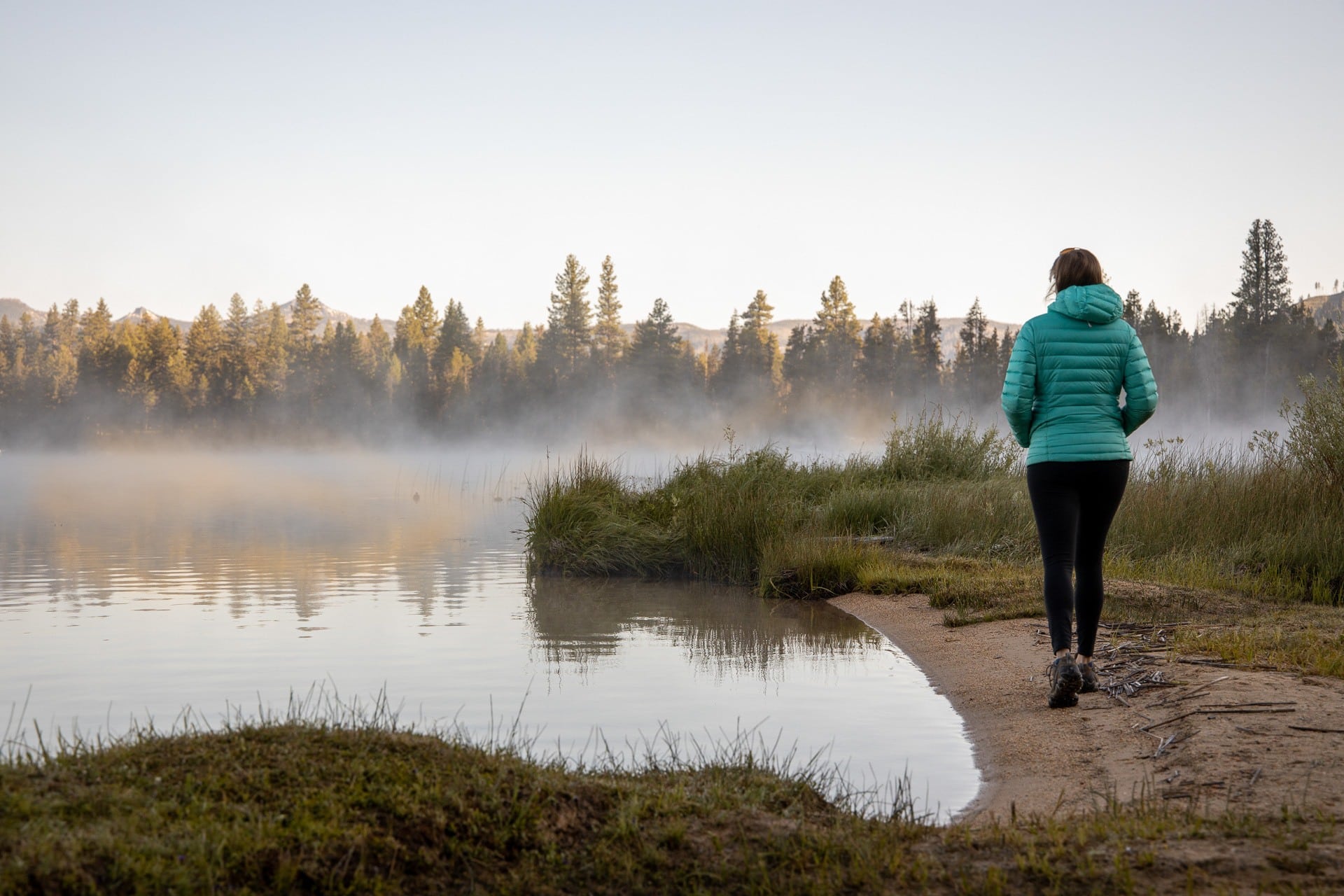 ---
Staying Warm While You Sleep
Staying warm is essential for a good night's sleep at camp, so we have a few fall camping tips for staying snug at night. Aside from having warm base layers and socks to sleep in, a cold-weather sleeping bag and sleeping pad are essential.
First, every sleeping bag has a temperature rating, and it's important you understand what that rating means.
For example, a 30-degree bag means that if it gets down to 30 degrees, you won't totally freeze. But it doesn't mean you'll be nice and toasty if it's 30 degrees out. A 30-degree bag at 30 degrees is going to make for a very long and chilly night. I personally get cold very easily, so if I am going to camp in 30-degree weather, I would want something more like a 0 or 10-degree bag.
Before you leave on your fall camping trip, make sure to check your sleeping bag's temperature rating (you can usually find it somewhere printed on your bag) and make sure it's appropriate for what the forecast is calling for. If you need a new sleeping bag, we've rounded up our favorites here. Another cheap solution is to simply bring extra blankets from home (in addition to your sleeping bag) or to add a sleeping bag liner to your sleeping bag.
Another term you'll want to know is the insulation value of your sleeping pad. Most sleeping pads measure this via an R-value, and a higher number (3.5+) will provide more insulation from the ground. If your sleeping pad has a lower R-value and you don't want to invest in a new expensive pad, throwing an inexpensive foam sleeping pad underneath your inflatable sleeping pad should do the trick. If you need a new sleeping pad or are looking to upgrade yours, we've listed our favorites here.
A final camping hack that is super effective for staying warm is to fill a Nalgene bottle with hot water. Bring that with you to bed and store it inside your sleeping bag (wrapped in a shirt so it's not too hot against your skin).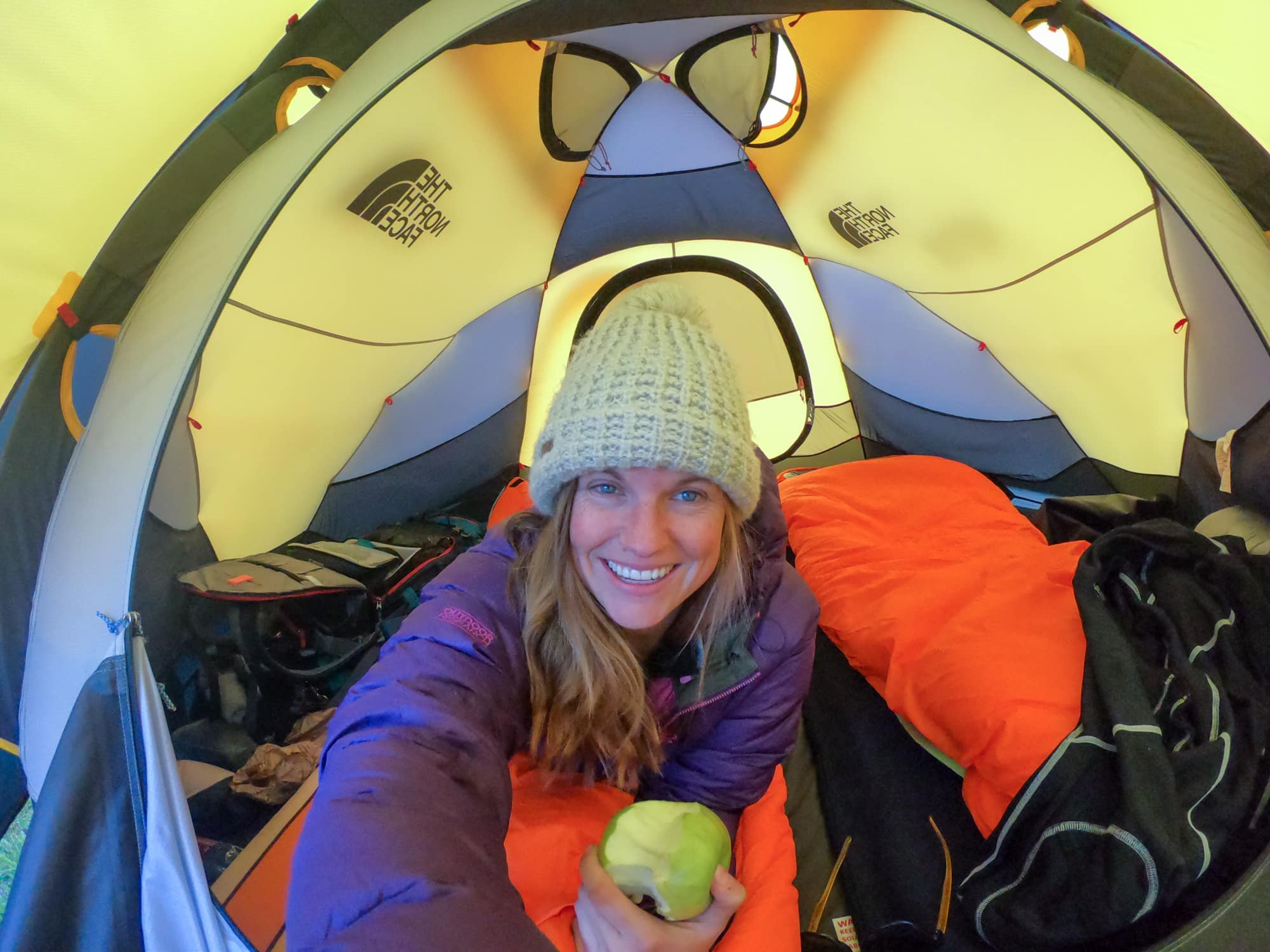 ---
Finding Places to Camp in Fall
If you are planning to stay in an established campground, make sure the campground is still open. Many campgrounds close up shop in late September or early October for winter. The same goes for Forest Service roads where you might be looking for dispersed camping. You don't want to drive off the grid and out of cell phone service just to find out that where you were planning to camp is no longer an option.
I recommend downloading a couple of apps to your phone. iOverlander and AllStays Camp & RV are favorites for finding free dispersed camping and official campgrounds on public lands. The Dyrt is a favorite campground finder app as well that has been handy for finding more paid campground options on the fly (you can try The Dyrt Pro for free for 30 days here).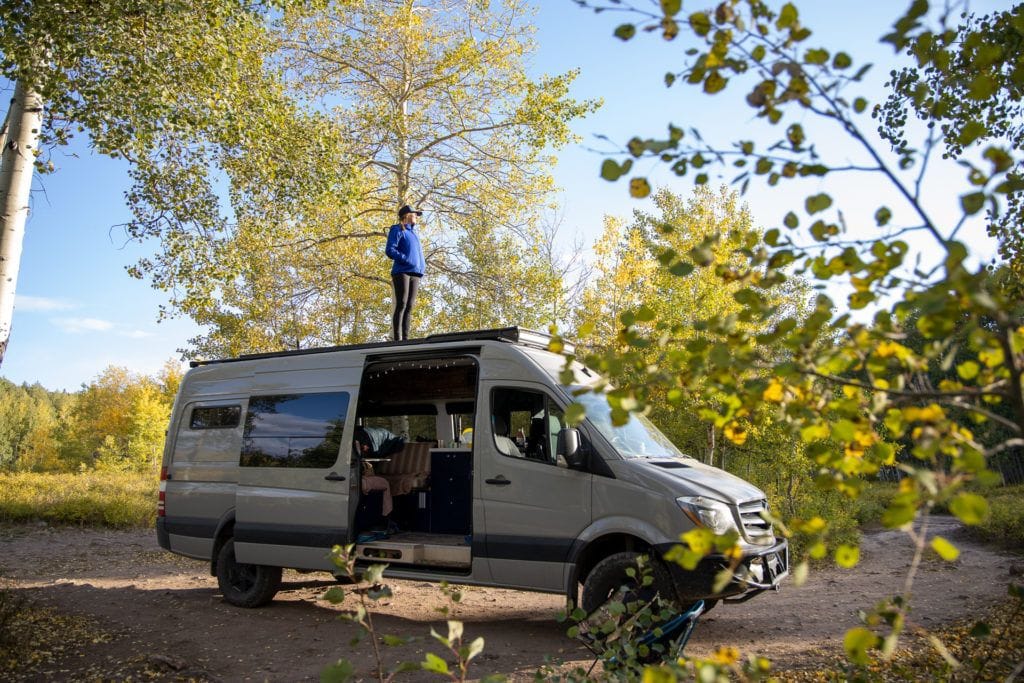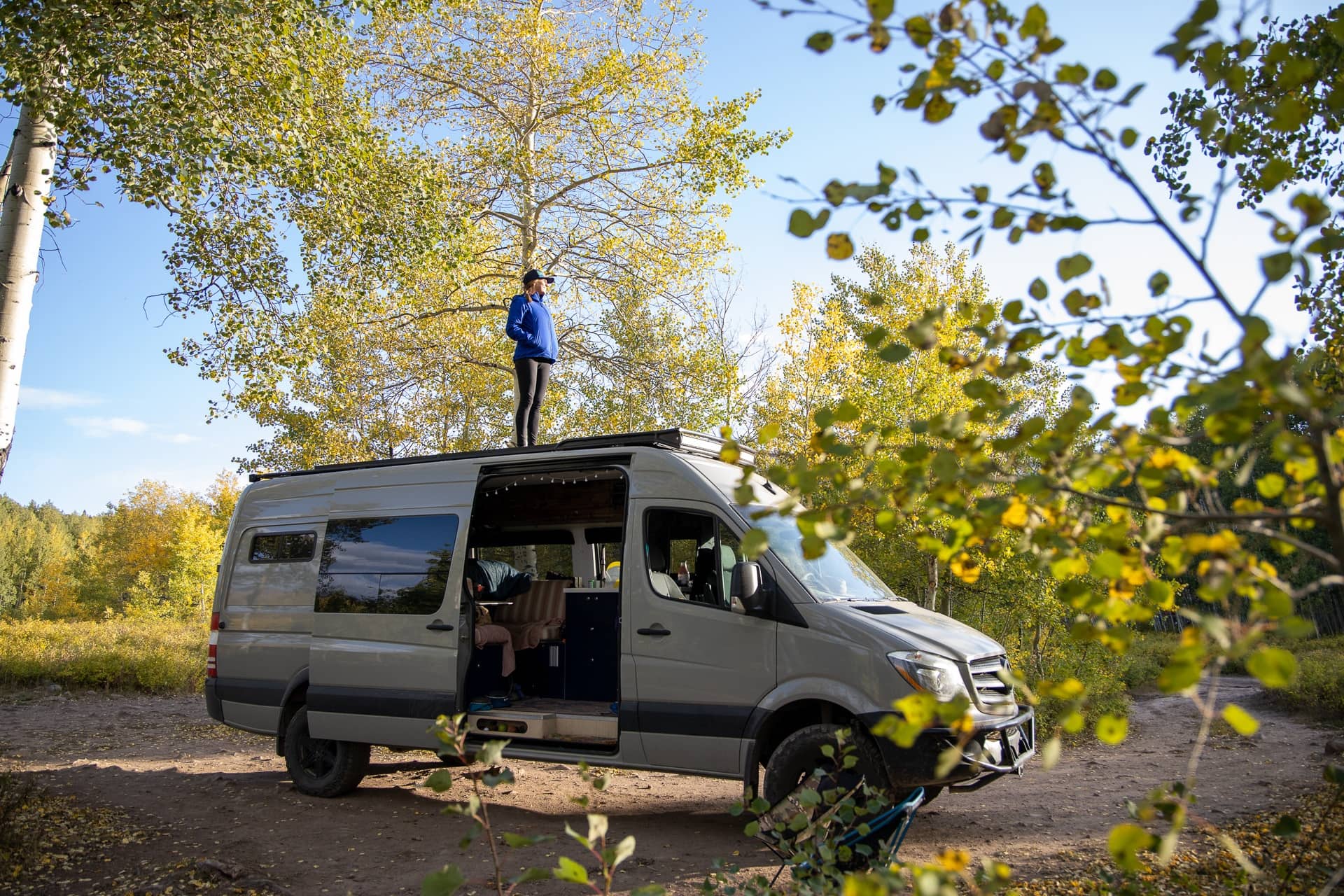 ---
Fall Hiking Tips
When you are headed out on day hikes, remember that the days are much shorter in the fall. You'll want to get an early start on the trail and always bring a headlamp and warm layers like the ones mentioned above in your day pack in case you end up being on the trail after dark. If there's any chance of rain or you're seeing some gray clouds in the sky, bring a rain jacket too. And it never hurts to look up what time sunset is where you'll be camping so you can plan your hikes and activities accordingly.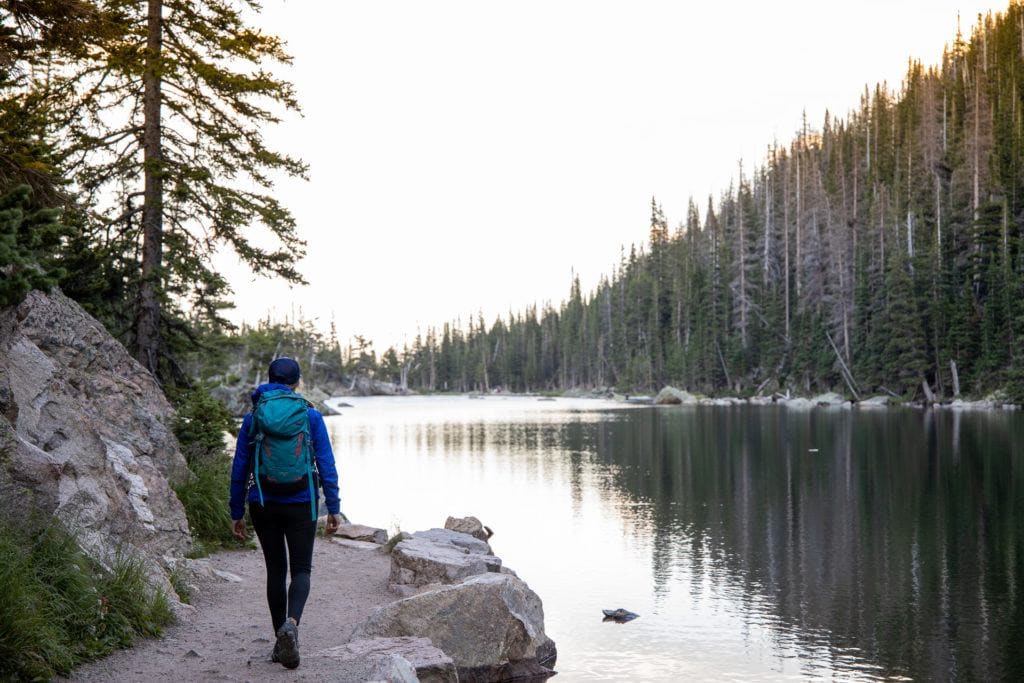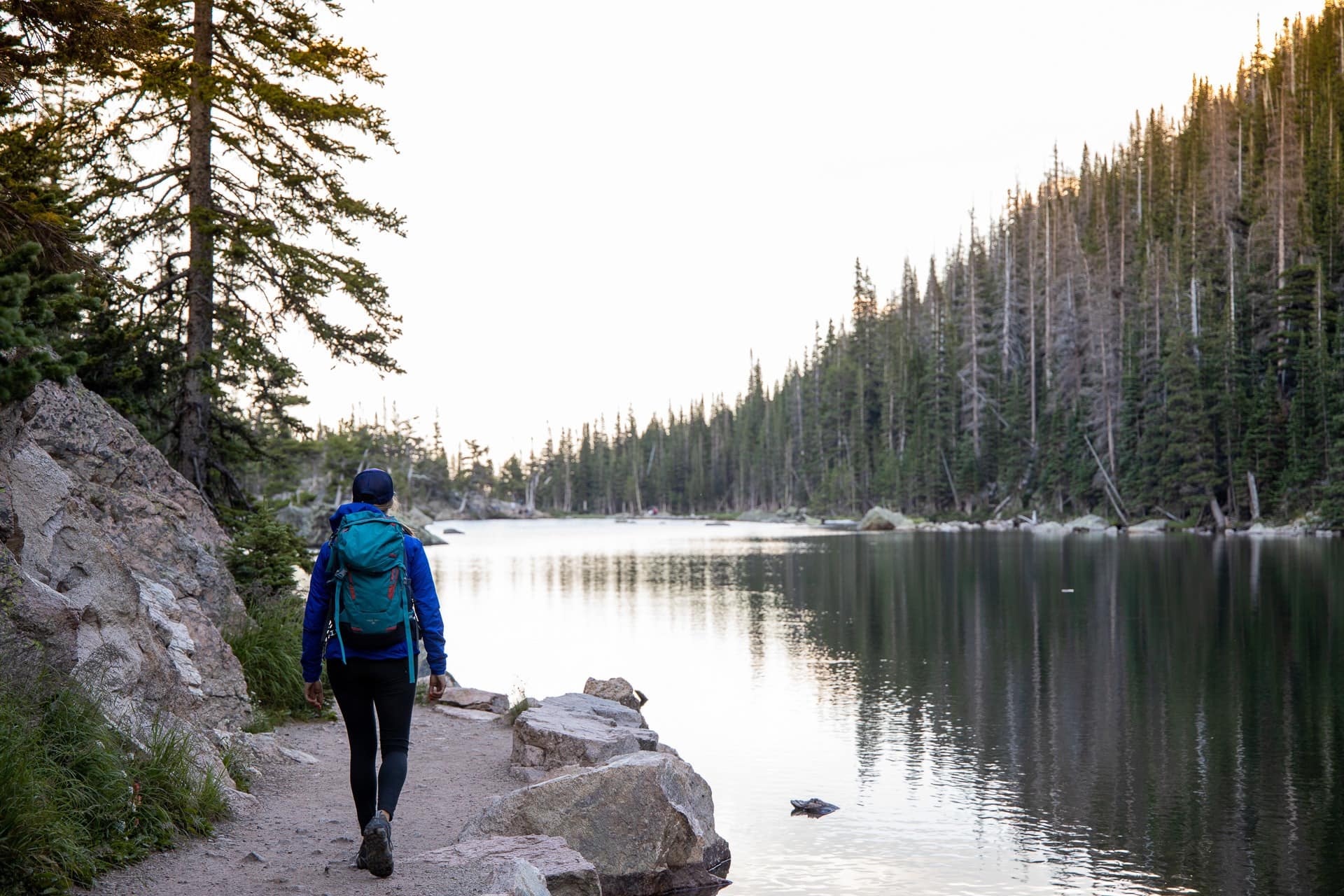 ---
Fall Camp Kitchen Tips
With chillier temps and an earlier sunset, I recommend doing some of your meal prep at home to speed up the dinner-making process. That might mean chopping vegetables at home or pre-making a pot of chili and simply reheating at camp. The quicker you can make dinner, the sooner you get to relax and get warm around the fire with a hot beverage.
Whether it's hot tea with lemon and honey or a hot toddy, having a hot drink will make hanging out under the stars more enjoyable. In order to keep your hot drinks hot longer, make them in an insulated mug – my go-to is the Yeti Rambler Tumbler.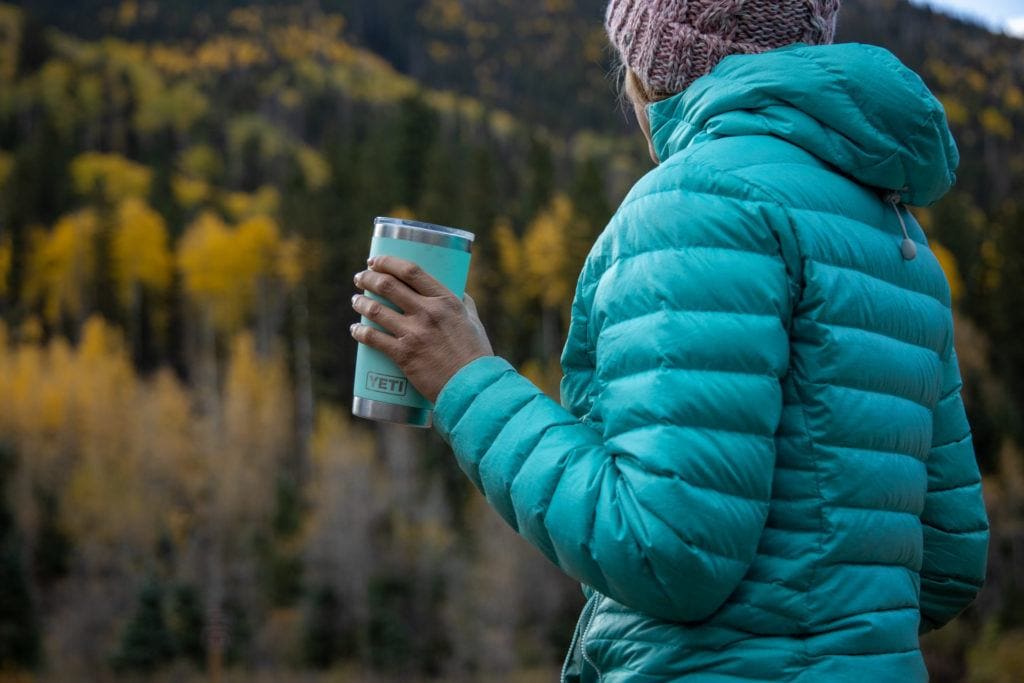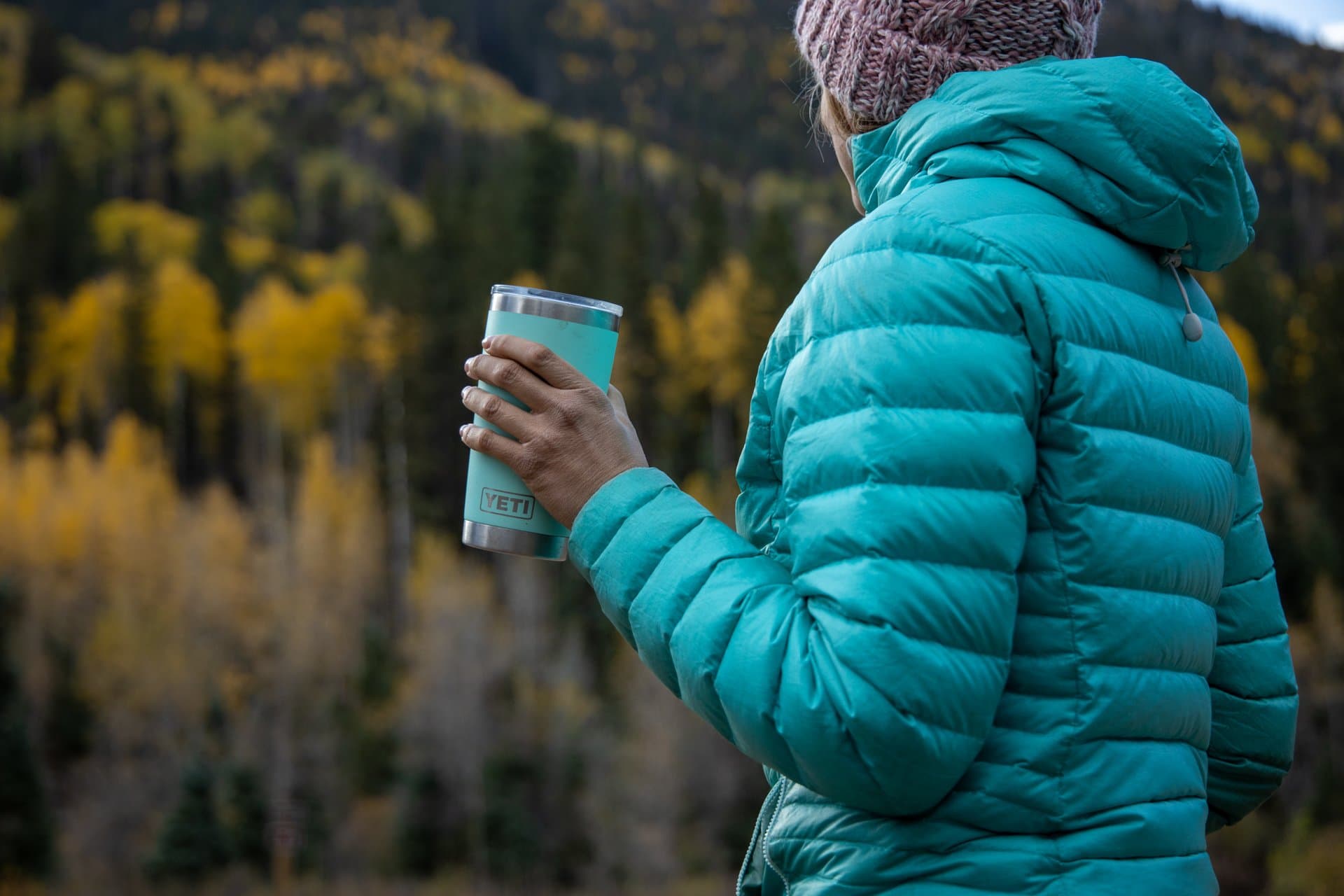 Planning a fall camping trip? Share your plans, tips, and questions in the comments below!