Once you have your gear kit dialed, one of the toughest parts of planning weekend adventures is figuring out you are going to eat.  In the past, I've been completely overwhelmed by meal planning, shopping, and prep to the point where I've cancelled trips because it seemed like too much work. And I'm sure I'm not alone.
On wilderness backpacking trips that are 4 or more days, it's hard to avoid dehydrated backpacker meals (I've shared some of my favorites here). However, for car camping weekends or overnight backpacking trips, it's entirely possible to eat fresh, cheap, and healthy, without the stress.  So here on Bearfoot Theory, I'm going to start to share more tips and recipes to simplify your meal planning for your outdoor adventures.
In this new post written by my friends, Michael van Vliet & Megan McDuggie, from the outdoor cooking blog Fresh Off the Grid, you'll learn why and how to cook easy and delicious one-pot camping meals.
After long day exploring the outdoors, finding the energy to cook a proper meal can be a daunting endeavor. Dehydrated food and protein bars will work in a pinch, but it's only a matter of time before you start craving something real. For anyone who has ever found themselves in this position, we've got the answer: One-Pot Camping Meals!
A One-Pot Camping Meal is basically any recipe that calls for only one pot. Ingredients go in (perhaps at different times) and out comes a finished ready-to-eat meal. Here are six reasons why one pot camping meals are the best way to cook in the outdoors, along with a few of our most popular one-pot camping recipes.
1) Fewer Dishes
It might be fun to cook with every pot and pan in the kitchen at home (especially if you have a dishwasher), but washing dishes at a campsite is always a chore. One pot meals immediately reduces the number of dishes that need to be done. When the meal is ready, the pot becomes your bowl. And when you're done eating, the bowl becomes your sink.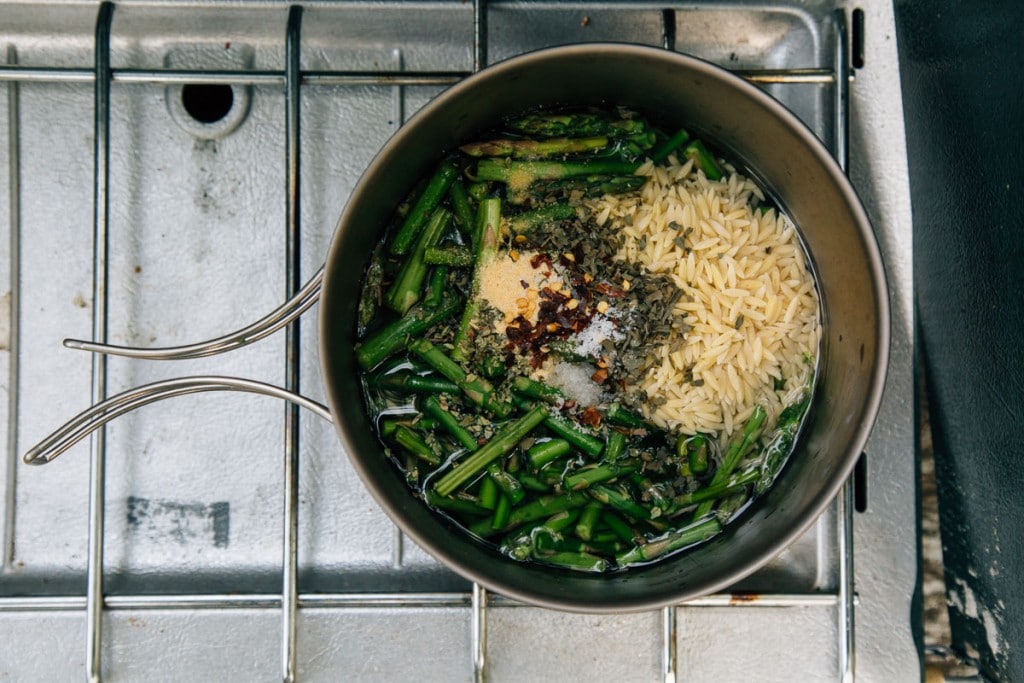 Leave the colander at home and check out this Cheesy Asparagus Orzo (Photo: Megan McDuffie)
2) Versatility
One pot meals can be as simple or elaborate as you like. You could go for something as basic and straight forwards as rice and beans. Or, if you're feeling a little more adventurous, you can give a Spanish inspired paella a try. Both are one pot meals.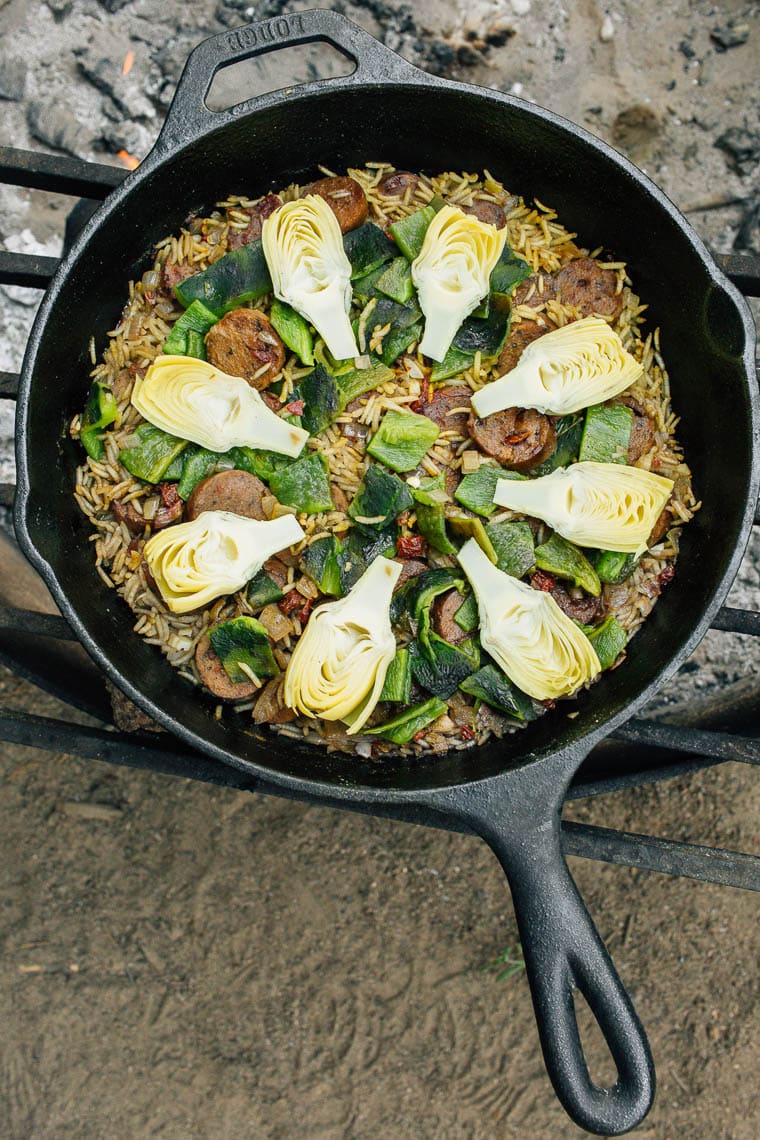 Feeling fancy? Try this Artichoke Poblano and Chorizo Paella on your next camping date night. (Photo: Megan McDuffie)
3) Less Stress
Anyone who has ever cooked a meal on multiple burners knows, timing is everything. But when you're camping it can be a lot harder to make sure the each part of the meal is ready at the same time. Not so with one pot meals! Since you're adding all your ingredients to a single pot, everything is ready when everything is ready.
Take a load off and just let this Shakshuka simmer down.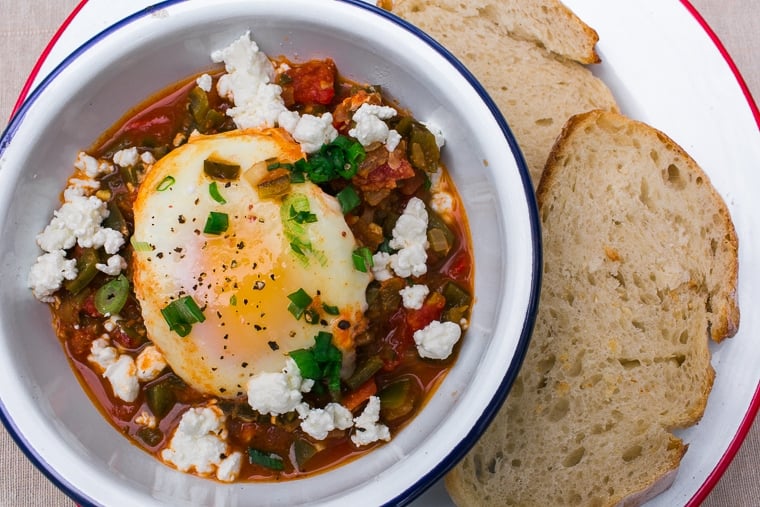 Photo: Megan McDuffie
— Shakshuka Recipe (Serves 2) —
Ingredients
1 tablespoon butter (or olive oil)
2 poblano peppers, seeded and diced
1 small onion, diced
3 cloves garlic, minced
2 teaspoons paprika
1 teaspoon cumin
1/2 teaspoon salt
1 (14.5 oz) can diced tomatoes
2-4 eggs
¼ cup goat cheese, crumbled
½ loaf crusty French bread
salt & pepper to taste
Directions
Heat butter in your pot over medium heat. Once melted, add the poblano peppers and onions, stir to coat, and cook for 5 minutes or until beginning to brown, stirring as needed. Add the garlic, cumin, paprika, and 1/2 teaspoon salt and cook until fragrant, about 30 seconds.
Add the tomatoes and their juices, along with ½ cup water. Reduce heat and simmer for 10 minutes to allow the mixture to thicken.
Crack the eggs into the sauce, spacing them evenly apart. Cover and allow the eggs to cook until the whites have set and the yolk is to your preferred consistency, 5-7 minutes. You can spoon the sauce over the top as needed to encourage them to cook thoroughly.
Season to taste. Serve immediately with goat cheese and a few slices of crusty French bread.
4) Big Big Flavor
The easiest way to get big flavor out of your meal is for all the ingredients to work together. Cooking everything in the same pot not only lets the flavors build on top of each other, but it also ensures that each individual bite is as tasty as the last.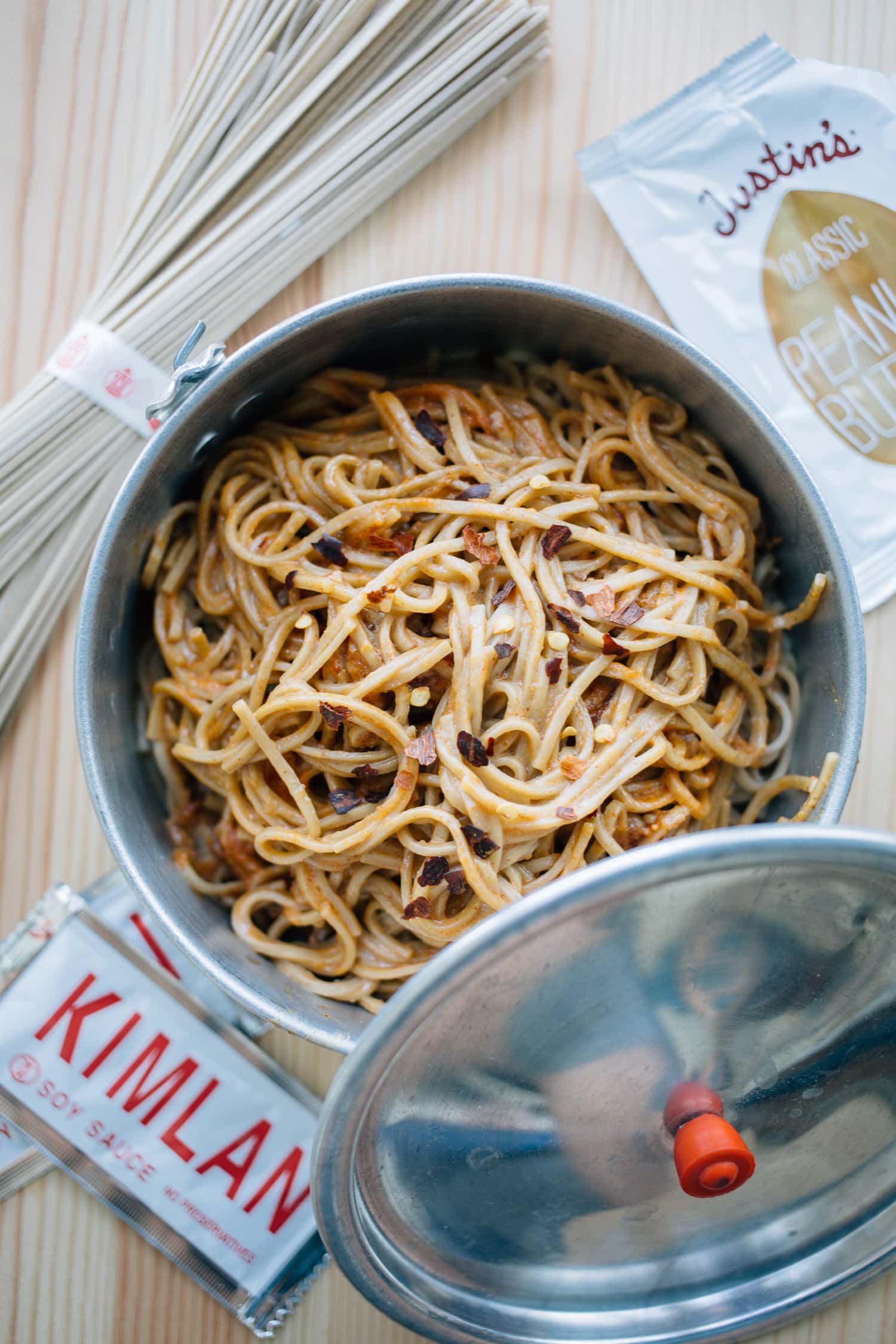 For maximum flavor with minimum effort check out these Dan Dan Noodles! (Photo: Megan McDuffie)
5) Thinking Outside the Box
It's easy to fall into a rut when you're cooking on the road or in camp, but cooking one pot meals can really push you to be creative. The limitations encourage you to change things up with different flavors or ingredients. The easiest way to get creative with one pot cooking is to change up your existing favorite one pot meals, or to deconstruct your favorite non-one pot meals and adapt those recipes into a one pot version.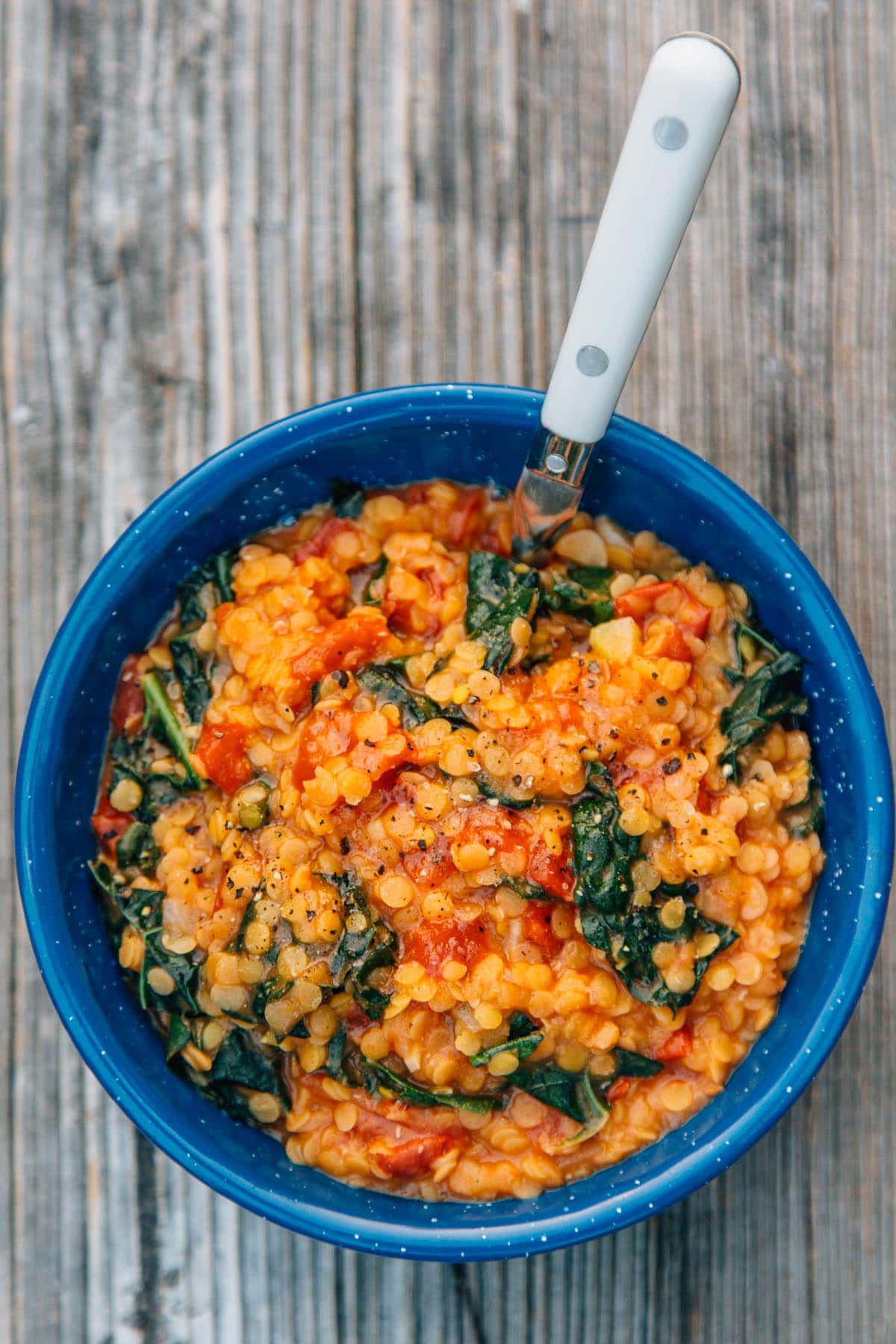 Put a twist on a old classic with this Coconut Red Lentil Stew (Photo: Megan McDuffie)
6) One Pot to Feed Them All
One Pot Meals are pretty easy to scale up or down. Whether you're a solo traveler or a family of six, you can easily scale one pot meals to feed just yourself or everyone and their brother. You just need to get your hands on the right sized pot.
This Classic One Pot Pasta be a snack or a feast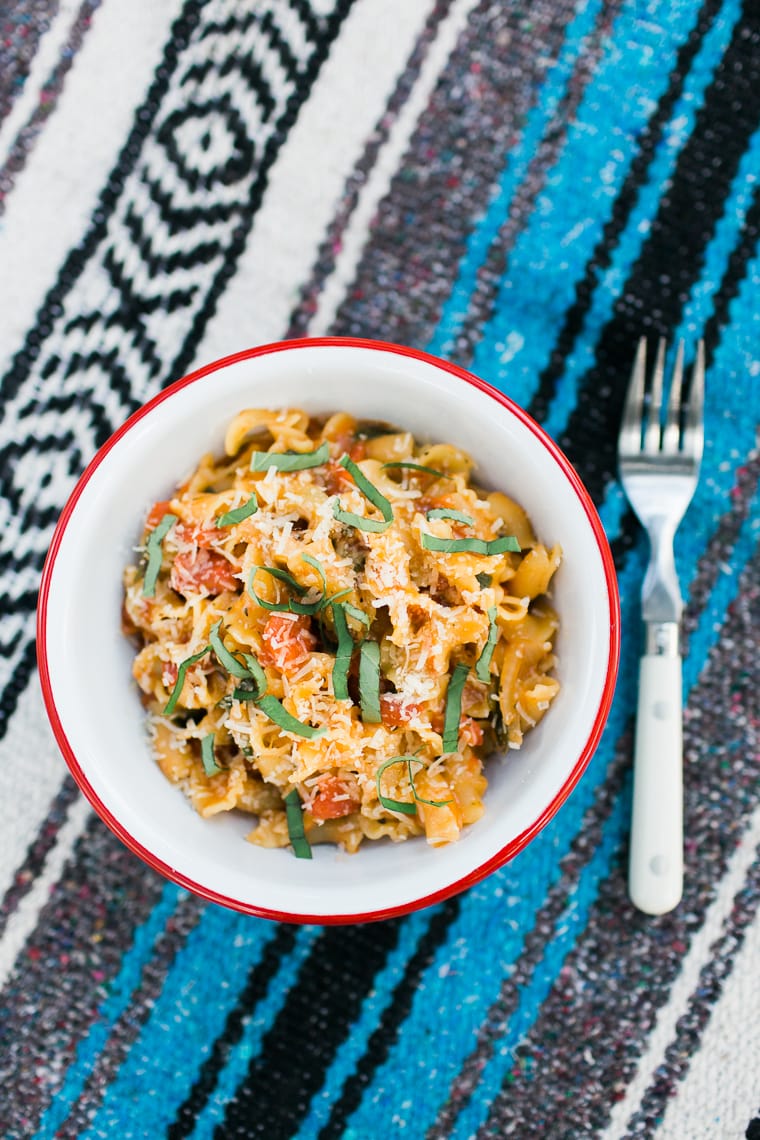 Photo: Megan McDuffie
— Classic One Pot Pasta (Serves 2) —
Ingredients
1 tablespoon olive oil
small onion, chopped
2 cloves garlic, minced, or 1/4 teaspoon garlic powder
1 (14.5 oz) can diced tomatoes
1 (14.5 oz) can broth
handful of fresh basil, chopped, or 1/2 tablespoon dried
1 tablespoon Italian seasoning
1/2 lb pasta
salt to taste
handful of parmesan cheese + basil to finish (optional)
Directions
Heat the olive oil in your pot and then add the onions. Saute until translucent, then add the garlic and saute until fragrant. Dump in the tomatoes and their juices, the broth, basil, Italian seasoning, and the pasta. Give it a big stir to combine everything. The liquid may not completely cover the pasta yet – that is OK, just stir it fairly often so it cooks evenly; if you add too much liquid your sauce will not thicken up enough by the time the pasta is done. Cover your pot until the liquid comes to a boil (this quickens the process and saves you fuel). Once it's boiling, remove the cover and cook until the pasta is al dente. The cooking time on the pasta packaging will be a good indicator, but use your judgement as all camp cooking setups are a bit different.
Once your pasta is cooked through, serve, topped with cheese and basil if you've got it!
HAVE YOU EVER COOKED A ONE-POT MEAL? WHAT ARE YOUR FAVORITE RECIPES? LEAVE A COMMENT BELOW, TWEET ME, OR WRITE ME A POST ON FACEBOOK.