10 Best Camping Chairs of 2023
Here are the best camping chairs including the top lightweight, comfortable options for camping & backpacking to keep your back and tush happy.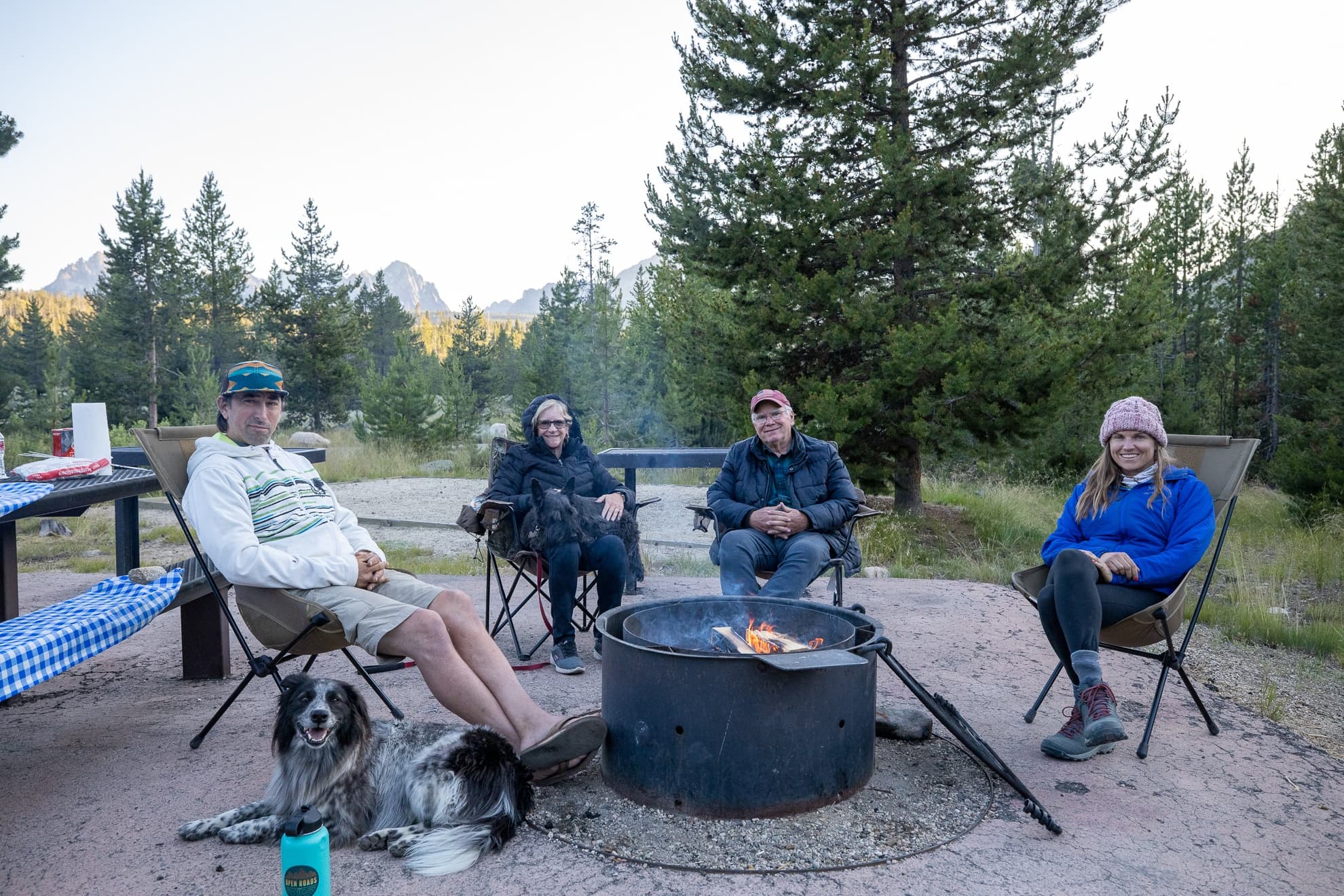 When you're on a camping trip, we all know there's nothing better than ending the day by circling up your camping chairs around the campfire. And after a long day of hiking or backpacking, you want a comfortable camping chair that is also durable enough to last adventure after adventure.
In this post, I'll share my recommendations for the best camping chairs, based on my personal experience and reviews from other Bearfoot Theory team members. So whether you're gearing up for your next camping trip or just looking for a new camp chair to relax in your backyard, read on for some great recommendations!
---
---
Helinox Sunset Camp Chair
Best High Back Camping Chair
Great for: van camping, car camping, people who want to be able to really sit back & relax
What we like: lightweight, high quality, well designed, packs down small, high back is super comfortable
What we don't like: no cup holder, on the expensive side for camp chairs
I currently travel with two of the Helinox Sunset Camp Chairs in our van. I love how supportive they are and the high back allows you to really sit back and relax, which is nice compared to some of the chairs out there with lower backs.
For added comfort, there's a built-in headrest that converts into a pillow if you stuff something soft into it like your puffy jacket or a towel.
At less than 3 ½ pounds, it's very lightweight and packable. The other thing I love is that even when it's put together, it's not bulky and we can store two of them on our van bed in chair form when we're driving. That means we never really need to pack them down when we are moving campsites and our chairs are always ready to go.
If you're heading to the beach, be sure to grab the groundsheet to prevent the chair legs from sinking into the sand.
ENO Lounger DL Chair
Best Camp Chair for Lounging
Great for: car camping, lounging, people who want flexible chair heights
What we like: super comfortable, two different seat heights, built in pillow
What we don't like: some people with bigger body types have found that it's not comfortable for them, headrest is too high for shorter people (~5'2)
ENO has brought their hammock design expertise to a chair and the result is the ENO Lounger DL Chair, hands down the most comfortable camping chair we've ever owned.
This chair allows you to sit back in a way that eliminates slouching, making it a great camp chair for those with back issues. It's also designed with a built-in pillow, which takes the comfort up another notch.
This chair is a bit bulkier than the Helinox chair above and does require that we put it away in its case when we drive since it takes up too much room in the van when it's put together. The fabric also easily slips off the poles so when you're moving it around, you have to carry it by the poles.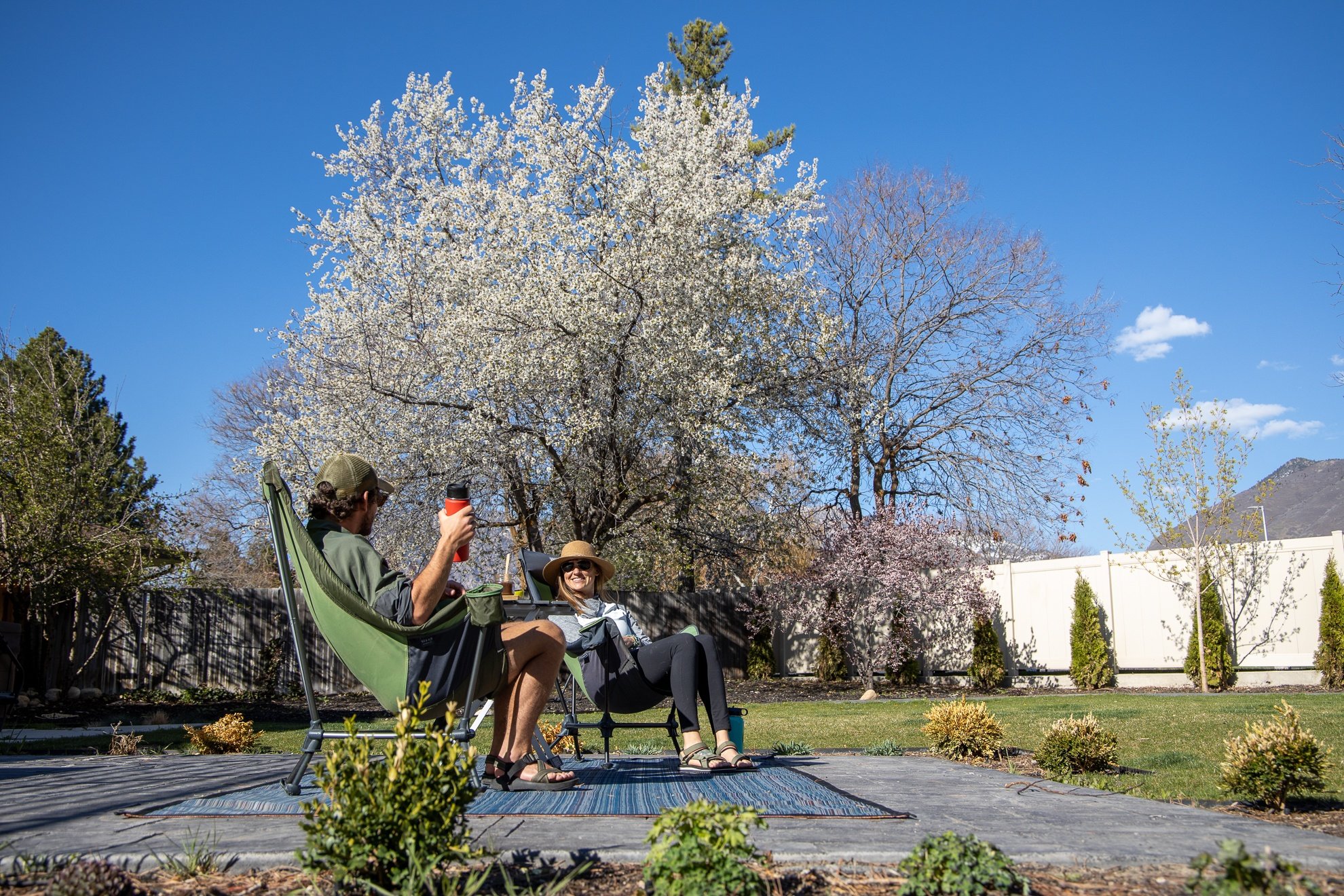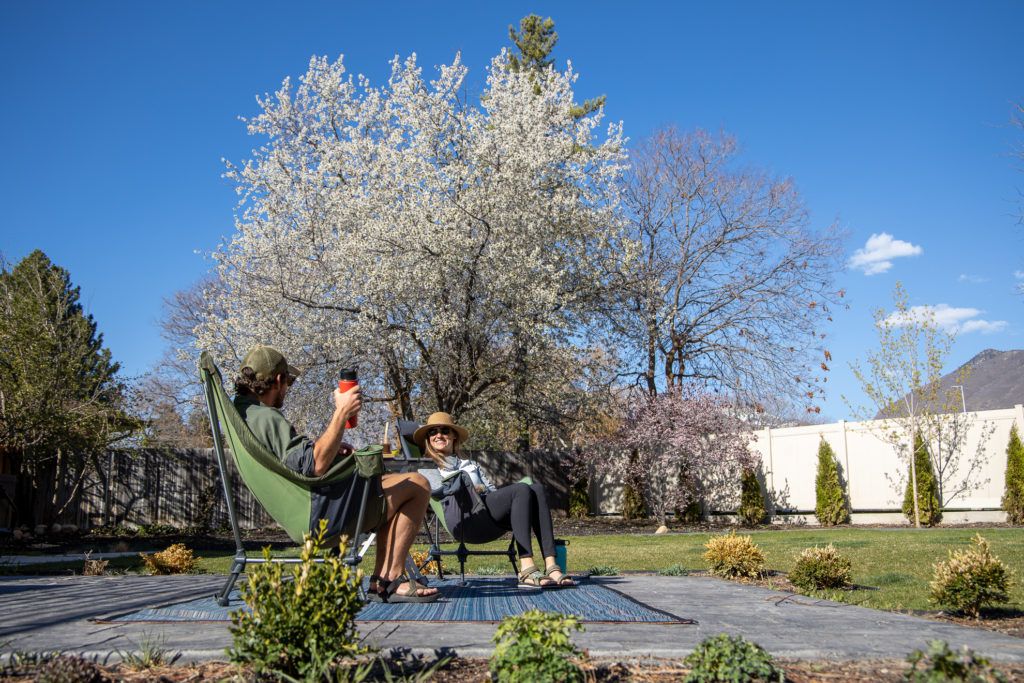 YETI Trailhead® Camp Chair
Best Heavy Duty Camp Chair
Great for: people with back issues, people who need extra stability getting up and out of camp chairs
What we like: incredibly supportive and ergonomic, 500-pound weight capacity, extra-wide feet for added stability, easy to get in and out of, 5-year warranty
What we don't like: heaviest & bulkiest camp chair on our list, expensive investment, only 1 cup holder
YETI has a reputation for making some of the best-performing and most durable gear on the planet, and the YETI Trailhead® Camp Chair is no exception. This camp chair offers superior comfort and support with its mesh-like weave that conforms to your body, offering excellent back support.
It's incredibly durable with a 500 lb weight limit and it has a number of features that really set it apart from the competition. While it's definitely not the lightest or most packable camp chair on the market, it's perfect if you want a really stable camp chair that will last you for years.
Helinox Chair Zero
Best Lightweight Camping Chair for Backpacking
Great for: backpacking or bikepacking trips, camping trips where you need to save on space
What we like: very lightweight while still durable and strong
What we don't like: blows over with the slightest bit of wind, not as stable as other camp chairs due to the lightweight design
The Helinox Chair Zero is the most lightweight camping chair on this list by far. Weighing in at only 1 pound 2 ounces, this chair is a great option for backpacking, bikepacking, paddling, and other trips where every ounce matters.
Despite it being lightweight, it still has a weight capacity of 265 pounds and is made of durable ripstop polyester and aluminum poles. This chair doesn't feel delicate, but it definitely isn't as stable as other camp chairs on this list.
This chair also packs down to a fraction of the size of other chairs we've tried (roughly the size of 2 Nalgene water bottles), making it a great space-saving option as well.
BFT team member Courtney has been using the Helinox Chair Zero as her primary chair for both van life in Baja and backpacking trips. While she absolutely loves it for backpacking trips (you won't find a lighter, more comfortable backpacking chair), there are better options out there if you're looking primarily for a car camping chair. It's a little *too* lightweight and blows over (when you're not sitting in it) at the slightest hint of wind, which isn't a big deal when you're in the backcountry, but gets annoying when it's your daily camp chair.
Helinox Swivel Chair
Best Swivel Camping Chair
Great for: camping trips, fishing, social gatherings
What we like: Ability to swivel 360-degrees, packs down small
What we don't like: since it does have moving parts, there's more of a risk of parts breaking or getting worn out
The Helinox Swivel Chair is another lightweight and comfortable option from Helinox, but what makes it unique is its 360-degree swivel-ability (which makes it really easy to swing around and reach for a cold beverage from your cooler).
In addition to that, it provides proper back support and breathes well in warm weather thanks to the mesh fabric that runs along the sides of the chair. It packs down to only 16″ long and has a weight capacity of 265 lbs.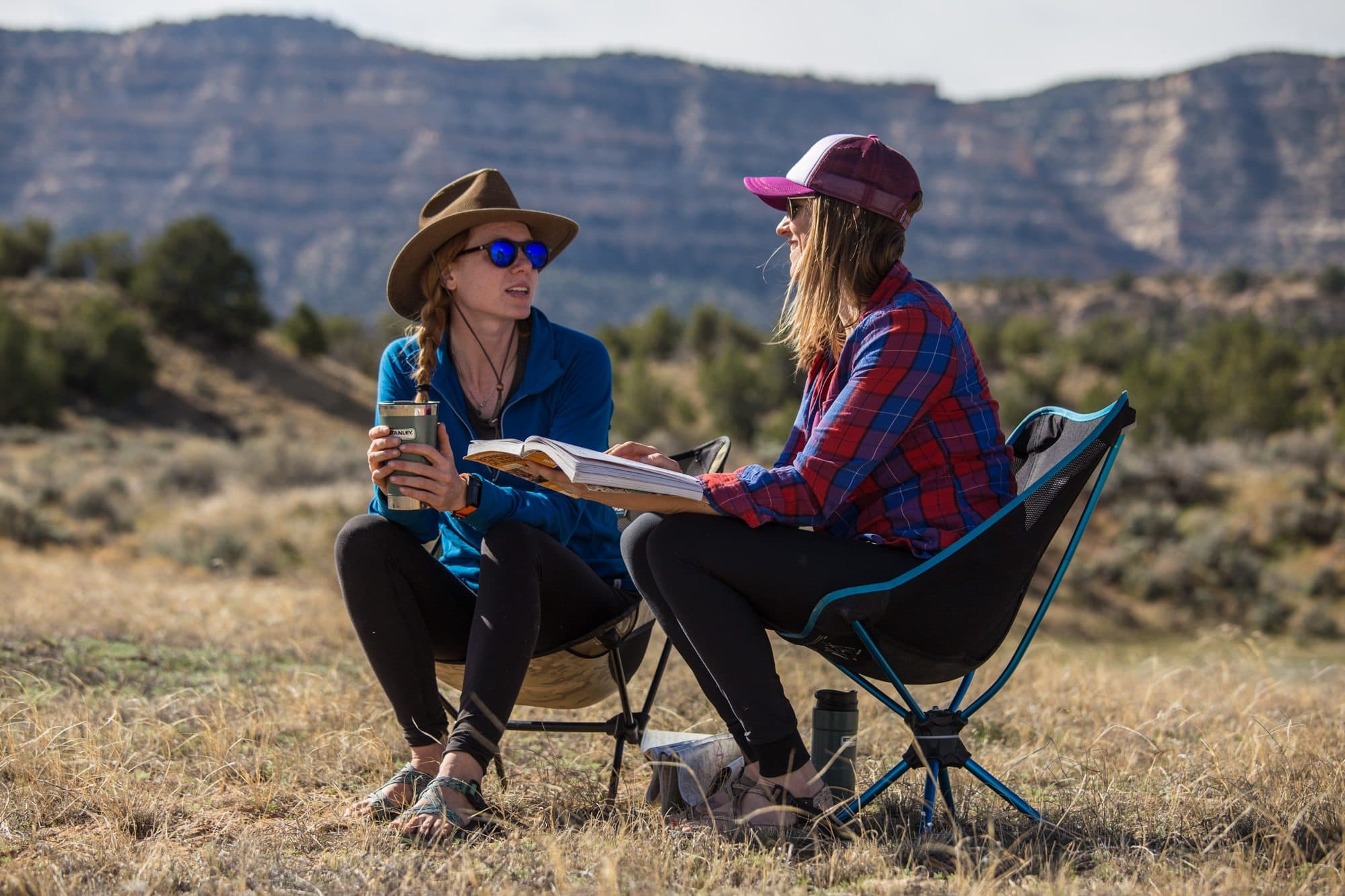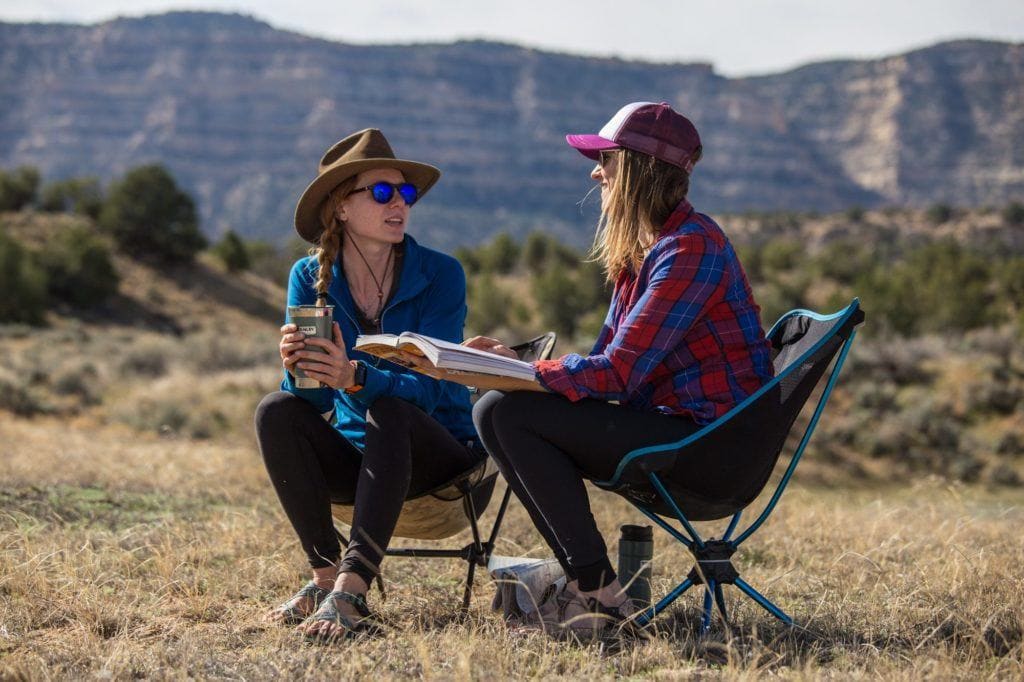 GCI Outdoor Pod Rocker Chair
Best Camp Rocking Chair
Great for: car camping trips, people who want the ability to rock in their chair
What we like: affordably priced, comfortable, unique rocking design
What we don't like: heavier than most other camp chairs on this list, moving parts can break or wear out over time
If you've ever thought that having a rocking chair at camp would be ideal, you can have it all with the GCI Outdoor Pod Rocker Chair.
We first started seeing camp rocking chairs like this a few years ago and this one has proven to be one of the best. It has a cup holder, mesh stash pocket, and the smooth rocking technology delivers perfect relaxation.
NEMO Stargaze Reclining Camp Chair
Best Hammock-Style Camp Chair
Great for: stargazing, people who want to rock easily in their camp chair
What we like: really comfortable for sinking into a chair
What we don't like: curved back means little back support, bulky when packed down, expensive
If total relaxation is what you're after, you can't go wrong with the NEMO Stargaze. This hammock-style camp chair is perfect for days by the river or stargazing. This chair's unique design allows you to recline and rock back and forth, making it easy to relax and take in the scenery around you.
It's also built with high-quality materials so you can be confident in its durability and longevity. The chair's mesh fabric is breathable and lightweight, making it perfect for warm weather camping trips.
REI Co-op Skyward Chair
Best Classic Folding Camp Chair
Great for: car camping trips, outdoor social events
What we like: affordably priced, sturdy, roomy, easy to set up and store away
What we don't like: quite heavy without having many bells & whistles
If you're looking for a classic folding camp chair with lots of room, the REI Co-op Skyward Chair is all that and then some. It's sturdy, comfortable, and has a versatile cup holder that can fit a variety of beverage sizes — plus a side stash pocket for books, maps, and anything else you want to keep on hand while you're lounging.
I also love that it folds down easily and slips into a carrying case with a strap that you can sling across your shoulders. This is a camping chair that will last you season after season, unlike cheaper classic folding camp chairs.
Mountain Summit Gear Loveseat
Best Two-Person Camping Chair
Great for: car camping with a group, a dog, or as a couple
What we like: large and comfortable
What we don't like: bulky when packed down
If you're looking for a loveseat to share with a friend, a loved one, or even your pet, the Mountain Summit Gear Loveseat is a good bet. It's durable and has a high weight capacity, plus you and your companion each get your own cupholders.
Its sturdy design will last you for years of camping trips and the included case makes it easier to transport and store.
Crazy Creek Hex Chair
Best Chair for Water Activities
Great for: paddling trips where you need back support, outdoor concerts
What we like: lightweight, packable, minimalistic
What we don't like: not as versatile
The Crazy Creek Hex 2.0 Chair is a legless chair that's lightweight and super easy to transport. This type of chair is great for outings and multi-day trips on the water because there's no harm in getting it wet. For example, you can use it in a canoe, on a kayak camping trip, or even on a paddleboard for extra seating support.
This chair is also great for concerts, picnics, and even for short overnight backpacking trips.
---
Features to Consider When Shopping for the Best Camp Chair
Picking out a camping chair shouldn't be complicated – all you really need is something comfortable to sit in that's not over your budget. However, the chair you buy should last you for years, so you may as well get one you love!
When shopping for your pick, here are a few features to consider.
Cupholders
This is an easy one – do cup holders matter to you or not? While most camping chairs have cupholders, many of the ultra-lightweight ones do not. For example, the Helinox chairs mentioned above are built to be very compact and as lightweight as possible so they don't have cupholders (although you can purchase them separately).
So in some cases, you may have to decide what's more important to you – a super lightweight chair or having a convenient place to keep your beverage.
Packability
All the chairs on this list are packable, although some pack down much smaller than others. The Helinox Chair Zero packs down to the smallest bundle by far, coming in at less than 13.5″ long, followed by the Helinox Swivel Chair at 16″.
Most of the other chairs on this list pack down to double (or quadruple) the size, so that's a consideration if you're looking to save space.
Weight
The lightest camp chairs also tend to be the most expensive because of the materials used and the well-thought-out design that allows them to be so lightweight yet sturdy.
If you're going car camping and plan to set your chair up at camp and leave it there, then weight might not be so much of a concern. But if you're going on a road trip with multiple stops where you're going to be loading and unloading multiple times, or if you're going to be carrying your chair over longer distances, you may want to go with something lighter in weight.
Value
If you're on a budget, you can pick up a super basic, cheap camp chair at a budget store like Walmart or order one off Amazon and it will probably be just fine. It likely won't last as long or be quite as comfortable as a camping chair made by a reputable company that makes higher-quality products, but if the price is a major concern, don't let that stop you from getting out there.
Check out our blog post on where to buy discounted outdoor gear if you're looking to save some cash.
Durability
A good camp chair should last you for years of use. All the chairs on this list are durable, with a weight rating of at least 250 pounds and most are made out of durable ripstop nylon or polyester.
Back Height
Many camp chairs have a lower back height (picture your standard, folding camp chair) but nowadays there are more options with higher backs. A higher back allows you to lean back in the chair and rest your head, whereas you can't do that in a camping chair with a lower back.
The Helinox Sunset Chair and the ENO Lounger DL Chair are both super comfortable chairs with high backs that allow you to really sit back and relax.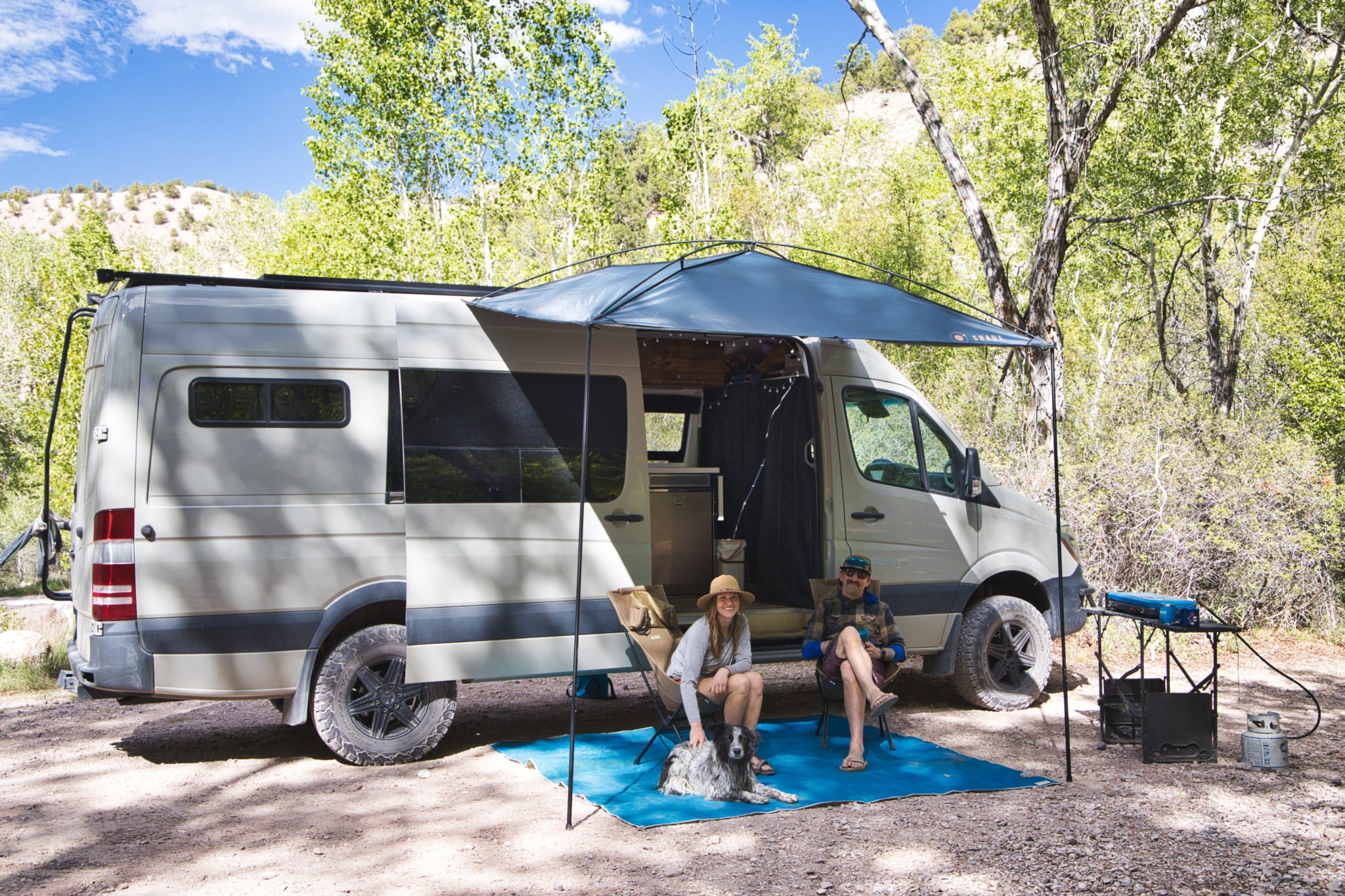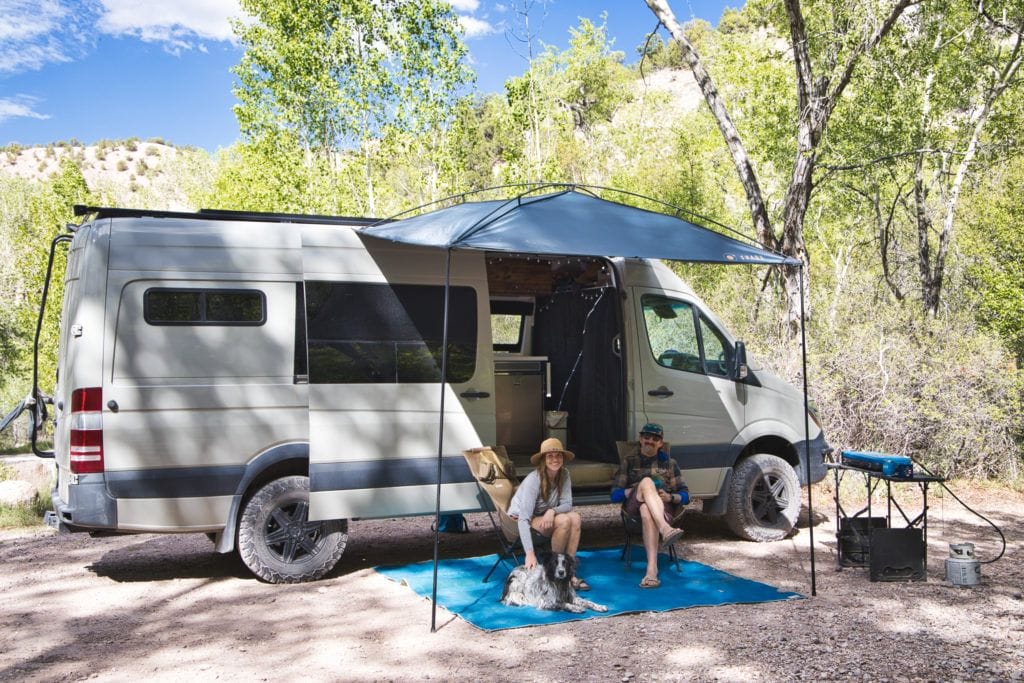 Comfort
All the camp chairs that we've tried have been comfortable at a basic level, but some are much more comfortable than others. What makes the difference is often how the armrests are positioned, how high off of the ground the chair is, and how high the back is. As mentioned above, a high-back chair allows you to really sit back and relax.
If comfort is very important to you, or perhaps you have back issues that make finding the right chair paramount, check out the ENO Lounger DL Chair. As someone who's had back issues from sitting on a computer for many hours a day, I found this to be the most comfortable chair I've tried as it forces me to sit back and relax and doesn't let me slouch. Another great option with good ergonomics and back support is the YETI Trailhead Camp Chair.
Ease of Set Up
The classic folding camp chairs, like the REI Co-op Skyward Chair, are super simple to fold out – you basically just pull the chair open. However, with this simplicity comes more weight and less packability. But if you're car camping and weight doesn't matter to you so much, this is a great camping chair that sets up in an instant.
Newer chairs on the market like the Helinox chairs on this list and the ENO Lounger DL Chair take a little more work to set up but in exchange, they're lighter weight and pack down to nearly half the size. The setup of these chairs is actually pretty simple, it just takes doing it once to get it down and get used to the new system.
What questions do you have about choosing the best camping chair? Have you tried any of these? Do you have a favorite that is not on this list? Let us know in the comments below.