Camp Cooking Kitchen Essentials for Camping & Van Life
Looking to upgrade your camp cooking gear for car camping or van life? Here is our checklist for the best outdoor camp kitchen essentials.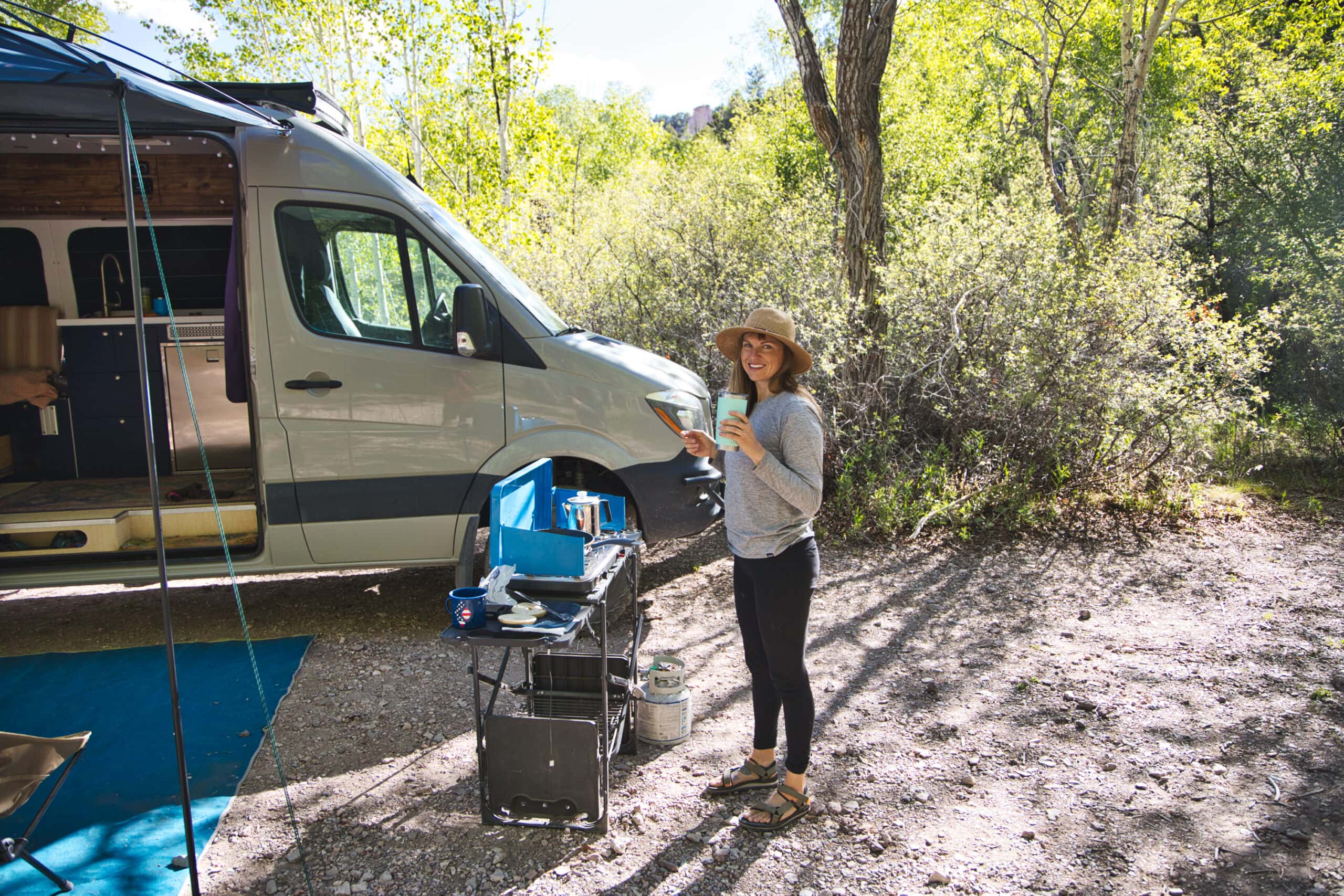 While we love exploring local towns by going out to eat on our road trips and camping trips, we try to cook at camp as much as possible. Cooking for ourselves saves money, is healthier, and allows us to spend more time at our beautiful campsites. At the same time, cooking takes motivation and having quality camp cooking gear that is convenient and easy to clean makes the process way more enticing. There's nothing worse than low quality camping cookware that causes food to stick to the bottom and makes cleanup a total mess!
After six years on-and-off of van life and plenty of camping trips, I've narrowed down our camp cooking kitchen essentials to a single bin of gear that comes with us on every trip and makes cooking much more fun. Whether you are car camping or looking to stock up your van kitchen, this post has you covered for camp kitchen essentials.
Ready to get cooking? Here is the complete guide to the best camp cooking essentials for your outdoor kitchen.
Camp Cooking Essentials: Big Gear Items
These are the big camp kitchen essentials that you'll need in order to prepare meals outside like a stove, cooler, camp table, and more.
Camping Stove
A camp stove is perhaps the most important piece of equipment in your camp kitchen. Ideally, you'll want something with two burners and good simmer capabilities so you can control the temps you're cooking on. The Eureka Ignite Plus Camp Stove checks all these boxes with two powerful burners and solid construction that will last you years of adventuring.
We also recommend picking up a refillable propane tank to help cut down on the amount of 1lb green propane cans that end up in landfills. I use a 25lb propane tank in my van, but if you're looking for something smaller, REI sells a 5lb refillable version. Buying a refillable propane tank is not only better for the environment, but it saves you a lot of money in the long run too!
Camp Kitchen Table
While some campsites have picnic tables, it's always handy to have your own table for your camp cooking station. This GCI Slim-Fold Cook Station table is my favorite because there's not only space for your camp stove, but also foldout tables and hooks that are perfect for chopping veggies and hanging a garbage bag for easy cleanup. This table sets up and breaks down quickly, and its folding mechanism means you don't have to spend time screwing legs in. It also has a heat-resistant table top, which is ideal for using camp stoves.
Check price: GCI Outdoor
Camping Cookware
A good set of pots and pans is key to a good camp kitchen setup. This Stanley Adventure Base Camp Cookware Set comes with everything you need including a stainless steel pot, a frying pan, plates, utensils, and a cutting board that all pack away in a compact nesting system – consider it an all-in-one camp cooking setup. It's stainless steel making it lightweight, easy to clean, and I especially love that the lid has holes for easy straining when making pasta.
Cast iron cookware is another good option for camp cooking – cast iron is heavy, but it's incredibly diverse and easy to clean once it's seasoned. Another advantage of cast iron is you can cook with it right over the fire.
Cooler
RTIC's coolers are known to be super rugged and durable no matter what kind of adventure you take them on and come at a lower cost than their competitor, Yeti. The extra-thick, insulated walls and super-tight seal keep inside temps colder longer. The RTIC QT 45 Cooler is the perfect size for comfortably keeping a weekend's worth of food and drinks cold. While pricier than some of the cheaper options out there, there is good reason. The ice lasts longer than any other cooler I've tried. BFT team member Courtney uses an RTIC cooler in her van and depending on the climate, she only needs to buy ice every 5-10 days.
Check price: RTIC
Camp Meal Prep and Dining Ware
In addition to camp cookware, meal prep items, utensils, and dining ware like plates and bowls that can withstand rugged environments and wear and tear are camp kitchen essentials.
Camp Cooking Utensils
If cooking utensils don't already come with your cookware set, you'll need some basic cooking utensils to whip up those gourmet camp meals, This 3 piece MSR Alpine Folding Utensil Set is multi-functional – the spatula has a serrated edge (perfect for cutting bread and soft cheese), the spoon doubles as a measuring device, and grater doubles as a strainer with a curved ridge in the middle to fit pot rims for efficient straining. Best of all? These utensils fold by simply squeezing the handle so they're easy to pack, but they won't collapse while using them.
Check price: Backcountry | Moosejaw | MSR
Camping Knife Set
A sturdy knife set is a must for camp cooking essentials. I love GSI Outdoors Santoku Knife Set because it comes in a compact carrying case and includes a foldable cutting board and mini cleaning set. This knife set includes three different knives – a paring knife, chef's knife, and serrated knife – perfect for all your camp cooking meals!
Check price: REI
Flat Cutting Boards
These flat cutting boards are super thin and extremely flexible, so they can be stored almost anywhere. This set comes in 4 and each is labeled for its designated use – like cutting up raw meat vs veggies. Plus they have a grippy bottom so they don't slide when you are chopping.
Check price: Amazon
Plates/Bowls
If your cookset doesn't come with plates and bowls, GSI Outdoors Infinity Deluxe Table Set is super easy to clean, durable, lightweight, and doesn't rattle around while you're driving. I've been using GSI Infinity plates and bowls for years whether I'm camping or on the road in my van. Although I like the classic look of enamel plates and bowls, I find that they tend to make your food cold more quickly and much prefer these.
This 4-person set comes with bowls (with sealable lids for easy storage of leftovers), mugs (with Sip-It lids and EVA sleeves for easy handling and to keep beverages hot), plates, and drinking cups. If you don't need the full set, you can buy individual plates, bowls, and mugs.
Check price: GSI Outdoors | Backcountry
Eating Utensils
If you have an old set of utensils at home, throw those in your camp cooking bin and make them part of your kit. If you're looking for something new, the Coleman Flatware Set is a great option. Some people like using plastic or aluminum sporks for camp meals, but I prefer the feel and functionality of regular utensils. These are stainless steel and will last you for years in your camp kitchen and come with a roll-up carrying case for easy storage.
Check price: Backcountry
Camp Cup
I tend to have one cup that I use for everything, whether it's coffee, tea, or a nice cold beverage. This YETI Rambler Tumbler is my favorite – it keeps hot drinks hot and cold drinks cold. The lid is easy to open and close yet prevents major spills, and the tumbler itself comes in lots of fun colors. One other thing I love about this mug is the lid is really easy to clean. It's little things like this that make a difference when it comes to the best camp cooking gear.
Check price: YETI | Backcountry | REI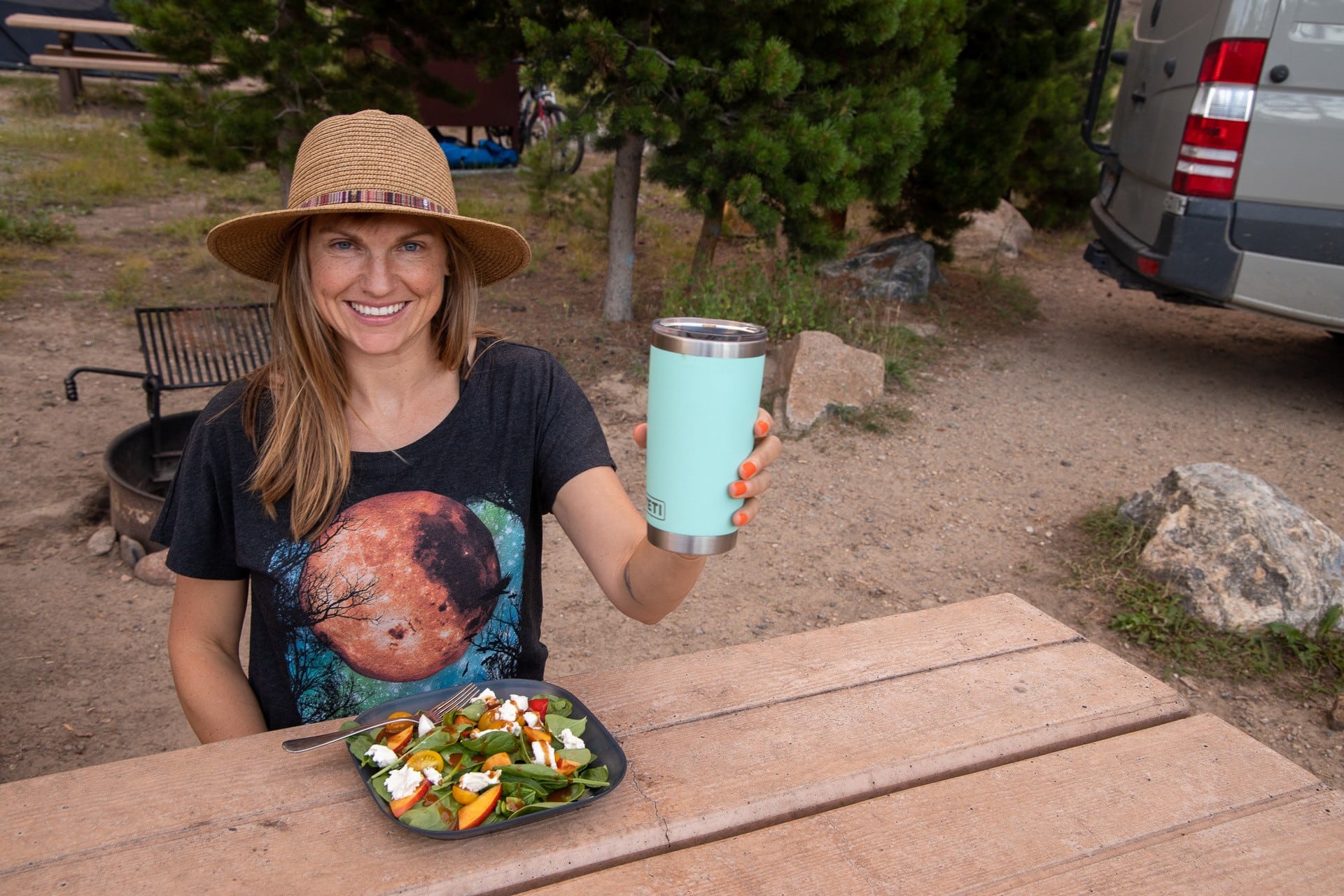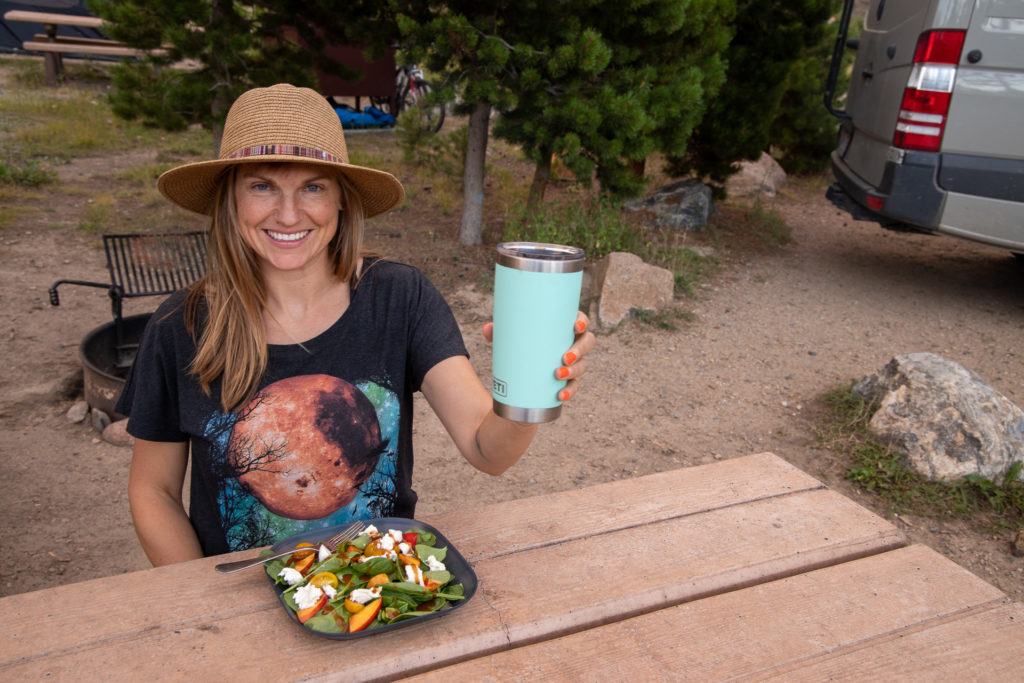 Camp Cooking Nice-To-Haves
These items aren't necessary for a camp kitchen set-up, but they're nice to have if you want to whip up a wider variety of meals while car camping or living in a van.
Aeropress or French Press
Coffee is an integral part of my morning routine both at home and off on adventures, and having a reliable way to make coffee on the road is a must. My go-to for over 10 years has been the AeroPress and the AeroPress Go travel coffee press – is super compact, it takes less than a minute to make a cup of coffee, and the cleanup is super easy. You can read my full review of the AeroPress Go here. If you plan to make coffee for large groups, I love the Stanley 48oz Stay Hot French Press.
Check price: REI
Griddle / Grill
If you want to take your camp cooking up a notch, you'll likely want to add a griddle to your camp cooking kit. This Lodge Reversible Griddle/Grill doubles up by providing a smooth side for eggs and pancakes and a ribbed side for grilling meats and veggies.
Check Price: REI
Wine Glasses
If you want to save your camp cup for non-alcoholic beverages, the YETI Rambler Wine Tumbler is a sturdy, stemless happy hour option to keep in your camp kitchen. These glasses have a low center of gravity which is perfect for uneven camping surfaces, and it's vacuum sealed so you can also use it for hot drinks.
Check price: YETI | REI | Backcountry
Collapsible Tupperware
Tupperware takes up a lot of space, but you'll need it to store leftovers, especially if you are trying to avoid using single-use ziplocks. This collapsible silicone tupperware set is a great way to do-so without sacrificing a better part of a drawer. You can also use these to pack lunch when you are out on a day hike.
Check price: Amazon
Collapsible Nesting Measuring Cups
It's pretty handy having a couple of measuring cups on hand. Normal measuring cups take up room and can be too tall for your bin even if you nest them. These collapsible measuring cups lay down flat and are a great space saving solution.
Check Price: Amazon
Camp Kitchen Clean-Up
Camp clean-up usually needs to be quick and efficient in order to conserve water. We like to use the following items to make camp kitchen clean-up as effortless and easy as possible so we can spend more time around the campfire.
Dish Bucket
A dish bucket or sink makes clean up at camp much easier and more efficient. This Sea To Summit Camp Sink stands up on its own when filled with water thanks to a sturdy stainless steel ring and collapses down for easy storage when not in use. It also has two handles for easy carrying and comes in three sizes: 5L, 10L, and 20L. I typically have two collapsible buckets on hand – one for soapy water, and one to rinse off dishes. When doing dishes at camp, make sure to follow Leave No Trace Principles and scatter your dishwater 200ft away from rivers, lakes, and streams.
Check price: Sea to Summit | REI | Backcountry
Dish Drying Towel
A small, microfiber towel that's quick-drying is always handy to have around camp. We like the personal-sized PackTowls. Use them for drying dishes, wiping your hands while you're cooking, and cleaning up messes. They can be easily rinsed out and hung up to dry for the next use. PackTowls come in a variety of sizes which is perfect for any car camping or van life needs.

Check price: Backcountry | REI | Moosejaw
Eco-friendly dish soap
When you're washing dishes outdoors, you want to make sure to use eco-friendly dish soap. We like the Sea to Summit Wilderness Wash because it's biodegradable, tough on grease, and super concentrated so a little bit goes a lot way.
Check price: REI | Sea to Summit | Backcountry
Stasher Bags
I'm always looking for ways to reduce waste while camping and focus on ways to live more sustainably, and I encourage you to do the same. I've tried lots of reusable bag options and Stasher bags are my favorite. They're made of silicone, easy to clean, and a convenient way to pack your trail lunch or dinner leftovers. You can even bake or boil in them, which can be handy, especially for heating up meals when camping.
Check price: REI
Van Life Specific Cooking Items
While all of our recommendations can be used whether you are car camping or living in a van, a few are van-specific, like induction-stove safe cookware and cooking gadgets that require a lot of power. Read our full guide to van life cooking here and find my favorite van-specific kitchen essentials below.
Instant Pot 3 Quart
Adding an Instant Pot into my van kitchen has been a gamechanger – this little device can do so much! From quickly cooking meals, to steaming and sautéing, to cooking rice – the Instapot takes up little space and is truly multi-purpose.
Check Price: Amazon
Blender
Having a small blender in the van has helped make the transition to a vegan diet a breeze. Fresh smoothies in the morning or after a long hike is a healthy, delicious luxury in the van. The Ninja Personal Blender creates the perfect portion size and you can drink right out of the blender cup, meaning less mess to clean up.
Check Price: Amazon
Induction Stove Safe Cookware
Van life requires a creative approach to using space and one of our favorite space-saving techniques is to use this Magma Nesting Cookware. Everything in this set nests together perfectly and can be easily stored in a cabinet. The pots are easy to clean and the handles are also detachable, making them even easier to stash away. Plus, this cookware is induction friendly for those of you with an induction stove in your van. These are a splurge, but they have held up great for me.
Check Price: Amazon
Looking for additional van gear? Here's our top picks:
Do you have any questions about camp cooking gear or have any camp kitchen essentials to add? Leave a comment below!