Having a full kitchen to whip up delicious and comforting meals is one of my favorite luxuries of van life. I love cooking foods that are easy and convenient, but also healthy and inspiring. In order to make van life cooking enjoyable, though, it's important to design and plan a van kitchen that works for you. We have a whole post in our Van Life Road Map Course on Van Galley Options and Ideas, but we wanted to round up a few additional camper van kitchen ideas to give you even more inspiration.
There's no one right van kitchen layout or perfect mini-fridge, but we hope that these beautifully converted camper van kitchenettes help you plan out the best kitchen for your van life adventures
Here are 10 different camper van kitchen ideas that showcase a variety of layouts, appliances, storage options, and more!
Camper Van Kitchen Considerations
The two biggest considerations when it comes to planning your van kitchen are designing a layout and choosing appliances. To get a more in-depth overview of these topics as well as details on other camper van kitchen considerations like flooring and storage, be sure to browse the first two modules in our Van Life Road Map Course.
Camper Van Kitchen Layout
When it comes to floorplan layouts, there are a number of different options for camper van kitchen ideas. The 'best' floor plan depends on your lifestyle and kitchen needs. Think about how much you'll be cooking, what kind of meals you'll be whipping up, the climate you'll be cooking in, and how much storage you need for both food and cookware. Choose a kitchen floorplan based on functionality and efficiency.
Van Kitchen Appliances
The second thing you'll want to consider when planning your van kitchen is which appliances you want to install. There are pros and cons for all van kitchen appliances including top-loading vs upright refrigerators, propane vs electric stoves, and whether or not to install an oven. Read more about the pros and cons of each of these in our blog post Van Conversion Kitchen: Galley Options and Ideas.
---
Camper Van Kitchen Ideas
Ready for some inspiration? Below are 10 of our favorite van galleys that we think showcase a variety of the best camper van kitchen ideas and designs.
1. @thetravelbobbers
The Travel Bobbers live in a beautiful, self-built VW Crafter. We love the layout and design of their kitchen with its tiled backsplash, copper basin sink, and wood countertops. They have plenty of counter space including a fold-down leaf at the end of the bench and lots of cabinet and shelf storage above.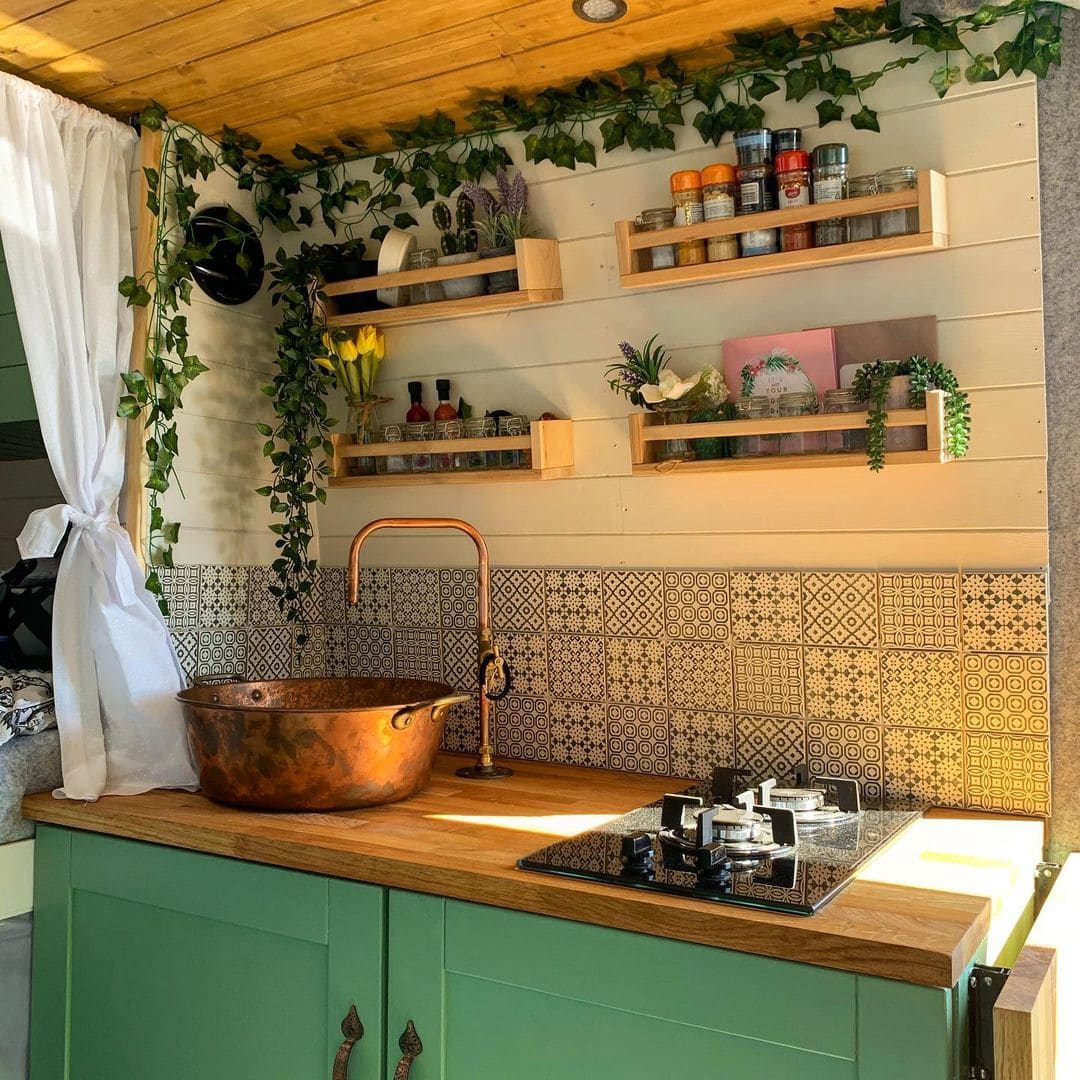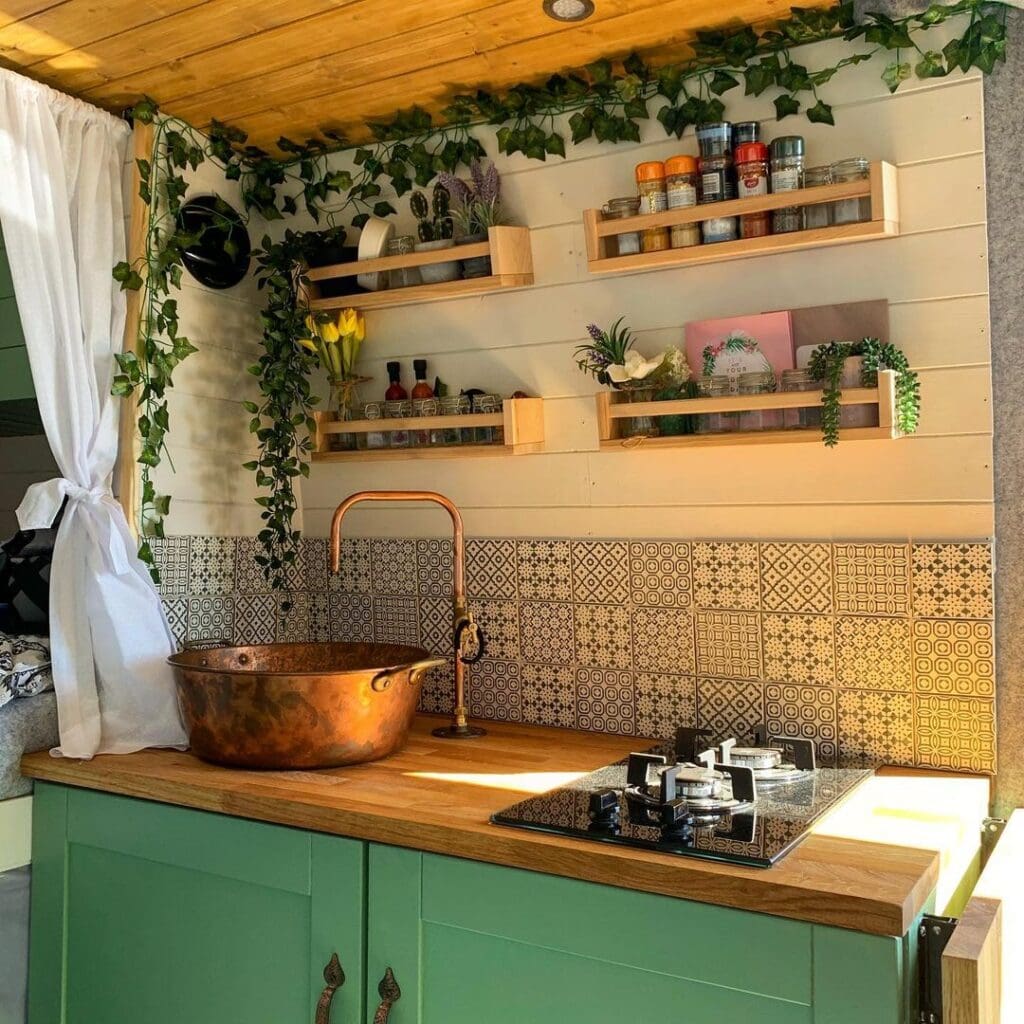 2. @asobolife
This simple design from Yuko and Eric of @asobolife is both beautiful and functional. We love the tiled backsplash as well as the dark wood countertops. The built-in spice holder gives quick access to kitchen staples while the cabinets above and below provide ample storage space.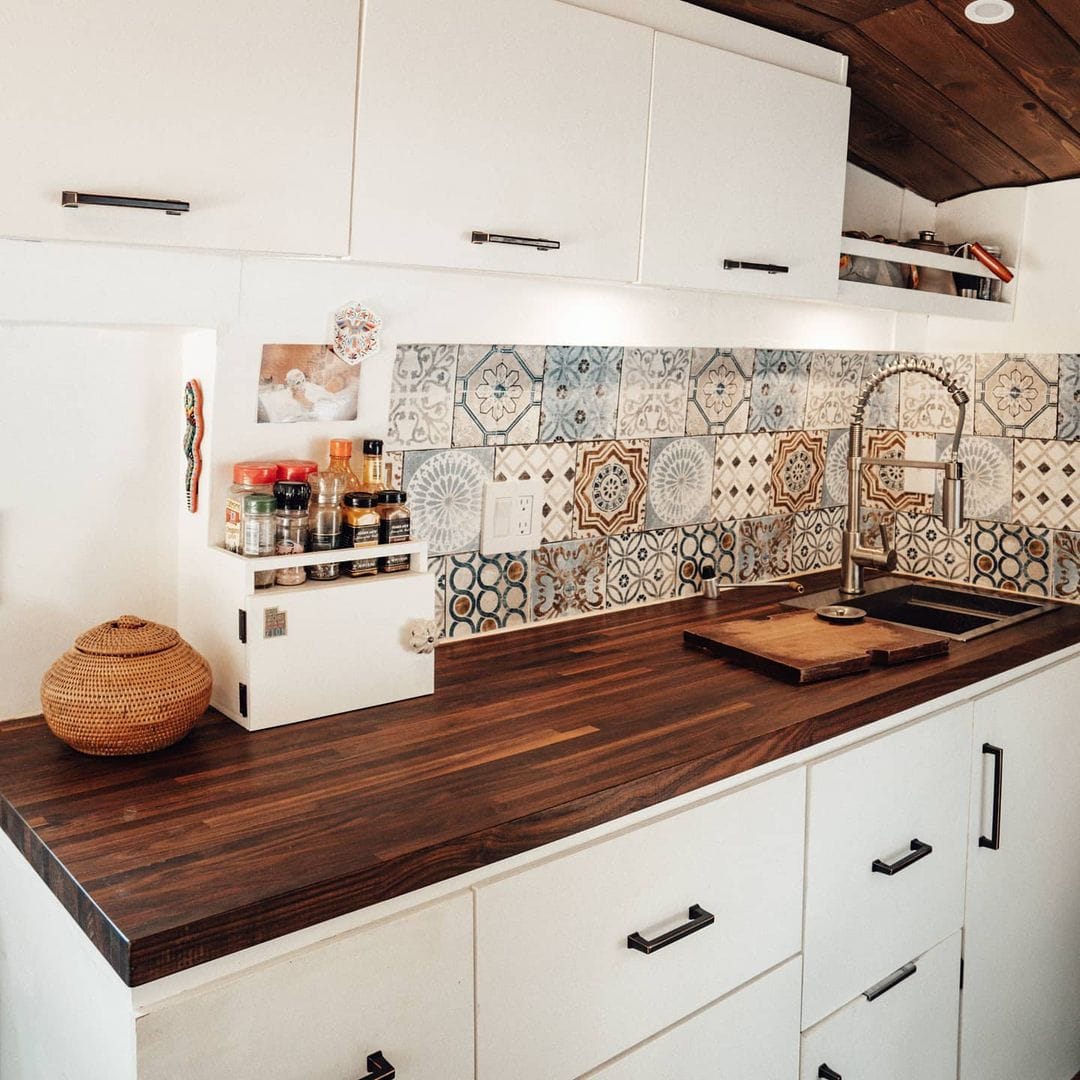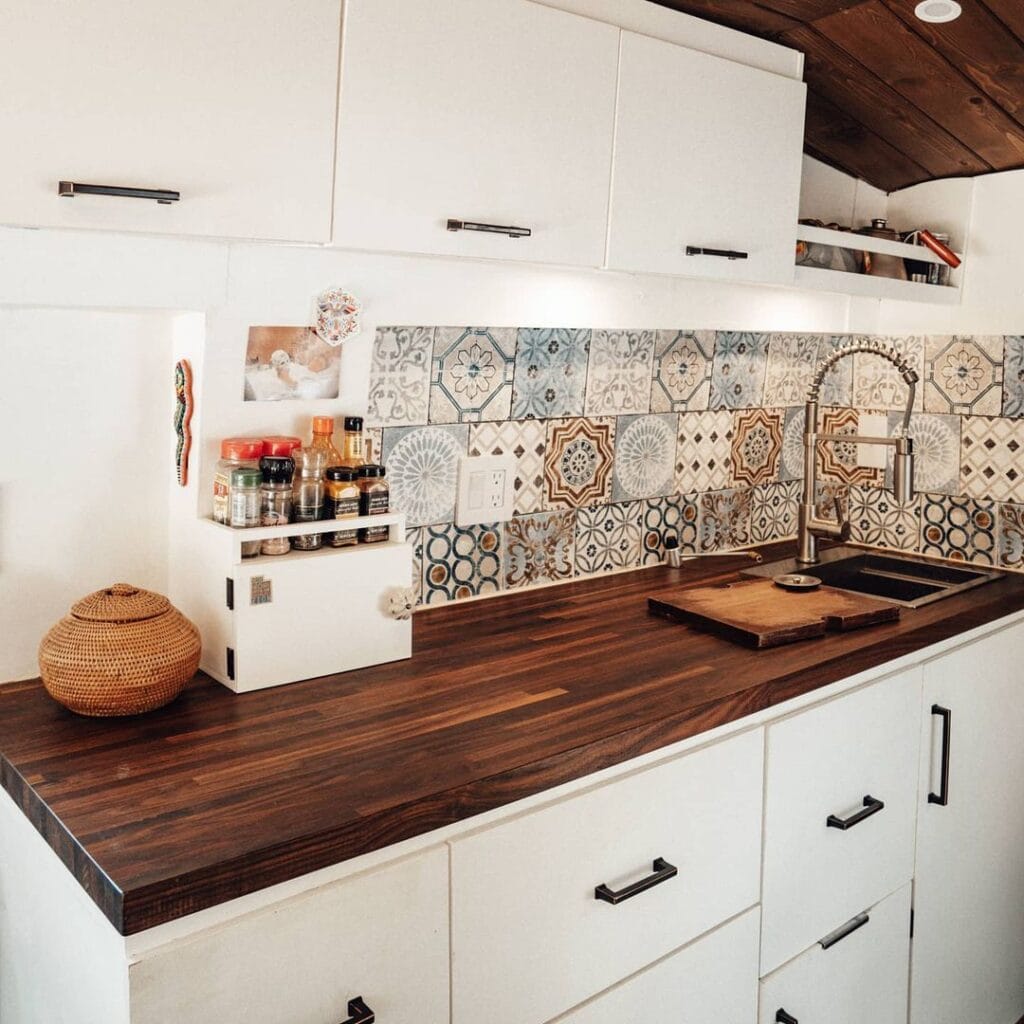 3. @ourhomeonwheels
Jace and Giddi decided to utilize the space behind the driver's seat as part of their kitchen, which we think is a super clever and unique camper van kitchen idea! It allows for more counter space and a larger living area. The drawbacks are that the front seats can't swivel around and there's no quick access between the driver's cabin and the back of the van, but for a family traveling together, this might be a great set-up!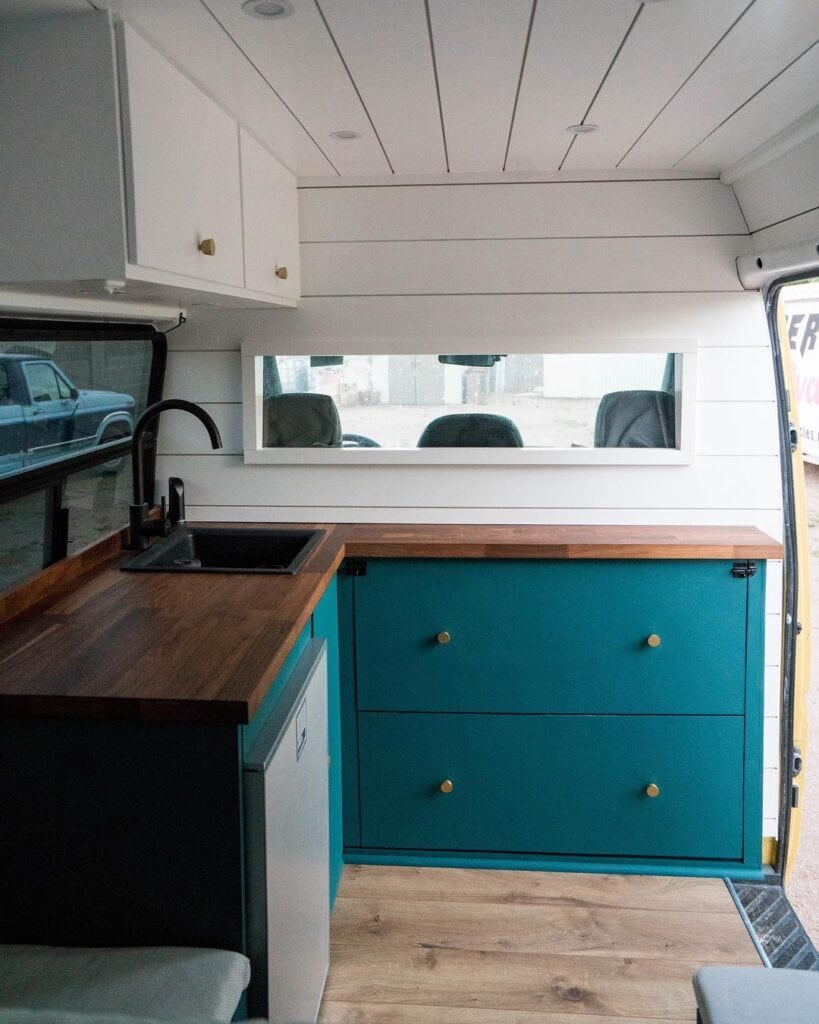 4. @bearfoottheory
I really love the layout of my van kitchen built by Outside Van (this is their large galley). We have plenty of counter space to prep and cook food on, and the overhead cabinets and side drawers hold all the supplies we need. Having the fan directly over the kitchen also helps keep the van odor-free when we're cooking. I've found that my fridge is the perfect size for two. For more details on my van, check out my full van tour.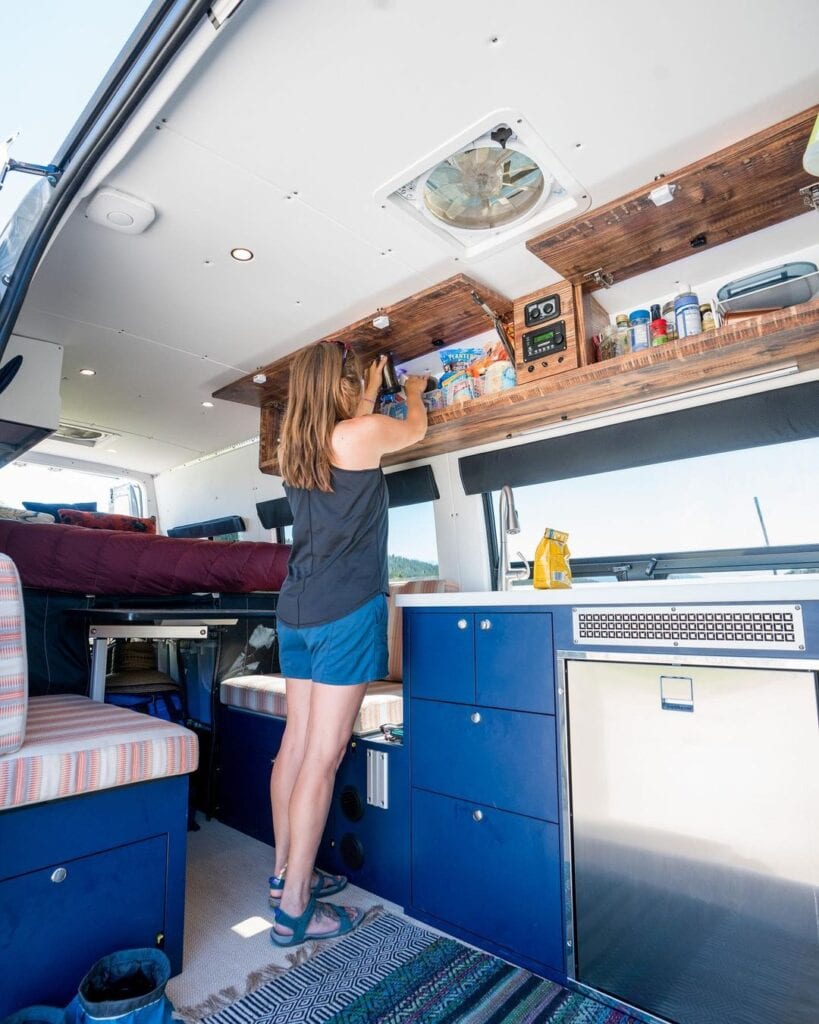 5. @thehuntersvanlife
We really like how Ethan & Katelynn positioned their stove to face outside. Every meal is made with a view! We also love their clever storage solutions like the hanging utensil rod and cleaning bucket. They also installed an oven underneath the stove, which allows for a lot more creativity and meal options when cooking on the road.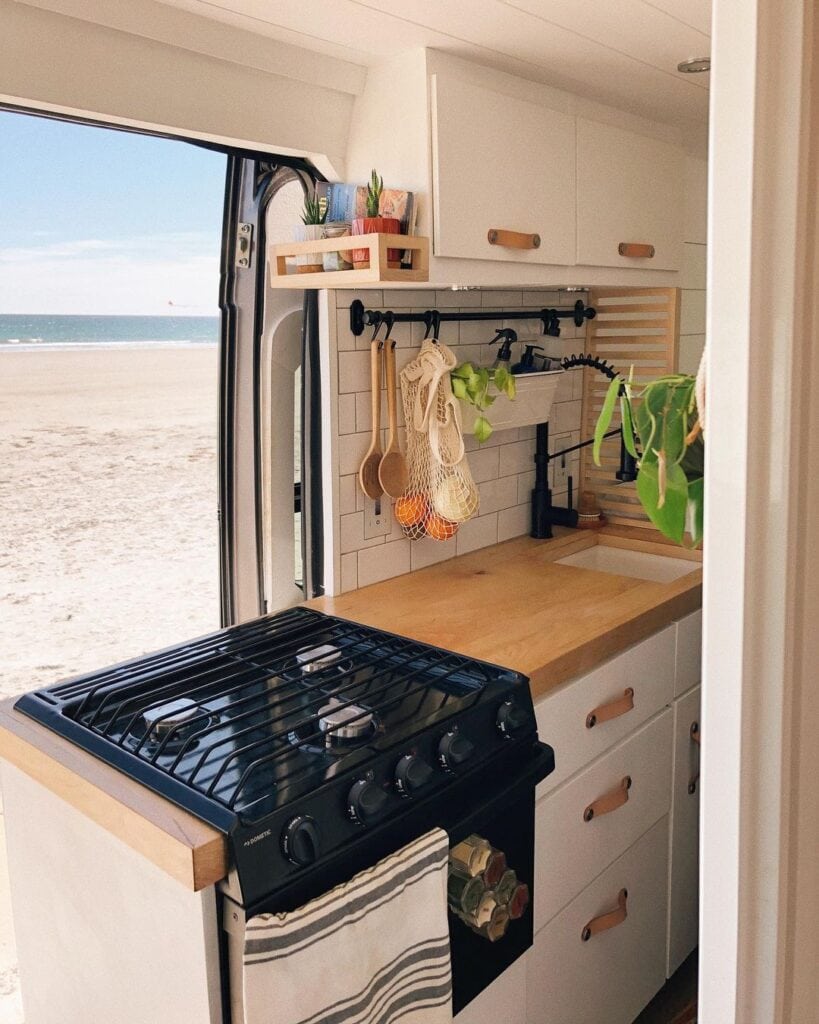 6. @vananahammock
Dillion and Katie have created a super unique kitchen layout in their 2010 Mercedes Sprinter 170wb. We love how this floorplan separates the kitchen from the bedroom and offers plenty of space in the living area. They chose a portable and energy-efficient ARB top-loading fridge that slides out from under a seat bench.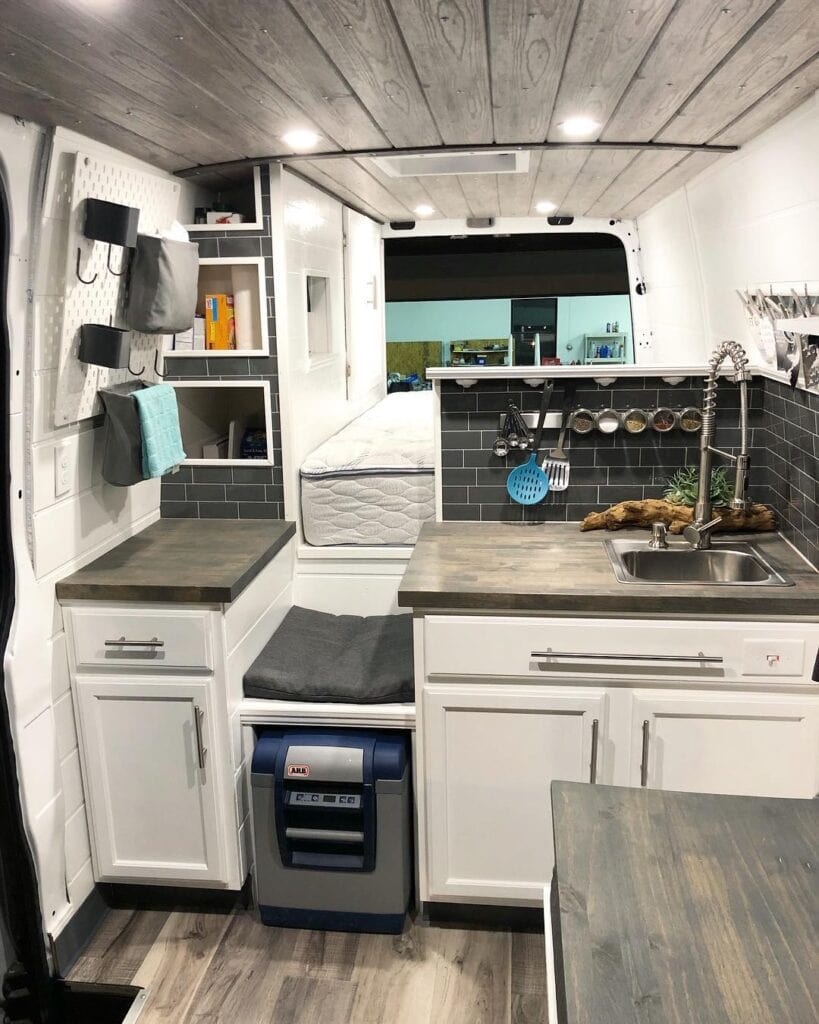 7. @ourvanquest
This beautifully designed kitchen by the Skoolie family almost looks like it belongs in an apartment! They have since moved into a school bus (understandably for a family of four on the road), but their prior van is definitely still a source of inspiration for camper van kitchen ideas (like the pull out pantry). Have a scroll through their Instagram feed and you'll see what we mean!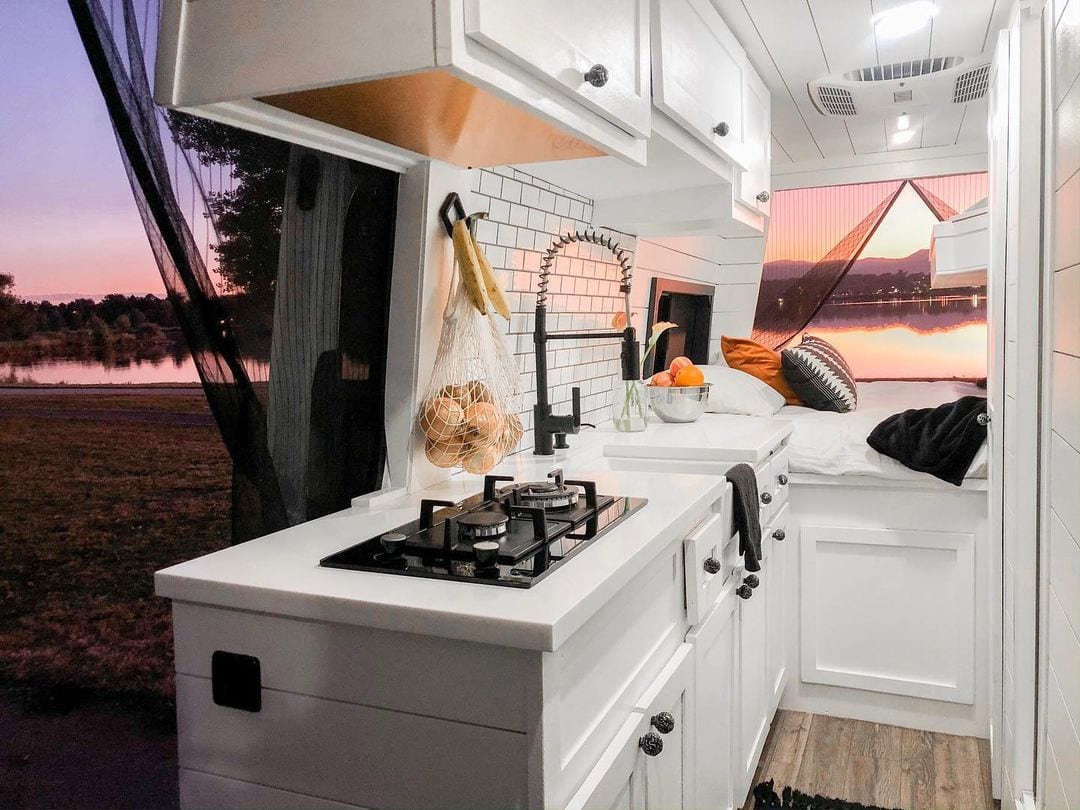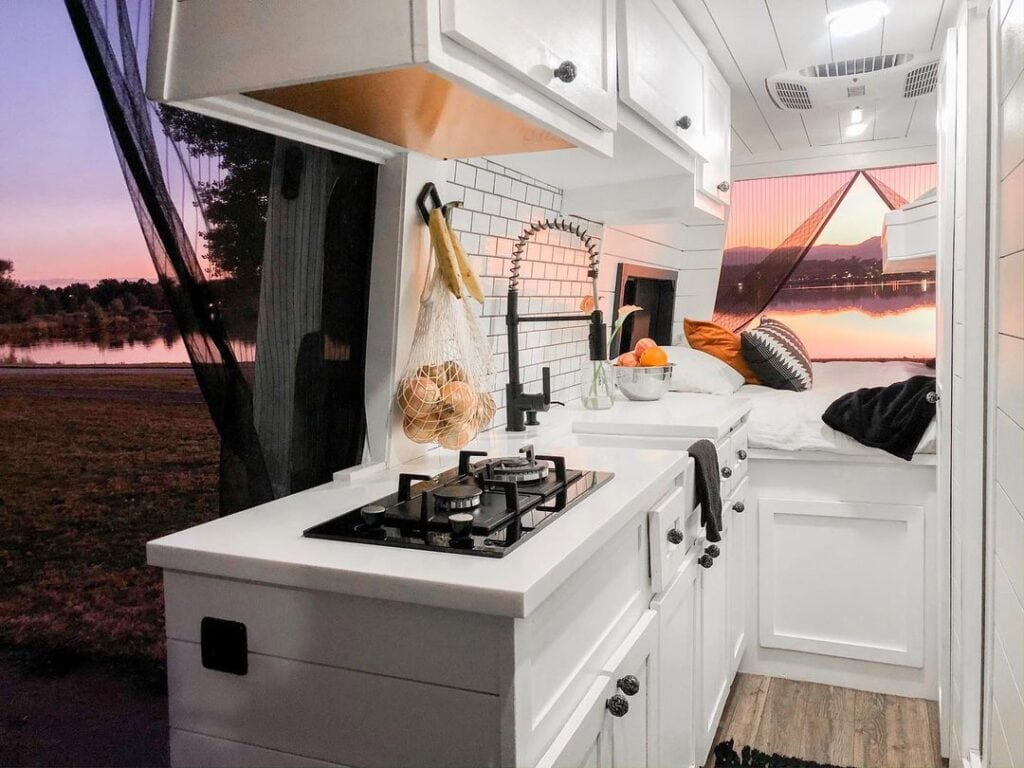 8. @rebornbyadventure
We included this camper van galley to show another option for a fridge. Natasha and Jacob use a top-loading drawer-style Dometic fridge that pulls out from under the kitchen counter. It's energy-efficient and can hold as much food as an upright fridge.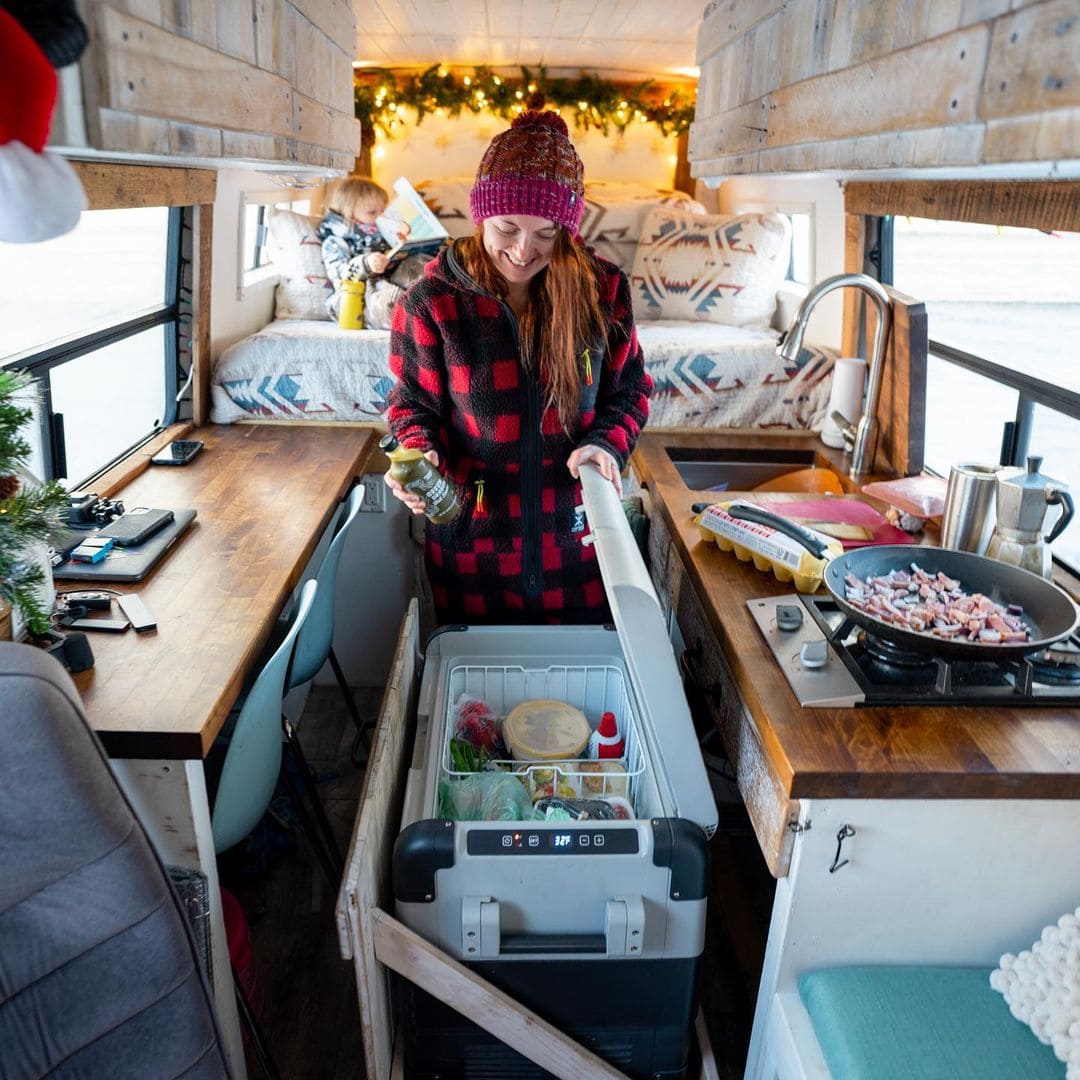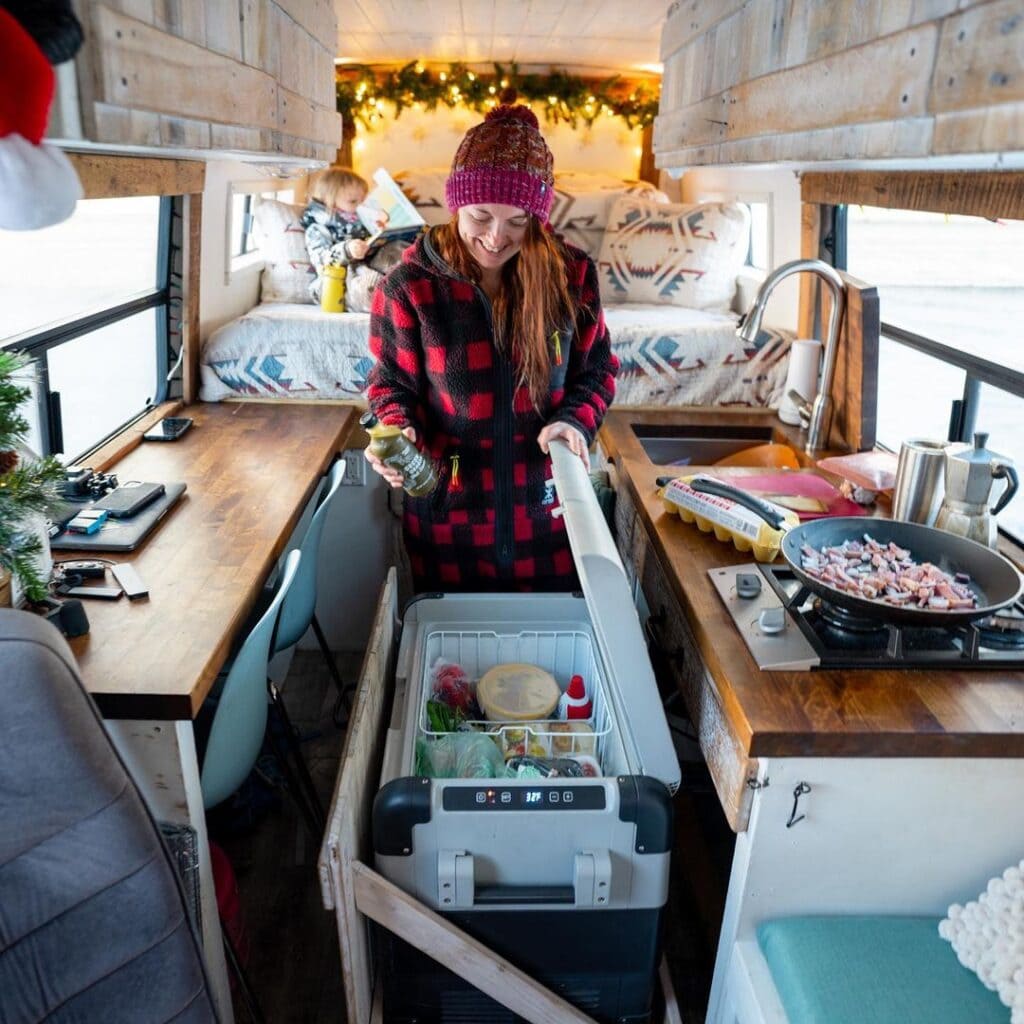 9. @escape.conversions
We love the efficient use of space in this van build. The kitchen is slightly smaller than other examples in this post, but Escape Conversions has included some clever storage ideas and a fold-away table for counter space. It also has an oven, which can help keeps meals exciting and inspiring.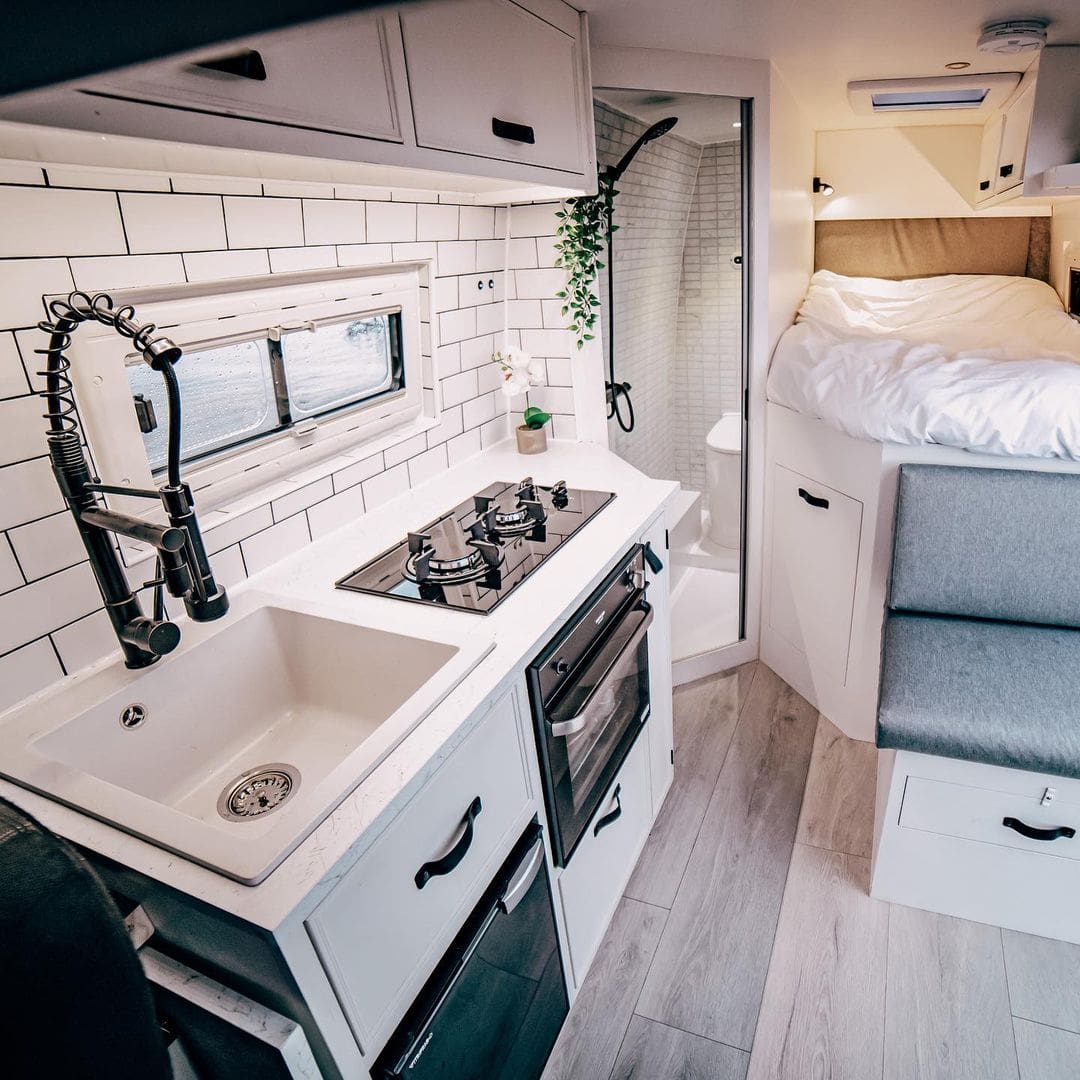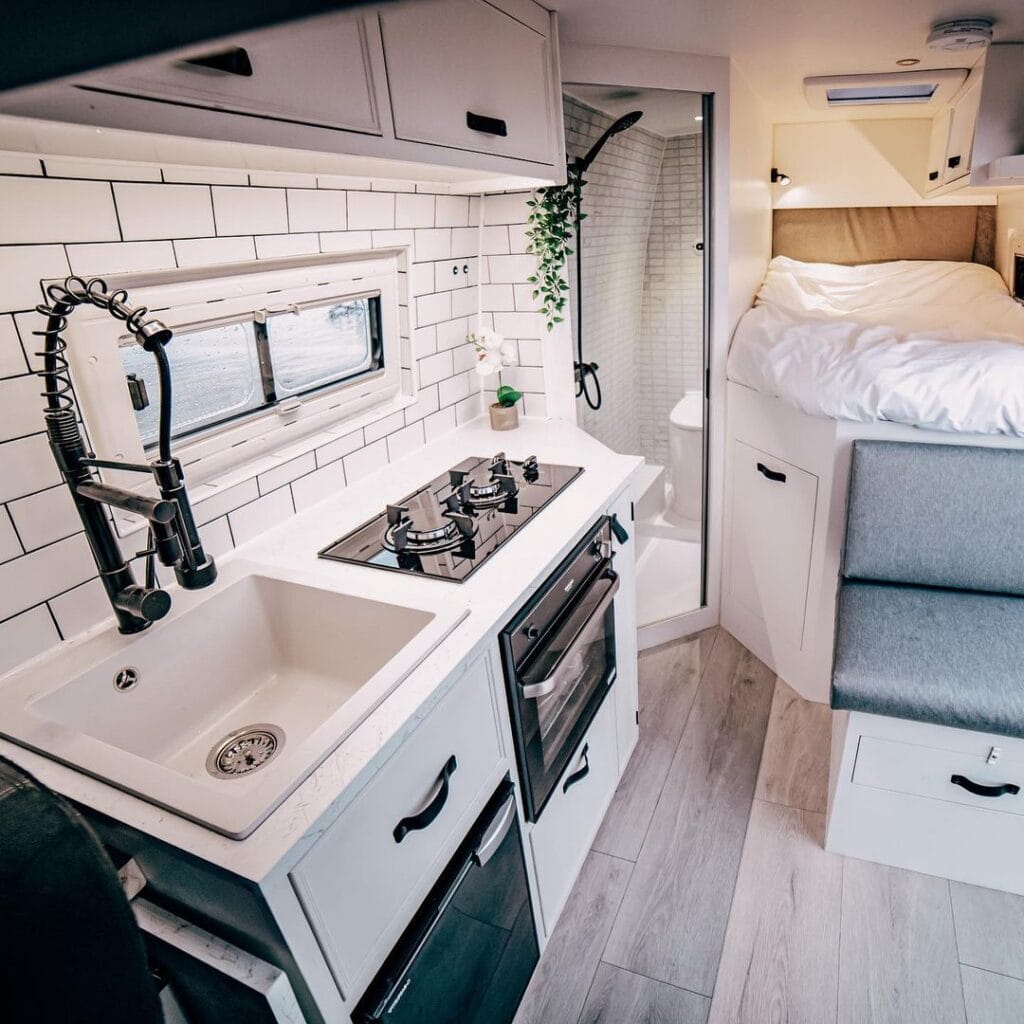 10. @courtandnate
We love the big farmhouse sink in Courtnie and Nate's van! There's also a ton of counter space and the wood countertops match beautifully with the ceiling panels.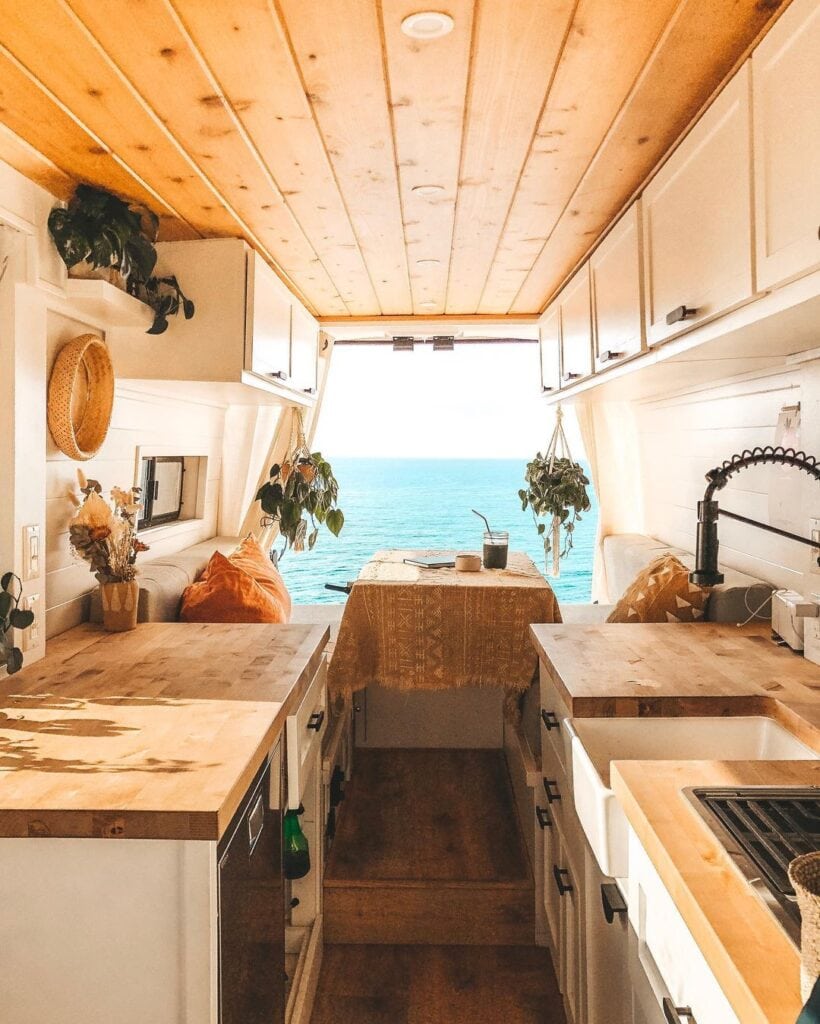 ---
We hope this post gives you some inspiration as you collect camper van kitchen ideas for your own van kitchen!
Have you seen any other interesting camper van kitchen ideas and layouts? What features do you want in your van kitchen the most? Leave a comment below!