15 Camper Van Kitchens for Layout & Design Inspiration
Find inspiration for your next camper van kitchen with these beautiful layouts and designs!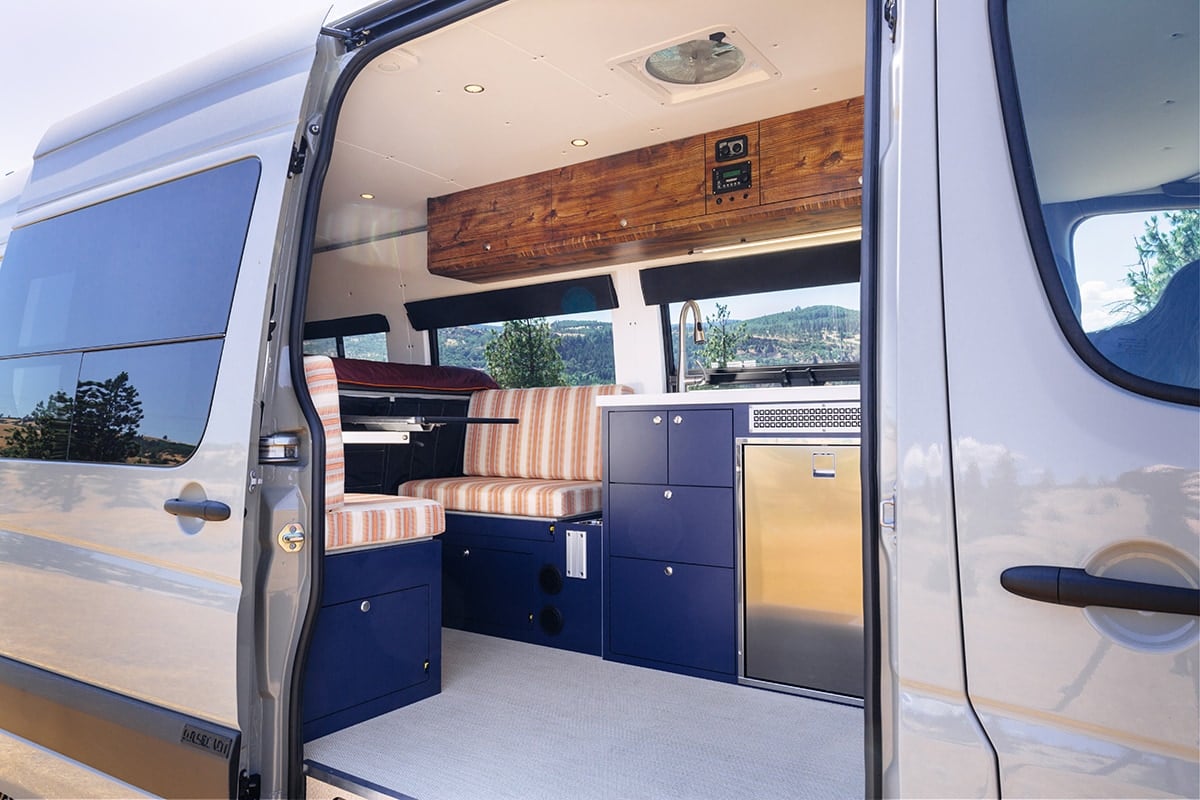 Having a full kitchen to whip up delicious and comforting meals is one of my favorite luxuries of van life. I love cooking foods that are easy and convenient, but also healthy and inspiring. In order to make van life cooking enjoyable, though, it's important to design and plan a van kitchen that works for you.
In this post, we've rounded up 15 different camper van kitchens to give you some inspiration for your own mobile kitchen layout, design, appliances, and storage options. There's no one right van kitchen layout or perfect mini-fridge, but we hope that these beautifully converted camper van kitchenettes help you plan out the best kitchen for your van life adventures.
Sponsored by Storyteller Overland
Storyteller Overland builds family-friendly, adventure-ready 4×4 Sprinter Vans ready to drive off the lot. Their mission is to inspire outdoor enthusiasts to live free, explore endlessly, and tell better stories. Their MODE Vans come with all of the important essentials, including a shower, murphy bed, galley, and seating for 4. Check them out on their website and social media.
Camper Van Kitchen Considerations
The two biggest considerations when it comes to planning your van kitchen are designing a layout and choosing appliances, so keep that in mind as you look at these kitchen examples. For more layout inspiration and details on other van conversion considerations like flooring and storage, be sure to check out our van life homepage.
Camper Van Kitchen Layout
When it comes to van floorplans and layouts, there are a number of different options for camper van kitchen ideas. The 'best' floor plan depends on your lifestyle and kitchen needs. Think about how much you'll be cooking, what kind of meals you'll be whipping up, the climate you'll be cooking in, and how much storage you need for both food and cookware.
You'll also want to think about how you want to be able to move around in your van, for example, whether you want to be able to easily go from the cockpit to the kitchen in the back of the van to whip up a snack on the road. Then choose a kitchen floorplan based on functionality and efficiency. We share ideas on how to maximize your kitchen and cook in a small space here.
Van Kitchen Appliances
The second thing you'll want to consider when planning your van kitchen is which appliances you want to install. There are pros and cons for all van kitchen appliances including top-loading vs upright refrigerators, propane vs electric stoves, and whether or not to install an oven.
Deciding what appliances you want in your van build and how you want to house them will help you figure out your kitchen layout. Read more about van kitchen appliances and the pros and cons of different options in our guide to van galleys and appliances.
---
Camper Van Kitchen Ideas
Ready for some inspiration? Below are 15 van kitchens that we think showcase a variety of the best camper van kitchen ideas and designs.
1. @storytelleroverland
The kitchen in Storyteller Overland's ready to go 4×4 adventure vans comes with a refrigerator, a portable induction cooktop, a stainless steel sink with a folding faucet for extra counter space when not in use, an exterior fold-down table, and even a microwave which isn't something we see very often in converted camper vans. We love that this kitchen faces out the sliding door for maximum views and fresh air. The bed in the back can fold away for more space when cooking and eating as well.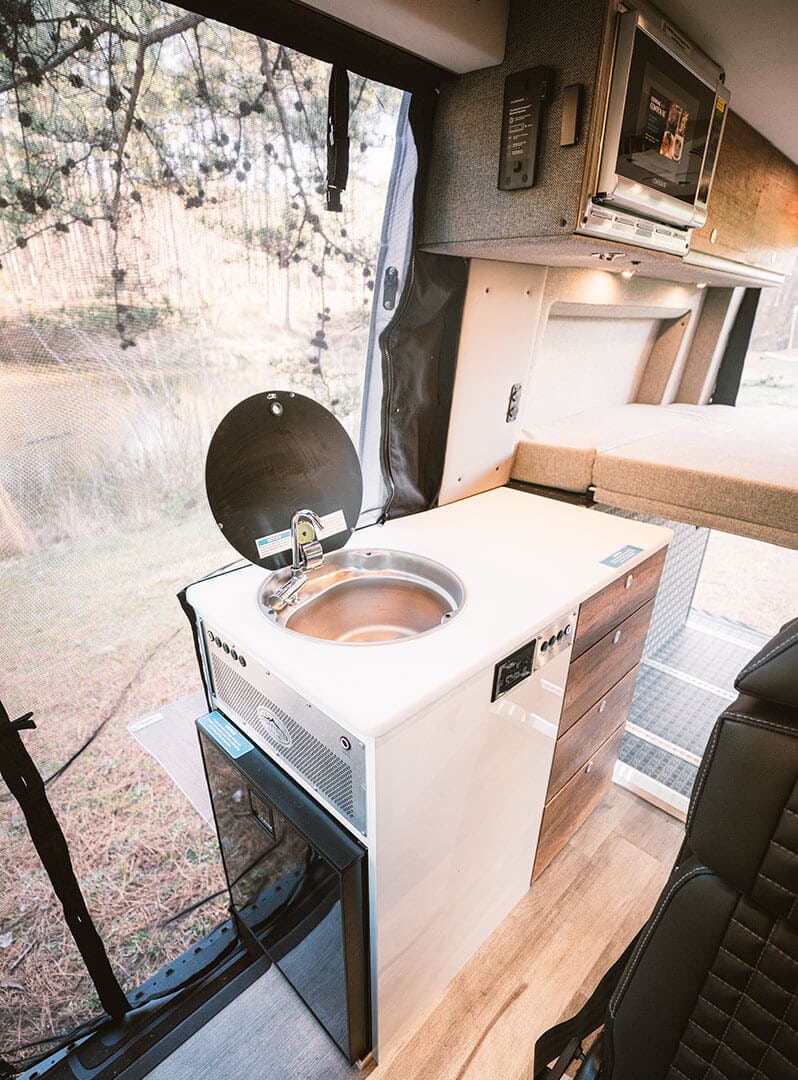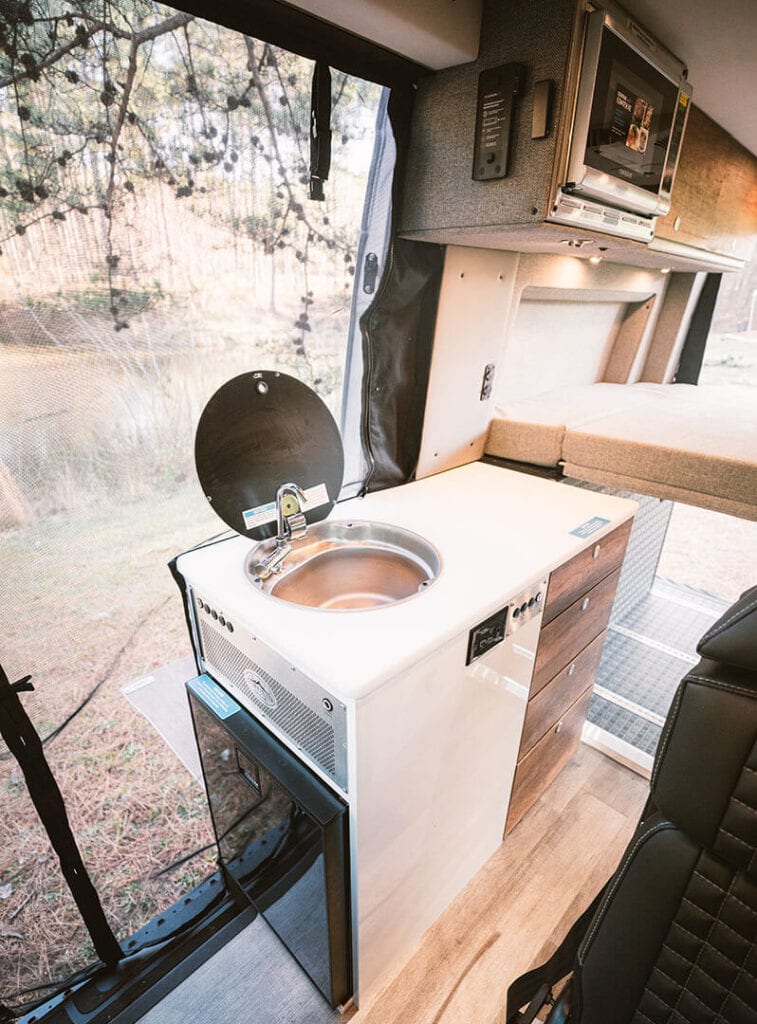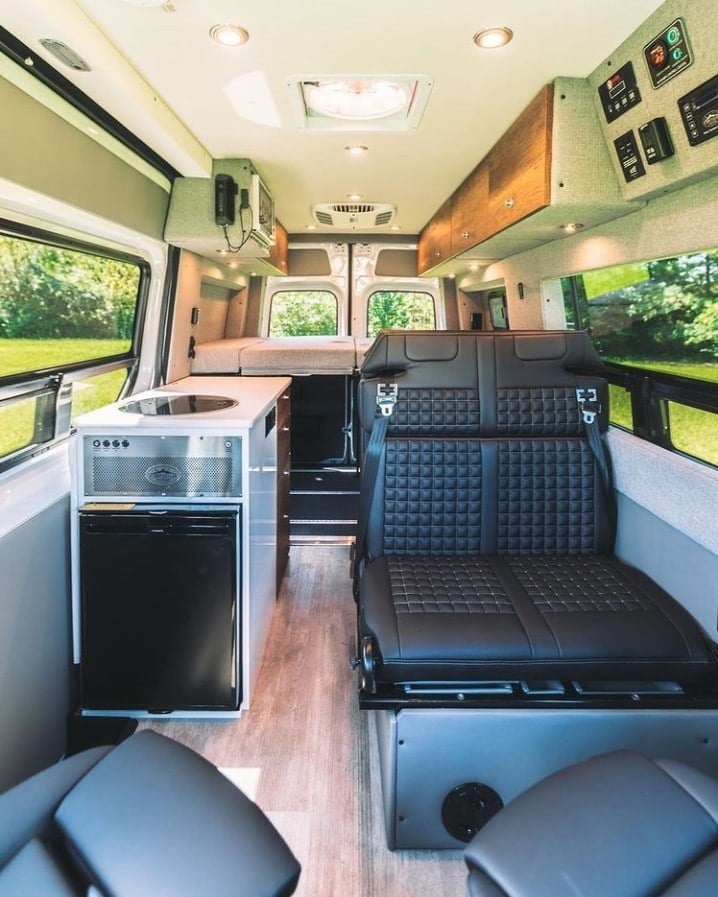 2. @threevancats
This unique camper van kitchen layout shows a setup directly behind the cab. What's nice is that you can go from the cab to the back of the van by removing that middle countertop, and you can put it back when using the kitchen to maximize counter space. We love the spice racks, the toaster oven, and all the light that this setup lets in!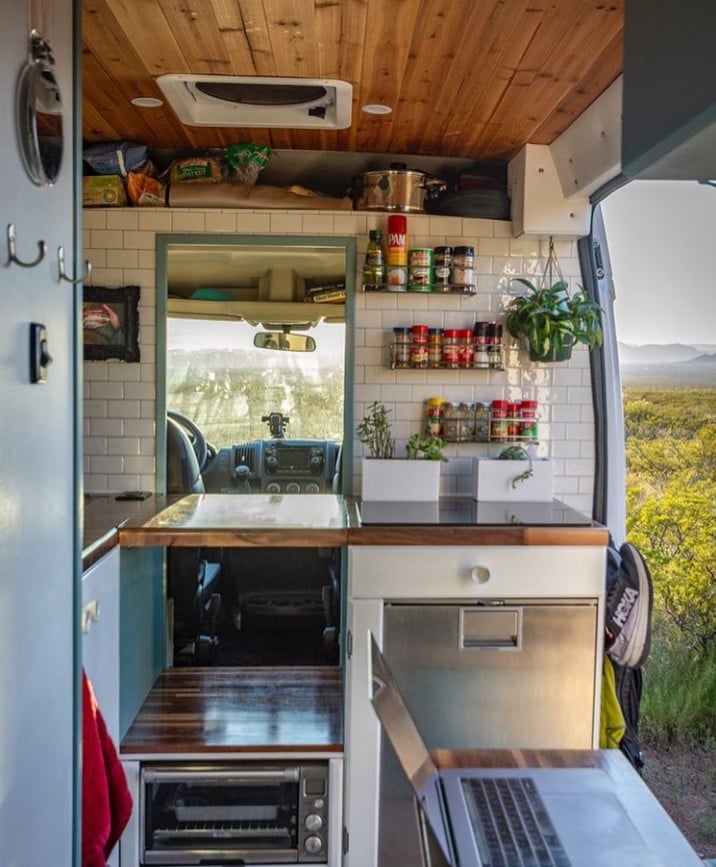 3. @thetravelbobbers
The Travel Bobbers live in a beautiful, self-built VW Crafter. We love the layout and design of their kitchen with its tiled backsplash, copper basin sink, and wood countertops. They have plenty of counter space including a fold-down leaf at the end and lots of cabinets and shelf storage above on the opposite wall (not shown).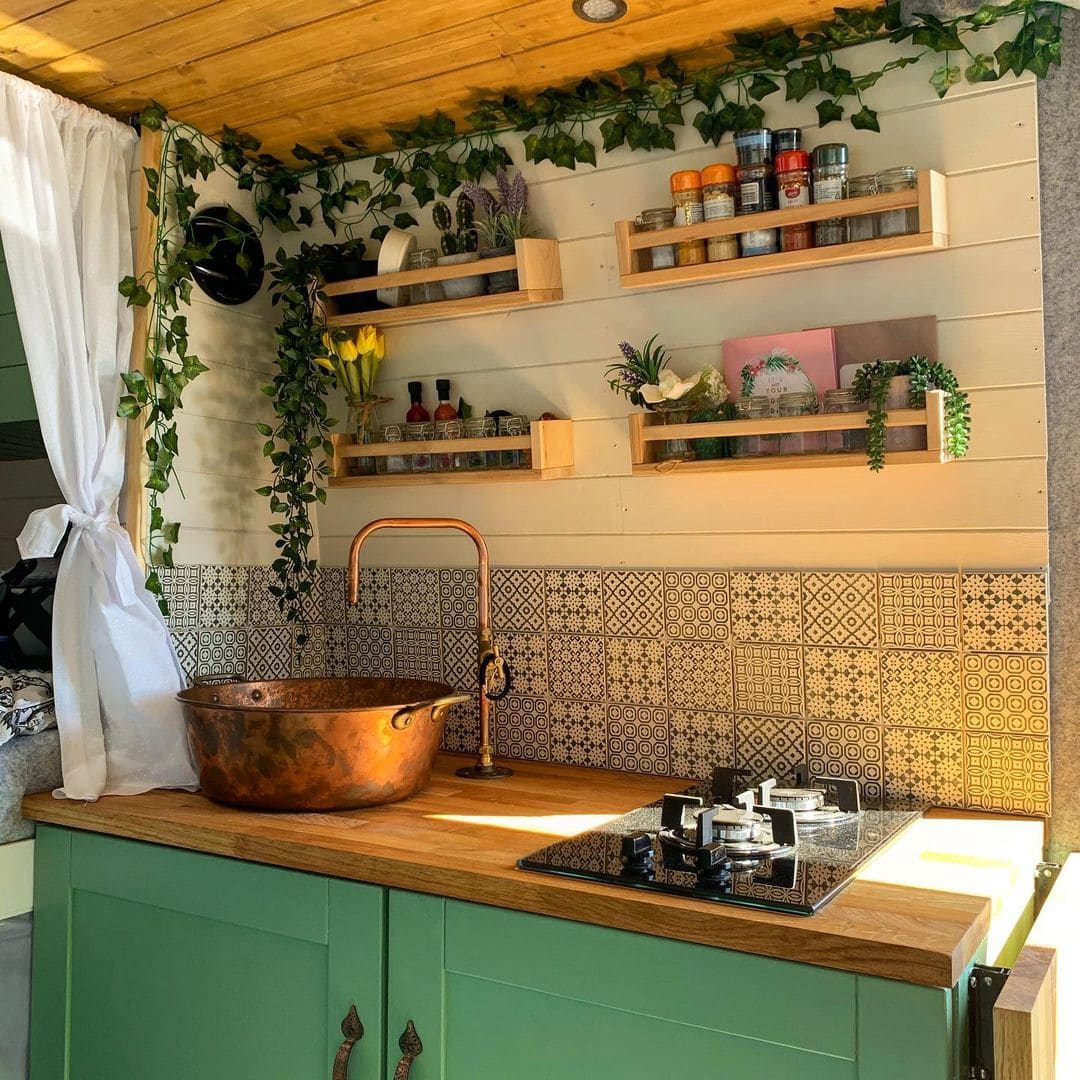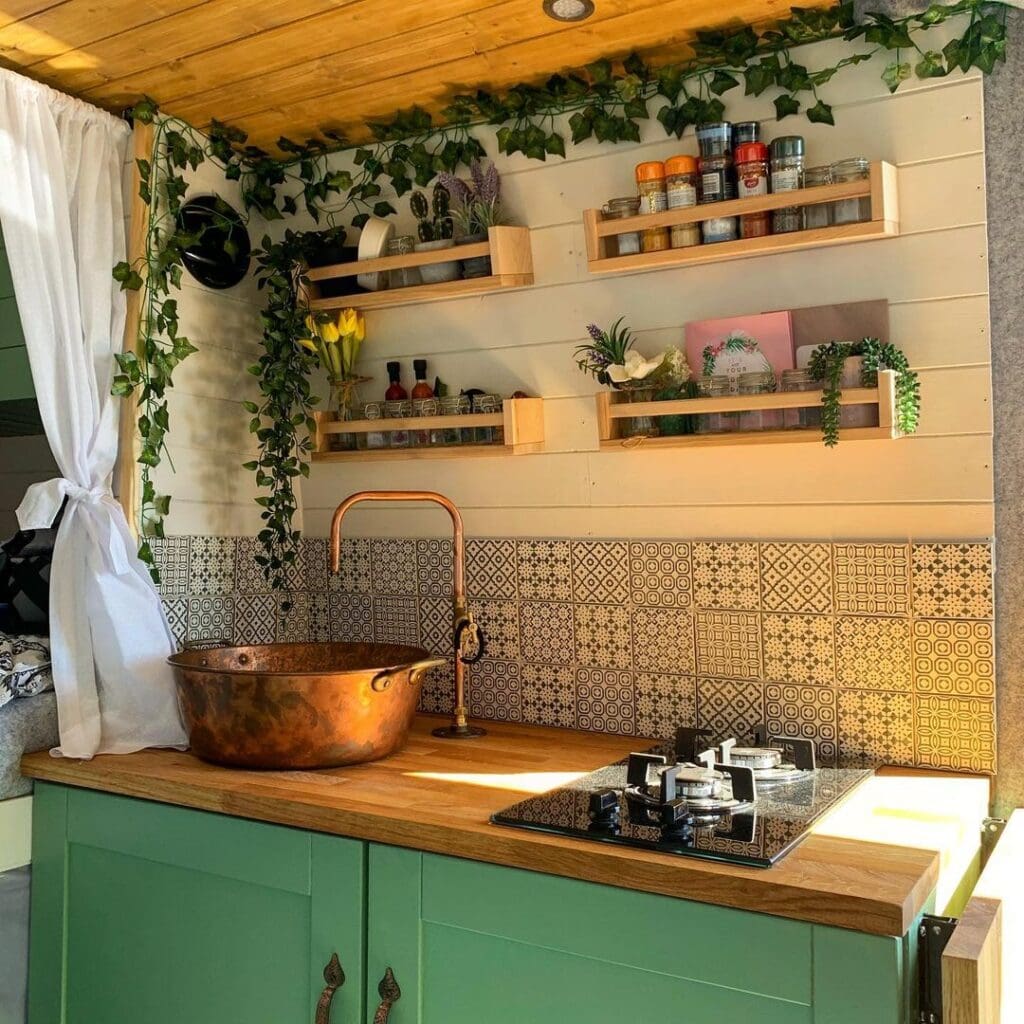 4. @asobolife
This simple design from Yuko and Eric is both beautiful and functional. We love the tiled backsplash as well as the dark wood countertops. The built-in spice holder gives quick access to kitchen staples while the cabinets above and below provide ample storage space.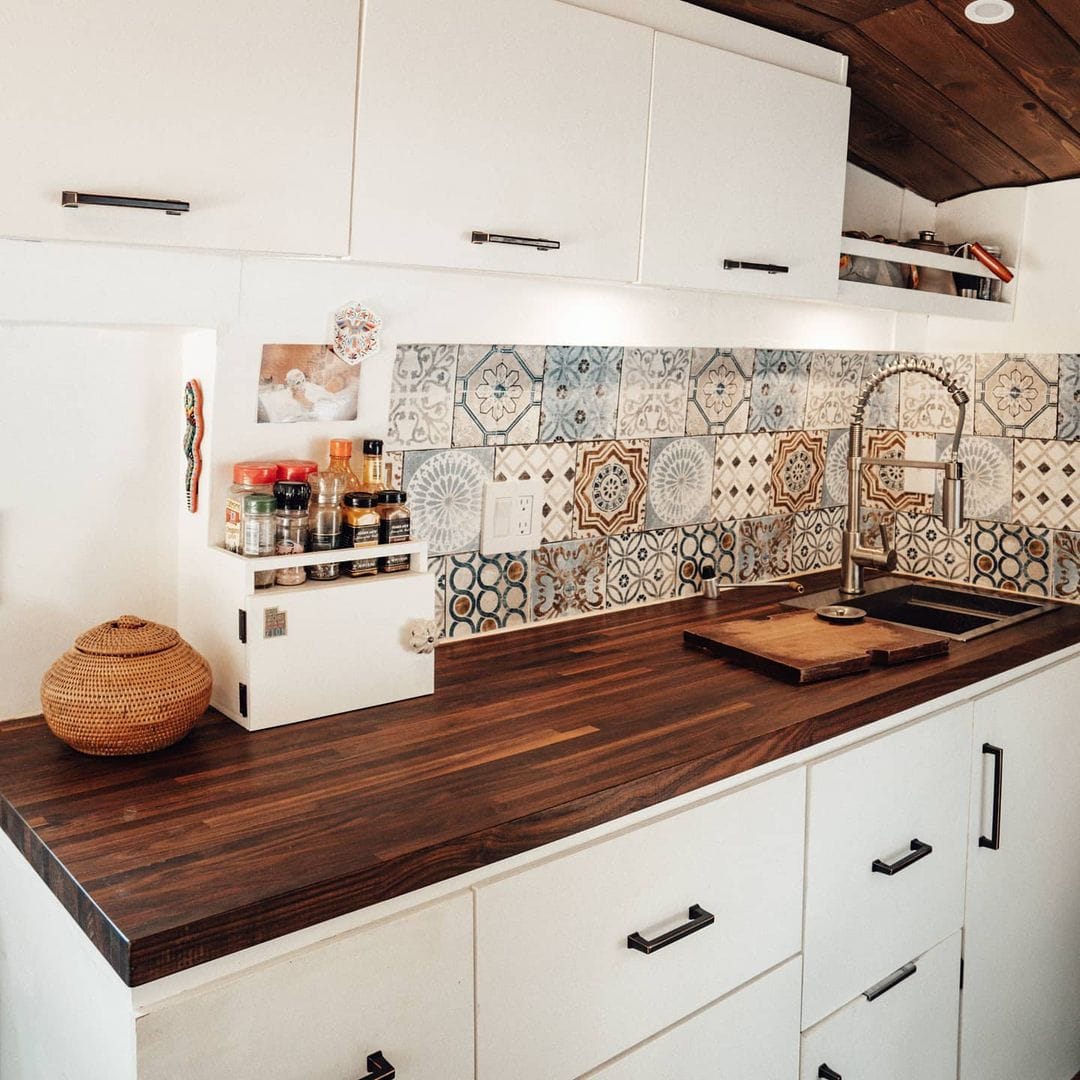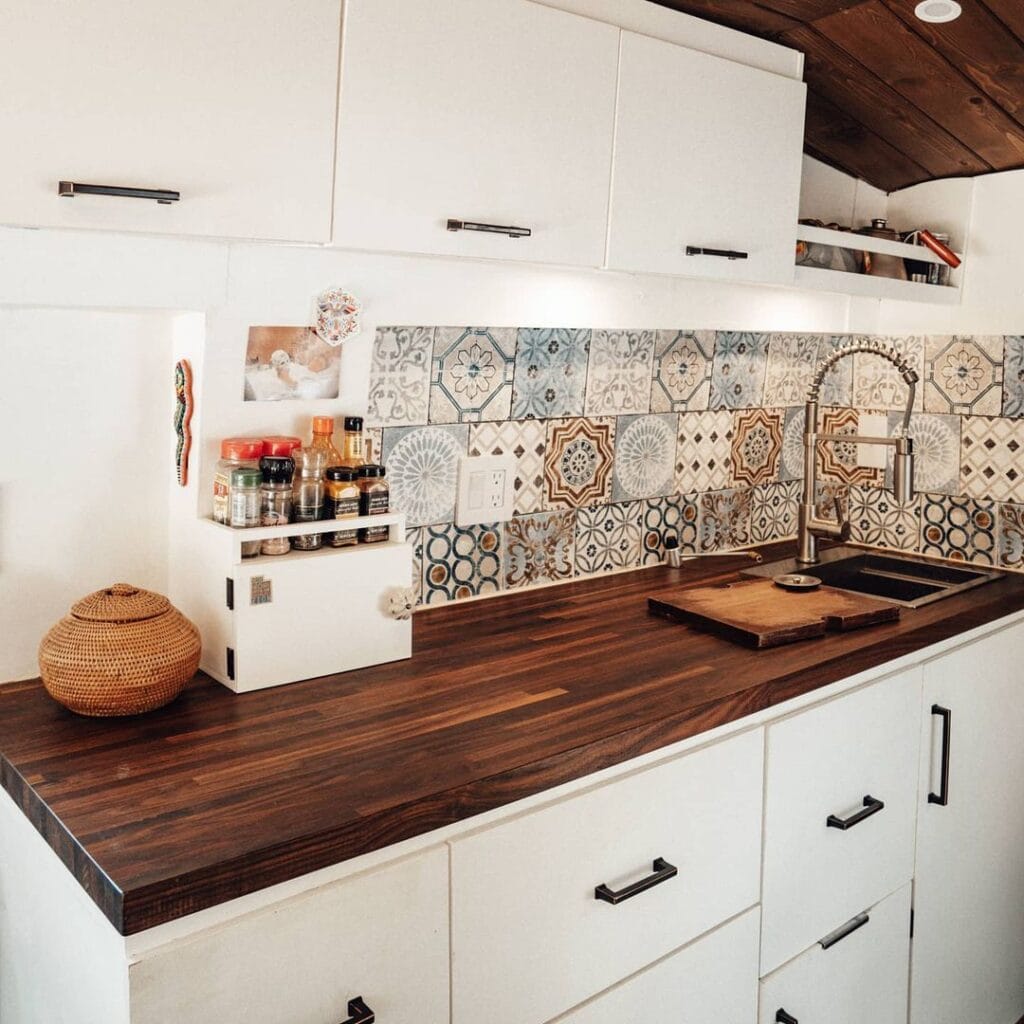 5. @ourhomeonwheels
Jace and Giddi decided to utilize the space behind the driver's seat as part of their kitchen, which we think is a super clever and unique camper van kitchen idea! It allows for more counter space and a larger living area. The drawbacks are that the front seats can't swivel around and there's no quick access between the driver's cabin and the back of the van, but for a family of three traveling together, this might be a great set-up!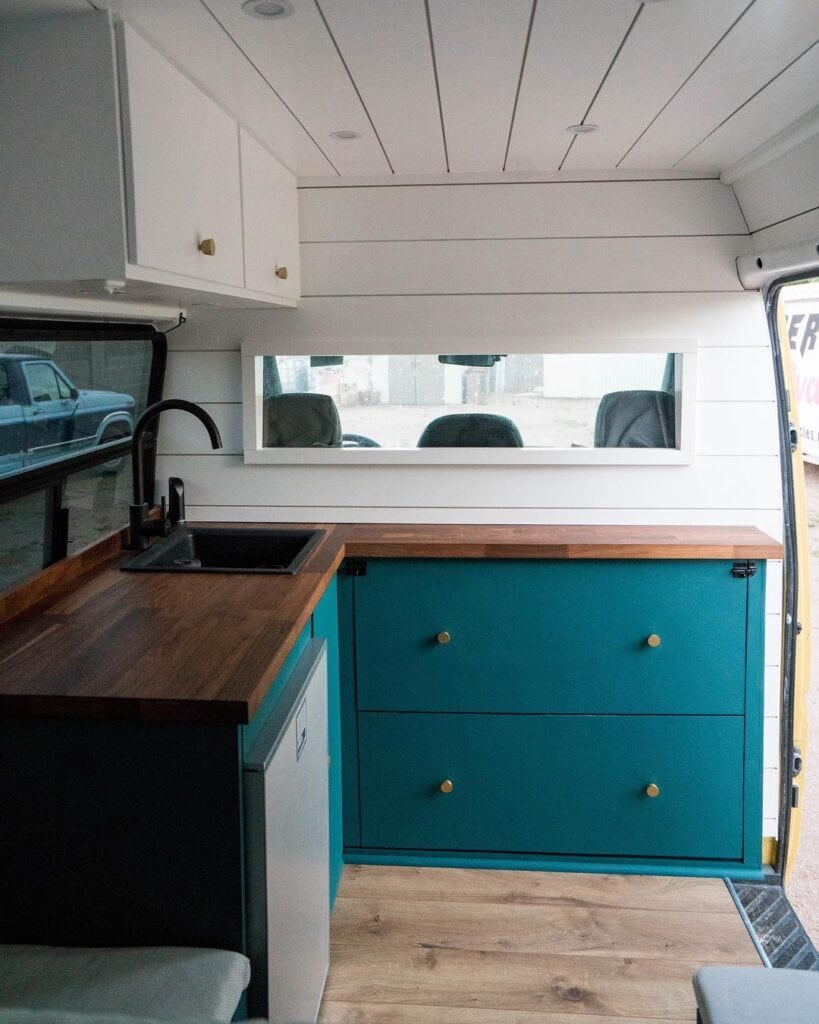 6. @bearfoottheory
I really loved the layout of my second van kitchen built by Outside Van (this is their large galley). We have plenty of counter space to prep and cook food on, and the overhead cabinets and side drawers hold all the supplies we need. Having the fan directly over the kitchen also helps keep the van odor-free when we're cooking. I've found that my fridge is the perfect size for two. For more details on my second van, check out my full van tour.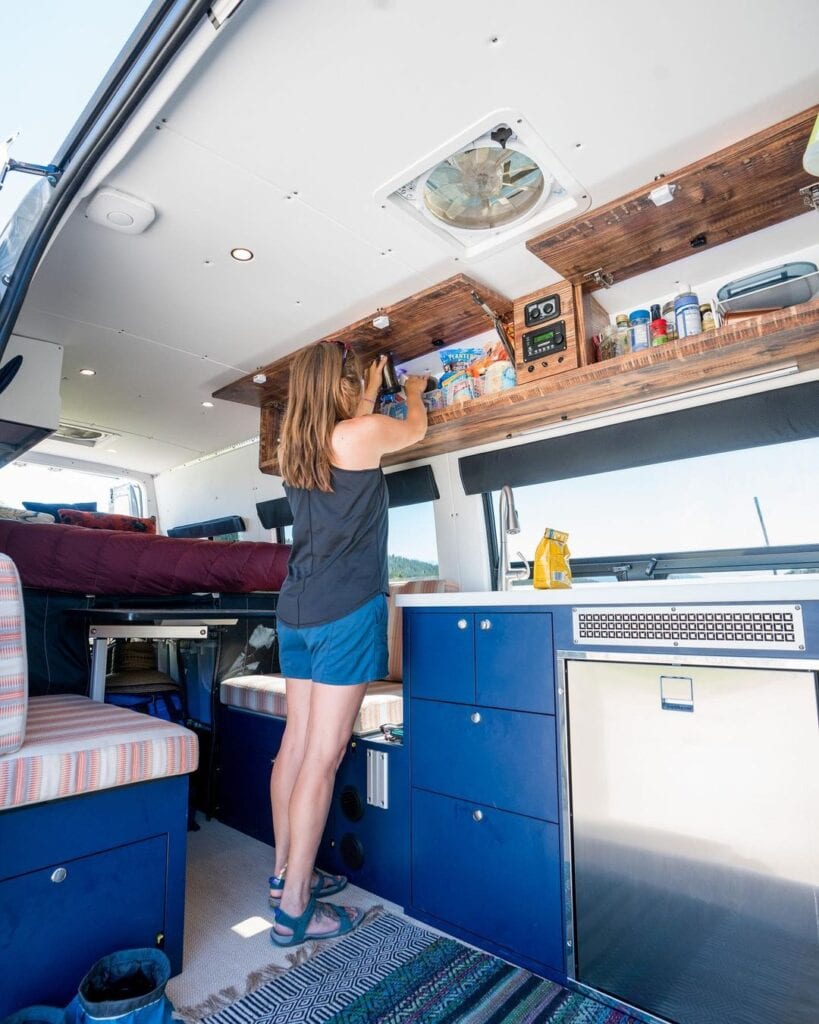 7. @thehuntersvanlife
We really like how Ethan & Katelynn positioned their stove to face outside. Every meal is made with a view! We also love their clever storage solutions like the hanging utensil rod and cleaning bucket. They also have an oven and a three-burner stove which allows for a lot more creativity and meal options when cooking on the road.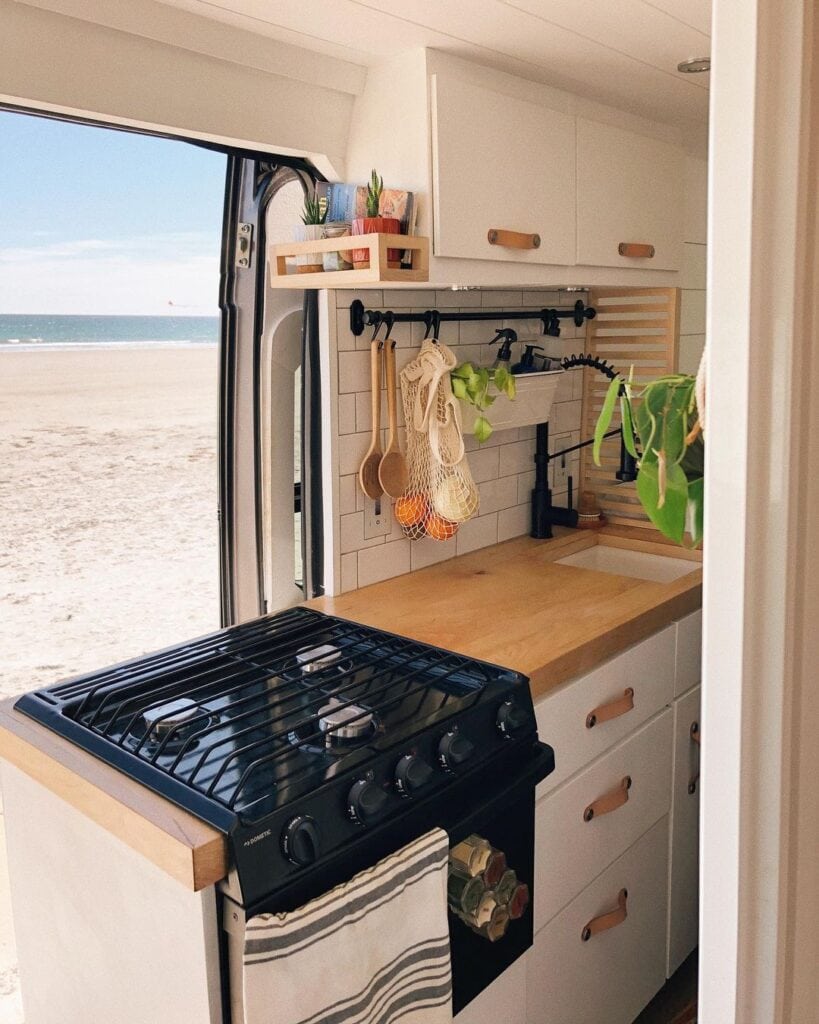 8. @vananahammock
Dillion and Katie have created a super unique kitchen layout in their 2010 Mercedes Sprinter 170wb. We love how this floorplan separates the kitchen from the bedroom and offers plenty of space in the living area. They chose a portable and energy-efficient ARB top-loading fridge that slides out from under a seat bench.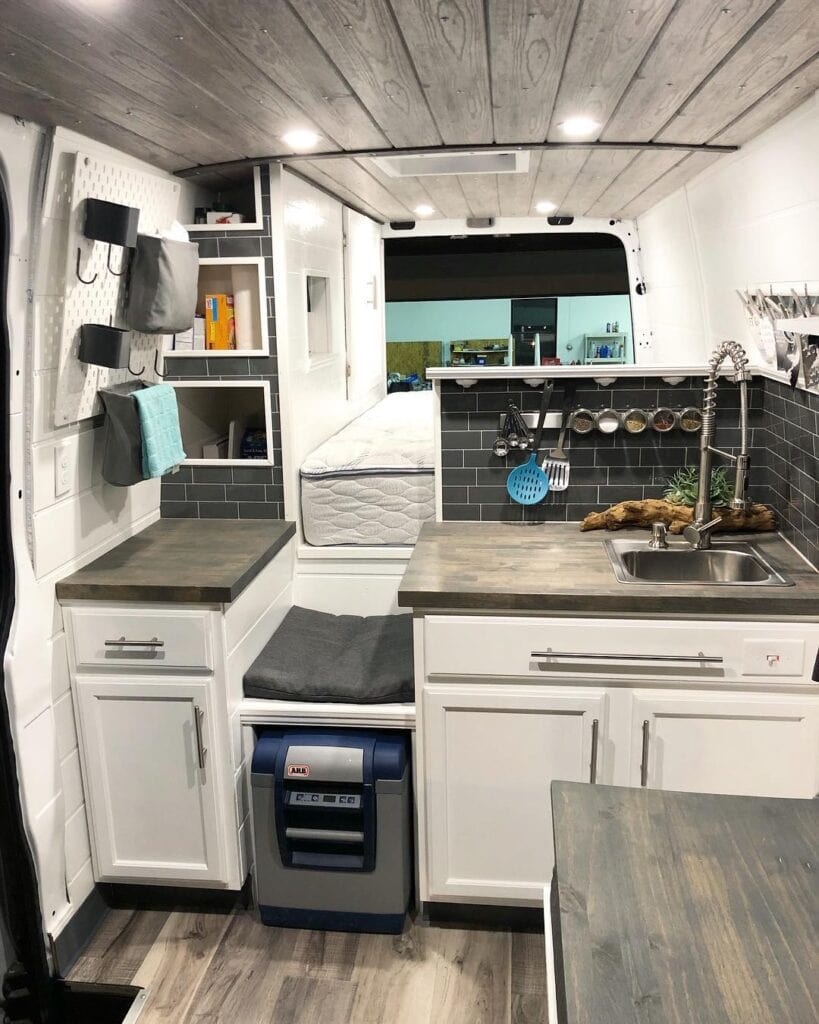 9. @ourvanquest
This beautifully designed kitchen by the Skoolie family almost looks like it belongs in an apartment! They have since moved into a school bus (understandably for a family of four on the road), but their prior van is definitely still a source of inspiration for camper van kitchen ideas (like the pull-out pantry). Have a scroll through their Instagram feed and you'll see what we mean!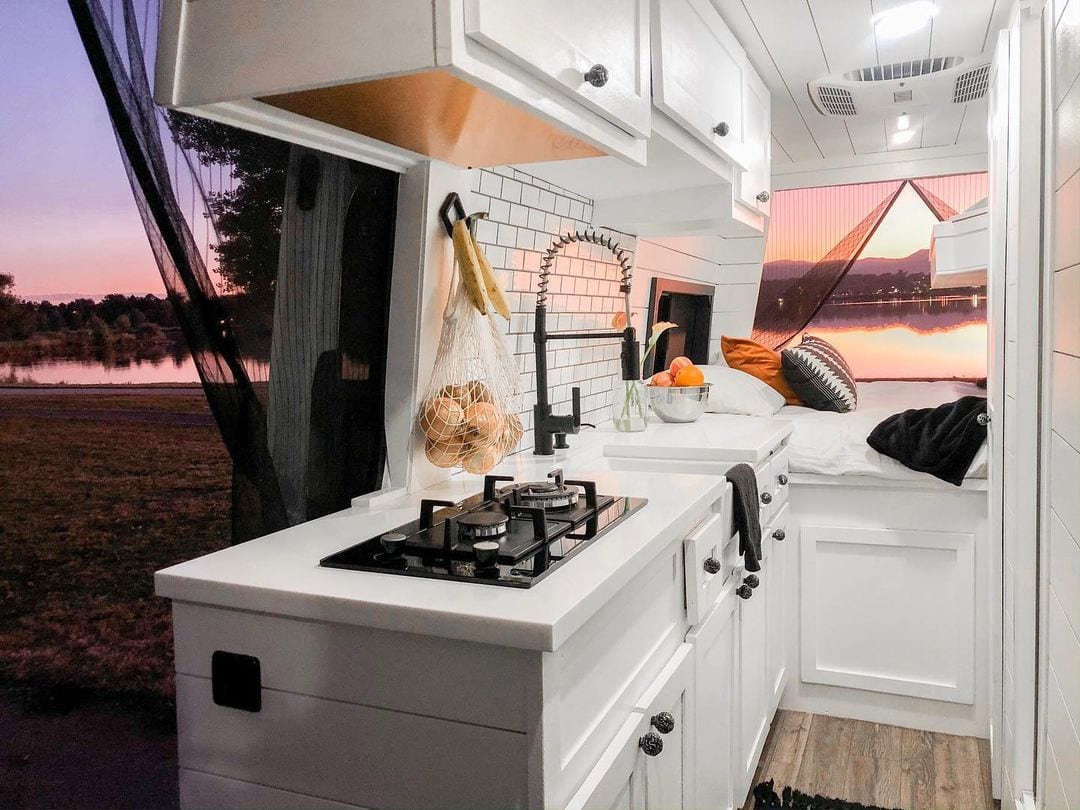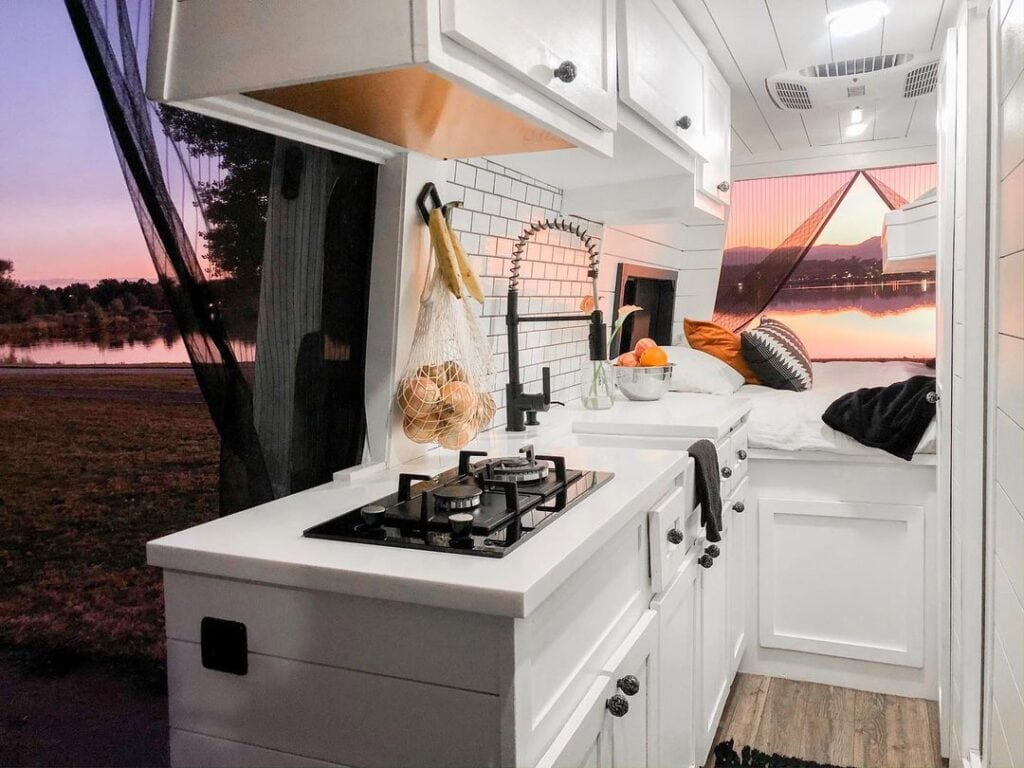 10. @tioaventuravan
The pull-out pantry between the kitchen and the bathroom in this camper van is something we haven't seen before. It's a great way to use all the space available and provides easy access to cooking essentials. This is a beautifully done camper van kitchen overall.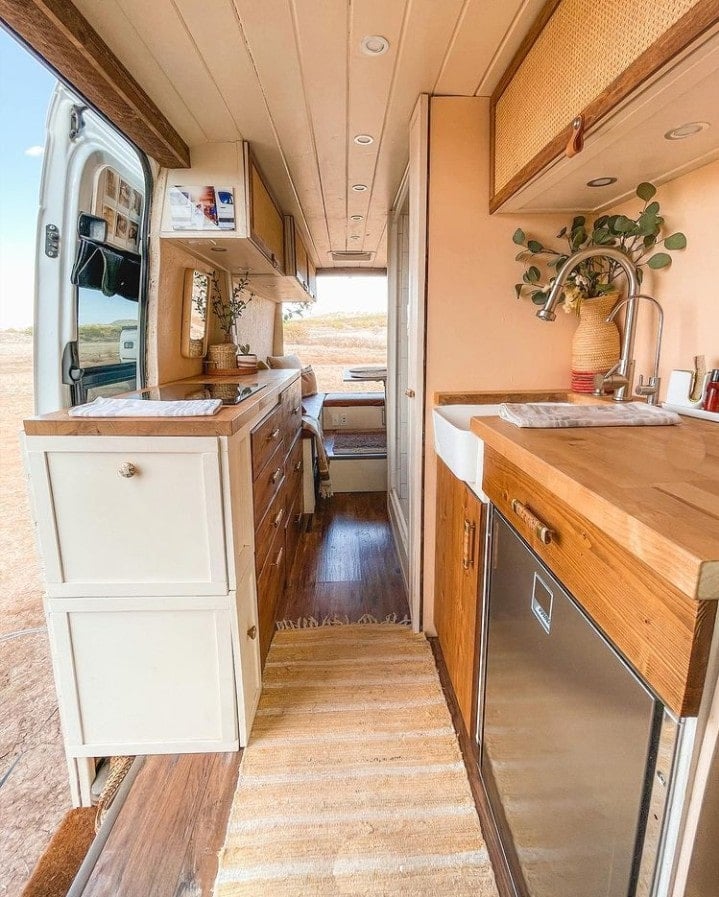 Source: @tioadventuravan
11. @rebornbyadventure
We included this camper van galley to show another option for a fridge. Natasha and Jacob use a top-loading drawer-style Dometic fridge that pulls out from under the kitchen counter. It's energy-efficient and can hold as much food as an upright fridge.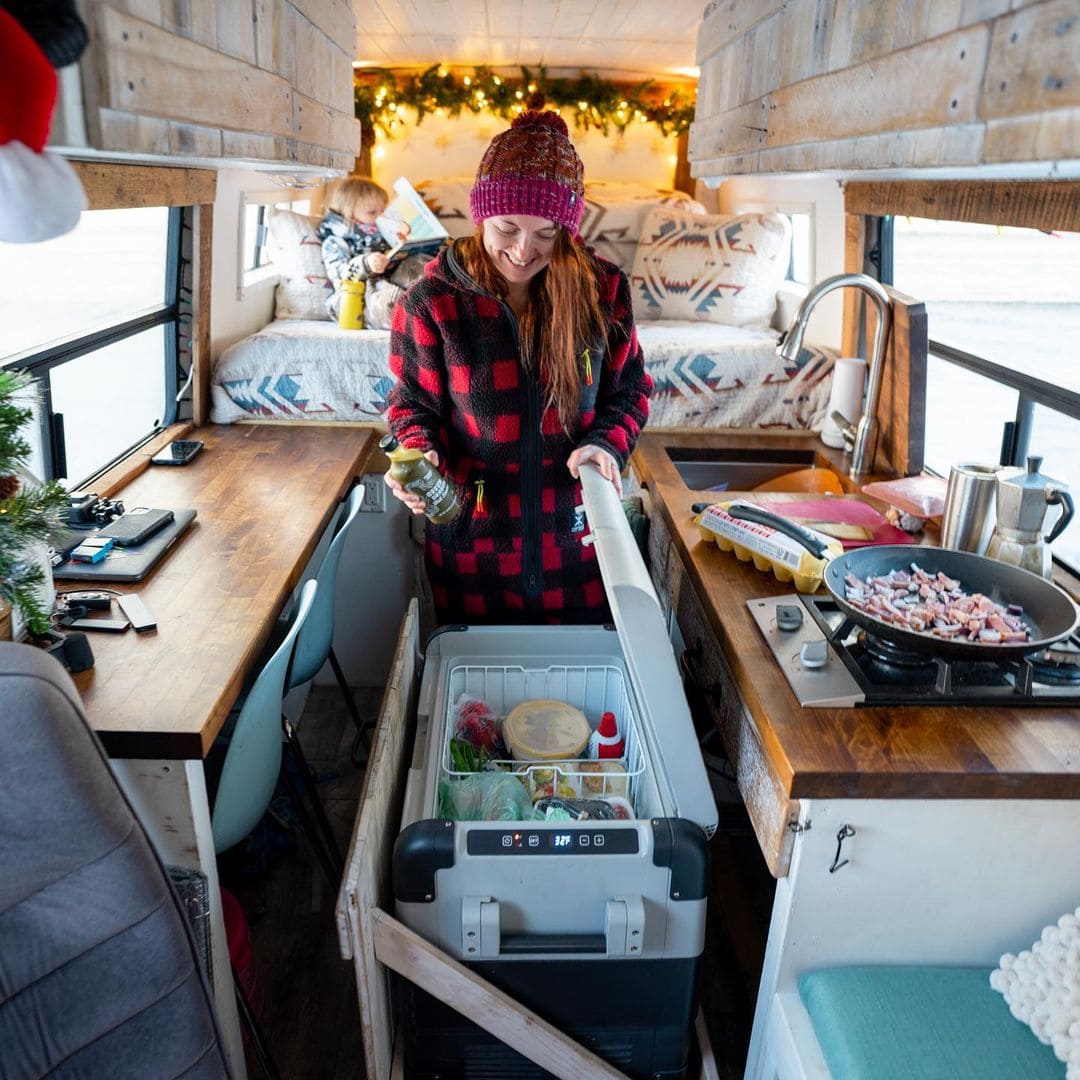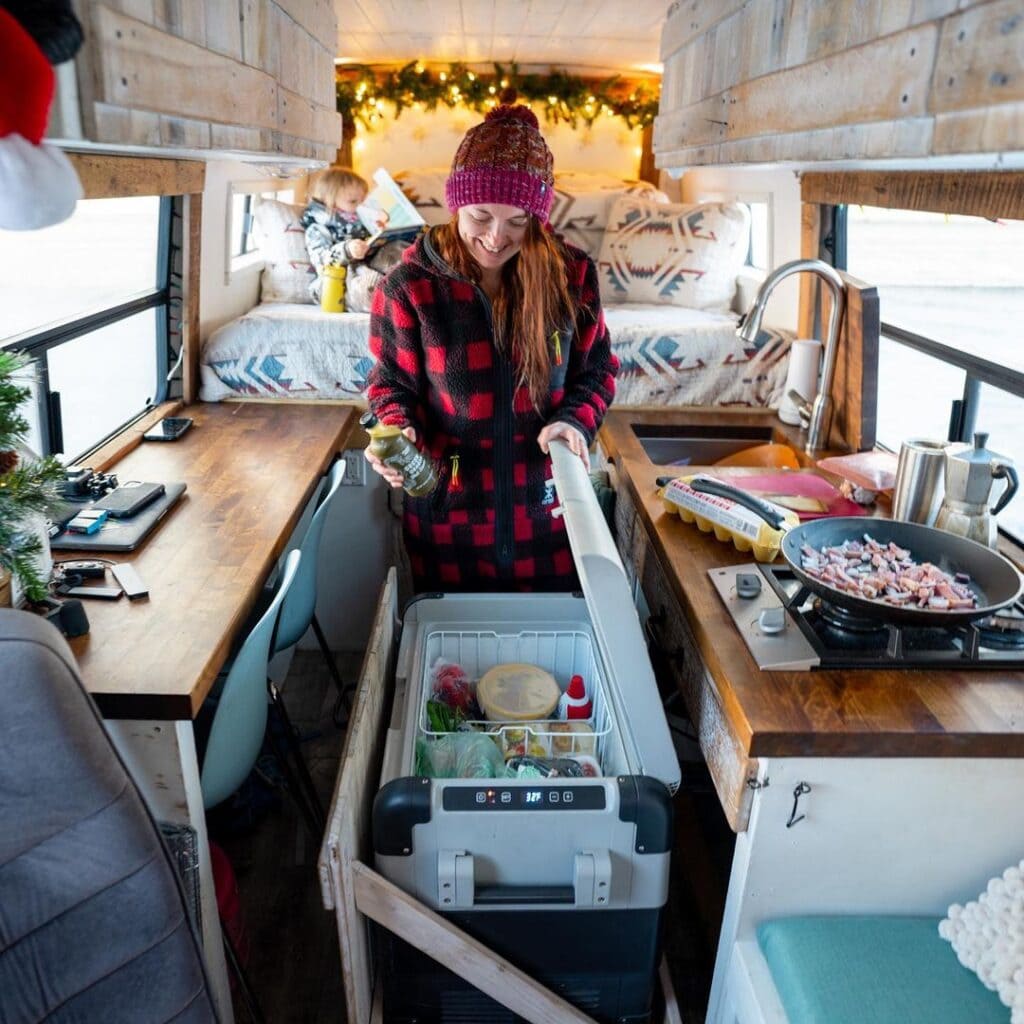 12. @escape.conversions
We love the efficient use of space in this van build. The kitchen is slightly smaller than other examples in this post and the bed is meant for one, but Escape Conversions has included some clever storage ideas and a fold-away table for counter space. It also has an oven, which can help keeps meals exciting and inspiring.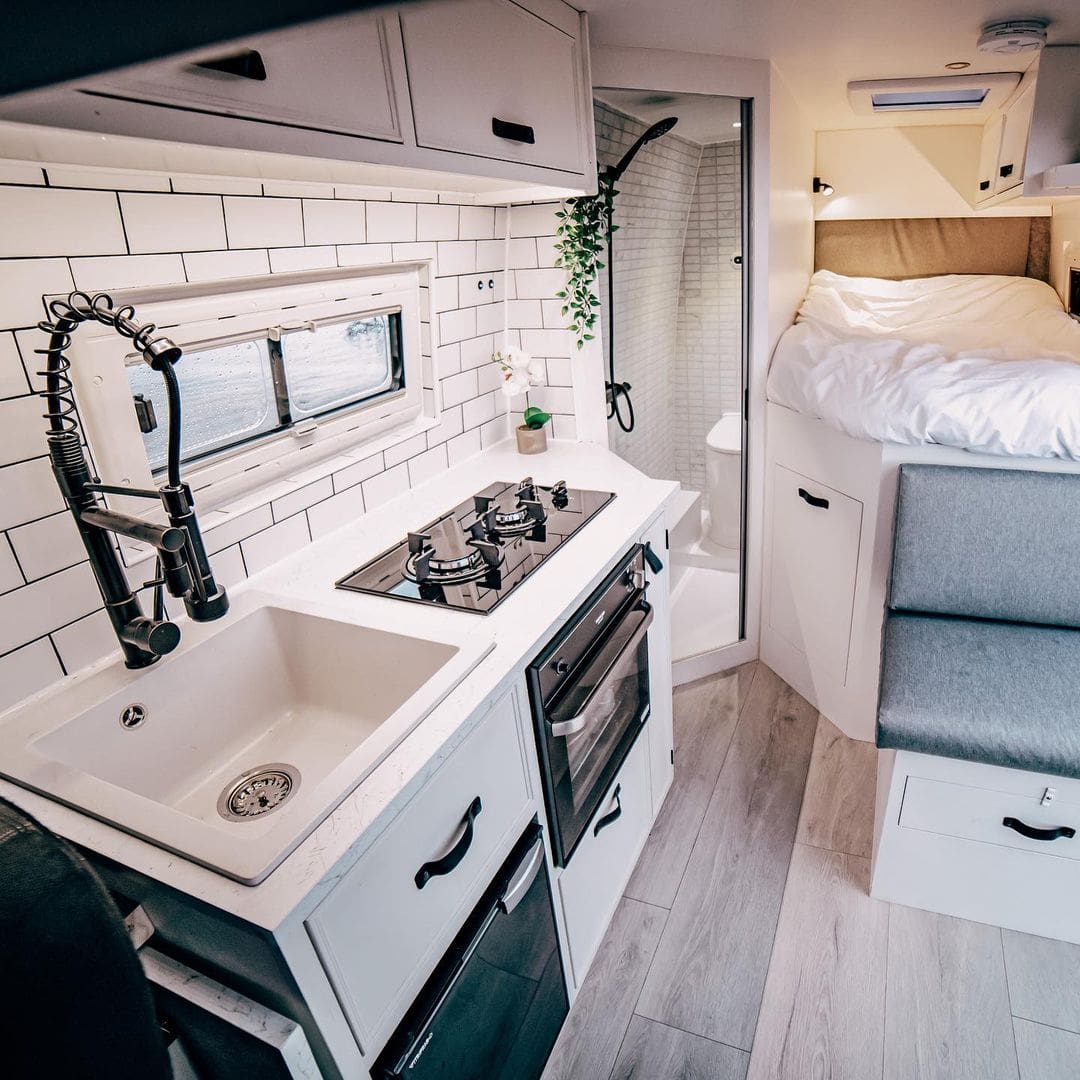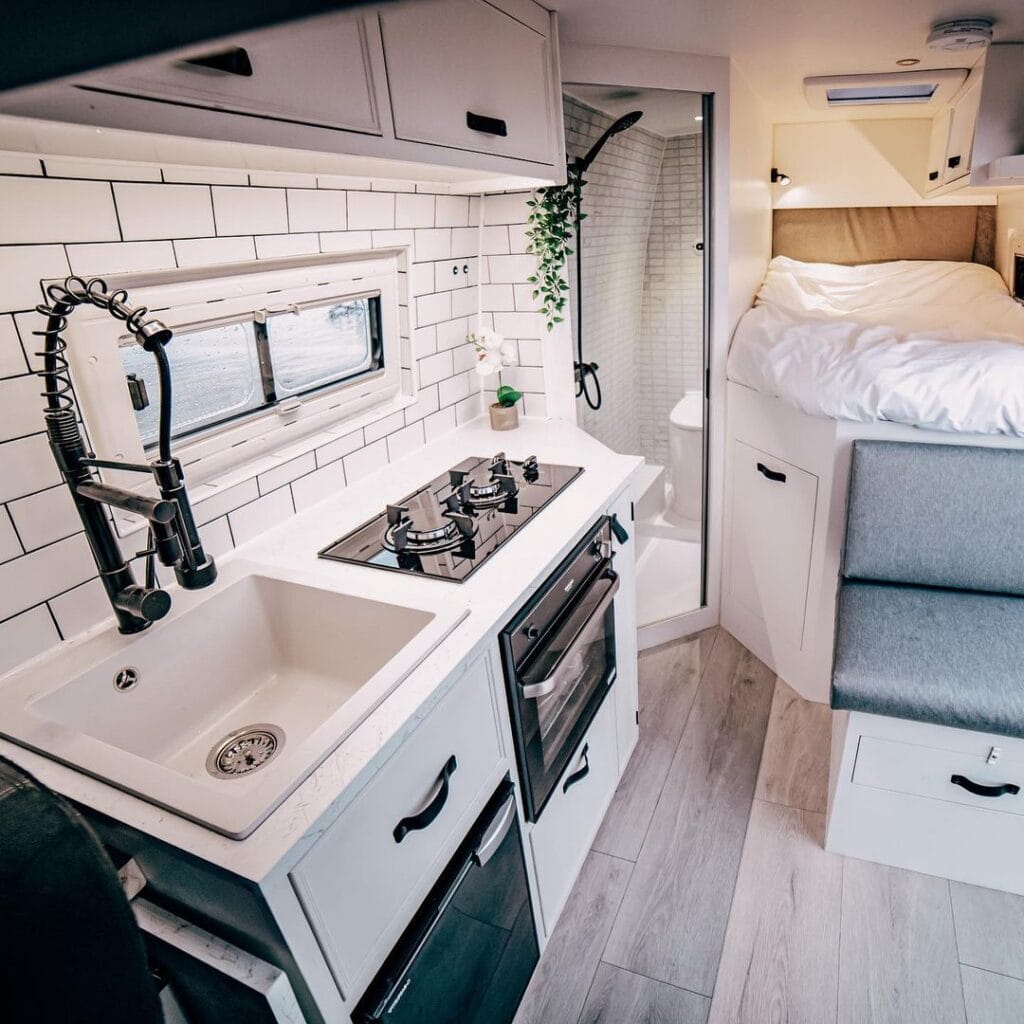 13. @courtandnate
We love the big farmhouse sink in Courtnie and Nate's van! There's also a ton of counter space and the wood countertops go beautifully with the ceiling panels.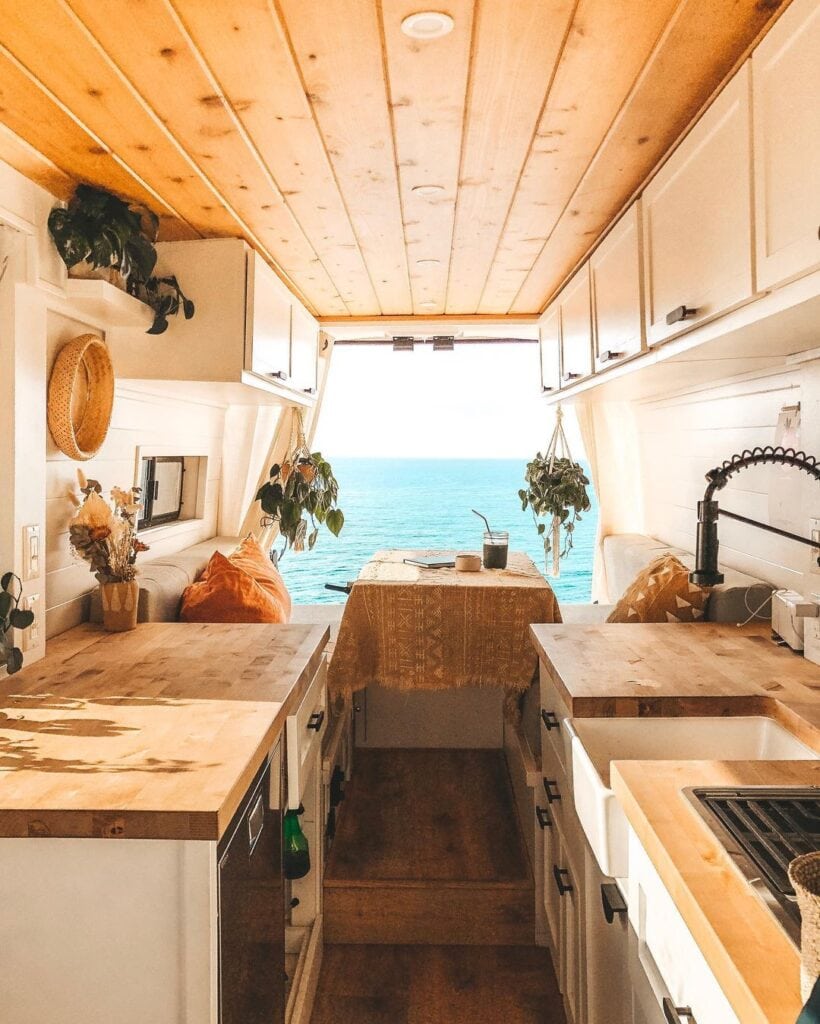 14. @outsidevan
This kitchen in a custom van conversion by Outside Van shows a unique example of positioning for a top-loading fridge. Most top-loading fridges we see sit on the floor of the van or in a low drawer, but this setup puts the fridge in closer reach and allows the cook to access what they need without having to bend over so much.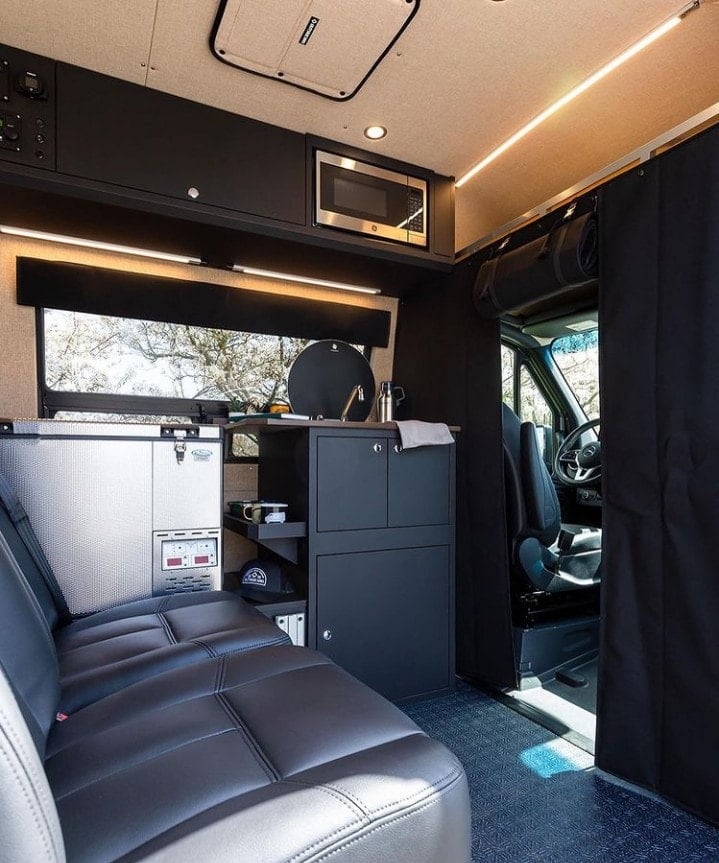 15. @vansandrecreation
Now this is a camper van kitchen setup we haven't seen before. The kitchen backs up to the bed and sleeping area at the back of the van. The middle counter can be removed to reveal an extra seat and an easy step up into the bed. While there isn't a sink, the tap and hose (in the right-hand corner of the countertop) can extend up to two meters so you can do dishes in a bucket inside or outside, and you can even use it to shower off.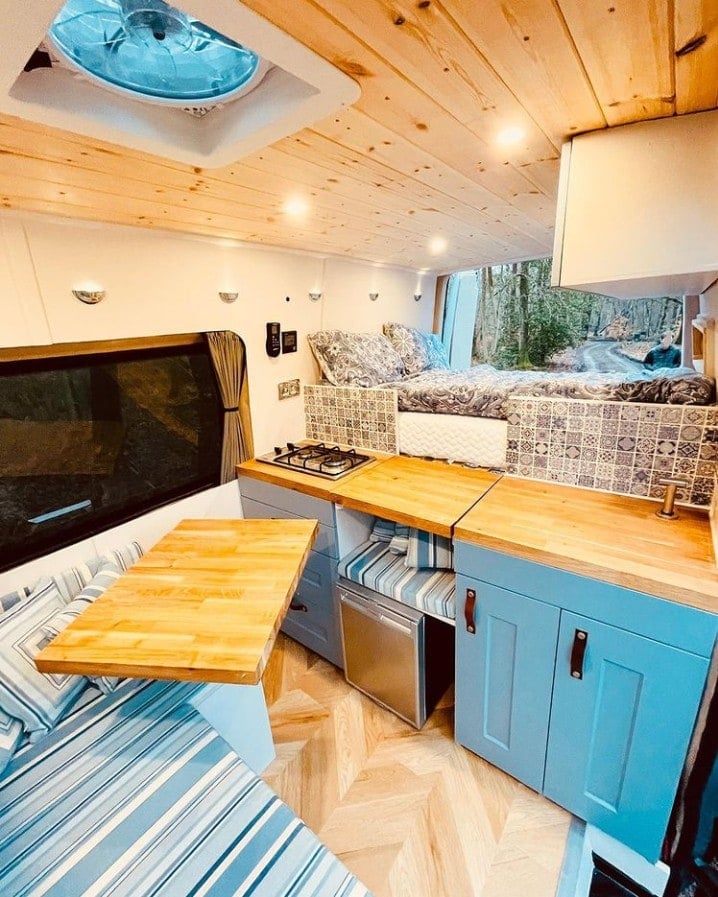 Van Life Essentials Packing List
Below are a few of my favorite pieces of van life gear and recommendations for the road:
---
We hope this post gives you some inspiration as you collect camper van kitchen ideas for your own van kitchen!
Have you seen any other interesting camper van kitchen ideas and layouts? What features do you want in your van kitchen the most? Leave a comment below!