12 Camper Vans with Bathrooms: Toilet & Shower Inspiration for Off-Grid Living
Check out the layouts of these camper vans with bathrooms for some major shower and indoor bathroom inspiration including toilet options!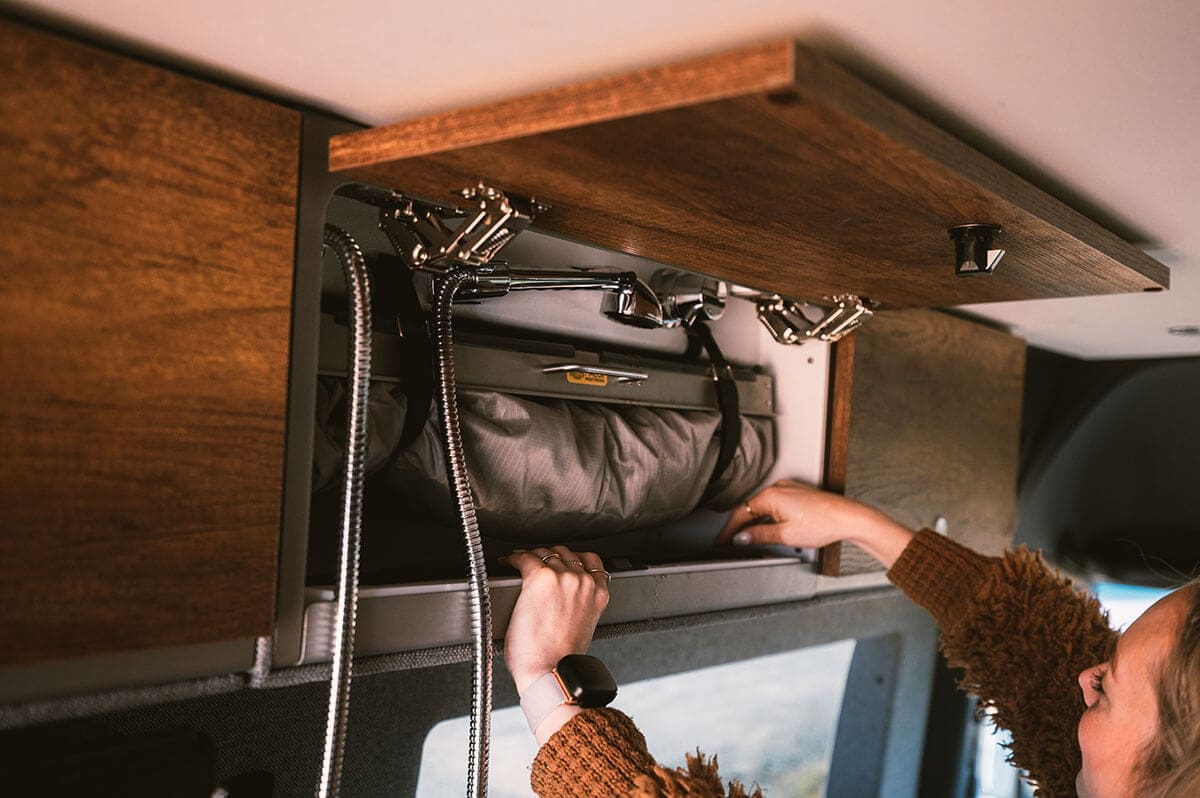 "But where do you shower and go to the bathroom?" is probably one of the questions we get the most from friends and family that wonder how on earth we can live in a van. The thing is, there are lots of great examples of camper vans with bathrooms which make off-grid living easier than you would think.
Camper van bathrooms are always a hot topic of conversation in the van life world, and you'll find many different styles and opinions. Some people swear by the full indoor showers in their van and couldn't imagine doing van life without them, while some prefer to keep things simple and forego a shower in their van altogether.
For many, a toilet is a must-have (see the best camper van toilets here), while others prefer to make do without it.
The good thing is, there are lots of different options out there for camper van bathroom setups so wherever you are on the spectrum, you'll be able to find something that works for you.
In this post, I cover a variety of camper vans with bathrooms including shower and toilet setups so you can get some ideas of different layouts and options.
Sponsored by Storyteller Overland
Storyteller Overland builds family-friendly, adventure-ready 4×4 Sprinter Vans ready to drive off the lot. Their mission is to inspire outdoor enthusiasts to live free, explore endlessly, and tell better stories. Their MODE Vans come with all of the important essentials, including a shower, murphy bed, galley, and seating for 4. Check them out on their website and social media.
Camper Van Bathroom Considerations
So you think you might want a full bathroom in your camper van? It's definitely doable, but there are a few considerations to keep in mind up front.
Getting the shower, plumbing, and water systems right for a full indoor bathroom are some of the most difficult parts of a van build. There's so much involved – everything from framing and waterproofing to drainage, plumbing, a grey water tank, and a water heater. Not to mention the trim, paint, and stick on tiles or other siding.
But on the other hand, many people who have a full shower inside their van love it and say it's so worth it.
If you want a shower but don't want to dedicate the space to a full camper van bathroom, you can consider a retractable or hidden shower. This is something we've recently started to see and gives you the best of both worlds: a shower whenever you want one without taking up all the space. They're basically showers that can easily be set up when you want, then stowed away when not in use. This is a major space saver compared to a full, permanent indoor shower.
Below, we cover a variety of full, built-in van showers plus some very creative space-saving hidden showers that you may want to consider. At the end, we share some unique toilet setups as well.
---
Camper Van Shower Setups
@storytelleroverland
Storyteller Overland has a hidden shower system in their ready-to-go adventure vans that is pretty epic. It consists of a shower pan that's built into the floor and covered with a lid that hinges up. The shower is stored in the cabinet above, complete with a shower curtain and all. You simply open the cabinet, pull out the collapsed shower curtain, tuck it into the shower pan, and you're ready to go! Check out the video below to see how it all works.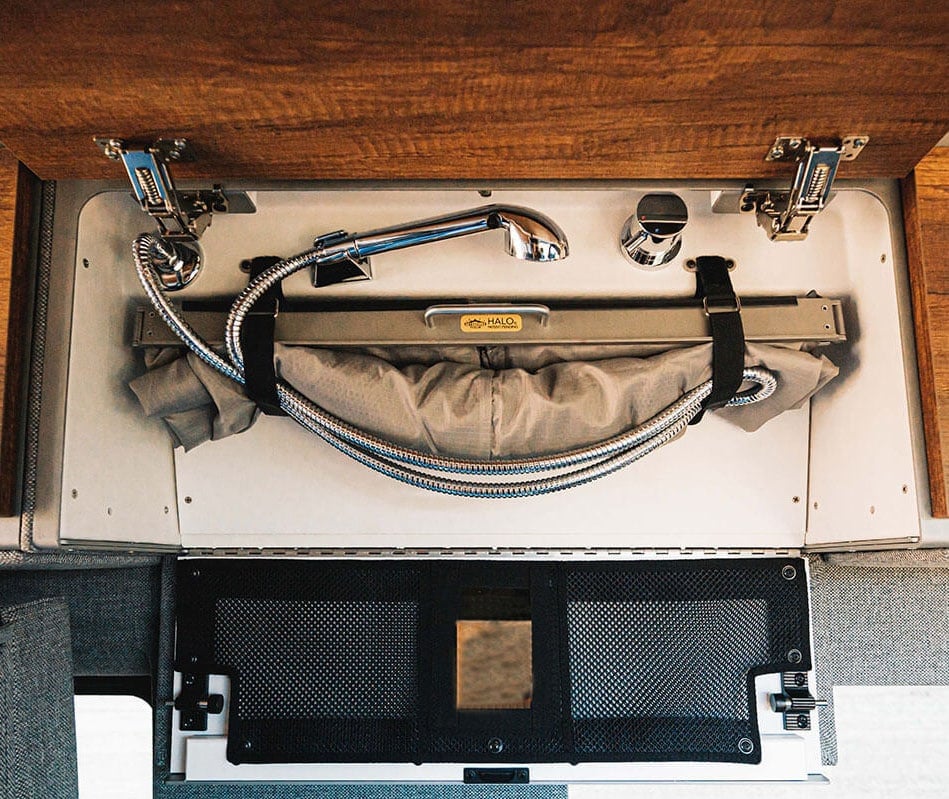 @van_yacht
Lear's "van yacht", a 144″ Sprinter, has a beautifully done full indoor bathroom. The bathroom sits next to his slider door and has a shower and a portable toilet that's stored in the shower when not in use. The shower has a lightweight, flexible sliding door that can be easily closed to prevent water from splashing out and to keep things in place when driving down bumpy dirt roads.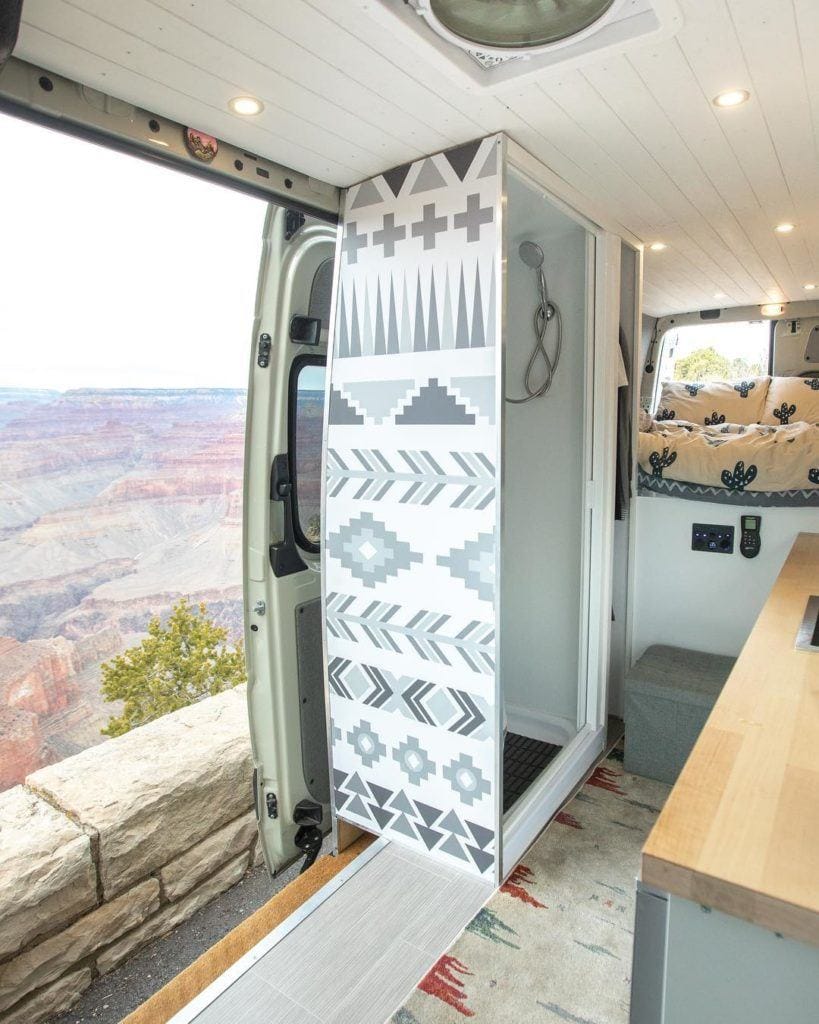 @the.activ
Megan and Chris have one of the most beautiful camper van bathroom setups that we've seen. They used stick-on tiles to give their shower that nice tile look without the weight of using real tiles or the issues they would have likely faced with cracking and loose grout from all the movement the van goes through on a daily basis. They have a lightweight, flexible shower door similar to Lear's mentioned above, and they store their portable toilet in the shower when not in use.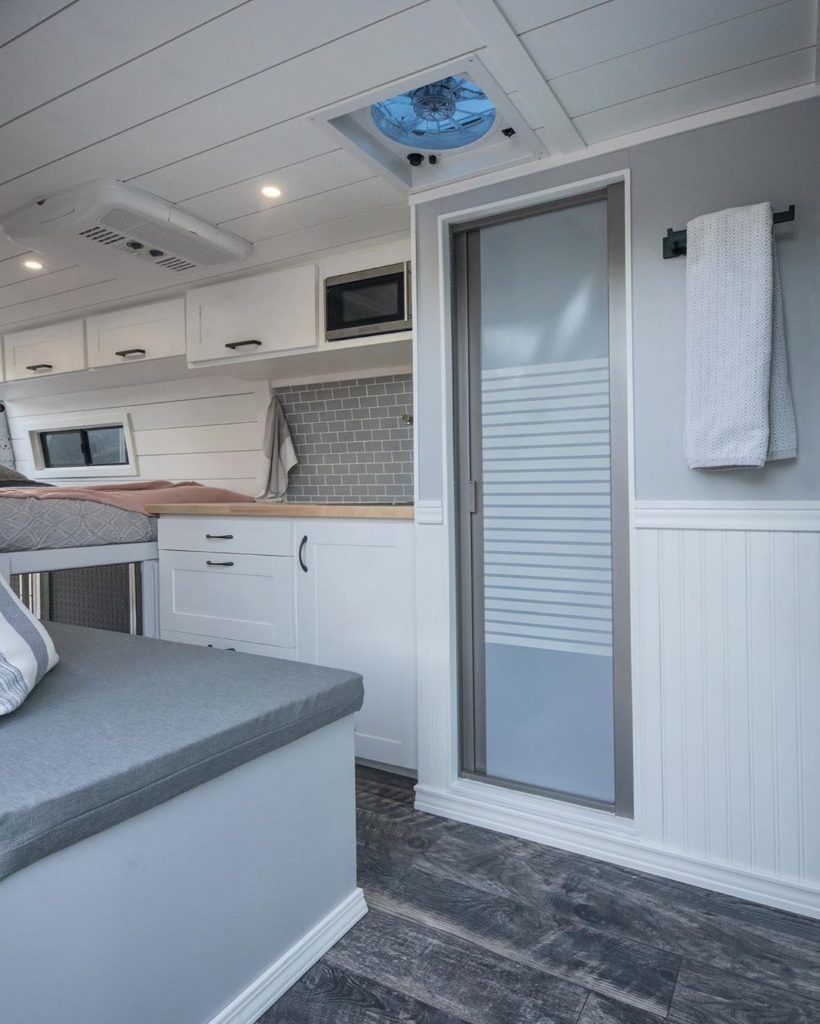 @tothemountainsnback
UK-based van lifers Ceri, Will, and their pup Piglet knew that a full bathroom in their camper van was a necessity for them from the start. Their bathroom includes a floating, urine-diverting toilet and a shower that sources hot water heated by engine heat. They attached towel holders and a toiletry basket to the shower walls using suction cups to avoid having to drill additional holes.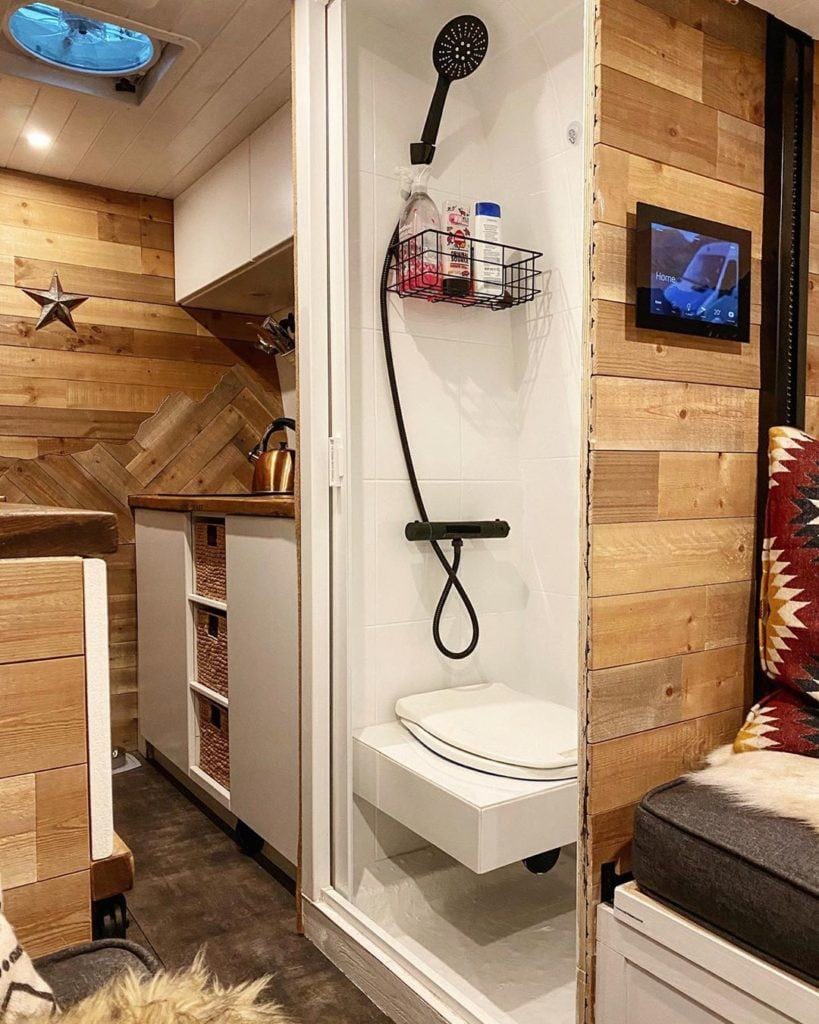 @makai.the.van
Germany-based @makai.the.van built a larger shower into her van behind the driver's seat and loves the extra space. Rather than a shower door, she kept things simple with a shower curtain. When not in use, she stores a portable toilet inside as well.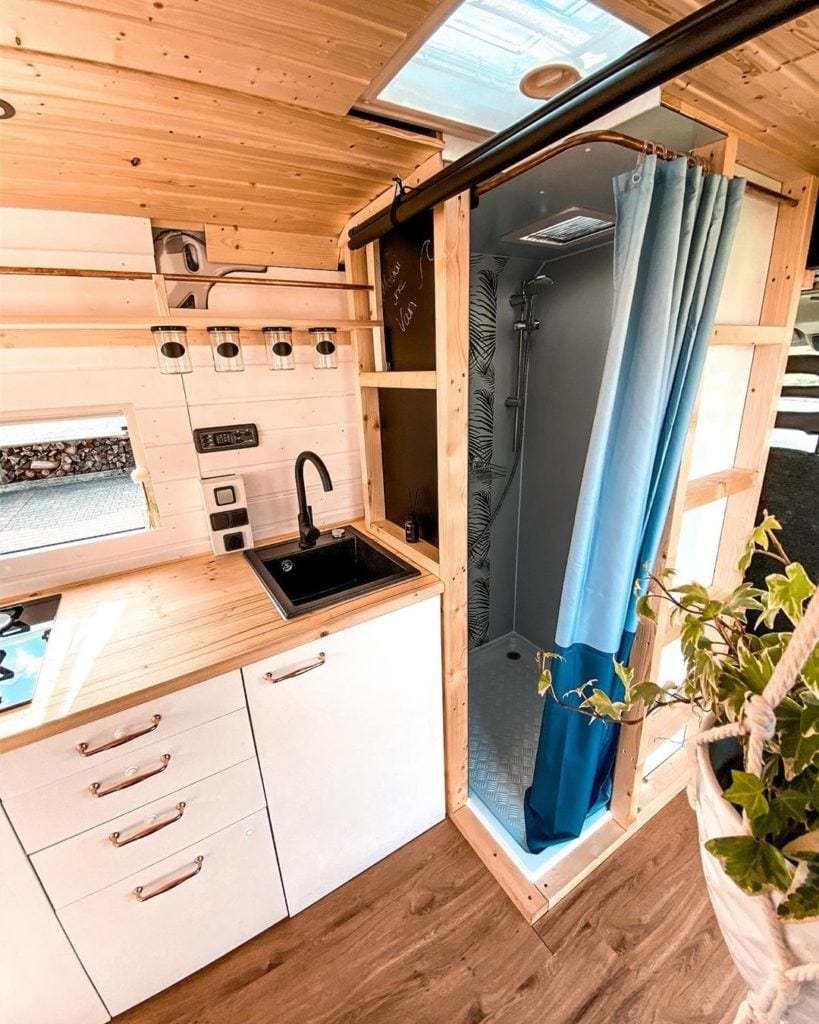 @mrandmrsadventure
Brittany and Drew of Mr. and Mrs. Adventure have a DIY hidden shower set up that pulls out of a drawer beneath a bench seat. They built a custom shower pan, which is actually a modified utility sink (very clever!), into a drawer that they can pull out when they want to shower, complete with all their toiletries. All they have to do is set up their shower curtain and they can shower in the comfort and privacy of their own van. Check out this video for details.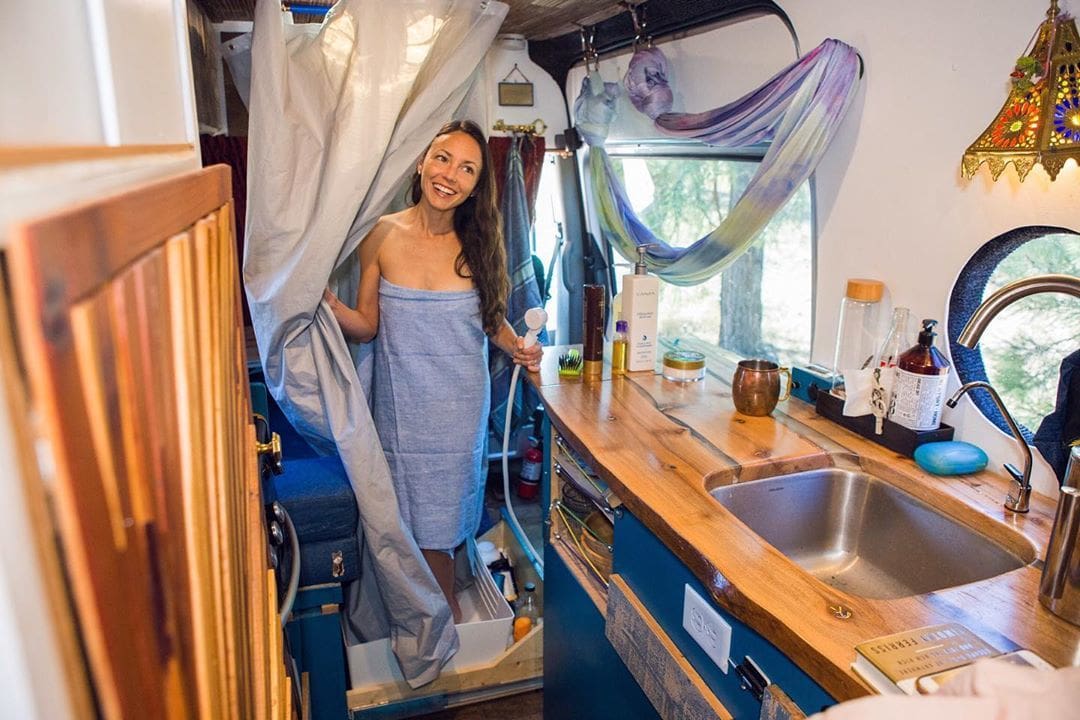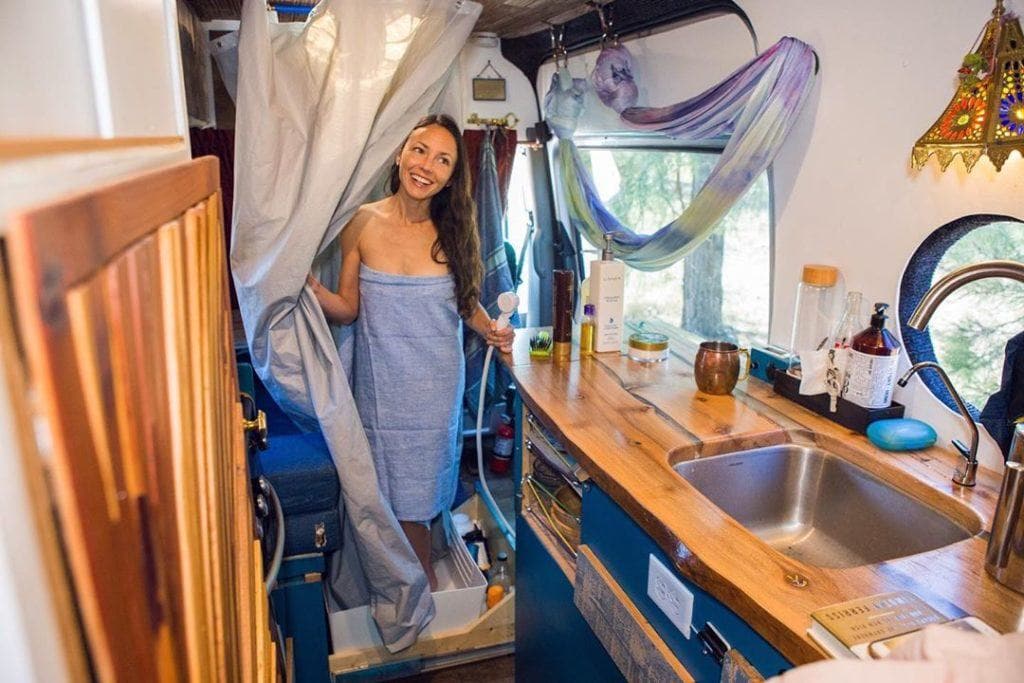 @thetriointransit
Thinking about putting a shower in your van, but don't want to haul around the extra water weight? Tim and Katie of The Trio In Transit have designed a super clever shower system that recirculates 3 gallons of shower water. Now, before you say "gross!", the water gets filtered through a 5-step water filtration system, so you're not bathing in a week's worth of old shower water. To learn more about how this recirculating shower works, check out this video that walks you through the system.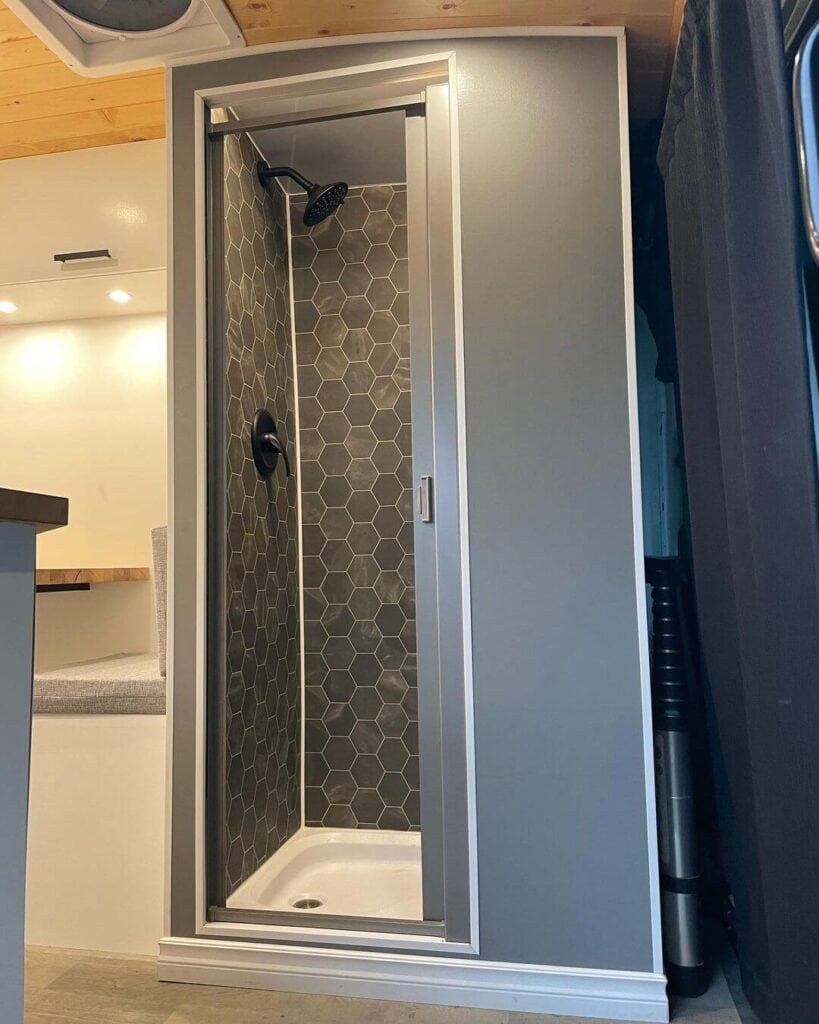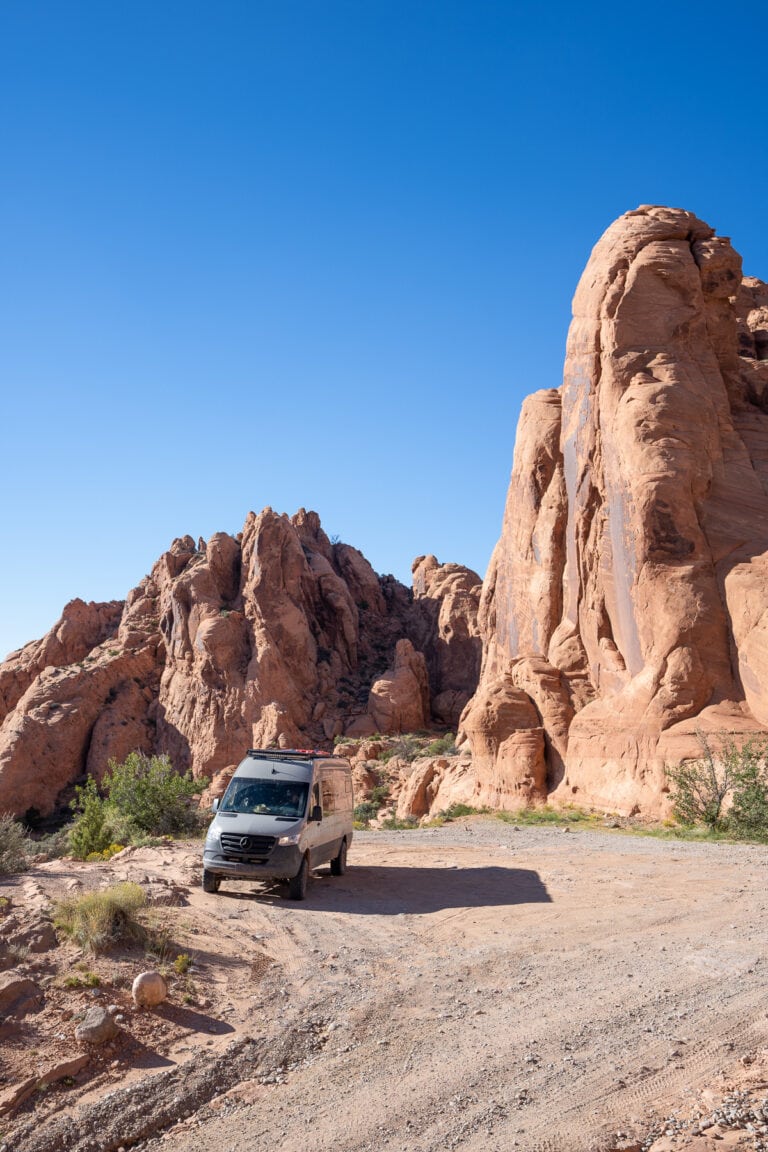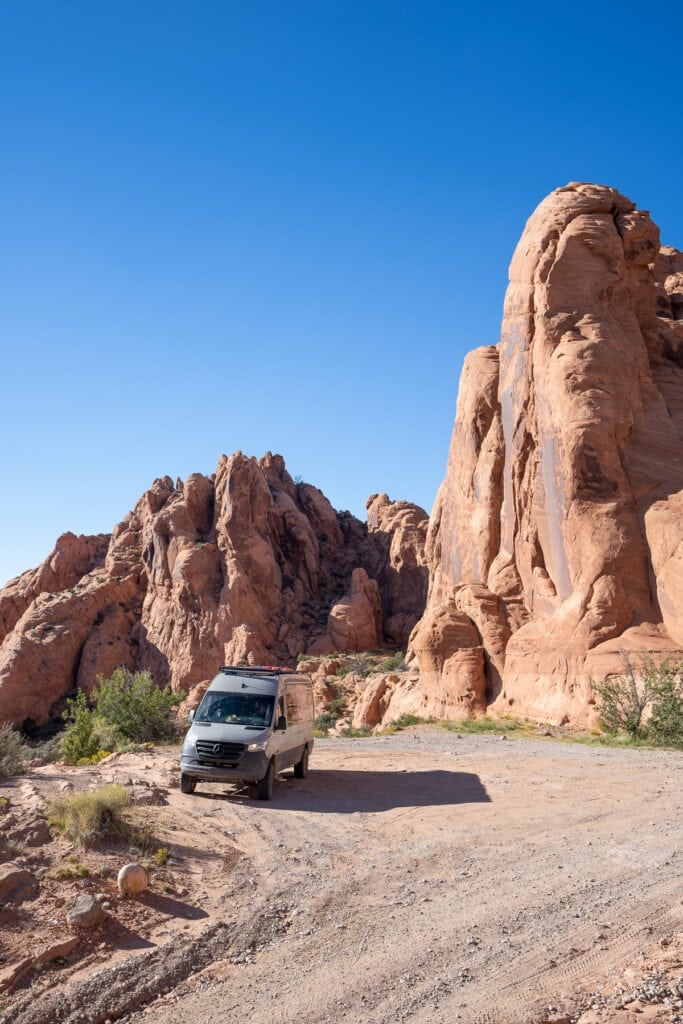 Start your van life journey
Learn how to do van life with our free van life email series
We'll teach you everything you need to know about converting and living in a van
---
Camper Van Toilet Setups
If you want a toilet as part of your camper van bathroom setup, you've got lots of different storage options. Aside from storing a portable toilet inside the shower, we've seen lots of other creative ways to stash a toilet in a van so it's hidden from sight when not in use but easily accessible when needed.
@lighttravelers
This van build by @lightravelers has a great toilet setup that's completely hidden when not in use. It pulls out of a drawer and sits on a set of heavy-duty tracks that can handle plenty of weight.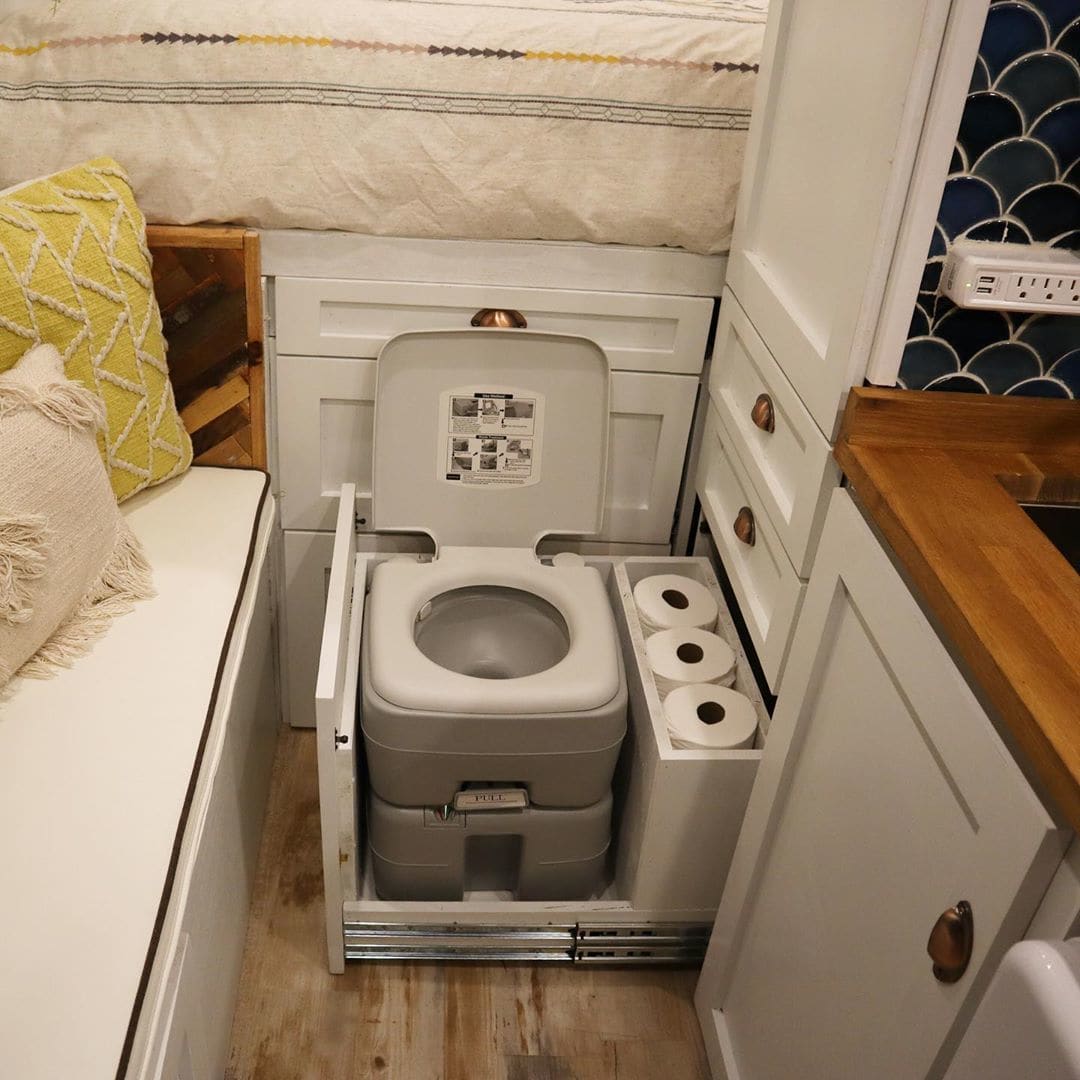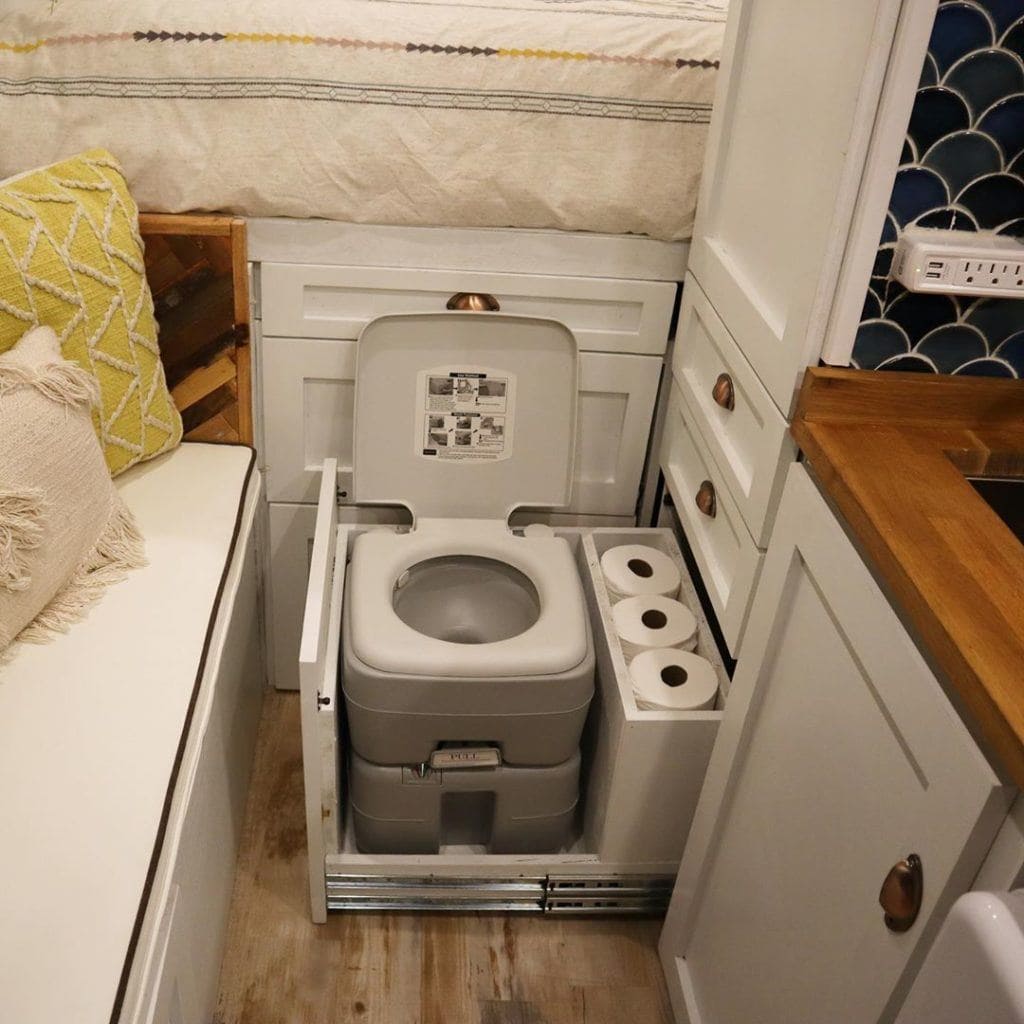 @van.there
Jess and Mike have a hidden toilet setup as well, except their toilet – which is a composting toilet – is hidden beneath one of their dinette seats.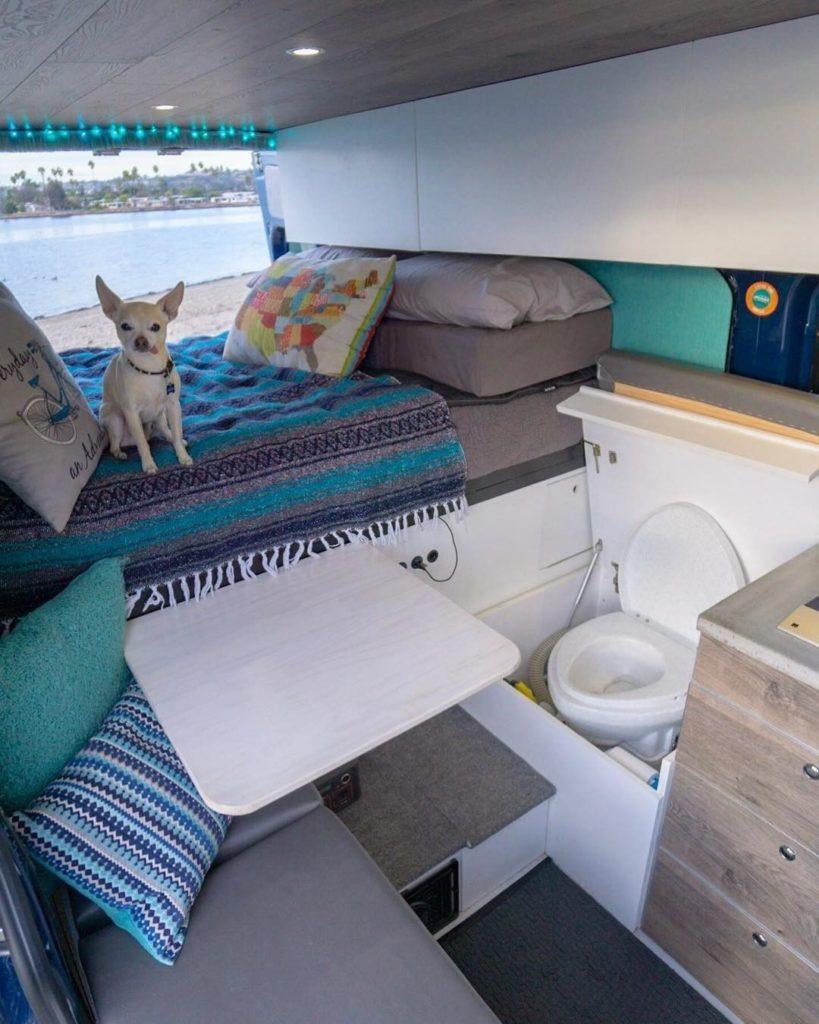 @vandmvanlife
Ontario-based @vandmvanlife have a composting toilet that pulls out from under their garage. It's a clever use of space that we haven't seen before and makes the toilet easy to use in place.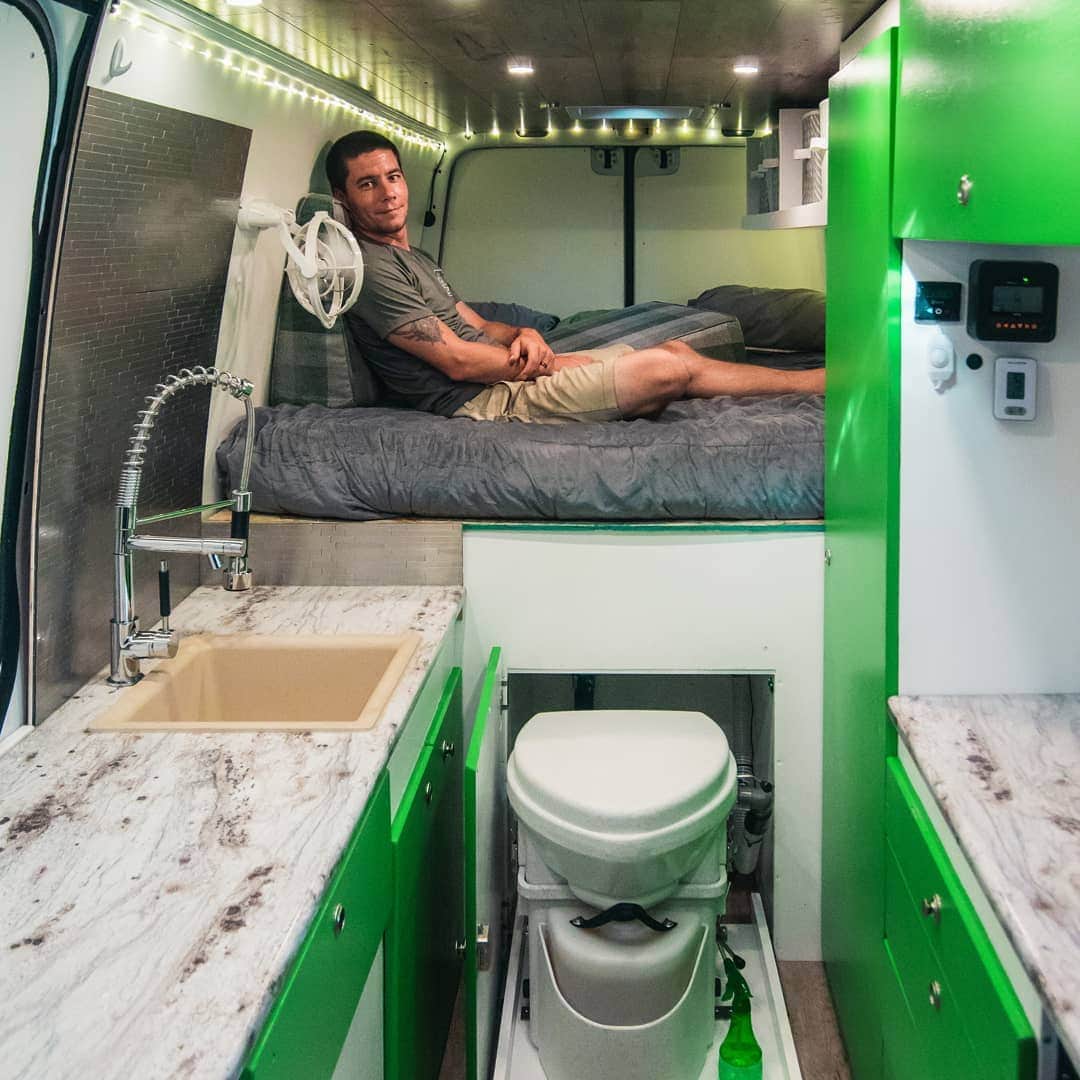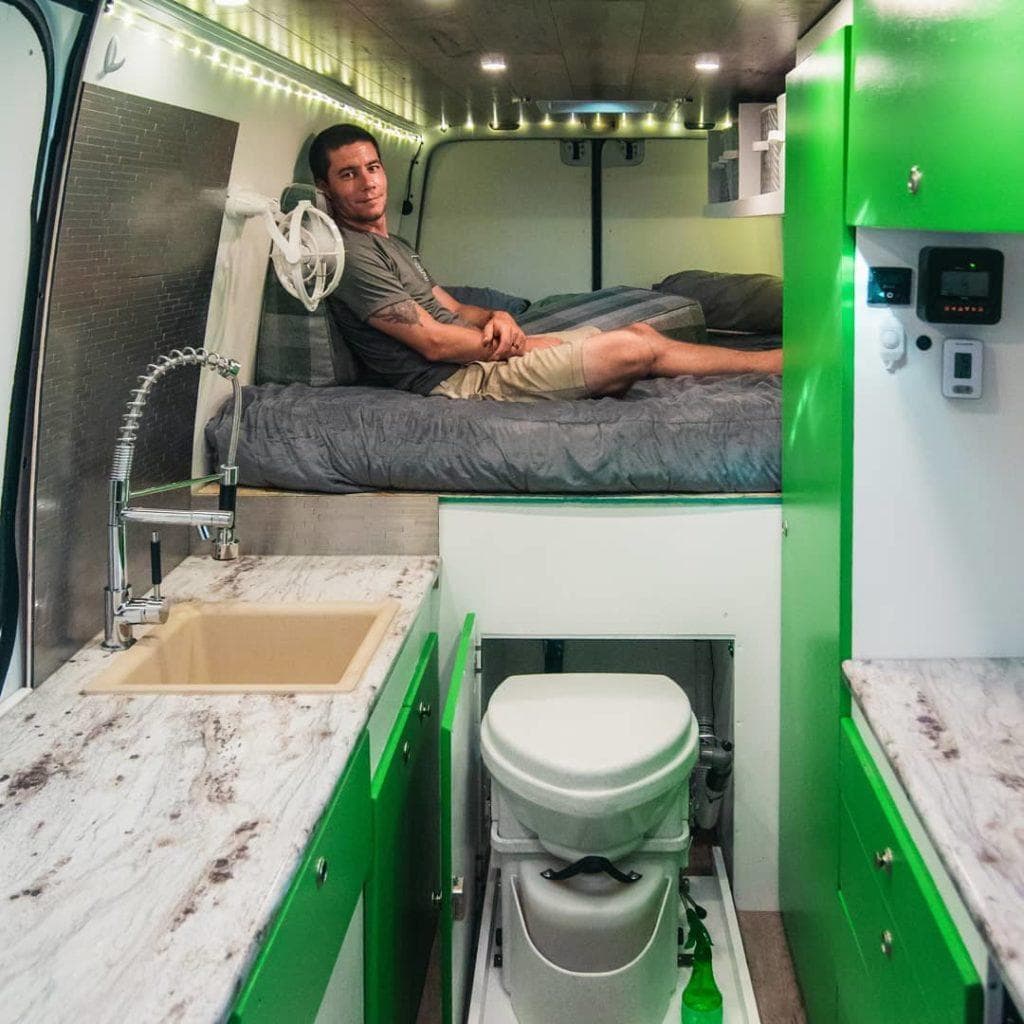 @jomovan
@jomovan has a hidden cassette toilet built into a storage bench in their van next to the sliding door. The lid is cushioned and upholstered and serves as a seat too, making this setup multi-purpose. The base compartment comes apart from the top so it can easily be emptied when needed.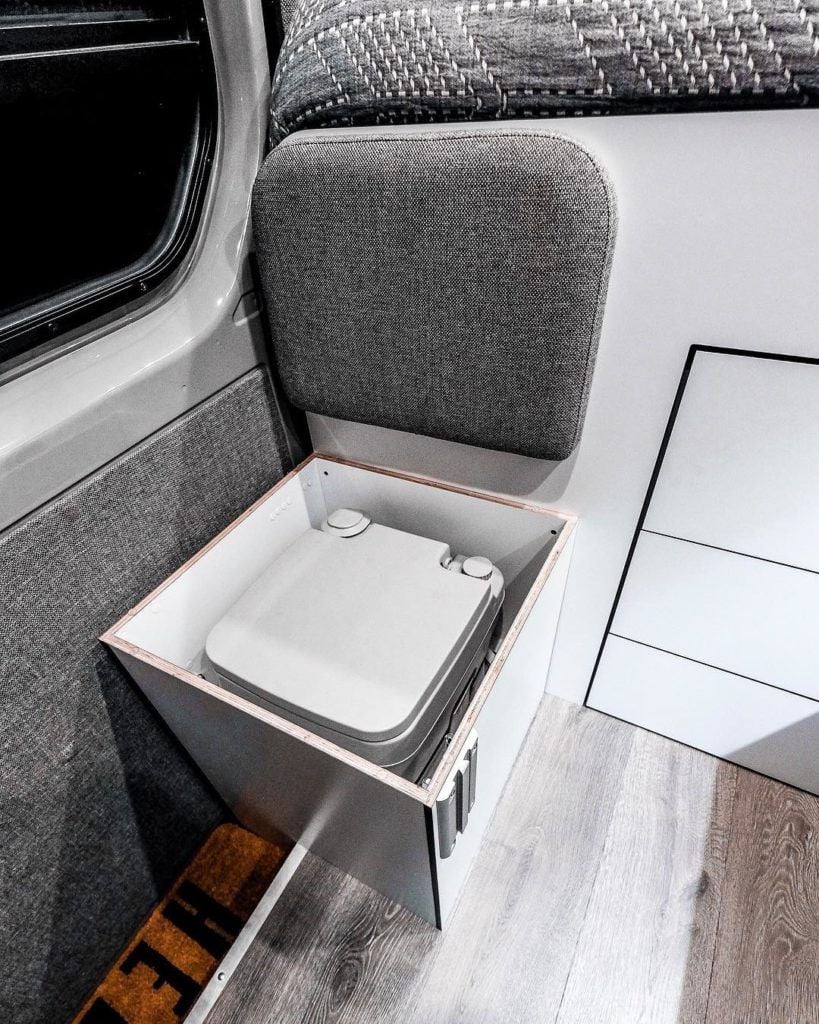 @lindseyanddannyvanlife
Lindsey and Danny have a composting toilet that pulls out of their cabinet. When not in use, it's completely hidden from view and you'd never know it's there.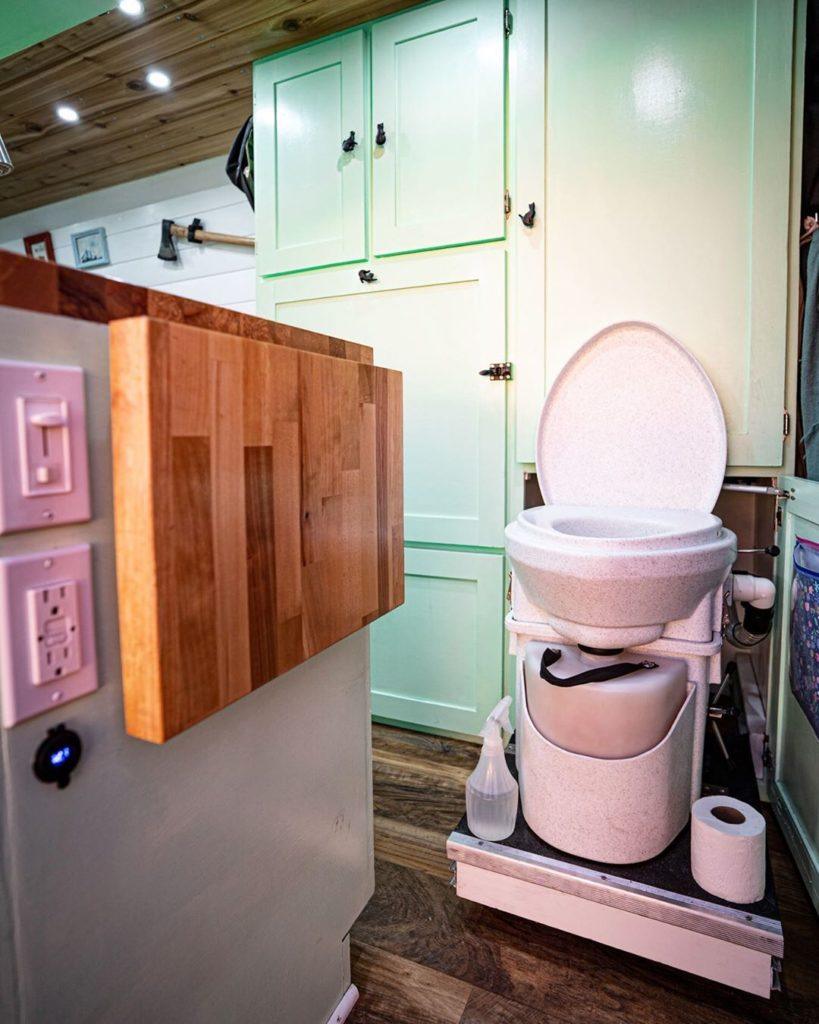 If you'd like to learn more about what goes into camper van bathrooms and showers including plumbing and greywater tanks, check out this post on camper van water systems, including showers.
Van Life Essentials Packing List
Below are a few of my favorite pieces of van life gear and recommendations for the road:
Have you seen any other interesting camper vans with bathrooms? Do you have any questions on this topic? Let us know in the comments below!