Tour my First Sprinter Camper Van (a tiny home on wheels)
Get a full tour of my first 144″ 4×4 Mercedes Sprinter camper van with a video, details of the conversion, and what I've learned since.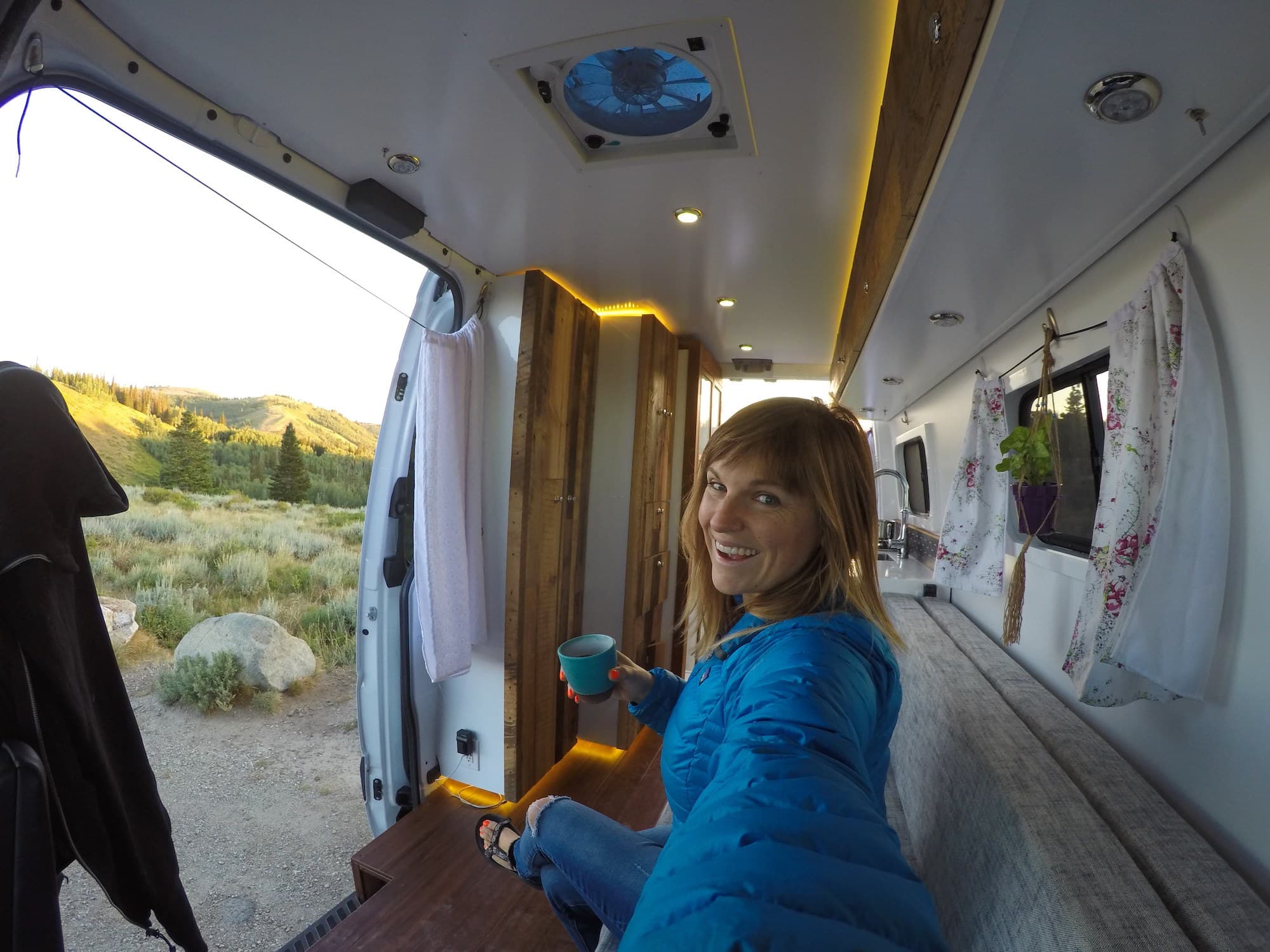 **Update – I sold this van in March 2017 and have had two Sprinter Vans built by Outside Van since. Check out the tour of my new Sprinter Van conversion here, plus how it compares to Sprinter #1 and Sprinter #2. Otherwise, continue on to check out Sprinter #1.
Back in 2015, I bought my very first 4×4 Mercedes cargo Sprinter Van with big plans to convert it into the ultimate tiny home on wheels.
When I was coming up with the concept for my Sprinter camper van, I knew I wanted not just an adventure mobile to haul my gear, but a comfortable place to live and work. With this in mind, I had a few priorities when I was designing the van interior:
I wanted the van to feel open and airy maintaining the walkway to the back door.
I wanted the bed to run vertically down the van rather than across, so I would have more legroom while sleeping
I needed a table where I could sit and do my computer work
I needed ample storage space for gear, clothes, food, and other necessities for living on the road
I wanted a toilet and shower
I wanted a permanent galley and a sink to do dishes in
The custom conversion of my Mercedes Sprinter Van took four months and turned it from an empty cargo van to a fully capable camper van.
Read on for a full tour of my first custom converted Mercedes Sprinter camper van including a video, what components I chose after lots of research, and how everything turned out.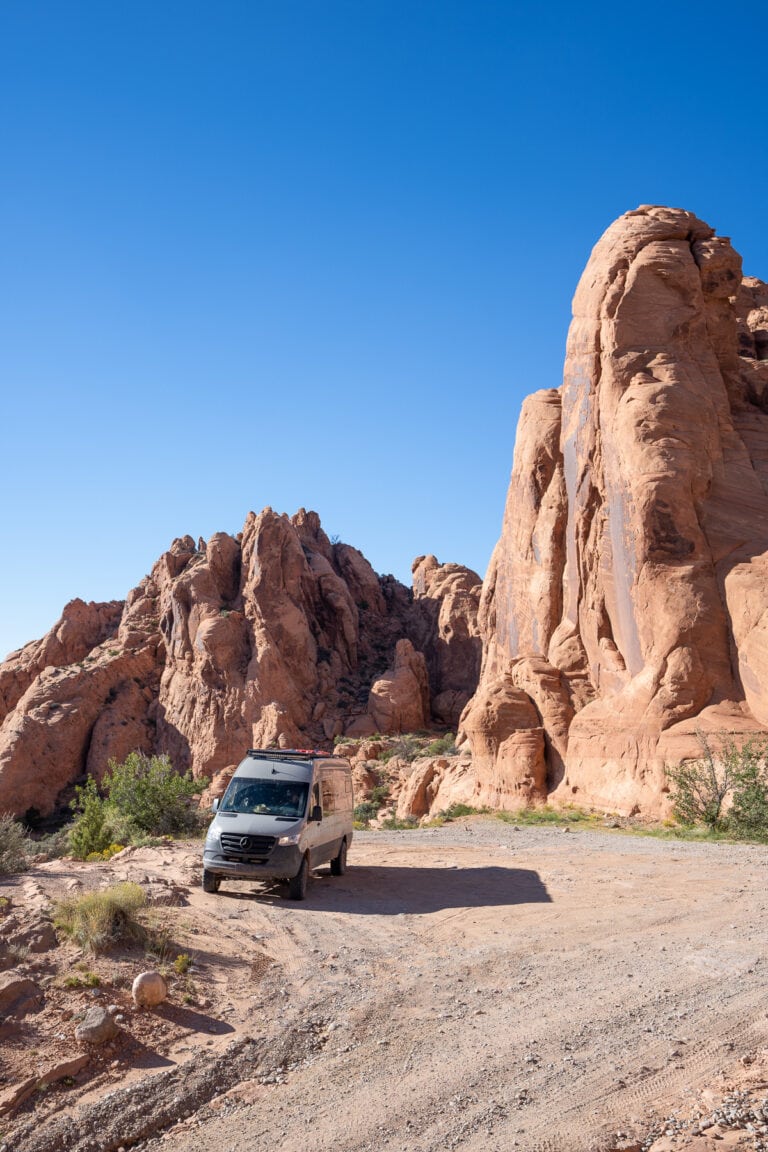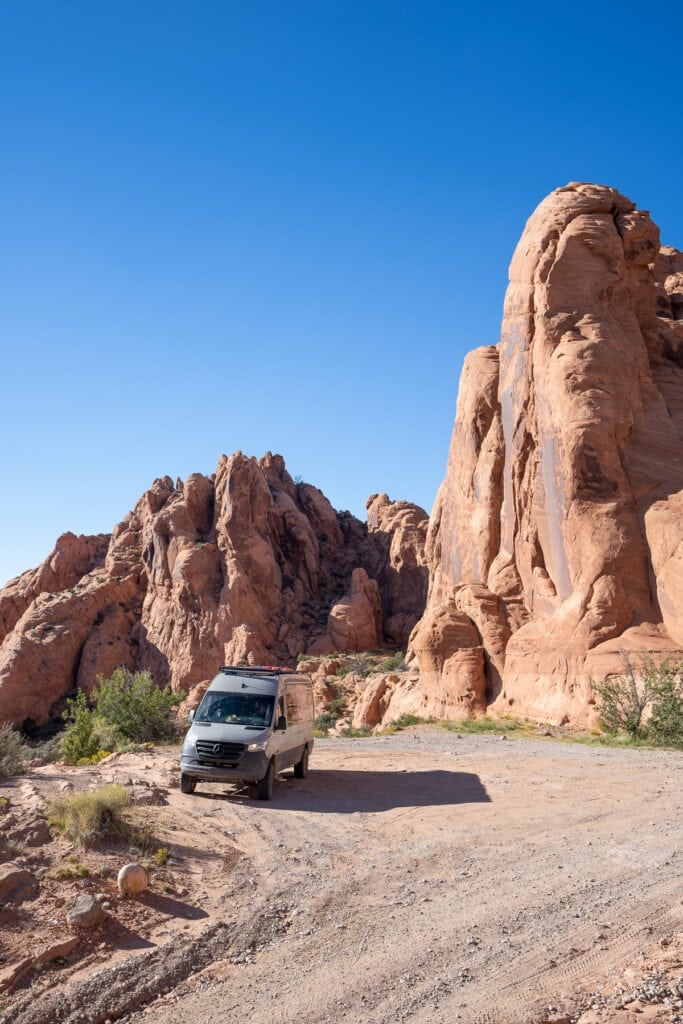 Start your van life journey
Learn how to do van life with our free van life email series
We'll teach you everything you need to know about converting and living in a van
---
4×4 Sprinter Camper Van Tour on YouTube
For a quick overview and to see everything in action, watch this full video tour to see the inside of my first 144″ 4×4 Mercedes Sprinter camper van.
UPDATE: Here is the video of my third and newest custom Sprinter camper van that was converted by Outside Van in Oregon:
---
Sprinter Van Model
I got the 144″ Sprinter, which is the shorter model of the two Mercedes Sprinter vans available at the time. The 144″ Sprinter fits in a normal parking spot and is slightly more maneuverable in cities and on back roads.
I opted for the high roof, cargo-style Sprinter van and added a sliding door and back door windows. I added the 4×4 option which has a 3.0 L, v6 diesel engine.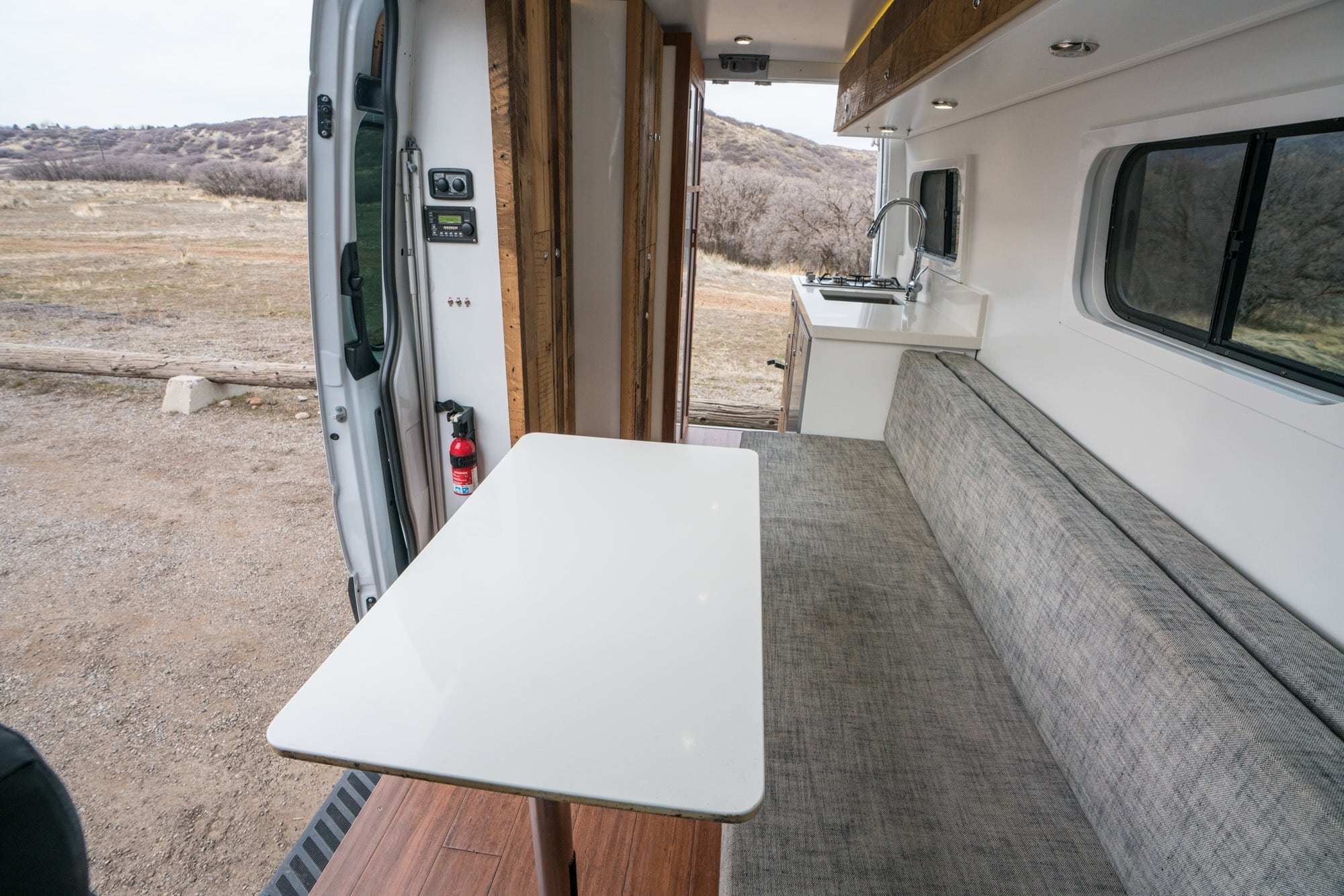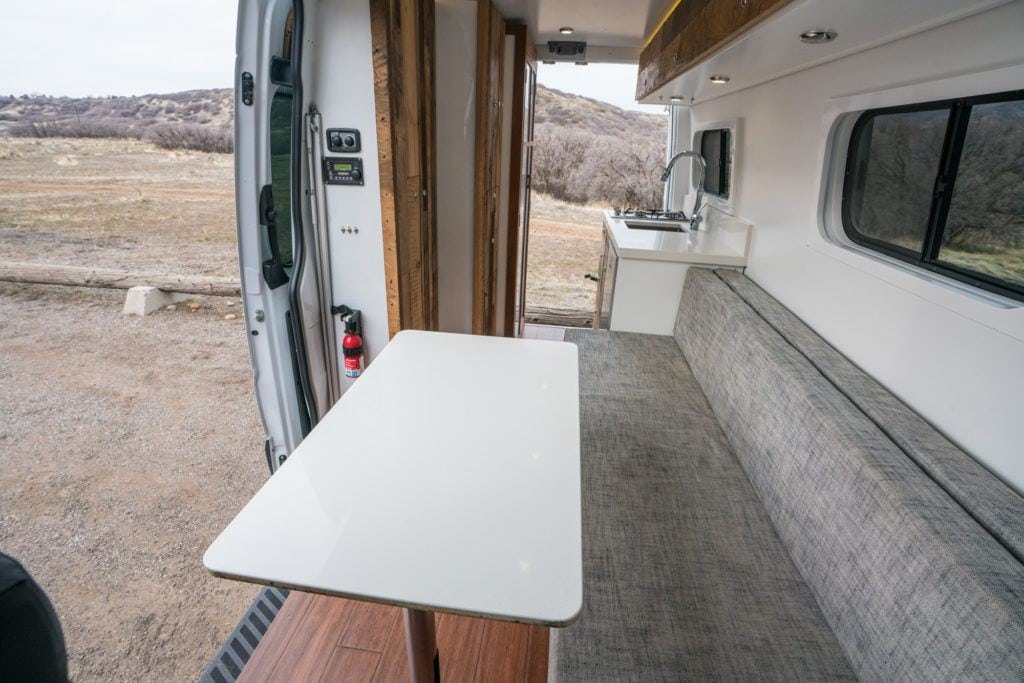 ---
Sprinter Van Bed
Fitting all of my desired components into a 144" Sprinter van (the smallest version of new Sprinters) was going to be a challenge. When I was coming up with the concept for the layout, there were a few different options for the bed.
The first option was a dinette. This would maintain the walkway and give me a place to work, but it would be near impossible to have a bathroom. Plus sleeping vertically meant that the entire back half of the van would be devoted to the bed. Considering I'm often by myself, I didn't think it made sense to waste two full walls on a bed and a 6 seater dining table.
The next option was a platform bed, where the bed is built on a large platform with a bunch of storage underneath. This option would provide the most storage space but would again eliminate the option for a bathroom. The walkway also wouldn't be maintained, and my workspace would be an afterthought.
After doing a lot of research and looking at a ton of cool camper vans on Pinterest, I had the idea for a convertible couch/bed with a pop-out table that faced the large side door. This would maintain the walkway and the open feel of the van, giving me space for a bathroom and galley along the back wall, and I could enjoy the views as I sat and worked on my blog inside the van.
With the couch and the passenger swivel seat, my van can comfortably seat 4-5 people when stationary. When it's time to eat or do my work, I simply place the two table legs into pegs built into the floor and then set the table right on top.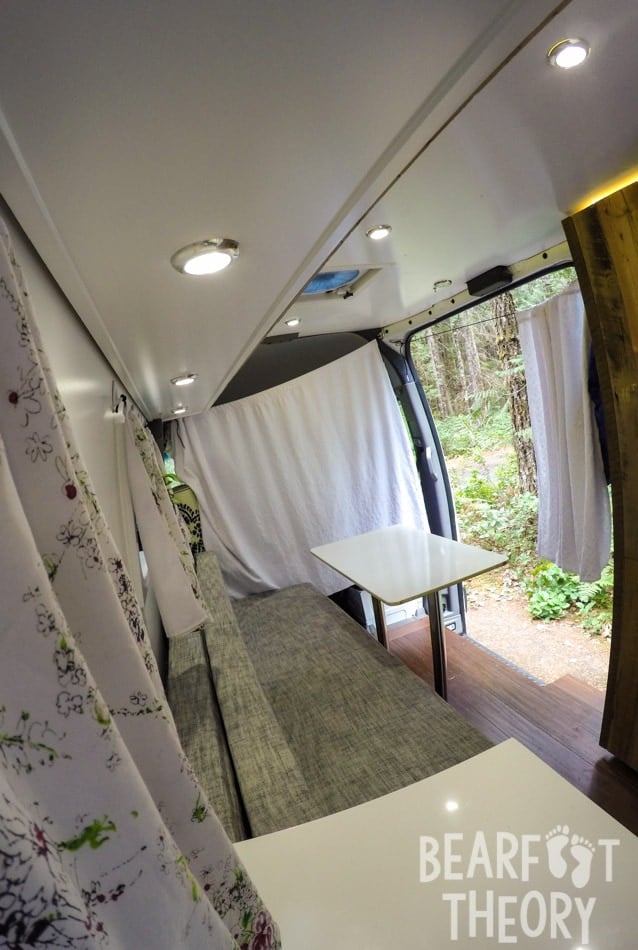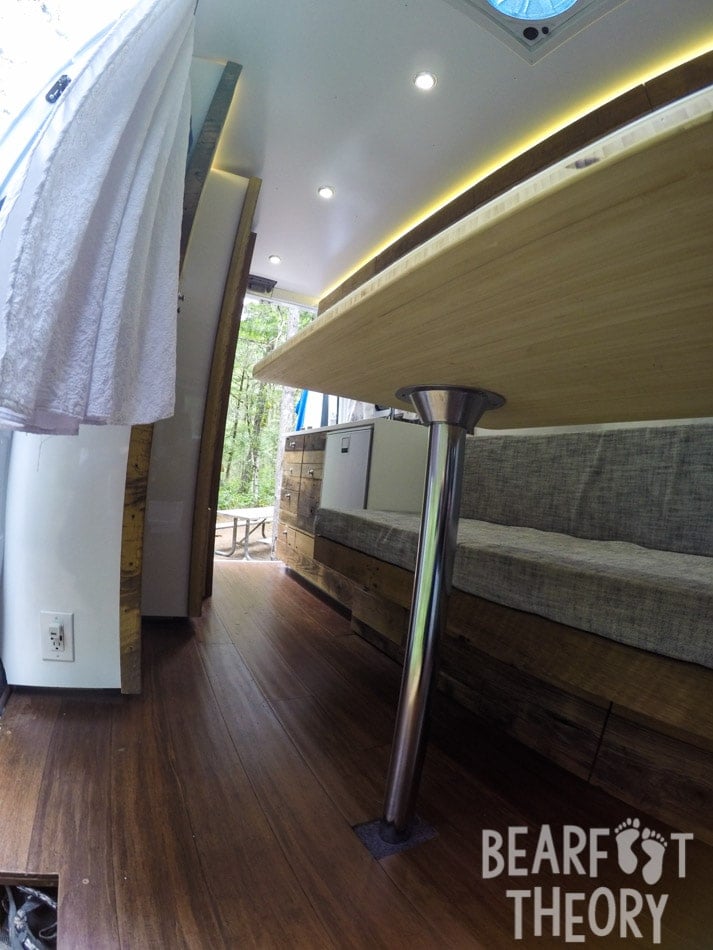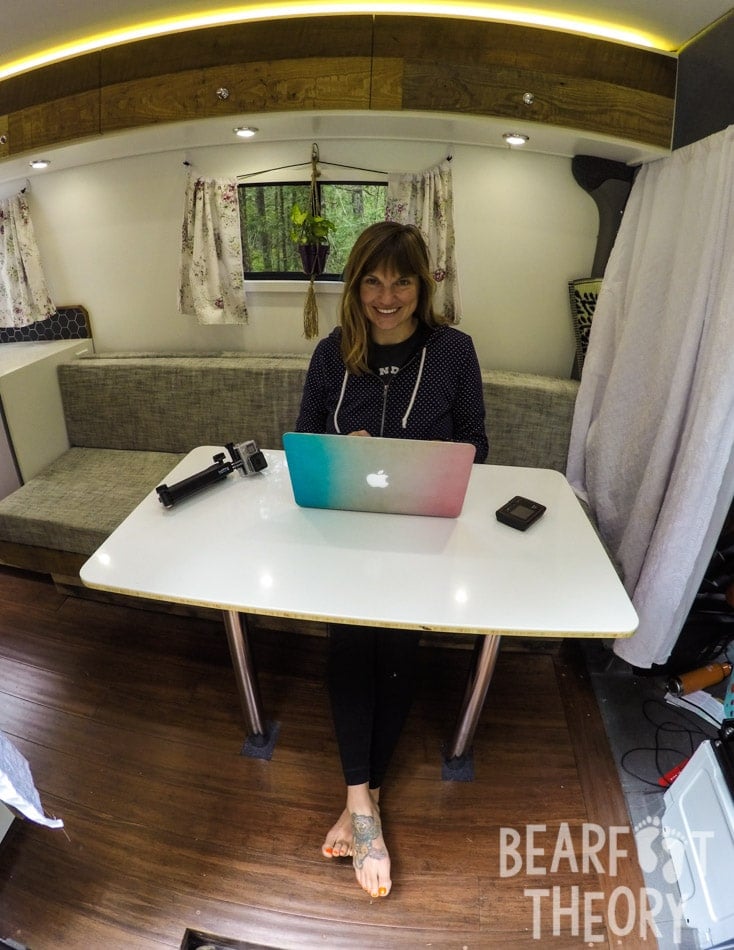 If I was going to have to make the bed every day, I wanted it to be super easy so I'd actually put it away every morning. So at bed time, all I have to do is remove and store the table, unhook the bed, and the bed slides right out in one swoop. Then the memory foam cushions from the back of the couch separate and lay flat resulting in a near queen-sized bed at 60" wide x 76" long – meaning it can sleep two tall people very comfortably.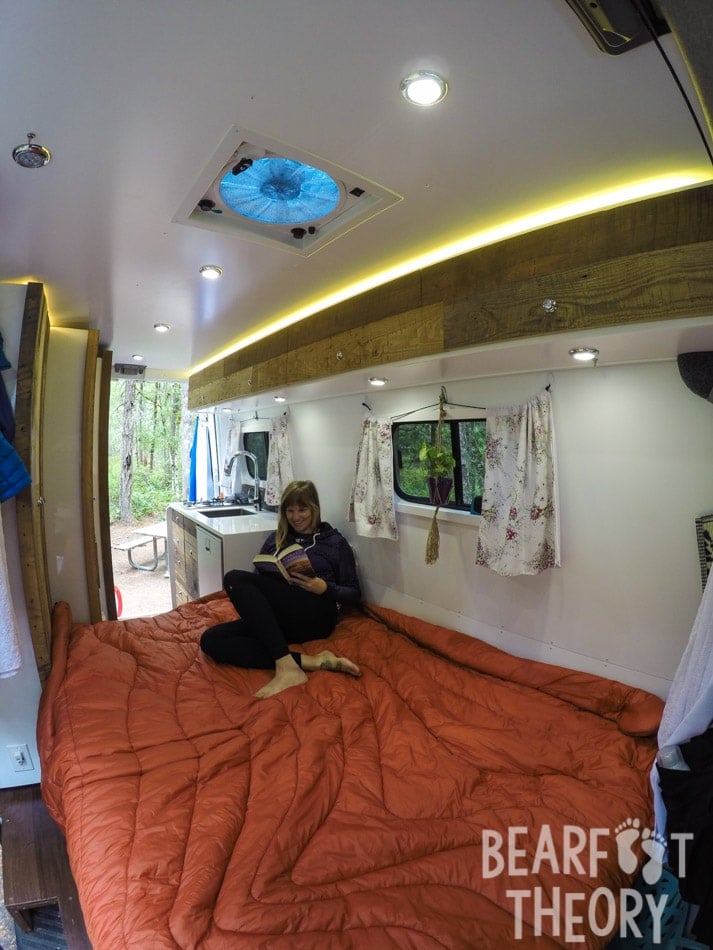 For more details on how my convertible bed works in my Sprinter Van, watch this video:
---
Sprinter Van Galley
I didn't want to have to set up a Coleman stove every time I cooked, so I opted for a permanent two burner galley. The stove is made by Ramblewood
Green (Model GC2-43P). It's a little large for the space, but it's plenty powerful, cleans easily, and runs off of propane. The 1-gallon propane tank is stored in a cabinet under the sink and is enough for a week or longer depending on how much I use it.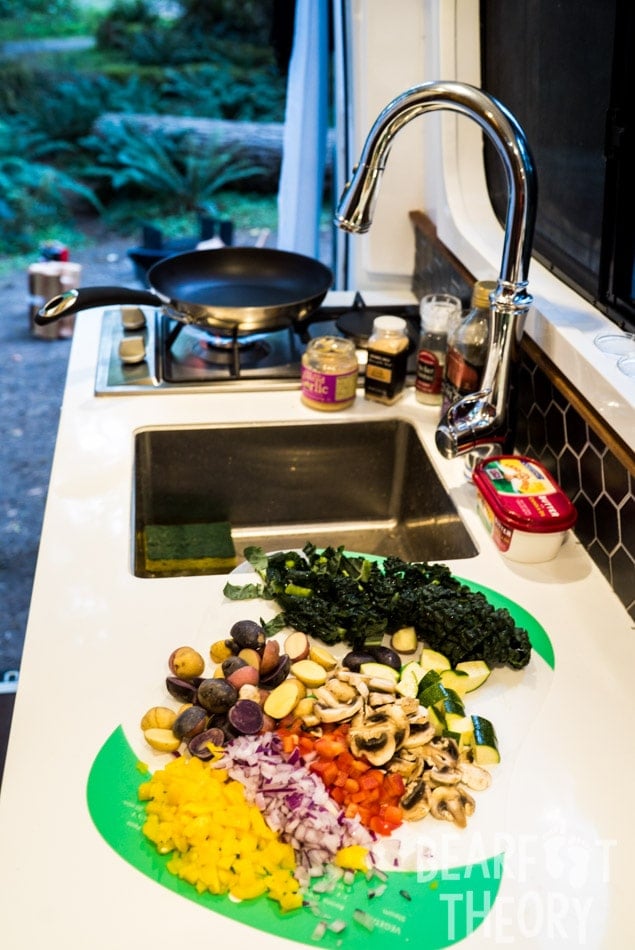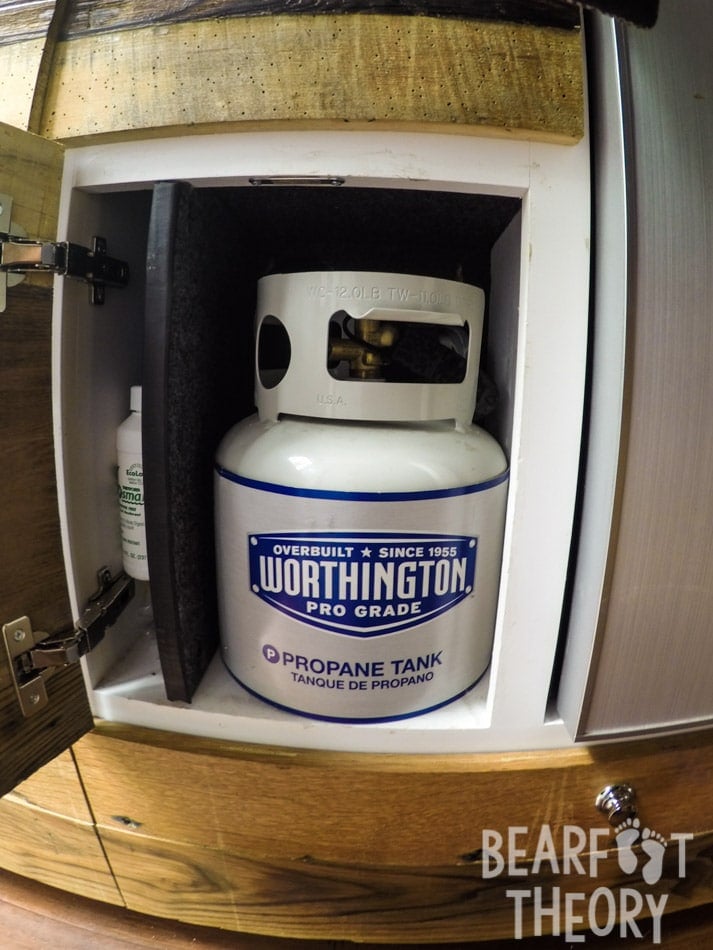 I also wanted a place to do dishes and wash up so a sink was a necessity for me.
The sink is stainless steel and made by Dawn USA (Model BS121307). It's not too big, but big enough to throw some dirty dishes in. In order to do dishes without water getting everywhere, I chose the Kohler Simplice faucet (Model K-596-CP) with a pull-down spout, so I can direct the water as I'm scrubbing and rinsing.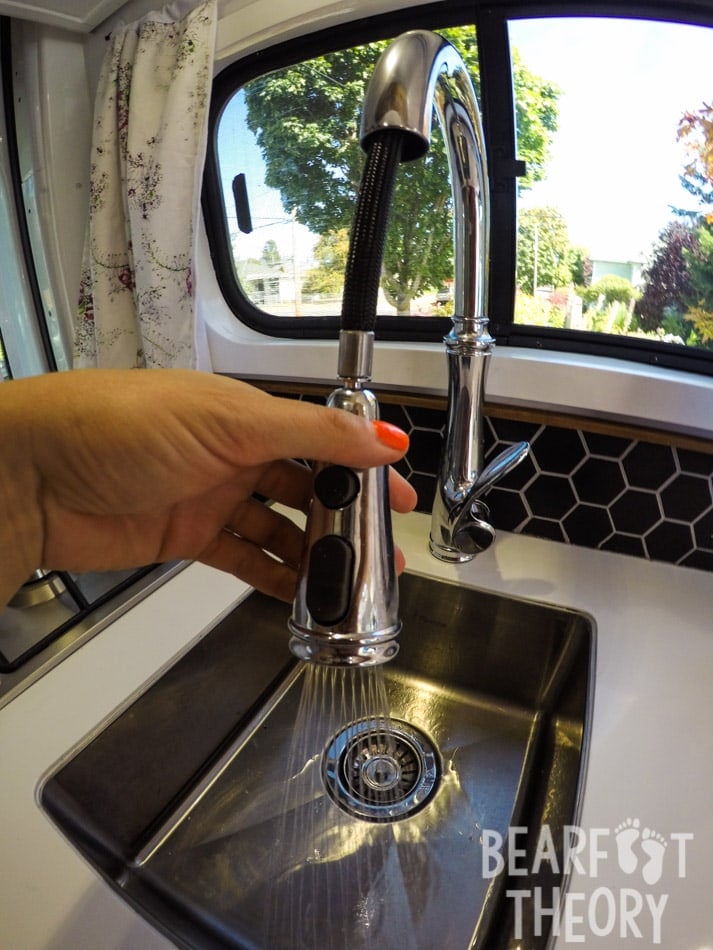 Since the galley is on the back wall, it had to be built right over the wheel well. This reduced my options for a fridge, since the space wasn't very big. The Isotherm CRUISE 65 Elegance is a medium-sized marine fridge that fits perfectly. At 2.3 cubic feet, it's compact, but if you shop smart you can fit 4-5 days of food in there, plus a few beverages. It's also really quiet, and you can't hear the motor.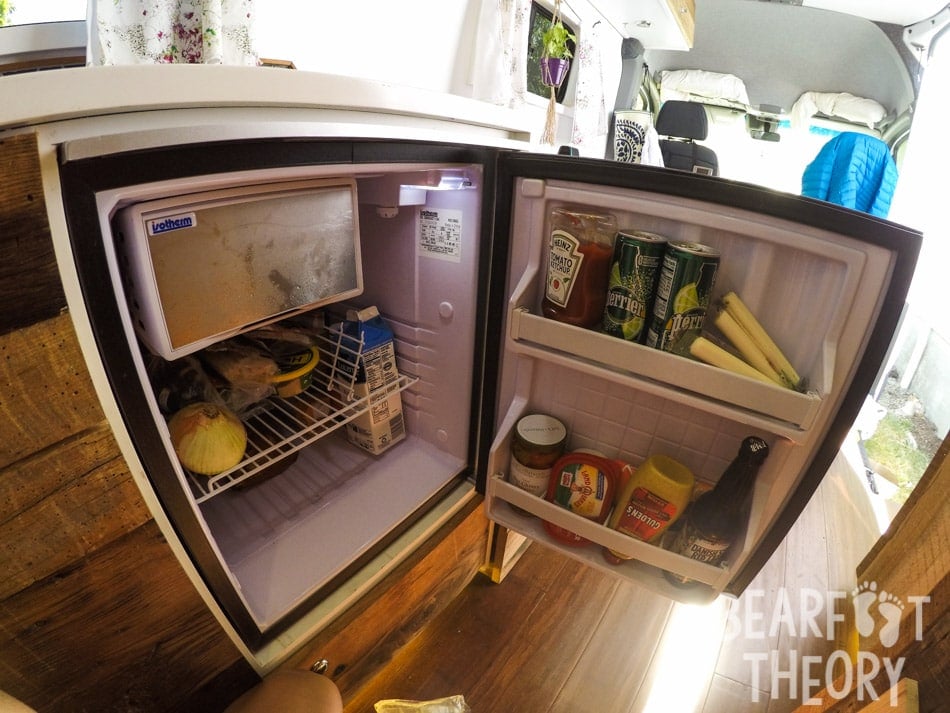 The galley has enough countertop space to cut and prep food and has a set of 4 drawers and a deep storage space for pots and pans underneath.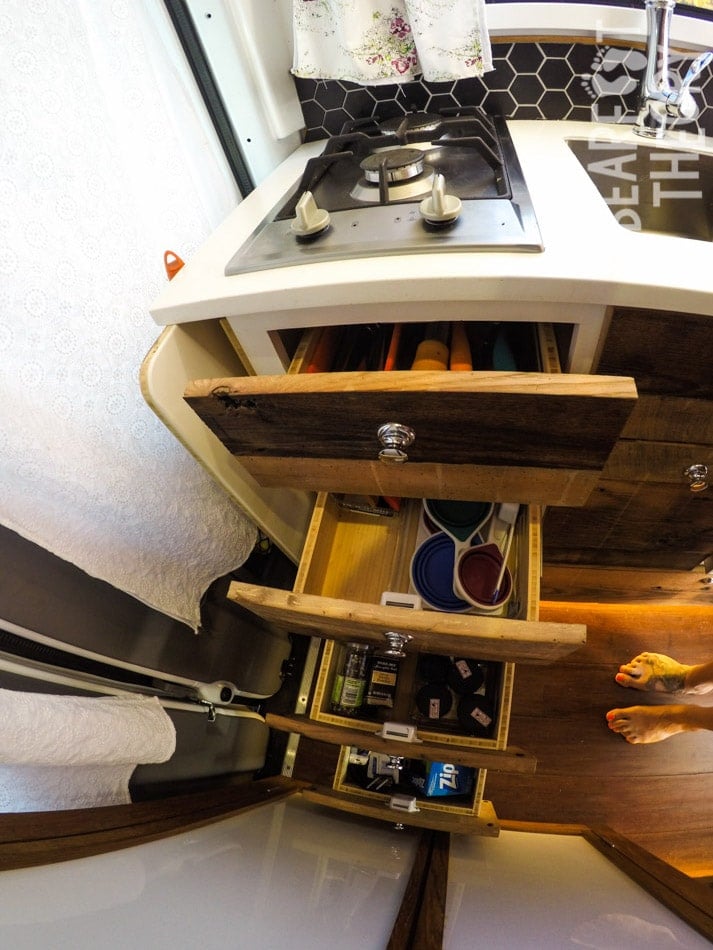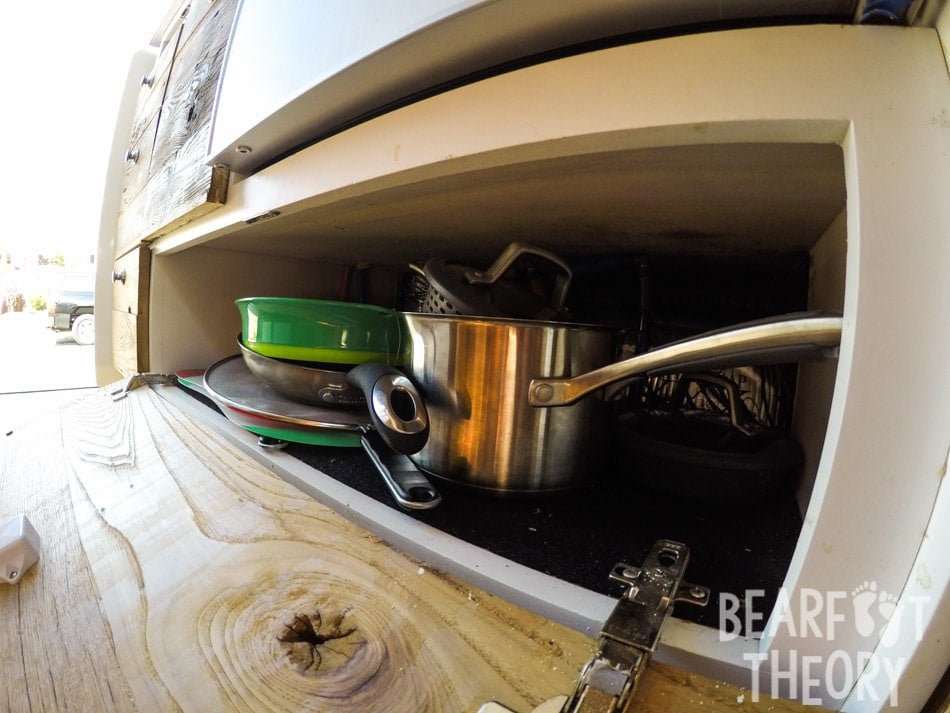 Finally, on the back end of the galley, there is a small fold-down bar/counter where I can put food and drinks if I'm grilling or eating outside.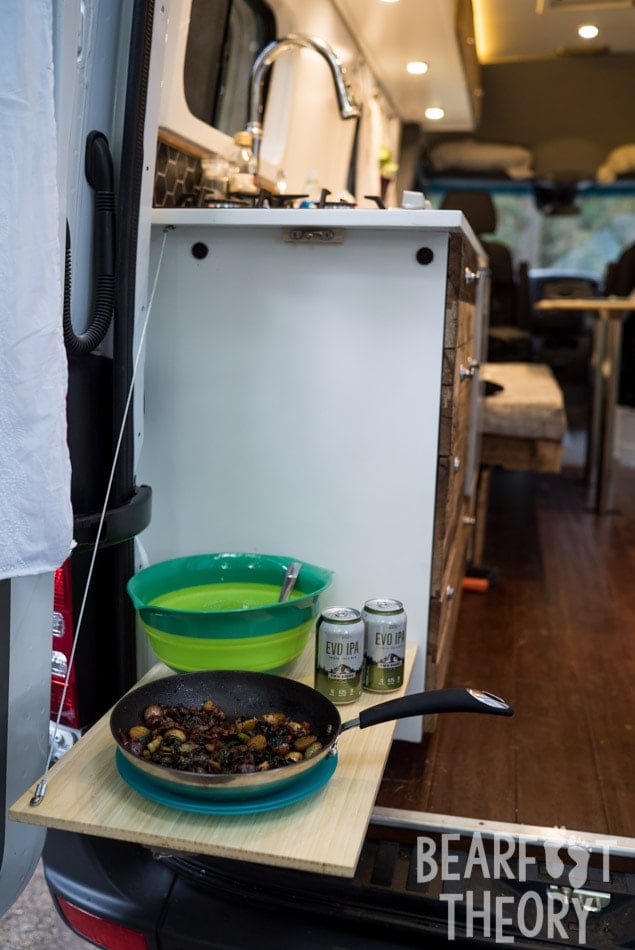 ---
Sprinter Van Bathroom
I wanted a bathroom for a couple of reasons. I didn't want to have to go outside in the middle of the night – waking up in the dark, getting dressed, and putting shoes on just to go pee is the WORST.
Second, as a solo female traveler, I wanted to be completely self-contained for safety reasons. If I'm somewhere where I'm not super comfortable, I wanted to be able to close the curtains, lock myself in, and not have to go outside for anything. That way, no one has to even know that I'm in the van by myself. Alternatively, if I'm parked in a city or outside a friend's house, I can be totally out of their hair. So that was my reasoning behind having a toilet.
Finally, having a hot water shower inside the van would make living in the van year-round more sustainable and enjoyable. Showering outside in the summer is fine, but in the winter without a shower, I'd be spending too many nights at friend's houses or RV parks. Note: my thoughts on needing an indoor shower have changed since the time I wrote this, read why I don't think you need an indoor shower in your camper van here.
The bathroom is completely enclosed in the back corner of the van. It's a little tight to sit on the toilet and have the doors shut, but even with my long legs, I fit in there ok.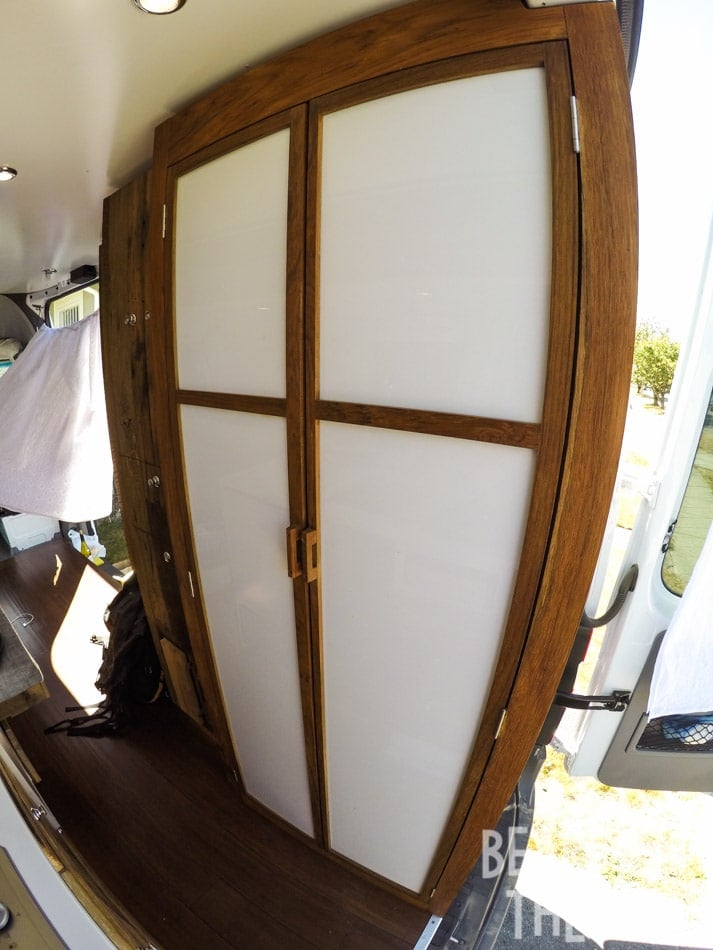 The toilet is a Thetford Curve Portable Toilet (Model 92360 Porta Potti 550E). This means there is no plumbing associated with it. You sit on it just like a normal toilet, do your business, close the lid, open the flusher, press the water button, and close the flusher. I've only gone #1 in it so far, but the deodorizer seems to neutralize all smells really well.
When the holding tank is full, there is an indicator letting you know it's time to dump it. To clean it out, you simply separate the bowl from the holding tank, unscrew the lid and pour it down into the RV dump station, just like you would for a black water tank. Then rinse, reassemble, and you are good to go.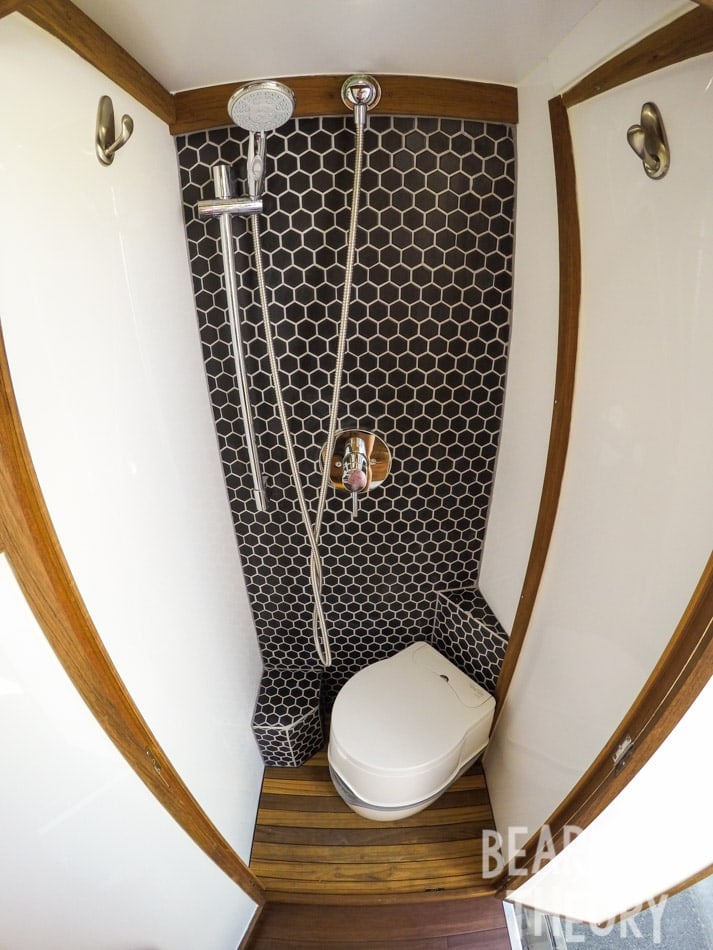 The advantage of the porta potty vs a permanent toilet is that when I want to take a shower, I can take the entire toilet out so I don't have to maneuver around it. Also if I want to go on a trip and need the bathroom to store large pieces of gear, I can leave the toilet behind.
The shower head is made by Camco (Model 43712) in chrome. I chose this showerhead because it has an on-off switch on the handle. Paired with a 6-foot-long shower hose, I can also use the shower to hose down gear or my feet outside. The shower floor consists of teak slats which are removable in case the drain to the grey water tank needs to be accessed.
Finally, I had a small fan installed in the bathroom to help dry it out after showering.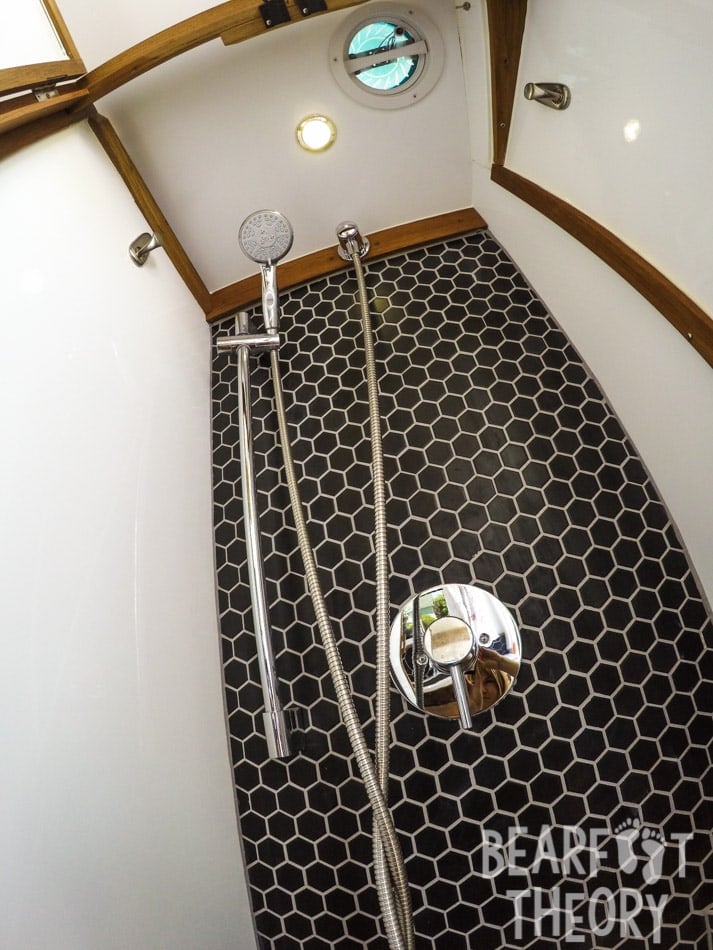 ---
Sprinter Van Water Tanks
I have a 10-gallon water tank inside the van and another 15-gallon tank underneath the van outside. This was one of the biggest mistakes in my first sprinter camper van conversion. I spend a lot of time in wintery climates and my exterior 15-gallon tank is unusable in winter, limiting me to the 10-gallon tank inside.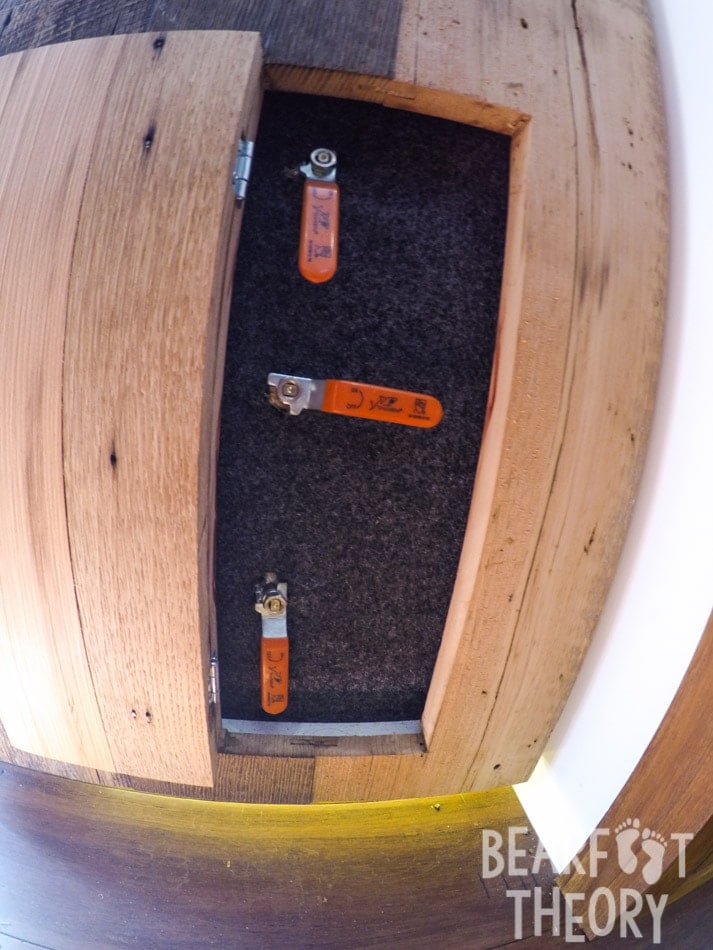 I also have a 15-gallon gray water tank underneath the van where the shower and sink drain into.
---
Sprinter Van Cabinets & Storage Space
The floorplan of my first Sprinter van afforded quite a bit of storage space.
I have a large floor to ceiling cabinet where I store all of my clothes, another big closet for gear, and a couple of drawers for my toiletries and electronic equipment.
The galley has drawer storage for kitchen items, and then overhead cabinets run along one entire side of the van. This is where I store food, books, and other random things. Underneath the bed, you'll find another large drawer where I store outdoor gear like camp chairs, my tent and sleeping pad for backpacking, etc.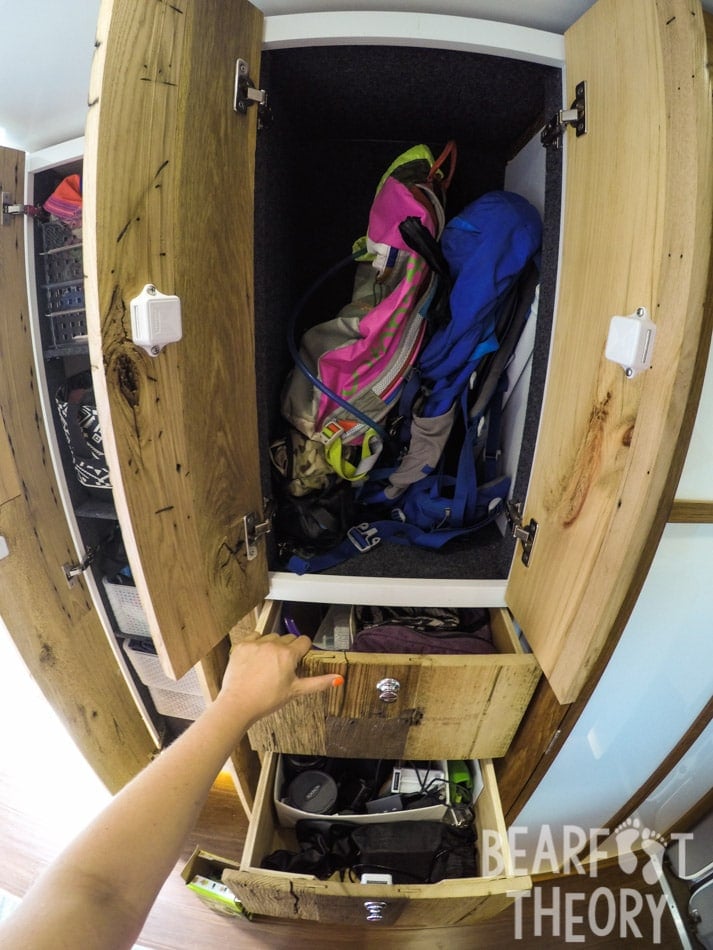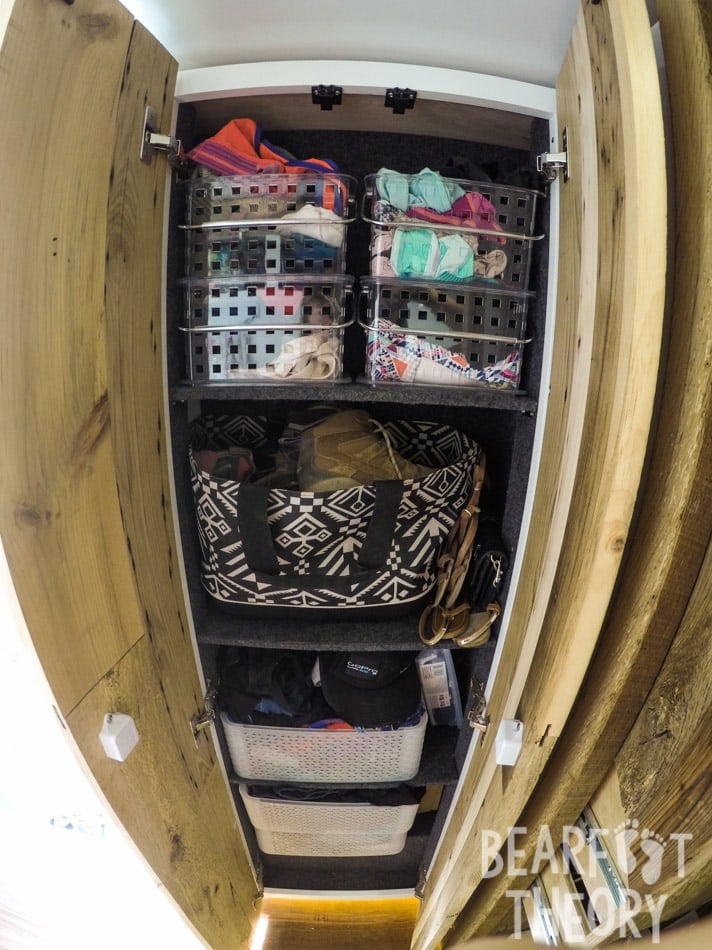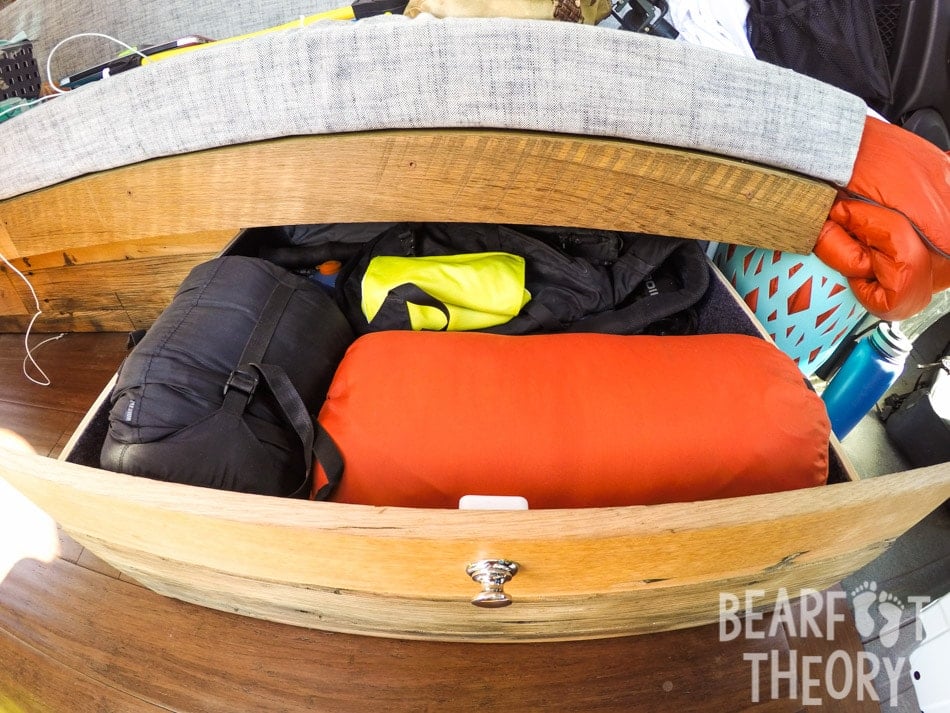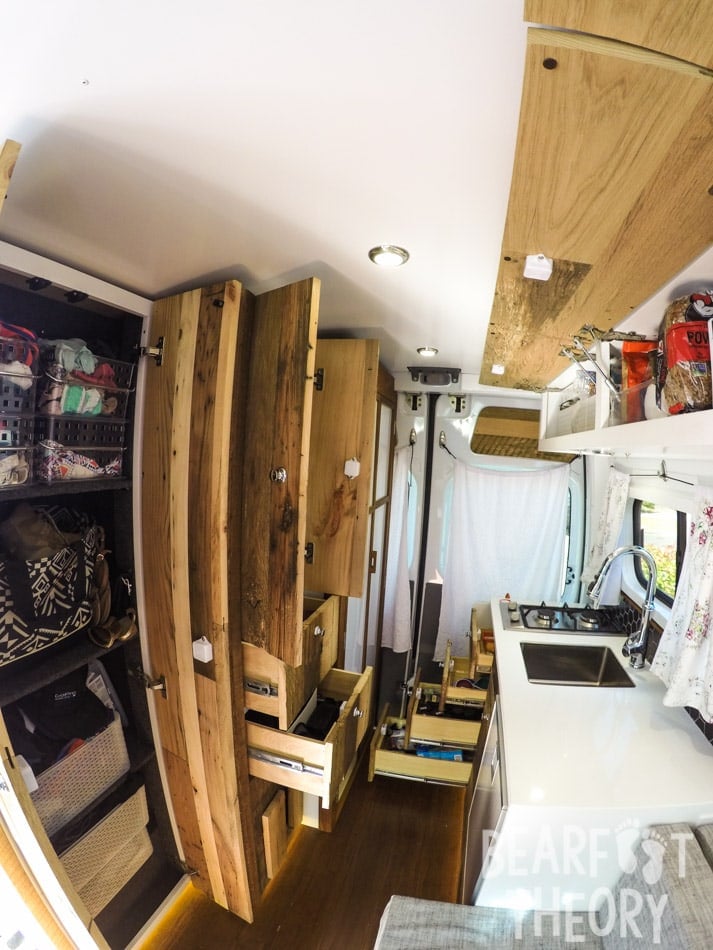 All of the drawers lock using these push buttons
that prevent the drawers from sliding out while I'm driving.
I recently installed the raised headliner shelf by RB Components which fits right in the headspace above the driver and passenger seats. I was a little hesitant to give up the ample headspace in the driver's area, but this shelf has turned out to be a great compromise. It still gives access to the storage pockets above the visor and you only have to duck down a little bit when walking around up front – a worthy trade-off for the storage space I've gained. I've been storing bulky items like my pillows and blankets up there and it also makes it much easier when I'm making my bed every night.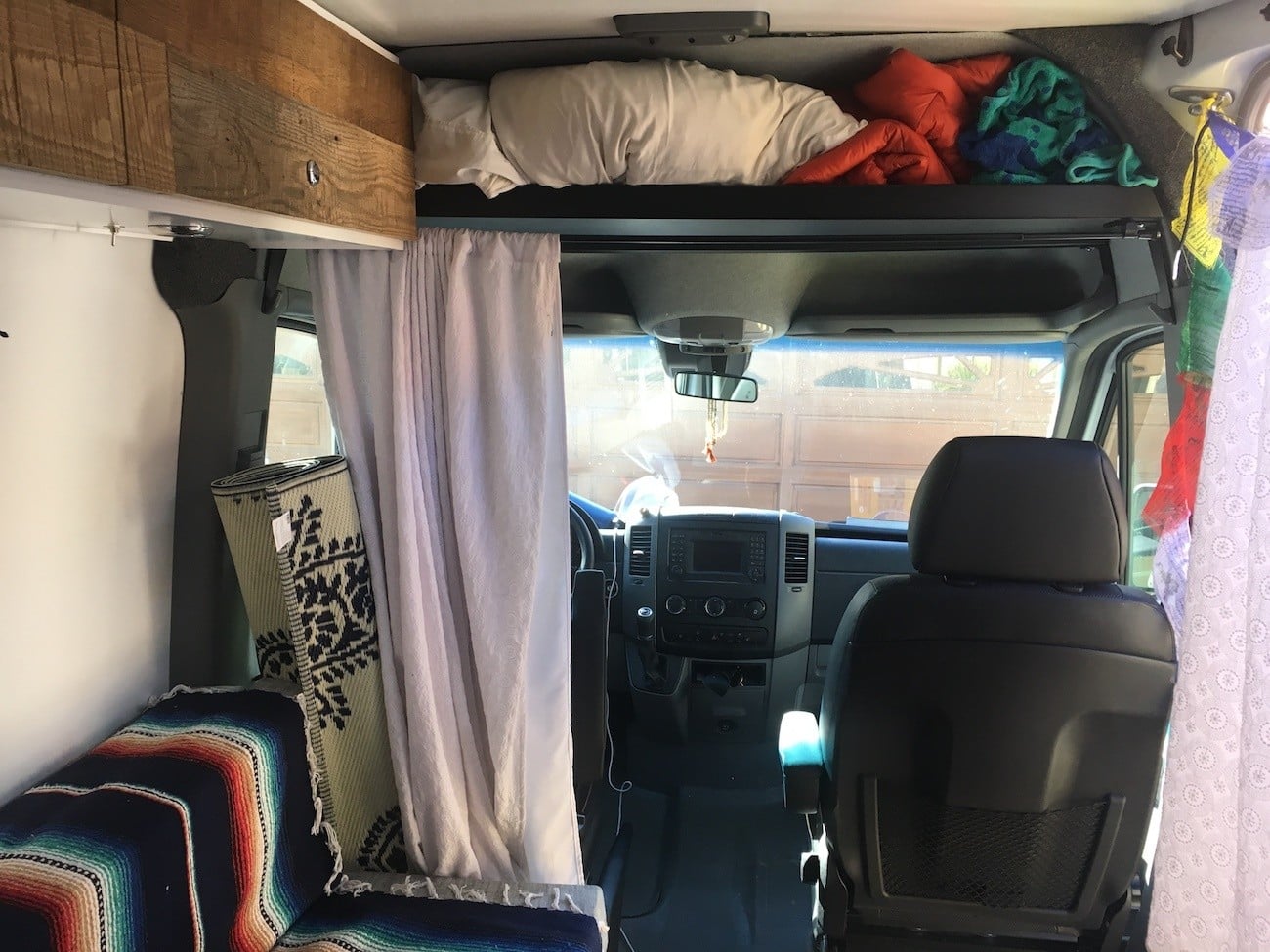 Van Life Essentials Packing List
Below are a few of my favorite pieces of van life gear and recommendations for the road:
---
Sprinter Camper Van Solar System
In my Sprinter camper van, I have a variety of electronics that need charging, and I wanted to be able to power all of my gear with solar. On the roof, I have 180 watts of solar panels made by Zamp Solar in Bend Oregon. I chose these because Zamp makes some unique-sized panels, and they had an 80-watt long and skinny panel that would fit on the side of my ceiling fan (more on that below).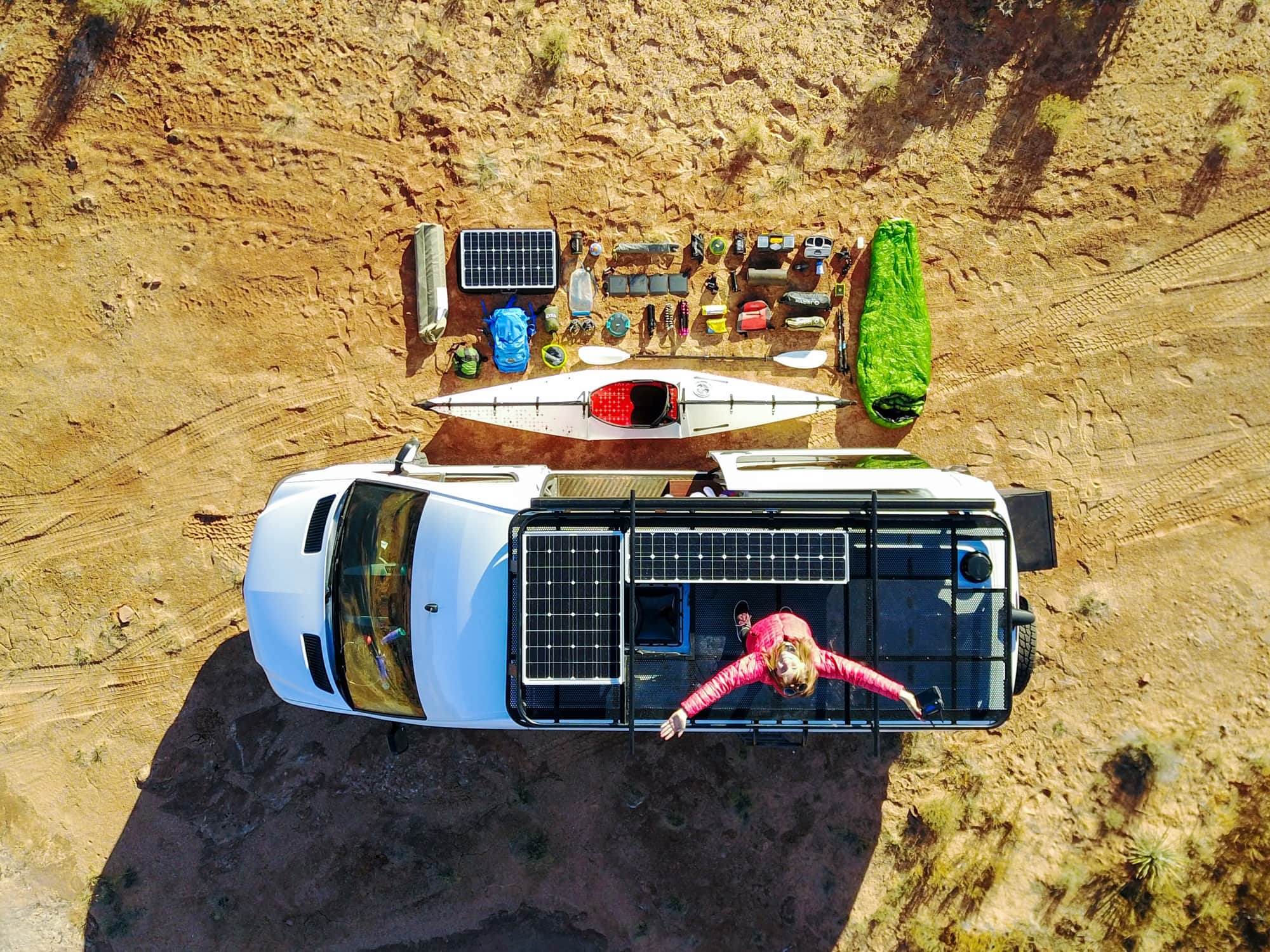 These power up three 125 Amp Hour batteries for a total of 375 Amp Hours. My batteries are also charged by my alternator when I'm driving.
The solar controller is the Midnite Solar Kid with a temperature sensor. This has a screen that tells me the status of the batteries and how many watts are being taken in by the panels.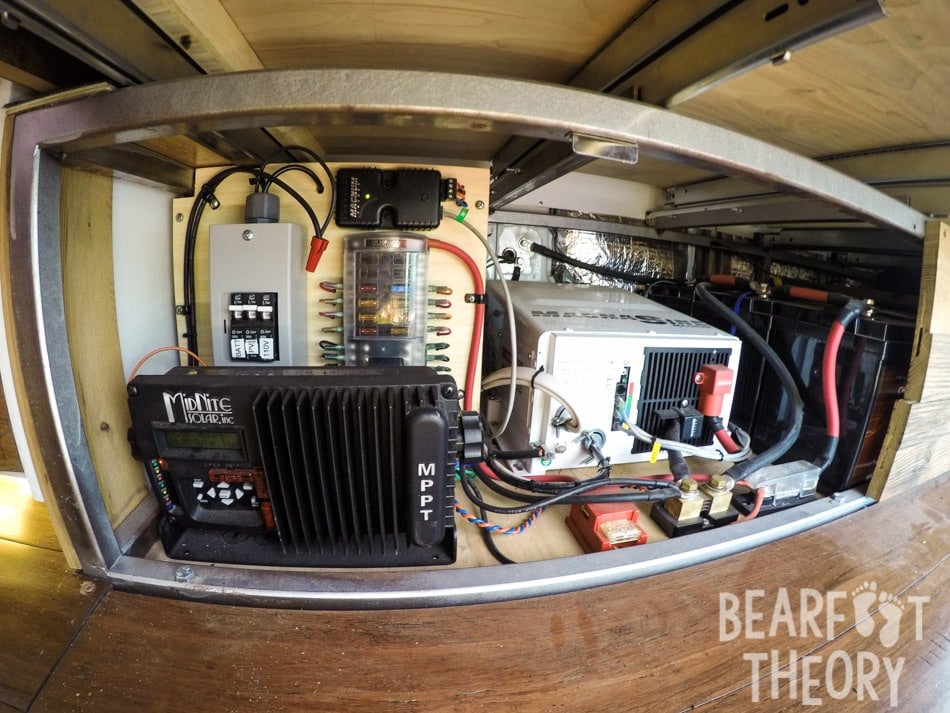 In order to use any of the stored power and be able to plug things into outlets, you also need an inverter. I use a Magnum continuous inverter/charger (MODEL MS2012).
The lights are all LED and powered by a few different switches. There is also track LED lighting that runs along the floor and ceiling which is really nice for evenings when I want some mellow mood lighting.
---
Ceiling Fan
My ceiling fan is a Fantastic Fan (Model 2250). It is super powerful and can either pull air in on a hot day or blow air out when I'm cooking.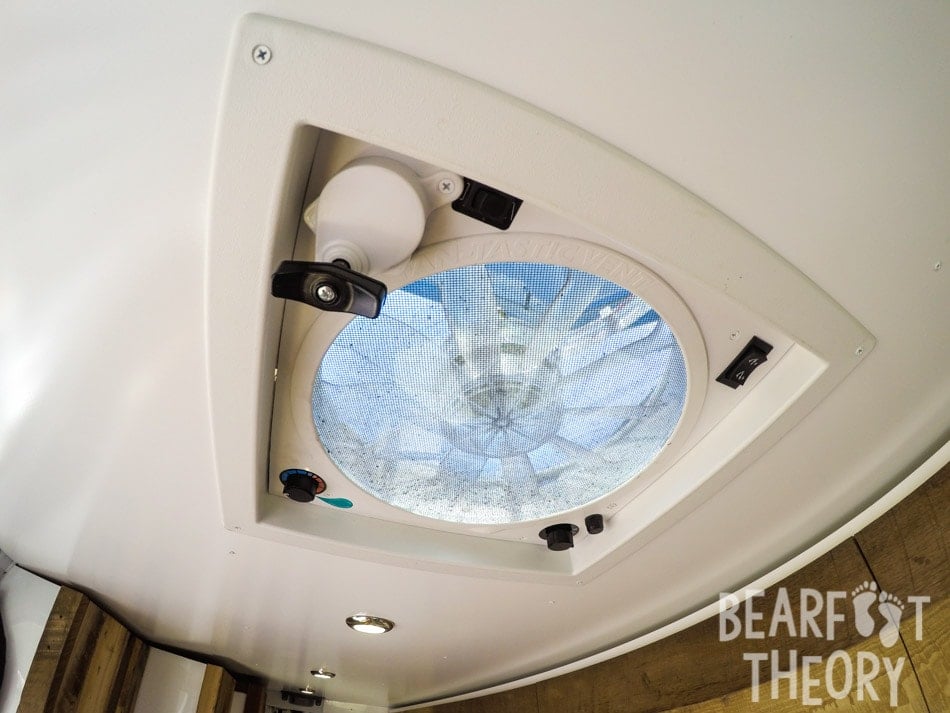 ---
Wood in My Sprinter Van
The front of all of the cabinets is reclaimed barn wood, floors are dark bamboo, and the shower floor is made of teak. If you are looking for a source of reclaimed barn wood, there are lots of sites on the web that you can source it from.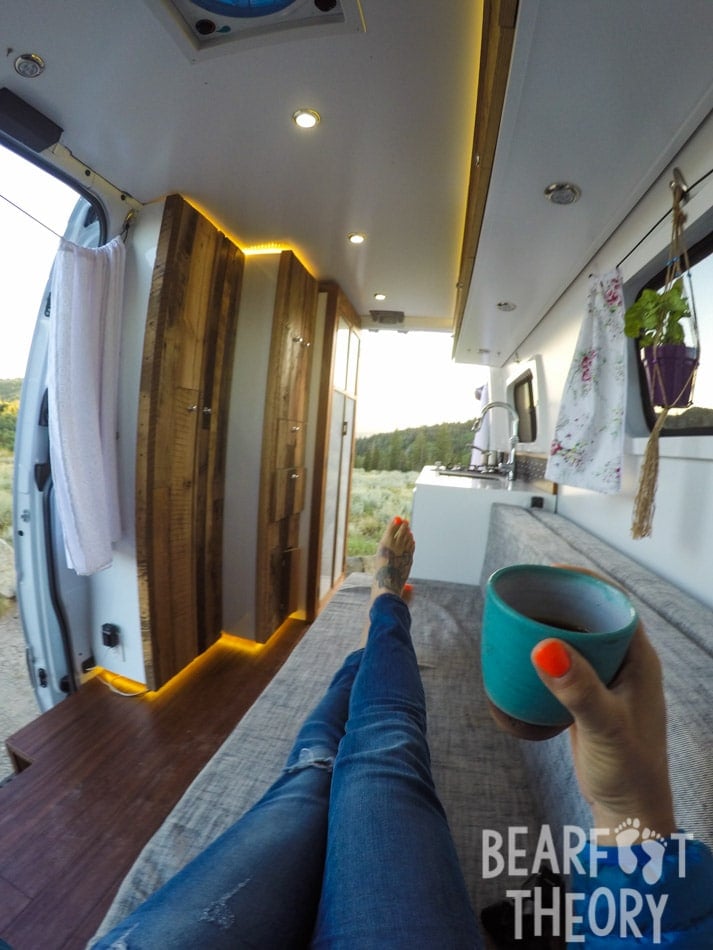 Do you have any questions or comments about my first Sprinter camper van conversion? Leave a comment below!