Alright, now that we've covered the walls of your rig, let's talk about van flooring. Building a van floor is usually the first project after insulation since you won't be able to build anything else until the floor is in place.
There are several things to consider when designing your van floor: good insulation, height, durability, cleanliness, and aesthetic. No matter what van lifestyle you live, your van will gather a lot of dust even if you stay on the main roads. So it's best to choose a van floor type that will be easy to clean!
Van Floor Layers
Your van floor will have a few different layers, depending on your choices. Your first step will be to remove the factory floor. In a Sprinter Van, the factory floor is a wood composite and has a lot of flex, so as you load up the floor with varying weights, it can create a bubble or bow in places…hence why you want to remove it.
Sound Dampening & Insulation
Next, you'll install sound dampening and insulation. Proper insulation is an important and necessary component in creating an energy-efficient camper. Without insulation, you lose a ton of heat and cool air through the floor, and in the winter, that means very cold feet when you are walking around in the van. Plus, the insulation, with or without additional sound dampening material, will help reduce road noise.
Here are three popular brands of sound dampening materials:
Subfloor
After the insulation, you'll have a plywood subfloor layer.
If you're DIYing your build, I suggest using the factory floor as a template for your new floor. This will save a lot of time and headaches involved in measuring the curves of the van.
In my second van for the subfloor, Outside Van used 7-layer marine grade plywood. It's a little thicker and heavier than some van builders might use, but it's very strong and durable, so there's no flex in the floor when you place heavy items on it.
Keep in mind here, everything you build into the floor and ceiling will reduce the overall standing space in the van. If you're tall, pay attention to the thickness of the materials you're using.
Top Layer
Then comes the top layer of flooring – the one you'll be standing on and looking at every day.
Depending on your floor plan, you might need different types of floors in certain spaces. For example, you might want a smooth, aesthetically pleasing floor in the living space but a durable, utility floor in the garage space under the bed. You've got options for both.
Van Floor Materials
Laminate
Laminate tongue-and-groove floors are inexpensive, easy to install, and come in a wide variety of colors and designs, making them popular for DIYers. Hardwood flooring is beautiful but tends to be very thick and heavy, so laminate is a wiser choice for your van floor.
If you're going for a wood look, I recommend something that has a mixed grain of darker and lighter colors (like the image below), so all the wood you use throughout the van will complement the floor. Plus, it will hide both light and dark debris.
In my first van, I had a dark tongue and groove laminate wood floor that looked nice when it was clean, but otherwise, all I saw was my dog's dirt-covered paw prints. If wood isn't your look, tongue and groove is also available in tile designs and other solid prints, so you should be able to find something that suits your style.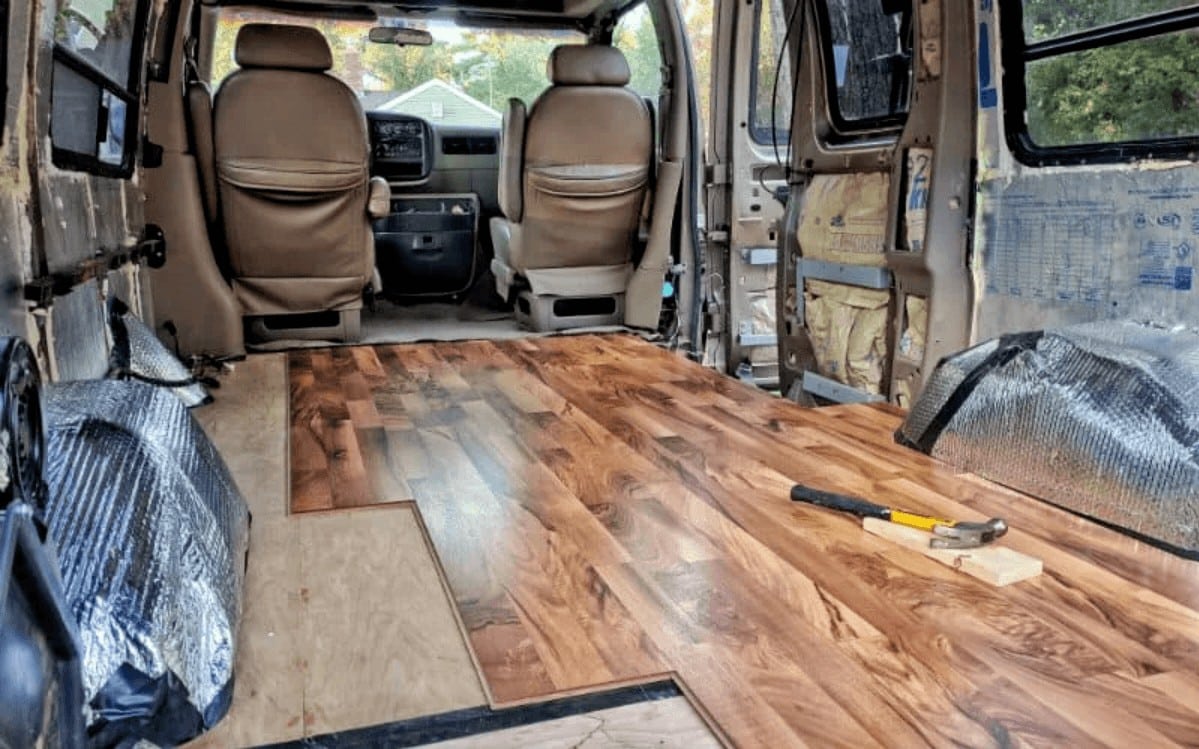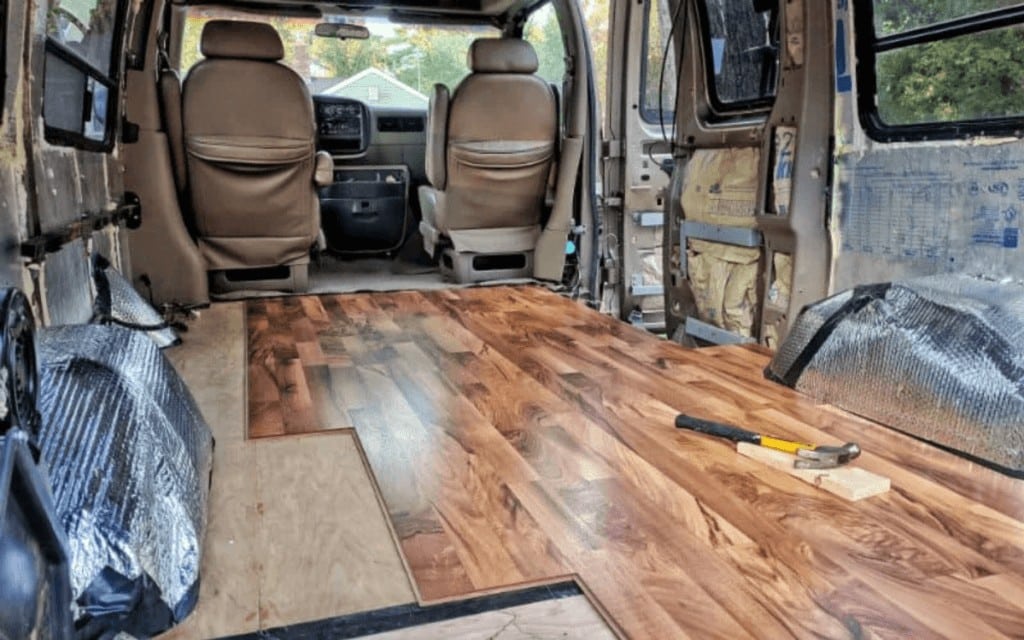 Vinyl
Vinyl is another popular option because it's relatively thin, lightweight, waterproof, and strong. A company called Lonseal makes a variety of high-density vinyl flooring, and you can browse options on their website.
In my second van, I have Lonseal's diamond plate style vinyl floor in the garage because it's one of the most durable floor types and is highly scratch-resistant, so I can store my bikes and gear without worry. But, it looks industrial so it isn't what I wanted in our living space. I went with another kind of high-density vinyl in the front living space. It's a lighter colored vinyl weave with a hint of black, so it ties in with some of the other black features inside my van. While it looks great from a distance, the texture of the weave makes it very difficult to clean. In hindsight, I would choose something with a smoother texture upfront to make sweeping and wiping up messes easier.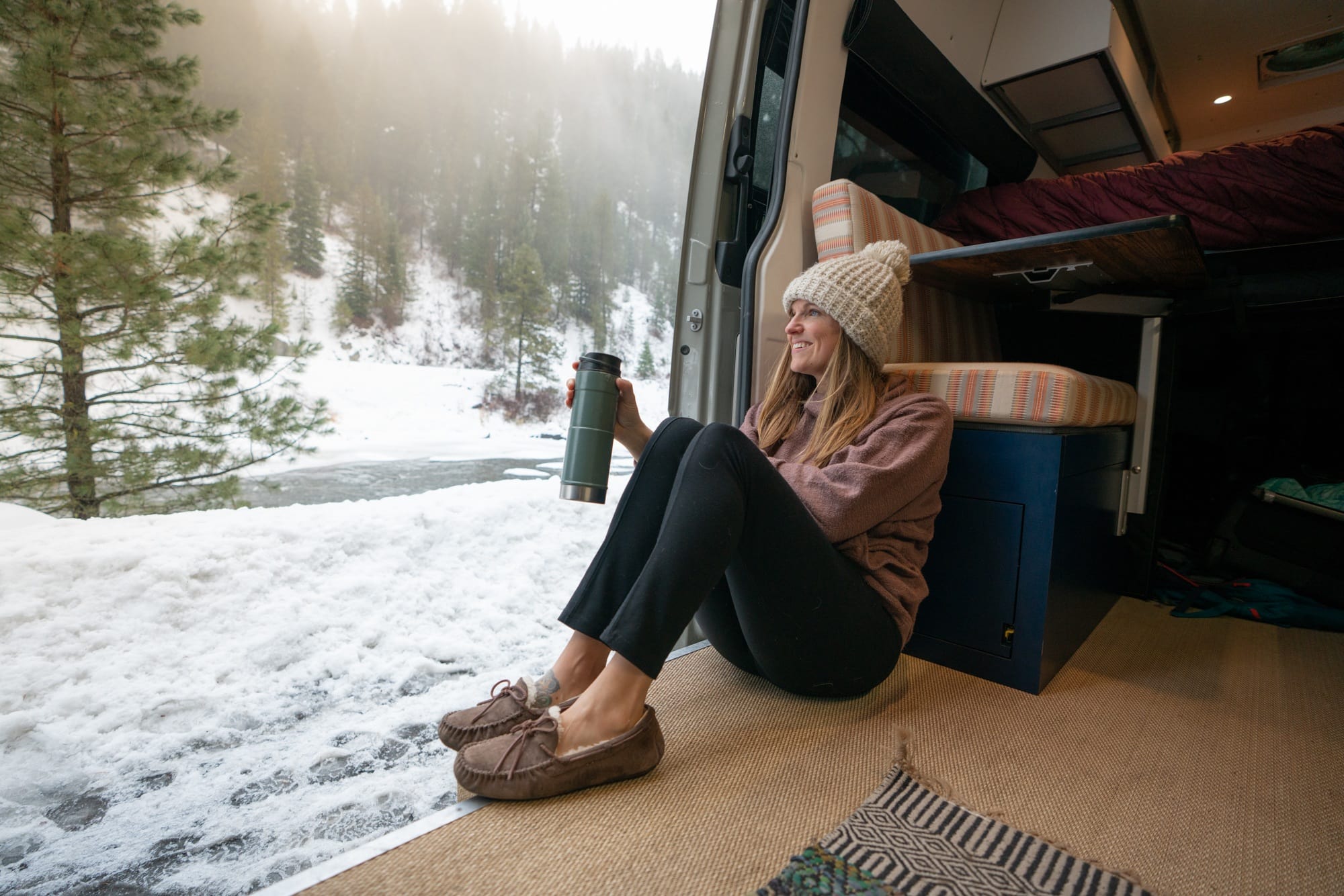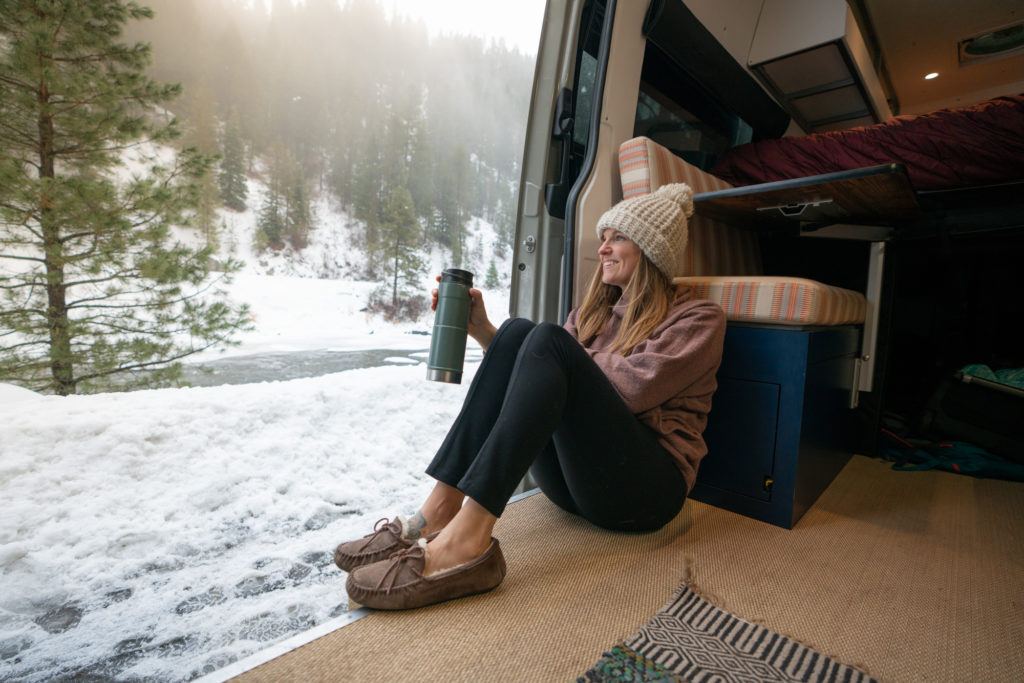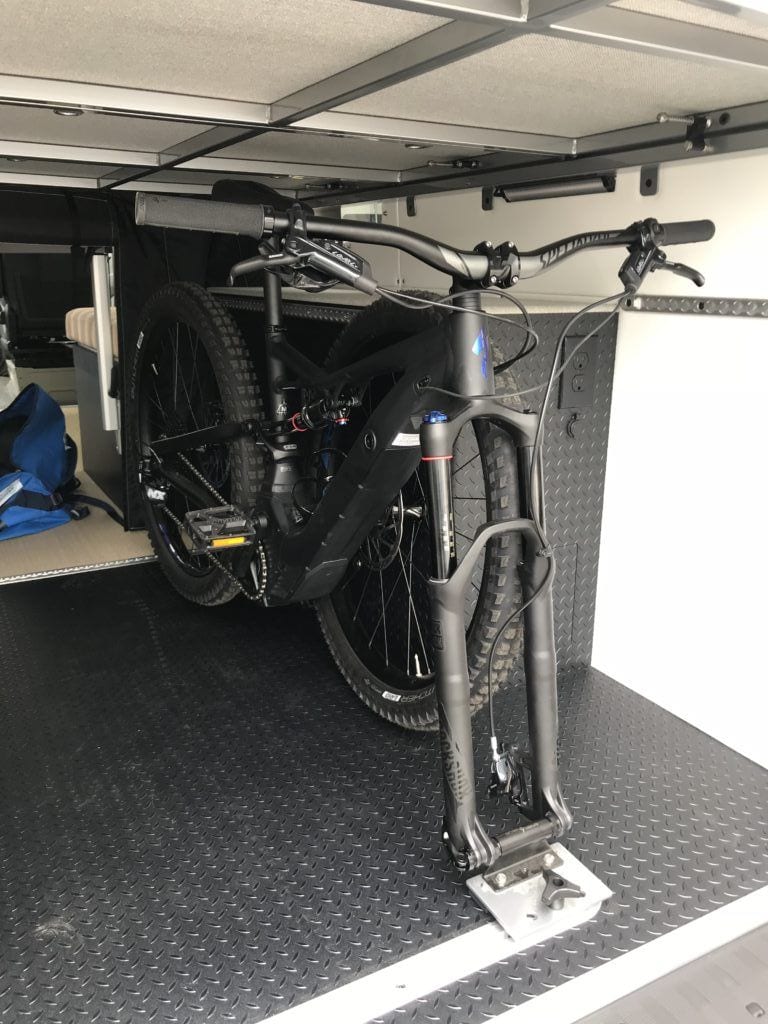 Cork
Cork flooring is another option, but it's much more expensive than vinyl and laminate. It's better insulated and has natural sound dampening tendencies, but it requires regular upkeep to prevent damage and is susceptible to scratching.
That covers the basics of van flooring. In the next lesson, we're going to dive into electrical systems for your van. It's a lot to cover, but we'll take you through it one step at a time. See you there!
Resources
Explore other van life lessons in Module 2
What floor material are you using in your van? Share your questions, tips and experiences in the comments below and make sure to sign up for course updates!