MoonShade Van Awning Review
This camper van awning packs down to the size of a camp chair and also works on a variety of vehicles.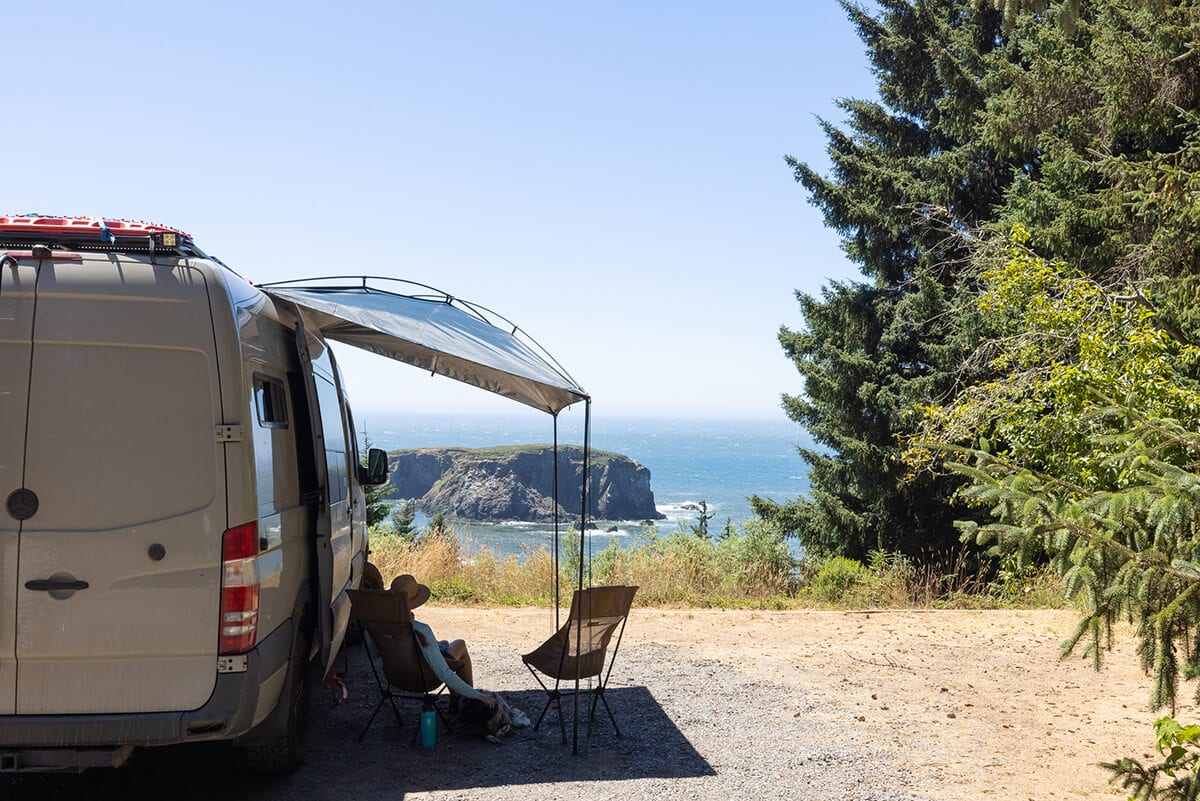 If you're putting the finishing touches on your camper van conversion, you may be wondering whether the price of a van awning is worth it. Some of the best van awnings, like the Fiama 65 awning that I had on my first Sprinter Van, run up to $2,000! Personally, it seems like a hefty price to pay for shade, which is why I opted against one of these awnings on my current Sprinter van. I also didn't want anything hanging off of the van that would affect my fuel economy or make it obvious that the van was, in fact, a camper.
Then, we spent an entire summer traveling in my current Sprinter Van without an awning, and I started to wonder if I made a mistake, especially when we were at music festivals or car camping with friends for a few days. A van awning sure would be nice at times!
Then at our Open Roads Fest van life event a few years back, I was introduced to MoonShade, a lightweight, portable van awning with a budget-friendly price tag. The MoonShade seemed to solve all of the problems I had with other awnings, so I got my hands on one and tested it out on a couple of camping trips. I was pleased to find out that the MoonShade is easy to set up, takes up very little room in my van, and makes for a very comfortable, shady van patio at a fraction of the price of other options out there.
Get the scoop on the MoonShade van awning and see how it works in this review.
Sponsored by MoonShade
I've been using the MoonShade for the last two summers, and I'm stoked to help get the word out about small companies like MoonShade who make cool products that make van life easier and more comfortable. As always, all opinions and words are my own and I only recommend products that I love. If you want to purchase a MoonShade, use the code "BEARFOOTTHEORY" to get 10% off at checkout.
How to Set Up the MoonShade Van Awning
The MoonShade comes in a small zippered bag that is about the same size as a folded camp chair (about 28″ x 6″). I love how portable and small it is when packed away, weighing only 8 pounds. It makes it a no-brainer to throw in your vehicle.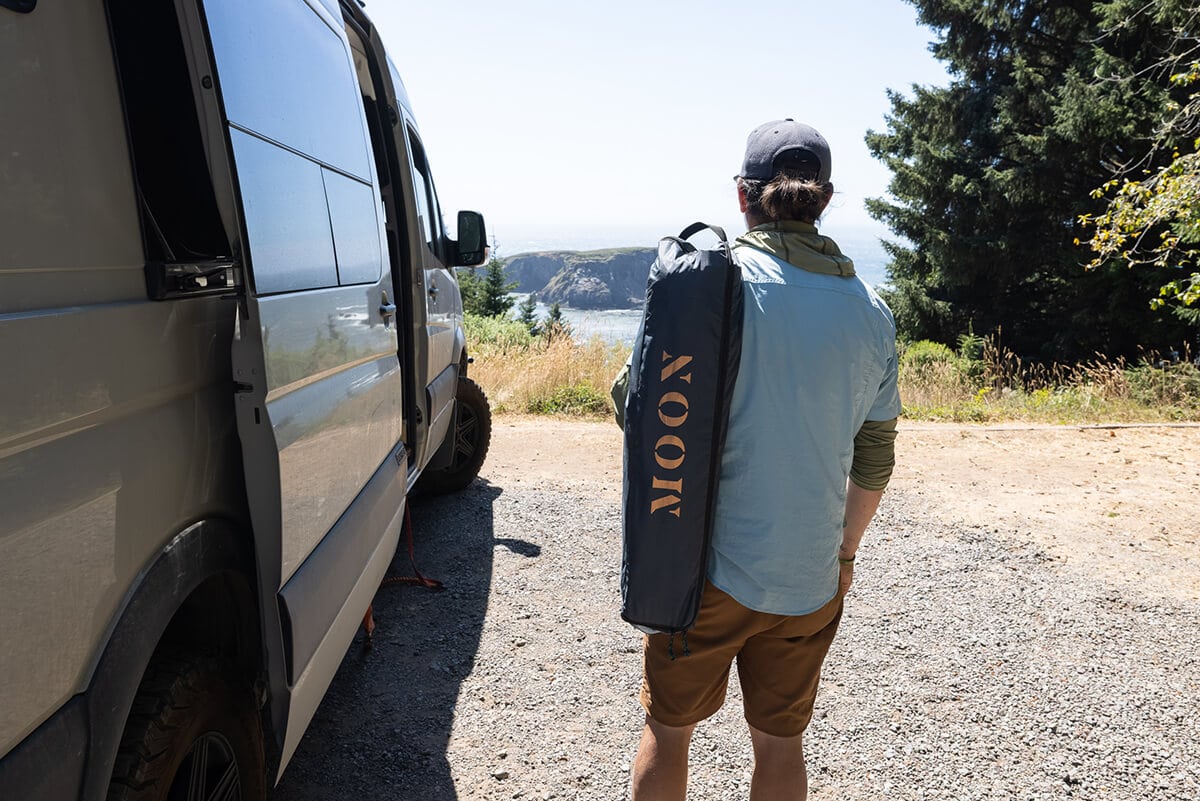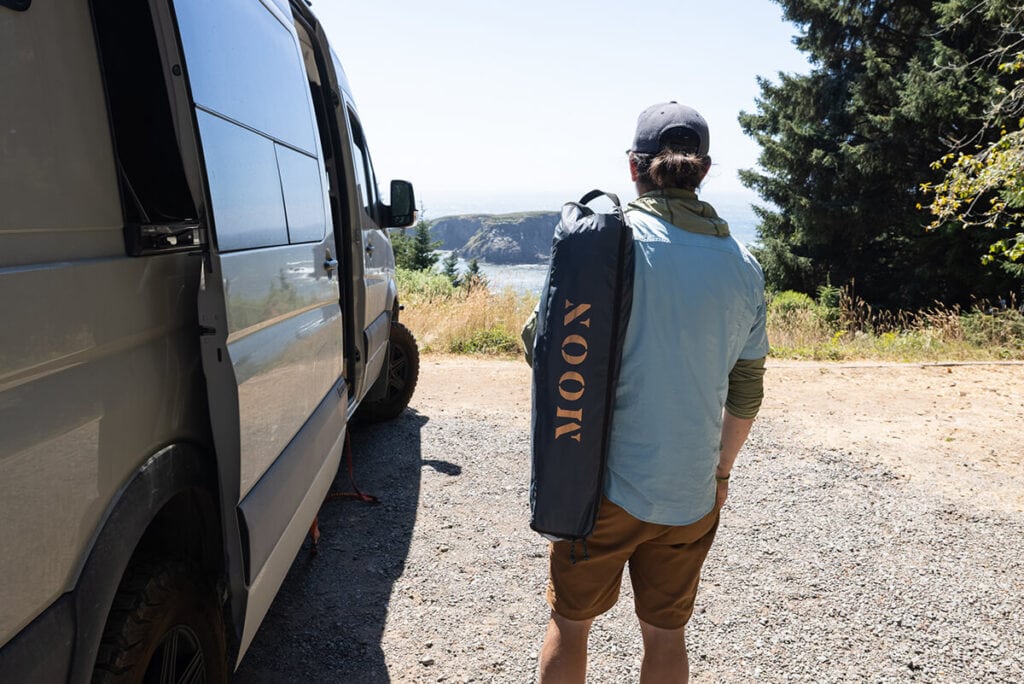 The first step is to attach the two corners of the awning to the van using the attachment method that works for you. MoonShade now makes a variety of attachments or "anchors" that anchor the awning to your van which we'll cover in more detail below. In our case, we currently use the magnet anchors, so we clip the magnets to the built-in carabiners on the awning first and then attach the magnets to the van.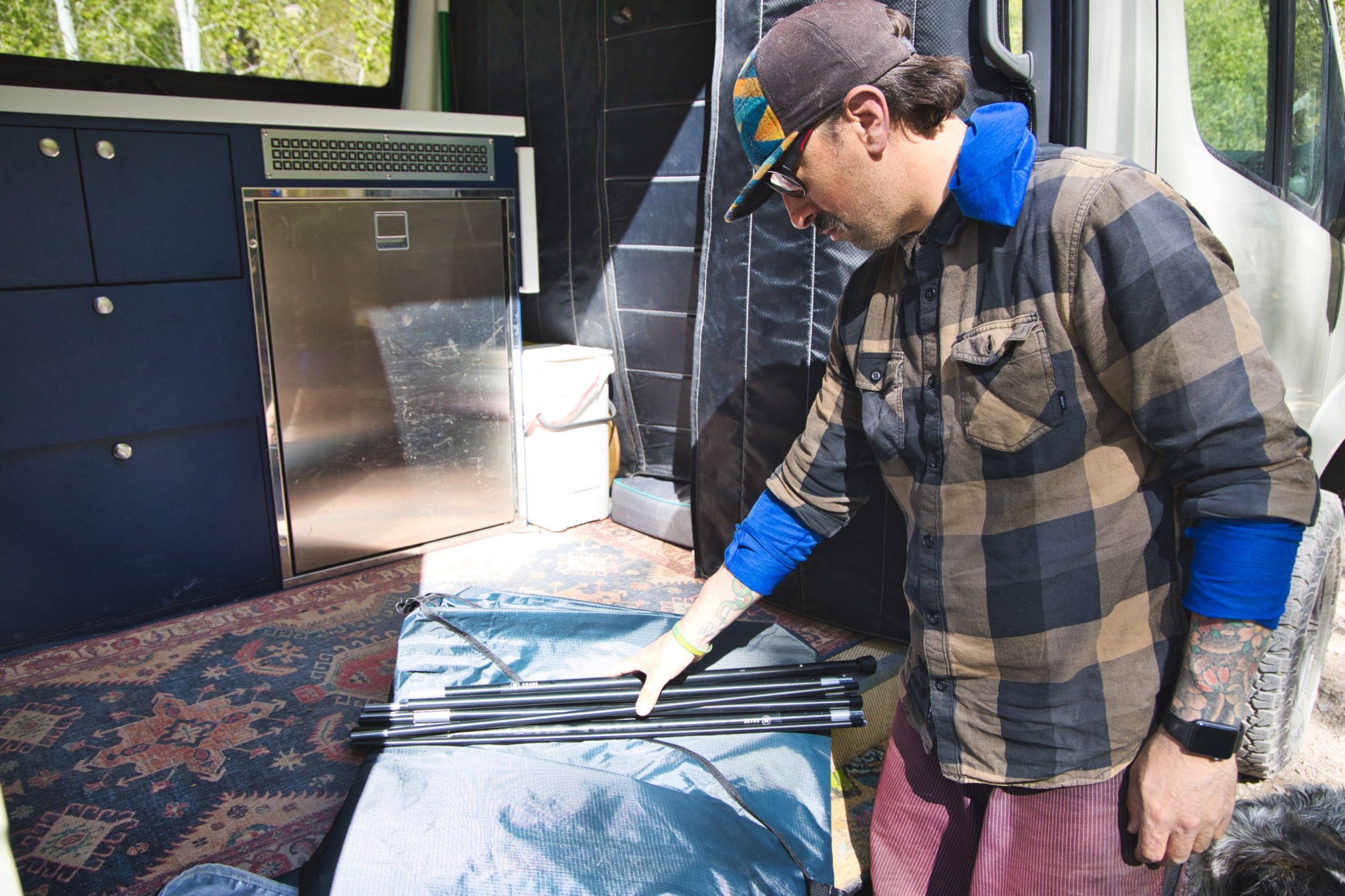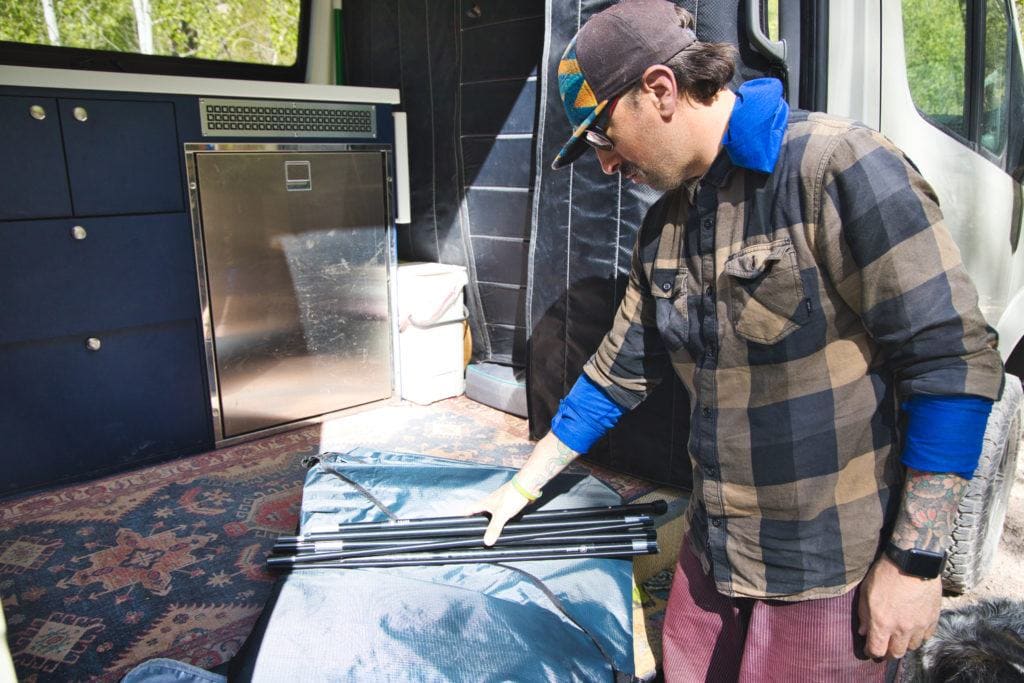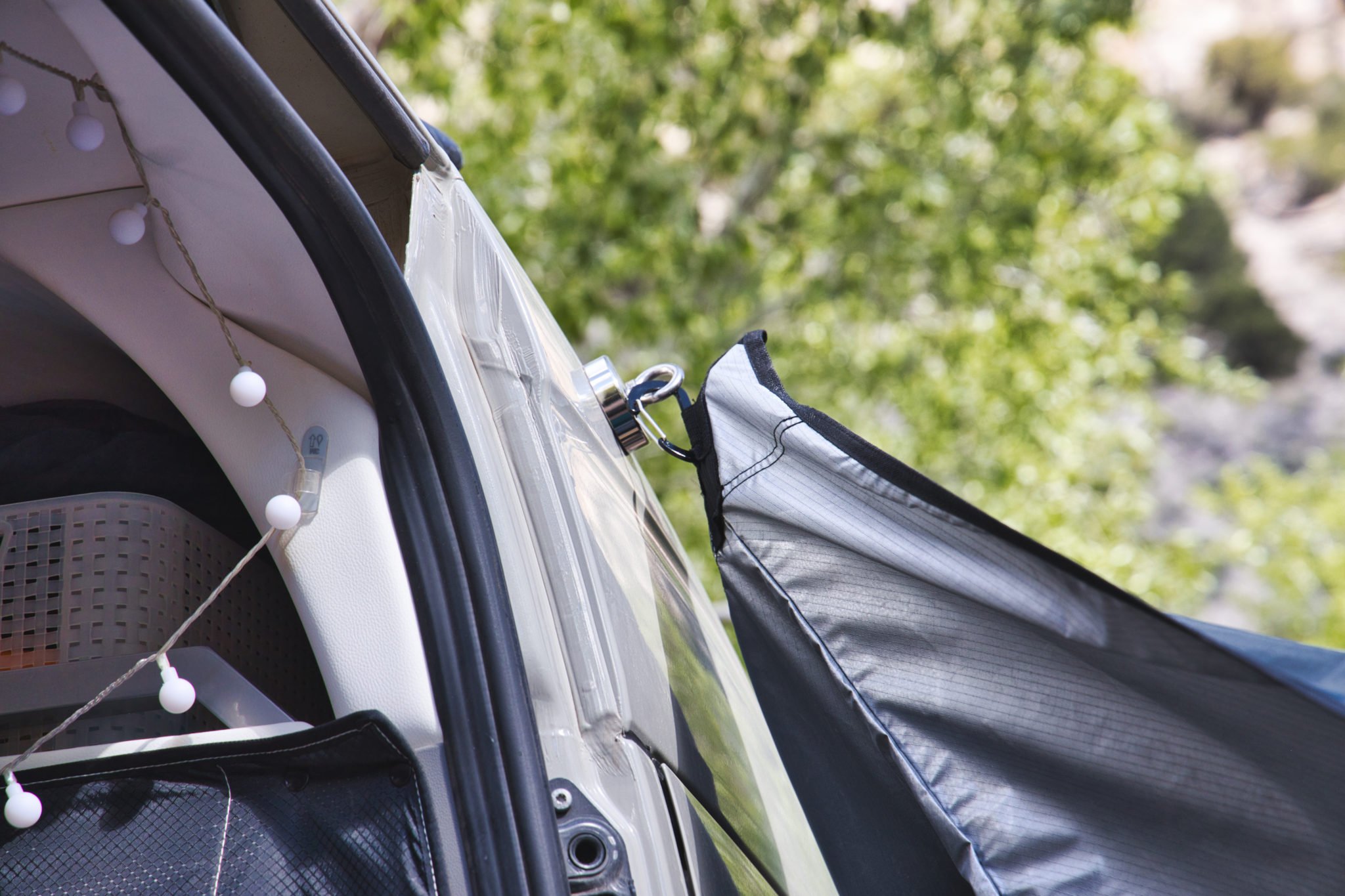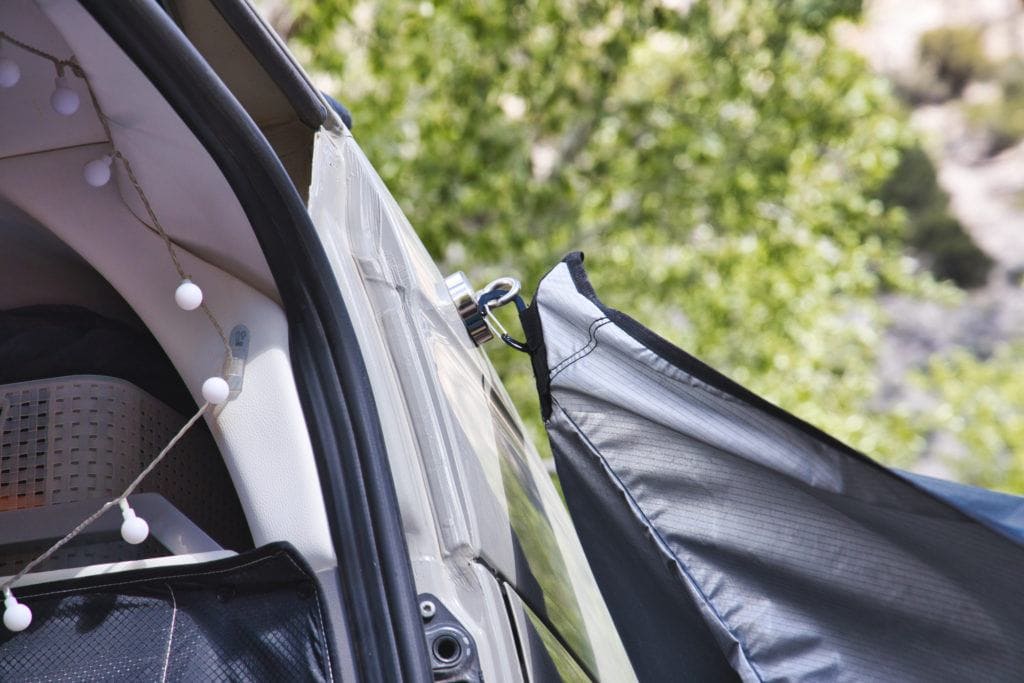 Attaching the front corner is easy because you can stand inside the van and reach up above the passenger door. The back corner is a little trickier depending on how tall you are. Ryan is able to reach by standing on the tire, but a step stool would make this easier. Alternatively, you can get on your roof to attach the magnets (or other anchors) if you have a ladder.
If you still can't reach, check the FAQs on the MoonShade website where they share tips for using the included paracord to clip the carabiners to hard to reach mounting points.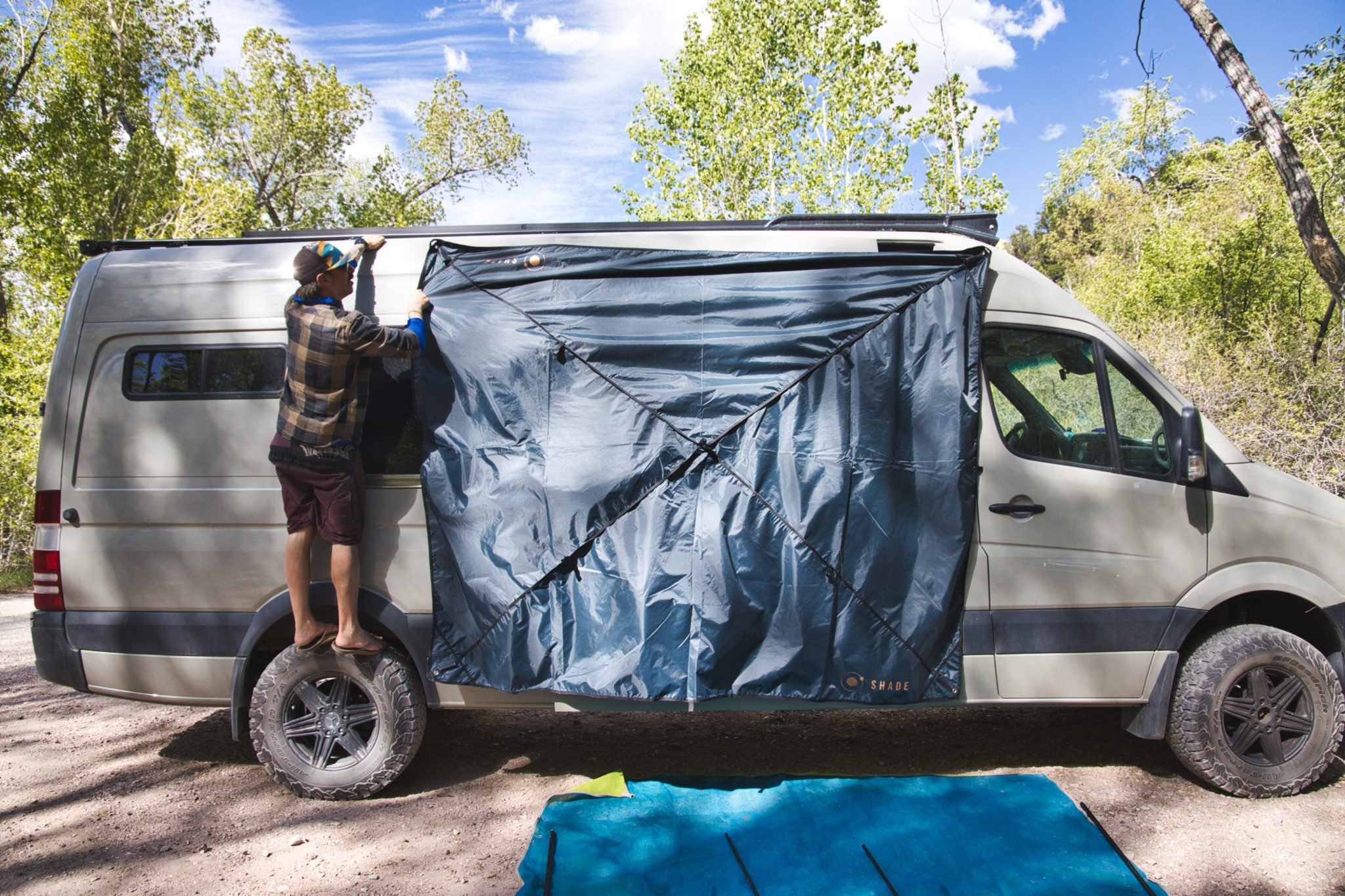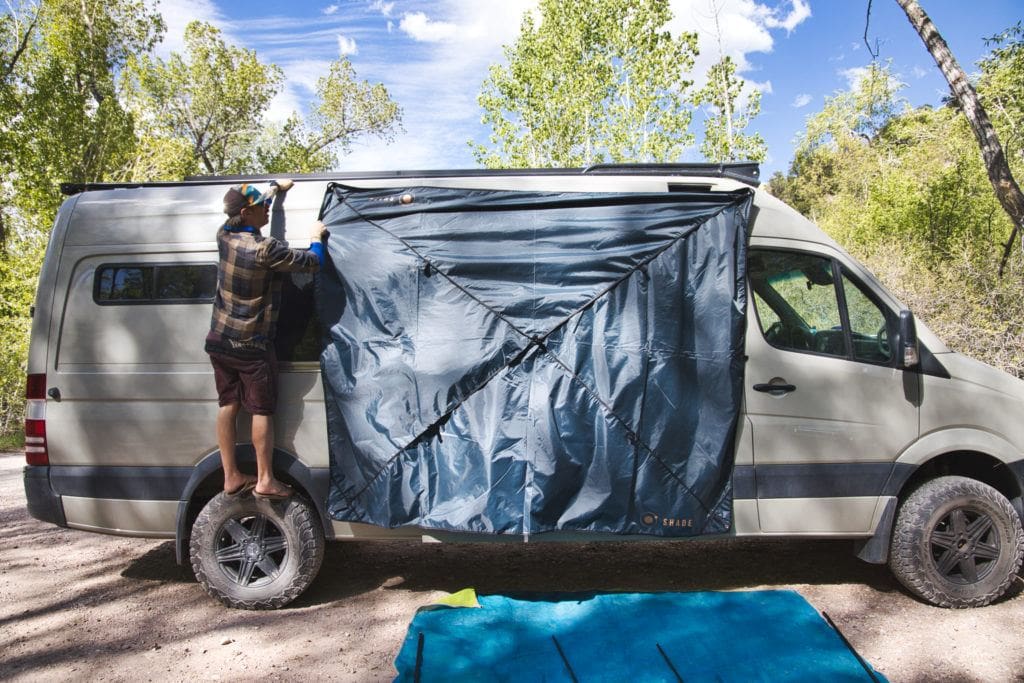 Next, you slide the strong aluminum tension poles in, just like you would if you were setting up a tent. Each corner has a pocket that you insert the tent poles into and then you secure the poles using clips that run diagonally along the awning.
Note: We've since discovered that it's easier to get the poles in if you do this step while the awning is still on the ground before you attach it to the van.
Once the tension poles are in, you lift the front of the awning up and slip the top of the tension poles into the corner grommets.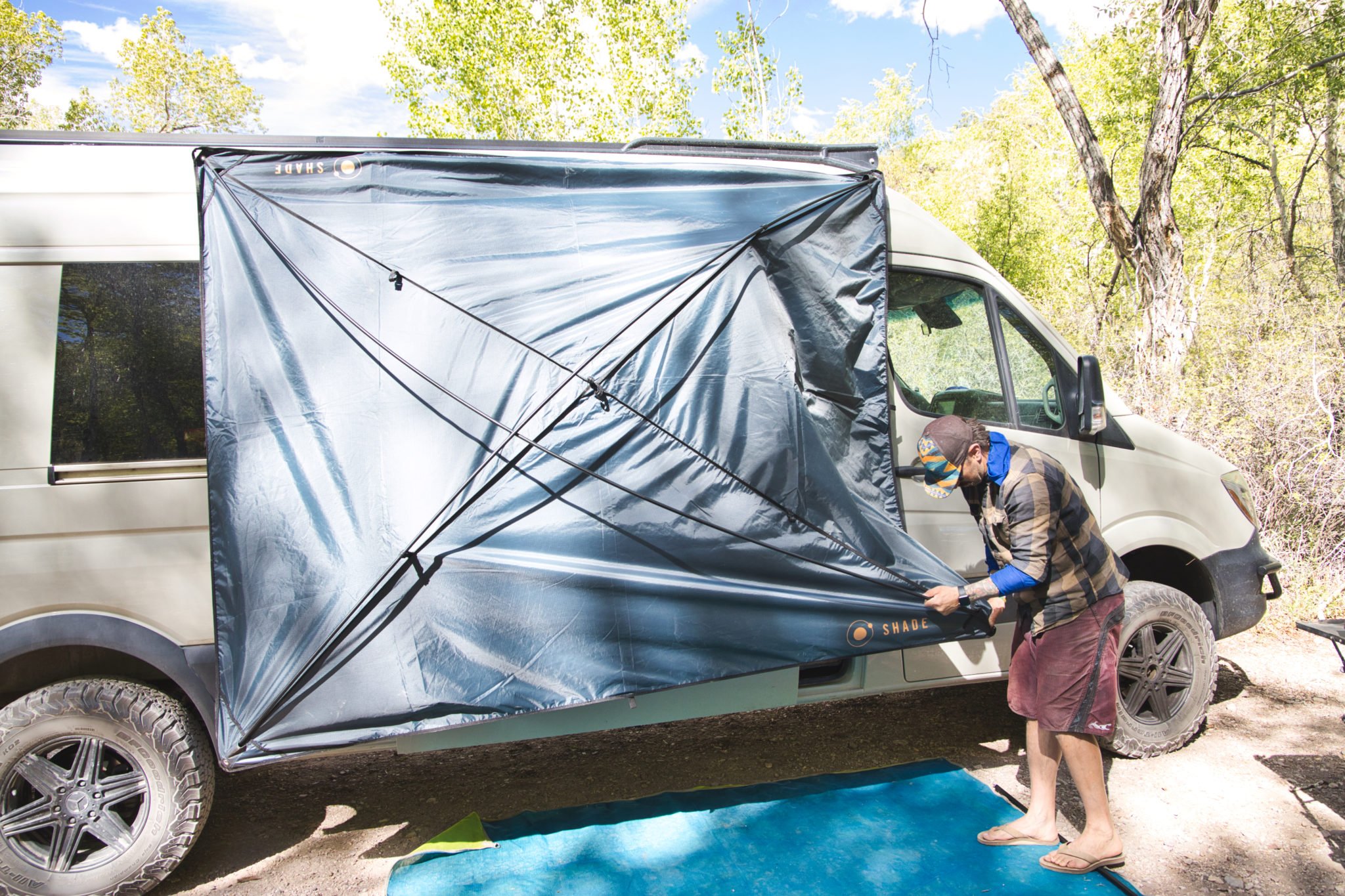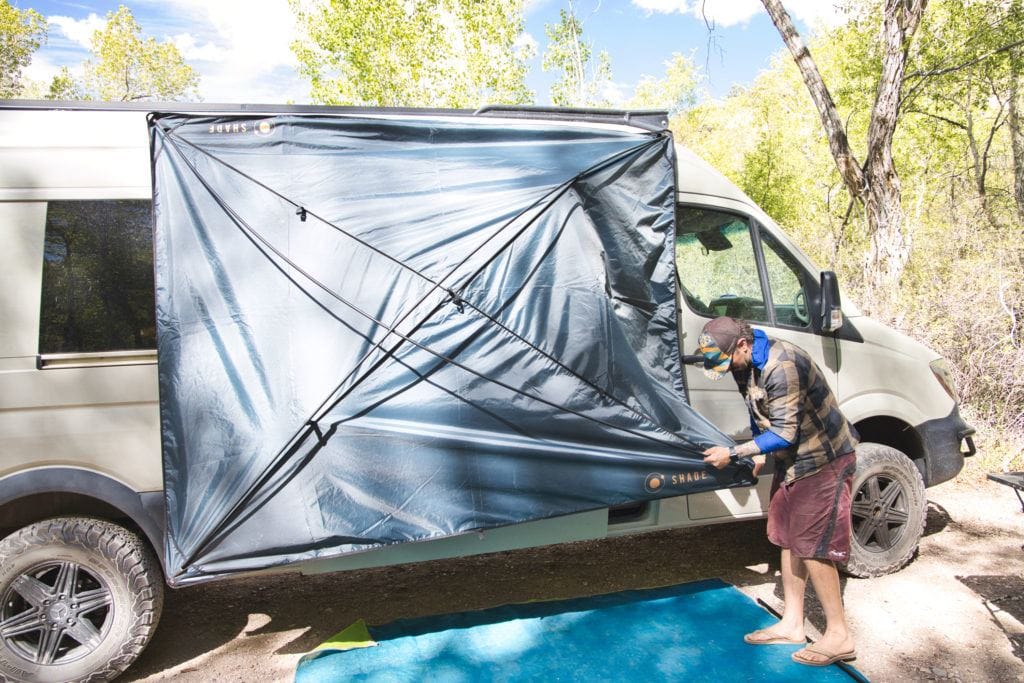 The support poles are adjustable up to 8 feet tall. This is a great feature because you can angle the MoonShade down if the sun is low in the sky. The adjustable poles also mean the MoonShade works for vehicles of different heights and not just vans. In fact, Linda, BFTs Director, recently tested the MoonShade on her Honda CRV, a compact SUV, and found it was just the right height at the shortest level of the poles.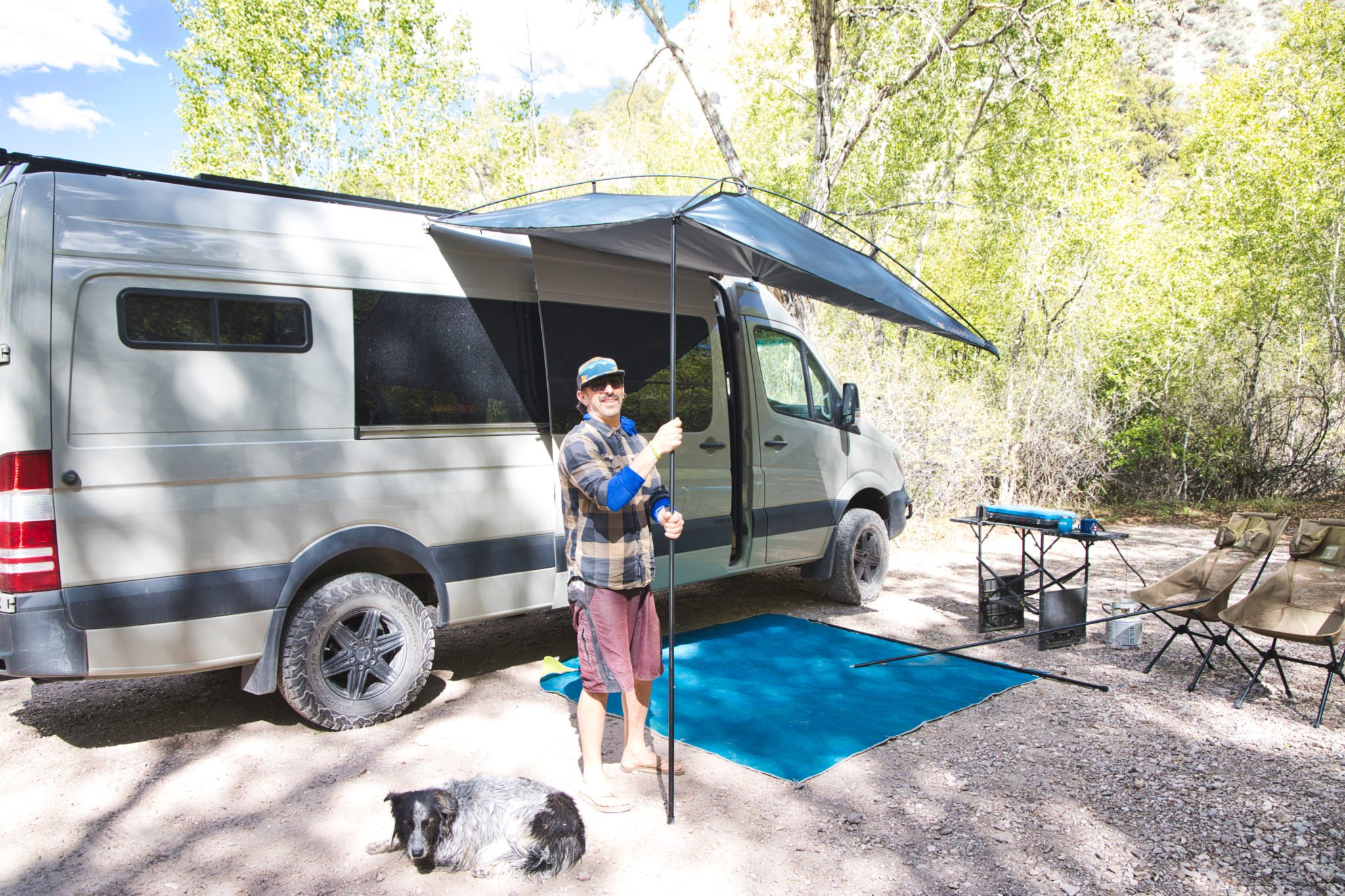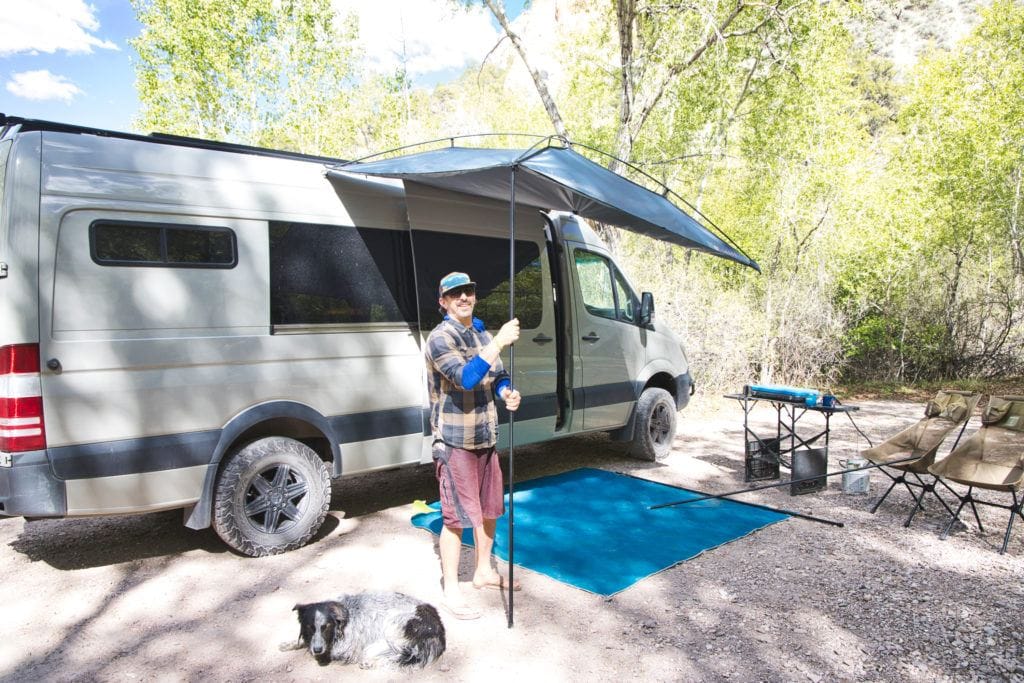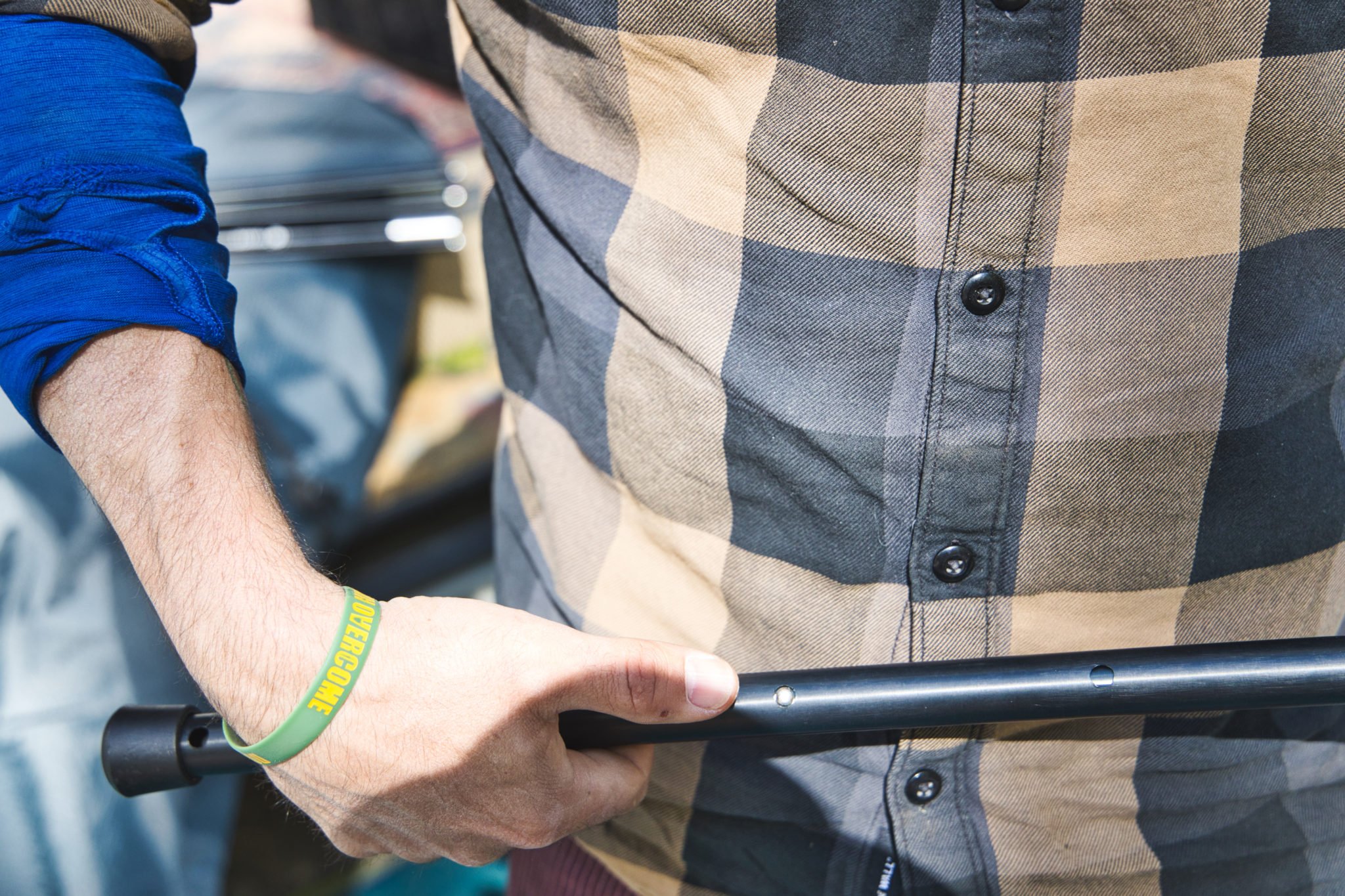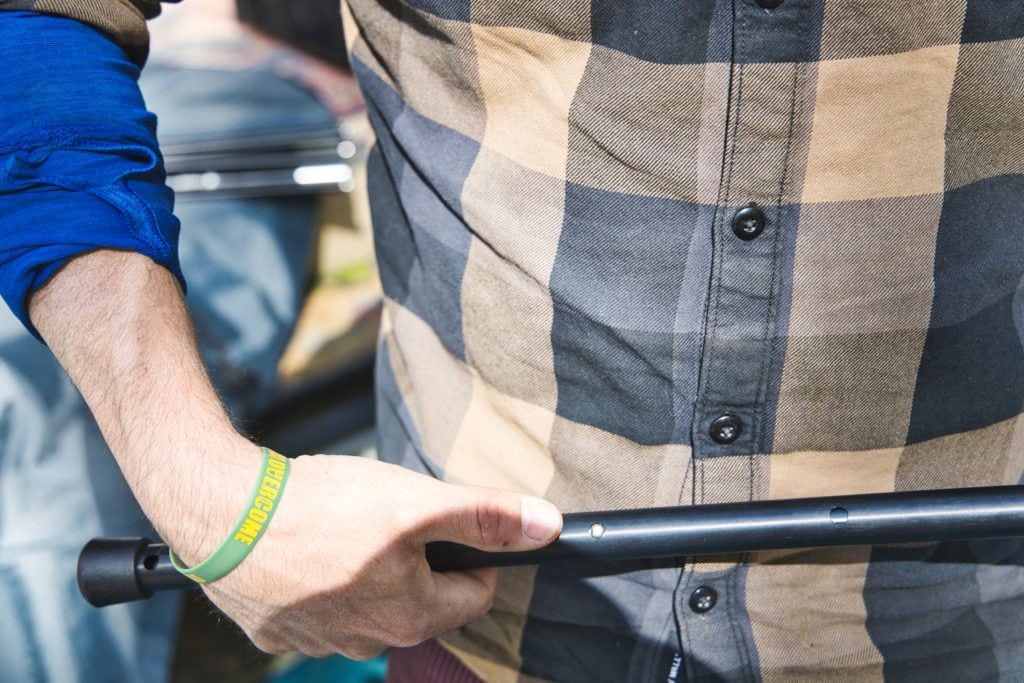 The final step is to anchor out the guylines so the MoonShade stays in place. Without the guylines, the wind can blow the awning off of the support poles, so this is an important step.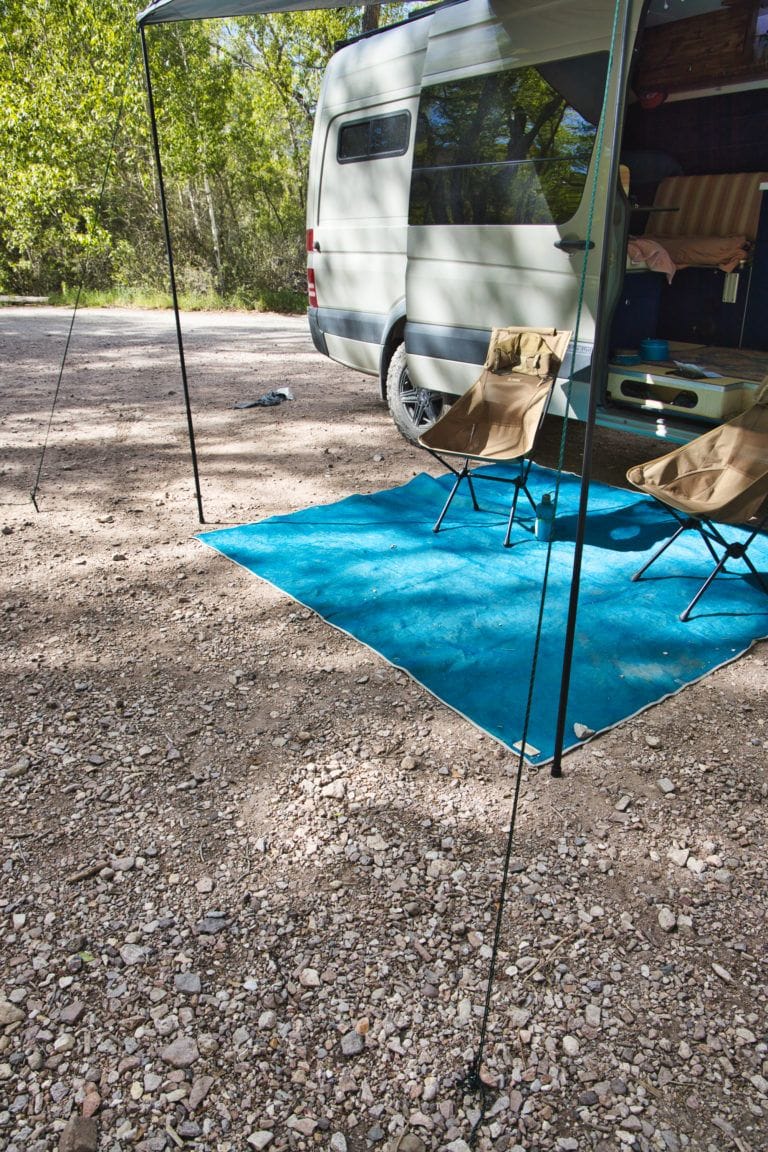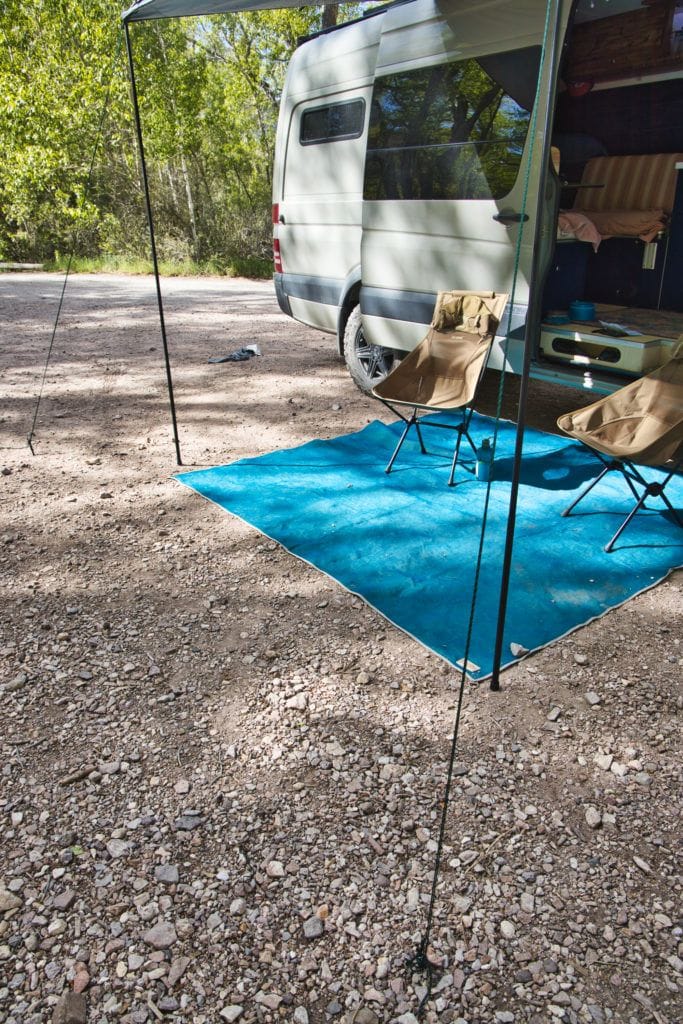 Once you get the hang of it, the MoonShade awning only takes about 5 minutes to set up and put away. The storage bag is plenty big so it doesn't take any muscling to get the MoonShade to fit.
MoonShade Van Awning Anchor Options
Suction Cups
Suction cups are MoonShade's classic anchor option and come with every MoonShade. You'll find 2 x 4.5″ industrial size suction cups as well as 2 x 2″ suction cups in your kit. These work best for anchoring to smooth, flat, clean surfaces like the side of a panel van.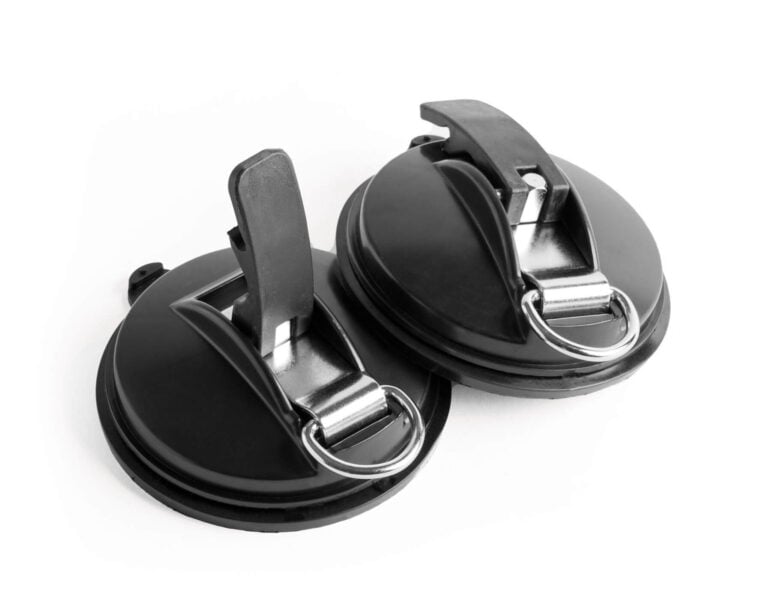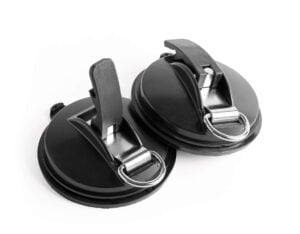 Magnets
These heavy-duty magnets are currently our preferred method of anchoring the MoonShade to my Sprinter Van as they seem to hold better than the suction cups. They are sold separately and come in a pack of two which is all you need.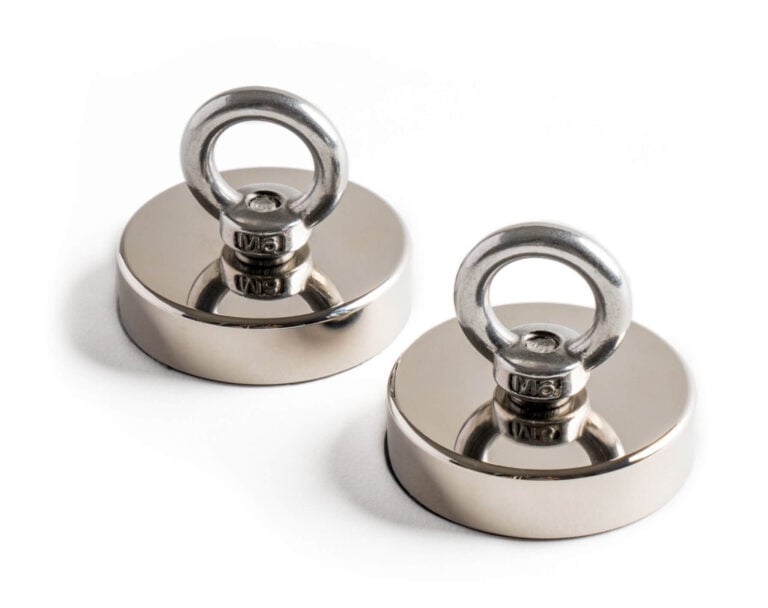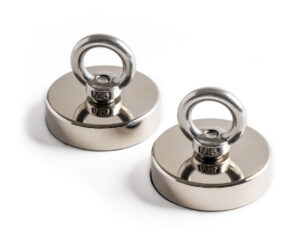 Adhesive
I haven't had a chance to try the new adhesive anchors but they seem pretty legit. These anchors have a super sticky back that will adhere to surfaces that the suction cups and magnets cant get a hold of. They're semi-permanent, so you install them where you want them to be and leave them there for easy anytime MoonShade setup.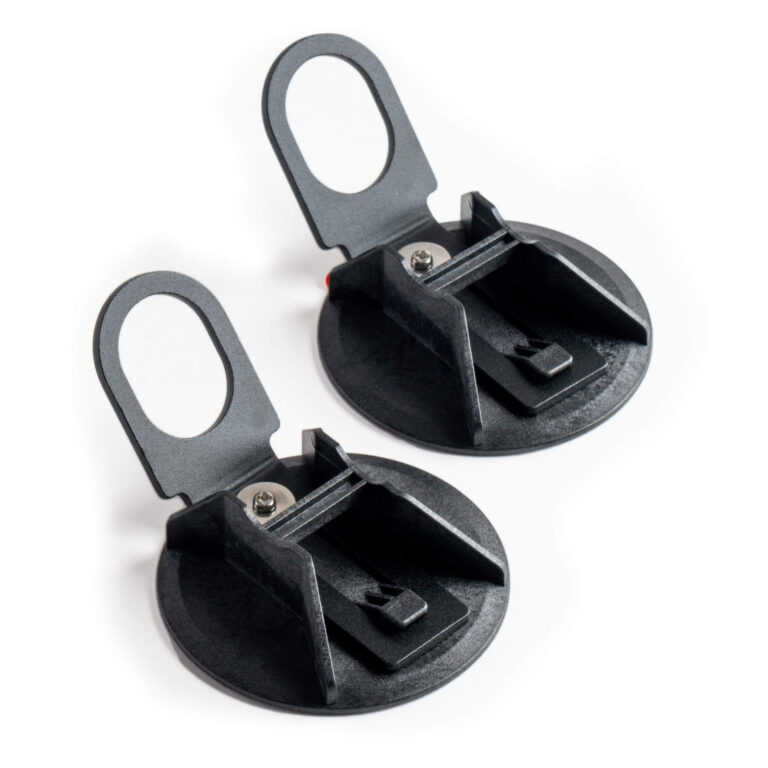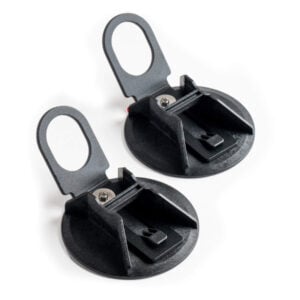 Sprinter Roof Rails
These new Sprinter rail anchors look like a great option as well and one that I'd like to try. Designed for Sprinters with factory roof rails, these aluminum nuts drop anywhere into the rail and lock into place by tightening the stainless steel eye bolt. Ta-da, you have a permanent, low-profile mounting system for your MoonShade.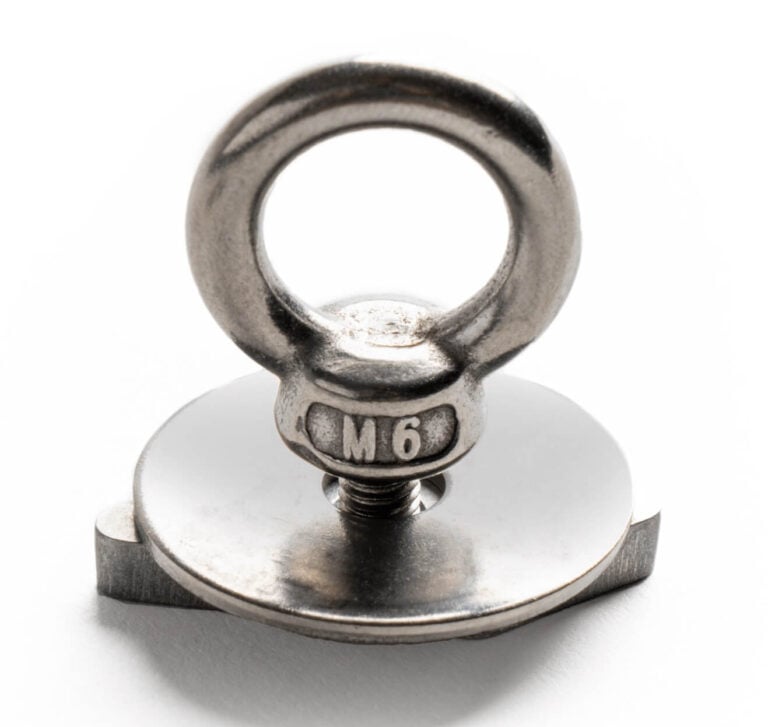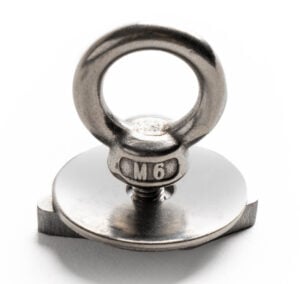 MoonShade Van Awning Versatility & Effectiveness
The support poles are adjustable in height, so the MoonShade works on just about any vehicle making it very versatile. This means if you sometimes camp in your van and other times a truck or SUV, the MoonShade can be transferred from one vehicle to another.
The MoonShade comes with a pole called the "strut pole" that can be used if the shade fabric is longer than your vehicle. This is the setup Linda, BFTs Director, used when testing the MoonShade on her Honda CRV.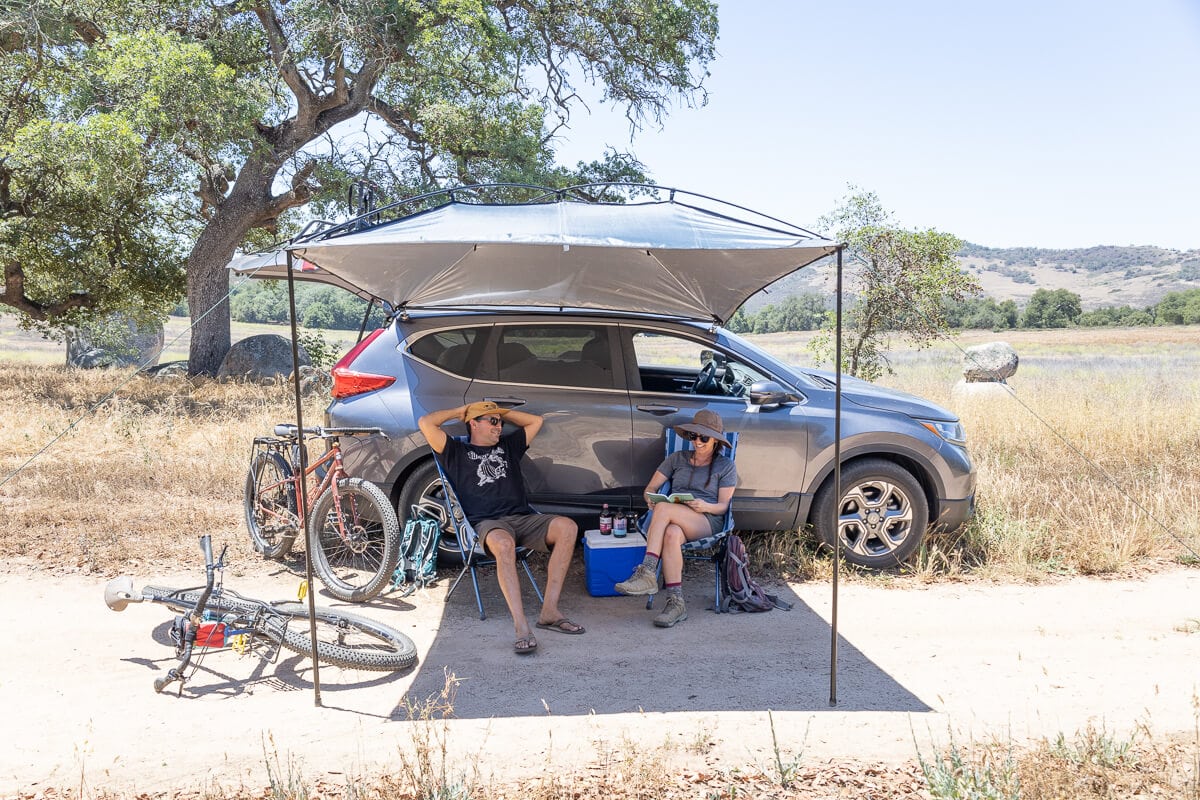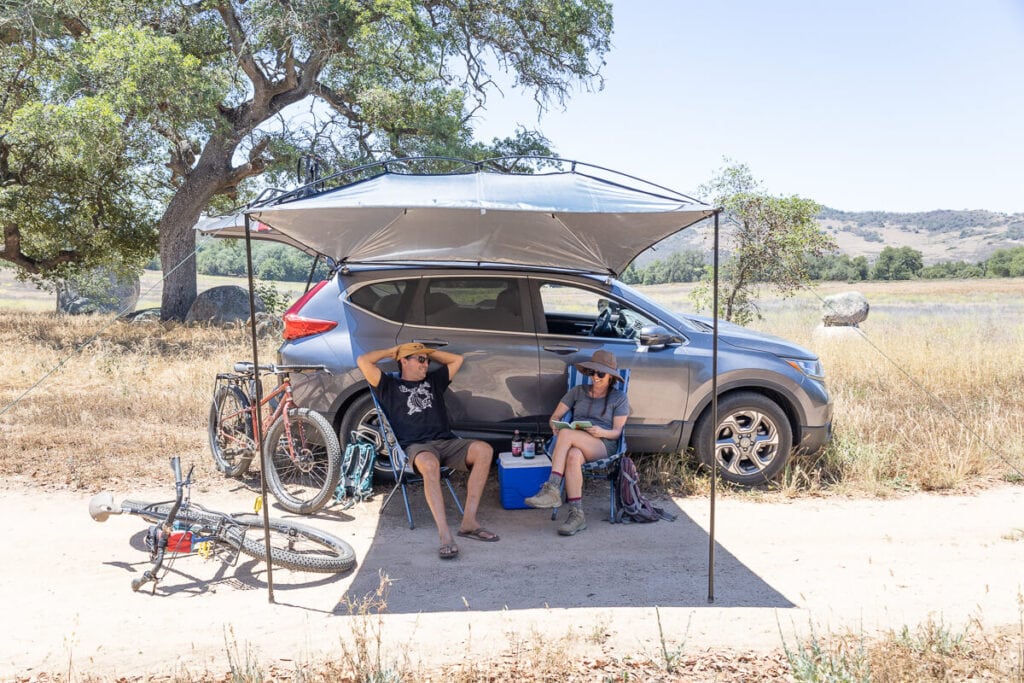 What's nice is that you don't need any kind of roof rack, and the MoonShade can be stored in your garage when you aren't using it. In addition, the MoonShade can be attached to trees, fences, or other fixed mounting points.
The MoonShade measures 9'x7′, so it's large enough to create a nice, shaded patio space. It also blocks the sun from shining directly in the van if you are working or hanging out inside.
One other feature I really like is that with the carabiners and webbing loops, you can easily attach string lights to create a nice ambiance at camp.
How Does the MoonShade Stand Up to Wind and Rain?
One big problem with most van awnings is that they don't really hold up to the wind. Even with really expensive van awnings, they advise pulling the awning in when it gets windy, otherwise there is potential for it to break.
With the MoonShade, I was wondering how it would hold up to the wind, especially since it's only attached to the van with magnets (in our case that is, you may use a different anchor system) and it's so lightweight. Luckily some weather rolled in when we were testing the MoonShade out, so we got to see how it would fare.
I was impressed by how much wind the MoonShade could handle. We kept it set up on a day with 40 mph gusts and found that it held up well when using the magnet attachment option, but anything stronger than that and the magnets got pulled off of the van. The good news is that even if it does get pulled off, you don't really have to worry about the MoonShade breaking like a regular van awning, and the magnets are designed to not strip any paint off your vehicle. With that said, if the wind picks up a good amount, you may want to just put the MoonShade away and not take any risks, and it's also best not to leave your awning unattended in strong winds.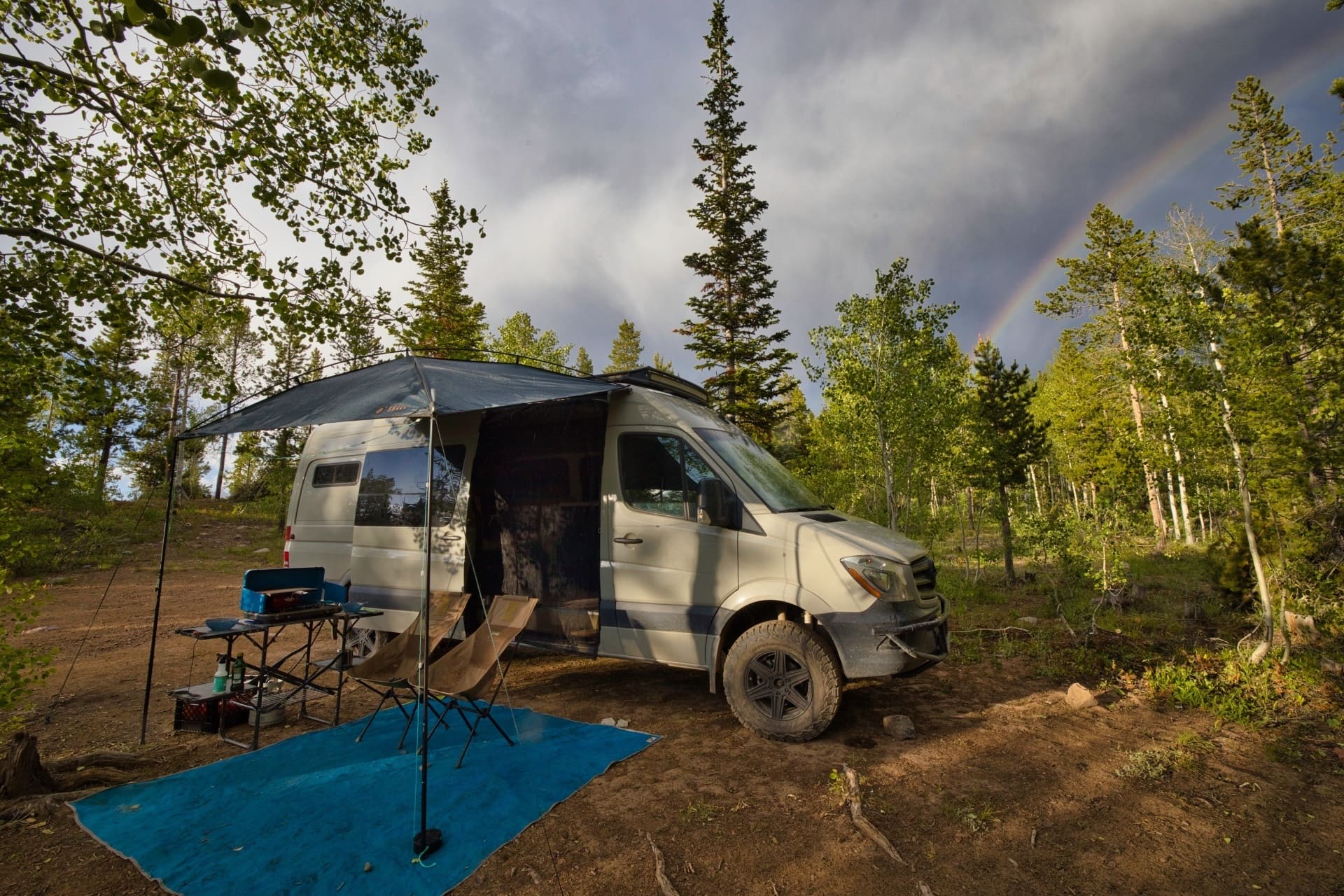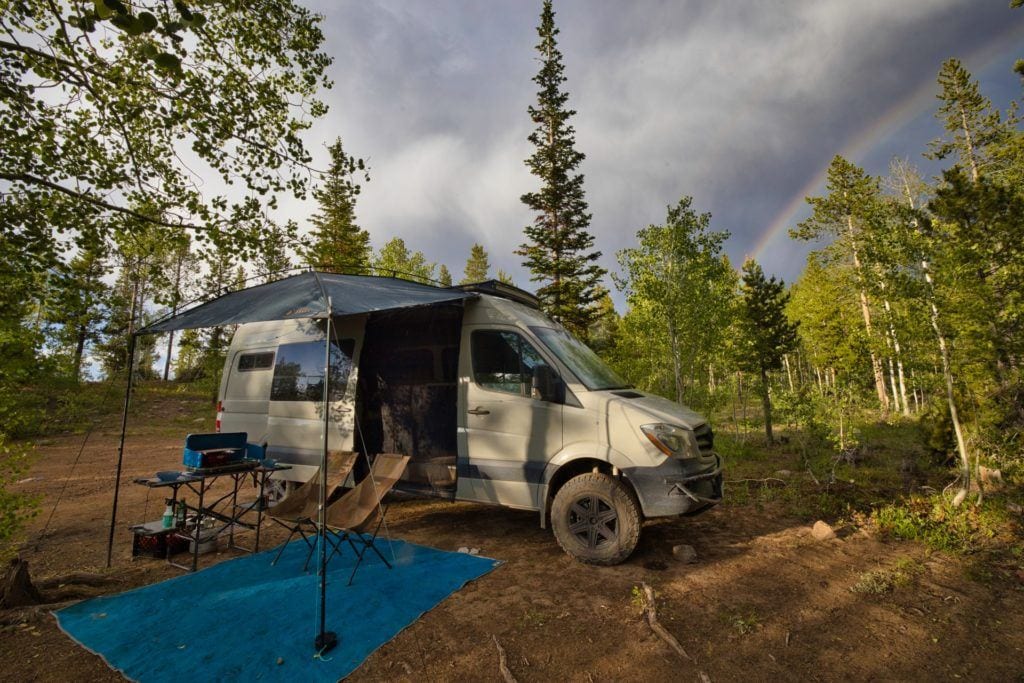 We also got some rain on one of our camping trips and found the MoonShade held up well. It's made of ripstop polyester water-resistant fabric that is designed to keep you dry in light rain. If you read the FAQs on their site, they explain that they don't apply a chemical waterproof treatment because it reduces the life of the fabric and is also bad for the environment. That makes sense, but I was also wondering how it would perform. While the rain we encountered was short-lived, the MoonShade seemed to shed water easily and the shape means water can't pool up on the top. I kept nice and dry while sitting underneath my van awning, and we were able to leave the van door open during the storm too!
Where to Buy the MoonShade Van Awning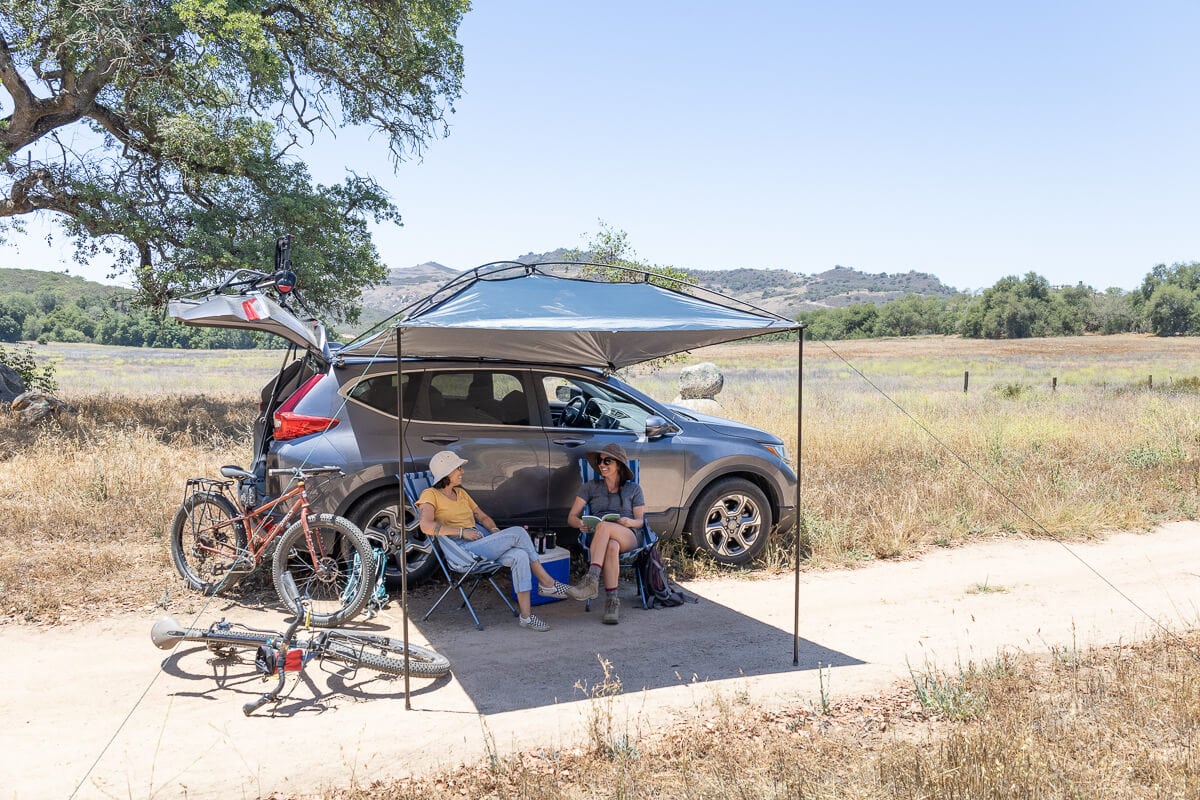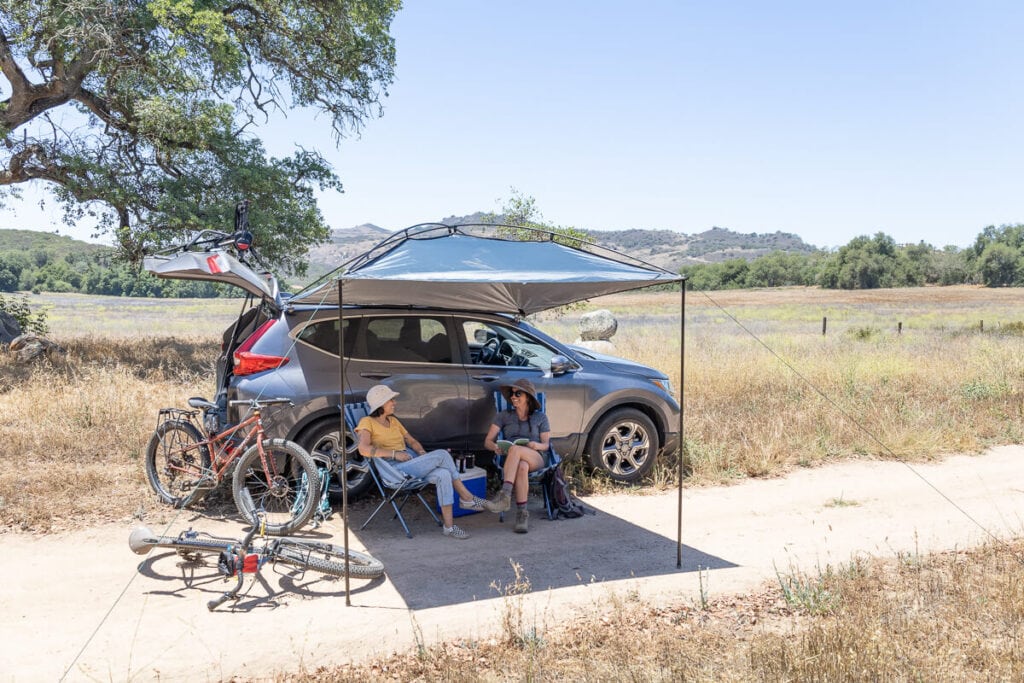 Deployed Size: 9'x7′
Packed Size: 28″x6″
Includes stakes, guylines, and suction cups
Magnets and additional anchor options available as well
The MoonShade is available on the MoonFab.Co website. Use the code BEARFOOTTHEORY to get 10% off.
Looking for additional van life gear? Here's our top picks:
Van Life Essentials Packing List
Below are a few of my favorite pieces of van life gear and recommendations for the road:
Have you tried the MoonShade or any other van awnings? Share your questions, comments, and experiences below!