Best Campervan Toilet Options for Van Life
Learn about the best camper van toilet options including composting, cassette, and emergency toilets, plus where to find restrooms on the road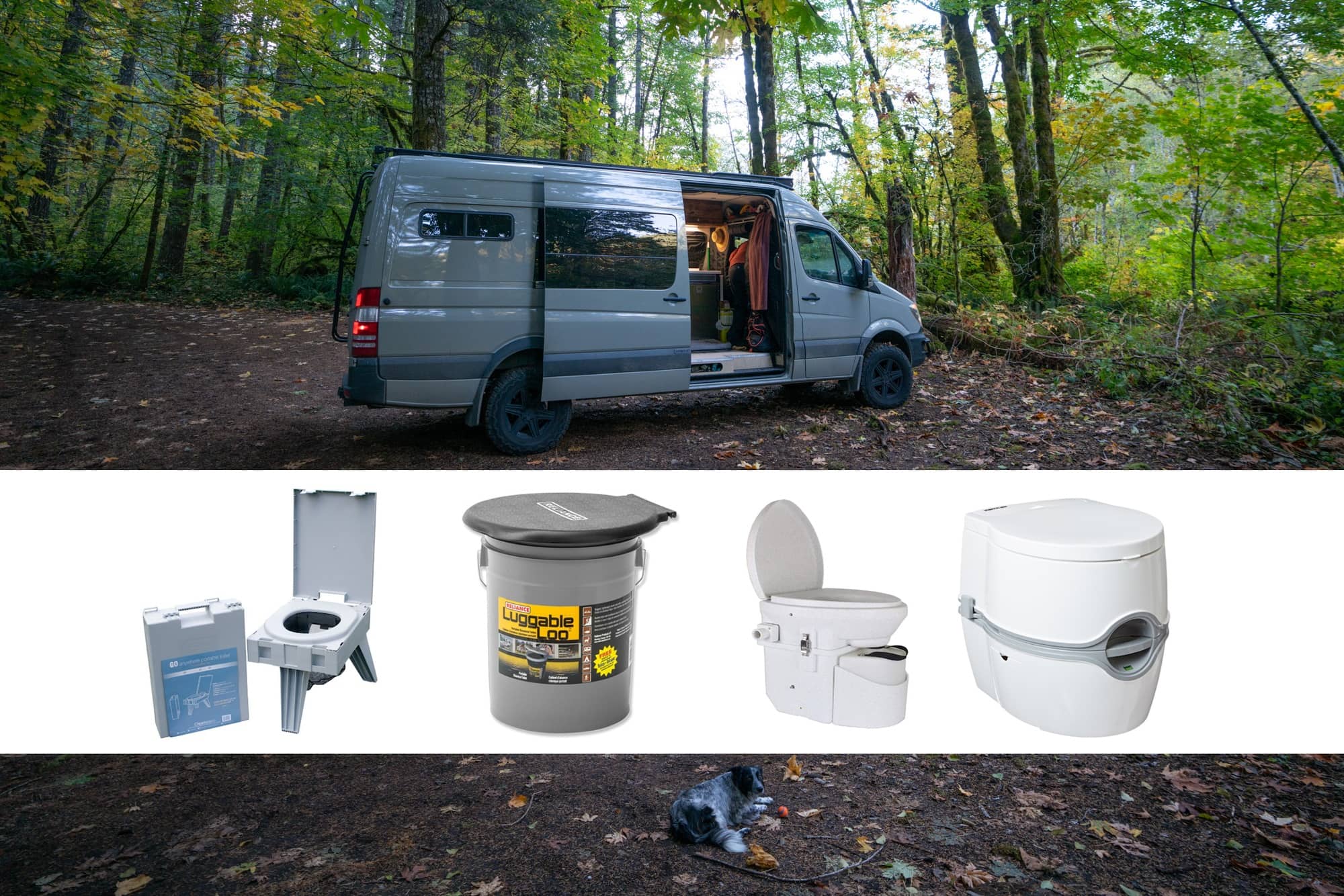 I've spent the last 6 years traveling in three different Sprinter Van conversions, and during that time, I've experimented with a variety of campervan toilet options. Understandably, where you go to the bathroom is one of the most commonly asked van life questions, so in this blog post, I share the most common toilets used by van lifers.
Over the years, I've tried portable cassette toilets, a composting toilet, pee jars, and my favorite Go Anywhere Toilet. Through personal experience and my conversations with so many van lifers, I can share the pros and cons of the best campervan toilet options for van life and how to pick the right one for your van conversion.
Pros & Cons of Campervan Toilets
You might be wondering whether you need a toilet or not in your campervan. I've done van life with and without one, and after 6 years, I've determined that you do need some way of going to the bathroom inside of your van. You don't necessarily need a permanent toilet or an entire bathroom, but having something you can use for emergencies or in the middle of the night is really helpful.
Campervan Toilet Pros
Convenience – Having a toilet means you'll never have to search for a bathroom, dig a hole (where this is allowed), or go outside in the middle of the night
Comfort – Sitting on a toilet in your van is more comfortable than popping a squat
Privacy – If you're camping with a group, having a toilet allows you to do your business without anyone else knowing what you're up to
Cleanliness – There are some nasty public bathrooms out there
More Leave No Trace Friendly – With the increasing number of van lifers living on public lands, having a toilet on board is a more environmentally responsible choice that will help keep our campsites more clean
Campervan Toilet Cons
Emptying the campervan toilet – No matter what kind of toilet you have, there will be chores associated with dumping it. Some toilets are easier to deal with than others. Depending on which toilet you have, this process is not only NOT fun, but when your toilet is full, emptying it becomes your top priority over any adventure you might have planned for that day.
Smell – When cared for properly, your campervan toilet technically shouldn't smell, but this isn't always the case. You may get the occasional whiff, even if it's its only deodorizer, in your very small space.
The space it consumes – Camper van toilets aren't that big, but they still take up quite a bit of precious space when you are living in less than 100 square feet. You also need to plan your conversion and floorplan around the toilet, otherwise, you might not have anywhere good to store it once your van is built. Dedicating a compartment to a toilet means you have to leave something else behind.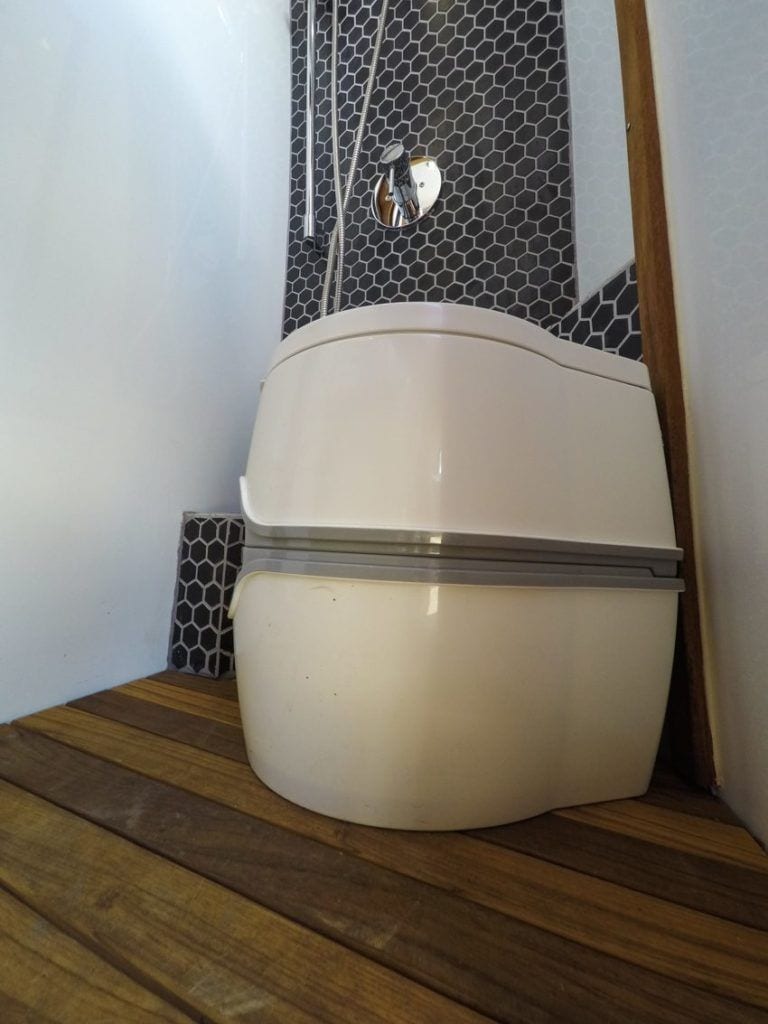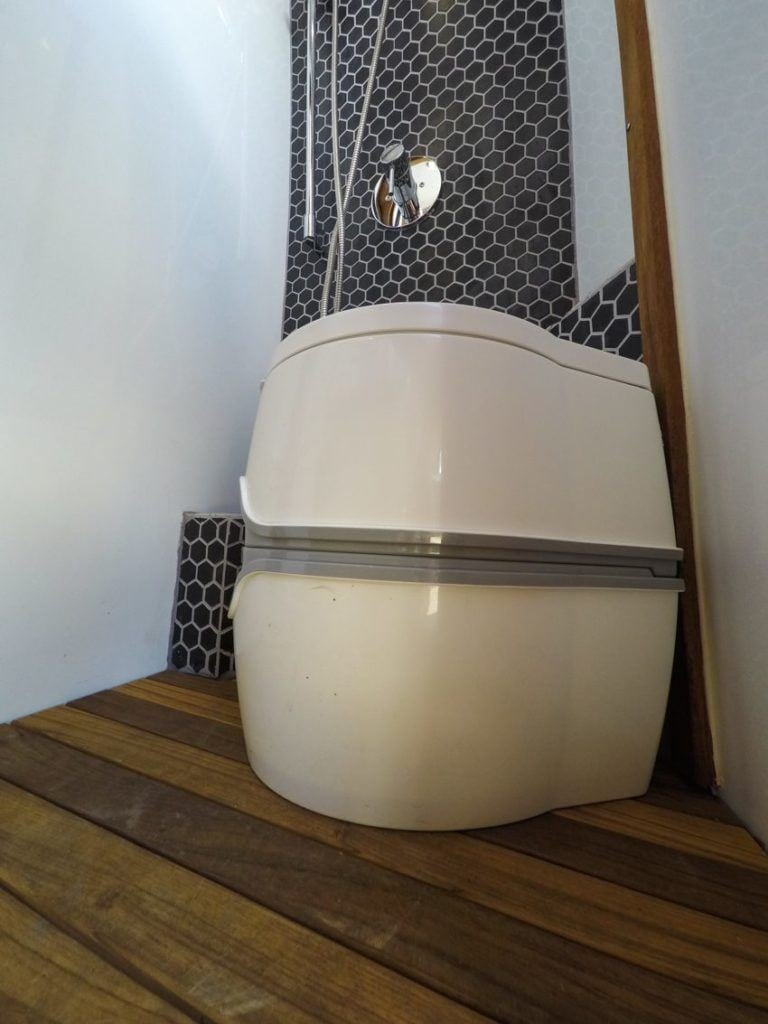 Best Campervan Toilets that Use Wag Bags
Who wag bag toilets are good for: people who want something small, compact, inexpensive and portable and don't mind using a public bathroom when they are available
Pros:
takes up the least amount of space
relatively affordable campervan toilet option (not including wag bags)
requires no/minimal cleaning or upkeep
easy to set up
super portable – can use it outside or transfer it between vehicles
great emergency toilet when no public toilets are available
Cons:
can only be used for #2
wag bags are expensive & the bags themselves are not environmentally friendly
the bags can start to stink if you don't throw them in a garbage can quickly
doesn't feel like a "real toilet"
Wag bag toilets are a low-tech, inexpensive camper van toilet option for van lifers who want a toilet for occasional use and/or emergencies. They are very basic, they have a base, a toilet seat to sit on, and a bag to catch solid waste. They are designed specifically for poop, but depending on the type of wag bag you use, the bag may be able to handle some liquid as well.
Wag bags can be expensive, and many van lifers will makeshift their own wag bags using normal garbage bags in order to save money. In our van, we have the Cleanwaste Foldable GO Anywhere Toilet described below. Since we don't want to be paying to use wag bags every single day, we only use our toilet when we are camping on public lands and there are no clean public toilets available.
The major advantage of wag bag toilets is that there really are no chores associated with them. You do your business, seal up the bag, and throw it in any garbage can. It's really that simple.
If you choose a wag bag toilet, you will also likely utilize a pee jar for going pee. In our van, Ryan goes pee in a Nalgene and I go in an empty risotto jar from the grocery store. This method of going to the bathroom in your van requires you to be very comfortable with anyone you might be traveling with. I share more about this at the bottom of the post.
Most Compact Van Toilet: Cleanwaste Foldable GO Anywhere Portable Toilet
Weight: 7 lbs
Packed Dimensions: 19 x 15 x 4 in
After traveling in my second Sprinter van for 2 years without a toilet, in 2020 we decided to get the Cleanwaste Foldable GO Anywhere Toilet. We wanted an emergency toilet on board, as well as to avoid public restrooms at that time. Since our van conversion wasn't designed with a toilet in mind, we didn't have a dedicated space for a toilet. Therefore, we needed something small and compact that could be stored out of the way. This portable toilet fits on a shelf right under our bed with immediate access whenever we need to use it.
The GO Anywhere Toilet is about the size of a briefcase when stored. When you're ready to use it, you unfold the toilet legs, lift the lid, and attach a wag bag. It takes about 1 minute to set up. Then you sit down, poop into the wag bag, throw any used toilet paper into the wag bag, seal it up, and toss the wag bag into a garbage can. I really like this campervan toilet because there are no weekly chores associated with it. You never have to deal with dump stations or emptying compost.
Cleanwaste makes wag bags specific for this toilet that have powder in them that will solidify any liquids. While not designed as a toilet for liquids, the powder means you don't have to worry if you accidentally pee in the wag bag while you are pooping. The wag bags also come with toilet paper and an alcohol wipe that you can use to wipe down the toilet seat or your hands when you are done.
The GO Anywhere Toilet is quite economical, but only if you truly utilize them occasionally vs. everyday use. The wag bags can be expensive, but you can save on them by buying the wag bags in bulk or by sharing a wag bag with another person before you seal it up. You can also buy the powder separately and make your own bags.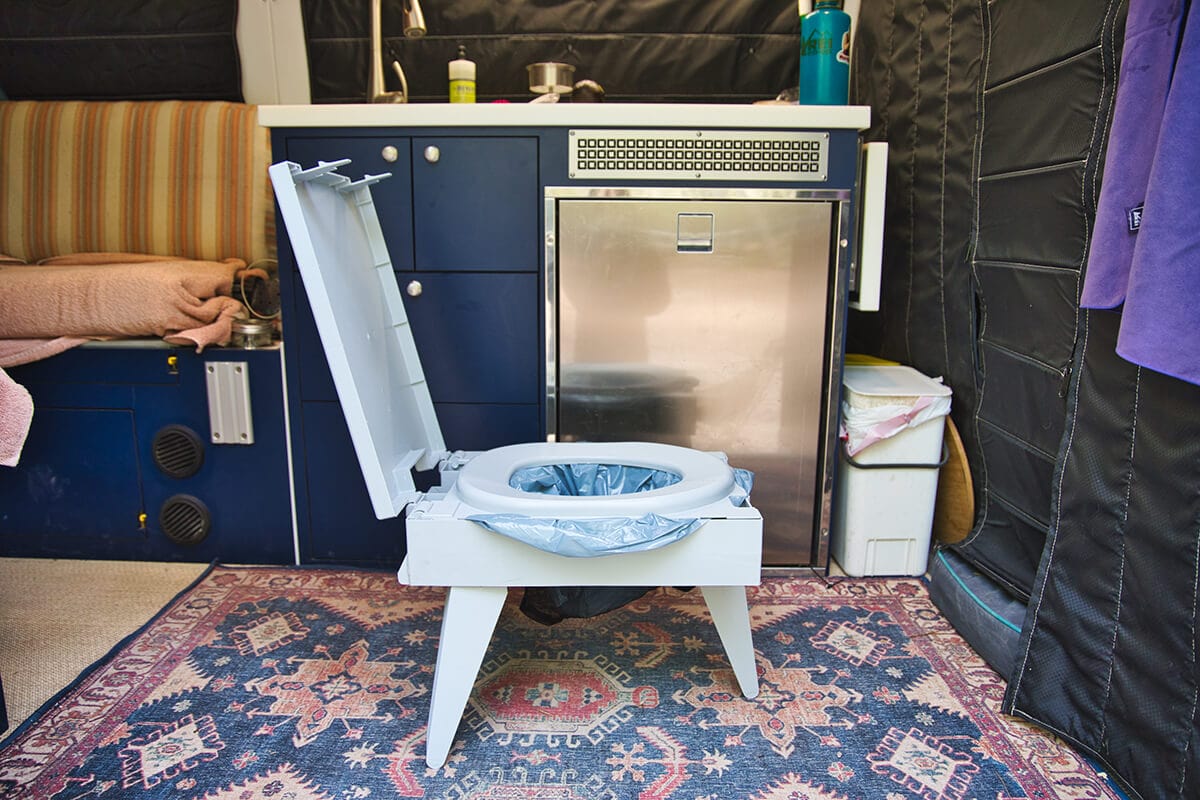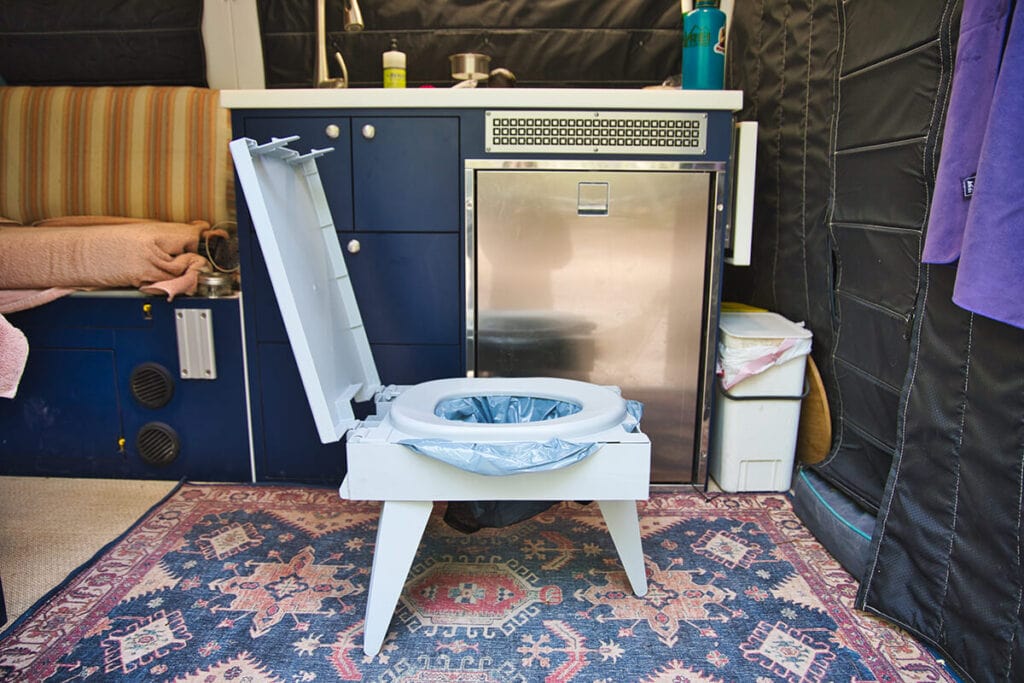 Cheapest Campervan Toilet Option: Luggable Loo
Weight: 3 lbs 1 oz
Dimensions: 15.6 x 14 x 13 in
The Reliance Products Luggable Loo is a very simple 5-gallon bucket with a snap-on toilet seat lid, and it is the cheapest option on this list. You could go pee straight into the bucket and dump and rinse in the morning, but that could get messy quickly if you can't clean it regularly. For poop, you can line the bucket with their compatible Double Doodie Bag which contains an absorption powder to neutralize odors. When you are done, you simply seal up the bag and throw it in the trash. Because of the size of the toilet, the bags are designed to be used multiple times before you throw them away.
This option takes up more space than the Go Anywhere foldable toilet, but it's much cheaper and if you only use it for #2 (with lined bags), you can use it for storage when not in use. Another advantage is because it's a simple 5-gallon bucket, any type of trash bag will fit helping to save money on the wag bags.
---
Best Portable Casette Toilets for Van Life
Who cassette toilets are good for: people who want access to a normal toilet in their van but don't want to have to deal with installing anything permanent, people who want a toilet that feels the most similar to home
Pros:
smaller and more compact than composting toilets
doesn't require venting or installation
easy to move around
way more affordable than a composting toilet
no need to stock up on wag bags
Cons:
requires frequent dumping at dump stations which often cost money to use
dumping is not a fun chore
pee and poop goes into a single container and this requires heavy deoderizer chemicals in order to avoid nasty smells
Portable cassette toilets function most like a regular toilet in that you sit on the seat, and everything goes into a toilet, or "cassette" bowl. Then you flush it, and it rinses everything down into the holding tank. You have to use a healthy amount of scented deodorizer, which breaks down the poop into a liquid and prevents it from smelling. Then once you reach the max fill line, you have to find an RV dump.
I used a cassette toilet in my first Sprinter van, and I really hated dumping it. To dump it, you take the entire toilet out of your van, as there is no permanent plumbing. Then you separate the holding tank from the bowl, unscrew the hose, and pour it down the dump drain. Then rinse and repeat. As you can imagine, it's not the most pleasant of activities. I'd recommend wearing gloves and closed-toed shoes. This type of portable campervan toilet is also very affordable relative to the composting toilet.
I know plenty of van lifers who have cassette toilets that are perfectly happy with them, so it really just comes down to personal preference and budget. Here are a few top choices for cassette toilets:
Most like your Toilet at Home: Thetford Porta Potti Curve Portable Toilet
Weight: 10 lbs
Dimensions: 18 x 18 x 16 in
Total capacity: 5.5 gallons
The Porta Potti Curve Portable Toilet by Thetford is the one I had in my first Sprinter Van. It's comfortable and has a 4-gallon fresh water tank with a battery-powered electric flush. The waste water tank is 5.5-gallons and the bottom section can easily be removed for dumping. There are plenty of options from Thetford for portable van toilets depending on your space and needs.
Compared to the Dometic portable toilet mentioned below, this one is taller and feels more like a normal toilet. The downside is it takes up quite a bit of room and won't fit as tight in a cabinet.
Best Compact Casette Toilet: Dometic Portable Toilet
Weight: 14 lbs
Dimensions: 13.5 x 15.5 x 16.5 in
Total capacity: 2.6 or 5 gallons
The Dometic Portable Toilet is a smaller cassette toilet option that is popular among van lifers. It uses a touch-button flush so no pumping or batteries are required.
It comes in two sizes – 2.6 gallons and 5 gallons, depending on your needs. Personally 2.6 gallons seems very small, especially if being used by two people. Using the 5-gallon toilet, you will need to find a dump station every 4-5 days with everyday use. If you go for the 2.6 gallon version, you might consider using this only for poop and utilizing a pee jar for pee. That way you won't have the dump the toilet as frequently.
Best Composting Toilets for Van Life
Who composting toilets are good for: people who want to use their van toilet for both pee and poop, people who go off-grid frequently
Pros:
has separate compartments for liquid and solid waste to prevent smells
most environmentally-friendly option
easiest to dump & requires the least frequent dumping (every few weeks depending on how many people are using it)
Cons:
most expensive van toilet option
most need to be bolted down and require venting to the outside
typically requires 12V power
toilet will be full before poop is fully composted, so unless you have access to a backyard compost pile you will still need to put the poop/compost mixture and throw it in the garbage
Composting toilets are quickly becoming one of the more popular toilets for van life due to some advantages over the cassette toilet described above. For most composting toilets, you fix it to the floor using a pair of brackets, hook it up to a 12-volt power source, and then run the ventilation hose to the outside of your van. Composting toilets separate liquids and solids tank which means you can use the toilet for both #1 and #2.
On the poop side, you use composting fibers (coconut and peat moss are popular materials) and instead of flushing away your waste at dump stations, the poop begins the composting process to become nutrient-rich soil. Because of the compact nature of these composting toilets, the poop won't be fully composted before the toilet is full. That means you wouldn't want to spread the compost on your garden or just toss it in the forest since it will still be full of bacteria. Instead, most van lifers will put the poop/compost mixture in a garbage bag and throw it in the trash. Check out this blog post about how to responsibly dispose of solid waste from a composting toilet.
The big differences between the best composting toilets for van life have to due with their overall size, how much pee they can hold, and whether they ned to be vented to the outside of your van.
Here are some popular composting van toilet options:
Largest Capacity Composting Toilet for Van Life: Nature's Head Composting Toilet
Weight: 28 lbs
Dimensions: 21.5 x 19 in
Liquid capacity: 2.2 gallons
The Nature's-Head Composting Toilet is a self-contained composting toilet that tackles odors by separating the pee and the poop. When the pee side is full, you can dump it anywhere – in an outhouse, in a pit toilet, or in the forest (make sure to be respectful to other campers and to follow local regulations and Leave No Trace principles by emptying it more than 200 feet from any water sources). According to reviews, the 2.2-gallon urine container needs to be emptied every 1-2 days if used regularly by 2 people.
There are two versions of the Nature's Head but the only difference is the handle. The spider handle adds 2″ to the width of the toilet, while the crank adds 5″. Reviewers note the crank is easier to use, but it's personal preference as far as space saving goes.
Easiest Campervan Composting Toilet to Dump: Air Head Composting Toilet
Weight: 29 lbs
Dimensions: 22 × 19 × 16 in
Liquid capacity: 1 or 2 gallons
Solid capacity: ~5 gallons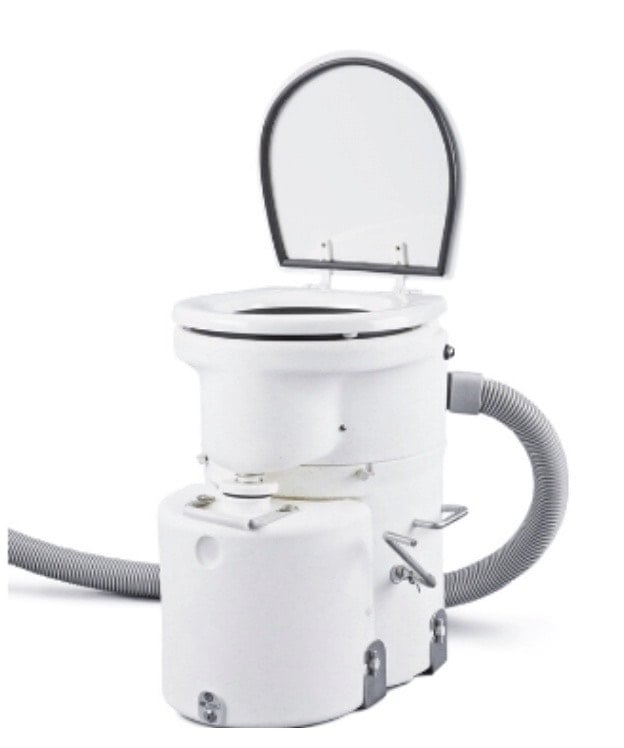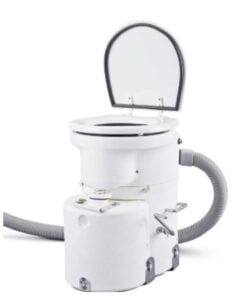 The Air Head Composting Toilet is the oldest composting toilet on the market and is super popular on boats. This toilet works in the same way as the Nature's Head, and it's gaining popularity in the van community because it's slightly smaller than the Nature's Head (but still larger overall than other toilet options).
You can also customize the Air Head's liquid tank size (1 or 2 gallons), tank shape, and what side of the toilet you want the crank and plumbing on. The Air Head is also the only composting van toilet that allows you to dump your liquids tank without opening the solids tank. Its liquid tank is opaque (vs. Nature's Head) which makes dumping your pee a little more inconspicuous.
Most Compact Composting Toilet for Van Life: CompoCloset Cuddy
Weight: 29 lbs
Dimensions: 16.3 x 15.1 x 16.8 in
Liquid capacity: 1.8 gallons
Solid capacity: 3.9 gallons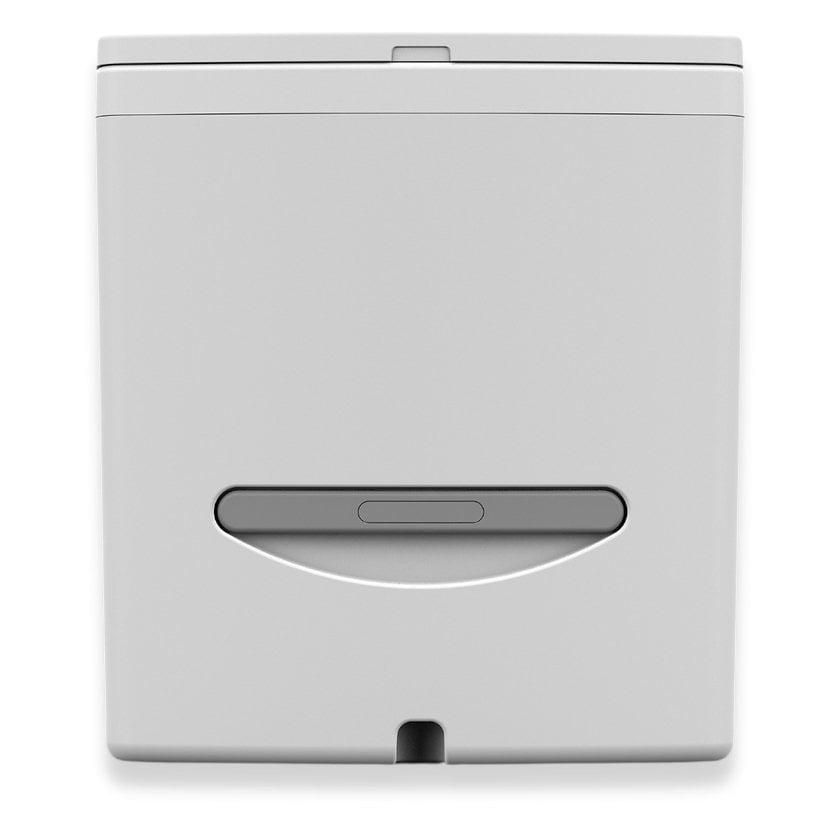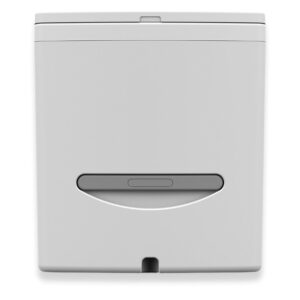 Originally funded by an Indiegogo campaign, the CompoCloset Cuddy is the newest composting toilet on the market. I had a chance to test a Cuddy prototype in my house in June 2022 before it hit the shelves, and the toilet seems really promising for van life.
The Cuddy is about the same size as a cassette toilet, making it significantly smaller than other composting toilets, and it doesn't require permanent installation or venting to the outside, making it the most portable option. The Cuddy has a carbon filter to reduce odors (why it doesn't require venting), and it can be hardwired into your battery or plugged into an AC outlet.
Once I got the ratio of water-to-compost material right, the toilet did not stink, and I love how compact and streamlined the design is. Due to its small size, it does have a smaller capacity than the Nature's Head and Air Head, and both the pee and poop needs to be emptied more frequently. The pee bottle is opaque, which means you can't easily see when it needs to be emptied. Compo Closet was still working out a few kinks at the time I tested it (I had an issue with the pee draining properly into the bottle), but initial reports from van lifers using this composting toilet seem to be positive.
What if you don't have a toilet in your van
Several years ago, I traveled without a campervan toilet in my van. I didn't want to deal with the chores, and I personally didn't mind digging a hole when camping in the forest. However, with the increasing number of van lifers living on public lands, I've since decided that not having a toilet is an irresposible decision for those of us who spend a significant amount of time on the road. Having a toilet in your van is a more environmentally responsible choice that will help keep our campsites clean for others to use.
With that said, if you are a weekend warrior or you spend most of your time in paid campgrounds with bathroom facilities, you may decide you don't need a toilet in your van. Toilets are certainly a sacrifice in space and can be an inconvenience to deal with, but you should be aware that there are an increasing number of places that no longer allow you to legally dig a hole due to overuse. Fortunately in many of those areas, we are starting to see more outhouses being installed for campers to use, but it's always a good idea to have a couple of wag bags on hand for emergencies.
One really important thing to keep in mind if you choose to go the no toilet route is that you need to be very well-versed with Leave No Trace guidelines on how to properly poop outdoors and ALWAYS PACK OUT YOUR TOILET PAPER. This means throwing your used toilet paper in your garbage, not leaving in your fire pit for the next campers to burn.
Free dispersed camping areas are being closed due to campers not following Leave No Trace principles (ie taking surface dumps and not packing out their toilet paper). It's really gross, and as van lifers who often live and recreate on public land, we have a responsibility to do better.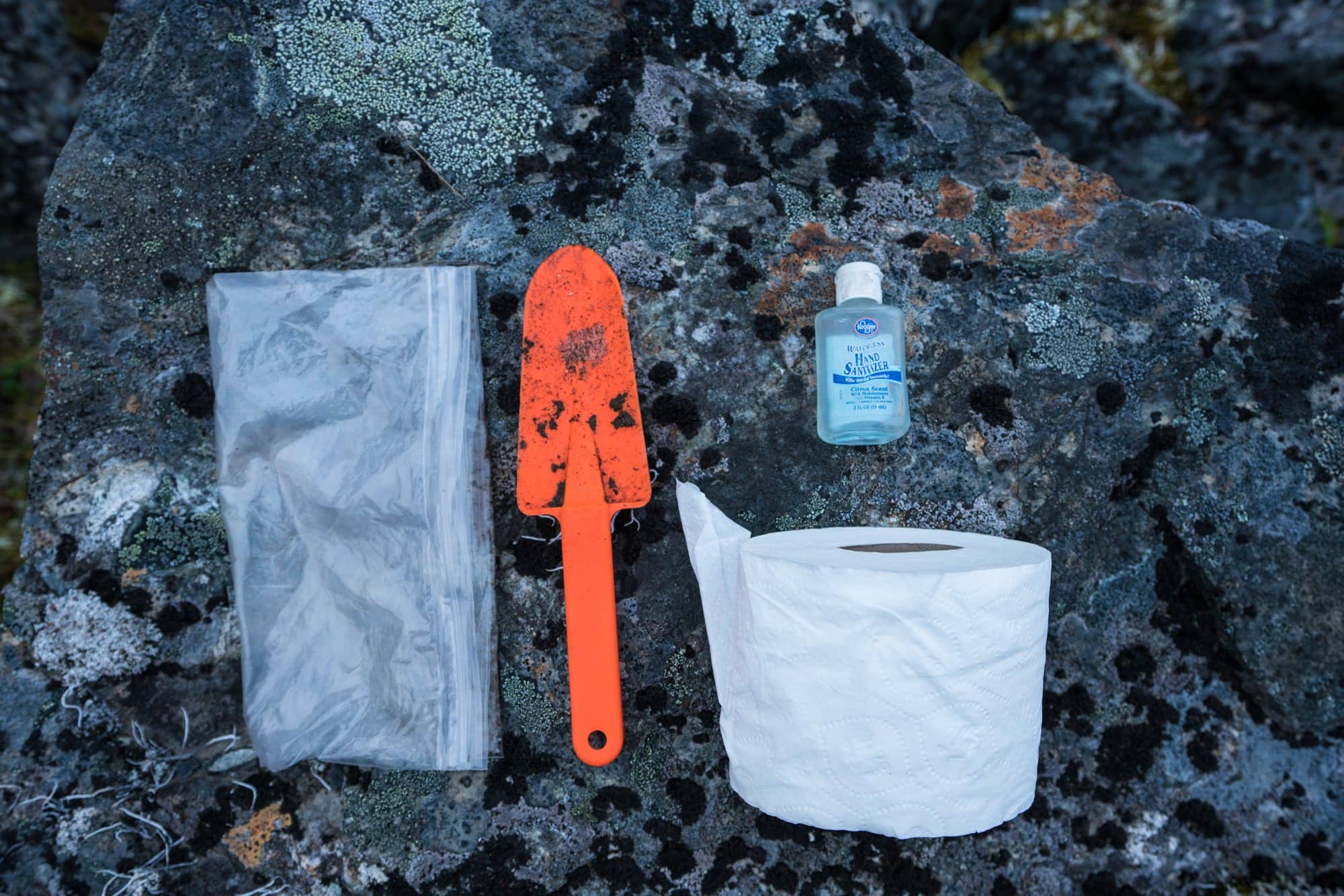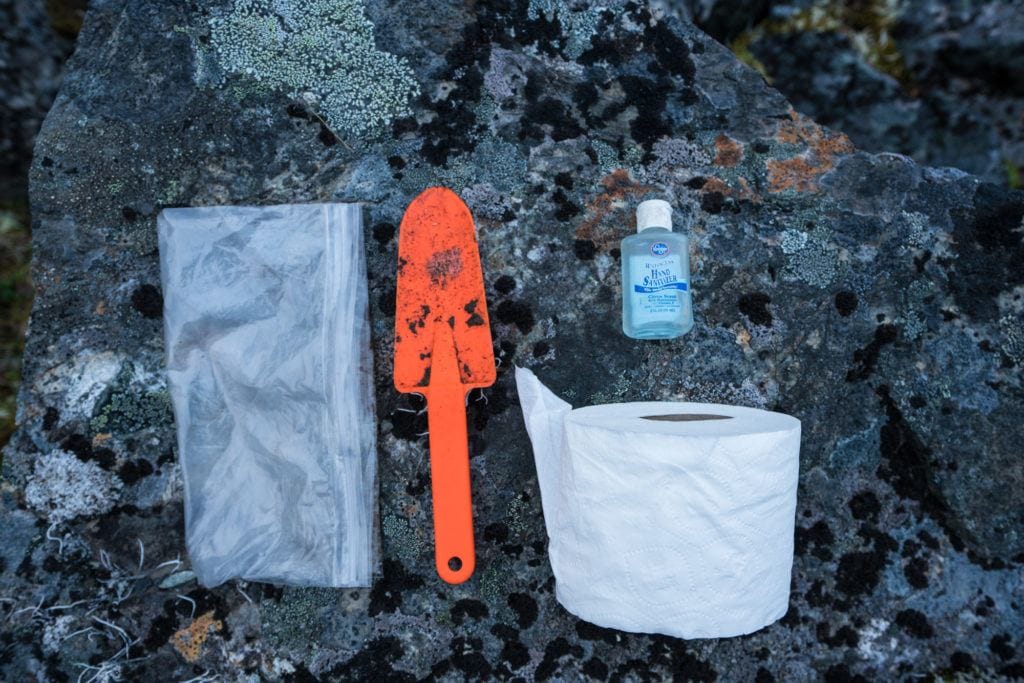 If you are relying on public facilities, there are toilets everywhere…campgrounds, gas stations, grocery stores, rest areas, trailheads, McDonald's, and the list goes on. Some of them are cleaner than others, but it's usually pretty easy to find a bathroom in town or at a trailhead after a night of dispersed camping.
All about Pee Jars
There is nothing worse than waking up in the middle of the night in your van, putting shoes on, and going outside in the dark to pop a squat. If you don't have a toilet or you use a wag bag toilet, you're going to want a solution for going pee inside your van.
Introducing the pee jar…Men can easily pee into a Nalgene, and women are going to want to look for a large, empty plastic wide-mouthed jar that they can pee into while standing up. It's just like peeing in a cup at the doctor's but a lot easier due to the large size of the opening and the jar itself.
As I mentioned, I use an empty risotto or cous cous jar. I find them to have enough capacity for a couple of pees, and they are easy to hold onto while I'm going. When I'm done, I just screw the lid on, put it in a cabinet, and then I dump it in the morning, either outside away from any campsites following Leave No Trace principles or in a campground toilet. After dumping it, I rinse it out, spray it with a 1:1 mixture of vinegar and water, and then it's good as new.
Now, I'll admit, I don't feel that ladylike when I'm doing this, and I can literally see some of your squealing faces as you read this… but ladies…realizing that you don't need a bathroom to go pee is one of the most liberating feelings. If the trailhead toilet is gross, I just go in my jar. If we are driving down the highway, and I can't hold it until we find a restroom, I go in my jar. No big deal. And dealing with the aftermath isn't a big deal either.
If you are worried about people seeing your pee in a jar, then I'd recommend putting duct tape around the outside so no one can see what's in it. You can also use a dark-colored Nalgene water bottle with stickers on it. Stickers are a good reminder that it's not your water bottle that you want to drink out of.
If you're traveling with a significant other and you are worried about what they might think, then you might want to rethink who you are choosing to do van life with. It's close quarters, and to cohabitate in a van, you have to be very comfortable with one another.
What about those pee funnels? Some people swear by pee funnels and others (including myself) don't find them necessary. With a wide-mouthed plastic jar, you won't need a pee funnel. One of our team members uses the P Style, but it really comes down to the individual and what works for your body.
Van Life Essentials Packing List
Below are a few of my favorite pieces of van life gear and recommendations for the road:
Have you tried any of these campervan toilet options? Do you plan to have a toilet in your van? Share your tips, questions, and experiences in the comments below.