The most important decision you'll make in the van conversion process is choosing the right camper van layout. This is a process that requires a lot of careful thought and evaluation and shouldn't be rushed – because once your van is built, the layout can't be easily changed.
In this blog post, we pose some questions to help you nail down your priorities for your camper van layout, as well as some important tips for making sure your get your floor plan right.
Plan the perfect camper van layout with the tips below!
Determining Your Priorities for Your Camper Van Layout
Watch this video to start thinking about your priorities for your camper van conversion.
Before you dive into planning your conversion, first you'll need to rank your priorities and decide what's important to you. You already started to think about this in the "Evaluating Your Lifestyle Worksheet" in the blog post on deciding what type of van is best for you, so if you haven't filled that out, now would be a good time to do that.
With less than 100 square feet of living space, you need to decide what gear and other items you want to have in the van, and what you will be using the van for. By narrowing down your priorities, you'll ensure that your build will accommodate everything you need and want while efficiently using the space.
Think about your current day to day lifestyle and make a note of what's important to you. Living out of a van on the weekend or traveling and living in it full-time does mean you'll have to sacrifice some creature comforts, but not all of them. If waking up in the morning and having fresh espresso is something you savor, make that a priority. If having a designated toilet area is a must, add it to the list.
What's important to one van dweller might not be important to another. It helps to visualize your ideal day from start to finish – what do you do upon waking up? How does the rest of the day go? What sort of living space will you be comfortable in, not just for a couple days, but for a long time? Do you care more about storing mountain bikes or having an enclosed shower? A permanent bed or a big dinette where you can entertain? A nice big galley or a big workspace? A shorter, more maneuverable van or more interior space?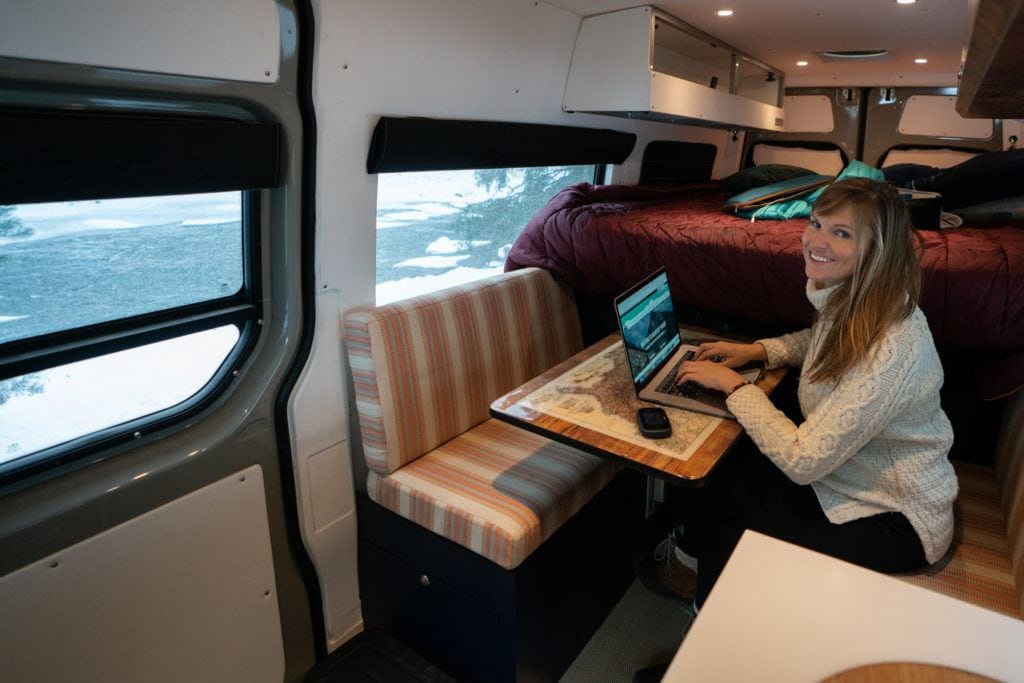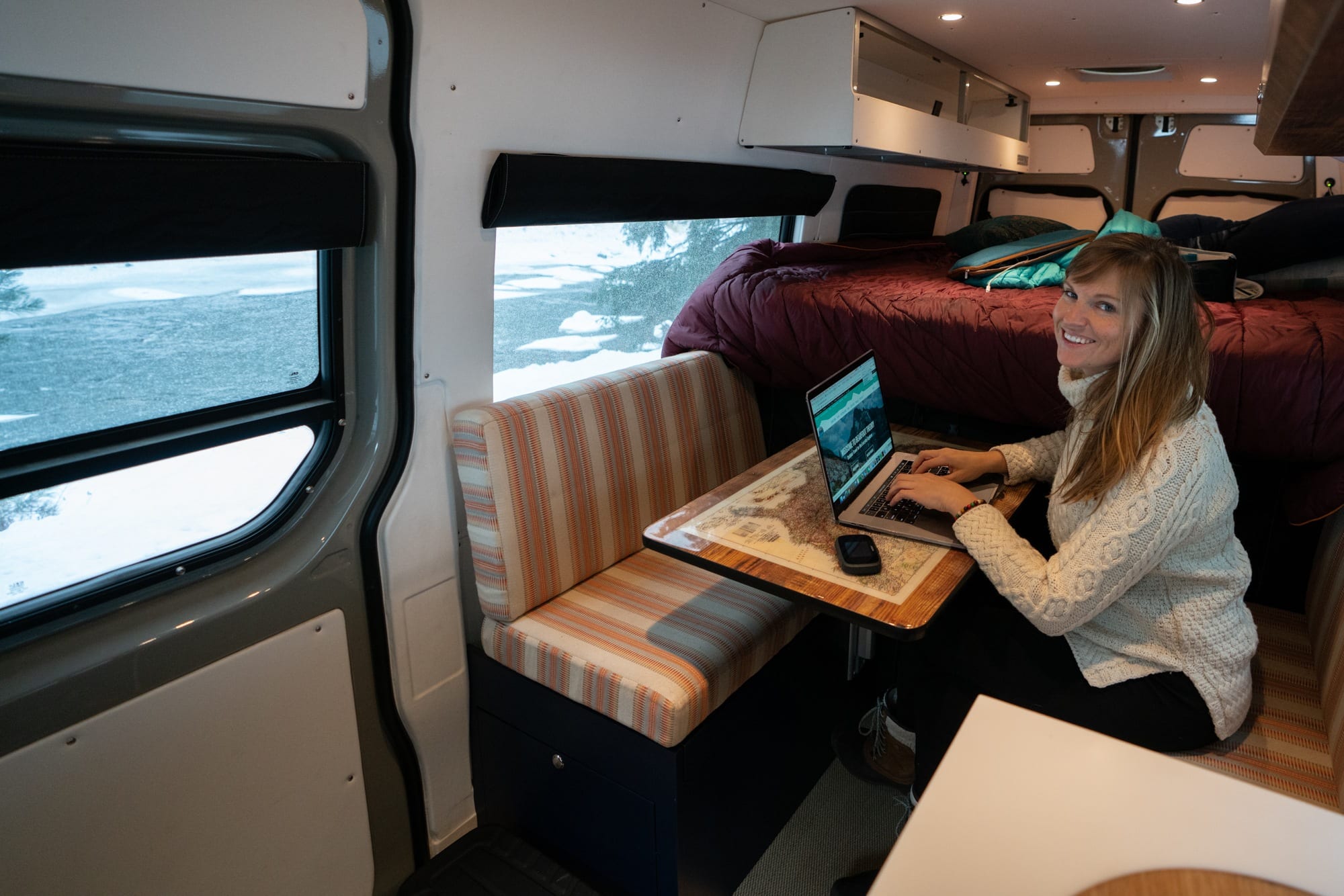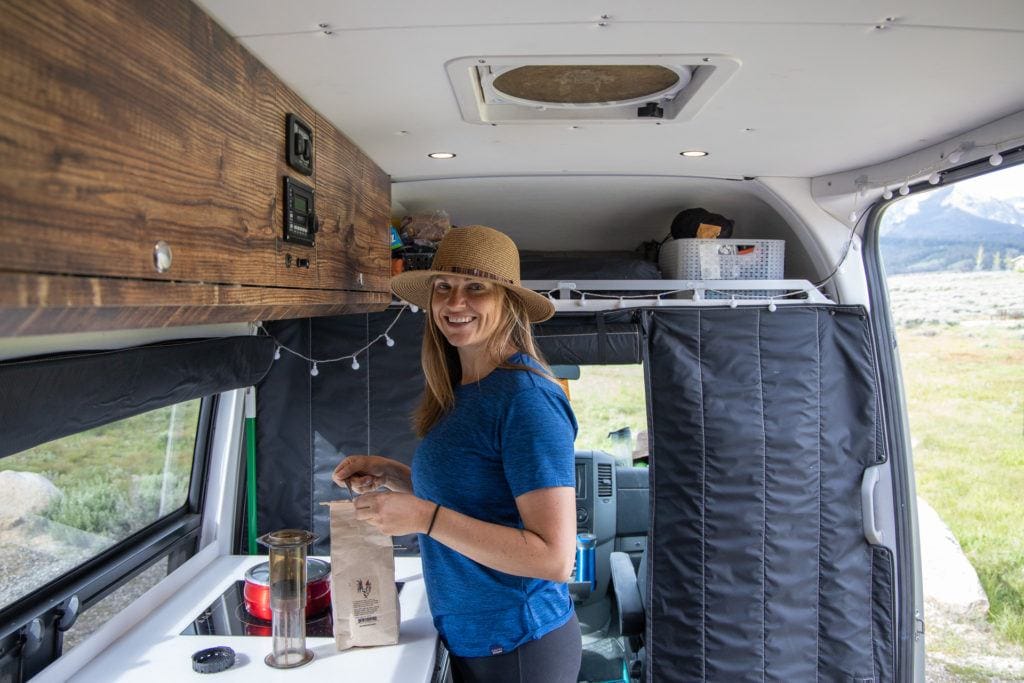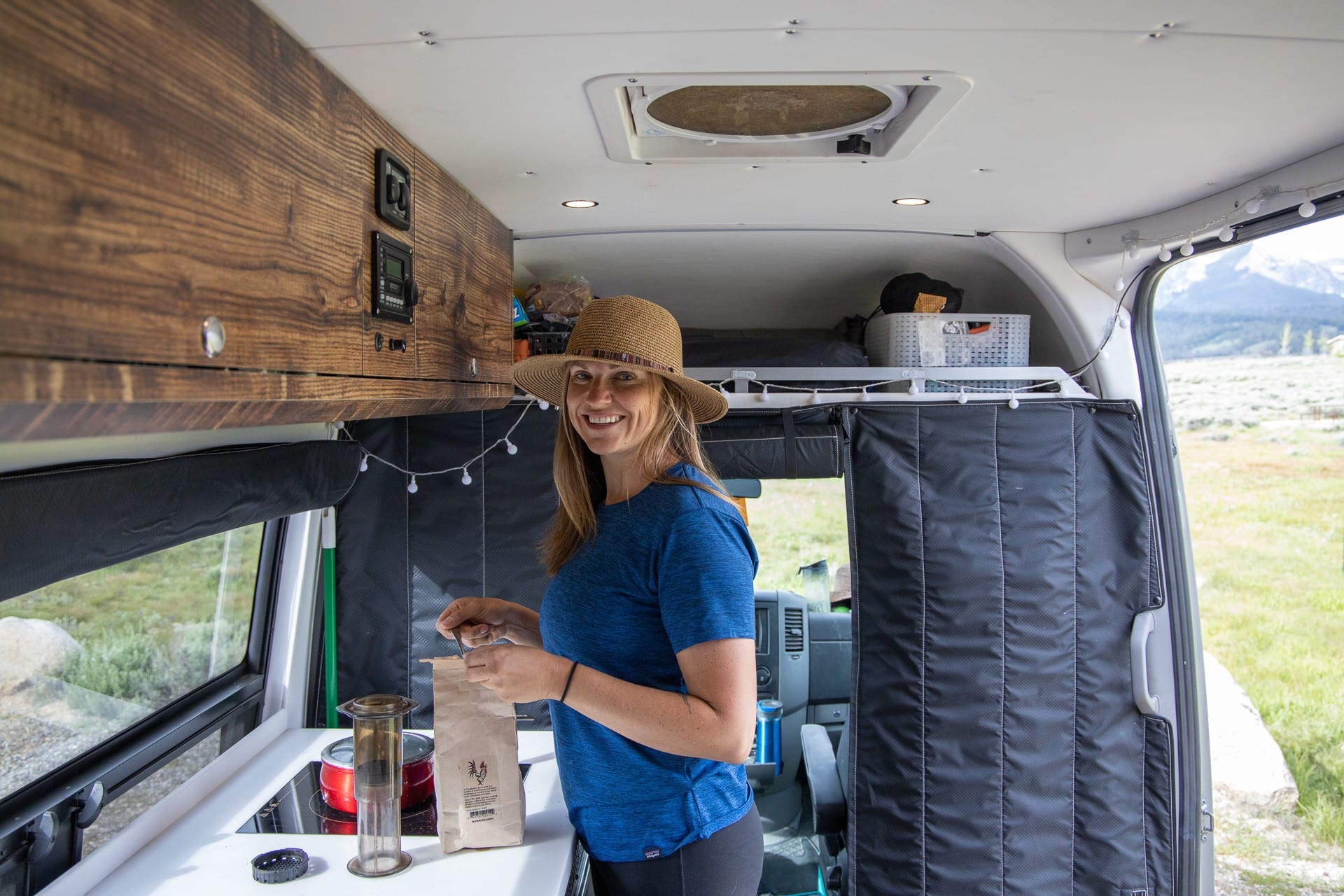 Storage for Van Life Gear
Now, let's move onto storage space. Gear takes up a lot of room in the van, so as part of the van conversion planning process, you should make a list of everything you want to bring with you. Yes, everything. Then, ask yourself, "How often do I use these things at home?"
If you never kayak at home because it's a hassle, you probably won't kayak much in the van. Sure you'll have more access to places to kayak, but it still requires shuffling things in your van around and taking the time to make it a priority. For instance, last summer we had two big inflatable paddle boards in the van. Every time we wanted to go paddleboarding, it took an hour to pull the boards out, inflate them, get ourselves situated, and then carry them down to the water. As it turns out, we didn't end up using them all that much, and those big boards took up valuable space that could have been used for something else. So you really need to think hard before you add every idealistic item to your list.
Below is a starter list of gear you might want to bring along to get you pointed in the right direction. Be selective about what's truly important to you that brings the most joy to your life. You'll be surprised how quickly gear and even clothing can add up in your van, so make a list of your own and start narrowing it down.
Van Life Gear
Bikes
Backpacking Gear
Packrafts
Kayaks
Paddleboards
Camp Chairs
Camp Table
Cooking Stuff
Food
Computer / Camera / Electronics
Fishing Gear
Clothing
Shoes
Yoga props
Trash cans – which are commonly forgotten about, but take up a lot of space
As a bonus, I've included my full packing checklist which is available to download at the end of this blog post in the Resources Section. I encourage you to go through that item by item and create your own packing checklist based on your priorities.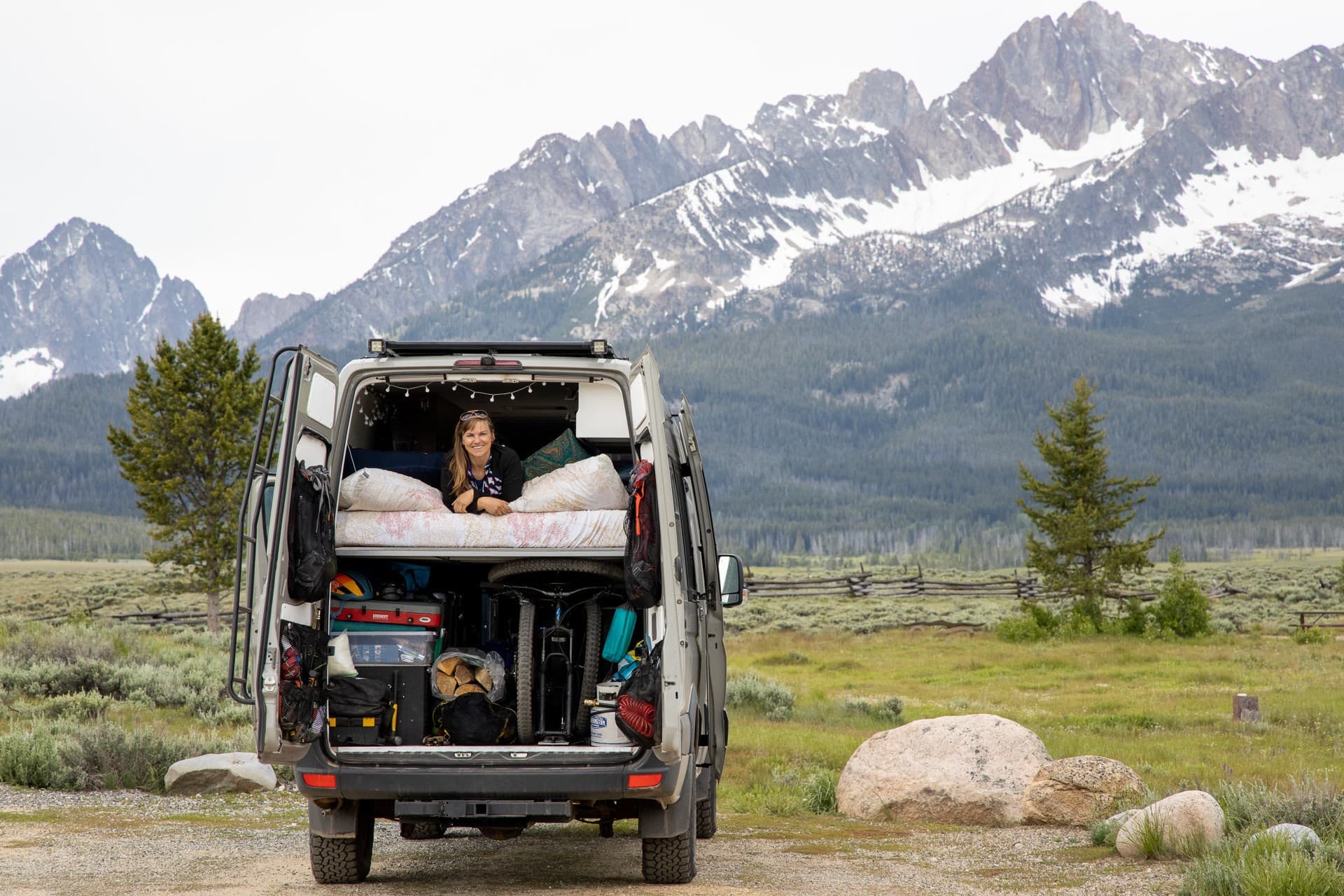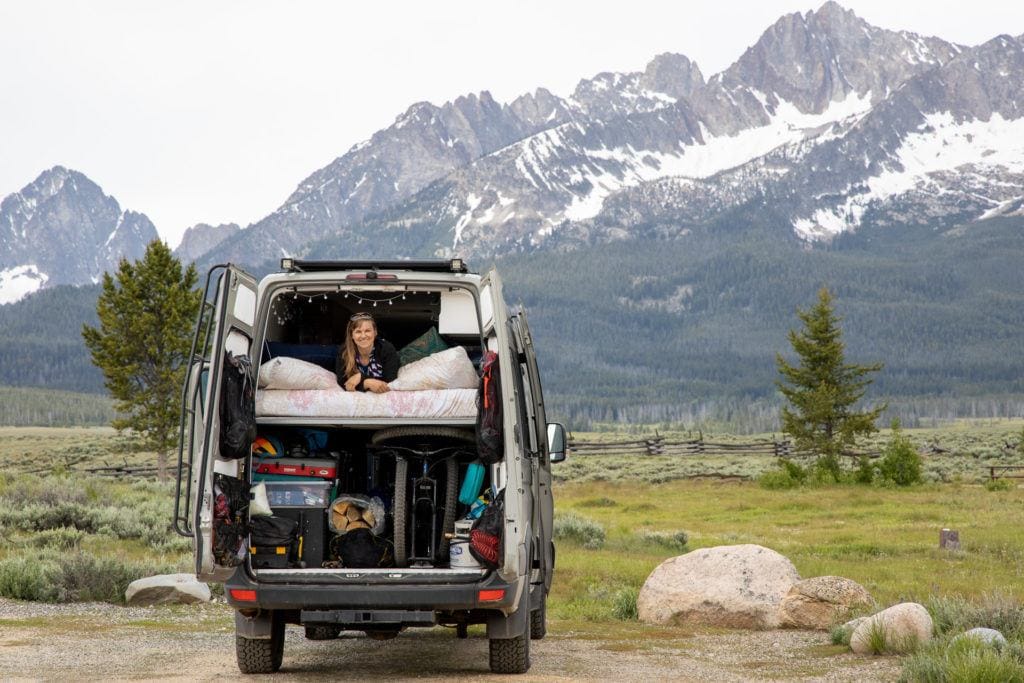 Deciding on Your Van Conversion Floor Plan
Now that you've thought about some of your campervan conversion priorities and what you'll potentially want to bring along in the van, it's time to think about your floor plan. Deciding on your ideal floor plan is one of the biggest choices to make in the early stages of planning. One floor plan is not superior to another – it's truly a matter of preference and what will work for you based on what sort of lifestyle you'll be living. For inspiration, check out the @Vanlife_Roadmap on Instagram.
Here are a few questions to ask yourself to help you decide which van conversion layout will work for your everyday needs:
Will you be traveling solo, as a couple, or as a family?
Do you have a pet coming along?
Is maximum storage a priority for you or do you prefer an open floor plan with a more spacious living space?
Do you want a designated sitting area or workspace?
Will you have a built-in bathroom with a shower or do you just need space for a toilet? Or maybe you don't want a toilet at all?
Do you want an interior galley or do you plan to always cook outdoors?
Do you want a permanent bed or a convertible one?
Do you want a large garage to store gear?
Selecting a bed style will influence the rest of the van conversion layout, so we will spend some time weighing the pros and cons of different bed styles before planning the rest of the floor plan. Decisions about your bed will be closely followed by whether or not to have a bathroom and the size of your galley.
The common questions that come up around a van's floor plan usually revolve around storage, bed style, number of people, and personal preferences. So, spend some time visualizing your day to day in different floor plans and decide what will be best for you. When thinking through your campervan conversion priorities, I suggest prioritizing a functional floor plan over an aesthetically pleasing one.
So how you do decide on the right layout?
1) Travel in your van empty before you decide on a floor plan
At first, all you really need in your van is an air mattress, sleeping bag, camp stove, and cooler. Hit the road with your essentials and see how you are using the van. I was sure I needed a shower in my van in my first van, but in 2 years, I only used the shower a handful of times. Had I taken a few road trips in my van before building it out, I may have realized it wasn't as necessary as I thought. You'll also see how much off-roading you are doing. If you find yourself mostly on dirt roads, you'll want to consider that as you are deciding on materials and weight inside your van.
2) Go to a Van Gathering
I so wish I had gone to a van festival or gathering before I built out my first Sprinter Van. By attending an event with a ton of vans and cool, like-minded people, you'll get a ton of ideas, inspiration, and advice for the best camper van layouts.
3) Join the Sprinter forums and Facebook Groups
The Expedition Portal and the Sprinter Source are two examples of great forums where you can ask questions, check out van builds, and get all kinds of ideas for your design. There are also dozens of free groups on Facebooks now as well. I recommend you join these before you start your conversion process so you can learn from a variety of people who have been there, done that.
4) Check out the website and social channels of custom van builders
Even if you plan to DIY, follow a number of custom van builders and dig through their websites to get new ideas you hadn't thought of. Companies like Outside Van and others that have been building out vans for a long time and have a wealth of information. They know what works and what doesn't, and they use the tried and tested products in their own conversions.
5) Think about the long-term
How you use your van now might be different than a year from now. For instance, when I bought my van and started building it, I was single. Now I'm in a relationship with my boyfriend Ryan, and we have two dogs. I quickly outgrew my original floor plan. My advice is to think about the future (ie will you have kids or a partner within a few years) and make sure your floor plan is appropriate for whatever direction your life might go.
6) Prioritize a functional van floor plan before aesthetics
Of course, you want a beautiful van that fits your style. No matter what you decide for your Sprinter Van floor plan, you can always put some nice finishing design touches on your van that speak to your personality. But making room in the right place for your water tanks, electrical system, and functional elements is the first step, and you shouldn't even start thinking about aesthetics until you have the inner workings figured out.
7) Follow @vanlife_roadmap on Instagram
For additional camper van layout inspiration, check out my @vanlife_roadmap account on Instagram where I share other people's awesome Sprinter Van photos. It's a great place to get innovative ideas for your build, connect with other Van enthusiasts, and ask questions.
Resources Section
What questions do you have about van floor plans? Share your questions, tips and experiences in the comments below and make sure to sign up for course updates!