144″ vs 170″ Sprinter Van: Which Wheelbase is Best for Van Life?
Trying to decide between a 144" vs 170" Sprinter Van? Learn the pros and cons of each wheelbase for part-time or full-time van life.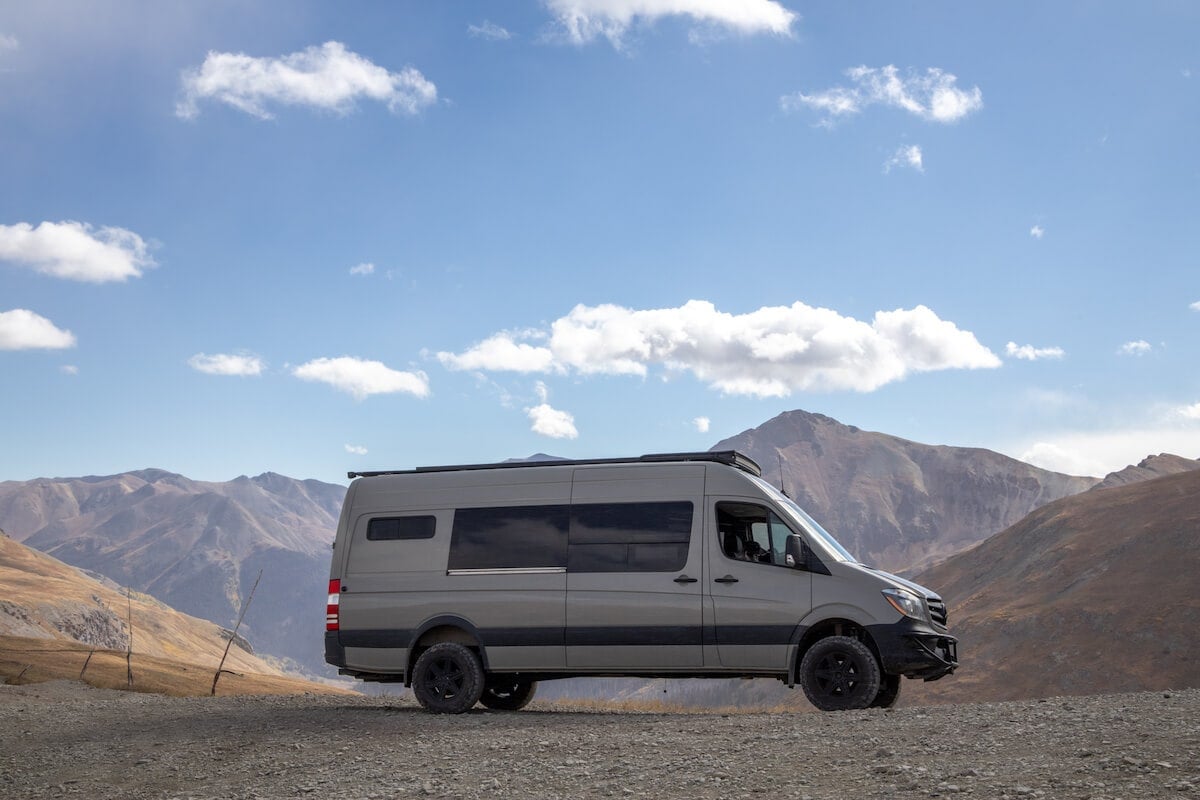 If you're planning to buy a Sprinter Van to convert into a camper van, one of the first and most important decisions you have to make is which wheelbase you want. The Sprinter Van comes in three different wheelbases – a 144″ (the short wheelbase), a 170″ (the long wheelbase), and the 170-ext (the extra long wheelbase).
Which one you choose will affect how much storage and living space you have, the off-road capability, maneuverability in cities, parking, gas efficiency and more. To help you decide, in this blog post I compare these factors in the 144″ vs 170″ vs 170″ ext Sprinter Van.
Luckily I've owned both the 144″ and the 170″ wheelbase, so everything I write here is based on my real world experience. My first Sprinter Van was a 144″ wheelbase, and I loved its maneuverability and how easy it was to park. I also craved a few more square feet to better accommodate my partner, our dogs, outdoor gear, and full-time van living lifestyle. With that in mind, I sold my 144″ Sprinter and upgraded to the 170″, and I couldn't be happier with my decision. There of course have been a few sacrifices and challenges that come with having a longer Sprinter Van, but the extra space has been a worthy trade off.
Read on to learn about the pros and cons of the 144″, the 170″, and the 170″ ext Sprinter wheelbase so you can decide which one is best choice for your van conversion.
Get help deciding between the 144″ vs 170″ Sprinter Van for your van conversion with these insights.
[adthrive-in-post-video-player video-id="tEfWopwG" upload-date="2021-10-04T21:02:15.000Z" name="Open Roads Fest.mp4″ description="Open Roads Fest is the premier van life festival for outdoor enthusiasts taking place in the beautiful town of McCall Idaho with opportunities for camper van tour and workshops, mountain biking, paddle boarding, live music and more." player-type="default" override-embed="default"]
Sprinter Wheelbase Options & Dimensions
Wheelbase refers to the length of a vehicle between the front wheel axle and the rear wheel axle. There are three different wheelbase options for Sprinter vans:
144″ wheelbase
170″ wheelbase
170″ extended wheelbase
144″ Wheelbase dimensions
The 144″ wheelbase is the shortest Sprinter van. It has the least amount of buildable space, but because it is shorter, it is easier to maneuver and park than the 170″ wheelbase.
Full length from bumper to bumper: 19′ 6″
Buildable space length: 11′
Interior Height: High Roof Option = 6′ 7″ / Low Roof Option = 5′ 7″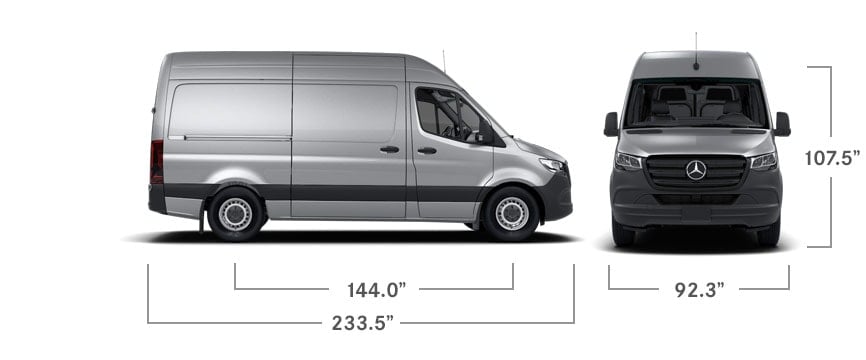 170″ wheelbase dimensions
The 170″ Sprinter wheelbase is what I have now. It provides just over three feet more of interior space than the 144″ wheelbase while still being fairly easy to drive and park in normal parking spaces.
Full length from bumper to bumper: 22′ 10″
Buildable space length: 14′ 4″
Interior Height: 6'7″ (170″ wheelbase only comes with high roof option)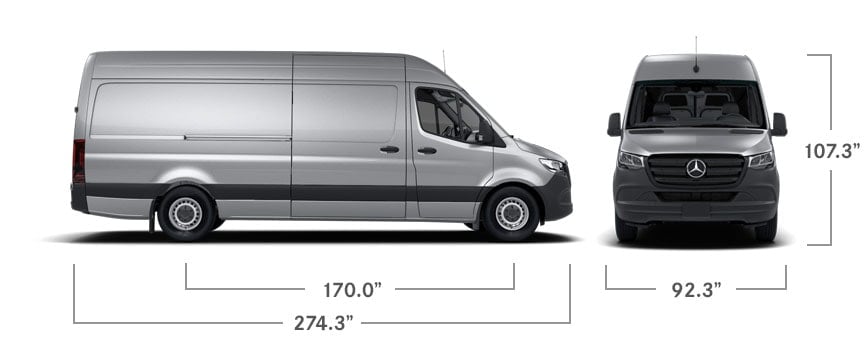 170″ extended wheelbase dimensions
The 170″ extended wheelbase Sprinter van is becoming a more popular choice for van lifers who want to maximize their living space and need more amenities while they travel. The extended chassis is about 1.5 feet longer than the regular 170″ wheelbase. While this provides additional living space, it does make maneuverability and parking more difficult. You're also more likely to scrap the bottom of your van behind the rear wheel so you have to be more careful going over bumps or pulling into steep driveways.
Full length from bumper to bumper: 24′
Buildable space length: 15′ 9″
Interior Height: 6′ 7″ (170″ ext. only comes with high roof option)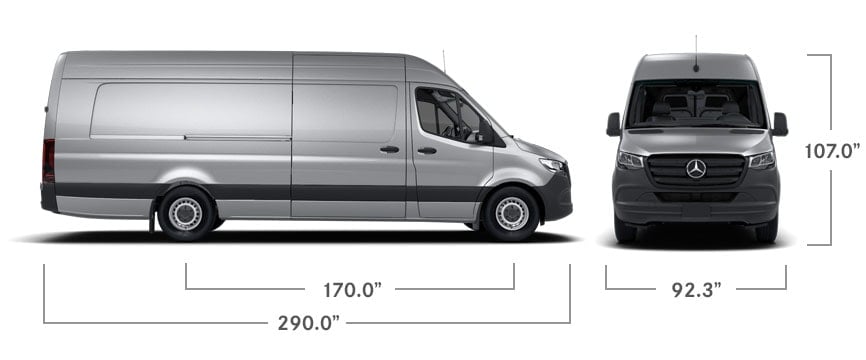 ---
144 vs 170 Sprinter Van Comparisons
Parking & City Driving
One of the claims to fame for the 144" Sprinter Van is that it can fit in a normal parking spot – both length and width-wise. I'd agree that the 144" was a breeze to park, even in crowded parking lots and city streets. When I got my 144" Sprinter, I sold my Subaru and my Sprinter became my daily driver for a year and a half. I loved driving it and felt like I could cruise down the road no differently than in my Subaru.
So how does the 170" compare to the 144″ in terms of parking? I'd say that the argument that the 170" Sprinter is a hassle to park is a bit overblown. Sure it's longer….but if you pull all the way up to the curb until your front tires hit, the 170" can also "fit" in a normal parking spot. In really tight parking lots, you might have to park a little further out and walk an additional minute or two, but overall, parking the 170" Sprinter hasn't caused me any more stress than parking my 144". I will say that a rear camera is absolutely necessary for the 170", especially if you don't have rear windows, but I wouldn't have wanted to go without a rearview camera in my 144" either.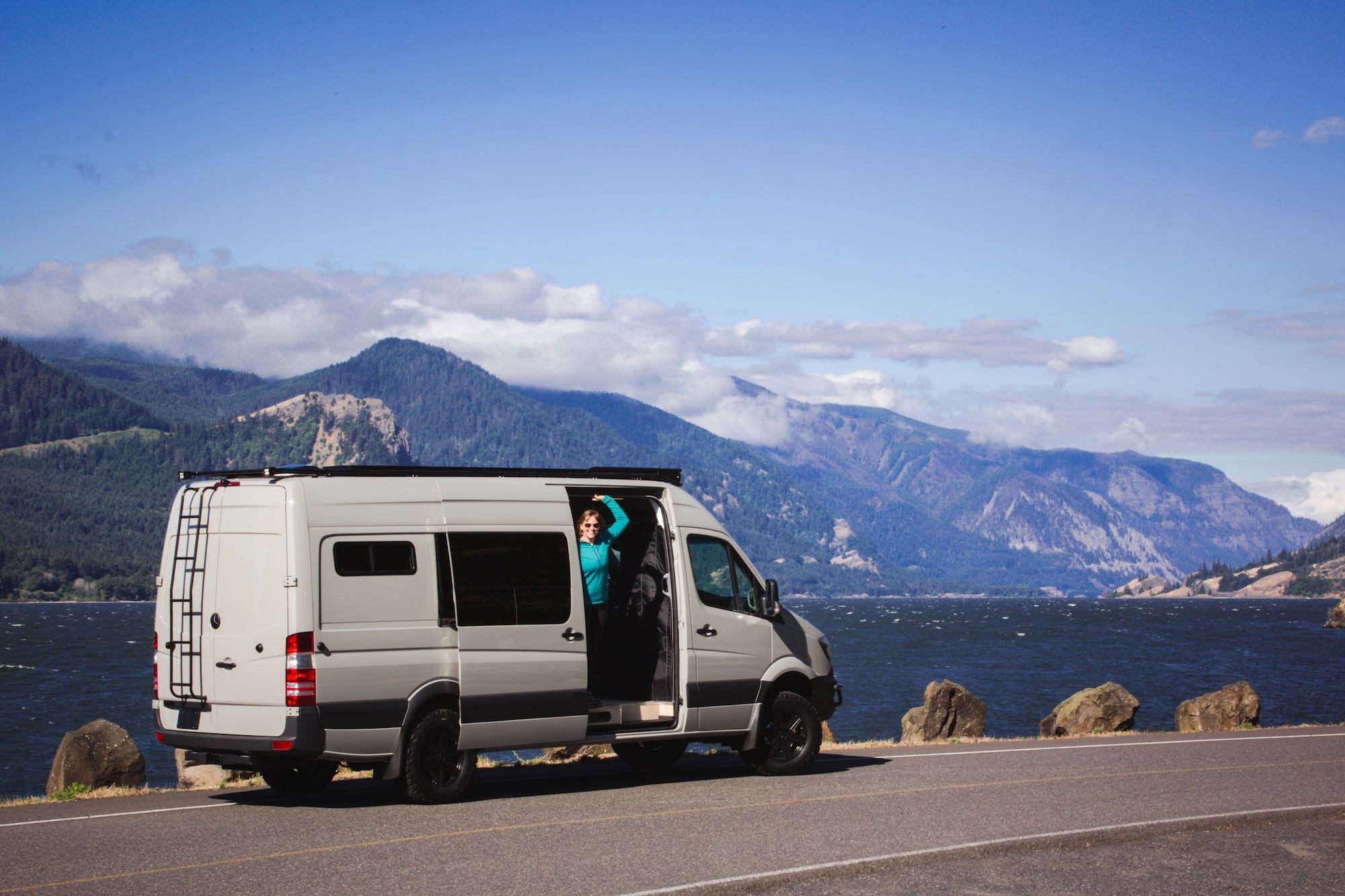 For city driving, both wheelbases handle nearly the same. The turning radius isn't quite as good in the 170" vs 144" Sprinter, so you have to be a little more careful with U-Turns. Parallel parking is also a bit more challenging.
If you choose to go with a 170″ extended wheelbase Sprinter, keep in mind that this adds an additional 1.5 feet to the van, making it more difficult to park in normal parking spaces and navigate in busy areas. If you plan on stealth camping, a 170″ ext will likely draw more attention as it is more obvious it's a camper.
Bottom Line: This comes down to how much time you plan to be in cities vs rural areas. If you live in busy city and frequently park in busy areas, the 144″ will be easier to drive. If you are like me and you try to avoid big cities, then the 170″ wheelbase shouldn't be an issue.
Off-Road Driving
Let's be honest. Neither Sprinter wheelbase is going to be as off-road friendly as a Jeep or lifted pickup truck. However, either Sprinter Van wheelbase with the 4×4 option is going to be a surprisingly capable vehicle, with the 144″ having an obvious advantage. The 170″ while not quite as nimble is still a beast, and the 170″ extended Sprinter would be the clear loser in terms of off-road capability.
The first benefit of the 144″ Sprinter for off-road driving is the turning radius. If you find yourself in a pickle and need to turn around, you'll have an easier time in the 144″ vs the 170″ Sprinter. A 144″ can also handle steep switchbacks more easily. The second advantage is the 144″ wheelbase is more nimble. Because of the shorter wheelbase, you'll be less likely to scrape the bottom if the terrain gets unexpectedly gnarly.
Does that mean that you can't off-road in the 170″ wheelbase? Absolutely not! We've literally explored thousands of miles of dirt roads in my 4×4 170″ Sprinter, and I'm not just talking gravel fire roads. We've driven our 170″ Sprinter over Cinnamon Pass and Stony Pass in Colorado where the only other vehicles we saw were Jeeps and ATVs. Now I'm not saying I'd recommend taking your Sprinter on these roads unless you are a very confident off-road driver, but I'm sharing to prove that with the right driving skills either wheelbase is capable of exploring and getting far off the grid.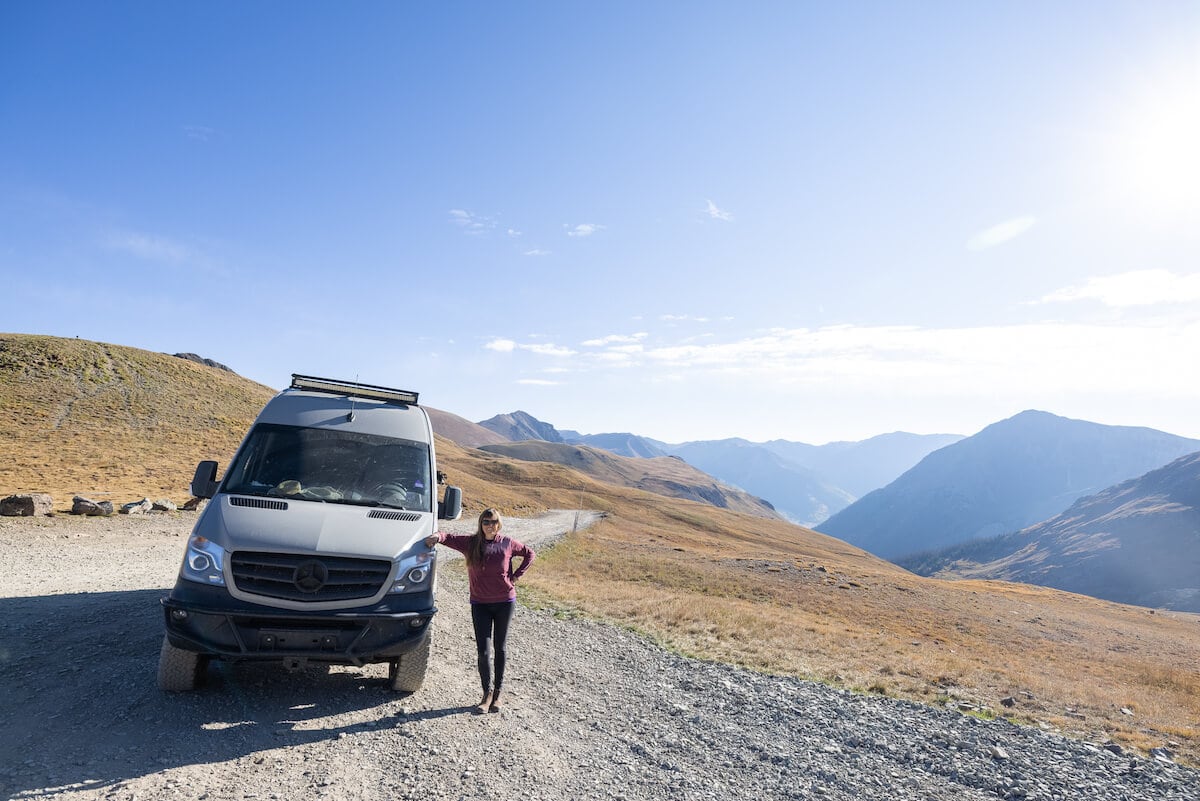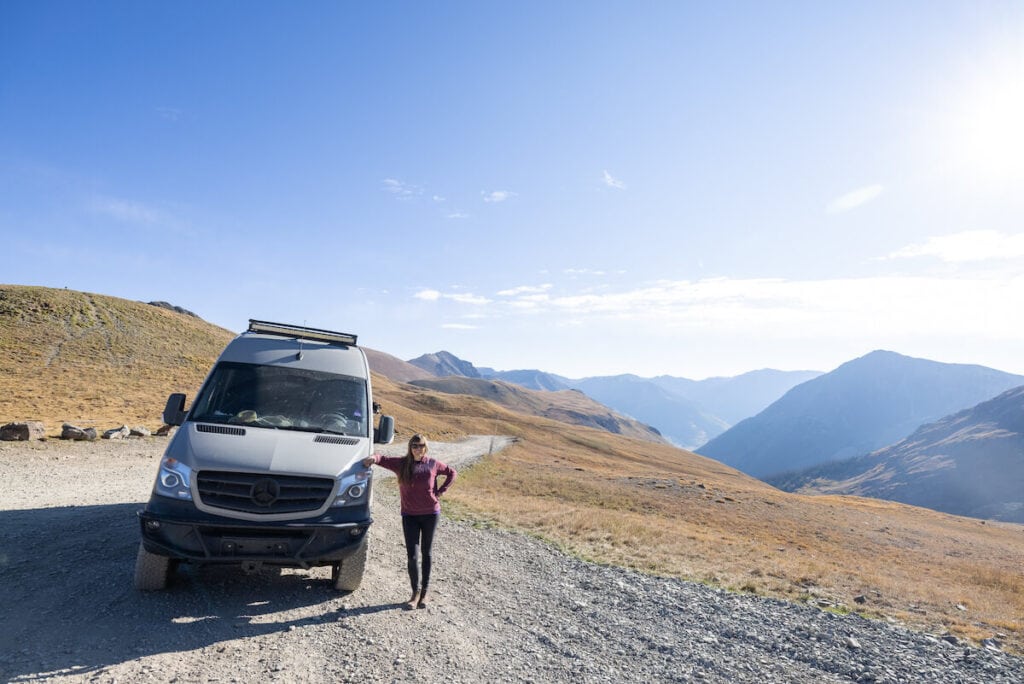 There's only been one time where we ran into an issue with our 170″ Sprinter and that was driving over Ophir Pass in Colorado. We encountered a section where that been a recent shale slide and there were deep ruts in the road. We tried to drive through them and couldn't get up and over the ruts. The road was too narrow to turn around, so we ended up having to back down the road several miles with a steep drop off on one side of the van. I'm not sure if a 144″ would have made it either, but a 144″ may have been able to turn around sooner.
I'll briefly mention that quality of your conversion also makes a difference in the off-road capability of your Sprinter Van. Using durable materials that can withstand the vibrations of dirt roads and having a low center of gravity will enhance your vehicle's off road performance. A well built 170″ Sprinter Van will be more off-road capable than a poorly built 144″ Sprinter Van. Upgraded suspension, which we have on our van, also makes a huge difference.
Bottom Line: If you know you want to rally your Sprinter to its limits, you'll have more wiggle room with the 144". But the 170" wheelbase with upgraded suspension and a solid interior will still take you far far away from civilization.
Gas Efficiency
If you're comparing empty vehicles, the 144″ will slightly outperform the 170″. However, once you load them up with weight and hang a bunch of stuff on the outside, your gas efficiency in either wheelbase will be affected.
In my first Sprinter Van, I had a beefy roof rack, a ladder on the side, and an big Aluminess bumper with a spare tire and box on the back. That van was also built with really heavy materials, such as tile, reclaimed barnwood etc. In that van I was averaging 12-14 mpg.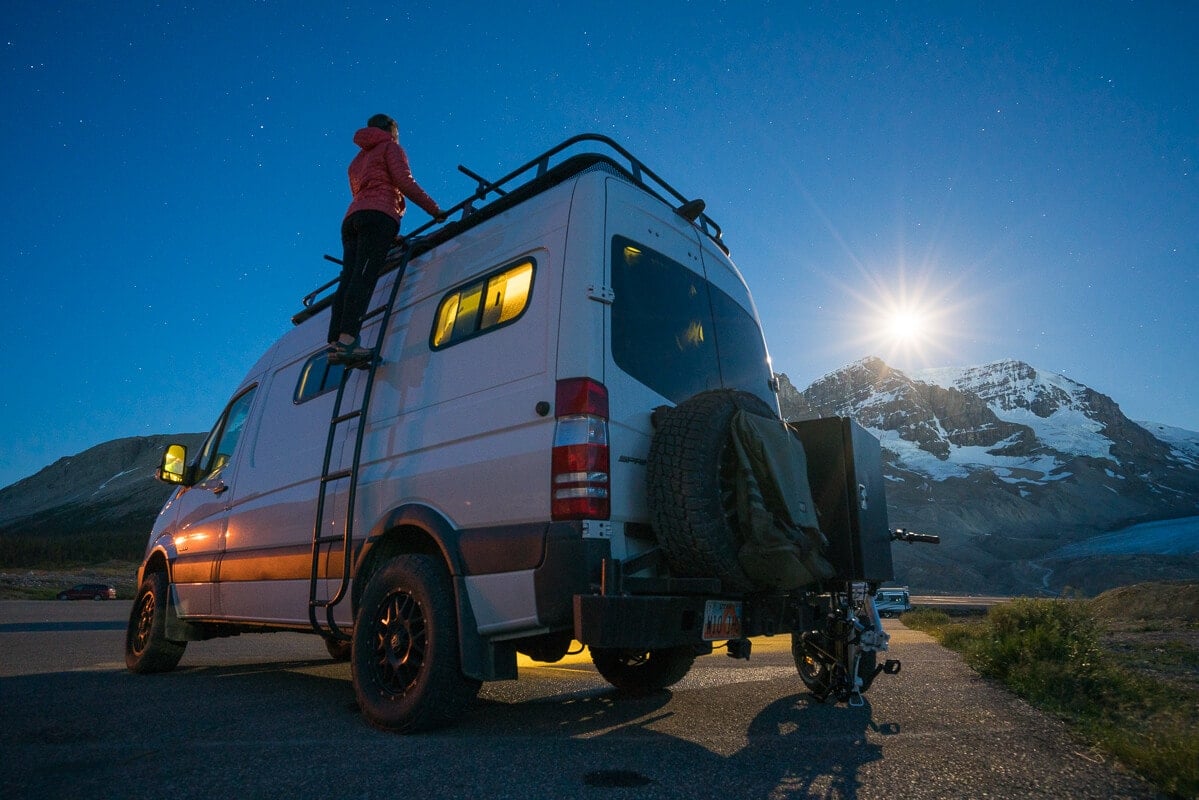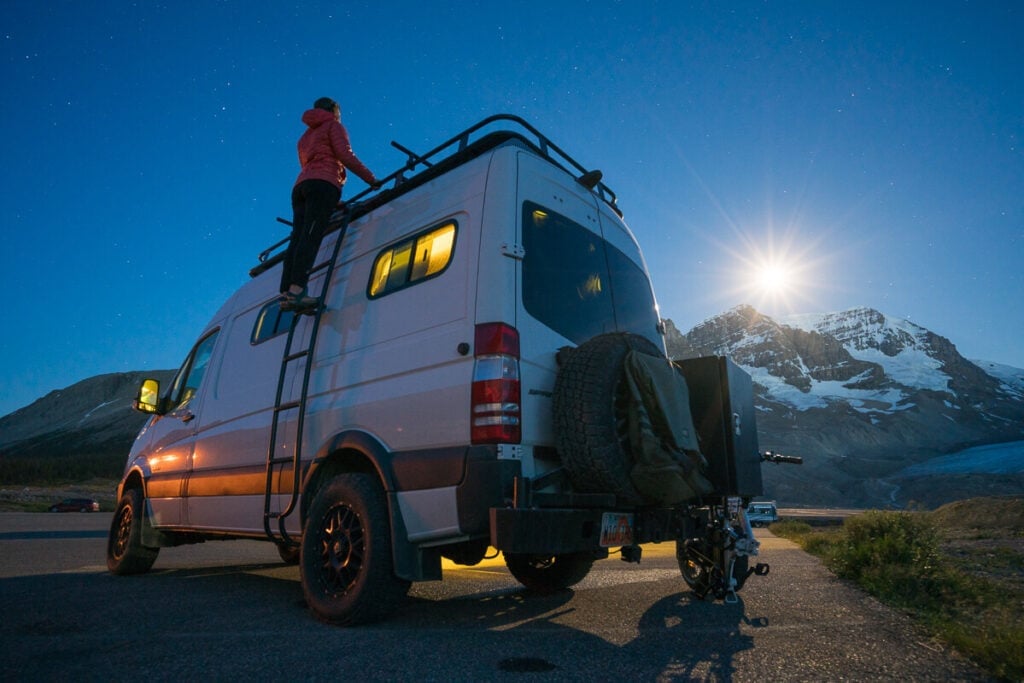 In my 170″ Sprinter I wanted to keep the build streamlined with everything inside the van. My roof rack is lower profile, and I don't have any extraneous accessories on the outside. Outside Van (my conversion company) also worked to keep my build as light as possible.I was surprised to find out that my 170″ actually got better gas mileage than my 144″, average 13-16 mpg.
Bottom Line: Gas efficiency between the 144″ vs 170″ Sprinter is pretty similar. Exterior accessories and overall weight play a bigger role than the differences between the wheelbases.
Full-time Living & Storage
The most obvious difference of the 144″ vs 170″ Sprinter Van is that the bigger the van, the more living space you will have. The key is figuring out what you want in your van before you decide on the wheelbase. If you know you want a bathroom, a permanent platform bed, and seating for 4, you're probably going to end up in the longer wheelbase. For tips on deciding on the right van layout, go here.
When I was in my 144" Sprinter, I traveled mostly solo, and for that it was perfect. I also didn't have a bunch of bulky gear.
When I decided to upgrade to the 170″ wheelbase, I knew I would be living with my partner Ryan, our dog(s), two mountain bikes, and a bunch of other gear. I also knew I wanted a permanent bed vs one that converted from a dinette or a couch, like in my first van. As I sketched up floor plans, I couldn't figure out how to make a permanent bed, a convenient workspace (which was a top priority), a decent-sized galley, and all of our gear fit in a 144" Sprinter.
Something would have to give if I decided to stick with a 144″ Sprinter. My workspace would have to double as the bed. Or the galley would be miniature. Or we'd have to leave the bikes at home.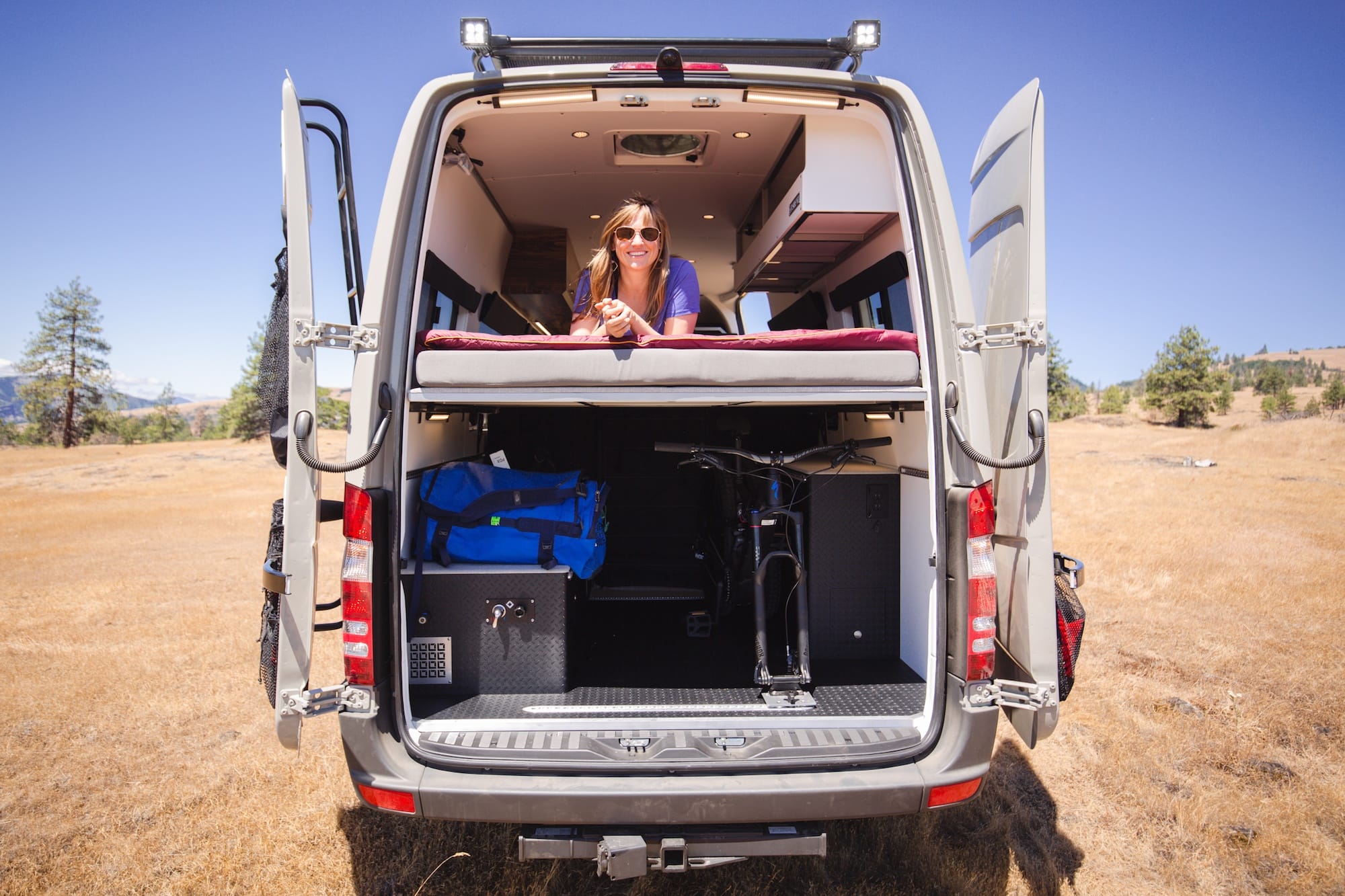 Working with Jeff at Outside Van, I came up with my ideal layout and a 170" it would have to be. You can take a full tour of my second 170″ Sprinter here. I can't tell you how stoked I've been with that decision to go bigger. With the extra room Ryan, Charlie (and now Gumbo!), and I have been able to live in the van full time while maintaining our sanity.
With those few extra feet, we've been able to live fairly clutter-free. We also don't have to move ten different things to the front seat every night or shuffle our stuff around to get to whatever we are looking for.
The extra space has also allowed me to have a permanent table to work on with all of my computer stuff stored right below. An efficient workspace is key when you are working with limited wi-fi and prefer not to spend your time poaching internet in towns and at McDonald's.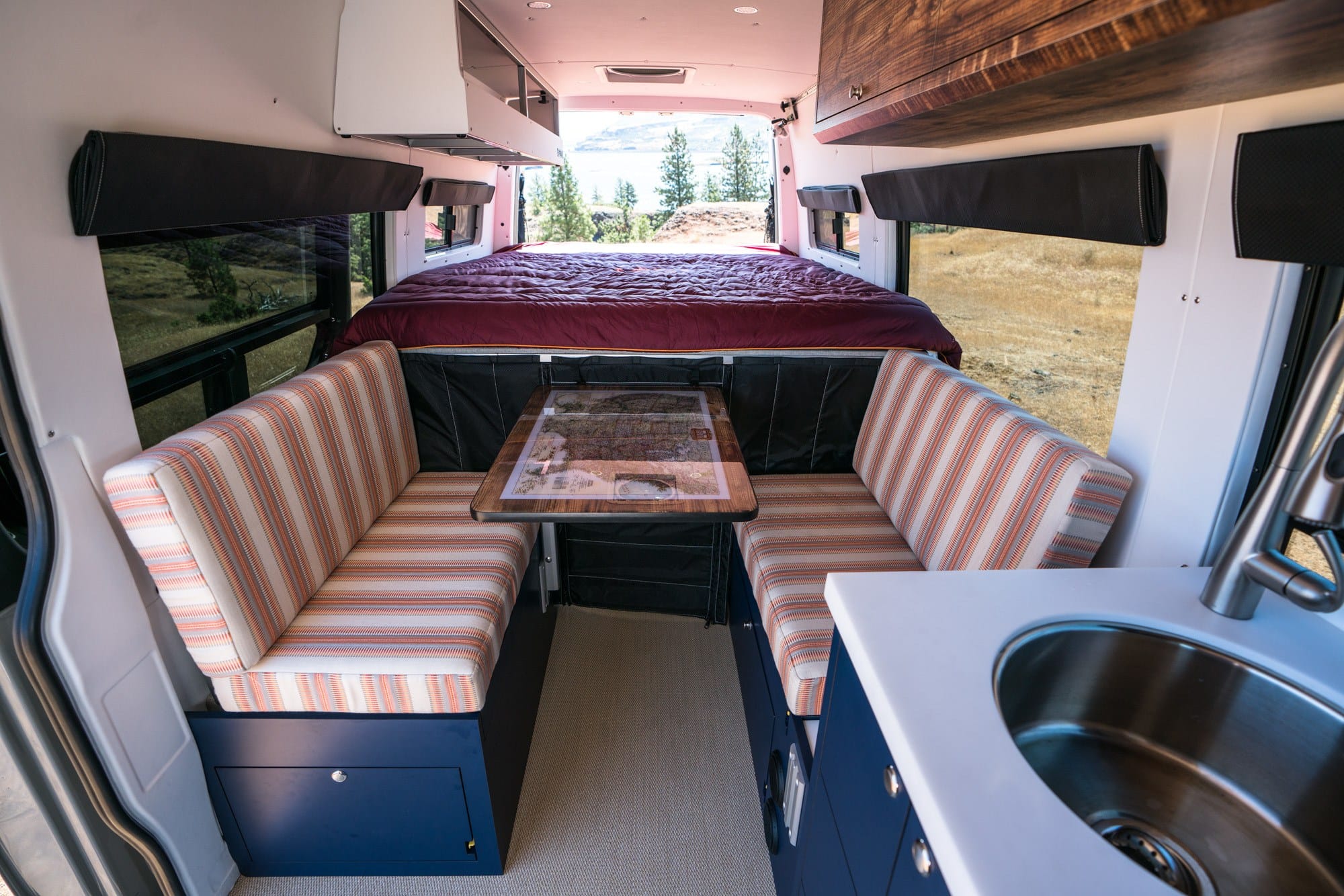 Now if I didn't have to work on the road or we weren't planning to travel for extended periods of time? I think we could have made the 144" wheelbase work, although I'm sure that van would still have been packed to the gills.
One other thing to keep in mind is the 144″ has a larger payload than the 170″ (when comparing the 2500 models). For 2022, the 144″ 4×4 Sprinter has a payload of 3,726 pounds, while the 170″ 4×4 Sprinter has a payload of 3,395 pounds. That means even though you have less space in the 144″, you can load it up with a few hundred more pounds.
Bottom Line: Think of how you will use the van. If you plan to take short weekend trips and are happy with a minimal build, the 144″ may suit you fine. If you plan to live in the van full-time or go on extended trips, have a bigger family (kids or pets), and simply want to spread out, the 170″ wheelbase or the 170″ ext is a great choice.
Van Life Essentials Packing List
Below are a few of my favorite pieces of van life gear and recommendations for the road:
---
If you are trying to decide between a 144″ vs 170" Sprinter Van, I hope this blog post and my experience helps you weigh your options. For more inspiration for your build, check out all of my Sprinter Van content here.
What other questions do you have about the 144″ vs 170″ Sprinter van? Which wheelbase size are you thinking or did you go with, and what has been your experience? Let us know in the comments!