Van Life Amenities: Finding Showers, Dump Stations, & Places to Fill Water
Learn how to find essential van life amenities such as where to fill water, and how to find dump stations and showers.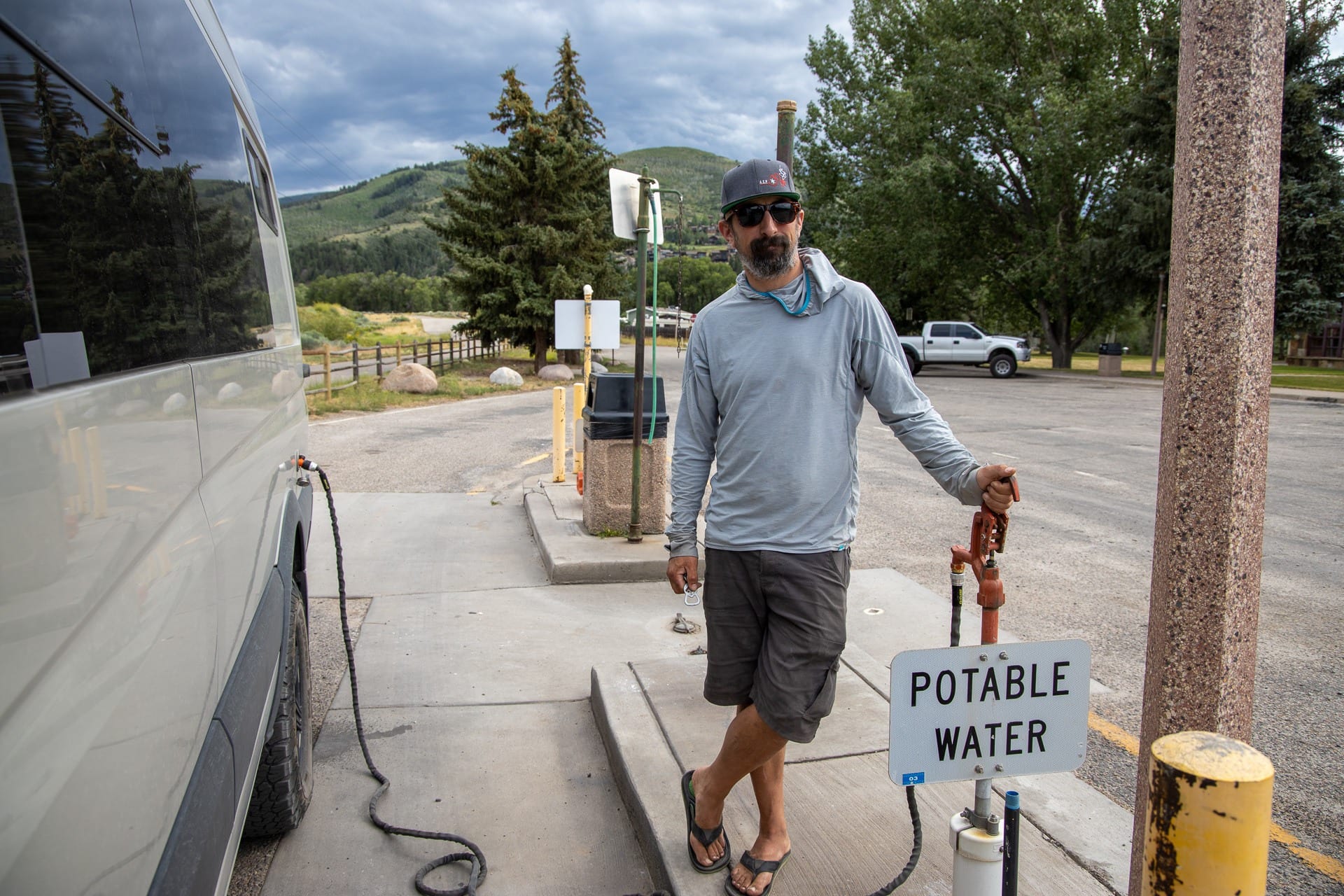 Two of the biggest considerations you'll need to keep in mind when living in a van are where to find fresh water and how to locate dump stations (if you have a toilet). Showers are also an important van life amenity that you'll need to seek out if you don't have a shower in your van.
In this blog post, I cover how to find all of the above and give you tips and resources for locating these important van life amenities while on the road.
How To Find Water Refill & Dump Stations
All Stays Camp and RV App
My favorite app for finding places to refill water and dump stations is All Stays Camp and RV, which I mentioned in the blog post about finding free campsites. At $9.99 it's one of the more expensive apps I recommend, but it's kind of a one-stop-shop for most amenities you'll need.
In this app, you can filter down to search for "water" and "dump stations" and it will show you nearby gas stations, campgrounds, and municipal facilities where you can fill up water and/or empty your portable toilet. It's a very handy feature that often includes price, and it's pretty much the only thing I use to find safe places to fill up my water.
If you're looking for a free app to find water refill and dump stations, iOverlander is a great option, although it's not quite as comprehensive for finding these amenities as All Stays.
>> Read Next: 15 Must-Have Apps for Van Life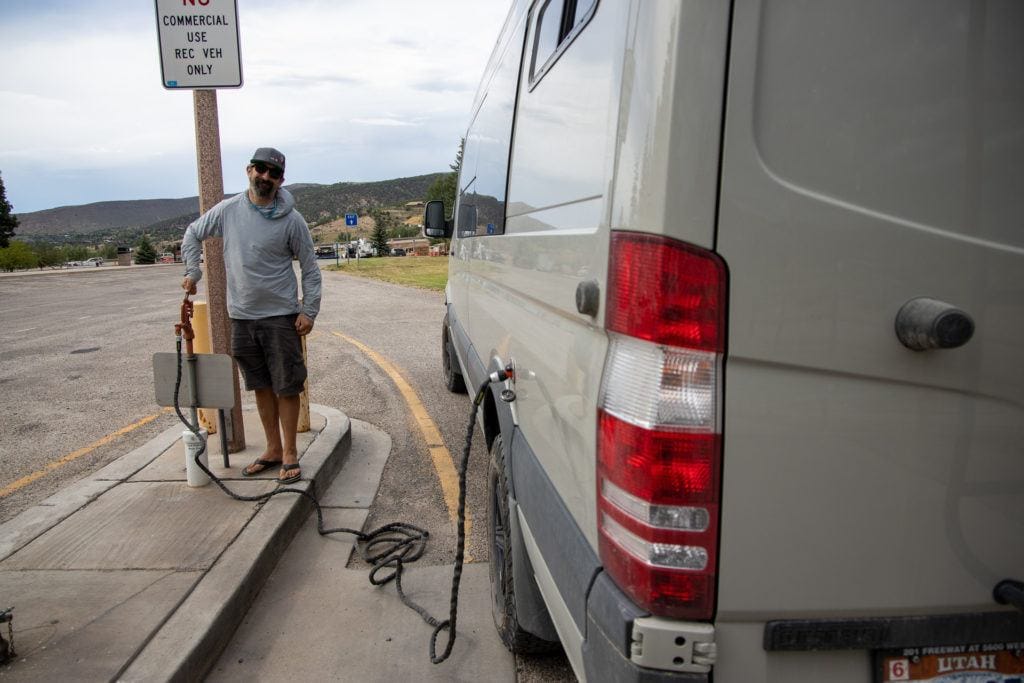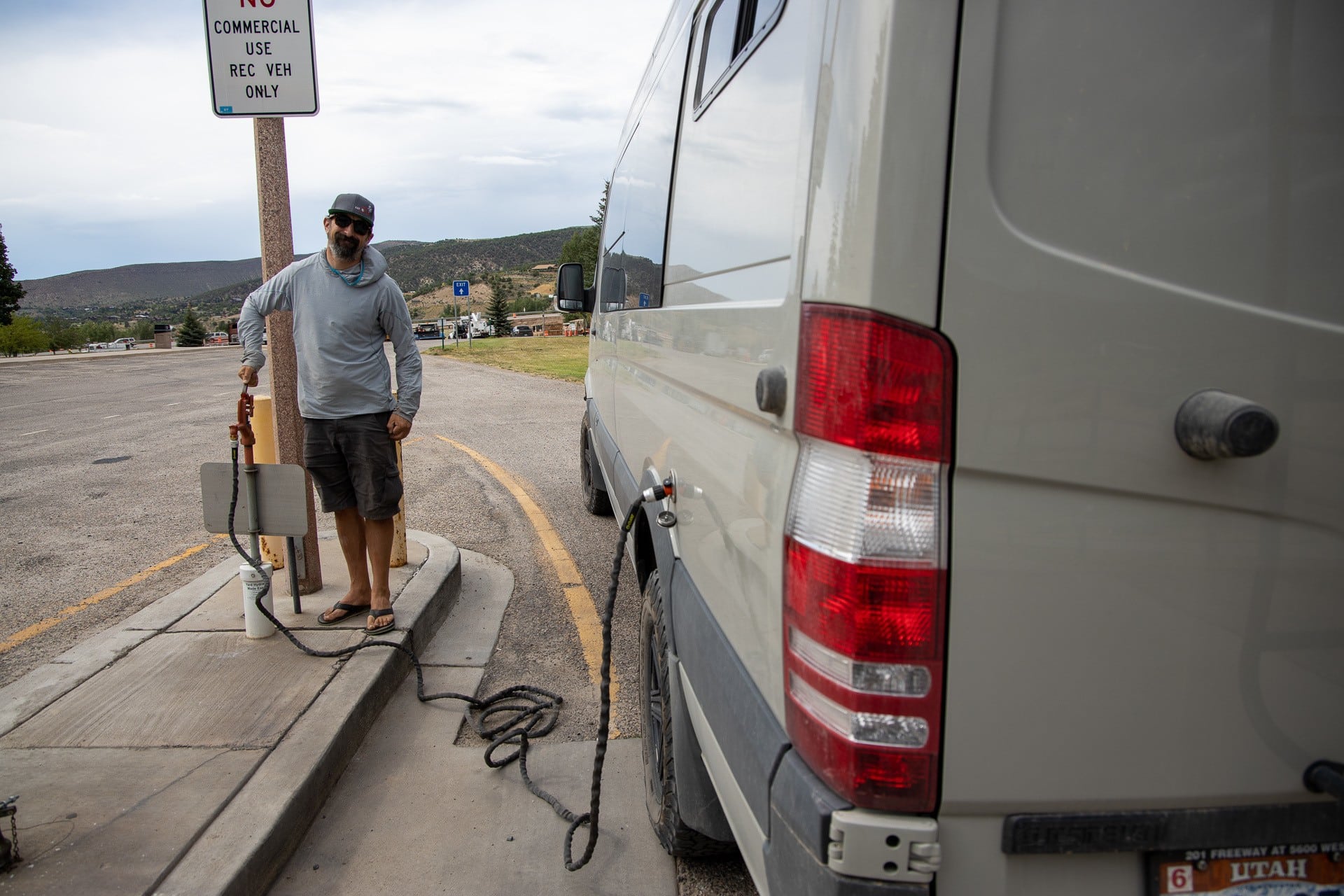 Campgrounds and RV Parks
Whenever we are at a paid campground with water, we always refill our tanks, even if we are half full. If we are paying for the site, we might as well use all of the amenities while we are there. Keep in mind that you'll typically need your own hose and adapter, so those are two things you'll want to carry with you in your van. Some campgrounds will allow you to use their dump station and water refill (for a fee) even if you don't stay overnight.
If you don't have a filter hooked up in your van (this is what I use), I recommend that you at least use an inline filter on your hose when you are filling your tanks, just as an extra safety precaution to ensure you're getting clean water. Pipes can be old and you want to ensure you're drinking clean water!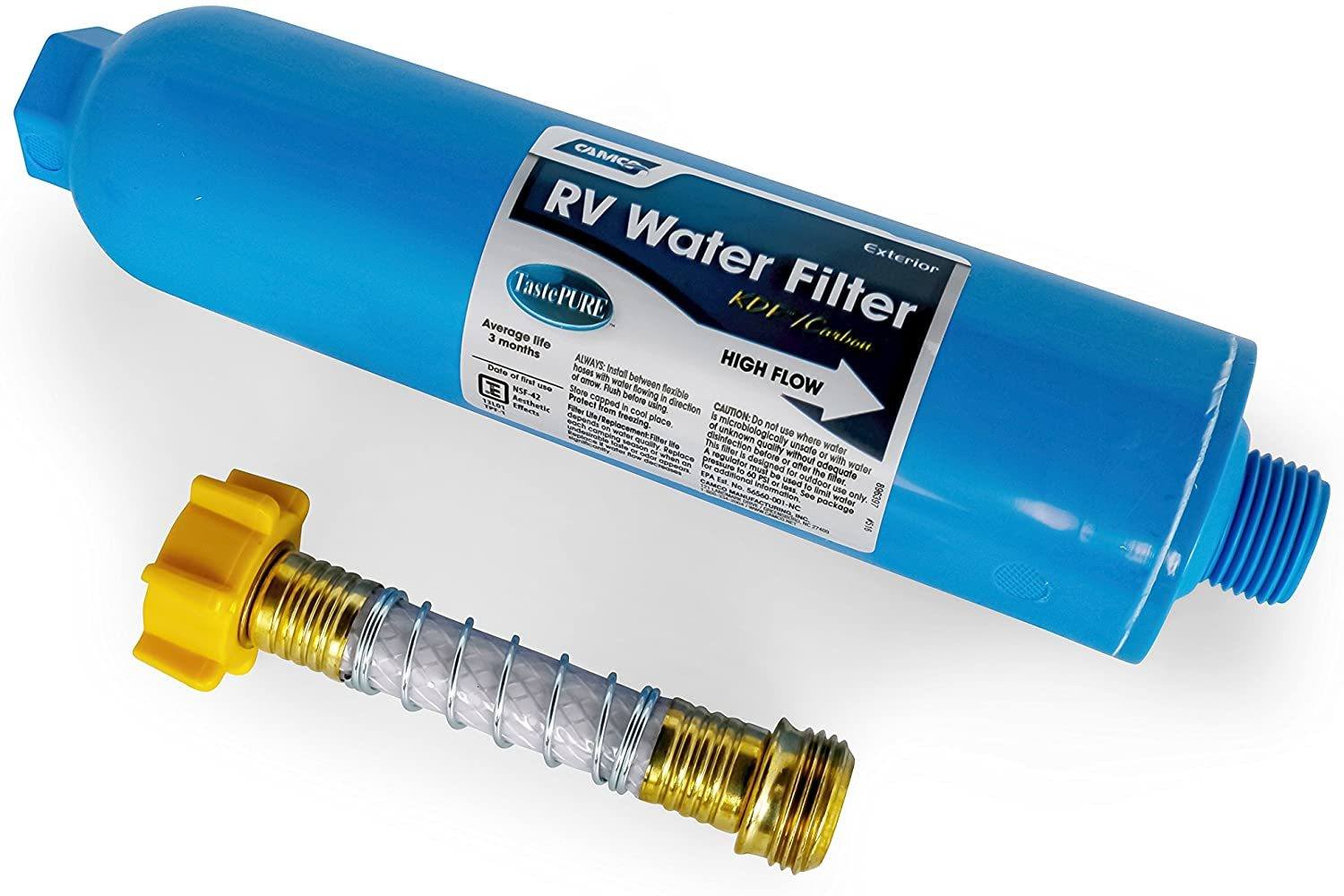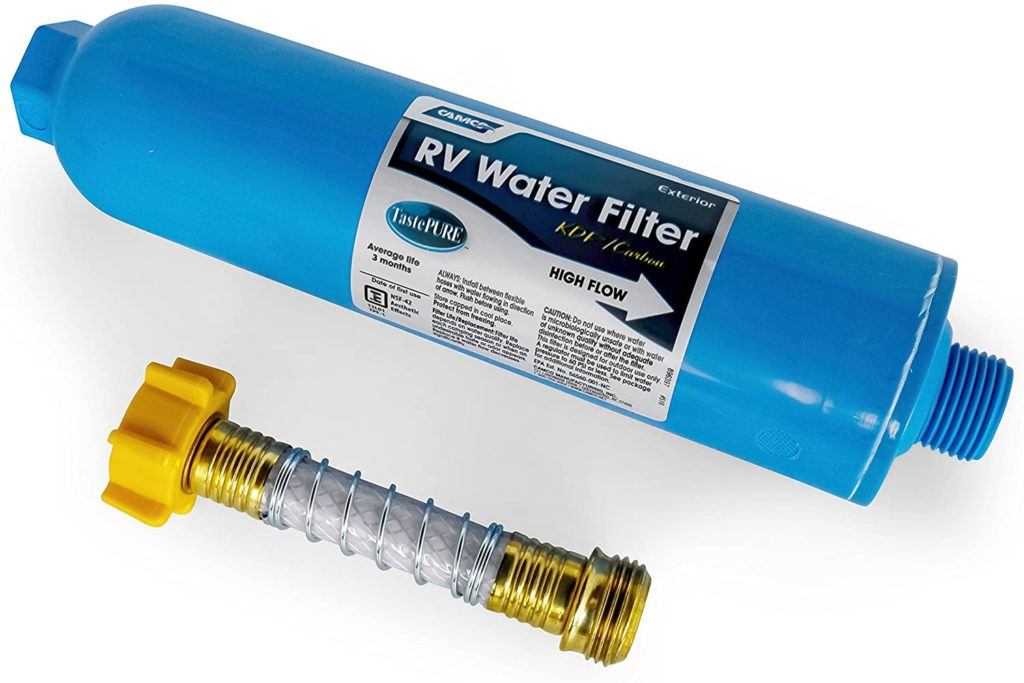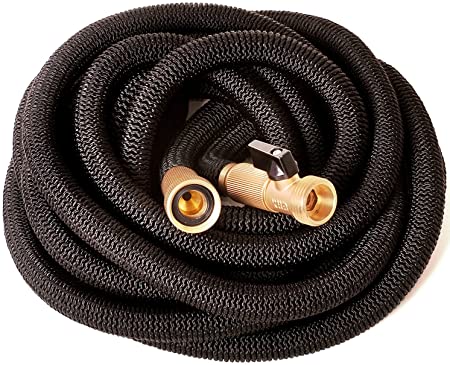 Grocery Stores, Gas Stations, or Public Parks
If you are using 5-gallon jugs vs. a permanent tank in your van, you have some additional options. A lot of grocery stores have purified water vending machines where you can refill large bottles and 5-gallon jugs of water. In the Southwest, you'll even find standalone water stations on street corners for an easy fill up. Purified water machines cost anywhere between $.25-$.50 per gallon.
You can also fill up your water tanks at National Parks, State Parks, local parks, gas stations, friends and family's houses… basically anywhere you see a spigot. You do want to be careful and make sure the water is potable, though.
If you have a good backpacking water filter, you can also filter water for your tank or jugs from lakes and streams, although this is a time-consuming option that we'd only recommend in case of emergency.
---
How To Find Showers On The Road
For many van lifers (myself included), having a shower inside the van is not worth the space it takes up and the hassle of carrying extra water. Luckily, showers are pretty easy to find on the road. Here are a few common ways to find showers while traveling in the van:
Campgrounds
Many campgrounds have showers. Once in a while, I will pay for a campsite if it means I can have a hot shower to boot. I often use the app The Dyrt which makes finding campsites with showers easy.
#1 campsite finder app
Try The Dyrt PRO free for 30 days
Get a FREE 30-Day membership to The Dyrt PRO, one of our favorite apps for finding campsites.
Perks include:
• 5,000+ free camping locations
• 1,000+ campground discount network
• $0 extra booking fees
• Get reservations at sold-out campgrounds, and more
Use the code BEARFOOT to get 30 days free!
Recreation Centers & Aquatic Centers
The next places I look for showers are community recreation and aquatic centers. Almost every town (even small ones!) has one, and the good thing about these is your shower isn't timed like they often are at campgrounds. At many rec centers, you pay a flat fee (sometimes as low as $2!) and you can shower for as long as you want. You also usually get access to the entire facility, so you can sit in the hot tub or steam room while you're there, which are bonus van life amenities!
At rec centers, I've found that the women's facilities usually provide individual shower stalls, but sometimes the men's facilities are one big shower room. If you prefer privacy, ask if they have any private shower rooms.
Gyms
If you will be spending a lot of time in cities, then you might consider a gym membership. Planet Fitness, Anytime Fitness, and 24-Hour Fitness are three nationwide gym chains that offer monthly memberships for a reasonable price that are popular among van lifers.
For example, at Planet Fitness for $22 a month you can have unlimited access to all of their gyms for you and a guest. This price (and free guest pass) makes it a very popular and economic choice for van lifers, especially those traveling with a partner.
YMCA is another option to look at for finding showers on the road – although they don't offer monthly nationwide memberships, certain locations have day passes available (typically $5-$10). Some of these gyms are also open 24 hours a day, so many van lifers report being able to park overnight at these gyms without being hassled. Of course, most of the gyms are in big cities, so if you don't plan to be in cities, then a monthly gym membership might not be worth it.
Another option that you might consider is Class Pass. It's a little more expensive than the previously mentioned gyms, but you get access to a larger variety of individually owned yoga studios, gyms, CrossFit studios, cycling studios, and more and you can search by locations that have showers.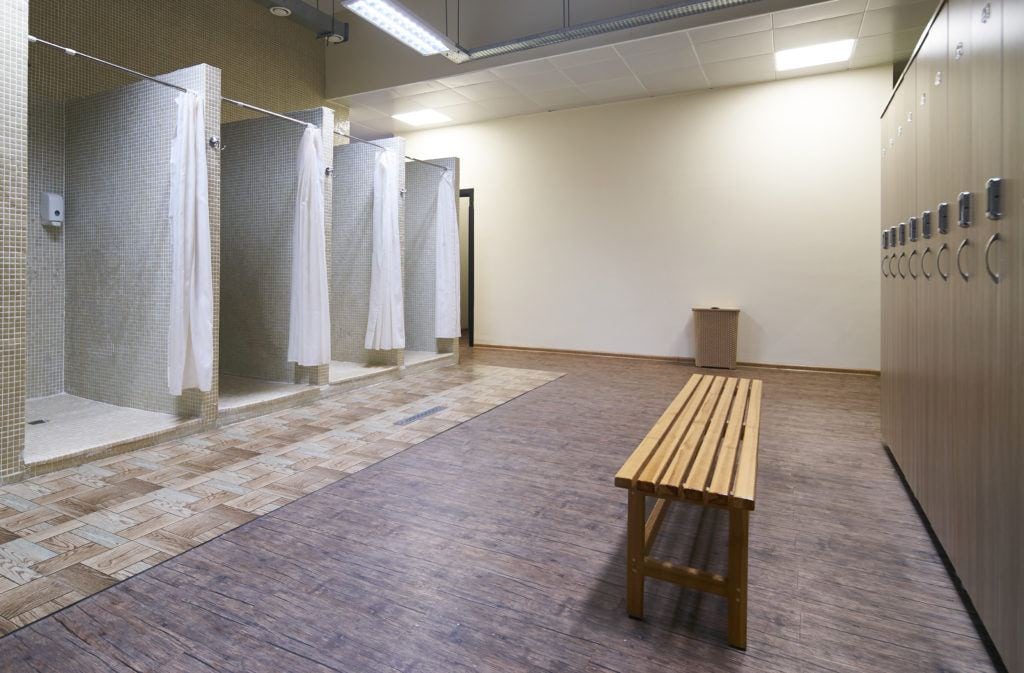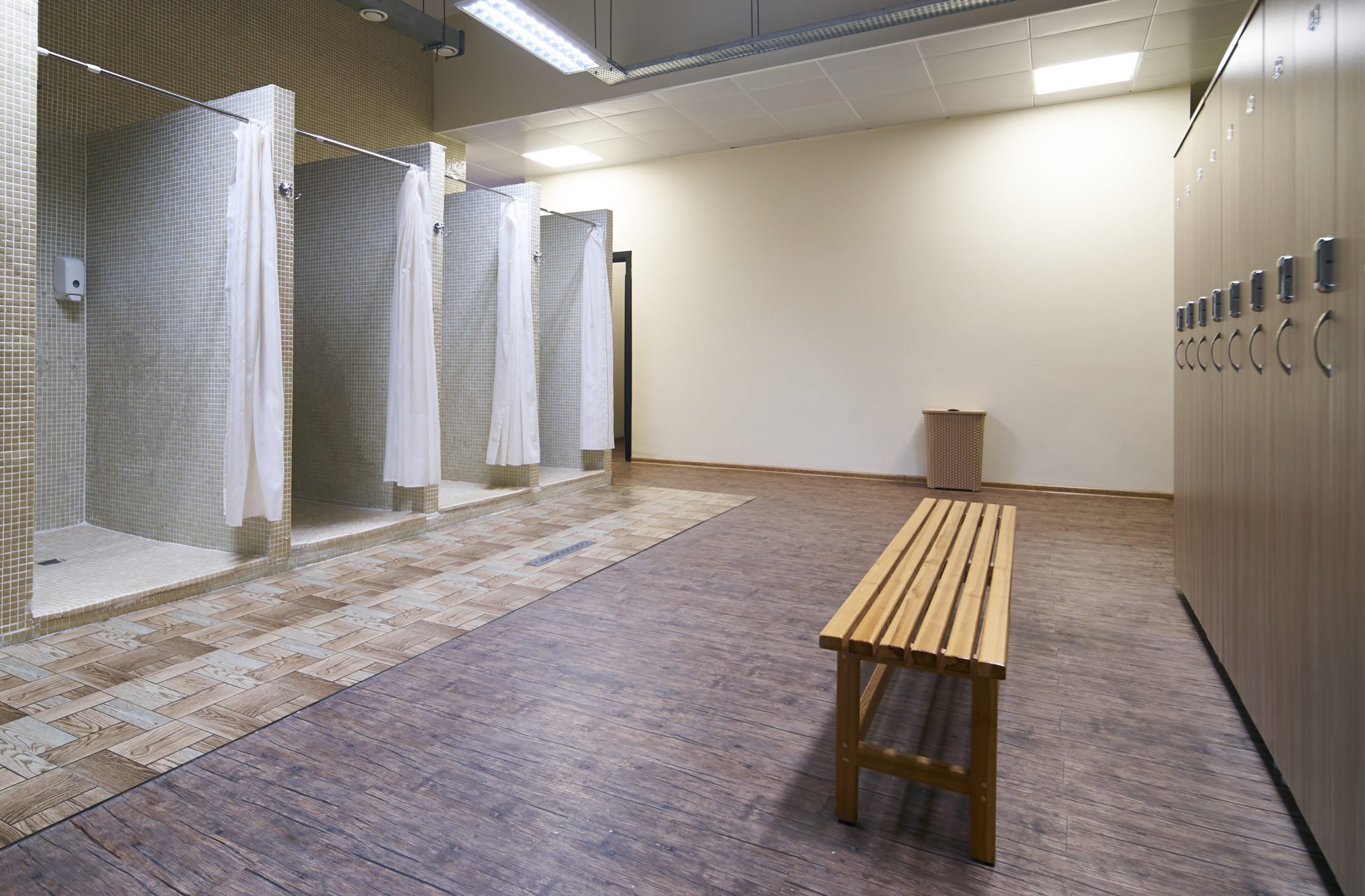 Truck Stops
Truck stops are a shower option we'll use in a pinch – large chains like Love's, Flying J, and Pilot all have private, clean showers that are actually quite large (and they provide free towels). Truck stop showers typically cost between $12-$20 which is why they're not our go-to on the road, but it's always an option if there's nothing else in the area.
---
Tips for Showering in Public Spaces
When using public showers, know that the cleanliness can vary. Below are a few tips for staying clean and healthy when showering in public spaces.
Always, always, always wear sandals in public showers.
Use a towel wrap or robe – this makes walking around the changing area (if you're at a gym or space with a communal "get ready" area) much easier than a regular bath towel.
Strip down into the minimal amount of clothes and belongings before heading to the shower. Often the floor is soaked, so you want the clothes you're going to put on to be as easy as possible.
Carry your shampoo, conditioner, razor, and soap to the shower in a hanging toiletries case. That way they're all in one place and it's easy to stay organized.
Leave the rest of your toiletries, like face and body lotion, in the van and take care of those routines once you're back in the privacy of your home.
For coin-operated showers on a timer, have everything in place and be ready to go before inserting your coins. You may even want to consider starting a timer on your phone to keep track of how long you've been in there. Nothing is worse than soaping up your face followed by the water running out.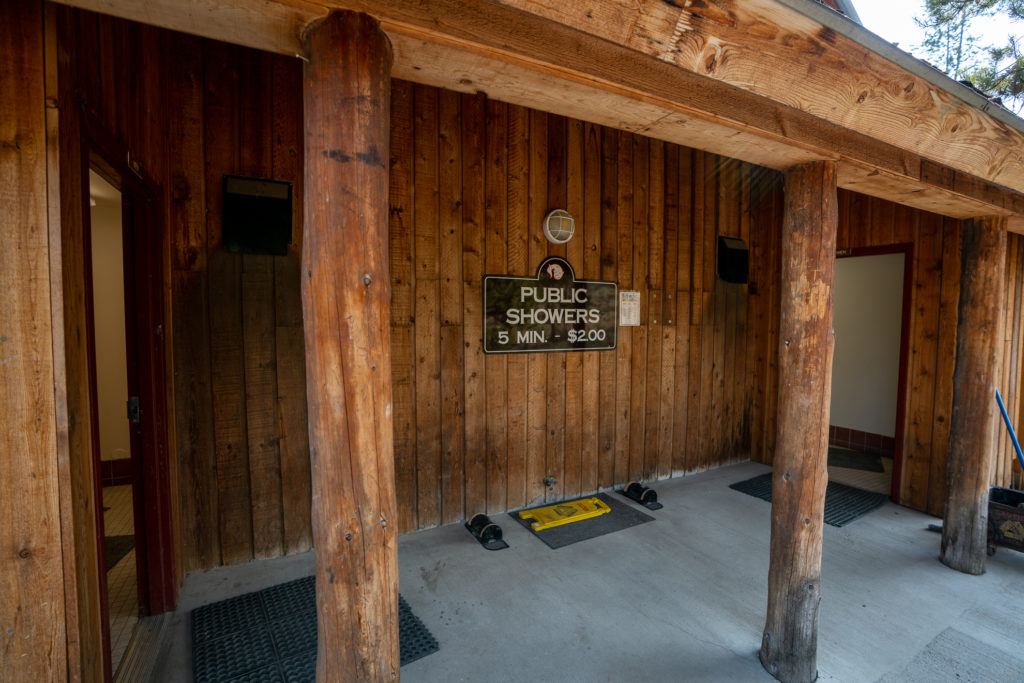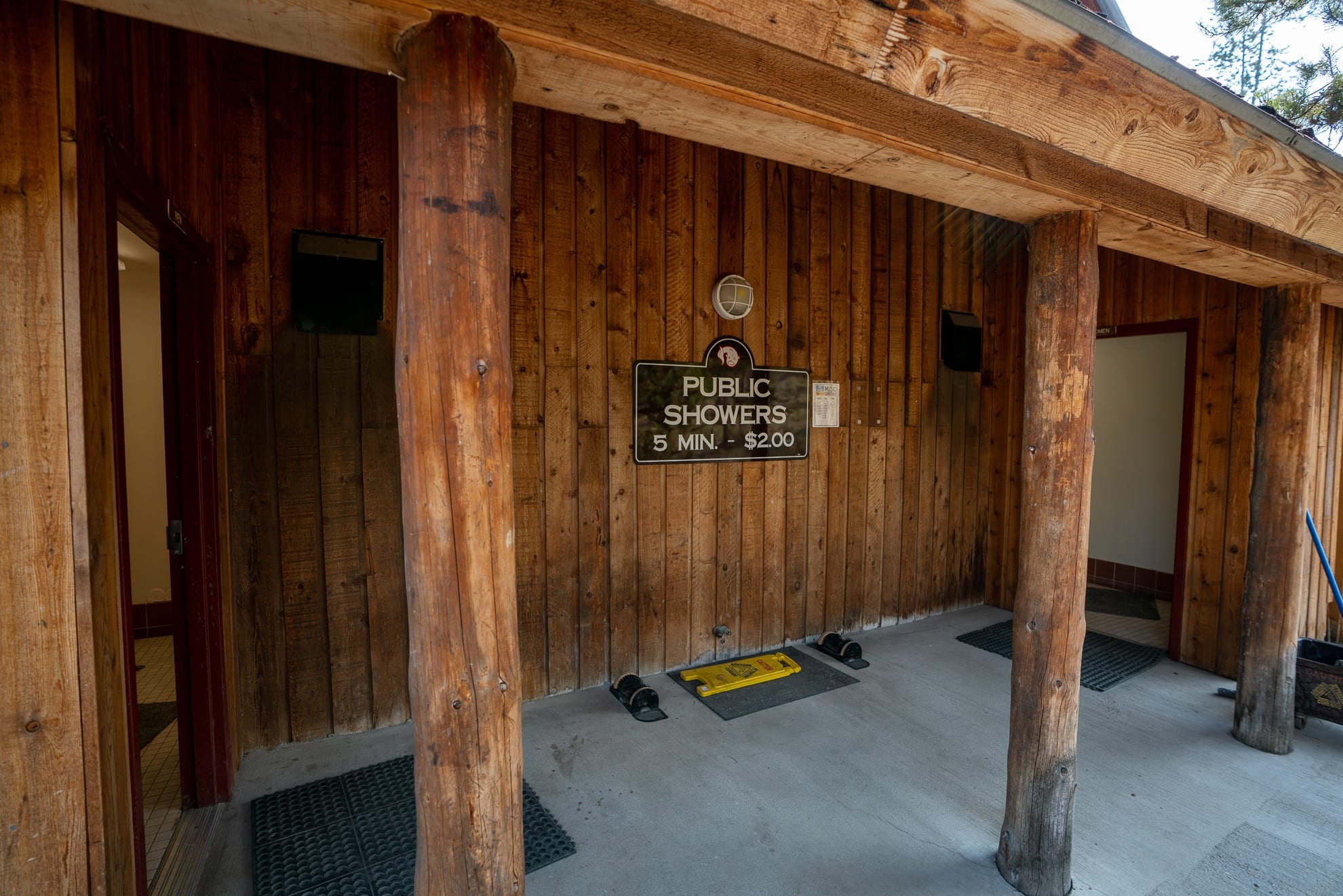 ---
Do You Need To Shower Every Day?
When you live in a van, your habits change. For my partner and I, we no longer go out to fancy dinners, and we aren't putting on work attire every day. Most of our daily interactions are with people who also like spending time outside, and if we can't wear our hiking clothes, you probably won't find us there. Of course, we still like to feel clean, but a little dirt when you're on the road isn't the same as showing up smelly to work, happy hour, or the new hip bar in town.
Most people use a shower to wake up in the morning for work. When you're on the road, you go to bed earlier and wake up more naturally with the sun, so maybe a shower isn't a necessity for your daily routine.
Also, my bet is your body will adapt. For me, when I used to shower every day, my hair got greasy fast. Now that I only shampoo my hair 1-2 times a week, my hair isn't nearly as greasy in between washes as it used to be. I also find that my body doesn't stink as much, as surprising as that may sound.
So, cutting back on how frequently you shower doesn't mean that your personal hygiene has to suffer.
Tips for Staying Clean Without Showering Every Day
For you women out there, my #1 tip is never, ever pee without wiping. Failing to wipe when you pee is your quickest ticket to needing a shower.
Second, you can always use your sink or a bucket and a washcloth or body wipes to clean yourself. We like to keep a pack of all-natural body wipes under our sink, and I use one whenever I think I need a refresh.
For your hair, brush it regularly and keep it pulled back or in a braid to avoid tangles. Use dry shampoo for a refresh between washes. A hat also goes a long way in concealing dirty hair and protecting your face from the sun at the same time.
Take advantage of river and lake dips! While it is never OK to bathe in these water sources (even with biodegradable soap), you'll still come out feeling fresher after a plunge. If you do want to use soap, follow Leave No Trace guidelines and take a bucket to rinse yourself at least 200ft (about 70 big steps) away from the water source.
Related Blog Posts:
Do you have a favorite app or tip for finding van life amenities like water, dump stations, and showers on the road? Share your questions, tips, and experiences down in the comments and make sure to sign up for our van life newsletter.