DIY Van Build vs Hiring a Camper Van Conversion Company
If you're debating on a DIY van build vs hiring a campervan conversion company to build out your van for van life, here are considerations and helpful tips.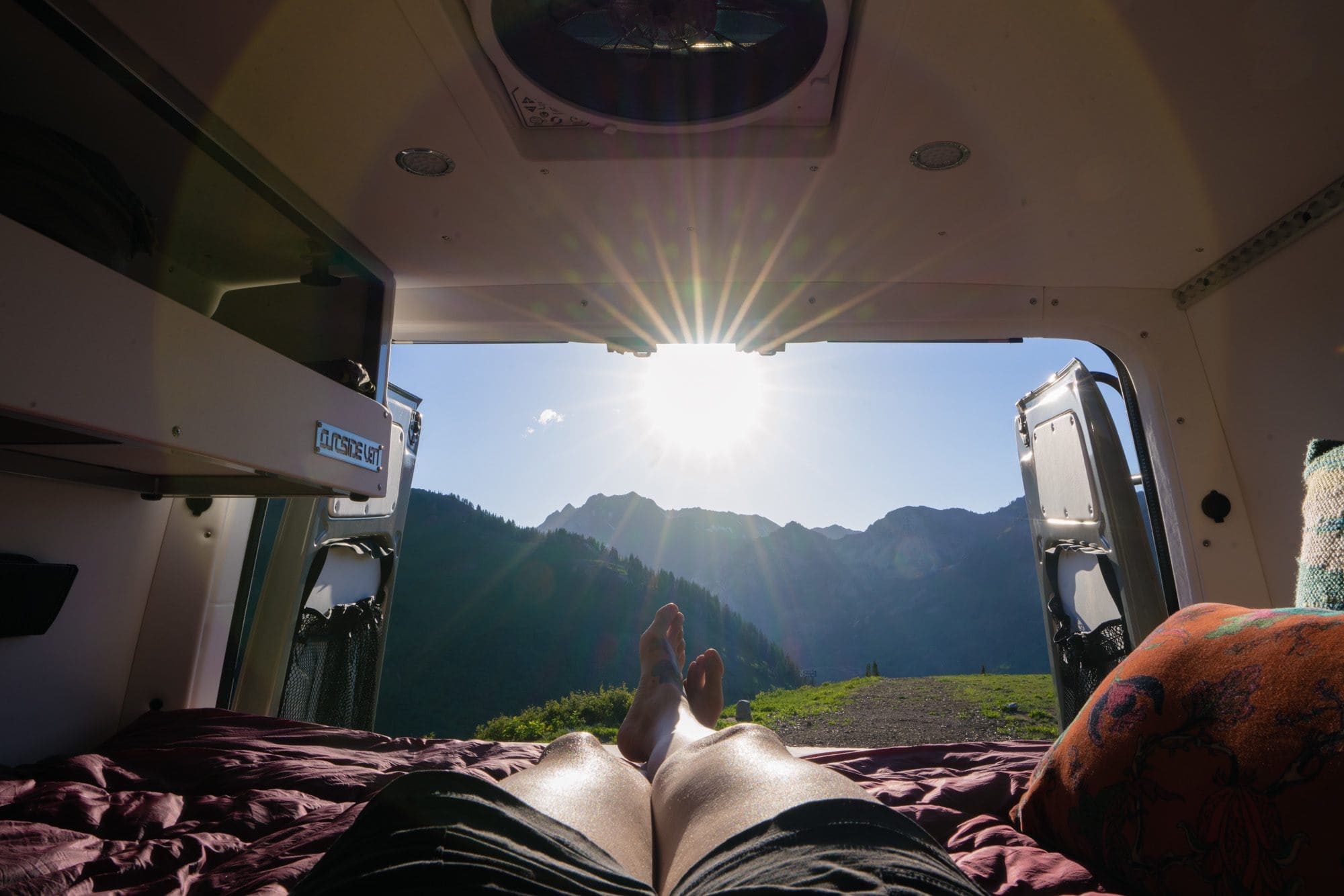 Are you leaning toward a DIY van build or are you thinking about hiring a camper van conversion company to do it for you? In this blog post, we'll discuss some considerations as well as the pros and cons of each to help you decide what's right for you.
No matter which route you take, remember that designing your van shouldn't be a rushed process. Once it's built, it'll be difficult and likely costly to make changes. I've worked with two different companies on three different custom van conversions, and each took nearly a year from ordering a new 4×4 Sprinter to having it converted and ready for the road. If you don't have the patience for this, then buying an already converted, ready-to-go van (which we discuss below as well) might be your best route.
Let's discuss some considerations for a DIY van build vs hiring a camper van conversion company.
DIY Van Conversion
If you have experience building stuff, you have time, or you simply think that building out a van would be a fun and enjoyable process, going DIY can save you a lot of money. It also gives you the flexibility to change your conversion after the fact if there is something about your build you really don't like.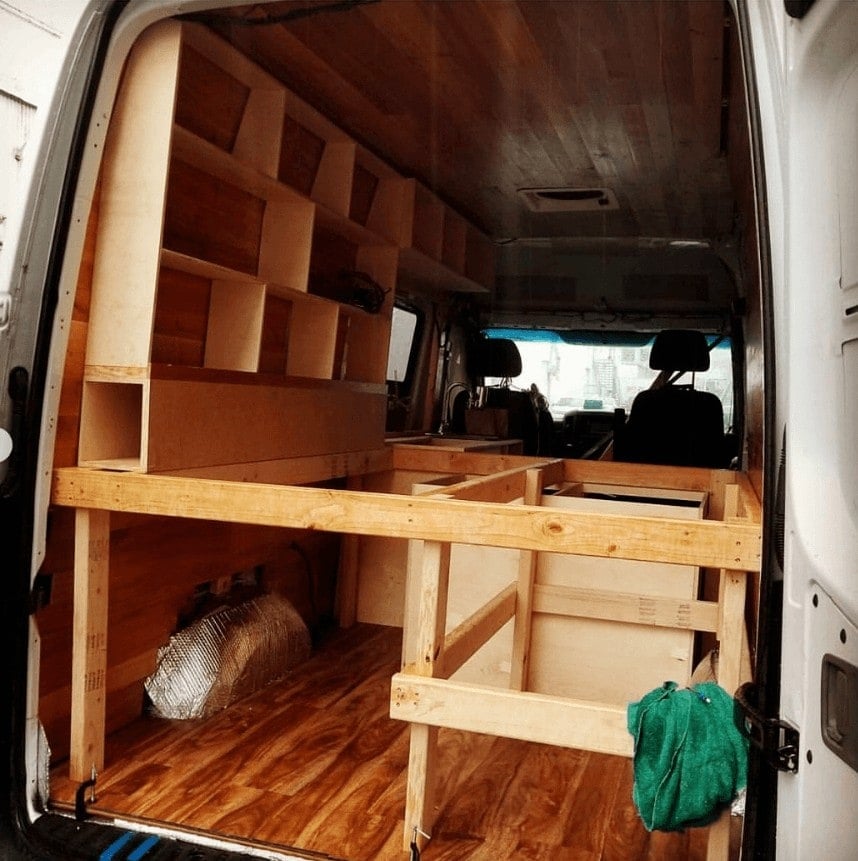 Things to keep in mind when planning to do a DIY van conversion:
You'll need a place to store the van and your tools as you work on it.
Set aside more time than you think you need and have wiggle room in your budget.
You'll want to plan to get a bulk of the work done when the weather is good so you can comfortably be outside unless you have a large garage or other covered space to work in.
YouTube is a great resource for all things DIY, as is the Sprinter Source Forum.
DIY Van Build Pros
You can spend as much or as little money as you want.
It can be a fun, bonding experience for all involved.
Your van build will be unique and one of a kind.
You can more easily change parts of the build later.
You'll be more familiar with how everything works and will be able to repair things on your own easier.
DIY Van Build Cons
It's more difficult to get RV insurance with a DIY build.
It's not a fast process so that's something to consider if you want to hit the road within a certain time.
The resale value is not as high as professional conversions.
It can be a frustrating experience if you don't know what you're doing.
Since this is not a full-blown DIY van build course, I'll share a few links in the resources section at the end of this lesson that will be helpful to those of you considering DIY.
Hiring a Van Conversion Company
Now, let's talk about working with a conversion company.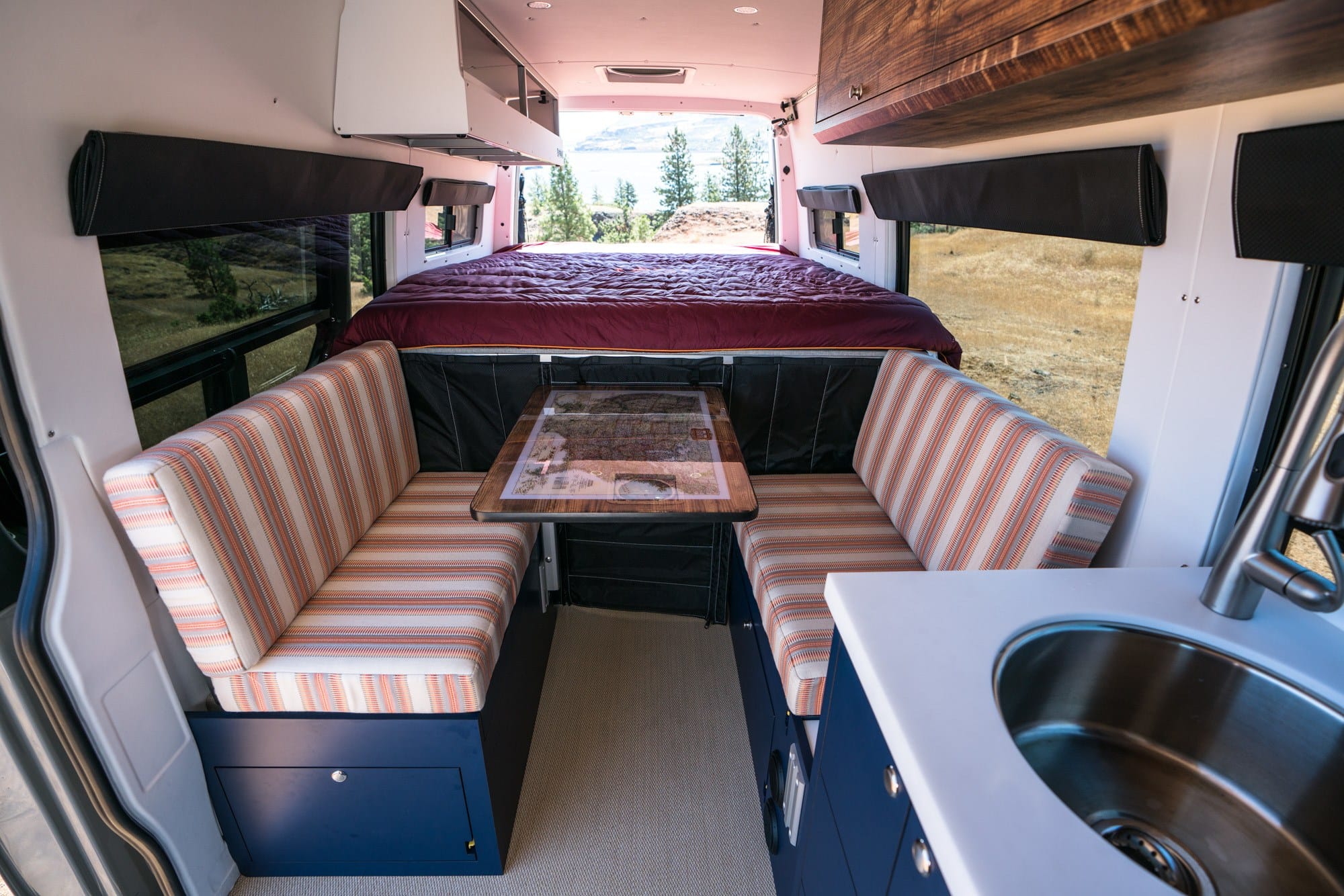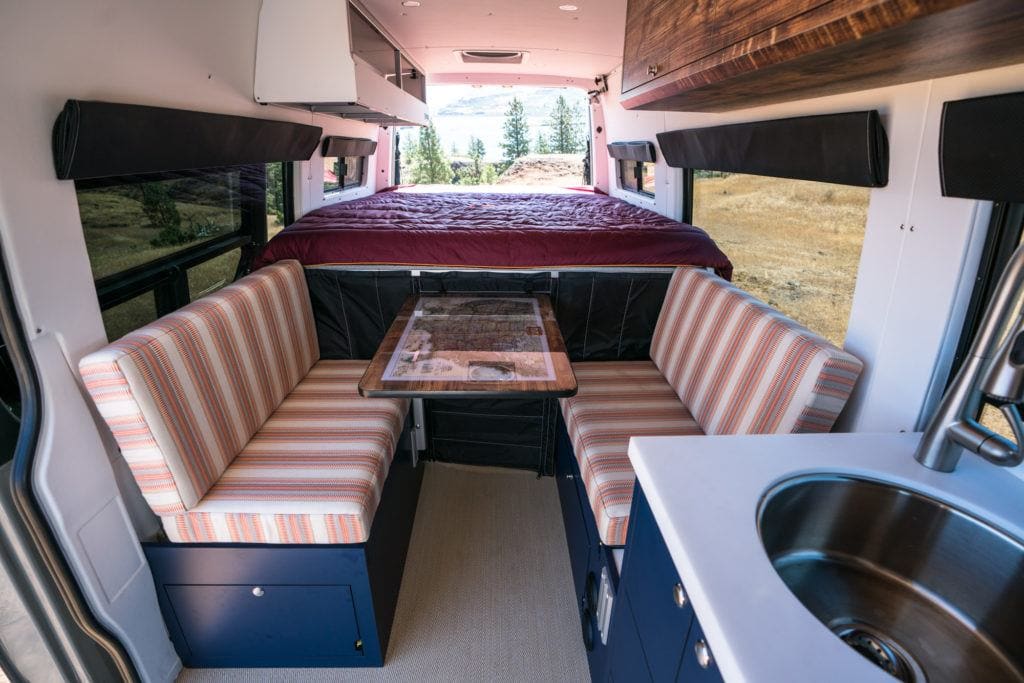 When I was in this process with my first van, I lived in an apartment with no garage/driveaway or tools, nor do I consider myself a handy person. I knew that doing a DIY job would be frustrating, take forever, and probably end up being rather expensive due to mistakes made along the way and all of the new tools I'd have to acquire. I was also working 60+ hours a week trying to grow my blog into a sustainable business, so I decided that building a DIY van was not a good use of my time or resources. For these reasons, I decided to hire a professional conversion company for both of the Sprinter Vans I've owned.
The downside of hiring a professional is the upfront investment. Going with a builder is simply going to be more expensive. Second, if you decide you don't like something about your conversion, you're not going to want to rip it out and change it, like you could if you DIYed. Finally, there are a lot of inexperienced van builders popping up all over the place who are charging top dollar for van conversions they don't even know will last. If you don't do your homework, you could be overpaying and end up with a low-quality product.
Hiring a Van Conversion Company Pros
It's easier to get RV insurance.
You're more likely to have a professional grade job done.
Professional van builds hold their value better than DIY vans.
You'll have more time for other things like family and work.
Hiring a Van Conversion Company Cons
It's more expensive.
It's harder to change something you don't like after the conversion is done.
You likely won't be as familiar with how everything is set up, so you'll likely have to pay to have things fixed rather than being able to do it yourself.
If you're thinking about hiring a conversion company to build out your van, be sure to read our tips for screening a van conversion company so you don't make some of the mistakes I made when I hired a conversion company for my first van.
Buying a Professional Pre-Built Van
Rather than a completely custom conversion which requires time, money, and a lot of decision making and expertise, another option is purchasing a professionally built-out van with a proven layout.
There are a variety of companies out there that offer vans like this, but Storyteller Overland is a personal favorite. We first saw their vans in person at Open Roads Fest in 2019 and were blown away by how sturdy, practical, and ready for adventure they were. Since then we've gotten to know them well and the people behind the brand are as amazing as the vans they build. They have been a big supporter of the van life community since the beginning and helped make many of the free van life resources you're reading here possible.
Storyteller Overland's vans are versatile and ready for adventure so you can hit the road sooner. They're easy to finance and insure and are especially great if you're interested in buying a new van but are wary about the time, money, and uncertainty that go into a custom conversion. Check out Storyteller Overland's MODE 4×4 adventure vans here and see them in action on Instagram.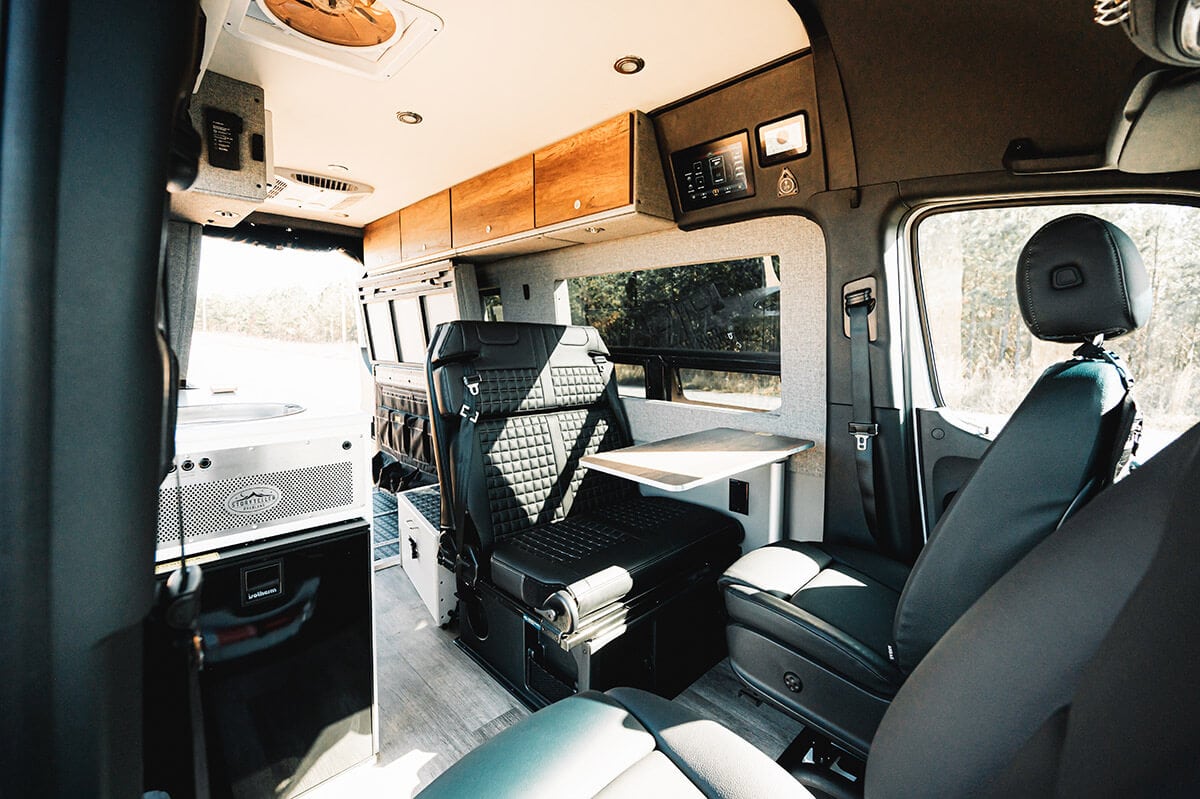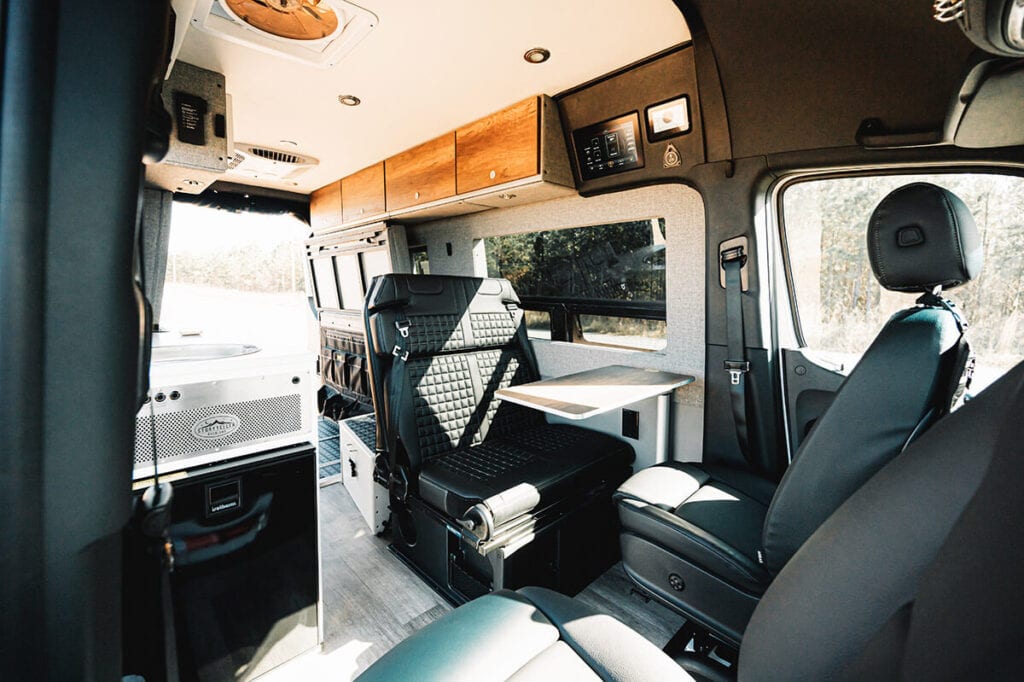 Van Life Essentials Packing List
Below are a few of my favorite pieces of van life gear and recommendations for the road:
Resources Section
Van Conversion Companies I Stand Behind
Outside Van (the company that built my current van and previous van)
Helpful DIY Van Build Blogs: