Tips for Screening a Van Conversion Company
If you're thinking of hiring a van conversion company to build out a campervan for you, here is how to screen them to make sure they're the best choice for your conversion.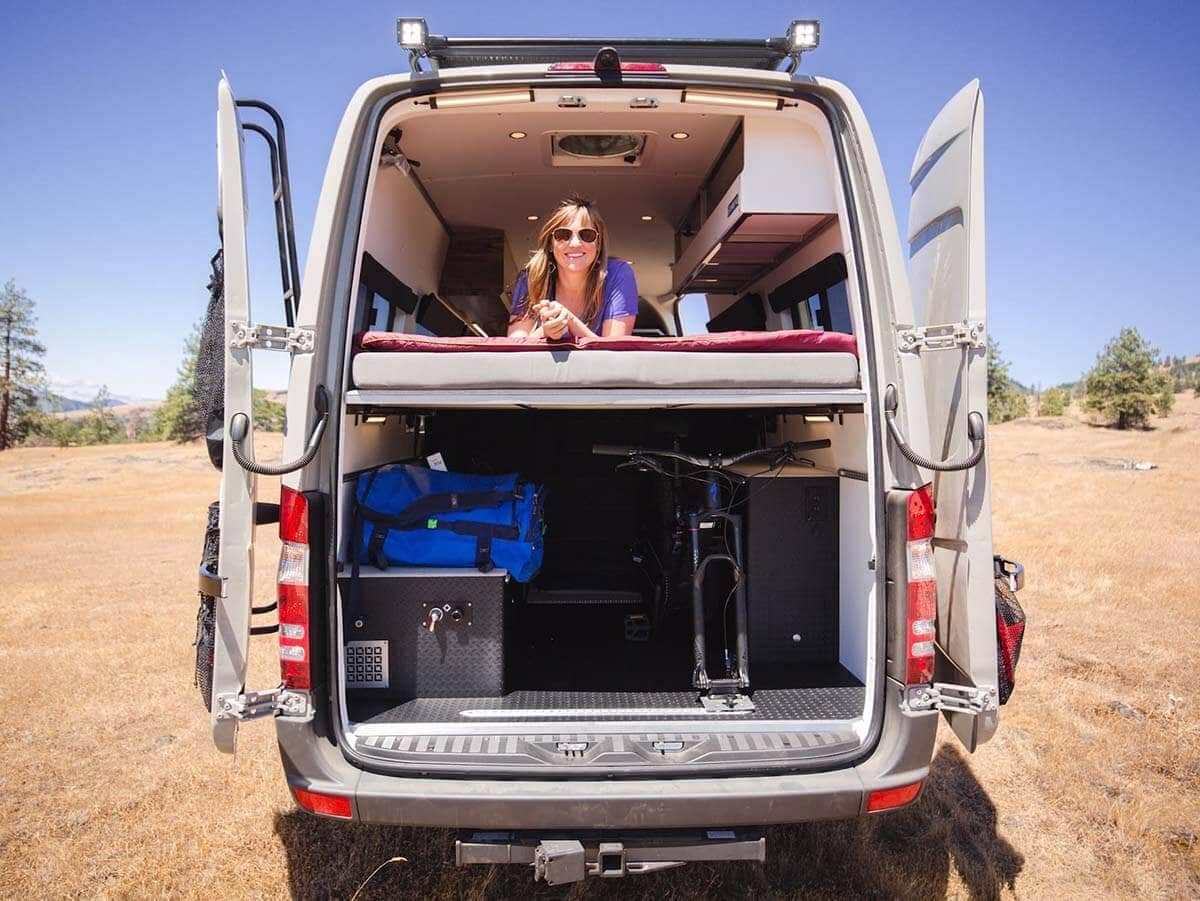 If you're reading this post, you're probably toying with the idea of hiring a van conversion company to build out your van. There are dozens of campervan conversion companies out there to choose from, but the fact is that quality and experience among these businesses vary widely.
If you don't do your homework, you might just end up getting screwed. Whether that means overpaying or ending up with a van that isn't what you'd thought it be, there are tons of horror stories out there, including mine which you can read more about below.
Doing your research and asking the right questions to screen your van conversion company before you sign a contract is essential.
Learn how to screen a van conversion company plus find our top recommendations for campervan conversion businesses
Problems I had with my first van conversion company
Back in 2015, I had my first Sprinter Van on order from the dealer and was searching for someone to build it out for me. I considered Sportsmobile, but I wanted something that felt a little more like me. Sportsmobile creates a quality product, but you're limited by color choices, layouts, and more. In hindsight, I would have saved myself a ton of headache if I just went with Sportsmobile, but I mistakenly prioritized a custom look over function.
One day, I was scrolling Instagram and found a photo of a van with beautiful cabinets made out of reclaimed barn wood and white countertops. It was exactly the style I thought I wanted. I contacted the builder, flew out to California to meet with him, and shortly after, I signed a contract. During our initial meeting, there were a few red flags, but I was wooed by the photos and ignored my gut instinct.
Now let's fast forward a few months. I decided I wanted a full bathroom with an indoor shower in my van. Despite the fact that the company had never built an indoor shower in a van, he agreed to do it, no questions asked. In hindsight, the job of a builder, apart from doing the build, is to help you weigh your options and make good decisions. It would have been great if he had said, "Having an indoor shower with the layout you are proposing poses a challenge for water storage and you're only going to have room for 10 gallons inside the van." But he didn't.
Another point we should have discussed was what kind of water heater I needed and where it was going to go. If he had raised these questions, I may have thought twice about that indoor bathroom.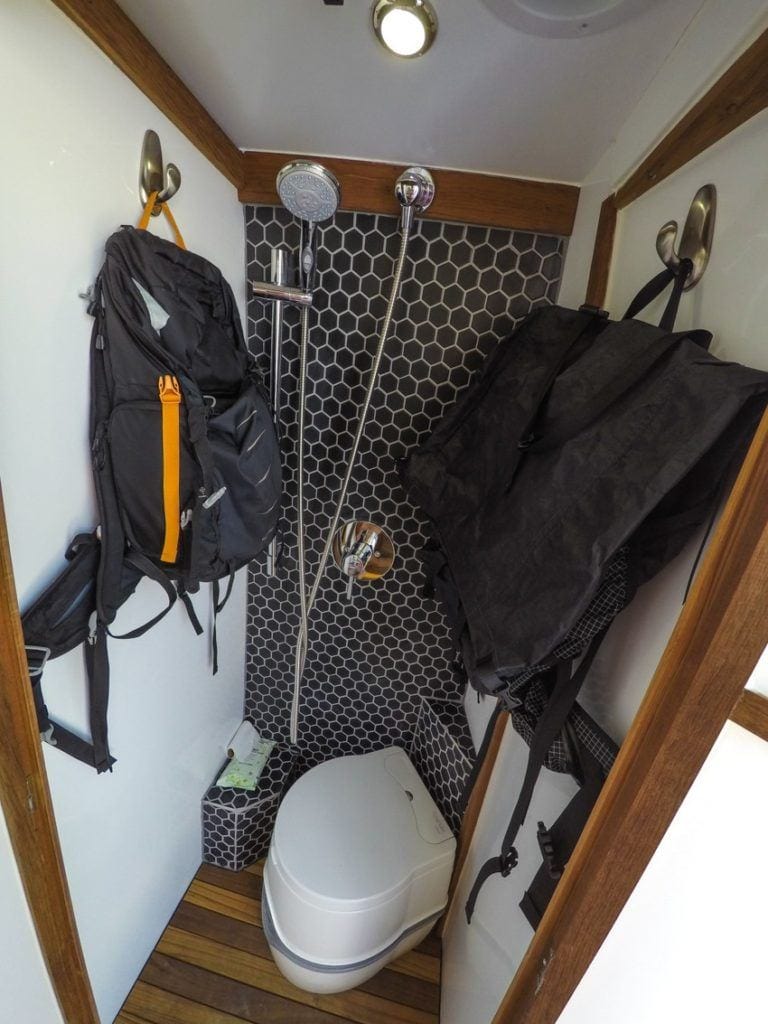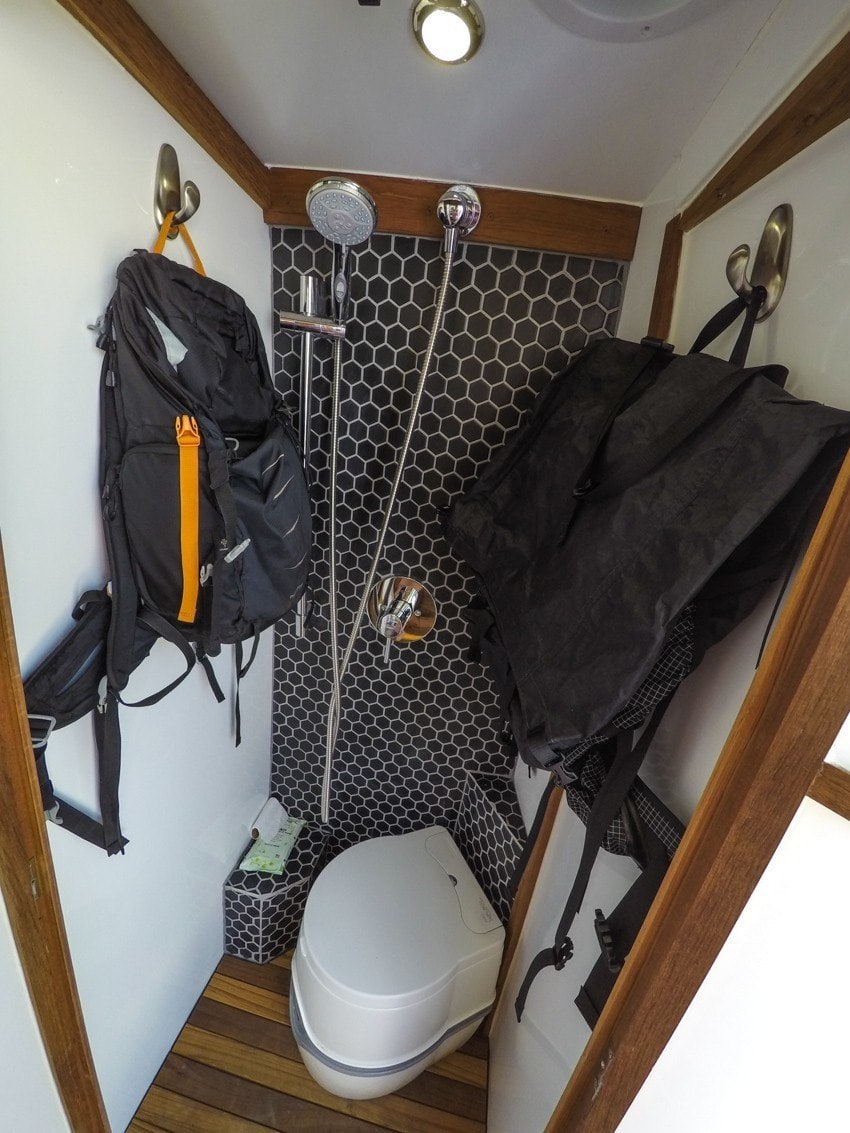 This is just one example. We never really talked about my solar setup (which I ended up having to replace altogether just six months after he completed the build) or what kind of fridge or stove I wanted. He just made those decisions for me and I followed his lead assuming he was the "expert".
Throughout the build process, he was constantly behind schedule. He also asked me for more money without having anything to show for what I already paid. It seemed fishy, but I was in too deep and it felt too late to pull out and find someone new.
He received the van from me in March and promised to have it done by early June. When early June rolled around, he told me he was nearly done, so I flew to California to pick it up. When I got there, I found the van in complete disarray, with weeks still to go. Six weeks to be exact. He lied over and over again, and it threw a serious wrench into the epic summer road trip I had planned.
After I finally got the van, things instantly started falling apart. The shower handle fell off 10 minutes after I left his shop, the shower pan was leaking, and the batteries were not charging from the solar. He never gave me any sort of owner's manual like he promised, and I was left feeling like I just made the worst and most expensive mistake of my life.
He couldn't afford to pay for me to have it fixed unless I drove it back to his shop and he did the work himself. Since I couldn't trust him, or stand him personally at that point, I decided to take care of the repairs myself and ended up dumping nearly $15,000 extra into the van.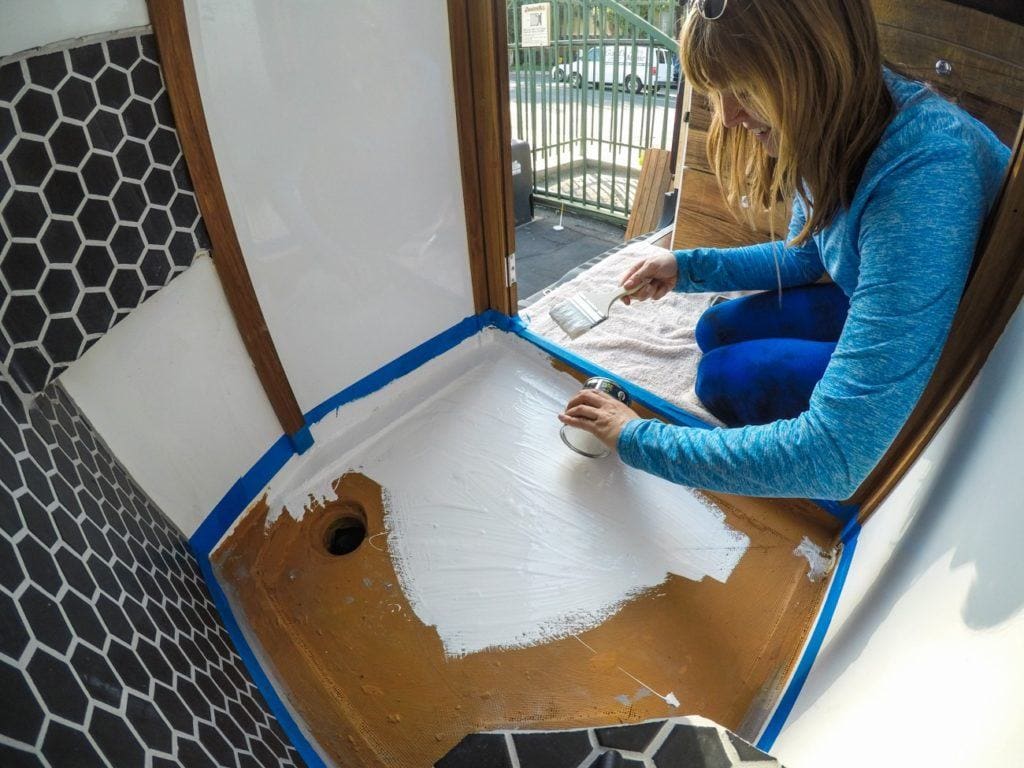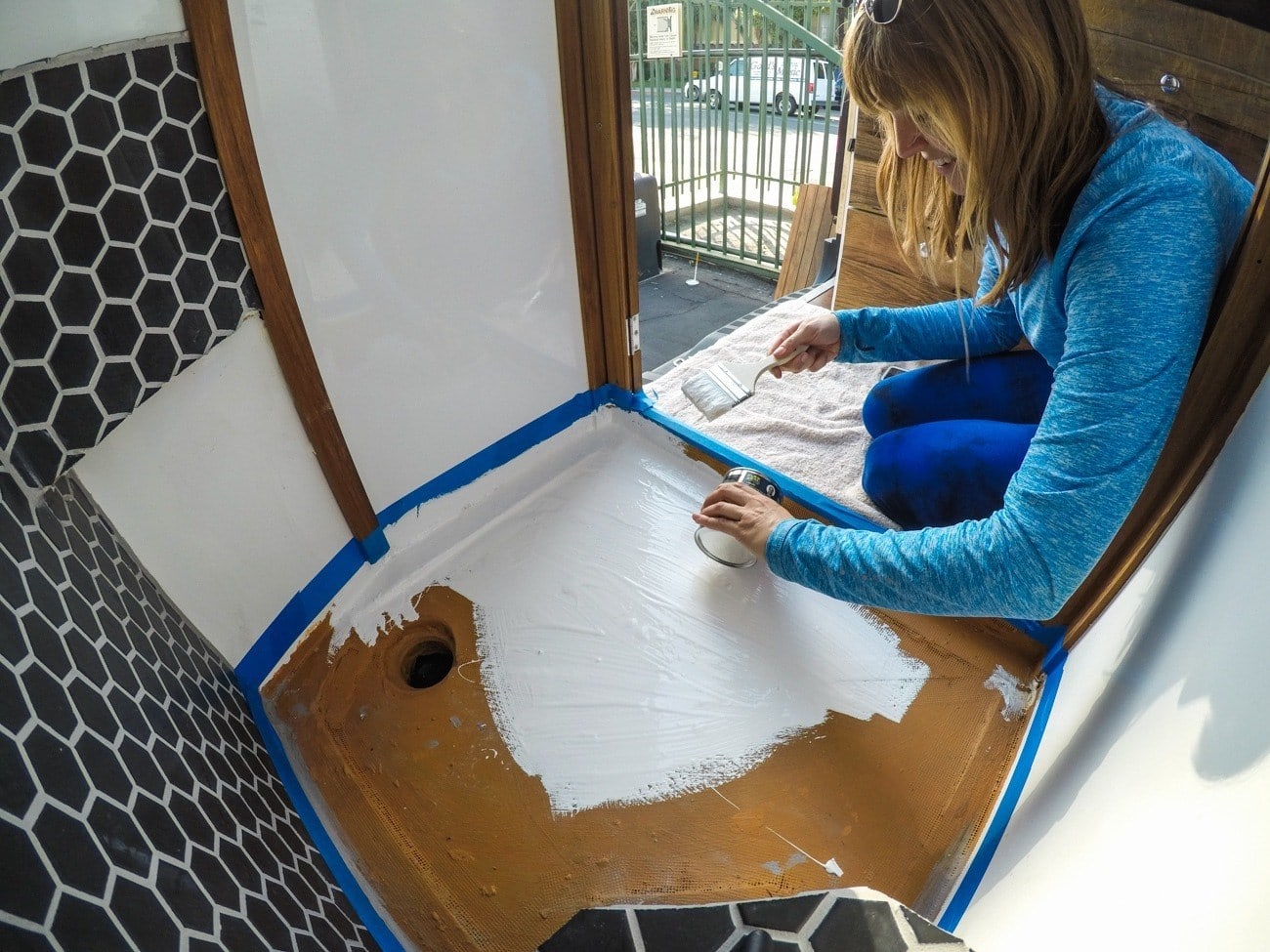 That was not the way I wanted to start van life. I was embarrassed and mad, and instead of spending my time adventuring, my time was consumed fixing things.
In the end, once I got everything working properly, I still loved that van. But imagine all of the headache and money I could have saved myself if I hadn't gone into the process with blinders on!
---
Questions To Ask When Screening Van Conversion Company
When searching for a van conversion company, it all really boils down to experience. You want someone whose work speaks for itself and who has previous customers that stand behind them, too. You don't want anyone experimenting on your van.
Additionally, prices should be justified by the builder's experience, not what the market says the van might be worth based on some pretty photos.
Here are a few questions to ask as you consider different van conversion companies.
1. How Long Have You Been in Business & How Many Vans Have You Built?
The guy who built my first van had never really lived in or even traveled in a van, a point that should have given me pause. How could he possibly know what makes a good van if he had never slept or traveled in one for an extended period of time?
Knowing what I know now, I would be skeptical about hiring somebody who has less than a few van builds under their belt unless I knew them personally. In fact, I probably wouldn't hire someone who hasn't already been in business for a couple of years. Any shorter amount of time and you have no way of knowing how their builds are going to hold up after 30,000 miles on the road.
Experience is especially important when it comes to electrical components. Installing a power system with solar panels, expensive batteries, and an inverter takes knowledge and this is one part of the build you don't want to go wrong.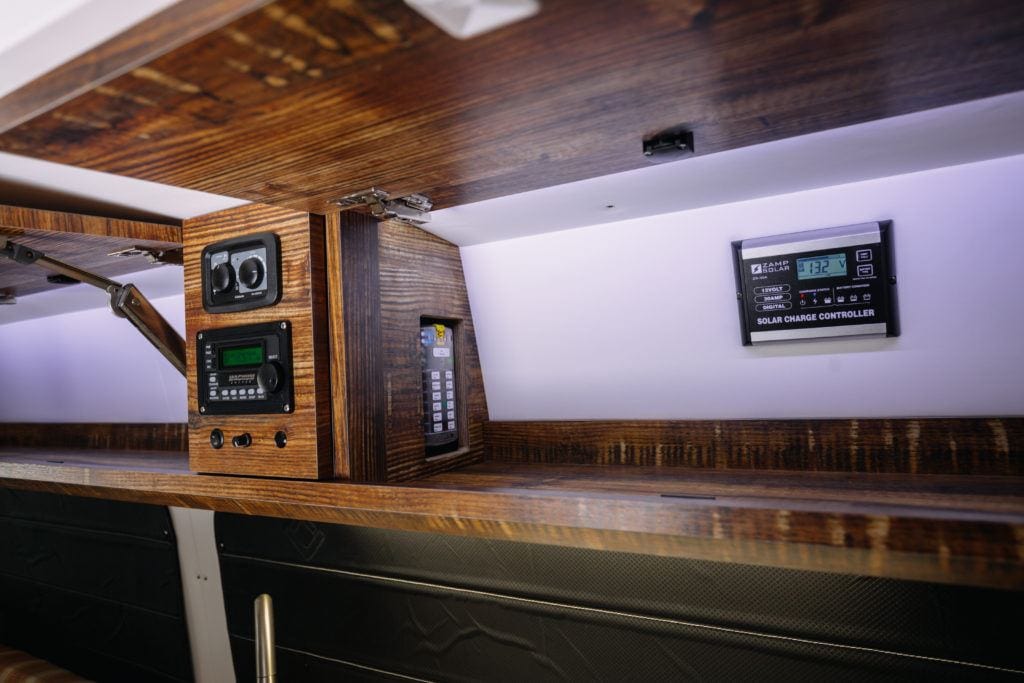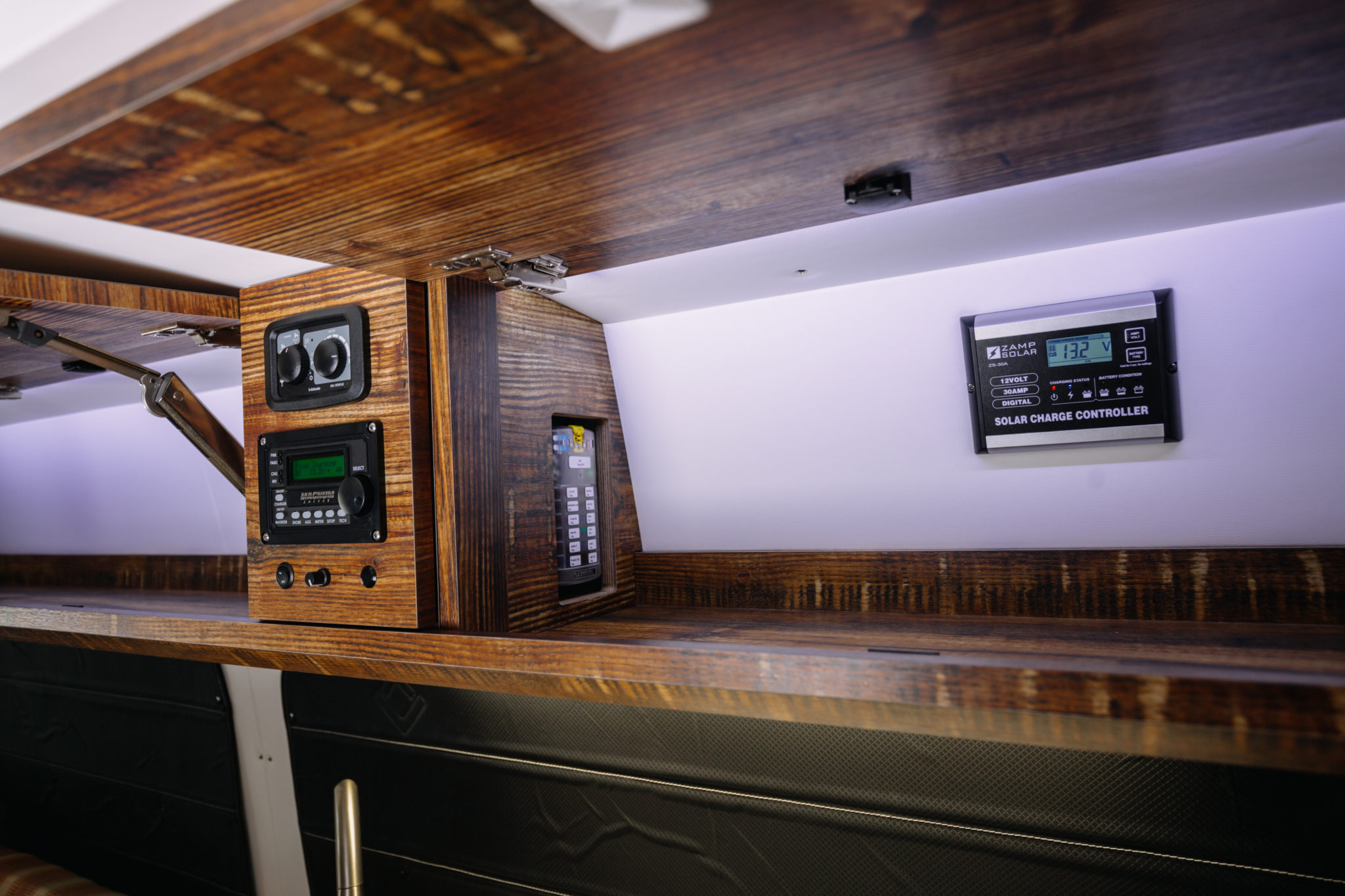 Of course, there are caveats and there are plenty of new builders who are qualified, so I don't want to undermine those builders. If the van builder is someone you know personally, or you are friends with someone who has one of their vans and speaks highly of their experience, those are good qualifiers. Or perhaps the builder has built and lived in a number of their own vans already, so they are done with their experimenting.
If the builder doesn't have much experience but you still want to work with them, keep your build and layout simple.
2. What is your warranty policy?
Make sure there is a warranty policy in the contract no matter who you work with. My second van was built by Outside Van and they have a 30,000 mile/3-year warranty policy where they will fix things at no cost during that time period.
While I've had very little go wrong, my induction stove did need to be replaced, and guess what? They flew out to Boise to meet me and fixed it right on the spot so I didn't have to drive to their offices in Oregon. Now that is quality customer service and what you should expect when you are paying top dollar.
3. What is your design style and do you offer custom floor plans?
Do you want industrial style, rustic, or modern? Every van conversion company has a style and you want to make sure that their style and vision are in line with your own.
Some van conversion companies have pre-designed floor plans to choose from. Others will work with you on a fully custom design. If you need or want something custom, make sure that is an option and that they have experience doing custom work.
4. What ideas do you have?
Before approaching a professional camper van conversion company, you need to think about how you are going to use your van. Are you a weekend warrior? Will you be doing van life as a family? Do you need a gear hauler? How much storage do you need? Are you living and working in your van full-time? Are you warm or cold weather-based? Will you be driving on rough roads? Do you need a bathroom? How tall are you (this affects bed placement)?
Have a clear vision for your van's purpose and ask the company what ideas they have to make your van awesome. Are they innovative? Do they seem familiar with different products to outfit your van with right off the bat? Do they have good ideas that you haven't thought of or seen before?
You want someone who is extremely knowledgeable, creative, and going to build you a better van than you could have thought of yourself. A detailed conversation here will also give you an idea of their personality, their experience, and whether or not they are someone you want to work with.
5. Can I see examples of your work?
Ideally, you'd like to see some of their work in person, and when you do, pay attention to the details. Do the drawers open and close smoothly? Are the curtains easy to put up? Does the plumbing seem straightforward and make sense? Is the bed comfortable? Notice if they cut corners here and there and ask lots of questions.
If you can't fly out to their shop to inspect their work, ask for photos of vans they have built.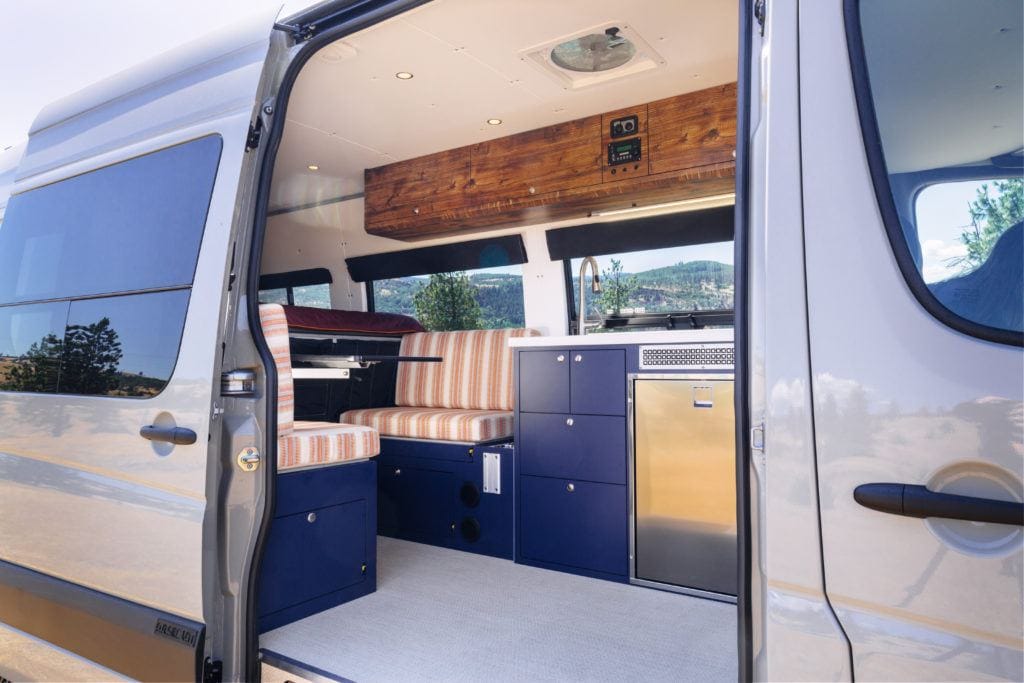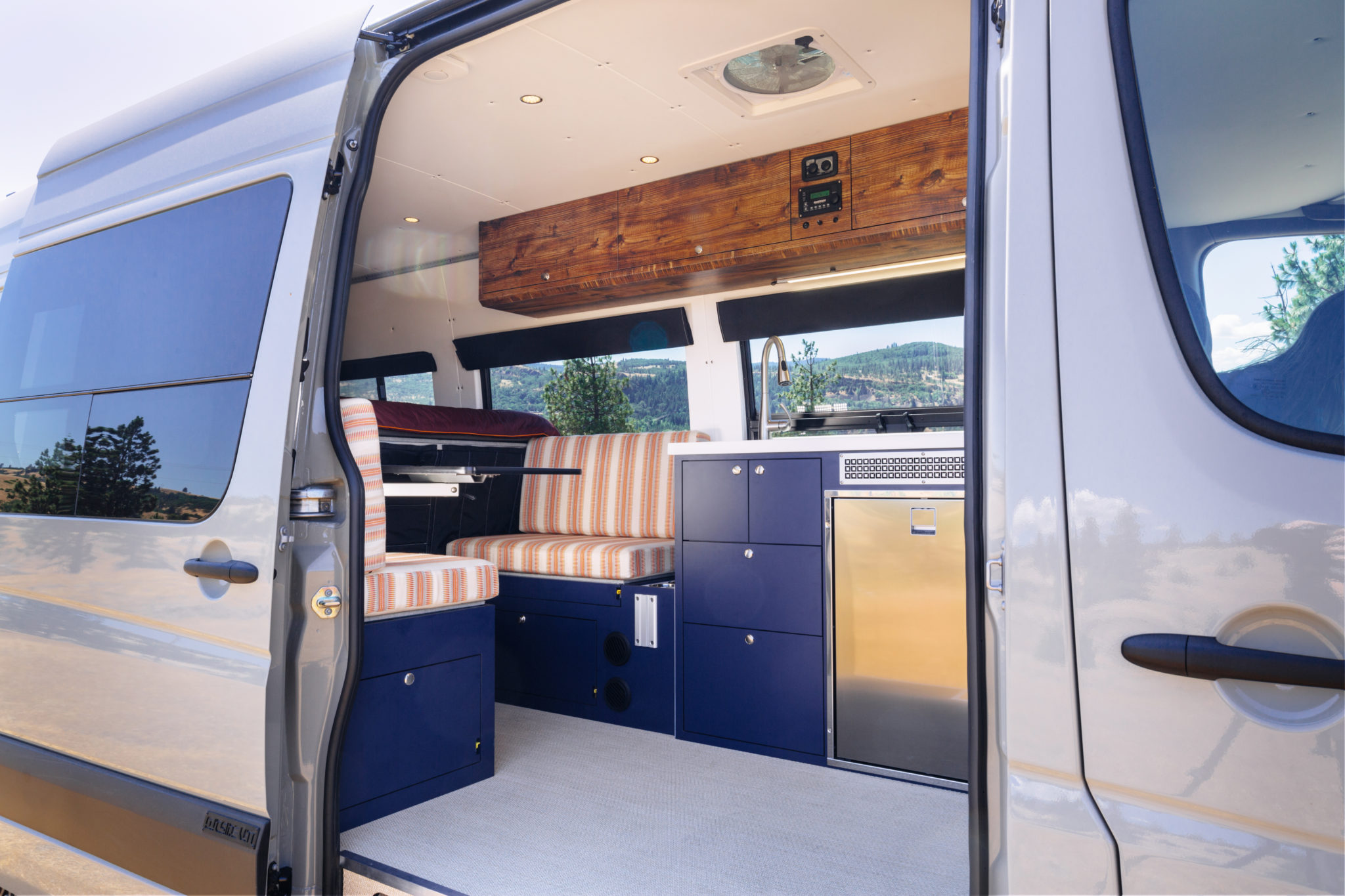 6. How much is my build going to cost?
Get clarity on build price. When my first van was being built, I never understood how the price was calculated. All I got was a top-line number. It wasn't until I demanded it after the build was done, that I got an invoice with a breakdown of hours worked and components installed. The whole process felt fishy.
On my second van, built by Outside Van, the cost was very clear. As we were designing my van, I received an invoice with a breakdown of the cost for every line item in the build. If I wanted to upgrade a component, that line item was updated, and I got a new invoice. I appreciated knowing exactly what I was paying for and what I was getting for my money.
Most conversions will also require some sort of down payment or even full payment in advance. If the company is well established and full payment is their standard policy, then that wouldn't be a cause for my concern. However, a newer company asking for $50,000 all upfront might give me pause. In this case, I might ask for a payment schedule where payments are made as progress is made on the van conversion.
7. Will I be involved in the decision making process?
You should be included in every step of the decision-making process. When it comes time to choose a fridge, your van conversion company should tell you your options and the pros and cons of each. If they typically go with a particular brand of fridge, they should tell you why.
When you are deciding on an electrical system, the builder should educate you on the different components, how they work, and your options for meeting all of your needs as the van user. Once you have been informed of all of your options, you should have the final say in what is purchased and installed.
Once your conversion is done, if the builder purchased the products, make sure they provide you with hard copies of the instruction booklets for each product. I didn't receive copies of these with my first van conversion and when I was on the Olympic Peninsula with no internet service, I had issues with my electrical system. Without the internet, I couldn't download the instructions from the internet, and it put me in a real pickle.
8. What is the build timeline?
You want someone who is going to be honest about the timeline. Do they have other jobs already in line ahead of yours? Once they start working on your van, how many weeks or months will they be devoting to your vehicle?
Be aware that full conversions do take time, but you also want to make sure that yours is delivered in a timeframe that works for you and your upcoming travel plans.
9. Can you send me some references?
In order to see if they check out, you should also ask them for references and make a concerted effort to talk to at least a few of those people on the phone. You want to make sure that the references are legit and they aren't just the builder's friend or relative. Ask specific questions like, how was the builder to work with? How many miles are on their van? How is it holding up? Is there anything they'd change? Has the van been worth the money they paid for the conversion?
Another way to get references is to browse the builder's feed on Instagram. Perhaps they've tagged some of their customers in photos and reaching out is as simple as sending them a direct message.
WATCH: 10 Questions I wish I would have asked before hiring a Sprinter van conversion company
---
4 Van Conversion Companies with experience
1. Outside Van
My second Sprinter van was built by Outside Van in Portland, Oregon. The team behind Outside Van creates custom and purpose-built vehicles with an emphasis on outdoor adventure and exploring off-grid. Their designs are simple and functional and they have tons of different floorplan ideas and customizations.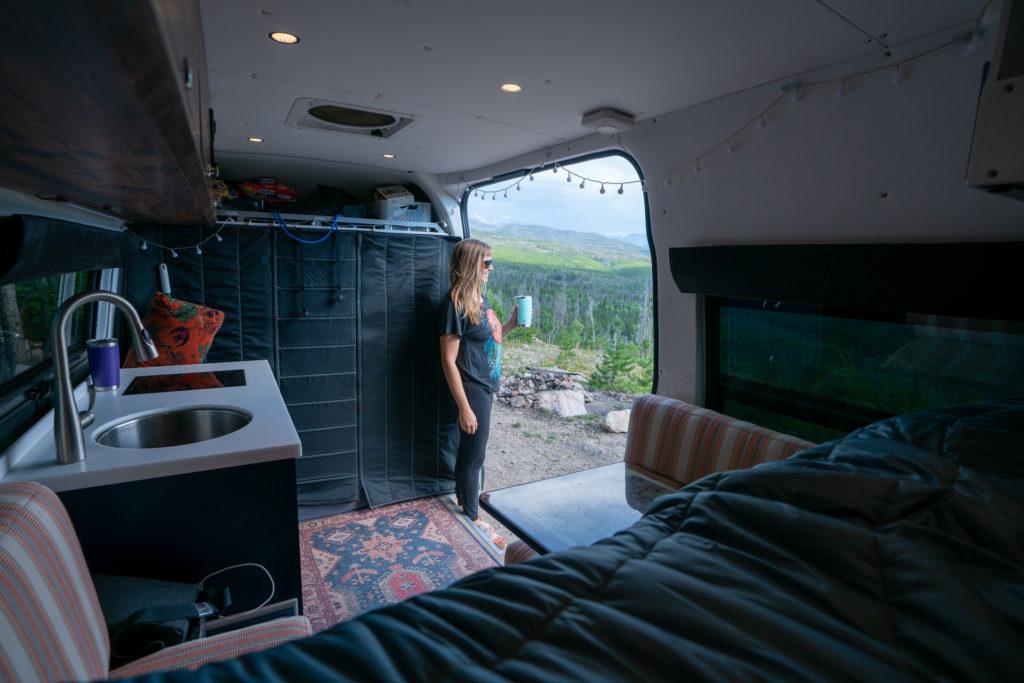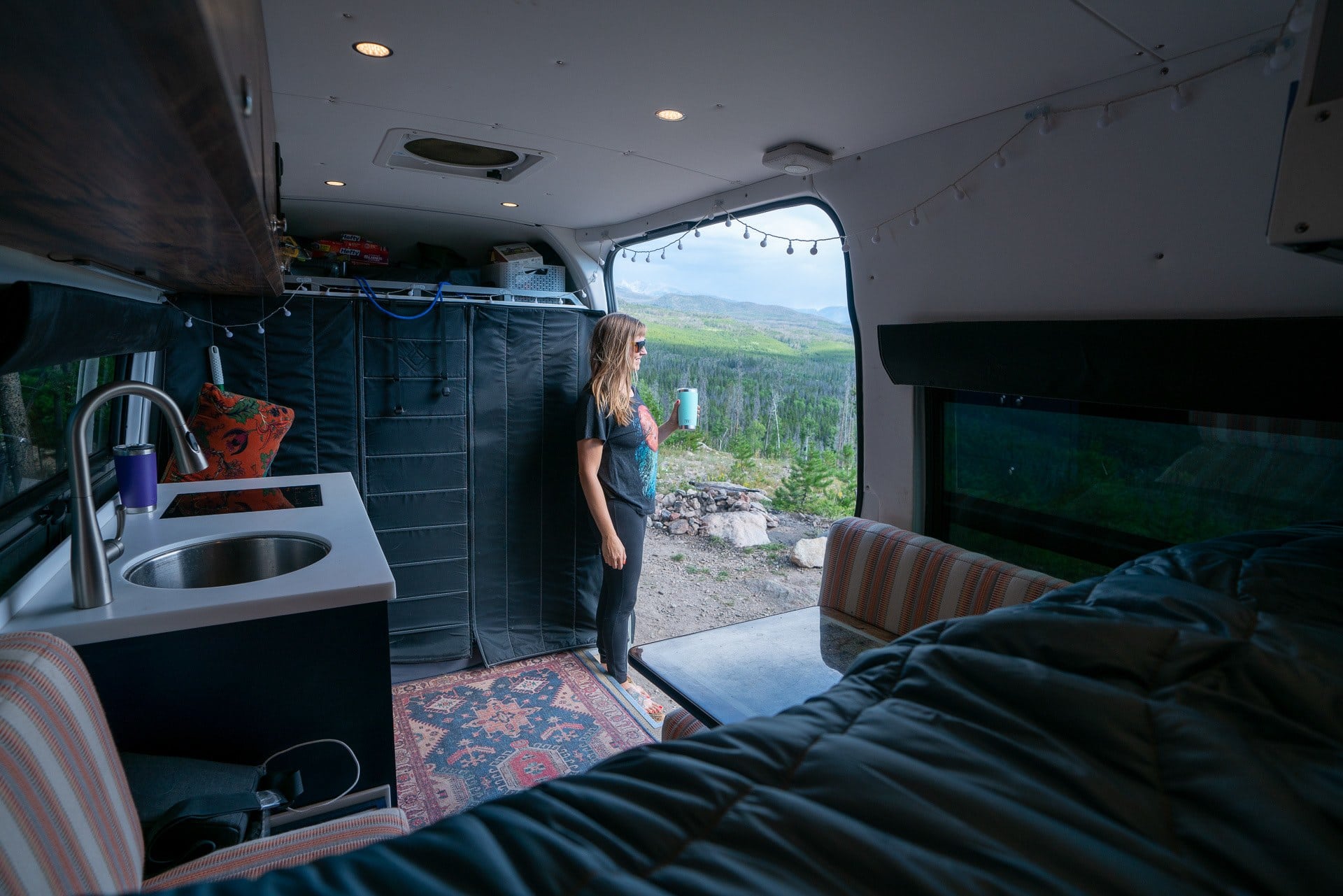 2. Sportsmobile
Sportsmobile has been around since 1961, so they definitely have a lot of experience. Their custom builds are known for off-road adventuring with customizations that range from pop-top roofs, extreme insulation, upgraded suspension, and much, much more. You can also shop their pre-owned Sportsmobile stock for deals.
3. TouRig
TourRig is a van conversion company based out of Golden, Colorado. They offer three base conversions that you can then add upgrades and customizations to. They have a great reputation for quality work and customer satisfaction.
4. Freedom Vans
Based out of Bellingham, Washington, Freedom Vans was created after co-founder Tom Doran spent 14 months living out of his Ford van. Since then, Freedom Vans has grown into one of the top van conversion companies out there. They do a variety of custom-build vans including home-on-wheels, weekend warriors, family vans, industry vans, and more.
---
What questions do you have about screening van conversion companies? Have you used one in the past? What was your experience like? Let us know in the comments below and be sure to sign up for our Van Life Roadmap updates!