Having a van galley that you can cook fresh food on is one of the luxuries of van life. With a fridge, counter, sink, and stove (whether it's indoor or outdoor) makes preparing meals a lot more convenient, healthier, and fun.
Downsizing from a regular kitchen into a van galley can seem daunting, but once you narrow down the essentials you'll be cooking in no time!
The most important things to think about for your van galley are the refrigerator, sink, and cooktop. Just like in a regular house, appliances are typically one of the more costly parts of a renovation, but you tend to get what you pay for.
Van Refrigerators
Refrigerators can consume a lot of power, and depending on your electrical system, this is a huge thing to think about when getting one for your van galley. Your electrical system will ultimately determine the kind of fridge you can have. While generators and shore power will operate most regular refrigerators, a solar setup might not.
RV & Marine Refrigerators
RV and marine refrigerators are specifically designed for rugged use and high-efficiency with limited power supply. Most of these run on DC, AC and/or solar power – and have a highly efficient compressor that draws as little power as necessary. The compressor cycles as needed, so it's not running constantly, which helps consume less power. These are referred to as two-way compressor fridges and are your best bet if you have a typical van set up with solar which you likely will have.
The other type of fridge that you'll commonly see, mostly in RVs, are three-way absorption fridges which are propane-powered but can also run off your batteries if needed. If you don't plan to have solar power, a three-way fridge might be your only option. They require your van to be completely level, and like any other appliance that runs off propane, you'll need to vent your propane tank to the outside of the vehicle.
We're going to focus on compressor-style fridges in this lesson, but I'll link to some resources below for further reading if you are considering a propane fridge.
The two main types of compressor refrigerators are upright (front-loading) and chest-style (top loading). Some have dual-zone fridge/freezers, which are awesome for things like frozen fruit for smoothies, ice cream, or other frozen items especially if you're going to be off-grid for a while. Most of the compressor fridges for vans consume between 1 and 3 amps per hour.
Top Loading Refrigerators
First, we'll talk about top-loading fridges – which as the name implies, open from the top. The biggest complaint about these is that you have to move your top layer of food in order to reach the stuff at the bottom. You can avoid this by organizing your stuff in different baskets, so you are moving a single basket vs a bunch of individual items to get down to the bottom. If this sounds frustrating, then a top-loading fridge probably isn't for you. Some people love them, some don't – it's mostly a matter of preference and space. With a chest-style fridge, you'll either need to install it on a pull out drawer or leave enough space to open the lid. They also have a bigger floor footprint than an upright fridge for the same capacity.
Reputable brands for top loading fridges are Dometic, Engel, and ARB. These brands are well-known for some of the leading refrigeration products in the industry. They slowly sip energy so you won't ever have to worry about too much power draw. Plus, they come in different sizes and models including freezers too, so there are lots of options. The downside is the cost; they tend to run a couple hundred dollars more than some of their upright fridge counterparts. If energy-efficiency and durability are the priority and your budget allows, you won't go wrong with one of these fridges in your van kitchen.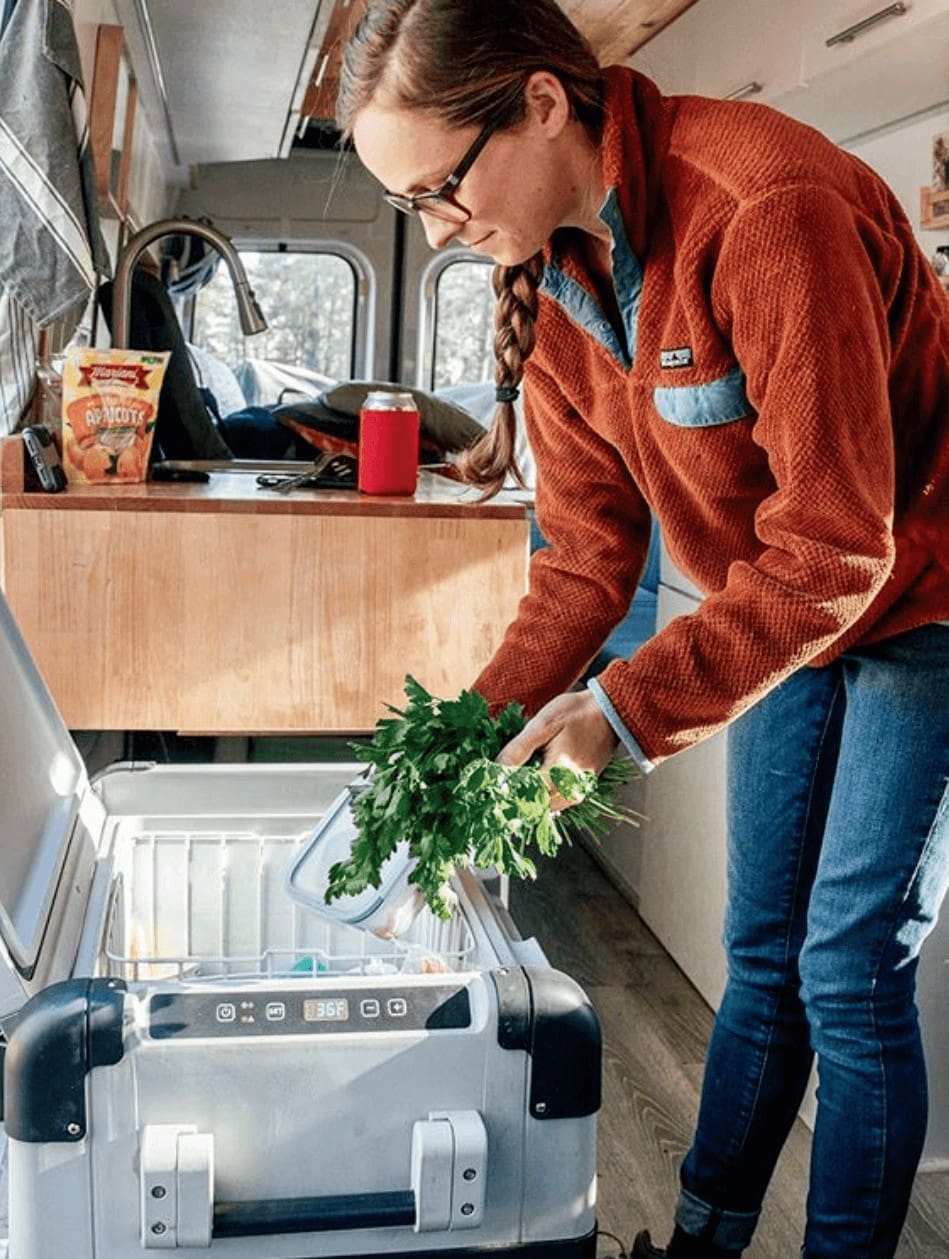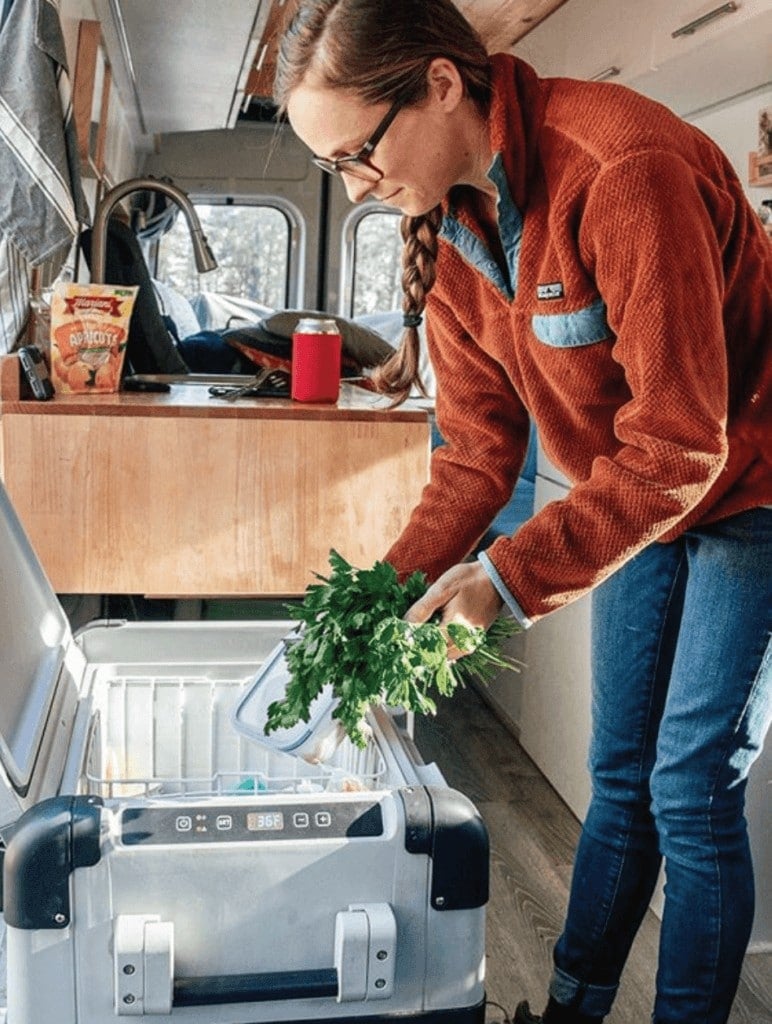 Upright Refrigerators
The other type of compressor fridge is an upright fridge, shaped just like a mini-fridge that you might have in your house. That's what I have in my van kitchen – the Isotherm Cruise Elegance 85 – meaning 85 liters capacity. It's the perfect size for my partner and I traveling together in the van. With a little bit of tetris, we can easily carry a week's worth of fresh food and produce inside. In my first van, I had the same fridge, except a smaller 65-liter version. We found this to be a little tight for full-time living for two people, especially if you want to keep beverages cold in addition to your food.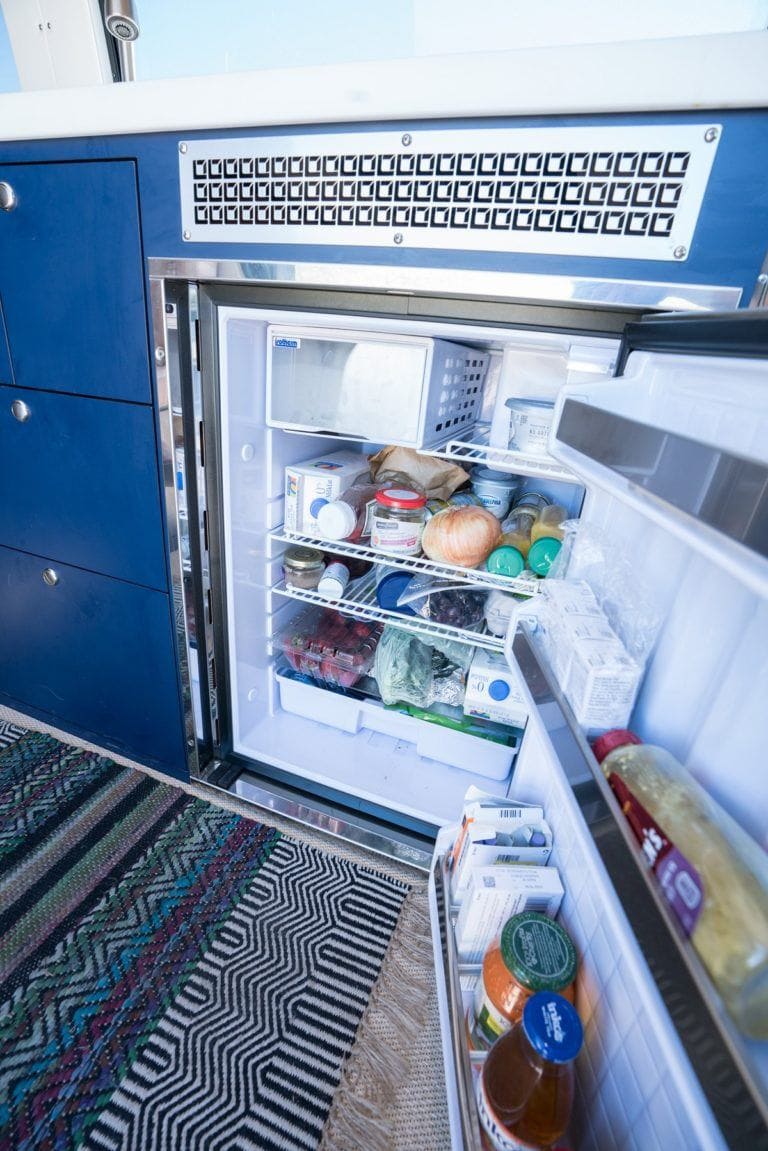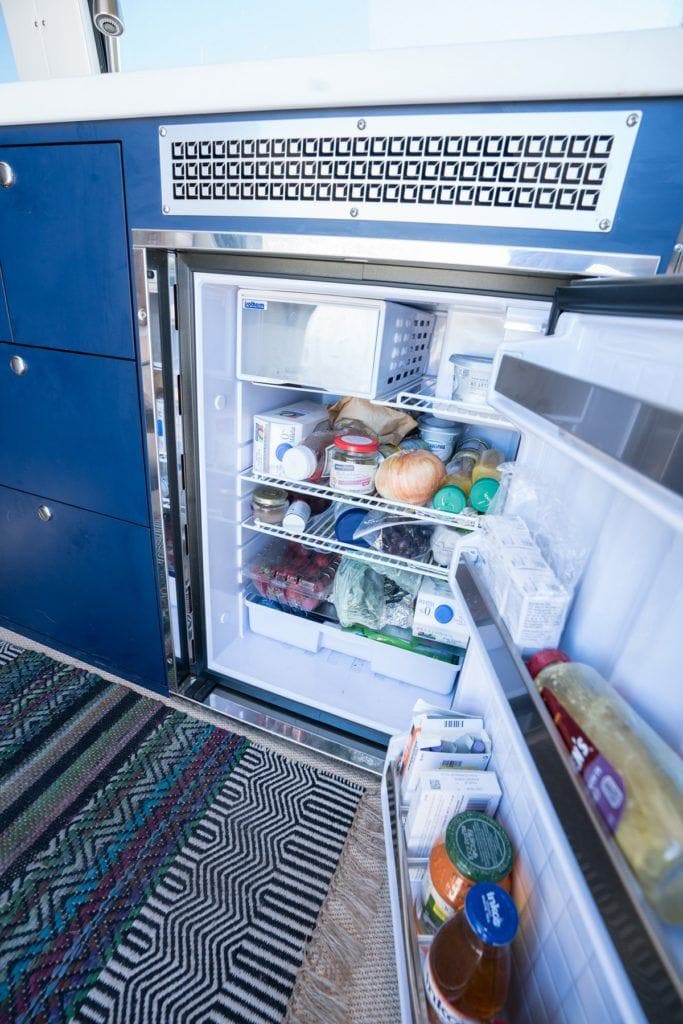 When determining what size fridge to get, think about how much food you'll be storing and for how long. Ask yourself:
How many people will you be storing food for?
How many meals do you plan to cook a day?
How long do you want to be able to go without needing to resupply?
How much space will your galley have for a fridge?
I'll quickly touch on what I don't like about my Isotherm fridge. First, I don't think the organization in this front-loading style fridge is at all superior to the chest-style fridge. You still have to get down on your knees and take everything out to see what's hidden in the very back of the fridge. Also when we drive on rough roads, we've had an issue with the shelves falling down which smashes the food. Finally, every 2 months or so, the side of the freezer ices over and has to be completely defrosted. This means taking everything out and utilizing a friend or family's fridge while it defrosts, which is a pain. For these reasons, I might consider chest-style next time.
For more details, check the resources section where I've included links to some of the most popular refrigerators for van life.
One more thing: make sure your refrigeration unit has some sort of ventilation around it because they can overheat. You'll see in my van kitchen that my fridge has a vent both on top and on the side to help circulate the air.
As I said earlier, this is a major appliance that should last a long time so you want to invest in something reliable, efficient, and something that can handle the turbulence of the road.
Van Countertops
Next up in the van galley is countertops. Countertops can be very cheap or expensive, depending on the material you choose to use. The things that should influence your choice are material weight, durability, look, and price.
Some popular materials are corian, plywood, bamboo, butcher block, and laminate. Ikea is a great place to source inexpensive countertops that you can cut to your desired size. They have dozens to choose from.
In my current van kitchen, my counter is made of Avonite. I haven't seen this used in too many vans, apart from ones built by Outside Van. It's an acrylic, lightweight, and heat and scratch-resistant material. It's also LEED-certified, which is a green building standard, meaning it's an eco-friendly product. It's lighter than granite and quartz and more durable than corian, while accomplishing the same white modern look.
Both of my vans have had white countertops, and next time, I may go with wood colored. The white avonite is extremely easy to clean, but also shows spots, so it requires frequent wiping down.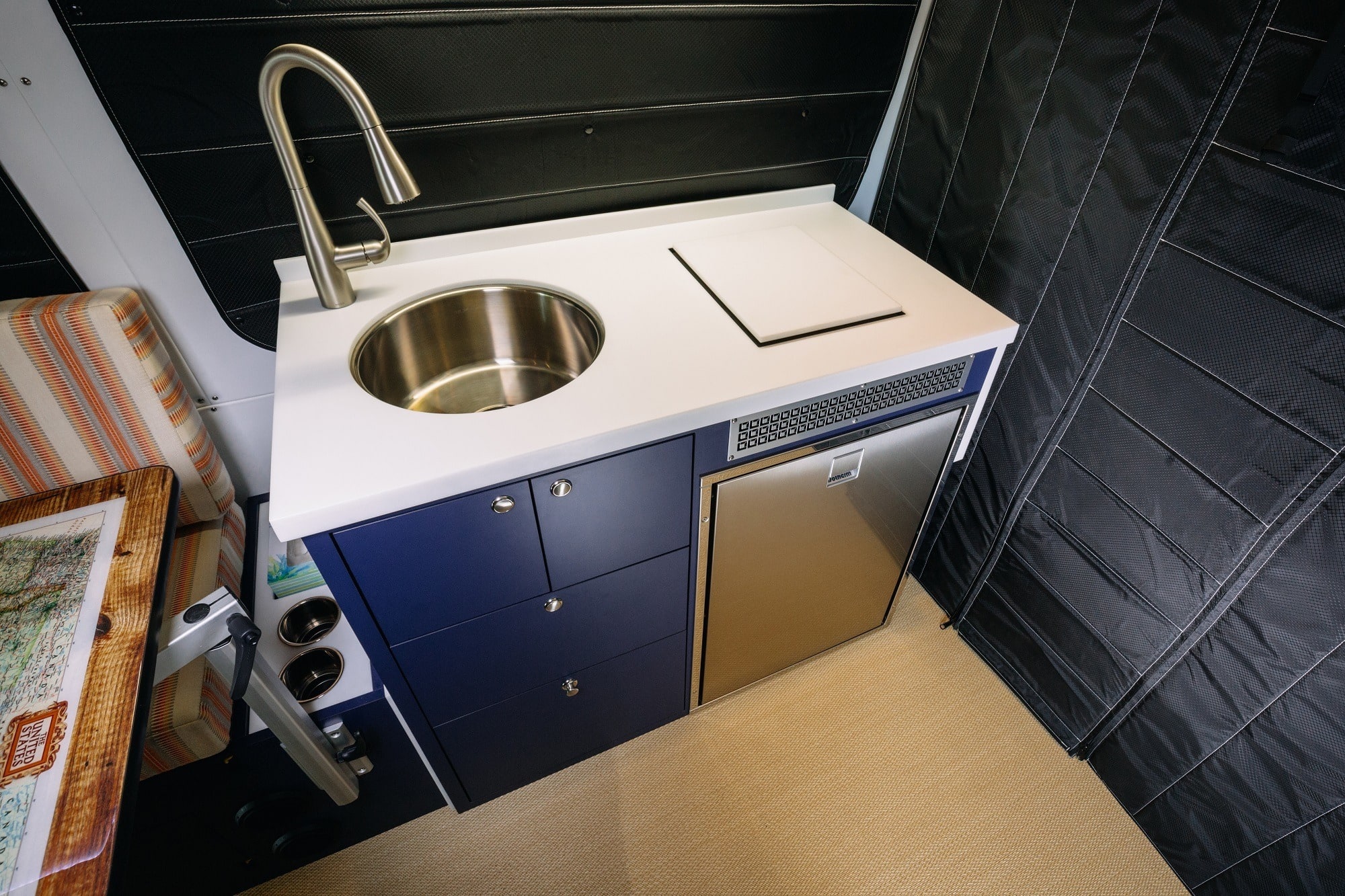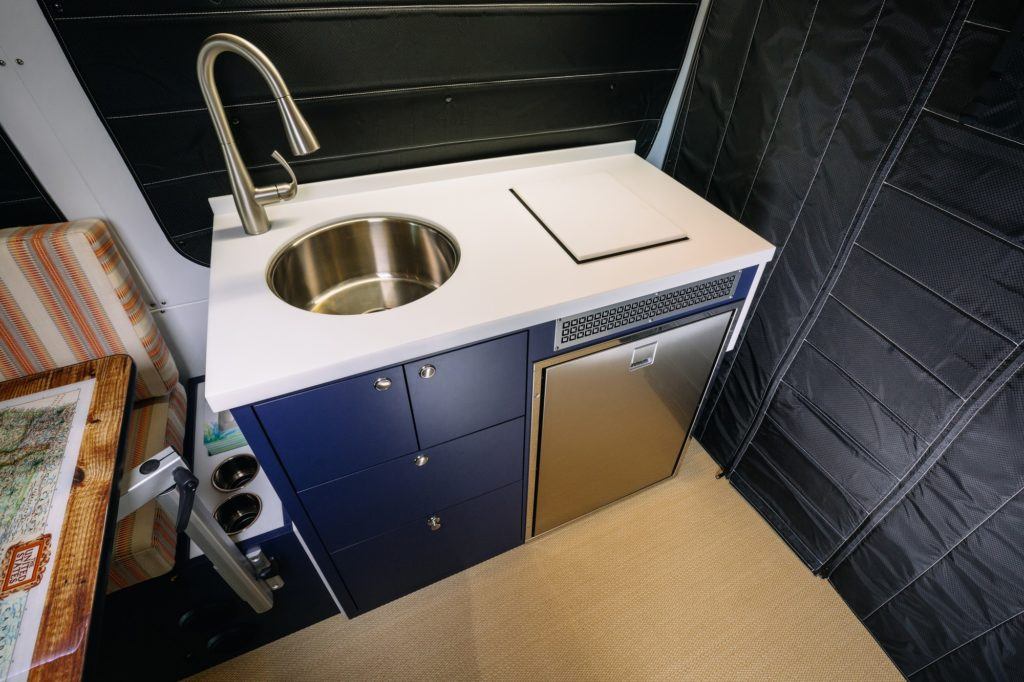 Van Stoves
Alright, we've covered fridges and countertops, now let's move onto the stove, another key component in your van kitchen.
One of the great things about van living is the ability to enjoy home-cooked meals outside with incredible views. But, being able to cook and eat outside isn't always the case, like in cities, during the winter, or when the weather turns – so I recommend having the option to cook both indoors and outdoors. While you won't have the sprawled out counter space in your van like you would in your kitchen at home, cooking in your van is not as difficult as some people think – we'll touch on this more in Module 6. It's possible and easy to have hearty meals every day, and it helps to design a galley you'll want to cook in and that feels comfortable.
Induction and propane-powered stoves are the two main options.
Induction Stoves
Induction stoves are easy to clean and are great for quick meals. However, you'll need a powerful battery bank and inverter to run an induction stove in your van kitchen. They consume a ton of power, and if you don't take this into account when sizing your battery bank, you won't actually be able to use the induction stove. Because induction requires a more expansive and thus expensive electrical setup, this is not a budget-friendly option.
For indoor cooking, induction is considered safer since you aren't combusting gas inside the van. I have a one-burner induction stove that I use almost daily for conveniently making coffee and simple, one-pan vegetarian meals, and it also comes in handy on bad weather days. Otherwise, I do most of my cooking outside on a camp stove. My induction stove is recessed in the countertop, but you can also buy portable ones that simply plug into an AC outlet.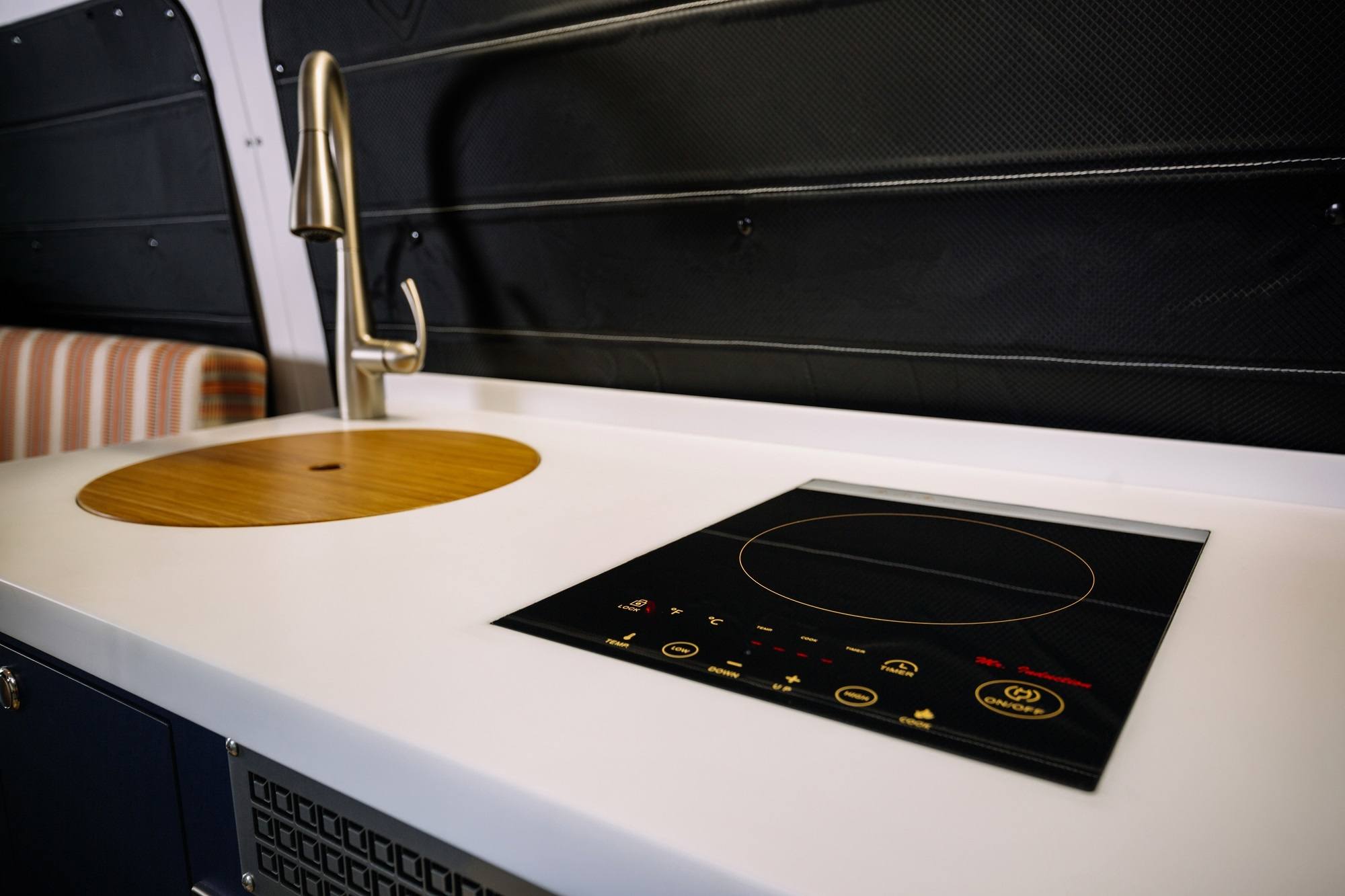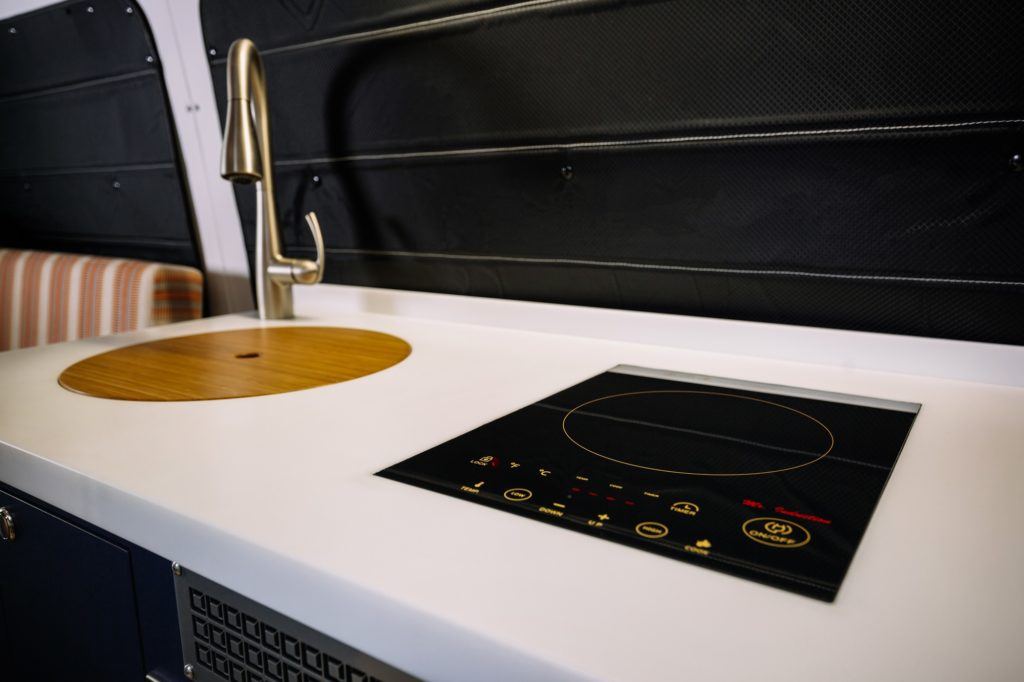 Indoor Propane Stoves
Propane stoves are better for more complicated meals that require specific temperatures and longer cook times. They don't use electrical power and propane is pretty cheap. You can buy small propane canisters like you would for a camping stove, but for a more environmentally-friendly approach, I suggest getting a larger refillable tank. Plus, you can also use it for a propane water heater if you choose to go that route.
Permanently installing a propane stove into the countertop of your van kitchen is one option, but it takes up a lot of counter space and they are a pain to clean.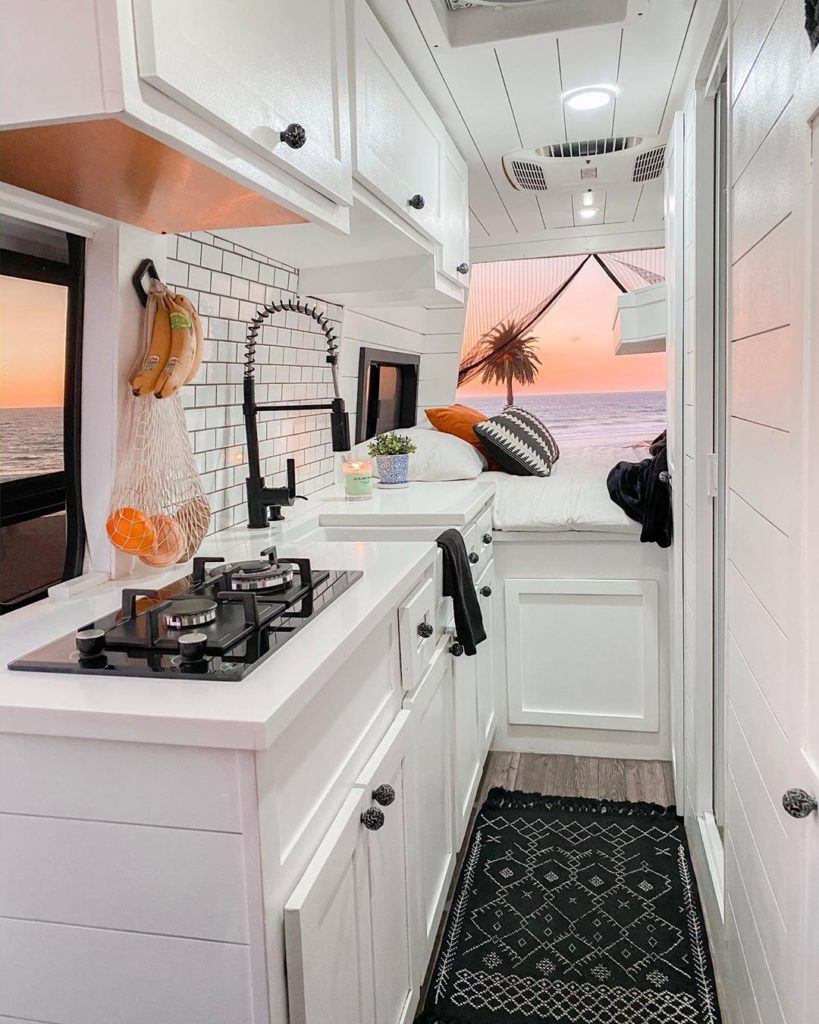 Outdoor Propane Stoves
Another option is simply using a portable propane camp stove that you can use for cooking both inside and outside. Setting up a camp stove on your counter works just as well as a built-in one and is more budget-friendly. And by utilizing a portable camp stove, you save space on the countertop for other uses when your camp stove is stowed away. When the weather's good, you'll be able to set up outside and your van won't smell like food, especially if you're cooking something greasy like bacon. If you do cook inside your van with propane, make sure you have proper ventilation to prevent carbon monoxide poisoning – keeping windows cracked is essential and running a fan if you have one is a good idea too.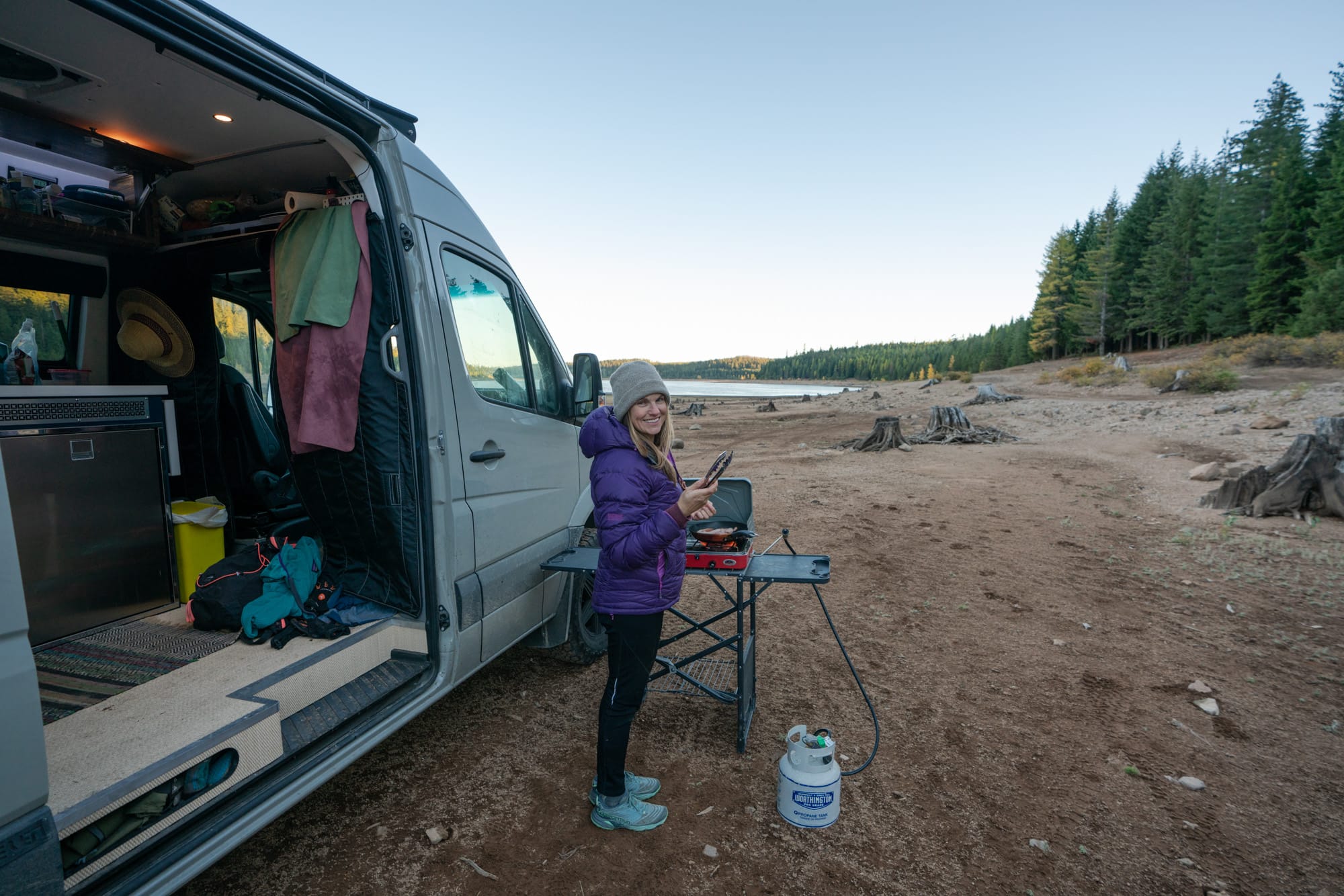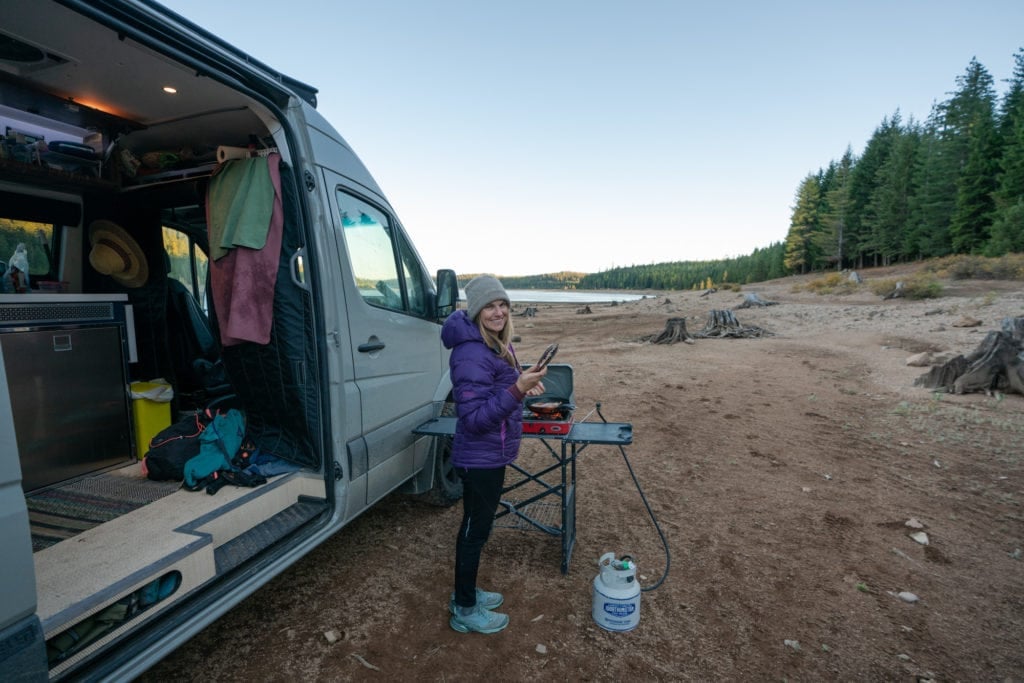 There are other types of stoves on the market, but induction and propane are the two most reliable and popular choices. Once you determine your cooking needs, power capabilities, budget, and space limitations you'll be able to decide what's best for you. Remember, the important thing is to have a functional space, not just a picture-perfect one. If you're not a big cook in your current life, you probably won't be in van life either. Use your space efficiently and install what you know you'll use.
Ovens for Van Life
A stove is an essential appliance needed for cooking a wholesome meal, but if you want an oven in your van kitchen too – you're in luck! There are a few portable propane ovens out there and people seem to love them. They're designed for outdoor use with steady ventilation, so if you do install it inside it needs constant observation during use and you need to be extra conscious of ventilating properly.
Campchef makes a stove and oven unit that works independently of one another, so you can brew fresh coffee and bake bread at the same time. These dual units have a big footprint, so you'll need to decide if it's totally worth it.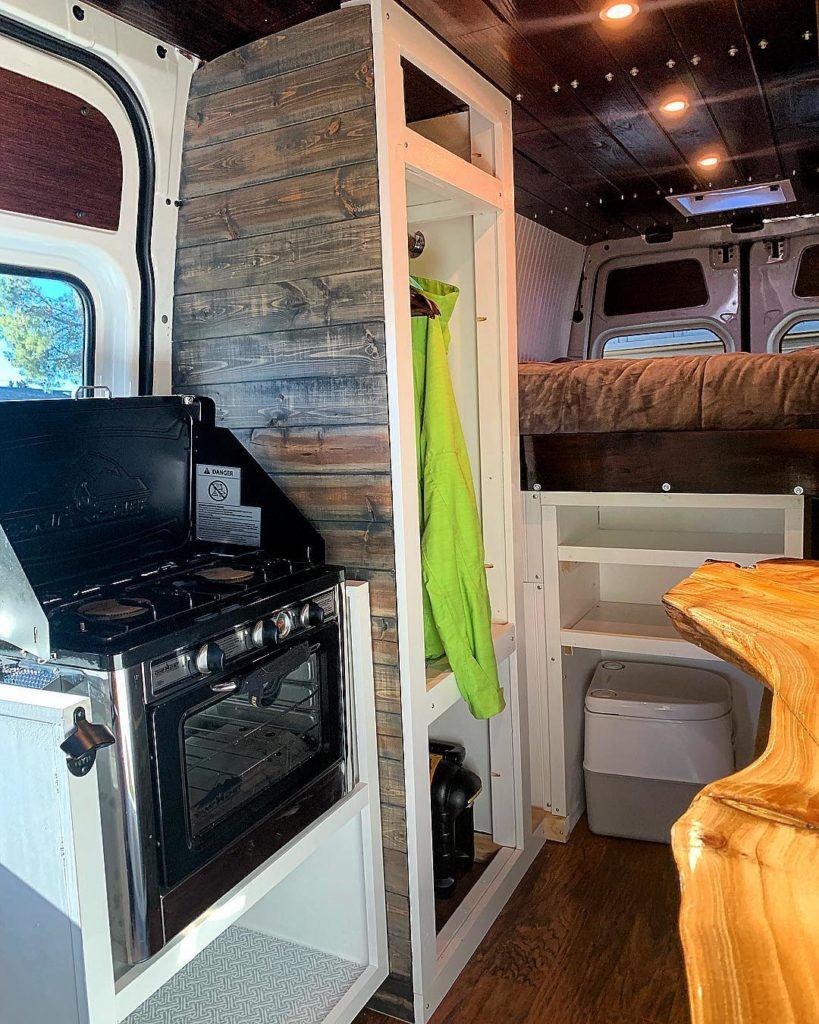 Van Sinks
We've covered refrigerators, countertops, and stoves, now we'll touch on another key piece of your van galley, the sink.
Sinks are pretty straight forward, so we don't need to go into too much detail. The main thing is that you want a water basin that's big enough for cooking, hand washing, and doing dishes. You can find sinks for a few dollars to several hundred dollars, but it's not necessary to spend a lot on a sink.
Think about what shape sink you'd like and how it will fit with the counter. Rectangular and circular sinks are common. If space is a concern, which it generally is because vans are small, you can include a cover that will pop into the sink leveling out with the counter. This really helps maximize the counter space when the sink isn't in use.
I have a circular dropped-in stainless steel sink with a pulldown faucet in this van. The flexible faucet and spray nozzle make dish duty much easier. Having the ability to swivel the faucet is especially helpful in a confined space, and I always have the cover on the sink when it's not in use for maximum counter space.
Big stores like IKEA, Home Depot, and Lowe's have sinks within a variety of price ranges. But, don't forget about second-hand stores, junkyards, and construction companies as well. If you shop around you can find some unique sinks for dirt cheap.
When choosing a sink material, keep in mind the weight and durability. For example, a farmhouse sink might look nice, but it's much heavier than stainless steel and it also won't be as good at handling the bumps in the road.
That covers the basics of the galley and the key components you'll need to make decisions around when designing your van kitchen. Other things to think about are what kitchen appliances you'll want to run, how much power you'll need to run them, and where to store them which we'll cover in the next lesson. See you there!
Resources Section
Recommended Brands
Helpful Article
Instagram accounts featured in video
Explore more on van conversions in Module 2
What type of bed are you building in your van? Share your questions, tips, and experiences down in the comments, and make sure to sign up for course updates here.