Best Vans for Van Life: Sprinter vs Transit vs Promaster
Compare the best vans for van life so you can narrow down the options that will work for you.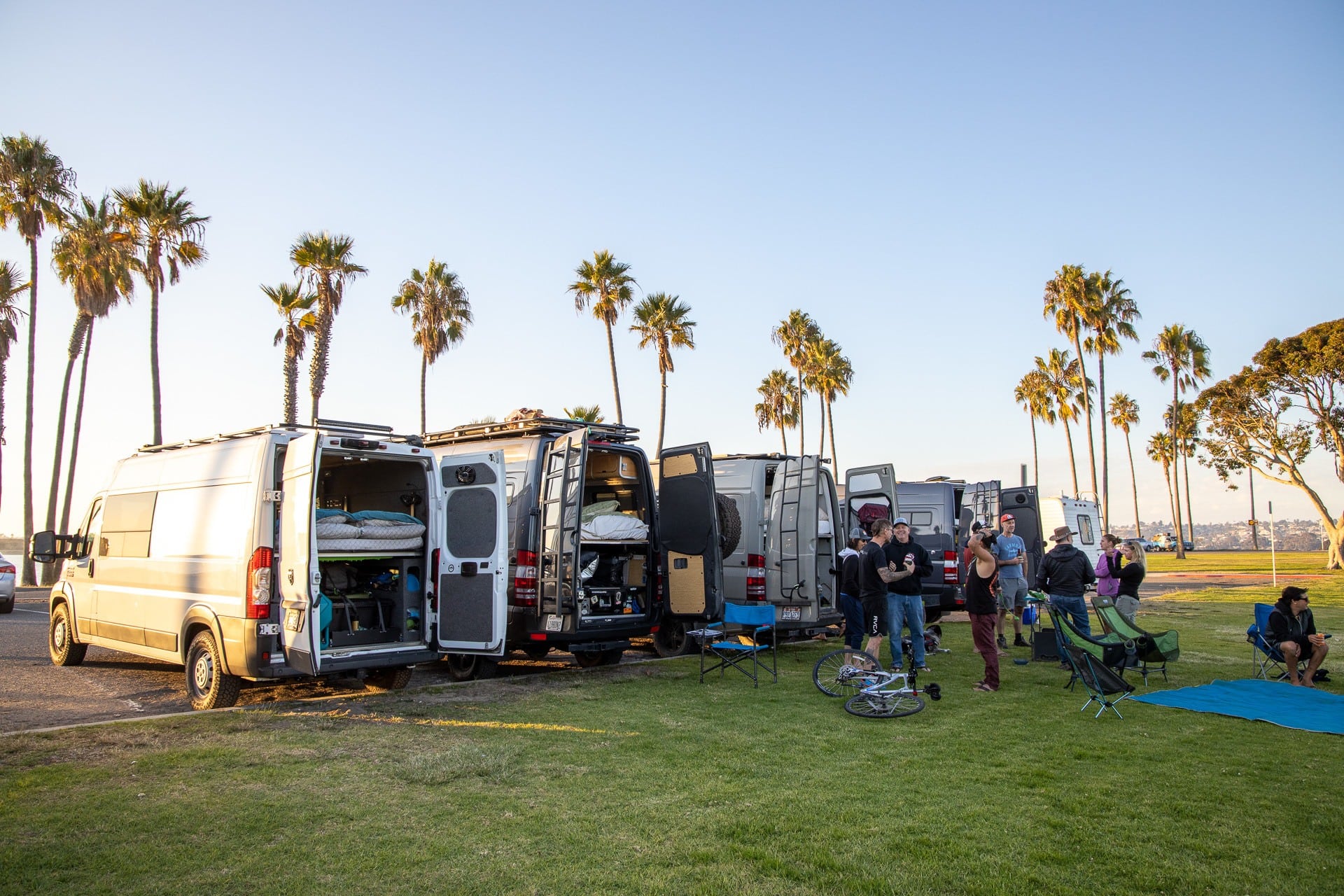 If you're reading this blog post, chances are you're probably wondering, "what are the best vans for van life?" There are a lot of different options out there to choose from and each van model has its own pros and cons. Whether you're looking at a Mercedes Sprinter, Ford Transit, Dodge Promaster, or even a VW and budget-friendly cargo-style vans, there's a lot to consider. For example, your budget, what you'll be using the van for, and the climates you hope to travel in are just a few factors that determine what the best van will be for you.
In this post, we dive into all the details about the best vans to live in and discuss the pros and cons of the most popular vans for van life. We'll cover budgets, off-road capability, cargo space, and more so you can narrow down the best options that will work for your lifestyle.
Sprinter Vans
As you may know, I have had two Sprinter vans. You can see my first, a 144″ Sprinter here, and my second, a 170″ Outside Van Sprinter here. My #1 reason for choosing a Sprinter over the other vehicle types is it's currently the only one with a factory 4×4 option. We spend a lot of time in the snow and on rough dirt roads, so this was a non-negotiable for me.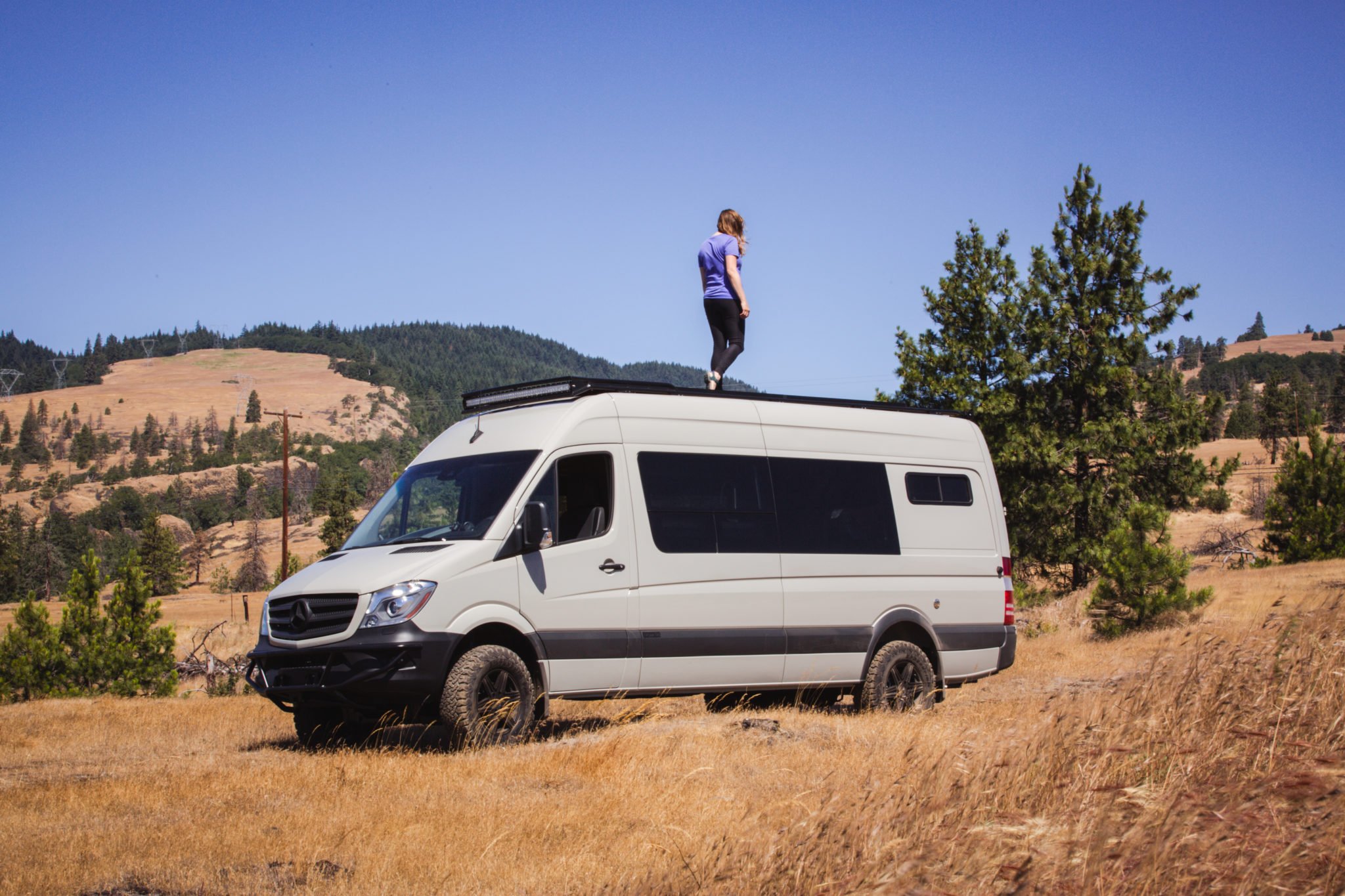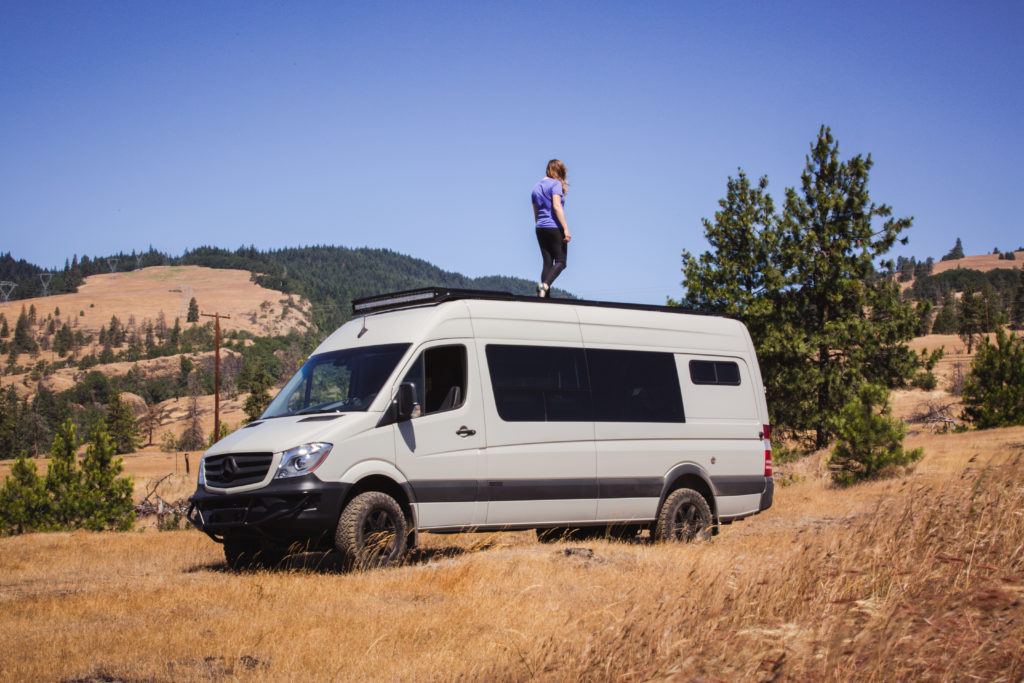 Pros and cons of Sprinter vans
Sprinter Van Pros
The Sprinter is one of the best vans for van life if it's within your budget. Here are some of the pros of Sprinter vans:
They get good gas mileage for a vehicle of their size (20+ mpg for the 2 wheel drive option, 13-16 mpg in the 4×4 option).
They are available in both a 144″ and 170″ wheelbase for different size options
They are available in diesel, which means a 400k+ mile lifetime
Pre-2008 Sprinters don't require diesel exhaust fluid (DEF)
Compared to the other panel vans, Sprinters have a higher payload than the Transit or the Promaster, which means it can handle more weight in the interior of the van
Unless you're very tall, most people can stand up inside
Sprinter Van Cons
While I love my Sprinter and still think they are one of the best vans for van life, they do have a few cons:
They are expensive off the bat and are expensive to maintain
They operate on a complex computer system
Many mechanics won't work on them (partially because of the complex computer system), so you are stuck paying dealer prices
They are prone to rust
Is 4×4 Worth it on the Sprinter?
Sprinters are expensive to begin with, but the 4×4 upgrade comes with an even heftier price tag and a couple of its own pros and cons to consider.
4×4 Sprinter Pros
The Sprinter is currently one of the only van options that has a factory 4×4 option available
The 4×4 Sprinter has a 4″ higher clearance than the standard 2 wheel drive Sprinter (and there's even more clearance with the 2019 model)
4×4 Sprinters hold their value when it comes to resale
4×4 Sprinter Cons
4×4 Sprinters are expensive
They are significantly less gas efficient than the 2wd version. I get about 13-16 mpg in my current Sprinter, while many 2wd V4 Sprinters are reported to get 20 miles per gallon or more
The stock Sprinter suspension isn't really made for off-roading, so if that's something you want to do in your 4×4 Sprinter, you'll likely want to consider the additional cost of a suspension upgrade
In the past, there has been a limited supply of 4×4 Sprinters, so you may have to wait 6-9 months to get one once you place your order
If you don't plan on off-roading or spending a lot of time in the snow, then the 2 wheel drive Sprinter should be adequate for you.
With all that said, I have been very impressed with the performance of my 4 wheel drive Sprinter and would choose to get the 4×4 upgrade if I were to get another one. For other opinions, I'll share some links in the resources section at the end of this post for you to explore.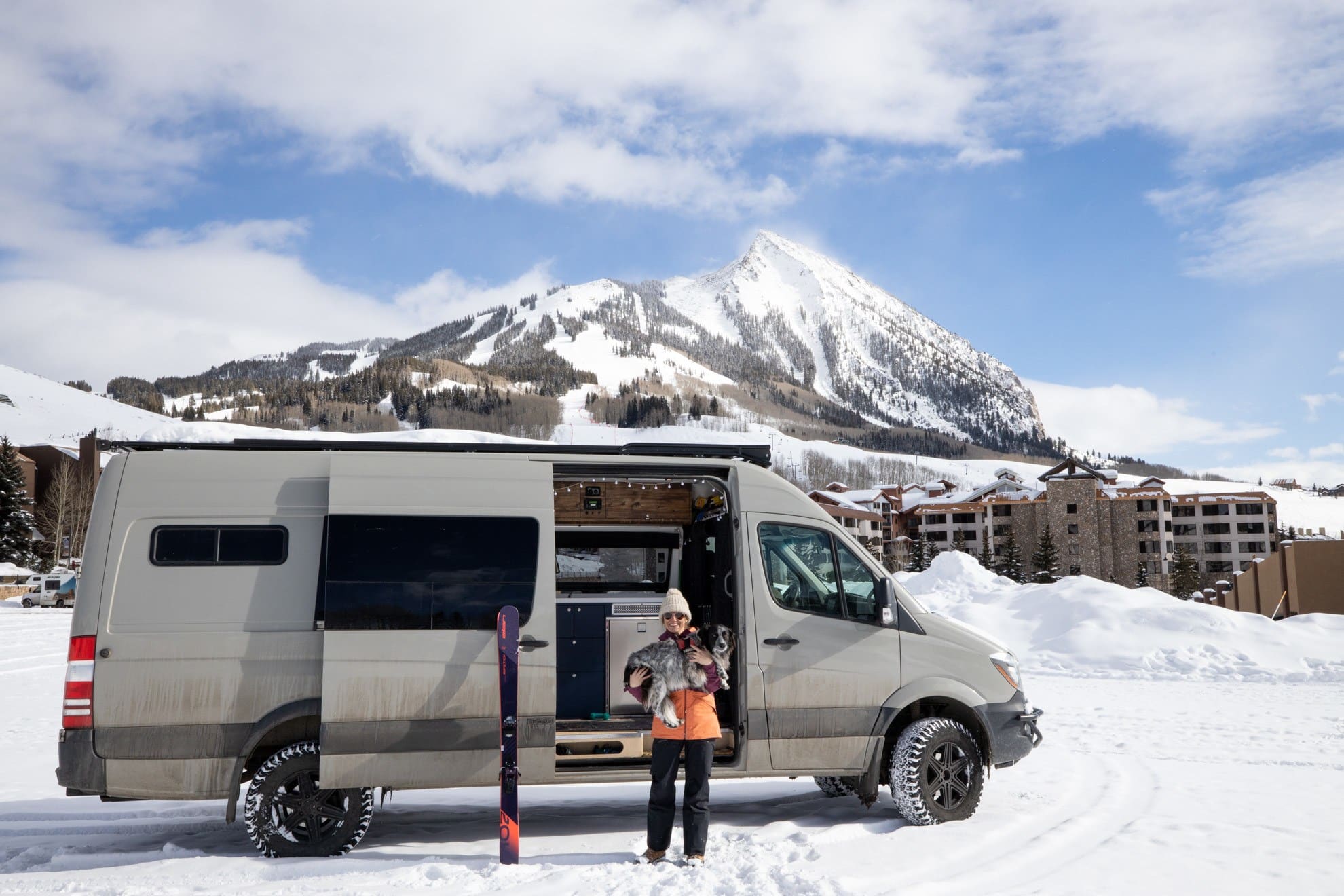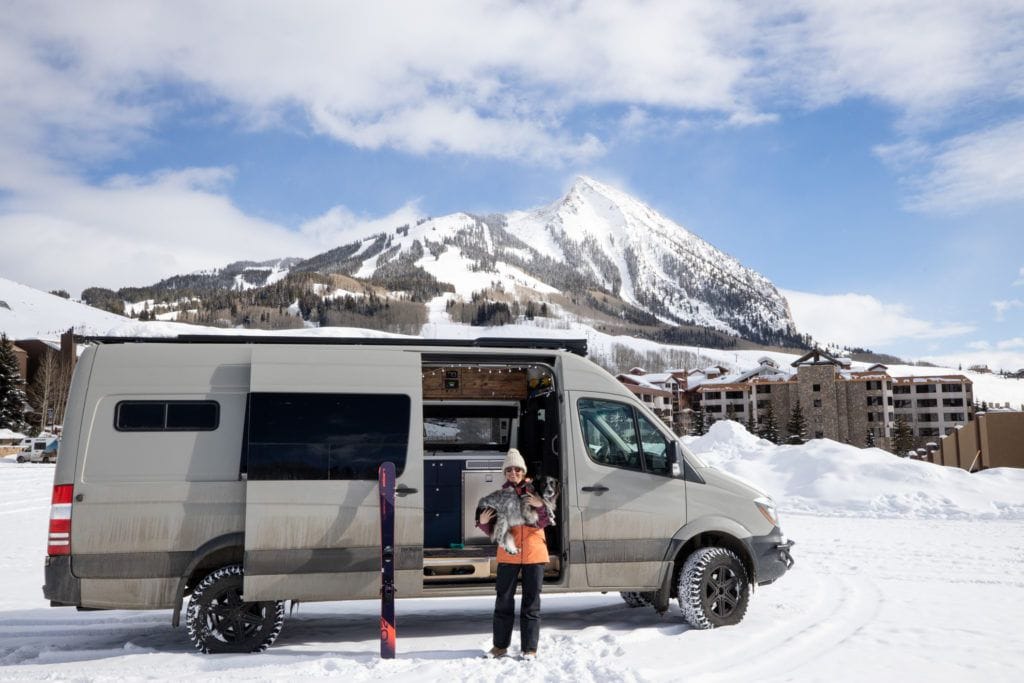 144 vs 170″ Sprinter Van
If you're settled on the Sprinter van as the best van for van life, you next have to decide whether you want the 144″ or the 170″ wheelbase Sprinter.
My first Sprinter was the 144" wheelbase and my second Sprinter was the 170" wheelbase which provides about 3 1/2 extra feet of living space. There is also a 170" extended version, but that length is not very common. Here is a detailed blog post I wrote comparing and contrasting my experience with the two lengths.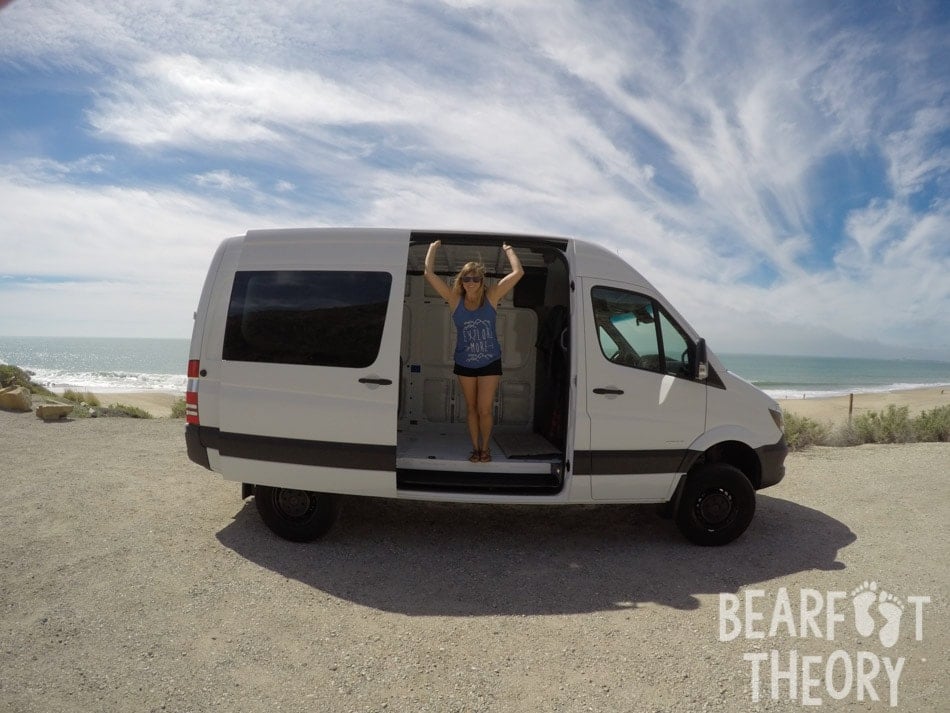 For full-time living, I have been very happy with the 170" wheelbase. The extra storage and living space have more than made up for the minor inconvenience of having a larger vehicle.
The two wheelbases are very similar in the way they drive and both are highly maneuverable. You just have to be a bit more careful with the 170" wheelbase on tight turns and steep terrain. With that said, we have rallied our 170" Sprinter all over the mountains of Colorado, and good driving skills go a long way. We also choose to avoid busy cities with crowded streets as the stress simply isn't worth it.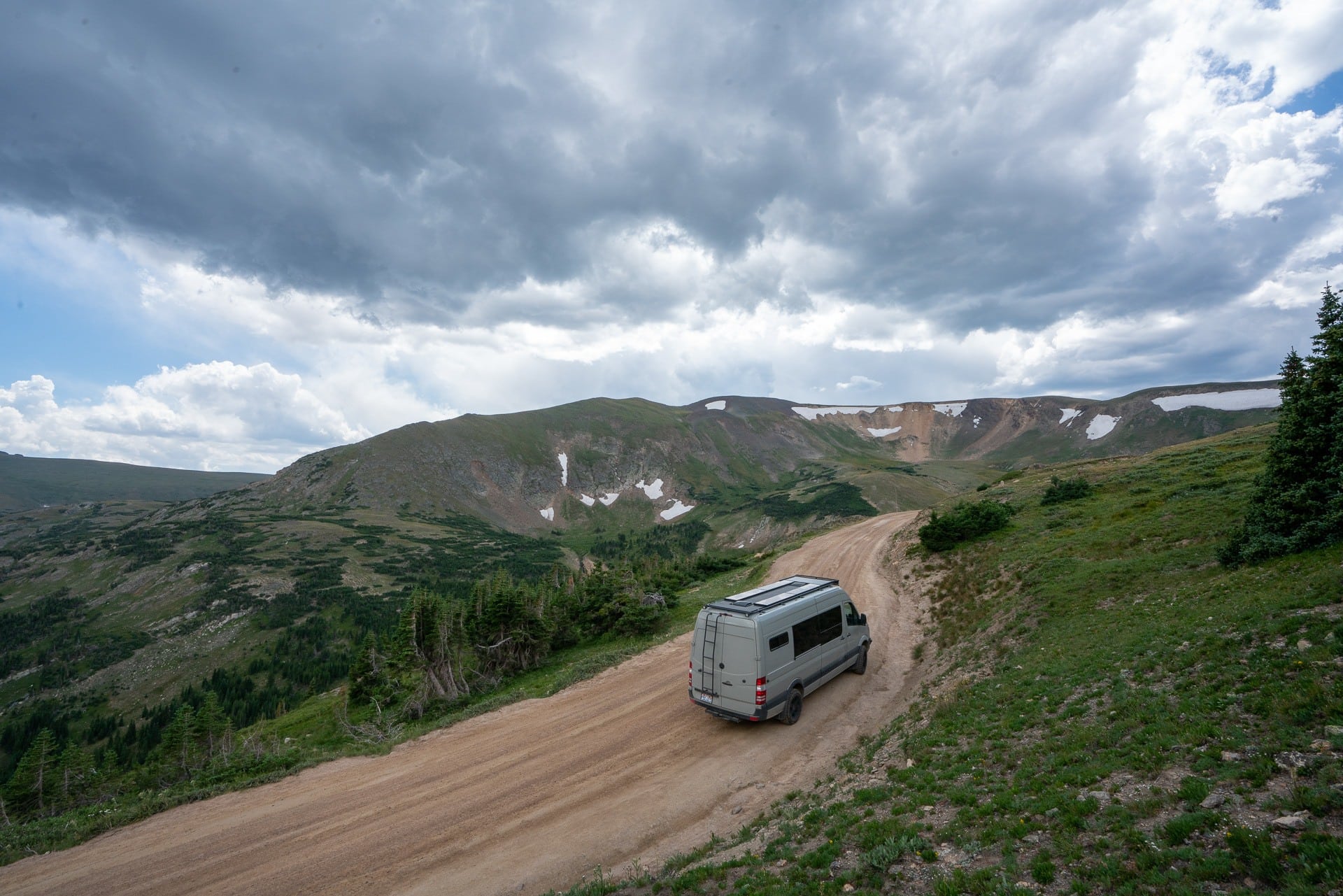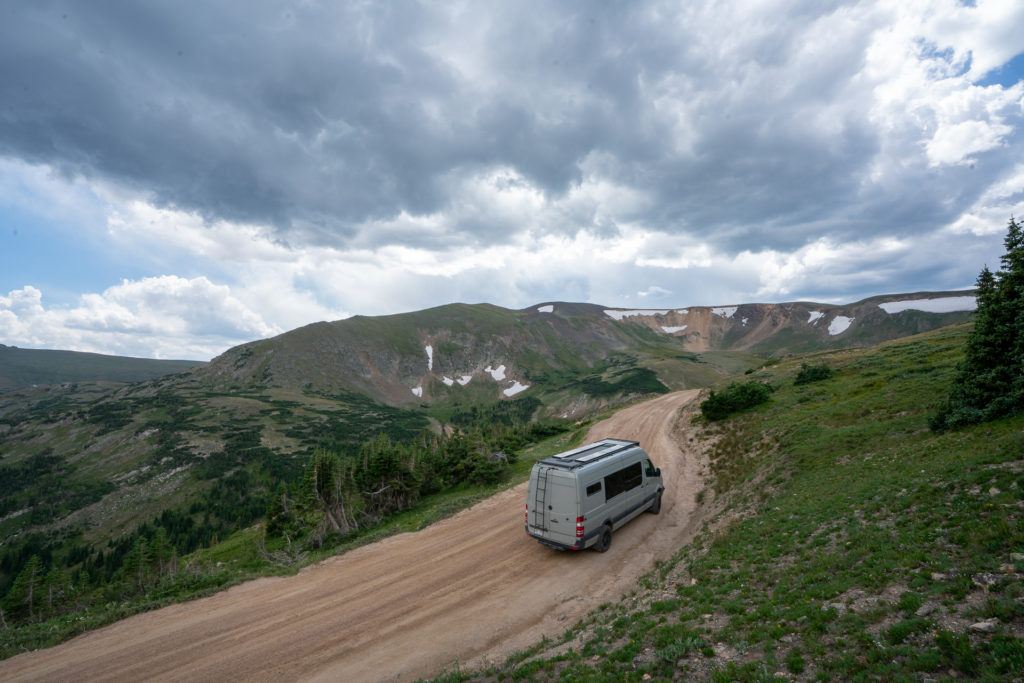 If you plan to do a lot of city driving, are only 1-2 people, and are doing van life part-time, then the 144" might be the way to go.
Sprinter van warranty
For anyone purchasing a Sprinter, I highly recommend the extended warranty. It's expensive, but so is the maintenance. Because the computer on these Sprinters is so complicated, most regular mechanics won't touch them, leaving the dealer as your only option when you have an issue.
---
Ford Transit Vans
For the first time in 2020, the Ford Transit came out in an all-wheel-drive version. This system is not as hearty as a traditional four-wheel drive, but it's a big step up from the regular 2wd Transit, which is rear-wheel drive. It is less expensive than the Sprinter, but as of 2021, the all-wheel-drive Ford Transit only comes in a gas model.
The other thing to point out about the new Transit AWD is, unlike the Sprinter where the 4×4 version gets you added clearance, the Ford Transit AWD has no more clearance than the 2wd version.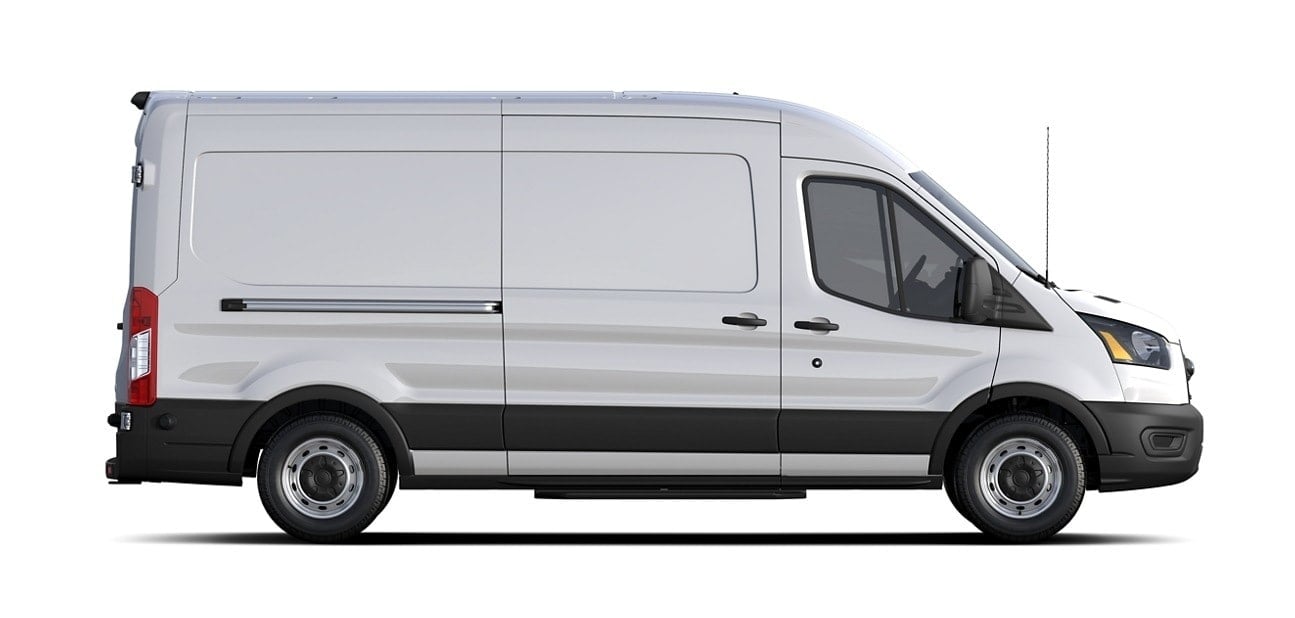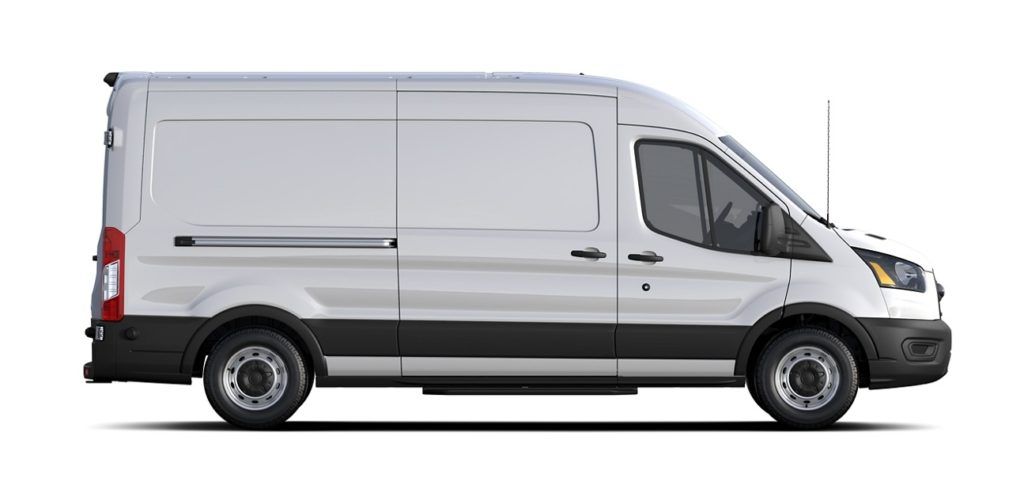 Pros and cons of the Ford Transit
Ford Transit Pros
The biggest advantages of the Ford Transit over the Sprinter are the lower cost of maintenance and the fact that you can have it serviced anywhere. Parts are easy to come by and if you break down in a small rural town, your chances of having it easily fixed (without costing a fortune) are much greater than with a Sprinter. The Ford also has the tallest interior height option for those of you over 6 feet tall.
Ford Transits are less expensive upfront compared to Sprinters and some of the other van options for van life
They have lower maintenance costs than Sprinters
They are easier to service than Sprinters
Parts are easy to come by
They have the tallest interior height
There is a factory all-wheel-drive option
Ford Transit Cons
Ford Transits have lower clearance than some of the other van options out there
The new all-wheel-drive model is only available with a gas engine, not diesel
Ford Transits are slightly less fuel efficient compared with Sprinters
Aftermarket 4×4 Conversion
If you are set on the Ford Transit but want a more robust 4 wheel drive, you can always do an aftermarket conversion. Quigley is the leader in this space and as of 2019, their 4×4 conversion on the 2wd Transit costs about $13,000, which with the cost of the Transit van, may still be a bit cheaper than a 4×4 Sprinter depending on the options you choose
---
Dodge Promaster Vans
The Dodge Promaster is the most economical of the panel-style vans, so it's a great option for those on a budget. In contrast to the 2wd Transit and Sprinter, the Promaster is front-wheel drive which provides more traction but isn't as nimble or responsive as rear-wheel drive. You'll notice the biggest difference when driving windy mountain roads.
The Promaster is also more DIY friendly due to its boxy nature and straight lines inside the van which make for an easier conversion.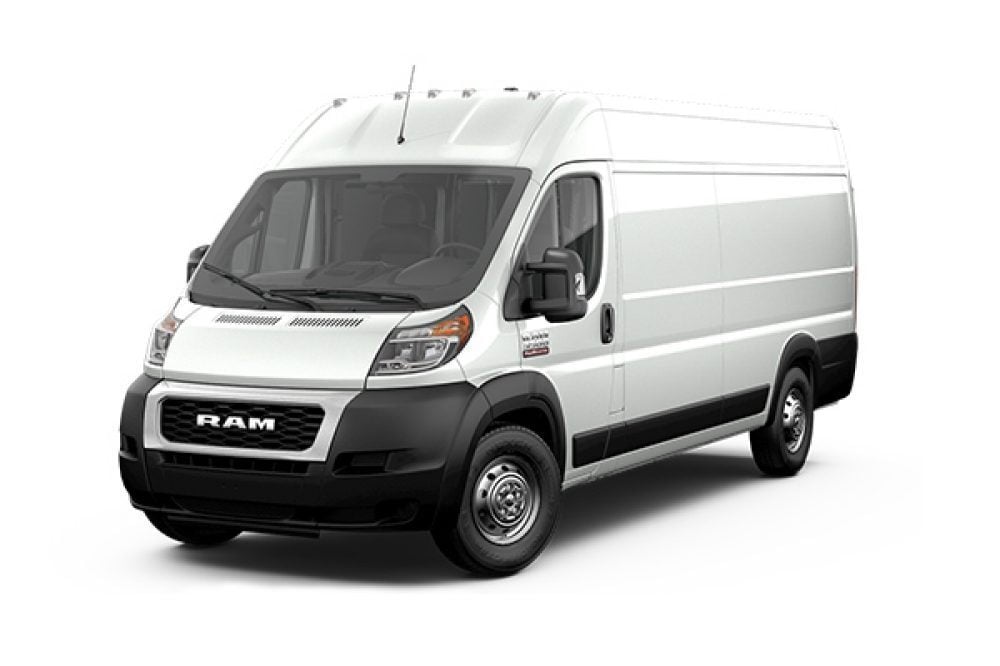 Dodge Promaster pros and cons
Dodge Promaster Pros
Most economic of the panel style vans
Can average about 18 miles per gallon on highways
DIY friendly boxy shape with straight lines makes for an easier conversion
Dodge Promaster Cons
The longest model is 3 feet shorter than the 170" Sprinter, so the Promaster will require you to pack more thoughtfully
Ground clearance on the Promaster is 1" less than the 2wd Transit and Sprinter, so off-roading capability with the Promaster is a bit more limited
Front wheel drive means getting stuck is more common than RWD, AWD, or 4×4 vehicles
---
Other Van Life Vehicle Options
Panel-style vans aren't the only option for van life. In fact, these are relatively new to the scene, so I also want to share a few other vehicles you can consider.
Ford Econoline
If you are familiar with the van conversion company Sportsmobile, this is the vehicle platform that they traditionally used before they started converting Sprinters. The E-Series is budget-friendly with a huge used market. Some have even been converted to 4 wheel drive and these are extremely off-road capable.
The downside of the Ford E-Series is they are gas guzzlers and you cannot stand up inside unless a pop-top has been installed.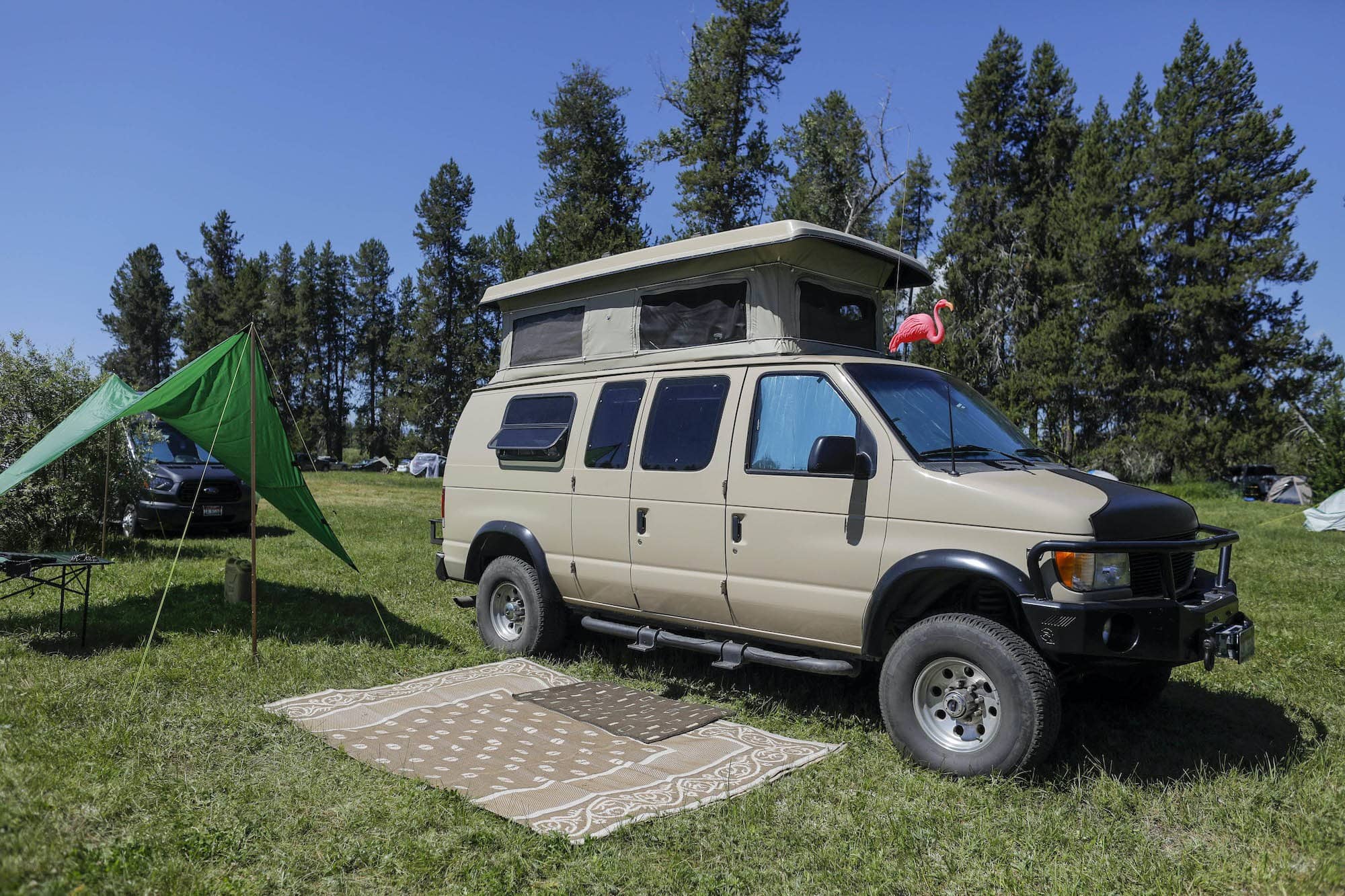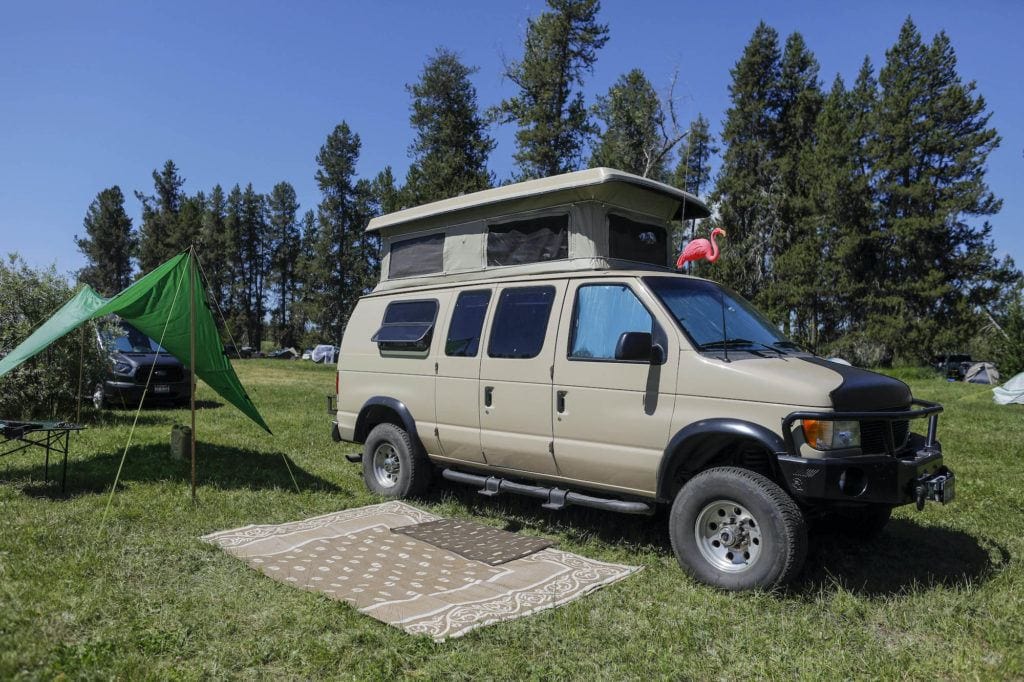 VW Vanagon / Westfalia
These vintage-style vans offer tried and tested layouts, many with a pop-top, built-in bed, and a built-in kitchen. If you choose this style of van, you better be a patient problem-solver with serious mechanical skills. Parts are hard to come by and with the age of the vehicle, you are bound to run into issues.
These vans also tend to be expensive, despite being 20, 30, and 40 years old.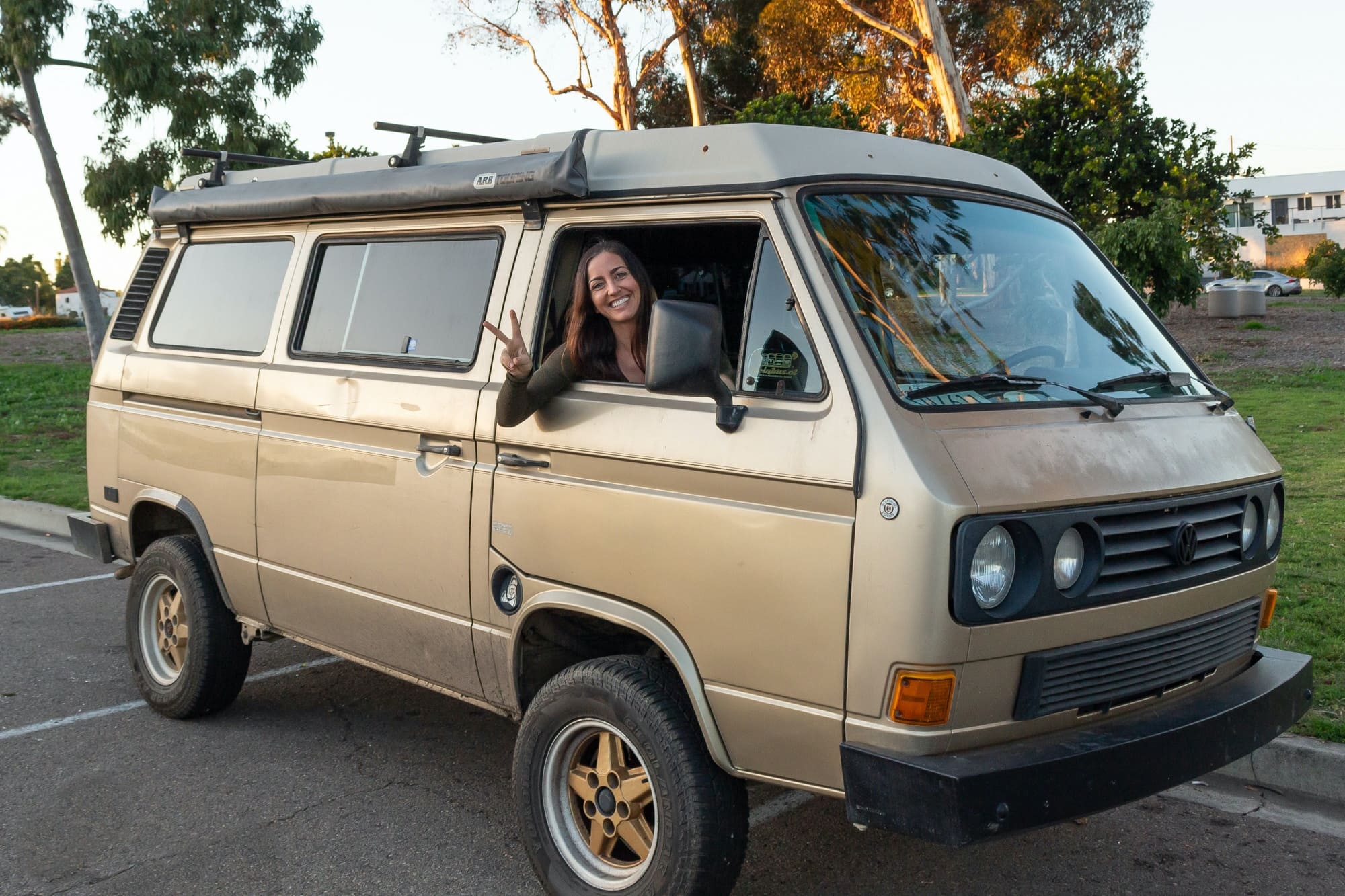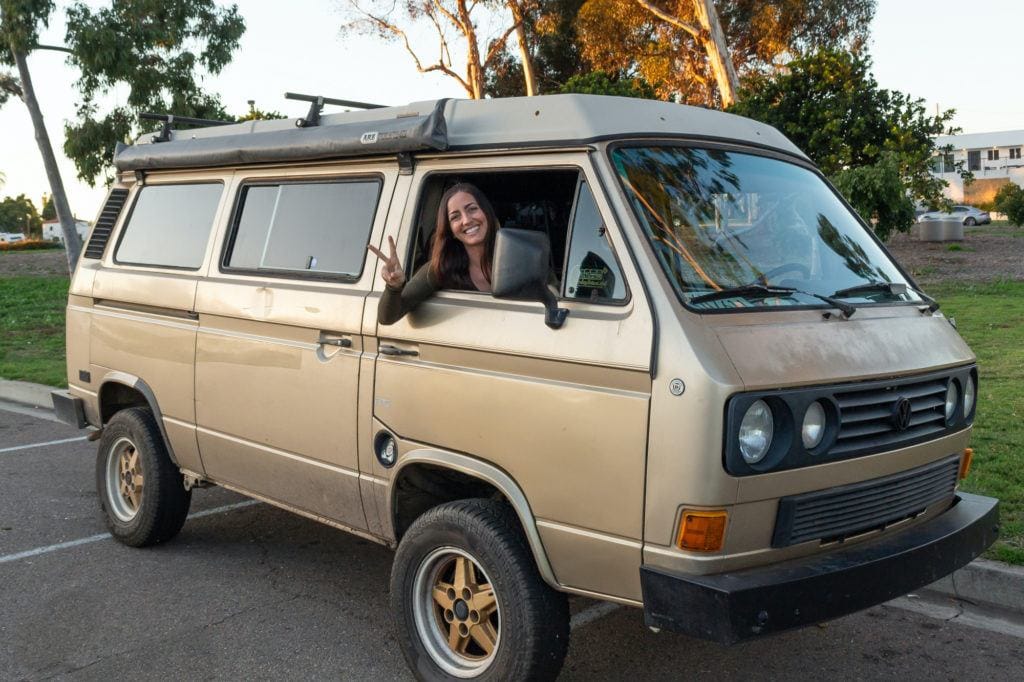 While we've covered the most common vehicle types considered to be the best vans for van life conversions, you are really only limited by your creativity. You can create your own version of van life utilizing any type of vehicle that is big enough to sleep in. Mini-vans, truck campers, Suburbans, ambulances, hatchbacks… the list goes on. The key is to stay within your budget and make sure you have a vehicle that you will be able to maintain.
---
Questions to Ask Yourself When Choosing the Right Van for You
The first step for van life is choosing the right vehicle platform. What vehicle works best for one person might not be the best option for you. A surf van is different than a ski van. A family has different needs than a solo traveler. My point is there is no one size fits all solution when it comes to choosing the right vehicle for van life. Here are a few questions to ask yourself before choosing a van.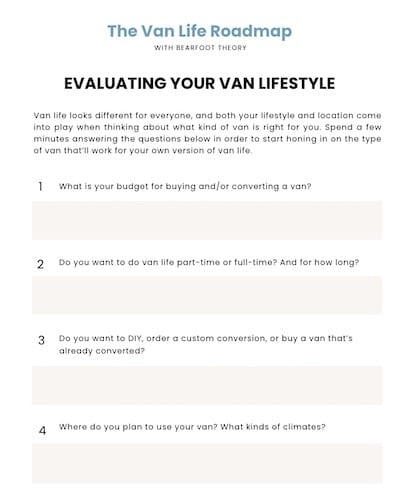 Freebie!
Evaluating Your Van Lifestyle Worksheet
Get this free PDF worksheet to help you determine your priorities for your camper van conversion.
What Is Your Budget For A Van?
Your answer to this question should guide all of your decisions moving forward. The key here is that if van life imposes too much financial stress on you, you'll be missing the point altogether. If you really want to enjoy van life and the freedom it affords, the right vehicle for you is one that's within your means. If you want to know more about what van life costs, check out this blog post.
Do You Want To Do Van Life Part-Time Or Full-Time And For How Long?
The reason this question is important is if you are only going to use the van on the weekends vs long-term travel, you might not need or want as extensive of a build. This can also influence the size of vehicle you'll need for van life. If you plan on living in your van full-time, you may want a shower, a bathroom, and a bit more space. If you're using it for traveling here and there, you might not need these things.
Where Do You Plan to Use Your Van?
If you plan to use it as a winter ski van or to travel to cold destinations, you'll want to make sure you look for a van that you can winterize for 4 season use, or buy one that's already outfitted this way. Or maybe you want to use your van to escape winter, and in that case, you'll want something that's comfortable for warmer temps, with windows that open so you can get a nice cross breeze. If you plan to rally your van on gnarly dirt roads or sand, then 4×4 may be non-negotiable. And finally, if you frequently need to go stealth in the city, then you'll want something smaller, easier to park, and more discrete.
How Many People Will Be Living In The Vehicle?
If it'll just be you in the van, that's one thing, but if your partner or family is along for the ride, you'll want to make sure they're comfortable too. Another thing to consider is: If you're solo now, do you think you'll still be solo by the time you hit the road?
What Gear Is A Must For You In The Van?
Next, think about what gear is a must for you in the van. If you're a mountain biker and you want to fit your bike inside the van, a platform bed in a panel-type van is likely what you'll end up with. If you prefer to hike and all you need is a pack and a pair of shoes, then you might not need so much space and you'll have a lot more layout options. In this case, you might even be able to get away with a mini-van or a hatchback.
How Tall Are You?
How tall are you? The Ford Transit has the most interior headspace, followed by the High Roof Sprinter. If you want to stand up inside your van, these and the Promaster are your best options… but again, you should let your budget do the talking. If standing up isn't important to you, then a cargo van, like the Econoline, will be much cheaper.
When Do You Want to Start Van Life?
This is the final question. If you want to start van life as soon as possible, you're going to be looking at used vans that are already built out. If you want a custom build, you'll obviously need more time. Certain vans – particularly the 4×4 Sprinter and those converted by popular conversion companies – have a waitlist and could take a year to be ready.
Van Life Essentials Packing List
Below are a few of my favorite pieces of van life gear and recommendations for the road:
This is a great place to list items used in your outfit, party, etc and use an affiliate link to amazon for the items. This little box is a great space to disclose that the below links are affiliate links.
---
What are your thoughts on the best vans for van life? Which model are you leaning towards for your van conversion? Leave a comment below and make sure to sign up for our van life newsletter!