In the last lesson, we talked about how your lifestyle and location will affect your van choice, and we also gave you some questions to start thinking about. In this lesson, we'll talk about some the best vans for van life and the pros and cons of each.
We cover popular panel style vans such as the Mercedes Sprinter, Ford Transit, and Dodge Promaster, as well as the VW and budget-friendly cargo style vans. Whether you are looking for something budget-friendly, off-road capable, or a van with a lot of headspace, by the end of this blog post, you'll have all of the details about the best vans to live in, so you can narrow down the options that will work for your lifestyle.
Why Panel Vans are the Best Vans for Van Life
In recent years, panel type vans have taken off as the best vans for van life. These panel vans include the Mercedes Sprinter, the Ford Transit, and the Dodge Promaster. These have gained popularity for a few reasons.
In the tall roof models, you can stand up inside (unless you are taller than 6'5", then you might have trouble).
They are fully customizable. You literally buy the empty shell and then the van is your oyster.
Depending on what the outside looks like, these can pass as work vans, allowing you to go stealth in the city.
Now let's talk about some of these panel type vans for van life and the major differences between them, starting with the Sprinter Van.
Sprinter Van
As you may know, I have a Sprinter Van, and I'm currently on my second one. My #1 reason for choosing a Sprinter over the other vehicle types is it's currently the only one with a factory 4×4 option. We spend a lot of time in the snow and on rough dirt roads, so this was a non-negotiable for me.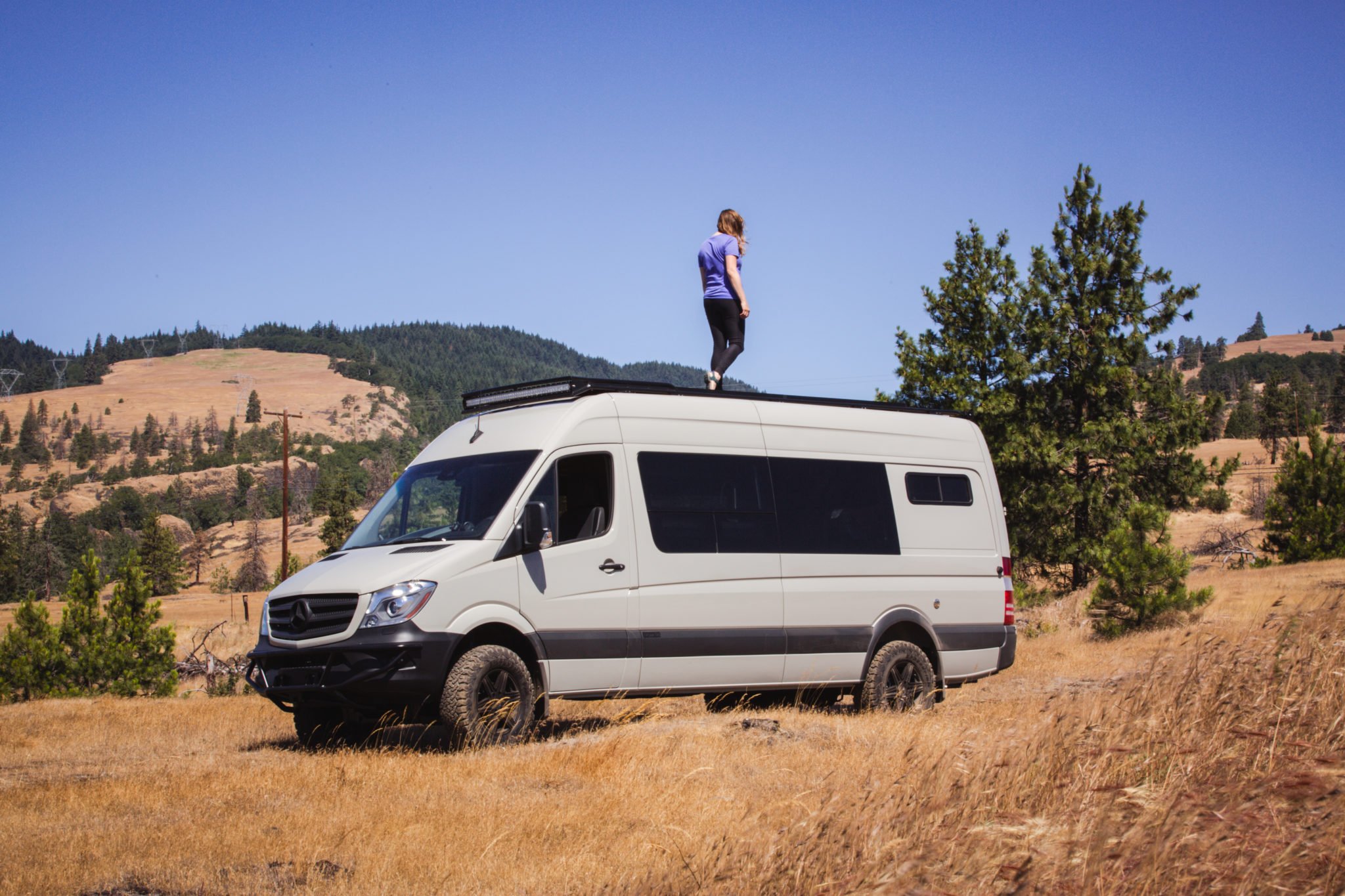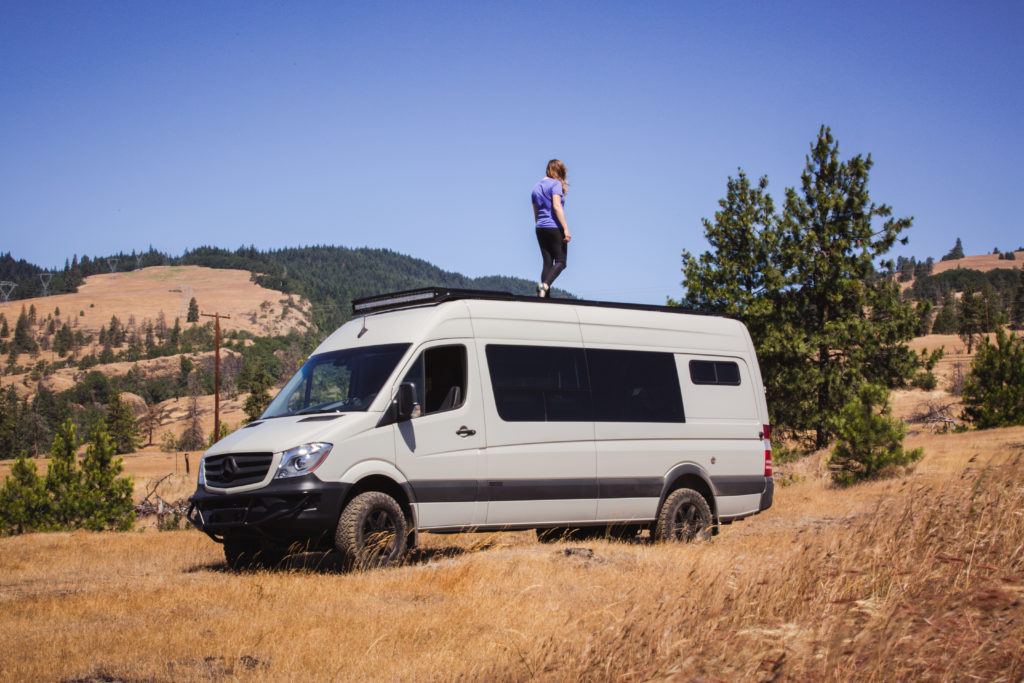 Sprinter Van Pros
The Sprinter is one of the best vans for van life if it's within your budget. Here are some of the pros of Sprinter vans:
They get good gas mileage for a vehicle of their size (20+ mpg for the 2 wheel drive option, 13-16 mpg in the 4×4 option).
They're available in both a 144″ and 170″ wheelbase for different size options.
They are available in diesel, which means a 400k+ mile lifetime
Pre 2008 Sprinters don't require diesel exhaust fluid (DEF).
Compared to the other panel vans, Sprinters have a higher payload than the Transit or the Promaster, which means it can handle more weight in the interior of the van.
Sprinter Van Cons
While I love my Sprinter and still think they are one of the best vans for van life, they do have a few cons:
They are expensive off the bat and are expensive to maintain.
They operate on a complex computer system.
Many mechanics won't work on them (partially because of the complex computer system), so you are stuck paying dealer prices
They are prone to rust.
I'm frequently asked if I've encountered any problems with my Sprinter. I've had a few minor things here and there, but nothing major. In my first Sprinter, the DEF sensor had to be replaced. Fortunately, it was under warranty.
Is 4×4 Worth it on the Sprinter?
Sprinters are expensive to begin with, but the 4×4 upgrade comes with an even heftier price tag and a couple of its own pros and cons to consider.
4×4 Sprinter Pros
The Sprinter is currently one of the only van options that has a factory 4×4 option available.
The 4×4 Sprinter has a 4″ higher clearance than the standard 2 wheel drive Sprinter (and there's even more clearance with the 2019 model).
4×4 Sprinters hold their value when it comes to resale.
4×4 Sprinter Cons
4×4 Sprinters are expensive.
They are significantly less gas efficient than the 2wd version. I get about 13-16 mpg in my current Sprinter, while many 2wd V4 Sprinters are reported to get 20 miles per gallon or more.
The stock Sprinter suspension isn't really made for off-roading, so if that's something you want to do in your 4×4 Sprinter, you'll likely want to consider the additional cost of a suspension upgrade.
In the past, there has been a limited supply of 4×4 Sprinters, so you may have to wait 6-9 months to get one once you place your order.
If you don't plan on off-roading or spending a lot of time in the snow, then the 2 wheel drive Sprinter should be adequate for you.
With all that said, I've been very impressed with the performance of my 4 wheel drive Sprinter and would choose to get the 4×4 upgrade if I were to get another one. For other opinions, I'll share some links in the resources section at the end of this lesson for you to explore.
144 vs 170″ Sprinter Van
If you're settled on the Sprinter Van as the best van for van life, you next have to decide whether you want the 144″ or the 170″ wheelbase Sprinter.
My first Sprinter was the 144" wheelbase, and my current Sprinter is the 170" wheelbase which gives you about 3 and a half extra feet of living space. There is also a 170" extended version, but that length is not very common. Here is a detailed blog post I wrote comparing and contrasting my experience with the two lengths.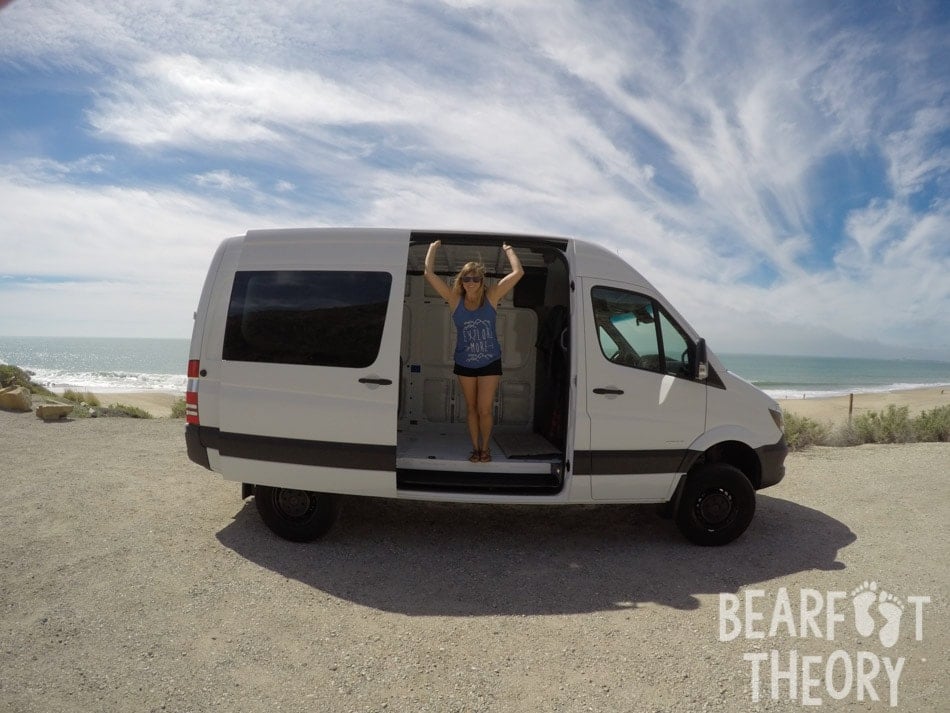 To give you a quick summary, for full-time living, I've been very happy with the 170" wheelbase. The extra storage and living space has more than made up for the minor inconvenience of having a larger vehicle.
The two wheelbases are very similar in the way they drive and both are highly maneuverable. You just have to be a bit more careful with the 170" wheelbase on tight turns and steep terrain. With that said, we rallied our 170" Sprinter all over the mountains of Colorado this summer, and good driving skills go a long way. We also choose to avoid busy cities with crowded streets as the stress simply isn't worth it.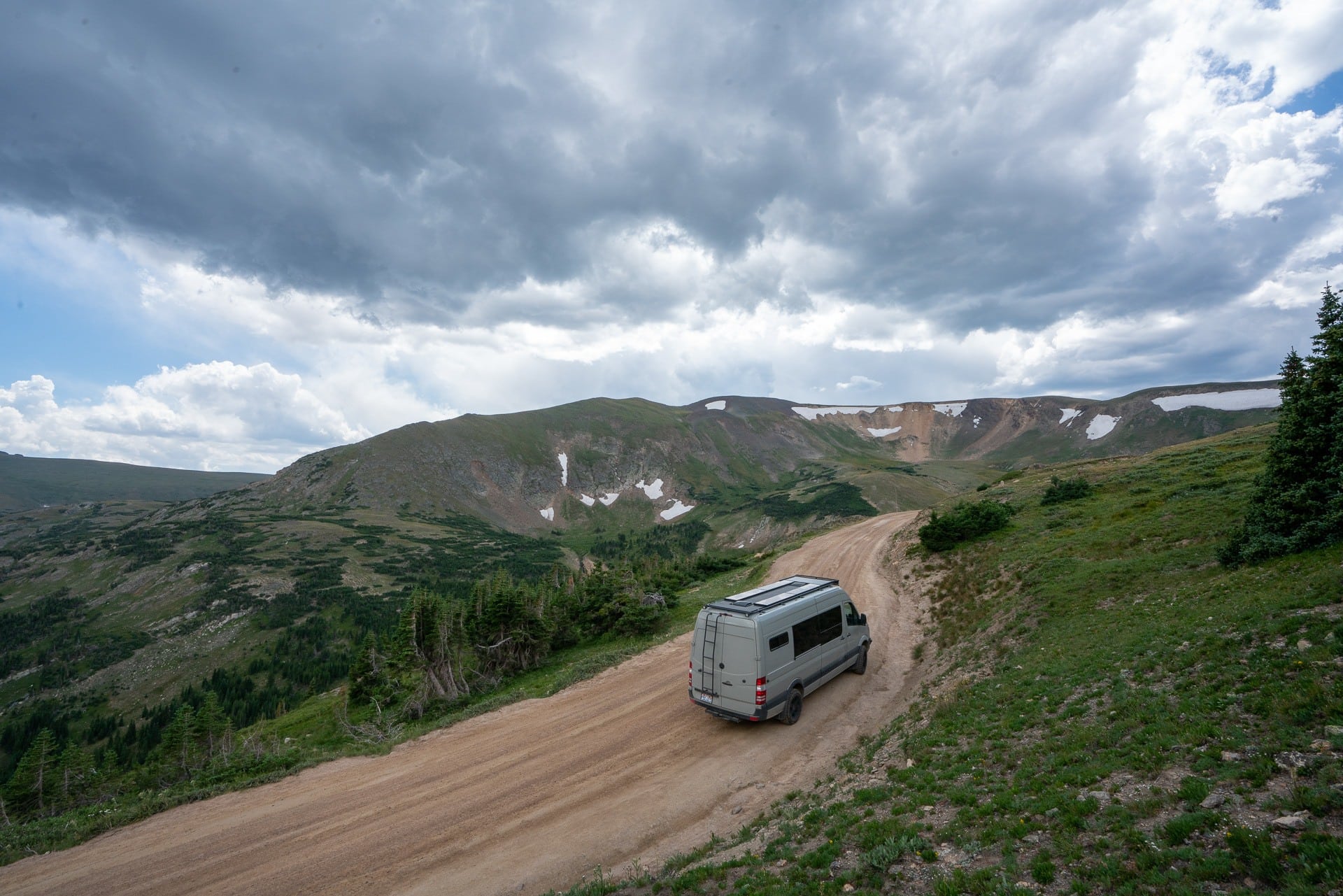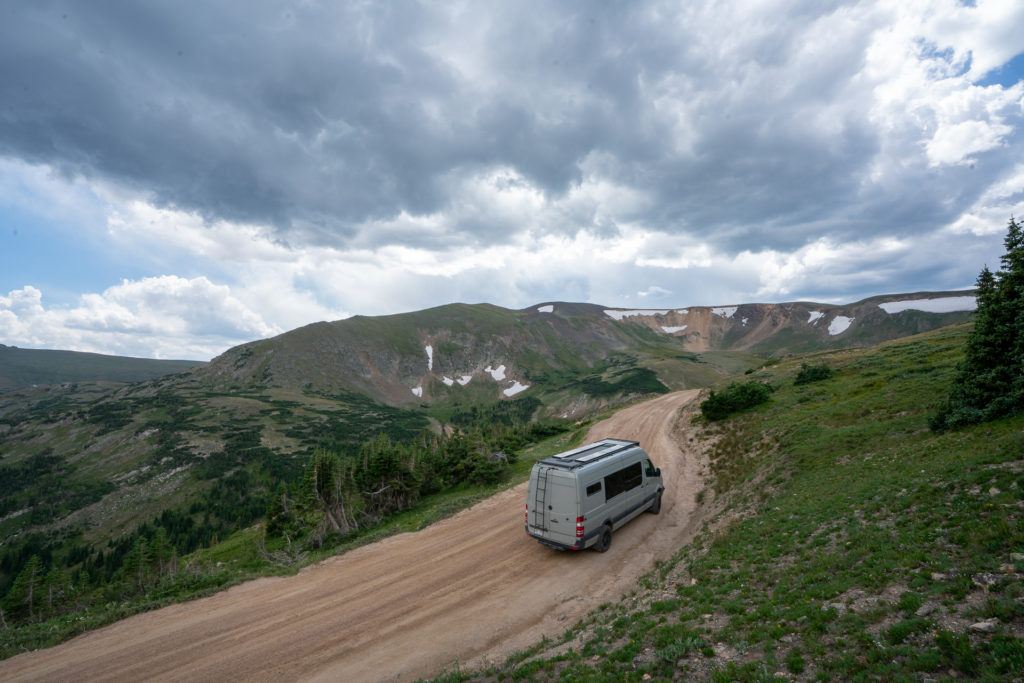 If you plan to do a lot of city driving, are only 1-2 people, and are doing van life part-time, then the 144" might be the way to go.
Finally, for anyone purchasing a Sprinter, I highly recommend the extended warranty. It's expensive, but so is the maintenance. Because the computer on these Sprinters is so complicated, most regular mechanics won't touch them, leaving the dealer as your only option when you have an issue.
Ford Transit
Now, let's talk about the Ford Transit.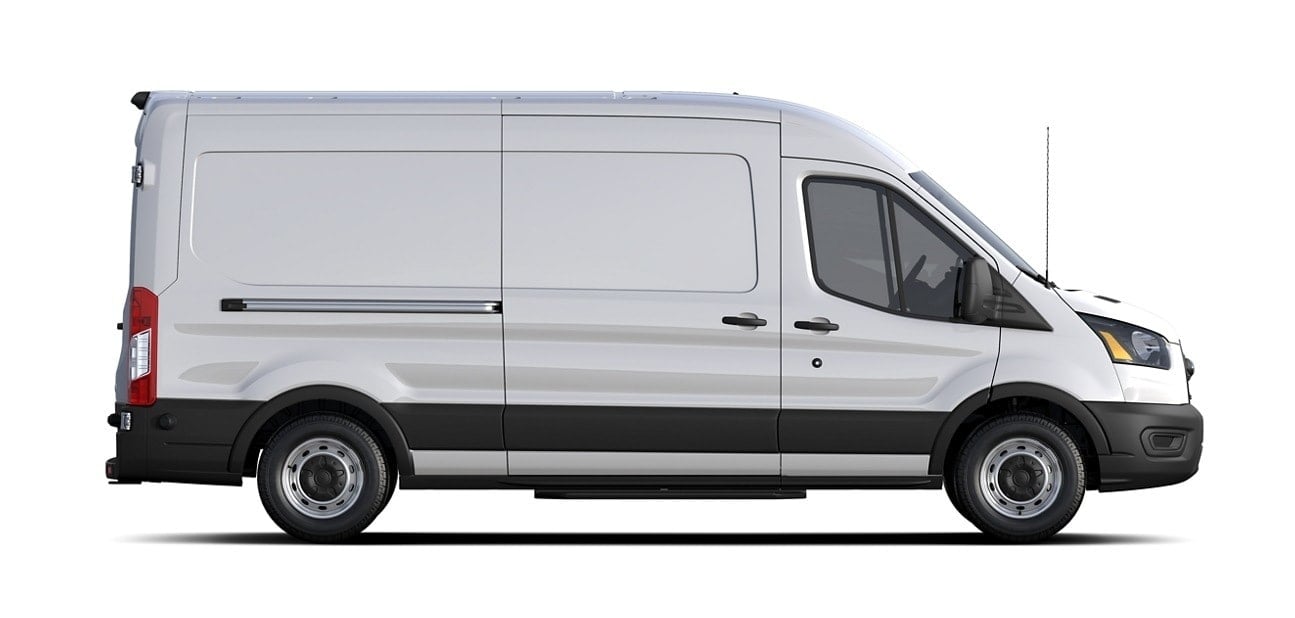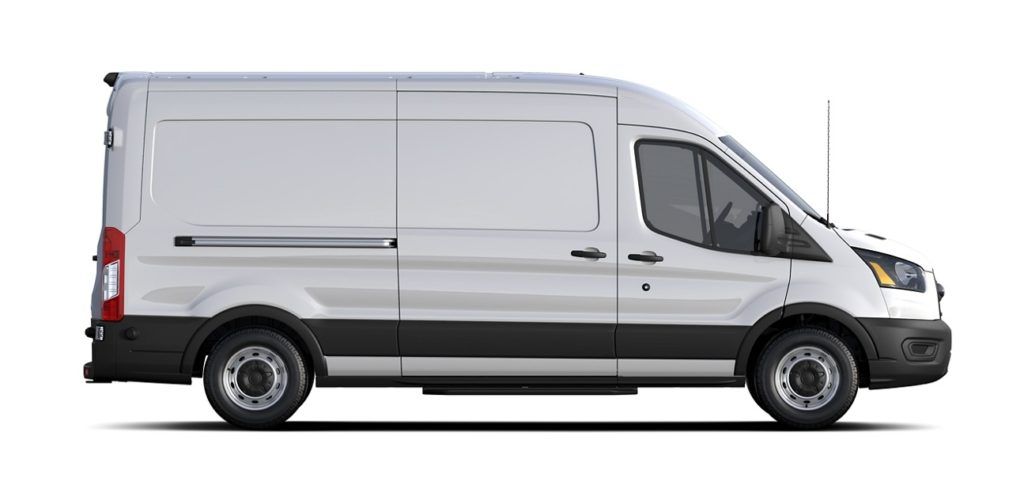 For the first time in 2020, the Ford Transit is coming out in an All Wheel Drive Version. This is not as hearty as a traditional four-wheel drive, but it's a big step up from the regular 2wd Transit, which is rear-wheel drive. It is less expensive than the Sprinter, but as of 2020, the All-Wheel Drive Ford Transit only comes in a gas model.
The other thing to point out about the new Transit AWD is, unlike the Sprinter where the 4×4 version gets you added clearance, the Ford Transit AWD has no more clearance than the 2wd version.
Ford Transit Pros
The biggest advantages of the Ford Transit over the Sprinter are the lower cost of maintenance and the fact that you can have it serviced anywhere. Parts are easy to come by and if you break down in a small rural town, your chances of having it easily fixed (without costing a fortune) are much greater than with a Sprinter. The Ford also has the tallest interior height option for those of you over 6 feet tall.
Ford Transits are less expensive upfront compared to Sprinters and some of the other van options for van life.
They have lower maintenance costs than Sprinters.
They are easier to service than Sprinters.
Parts are easy to come by.
They have the tallest interior height.
There is a factory all wheel drive option that will be available starting in 2020.
Ford Transit Cons
Ford Transits have lower clearance than some of the other van options out there.
The new all-wheel drive model is only available with a gas engine, not diesel.
Ford Transits are slightly less fuel efficient compared with Sprinters.
Gas vs Diesel Ford Transit
The downside of a gas model is gas engines simply don't last as long as diesel. A gas engine at 150,000 miles is considered near the end of its life, while diesel engines are known to run 300,000 or 400,000 miles. When you're dumping time and money into your conversion, don't you want the lifetime of the van to be as long as possible, if for nothing else but resale value?
The only situation where I can see the gas engine being an advantage is if you plan to drive down to Central and South America. Newer diesel engines from the US require ultra-low sulfur diesel, which is not widely available in Central and South America. If driving the Pan-American Highway is your major intention, then a gas engine or an older used van might be your best bet. Gas is also cheaper in some places.
For gas efficiency, the reported gas mileage of the gas Ford Transit is between 14-18 miles per gallon and 20 miles per gallon for diesel, which is more than the 4×4 Sprinter and less than the 2wd Sprinter.
Aftermarket 4×4 Conversion
If you are set on the Ford Transit, but want a more robust 4 wheel drive, you can always do an aftermarket conversion. Quigley is the leader in this space and as of 2019, their 4×4 conversion on the 2wd Transit costs about $13,000, which with the cost of the Transit van, may still be a bit cheaper than a 4×4 Sprinter, depending on the options you choose
Dodge Promaster
Now, onto another popular option, the Dodge Promaster.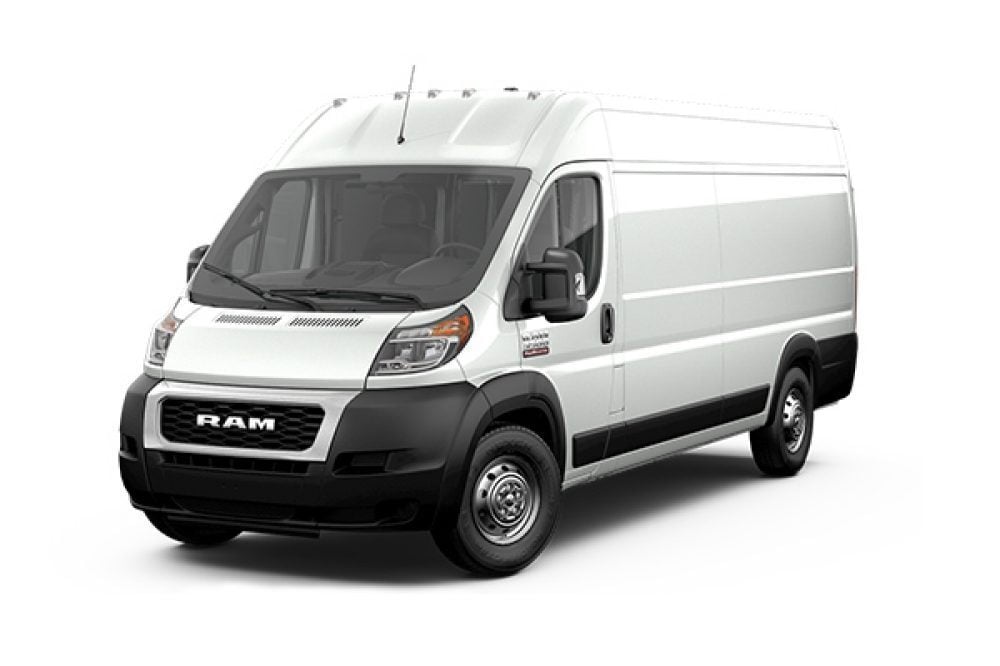 The Dodge Promaster is the most economical of the panel-style vans, so it's a great option for those on a budget. In contrast to the 2wd Transit and Sprinter, the Promaster is front-wheel drive which provides more traction but isn't as nimble or responsive as rear-wheel drive. You'll notice the biggest difference when driving windy mountain roads. The Promaster's efficient eco-diesel model gets 20+ miles to the gallon – another perk for those of you on a budget. The Promaster is also more DIY friendly due to its boxy nature and straight lines inside the van which make for an easier conversion.
Dodge Promaster Pros
Most economic of the panel style vans.
Fuel efficient eco-diesel model gets 20+ miles to the gallon.
DIY friendly boxy shape with straight lines makes for an easier conversion.
Dodge Promaster Cons
The longest model is 3 feet shorter than the 170" Sprinter, so the Promaster will require you to pack more thoughtfully.
Ground clearance on the Promaster is 1" less than the 2wd Transit and Sprinter, so off-roading capability with the Promaster is a bit more limited.
Other Vehicle Options
Panel style vans aren't the only option for van life. In fact, these are relatively new to the scene, so I also want to share a few other vehicles you can consider.
Ford Econoline
The first is the Ford E-Series Van, also known as the Econoline. If you are familiar with Sportsmobile, this is the vehicle platform that they traditionally used before they started converting Sprinters. The E-Series is budget-friendly with a huge used market. Some have even been converted to 4 wheel drive and these are extremely off-road capable. The downside of the Ford E-Series is they are gas guzzlers and you cannot stand up inside, unless a pop-top has been installed.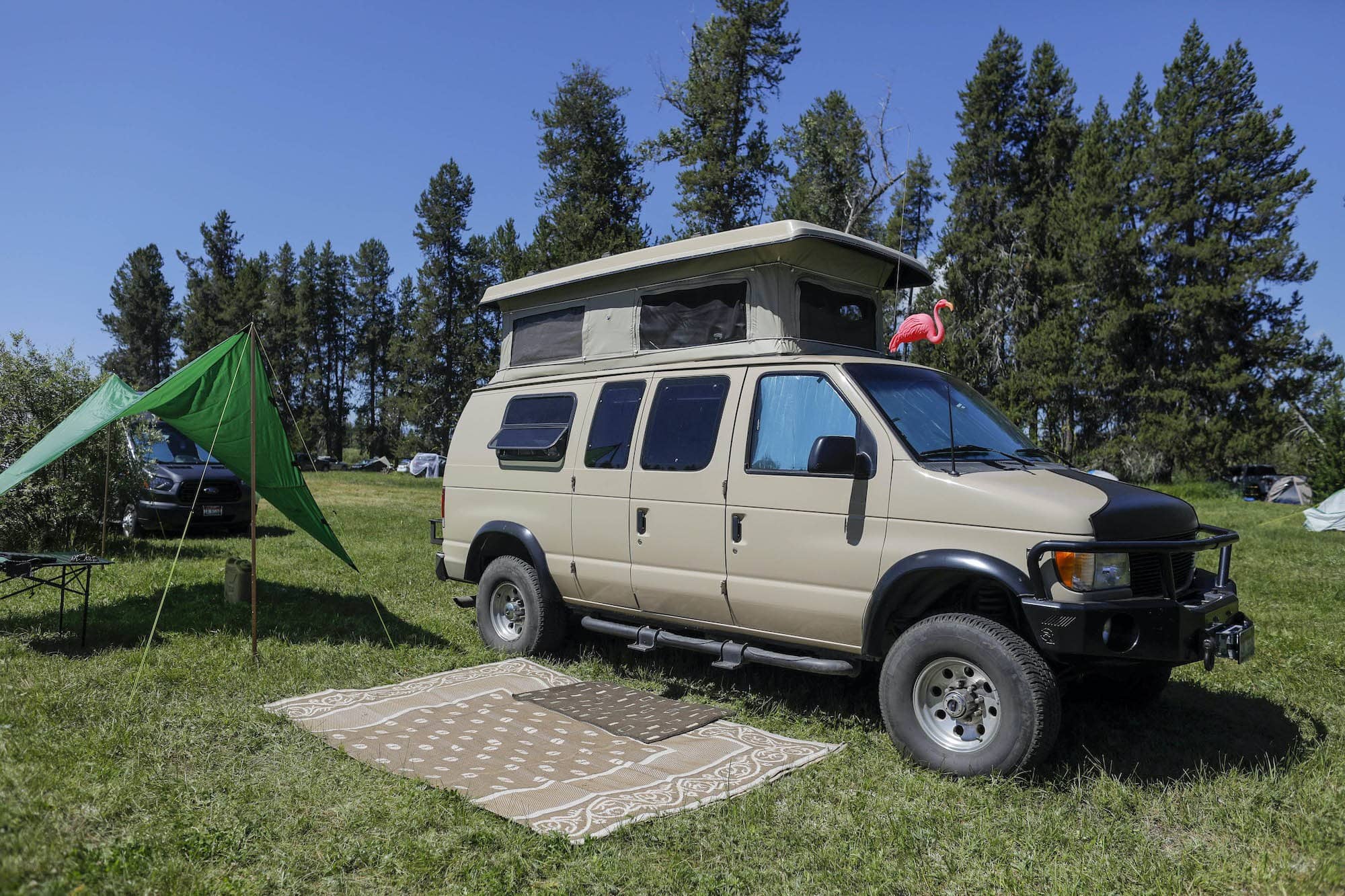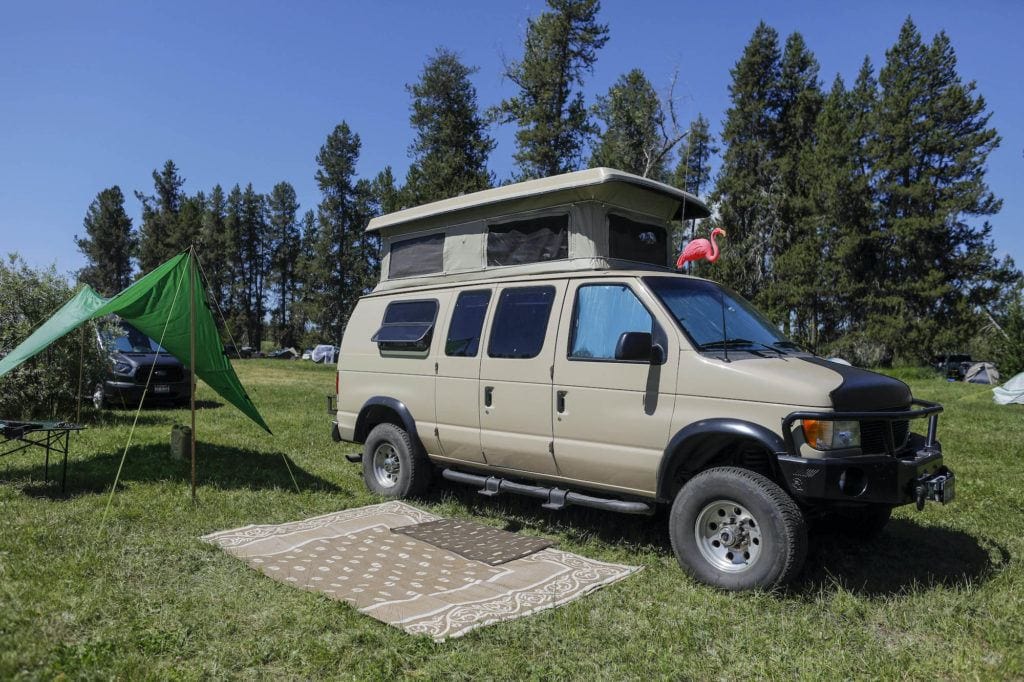 VW Vanagon / Westfalia
Next is the VW Vanagon / Westfalia. These vintage style vans offer tried and tested layouts, many with a pop-top, built-in bed, and a built-in kitchen. If you choose this style of van, you better be a patient problem solver with serious mechanical skills. Parts are hard to come by and with the age of the vehicle, you are bound to run into issues. These vans also tend to be expensive, despite being 20, 30, and 40 years old.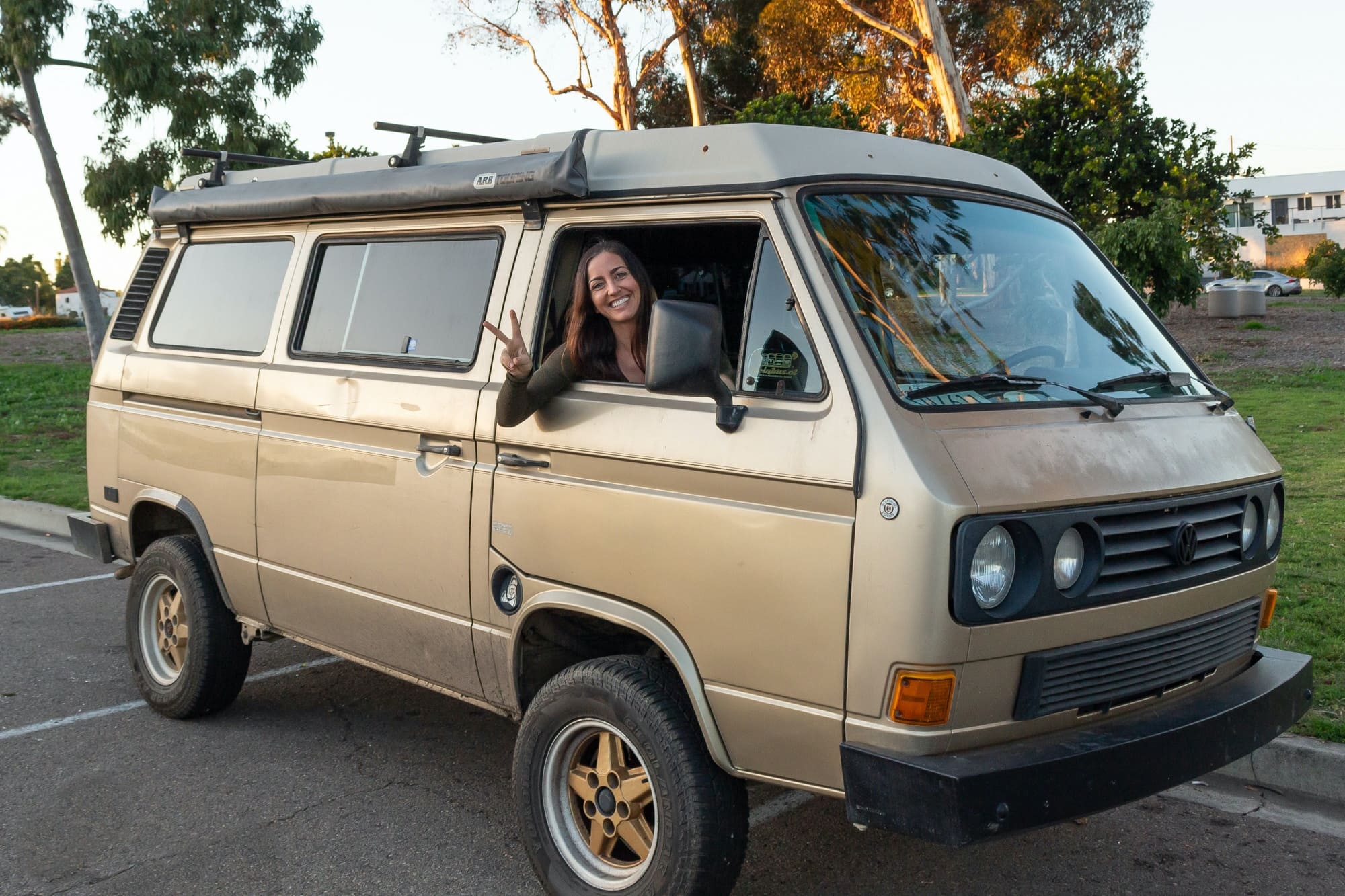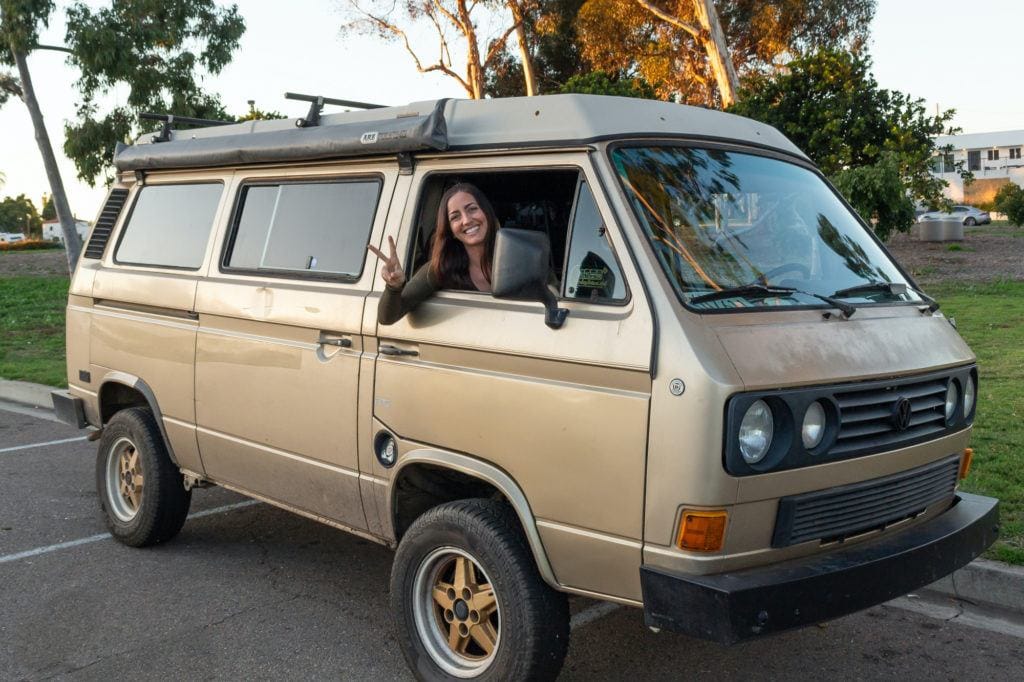 Other Van Life Vehicle Options
While we've covered the most common vehicle types considered to be the best vans for van life conversions, you are really only limited by your creativity. You can create your own version of van life utilizing any type of vehicle that is big enough to sleep in. Mini-vans, trucks, Suburbans, ambulances, hatchbacks… the list goes on. The key is to stay within your budget and make sure you have a vehicle that you will be able to maintain.
Resources
Instagram Accounts Featured in Video
What van are you leaning towards for your van conversion? Leave a comment below and make sure to sign up for course updates!