When most people visualize van life, they imagine summer road trips, camping near the beach, and spending ample time outdoors in nature. But what if you plan on doing van life full-time, even during the winter months? In this lesson, I'll talk about living in the van during the winter and how to winterize it if your van is going to sit still in the colder months.
In Module 2, we discussed insulation, heaters, and how to winterize plumbing, but I'll elaborate a little more on that here. I'll also share some of the obstacles you might encounter in winter and solutions that make van life a bit easier in cold weather.
Challenges of Living in a Van During the Winter
Traveling in the van during winter has different challenges than warmer months. Here are some things to keep in mind.
1. Cold Temperatures & Less Daylight
It can get very cold in winter, and it could snow depending on where you go. If you're into winter sports like skiing and snowboarding, this is your season! But you need to be prepared to stay warm in your van once the sun goes down with blankets, insulated window coverings, and probably also a heater. Once your windows are covered, cooking hot meals inside the van can also bring the temperature up real quick.
Since the sun goes down early in the winter, the early evening can be a good time to take care of some computer work, catch up on books, play games and music, or pick up a new hobby. You'll be staying inside a lot more than you did in the summer so finding ways to entertain yourself will stave off cabin fever.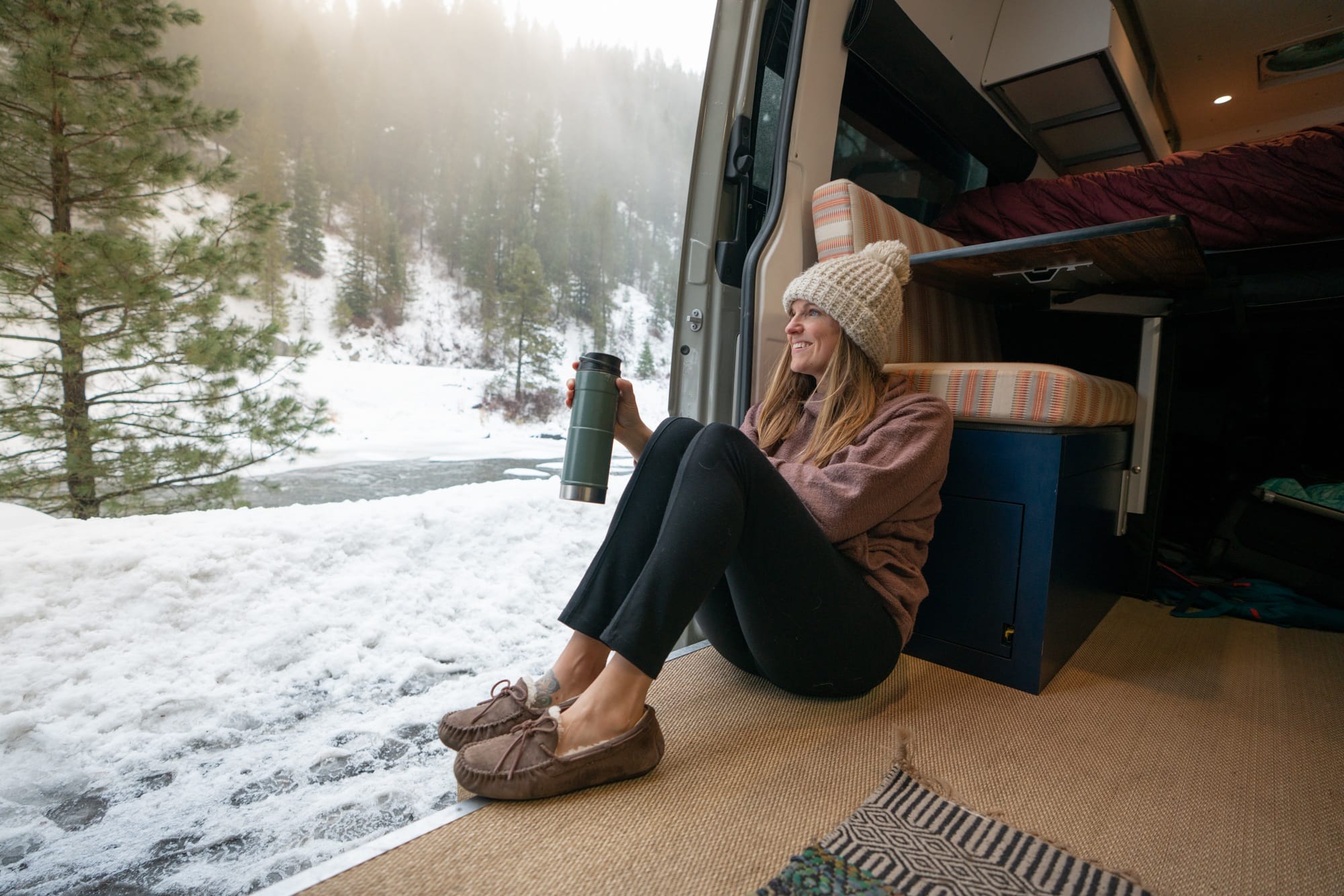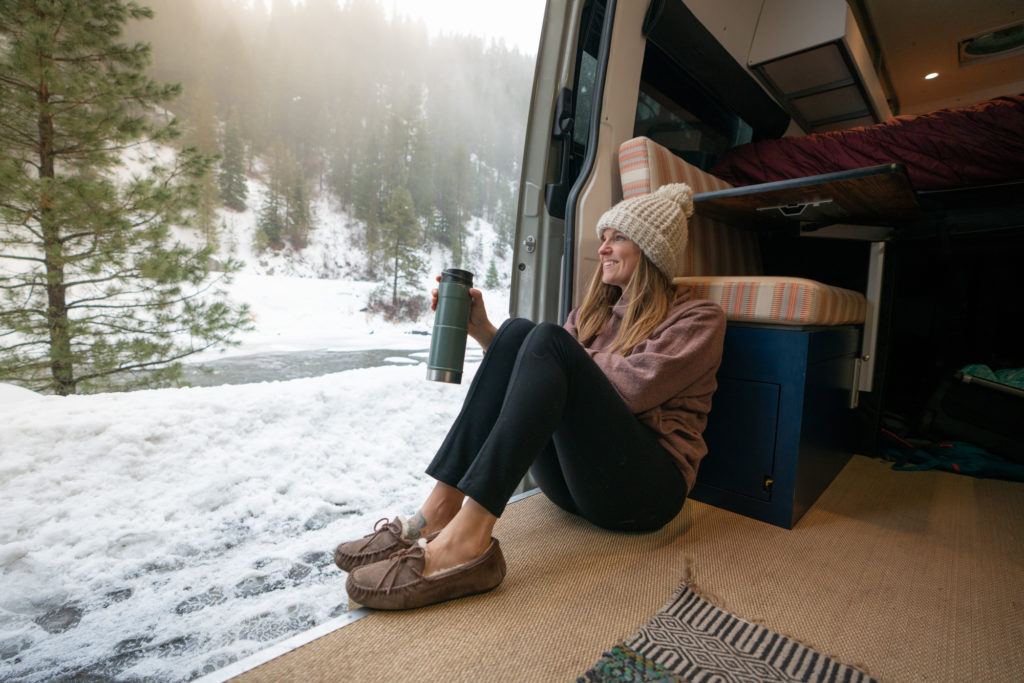 2. Many Roads and Campgrounds are Closed for the Winter
Another thing to know about van life in the winter is that a lot of parks, campgrounds, and roads are closed throughout the cold, snowy months. Some are closed all season long and others close periodically, so check with the local offices to make sure you'll be able to get in and out when you need to.
3. Winter Driving Can Require Special Gear
If you do end up adventuring on snowy roads in your van, consider investing in chains and MaxTrax recovery boards. The recovery boards come with a hefty price tag but have raving reviews from off-roaders saying these boards will bail you out anytime you get stuck in snow or sand.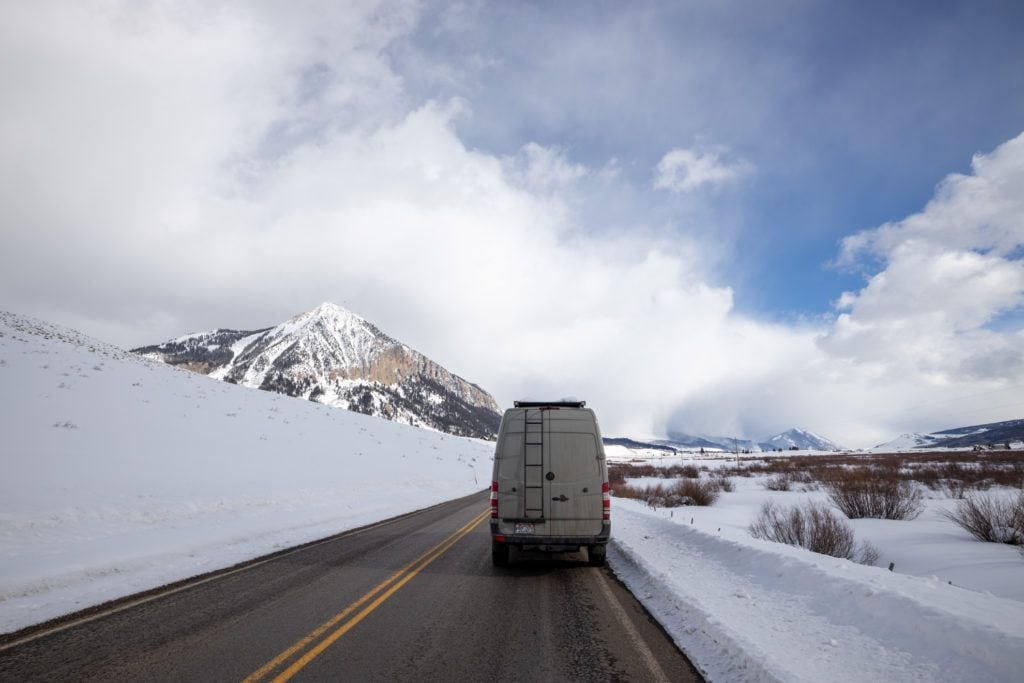 4. Van Plumbing Needs to be Winterized
Winterizing Plumbing for Year-Round Travel
Year-round traveling in a van is an awesome experience, but it requires some additional steps to make sure your build stays intact. Specifically the plumbing. Just like in a regular house, it's imperative that you prevent frozen pipes in the van.
If you'll be using the van daily and your plumbing is inside, then all you need to do to protect your pipes is make sure the temperature never drops below freezing in the van. This might mean keeping the heater on 24/7 even when you're not inside the van.
If you have water pipes running outside of the van, then you'll need to wrap them with pipe insulation and heat tape, at a minimum, to prevent freezing.
As I mentioned in the lesson on van water systems, if you know that you want to use your van throughout the winter, then you should plan accordingly during your conversion by keeping all of your pipes inside.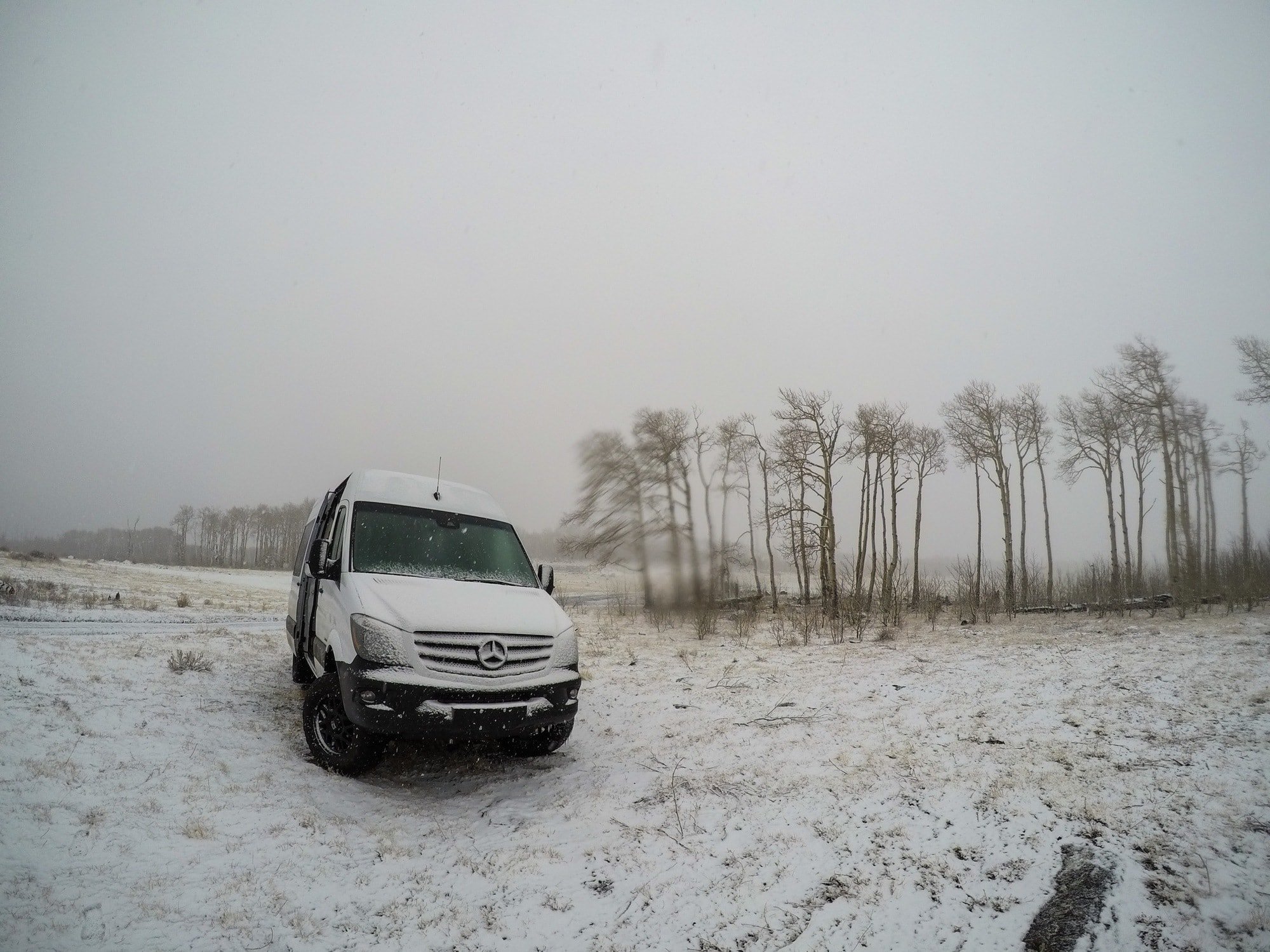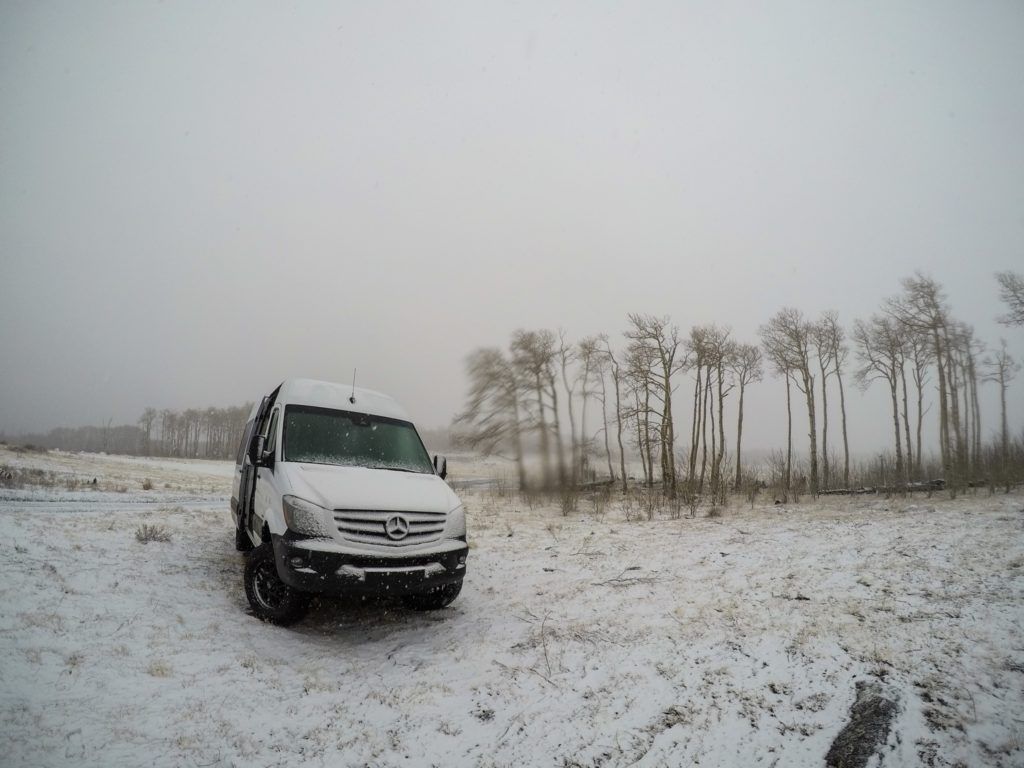 Winterizing Plumbing for Winter Storage
If you won't be using your van much during the winter and it will be parked in sub-freezing temps, the best bet is to completely drain the plumbing system, including the tanks, pipes, and water heater. If necessary, you can add a non-toxic antifreeze to the pipes which is specifically made for RVs and boats. That should keep everything in good condition throughout the winter.
You'll also want to completely empty out and clean your grey and black water tank if you have them. Otherwise, waste will harden onto the tank over the winter and make for a pretty gross chore once the spring thaw comes.
---
Winter Alternatives for Van Lifers
If you don't dig the idea of being cold, especially if you'll be without a heater, you can always head south for the winter. A lot of travelers move with the seasons and head south to Arizona, Mexico, Texas, and Florida.
It's a good time of year to see other parts of the country that are often too hot to enjoy in the summer months.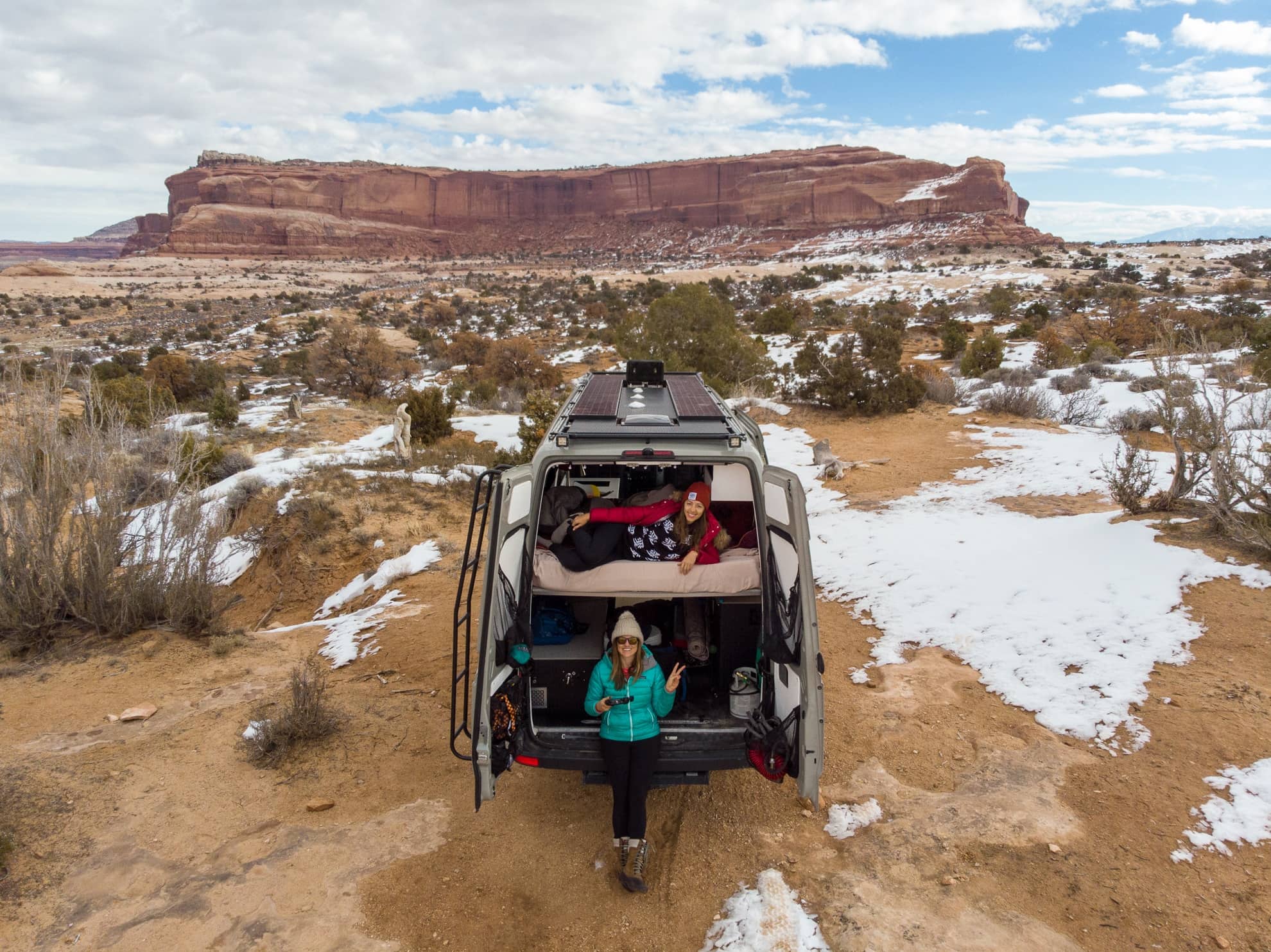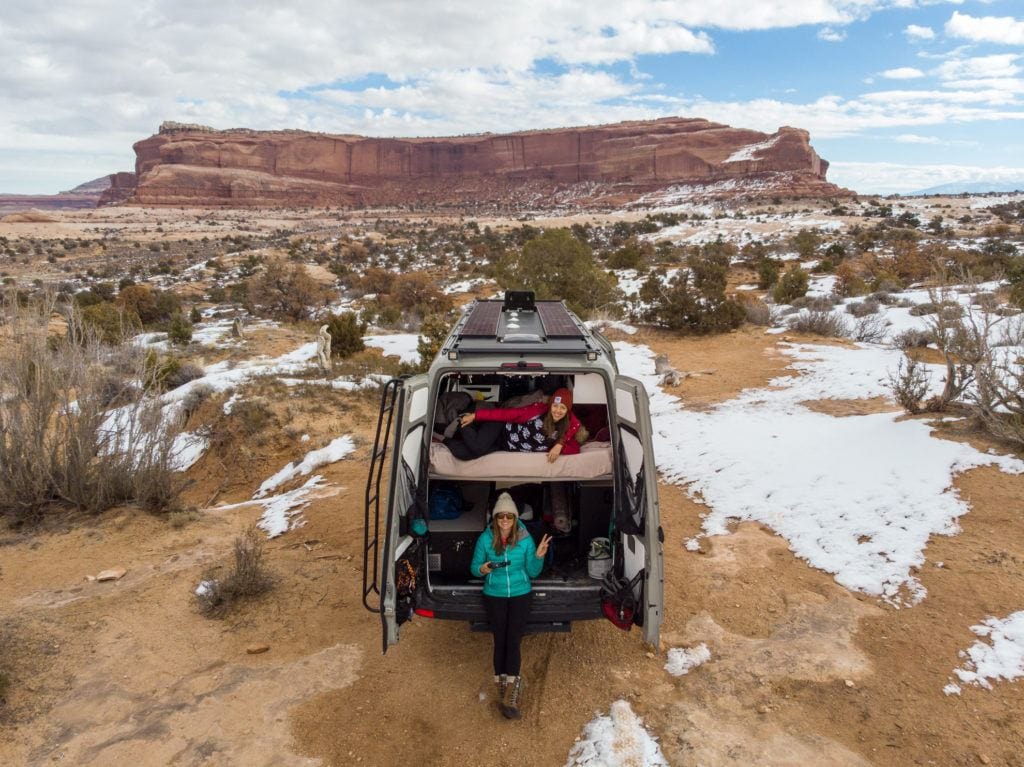 ---
Resources Section
---
If you want to jump around to other lessons in Module 4, here are other van life topics we cover (more coming soon!):
Have you spent a winter in your van? What was your experience? Share your questions, tips, and experiences down in the comments, and make sure to sign up for course updates here.