Desert Backpacking Tips, Gear, & Safety
These desert backpacking tips will help you prepare for adventure from what gear to bring, where to go, and how to stay cool and safe.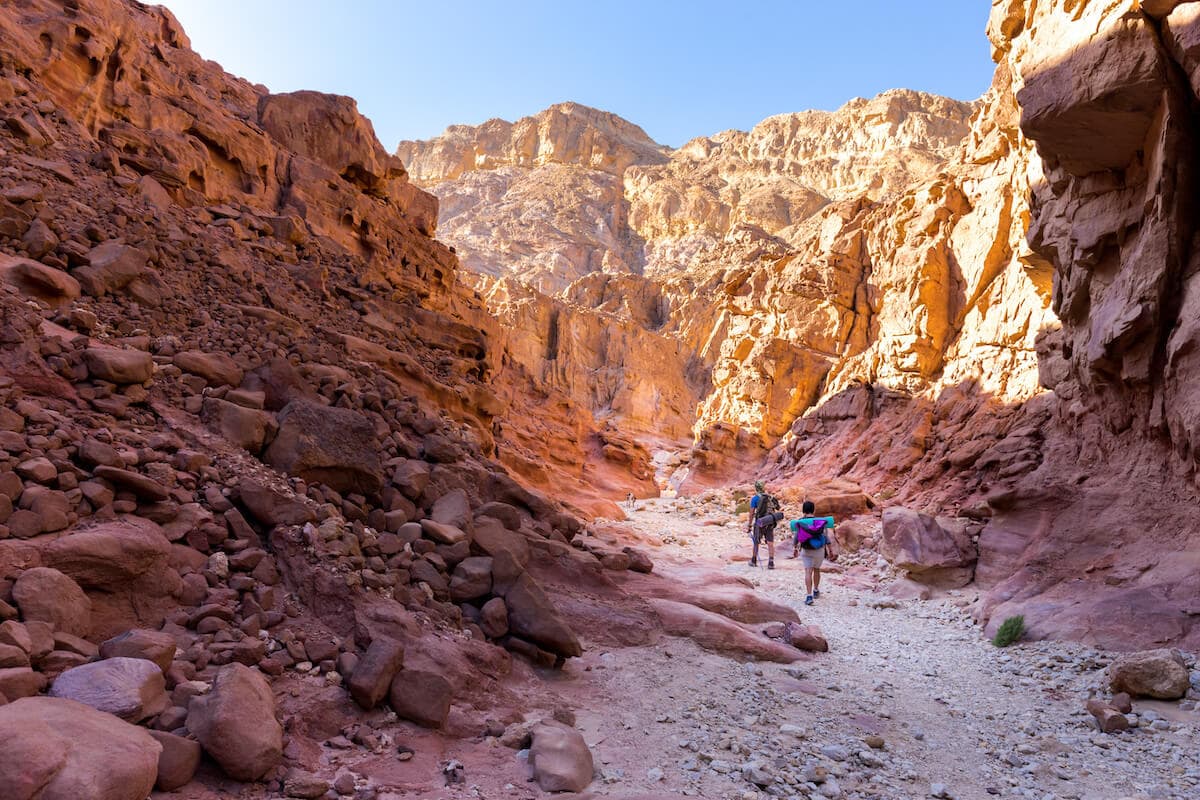 The American Southwest is one of the top destinations for hikers and backpackers with vast landscapes, unique geological features, and gorgeous sunrises and sunsets. A desert backpacking trip can be a wonderful way to explore this region and allows you to get out there even when snow blankets most mountainous backpacking destinations. But before you take off in the desert, you need to have to plan, and we've got you covered with these desert backpacking tips.
Preparation is key since backpacking in the desert is a completely different experience than backpacking in the mountains. Knowing how to deal with heat, sun exposure, desert wildlife, and water supply are all key factors to planning a safe (and fun!) desert backpacking trip.
Whether you're a first-time or seasoned backpacker, these desert backpacking tips will help you plan every aspect of your trip.
Important Reminder: As it goes in all of the destinations we share, please practice good trail etiquette and remember to Leave No Trace. This means packing out all of your garbage, being respectful to others on busy trails, and following the established rules.
Desert Backpacking Tips
Consider the Season
The Southwest hosts millions of visitors each year and while many people plan their trips during the summer months, it's best to backpack in the desert in the spring or fall.
Frost and freezing nighttime temps are common in the dead of winter, so be prepared for big temperature swings if you choose to backpack then. Plus days are short so you'll have less sunlight to hike in and longer (colder!) nights. In the summer, daytime temps in the desert often exceed 100 degrees, which can be extremely dangerous for long hikes.
While spring and fall can be cool and wet across the U.S., it's pretty amazing in the desert since it's one of the few times of year you'll find pleasant hiking temperatures. Many popular national parks are also less crowded during spring and fall, making for a more intimate and personal experience. Water is also more plentiful in the desert in the spring, and you may even catch some spring wildflowers and cactuses in bloom.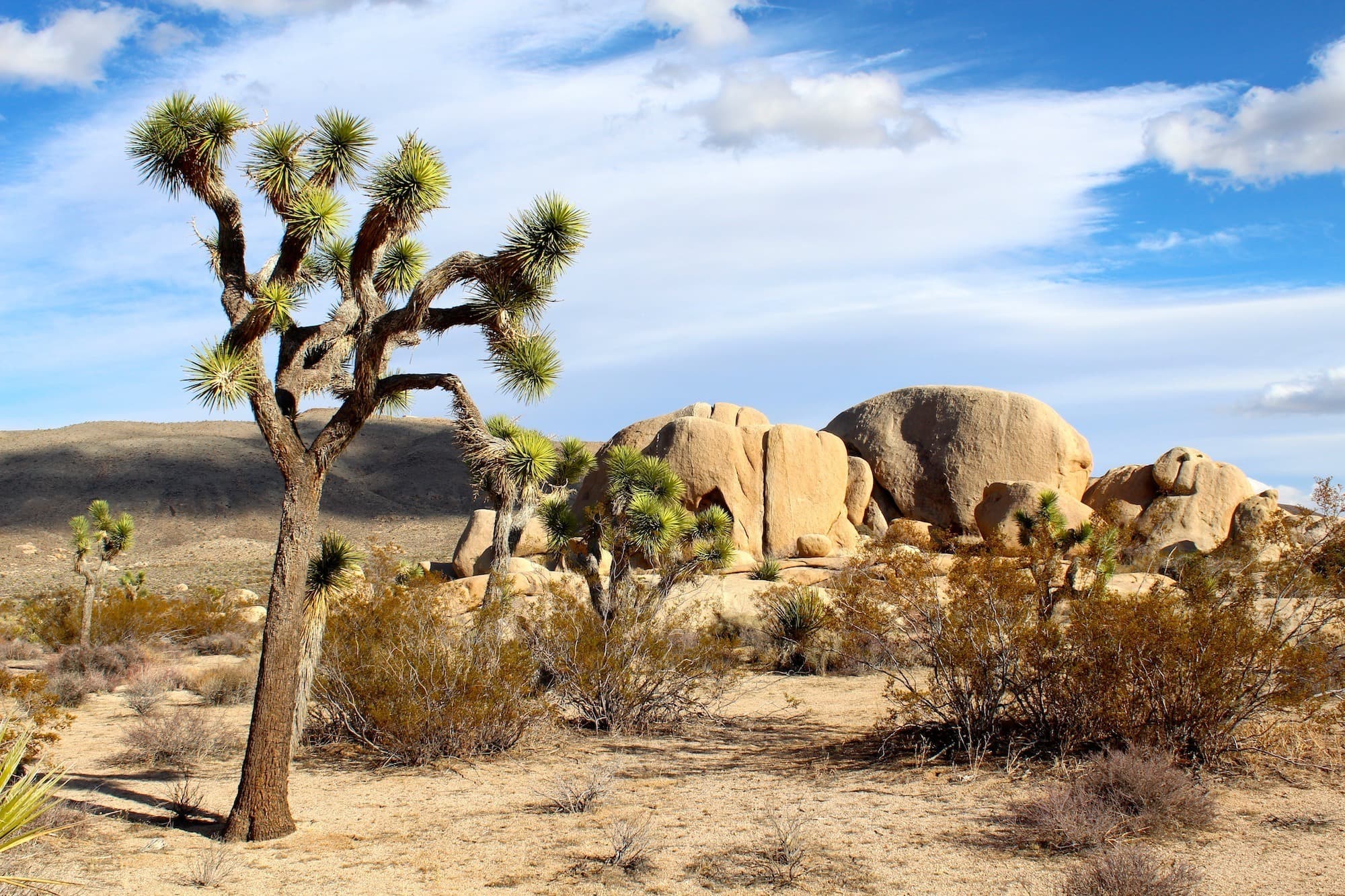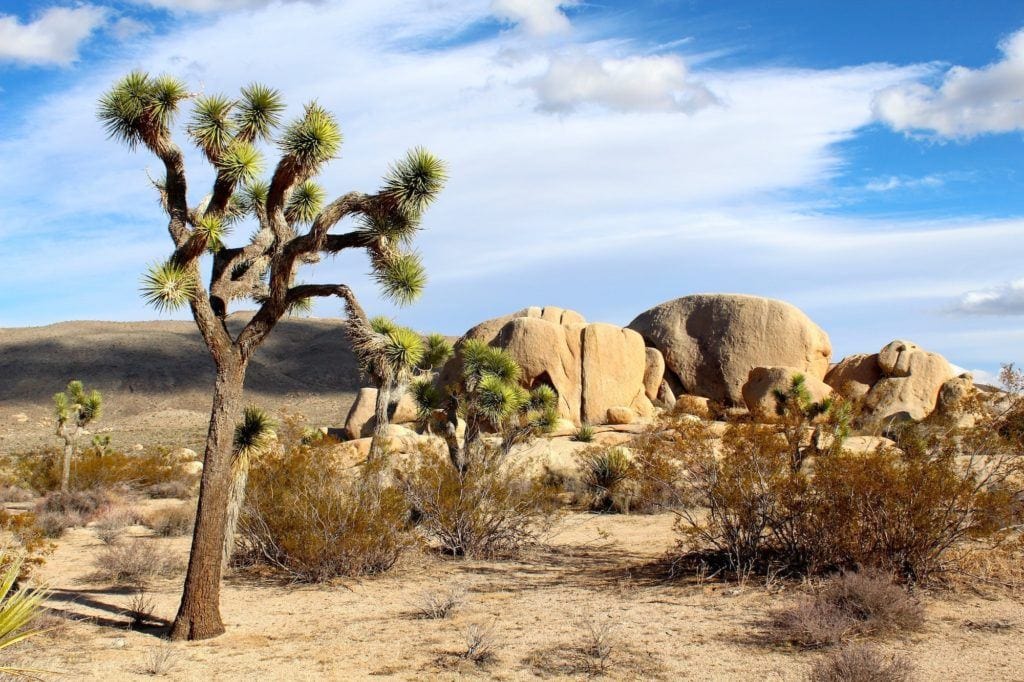 Know the Water Situation
This may be the most important desert backpacking tip. Unlike mountains, which commonly have plentiful water sources, you can easily go long stretches in the desert without a water source, and water sources are less reliable as they can seasonally dry up.
Be sure to call the Ranger Station to get the most up-to-date information on water sources for your backpacking trip. Carry a map with all water sources circled, and fill up any time you see a water source, even if you don't "need" a top-off.
The general recommendation for hiking in the desert is to drink at least 4L per person/day, but on a very hot day you might drink up to 6L. It's always recommended to carry extra water on you at all times. I like backpacking with a couple of extra soft water bottles which are super light and don't take up a ton of room.
Water sources in the desert are often stagnant, cloudy, and contaminated by livestock. Your water filters are likely to get clogged and slow to use, so we recommend carrying backup water treatment, like water purification tablets.
Beat the Heat
Hiking in the desert can be HOT and typically you are totally exposed to the elements with little to no shade. If you plan to backpack in the desert when it's hot outside, start hiking before sunrise. It will be so worth it to pack up camp early in the morning and get a headstart on the day while enjoying the sunrise and the cooler morning temps.
The desert is usually hottest between 10am-4pm so we recommend taking a long afternoon lunch break in the shade (and hey, even a nap!) and finish up your hike when the heat of the day wears off before sunset. Always pack a headlamp on your backpacking trip, especially if there's a chance you are going to hike in the dark.
Know the signs of heat exhaustion and don't push your limits. One desert backpacking tip we love is to wet a bandana or buff when you're refilling your water and wear it around your neck to cool down while hiking. This works great with hats and tees too!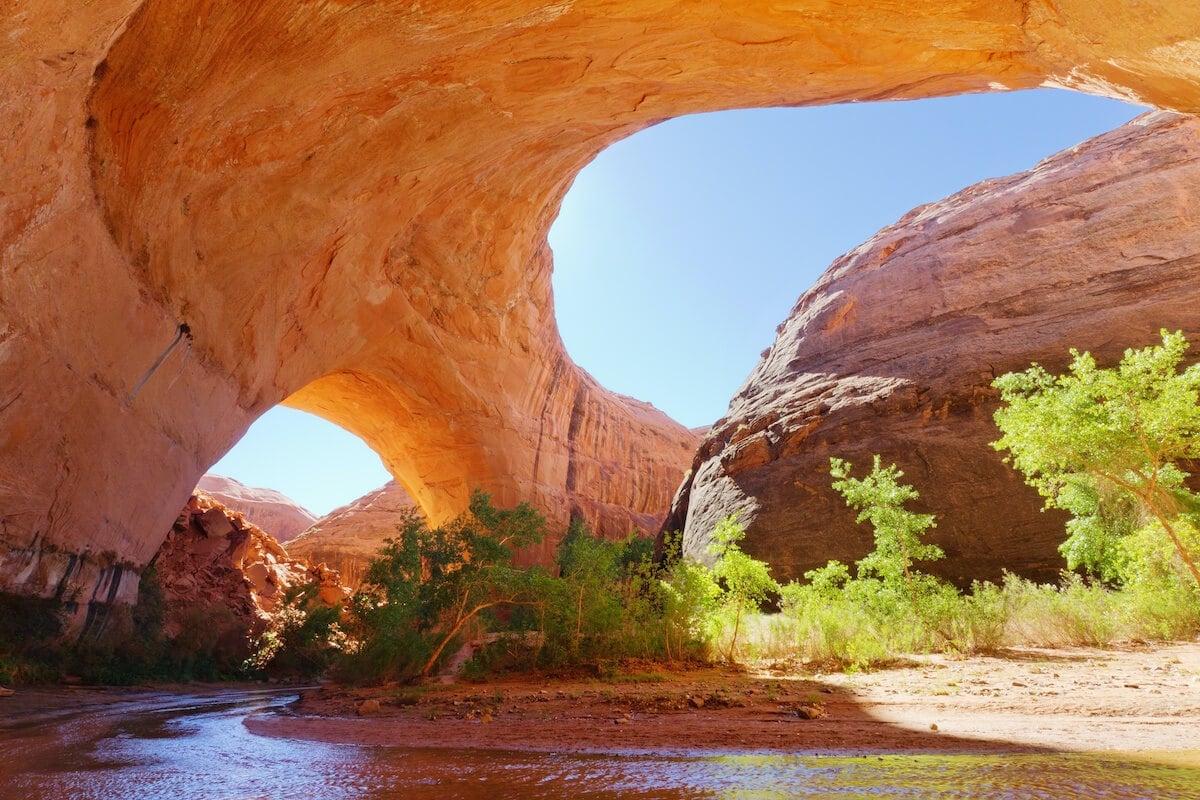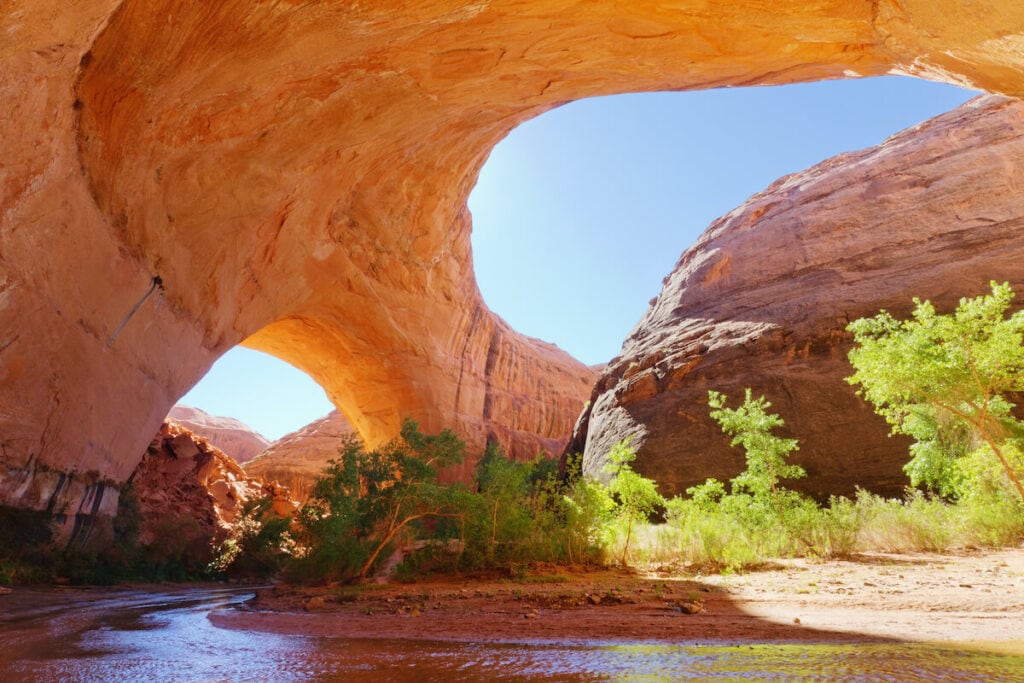 Pack Light
Since you will likely be carrying more water than your usual backpacking trip, it's important to keep your desert backpacking gear as light as possible and pack lightly.
Now, this doesn't mean skipping on the backpacking essentials, but anything you can do to slim down your load will make a world of difference when you're carrying a pack heavy with water (for reference, 1 liter of water weighs roughly 2.2 lbs). See our ultralight backpacking tips for more on this topic.
Be Aware of Desert Wildlife and Hazards
When you're in the wilderness, it's important to remember that you are just a guest of the animals that live there. In the Southwest, common animals include rattlesnakes, coyotes, javelinas, jackrabbits, bighorn sheep, and mountain lions.
It's especially important to keep an ear out for the warning rattle of a rattlesnake and know how to safely avoid dangerous wildlife encounters. Be alert and if you are wearing headphones, keep one earbud out.
Another desert hazard is cacti and other pointy plants. Slow down, watch your surroundings, and try to avoid brushing up on any plants. Carry tweezers in your first aid kit to be able to extract any needles should you get poked.
When you pick a camp, be sure to sweep for loose needles before setting up your tent and use a ground cloth if you have one. Always carry a patch kit for your sleeping pad just in case yours gets deflated in the desert.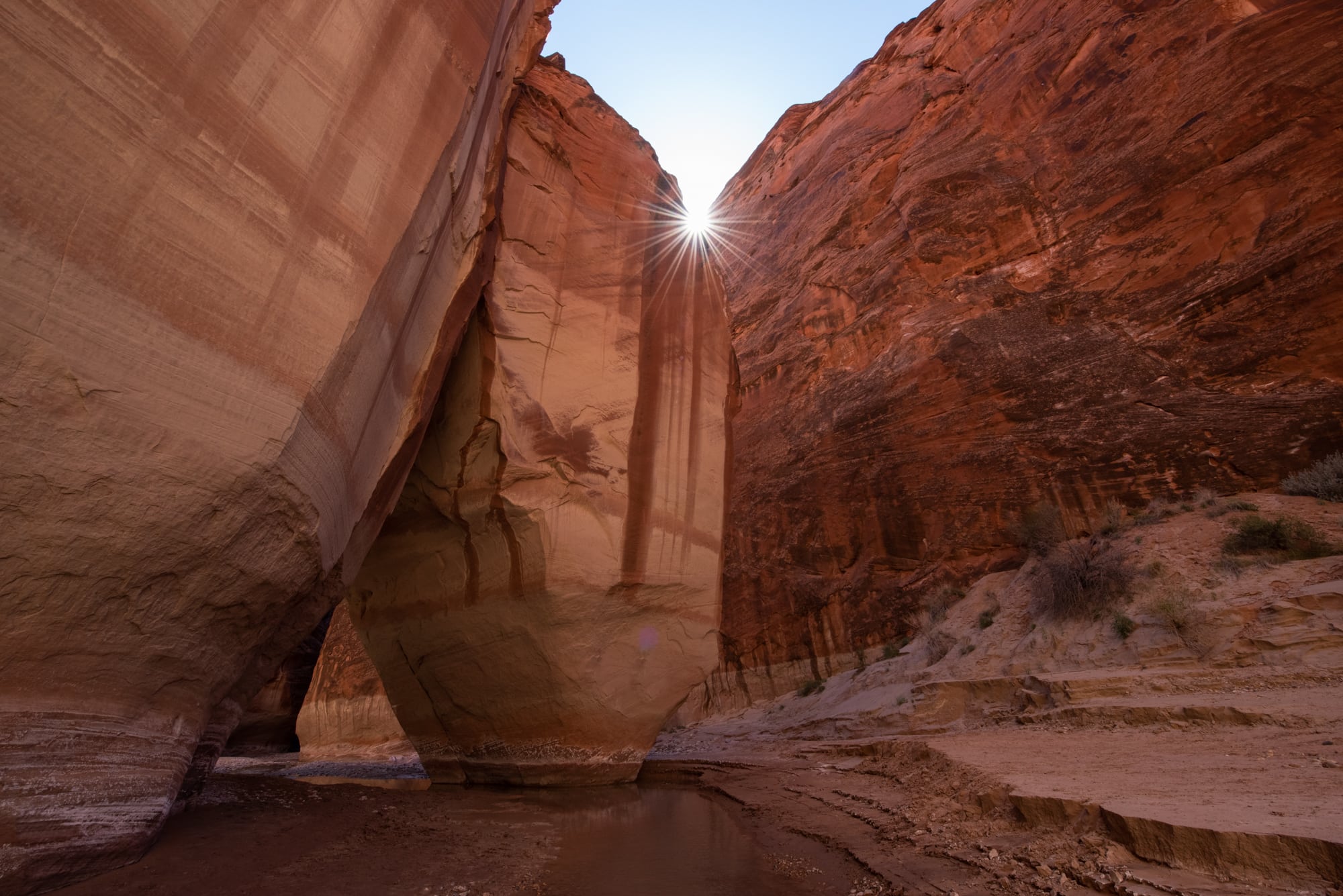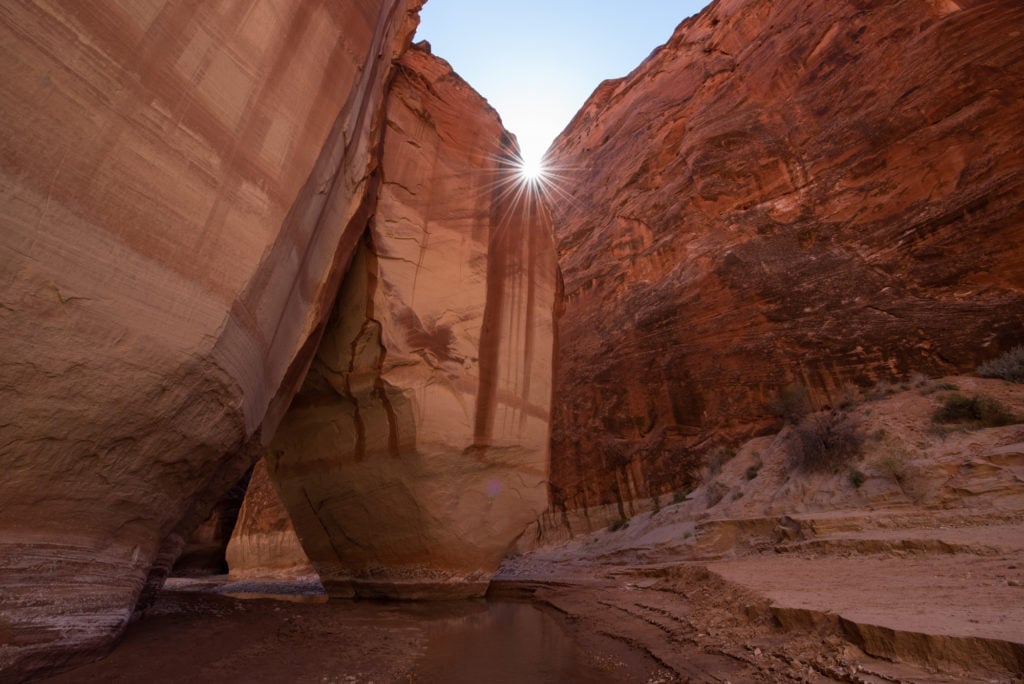 Eat Salty Snacks and Pack Electrolytes
Staying hydrated is one of the most important desert backpacking tips. Your sweat evaporates quickly in the desert so it may be hard to tell how much water your body is losing. And since you are more prone to dehydration in the desert, getting enough electrolytes is key to keeping you hydrated and full of energy. Pack salty snacks and electrolytes (which actually help your body retain water) – here are our favorites:
Salted nuts
Dried seaweed
Crackers
Pretzels
Jerky
Nut butter
>> Read Next: Best Hiking & Backpacking Snacks
It's important to also pack electrolytes to supplement your regular filtered water. I like having a dedicated soft water bottle for electrolyte drinks (that way you can keep your hydration bladder clean).
Know How to Navigate
The desert can be a tricky place to navigate due to the remoteness of many areas. There are few trail crews to establish trails and visual footpaths aren't always easy to see or follow. Washes, dried riverbeds, and sandy areas can often be easily confused for trails so pay attention and make sure you know where you're going.
Always bring a compass (and know how to use it!), and download a map for offline use using your favorite hiking app (this will also help you get back on trail if you are lost). When backpacking in the desert and other remote areas, I always bring a satellite communication device and GPS, like the Garmin inReach Mini. It allows me to get in touch with family if I need to send them an update, to send an SOS message in case of an emergency, and to download the trail map and see exactly where I am along the route so I don't get lost.
Make sure you have a way to keep your phone charged as well if you're using it as your primary navigation device. Bring a battery pack and/or solar charger and keep your phone on airplane mode to save power.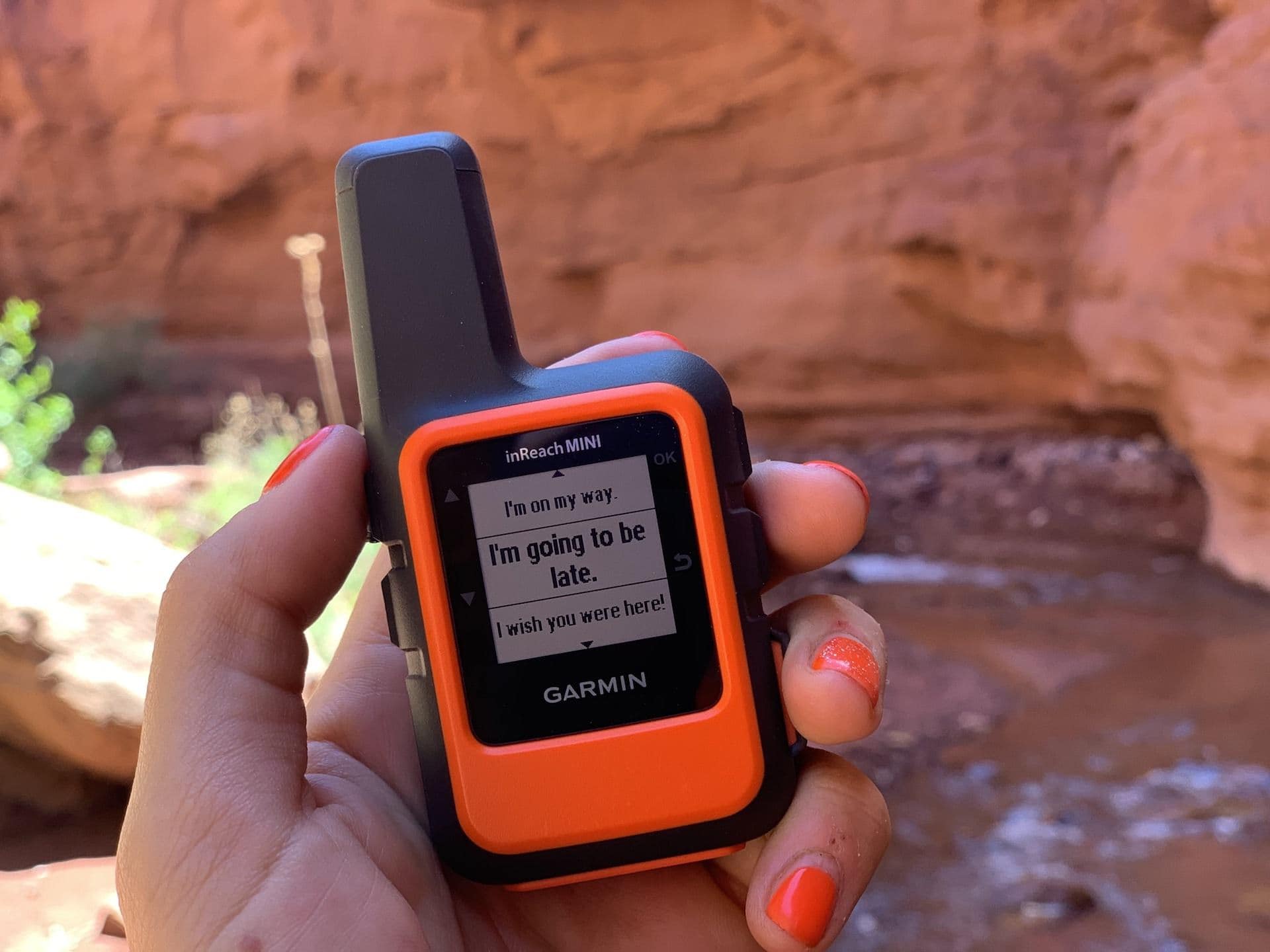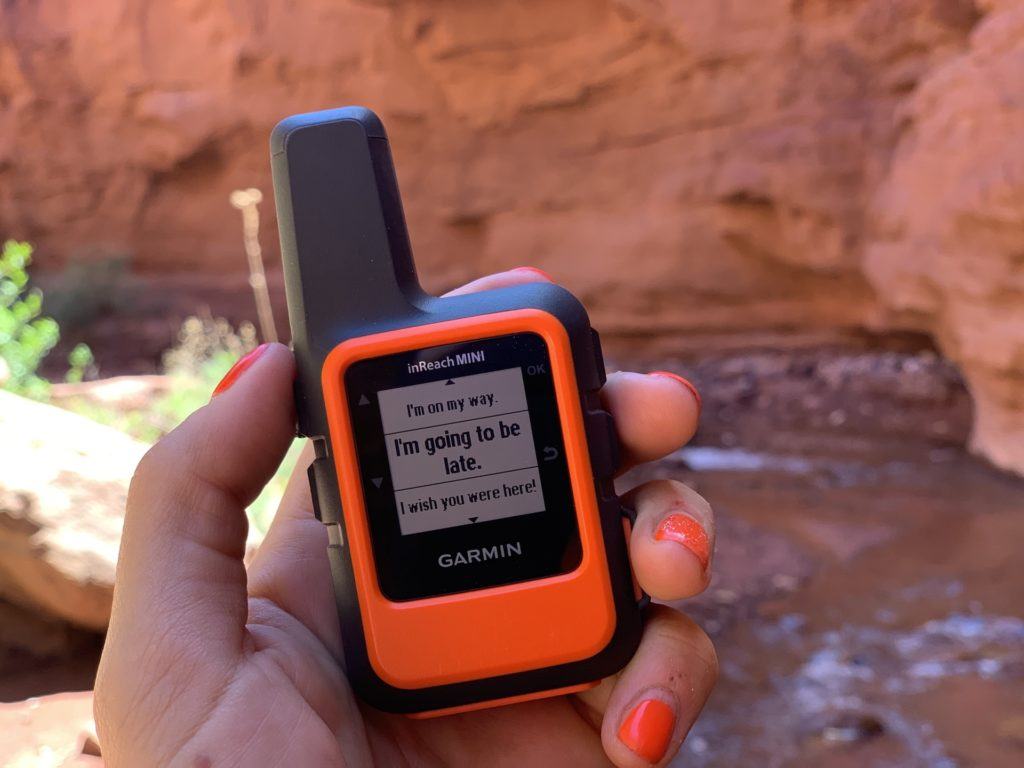 Desert Backpacking Gear
Conditions in the desert can be unforgiving so bringing the right gear and wearing the right clothes can make all the difference. Due to high heat and low humidity, as your body produces sweat, it's evaporated so quickly that your body's natural defenses are not as efficient. Because of this, you want to choose lightweight fabrics and light colors that reflect UV rays instead of absorbing them.
Despite the heat, you should also try to cover as much skin as possible to avoid sunburn. Loose, long pants and long sleeve, sweat-wicking shirts provide coverage without being unbearable. If that doesn't sound like your cup of tea, be sure to lather on sunscreen to any exposed areas and reapply every 2 hours.
Always wear a hat to protect your face – ideally a wide-brimmed hat and even one with a neck flap to cover the back of your neck, ears, and face during the trip. And don't forget your UV-protecting sunglasses since the harsh sunlight can be tough on the eyes.
For a full list of what we take backpacking, check out our Backpacking Essentials Packing Checklist.
Here's a quick list of additional desert backpacking gear we always bring along on desert backpacking trips:
Headlamp: especially if you are planning to hike early or late to beat the heat
Sunscreen: preferably something lightweight and easy to apply without all the chemicals
Chapstick with SPF: to protect your lips from the sun and keep them from getting uncomfortably dry
Tweezers: to get any cacti needles out of your skin
Patch kit: in case of emergency for your sleeping pad
Electrolytes: to stay hydrated in the desert heat
>> Read Next: What To Wear Desert Hiking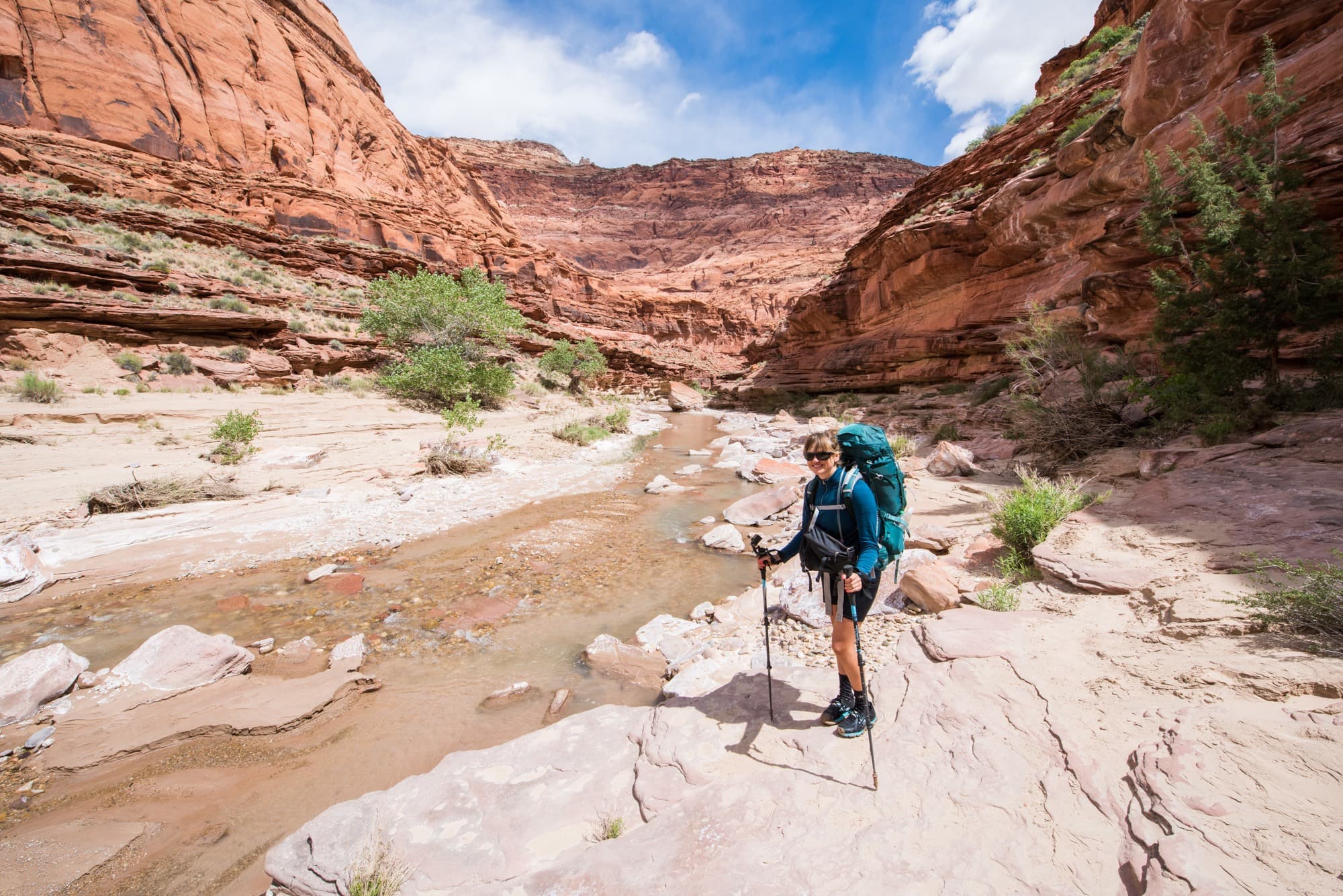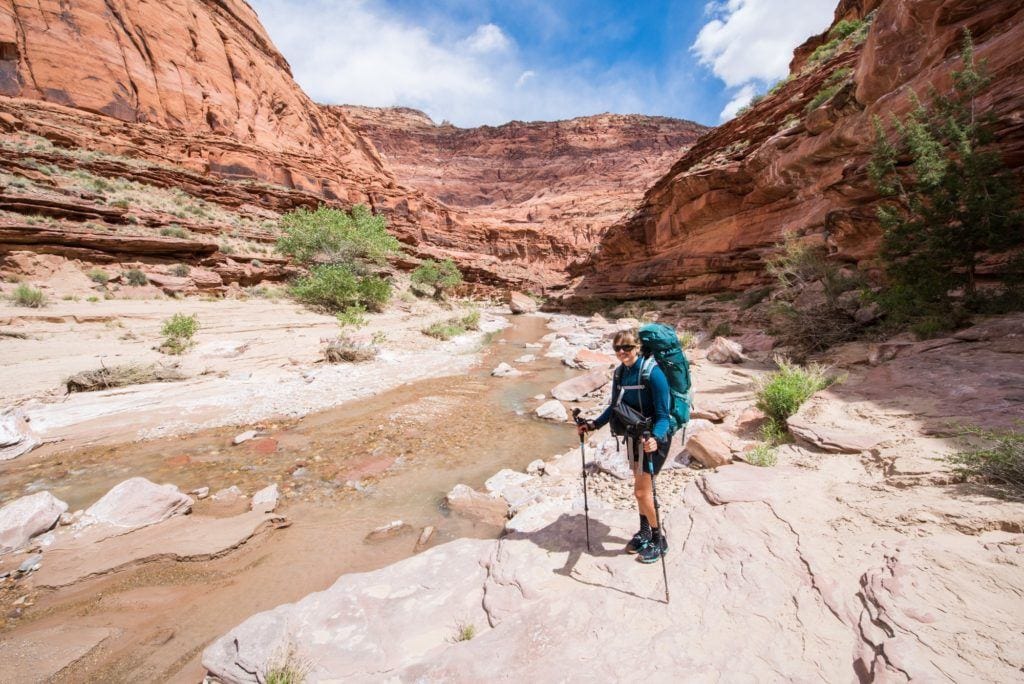 Our Favorite Desert Backpacking Trips
The Southwest has PLENTY of desert backpacking trips, but here are our favorites broken down by state:
Utah:
Paria Canyon: A stunning 4 day/3 night trip hiking down a meandering riverbed in-between two enormous walls of Navajo sandstone.
West Rim Trail: This 2 day/1 night trip in Zion National Park is the ultimate way to avoid the crowds.
Coyote Gulch: Located in Escalante National Monument, this trip can span 2-3 days and has awesome slot canyons and waterfalls.
California:
California Hiking and Riding Trail: This 35-mile trip located in Joshua Tree National Park is great for beginners as it's relatively flat and has awesome scenery.
Arizona:
Havasu Falls – This is a great beginner desert backpacking trip. The campground is located 10 miles from the trailhead, and there is a spigot for you to refill your water.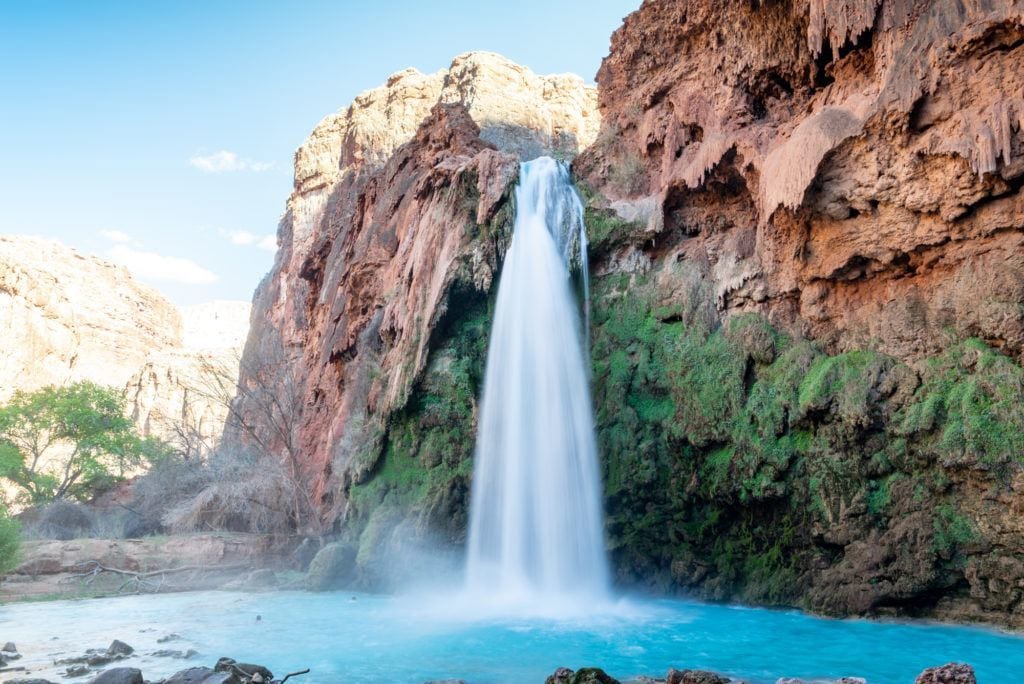 Are you planning a desert backpacking trip or have you been on one? What are your favorite spots? Leave us a comment below!