Moab, Utah is famous for its sandstone arches, most notably those found in Arches National Park (and to a lesser degree Canyonlands National Park). But what if you have a dog and can't hit the National Park trails? Or you only have a day and don't want to pay the National Park entrance fees? Or maybe you've got more time in the area and simply want to see the magnificent Corona Arch for yourself.
Whatever your reason, the hike to Corona Arch is absolutely worth it, and we share all the details in this trail guide.
Here's everything you need to know about hiking the Corona Arch trail near Moab.
Corona Arch Trail Overview
Length: 3 miles roundtrip
Trail type: Out and Back
Elevation gain: 440 ft
Difficulty: Moderate
Dogs Allowed: Yes
Permits/Fees: None
The trail to Corona Arch is a short, dog-friendly hike on BLM land. Commonly referred to as the "Little Rainbow Bridge," Corona Arch is stunning with its 140 ft x 105 ft opening. What's nice is that the trip to get out to Corona Arch only requires a 3-mile round trip hike among beautiful red rock landscapes with the opportunity to see two other arches along the way.
If you are in Moab, this trail is a great option for a quick hike that can be knocked off your list in a morning or afternoon.
Best Time To Hike to Corona Arch
The best time of year to hike to Corona Arch or anywhere near Moab for that matter is fall, winter, or spring. Summer is unbearably hot and dry and temps often top 100 degrees F.
There is no shade along the hike to Corona Arch, so in the hotter months, you'll want to hit the trail in the very early morning or early evening to avoid the heat of the day. The bonus of that is sunrise and sunset are beautiful times to photograph Corona Arch. During those times, you'll also be most likely to beat the crowds.
When I hiked to Corona Arch on a mid-week afternoon in January, we had the trail almost all to ourselves. Linda, BFT's Director, hiked the trail mid-week in late September and only saw two other people. It was a hot day (in the 90s) but hiking in the early evening made it bearable and the sunset light was beautiful.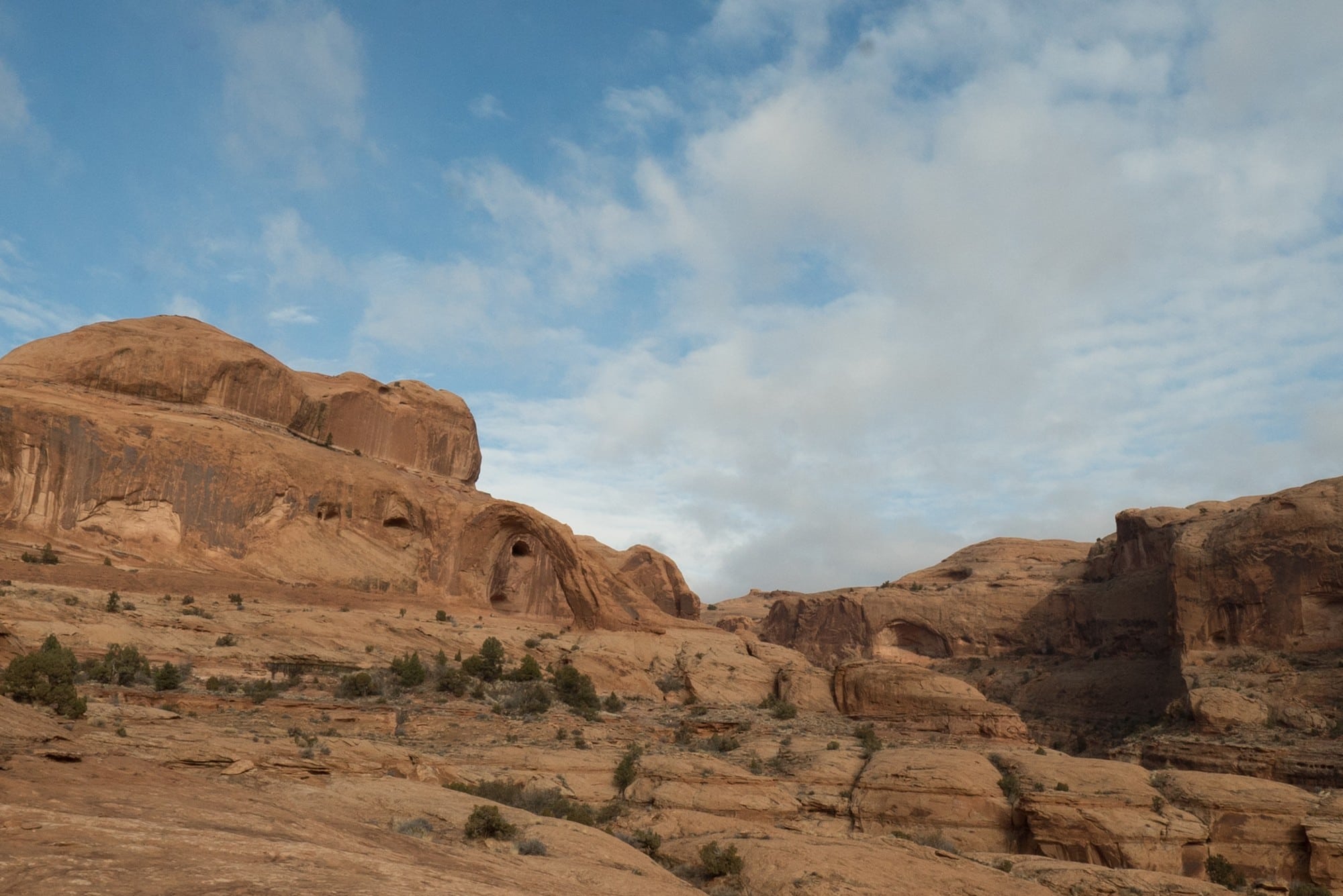 Corona Arch Trailhead Directions
Corona Arch is located less than 20 minutes from Moab, making it a super easy hike to get to from town. The drive through Bootlegger Canyon where the trailhead is located is scenic and takes you along the Colorado River.
Here are directions coming from Moab:
Head 4 miles North on HWY 191 towards Potash Road (State Road 279)
Turn left on Potash Road and head west for 10 miles down Potash Road
You'll see a sign marked "Corona Arch Trailhead" on the right
Turn right into the parking lot and you'll see a kiosk with information
There is no water or restrooms at the trailhead so come prepared and ready to go. Be sure to bring a hiking daypack (or waistpack if that's your thing) with water, snacks, and any hiking essentials you might need.
The Corona Arch Hike
From the trailhead, you'll hike east uphill for a bit until you arrive at a set of railroad tracks. Cross the railroad tracks to continue on the trail.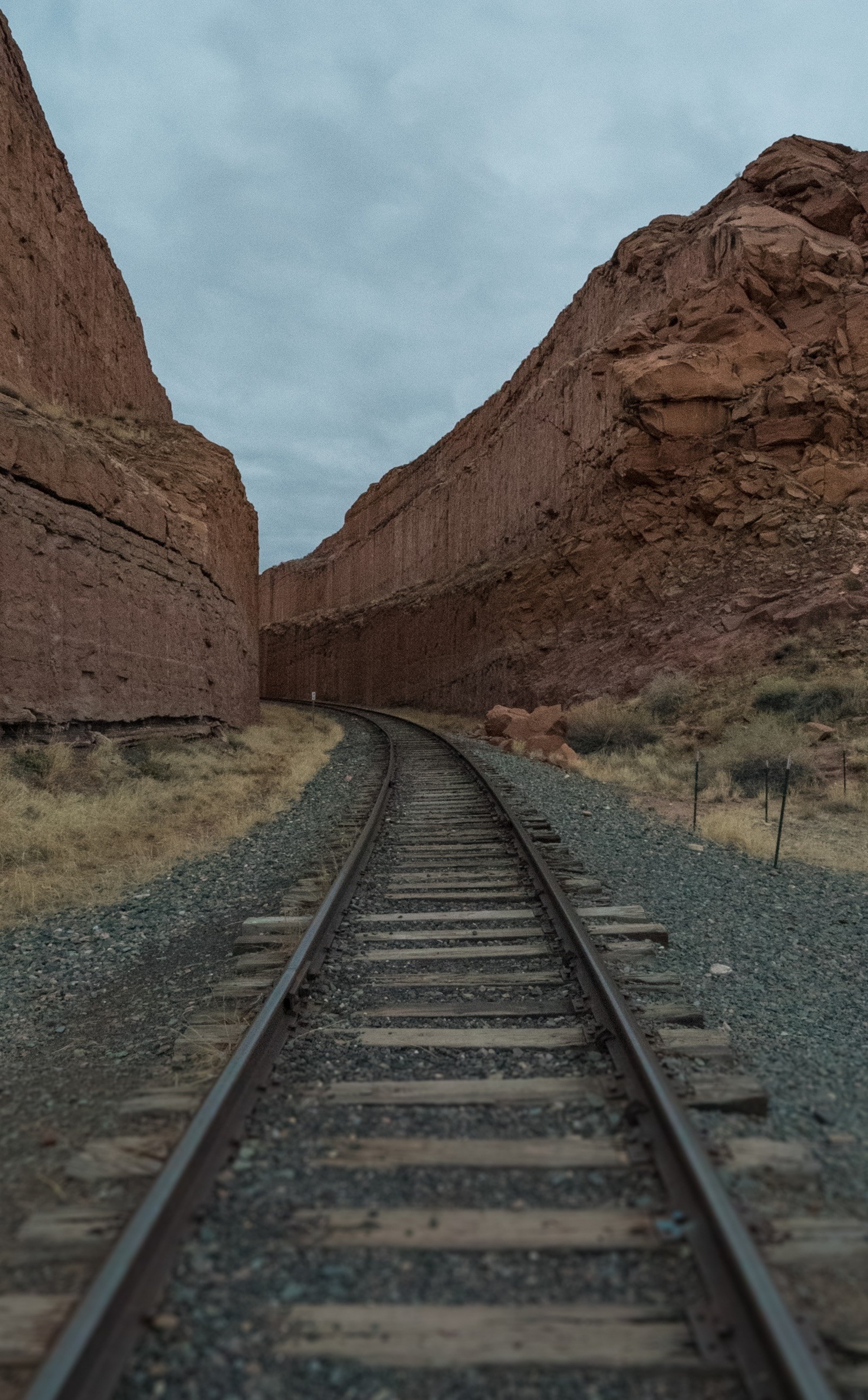 The great thing about this trail is it is mostly easy to follow, and any time it becomes less obvious there are rock cairns and markers along the trail. Keep an eye out for green paint markings on the slickrock that lead the way.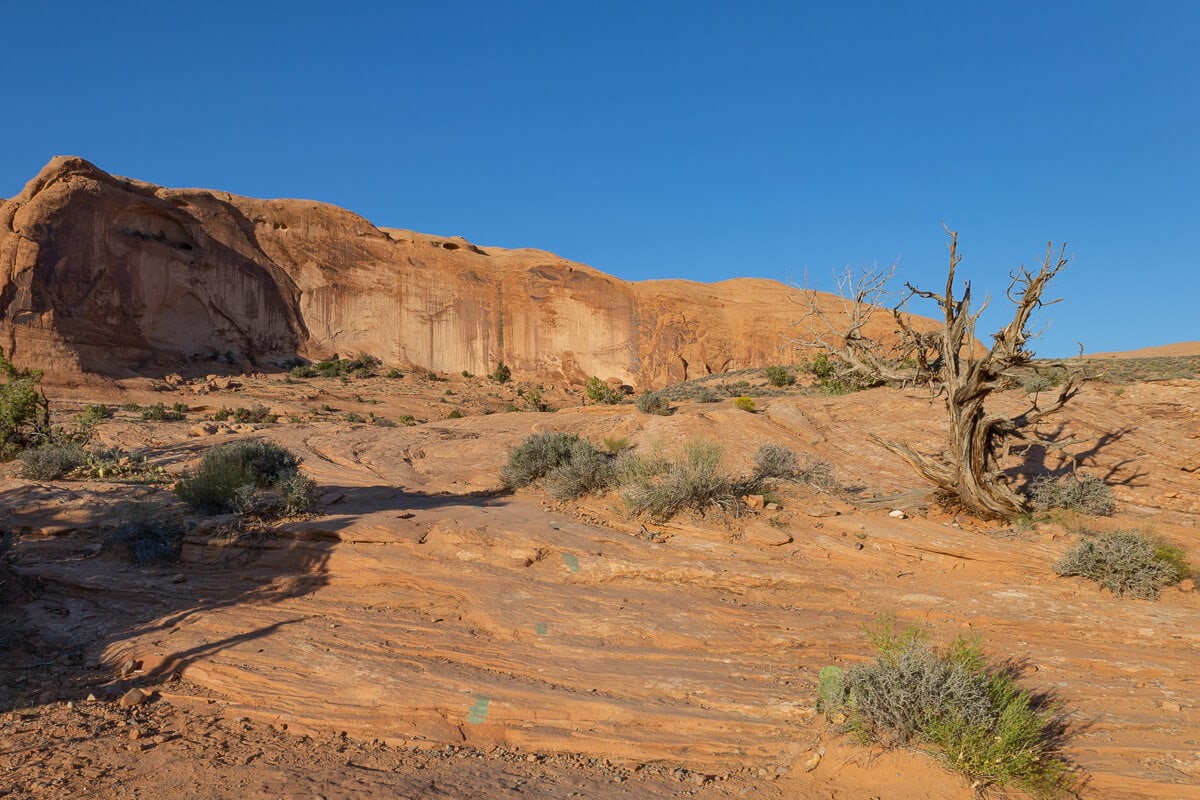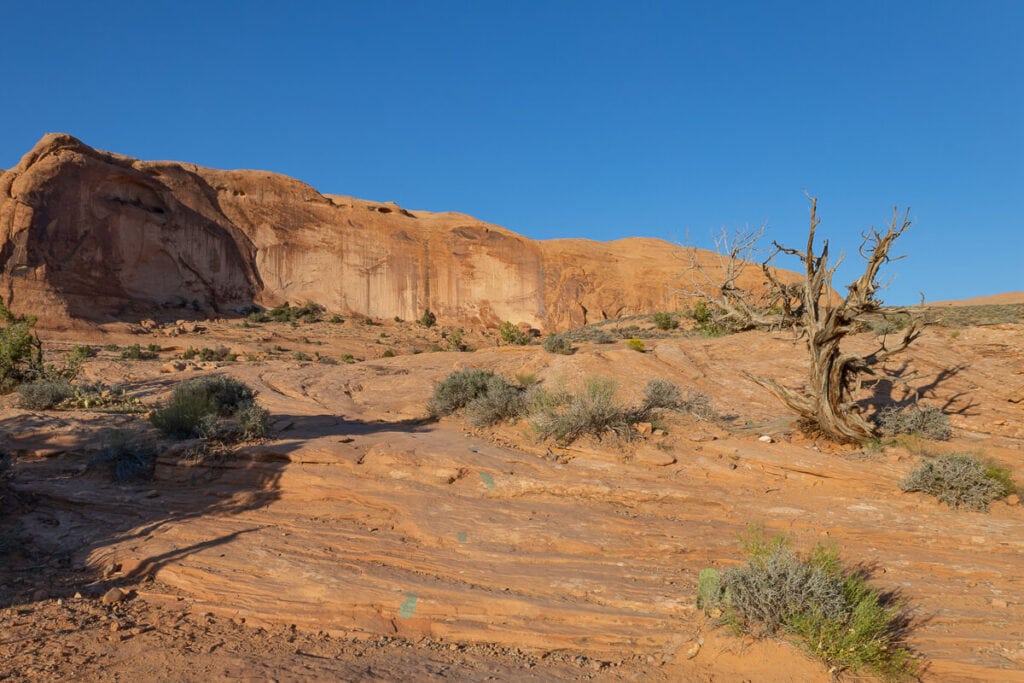 After about 10-15 minutes of hiking, you'll see a trail that breaks off to the left to go to Pinto Arch. If you've got time for a side hike and want to see another arch, heading out to Pinto Arch will add about a mile to your 3 mile roundtrip hike to Corona Arch.
After another 10-15 minutes of hiking, you'll reach a short steep section with a set of safety cables that you can use to help maintain your balance and pull you up the slickrock. It sounds a lot more difficult than it is. There are notches or steps in the slickrock that make it easy to climb up, and the safety cables add an extra layer of support.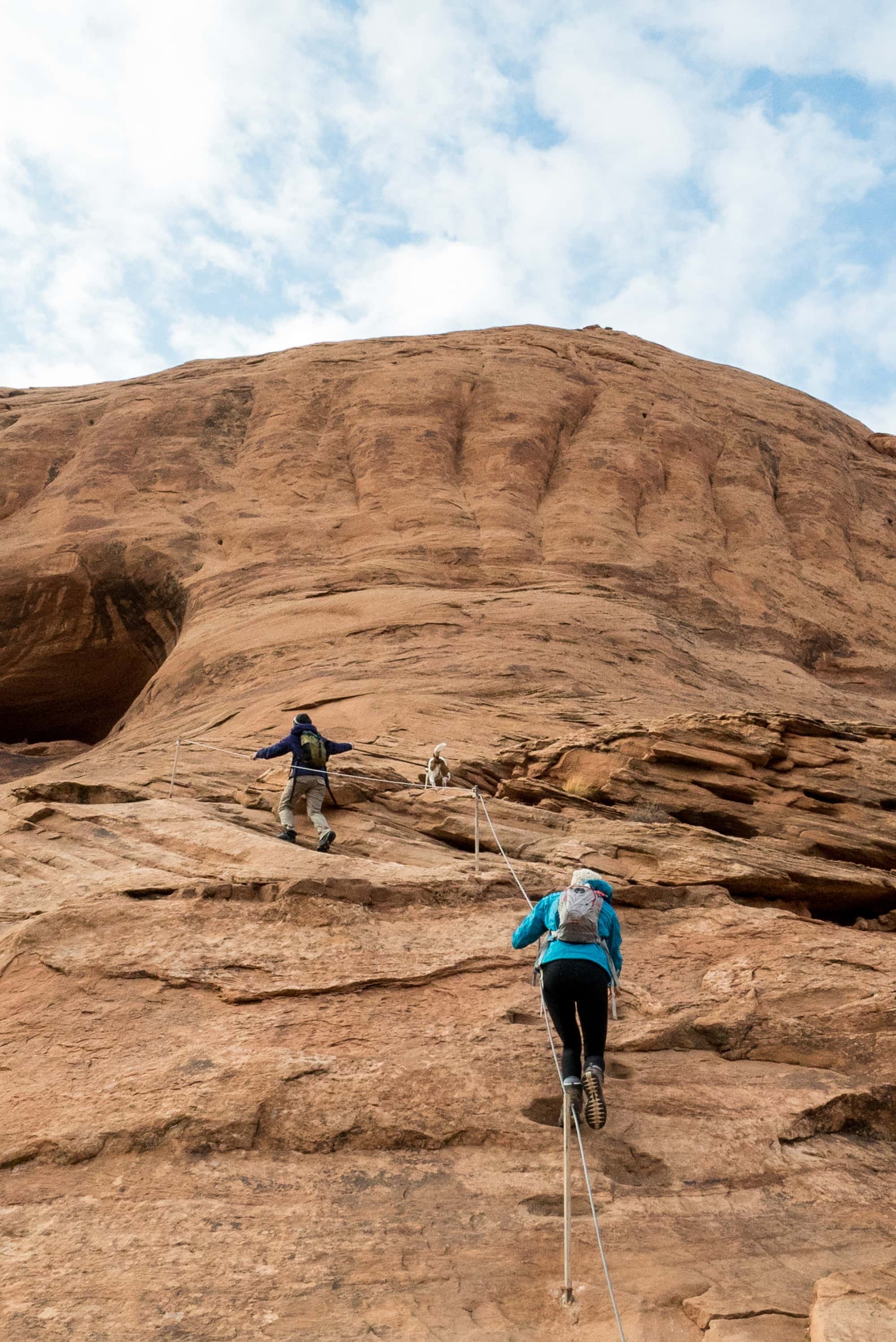 After you get up this section, you'll have to climb a small 4 foot ladder.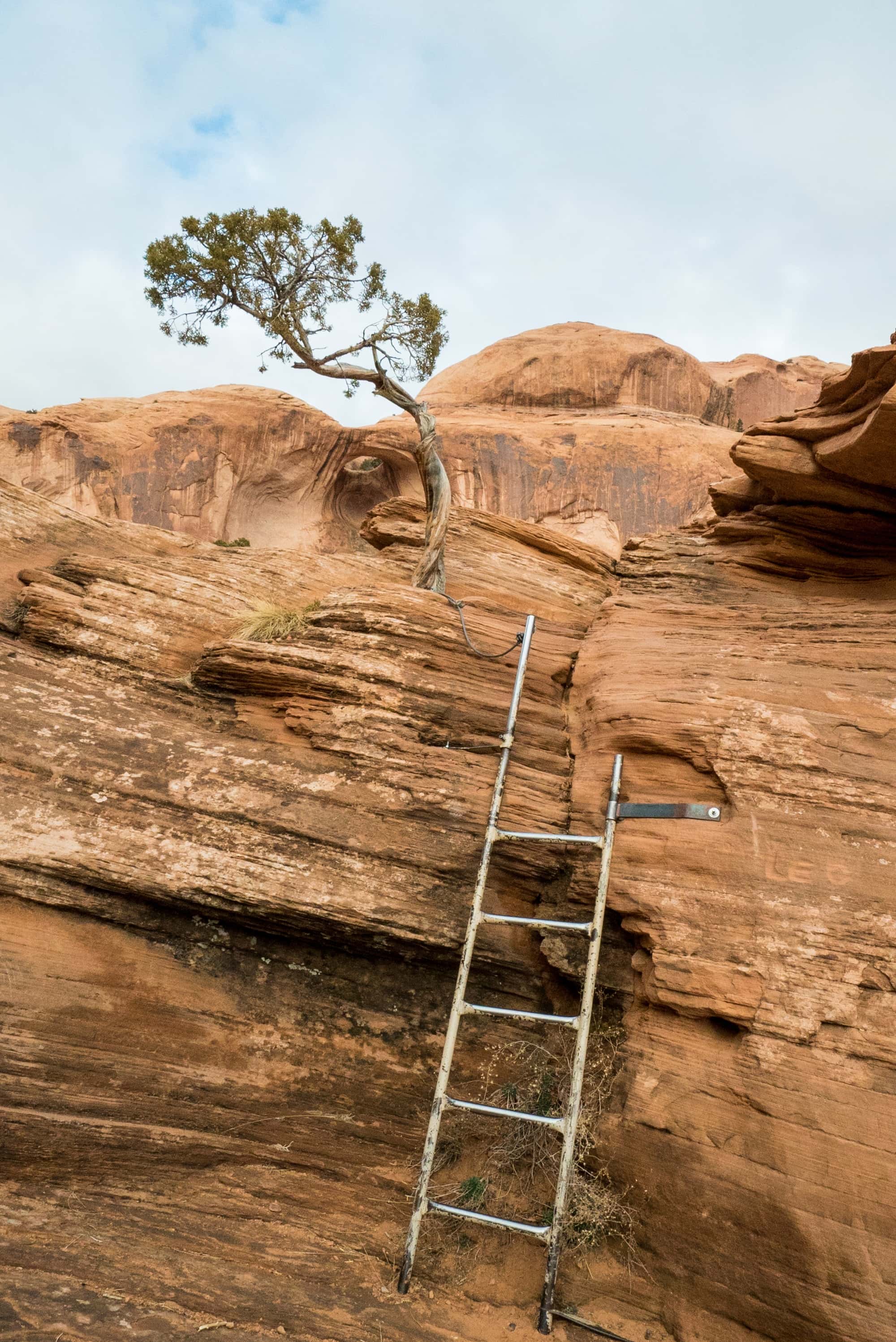 After that, Corona Arch will be in plain view across the way. Hug the sandstone with the cliff on your left to make your way around to the arch. First you'll pass under Bowtie Arch, a pothole-type arch that is high on the cliff above the trail.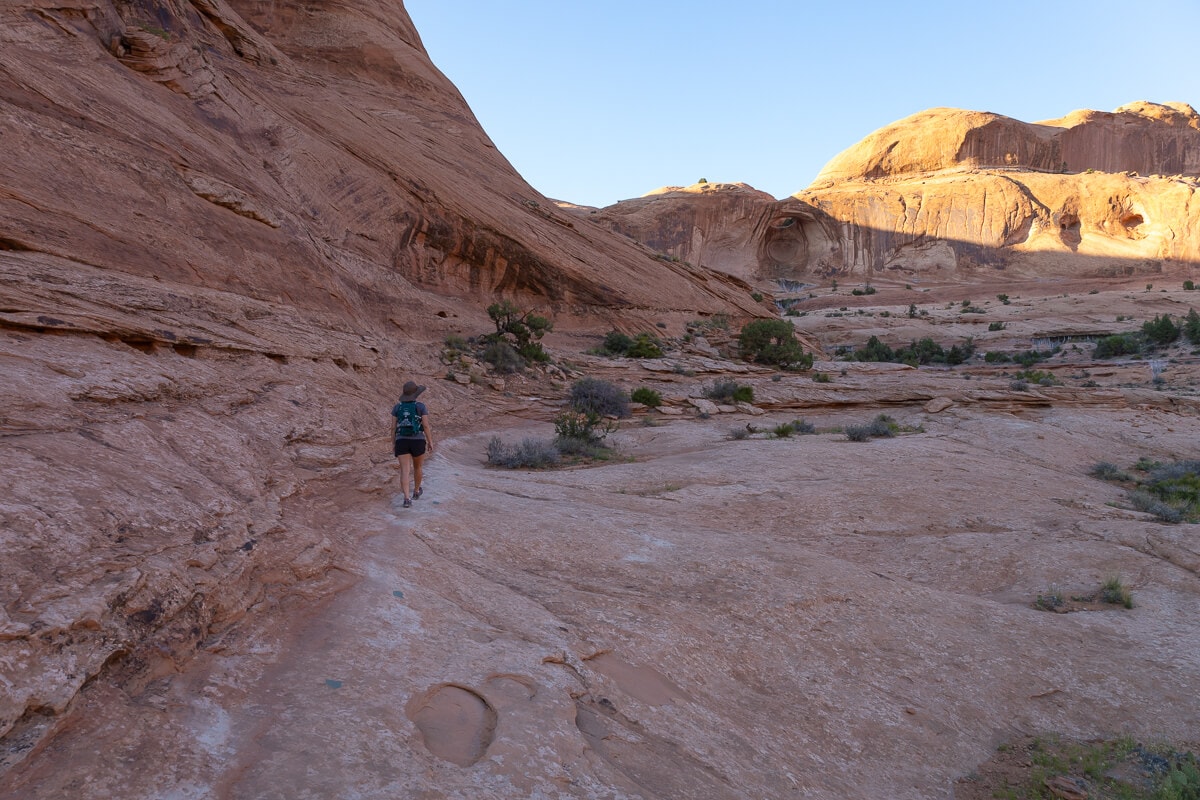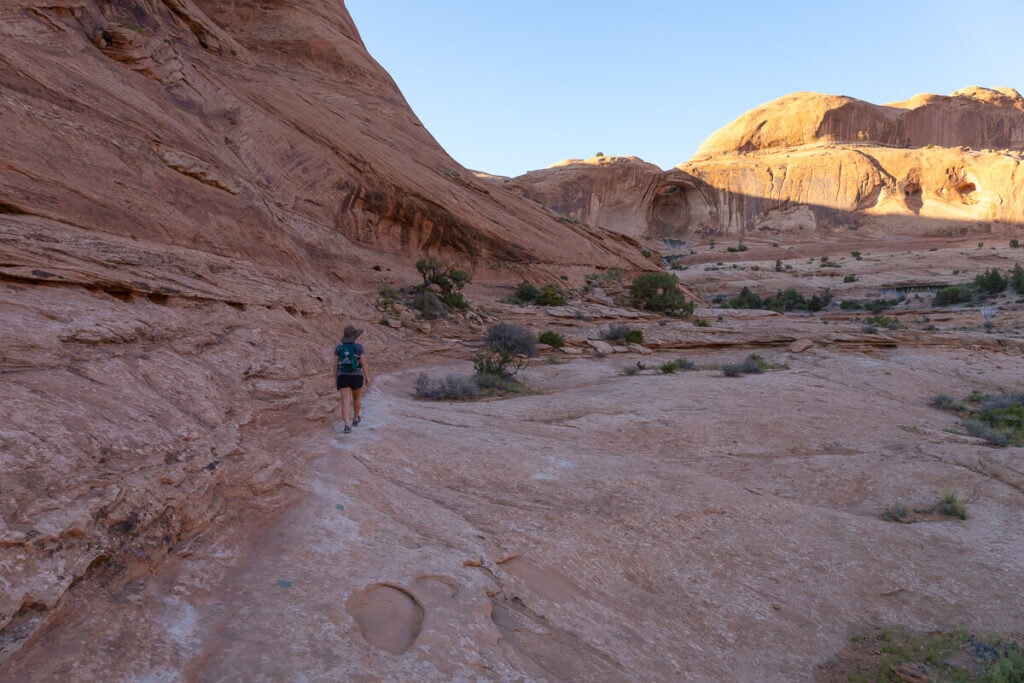 Shortly after, you'll arrive at your final destination, Corona Arch. Make sure to walk all the way underneath it and through to the other side, where you'll get the best views of the landscape through the arch.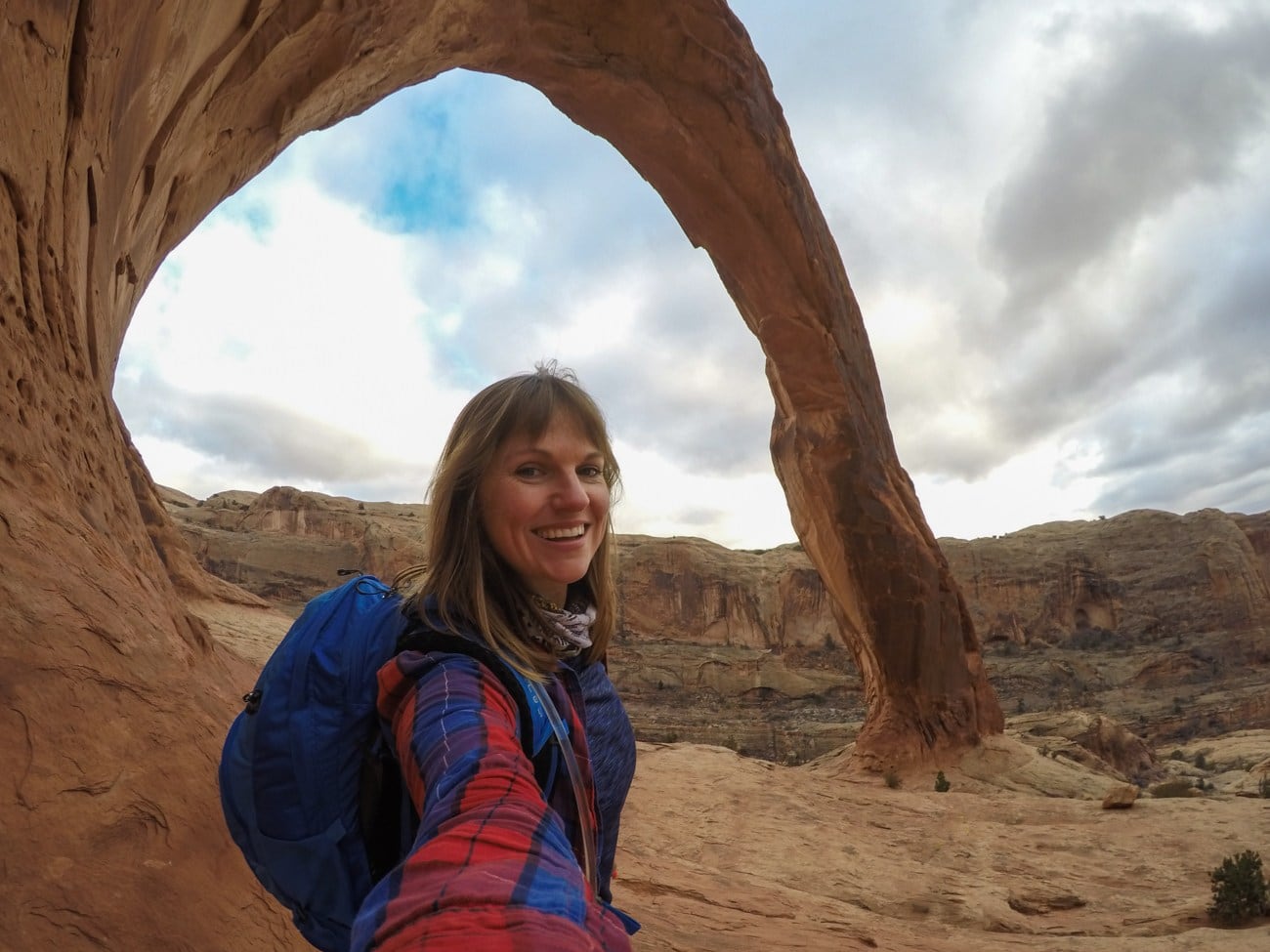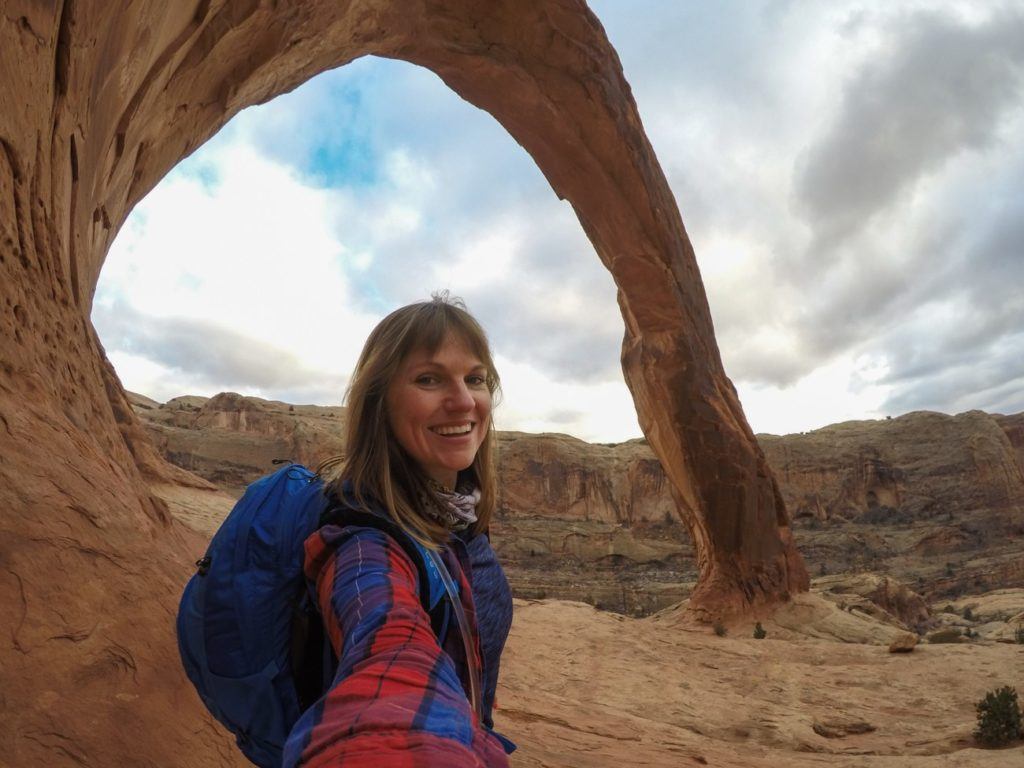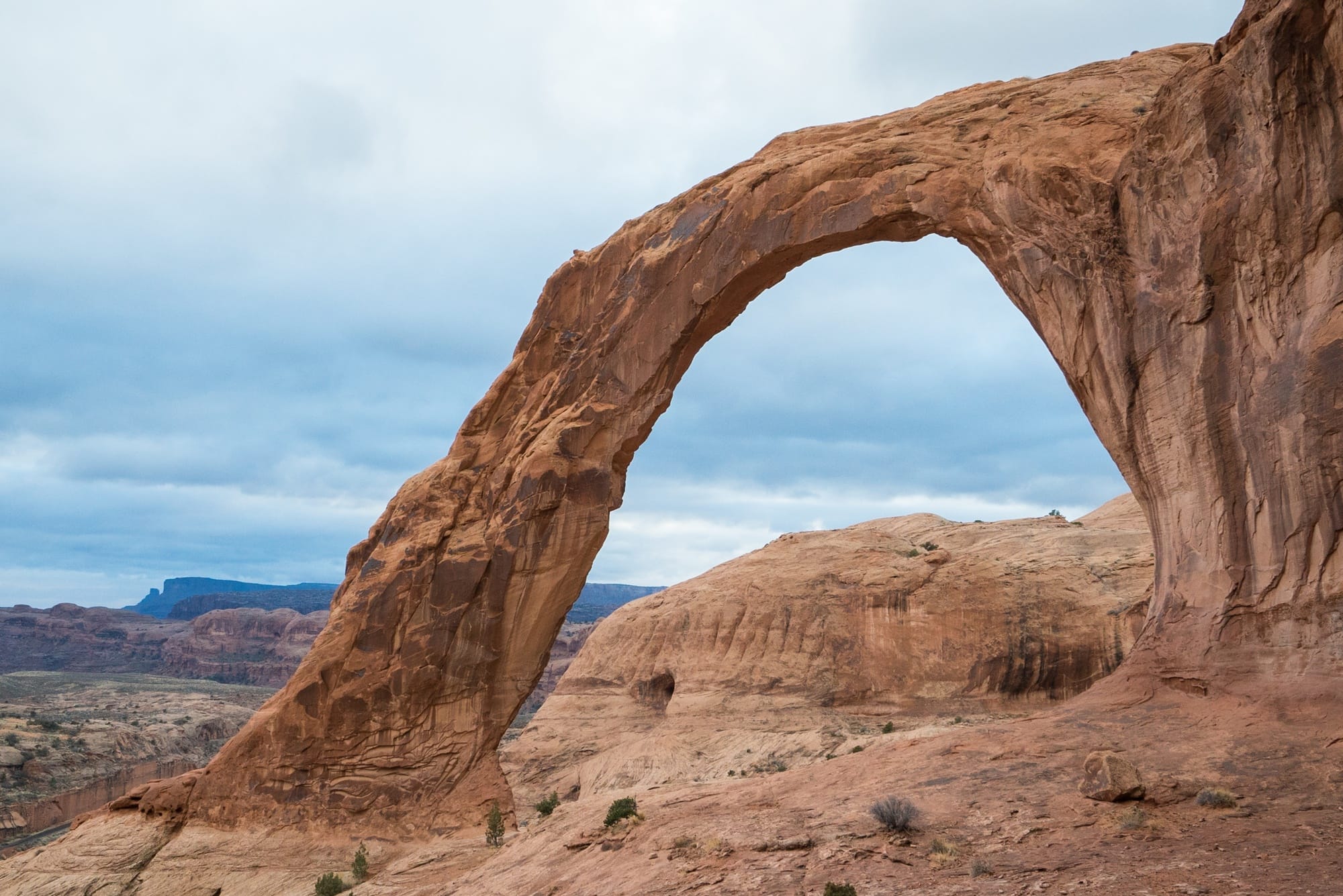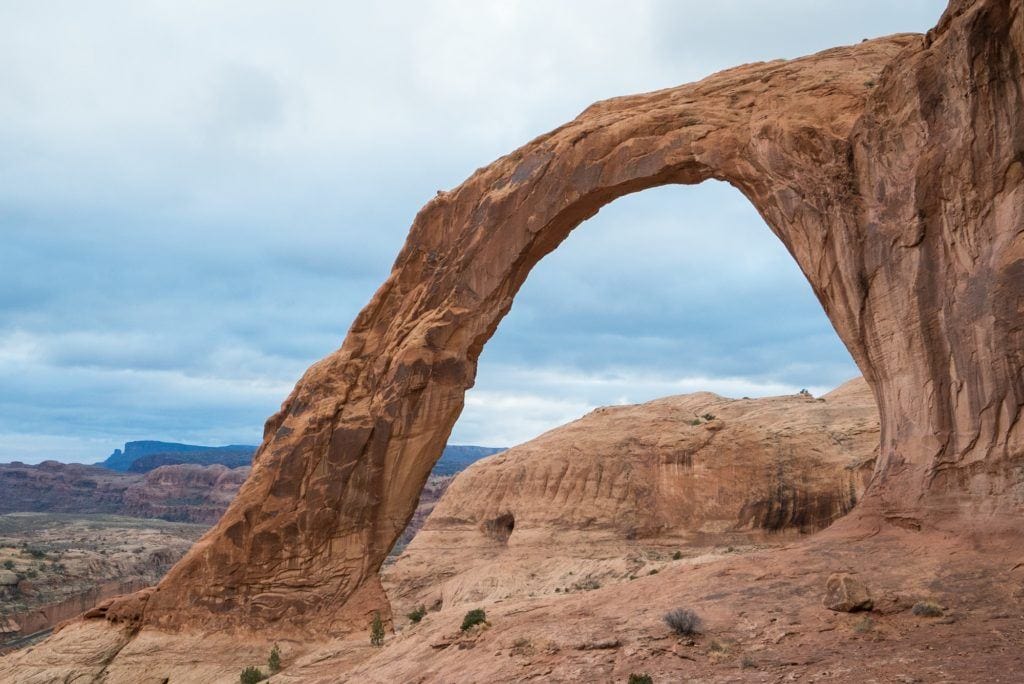 Looking for more to do near Moab? Check out our Local's Guide to Moab for tips and more adventure suggestions.
Where to Camp Near Corona Arch
Gold Bar Campground is just across the road from the trailhead and offers campsites along the Colorado River. Campsites are available are on a first come, first serve basis and are only $10 a night. Our guide to Where to Camp Near Moab has more recommendations in the area.
Do you have any questions about hiking Corona Arch or have you done this hike? Leave a comment below!