THE BEST HIKES IN UTAH
I moved to Utah back in 2015 when I discovered that this beautiful state offers some of our country's best hiking, most unique landscapes, and four seasons of outdoor recreation. Whether you want to bag one of Salt Lake City's 12,000-foot peaks, hike the world-famous trails in Utah's Mighty 5 National Parks, or you want to find peace and quiet in the remote Southern Utah desert, Utah has literally thousands of trails to explore. If you're like me, the endless list of Utah trails makes it difficult to narrow down how to spend your time in here. So to help you out, I've rounded up a list of the best hikes in Utah I've discovered over the last three years, along with a few that are still on my Utah hiking bucket list.
Now of course, there are many trails I have yet to explore…so if there is something I'm missing, make sure to leave a comment at the end of this blog post!
Plan your Utah adventure now with this list of the best hikes in Utah.
Important Reminder: As it goes in all of the destinations we share, please practice good trail etiquette and remember to Leave No Trace. This means packing out all of your garbage (including toilet paper), being respectful to others on busy trails, and following the established rules.
Map of the Best Utah Hikes
ANGELS LANDING, ZION NATIONAL PARK
Length: 4.1 miles
Elevation gain:1,617 feet
Difficulty: Strenuous
Permit: No
First, on our list of best hikes in Utah, Angel's Landing is a beautiful hike that's known for being the most popular hike in Zion National Park. To avoid crowds, avoid the busy season and hike at non-peak hours, like very early in the morning or late in the afternoon (don't forget your headlamp). This hike begins with a series of switchbacks that travel up Zion Canyon, eventually spitting you out at a base of Angel's Landing. Those with a fear of heights might consider stopping here. Beyond this point, the trail gets very exciting, turning into a steep and narrow path with chains to hold onto as it drops off on either side, eventually opening up to 360-degree views.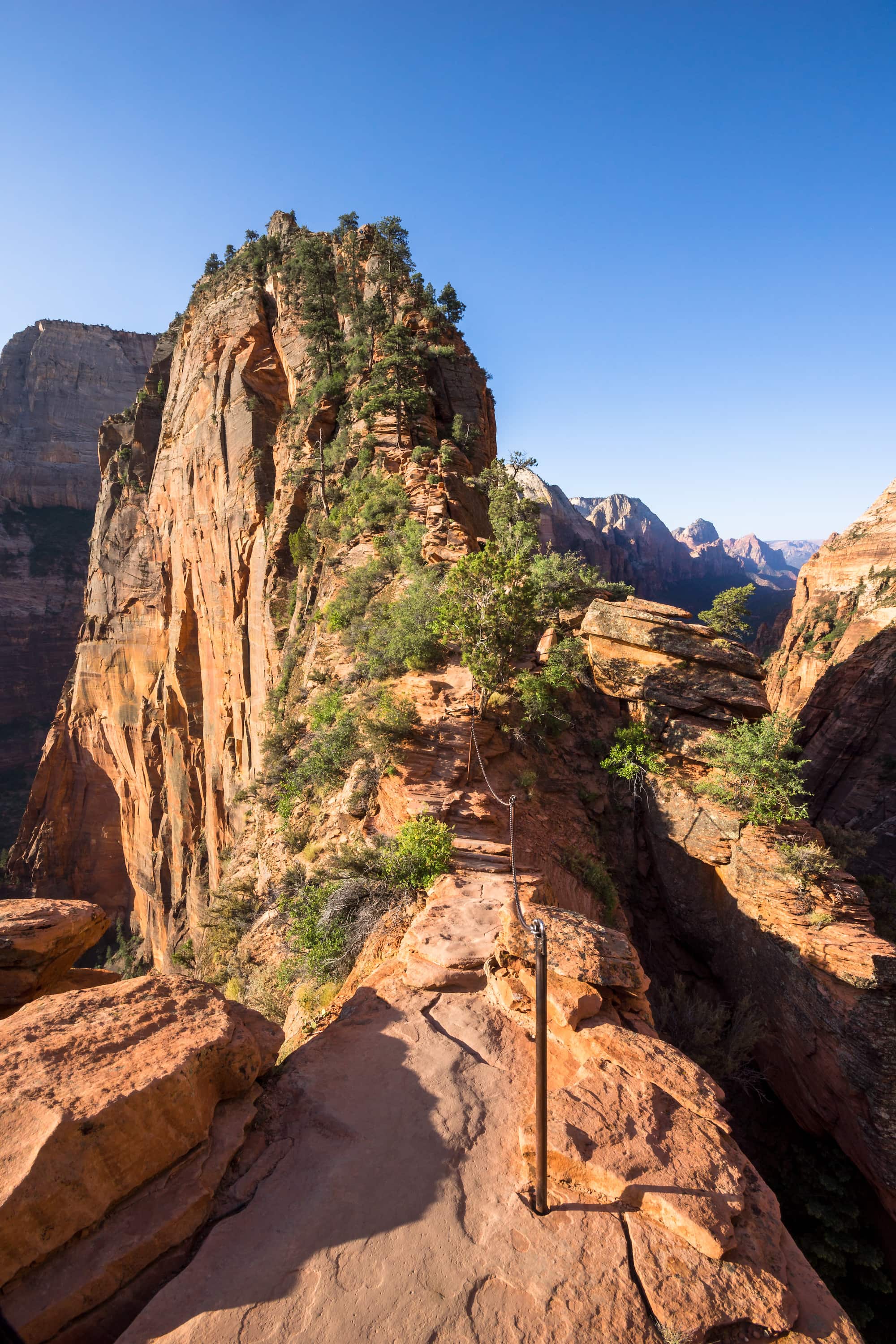 Within Zion National Park, the trailhead is easily accessible from The Grotto trailhead shuttle stop in Zion Canyon. For more information on getting to Zion National Park & staying nearby check out our Essential Zion National Park Guide.
THE NARROWS: TOP-DOWN + BOTTOM-UP HIKE, ZION NATIONAL PARK
While we're talking about Zion National Park it's home to another one of the best hikes in Utah. The world-famous Zion Narrows is the narrowest section of Zion Canyon where you'll be walking right in the Virgin River between two cliffs that reach heights of 2,000 feet. There are dozens of beautiful swimming holes, and at the narrowest point, the canyon is just a few feet wide. I highly recommend doing this as an overnight backpacking trip, where you can stay in one of the 12 isolated campsites. The Narrows is prone to flash floods, so make sure you do your homework and check the weather forecast. Don't miss our full guide on what to wear for hiking The Narrows.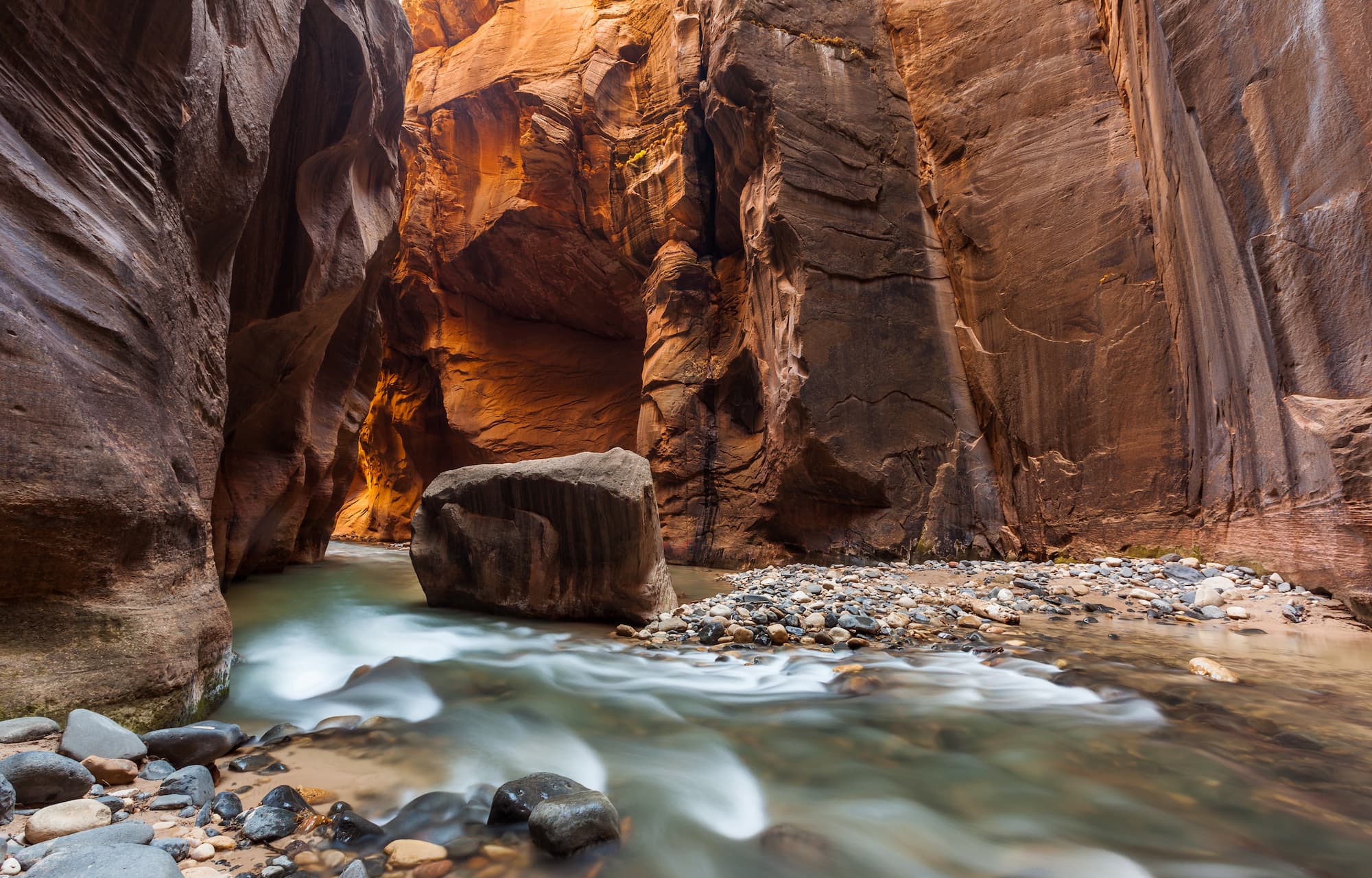 Similar to Angel's Landing once you are within Zion National Park you can ride the free park shuttle. For the bottom-up route, ride the shuttle to the Temple of Sinawava, walk 1 mile to the end of the paved Riverside Walk and then you can begin walking along the river. For the top-down route, you'll need to grab a shuttle up to Chamberlain Ranch operated by one of the guiding companies in town.
If you're looking for a multi-day backpacking trip in Zion National Park, check out our trail guide for the West Rim Trail.
THE WAVE, VERMILION CLIFFS WILDERNESS
Length: 5.2 miles
Elevation gain: 400 feet
Difficulty: Moderate
Permit: Yes
A mesmerizing trail of colorful red sandstone that crosses the Utah/Arizona border, the Wave is a popular sought-after hike with a highly competitive permit process (maybe one of the most competitive in the US). While the odds might not be in your favor, those that are lucky enough to score one of the 20 daily permits will find solitude while they are exploring the remarkable patterns and landscapes that make up the Wave.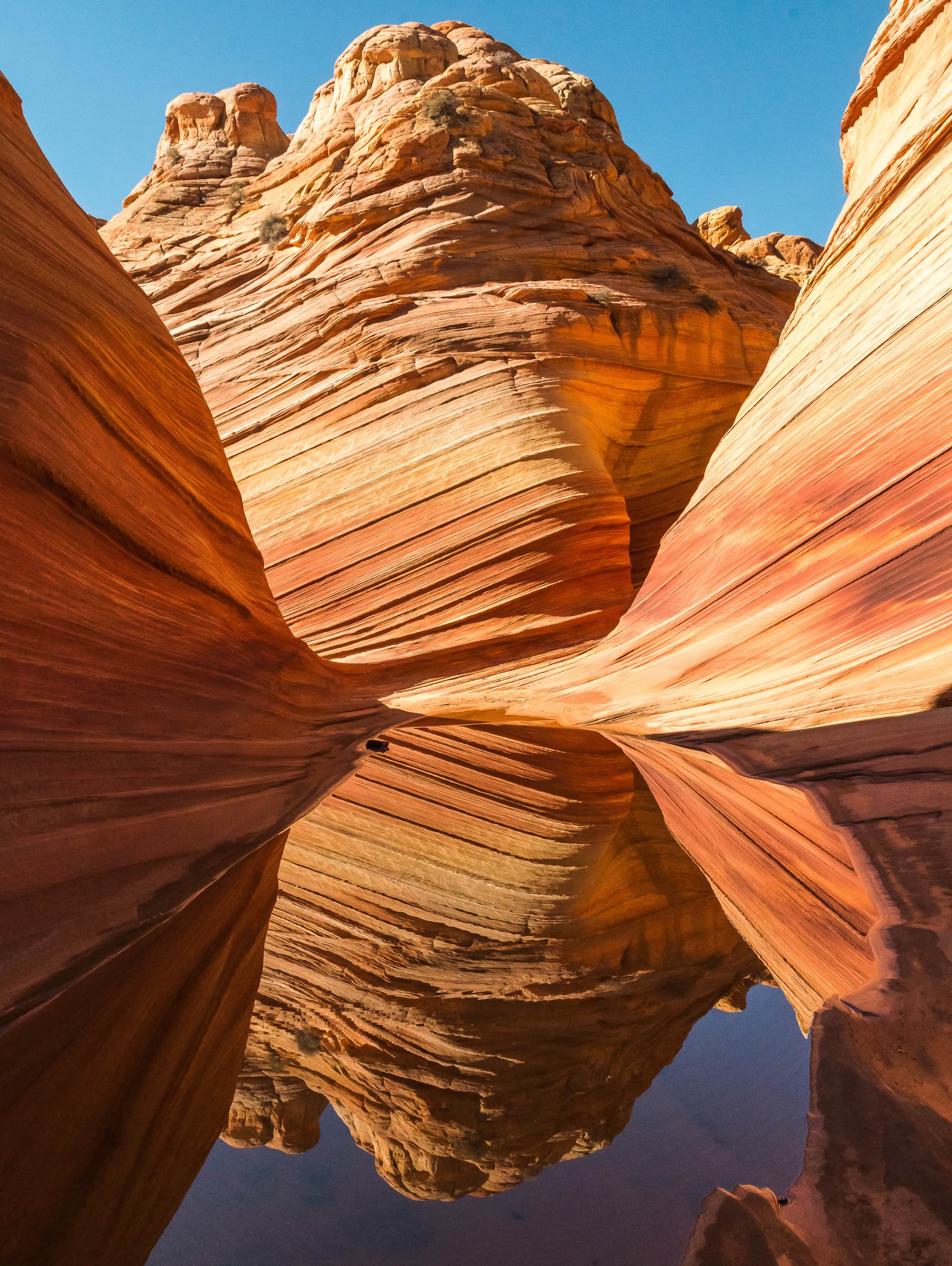 The closest town is Kanab. The Wire Pass trailhead, where you'll start, is roughly a 1-hour drive from Kanab. The last 8 miles along House Rock Valley Road are on a dirt road that can be impassable due to flash floods that hit the region. Make sure to check conditions before heading out.
GOLDEN CATHEDRAL TRAIL, GRAND STAIRCASE-ESCALANTE NATIONAL MONUMENT
Length: 9.1 miles
Elevation gain: 1,581 feet
Difficulty: Moderate
Permit: No
Located at the end of Neon Canyon in Grand Staircase-Escalante National Monument, the Golden Cathedral is a beautiful, secluded hike in red rock country that leads you to an emerald pool grotto. In the cavernous ceiling, there is a hole that the sun rays beam through at a certain time of day, resulting in amazing lighting for photos.  The Golden Cathedral is a longer hike that requires some navigation, so start early and bring a headlamp, food, water, and the ten essentials. I did this hike back in 2014, and didn't see another person the entire day.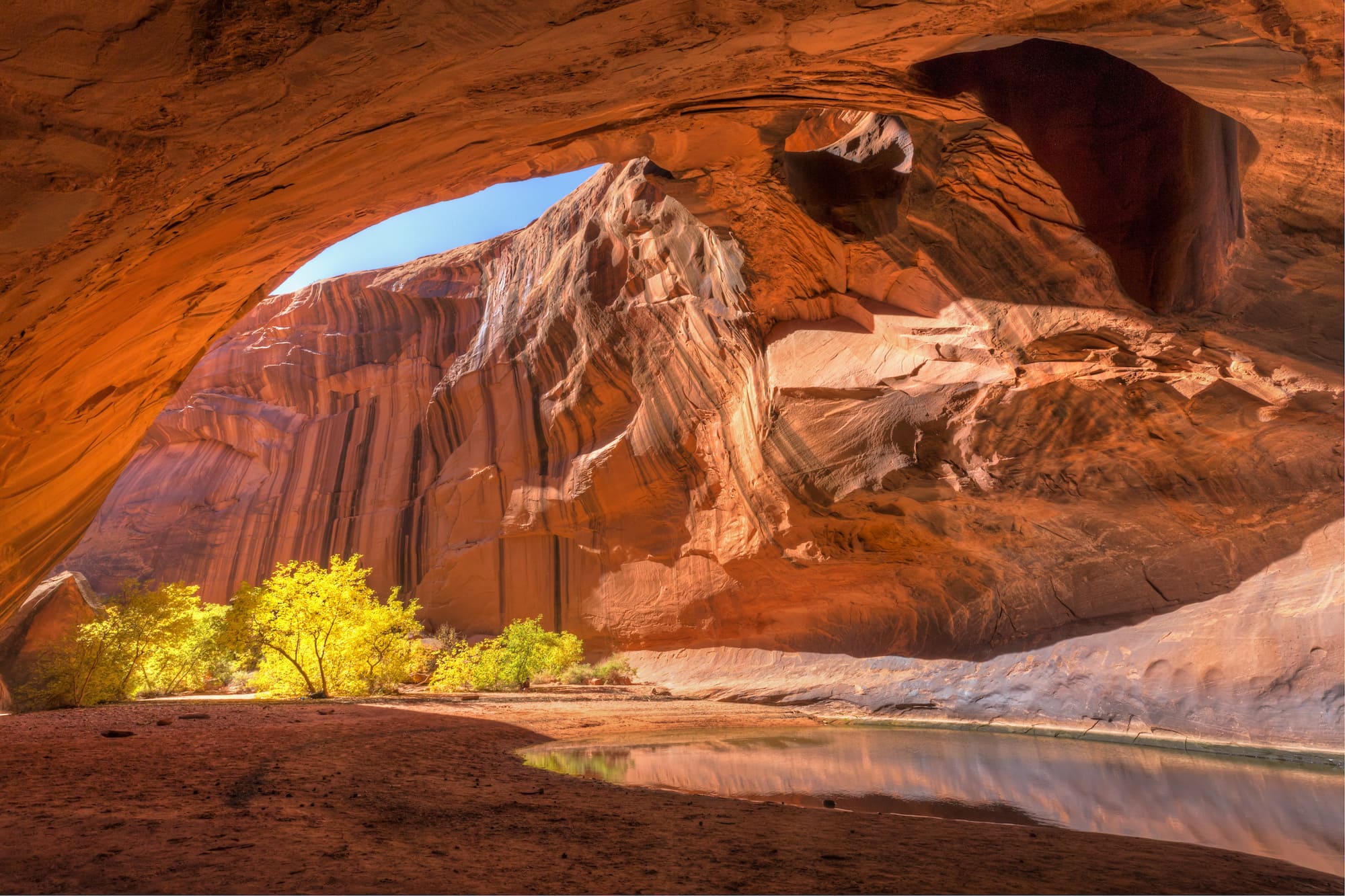 Drive 16.3 miles down Hole-in-the-Rock Road. Hold-in-the-Rock Road intersects with HWY 12. After driving 16.3 miles down Hole-in-the-Rock Road, take a left on Egypt Bench Road and drive another 9.9 miles down Egypt Bench Road to the trailhead. 4×4 and high clearance are needed.
Check out more great hikes in the Grand Staircase-Escalante National Monument
PARIA CANYON BACKPACKING TRAIL, VERMILION CLIFFS WILDERNESS
Length: 38 miles
Elevation gain: 1,130 Feet decline
Difficulty: Moderate
Days: 4
Permit: Yes
Paria Canyon is a 38 mile-long backpacking trek in and along the Paria riverbed between two enormous walls of Navajo sandstone. It's similar to the Zion Narrows but is much more remote and isolated. Out of all of the backpacking I've done, this hike stands out as one of my all-time favorites. The trip takes about 4 days and requires a car shuttle, and those that are able to deal with the challenging logistics will be rewarded with private riverside camping in one of Utah's prettiest canyons. Get our full Paria Canyon backpacking guide with permit info here.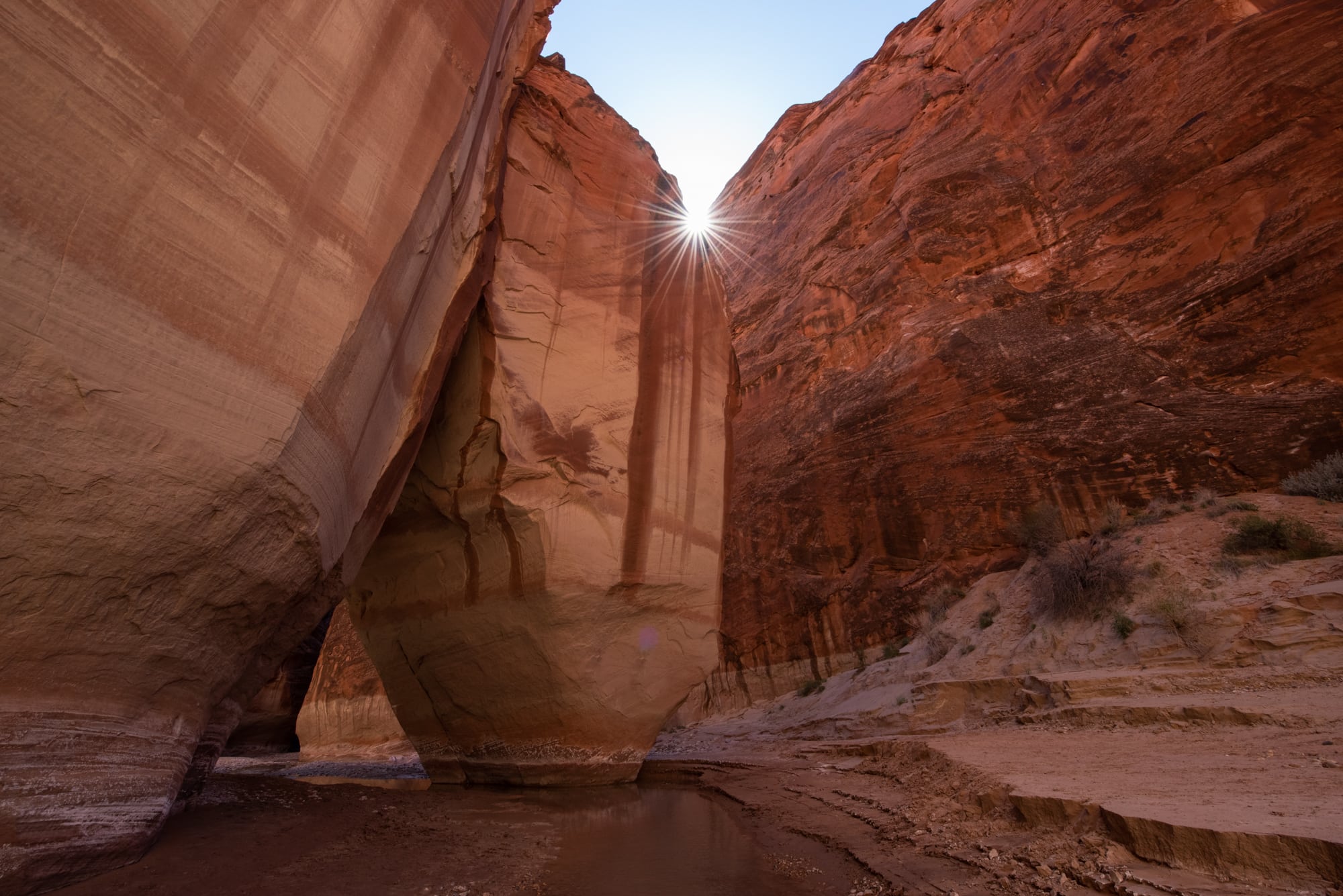 There are three different starting trailheads for Paria Canyon. The most popular is via the White House Trailhead, which is two miles down the road from the BLM Paria Contact Station off of Highway 89 North.
BUCKSKIN GULCH DAY HIKE – WIRE PASS TRAILHEAD, VERMILION CLIFFS WILDERNESS
Length: up to 16 miles one way
Elevation gain: 649 feet
Difficulty: Strenuous
Permit: Yes (Day-permits can be obtained at the trailhead. Overnight permits must be obtained in advance.)
Buckskin is the longest slot canyon in the world and many people will only hike a section as an out and back trail. This specific route via Wire Pass has a short section that requires a downclimb over a boulder jam to access Buckskin. At the confluence of Wire Canyon and Buckskin Gulch, take some time to check out (with your eyes only) the ancient petroglyphs on the canyon walls.  Once you enter Buckskin, be prepared for cold water, boulder jams, and other obstacles, which can ultimately dictate your turn-around point. This hike is more enjoyable outside of winter months, and the deepest pools will mostly be encountered during spring run-off. If you plan on going deep into the canyon and wading through pools of water, proper shoes and neoprene socks for warmth are recommended.
Bring plenty of water, as the water in the canyon is not safe to drink, and make sure there is no rain in the forecast.  A flash flood in Buckskin would be deadly.
If you want to backpack Buckskin Gulch, the most common route is to enter via Wire Pass and exit at the Whitehouse Trailhead near the Paria Contact Station. For this a car shuttle is necessary.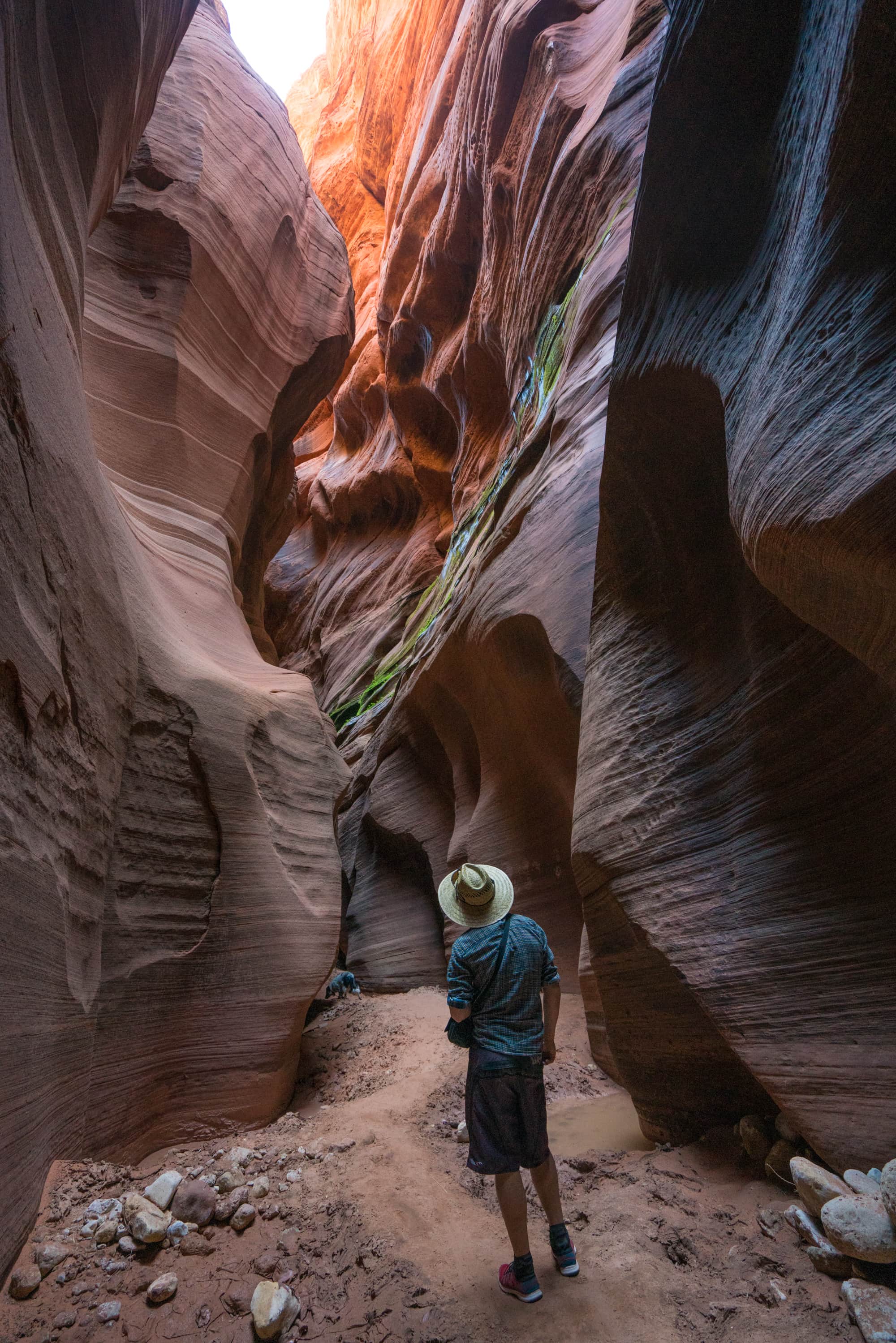 The Buckskin Gulch Trailhead is easily accessible via House Rock Valley Road in Kanab, Utah. Walk across the street to the marked trail.
DELICATE ARCH TRAIL, ARCHES NATIONAL PARK
Length: 3 miles
Elevation gain: 610 feet
Difficulty: Moderate
Permit: No
Utah's most famous arch (as displayed on the license plates!) is a scenic trail with panoramic views of Arches National Park and the La Sal Mountain range.  Hiking out for sunset is a must-do, just bring a headlamp and a trail map on your phone to safely navigate back to your car once it's dark. Learn more about our favorite hikes in Arches National Park.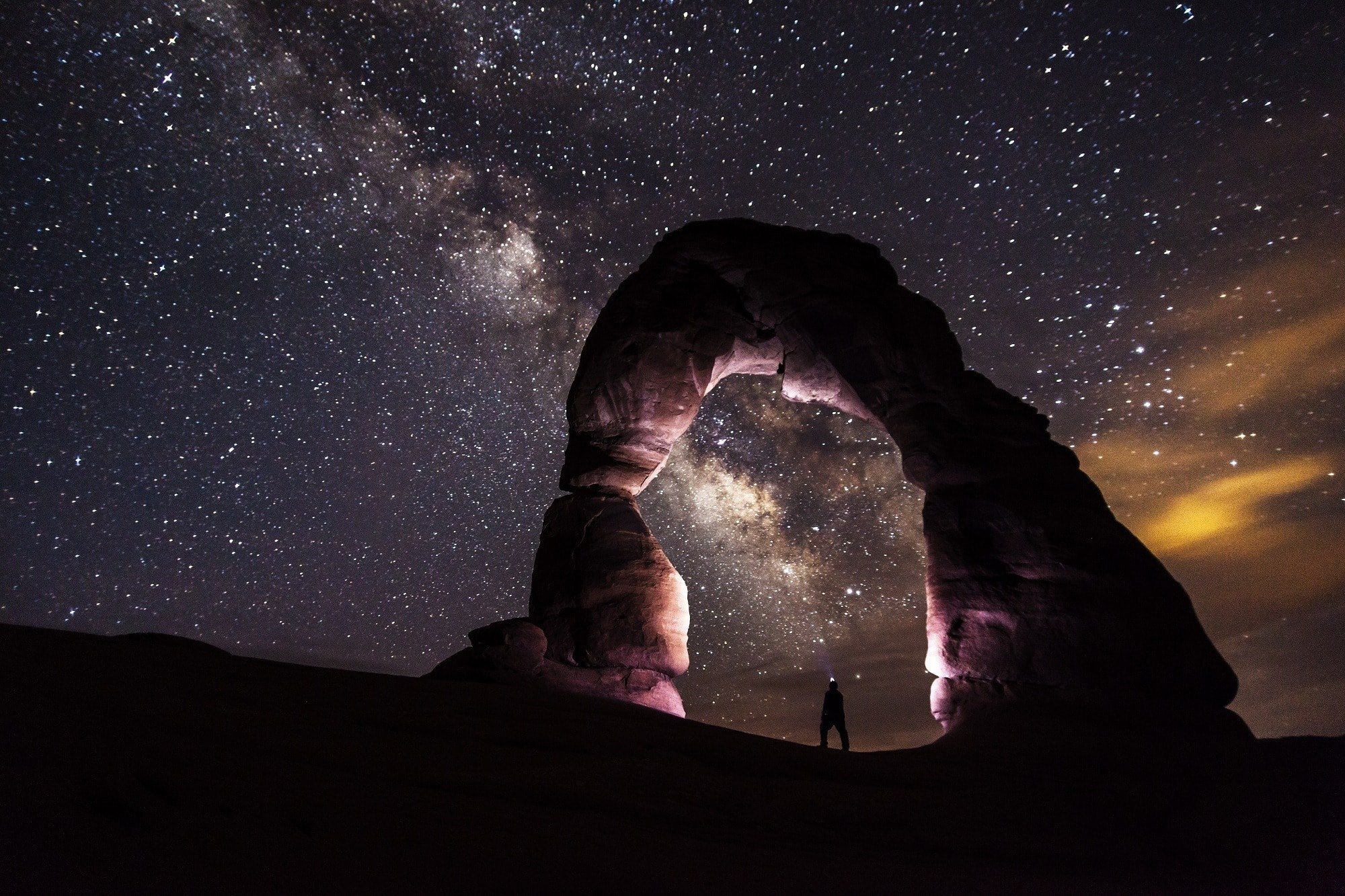 Within Arches National Park, drive a couple miles down Wolfe Ranch Road to Wolfe Ranch for the trailhead.
Explore more of the Best Hikes in Arches National Park
MOUNT TIMPANOGOS, WASATCH MOUNTAIN RANGE
Length: 14 miles
Elevation gain: 4,390 feet
Difficulty: Strenuous
Permit: No, $6 parking fee per car
Peaking at 11,752 feet, Mount Timpanogos is the second-highest peak in Salt Lake City's Wasatch Range and is known for its vibrant wildflowers, resident mountain goats, and sweeping views. The Timpooneke Trail is a tough but not technical hike that is totally worth the climb. It can be done as a long strenuous day hike or an overnight backpacking trip. Get more info in our Mount Timpanogos Trail Guide.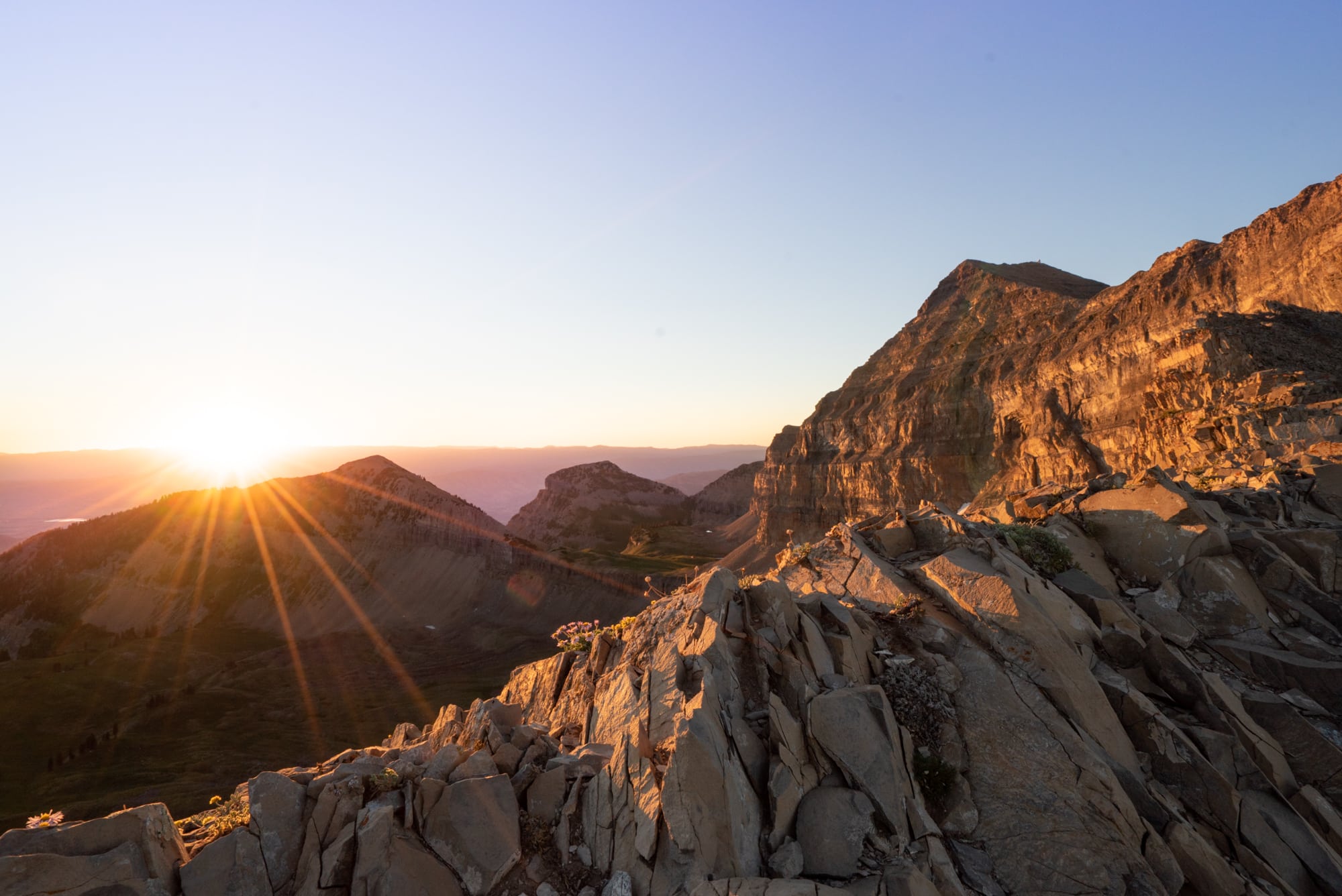 There are two different ways to access the Timpooneke trailhead: from I-15, take the Orem 800 North Exit 272.  Travel east on 800 North, Highway 52, to the mouth of Provo Canyon.  take a left turn onto Highway 189, Provo Canyon Scenic Byway.  Then left onto Highway 92, Alpine Scenic Loop/Sundance turnoff to the North Fork of Provo Canyon.  This section of the road is narrow and winding which requires caution.
Or from I-15 you can take the American Fork/Alpine Exit 284 and turn east onto Highway 92.  This takes you through American Fork Canyon.  Continue on this road, making a right turn onto the south fork.
PFIEFFERHORN TRAIL, WASATCH MOUNTAIN RANGE
Length: 9 miles
Elevation gain: 3,800 feet
Difficulty: Strenuous
Permit: No
This is the third tallest peak in Utah's Wasatch Range at 11,326 feet high and is one of the best hikes in Utah to do while you're in Salt Lake City. Along the way, you'll pass Red Pine Lake, a gorgeous, popular hiking destination in the Wasatch. Past the lake, the trail up to the Pfiefferhorn requires some scrambling, navigating a knife ridgeline, and hiking a steep section to reach the summit. It's a hike that will get your blood pumping but doesn't actually require any technical climbing gear. Get more details in my Pfeifferhorn Trail Guide.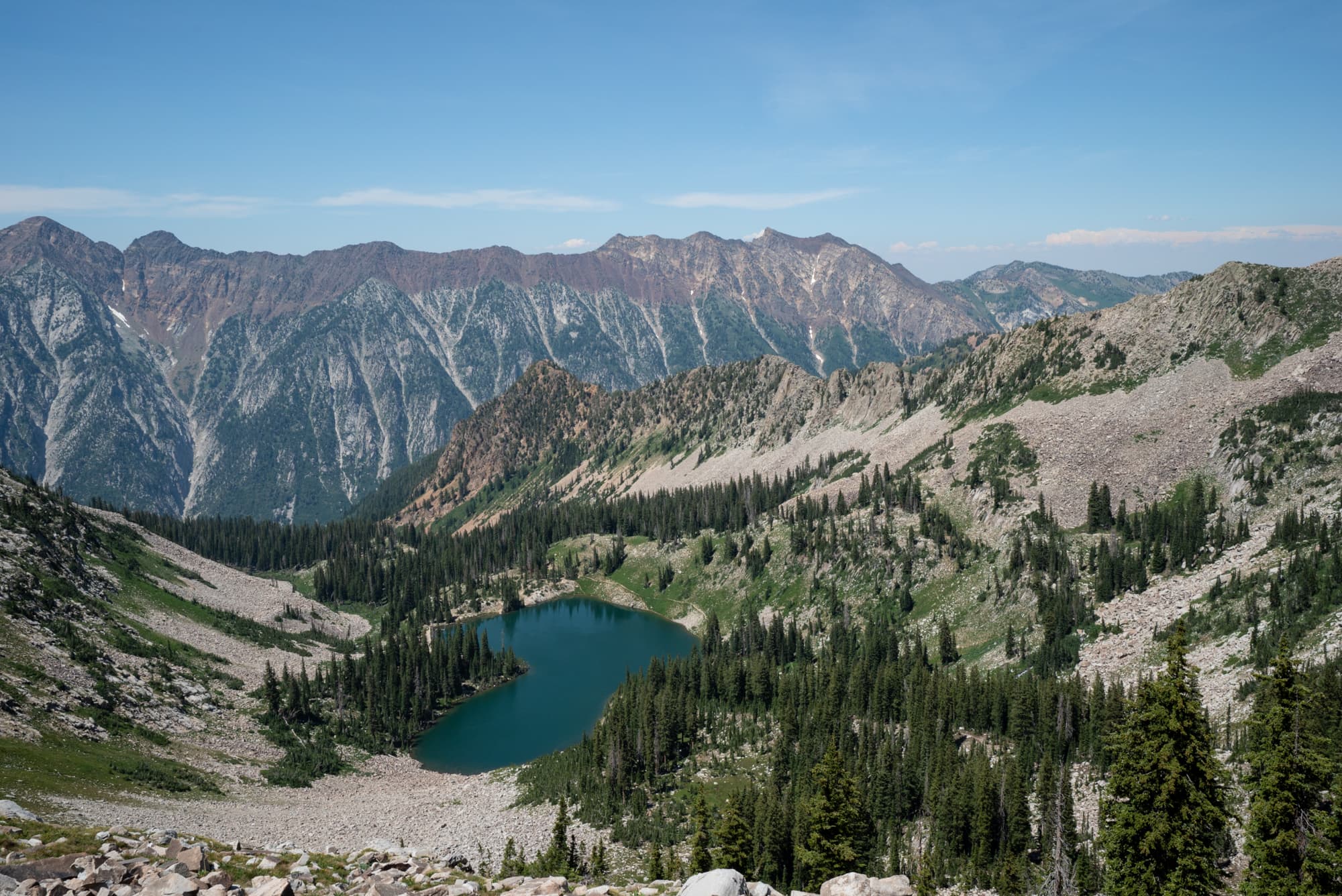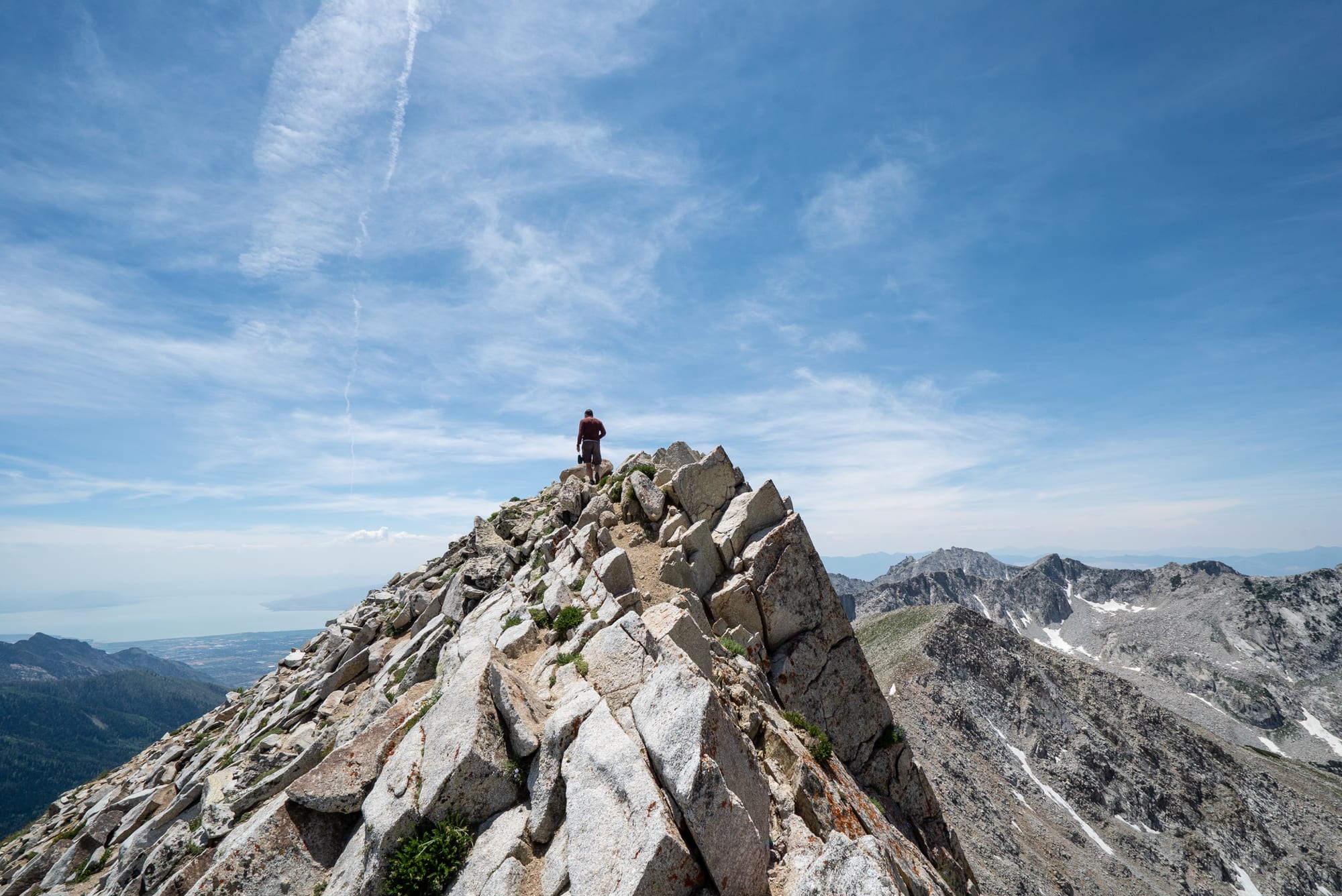 From Salt Lake City, take I-80 and merge onto I-215 S. Continue on I-215 S for 5 miles and take exit 6 onto 6200 S. Go left at the light and take 6200 S following signs to Alta Ski Area. After 4 miles, this road curves left up Little Cottonwood Canyon becoming Little Cottonwood Canyon road. Continue driving up the canyon for 5.5 miles. Keep an eye out for signs on the right for the White Pine Lake Trailhead, and turn right into the large paved parking lot. If you get to Snowbird Ski Resort, you've gone too far.
Get trail info for the best alpine lake hikes near Salt Lake City.
FAIRYLAND LOOP, BRYCE CANYON
Length: 7.4 miles
Elevation gain: 1,514 feet
Difficulty: Strenuous
Permit: No
This loop trail is a spectacular hike through Bryce Canyon's northern region. Walk past the spiraling hoodoos that make the park famous and trek all the way from the rim until you eventually get down into the canyon itself. You'll experience a lot of the same landscapes as the popular Navajo Loop Trail with a lot less foot traffic. This is hike is considered challenging because it takes you up through different elevations, and you can have long exposure to the sun. Looking to spend a full week in Utah? Check out our 1-week road trip itinerary for Utah's 5 National Parks.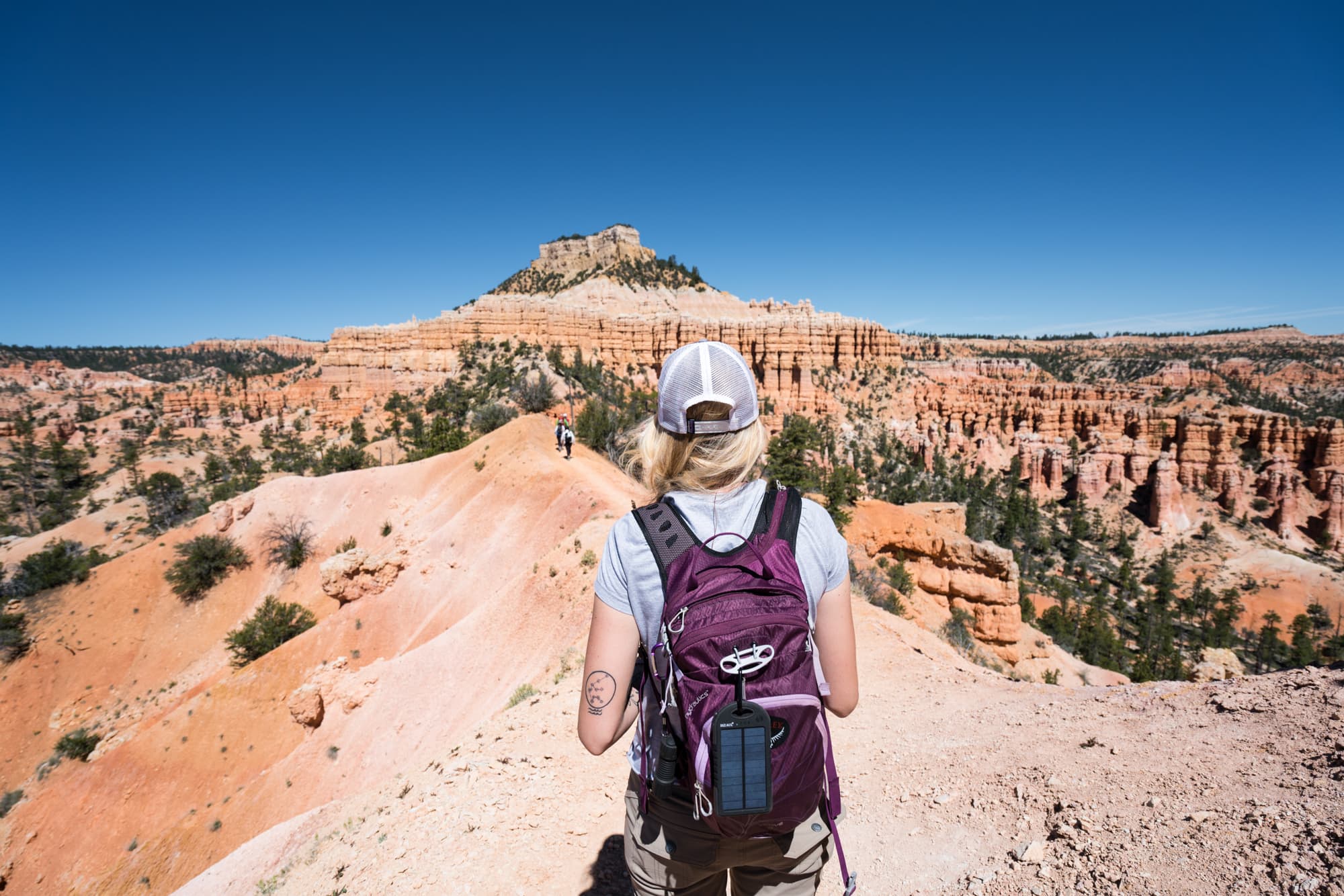 From the Bryce Canyon Visitor Center, drive a mile down Scenic Drive to get to the access road for Fairyland Point. Make a right and drive another mile to the parking lot.
DIAMOND FORK HOT SPRINGS TRAIL, SPRINGVILLE
Length: 4.5 miles round trip
Elevation gain: 700 feet
Difficulty: Easy
Permit: No
A hike to the Diamond Fork Hot Springs is must-do and one of the best hikes in Utah because of its blue hot spring lagoons and beautiful scenery. The hike itself, along the river, is quite enjoyable and you'll know you've arrived when the smell of sulfur fills the air. Sit and soak in the naturally-heated pools, surrounded by stunning canyon walls and take it all in. Bring a towel, water and a change of clothes. For visiting in winter, check the road status before you head out. Check out our complete trail guide to Utah's Diamond Fork Hot Springs.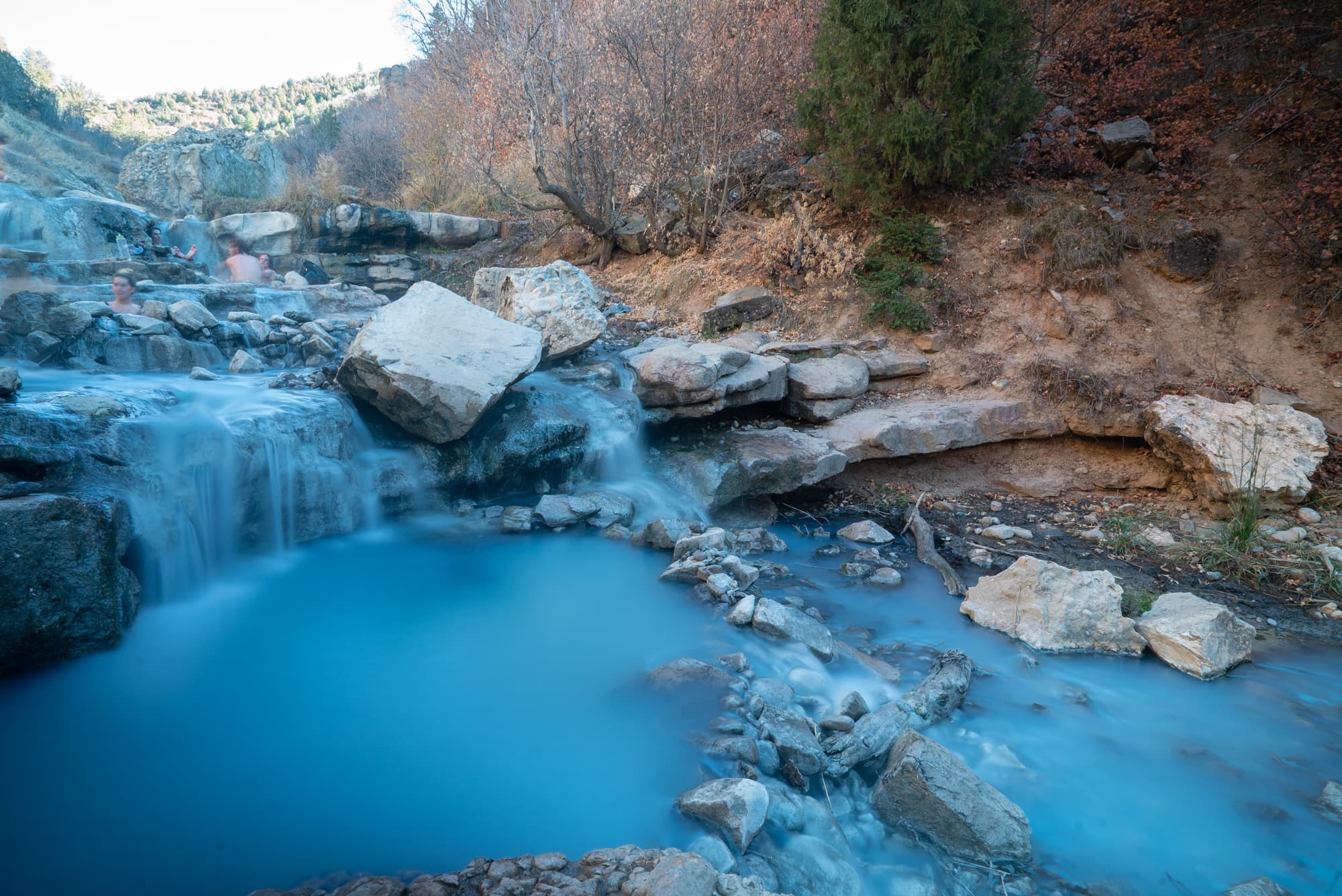 From Salt Lake City, head south on 1-15 until you reach the town of Spanish Fork. Once in Spanish Fork, take exit 257 to get on the US-6E. Drive for 11 miles, and take a left at mile marker 184 onto Diamond Fork Road. Follow this road for 10 miles until you reach the signed trailhead parking lot on the right.
THE HIGHLINE TRAIL, UINTA MOUNTAINS
Length: 78 miles
Elevation gain: 2,754 feet (trail stays mainly above 10,000 feet high)
Difficulty: Strenuous
Days: 7-8
Permit: No
An easy contender on our list of best hikes in Utah, is the Highline Trail, one I have yet to cross off my bucket list. This multi-day trip is not for the faint of heart. For almost the entire hike, you'll be in the alpine above the timberline at 10,000 feet high and at times, it requires technical skills. Plan ahead, be prepared and do a little training ahead of time to really get in shape for this incredible hike.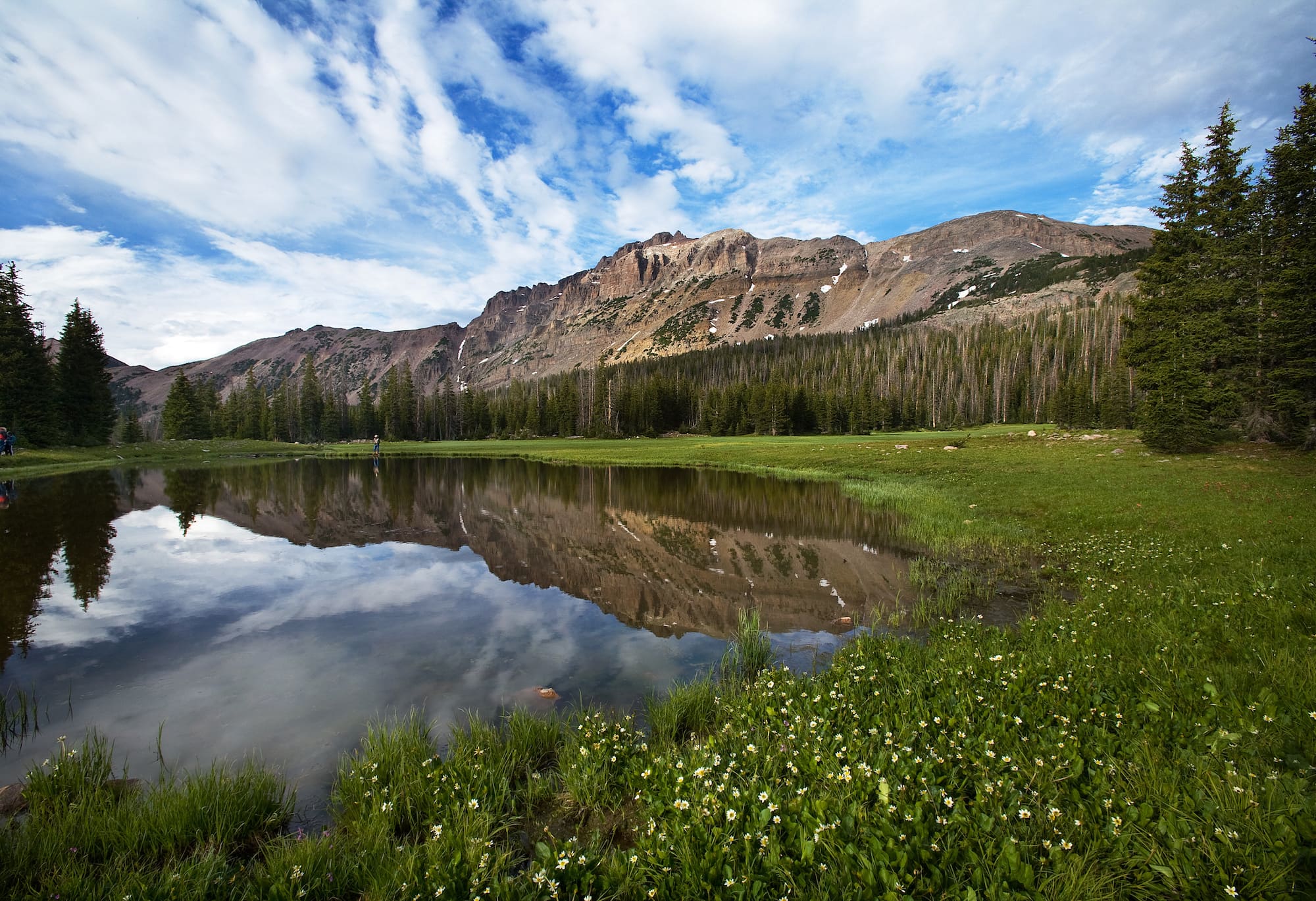 The trailhead is located right off of Mirror Lake Highway (U-150). The closest town is Kamas, Utah.
LITTLE WILD HORSE/BELL CANYON TRAIL, HANKSVILLE
Length: 11.2 miles
Elevation gain: 1,617 feet
Difficulty: Moderate
Permit: No
One of Utah's most spectacular, non-technical slot canyons, Little Wild Horse/Bell Canyon is a loop trail with amazing views. It's good for hikers of most skill levels and doesn't require any technical gear or sketchy climbing. Most people hike up Little Horse, hang a left on the Behind the Reef connector trail, and then hike back down Bell Canyon. It's a full-day if you end up hiking the full loop. If you don't have time, we suggest hiking up Little Horse as far as you like and then back down the same way.
Like all of the slot canyon hikes here, keep an eye on weather and if rain is in the forecast, save this trail for next time.
I hiked this with my friend Kristin Addis of Be My Travel Muse. She recently shared a list of her favorite off-the-beaten-path Utah spots that you should check out!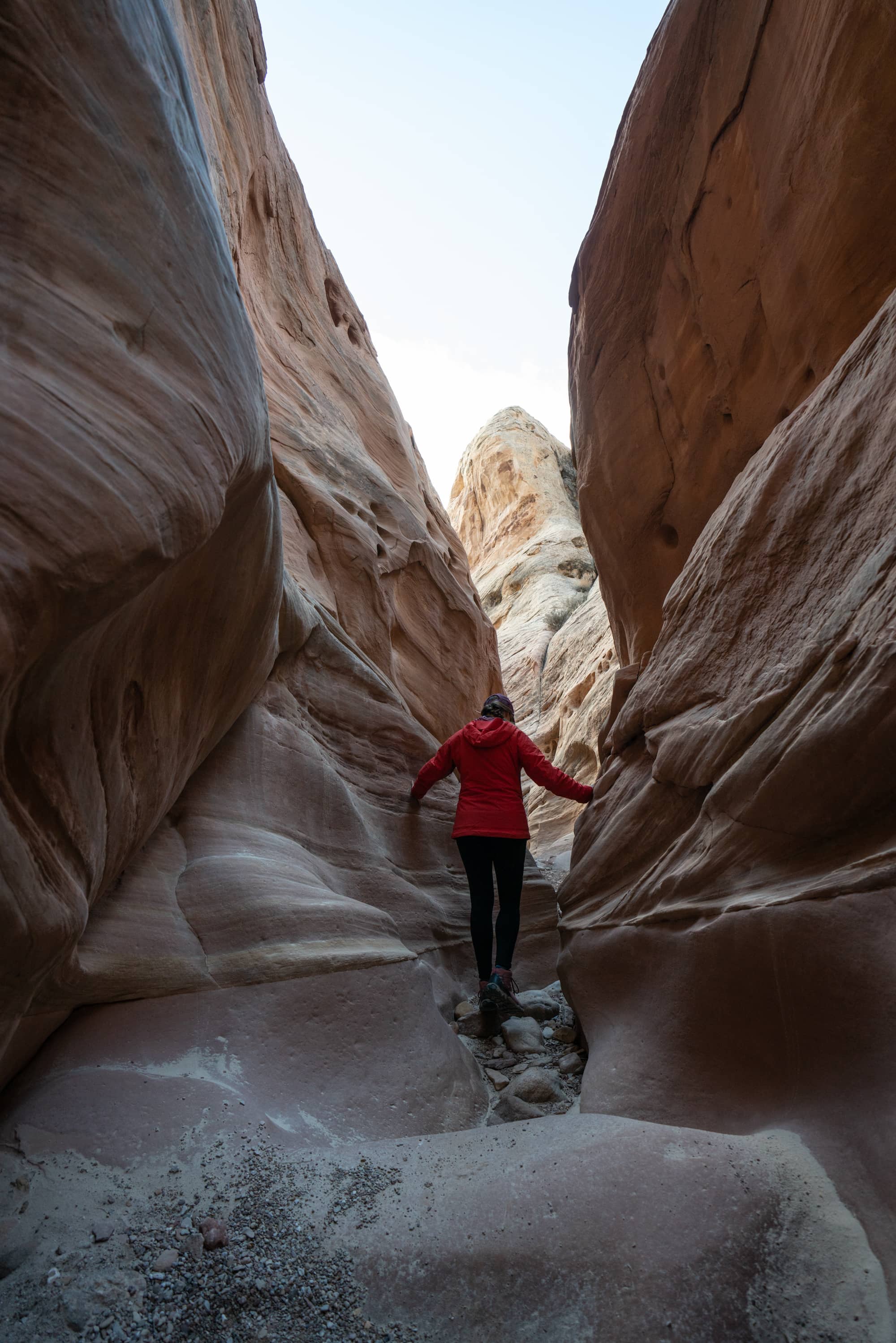 To find the trailhead and parking area, drive 11 miles down Highway 24, about 2 miles before the Goblin Valley State Park Fee Station. Look for the sign to see where to turn off.
KANNARA CREEK CANYON TRAIL, KANNARAVILLE
This trail brings you the best of Utah landscapes: Slot canyons, not one but two waterfalls, views, and that orange canyon glow. Kannara Creek Canyon Trail also features a few handbuilt ladders to climb further down into the canyon. It's recommended to wear water shoes you can hike in – like these Astrals. As always, when hiking slot canyons, check the weather conditions to avoid flash-floods. Kannara Creek has gotten very popular over the years, so make sure to check the website for the latest info on permits.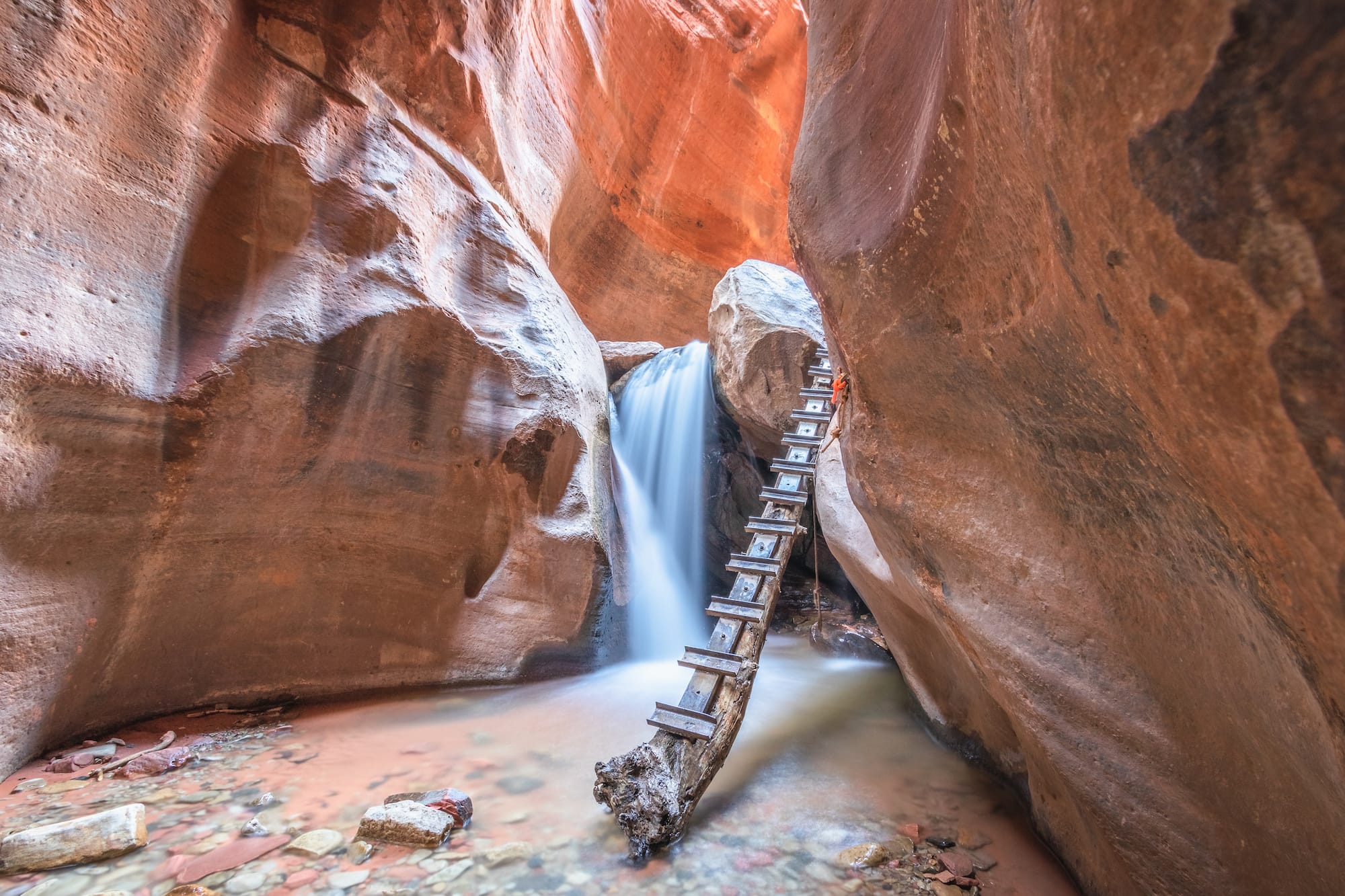 From the Town parking lot, start walking up the trail by the information sign, or from the Sweet Spot parking lot follow the road towards the east for a couple hundred feet to the Permit Kiosk. Here the attendant will scan your permit and let you proceed on the hike.
My Favorite Utah Hiking Resources
With cell service being limited in Southern Utah, it's not a bad idea to invest in a hiking book or map for your trip. Here are the Utah hiking resources I've found to be most helpful over the years:
Which of these hikes in Utah would you like to explore? Leave us a comment below.