Day-Hiking the Bright Angel Trail to Indian Garden in Grand Canyon National Park, AZ
The Grand Canyon is a place I've been eager to get back to since my one-and-only visit as a teen. Like many people who visit the Grand Canyon, I went there with my parents, drove to an overlook, took a few pictures, and left.  I've made a vow to get back there in my van sometime over this next fall/spring season, and the Bright Angel Trail is one of the most popular day-hikes to get a taste for all that the Grand Canyon offers.
In this new post, Krysti Sabins – the gal behind Unboring Exploring – shares the details about the day-hiking the Bright Angel Trail, along with her fun trail vlog so you know exactly how to prepare and what to expect. I hope this inspires all of you to visit the Grand Canyon, and let us know if you have any questions! Cheers, Kristen
** Going backpacking? Check out:  Desert Backpacking Tips for your first Southwest Adventure
by Krysti Sabins of Unboring Exploring
Heading down into the belly of the Grand Canyon first thing in the morning is a wonderful experience…let me tell ya! Slanted sunlight illuminates the sparse sprinkling of vegetation as the polychromatic hues of the canyon present themselves to your eager eyes. Could it be any more enchanting?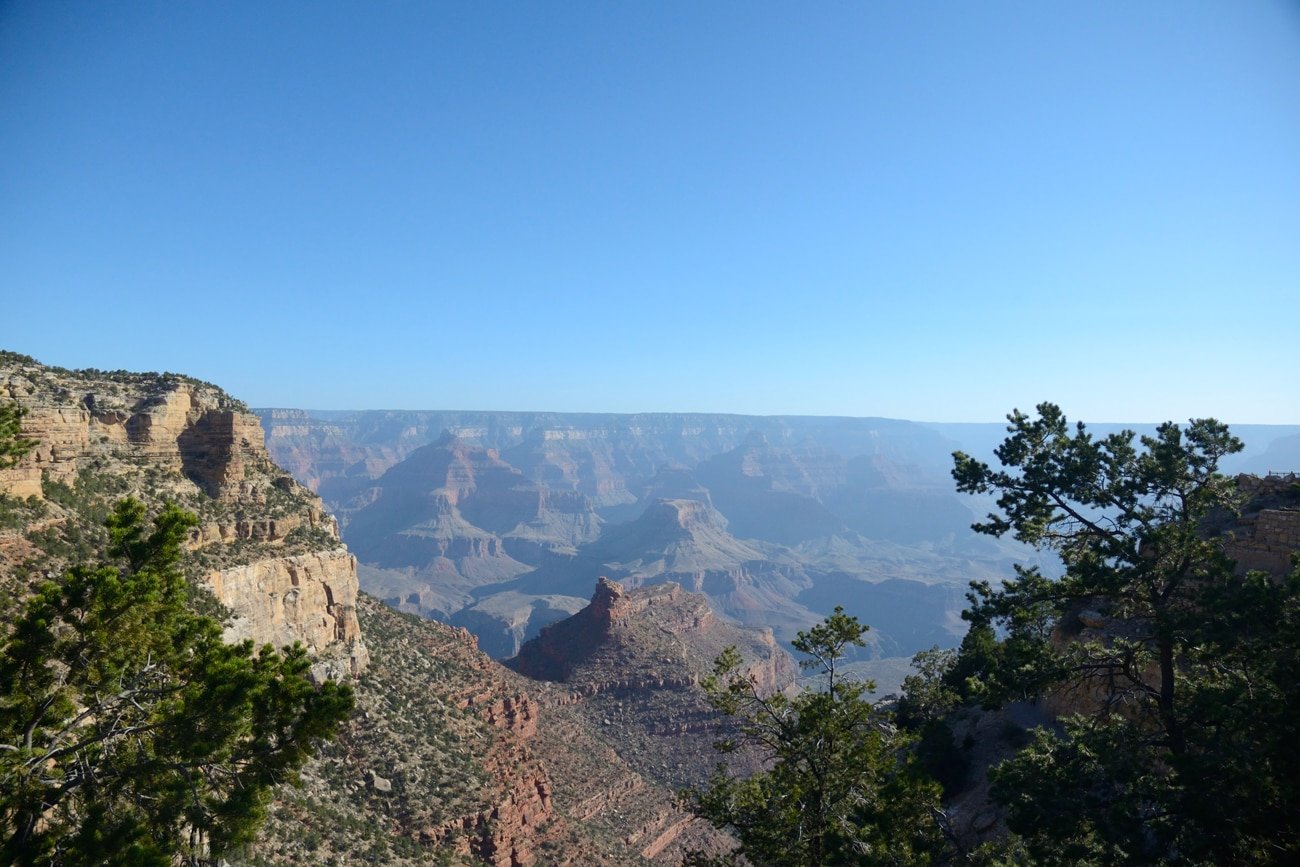 When you visit the Grand Canyon this time of year (meaning fall and spring), there are many, many hiking opportunities, most of which require your descent into the canyon. The Bright Angel Trail is a day-hike fit for those looking to experience the varying layers of the canyon while getting a taste of the inner-canyon's unique beauty without the requirement of an overnight stay. Overall, this is certainly one of the best hikes on the South Rim of Grand Canyon National Park.
— Bright Angel TRAIL STATISTICS —
Trail Type: Out-and-back
Length: 9 miles round trip
 Starting Elevation: 6,860 feet.
Minimum Elevation: 3,800 feet
 Total elevation gain: -/+ 3,960
Dogs allowed: No
 Best Hiking Season: May and September/October (Late Spring, Early Fall)
Time: 5-6 hours, when taking ample breaks
 Permit required: No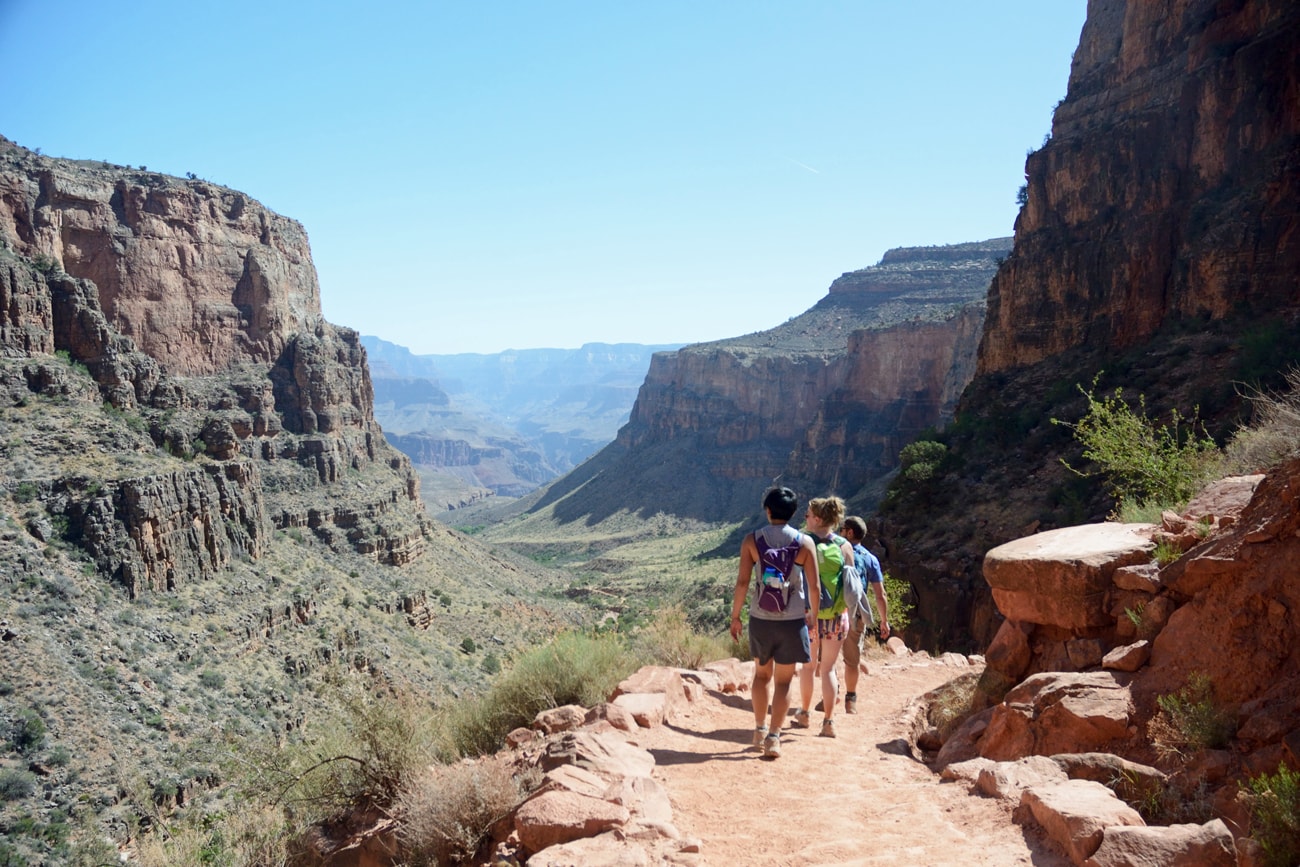 — Getting to the trailhead —
If you camp at Mather Campground, there is a free park shuttle that will take you directly to the Bright Angel Trailhead.
For those visiting for the day or who prefer driving themselves, hikers can park at the Backcountry Information Center (parking lot D), a short walk from the Bright Angel Trailhead.
— Maps —
You can either purchase the Sky Terrain map of the Grand Canyon for an all-encompassing view of the park and its many diverse trails or head over to the visitor center for a short-form map.
In general, though, once you begin at the trailhead, there's only one way down ;). Just make sure to turn around once you hit Indian Garden, which will be pretty obvious with its bustling cottonwoods and babbling brook…not to mention campground and abundance of rangers.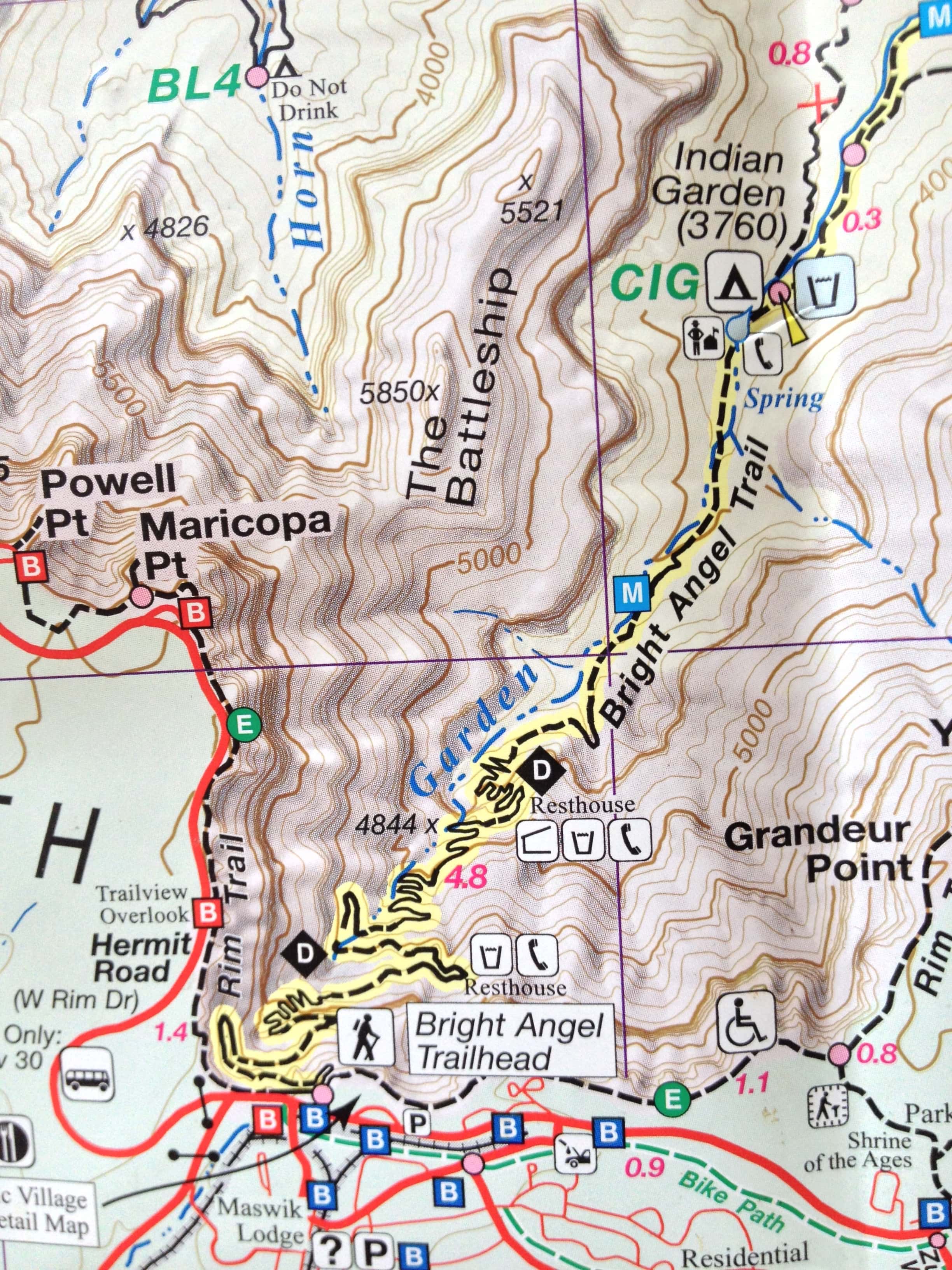 — Guide to Day-hiking the Bright Angel Trail —
For anyone considering day-hiking the Bright Angel Trail to Indian Garden, you must, must, MUST bring water and enough food to supply you for the 9-mile round-trip hike. The danger of this trail lies in its easygoing start. Unlike ascending a mountain where the difficulty is immediately apparent, this hike descends down into a canyon. That means the easy part comes first, fooling hikers into believing they can go farther and longer than they can actually manage in a day.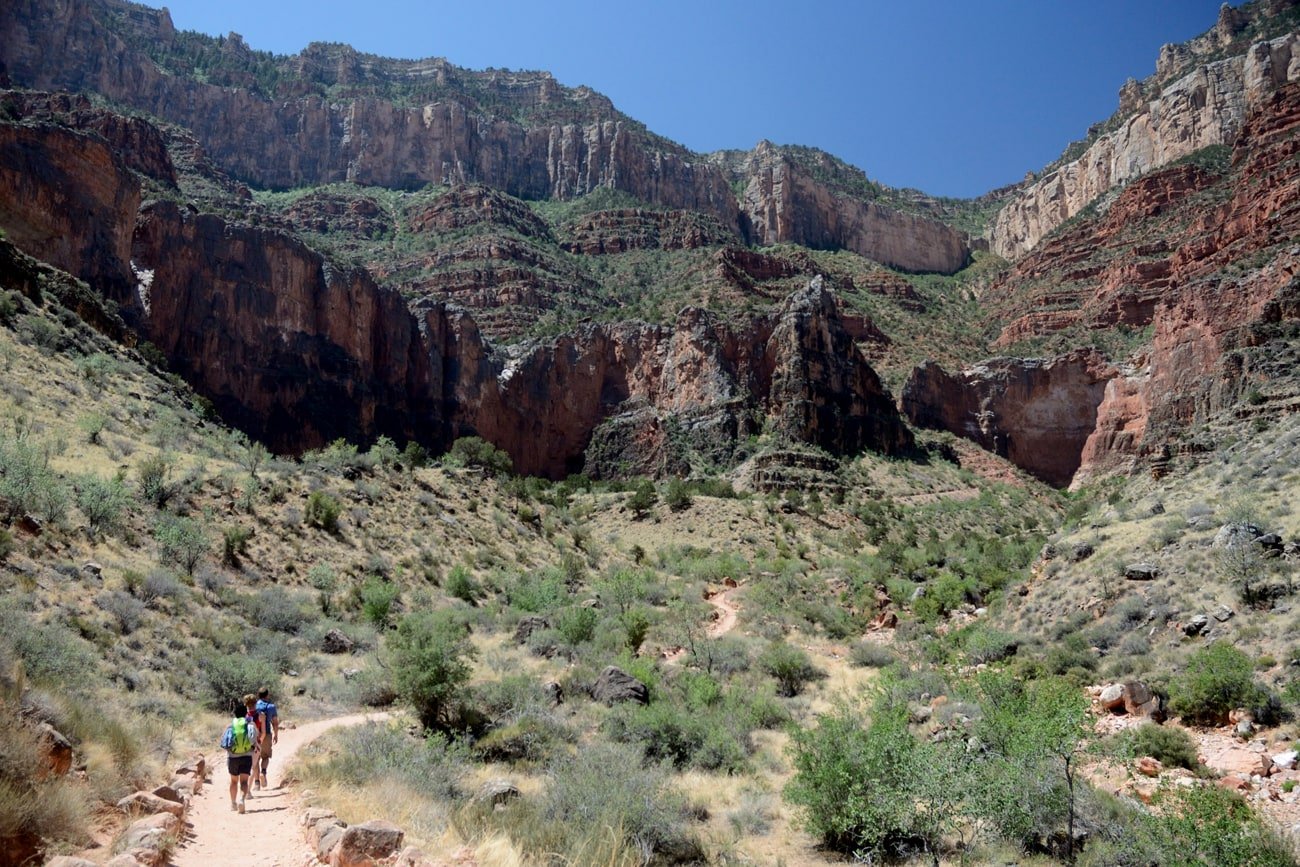 That being said, arrive at the trailhead before 8am with a Camelback full of water and plenty of salty foodstuffs, and you will be good to go.
Note: There is always water at the trailhead, and then along the trail seasonally from May-September, but not always guaranteed. Better to come prepared. If hiking off-season, bring a water filter to replenish your supply at Indian Garden.
A couple of other important things to consider is
Uphill hikers have the right of way
Mind the mules. If a group of mules is closing in on you, the park service advises you to step off the trail on the uphill side away from the edge, follow the direction of the wrangler, remain quiet and still, and do not return to the trail until the last mule is 50 feet (15 meters) past your position. Essentially, give the mules space, and everyone will be happy.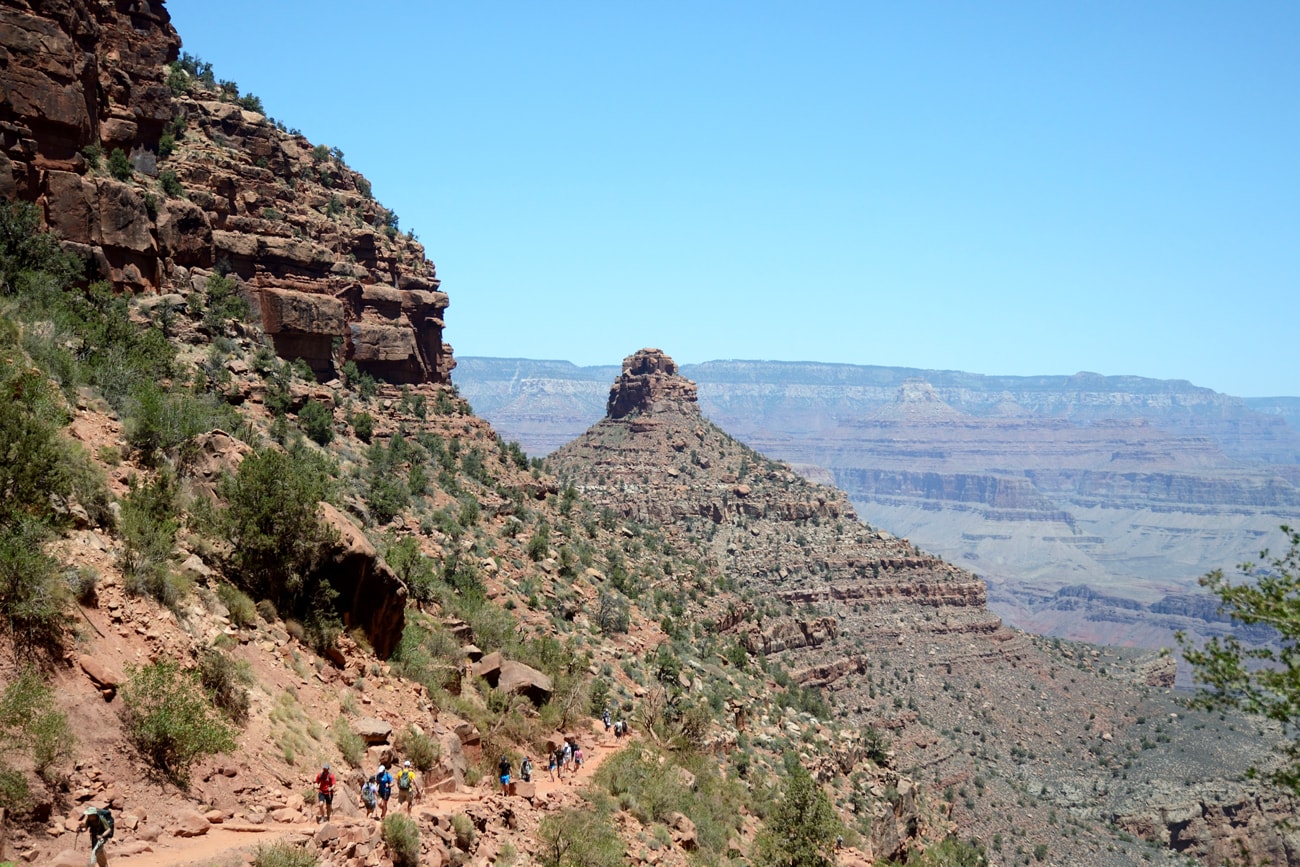 Once you start hiking into the canyon, its varying pigments and innumerable layers are immediately apparent. The further down you go, the farther back in time you travel, with each rock layer being a different period in geological history!
I know, it's very exciting.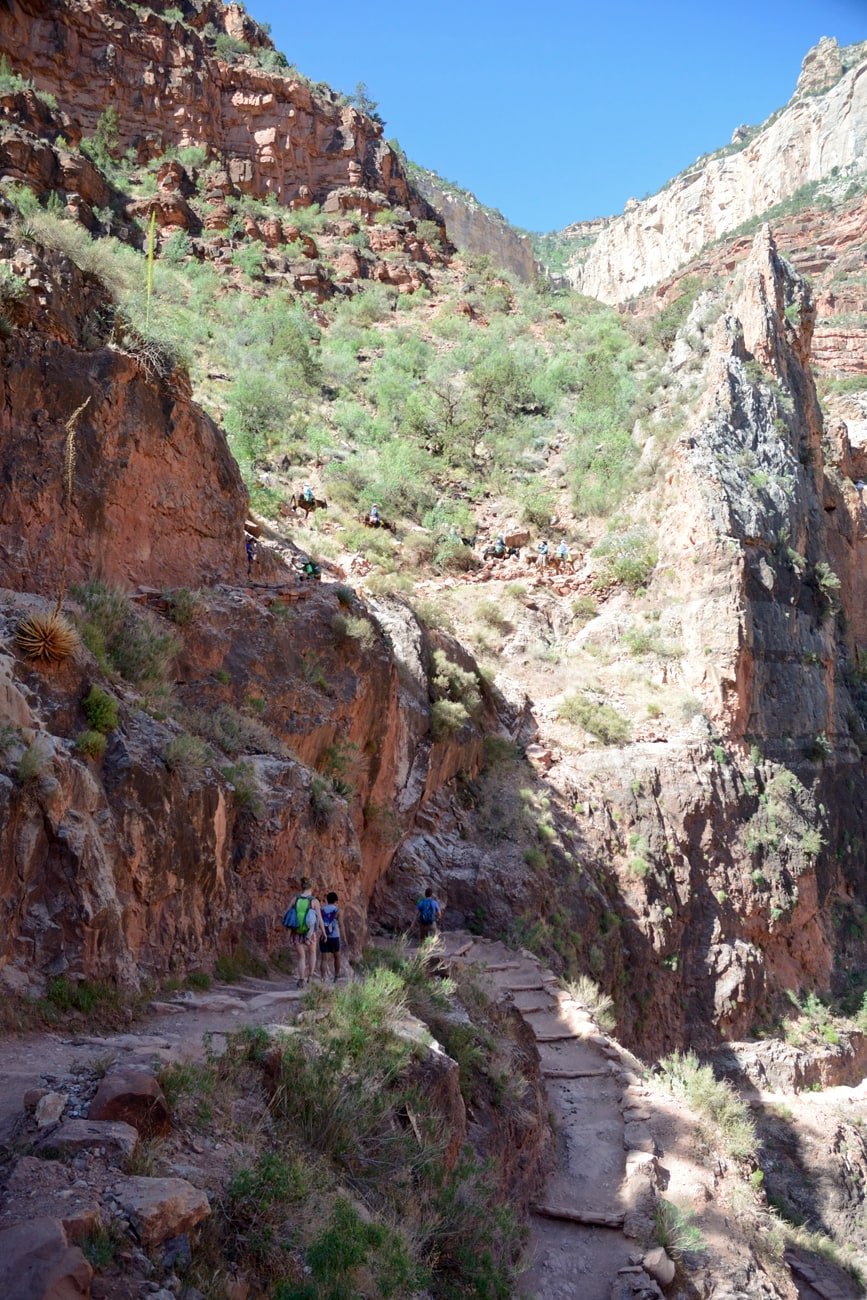 For a complete visual guide to this hike, take a look at the video below. It is loaded with useful tips and tidbits and will help you have the best of times while traipsing this trail!
[youtube id="SCsGtn54Sxw" width="853″ height="480″ autoplay="no" api_params="" class=""]
If you are looking for more information, the National Park Service has a Bright Angel Trail day hiking guide on their website that you can download.
— Recommended gear for the Day-hiking the Bright Angel Trail —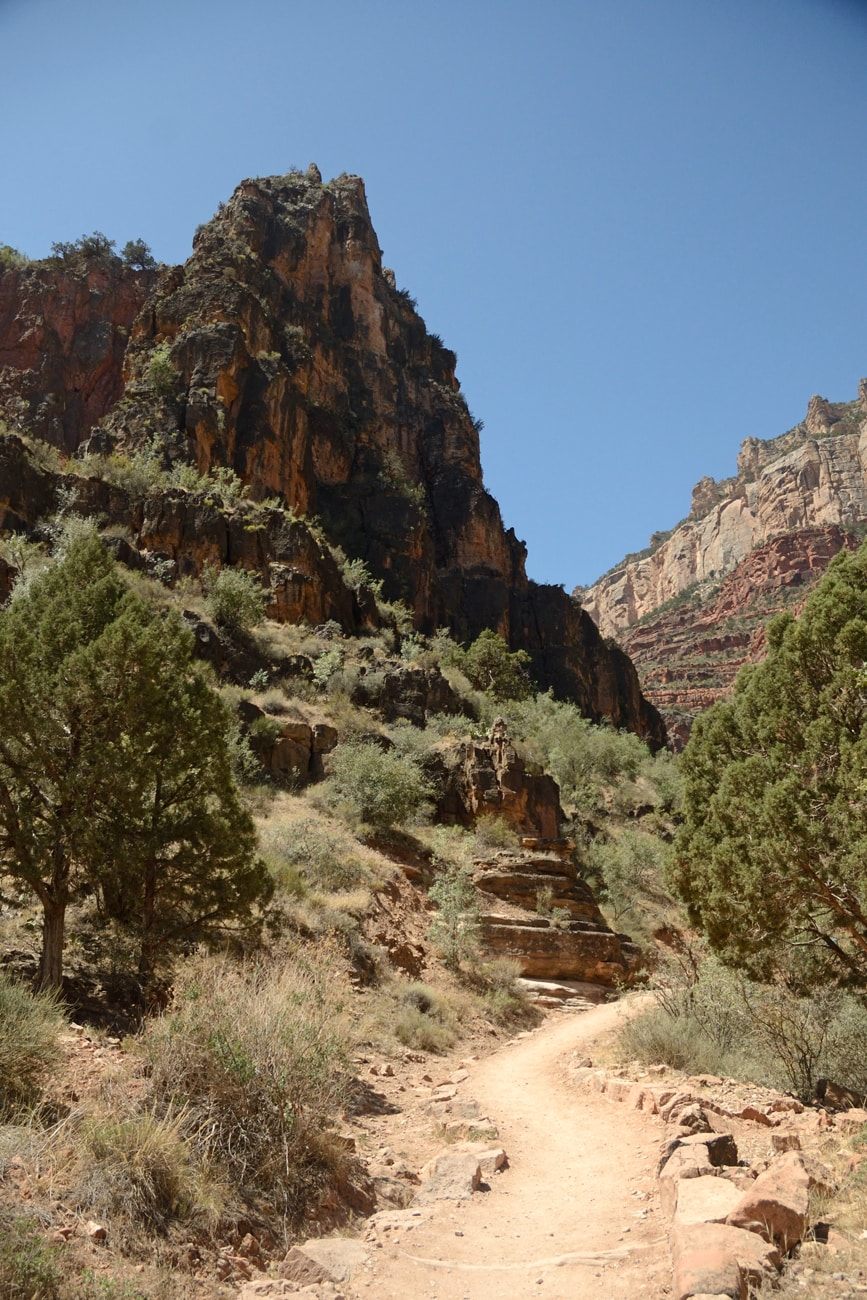 The main pieces of gear you'll want for day-hiking the Bright Angel Trail include:
A daypack with a slot for a hydration bladder so you can have plenty of drinking water on demand. There is drinking water available both at the Bright Angel & Indian Garden campgrounds in the summer. If you come off-season, you might consider bringing a water filter just in case potable water isn't available.
Plenty of sunscreen
A buff – soak it in the creek at Indian Garden before hiking back up the trail. It will keep you cool and shield your neck from the sun.
Lots of snacks – for ideas, check out this post.
Collapsible trekking poles – these help relieve strain on your knees while you are descending and help distribute the work and your weight on the uphill.
Solid hiking shoes – I recommend a hiking boot with ankle support and a grippy sole to provide additional stability on the steep sections.
HAVE YOU BEEN TO OR WOULD YOU LIKE TO VISIT  THE GRAND CANYON? LEAVE A COMMENT BELOW, TWEET ME, OR WRITE ME A POST ON FACEBOOK.