Backpacking in Joshua Tree: The California Hiking and Riding Trail
While most people go to Joshua Tree for day hiking, bouldering, and climbing, Kim Vawter, Bearfoot Theory's former Community Manager, discovered there is wonderful backpacking in Joshua Tree on the 35 mile California Hiking and Riding Trail. In this new post, Kim shares all of the details you need to make this Joshua Tree backpacking trip happen – from gear, to itineraries, to water caches. If you are looking for an off-season backpacking trip in Southern California, the California Hiking & Riding Trail is a great one to add to your backpacking bucketlist!  -Kristen
Guest Post By Kim Vawter
The California Hiking and Riding Trail was originally envisioned in 1945 as a 3,000+ mile trek from the Mexico/US border to Oregon. Although the trail was never completed, 1,000 miles were finalized and 35 of those miles are in Joshua Tree National Park. I hiked this trail in February 2016 in preparation for my Pacific Crest Trail hike.
••• Why You should do this Joshua Tree Backpacking Trip •••
This is a great backpacking trip for first timers as the terrain is fairly flat.
The 35 mile stretch that traverses Joshua Tree can easily be done in a single weekend (2-4 days).
Joshua Tree National Park's wildflowers bloom from February to April making this trail the perfect winter/spring desert backpacking trip.
••• Best Time to Go to Joshua Tree•••
Temperatures are most comfortable in the Fall and Spring with a daily average high of 85F and night lows around 50F. February to April is when wildflowers are blooming in Joshua Tree and is a very popular time to visit for this reason.
Average Winter temps in Joshua Tree: 60s during the day / 30s at night
Average Summer temps in Joshua Tree: Can exceed 100F during the day / low 70s at night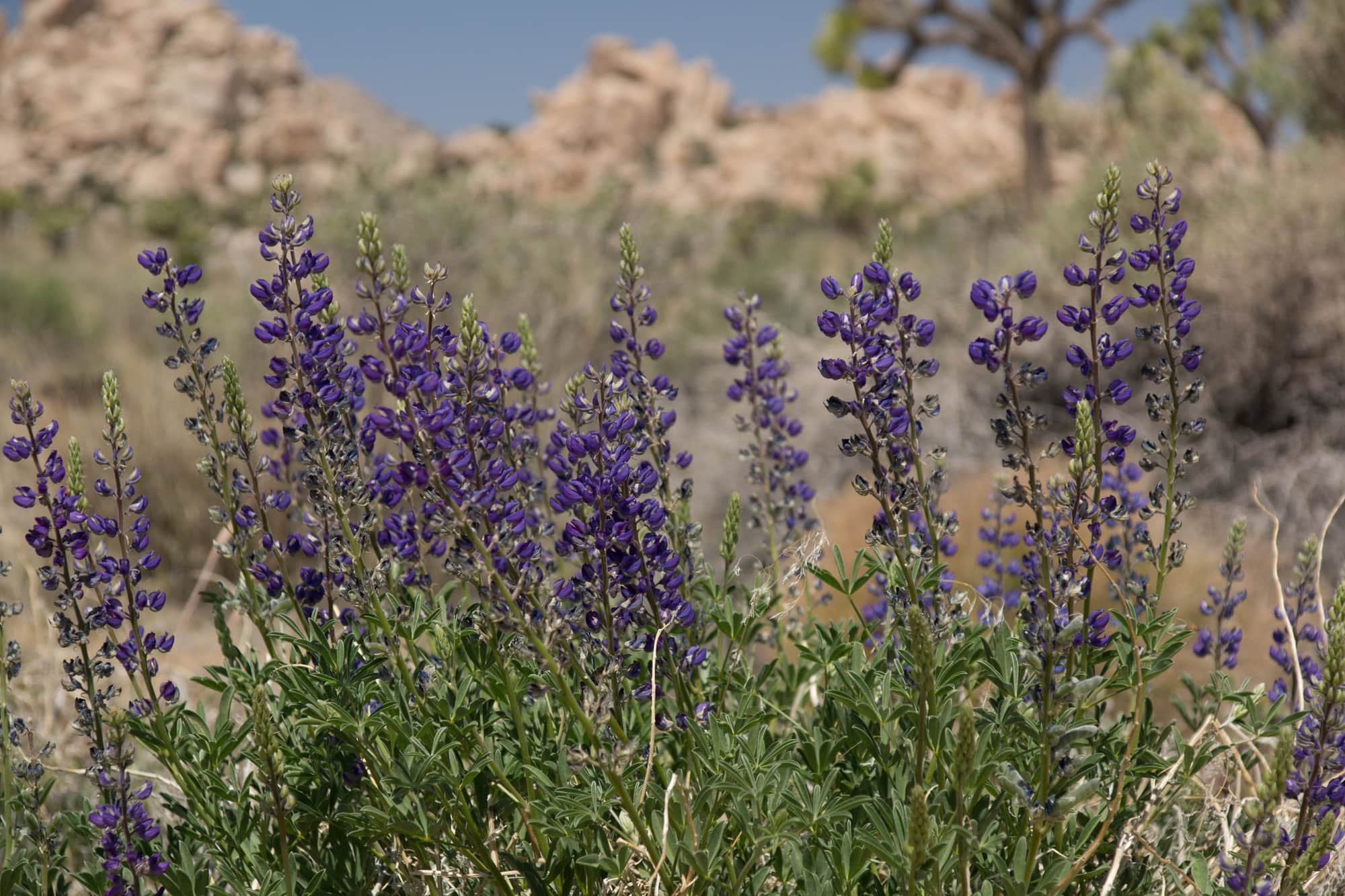 ••• How to Get to Joshua Tree •••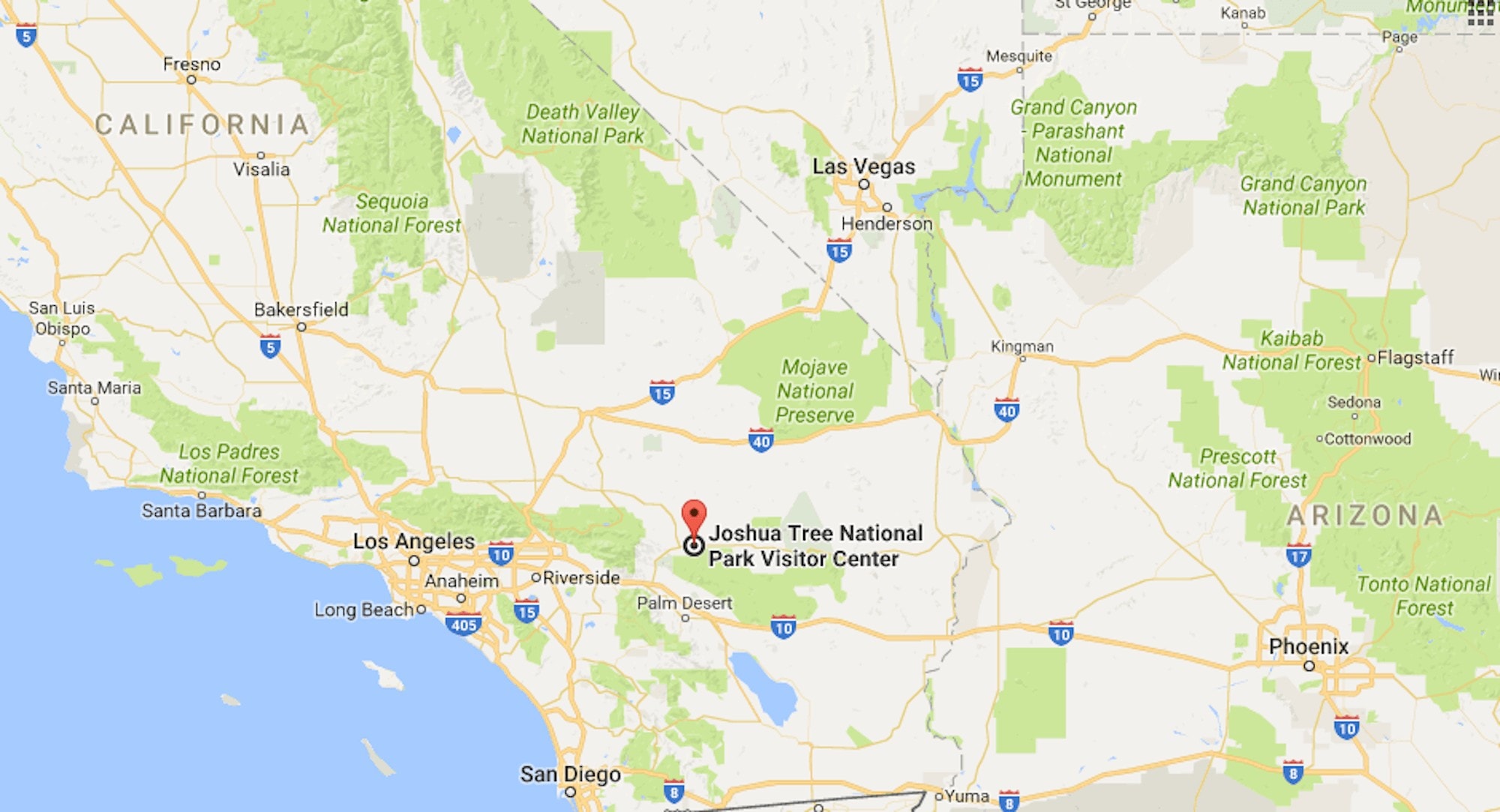 Joshua Tree National Park is 2 hours from Los Angeles, 3 hours from Las Vegas, 2.5 hours from San Diego and 4 hours from Phoenix. There are three official entrances to the park–the West Entrance, the North Entrance, and the South Entrance. For the California Hiking and Riding Trail, you'll start near the west entrance and end near the north entrance. There is a Visitor Center at both of those entrances.
••• Joshua Tree Town Guide •••
The town of Joshua Tree itself, is way cool, and I highly recommend you include a pre-trip final planning session or post-trip celebration in town in your itinerary!
Joshua Tree Coffee Company
On 29 Palms HWY, Joshua Tree Coffee Company, is a little hidden behind Pie for the People. They have the best vanilla latte I've ever had. Their nitro cold brew is also not to be missed.
Pie for the People
Arguably the most unique pizza joint I've ever been too. You have to check out their menu, which includes red sauce, white sauce and pesto sauce based pizzas and pizza names like "David Bowie", "HWY 62 Revisited", "The Chip", and "Barry White." And what better way to re-enter into society after 3 days hiking than pizza.
The Natural Sister's Cafe
Vegetarian cafe open 7-7 daily with vegan options available, tons of great smoothies and juices too!
Local Gear Shop
And in case you forgot any gear or food for the trail, Nomad Ventures has you covered. It is by far one of the best gear shops I've ever been to outside of a large city and their prices are competitive. Honestly, I stop every time I am in town just to check out the sale racks.
Only have time to dayhike?
••• Know Before You Go •••

Fees
While it does cost $25 per car to enter Joshua Tree National Park, there is no additional fee for nightly backcountry camping in Joshua Tree.
Backcountry Registration
You are required to register at designated backcountry registration boards. This is also where you are supposed to park your car. Get the America the Beautiful Annual Park pass and save on entrance fees!
Transportation
The trail is not a loop. Unless you plan to hike out and back you'll need two vehicles. Park one vehicle at the North Entrance Station, your final destination, and use the second vehicle to drive West back to the Black Rock campground where you'll start the trail. Don't forget to pack your keys for the car at the end !
Water / Water Caches
Carry at least six liters of water per person per day. In Joshua Tree even if you find water you can't legally drink it as it is preserved for desert wildlife. You'll need to either carry enough water for the entire trail (not recommended) or drop water caches BEFORE you start hiking.
A water cache is water that you hide in a strategic location to be picked up later on in your hike. In Joshua Tree National Park you are allowed to cache food and water for up to 14 days. It is important to tag your cache with the date you plan to use it along with your name and email/telephone number so that park rangers can contact you if they need to remove your cache. When I hiked the California Hiking and Riding Trail, I hid one 5 gallon water jug at two different water caches I created. It is important you remember exactly where you hide your cache so you can easily find it later. You can mark a nearby shrub with a string (remember to pick up the string with your water), take a photo of the area, write directions to keep, or take a GPS waypoint of your cache.
I recommend dropping caches at the following locations: Ryan Campground & Belle Campground. If you are concerned about water you can also drop at Geology Tour Road. All of these locations are accessible by a vehicle. You'll want to do this either the morning you plan to start or the day before.
 

Camping
One great thing about the California Hiking and Riding Trail is you can easily cowboy camp (camping without a tent), backcountry camp, or camp in campgrounds along the trail. If you do chose to camp in any of the designated campgrounds there is a fee. Backcountry campsites must be at least one mile from any trailhead or road. Campfires are prohibited outside of government-provided fire rings. Portable cooking stoves are fine though.
••• Joshua Tree Backpacking Gear List •••
Backpacking Backpack
Hiking boots or trail runners – since the terrain is fairly flat you don't need any major hiking boots for this trail.
Layers – while the days may be warm (t-shirt) it can be cold at night. I recommend a base layer merino wool t-shirt with a sun protection long sleeve for the day and merino wool leggings and long-sleeve top and jacket for nights.
Zip-off "convertible" hiking pants – on a hot day you can hike in shorts, if the weather changes or at night, you'll be glad of the option to wear full-length pants.
Hat – a brimmed hat to keep the sun off your face, and a beanie to keep you warm at night
Trekking pole(s) – optional for this trail since the terrain is flat and not rocky.
Gaiters – optional, but good for keeping sand and dirt out of your shoes.
Sunscreen – the desert sun can be brutal even if it doesn't seem super hot, protect your skin!
Sunglasses.
Personal first-aid kit – for minor scrapes and blisters.
Map with compass maps are free from the National Park! The trail is well-marked along with frequent backcountry boards with information.
Water – You'll need to carry extra water and prepare water caches as there are no water sources alone the trail.
Toilet paper
Ziplock bags for any garbage.
Check 0ut these posts for more info on backpacking gear!
 .   . 
••• California Hiking and Riding Trail Itinerary •••
The California Hiking and Riding Trail in Joshua Tree divides into 4 sections. Most people hike the trail in 2-4 days. If you want to hike the trail in 2 days you'd hike Section 1 & 2 on Day 1 then Section 3 & 4 on Day 2, and you'd average about 18 miles a day. I chose to hike the trail in 3 days which is an average of 12 miles a day. Here is how I broke the trail into 3 days:
Day 1:
Hike from Black Rock Canyon trailhead to 4 miles past Upper Covington Flats and camp without water.
Day 2:
Hike roughly 8 miles to Ryan Campground. Pick up your water cache, and then continue on 4 more miles to just before Geology tour road.
Day 3:
Hike 4.4 miles to Pinto Basin Road and then 7.3 to the North Entrance trailhead.
The starting trailhead for the California Hiking and Riding Trail section that traverses Joshua Tree National Park is located in Black Rock campground. The road to Black Rock Canyon dead-ends at the campground where there is parking for backpackers at the backcountry registration board. Backpackers are required to register at the backcountry board for overnight wilderness trips. Additionally there is a visitor and nature center in the center of Black Rock Canyon campground where staff can help with last-minute questions. Below you'll find a description of each of the four sections the National Park Service commonly breaks the Joshua Tree section of the California Hiking & Riding Trail into.
— Section One (7.75 miles) —
From the Black Rock Canyon trailhead you'll hike 7.75 miles through scrubland and a large wash to the Upper Covington Flats trailhead. This section includes a 1,000 foot uphill climb, which is the steepest elevation gain for the entire trail. After reaching the high point at 5,130 feet, you'll have a downhill stretch for 2 miles to the Upper Covington Flats trailhead, parking area and backcountry board. Keep in mind, it is possible to drive directly to Upper Covington Flats, if you are short on time or don't want to hike the first section.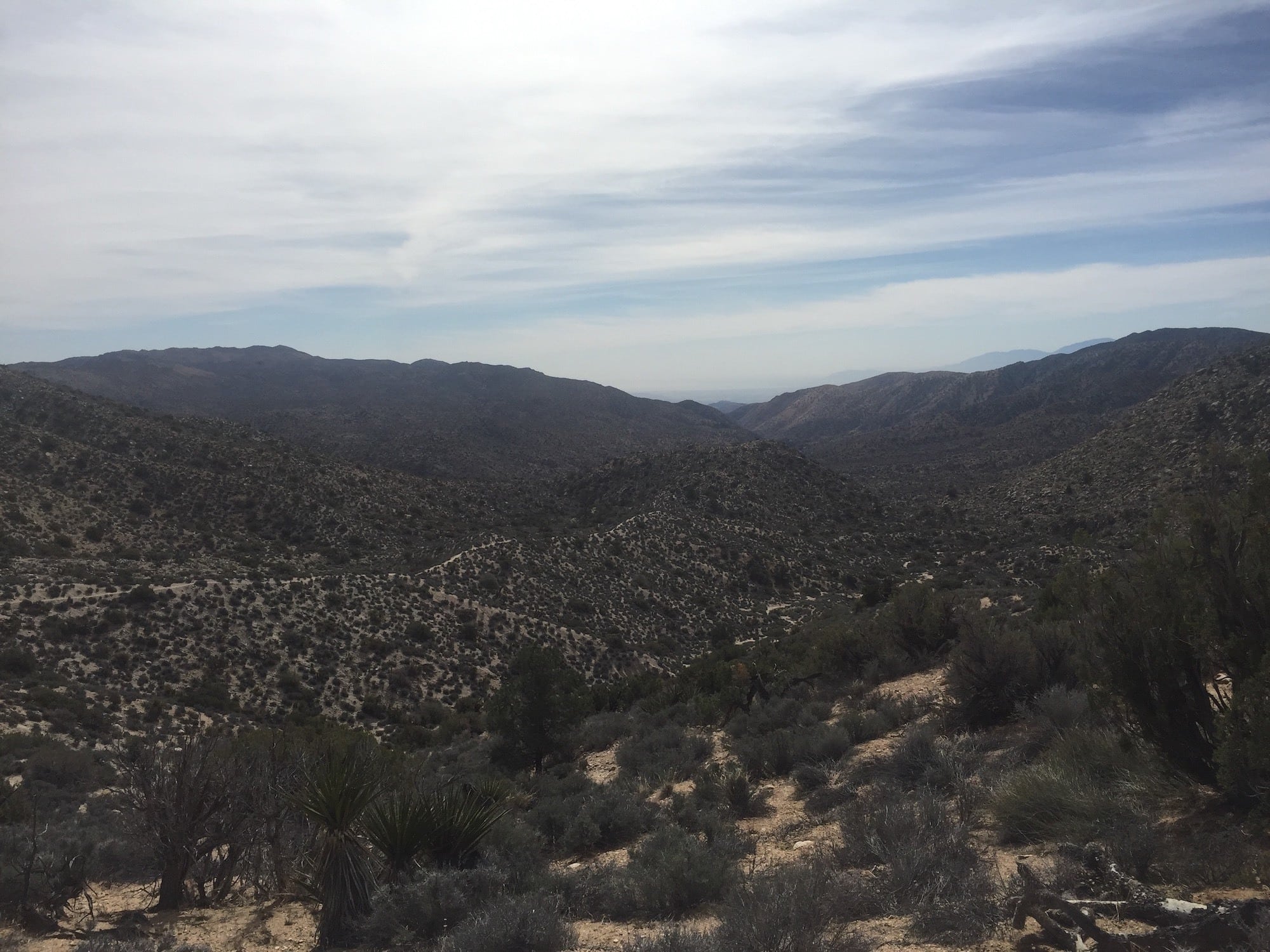 — Section Two (10.8 miles) —
Section 2 from Upper Covington Flats to Keys View is the longest and most remote section of the California Hiking and Riding Trail clocking in at 10.8 miles. This section begins rather flat then has a slight loss of elevation as you drop into a valley and cross several dry washes. Next you'll climb again to above 5,000 feet with views over Juniper Flats. Once you start descending you'll enter Juniper Flats where you will start to see the infamous Joshua Trees that the park is named for. The trail continues traveling downhill from Lost Horse Valley to Keys View trailhead. This was my favorite part of the California Hiking and Riding Trail as unique rock formations will begin appearing along the trail.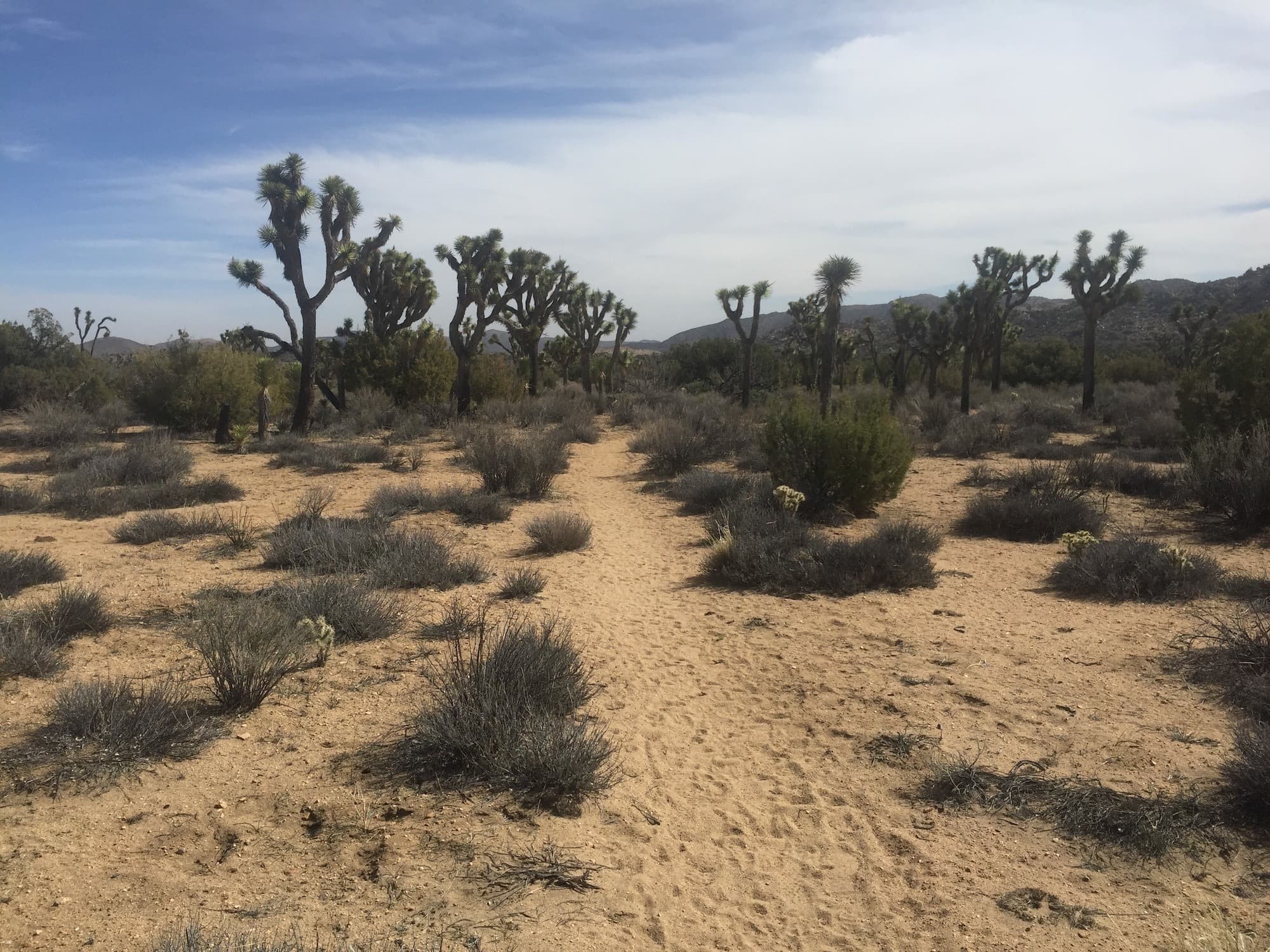 It is possible in this section to take a side trail to summit Quail Mountain, the highest mountain in Joshua Tree National Park at 5,813 feet. We didn't see a sign for the side trail to Quail Mountain so I recommend you ask a Park Ranger before leaving or carry a good map if interested.
— Section Three (11 miles) —
Keys View Road marks your half-way point. Just 0.8 miles from the trail is Ryan Campground where we camped our first night. We chose to pay to camp at Ryan Campground since I had hidden our first water cache here. I'm really happy we camped at Ryan Campground as numerous car and RV campers offered us beers that evening! From Keys View trailhead the trail is incredibly flat and it's 6.5 miles to Geology Tour Rd. Don't miss Jumbled Rocks which resembles tons of rocks stacked on one another almost like a building. Once you hit the Geology Tour Rd. it's another 4.4 miles to Pinto Basin Road, cherish these last two miles which offer spectacular views of Pinto Basin. Pinto Basin is geographically famous as it connects the Sonoran and Mojave Deserts.


— Section Four (7.3 miles) —
From Pinto Basin Road  you'll begin traveling north. You will find a short side trail to Belle Campground. My friend and I camped here so that in the morning we'd be done before lunch. This is the only section of the trail where we did struggle a bit in finding and following the trail. Make sure to use your compass and keeping traveling due north. Towards the end you'll see a small hill which you summit. From the top you'll have a great view of the town of Twentynine Palms where the North Entrance and Oasis Visitor Center are located.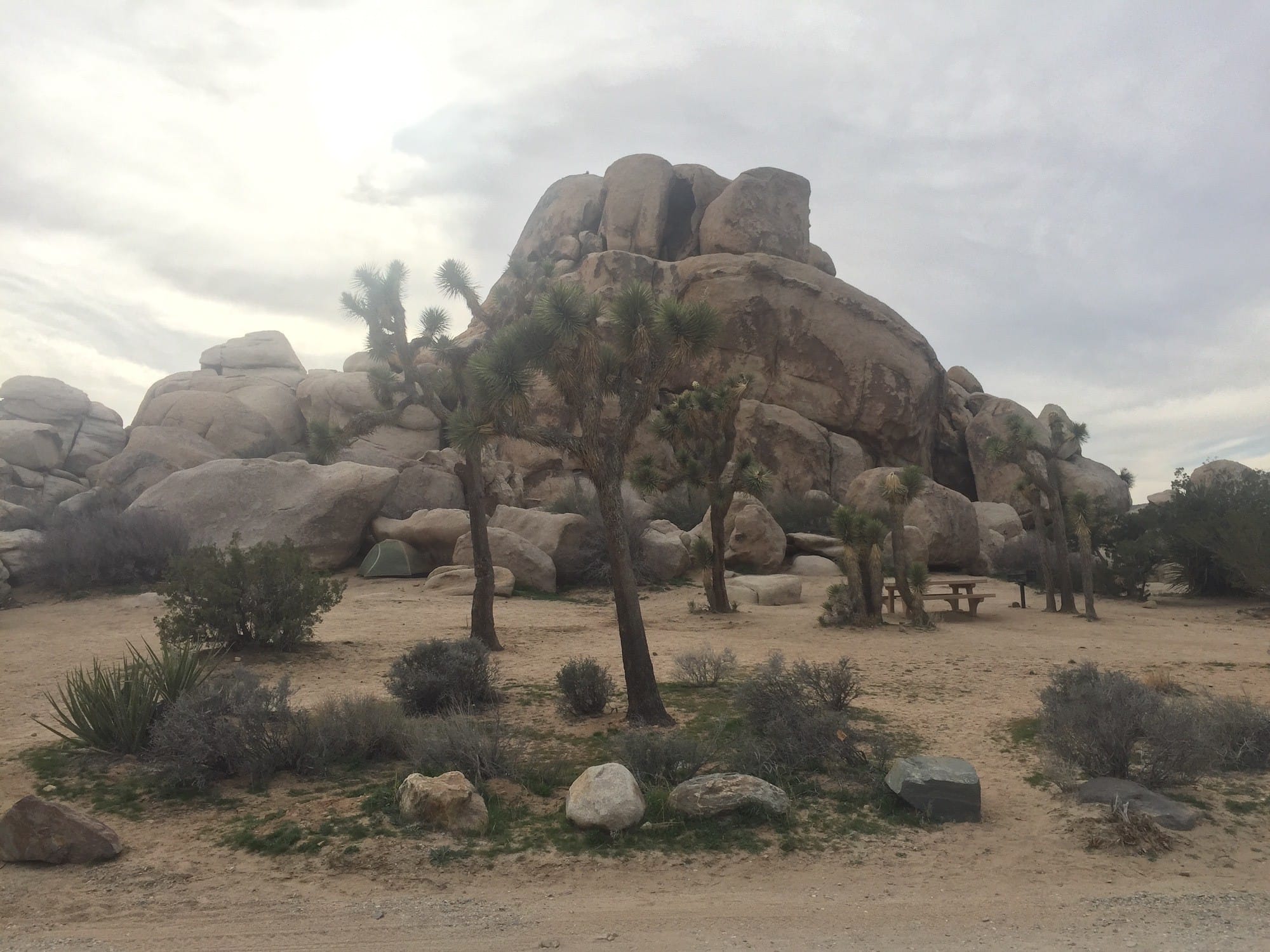 WHAT IS YOU FAVORITE NATIONAL PARK BACKPACKING TRIP? LEAVE A COMMENT BELOW,
TWEET
ME, OR WRITE ME A POST ON
FACEBOOK
.

Disclosure: The links in this post are affiliate links which means if you make a purchase, I receive a tiny bit of compensation at no added cost to you. Any purchases you make help keep this blog going…so thanks for all of your support! If you ever have any questions about any of the products featured on my site, please email me. Thanks! Kristen