SPRINTER VAN FAQ: VEHICLE & CONVERSION QUESTIONS
I get a lot of the same questions over and over again about my Sprinter Van. I figured it would be easiest to answer them all in a big Sprinter Van FAQ. I've broken my Sprinter Van FAQ into 2 parts. In this blog post, I answer all of the questions I get about the vehicle itself and the conversion. Here I cover questions like whether I think 4×4 is necessary, if there are any Sprinter Van conversion companies I recommend, and what I would change about my build-out.
If you are looking for a copy of my floorplan, I'm currently having this drawn up and should have it available by the end of the month (subscribe to my newsletter for updates).
If you are looking for answers to questions about Van Life, visit the second part of this Sprinter Van FAQ.
If you have any additional questions, leave a comment at the bottom, and I'll add them to the FAQs.
What model of Sprinter do you have?
I have a 2016 4×4 Mercedes Sprinter, 144″ wheelbase cargo van
Should I get the 144″ or the 170″ wheelbase?
You can't go wrong with either, but there are pros and cons to each. As a daily driver, I love that my 144″ Sprinter Van can fit in a normal parking space, and it's extremely easy to maneuver. On the flip side, when I purchased my Sprinter and started building it out I was single. Now I am in a relationship, and we have a dog, Charlie. When I'm traveling alone, I find the 144″ wheelbase to be more than adequate. With two people and a dog, weekend travel is totally fine, but long-term travel is a little tight, especially when you take storage into account.
The 170" can fit more stuff in it, but it has the same payload (maximum weight the van can hold) as the 144", unless you go with a dually (four rear wheels). The 170" gives you more wiggle room with your layout. For example, you can have a permanent bed, a small dining table or bathroom, and a galley, plus a ton of storage underneath. With the 170" parking is going to take a little extra consideration, and it's a little less maneuverable compared to the 144".
The verdict? My next Sprinter Van will be a 170″. For more opinions, I recently asked this question on my @sprintercampervans Instagram account to current Sprinter Van owners and got a lot of different responses.
I'm based in Salt Lake City and ski a lot in the winter. With all of the snow and ice on the roads, I've been very happy with my decision to get the 4×4, and I think it was worth the cost. The 4×4 is also helpful on dirt roads, but it's only necessary if you plan on driving on some gnarly stuff. If all you plan on doing is driving on gravel or slightly rutted roads, then I think you can get away with 2WD and some beefy all-terrain tires.
The 4×4 is only available in a V6, while the 2WD still currently comes in a V4. The V6 is less fuel efficient, so that's something to consider when making your decision about the 4×4.
Have you had any issues with reliability?
No. I've been very pleased with the way the van drives and haven't had any serious mechanical issues.
What factory options do you recommend?
These are the factory options you want to keep an eye out for if you are buying your van new or used. The names of the different options change from year to year so your best bet is to talk to your local dealer, as well as your conversion company if you are hiring someone to build out your van.
Swivel seats – This allows you to swivel the front captain's chairs around.
Active Safety Plus Package – This comes with a bunch of handy safety features. The most important one is the blind spot monitoring, which causes the van to beep if you put your blinker on and there is someone in your blind spot.
Roof Rails – If you think you might ever want a roof rack, you should purchase a van with factory roof rails.
Rear back-up camera – the backup camera makes it worlds easier to park the van. You can also install one after-market, but I haven't had any problems with the factory one.
Trailer hitch package – If you ever want to tow anything or put a bike rack on the back of your van
Low and High Range 4×4 – If you want 4WD
Park Sense – This causes the van to beep if you are too close in the front or back of the van when you are parking. If you plan on putting on a rear or front bumper, the Park Sense won't be accurate.
What gas mileage do you get in your van?
As I mentioned above, the 4×4 Sprinters are not going to be as efficient as the 2WD vans due to the engine.  Other things that affect Sprinter gas mileage are roof racks, anything hanging on the outside of the van, and the total weight of your build. I'm currently getting anywhere from 12mpg to 16mpg.
Who converted my Sprinter Van?
A small company in Santa Barbara converted my Sprinter Van. While I'm not comfortable going into details, unfortunately, I can't recommend them.
Are there any Sprinter Van conversion companies you recommend?
The only full experience I've had from start to finish is with the company who built out my Sprinter Van. However, I'm starting to think about my second Sprinter Van, and I've interviewed a few different companies. The two I'd feel most comfortable moving forward with are Outside Van & ADF Sprinters. My interactions with these Sprinter Van conversion companies have been very professional, and I've been impressed by the quality of the work. I wrote a detailed blog post with advice for screening a Sprinter Van company that you should check out before you start the process. The main thing I've learned is that a larger, more established company might be more expensive, but they have the resources to guarantee the final product. They also have the experience to know what works and what doesn't, and your van will hold its value better when you go to resell. I'd also choose a company that specializes in outdoor vans if you want your build to hold up on rough dirt roads.
How much does it cost to convert a Sprinter Van?
A brand new 4×4 Sprinter Van runs about $50k for the base price, and it goes up depending on what options you pick. There's not a lot of used 4x4s available because Mercedes just started making them a couple of years back. If you don't care about 4×4, you can find a used Sprinter for a lot less. The price of your conversion will depend if you do it yourself or hire someone and how complicated your floorplan and systems are. If you DIY, you can build out a Sprinter for as little as $10k. For a professional build, you should expect to pay a minimum of $30k for a basic build. Costs can be as high as $100k for the conversion if you choose a reputable company and add things like a powerful solar and battery system, an indoor shower and plumbing, and the little details (sometimes things you can't see) that make the van better.
Should I build my van myself or hire someone else to do it?
You have to ask yourself a couple of questions:
Will you enjoy building it out yourself?
Are you a handy person?
Do you have time?
How do you value your time?
Do you have somewhere to do it?
Asking yourself these questions will help start the discussion. When I bought my van, I lived in a small apartment with no driveway, I don't own the tools, I'm impatient by nature, and I don't enjoy handy work. I wish I did. But I don't. I also am running a full-time business and building my own van would mean taking time away from my career which I enjoy. I looked at all of those factors and decided it would be a better use of my time to continue working on my business and hire someone else to build the van for me.  There's no right or wrong, and you have to evaluate your personal situation to decide what's right for you.
Do you recommend building your van before hitting the road, or hitting the road and building it as you go?
If I were going to start over with this process, I would have taken the van on a month-long road trip with nothing but an air mattress, cooler, and a Coleman stove. I would see how I was using the space, what I missed having, and what I really needed. If I did that, I might not have ended up with an indoor shower.
Here's a blog post where I share a bunch of advice for planning your Sprinter Van layout.
How much solar power and battery capacity do you have and is it enough?
I have a three 12-volt AGM batteries (125 amp hours each) for a total of 375 amp hours. This battery bank is charged both by the solar panels on the roof and by my engine's alternator. This means my house batteries charge while I'm driving, and I generally arrive at camp with fully charged batteries.
I have 180 watts of solar on my roof, and my panels were made by Zamp Solar in Bend, Oregon. These are the same panels used by Sportsmobile and Outside Van, and they a long skinny panel that can fit on the side of your fan on the roof. The 180 watts is enough on sunny days to keep my batteries charged and compensate for the draw from the fridge, lights, and charging my phone in the van. I also have a 120-watt portable panel from Zamp that I can hook up if need additional juice or want to park in the shade and run an extension cord to the panel.
In order to charge things off the outlets, I have a 2000 watt Magnum Energy inverter. This converts the power from the batteries into the type of power that comes out of the outlets.
In the summer when there is plenty of sun, my setup has been adequate. In the winter, the lack of sun and additional draw from my heater means I have to be a little bit more careful with my power consumption. In addition to the fridge, lights, and phone, I have a lot of camera equipment, a MacBook Pro, and two electric bikes I charge in the van. If I'm driving a lot and recharging via my alternator, I'm usually ok. If I want to sit and hang out at a campsite for 3-4 days, then I have to pay close attention to my meters.
If I could do it again, I would stick with Zamp and the various components, but I might opt for a little bit more permanent solar on the roof and a slightly larger battery bank.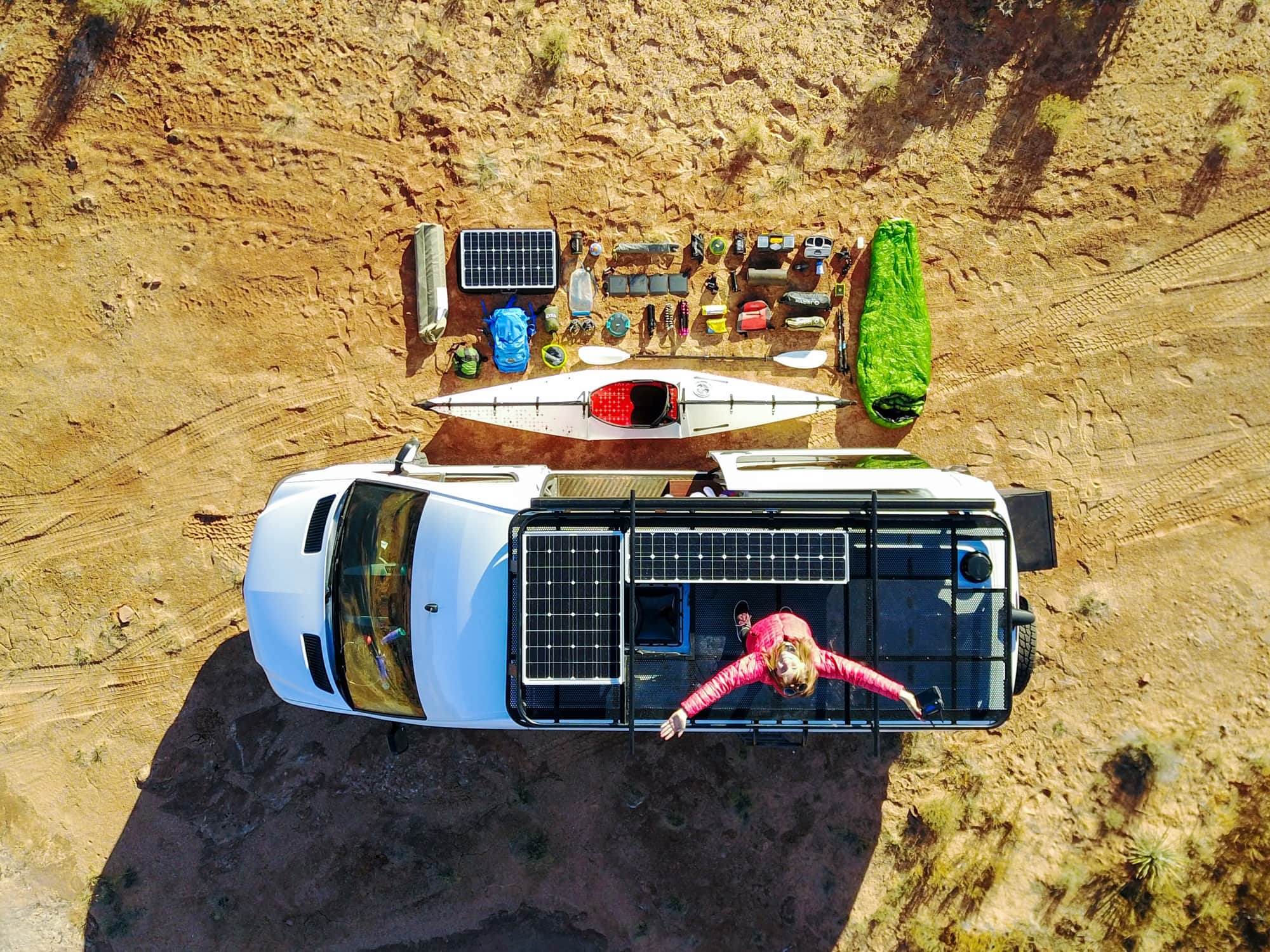 What are the white walls made of?
The walls in my Sprinter Van are made aluminum.
Where can I find the locking knobs you used on your drawers?
There's a number of push buttons on Amazon, as well as on West Marine. Boating stores are always a good place to look for RV-items.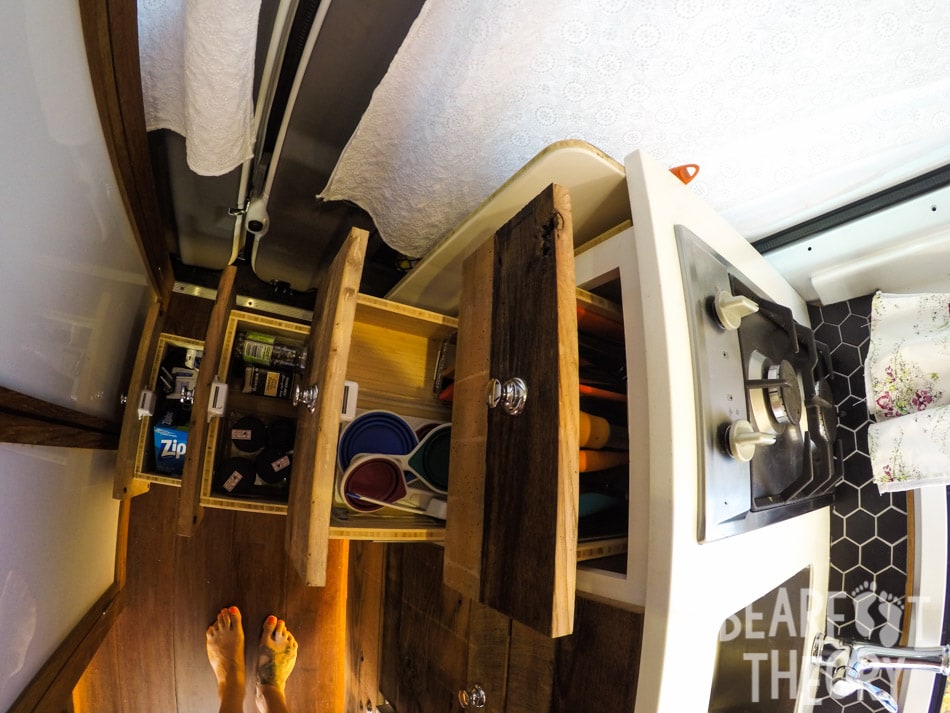 Do you like having a permanent stove? Have you had any issues with the propane?
There are pros and cons to having a permanent stove. I love that I don't have to set it up every time I want to make a cup of coffee. It's also awesome to be able to cook inside if it's cold or wet out. However, there are plenty of nice days where I'd rather be cooking outside, and because I have a nice gas stove, I don't want to waste the space on an additional portable camp stove. The issue with a permanent gas stove is also the counter space it takes up. You can't use this counter space for anything other than the stove.
The next time around, I'll consider a small one-burner induction stove for things like coffee. That way you don't waste any counter space, since you can still put a cutting board over the induction stove. Then for bigger meals, I'll have a convenient cubby for a portable camp stove that I can take outside and cook with.
How does your plumbing work? Do you have enough water?
I have a-10 gallon freshwater tank on the inside of the van, and another 15-gallon freshwater tank underneath the van. The sink and the shower both empty into a gray water tank stored underneath the van. I don't have a black water tank because the porta potty has its own small holding tank.
My plumbing setup is most appropriate for warmer climates. In the summer, my system works great. The outer tank gives me additional water capacity without taking up room in the van. I like to use the outside tank first. Then once that's gone, I switch to the inside tank. Then I know I have 10 gallons left and need to think about refilling soon.
In the winter, you can't use the outside tank if the temps go below freezing. This means I usually only use my inside tank in winter, which is pretty small. You could easily invest in some sort of insulating pads to rectify the issues with the outside tank, but I haven't made the effort to do so. I wrote an extensive post about my Sprinter Van plumbing system here.
How do you heat and cool your Sprinter Van?
I have a Webasto Dual Top EVO 6 which heats both the water and the air in the van. It runs off of diesel (it siphons it from my main gas tank), and it consumes a small amount of battery power as well. I chose this because it was compact and can be mounted outside the van, but it came with a pretty hefty price tag.
I don't have AC. I flock to the mountains in the summer when it's hot, and with the windows cracked at night, the inside of the van stays comfortable.
Where did you get the bed and how does it work?
The bed was custom made by my builder, and as far as convertible beds go, it's a pretty great design. I made a whole video about how my Sprinter Van bed works on YouTube. Watch that for more details.
Would you change anything in your van?
In my next van, I want a permanent bed. Having the convertible bed does open up a ton of living space in the 144," and it's also very comfortable. However, day in and day out, I do get tired of making the bed. Also if you have a slightly different sleep schedule than the person you are traveling with, the location of bed makes it difficult to move around when the other person is still sleeping.
I also want a more permanent workstation since I'm working a lot from the van when I'm traveling in the summer.
In order to do that, I'll nix the shower and probably get the 170″.
Do you have your floor plan for purchase?
COMING SOON! In the next few weeks, I'll be making my floorplan and the list of products used in my van available.
Hope you found this vanlife FAQ helpful. If you have any other vanlife questions you want me to answer, leave them in the comments!