Hiking for Beginners: Essential Hiking 101 Tips
Just getting your feet wet with hiking? Here's some essential hiking 101 tips for beginners to help you hit the trail with confidence.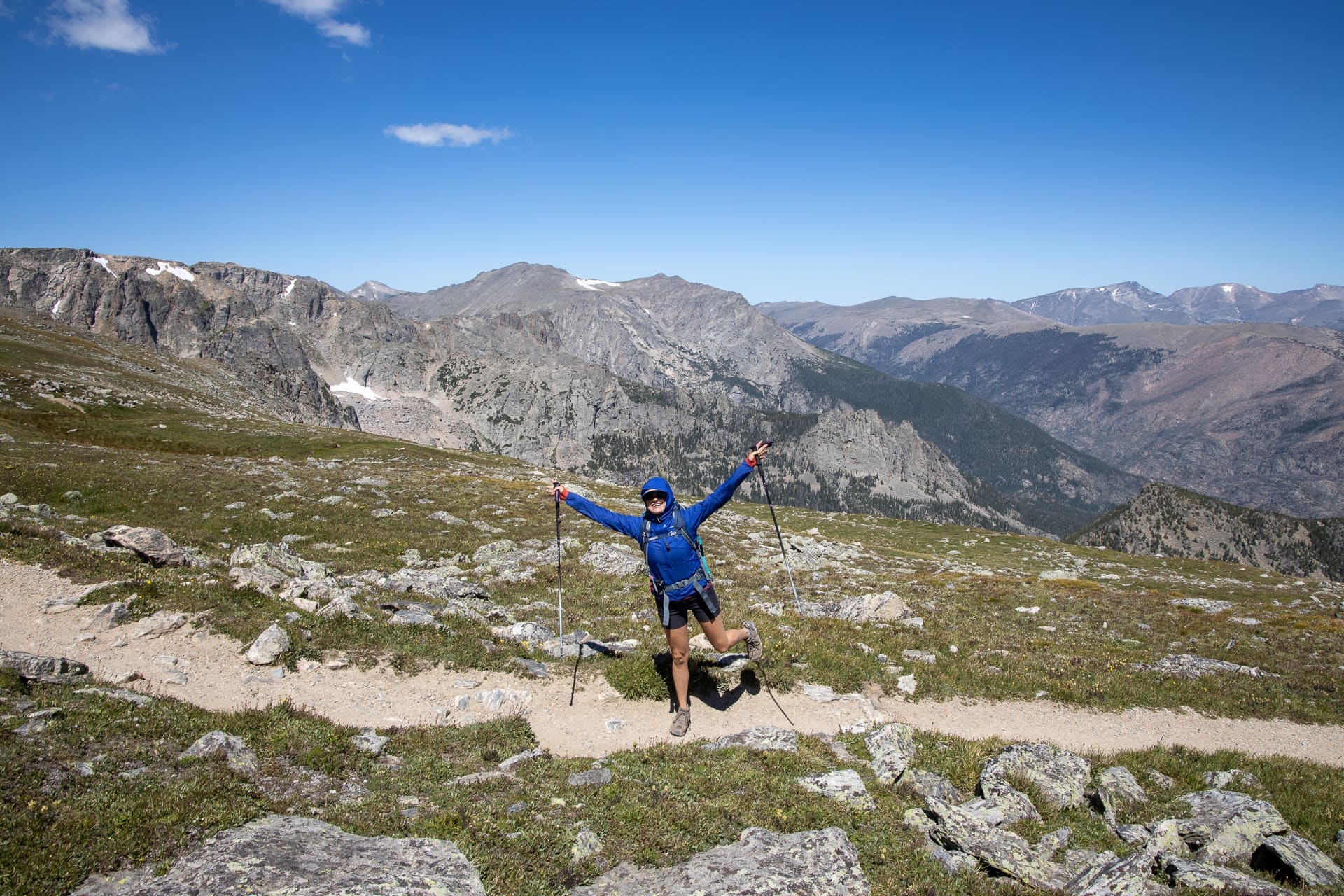 There are so many mental and physical health benefits of hiking. It can help you get into better shape, reduces stress, and even improve brainpower.
If you've read my story you know that hiking helped me lose 30 pounds, build self-confidence, and was the start of my relationship with the outdoors. Now, more than 15 years later, it's why I'm so enthusiastic about encouraging you to get outside. And it's also the reason I wanted to make this Hiking 101 guide with all of my best hiking tips easily accessible to you.

If you're interested in hiking but don't have a lot of experience, it can be a little overwhelming when you are first starting out. So in this beginner's hiking guide, we share everything you need to know to get started. We include advice on how to pick a trail, recommendations on gear, how to manage fears of getting lost and wildlife, and more.
So dive in and get ready, because you're about to discover all you need to know to enjoy more time hiking outside.
Here's the Bearfoot Theory Beginner's Guide to Hiking 101.
How to Physically Prepare for Hiking as a Beginner
When you are first starting out hiking, we recommend choosing trails that are in line with your current fitness levels. Of course, hiking is a way to kick-start your exercise routine and get in shape, but if you pick a trail that is way above your pay grade, you won't enjoy it and might never hike again. We will talk more about how to find the right hiking trail in a bit, but prior to your first hike, doing some physical preparation and establishing a healthy awareness of your body will help grow your confidence as a beginner hiker.
Stretches and Exercises for Hiking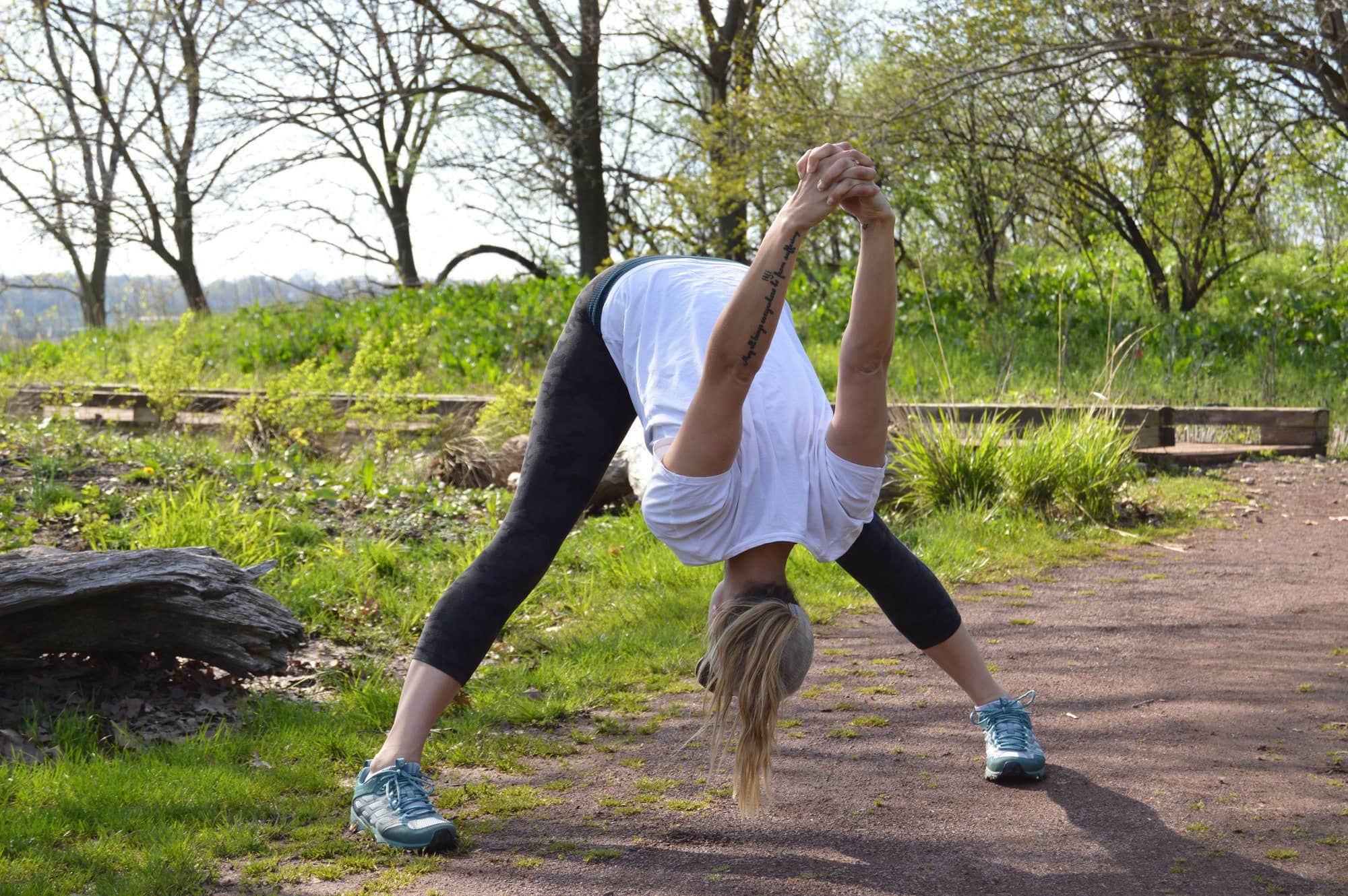 As a beginner hiker, the more you can work a few gentle stretches and exercises into your normal routine, the more quickly you will build up strength. Whether this means going to the gym, doing exercises at home, or starting your morning out with some yoga poses, being more active in your daily life will help build your stamina and confidence when it's time to get on the trail. But remember, you don't have to be a marathon runner or a serious athlete to start hiking. Simply being out on the trail will help you get in shape.
As you are training, remember to always listen to your body and any pain signals, as this can be great experience for knowing when to push yourself or turn back around on bigger and more challenging hikes. For more tips on hiking training, see our post, How to Train for Hiking.
Improving Your Lung Capacity for Hiking
Another thing that used to bother me as a beginner hiker was I'd always be so out of breath on the trail. I felt embarrassed, and it prevented me from hiking with people who I knew were in better shape than me. Fifteen years later, if I let my routine slip, I still get out of breath very easily. I've learned that it's nothing to be ashamed of, and for many people, it's completely normal.

With that said, if you find it uncomfortable and want to get in control of that heavy breathing, you can learn some simple exercises and steps you can take to improve your lung capacity in this blog post.
Dealing with Aches and Pains
Hiking is hard work, and it can leave your body and joints tired and achy. Beginner or not, if you have weak knees or sensitive feet, there are proactive steps you can take to take to prevent hiking from taking a big toll on your body. Read about how to protect your knees while hiking and how to eliminate foot pain from hiking for more on this topic.
---
Essential Hiking Gear for Beginners
Supportive Hiking Daypack
A daypack is the first piece of gear you'll need. When you're just starting out, you can grab any old backpack you have lying around your house. However, once you decide you are hooked on hiking, there are a few features of a proper daypack that will be worth investing in. A hiking day pack will have a supportive hipbelt that will transfer the weight off your shoulders onto your much-stronger hips. A hiking daypack will usually also have a dedicated pouch for a hydration reservoir which allows you to drink from a hose while you hike without having to take your pack off.

Read our blog post to find the best hiking daypacks for women.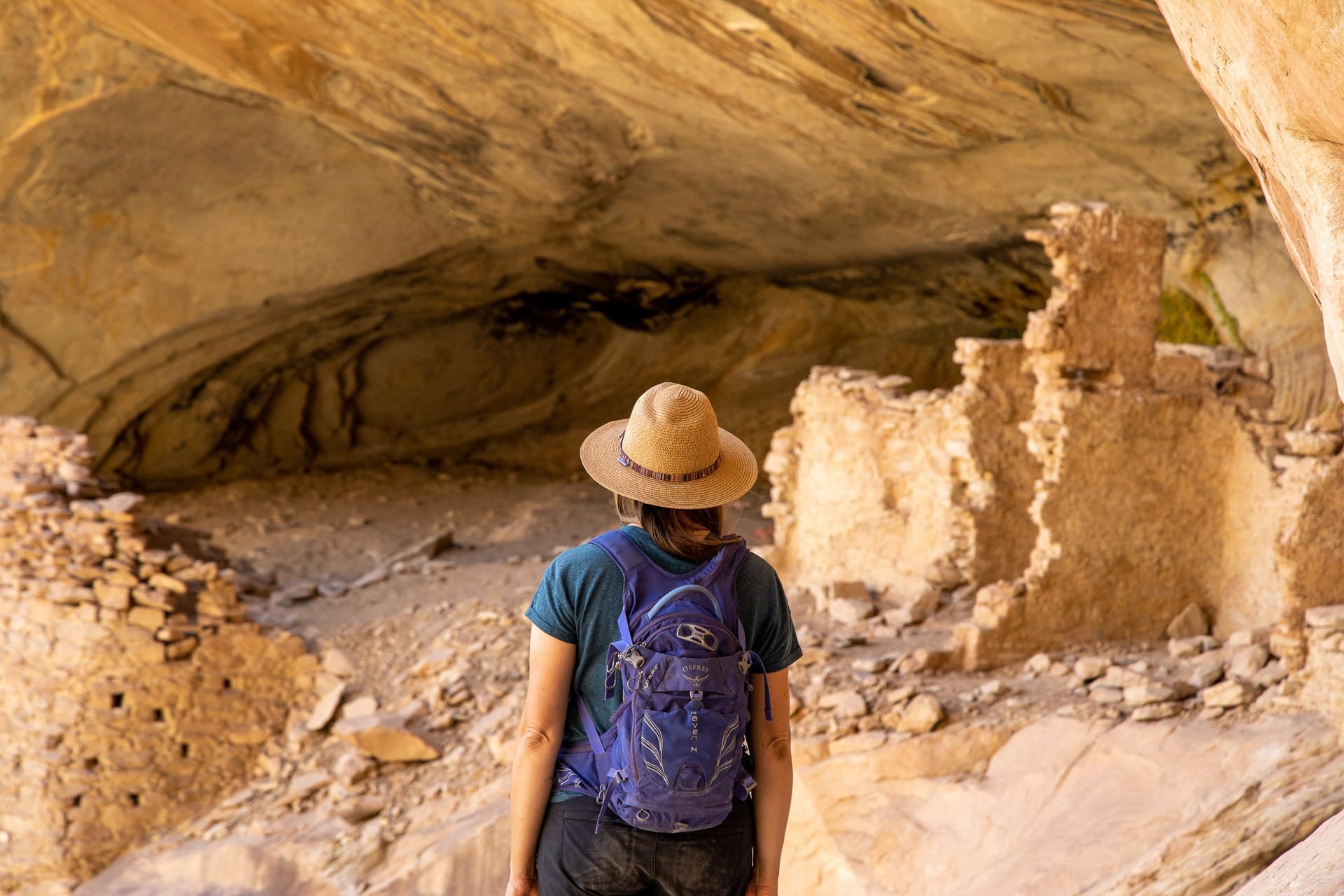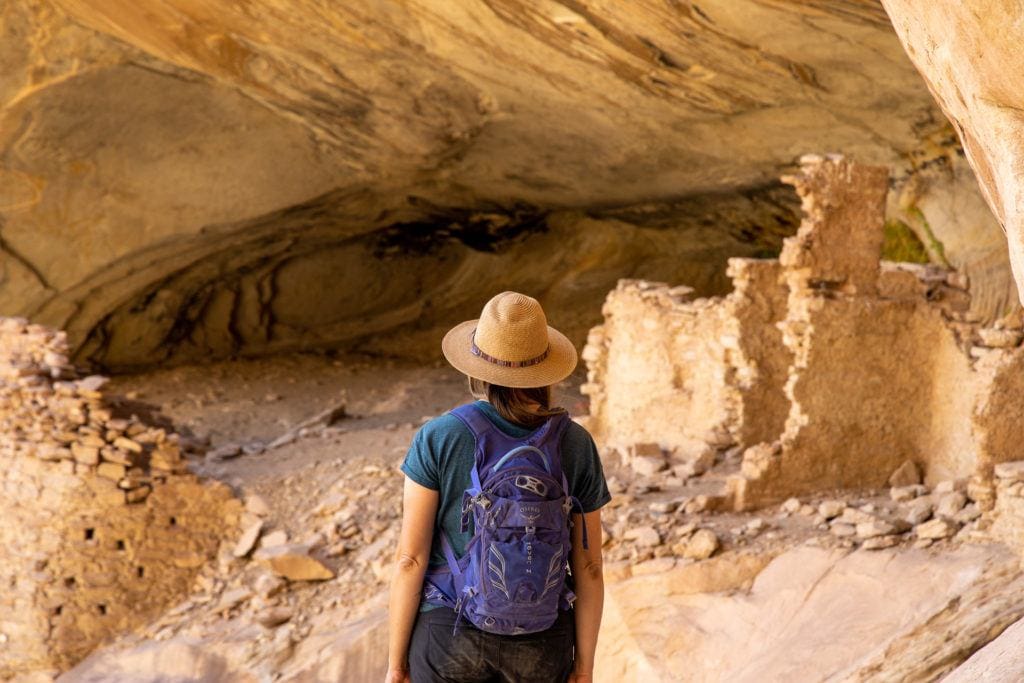 What To Bring Hiking
The Internet is full of lists of what to bring hiking – but how do you know what you actually need? We recommend carrying the "ten essentials" – a tried and true list of the top ten things you'll want to carry with you that work well for most easy to moderate hikes. The Ten Essentials cover everything from hiking snacks and water to navigation tools, a first aid kit, and other safety items. Remember that you can use this list as a guide and simply tailor it to whatever you're doing.
Check out our article on what to bring hiking to get your gear systems dialed.
What to Wear Hiking
In addition to the Ten Essentials and basic day hiking gear, you need to prepare for the weather with the right hiking layers. Knowing how to dress appropriately is an essential hiking 101 skill. The first step: check the forecast and be aware that the weather in the mountains can change very quickly. Always prepare for the worst.

Good hiking layers are moisture-wicking, which means they dry quickly and move sweat away from your body and are typically made of polyester, nylon, or wool. Avoid cotton and other heavy fabrics, like jeans, that are heavy and slow drying. Most of what you pack depends on the season, temperature, and forecast.
Recommended Hiking Packing List
Below are a few of my favorite pieces of day hiking gear and recommendations:
Here are some of the Bearfoot Theory blog posts to help you brush up on what to wear hiking: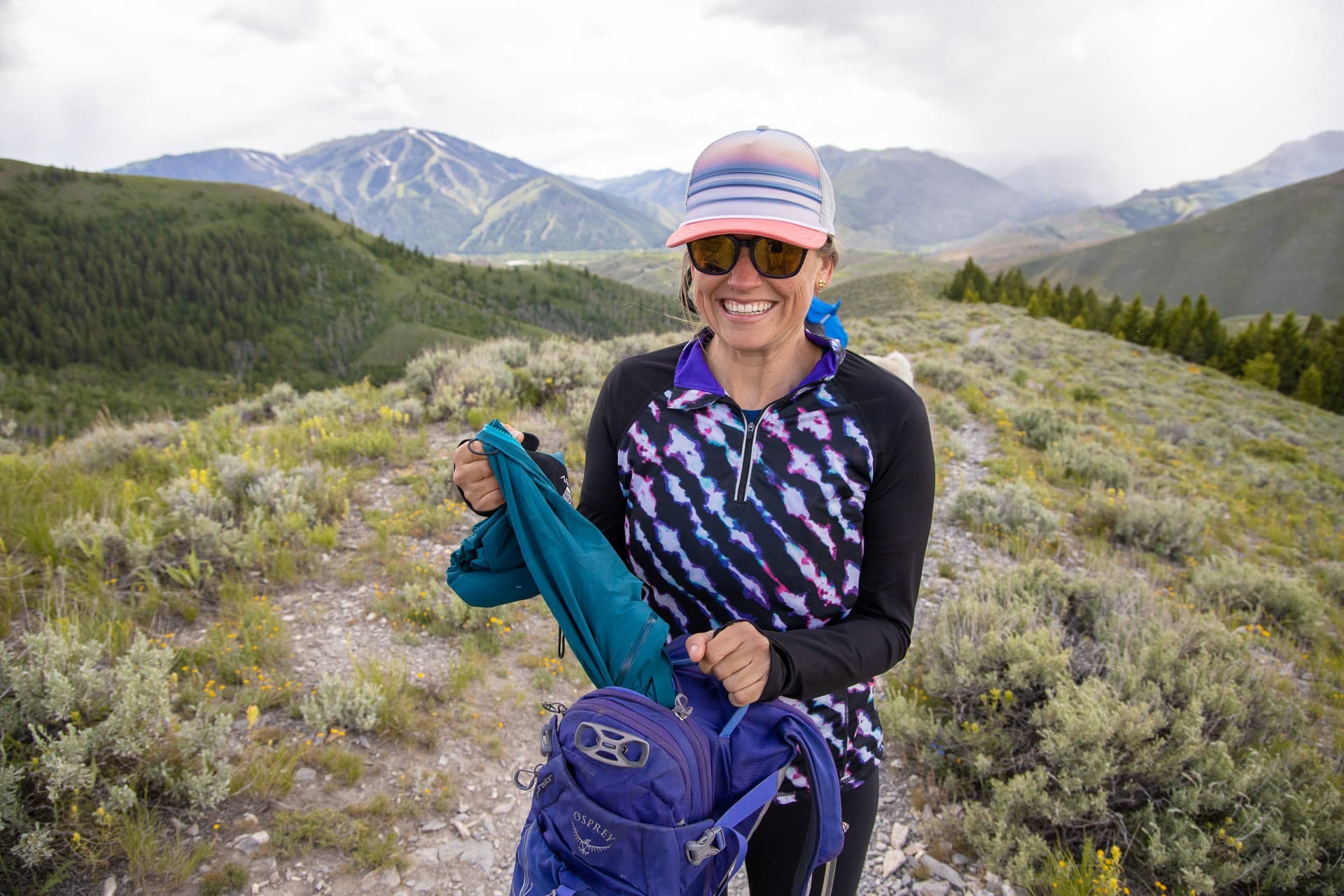 Hiking Boots / Hiking Shoes
Hiking boots are by far one of the most important pieces of gear for a hiker. Invest some time and money to scout out a good pair that fits your foot well, feels comfortable and supportive, and suits the terrain you hike in most often. There's nothing better than having a great pair of hiking boots to help kick off your journey in the outdoors — not to mention, you'll avoid getting painful blisters on the trail.
If you need recommendations, read all about how to choose the best hiking boots and our favorite pairs and our blog post on the difference between waterproof vs. non-waterproof hiking boots.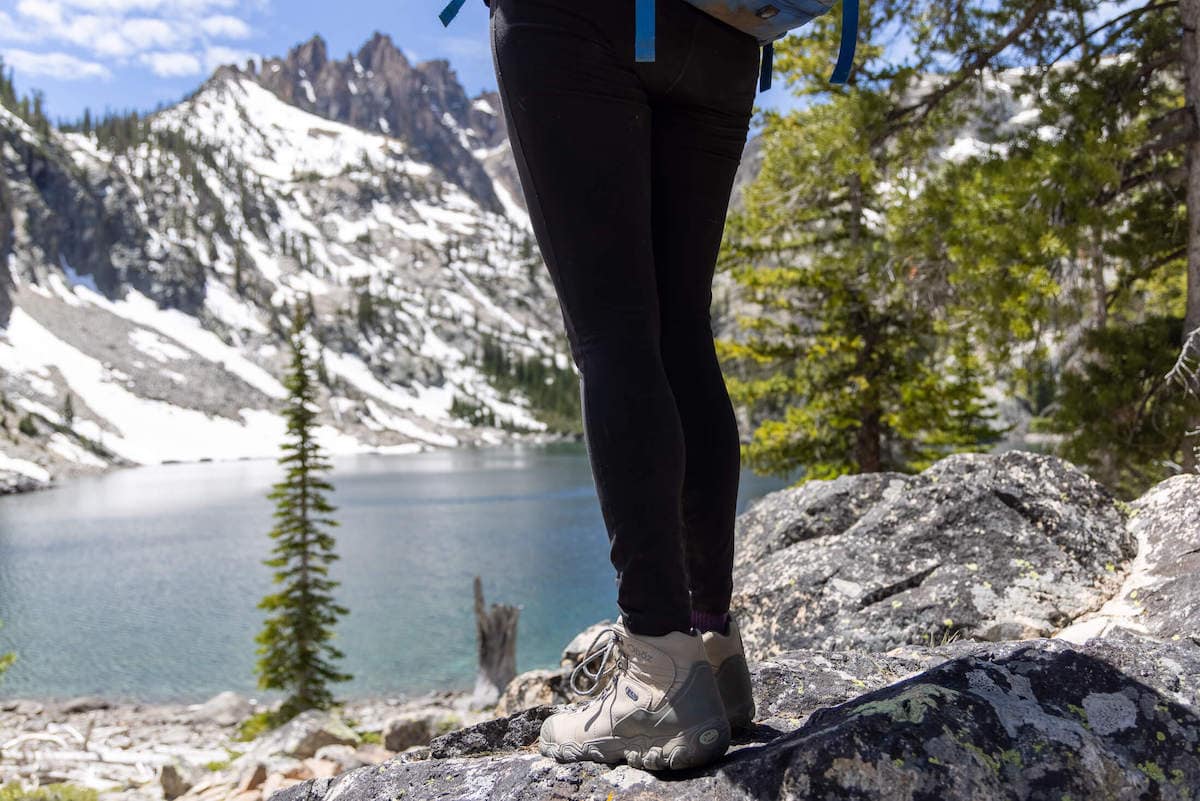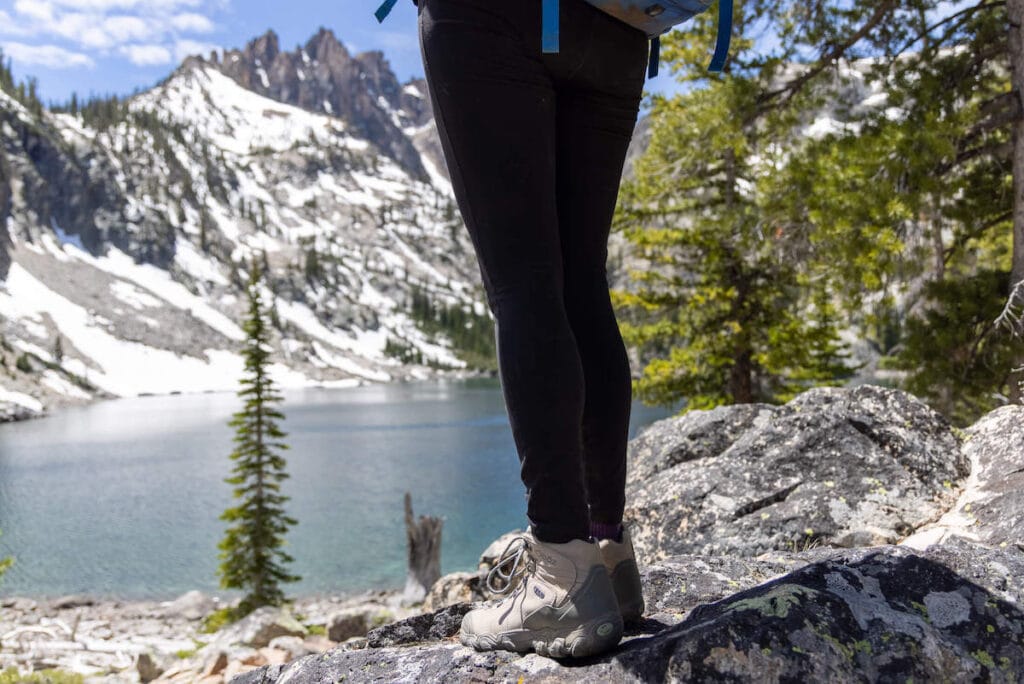 Trekking Poles
You'll definitely want a set of trekking poles, not just as a beginner hiker, but even as a seasoned peak bagger (I use trekking poles on almost every hike). Get a good pair of trekking poles that are lightweight and adjustable to help you protect your knees on the trail. It's a great tool for staying balanced, evenly distributing weight, and keeping a good pace on varied terrain. Plus, most are easily attached to your pack, so you can go hands-free when you need.
Read this blog post about the best trekking poles to find the right pair for you.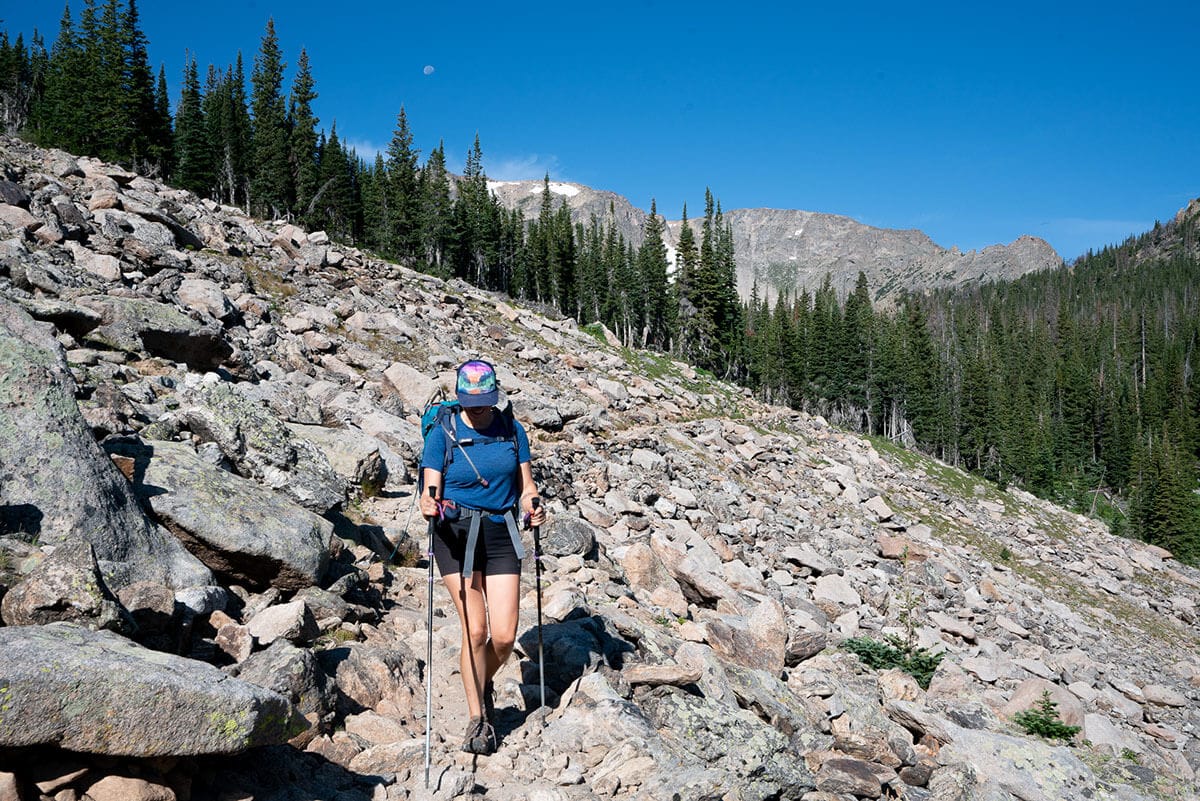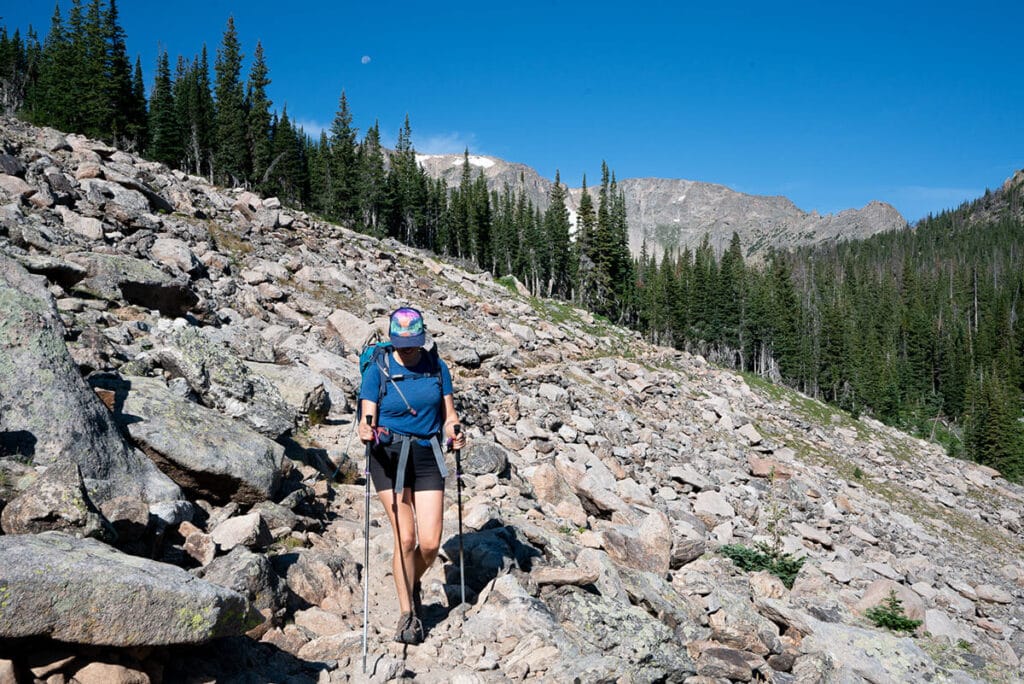 How to Choose a Hiking Trail
A barrier to entry for many first-time hikers is simply knowing how to choose and find the right trail. Don't let the different options and unfamiliar terms scare you off or discourage you from choosing a good hiking trail. There are plenty of resources like apps, Facebook groups, and websites that can provide you with a ton of information. This will help you plan out things, like where to park, whether pets are allowed, difficulty levels, and any recent updates on trail conditions.
My #1 go-to app for finding trails is AllTrails. You can filter by mileage, difficulty, or a number of other factors, see photos, and read other hikers' reviews. My second favorite way of finding trails is to buy a local trailfinder book. If you want more, here is a full list of our favorite trail finder apps and websites to help you choose a hiking trail.
Hiking for beginners should always be enjoyable and match your skill level. So, pick a well-maintained trail that is clearly marked and manageable for where your skill level is now, not where you think you should be. In general, and especially as a beginner hiker, remember the following when choosing a route.
Distance
Time
Weather
Elevation
Fitness Ability
Logistics
Ask yourself beforehand how far should you go. How much elevation is too much? 1000 feet might not sound like a lot, but in terms of hiking for beginners, 1000 feet could prove to be pretty challenging. Start small and as you build confidence, work your way up. You got this.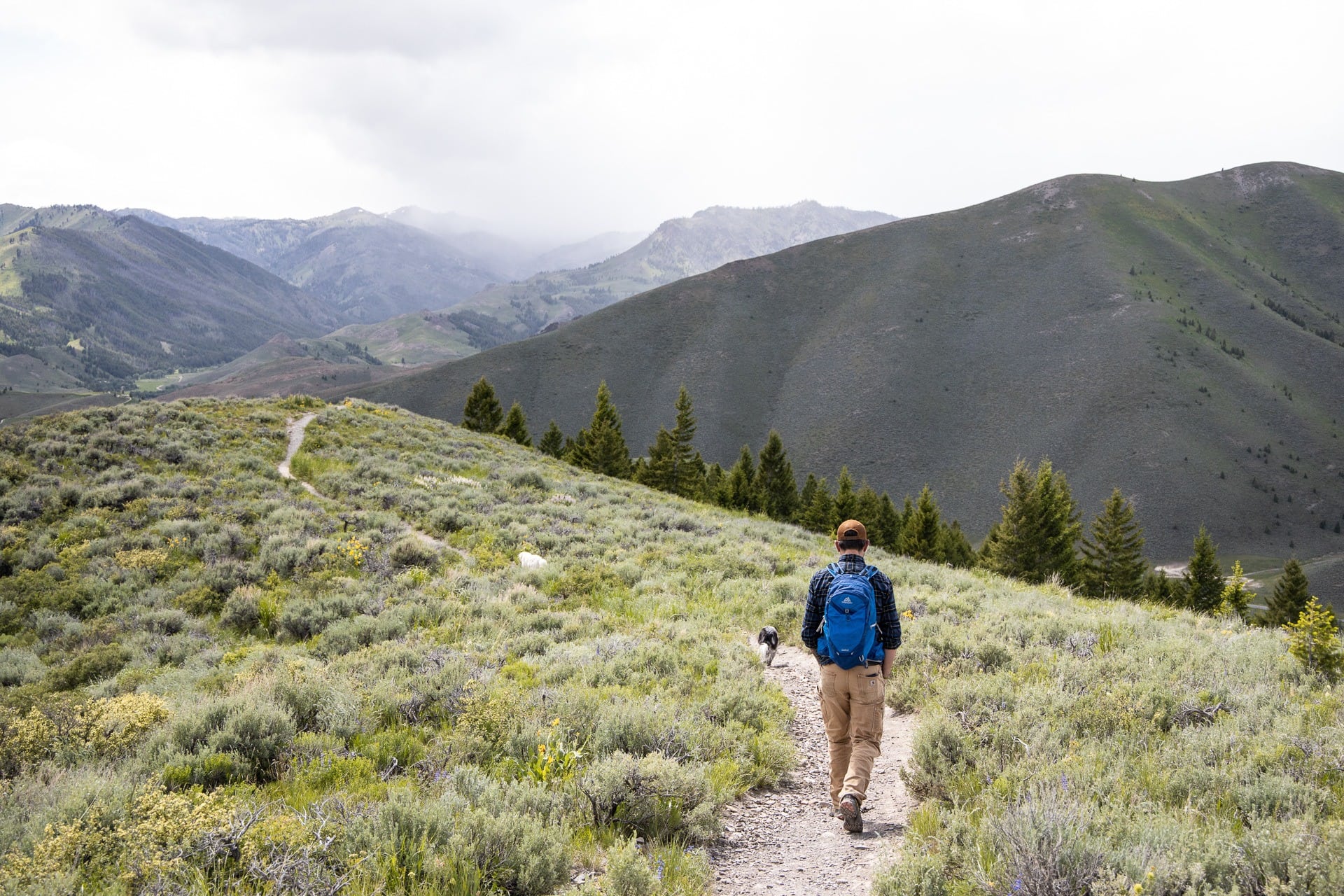 How to Navigate on the Trail
You should always carry some sort of trail map on your hikes and know how to read it. This is a classic skill to learn in your hiking for beginners' journey. Improving your trail navigation skills will boost your confidence and keep you safe, so take some time to familiarize yourself with a map and be sure to spend a little time reading about the trail ahead of time, including any recent trip reports logged by fellow hikers.

If it's a short two-mile hike, downloading a trail map to your phone should be good. You can use an app like AllTrails or a more advanced GPS app like Gaia to see your whereabouts. Just make sure you download the map for offline use if you will be out of cell service. For longer hikes where there's a chance that my phone might die, I like to bring a paper map. For more tips to ensure you don't get lost hiking, check out these blog posts:
How to Find People To Hike With
As a beginner hiker, having a few friends to get outside with is a great way to enjoy yourself and get used to hiking without having to go it alone. Don't worry if you don't have anyone to hit the trail with just yet. Recruit your friends and family, find local hiking Facebook groups, or even join a group or class at your local REI to meet other outdoor enthusiasts who are just as stoked as you are to get outside. You can share all your hiking 101 knowledge with them so they have a great first-time experience as well.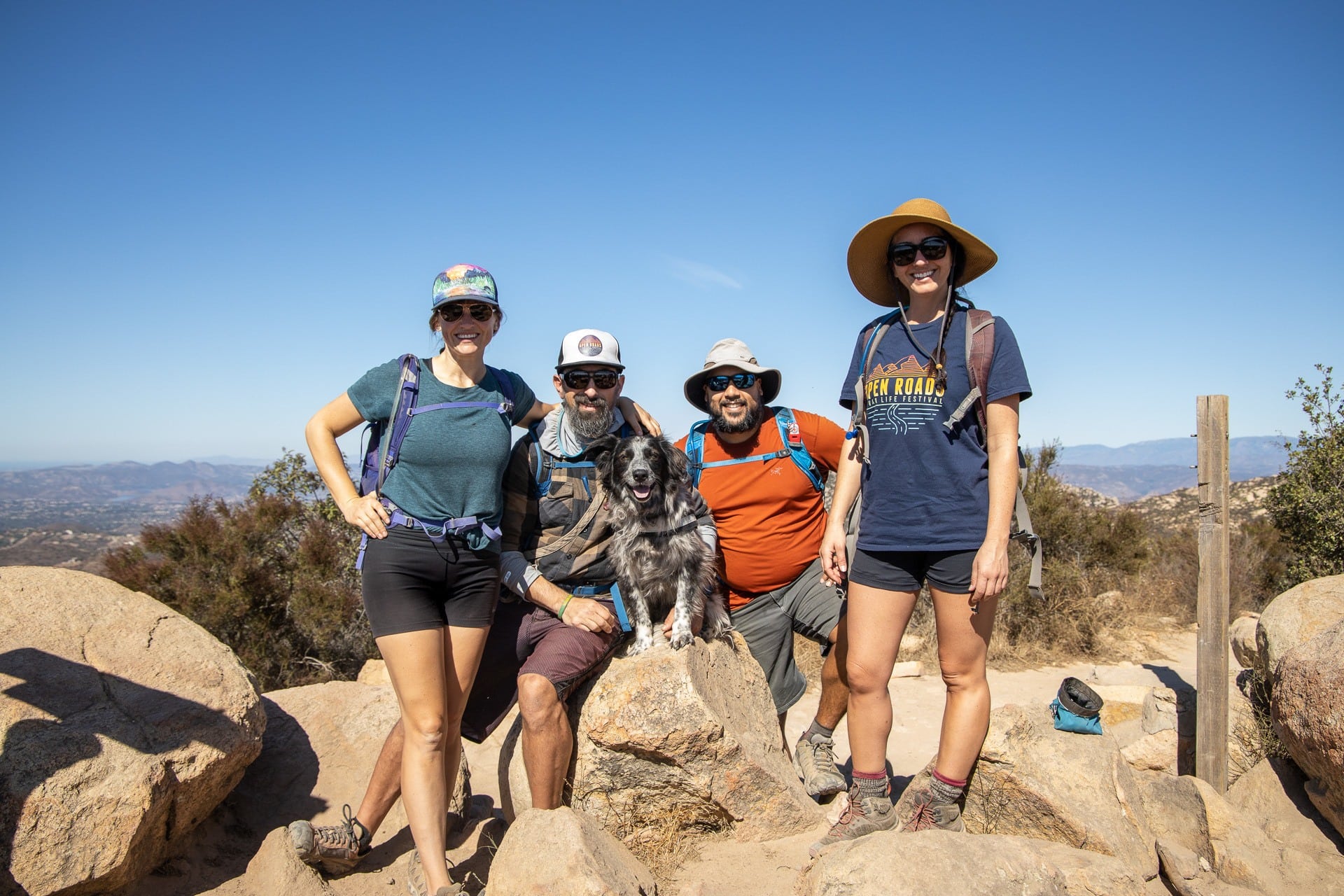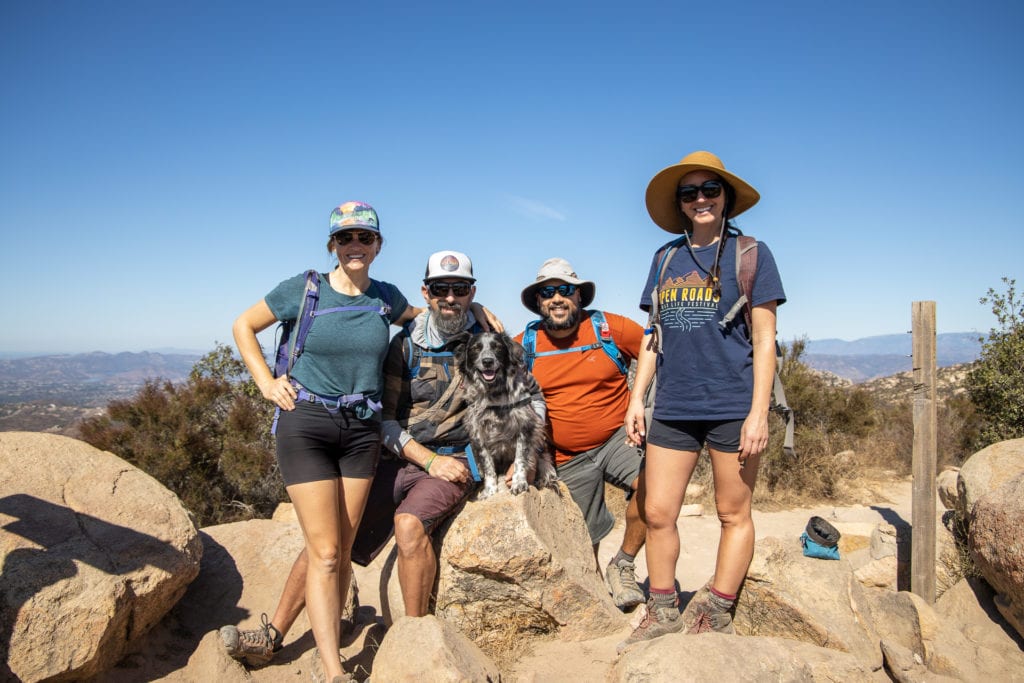 Leave No Trace & The Rules of the Trail
Having an awareness of yourself and your impact while you're outside is basic hiking 101 and key to having a good experience as a beginner hiker. First, learn the seven principles of Leave No Trace, a set of guidelines that apply not only to hikers but outdoor enthusiasts of all kinds. These ethics ensure the wild places you love will stay that way for years to come. Also, take the time to familiarize yourself with the unspoken rules of the trail. Don't worry, this isn't inside information, but more like common courtesy and a basic understanding of proper trail etiquette, so you can help maintain mutual respect with other trail users. Use these Bearfoot Theory guides to get in the know:
Addressing Your Fears of Hiking
Know that as a beginner hiker, it's natural to have some fears or reservations about being outside. Be it wildlife, ability, or getting lost, all of these things can hold you back from getting the experience you need to overcome your fears of hiking. What you might not realize is that you are safer than you think. Try not to limit yourself or imagine you'll have a bad experience. Positive thinking and a good attitude are key to hiking 101 and can go a long way with hiking for beginners. Read our blog post about how to manage outdoor fears here to learn more.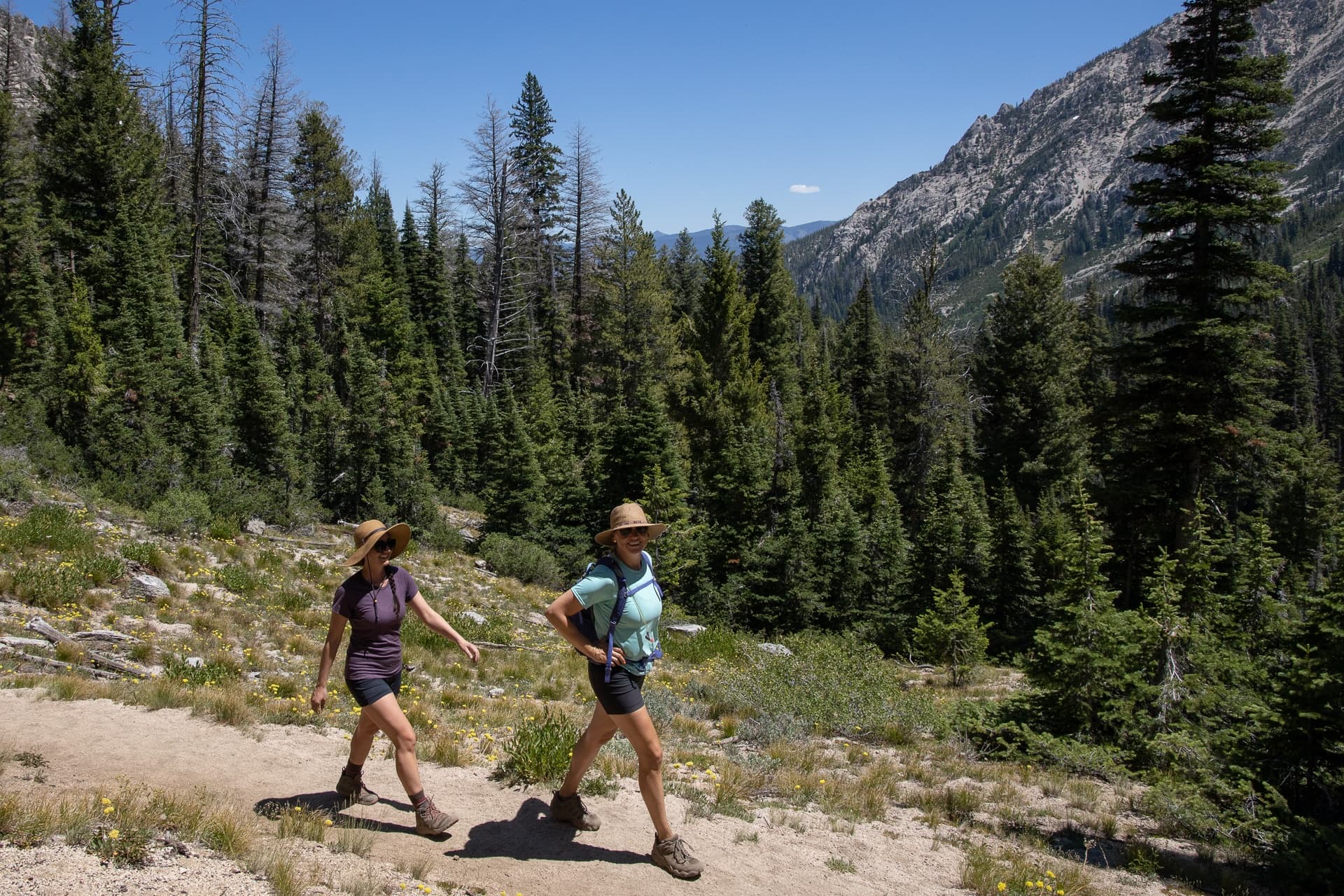 How To Stay Safe While Hiking
There is plenty to think about when you're going for a hike, and a valuable tool for beginner hikers is knowing how to stay safe in the outdoors. If you are nervous about your physical ability, pick a moderately-trafficked hiking trail that won't be too demanding and allows you to turn around or adjust your route if you need. Bring a friend who has some hiking experience or go with a group to make it even more fun. For more blog posts to help you stay safe while hiking, check out:
Now, here are some additional safety things to keep in mind while hiking:
Wildlife Encounters
Doing the research before you go hiking will prepare you for any possible wildlife encounters. Sticking to a popular trail during a busy time, like a weekend afternoon, can put you at ease so you aren't totally alone. Remember these basic wildlife safety tips:
Most wildlife naturally avoids humans.
As you explore, watch for animal tracks and droppings on the trail so you can access what types of animals might be near the trail.
If you come across wildlife, remain calm.
Always walk, don't run. Running away from wildlife screams "prey." You could also trip and injure yourself if you take off running in a panic.
Let a ranger or local agency know of your sighting.
Read our full article on staying safe and avoiding wildlife encounters while hiking.
Solo Hiking
Nervous about getting lost or going hiking on your own? Overcome your fears of hiking by following a few hard and fast rules for staying safe on the trail:
Always stick to a well-marked trail
Check the weather and trail reports before you go
Tell someone where you are going, when you leave, and when you'll be back. You can even leave a note in your car.
Know your limits and trust your instincts
Be prepared. Always bring the Ten Essentials (give or take a few)
Get over your fears of hiking alone with these tips for hiking solo safely.
What are your favorite hiking 101 tips? What questions do you have about hiking for beginners? Leave a comment below!