Complete John Muir Trail Gear List for 2023
Start planning your long-distance thru-hike with this complete John Muir Trail gear list including camping gear, clothes, & hiking essentials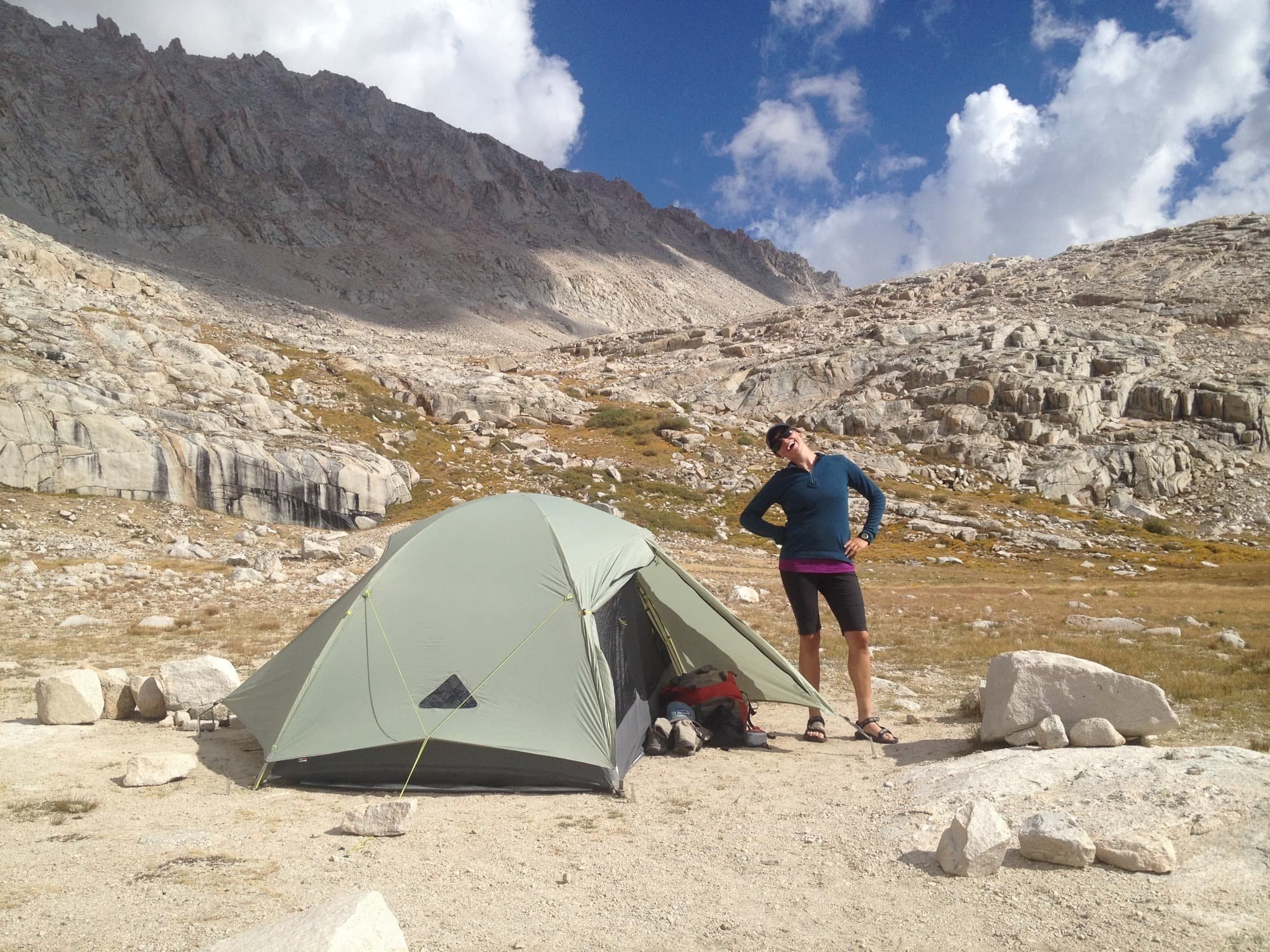 Getting your John Muir Trail gear list dialed is one of the most exciting parts of preparing for your John Muir Trail thru-hike. I hiked the JMT in 2014 and it was one of the best experiences of my life, but it's important to take some time getting your gear right. As someone who's done the thru-hike, I'm here to help!
Below is a list of every piece of gear I packed for my John Muir Trail hike including big gear items such as my tent, sleeping bag, bear canister, sleeping pad, and water filter all the way down to the little things (watch, sunscreen, maps, and more). I also include some of the gear I packed and then ditched at the car before setting off on the trail in an effort to reduce my pack weight.
Overall, I was happy with my choices and felt prepared for the trail. I'll note that some of the gear I took on my JMT hike is no longer available, so I've updated this list with newer, lighter gear that I've used on more recent backpacking trips.
---
---
JMT Backpacking Gear
Your camping gear will make up the biggest items for your JMT thru-hike. You'll want to choose gear that is lightweight, durable, and comfortable.
Here are the items I took on my JMT thru-hike and pieces that I still use to this day.
Backpack
I took an earlier model of the Deuter Aircontact Core SL 60 + 10L Pack. It handled my heavy load well and was just the right size.
I've tried a bunch of other packs since the JMT, including on a 10-day trip in Alaska, and I still keep coming back to Deuter.
The Aircontact also comes in a 45+10 size and a men's 65 + 10 L model.
Backpacking Tent
Since you're likely going to be hiking with trekking poles, why not save some weight and use a tarp-style tent that utilizes your trekking poles? My favorite is the Zpacks Duplex (2-person) or Triplex (3-person for extra space), and I've also heard great things about Hyperlite's tarp tents.
These tents are ultra-lightweight (the Duplex is just 1 lb 2.5 ounces) and pack down small so you can keep your load light and compact.
If you absolutely want a free-standing tent that's a little less expensive, I recommend the Nemo Hornet OSMO 2p.
Sleeping bag
I've been using a sleeping quilt for years and I'm completely sold on its warmth and comfort.
For the JMT, I recommend the 20-degree Enlightened Equipment Revelation quilt.
If you prefer a standard mummy bag, we love the Sea to Summit Flame Ultralight 15F which weighs only 1lb 15 oz.
Sleeping pad
Your sleeping pad can make or break your backpacking trip, especially if it is a long thru-hike like the JMT. If you have trouble sleeping while camping, I recommend choosing a pad for its comfort rather than its weight.
I love my Therm-A-Rest Prolite Sleeping Pad. It has just enough cushion to keep your back happy, and it's still relatively lightweight at 1 lb 2 oz (regular).
If you're a side sleeper, check out the Sea to Summit Ether Lite, which is 4 inches thick to pad your hips and shoulders. It's bulkier but feels super luxurious.
Trekking poles
Trekking poles are an essential for long hikes like the John Muir Trail. I was so happy I brought trekking poles on my hike! They made slogging up those passes so much easier.
Trekking poles also help you keep your balance on the narrow High Sierra stretch and reduce stress on your knees, especially when hiking downhill.
My favorite trekking poles are the Black Diamond Carbon Distance Carbon Z's becuase they are a lightweight and foldable when not needed. These have a women's-specific grip, but they also come in a men's version.
Pack cover for rain
We got caught in a torrential sideways downpour going over Muir Pass and rain can actually be common depending on the year.
The REI Duck's Back Rain Cover (70-85 liters) kept my pack dry as can be. *
Note: Some of the newer packs come with their own built-in rain covers, including some from Deuter.
JMT Cooking & Hydration Essentials
You probably won't be whipping up gourmet meals in the backcountry, so aim to make your cooking gear as simple as possible.
Here are the cooking essentials I recommend bringing on your JMT thru-hike.
Backpacking stove
The Jetboil Flash Cooking System is a compact and super-efficient backpacking stove. One small fuel canister lasted me over a week for my trip.
It's great for boiling water for dehydrated meals and cooking simple meals like ramen and couscous, which is all you'll really need.
Eating utensil
Remember to pack a lightweight and reliable eating utensil that is long enough to scrape the bottom of your dehydrated meal pouches.
The Sea to Summit Alpha Lite Spork is what I use. It's lightweight, durable, and versatile and comes with a little carabiner so it never gets lost in the depths of your pack.
Water filter
The Platypus GravityWorks water filter is amazing. It's one of my best gear choices and what I take on all my backpacking trips.
On the JMT, we could fill up the bag from a lake or stream, hook it up to the filter, and completely forget about it while the water was filtering through. This saved us a ton of time since it allowed for multi-tasking.
My only complaint was sometimes the flow was slow due to air bubbles that got caught in the filter. But luckily all you need to do to resolve this is reverse the flow of water through the filter for a few seconds, thereby eliminating the air bubbles.
Water bottles (x 3)
You'll want a few water bottles to carry with you during the day to stay hydrated as you hike. I used three of the Platypus 1.0 Liter SoftBottles.
I loved how they roll up once they are empty and easily stashed in a side pocket of my pack. They're also super light and integrate perfectly with the Platypus gravity filter.
Mug
The mug I brought on my JMT hike wasn't well insulated and it's also no longer available.
If I were to do a thru-hike again I'd consider upgrading to a Snow Peak Titanium mug.
You can put their mugs directly on a stove and the handle can wrap around the mug for easy storage.
It also weighs only 2.4 oz and is guaranteed not to rust!
You can also get the Snow Peak HotLips so you can sip straight from the mug without worrying about burning your lips.
Dish soap
I ditched the soap at the trailhead since most of our food was eat-out-of-the-package.
Plus, according to Leave No Trace, you shouldn't use any soap (even biodegradable) in the water. Instead, you need to bury your suds at least 200 feet from the water.
We found that the easiest way to clean my Jetboil after eating out of it was to bring some water to a rolling boil. The pot practically cleaned itself.
Bear canister
The Wild Ideas Bearikade Weekender (1 per person) is one of the best bear canisters out there.
It's much lighter than its competitors and super durable. Fitting 7 days of food in it was a stretch, but with some professional squishing, everything fit.
Rental canisters are available via their website and they offer a 45% discount to JMT thru-hikers.
If Wild Ideas doesn't have a canister available for the dates of your hike, the BearVault is a popular second choice.
*Note: the Wild Ideas Bearikade is not approved by the IGBA (Interagency Grizzly Bear Agency). While the JMT does not require an IGBA-approved canister, some wilderness areas do. Take that into consideration before buying if you plan on doing future backcountry adventures.
Water purification tablets
Water purification tablets are always a good idea to bring in case your filter breaks. We brought some as a backup, but didn't end up needing them.
Lighter & waterproof matches
You'll want a lighter to light your cooking stove, even if it has a self-lighting mechanism. These are often known to fail, and it would be a sad night eating a cold dehydrated meal.
Pack a few lighters and some waterproof matches as backup.
---
John Muir Trail Clothing
I hiked the John Muir Trail in September, which typically sees comfortable days and cold nights.
The key is layering and being prepared for the worst.
Hiking pants (x 1)
You should only need one normal pair of hiking pants for hiking the JMT.
Typically I prefer to hike in leggings and the lululemon Invigorate HR Tights have been my go-to lately. They're comfy for hiking and have a stretchy pocket on each leg that is big enough for your phone.
For those who prefer regular pants, these Columbia Saturday Trail Pants are stretchy in all the right places, durable, and water-resistant for all-weather hiking.
Hiking shorts (x 2)
I prefer leggings-style shorts when I hike, and the lululemon Wunder Train High-Rise Shorts are my new favorite.
The waistband doesn't shift, the highrise is flattering, they dry super quick, and they come in all kinds of fun colors.
I like the 8″ but they come in a variety of lengths so you can pick what works for you.
If you prefer something looser with pockets, the REI Sahara Bermuda Shorts have 4 pockets, are quick-drying, and have a UPF 50+ rating. They also have elastic as well as button adjustments at the waist so if you lose weight on your trek you can easily tighten them to stay snug!
Hiking shirts (x 2)
My go-to hiking shirts are the Patagonia Capilene Cool Daily Shirts. I personally prefer long-sleeves so I don't have to wear as much sunscreen, but these also come in a short-sleeve version as well.
The Capilene Cool Daily shirts are lightweight and quick-drying and designed with just enough room to move around in, but not too baggy that they get caught on your gear.
Midweight base layer (x 1)
You'll want a warm mid-weight base layer that you can wear to bed at night or on chillier hiking days. The Patagonia R1 Pullover fleece is my go-to choice. It's a warm, fleece-lined (vegan-friendly) layer that is versatile for any backpacking trip.
Jacket (x 1)
On the John Muir Trail, nights and early mornings can be very cold, so a warm jacket is necessary.
The Patagonia Hooded Nanopuff Jacket packs very small and has a great warmth-to-weight ratio. Get the hooded version for extra warmth at night.
Warm pants (x 1)
Pack a pair of lightweight insulated pants to keep you warm on cold mornings and nights.
The Enlightened Equipment Torrid pants are super warm, but only weigh just over 7 ounces.
They're great for sleeping in and will keep you toasty when making breakfast.
Underwear (x 3)
You'll want quick-drying underwear that you can rinse out between wears. You also want to make sure you get comfortable undies – there's nothing worse than hiking with briefs that ride up and give you a wedgie!
I love the lululemon InvisiWear Mid-Rise Boyshorts because they are seamless with a barely-there feel and no panty lines.
Sports bras (x 2)
A good sports bra is essential for any thru-hike. I like the Patagonia Wild Trails Sports Bra because it is supportive, comfortable, and breathable.
Rain pants (x 1)
Bring some! I was so happy I had rain pants during the storm over Muir Pass. They kept me warm and dry.
OR's Helium rain pants are pricey but weigh just 6 ounces and compact into the back pocket for easy storage.
The elastic waist with drawcord is great for putting on over other pants as well as the zip ankle bottoms for getting over your shoes.
BFT's former community manager Kim wore the men's version on her PCT thru-hike almost every day in Washington.
Rain jacket (x 1)
Stay dry during showers in the High Sierras with a bombproof rain jacket like the Patagonia Torrentshell 3L Rain Jacket.
It's lightweight at just 12.4 ounces, packs down small into its own pouch, and is fully waterproof.
Socks (x 3)
Darn Tough MicroCrew and SmartWool Cushion are my two favorite hiking socks and I brought both of them on the John Muir Trail..
I wore the Darn Tough socks during the day and my feet stayed mostly blister-free and the socks held up really well. Darn Tough also has a free socks for life guarantee, so if your socks develop holes, you can send them in and get a new park.
In the evenings, I would change to the warmer and more cushiony SmartWool socks. I must say it was nice to have a "cleaner" pair to wear at camp and in my sleeping bag!
Sun hat (x 1)
For maximum sun protection, go for a wide-brimmed hat.
My favorite hiking hat is the Wallaroo Sedona which provides great face, neck, and shoulder protection and can be folded into your pack when not needed.
Alternatively, choose a more traditional-style hiking hat like the Sunday Afternoons Ultra Adventure hat, which has a cape to protect your neck from the sun.
Wool beanie (x 1)
I wore the hat every single night on the JMT because the temps really dropped once the sun went down.
The Patagonia Everday Beanie is a simple wool hat that will keep your head warm as you sleep.
Gloves (x 1 pair)
Gloves were a JMT necessity, especially for summiting Mt. Whitney, which was pretty chilly.
A simple pair of lightweight warm gloves will do like these REI Fleece Gloves.
Hiking boots (x 1 pair)
I have been wearing Oboz Bridger B-Dry Hiking Boots for the last few years and I love them for both day hikes and long-distance backpacking trips.
They are waterproof, provide lots of support, and unlike most boots, are comfy right out of the box.
Camp shoes (x 1 pair)
Trust me, you'll want a pair of camp shoes to change into after a long day of hiking the JMT. The Teva Hurricane Sandals were the perfect choice for my trip.
They are waterproof and lighter than other river sandals I've owned, and I could wear socks with them at night.
I saw other people with Crocs and thought those were a good idea too, but they aren't as versatile for side adventures from camp.
Either way, bring something because you won't want to wear your boots all night.
Sunglasses (x 1 pair)
I have been wearing a pair of Smith sunglasses with polarized lenses for years and love them.
They stay on the top of my head when I'm not wearing them, and they aren't too delicate, which is important for rugged backcountry adventures like hiking the JMT.
JMT Backpacking Gadgets, Tools, & Navigation
The majority of the JMT is very remote, so you need to be prepared with the right tools to stay safe.
Here are the gadgets and tools I took on my JMT thru-hike.
Multi-tool
A good multi-tool is essential. I took the Leatherman Skeletool CX, which I wasn't thoroughly impressed with. The knife seemed to get dull quickly and I had no need for the other tools other than the screwdriver which I used to tighten my trekking poles. That being said, it is good to carry a multi-tool just in case.
Compass
You probably won't need it, but carrying a compass (which weighs less than an ounce) is a smart idea in case of an emergency.
I brought the Suunto Clipper Compass, which can clip to your watch band, your pack strap, or the edge of a map.
Solar charger
Solar power technology keeps getting better every year. I brought the Goal Zero Nomad 7 on the JMT with me, which is fine for charging your cell phone, but that's about it.
Another option is the BioLite Solar Panel 5+, which weighs less than a pound. You can also use it to charge one of their battery banks.
Headlamp
The Black Diamond Spot 400 is built for surviving long-distance thru-hiking. It is waterproof and has red and green night vision modes for late-night reading in your tent that won't kill your eyes.
It uses 4 AAA batteries and shows battery life remaining when switching on the headlamp.
Watch
A simple watch is best for thru-hikes so you don't have to worry about charging it. The Timex Expedition Fast Wrap Watch is inexpensive, waterproof, and comfortable.
The alarm worked great when we woke up at 2 am to climb Whitney.
Duct tape
Duct tape is useful for a number of situations while in the backcountry from patching holes, 'fixing' broken gear, to resealing food packages.
A popular backpacker hack is to wrap a few lengths of duct tape around your trekking poles or pack one of these small rolls.
Trail guide
The John Muir trail is pretty well-signed, but you'll still want maps and a guidebook. This John Muir Trail Map Pack by Tom Harrison was perfect. We only kept out the page that we needed for the day and they were super durable, waterproof, and most importantly, accurate.
The Elizabeth Wenk guidebook was good, and I was glad we had it for the elevation profiles and campsite listings. However, it had so much extraneous information that ultra-light hikers will want to think twice about bringing it.
---
JMT Backpacking Electronics
You'll want to minimize the electronics you bring on the JMT to minimize the need for charging them.
Here are the two electronics I do recommend bringing:
GPS transponder
I recommend packing an emergency communication device (especially for those of you who are hiking the JMT solo).
I use the Garmin InReach Mini, which allows you to send and receive custom text messages, unlike other GPS devices.
The Garmin InReach is a big investment, but it comes with a lot of great and potentially life-saving features.
Note that you do need a separate Garmin subscription to use the InReach Mini.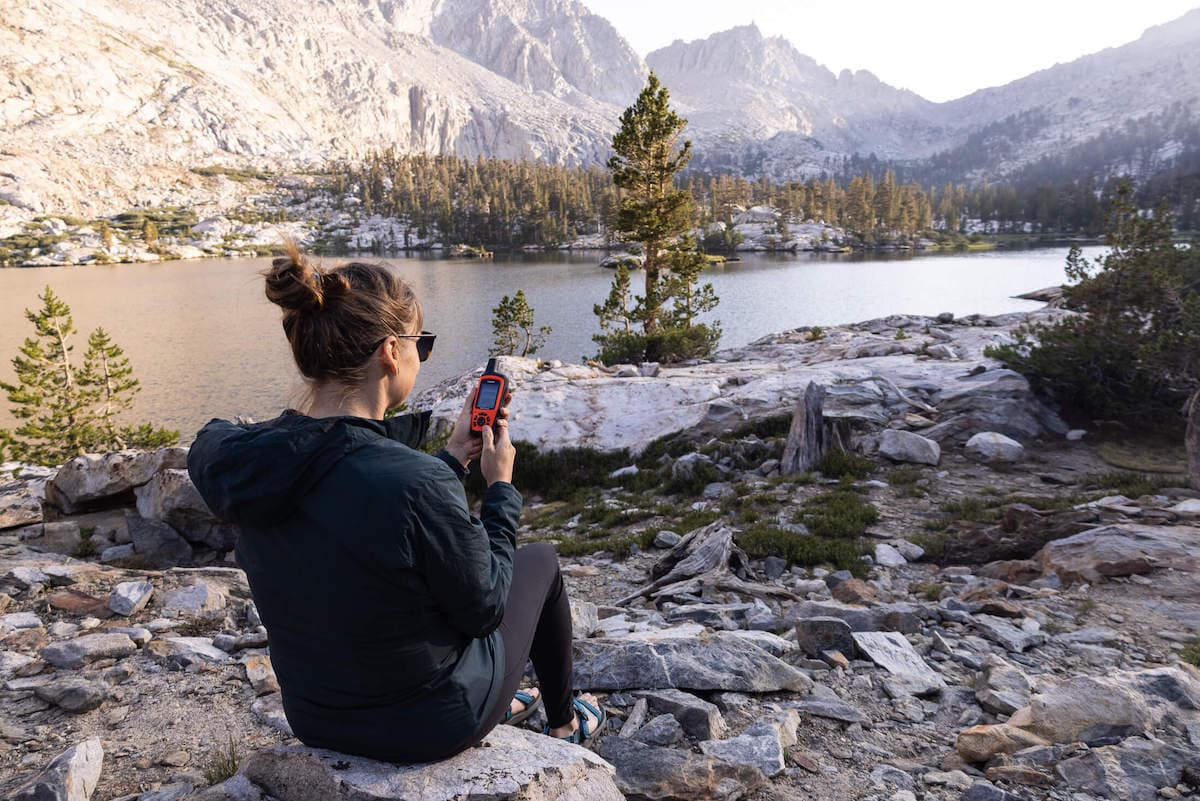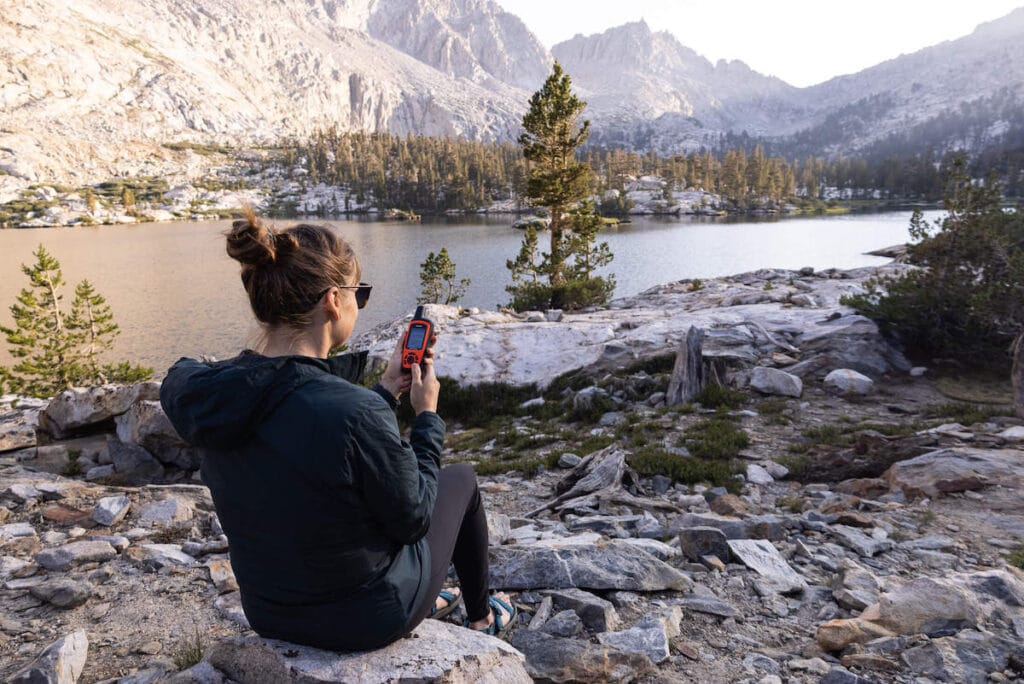 Digital camera
If you are serious about photography, the John Muir Trail offers non-stop epic landscapes to capture.
I love the Sony Alpha a6400 which uses mirrorless technology to get professional quality photos with a camera that is only slightly larger than a point-and-shoot. You can also swap out the lens on the Sony Alpha cameras.
For something even more compact, consider the Sony RX100 VII, a GoPro, or your phone (some of which take amazing photos these days!)
JMT Toiletries
Trust me, you won't need all those extra toiletries like shampoo and conditioner on the John Muir Trail. Leave them at home! I quickly ditched my face wipes and lotion because the were just taking up space.
Here's what you need to bring to stay fresh and clean on the trail:
Pee rag
A pee rag helps you stay clean down there without needing to carry toilet paper (which you need to pack out).
I recommend the Kula Cloth, which is anti-microbial and easy to use. It has a soft micro-fiber side to wipe with a and waterproof flip side so your hands stay clean. After using it, strap it to your pack to air dry and then give it a rinse when you get to a clean water source.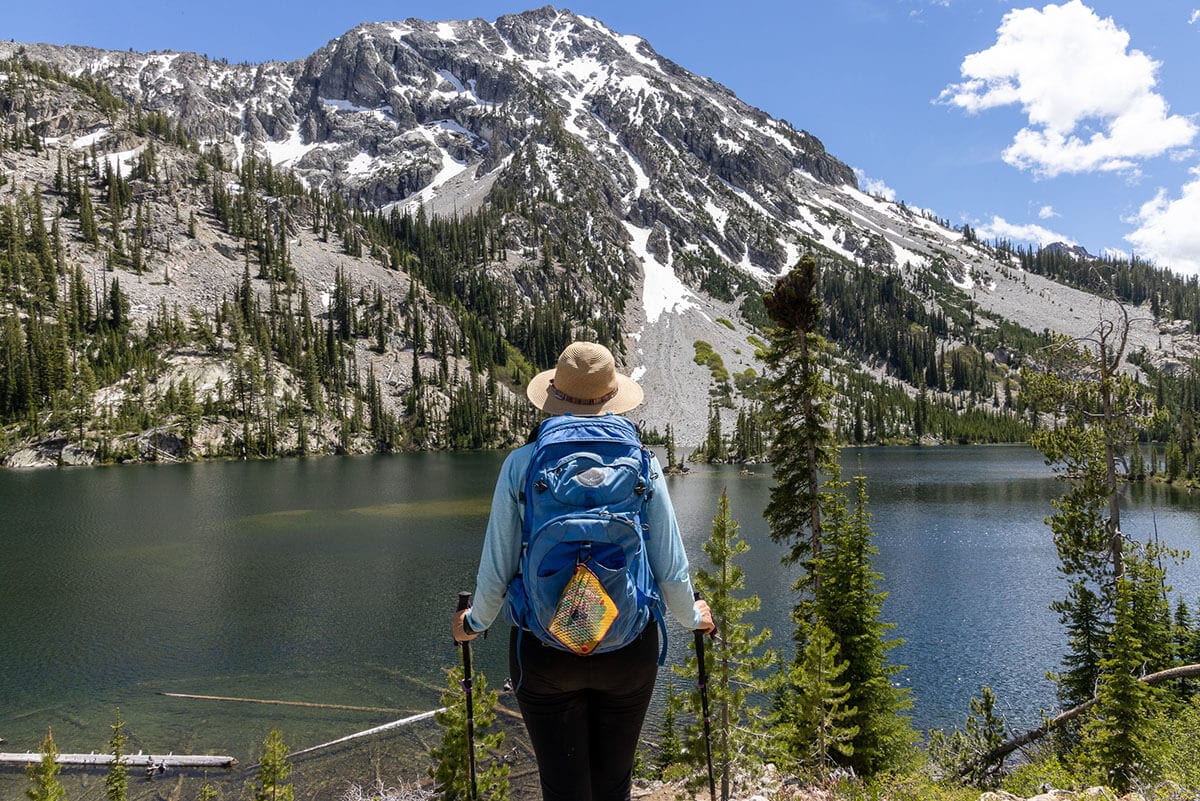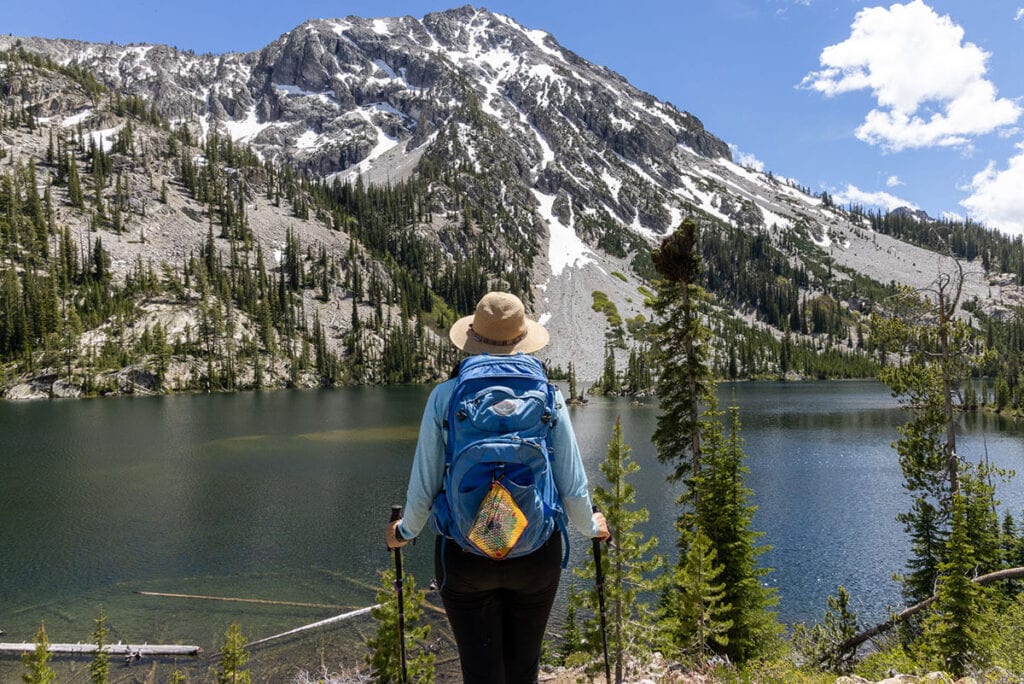 Bug spray
If you are hiking early in the season, you'll need bug spray.
Bugs usually die off later in the season though, so when we hiked in September, we didn't end up needing it.
Regardless, it's a good idea to pack a small bottle like Sawyer Picaridin, which is as effective as DEET but doesn't damage your expensive gear.
Sunscreen
There are a lot of exposed stretches on the JMT, so be sure to pack some good sunscreen. The Sun Bum SPF sunscreen is awesome. It's non-greasy and I only had to put it on once in the morning – and it lasted all day.
First aid kit
You'll most likely develop some blisters or have other (hopefully minor) medical issues, so be sure to pack a first aid kit.
I love MyMedic because you can buy pre-made med packs based on your trip and customize your own first aid kit.
For backpacking, check out the:
Chapstick
Keep your lips protected in the dry high-altitude air with a good SPF chapstick. My favorite is the Jack Black Intense Therapy Lip Balm. It has a nice minty smell and lasts longer than other brands I've tried.
Hand sanitizer
Pack a small bottle of hand sanitzer to use after going to the bathroom and before cooking.
This refillable travel-sized hand sanitizer bottle has a carabiner that you can clip to your backpack for easy access.
Toilet paper
Don't run out! And if you're nervous about pooping in the woods, check out our Step-by-Step Guide to Going #2 in the wilderness.
Toothbrush & toothpaste pods
Toothpaste pods like these Hello tablets allow you to plan your daily brushings without worrying about running out of paste. You can repackage them into these smaller Humangear GoTubbs.
Body wipes
While not an essential, it is nice to have a wet wipe or two at the end of the day if you don't have a lake or river to wash off in. The Sea to Summit Wilderness Wipes are awesome. They're large and nice and thick, so you can really use them like a washcloth.
I recommend budgeting 2 wet wipes per day for your JMT thru-hike (you can send a second package in one of your resupply packages).
Do you have any questions about my John Muir Trail gear list? Are we missing anything you loved having on the JMT? Leave us a comment below!