Complete John Muir Trail Gear List for 2023
Planning a long-distance backpacking trip? This complete John Muir Trail gear list includes all of the camping gear, clothes & hiking essentials you need.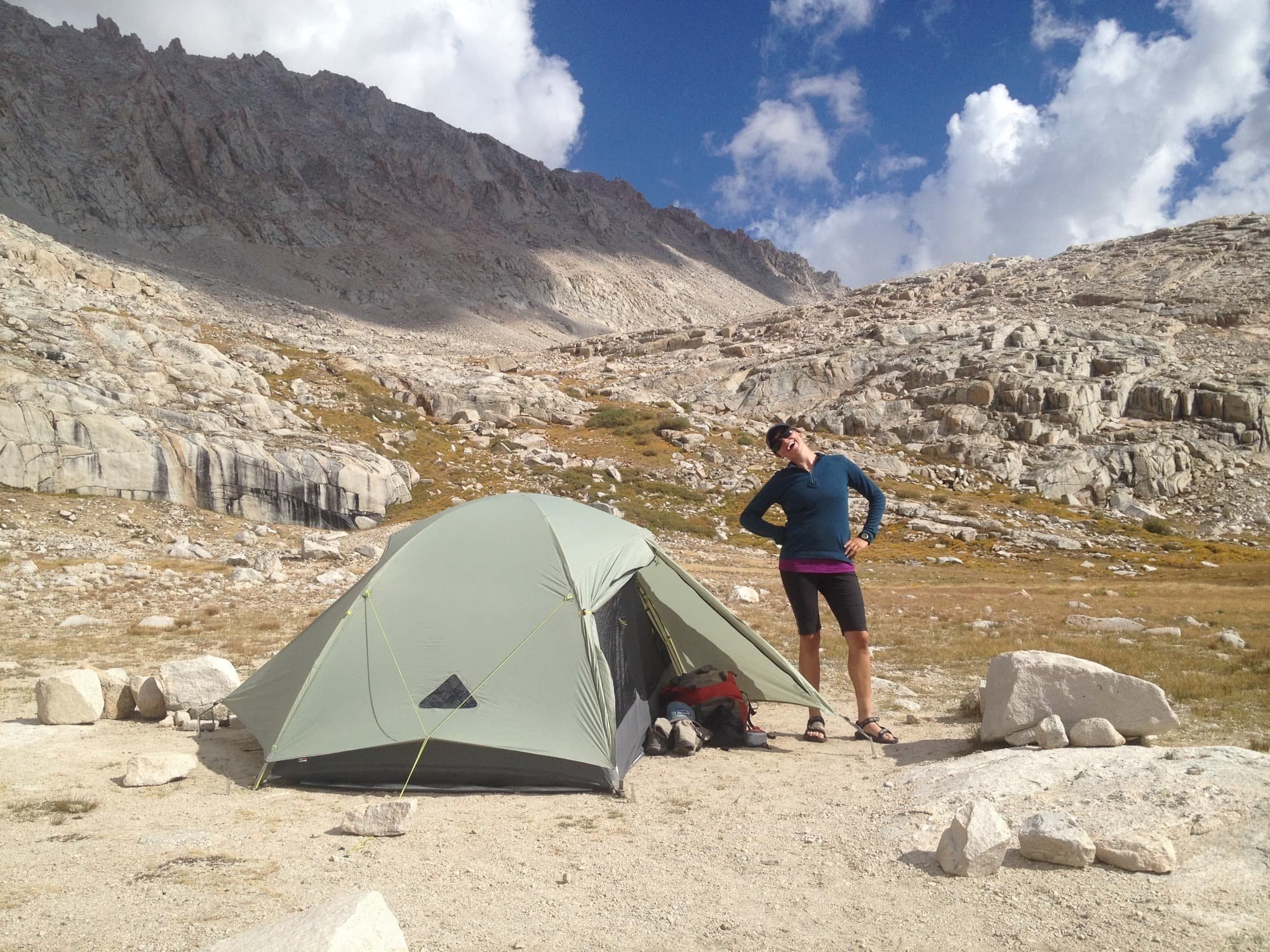 Getting your John Muir Trail gear list dialed is one of the most exciting parts of preparing for your John Muir Trail thru-hike. Below I share every piece of gear I packed for my John Muir Trail hike, including big JMT gear items such as my tent, sleeping bag, bear canister, sleeping pad, and water filter all the way down to the little things (watch, sunscreen, maps, and more). I also include some of the gear I packed and then ditched at the car before setting off on the trail in an effort to reduce my pack weight.
Overall, I was happy with my choices and felt prepared on the trail. I'll note that some of the gear I took on my JMT hike is no longer available, so I've updated this list with newer, lighter gear that I've used on more recent backpacking trips.
Here are my updated John Muir Trail gear choices! Let me know if you have any questions about what to pack for your JMT hike down in the comments.
JMT Essential Backpacking Gear
Tent: Since you're likely going to be hiking with trekking poles, why not save some weight and use a tarp-style tent that utilizes your trekking poles. My favorite is the Zpacks Duplex (2-person) or Triplex (3-person for extra space), and I've also heard great things about Hyperlite's tarp tents. Just practice setting it up at home before you hit the trail. If you absolutely want a free-standing tent that's a little less expensive, I recommend the

Nemo Hornet

2p. >> Read Next: Best Backpacking Tents
Pack Cover for rain: REI Duck's Back Rain Cover (70-85 Liters) – We got caught in a torrential sideways downpour going over Muir Pass. This cover kept my pack dry as can be. *Note: Some of the newer packs come with their own built-in rain covers, including some from Deuter.
JMT Cooking Gear
Utensil: Snow Peak Titanium Spork – Lightweight, durable, and versatile. Not sure it's better than other sporks, but no complaints.
Water Filter: Platypus GravityWorks – Amazing. One of my best gear choices. We could fill up the bag from a lake or stream, hook it up to the filter, and completely forget about it while the water was filtering through. This saved us a ton of time since it allowed for multi-tasking. My only complaint was sometimes the flow was slow due to air bubbles that got caught in the filter. But luckily all you need to do to resolve this is reverse the flow of water through the filter for a few seconds, thereby eliminating the air bubbles. >> Read Next: Best Backpacking Water Filters
Water Bottle: Platypus 1.0 Liter SoftBottle (Qty: 3) – Loved how these rolled up once they were empty. So light and integrated perfectly with the Platypus gravity filter.
Mug: The mug I brought wasn't well insulated and it's also no longer available. If I were to hike again I'd consider upgrading to a Snow Peak Titanium mug. You can put their mugs directly on a stove and the handle can wrap around the mug for easy storing. It also weighs only 2.4 oz and is guaranteed not to rust! You can also get the Snow Peak HotLips so you can sip straight from the mug without worrying about burning your lips.
Dish soap – I ditched the soap at the trailhead since most of our food was eat-out-of-the-package. Plus, according to Leave No Trace, you shouldn't use any soap (even biodegradable) in the water. Instead, you need to bury your suds at least 200 feet from the water. We found that the easiest way to clean my Jetboil after eating out of it was to bring some water to a rolling boil. The pot practically cleaned itself.
Bear Canister: The Wild Ideas Bearikade Weekender (1 per person) is one of the best bear canisters out there. It's much lighter than its competitors and super durable. Fitting 7 days of food in it was a stretch, but with some professional squishing, everything fit. Rental canisters are available via their website. (If they don't have any available for the dates of your hike, the BearVault is a popular second choice). >> Read Next: Best Bear Canisters for Backpacking
John Muir Trail Clothing
I hiked the John Muir Trail in September which typically sees comfortable days and cold nights. The key is layering and being prepared for the worst.
Hiking pants (x1): You should only need one normal pair of hiking pants. Typically I prefer to hike in leggings and the lululemon Invigorate HR Tight have been my go-to lately. They're comfy for hiking and have a stretchy pocket on each leg that is big enough for your phone. For those who prefer regular pants, these Prana hiking pants are stretchy in all the right places, durable and water-resistant for all-day hiking. >> Read Next: Best Women's Hiking Pants
Hiking shorts (x1): I prefer leggings-style shorts, and the lululemon Wunder Train High-Rise Shorts are my new favorite. The waistband doesn't shift, the highrise is flattering, they dry super quick, and they come in all kinds of fun colors. I like the 8″ but they come in a variety of lengths so you can pick what works for you. If you prefer something looser with pockets, the REI Sahara Bermuda Shorts have

4 pockets, are quick-drying, and have a UPF 50+ rating. They also have elastic as well as button adjustments at the waist so if you lose weight on your trek you can easily tighten them to stay snug!
Midweight Base Layer (x1): Patagonia R1 Pullover fleece – a warm, fleece-lined (vegan-friendly) layer that you can wear to bed at night or on chillier hiking days. It also comes in a hooded version
Rain Pants (x1): Bring some! I was so happy I had rain pants during the storm over Muir Pass. They kept me warm and dry. OR's Helium rain pants are pricey but weigh less than 6 ounces and compact into the back pocket for easy storage. The elastic waist with drawcord is great for putting on over other pants as well as the zip ankle bottoms for getting over your shoes. Kim wore the men's version on her PCT thru-hike almost every day in Washington.
Socks (x3): Darn Tough MicroCrew and SmartWool Cushion are my two favorite hiking socks. My feet stayed mostly blister-free and the socks held up. In the evenings, I would change to the warmer and more cushiony SmartWool socks, and I must say it was nice to have a "cleaner" pair to wear at camp and in my sleeping bag.
Wool beanie and gloves (x1 each) – I wore the hat every single night on the JMT. The gloves were also necessary, especially for Whitney. Pack a simple beanie and gloves.
Camp shoes: Teva Hurricane Sandals – Perfect. Waterproof and lighter than other river sandals I've owned, and I could wear socks with them. Saw other people with Crocs and thought those were a good idea too, but they aren't as versatile for side adventures from camp. Either way, bring something cause you won't want to wear your boots all night.
Smith Optics sunglasses: I have been wearing a pair of Smith sunglasses with polarized lenses for years. They stay on the top of my head when I'm not wearing them, and they aren't too delicate.
JMT Backpacking Gadgets/Tools
Multi-tool: Leatherman Skeletool CX – The knife on this seemed to get dull quickly. Overall it was heavy, and I had no need for the other tools other than the screwdriver which I used to tighten my trekking poles. Scissors, which this Leatherman lacked, would have been very useful.
Navigation: Suunto Clipper Compass – Didn't need it, but it could come in handy on other trails. Barely noticed it on my watchband.
Solar charger: Solar power technology keeps getting better every year. I brought the Goal Zero Nomad 7 which is fine for charging your cell phone, but that's about it. Another option is the BioLite Solar Panel 5+, which weighs less than a pound. You can also use it to charge one of their battery banks.
Headlamp:

The

Black Dia

mond Spot is built for surviving long-distance thru-hiking. It is waterproof and has red and green night vision modes for late-night reading in your tent that won't kill your eyes. It uses 4 AAA batteries and shows battery life remaining when switching on the headlamp. >> Read Next: Best Headlamps for Hiking & Camping
JMT Backpacking Electronics
GPS Transponder: I'd recommend an emergency communication device (especially for those of you who are hiking the JMT solo). I use the Garmin InReach Mini, which also allows you to send and receive custom text messages. The Garmin InReach is a big investment, but it comes with a lot of great and potentially life-saving features. Note that you do need a separate Garmin subscription to use the InReach Mini.
Digital Camera: If you are serious about photography, the John Muir Trail offers non-stop epic landscapes to capture. I love the Sony Alpha a6000 which uses mirrorless technology to get professional quality photos with a camera that is only slightly larger than a point and shoot. You can also swap out the lens on the Sony Alpha cameras.

For something even more compact, consider the Sony RX100 V, a GoPro, or your phone
JMT Toiletries
Mostly everything in here is travel size.
Bug spray: Sawyer Picaridin – If you are hiking early in the season, you'll need bug spray. Bugs usually die off later in the season though, so when we hiked in September, we didn't end up needing it.
Sunscreen: Sun Bum SPF 50 Sunscreen – This sunscreen was awesome. Non-greasy, and I only had to put it on once in the morning, and it lasted all day.
Lotion: Ditched. Sunscreen is practically the same thing as lotion.
Miscellaneous JMT Gear
Book: Only read two pages and will not bring a book next time. Nice for a rainy day, but you are so tired at night that reading put me right to sleep, and it was not worth the weight
---
Do you have any questions about my John Muir Trail gear list? Are we missing anything you loved having on the JMT? Leave us a comment below!