Planning your meals and arranging for resupply drops on the John Muir Trail can be one of the most difficult parts of getting ready for your thru-hike. It takes a lot of planning ahead and figuring out the logistics can be tricky. On my JMT hike, my friend Brad and I took 22 days to hike the trail and we resupplied three times: first at Red's Meadow, then Muir Trail Ranch, and finally Onion Valley. Our strategy worked great for us, so in this post, I share my JMT resupply strategy and provide detailed instructions for those of you who want to replicate my plan.
If you are looking for more information about the John Muir Trail, including permits, food ideas, or John Muir Trail gear, see my John Muir Trail archives. If you're looking to extend your hike or need Pacific Crest Trail resources, check out our guide to planning a PCT resupply and PCT gear list.
Planning your JMT thru-hike? This post walks you through how to plan your John Muir Trail resupply strategy including a step-by-step plan
And as it goes in all of the destinations we share, please practice good trail etiquette and remember to Leave No Trace. This means packing out all of your garbage, being respectful to others on busy trails, and following the established rules.
4 Easy Steps For Planning A John Muir Trail Resupply
Step 1: Determine the total number of days you will spend on the John Muir Trail
The total John Muir Trail trail is 221 miles if you don't take any side trips. My friend Brad and I ended up hiking about 240, which included several side trips and our hike out to Onion Valley for our final resupply. Below is a breakdown of the average number of miles you need to cover each day depending on the total number of days you will be on the trail.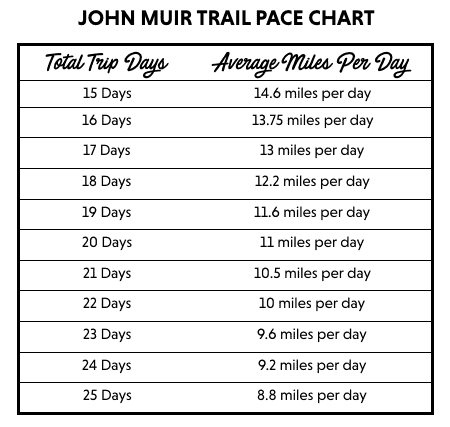 Some days you will undoubtedly go further than the average, while other days you will go less depending on the elevation gain. But you need to have a ballpark figure so you can determine how many days it's going to take you to cover the distance between each John Muir Trail resupply point.
Step 2: Do your food shopping
For each day on the JMT, you want one breakfast, one lunch, and one dinner, plus a few snacks. We typically had a snack in between each meal and sometimes a little post-dinner treat. I would suggest buying more than you think you will need. You will be burning a ton of calories and will be hungrier than you normally are. Don't go for anything low cal or low fat. You want the most number of calories and nutrients in the smallest and lightest package to maximize the value of each food item. For some specific meal options, check out my JMT food shopping list or these simple backpacking food ideas.
You also may have heard that there are donation buckets at some of the JMT resupply points where you can take people's donated food. This is true for both Red's Meadow resupply and Muir Trail Ranch resupply. But chances are, you are not going to score big here. Most of the good stuff is picked over and unless you want unidentifiable oatmeal, stale bars, and more oatmeal, you shouldn't rely on these donated food bins.
Step 3: Sort your food into piles
Once you buy all of your food, make a pile for every single day on the trail. In each day's pile, make sure you have all of your meals and enough snacks to sustain you for each day's mileage and elevation gain. Then once you have divvied up your food for each day, you should further split up the piles into sections of trail separated by your John Muir Trail resupply points, which I go more into detail about below.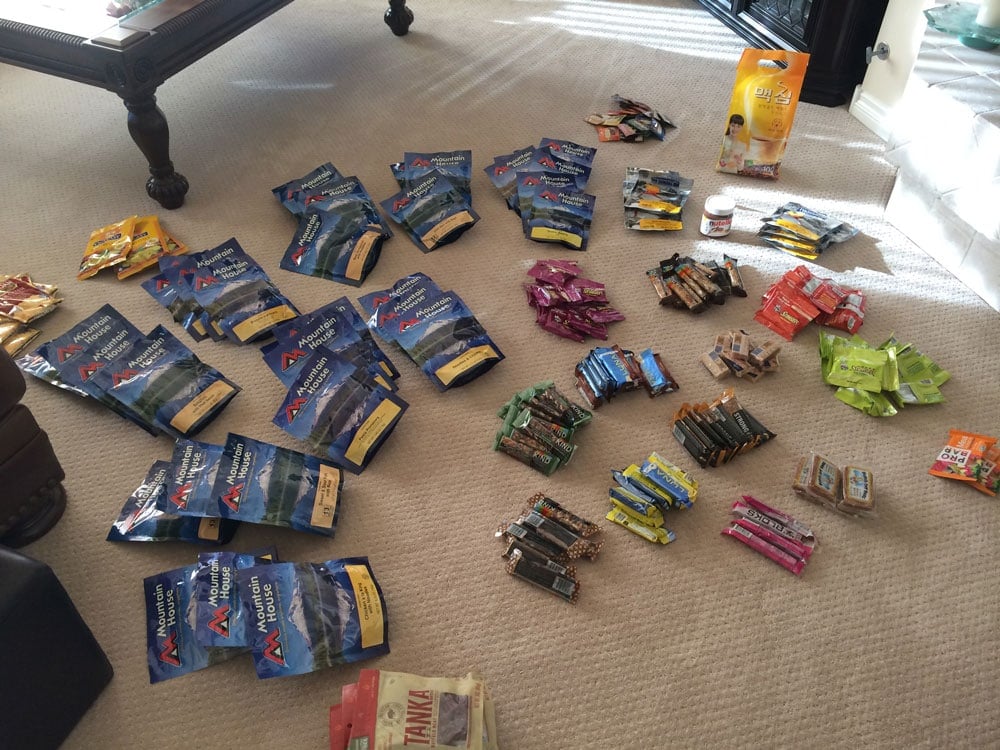 Another thing you need to do before packing up your John Muir Trail resupply packages is to make sure each food drop will fit into your bear-proof canister, which is required for all sections of the John Muir Trail. If any food doesn't fit, you'll need to either eat it on the spot or donate it, which might mean you run low on food later.
My friend Brad and I each carried our own Wild Ideas Weekend Bearikade bear canisters, which are available for rent. According to the company, these canisters can hold enough food for 1 person for 6 days. We were both able to squeeze 7 days in, but only after I repackaged everything into Ziploc bags. It's amazing how much room all of the air takes up in the store-bought packaging! If you want to buy your own bear canister, check out our post on the Best Bear Canisters for Backpacking.
You also aren't supposed to ship fuel in the mail and most of the resupply points have fuel available anyway. To cut down on the amount of fuel you need, I recommend the Jetboil Flash cooking stove. It is extremely efficient with fuel and over our 22-day hike, I used less than three 8-oz fuel canisters for the two of us.
Finally, you'll want to include any extra supplies in your packages that you think you'll need to replenish like blister bandaids, toilet paper, sunscreen, and toothpaste.
Step 4: Pack and mail your John Muir Trail food drop
Plastic 5-gallon buckets work well for mailing your resupplies. In fact, the Muir Trail Ranch resupply requires that you use a plastic bucket so critters can't get into it, so it's easier if you just use buckets for all of your packages. Each of the resupply spots has specific instructions for their process, so it's best practice to familiarize yourself with their protocols.
For each John Muir Trail food drop, we were able to fit all of the supplies for both of us into a single 5-gallon bucket. To mail a plastic bucket, just tape the lid and handle down and then use clear tape to attach the address label to the top of the lid. The Muir Trail Ranch resupply recommends mailing your packages three weeks before your arrival, so don't wait until the very last minute to take care of this or your package might not arrive in time. On that note, since some of the resupply points are hours from a post office, they might only pick up packages once or twice a week. Keep this in mind as you're preparing your shipments.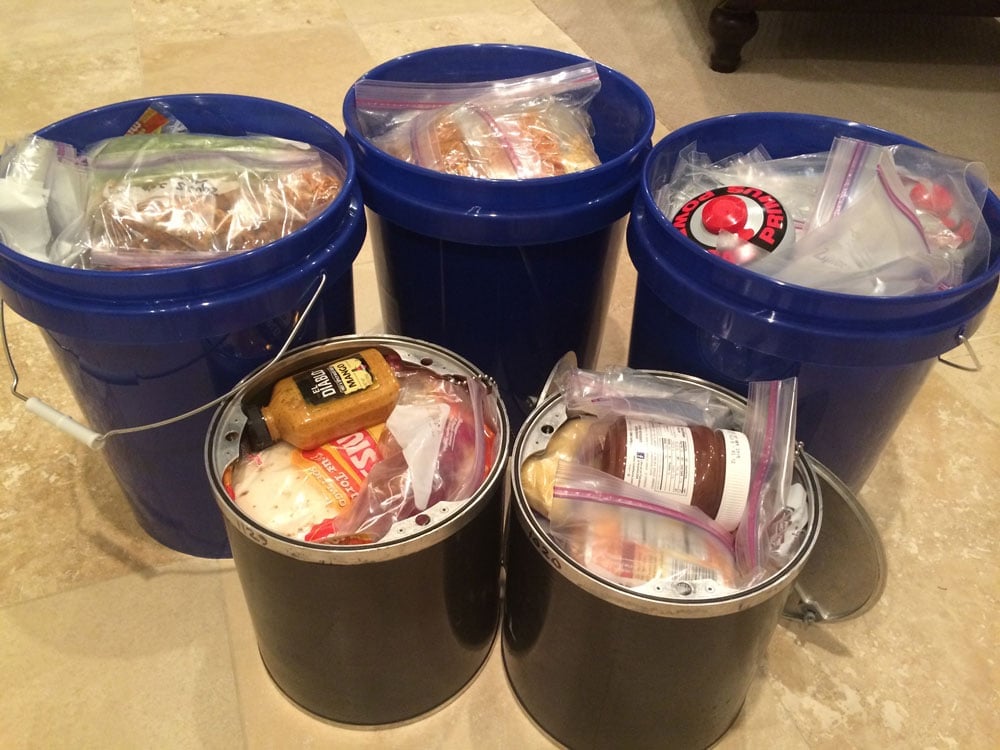 ---
Our Recommended Resupply Strategy for the John Muir Trail
Below you will find charts that can help you visualize how many meals you will need for each section of the JMT. I've split up the charts by section based on where I resupplied using my 10 miles per day average pace. If you think you will be hiking at a different pace, simply divide the miles between resupplies by the average pace you plan on hiking. I also discuss additional John Muir Trail resupply points that I didn't utilize and show them on the charts so you have a full picture of your options.
Departing Yosemite
Total miles from Yosemite Valley to first resupply point = 60 miles
60 miles / 10 miles per day = 6 DAYS OF FOOD
Assuming an average pace of 10 miles per day, you should be carrying 6 days of food when you leave Yosemite unless you plan on resupplying at Tuolumne Meadows. Six days of food will last you until Red's Meadow at mile 60. For us, a resupply in Tuolumne Meadows didn't seem necessary because we started at the Sunrise Lakes Trailhead and avoided the steep climb that people face coming up from Yosemite Valley. 
For those starting in Yosemite Valley, a resupply at Tuolumne Meadows might be worth considering. The Pacific Crest Trail Association website has the contact info and mailing address for the post office in Tuolumne. (Note: As of 2022, the Tuolumne Meadows Campground is closed until 2024 or 2025, and the post office has modified hours. We recommend confirming they will accept resupply packages or plan to skip this resupply spot altogether).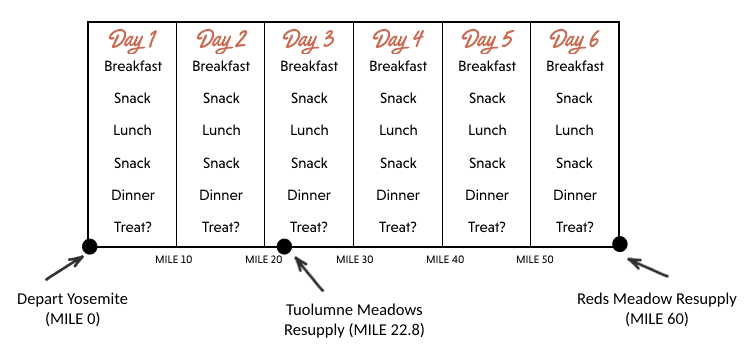 Pro tip: if you drive through Tuolumne Meadows in your car on your way to your starting trailhead, you can stash a small package of food in the bear lockers in the parking lot at the Tuolumne Rangers Station. There is no fee associated with this. Just make sure your package or bag is clearly marked with your name and your expected pickup date. Then you can carry a bit less to start out with and then pick up additional food around day 3 when you pass through Tuolumne Meadows on the trail.
Recommended JMT Resupply Point #1: Red's Meadow
Red's Meadow is located near the town of Mammoth Lakes and Devil's Postpile National Monument. It's a logical first John Muir Trail resupply point whether you begin your hike in Yosemite Valley or Tuolumne Meadows.
Total miles between Red's Meadows and the next resupply point at Muir Trail Ranch = 50 miles
50 miles / 10 miles per day = 5 DAYS OF FOOD
The following meals for days 7-11 were included in the resupply box that I sent to Red's Meadow.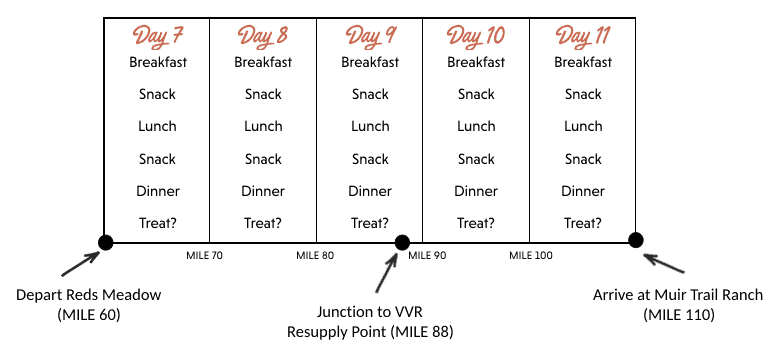 Some people break up this section between Red's Meadow and Muir Trail Ranch with an additional stop at Vermillion Valley Resort (VVR). To me, this was another resupply point that seemed unnecessary, especially since getting there requires quite a few extra miles. The exception to this would be for early-season hikers. Muir Trail Ranch typically opens sometime between mid-June and early July, but that is dependent on the snow. Be sure to check back in the spring to find out the specific dates they'll open if you plan to hike earlier in the season. If you are passing through this section of trail earlier in the season, a stop at VVR may be necessary.
VVR is located on the far edge of Lake Thomas Edison approximately 4.5 miles from the JMT, adding a total of about 10 miles to your trip. They also offer water taxi and shuttle services to and from the trail for a fee. VVR does have tent camping and other lodging options, a restaurant, and a camp store that sells fuel. If you choose to resupply at VVR, visit their website for more details. They have very specific instructions for resupplies and ask hikers to thoroughly read and understand their process.
Red's Meadow Resupply Instructions
Red's Meadow Resort does not receive mail directly, but they will pick up your package from the post office in Mammoth Lakes and hold it for you at the Red's Meadow General Store. You can pick your package up any day of the week between the hours of 7am and 7pm. Alternatively, you can hand deliver your package to the Red's Meadow General Store and they will hold it for $3/day. To ship your package:
Approximately 2 weeks before you ship your package, print out this form, fill it out, then send it in an envelope with a $40 check, money order, or credit card information to:

Red's Meadow Resort
P.O. Box 395
Mammoth Lakes, CA 93546

Pack all food in a plastic bucket (5-gallons or smaller)
Ship it via US Postal Service (USPS) to the following address approximately 2 weeks after you sent your authorization form:

Your Name
Red's Meadow Resort
P.O. Box 395
Mammoth Lakes, CA 93546
Other things to know about JMT Resupply at Red's Meadow
Depending on where you are coming from, it may be convenient for you to drop off your package in person. Red's Meadow is located just outside Mammoth Lakes. In order to get to Red's Meadow during summer, you must take the $8 Devils Postpile shuttle from the Mammoth ski area to the lodge (no private vehicles are allowed). It's about a 45-minute ride. If you drop your package off in person, they waive the $40 fee and all you pay is a $3/day holding fee. Plus you save money on postage. I'm not sure the savings are worth the hassle, but I ended up staying the night in Mammoth Lakes on my drive up to the trailhead anyway, so it wasn't really far out of my way.
Packages may be picked up between the hours of 7am and 7pm daily.
Red's Meadow has hiker cabins available for $66 per night (single) or $115 (double). The price includes 1 shower/person. Space is limited with only 2 cabins, so reservations are recommended.
There is a general store on-site that sells a small variety of food items, cold beer, and limited camping supplies. There is also a restaurant called the Mule House Cafe that serves breakfast, lunch, and dinner if you want a homecooked meal.
Stove fuel is available for sale. If you have concerns about them having your specific type of fuel, you can give them a call.
The main campground for Red's Meadow is located just down the hill from the resort on a small side trail. There is a $25 fee to camp at the campground and cash is required. There is plenty of room and reservations aren't necessary, but it may not be open early in the season. The campground has bear lockers, toilets, and campfire rings. It's a bit of a shock to have to pay for camping here after camping for free on the trail. However, we stayed at the campground, and it ended up being a fun experience. We met a bunch of other JMT hikers who I am still friends with today and it also allows you to use the bear lockers for the night if your bear bins are too full from your resupply.
Red's Meadow Contact Info
Recommended JMT Resupply Point #2: Muir Trail Ranch
Whether you stop at VVR or not, everyone pretty much stops at Muir Trail Ranch (as long as it's open). It's located directly on the trail and it's the last convenient resupply point on the John Muir Trail if you're hiking south. In fact, some people hoof it all the way to Whitney without another resupply after stopping at Muir Trail Ranch. For these people, stopping here is necessary.
Total miles between Muir Trail Ranch and the next resupply at Onion Valley = 70 miles
70 miles / 10 miles per day = 7 DAYS OF FOOD + some extra for the hike out to the Onion Valley parking lot
The following meals for days 12-18 were included in the resupply box that I sent to Muir Trail Ranch: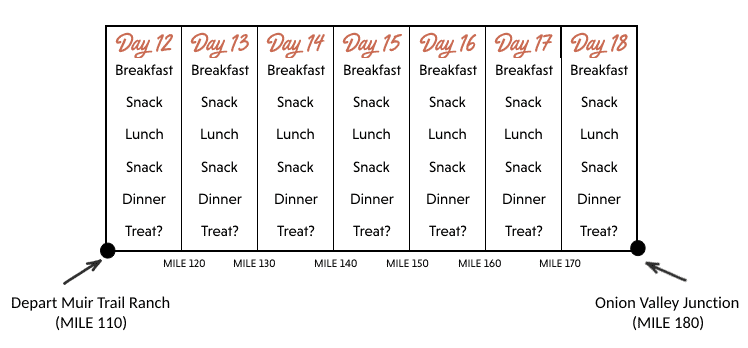 Muir Trail Ranch Resupply Instructions
Pack all food in a plastic bucket
Go to this page for instructions to pay the service fee by credit card. Muir Trail Ranch charges $85 for each bucket weighing up to 25 pounds. If you go over 25 pounds, it's an extra $2 per pound.
Print the provided shipping label and the identification form you automatically receive when you pay online and tape them to the outside of the bucket.
Send your bucket using US Postal Service (USPS) Priority mail with delivery confirmation. Due to the remote nature of Muir Trail Ranch, you must mail your package 3 weeks prior to your expected arrival date.
Other things to know about JMT Resupply at Muir Trail Ranch
Packages may be picked up between 8am and 5pm daily.
There is a free JMT thru-hikers campground. It does get busy, and there is not a lot of privacy. However, it's right on the river and there are a series of hot springs that are nice to soak in just across the river.
Services are limited at Muir Trail Ranch. Only guests staying in their private cabins have access to the restaurant, bathrooms, and showers. If you are interested in staying in a cabin, reservations are recommended.
There is a very small store with only a limited selection of camping and first aid supplies, bug spray, and sunscreen (no food or beverages).
Muir Trail Ranch Contact Info
Email: howdy@muirtrailranch.com
Visit this page for complete Muir Trail Ranch resupply information.
Check out these lightweight backpacking food ideas!
Recommended JMT Resupply Point #3: Onion Valley
Many JMT hikers do not stop at Onion Valley and continue straight through to Mt. Whitney. Those people pack light, hike fast, and have large enough bear canisters to hold up to 9-10 days of food.
Most do this because there are trade-offs to stopping at Onion Valley. Resupplying here costs extra money and it also adds 15 miles roundtrip to your hike. The Onion Valley parking lot is located 7.5 miles off the John Muir Trail, definitely a factor to consider when planning your meals since you will want a little bit extra food for those extra miles. That said, I was happy with our decision to do a John Muir Trail food drop at Onion Valley. I didn't want to carry more than 7 days' worth of food and the trail to Onion Valley ended up being quite nice. Bullfrog Lake, Kearsarge Lakes, and Kearsarge Pass are all beautiful spots that you pass along the way. I wouldn't hesitate to come back to this region on a weekend backpacking trip in the future!
Total miles between Onion Valley and the Whitney Portal = 40
40 miles / 10 miles per day = 4 DAYS OF FOOD +

one extra day for the hike back to the JMT from Onion Valley
The following meals for days 19-22 plus one additional day were included in the resupply box that I sent to Onion Valley.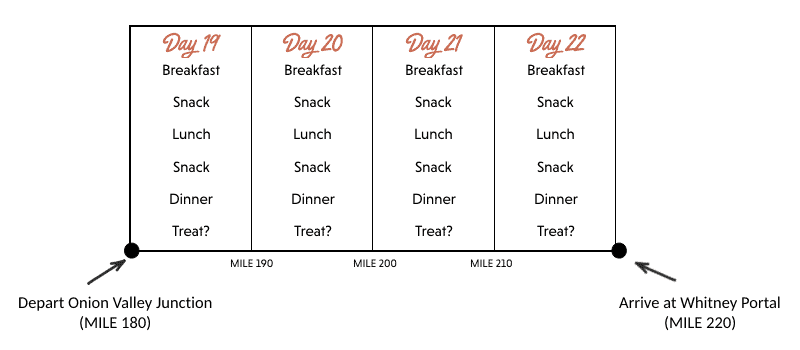 There are a couple of ways to do your John Muir Trail resupply at Onion Valley. If you have some nice friends who are willing to meet you at the Onion Valley trailhead, that's ideal. But that wasn't an option for me or most hikers.
That's where the friendly folks at the Mt. Williamson Motel in Independence come in, offering several options for resupply. First, for $75, the Mt. Williamson Motel will hold packages for non-hotel guests in town. This requires you to get to and from town to pick it up. The next tier up is the full-service resupply package for non-hotel guests for $150. With this option, they'll hold your package and provide transportation between Onion Valley and the Mt. Williamson Motel in Independence.
Alternatively, if you are looking for a hot meal, shower, and laundry, the Mt. Williamson Motel also offers a complete resupply package where they will provide lodging and roundtrip transportation to and from the Mt. Williamson Motel. The cost for this is $265 (single occupancy) or $365 (double occupancy) and includes transportation, accommodations, hot breakfast, laundry, and storage of your resupply package.
(** NOTE: In previous years, the Mt. Williamson Motel would drop off JMT resupply packages at the Onion Valley Trailhead for JMT hikers, which is the service we utilized. However, as of 2016 the Forest Service no longer allows food caches to be stored at the trailhead. They will confiscate them.**)
Mt. Williamson Motel Onion Valley Resupply Instructions
Contact the motel to arrange your desired service and pay online here.
Download the resupply instructions.
Fill out and mail the forms according to instructions.
Pack all food in a plastic bucket, tape the labels to the bucket, and send it to the address below. Ensure it arrives at least one week prior to your arrival date.

Mt. Williamson Motel and Base Camp
PO Box 128
Independence, CA 93526-0128
Other things to know about Mt. Williamson Onion Valley resupply
There are plenty of places to camp along the trail going from the JMT to Onion Valley. We decided to stop and set up camp at Flower Lake on the east side of Kearsarge Pass.
Whether you just want a simple package pick-up or full-blown lodging, the Mt. Williamson Motel gets busy in the summer so make reservations far in advance.
Most people have cell phone service on the top of Kearsarge Pass and in Onion Valley so if you encounter any problems with your bucket, you can give the motel a call.
Mt. Williamson Motel Contact Info
This was the strategy I used for my John Muir Trail resupply. It's important to note that different paces may require a different plan. There is no right or wrong way to do it, as long as you have enough food. Elizabeth Wenk's paperback guide to the John Muir Trail also has some helpful information about resupply as well as maps. Hopefully, these details give you a better understanding of the resupply process as you customize a plan for your hike.
If you have any questions about how to resupply for the John Muir Trail, leave them in the comments below. I'll be sure to get back to you soon!