Navigating the John Muir Trail permit process for going south out of Yosemite National Park can be confusing. Which trailhead to start on? When to apply? Will you even be lucky enough to get a John Muir Trail permit?
These are all questions I asked when I was planning my southbound thru-hike on the John Muir Trail. With over 70% of JMT permit requests being denied over the last few years, it's important you follow the JMT application directions to a T!
Luckily, I did my research well and when I went to apply for my John Muir Trail permit, I snatched one up for my first-choice date and trailhead out of Yosemite. That being said, the permit application process has changed over the last couple of years – especially for the 2022 season – so it's important to read up on what you need to do to secure your JMT permit.
In this post, I share how to apply for a John Muir Trail permit in 2022, relevant resources and links you'll need, and tips for increasing your chances for snagging one of these coveted southbound permits.
As it goes in all of the destinations we share, please practice good trail etiquette and remember to Leave No Trace. This means packing out all of your garbage, being respectful to others on busy trails, and following the established rules.
2022 Southbound John Muir Trail Permit System
Updated 10/23/2022
No matter where you start your hike, anyone who is hiking along the John Muir Trail is required to carry a wilderness permit. You only need one permit for the entire trip and how you obtain your permit depends on which trailhead you will use to access the John Muir Trail.
Starting in 2022, all John Muir Trail permits will be issued through Recreation.gov rather than directly through Yosemite National Park.
To apply for a permit, you must know your desired start date, where you will camp the first night, and your exit location and date.
How the John Muir Trail Permit System Works
John Muir Trail permits are issued via a lottery system. Interest in hiking the JMT has grown rapidly in the last decade and more people want to hike the trail than the trail can handle so a quota (or cap) has been set and a lottery system has been implemented.
This lottery system helps prevent crowding on the trail and also helps protect the area from overuse.
Permits are managed by a quota-based system in Yosemite, where the Park limits the total number of JMT thru-hikers entering across all trailheads to 45 people per day. They do this by capping the number of JMT hikers going south over Donahue Pass each day.
As in previous years, 60% of permits are allocated through a lottery while 40% are reserved for walk-ups. However, in 2022, the process of obtaining a JMT lottery ticket is changing.
In 2022, John Muir Trail advanced lottery permits will be allocated each week and you can apply for a permit up to 24 weeks in advance.
The lottery application period is midnight Sunday through 11:59 pm Saturday Pacific Time starting November 14th, 2021 through May 7, 2022. Applicants can apply for any start date between Sunday and Saturday, 24 weeks in advance. Applicants will receive results on the following Monday and those who were successful must accept and pay by that Thursday.
Reservations for trailheads that still have space will be available twelve days after the lottery application period begins for any given week starting at 9 am PT. Any later cancellations will become available immediately.
For example, for the weekly lottery starting November 21st, 2021 here are the dates you need to know:
Lottery application period: November 21-27 2021 (Sunday through Saturday)
JMT hiking start dates: May 8–14, 2022 (24 weeks in advance)
Notification of lottery results: November 29th (Monday after application period)
Reservation confirmation deadline: December 2nd (following Thursday – you MUST pay by this date or else your reservation will be cancelled)
Remaining reservations and cancellations available for May 8–14 start dates: December 3–May 8
You can apply for up to 8 start day options per one-week application, which can include different combinations for start dates, trailheads, and group size.
Donahue Pass Permits
If you plan on exiting Yosemite over Donahue Pass, you will need to apply for a permit for Happy Isles pass-through (Donohue Pass eligible) or Lyell Canyon (Donohue Pass eligible).
As in previous years, the exit quota for Donahue Pass is:
Lyell Canyon trailhead: permits for 30 people (18 by reservation, 12 first-come, first-served one day in advance).
Happy Isles pass-through: Permits for 15 people (9 by reservation, 6 first-come, first served one day in advance).
How to Submit a John Muir Trail Permit Application
The entire John Muir Trail permit application process is entirely managed online through Resevation.gov. You can access the JMT Weekly Lottery Application here.
John Muir Trail Permit Cost
The reservation fee for a Yosemite Wilderness Permit is $10 per application, which is non-refundable. If you are granted a permit, an additional $5 per person applies. Fees MUST be paid by the Thursday following notice of permit being granted. All fees are non-refundable.
Half Dome permits are $10 per person and can be added on to your JMT trip if starting from Yosemite Valley or Glacier Point (more on this later).
When to Apply for a JMT Permit
Each lottery occurs exactly 24 weeks (168 days) before the desired starting date and permit applications are accepted over the span of one week (midnight Sunday through 11:59pm Saturday Pacific Time).
To figure out the exact date you need to submit your application, check out this chart on Yosemite's website.
Reservations for trailheads that still have space will be available twelve days after the lottery application period begins for any given week starting at 9 am PT. Any later cancellations will become available immediately.
---
How to Fill Out Your John Muir Trail Permit Application
Starting in 2022, JMT hikers will use the same wilderness permit application as all other Yosemite hikers and everything is managed entirely online through Recreation.gov. Gone are the days of faxing in the application!
On your JMT permit application, you must indicate the following:
Which trailhead you want to start at
Your desired entry date
Your first night's camping location
Your trip length
Your exit trailhead
The number in your party
Whether you also want to apply for a Half Dome permit
Below, I will go through each of the different parts of the JMT online application process.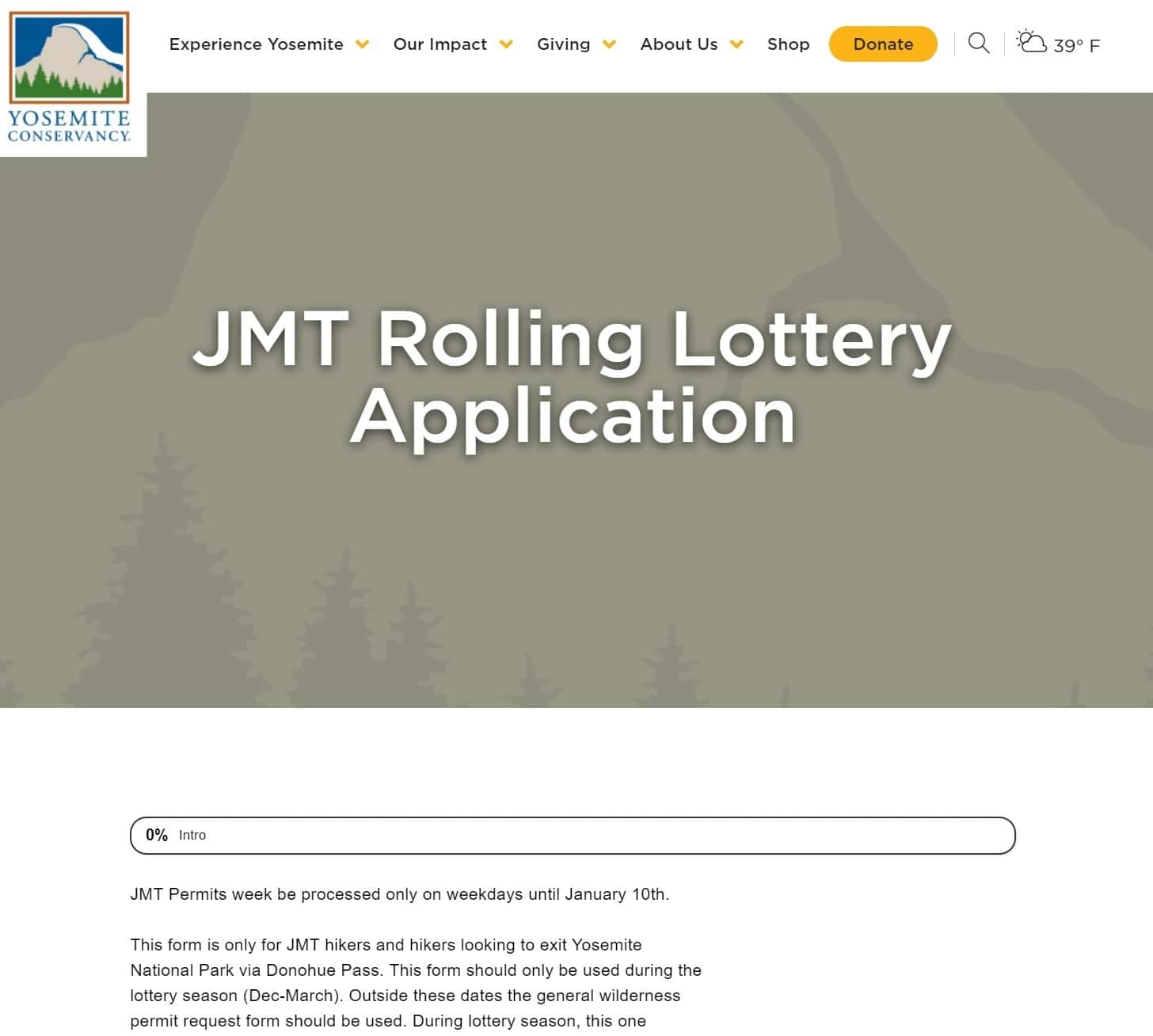 Step 1: Choose a JMT Starting Trailhead
In Yosemite, there are several options for accessing the John Muir Trail. The first thing I recommend you do is to pick up the John Muir Trail topo map pack by Tom Harrison. These maps will be extremely handy both in your planning and once you are out on the trail. In the meantime, use this Yosemite map to help you decide on your entry trailhead.
There are four trailheads that can be used to access the JMT under the current permit system. The most popular trailheads are Happy Isles in Yosemite Valley and Lyell Canyon in Tuolumne. Here is a table listing your first day's distances and elevation gain for the different JMT starting trailheads.

*Note: The Tenaya Lake Starting Trailhead is now listed as Tioga Road (includes May Lake) on the application.
When filling out the application, you will choose your first choice for your JMT Entry Trailhead and the location of your first night's camp. Below is an example. When you are filling this out, you should list your desired JMT entry trailheads in order of preference.
If you plan to hike the entire JMT, list the Whitney Portal as your exit trailhead on your permit application. You do not need an additional permit to summit Mt. Whitney.
In addition to your top choice, you are also able to enter two alternative starting trailheads / first night's campsites in case you get skunked on your first preference.
Here is more information on each of the trailheads and what the first day of your JMT hike will look like:
Starting Trailhead Option #1: Happy Isles
The classic and complete north-to-south John Muir Trail route begins at the Happy Isles Trailhead in Yosemite Valley. This means that in the past, this has also been the most competitive trailhead in terms of getting a permit.
If you start here, you are in for a tough climb your first day, but you will pass some of Yosemite's most iconic landmarks including Nevada Falls, Vernal Falls, and the junction to Half Dome. If you want to actually summit Half Dome, make sure to check the appropriate box when you submit your online application as a separate permit is needed.
On your permit application, you will need to specify where you plan to camp the first night. Starting at Happy Isles, the two options for the first night's campsite are Little Yosemite Valley or Sunrise/Merced Lake pass-through. For the Sunrise/Merced Lake option, you are allowed to camp anywhere along Sunrise Creek past the junction to Half Dome, but you are not allowed to camp in Little Yosemite Valley.
If you choose to start your hike from Happy Isles, spending your first night at Sunrise Creek is preferable, although it's a little ways past the junction to Half Dome. While neither of these sites are going to offer solitude, the sites along Sunrise Creek are slightly more spread out. But more importantly, the additional distance you cover on day 1 means that you will arrive at Cathedral Lakes at a decent hour on day 2, giving you plenty of time to set up camp, swim, and enjoy the amazing scenery at this pair of gorgeous lakes.
Starting Trailhead Option #2: Tioga Road / Tenaya Lake
This is the trailhead I used to access the JMT when I hiked it. The Sunrise Lakes trailhead begins at the bottom of Tenaya Lake, a 15-minute drive west from Tuolumne Meadows on Tioga Pass Road.
I chose this trailhead for several reasons. In a previous trip to Yosemite, I had done the hike up to Half Dome from Happy Isles. Earlier in the season, when water levels are high, the hike up from Happy Isles is appealing because of the magnificent waterfalls. However, in late August, when I started the JMT, most of the waterfalls in the Valley were drying up. For that reason and to see some new territory, I chose Sunrise Lakes.
The downside of this starting point is that Half Dome isn't as much of an option. However, it does allow you to make a convenient side trip on your first day up to the top of Clouds Rest, which doesn't require an additional permit. So on our first morning, we quickly hiked up to Sunrise Lakes, dropped our packs, set up camp, and then hiked up to Clouds Rest for the afternoon. The views were incredible and are considered some of the best in all of Yosemite.
On day 2, we met up with the John Muir Trail at the Sunrise High Sierra Camp (mile 13.7 of the JMT), which meant that we were still able to camp at Cathedral Lakes on our second night.
A final advantage of starting at Sunrise Lakes is that your car will be parked at the Ranger station in Tuolumne Meadows. From the ranger station, you take a free park shuttle to the trailhead. Then on day 3, you pass by your car again. You may think of this as a slight buzzkill, but for us, it was a huge advantage. We were able to leave some of our food in the bear locker by our car, cutting down on our weight for the first couple of days, and we also ended up dropping off some gear that we determined to be unnecessary after our first days of hiking.
Starting Trailhead Option #3: Glacier Point
This trailhead brings hikers past Illilohuette, Nevada, and Vernal Falls, and offers vast views of Yosemite Valley. In the past, JMT hikers who chose this trailhead did so due to the fact that it was easier to get a permit. However, leaving from Glacier Point poses additional logistical challenges since the trailhead is located about an hour from the Yosemite Valley Ranger Station where you pick up your permit.
Now that the permits for Glacier Point are lumped in with Happy Isles and Sunrise Lakes, the only advantage of starting here is a different vantage point and the fact that you begin at a much higher elevation, avoiding the climb out of Happy Isles.
Starting Trailhead Option #4: Lyell Canyon (Tuolumne Meadows)
The Lyell Canyon trailhead leaves straight from the Tuolumne Meadows Ranger station. There are a few reasons people choose this trailhead as an alternative to Happy Isles. First, there's a chance the permit process could be slightly less competitive, but I have no evidence of that. Second, it avoids the brutal climb out of Yosemite Valley.
From the Lyell Canyon trailhead, the first 10 miles of trail is completely flat, giving you an easy first day to warm up. If you go this route, your first night's camp will be Upper Lyell Canyon.
The major downside of accessing the John Muir Trail via the Lyell Canyon trailhead is that you miss out on some of Yosemite's most spectacular scenery. Cathedral Lakes, which you would bypass, was a highlight of the JMT for me, and I think it would be a shame to miss this spot.
Check out my 9-Step John Muir Trail Planning Guide to get ready for your hike!
Step 2: Choose your Desired State Date
You can submit one application for a range of dates up to three weeks (21 days) long. Your application will automatically be placed in each day's lottery for your chosen time frame and you will be notified by daily emails regarding the results. If you did not win a lottery within your 21-day window, you can reapply with a new range of dates.
Check out this chart to see when the lottery occurs for a particular start date
You also need to list your JMT trip length on your application, which is the total number of days you plan to be on the trail. The key is that you cannot be on the trail after your exit date. However, it is ok if you finish a day or two early, so I would recommend giving yourself a little leeway here. I took 22 days to hike the JMT and I thought it was the perfect pace.
Step 3: Identify the Number of People in Your Party
Make sure to list the accurate number of people in your John Muir Trail party since each person counts towards Yosemite's trailhead quota. New for this year, you can put in the desired number in your party along with the minimum party size you'd accept.
So say you are a couple and you want to invite another couple to join you…but if there is only room for a party of 2, you would accept that. You can put that in your application.

Step 4: Decide if you want to do Half-Dome as a Side Trip
If you've never been to the top of Half Dome, it's a worthy side trip, but it only makes sense for those starting in Yosemite Valley or Glacier Point and it actually isn't an option if you start from Lyell Canyon.
If you prioritize those trailheads and you've never hiked to the top of Half Dome, then I recommend applying for a Half Dome permit as well. Just make sure you put the number of people in your group who also want Half Dome permits.
The permit costs an additional $10 per person. Note that if you don't get the Half Dome permit, it doesn't mean you won't get your JMT Permit.



Step 5: Answer Trip Questions
Next, you have to indicate whether this is a guided trip and whether or not you are traveling with stock animals. I assume for most of you reading this JMT Permit blog post, the answer is no.

Step 6: Provide Trip Leader Info
The final step before submitting your application is to enter your trip leader information. This is the person who will be present and must actually hike the hike.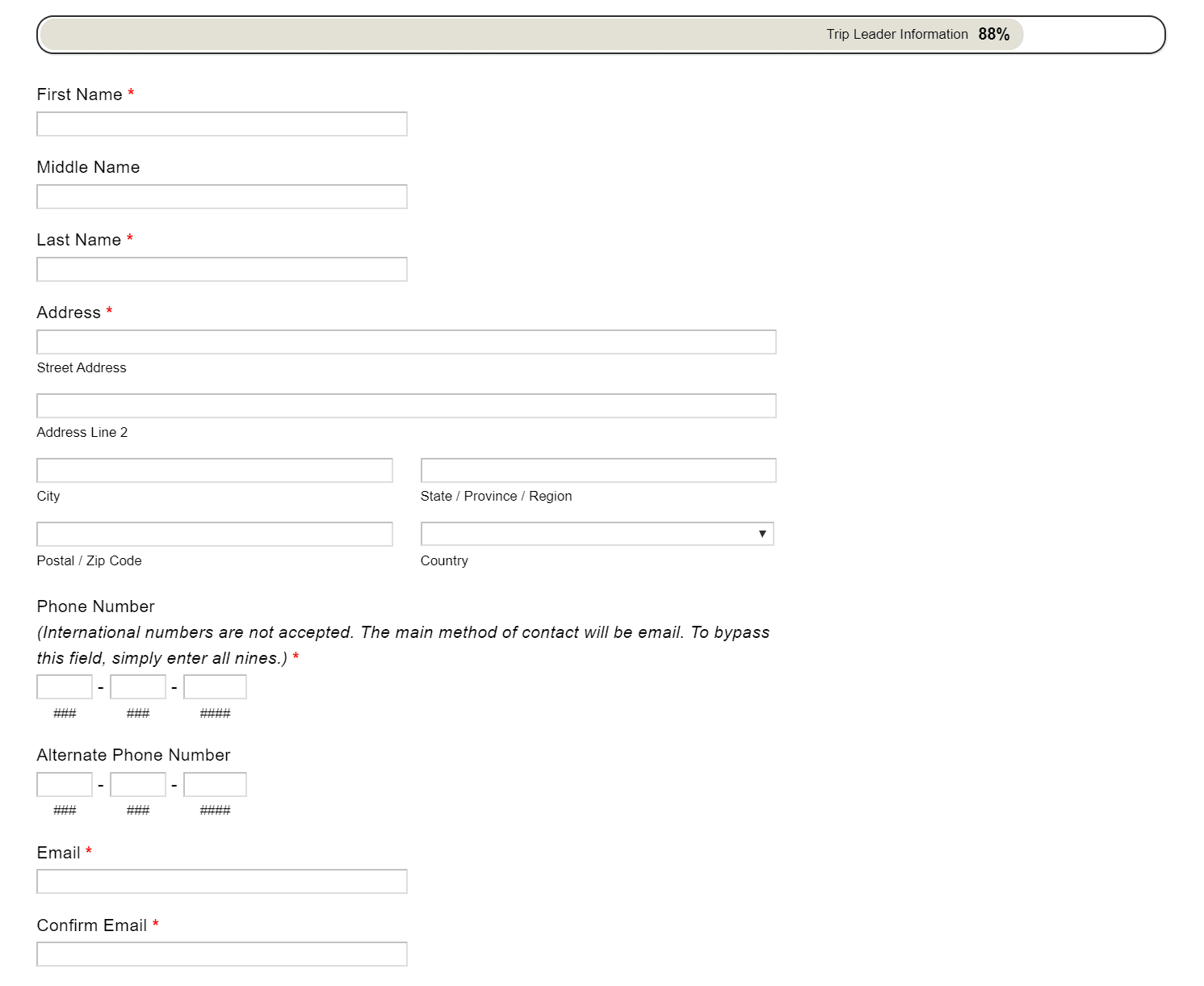 What Happens Next?
Once you submit your application you will receive an email notification confirming that your JMT permit request has been received.
You will be notified by email by the Monday after the lottery week window whether or not you got a permit. If you are unsuccessful, you can reapply for another date the following week.
If you do receive a permit you will be sent a link to pay online, and you must pay by the following Thursday or your reservation will be canceled.
---
What to Do if Your John Muir Trail Permit Request is Unsuccessful
If you are denied a permit, your other option in 2022 will be to participate in the Two-Week-Out lottery. Keep your eye on the Yosemite Conservancy website. The details have not yet been released, but I presume the application will be similar to the normal lottery.
You can also keep an eye out for cancellations. Check the Yosemite Full Trailhead report to see if there are any dates that are not full. In 2020, unreserved permits were available up to nine days in advance. Less than nine days out, permits become unavailable.
If the two-week-out lottery seems too risky or the logistics with resupply are too complicated, the only option you will have is to access the JMT from one of the trailheads south of Yosemite. There are several access points just south in the Ansel Adams Wilderness. Reds Meadow near Mammoth Lakes at mile 59 is also a sensible option since most JMT hikers stop here to resupply.
However, people accessing the JMT at different access points is becoming a problem and is resulting in a very crowded trail. Alternatively, you can find a different trail altogether, hike the JMT in shorter sections, or wait for another year.
---
I hope this John Muir Trail permit guide helps you secure a permit for 2022. Be sure to follow all the steps and include all the information required in order to increase your chances of securing a permit.
What other questions do you have about the John Muir Trail permit process? Leave them in the comments below or join the conversation in the Bearfoot Theory Outdoor Adventurers Facebook group.
For more information on the John Muir Trail, visit my JMT Archives.