7 Best Hikes in Maryland (According to a Local)
Looking for the best hikes in Maryland? From relaxing riverside walks to challenging forest trails with beautiful views, here are our 7 favorite Maryland trails.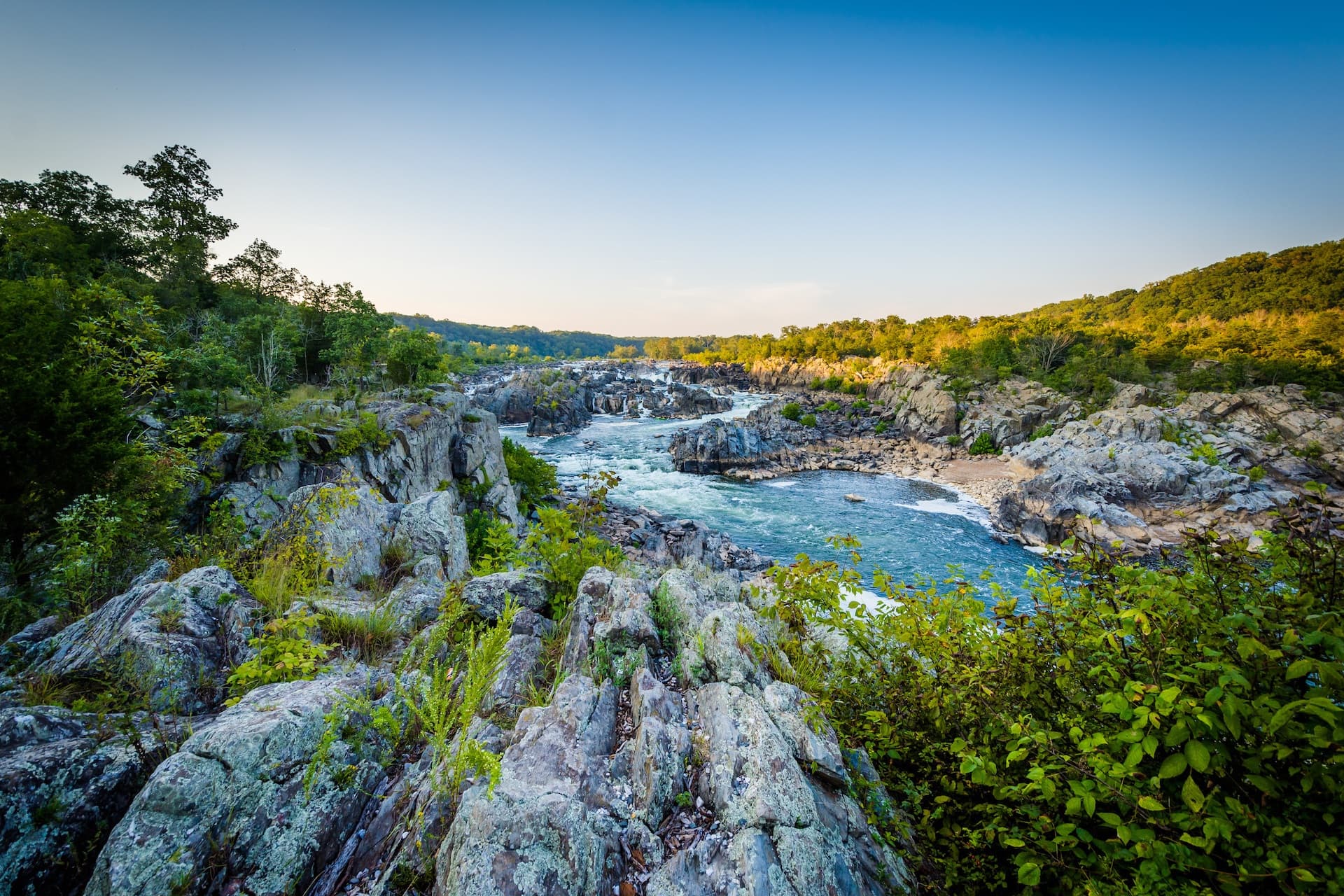 By guest contributor Jacob Tuwiner of Travel Lemming
Growing up in a small country town along the Potomac River in Maryland, I've done my fair share of exploring the outdoors nearby. From rafting down the river to hiking the Appalachian Mountains, I've pretty much hiked every trail in Maryland that I could find.
In this post, I'm rounding up the best hikes in Maryland so you can explore some of the natural beauty Maryland has to offer. Before we get started though, make sure you bring lunch or at least some solid snacks with you when hiking any of the trails below. Nothing is worse than hiking several hours to check out a beautiful view, only to have to leave shortly thereafter in search of food because you're hungry.
Here are my 7 favorite hikes in Maryland – take it from a local, these places rock!
As it goes in all of the destinations we share, please practice good trail etiquette and remember to Leave No Trace. This means packing out all of your garbage (including toilet paper), being respectful to others on busy trails, and following the established rules.
[separator style_type="icon" /]
1) Annapolis Rock (Appalachian Trail)
First on the list of the best hikes in Maryland is Annapolis Rock. This out & back style hike is a popular portion of the Appalachian Trail that runs through Maryland.
Being one of the most popular hikes in the state of Maryland means that there will probably be a lot of other hikers when the weather is nice, especially on weekends. If you prefer to hike in solitude, then hit the trail early in the morning or on weekdays to avoid the crowds.
Unlike hiking through Utah, Maryland doesn't have any insane rock formations or crazy arches. But as you can see, this beautiful trail still has some gorgeous views.
Annapolis Rock Hike Details:
Length: 5 miles
Elevation: 840 ft
Difficulty: Moderate
Permit Required: None
Pets: Allowed

Activities Nearby
Annapolis Rock is a perfect hike for campers and rock climbers. There are 4 different campgrounds nearby, all located within Greenbrier State Park. If you've had enough wilderness for one day, then how about a swim? Greenbrier State Park boasts its very own human-made lake complete with a beach and swim area. Alternatively, you can visit one of the nearby historic towns such as Boonsboro or Myersville if you've had your fill of the great outdoors.
---
2) Cascade Falls Loop Trail
The next hike on our list is the Cascade Falls Loop Trail. Located within Patapsco Valley State Park, this family-friendly trail is another popular choice with Maryland hikers. Traffic on this trail will be high thanks to its popularity as one of the best hikes in Maryland, as well as its nearby location to large cities such as Ellicott City, Columbia, and Baltimore.
A more easy-going trail, this hike is less about big spacious views and more about enjoying a short trip through nature. If you can appreciate the little things and don't want to work too hard, then give this trail a try.
Cascade Falls Loop Trail Details:
Length: 3 miles
Elevation: 377 ft
Difficulty: Easy
Permit Required: None
Pets: Allowed

Activities Nearby
After your hike, take a stroll through historic Ellicott City and enjoy one of its many highly rated restaurants. If you still want to get some activity in you can visit the nearby Rockburn Branch Park and throw a frisbee or play catch in one of its many sporting fields and courts. At Rockburn, you can play basketball, tennis, disc golf, and even test yourself on their mountain bike skills course.
If you're okay with making an extended drive, you can head into the city of Baltimore and visit the Inner Harbor. The Inner Harbor is a popular site within the city with many restaurants, shops, and activities. There are plenty of fun things to do in Baltimore, like the National Aquarium (this place is insanely cool) or the Top of The World observation deck.
---
3) Sugarloaf Mountain Northern Peaks Trail
Up next is the Sugarloaf Mountain Northern Peaks Trail. Commonly known as the Blue Trail among local hikers, this trail features lovely views of the surrounding central Maryland area. Sugarloaf mountain is a very popular site amongst the locals, so don't expect a lonely walk. You can generally find a good amount of people walking the trail when conditions are solid for hiking.
This is a loop style trail that will give you and your hiking partners a decent workout due to a good mix of terrain and elevation levels.
Sugarloaf Mountain Northern Peaks Trail Details:
Length: 5.5 Miles
Elevation: 1500 ft
Difficulty: Moderate
Permit Required: None
Pets: Allowed

Recommended Hiking Packing List
Below are a few of my favorite pieces of day hiking gear and recommendations:
Activities Nearby
Sugarloaf Mountain features a decent variety of activities nearby. For readers 21 and older, you can visit the Sugarloaf Mountain Vineyard and enjoy the fruits of their labor in their in-house tasting room. Maybe drinks don't suit your fancy – or your age – and if that's the case, no worries! You can enjoy taking shots with your 9-Iron instead of glass at the PB Dye Golf Club nearby. They feature a range and a championship golf course for you to enjoy.
---
4) Great Falls Overlook Loop Trail
Coming in at our number four spot of the best hikes in Maryland is the Great Falls Overlook Loop. This trail is located just outside of Potomac, Maryland, right on the border between Maryland and Virginia. Potomac, MD and Great Falls, VA are two of the wealthiest areas in the United States, so expect to see some monster houses.
This loop is on the steeper side, and some points require minor climbing — keep that in mind when considering bringing small children. And be sure to bring a camera with you on this trail so you can get your own pictures of the beautiful falls featured on this hike like the one below.
Great Falls Overlook Loop Trail Details:
Length: 4.7 Miles
Elevation: 193 ft
Difficulty: Moderate
Permit Required: None
Pets: Not Allowed

Activities Nearby
After taking in the beautiful sights on the Great Falls Overlook, you'll likely be looking for a bite to eat. The nearby town of Potomac has got you covered with a variety of restaurants and shops. If you'd like a more fine-dining experience, you can visit the Old Anglers Inn. Their diverse menu will give you plenty of quality options. Just be ready to break out your wallets!
Want to get back to city life? Why not visit the nearby city of Bethesda or, better yet, go see the sights in DC (if you don't mind making a slightly longer drive, that is.)
---
5) Wolf Rock/Chimney Rock Loop Trail
Our fifth favorite Maryland trail is the Wolf Rock/Chimney Rock Loop. This rocky hike is located within Catoctin Mountain Park in Thurmont, Maryland. You won't see quite as much traffic on this hike, but during peak hiking season, the parking spaces at the visitor's center can fill up fast. As with the previous trails, we recommend being the early bird.
Speaking from experience, the views on Wolf Rock and Chimney Rock are absolutely incredible. This hike is even more fun if you enjoy climbing around on big rocks too. Make sure to add time to your trip specifically for enjoying the views, trust me, you'll want to sit there all day long.
Wolf Rock/Chimney Rock Loop Trail Details:
Length: 3.5 Miles
Elevation: 790 ft
Difficulty: Moderate
Permit Required: None
Pets: Allowed

Activities Nearby
Catoctin Mountain Park is great for campers as the park features numerous campgrounds. If you'd rather eat or shop, then Catoctin Mountain Park puts you right next to the town of Thurmont, where you can find plenty of family shops and restaurants to visit. However, know that Thurmont is definitely a "country" town, not a big city.
If you and your crew are 21 or older, then just up the road is the Catoctin Breeze Vineyard. Get your taste on or enjoy a nice picnic overlooking the vineyard. Trust me, wine tasting is always a great post-hike activity.
---
6) Catoctin Mountain Extended Loop Trail
Another Catoctin Mountain trail makes its way into the number six spot of our top hikes in Maryland. This hike will give you some great views of the surrounding area, but you're going to have to work for them.
This trail features a good variety of terrain from steep inclines to rocky climbs. It's also fairly long compared to other hikes on this list. Make sure you pack and prepare properly to complete this trail because it can take a big chunk out of your day. For more info on what to bring along on a day hike, check out our day hiking essentials checklist.
Catoctin Mountain Extended Loop Trail Details:
Length: 8.6 Miles
Elevation: 1696 ft
Difficulty: Moderate-Hard
Permit Required: None
Pets: Allowed

Activities Nearby
Depending on when you start this hike, you may not have much time left in the day for other activities. If you manage to finish it and find yourself looking to do more, refer to the activities found nearby the Wolf Rock/Chimney Rock trail. The Catoctin Mountain Extended Loop Trail is a part of the same park.
---
7) Avalon Loop Trail
Patapsco Valley State Park shows up again to take the number 7 spot on our list of the best hikes in Maryland. The Avalon Loop Trail features ruins, waterfalls, and other historic buildings along its long, peaceful walk. Portions of this trail are paved to make it a little easier on some hikers. You will find plenty of other hikers and even cyclists on this trail, so be prepared to say hello.
As this trail is very long, be absolutely sure you're up for it and bring all the day hiking supplies you need. You can also break this trail up into shorter sections. Check the Patapsco Valley State Park website for trail maps.
Avalon Loop Trail Details:
Length: 20 Miles
Elevation: 2250 ft
Difficulty: Moderate
Permit Required: None
Pets: Allowed

Activities Nearby
Being another Patapsco Valley State Park trail means that all the same activities listed under the Cascade Falls hike are available to you. However, this trail is much closer to Baltimore city than the Cascade Falls trail.
The Guinness Open Gate Brewery is near this trail as well. You can tour the historic brewery or visit their taproom instead. If that doesn't pique your interest, then the city of Baltimore is right at your fingertips. Take a walk around the Inner Harbor and visit one of its many attractions. One of the more popular attractions is the American Visionary Art Museum that features unusual artistic exhibits for those curious artists. Another great attraction within the Inner Harbor is the National Aquarium, where you can get your fill of exciting marine life.
---
We hope we've helped you find your next great hike in Maryland. If you'd like to explore even more trails throughout Maryland, check out the hiking section of Visit Maryland's website. Now get out there and enjoy some of the beautiful nature Maryland has to offer!
Do you have any questions about hiking in Maryland? Have you checked out any of these trails? Let us know in the comments below!