Sometimes a backpack can be a literal pain in the neck. That's why it's essential to learn how to pack a backpack and evenly distribute the weight, so you can hike longer and pain-free.
Balancing the load and getting organized isn't hard, but it does take a little time and practice to learn a system that works best for you. However, there are some best practices and general rules that you should always try and stick to every time you load up your pack. So, if you're new to backpacking or just want to brush up on your skills, we've got you covered.

Learn how to pack a backpack for a multi-day hiking trip with the tips in this blog post.
How to Pack a Backpacking Pack
Even with a lot of gear, it's possible to feel like you are carrying a light load when you have a well-packed bag. Not only do you want to be strategic in where you place specific items for organization, doing so can truly increase your comfort on the trail.
I've come a long way in learning how to pack a backpack since my first major backpacking experience on the John Muir Trail – can you believe this is what my backpacking pack used to look like?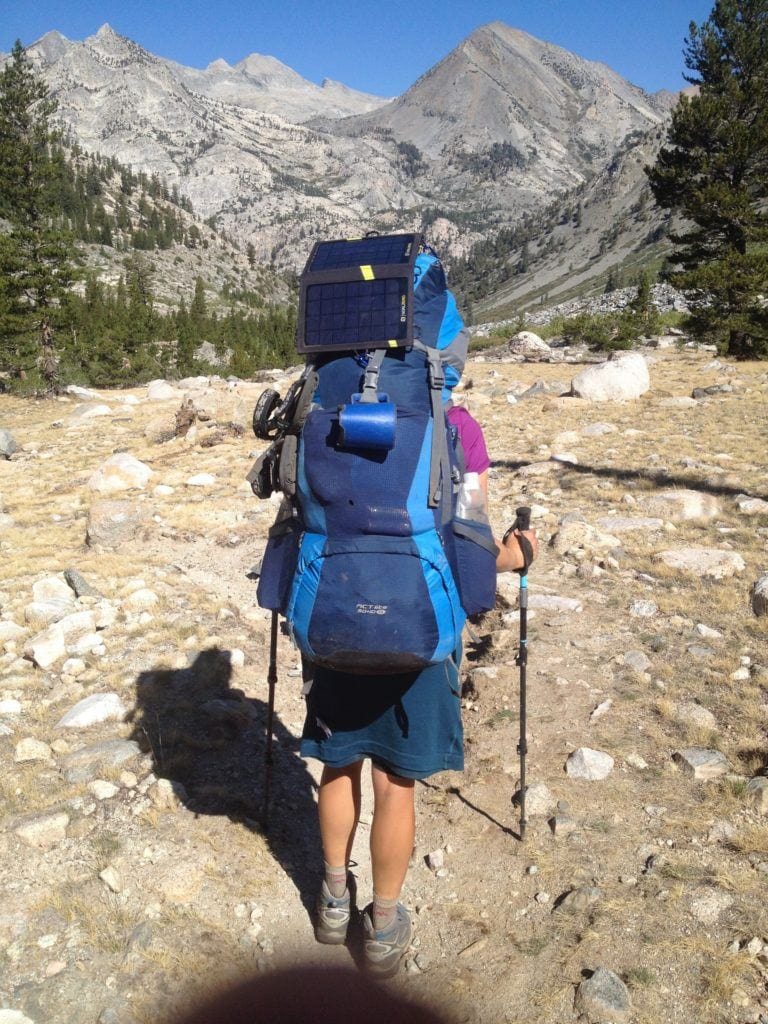 A good rule to follow when you pack your backpack for camping and hiking is to pack in three parts: bottom, middle, and top.
Always pack the bottom first, balance the load by keeping heavy things in the center, and stash your essentials for the trail on top. This way the things you need are always within reach and don't require taking off your pack and digging through the whole thing.
Below I share my system for how to pack a backpacking pack. The list of items may be a little different than yours, but it should serve as a handy guide when you're organizing for your next trip.
Lay out All of Your Backpacking Gear
Since backpacking the JMT, I've learned how to shed some weight from my pack, invested in some lighter gear, and developed an efficient system for packing.
Before starting with the 3 parts of packing a pack, the first step is to lay out all of your gear to see if you can cut anything out, then organize your stuff into piles:
Shelter/Sleeping
Clothes
Food
Cooking gear
Small stuff that you need easy access to during the day
Getting organized before you put everything in your backpack will 1) allow you to go through your backpacking checklist and make sure you haven't forgotten anything and 2) prevent you from walking around and grabbing random extra items that you don't really need.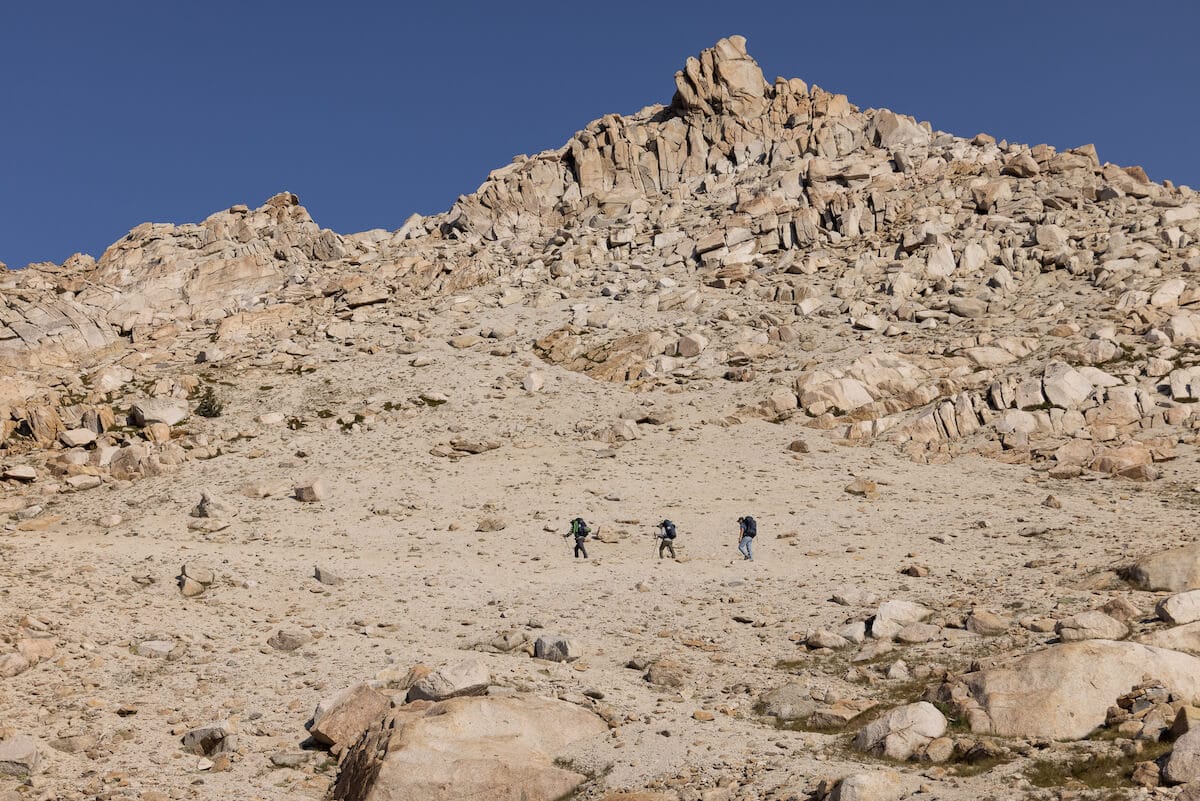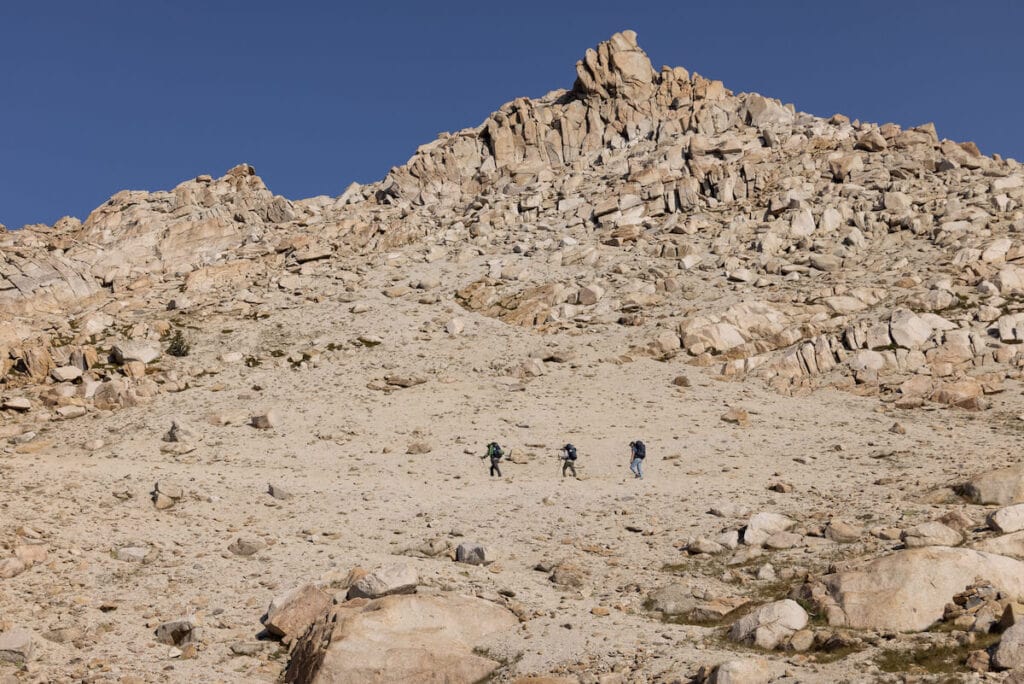 Bottom of Pack Items
This section is reserved for things you won't need until you get to camp. Anything big, bulky, and relatively "squishable" that can be compressed into the bottom of your pack goes here. Think of it as the non-essentials while you're out on the trail.
Pillow (if you use one)
Loose Clothing: extra layers and clothes
Items for camp
First, I usually pack my sleeping bag in a compression sack and put that at the very bottom. Then I use loose clothing that I won't need during the day to fill in the gaps on the edges.
Some people like to put their clothes in a separate sack, but I like to keep my clothes loose. By keeping my clothing loose, I can use individual items of clothing that I don't need during the day to fill in the gaps.
PRO-TIP: If you are backpacking in the rain, before you put anything in your pack, line your bag with a trash bag and put all your items inside the liner to stay dry. It's also a good idea to use a lightweight waterproof compression sack to keep your sleeping bag dry.
Middle of Pack Items
The middle section of your pack is designated for heavyweight items. By placing cumbersome things in the center and as close to your back as possible, you relieve your back of unnecessary stress. Plus, it keeps things from shifting out of place and forcing you to carry an awkward, uneven load.
Food: generally the heaviest thing in your pack
Bear Canister (centered in your backpack) – stuffing clothes and other small items around your bear canister can help stabilize an awkward-shaped canister and keep it centered.
Toiletries
Camp Shoes – sometimes I'll strap these to the outside of my pack if there isn't room inside.
PRO-TIP: If a bear canister isn't required, I usually like to carry my food in a stuff sack so it's contained in one place. The Ursack (although heavier than a lightweight stuff sack) is a good option as it also protects your food against rodents.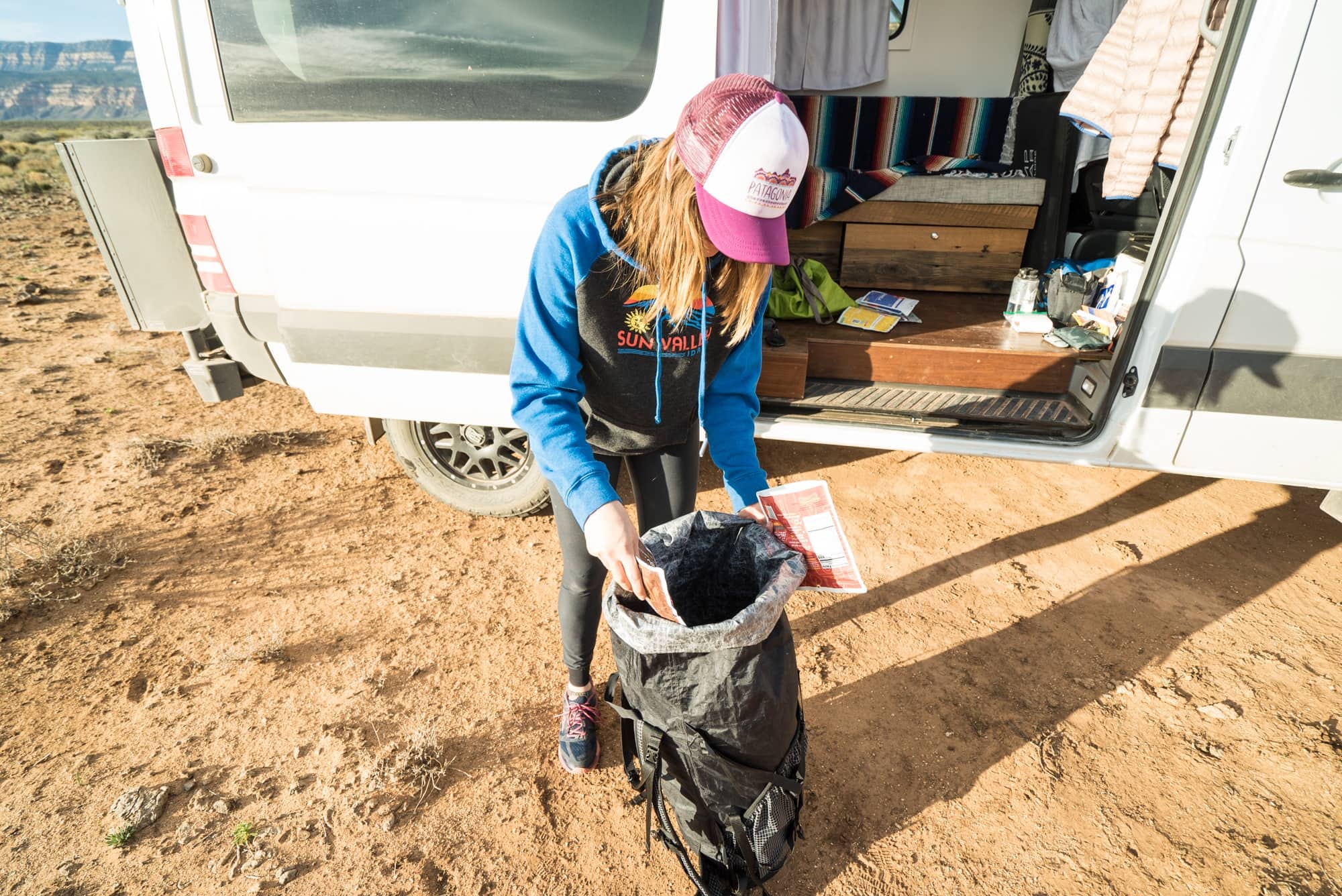 Top of Pack Items
The top of your backpack includes the uppermost portion inside the pack and "the brain", the part that's on top when you close your pack. It's typically a zippered compartment that can be removed and used as a daypack when you hike. However, when you pack your backpacking pack for hiking and camping, the brain and the top of your backpacking pack are a prime spot to stash the following:
Rain Gear: If there is any chance of rain, you want your rain gear accessible at the top of your backpack. If it's 100% sunshine and you know it's not going to rain, you can stuff this around your bear canister.
First Aid: This is important to keep easily accessible so you're not digging through your pack if you need something.
Snacks for the trail: As long as I'm not in serious bear country, I usually take my food for the day out of my bear canister and store it at the top of my pack so it's easy to access.
Bathroom Kit (Shovel, Toilet Paper, Hand sanitizer, and a bag to pack out used toilet paper)
Electronics (phone, camera)
PRO-TIP: If you have any electronics, like a battery pack, charging cords, phone, or GPS, store these in a small lightweight dry sack. That way, it keeps everything organized and you won't have to worry about it getting wet in a storm.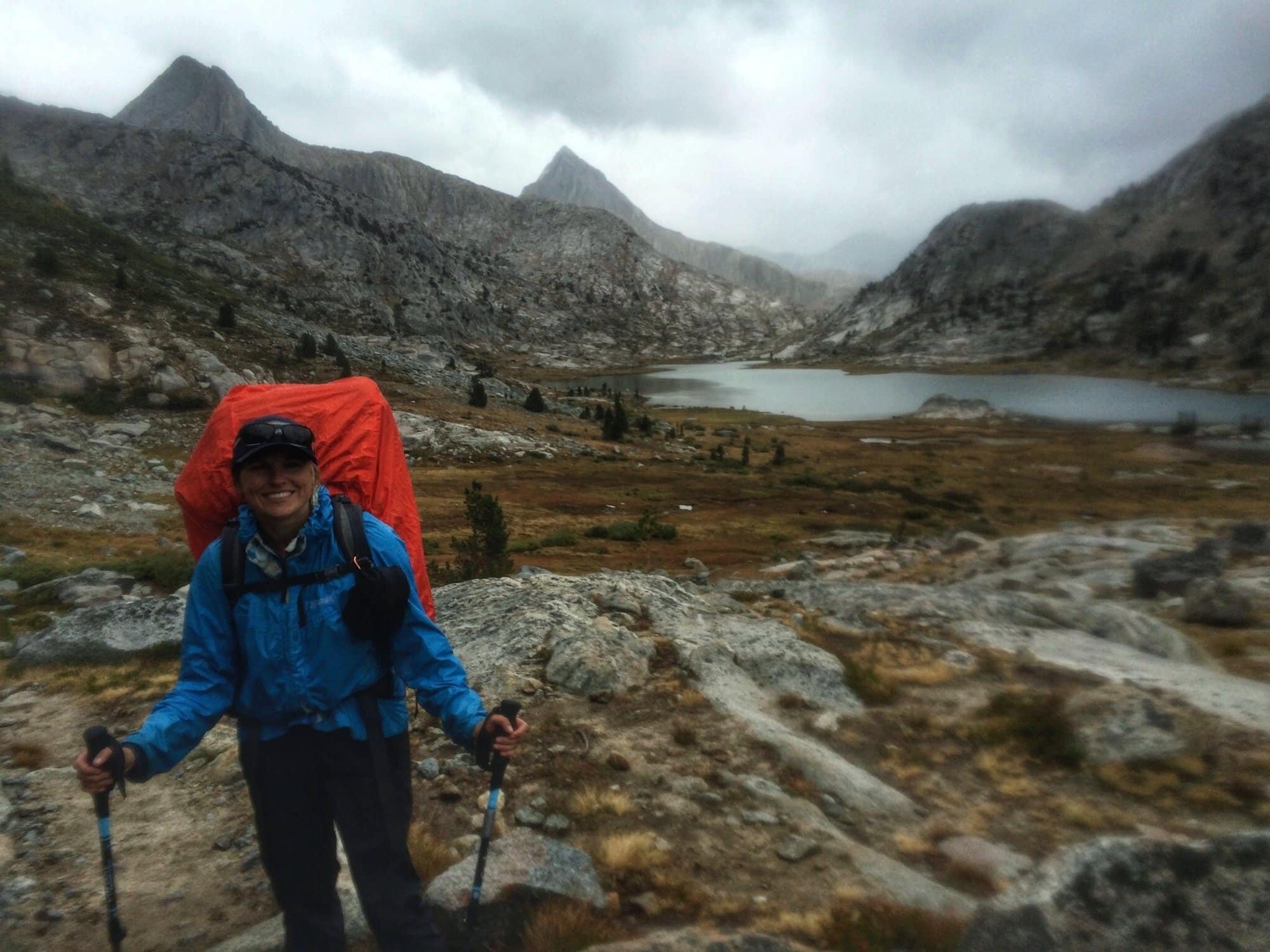 Brain/Lid Pack Items
Hip belt pockets are also a great place to keep things that you want on hand like chapstick, sunglasses, and other small items. For other miscellaneous items, decide whether you need to access them during the day. If not, put them closer to the middle and use them to fill in gaps. If you do need them, keep them closer to the top.
Pro-Tip: While technically not located at the top of your pack, I recommend backpacking with a personal locator beacon in case of emergency. I keep my Garmin inReach on the outside of my pack, attached to the front shoulder straps, for the easiest access.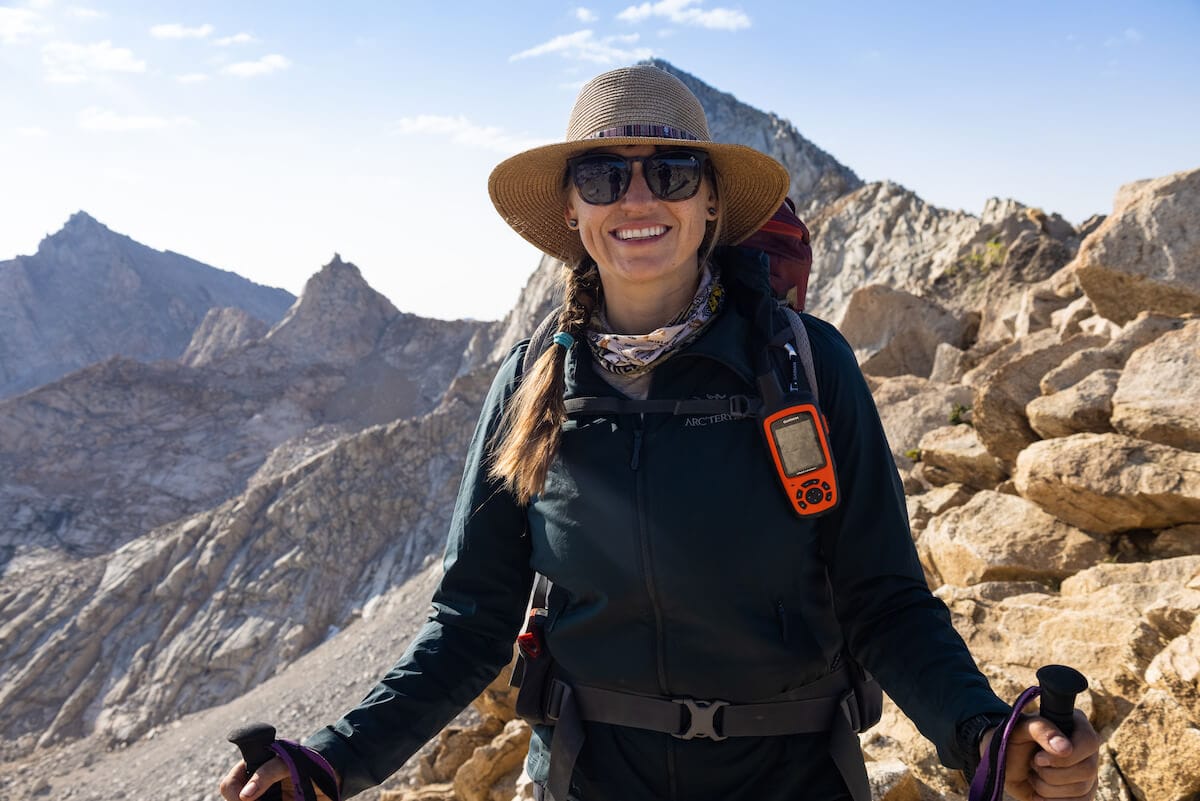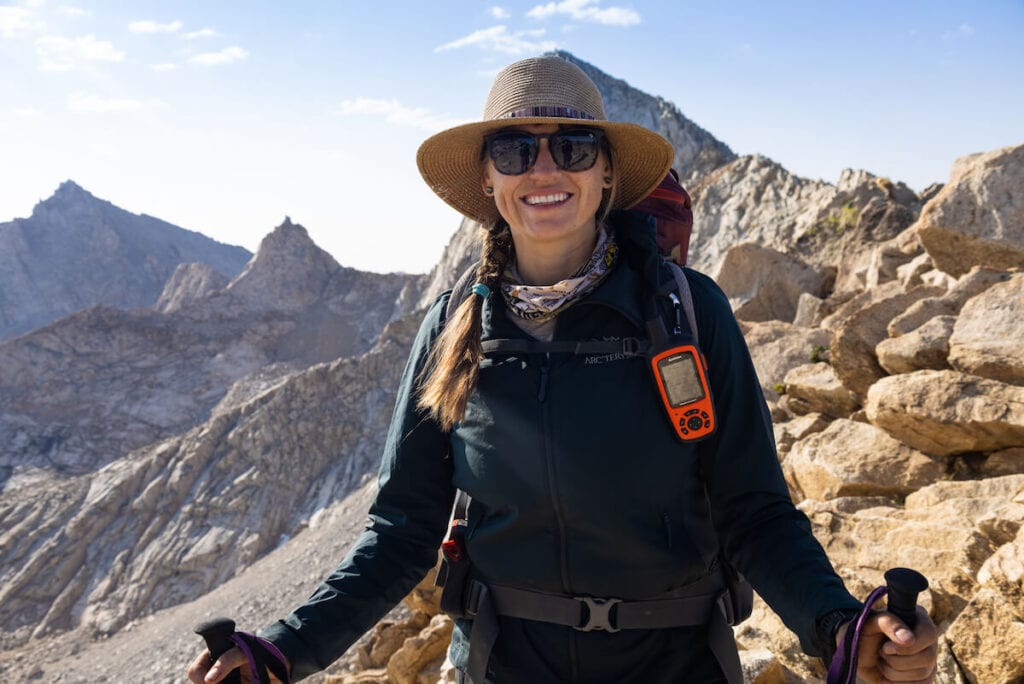 Here's a visual breakdown of how to pack a backpack for camping and hiking: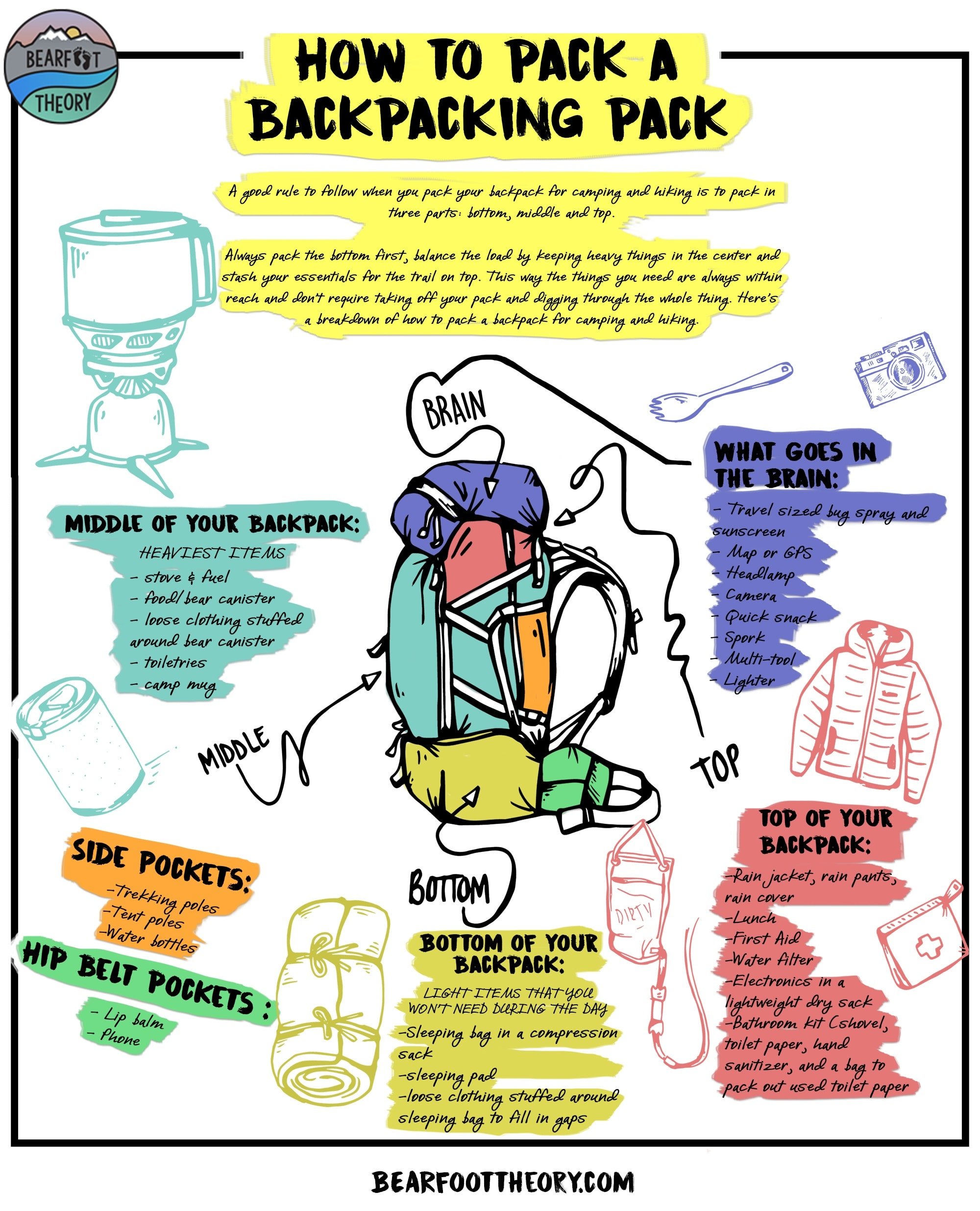 The Best Way to Use Compression Straps
You'll find compression straps on the exterior of your backpacking pack to help you stabilize the pack and adjust the weight as you need. Make sure these are loose when you are packing your backpack.
Once you've filled up the backpack, buckle and tighten the compression straps. These keep things from shifting as you hike and helps you feel steady while you're trekking over uneven terrain. Make sure you also tighten the side compression straps to create an even more snug fit and eliminate any empty space in hard-to-pack places.
Finally, use the compression strap on your pack's main exterior buckle (connects the brain to the main compartment) to keep those contents compressed and in place as you move. It can also be annoying when it's loose and bumps you in the back of the head!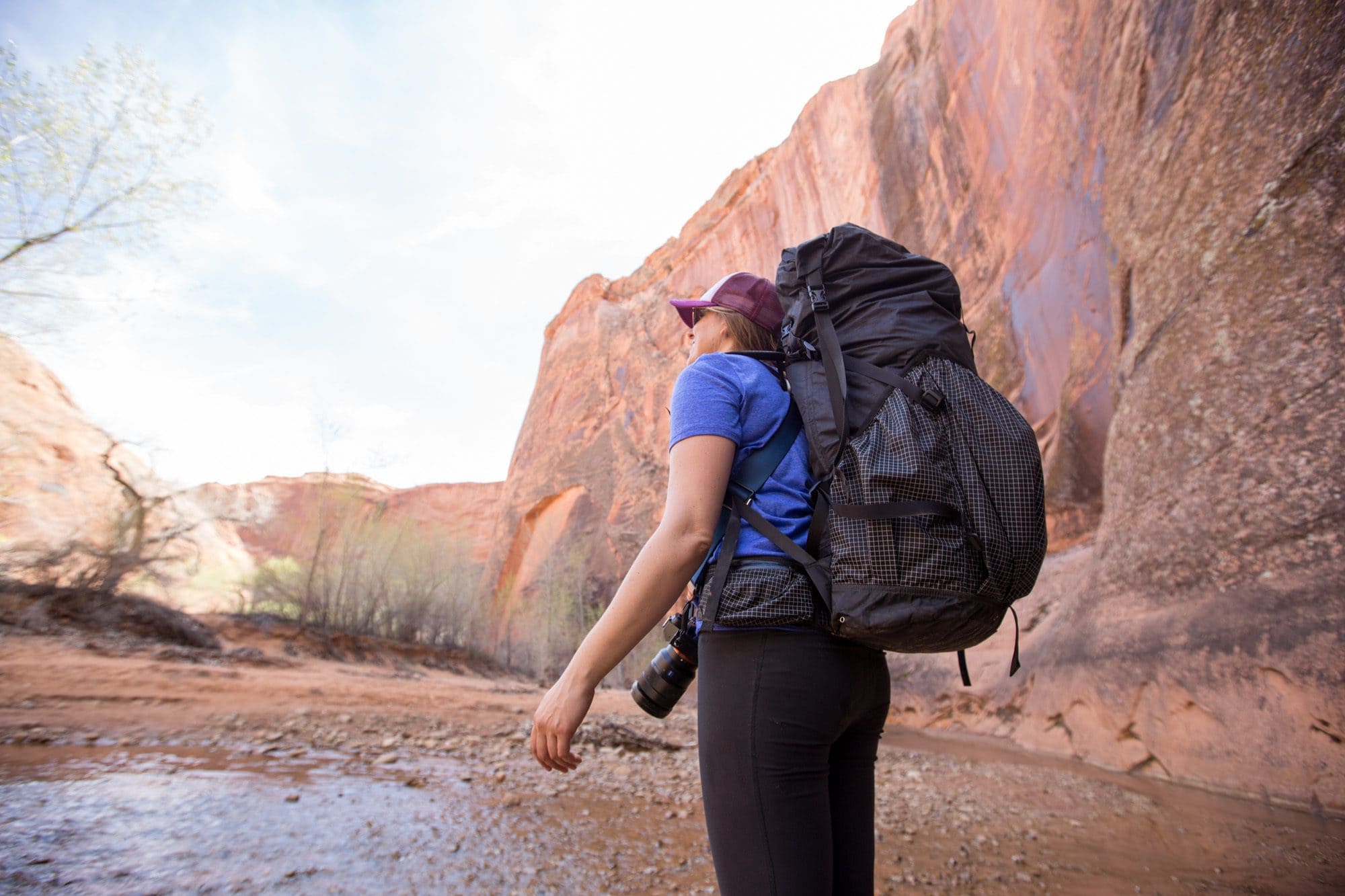 Strapping Gear to the Outside of Your Pack
If you've ever wondered, "what are those loops on the sides of my backpack?", you're not alone. These loops can be used to secure long, stiff, or bulky items to your pack, such as trekking poles, tent poles, collapsible seating, or even gear like ropes, shovels, etc.
Daisy chains are the small loops that are located on the straps and the front section of your backpack. Hook carabiners, clips, or additional pieces of gear to the outside of your pack for easy access — just make sure it's small and compact. I like to keep my Kula Cloth (pee rag) snapped to the outside of my pack for both day hikes and backpacking trips.
It's not a good idea to have anything heavier/larger than a baseball cap dangling off of or swinging back and forth on your pack. You can get caught, upset your balance, hit other things or people, and in general, it's just sort of annoying.
Bottom line: Keep things tightly secured and manageable.
You can use Gear Ties to help secure anything to your pack that might be on the outside if you don't have many loops to use. BFT's former Community Manager, Kim, used Gear Ties on her Pacific Crest Trail thru-hike to help secure items to the outside of her pack so they weren't swinging back & forth.
If you find yourself strapping a ton of stuff to the outside of your pack, you should do a gear audit and see if there is anything you can leave at home, or it might be time to get a bigger pack. Relying on strapping excess gear to the outside of your pack can become problematic if you end up in an unexpected rain storm.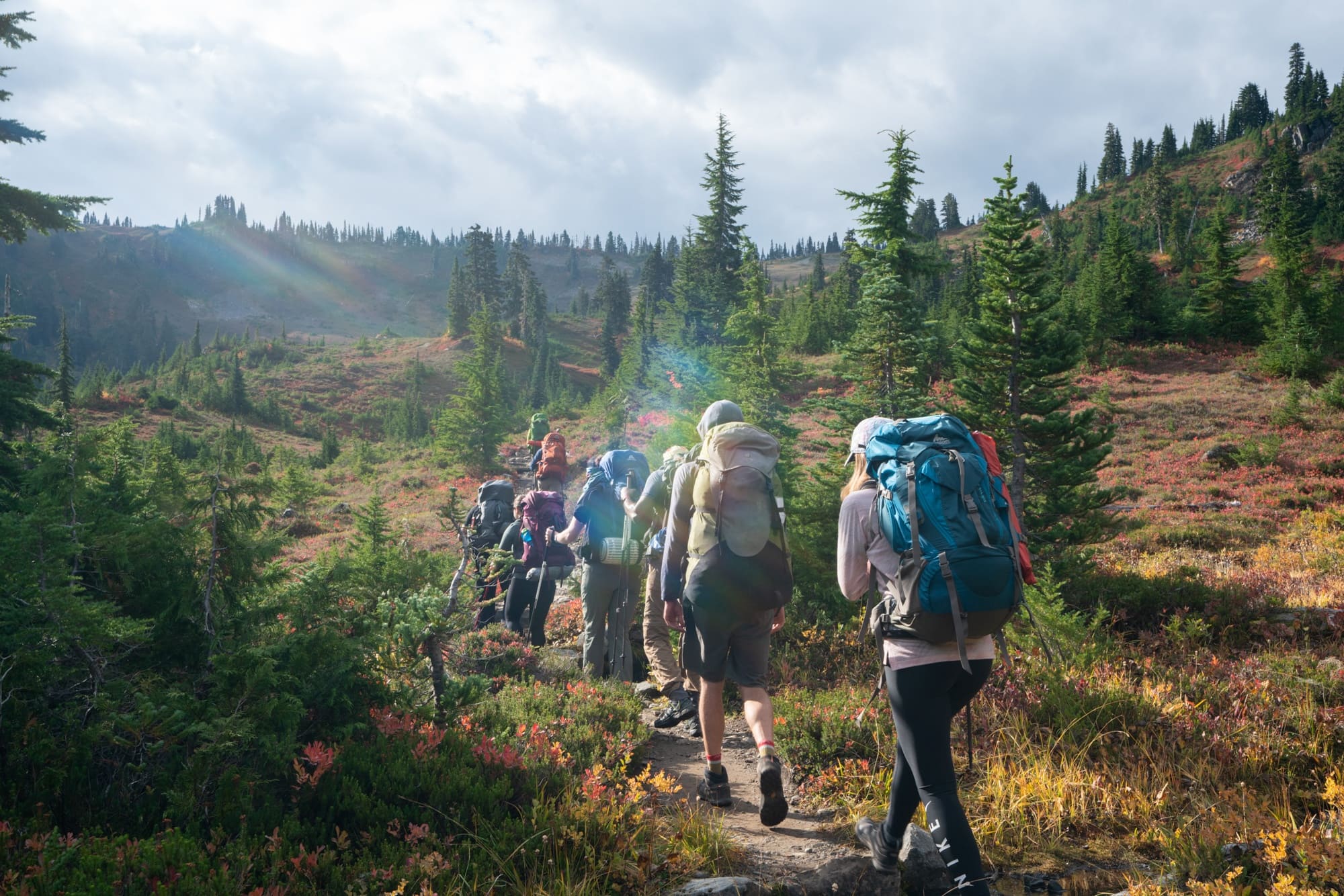 A Note on Hydration Reservoirs
I pretty much always use a hydration reservoir when I'm day hiking. But when I'm backpacking I find hydration reservoirs make it much more difficult to pack your backpack efficiently. They take up a lot of room and also if you run out of water, you'll probably have to unpack half your bag just to refill your reservoir. If I'm solo backpacking (which I rarely do), a hydration reservoir is a good choice because I don't have anyone to hand me my water.
However, if I'm hiking with friends, I like to bring 3 one-liter Platypus SoftBottles instead. They weigh nothing and pack down very small if you don't need all three liters. You can also distribute your water weight onto either side of your backpack. If you really need to be able to reach your water yourself, you can get the Platypus SoftBottle with a caribeaner and clip it somewhere you can reach.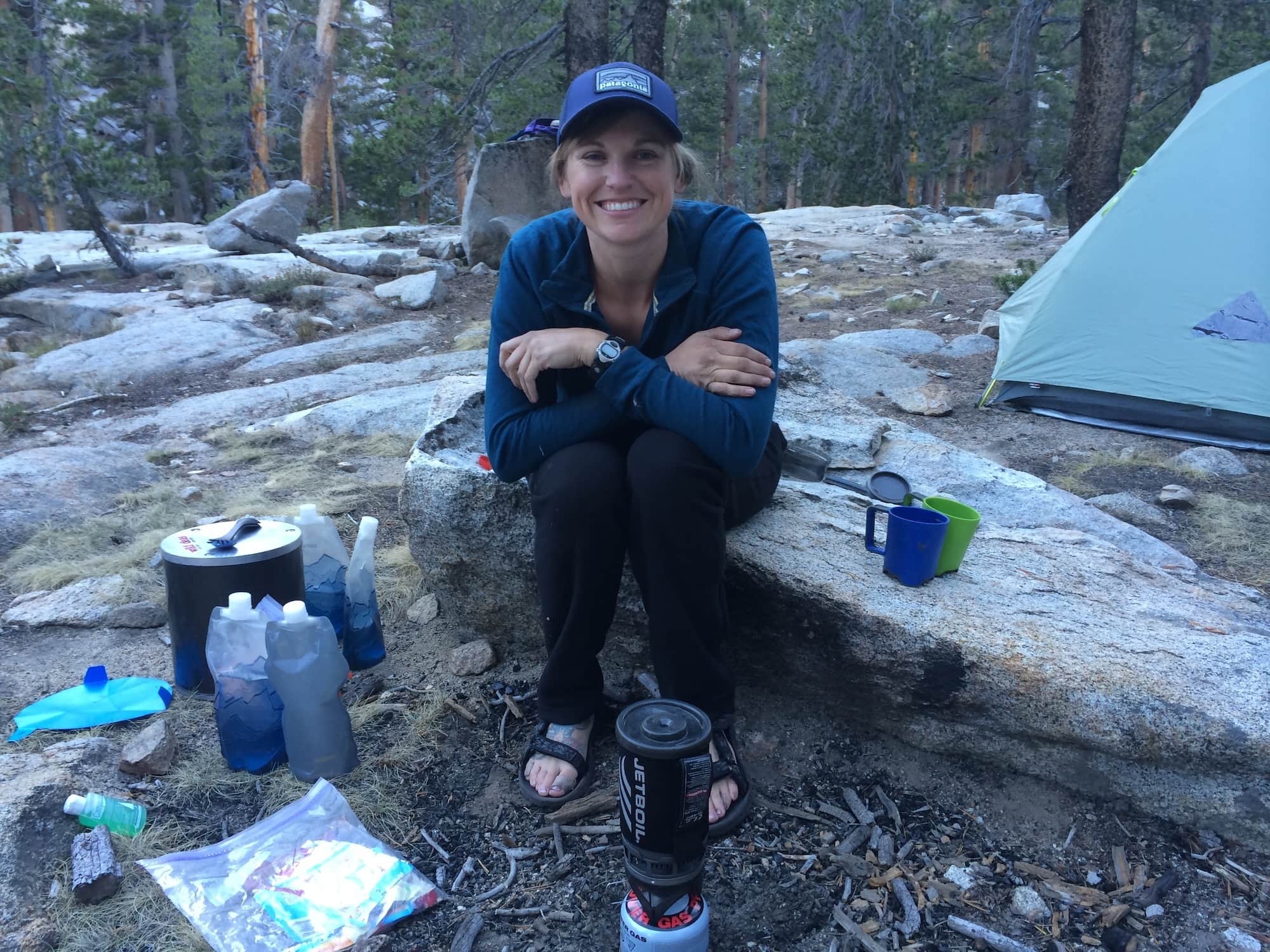 Use Your Local REI as a Resource
Need more help? You can always head into your local REI to talk to one of their experts. REI also has classes where you can learn the skills you need to backpack independently.
If you're new to backpacking and serious about investing in your skillset, you might also consider going on a guided trip. A few years ago I went on an REI Adventures trip – a 4-day backpacking trip in Olympic National Park – and before we started hiking, our two guides gave us a demo on how they pack their backpacks. It gave me a lot of insight into how I could streamline my gear and how it all fits into my backpack.
Check out this great video from REI on how to pack a backpack.
What are your favorite tips and tricks for how to pack a backpacking pack? Got questions? Leave a comment below.