I'm a total sucker for a good hot springs soak, especially in the winter. Being able to get outside and breathe in that crisp, cool air while loosening up those tight muscles does wonders for the soul.
During a winter visit to Salt Lake City before I lived here, I was super excited when a friend suggested that we visit Diamond Fork Hot Springs. Multiple pools with enticing blue water, a stunning canyon encompassed by red rock cliffs, and a lovely riverside hike to boot? Ok, twist my arm. Spoiler alert, it did not disappoint.
In this post, I share how to get to the hot springs, what to bring, and more.
Here's everything you need to know about enjoying Diamond Fork Hot Springs in Utah
Important Reminder: As it goes in all of the destinations we share, please follow the Leave No Trace Principles. This means packing out all of your garbage (including toilet paper), being respectful to others on busy trails, and following the established rules. Please also be respectful to fellow bathers and know proper hot springs etiquette.
---
Getting to the Diamond Fork Hot Springs Trailhead
The Diamond Fork Hot Springs trailhead is located about an hour drive from downtown Salt Lake, with the last 10 miles being on a well-maintained dirt road.
From Salt Lake City, head south on 1-15 until you reach the town of Spanish Fork. Once in Spanish Fork, take exit 257 to get on the US-6E. Drive for 11 miles and take a left at mile marker 184 onto Diamond Fork Road. Follow this road for 10 miles until you reach the signed trailhead parking lot on the right.
In December when I visited, the road was open and clear of snow. However, once a major storm hits and road conditions get sketchy, the Forest Service does close the last 6 miles to vehicles. So be sure to check with the Forest Service about road conditions before you head out or call (801) 798-3571. If it's January or February and you can't reach anyone at that Forest Service number, it's probably safe to say that the road is closed.
If you find that the road is closed, that doesn't mean you are totally out of luck. If you are up for a little added adventure, park where the road closure begins and then fat bike or cross-country ski to the trailhead, rather than walk. While visiting during a road closure adds significant miles to the human-powered distance you must cover, it will be more than worth it when you arrive at the hot springs and have them all to yourself!
---
The Diamond Fork Hot Springs Trail
Once you are at the trailhead, it's a quick 2.5 miles to the hot springs with a gradual 700 feet of elevation gain. The trail is very easy to follow with the first half hugging the left side of Sixth Water Creek.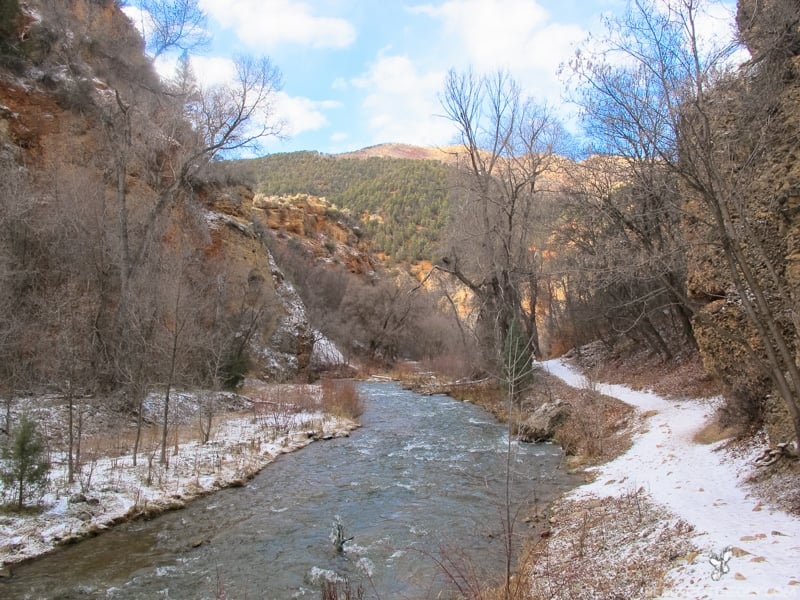 Just over one mile in, you reach a footbridge that crosses Sixth Water Creek. Here you go over the bridge and continue up the left side of a smaller tributary called Fifth Water Creek. Soon, you'll start getting the occasional whiff of sulfur as you approach the springs. The water also begins to turn a glacier-blue, a sign that you are close.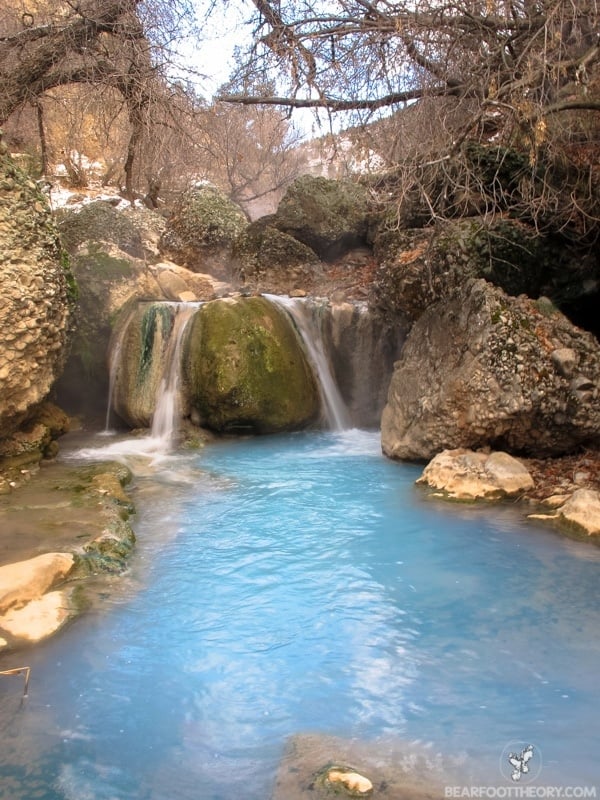 Continue traveling up until you reach a series of gorgeous and obvious soaking pools. It took us one hour to get from the trailhead to the springs and when we arrived, I couldn't believe the variety of colors from a milky blue to a translucent green. Some of the pools reminded me of the pictures I've seen of the dreamy Blue Lagoon in Iceland.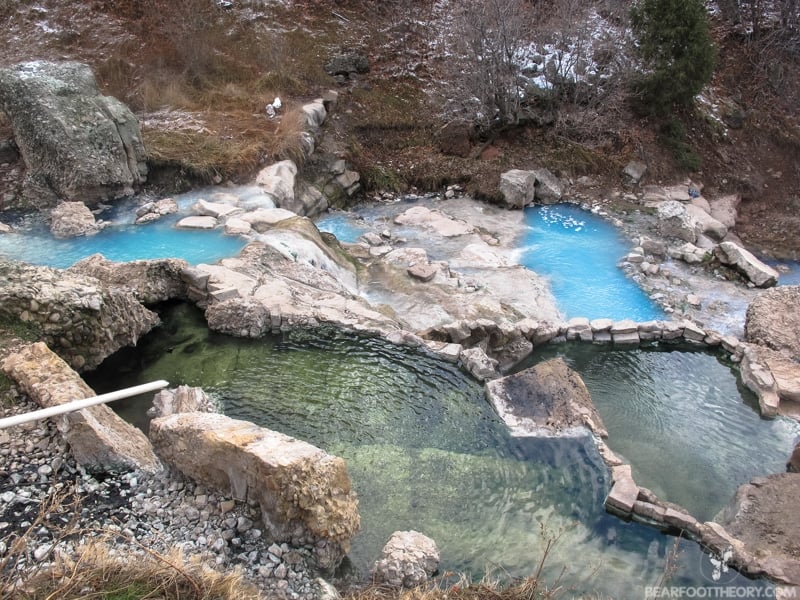 Just beyond the first pools, there is a lovely waterfall with several more tubs. The waterfall marks the end of the trail.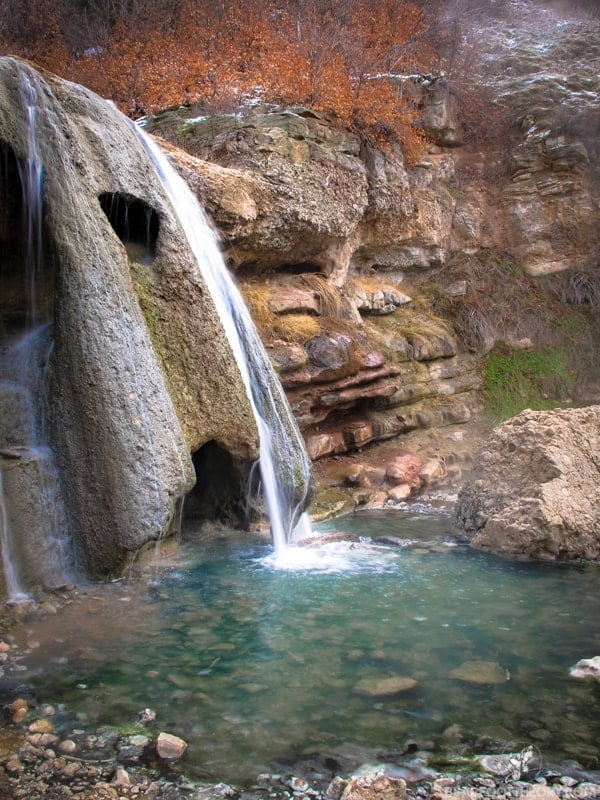 Once you are there, you are going to be so pumped to hop in. But first, I suggest walking around to check out your options. There are a ton of different rock pools that have been built up and you may find that the temperature varies between them. Some may also be occupied, as this is a pretty popular spot, especially on weekends. After sampling them all, we decided on the lower pools since we found these to be the most scenic.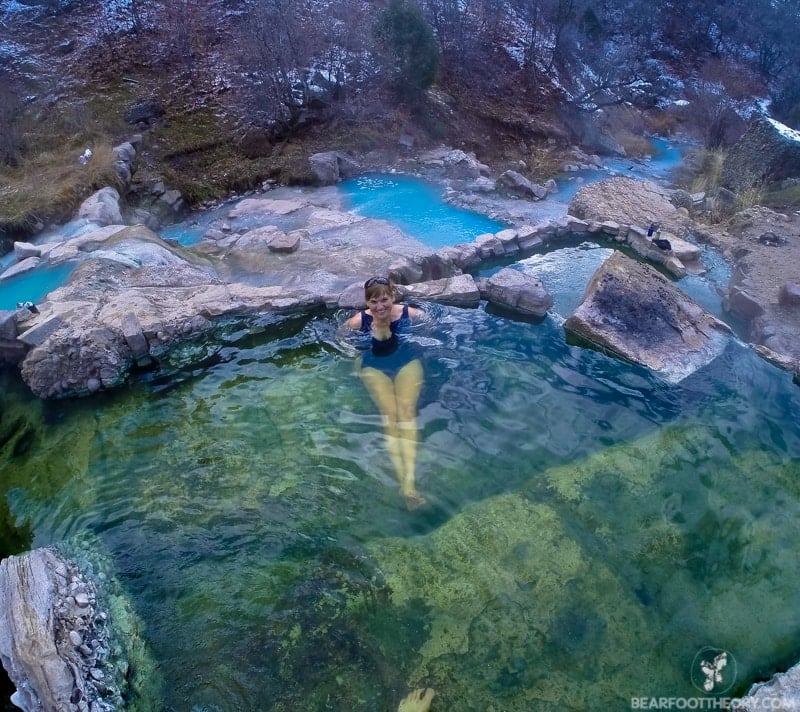 The water temps were ideal for unwinding after a winter hike. We relaxed in the springs for over an hour until the sun dropped behind the canyon's cliffs, at which point we decided it was time to head back.
---
Tips for your visit to Diamond Fork Hot Springs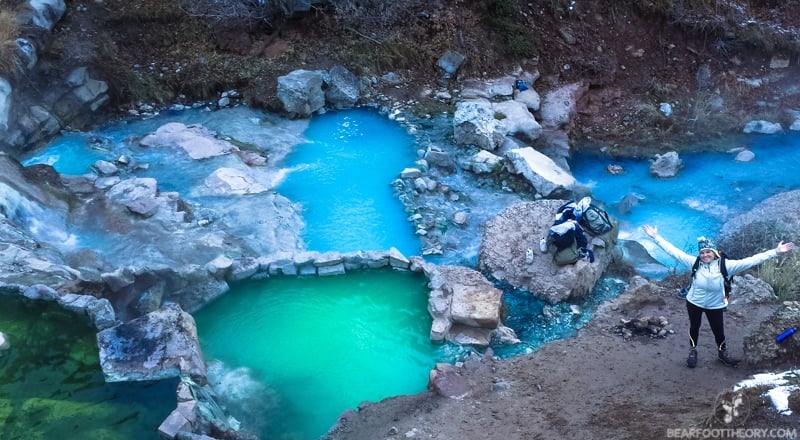 Visit during the week
Be prepared for winter weather
We saw a few people on the trail who looked extremely unprepared for hiking in the winter. They were hiking with nothing but swim trunks, a t-shirt, towel, and flip-flops. Guaranteed after getting out of the hot springs, that walk back to the parking lot was going to be freezing and miserable. Don't make this mistake. Here is the gear we recommend at a minimum that you wear for hiking to Diamond Fork Hot Springs in the winter:
Reconsider going nude
While nudity at Diamond Fork does happen, nudity is actually against the law, and there are reports of this being enforced. So strip at your own risk.
Bring traction cleats
In winter, the trail does get pretty icy, even with a good pair of hiking boots. I recommend getting a cheap pair of traction cleats that can slip over your boots. These will help stabilize your footing when waking on any icy surfaces.
Follow Leave no trace guidelines
Please don't litter! It's everyone's responsibility to keep this special place clean. If you're not already familiar, learn the basic rules of Leave No Trace. You can go a step further by picking up any pieces of trash you find and packing them out.
---
Have you been to Diamond Forks Hot Springs? How was your experience? Leave us a comment below. For more natural hot tubbin' inspiration, check out our hot springs archives!