Mount Timpanogos Hiking Guide via the Timpooneke Trail
Embark on a Mount Timpanogos hike with our comprehensive guide. Learn preparation tips, trail navigation, and insights for a successful summit.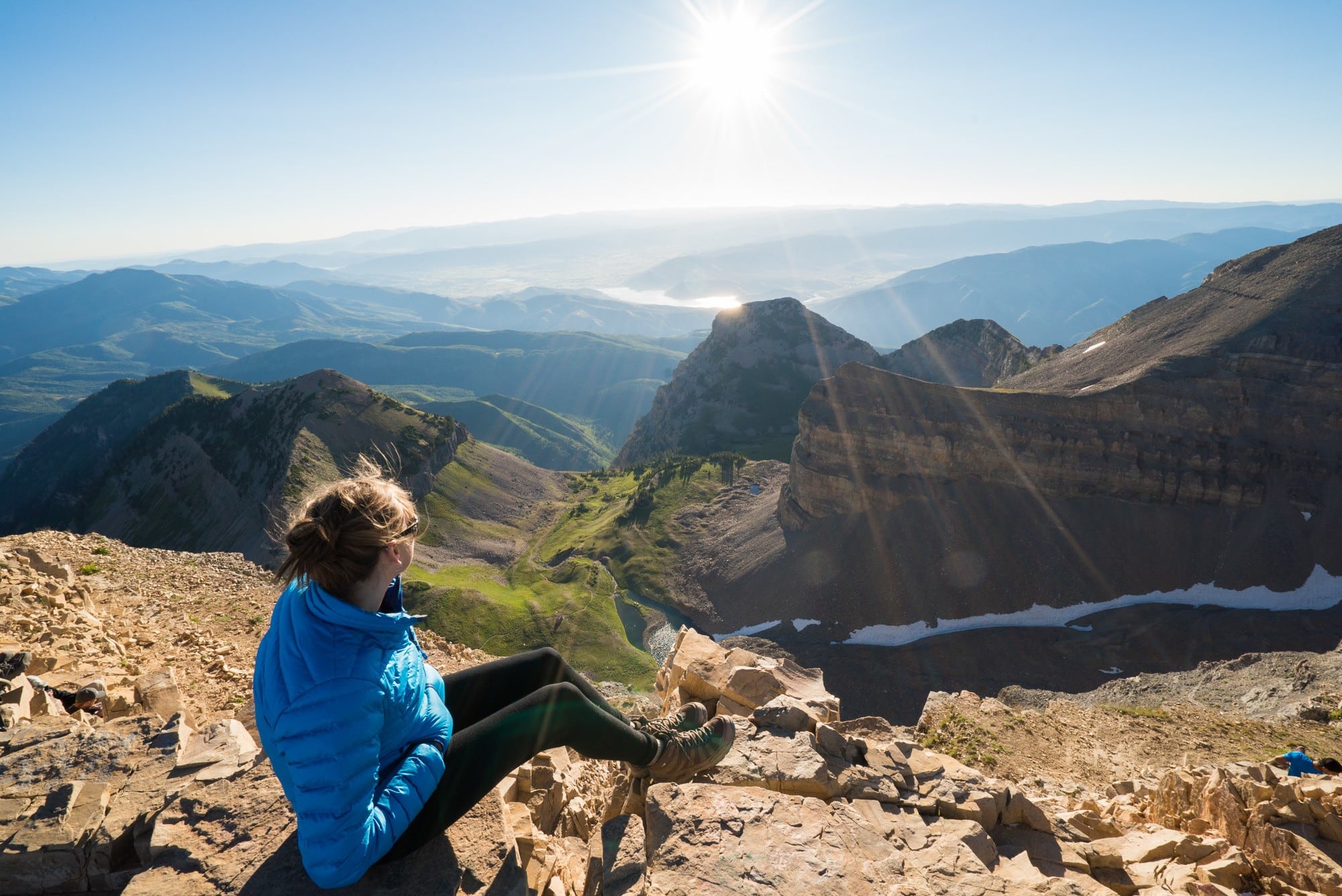 Nestled in the heart of the Wasatch Mountain Range in Utah, Mount Timpanogos stands as a regal testament to the rugged beauty of the American West. Towering above the town of Provo and reaching an elevation of 11,752 feet, it proudly holds the title of the second-highest peak in the range, outdone only by Mount Nebo.
When I first moved to Utah, almost everyone I met recommended doing a Mount Timpanogos hike, saying that it was by far their favorite peak within the Salt Lake City region. Of course, I had to check it out for myself. Although Timpanogos can be hiked in a day, I decided to turn it into an overnight backpacking trip.
And although it's challenging, the Mount Timpanogos hike via the Timpooneke Trail is very doable. It requires stamina rather than technical skill, and it rewards hikers with vibrant wildflowers, resident mountain goat sightings, and sweeping panoramic views that rival any hike in the West.
As a Mount Timpanogos advocate myself now, in this post I share everything you need to know about hiking Mount Timpanogos including trail tips, when to visit, and plenty of photos to get you inspired.
---
Aspen Grove Trail vs. Timpooneke Trail
Before we get into the trail stats and what to expect on your hike up Mount Timpanogos, I want to mention that there are two main trails to reach the summit.
Here is a breakdown of the major differences:
In this post, I only focus on the Timpooneke Trail. You can learn more about the Aspen Grove Trail route on AllTrails.
---
Mount Timpanogos Trail Stats (via Timpooneke Trail)
Distance: 14.3 miles
Difficulty: Challenging
Elevation Gain: 4,448 feet
Summit elevation: 11,750 feet
Time Needed: 9-11 hours
Best Hiking Season: July-September
Dogs Allowed: Yes
Permits/Fees: $6 per car (If you have the America the Beautiful Pass, entrance is free)
Campfires: Not allowed
How long is the hike to Mt. Timpanogos?
A Mount Timpanogos hike from the Timpooneke Trailhead to the summit of Mount Timpanogos and back is a total of 14.3 miles with an elevation gain of approximately 4,448 feet.
How hard is the Mt. Timpanogos hike?
The Mt. Timpanogos Trail hike can be classified as difficult/challenging due to length, elevation gain, steepness, and exposure. The hike uphill begins as soon as you leave your car and doesn't let up until you reach the summit. In the final section, you will need to cross a boulder field, followed by a steep uphill section that is somewhat exposed (although not technical).
How long does it take to hike Mt. Timpanogos?
The round trip Mt. Timpanogos hike on average takes 8-10 hours of hiking, plus time spent on the summit. If you plan to hike it in a single day, you should start hiking around sunrise. That way you will be off the summit by the afternoon when temperatures are hot and thunderstorms are more likely.
Alternatively, you can hike Mount Timpanogos as an overnight backpacking trip, which is what I did. I hiked up the Timpooneke Trail to the Timpanogos Basin and spend a night camping below the peak. Then we rose early the next day and hiked to the summit for sunrise before packing up and heading back to our car.
Mount Timpanogos Via Timpooneke Trail Map
---
Preparing for Your Mount Timpanogos Hike
While not technically challenging, hiking Mount Timpanogos is no small undertaking. The mileage itself – 14.3 miles round trip – is a big day not to mention the 4,500 feet of elevation gain.
Here are a few tips to help you prepare for your hike:
1. Understand the difficulty level and physical requirements
As I mentioned above, the Mount Timpanogos hike is not an easy undertaking. The strenuous climb can test your endurance, with a round trip covering about 14 miles and an elevation gain of approximately 4,580 feet.
I recommend having a good level of fitness before attempting this hike. Some pre-hike training, like regular cardio and strength exercises, can make the hike significantly more manageable.
2. Pack essential hiking gear and supplies
Mount Timpanogos's terrain and weather conditions require good gear to navigate safely and comfortably. Wear sturdy hiking boots with good ankle support and traction for the rocky paths. You'll also need a comfortable hiking day pack (or overnight backpack to carry your gear if you're spending the night).
Pack plenty of water — at least 2L per person —and high-energy snacks for the journey. Depending on the time of year, you may also need to carry warmer clothing, a rain jacket, sunblock, and a hat.
Lastly, don't forget a first aid kit and navigation tools like a compass or GPS device, especially if you're not familiar with the trail.
Recommended Hiking Packing List
Below are a few of my favorite pieces of day hiking gear and recommendations:
3. Weather considerations and best times of the year to hike
The best time for a Mount Timpanogos hike is typically from late June to September. During this period, the weather is generally more favorable, and the trail is typically free of snow.
However, it's important to check the local weather forecast before setting out and be aware of current conditions — I'd recommend checking in with the Pleasant Grove Ranger District. Weather can change rapidly in the Wasatch Mountains and summer is prone to thunderstorms. Be sure to get an EARLY start to not get caught in a storm.
4. Study the trail map
Study the trail map at least a day before you set out for your hike. Familiarize yourself with the trail's major landmarks, including the Timpooneke Campground trailhead, Lower Basin, Upper Basin, the Saddle, Emerald Lake, and the summit.
Knowing these spots can help you keep track of your progress and manage your time effectively.
5. Have a safety plan
Before you set out, you should be aware of hiking safety basics. Most importantly, inform someone about your hiking plans including your expected return time.
Also, understand the signs of altitude sickness—a potential risk on such a high climb. If you or a hiking partner start to feel dizzy, nauseous, or unusually tired, it's essential to rest, hydrate, and consider turning back if symptoms persist.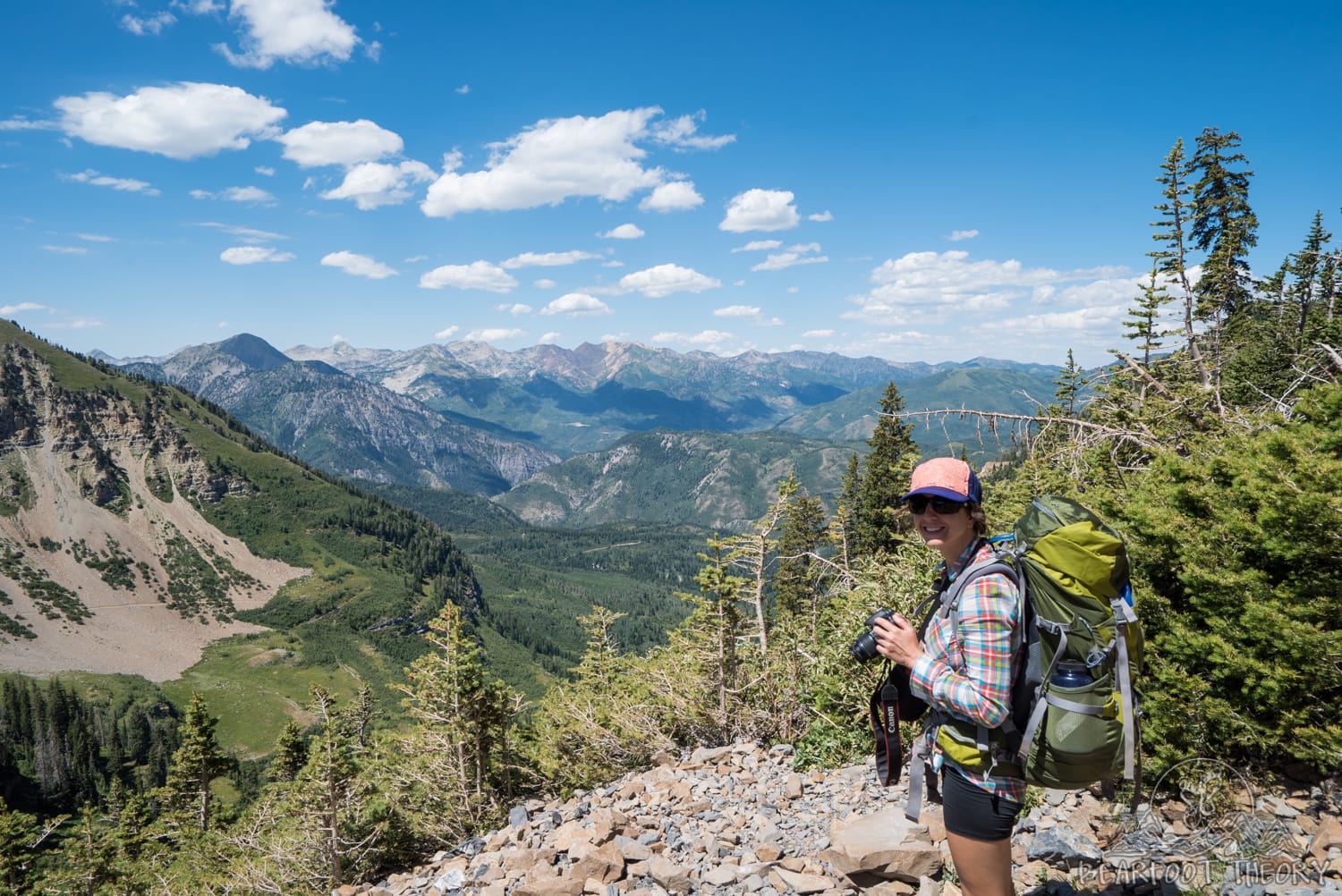 ---
Mount Timpanogos Trail Guide
There are a number of ways you can hike Mount Timpanogos. As I mentioned above, you can access the summit via the Timpooneke Trail (which is what I did) or the Aspen Grove Trailhead.
You can also make the trip an overnight by camping up near Emerald Lake in the upper basin, which is also what I did.
Of course, if you don't want to spend the night, you can do this hike in a day but be prepared for 9-11 hours out on the trail.
The map below shows my two-day overnight route with our camp spot near Emerald Lake.
Blue line: Timpooneke Trail
Purple line: Alternate Timpooneke Trail for easier access to Emerald Lake
Red line: Aspen Grove Trail to Emerald Lake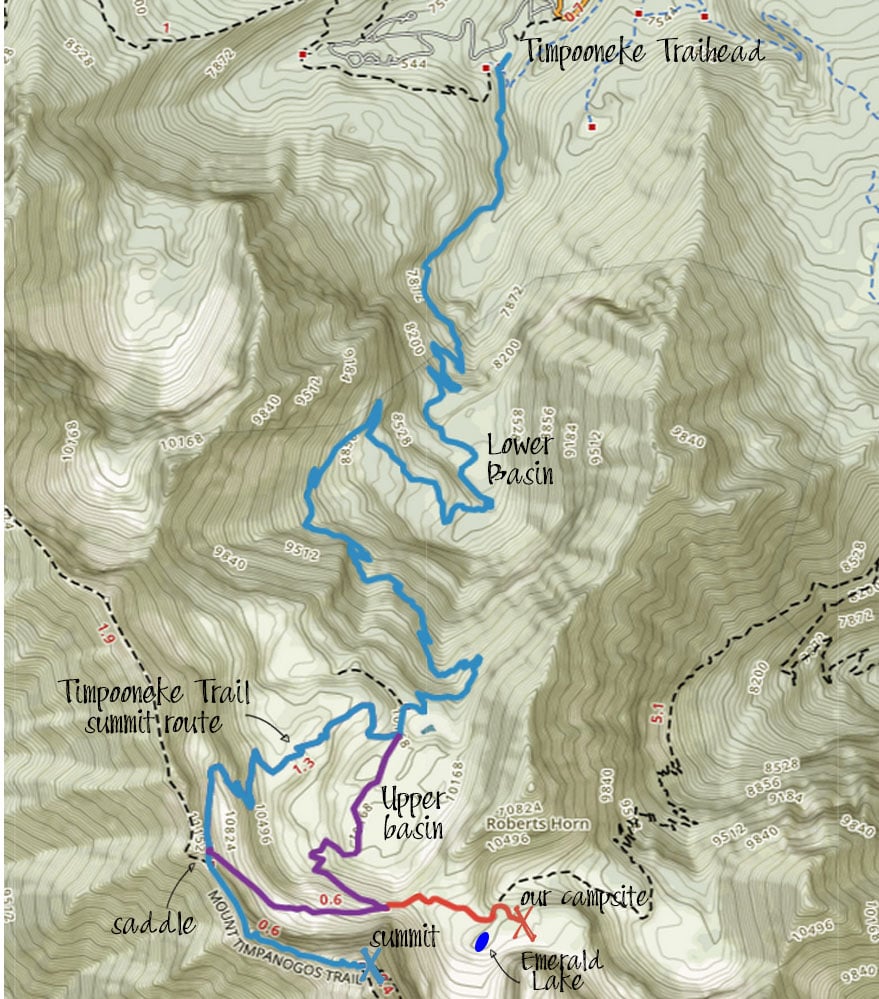 Trailhead to the Lower Basin
As soon as you set off from the Timpooneke Trailhead, you immediately begin climbing and you continue on a steady incline the entire way to the summit.
The first half of the trail is heavily forested with the occasional open view of the canyon on your left.
Then once you reach the lower basin, the views start to open up.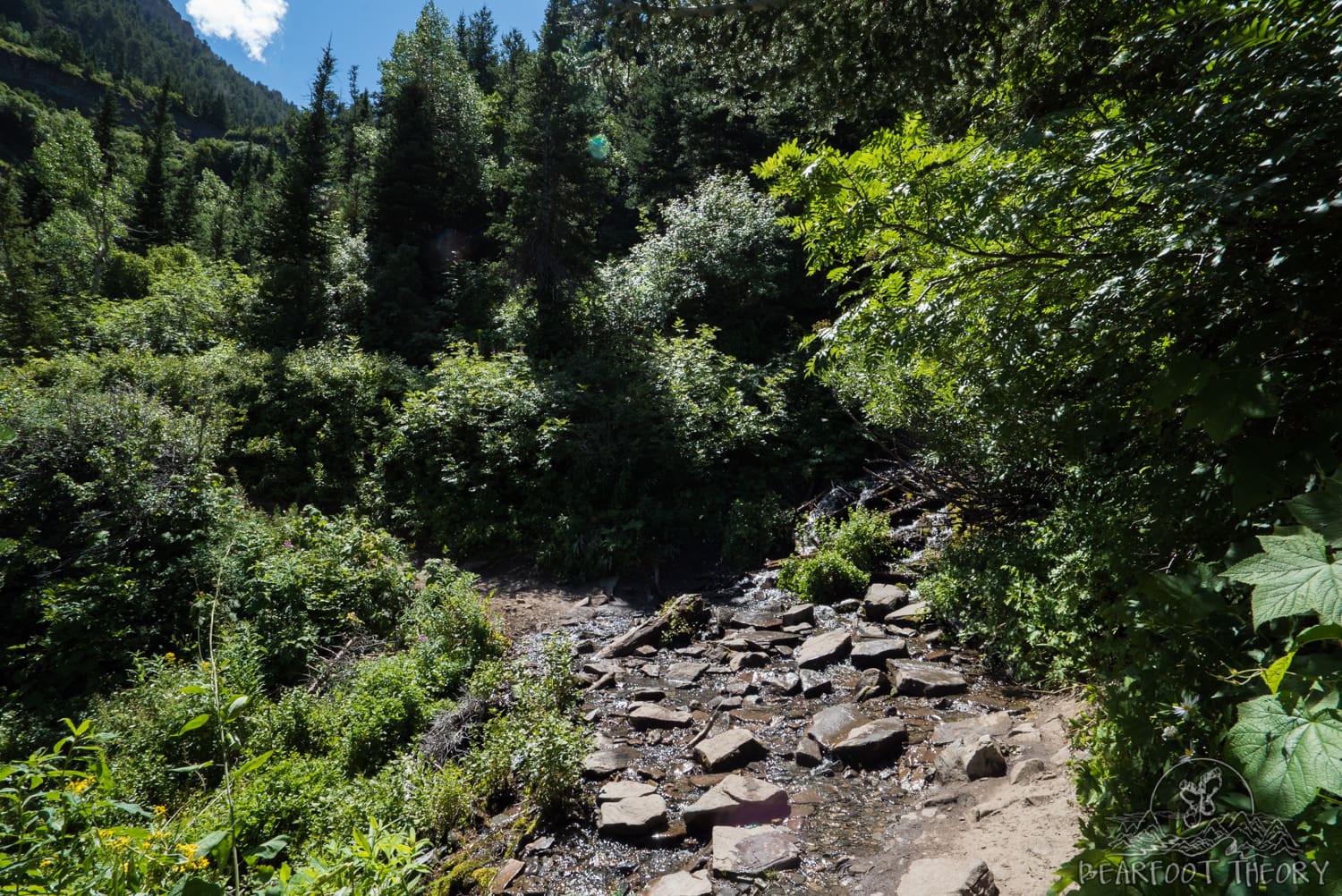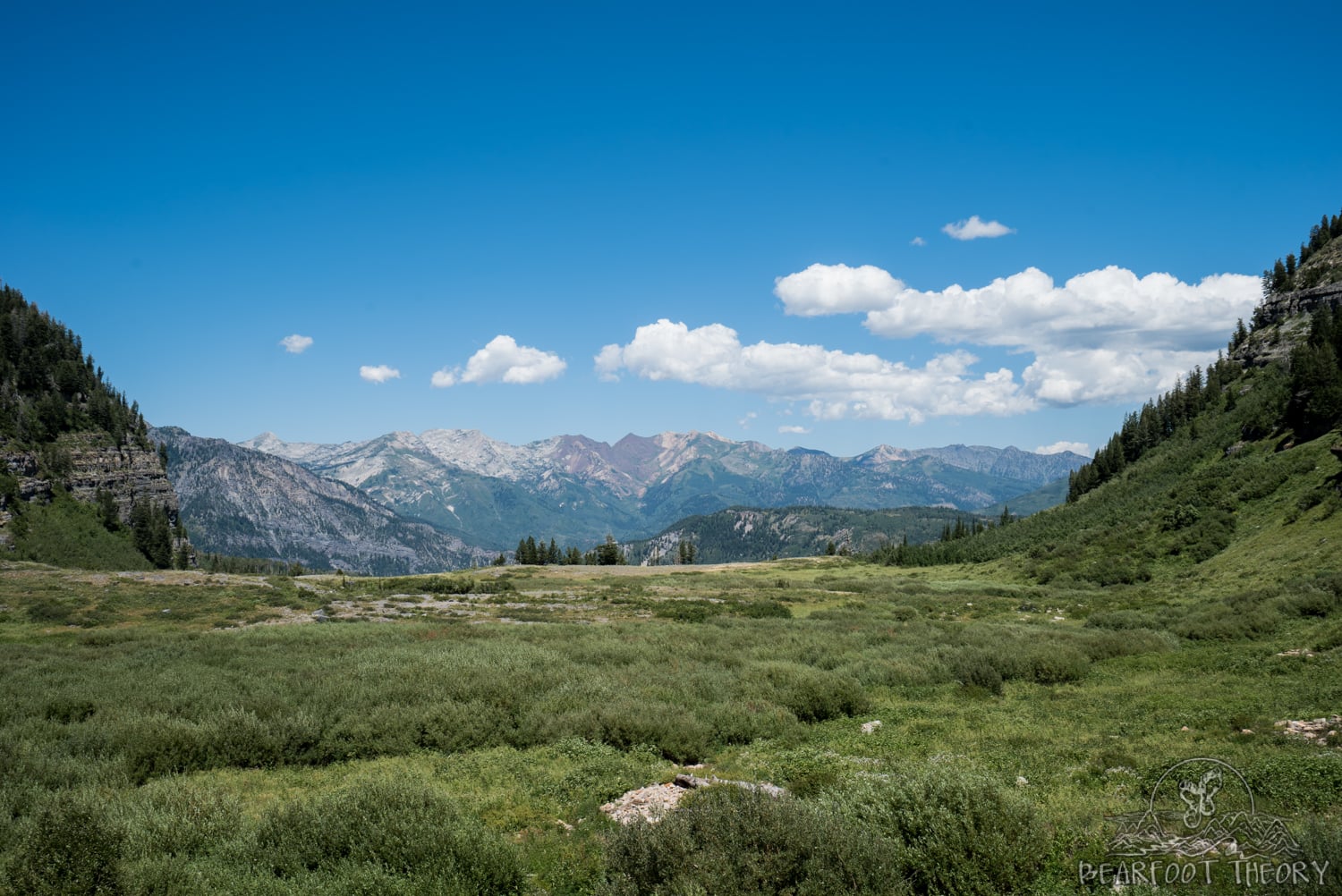 Lower Basin to Upper Basin
The trail flattens out a bit as you travel through the Lower Basin but not for long. After a short bit, the trail curves to the right making its way up a large rock field, and continues climbing across the valley until you get your first glimpse of Timpanogos.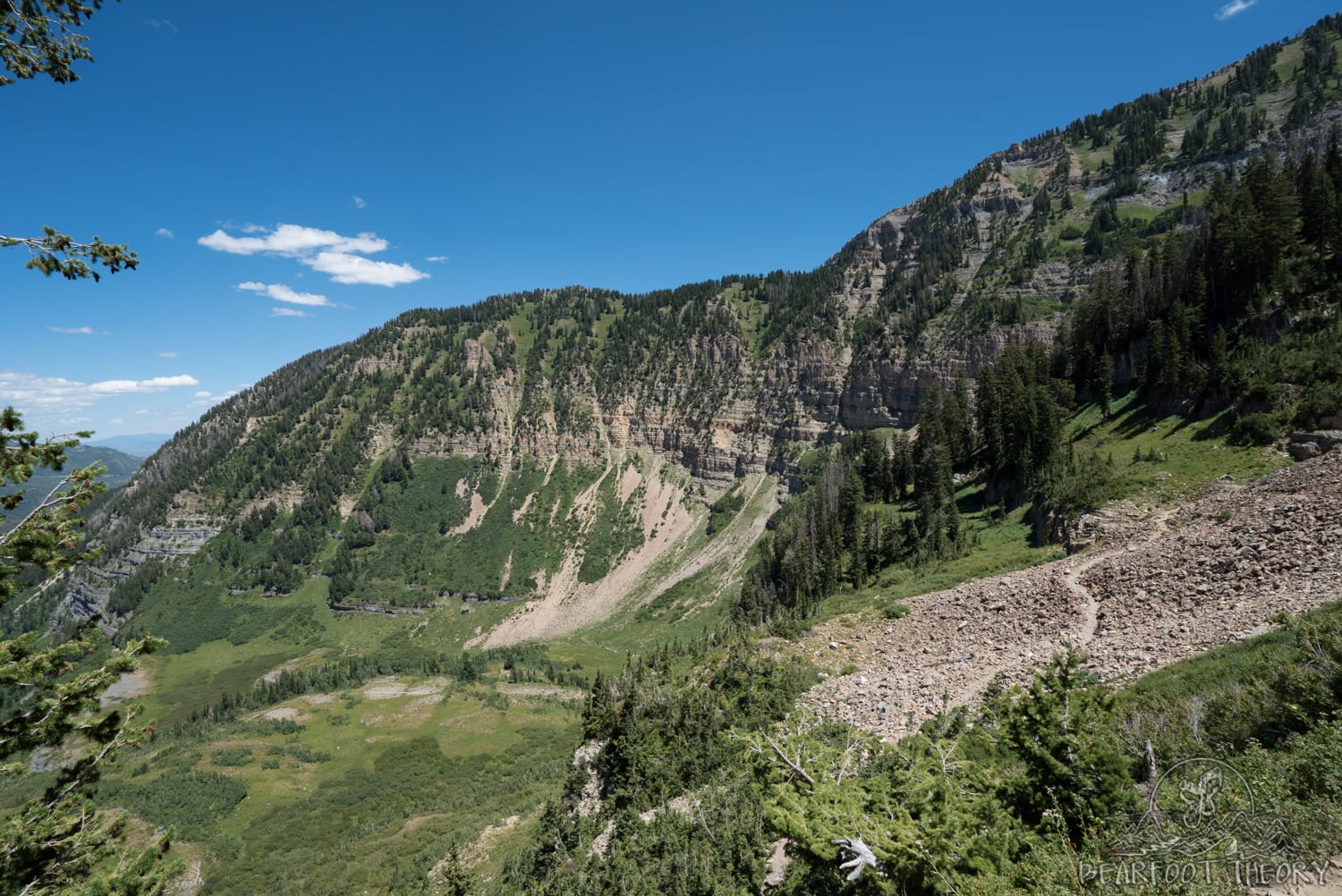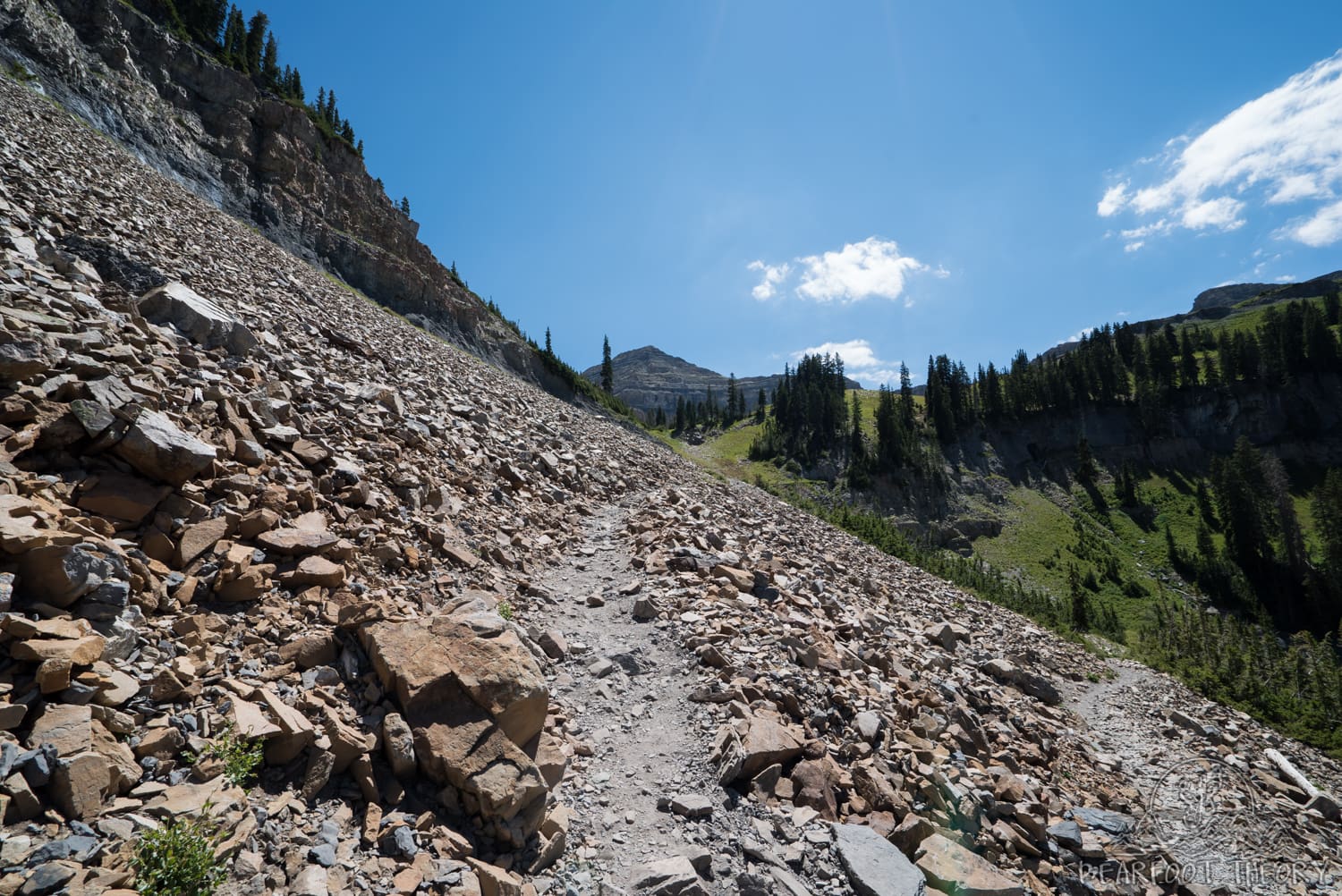 Once you reach the upper basin, you have a decision to make. You'll come to a signed fork in the trail, where the trail splits.
The Timpooneke Trail Summit route to the right is the easiest and most direct way to reach the summit.
The other trail that goes to the left leads to Emerald Lake where it connects up with the Aspen Grove Trail.
Our initial plan was to camp somewhere in the Upper Basin and continue up the Timpooneke Trail in the morning. However, we found that there was no water available anywhere along the Timpooneke trail, except for a few streams at the very beginning.
So we decided our best option was to camp near Emerald Lake for easy water access. This added a good mile or two and a couple of hundred feet of elevation.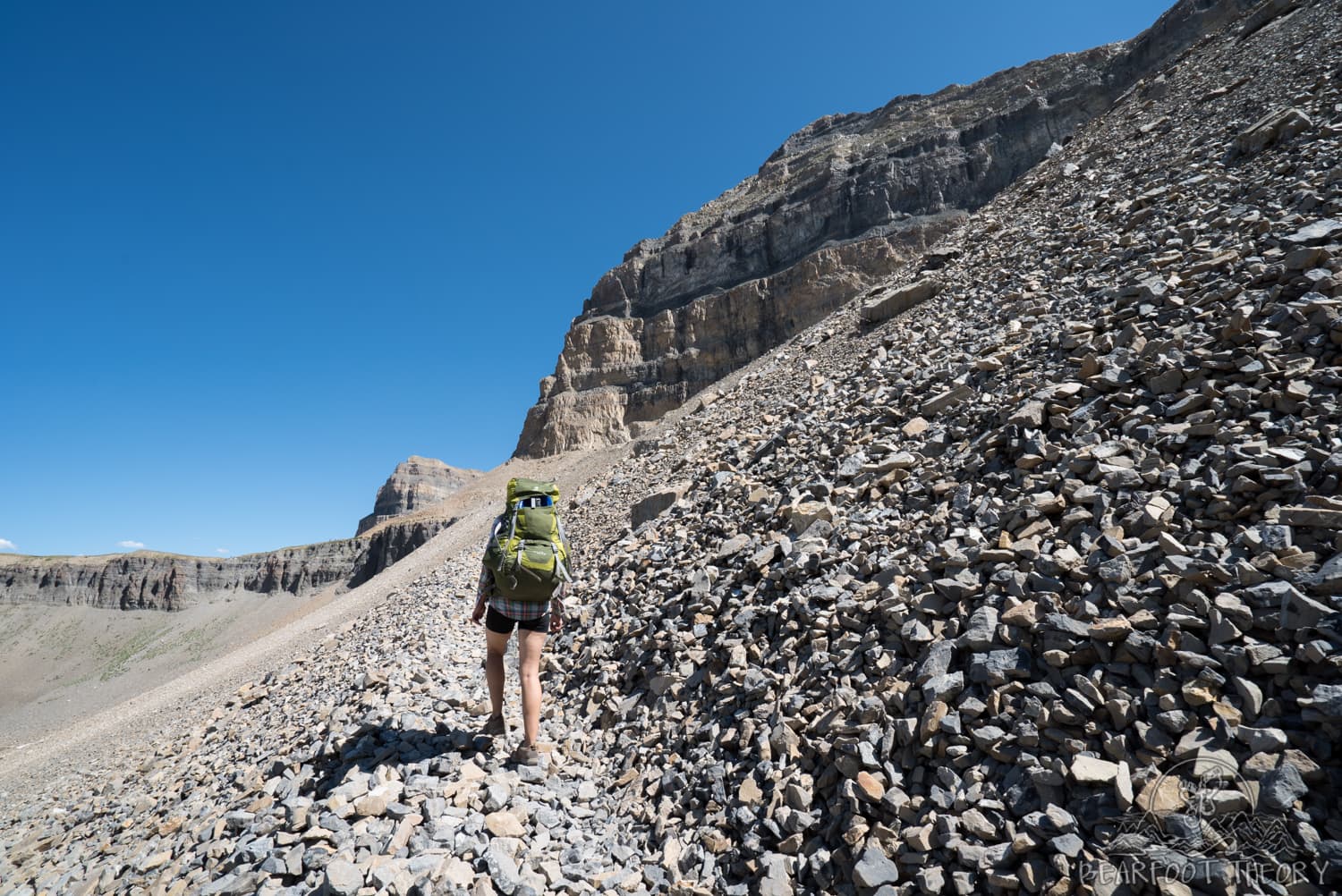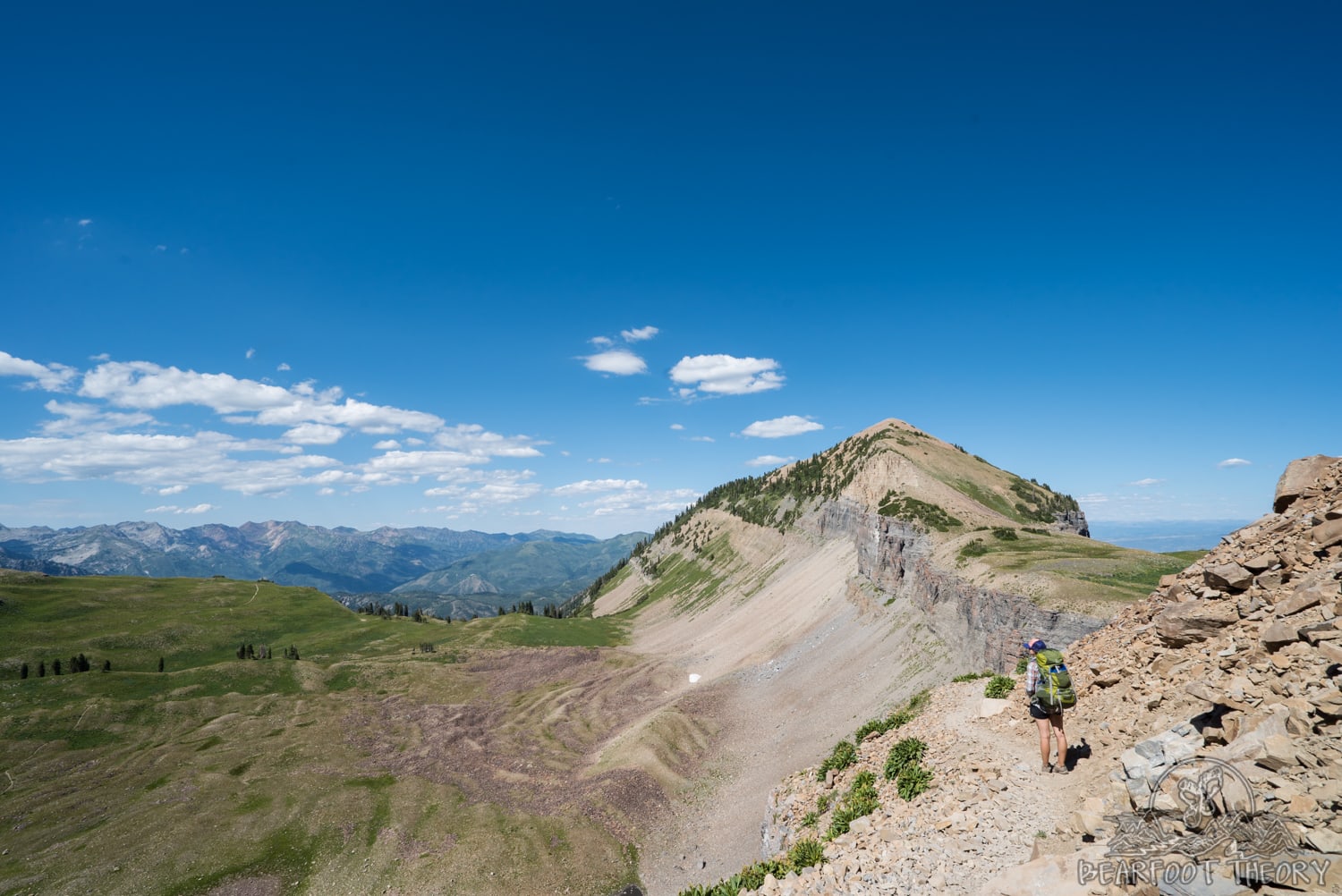 Camping at Emerald Lake
If you're spending the night on Mount Timpanogos, once you reach Emerald Lake, take some time to relax and enjoy it while the sun is still out. There is a nice island in the middle of the lake to hang out on, and swimming in the lake is allowed.
While it may be tempting, you should not set up your tent on the island in the lake. Camping here violates Leave No Trace principles which require tents to be at least 200 feet from the water.
Camping on the island would also make it awkward for other people who want to come out on the island and enjoy the lake.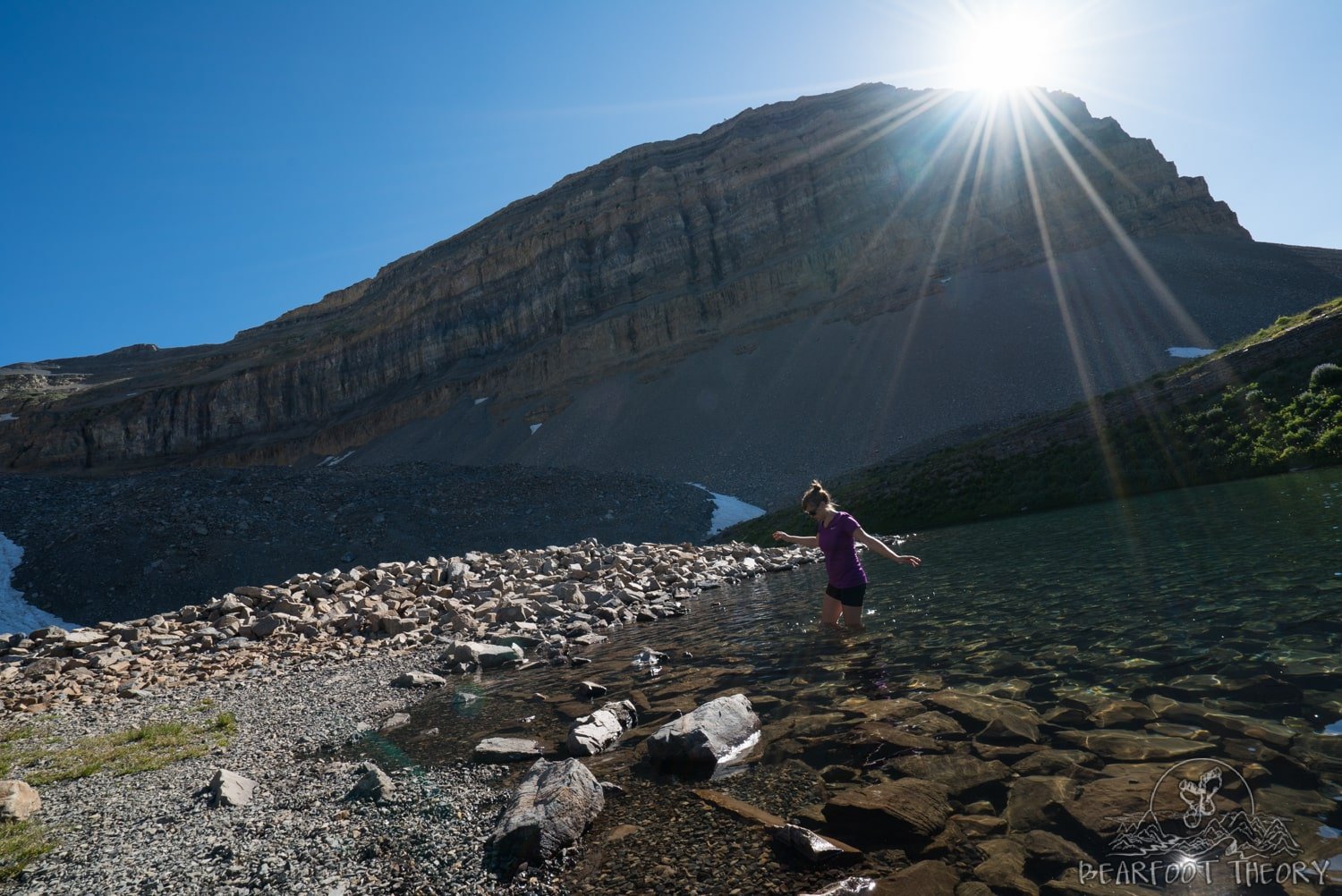 Mountain goats are also very common in the Timpanogos Basin. We really lucked out and got to hang out with the family in the photo below.
Most of the goats we encountered didn't seem bothered by us, although there were a few that seemed slightly territorial.
If any of them appear aggressive, give them their space and make sure to control any dogs that you bring hiking with you.
One person we met on the trail had a dog that chased after a goat and ended up getting gored.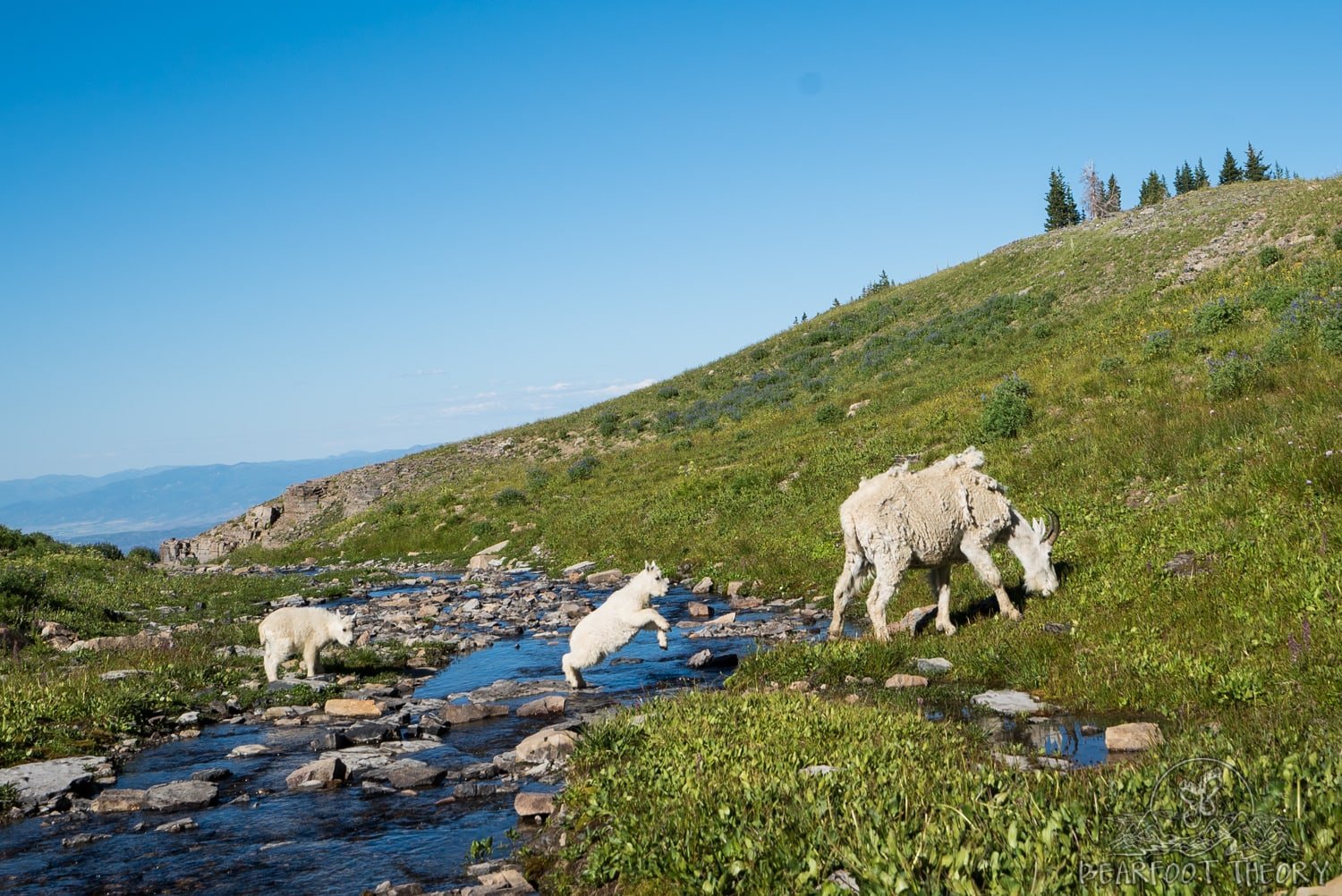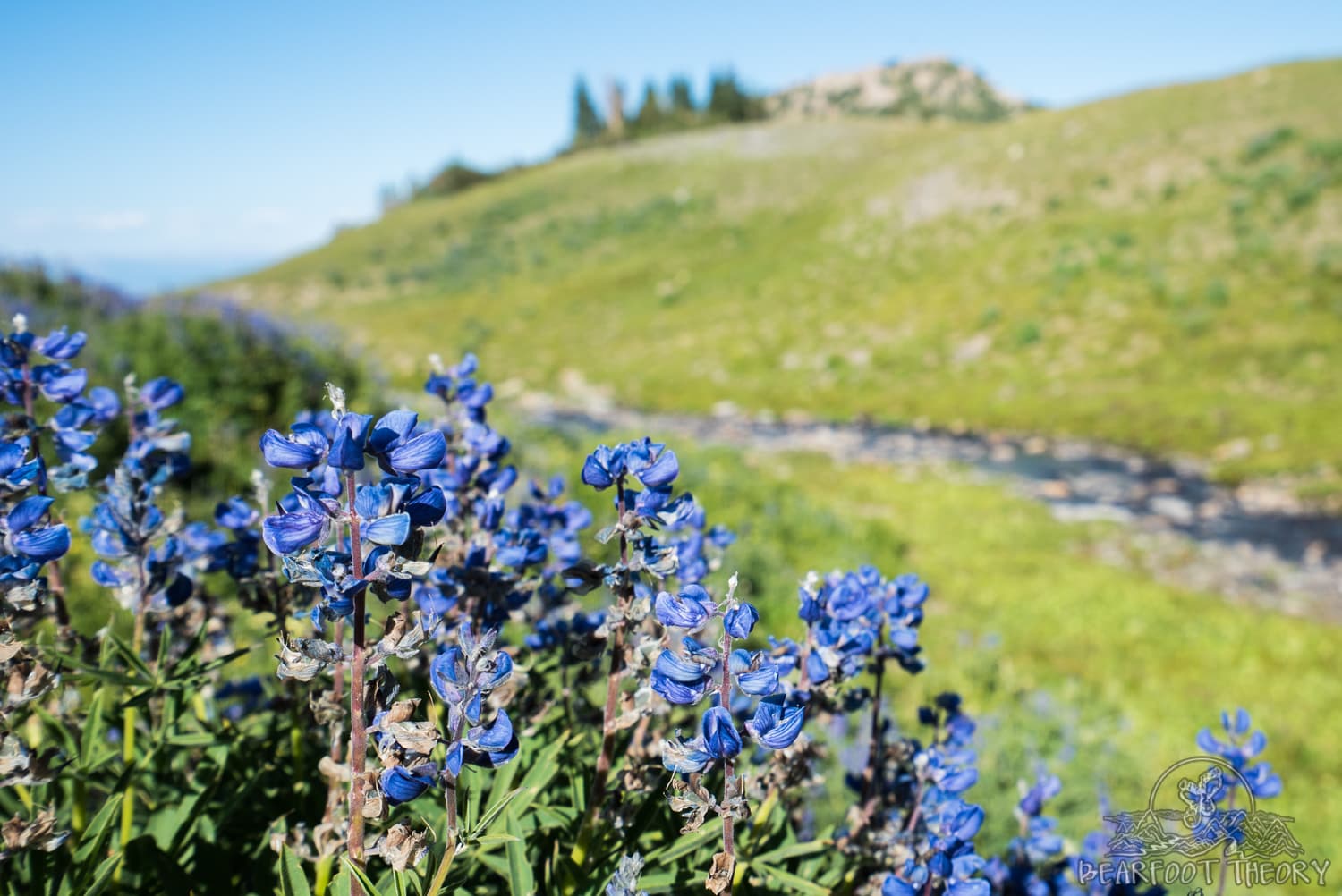 Most people camp near the lake or near the shelter which is often staffed with a volunteer from the Timpanogos Emergency Response Team.
Other than these areas, campsites were not obvious and the rocky terrain left few flat options for tents.
Despite this, we were hoping for a bit more privacy. So after hanging out at Emerald Lake, we searched around for a bit and found a quiet spot off the trail to set up camp with great views of Mount Timpanogos rising above us.
In general, campsites were not obvious and the rocky terrain left few options, but camping at Emerald Lake is your best option if you want to do an overnight.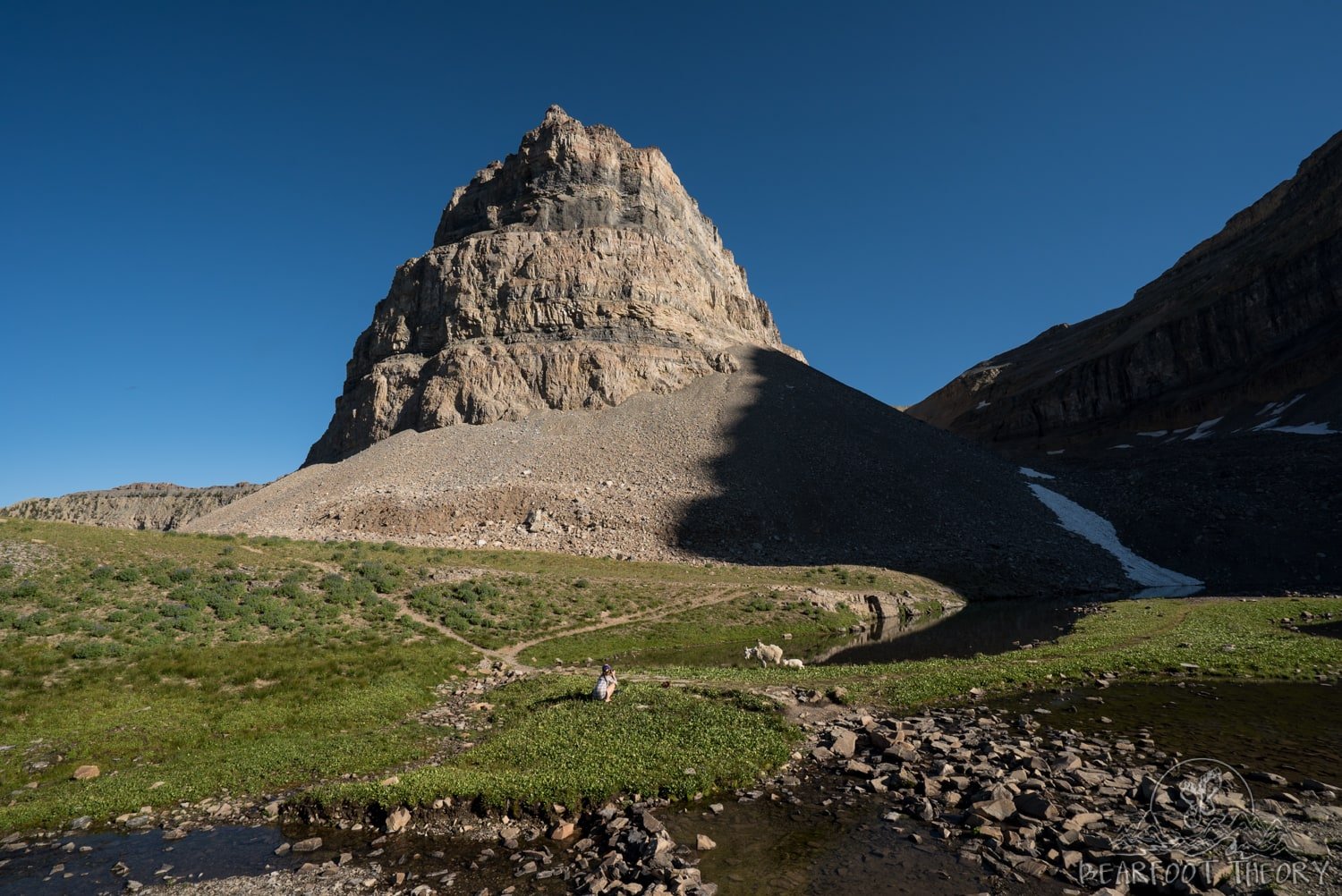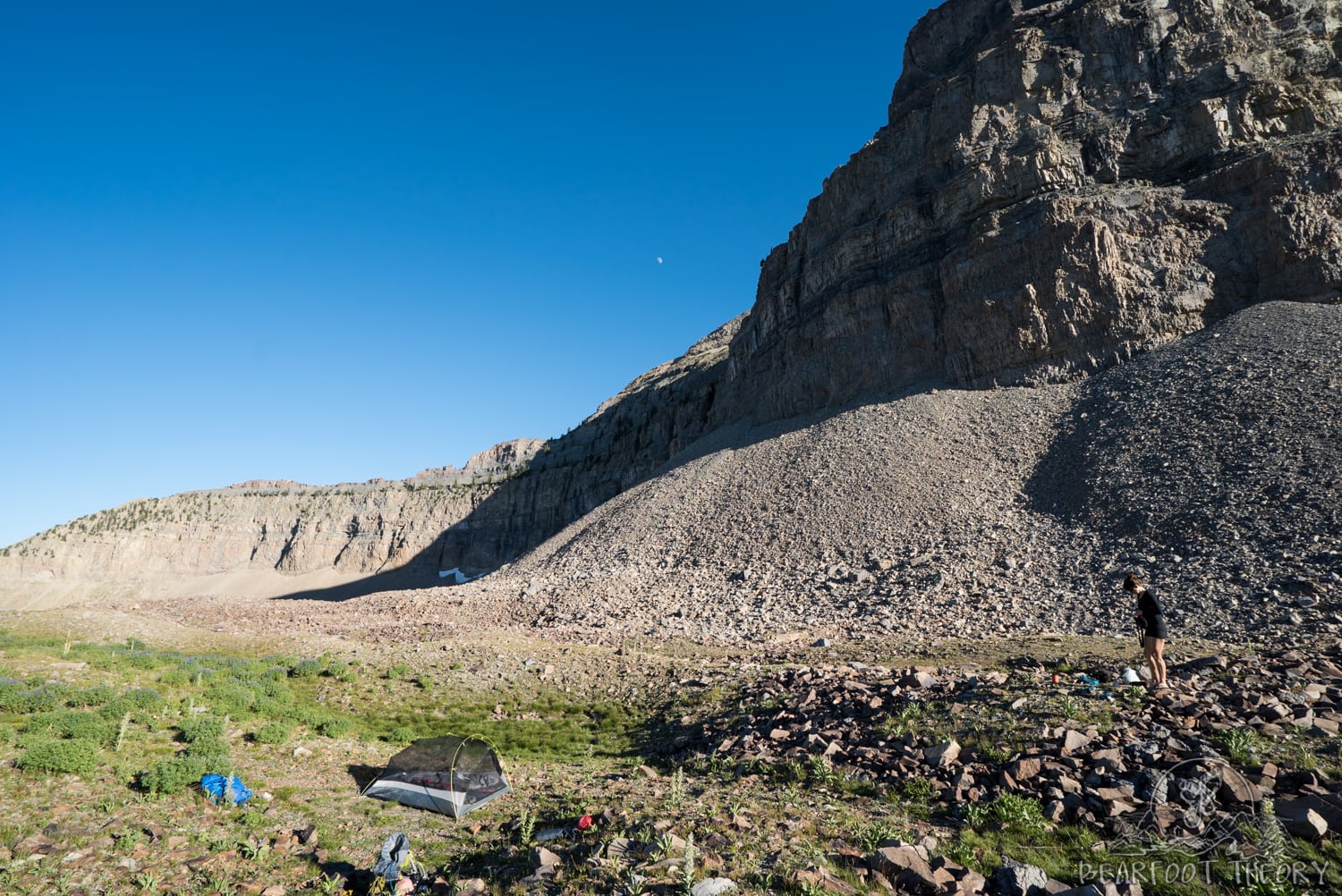 We spent our night whipping up some homemade veggie curry, listening to some quiet tunes, and playing a fun dice game called Farkel.
Then it was off to bed early so we could wake up in time to hike to the summit for sunrise!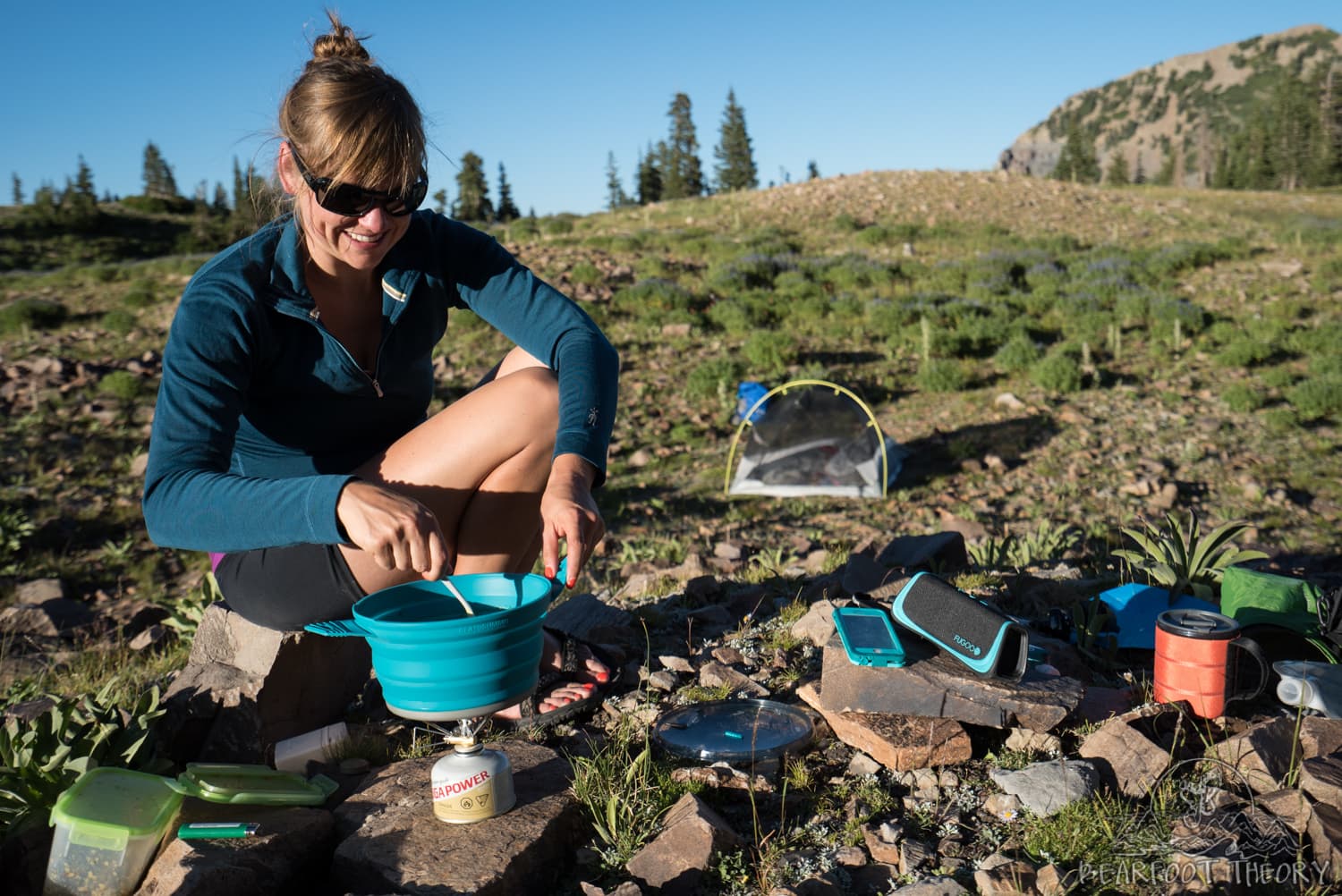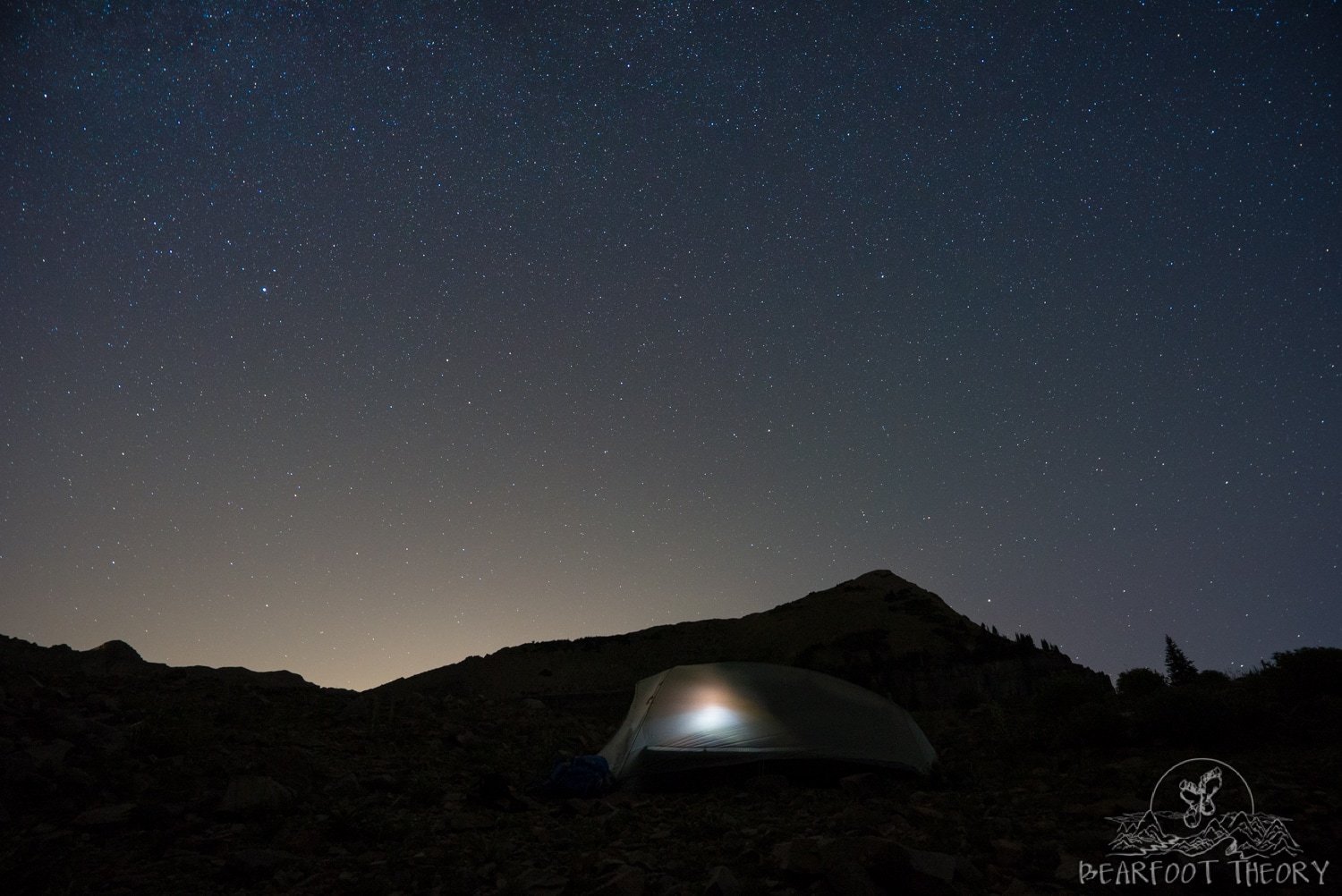 Summiting Mount Timpanogos
At 4:30 my alarm buzzed. We quickly got dressed, put on our headlamps, and set off.
If you decide to hike up to the summit in the dark, make sure your headlamp has plenty of batteries and bring lots of layers. It was pretty chilly and VERY windy once we made it up to the saddle.
We followed the Aspen Grove Trail towards the Upper Basin and then cut up through a boulder field towards the saddle. (Don't get overwhelmed by these directions. It's very obvious once you are there).
The final push to the saddle was short but very steep. We got off track a few times, but it's hard to get too lost as long as you keep going up toward the ridge. It's also likely that there will be other people with the same idea, so just look for other lights ahead of you on the trail to make sure you are on track.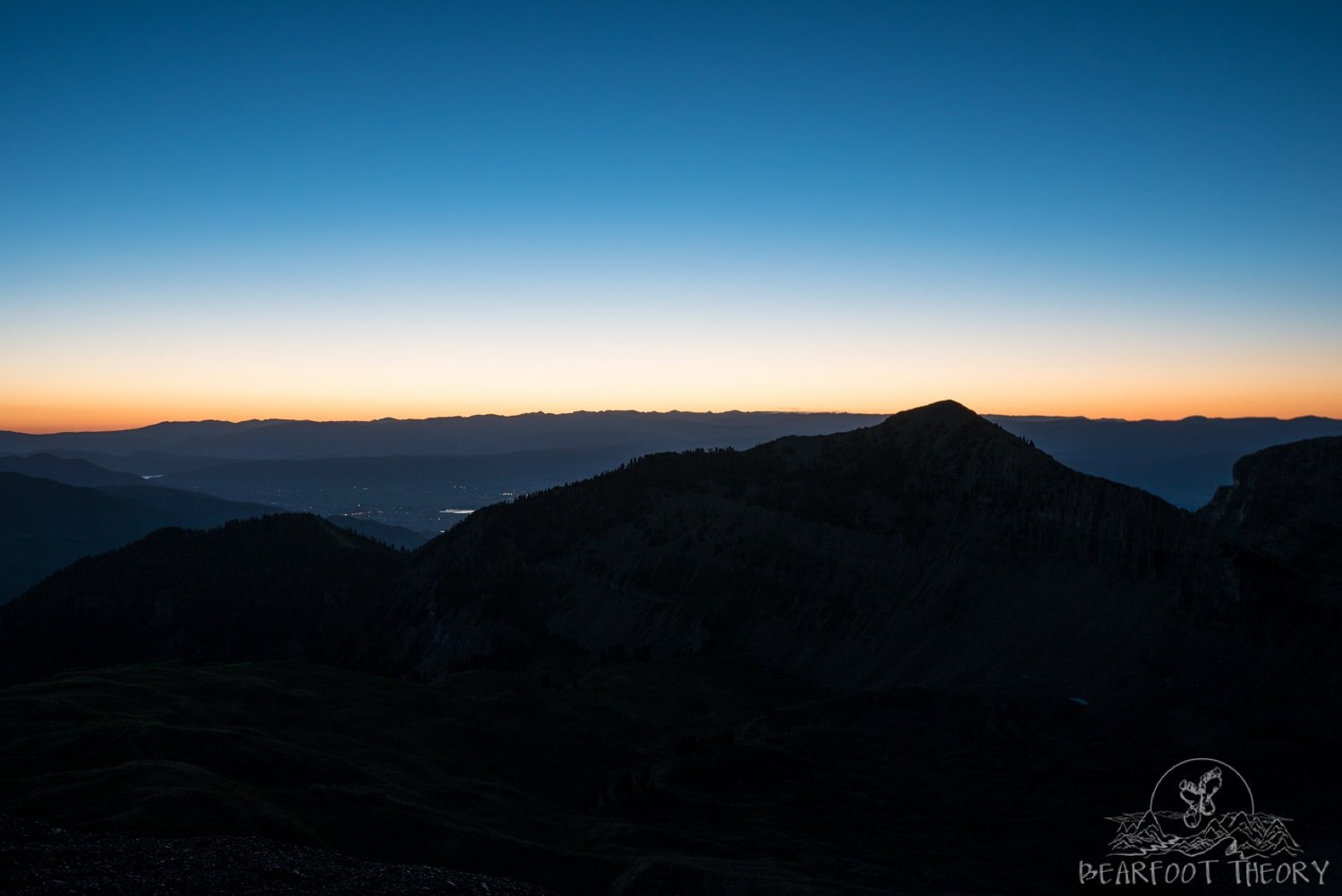 By the time we reached the saddle, it was about 6 am. Once we moved up the saddle, the ridgeline blocked our view of the sun, so we decided to stay there to watch the sunrise before continuing up.
The bottom of the saddle also offers wide-open views of the Wasatch Range, the Timpanogos Basin, and the Salt Lake Valley.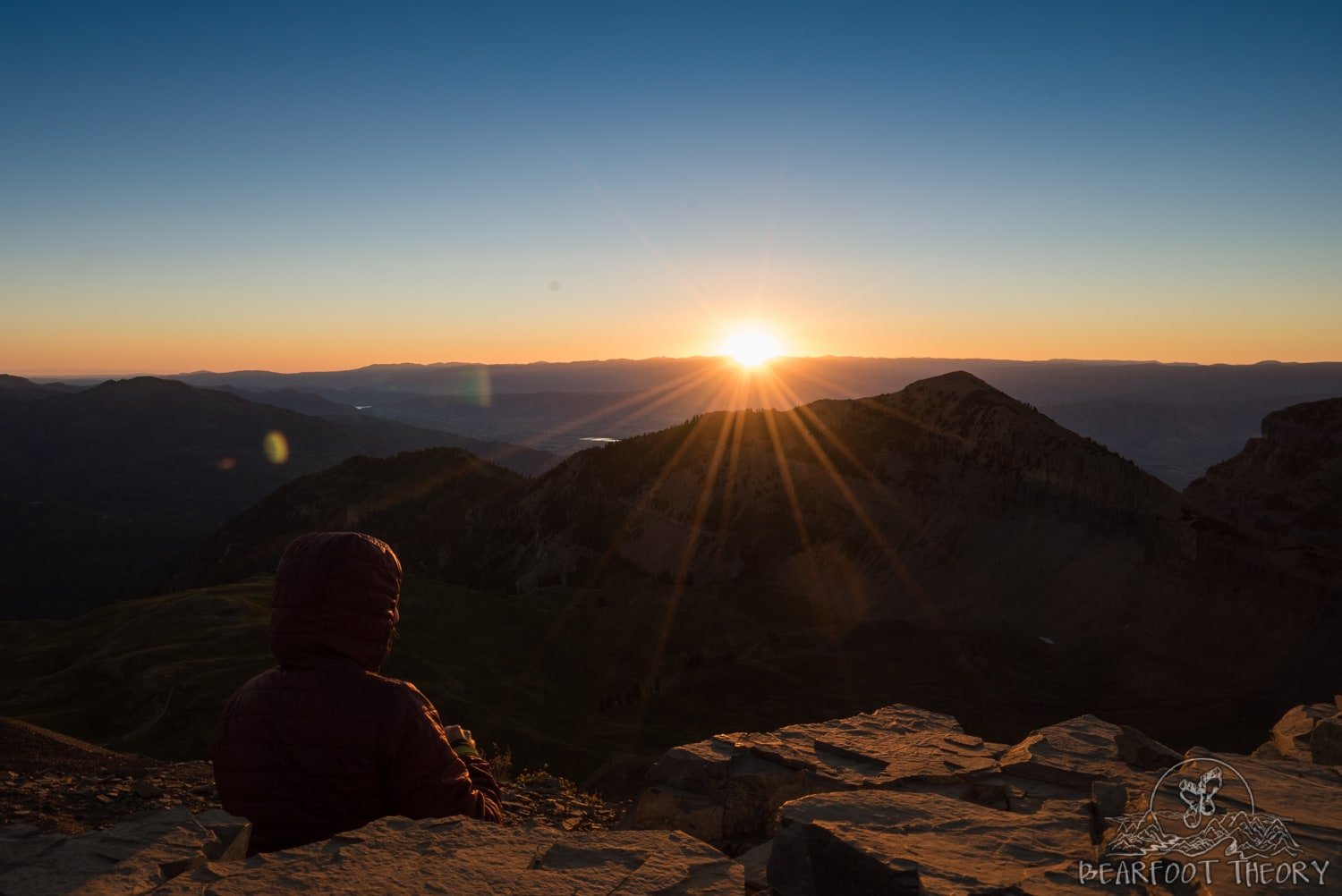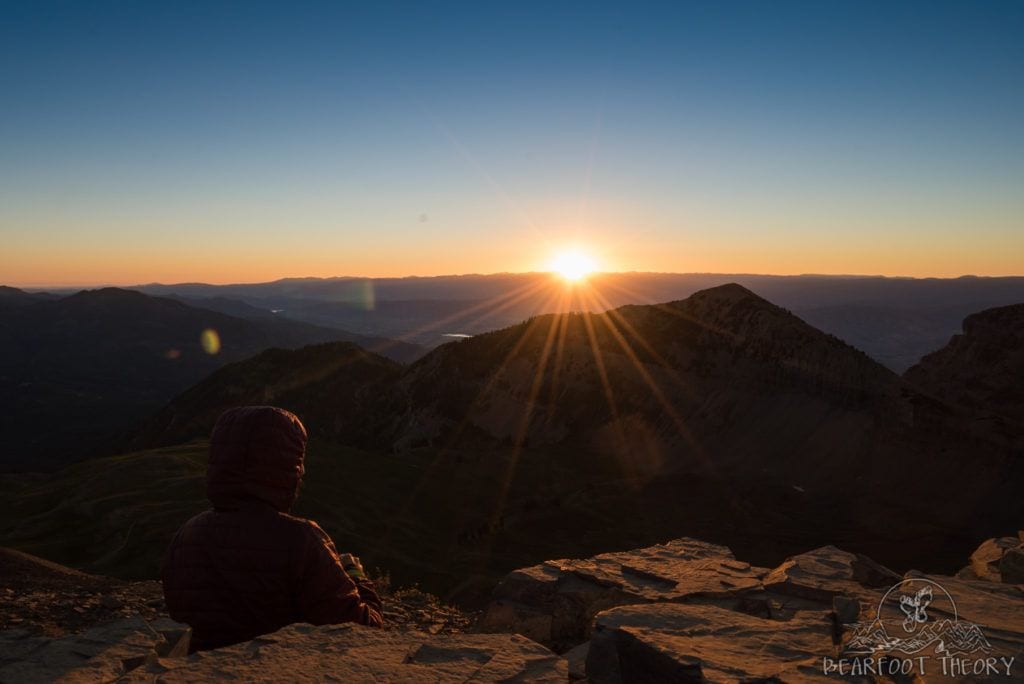 Once the sun came up, we continued on to the summit. It took us about 30 minutes to hike the final 0.6 miles and 600 feet of elevation.
While at times you may feel slightly exposed, the trail is very easy to follow and there is virtually no scrambling required.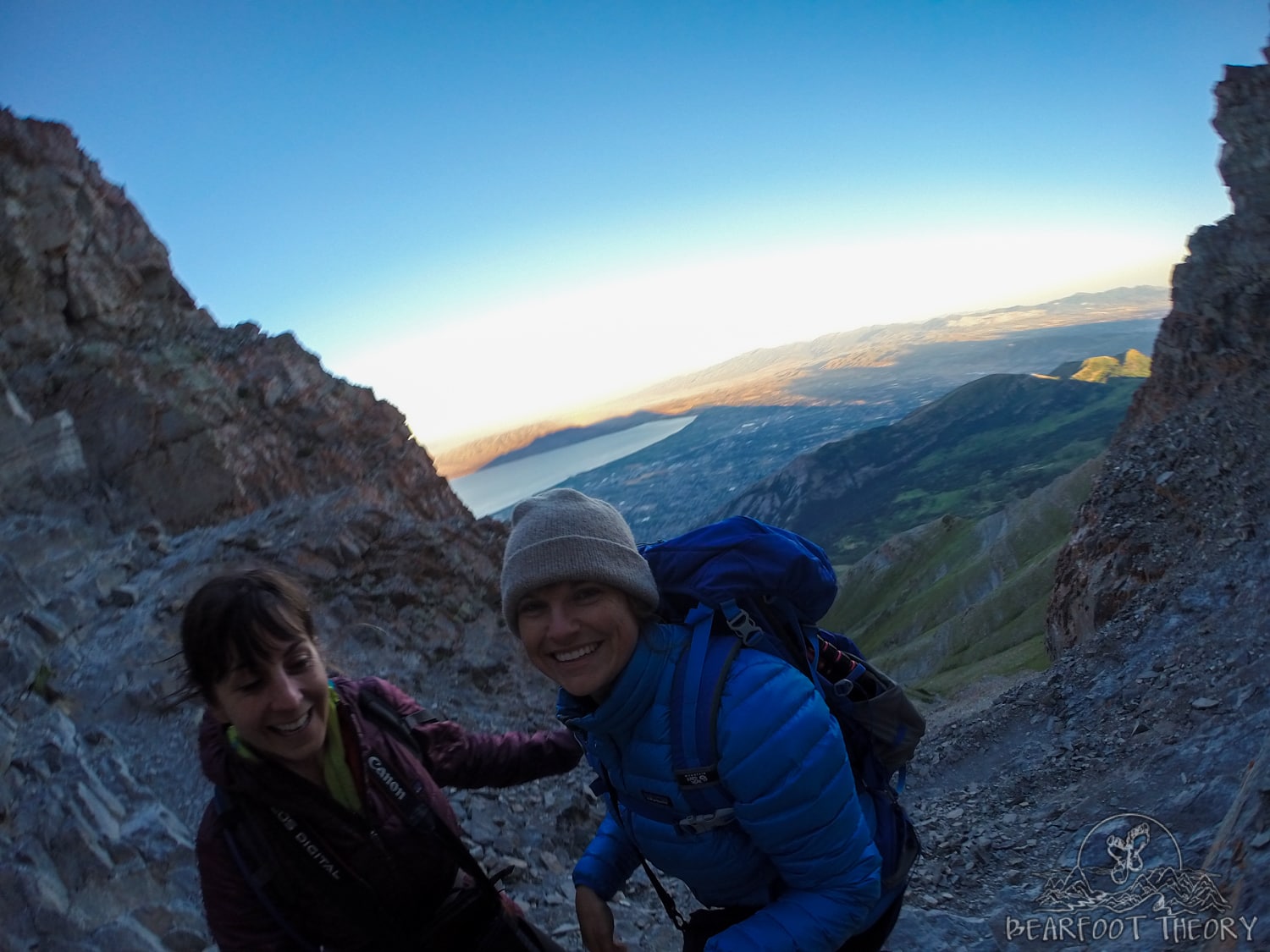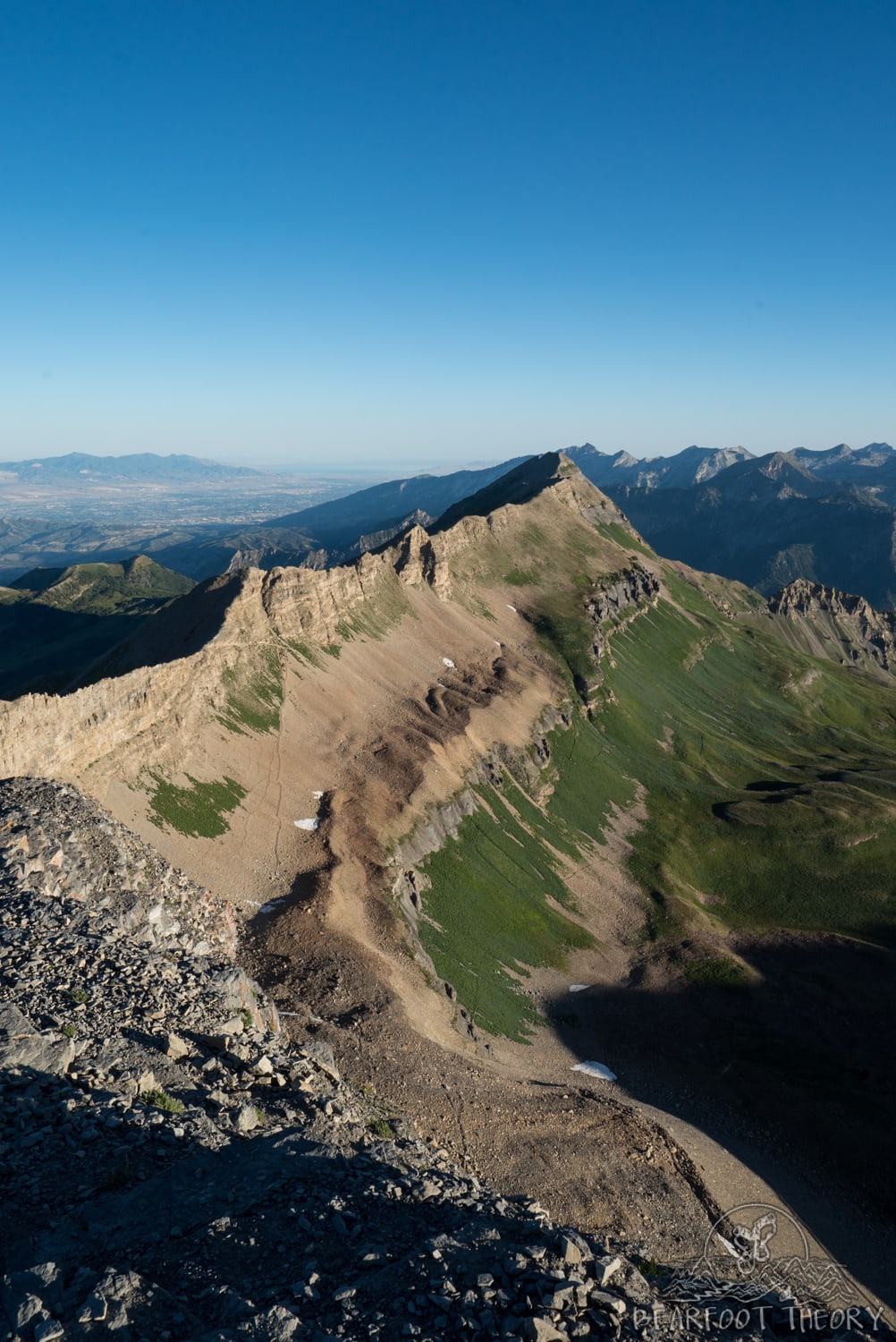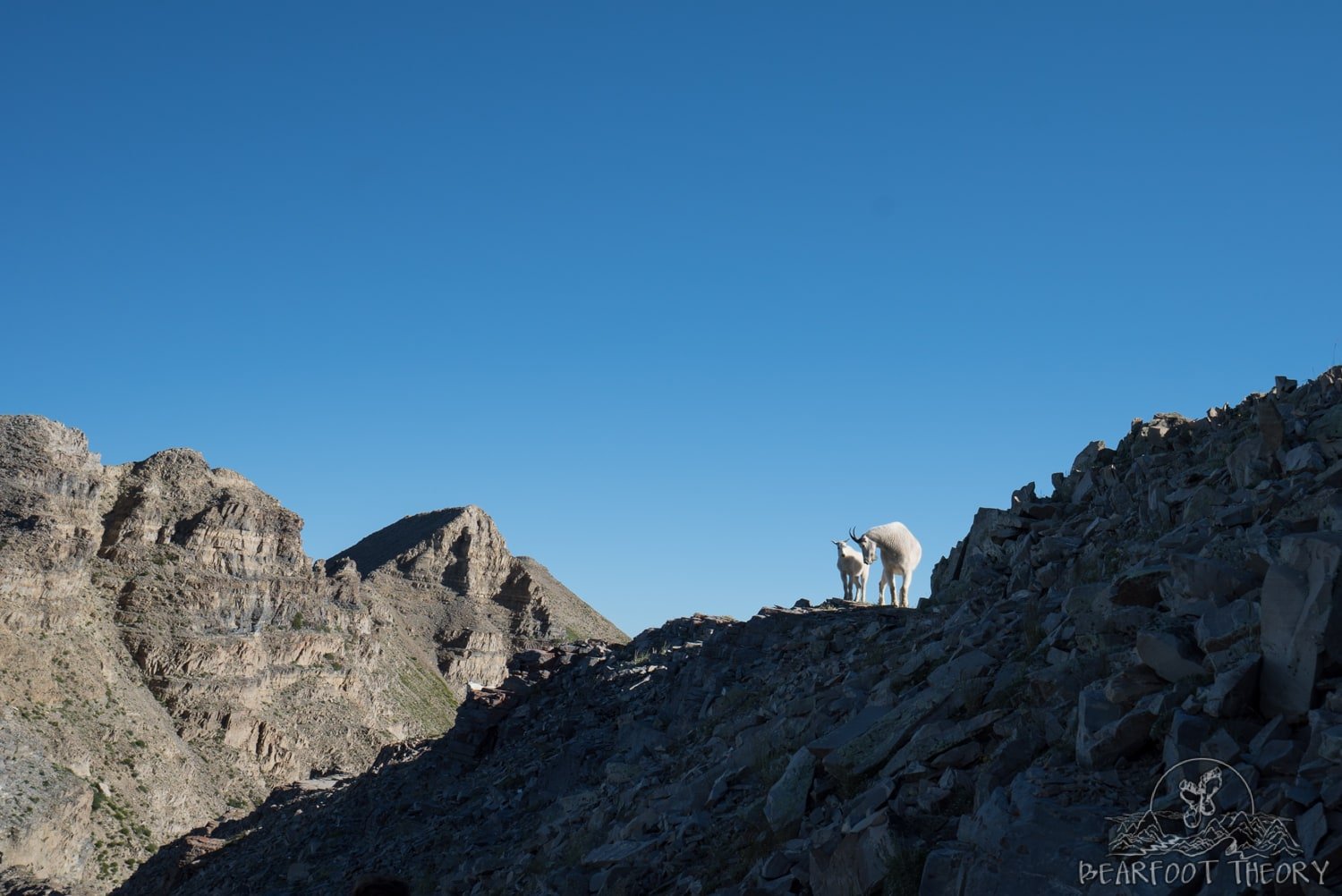 Once you reach the Timpanogos summit, the views are spectacular!
Make sure to enjoy some snacks, take a bunch of pics, and sign the trail register in the wind shelter before heading back down.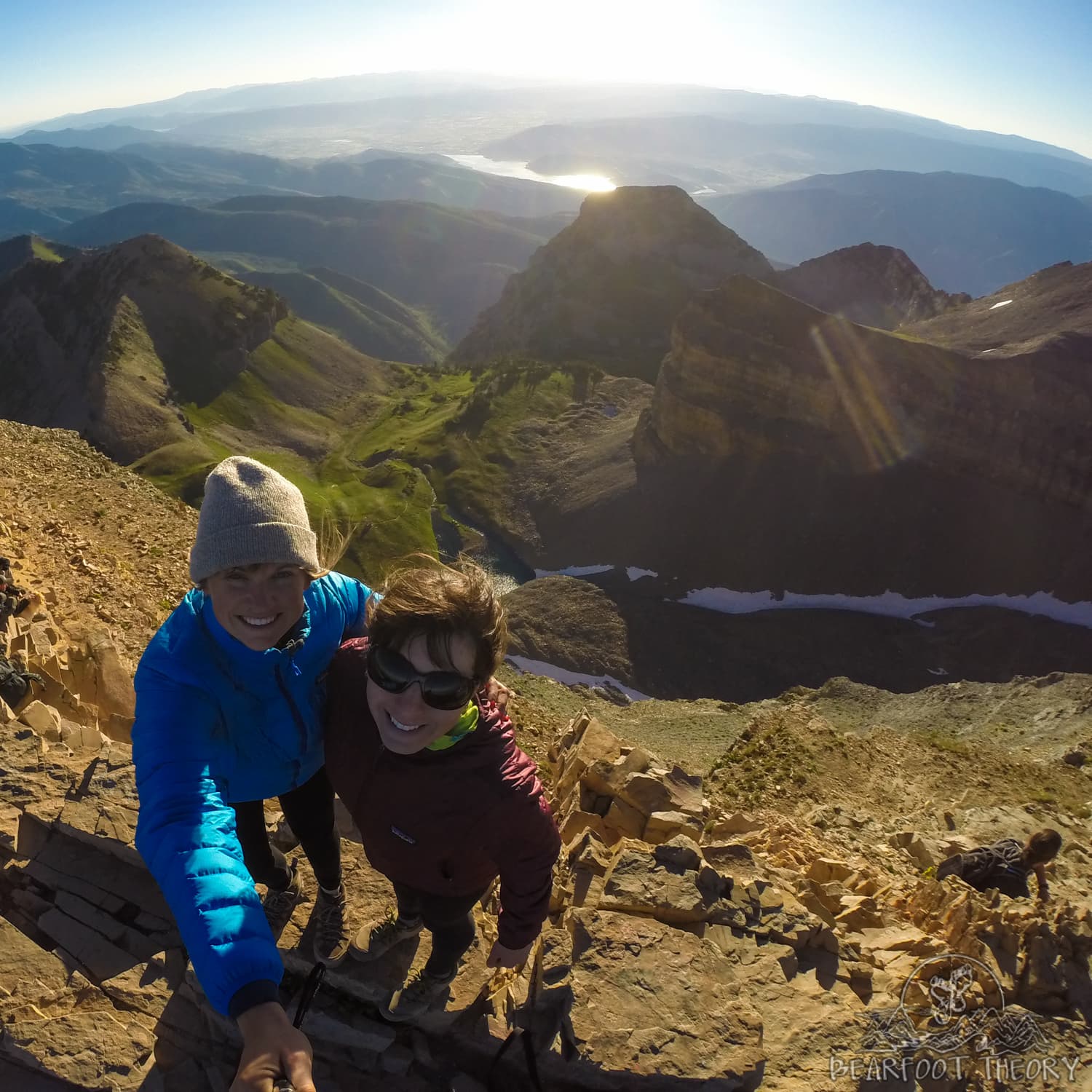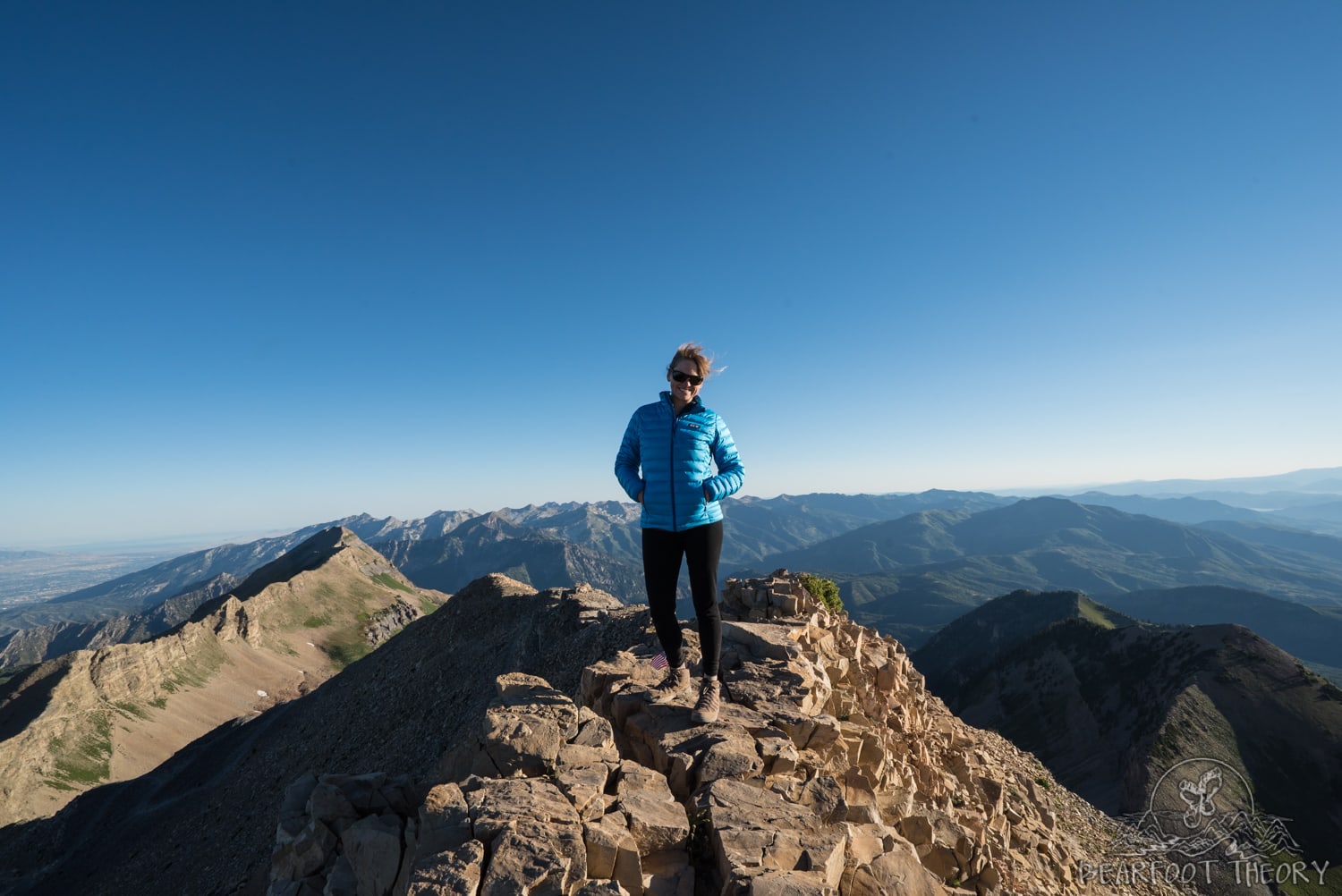 The return
On the way back down from the summit, we decided to take the Timpooneke Trail back to Emerald Lake because it was much less steep than the way we came up.
In the end, we couldn't decide if that was a good or a bad choice. It added at least 2 miles since we had to backtrack through the upper basin to grab our gear which we left at our campsite.
On the other hand, the wildflowers along the Timpooneke summit route were the most vibrant we saw on our entire hike. So maybe it was worth it!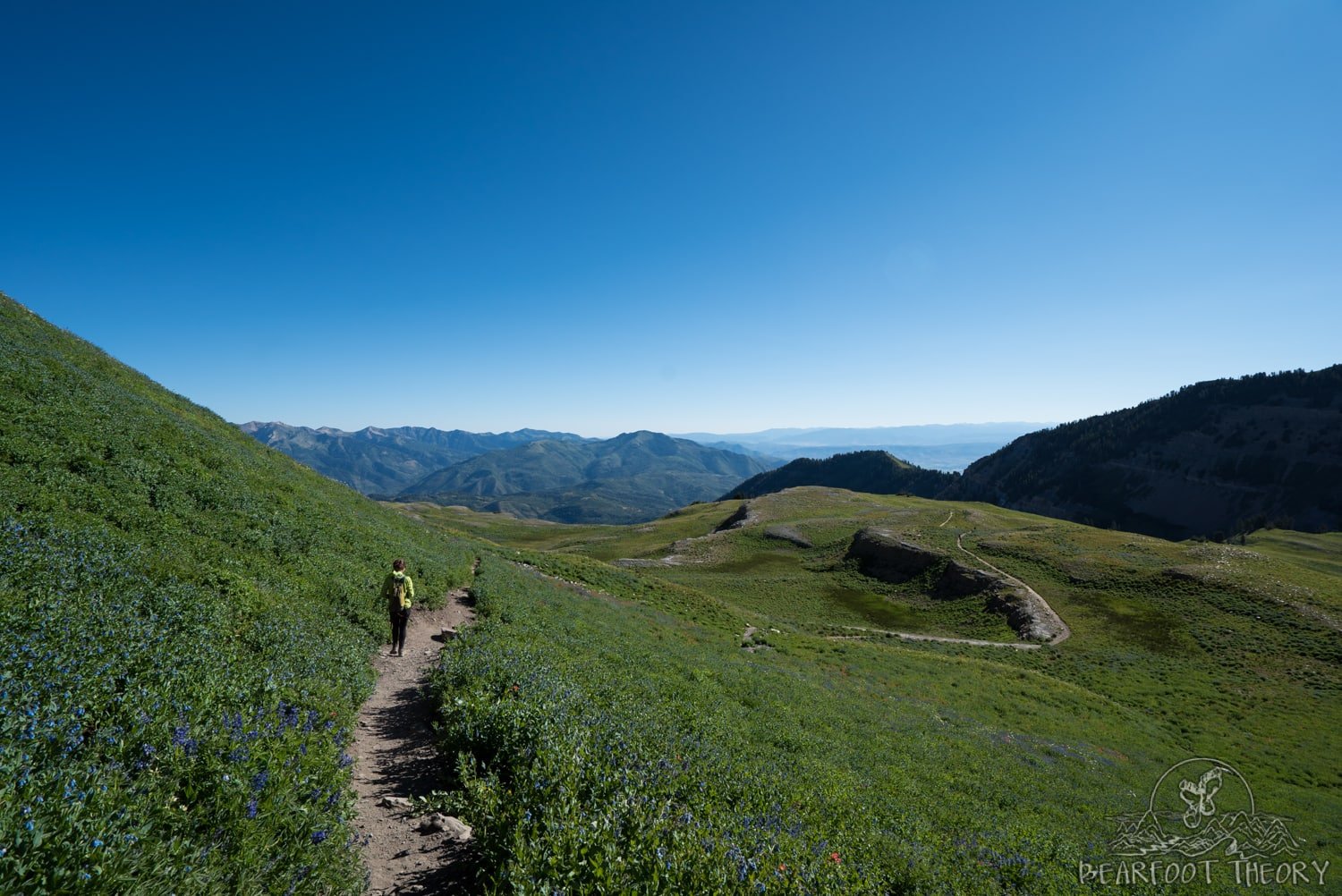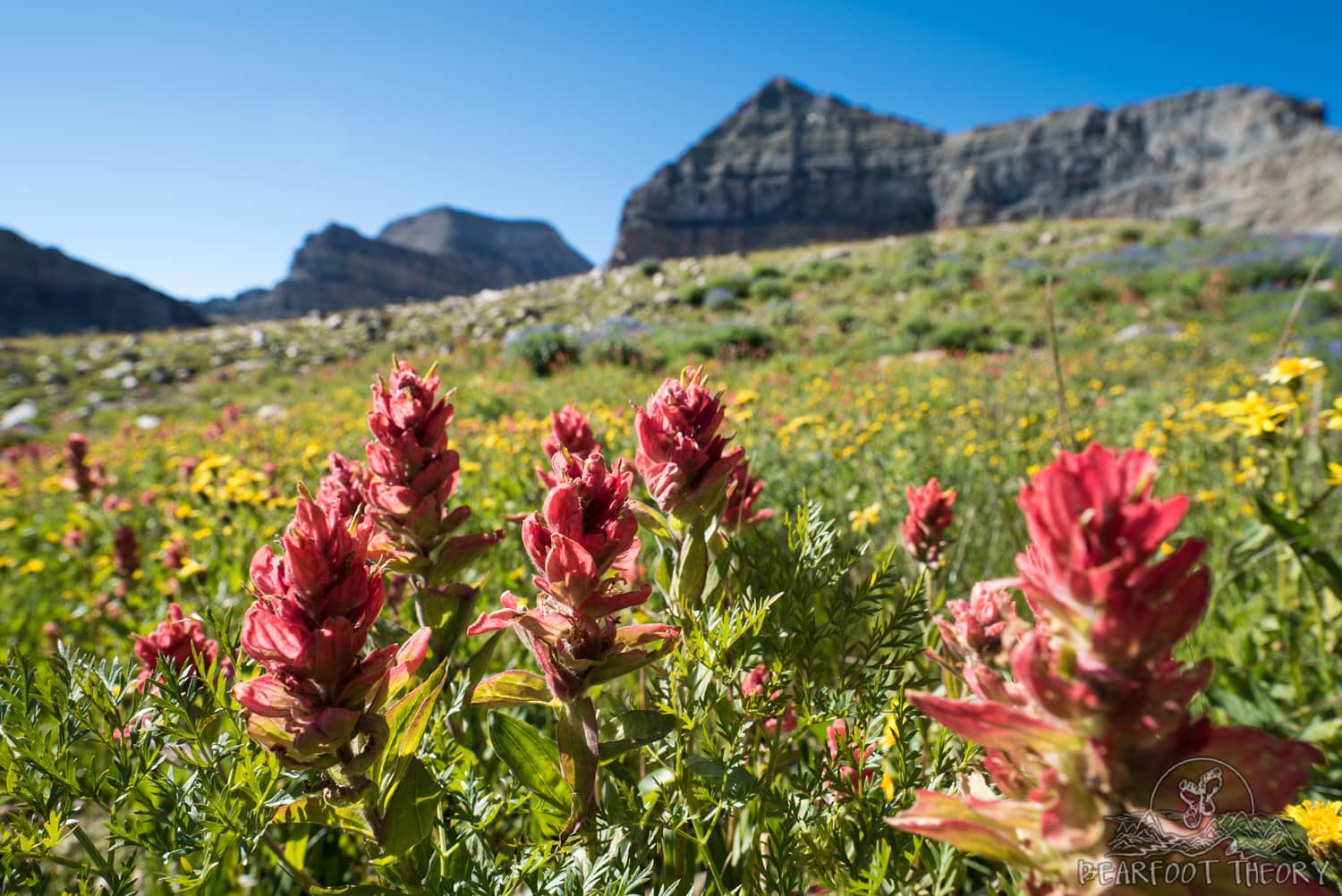 ---
In Hindsight
Between the scenery, wildlife, and summit views, I see why Timpanogos is a local favorite. If you live here and haven't done "Timp" or you are here on vacation, it is definitely a mountain worth doing.
If I were to do this backpacking trip all over again, I would hike up the Aspen Grove Trail instead.
The Aspen Grove Trail goes right by Emerald Lake, and the lack of water on the Timpooneke Trail meant we had to hike the extra distance to Emerald Lake anyways.
Even if water hadn't been an issue, there were very few established campsites on the Timpooneke Trail and Emerald Lake was a nice place to spend a couple of hours once we dropped our packs.
As a day hike, however, the summit route from the Timpooneke Trail is a bit easier. The trail never seemed too steep or intimidating and my hunch is this trail is also less busy.
That said, you can't really go wrong with either trail and I look forward to going back again and starting from the Aspen Grove side.
Looking for more great hikes in Utah? Check out these related blog posts:
Have you hiked Mount Timpanogos? Which trail did you take: Timpooneke or Aspen Grove? What questions do you have about making this an overnight trip? Leave a comment below!