How much does van life cost? This is one of the most common questions we get about van life, and as you can likely guess, the answer is it depends. Van life costs can vary from person to person depending on how much you drive, how much you free camp, how often you cook vs eat out, and a variety of other factors which we'll cover in this blog post. What your total van life expenses really come down to is whether you treat van life like a vacation or you stick to a similar budget as if it were your normal life at home.
To help you prepare for a financially stable van life, I share what some of my van life costs have looked like over the last few years and what we budget for when we are traveling. I hope this helps you get a rough estimate of what expenses to expect when you live in a van.
Learn what van life costs and estimate your own expenses with the tips in this blog post.
Budgets for van life vary greatly
Let's start with the common question, how much does van life cost? Unfortunately there is no easy answer to this and budgets vary greatly from person to person. The good news is that with proper planning, van life can cost as much or as little as you want it to.
Van life doesn't have to be expensive. Remember back in our lesson on choosing the right van for your lifestyle where I strongly advised you to buy a van that was within your means? The same thing goes for living within your means once you hit the road.
You can choose to keep things simple and do van life on a budget, or you can shell out more cash for conveniences like paid campgrounds with facilities, dining out, paid tours and activities, gym memberships, and more. By cooking your own meals, staying at free dispersed sites, and going slow, you can do van life for a minimal cost, and we'll talk more about saving money while on the road in the next lesson.
To give you a very rough idea of monthly van life costs, some of the van lifers we know spend around $800/month while a good number of van life couples we know spend around $2000/month. That includes gas, insurance, bills, food, dining out, camping and recreational fees, and everything else, except for the cost of the actual van.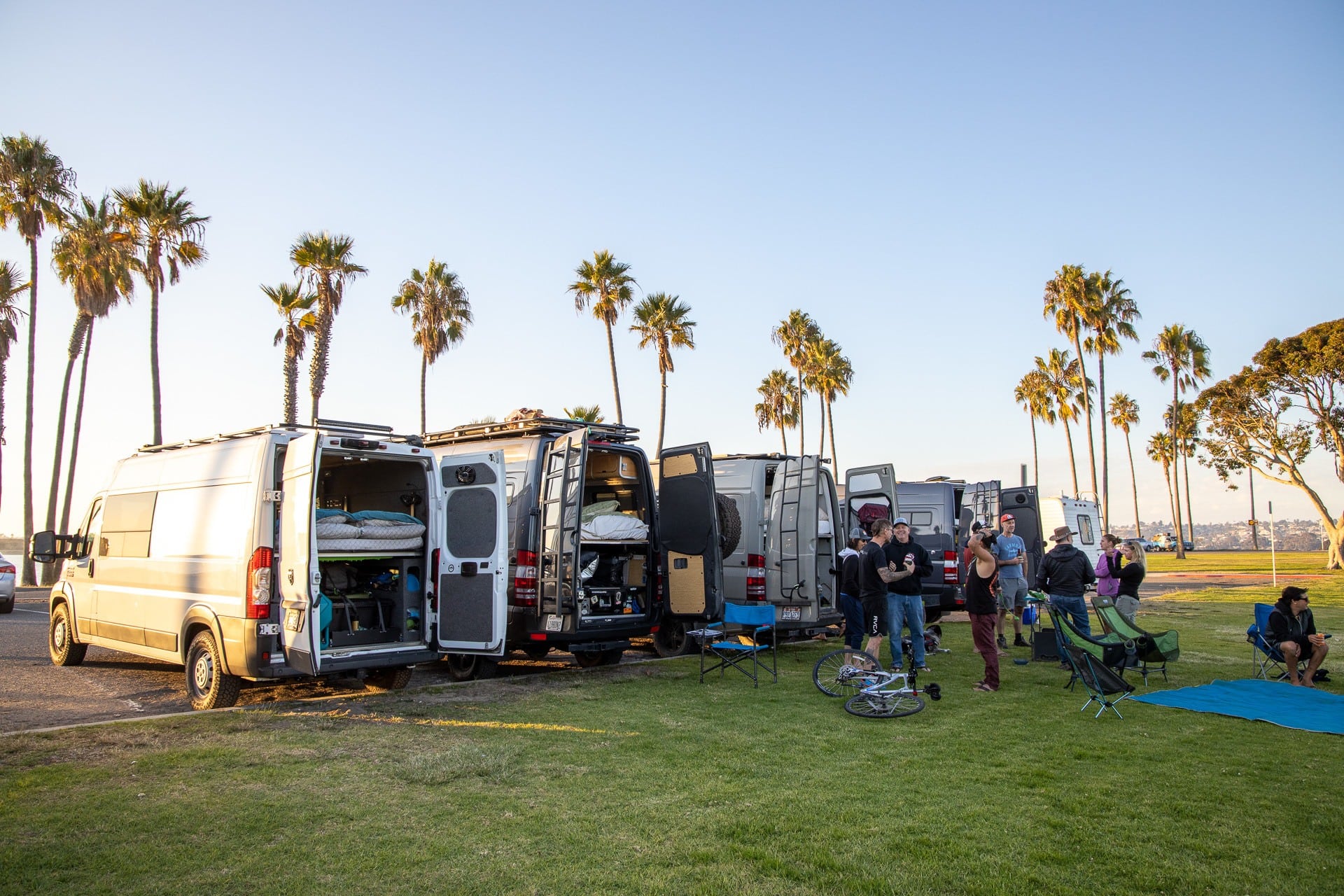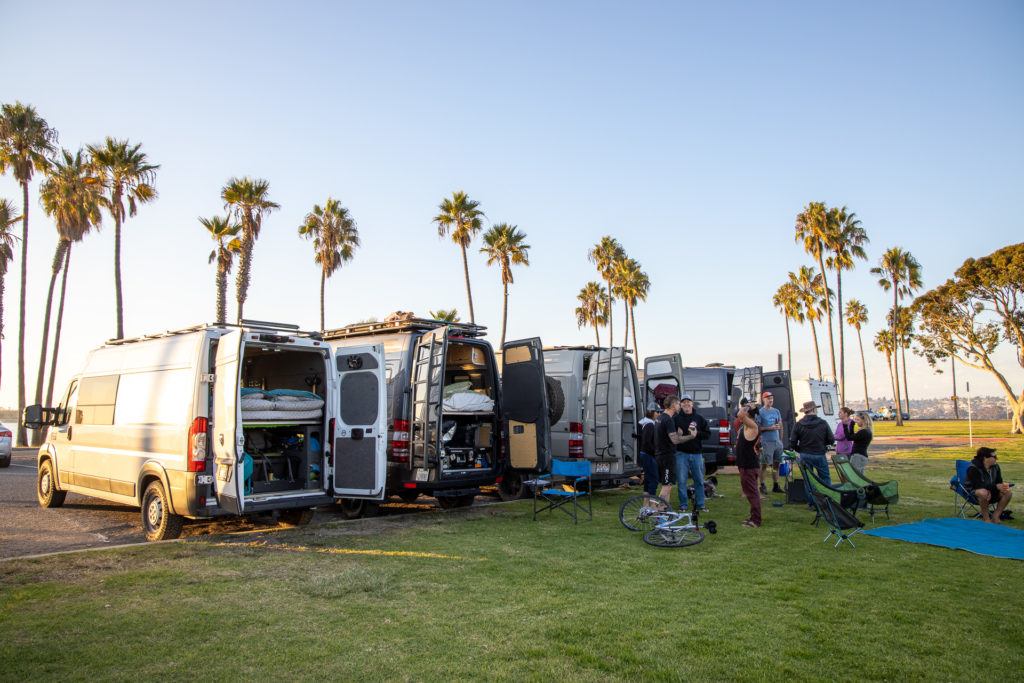 ---
How much does it cost to convert a van?
In this blog post, I'm mostly focused on daily expenses when you live in a van. However, with the upfront cost of the van being one of your biggest expenses, it would be silly to not mention in here. The main thing to remember is that you can find a van that will work for you within your budget whatever that may be.
Just like budgets vary from van lifer to van lifer, so can the cost of the van conversion. Here are some rough estimates for the new panel-style vans that are popular for conversions.
The least expensive panel style van is the Dodge Promaster with prices starting around $33,000.
The Ford Transit starts around $37,000
On the more expensive end is the Mercedes Sprinter, with 4×4, prices starting around $56,000.
One expense that often gets forgotten is your taxes on your van purchase and registration. In Utah, I pay $700 a year for registration for my Sprinter Van. I also opted for the extended warranty on my Sprinter Van which ran a few thousand dollars.
Of course you can save money by buying a used van – either one that's an empty slate or one that's already been converted. I share some pros and cons to consider when buying a used van here.
Once you have the price of your empty van, then you can estimate how much your van conversion will cost. Again prices vary depending on whether you DIY or hire a conversion company. I've heard of people DIYing their van conversions for $10,000-$20,000. This would require shopping around for materials to get the best price, using second hand materials when possible, and doing everything yourself. I'd guess that for this price you are also looking at a basic build with not too many frills. For a higher budget, you could outsource the parts of the build you aren't comfortable with, buy higher end components for your power system, and get a bit more detailed with your layout.
If you hire a conversion company, the price should depend on a number of factors – mainly their level of experience, the complexity of the build, and the quality of the materials and components they are installing. A newer conversion company lacking experience might charge somewhere in the $40,000-$60,000 range. If they charge more than that and don't have at least a few vans under their belt, you want to be really sure they know what they are doing. If you go this route, make sure to check out my tips for interviewing different van conversion companies
More experienced companies with hundreds or more vans under their belt might charge upwards of $125,000-$175,000 or more for a full conversion. While this sounds really expensive, vans in this class built by well-known companies tend to hold their value. In my experience you also get what you pay for.
One last thing I'll note is that there is no right or wrong way to do van life. All that matters is you do van life how you want to do it and that it doesn't drive you into financial ruin. I know plenty of van lifers with simple vans who live on tight budgets who are much happier than those who dropped tons of money on a fully decked out van. I also know people who spent a lot of money on their vans and think it was worth every penny. So it doesn't matter what other people think, as long as you are happy and the van was a smart choice based on your financial sitution.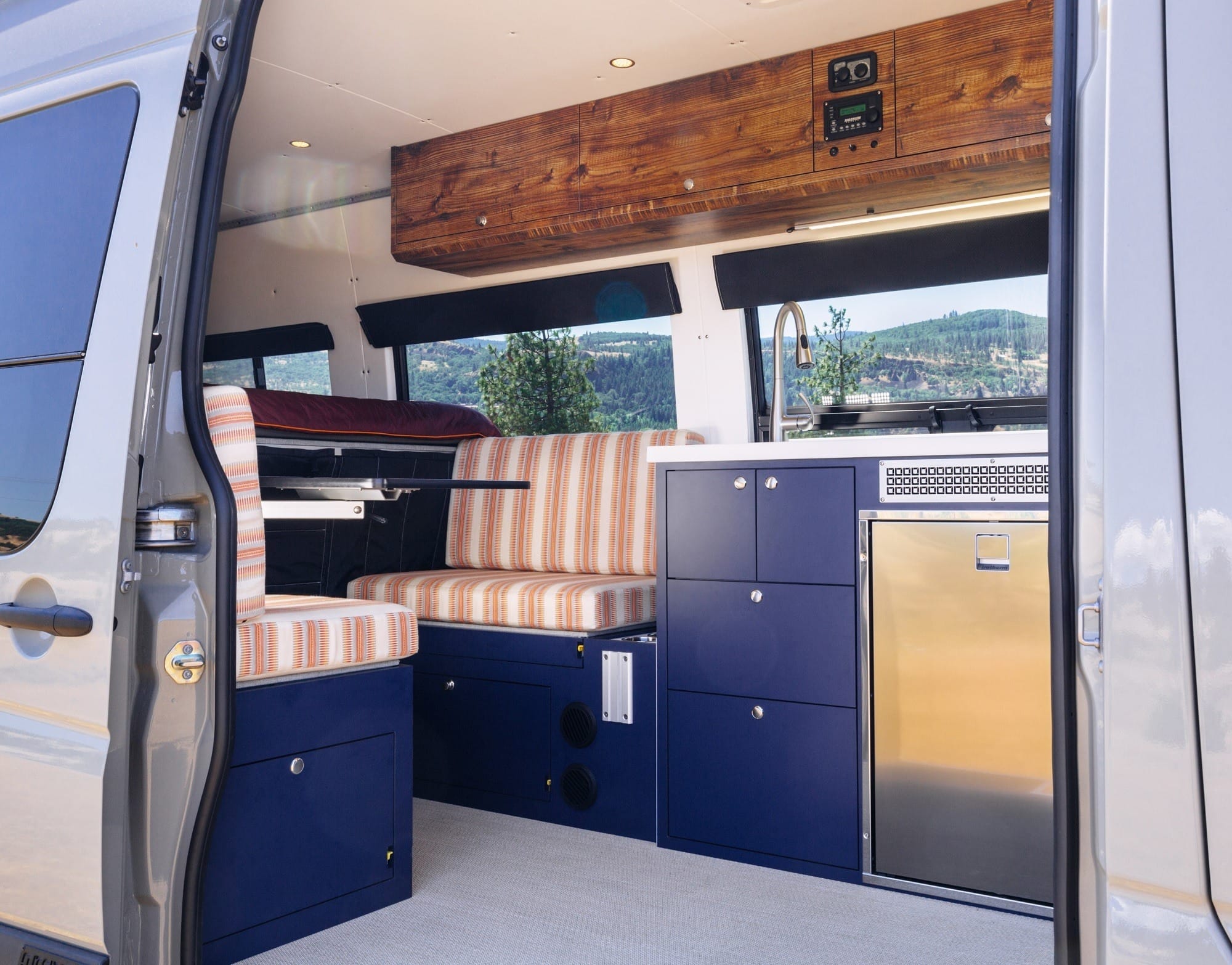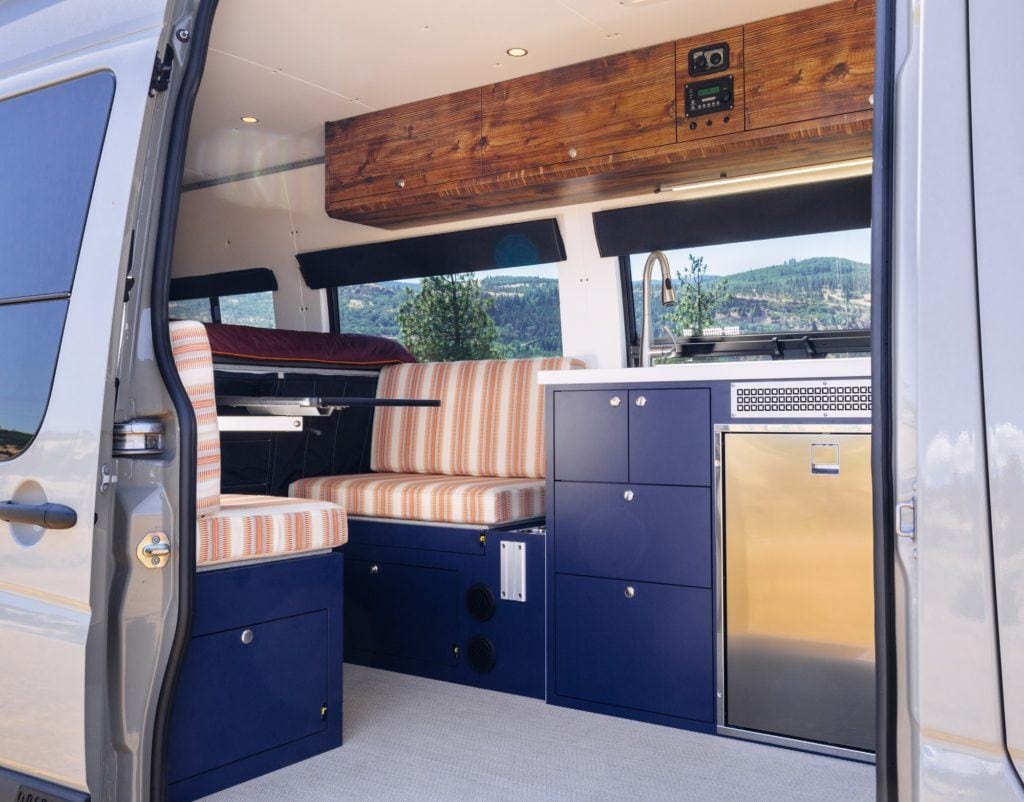 ---
Daily Van Life Costs
Now, aside from the van itself, here are some common expenses you'll face when living in or traveling in your van. Keep in mind that these are rough numbers provided to give you an idea of common van life costs.
Gas
Filling up your tank can cost anywhere between ~$200-600/month depending on the fuel efficiency of your van, gas prices, and how far and often you are moving. For my Sprinter, filling the entire tank costs around $60 depending on diesel prices and we're able to go about 350 miles per tank.
Paid campsites
I've found that most paid campsites cost between $15-$30/night on average, so depending on how many nights you end up staying at paid campsites vs free campsites, your camping expenses can vary widely. If you stay at a paid campsite every night, it will cost between $450-900/month.
We typically choose free sites for a number of reasons. First, free campsites have fewer rules about dogs being off-leash. Second, they tend to offer more privacy. And third, it allows us to to do van life cheaper!
When we choose to stay in paid campsites, it's because there aren't a lot of free options or we need a shower. We'll also stay in paid campsites if we are recreating in a state or national park, and the paid campsite offers a much more convenient location to the trails we want to explore. Typically when we are traveling out west, we spend less than $100 a month on paid campsites. In our experience, however, finding free (attractive) campsites is much easier out West than along the East coast. Check out our guide to finding free campsites for tips.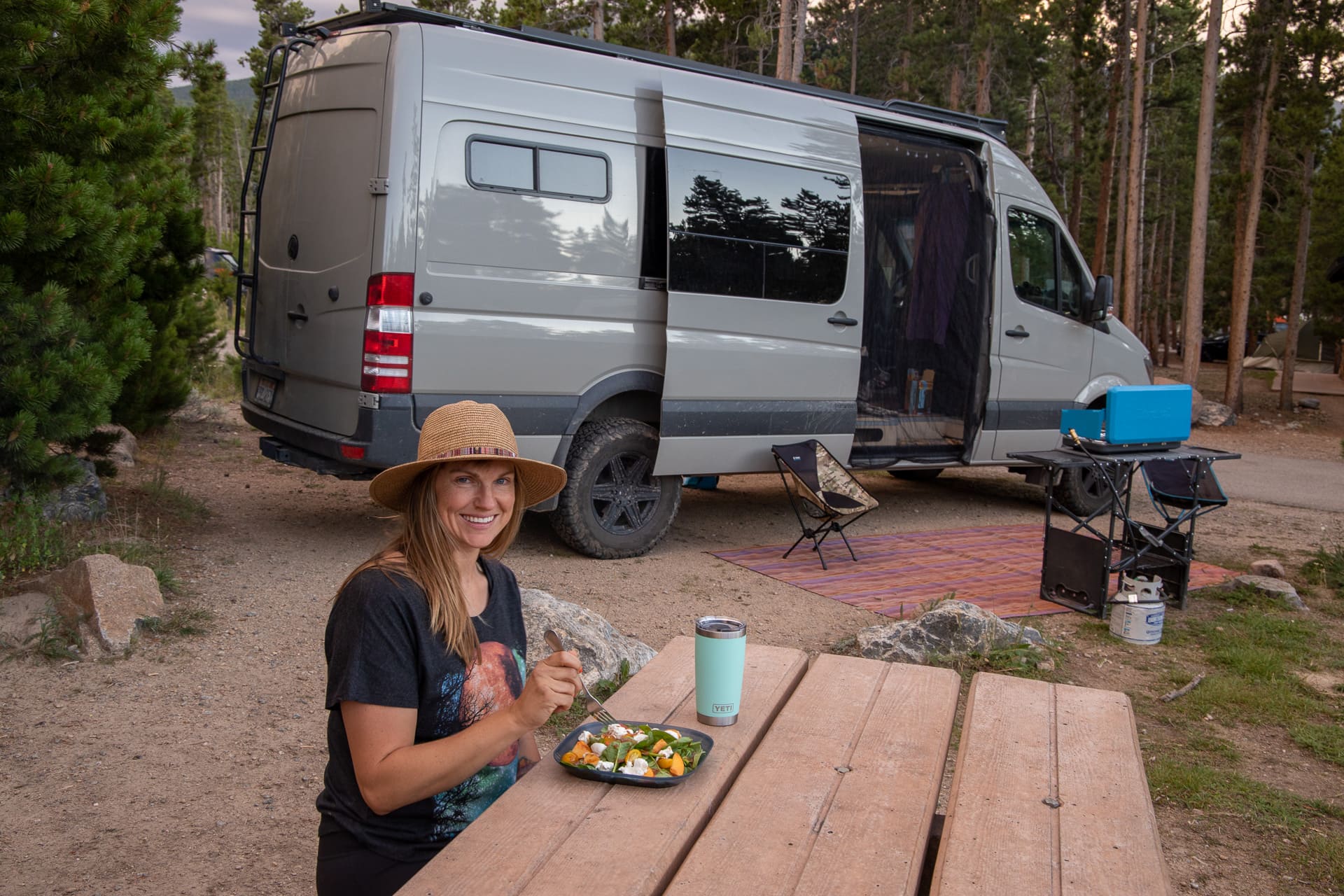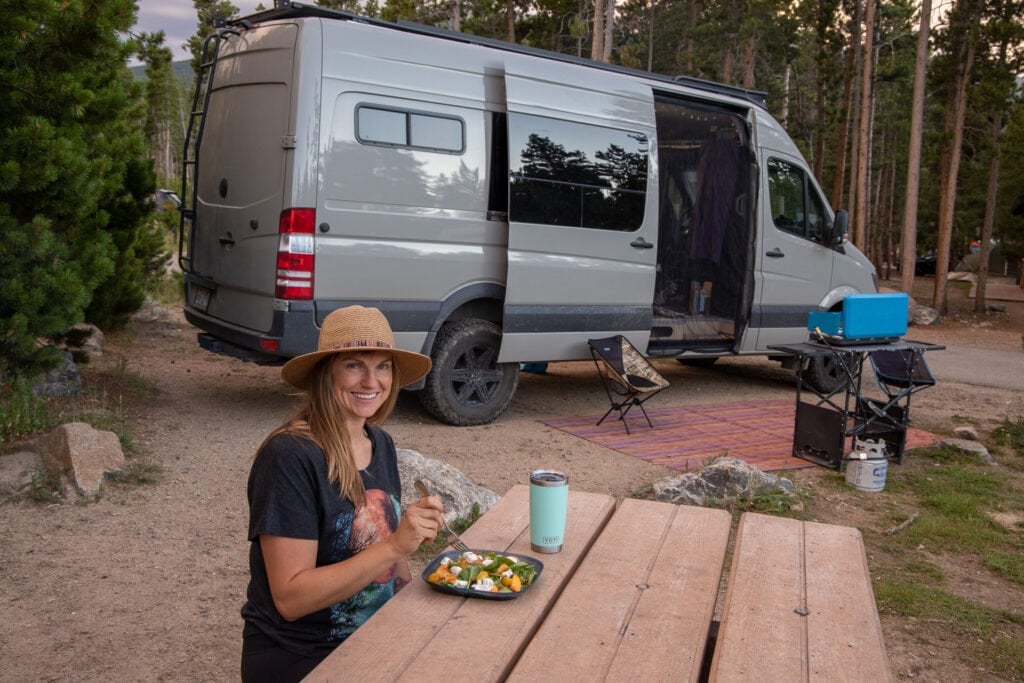 RV Insurance
We've seen RV insurance for converted Sprinter Vans running about $1500 per year. However, this depends on your policy, the value of your van, and the value of the stuff you have inside. My RV Insurance policy is with Progressive and currently runs $2,000 a year. It includes collision and comprehensive coverage with a $250 deductible and covers the full replacement value for the entire conversion and the stuff inside in case the van is totaled. Be sure to read our lesson on how to choose the best RV insurance policy for your van life.
Health insurance
For someone healthy with low healthcare needs, insurance can be around $100 – $450 per month, depending on your income level and home state.
For those of you whose income is below a certain threshold, you might qualify for Medicaid or federal tax breaks, and if you're 65 or older, be sure to take advantage of Medicare. Revisit our lesson on health insurance for van life for more on this topic.
Phone bill
Phone bills can cost anywhere from $50-100 dollars/month depending on your provider, your desired data levels, and whether or not you're able to get on a family plan. If you want to use your phone data for the internet, you'll probably need to budget for a more expensive plan that includes unlimited data.
Gym membership
Many van lifers like to have a gym membership so they can shower on the road. These start at around $22 dollars/month and tend to go up from there.
We don't bother with this. We get plenty of exercise outside and don't spend enough time around cities for it to be worth it.
Groceries/Food
When it comes to food, expenses vary widely from person to person. How much you spend each month will depend on where you grocery shop, how much you cook vs eat out, and how often you purchase coffee and other drinks out.
Ryan and I buy mostly organic food and we shop at nicer groceries stores. Especially this past year, we hardly dined out at all, we make all of our own coffee, and we don't drink any alcohol. Our food runs between $600-800 a month for the two of us.
You can certainly do it cheaper depending on your food preferences. We'll talk more about food and dining costs in the next lesson which covers how to save money on the road.
Additional Expenses
Finally, additional van life costs may include National or State Park fees, paid activities, vehicle maintenance, showers, laundry, Netflix, propane, firewood, the occasional haircut, tolls, or any other personal expenses that I'm not considering. It's good to budget a bit for these extra expenses so that you can have fun on the road and not be sideswiped by an unexpected maintenance expense, for example.
As I mentioned at the beginning, van life costs can vary widely depending on a lot of factors. I hope this blog post has helped you get a rough idea of how much you will need to budget for van life so you can plan ahead.
---
If you want to jump around to other lessons in Module 5, here are other van life topics we cover (more coming soon!):
What do your van life expenses look like? Do you have any questions about van life costs? Share your questions, tips, and experiences down in the comments, and make sure to sign up for course updates here.