From the photos you see on Instagram, it might appear that van lifers just jump from one adventure to the next, with no concern for working or making money. These people must just have it made, right? I assure you that this is not usually the case. If you're an aspiring van lifer wondering how to take your career mobile, in this blog post, I share tips for how to make money on the road.
Before I get into it, know that many van lifers work very hard to make this lifestyle work. Some people work full time remote jobs spending 40 hours a week on their computer. Others freelance or pick up odd jobs along the way. And some van lifers save up for years so they can take time off to live in a van for an extended period without worrying about having a job or making money.
Fortunately, no matter what your education, background, or skill set is, there are way more options than most people realize for making money on the road. I share all that and more here and have also included a downloadable PDF of my favorite remote job resources below.
Learn how to make money on the road and get remote career tips for van life!
How to Transition to a Remote Career for Van Life
While many people save up for years to hit the road, this is more common for shorter stints of van life or if you want to try out van life for a year or so and then return home. If you're looking to hit the road long term, though, and want to maintain a career and earn income while doing so, you'll likely want to consider transitioning to a remote career.
Working remotely is becoming more common – especially nowadays with the pandemic forcing many people to work from home. This means there are more options than ever for making money on the road. In many cases, all you need is a laptop and a good wifi connection and you can work from anywhere.
1. Make Your Current Job Remote
The first thing to consider is whether you can do your current line of work on the road. If you're currently working a job that could potentially be done remotely, consider speaking to your boss about whether they're open to having you work remotely.
It takes time and resources to train a new employee, so if you do your job well and can demonstrate that you're able to get your work done independently even when you're not in the office, there's a good chance this could work. This is the quickest route to a mobile van life career that will allow you to make money from the road.
2. Use Your Skills to Build a Remote Career
If you aren't interested in trying to make your current job work on the road or your current work isn't something you can do remotely, the next step is to think about what skills you have and how you can use them in a remote capacity.
Nearly any skill, with the right combination of learning, experience, and determination can become a doorway into working remotely. With broad internet access and everything moving online from shopping to learning and teaching, the opportunities for van lifers to make money are endless.
Here is a list of some of the most common remote career options out there. Check out our blog post on remote jobs for van life for further options and details.
Different jobs for making money on the road
Freelance Writing
Blogging
Coaching
Photography
Digital Marketing
Social Media Marketing
Email Marketing
SEO Consulting
Graphic Design
Web Design/Development
Project Management
Virtual Assistant
Online Teacher
Accounting/Bookkeeping
Consulting
Fulfilled by Amazon
As you can see, there's something for practically everyone. If you're a skilled writer, you could write articles, blog posts, website copy, social media captions, email copy, or even eBooks and other online resources.
If you're a photographer, you can essentially do this type of work anywhere – consider setting yourself up to get gigs as you travel or set up an online shop for prints.
If you love social media, take an online course to build your skills, then offer them to businesses you're interested in working with.
If you're a teacher, look into online teaching options – many schools offer online curriculum and need teachers and tutors to produce and run online classes. Teaching English online is becoming increasingly popular as a well-paid gig for people with no teaching experience.
Some van lifers make money as graphic designers and web developers, which can be done from anywhere as can all aspects of digital marketing.
Another popular career path lately is to be a coach. If you have a skillset that you can teach other people, consider setting up a coaching business where you can share your knowledge with others.
>> Read Next: 20 Remote Jobs for Van Lifers and Road Trippers
How to Build Your Skills so you Can Make Money on the Road
You may be saying, that all sounds great, but I don't have a job that can be done remotely, and I don't have a solid skillset to make money on the road. Wherever you're at, as long as you have good computer skills, you can take what you already know and build off of that to create a remote career for yourself.
Sure, you may need to take a few classes whether online or in-person to enhance your skills so you can get paid for them, but this all goes toward setting yourself up for success if earning an income while on the road is important to you.
Luckily, there are classes for everything online nowadays, and it's a lot quicker and cheaper than going back to school for a degree. Just to give you some inspiration, I recently completed an online certificate program. I've become so passionate about my plant-based lifestyle, that I decided to get a certificate in Plant-Based Nutrition from eCornell. It took 6 weeks, and I gained a great foundation of scientific knowledge. I'm not sure exactly what I will do with it, whether it's simply to create more blog content or if I want to create some sort of coaching program. But either way, I'm excited to share more about this and introduce more people to the benefits of this lifestyle.
Here are some resources you can explore to build your skills in certain areas. I don't endorse any of these programs in particular, but this will give you a place to start in your search.
Skillshare (*this is an affiliate link)
Skillcrush
Lynda/LinkedIn Learning
Udemy
Coursera
YouTube – you'll be surprised how much you can learn for free
Community College Courses
University Extension Programs (UC San Diego Extension, etc)
Online University Programs (eCornell, etc)
Online courses created by bloggers and online entrepreneurs
3. Take seasonal or per diem jobs
I go more in-depth on non-digital remote work below, but I'll mention it here because it's important to know that making money on the road doesn't have to involve computer skills or digital work. For example, if you're a nurse, travel nursing can be a great way to explore new places while living in a van or many hospitals offer per diem work depending on shifts they need to cover. Other non-digital work options include seasonal resort jobs, farm work, tutoring, among many more.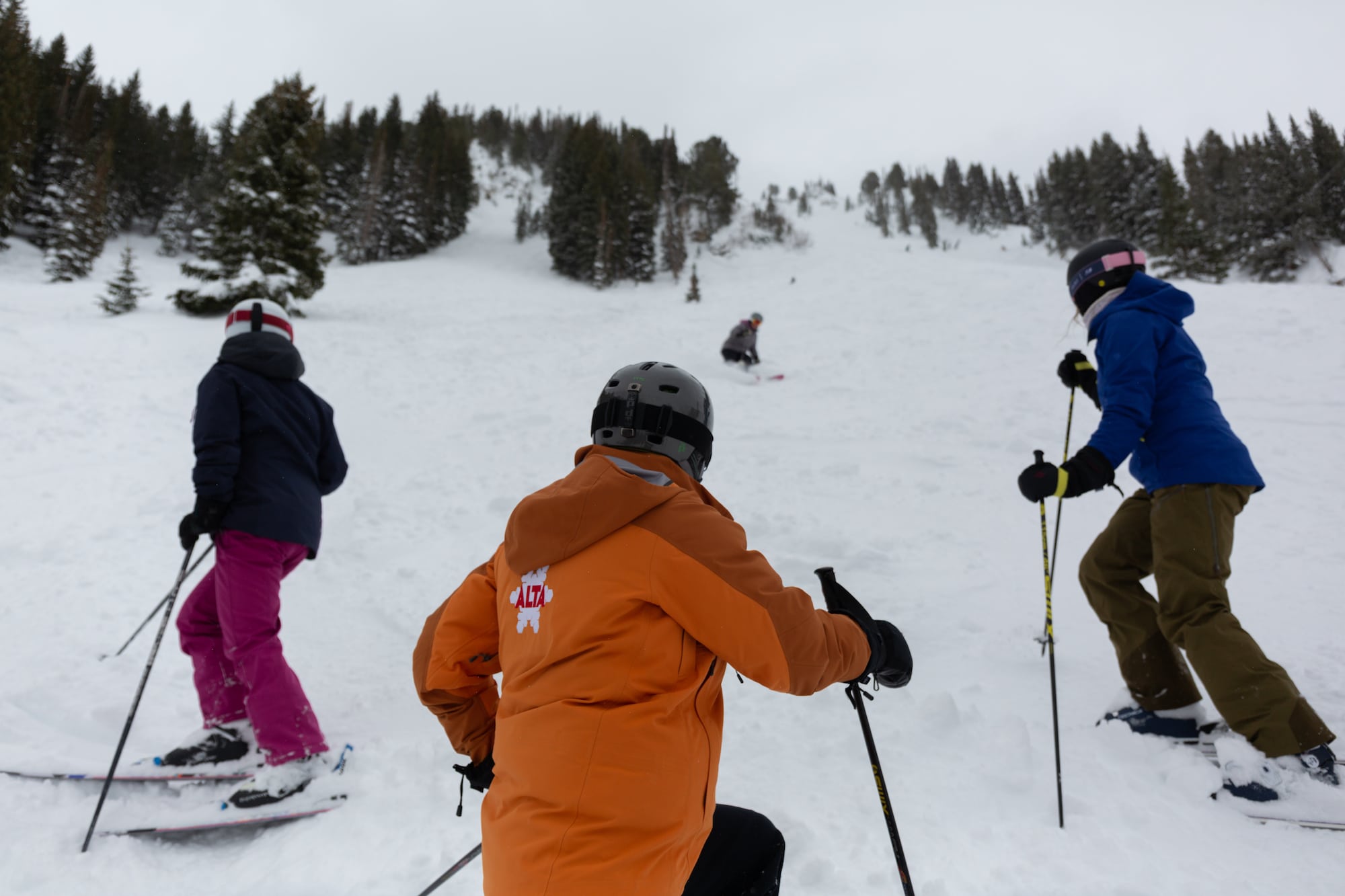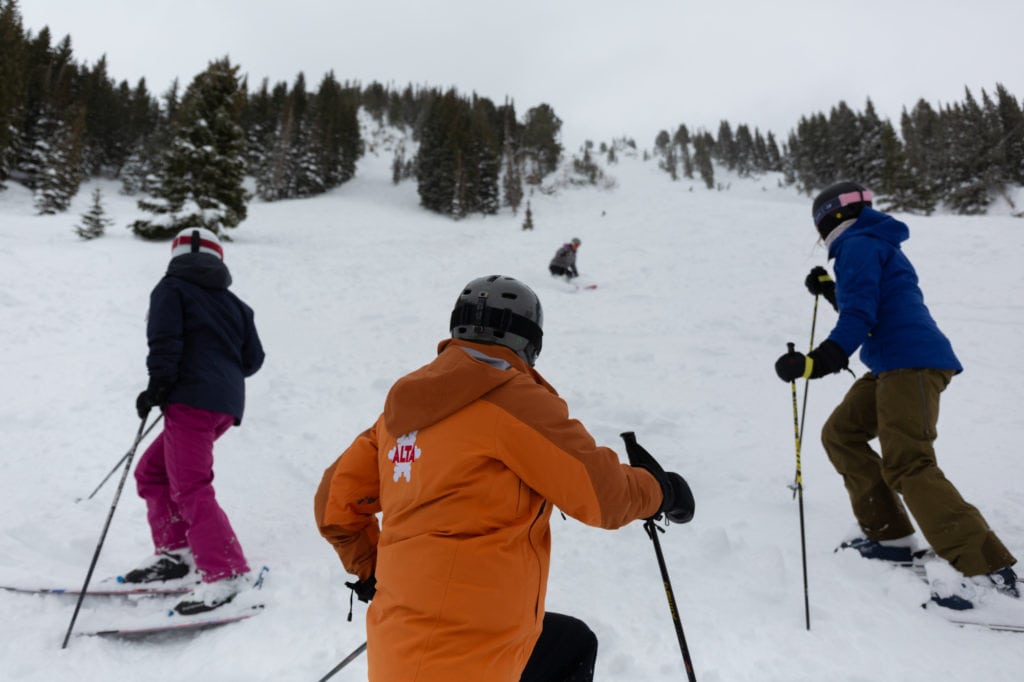 ---
How to Find Remote Job Opportunities
Once you have a solid idea of the type of remote work that matches your skills and experience (or the skills you want to build), start perusing online to see what types of jobs are out there.
If you plan on moving slowly and have reliable wifi access, a full-time remote position may work for you. But if you plan to be on the move with less reliable wifi access and want more flexibility, you may want to explore part-time remote work or freelancing where you have more control of your schedule (which we talk more about below).
Find a few positions that you're interested in and read through the job description and requirements – this will help you get a better idea of the skills and experience people are looking for when hiring remotely and will help you hone in on what skills you could work on and further develop.
There are lots of job search sites online that are specific to remote work or can be filtered to show only remote work opportunities. Here is a list of the top options out there, and be sure to download the PDF at the top of this post as well.
Job search sites specific to remote work:
Weworkremotely.com
Workingnomads.co/jobs
Mediabistro.com
VagaJobs.com
Remoteok.io
Remotive.io
Remotewise.io
Remote.co/remote-jobs
Skipthedrive.com
Justremote.co
Pangian.com
Jobspresso.co
Outsourcely.com
Powertofly.com
Landing.jobs
Krop.com
Problogger.com/jobs
VIPKid.com
Qkid.com
Traditional job search sites where you can filter remote positions:
Indeed.com
Simplyhired.com
Idealist.org
Paid remote job search sites:
Flexjobs.com
Virtualvocations.com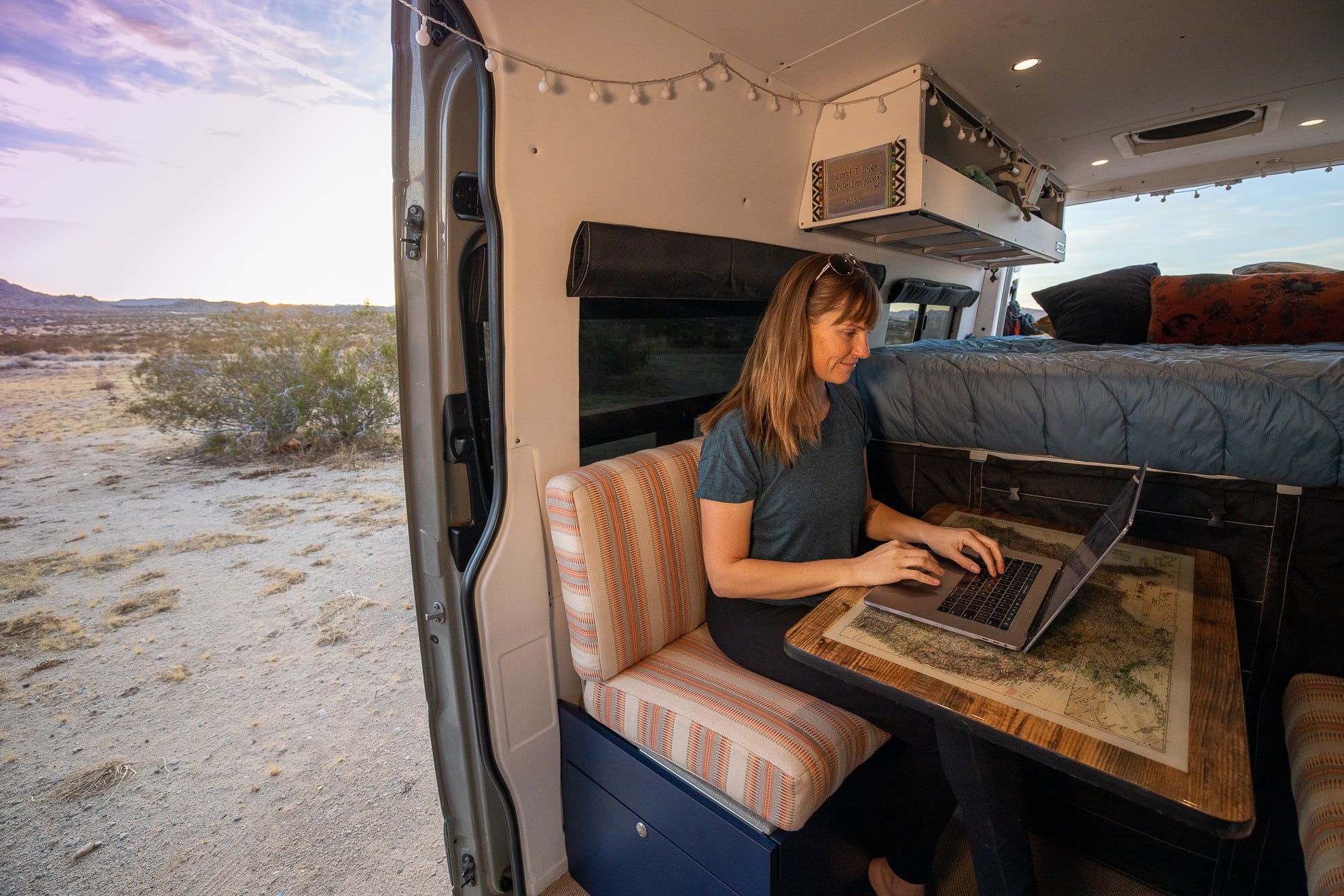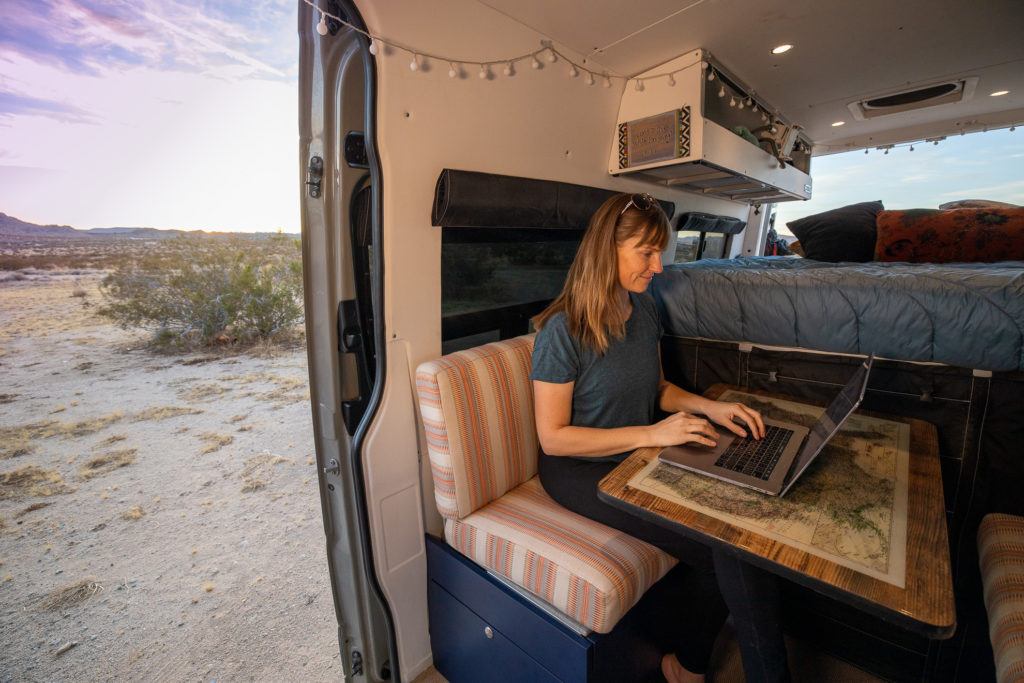 Freelancing
If you're not necessarily interested in working for a company, freelancing might be the right fit for you.
Freelancing basically means being self-employed and taking on jobs and clients independently. To go this route, you'll need to get clear on your skills and offerings and also determine what rate you'll be charging for your services.
One thing to keep in mind is that working as a freelancer is like running your own business in some ways. You'll need to market yourself to find new clients and serve as an accountant and bookkeeper alongside the work you're being paid to do.
In addition to your specific skill set, being a successful freelancer requires good time management, organization, communication skills, and a high level of professionalism.
Here is a list of websites where you can create your own profile, search for freelance gigs, and allow others to search for you and request your services.
Freelance Job sites
Upwork
Toptal
Freelancer
Guru
Fiverr
99 Designs
When setting up your account, consider your profile as your online resume and portfolio, so take some time to make sure it reflects your skills and the assets you can offer. If you have any work samples or related experience, be sure to include that as well.
I actually found one of Bearfoot Theory's former writers on Upwork and know other bloggers that have successfully used Upwork to find freelance work and to hire freelancers. You'll find this list of freelance websites along with more information and freelance resources below.
Blogging
Another option for remote work that I'd like to touch on is starting your own blog or online business. This is what I did with Bearfoot Theory back in 2014, and I'm so happy I made the decision to chart my own path. Now 6 years in, it's quite lucrative, supports both my partner and I, and provides freedom to work from wherever I want. I make money on the road from a variety of sources, and the major ones are affiliate commission, banner ads, and sponsored work. I also make a little bit of money from YouTube ads, selling my photography, and consulting/coaching. Other popular revenue streams for bloggers include paid membership communities and online courses.
However, before you start a blog, I will say that it is a lot of work and in most cases, it can take at least a year until you actually start earning an income from all the work you're putting in.
When I started Bearfoot Theory, I was not living in a van – I was stationary and spent every waking hour working on my business. Had I been on the road, getting my business off the ground would have been much more difficult and I wouldn't have had time to enjoy the things that make van life so great like exploring new places and enjoying time outside.
If starting your own business is something you're passionate about, I would encourage you to get a head start before you hit the road and spend some serious time building it up before you set out. That way you'll have laid the foundation and will be on your way to success from Day 1.
And remember, you don't have to limit yourself to writing about van life or travel, which have both become quite competitive. You can start a blog about any interest you have. The key is to find something you are passionate and knowledgeable about that won't lose your interest after a year or two.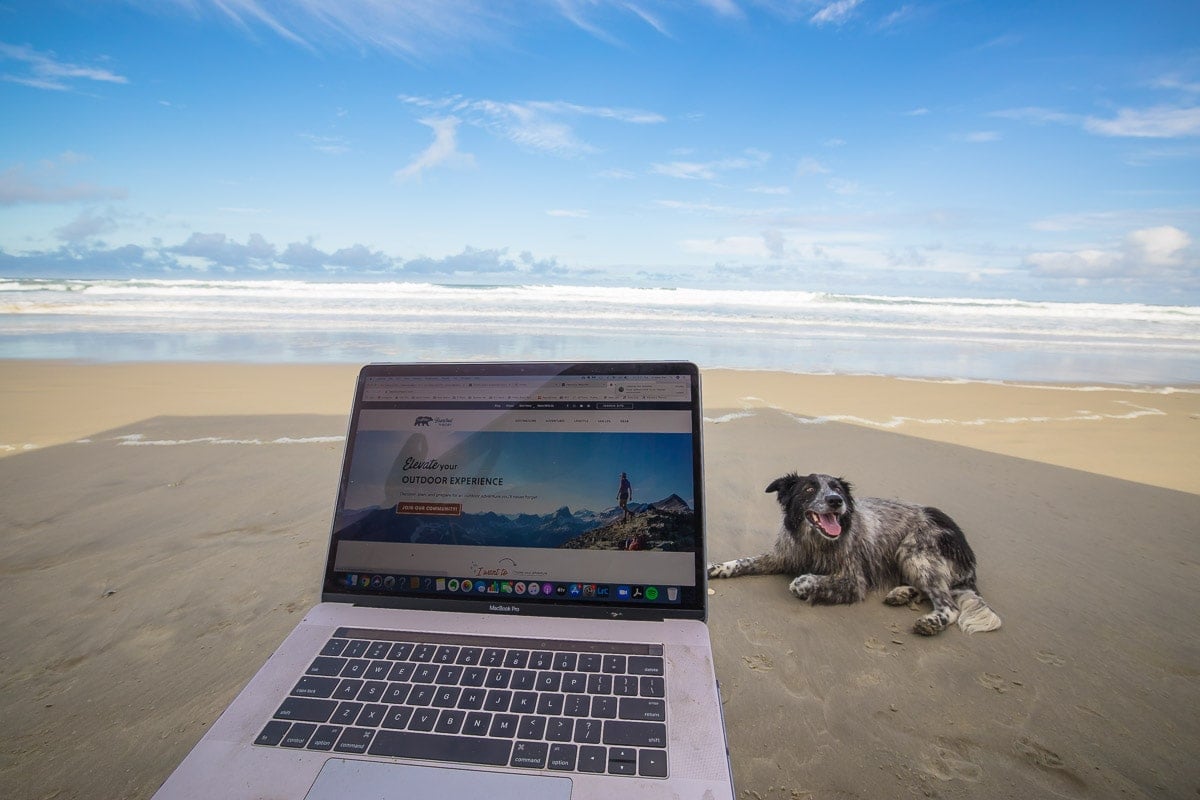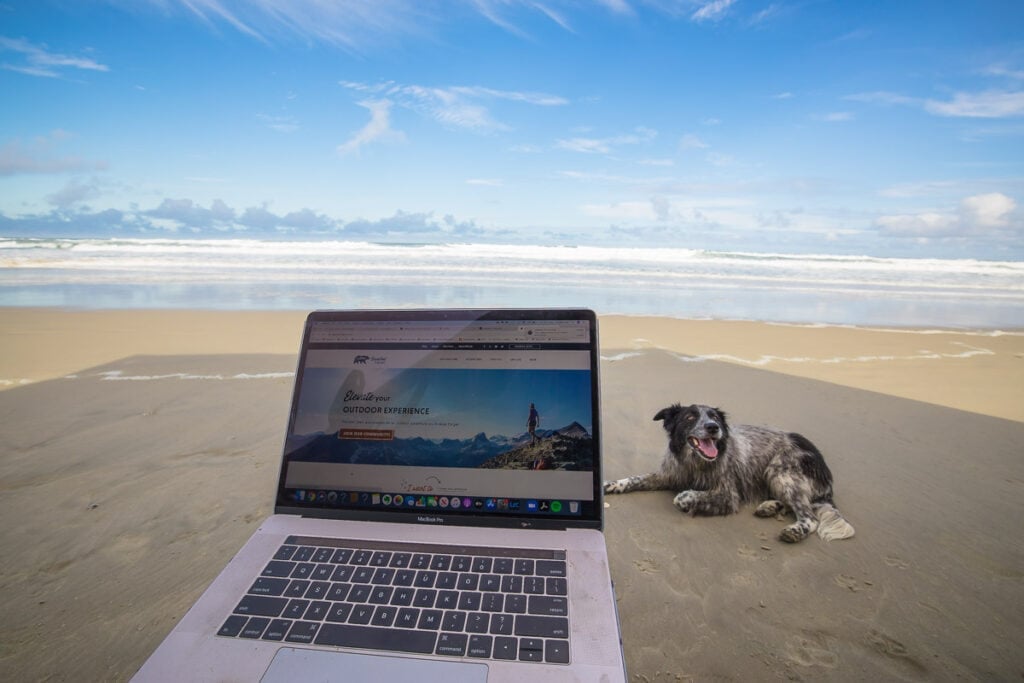 Non-Digital Remote Career Options
Working from the road doesn't necessarily need to be digital. There are lots of options for van lifers to make money on the road that don't involve computers or digital work.
If you're creative, you may want to consider making art or other physical products and selling them online (check out Etsy) and in-person while traveling in your van.
Another option is to move slowly and get seasonal or temporary jobs in the places you want to travel to in your van. Think seasonal retail work, guiding jobs, or working at restaurants, bars, or ski shops that are looking to increase their workforce during certain times of the year. Travel nursing can also be a great way to see new places while making a good income.
If you're a yoga teacher or fitness instructor, you could coordinate ahead of time and pick up classes at yoga studios and gyms as you pass through towns or check out sites like YogaTrade that offer work-trade opportunities.
If you're passionate about growing food, look into WWOOFing (which stands for Worldwide Opportunities on Organic Farms) where you'll get food and accommodations – or a place to park your van – in exchange for a few hours of work each day. Work Away is another site where hosts offer free food and accommodation to workers in exchange for work.
These are just a few examples of the types of non-digital work you can do on the road, but the options are endless!
I hope this post gives you a better understanding of how van lifers make money and the confidence that you, too, can earn an income on the road. Whatever your skills, education, or circumstances, there are van life work opportunities for you!
How are you planning to make money on the road? Share your questions, tips, and experiences down in the comments, and make sure to sign up for van life updates, resources, and giveaways here.