Ultimate 3-Day Death Valley National Park Itinerary
Sand dunes, craters, slot canyons & wildflowers. Experience the best of Death Valley National Park with this 3-day itinerary.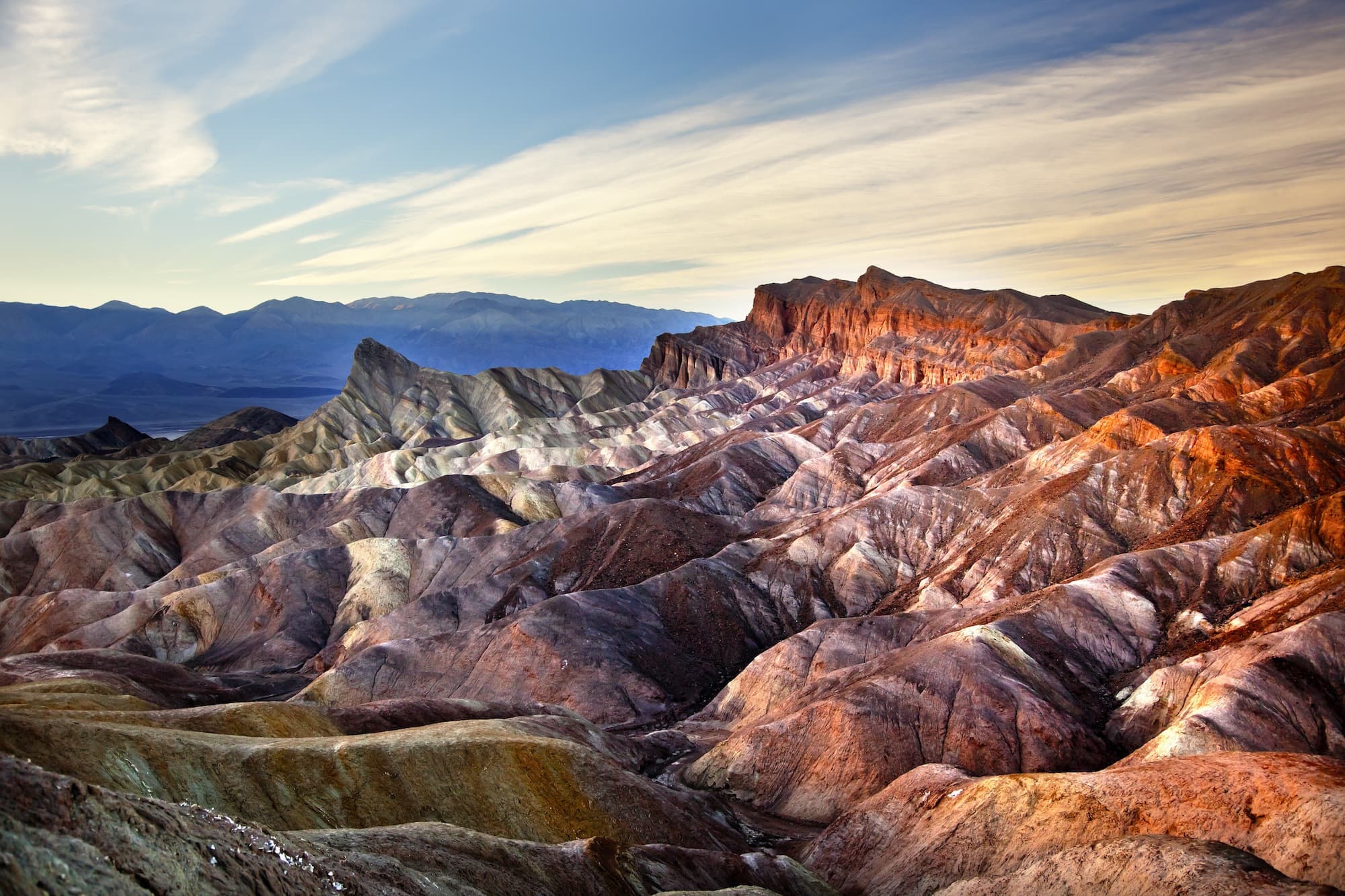 At 134°F, Death Valley holds the record for the hottest air temperature ever recorded, so it's no wonder why they call it "Death Valley". Situated east of the Sierra Nevada and in-between the Great Basin and Mojave deserts, this is truly a land of extremes. In fact, Death Valley is one of the most extreme environments on earth with an average rainfall of fewer than three inches, and some years actually receive none!
Despite its record droughts, however, a great diversity of life manages to survive in its valley. Wildflowers can be seen sprouting through the ground in the spring, hidden lush oases provide refuge for wildlife, and kangaroo rats don't even need to drink water their entire lives!
Here is a complete 3-day Death Valley itinerary and tips on what you need to know for your visit so you can explore the best the park has to offer.
Important Reminder: As it goes in all of the destinations we share, please practice good trail etiquette and remember to Leave No Trace. This means packing out all of your garbage (including toilet paper) and following the established rules. In the desert, this also means learning how to protect cryptobiotic soil and how it has a huge impact on our ecosystems.
Death Valley Itinerary Logistics
Getting To Death Valley
Death Valley National Park is only 2 hours from Las Vegas and 5 hours from Los Angeles. It is definitely worth the drive as it is the largest US National Park outside of Alaska. Death Valley also makes for a great week of exploring nearby Sequoia and Kings Canyon National Park, and Yosemite if you are willing to venture a bit further on your road trip.
Death Valley National Park is also less than 2 hours to Lone Pine, CA which is the portal to Mt. Whitney, the highest point in the lower 48 states. Are you up for an unforgettable "lowest to highest" vacation? Go from the lowest point in the lower 48 states, Death Valley's Badwater Basin, to the highest point, Mt. Whitney.
Best Time To Visit Death Valley
Fall, winter, and spring are the best times to visit Death Valley with milder temperatures. Spring is the most popular time due to the wildflower blooms.
While the Furnace Creek Visitor Center is open year-round, summer can be miserably hot in the park. From May – September, Death Valley is often too hot for most visitors.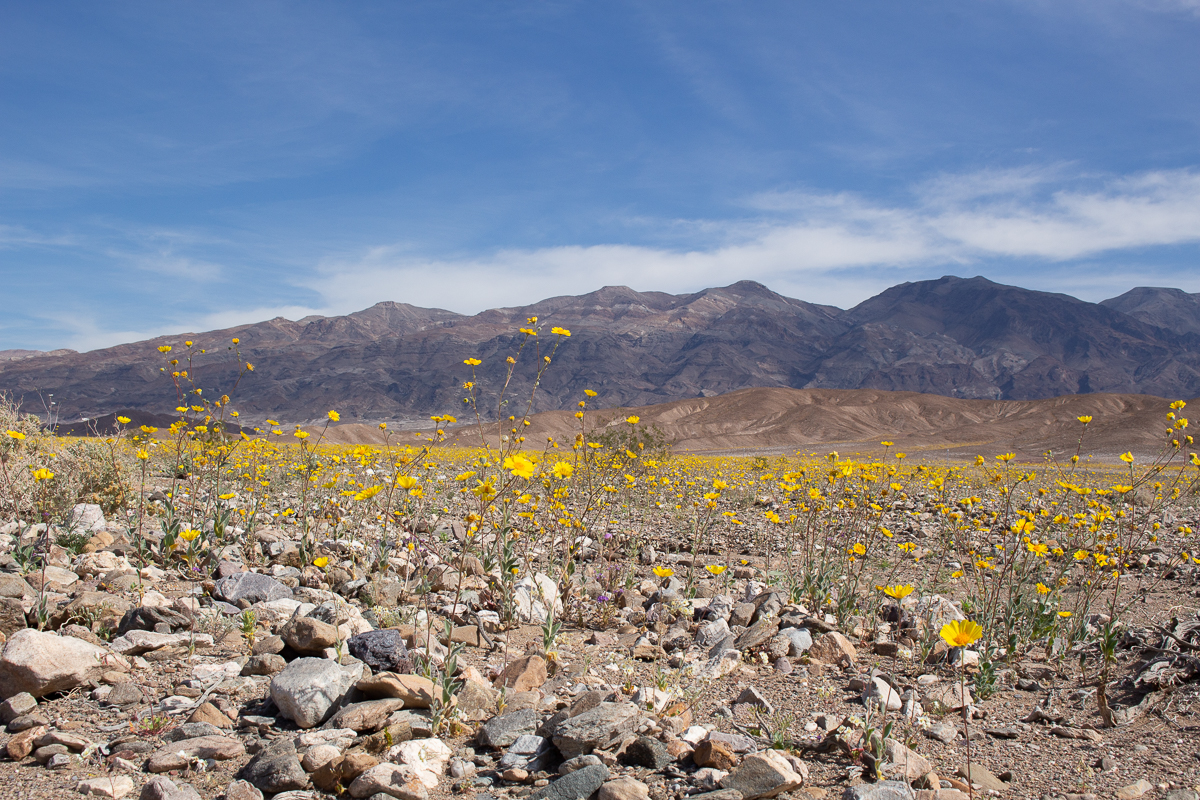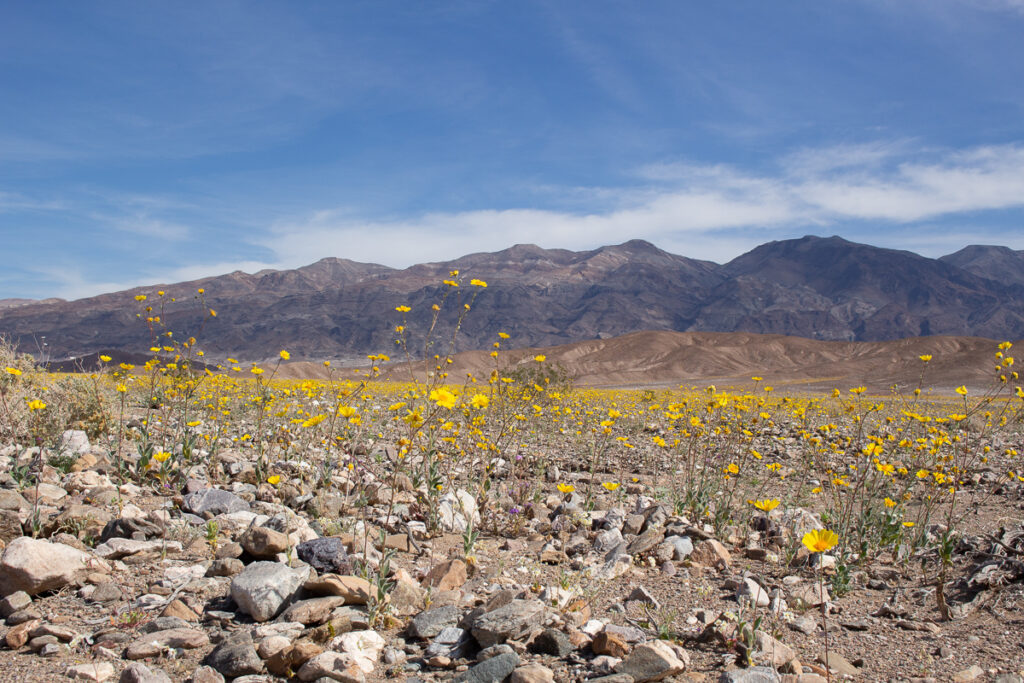 Where To Stay In Death Valley
Camping
Death Valley National Park has nine campgrounds, which doesn't include some of the privately-owned campgrounds that also reside in the park. Furnace Creek Campground is by far the most popular and from October to April reservations can be made online for their 136 available sites. This campground is located directly behind the only visitor center in the park making it a great starting out point for adventuring!
Depending on when you're visiting, some campgrounds will be closed for the season so make sure to check in advance. All campgrounds in Death Valley are first come, first serve (except for Furnace Creek from October through April).
We didn't want to worry about finding a campground the day of arrival, so we booked a campsite with privately-owned Panamint Springs Resort prior to the trip. They are located on the western end of Death Valley National Park and offer incredible views of distant sand dunes and the soaring Panamint mountain range… oh and they have a bar and free showers, what's not love?
#1 campsite finder app
Try The Dyrt PRO free for 30 days
Get a FREE 30-Day membership to The Dyrt PRO, one of our favorite apps for finding campsites.
Perks include:
• 5,000+ free camping locations
• 1,000+ campground discount network
• $0 extra booking fees
• Get reservations at sold-out campgrounds, and more
Use the code BEARFOOT to get 30 days free!
Other Lodging Options in Death Valley
Not into camping? That's okay! Death Valley is actually a great National Park for non-campers with 4 accommodation options that don't involve a tent. Former Bearfoot Theory editor, Kim Vawter, explored Death Valley with her parents and they highly recommend the Furnace Creek Ranch as well as the famous Furnace Creek Inn. Read more about non-camping accommodations in Death Valley here.
---
Insider Death Valley Tips
Don't Leave Home Without Maps!
It is very difficult to receive a cell signal from most places in Death Valley. Be prepared for this by bringing maps and any other resources you might want to have on hand. Make sure to tell a friend when you plan to return from your trip and call to check in with them after you return as well.

Beat the Heat
Death Valley is a vast desert that can be very hot and dry. Services are limited and very spread out – this includes places to purchase/refill water bottles – so pack plenty of water and make sure to stay hydrated, even if you are just exploring by car. Also, be sure to pack adequate sun protection including sunscreen, hats, and loose long sleeve clothing.
Read Next: Sun Protection for Hikers
---
3 Day Death Valley National Park Itinerary
We spent three days exploring the park and enjoyed some of the key attractions, but Death Valley National Park could easily entertain for a full week.
For a place as diverse and large as Death Valley, it's important to have a rough plan and a list of sites you want to see. However, seeing all the best sights can be a bit tricky especially when you have sand dunes, craters, and slot canyons to choose from.
Over the course of 3-days, we tackled what we think are the area's best attractions with this Death Valley National Park itinerary.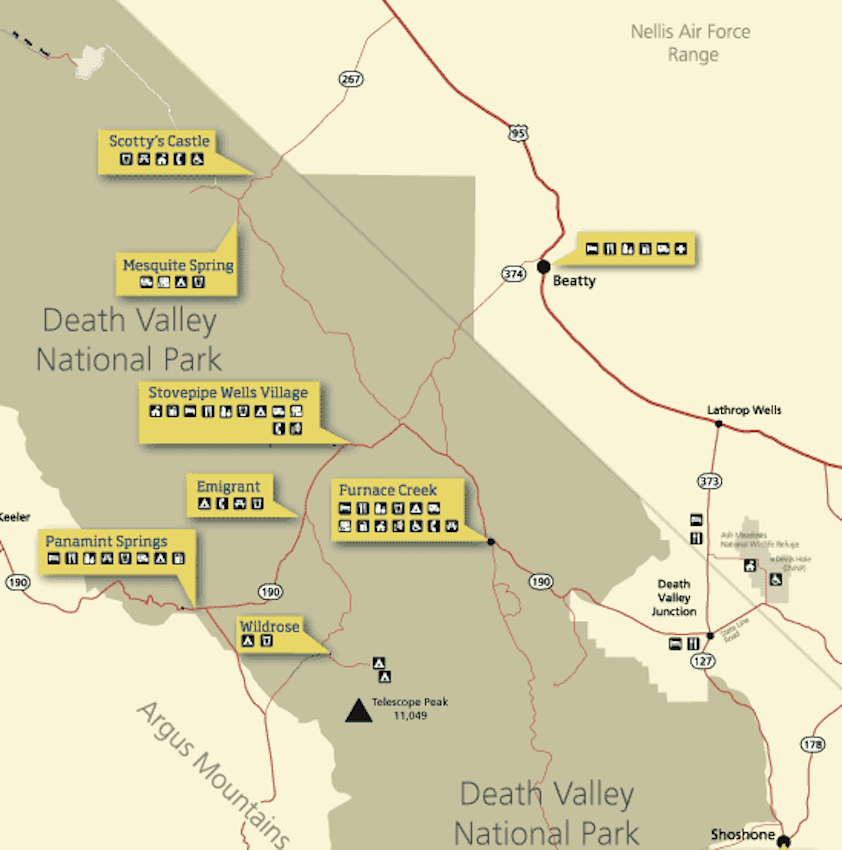 Day 1
We set out from Los Angeles around 8:00 AM and arrived in Death Valley just before noon to set up camp at Panamint Springs Resort. After setting up our tent, we headed towards the Stovepipe Wells Village area to hike through Mosaic Canyon.
Located 1/4 of a mile west of Stovepipe Wells Village, Mosaic Canyon is a two-mile gravel access road leading to the parking area. From there it was just a short walk into the canyon narrows, where the surrounding rock walls are made up of smooth, water-polished marble.
We were both in awe of how incredibly smooth the walls were. Mosaic Canyon is considered a geological wonder, and as part of the National Park System, all of its features are protected by law, so rock collecting is prohibited!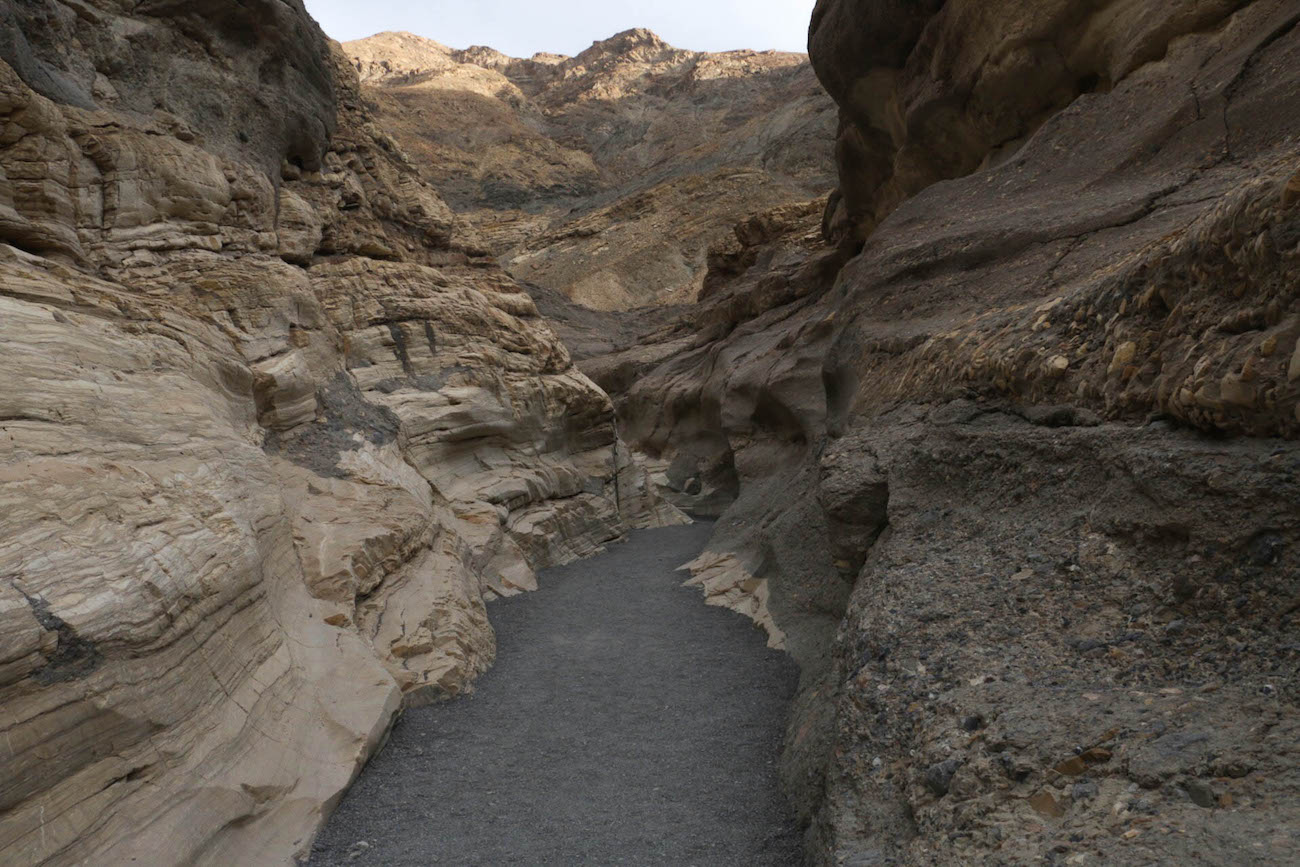 Before dinner, we drove to Mesquite Flat Sand Dunes for a stroll during golden hour. At first glance, it seemed like our plans would have to wait as clouds started to gather right over the dunes. The wind was picking up and sand was blowing everywhere. Nevertheless, we got out of our car and ventured into the sandstorm.
There wasn't one person in sight, which for being one of the park's most popular attractions, was astonishing. After a while, the clouds began to clear and the wind started to calm. The mixture between late afternoon light and ripples in the sand was quite the sight to see.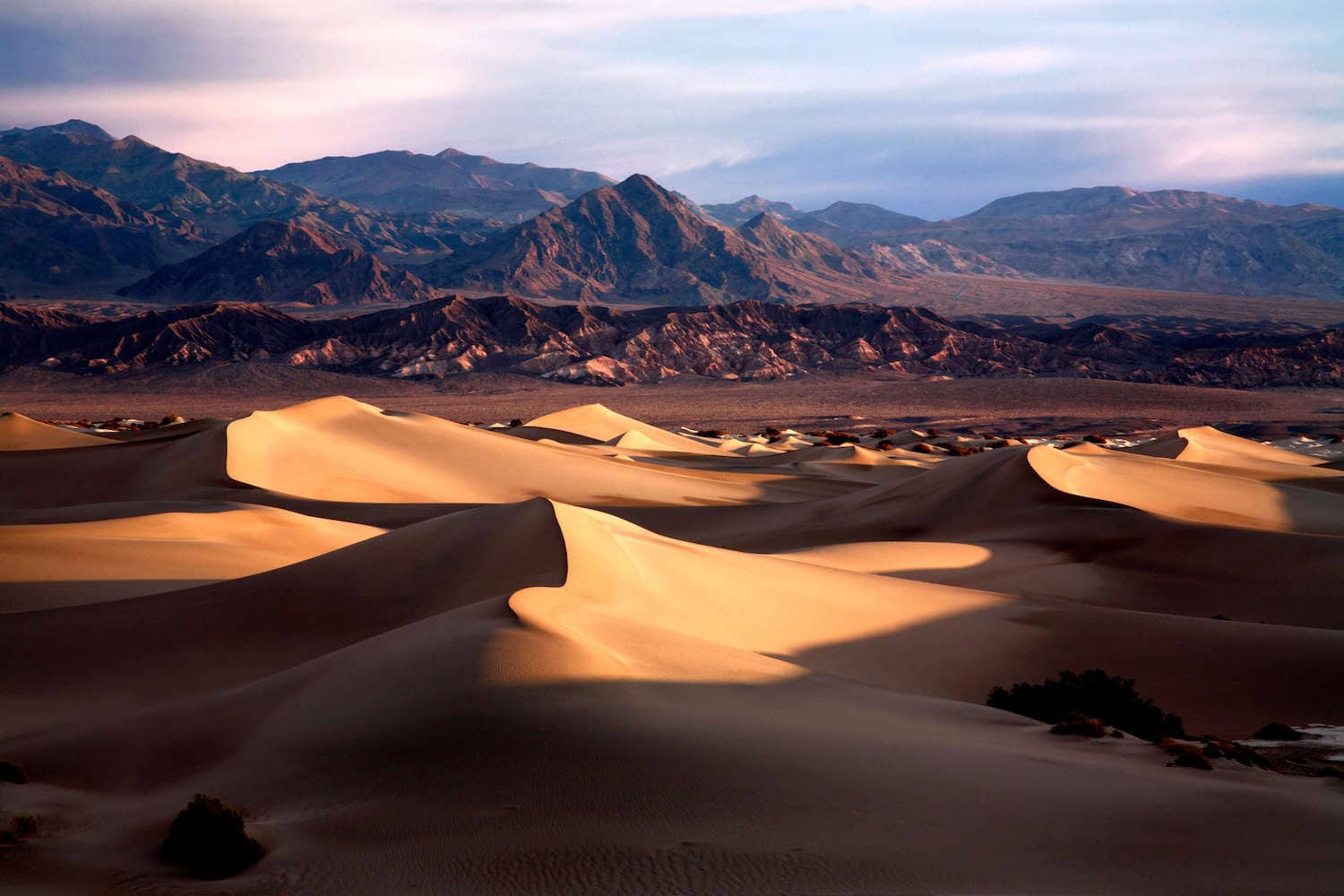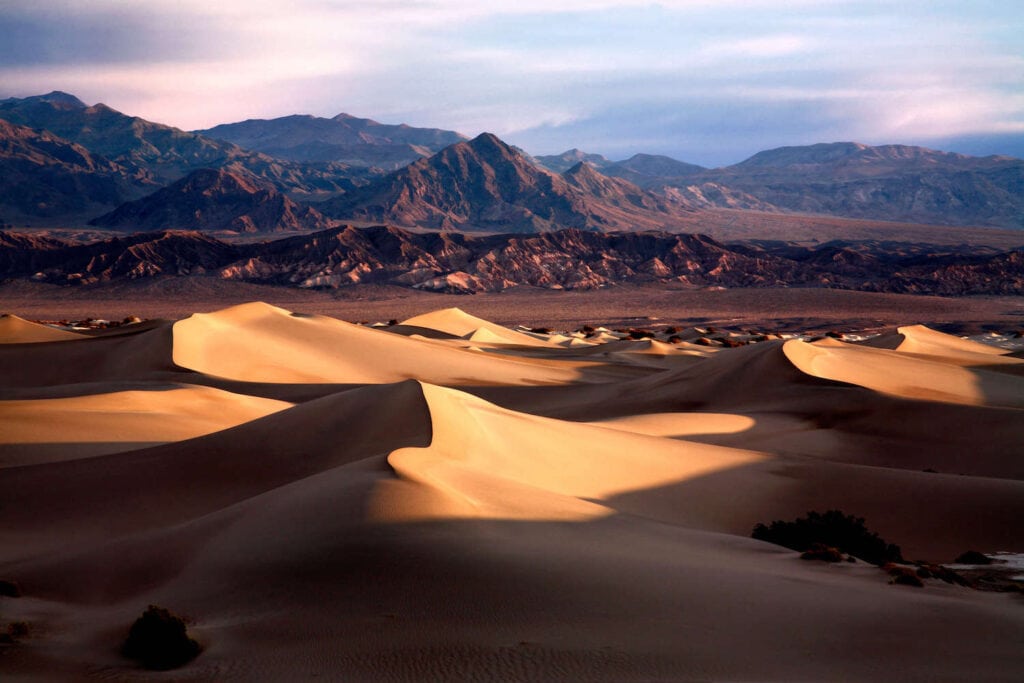 Day 2
On day 2 of our Death Valley itinerary, we woke up at sunrise to prepare for a full day of exploring, beginning with an easy hike around the rim of Ubehebe Crater, located at the northern end of Death Valley National Park.
It was about an hour's drive from our campsite to Ubehebe Crater, reminding us of why Death Valley is the fifth-largest national park in the United States and the largest outside of Alaska. The drive led us through colorful canyons, desolate badlands, shifting sand dunes, and sprawling mountains.
Once at Ubehebe, you can enjoy a view of the massive crater right from the parking area, or like us you can hike down or around it. Word to the wise – walking up the steep gravel hill can be difficult!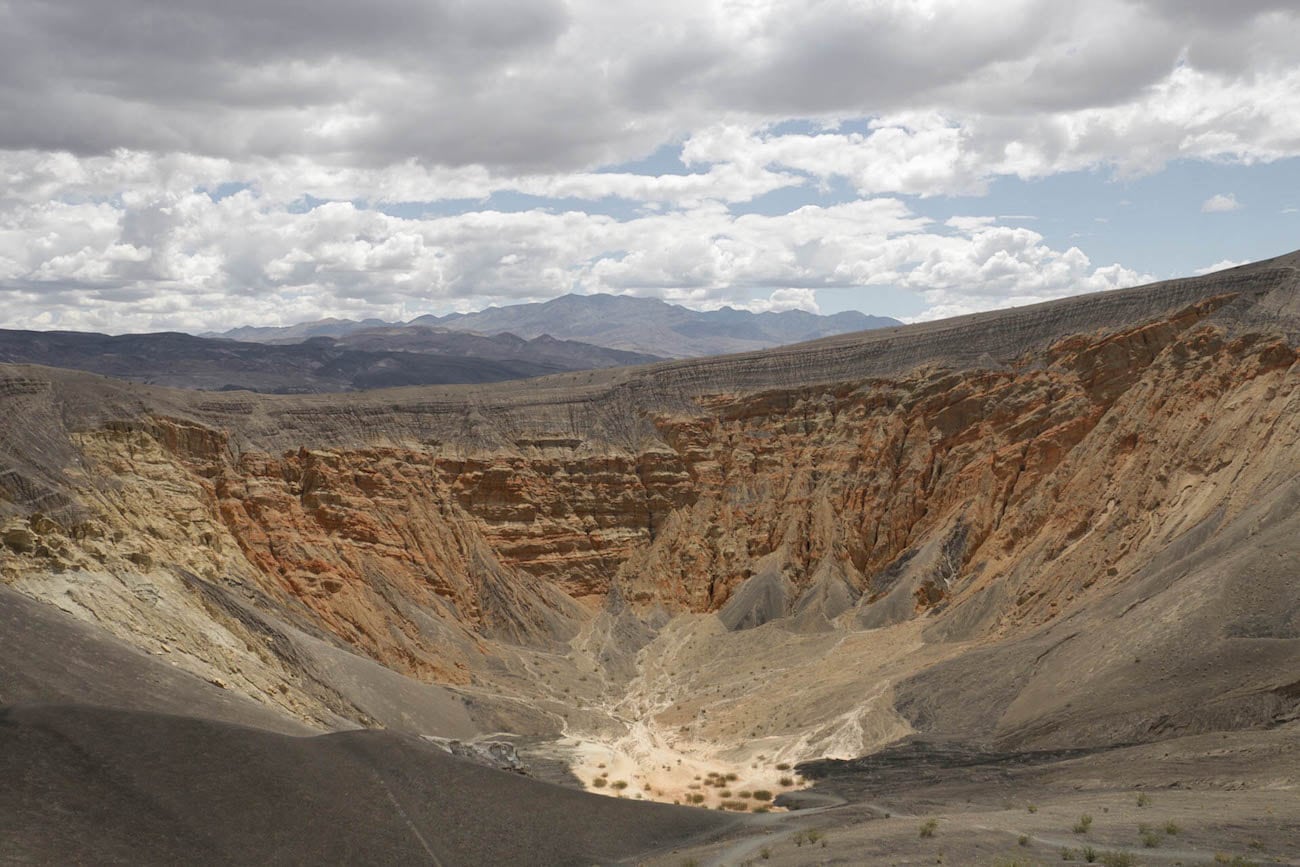 If you make it to this side of the park, it's also worth checking out "the racetrack", which is home to the famous Death Valley moving rocks. These rocks are commonly referred to as one of the most mystifying natural occurrences in the world! Also in this area is Scotty's Castle but unfortunately, this site is temporarily closed due to flood damage.
Next, we explored the opposite side of the park at Furnace Creek, where many of the popular landmarks are located. Zabriskie Point is one of the Park's most famous sites and a popular sunrise and sunset viewing location. It's still spectacular at midday, too! To see a spectacular view of these eroded and colorful badlands, it's just a short walk uphill from the parking area.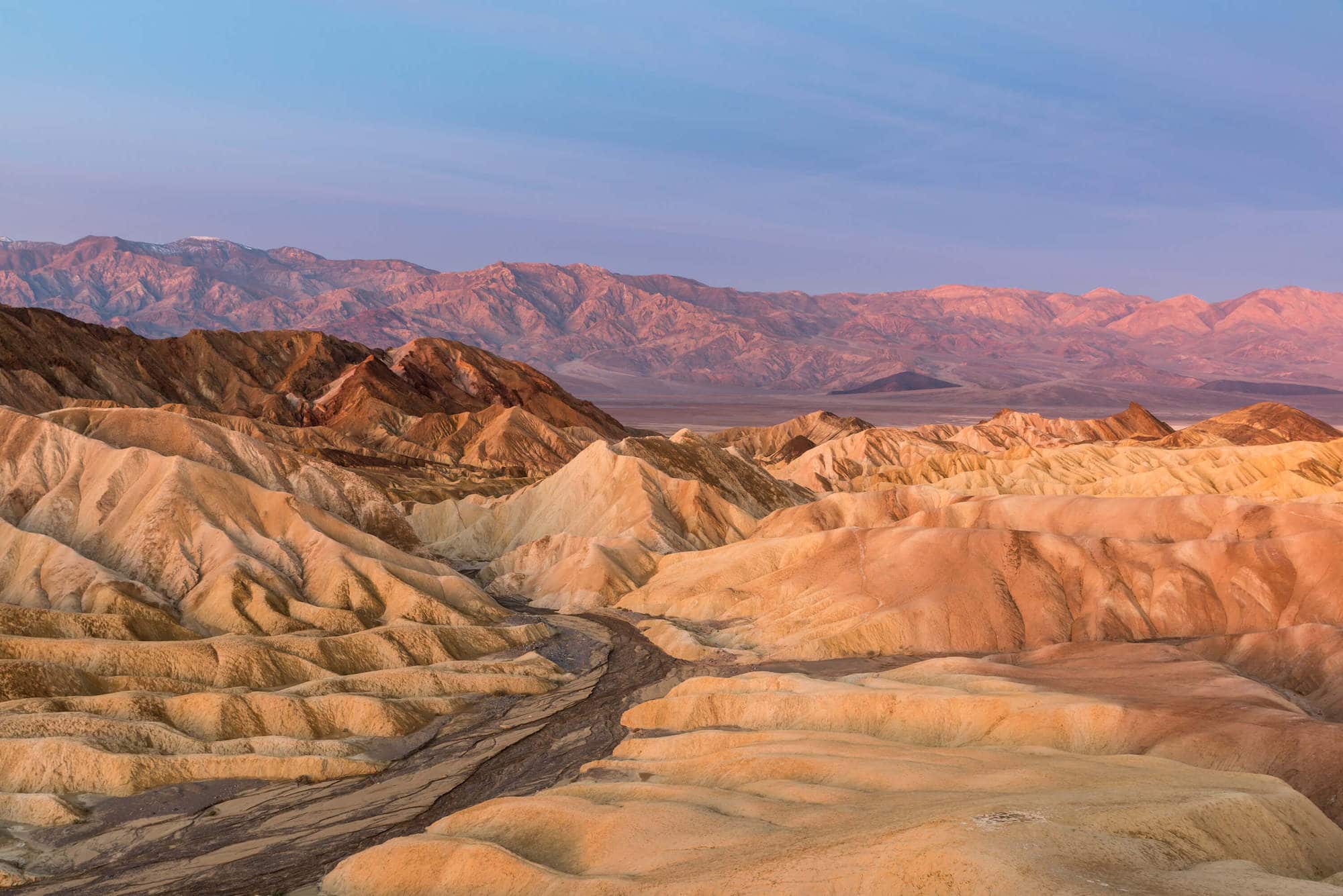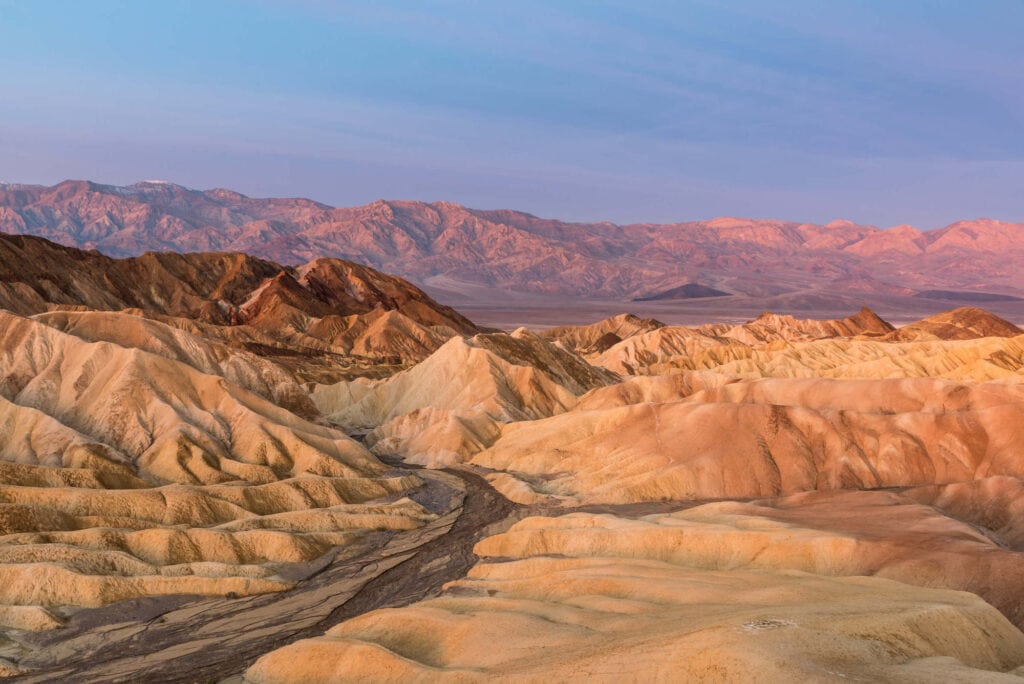 Continuing down the road, definitely stop to visit "The Devil's Golf Course" which is an immense area of sharply, eroded salt crystal formations as far as the eye can see.
It is said that this area is so jagged that "only the devil could play golf on such rough links." Just make sure to watch your step, because a slip and fall on these rocks can result in some serious damage.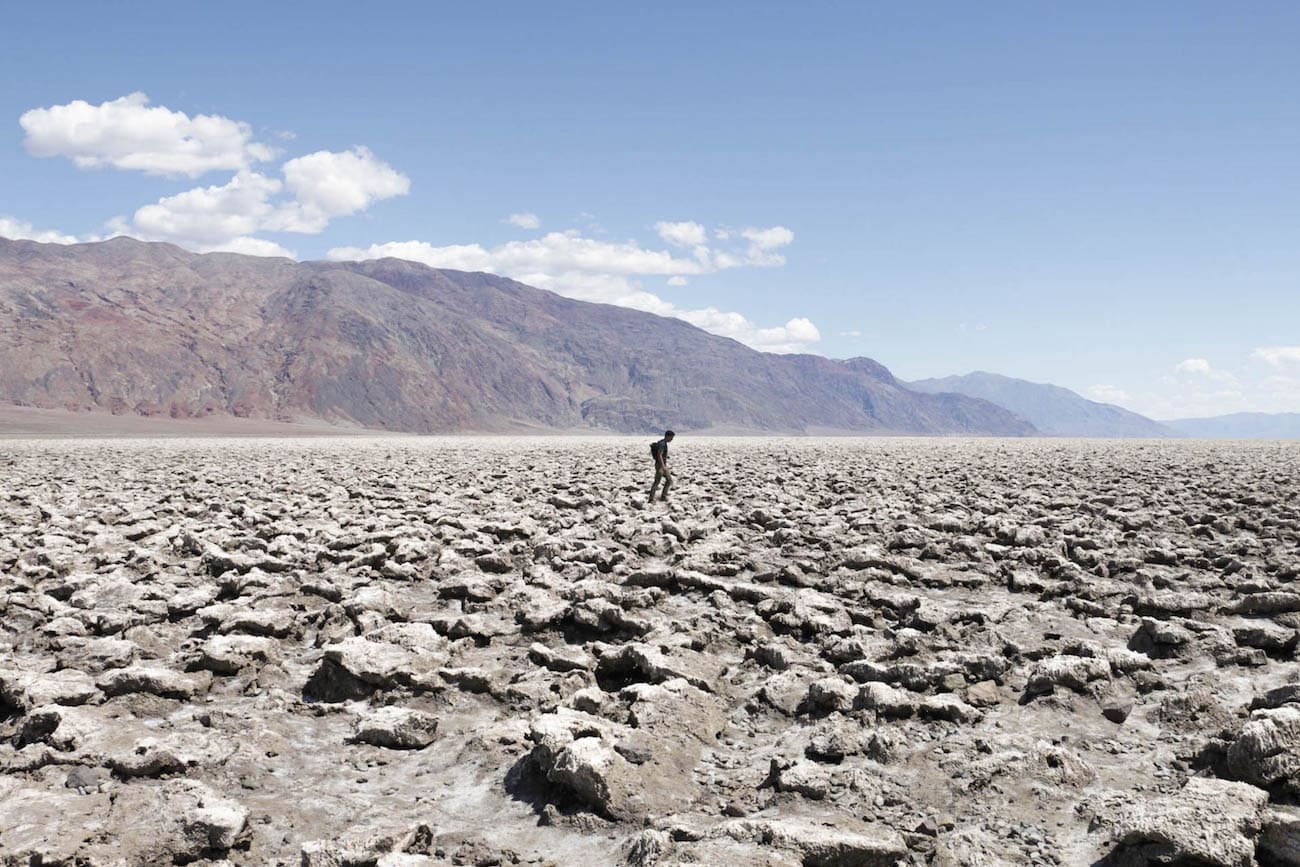 Once we were done exploring the Devil's Golf Course, we then headed towards the lowest point in North America, the infamous Badwater Basin. This part of the park sits at 282 feet below sea level, creating a surreal landscape of vast salt flats.
These salt flats cover nearly 200 square miles and are among the largest protected salt flats in the world. It can be extremely hot and dry here, so just make sure that you have plenty of water and sunscreen.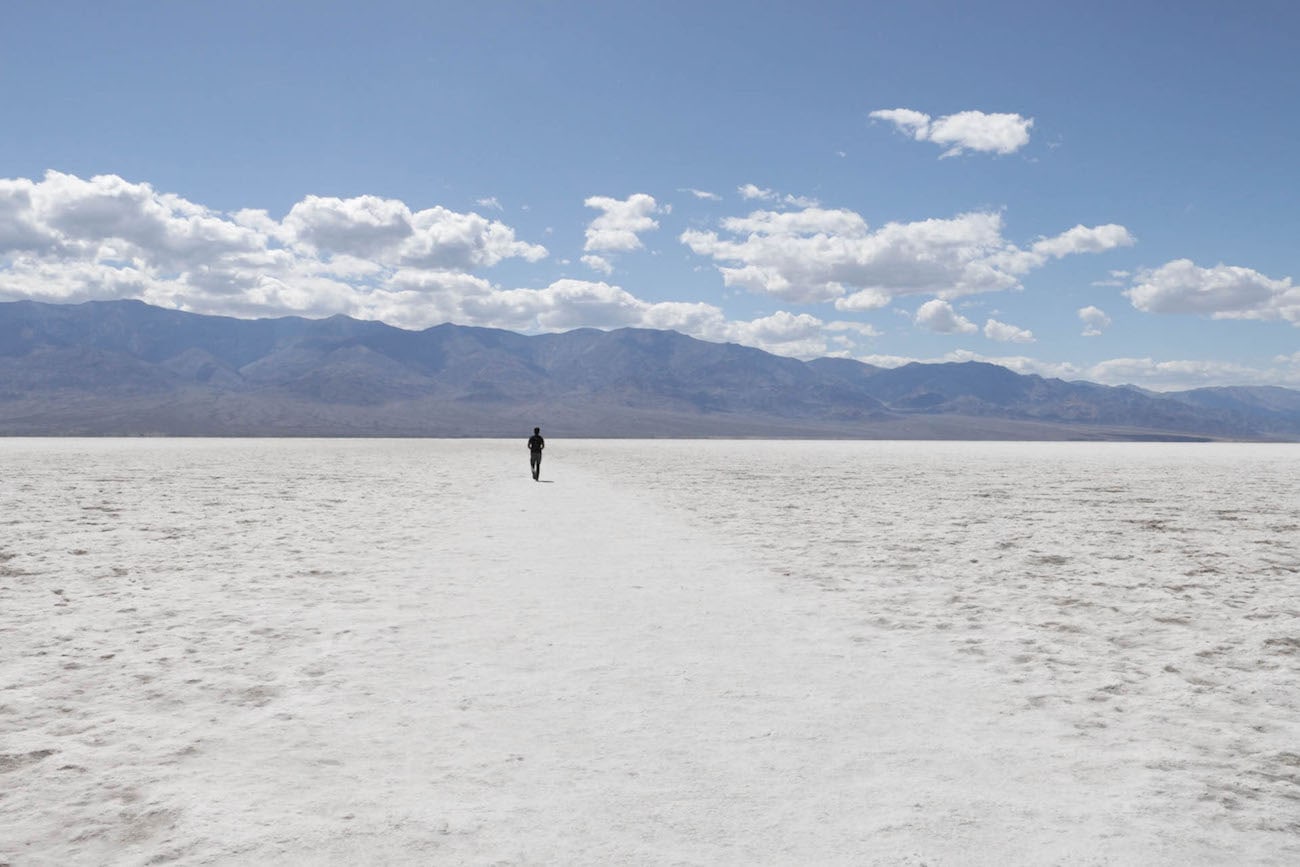 Before heading back to our campsite for the evening, we made sure to take the slightly longer route along Artist's Drive. This scenic loop takes you through multi-colored volcanic and sedimentary hills. We stopped at Artist's Palette for an incredible view of hills splattered in pastels, which is said to be remarkable in the late afternoon light.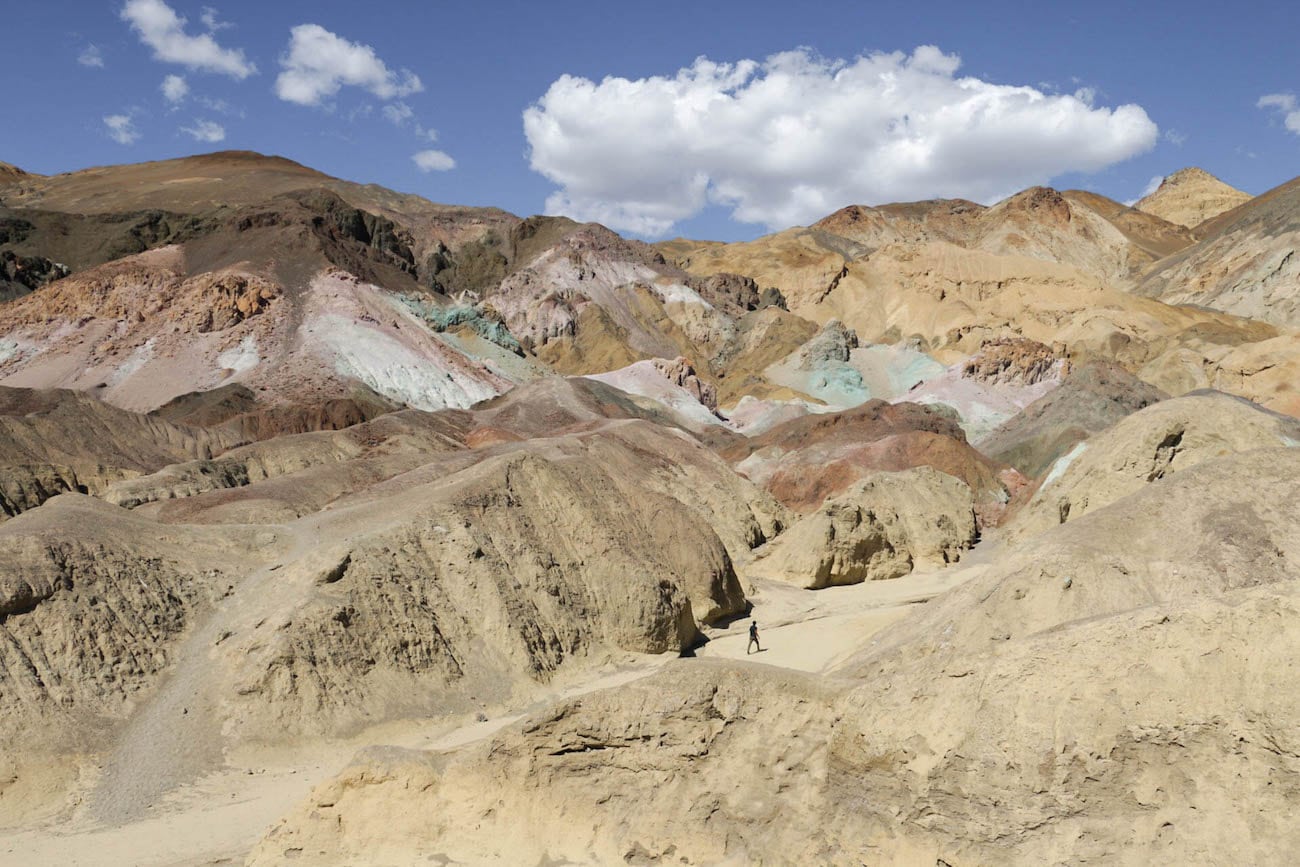 Day 3
In the morning, we got up to catch the sunrise and said farewell to our campsite. Our next adventure would take us just down the road, and along a 2 and a 1/2 mile dirt path to the parking area of Darwin Falls.
Prior to our trip, we had no idea that there was a lush oasis hiding in the midst of this unforgiving terrain. This spring-fed waterfall is truly a miracle in the desert, flowing year-round in a narrow gorge. It was a short two-mile roundtrip hike to the falls that involved some rock scrambling and several stream crossings.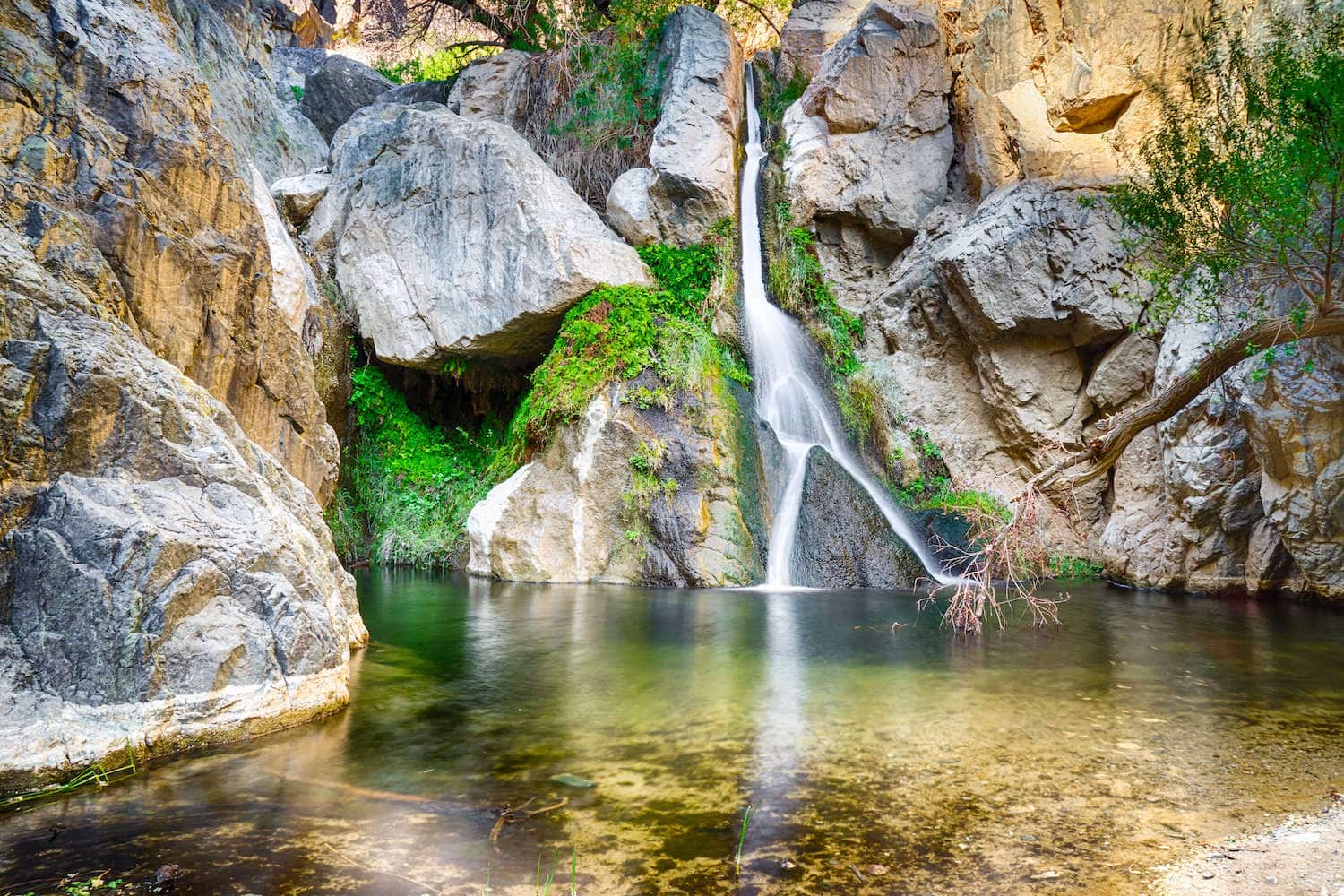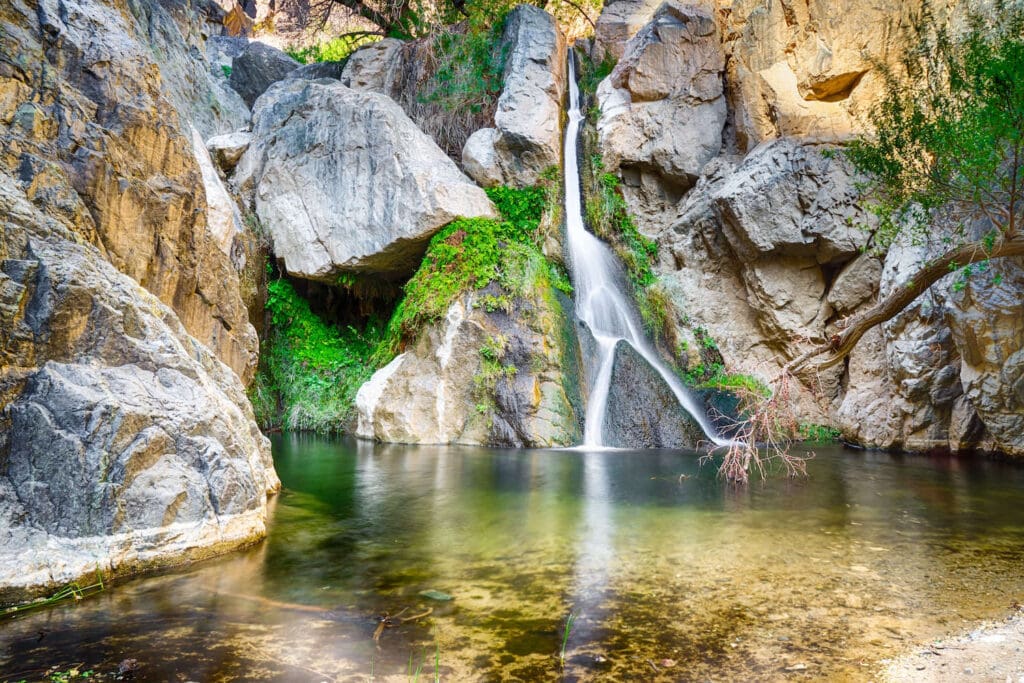 Our final stop before driving back towards Los Angeles was Ballarat. This small ghost town lies just outside of Death Valley National Park and is run by its only resident and caretaker: Rock Novak.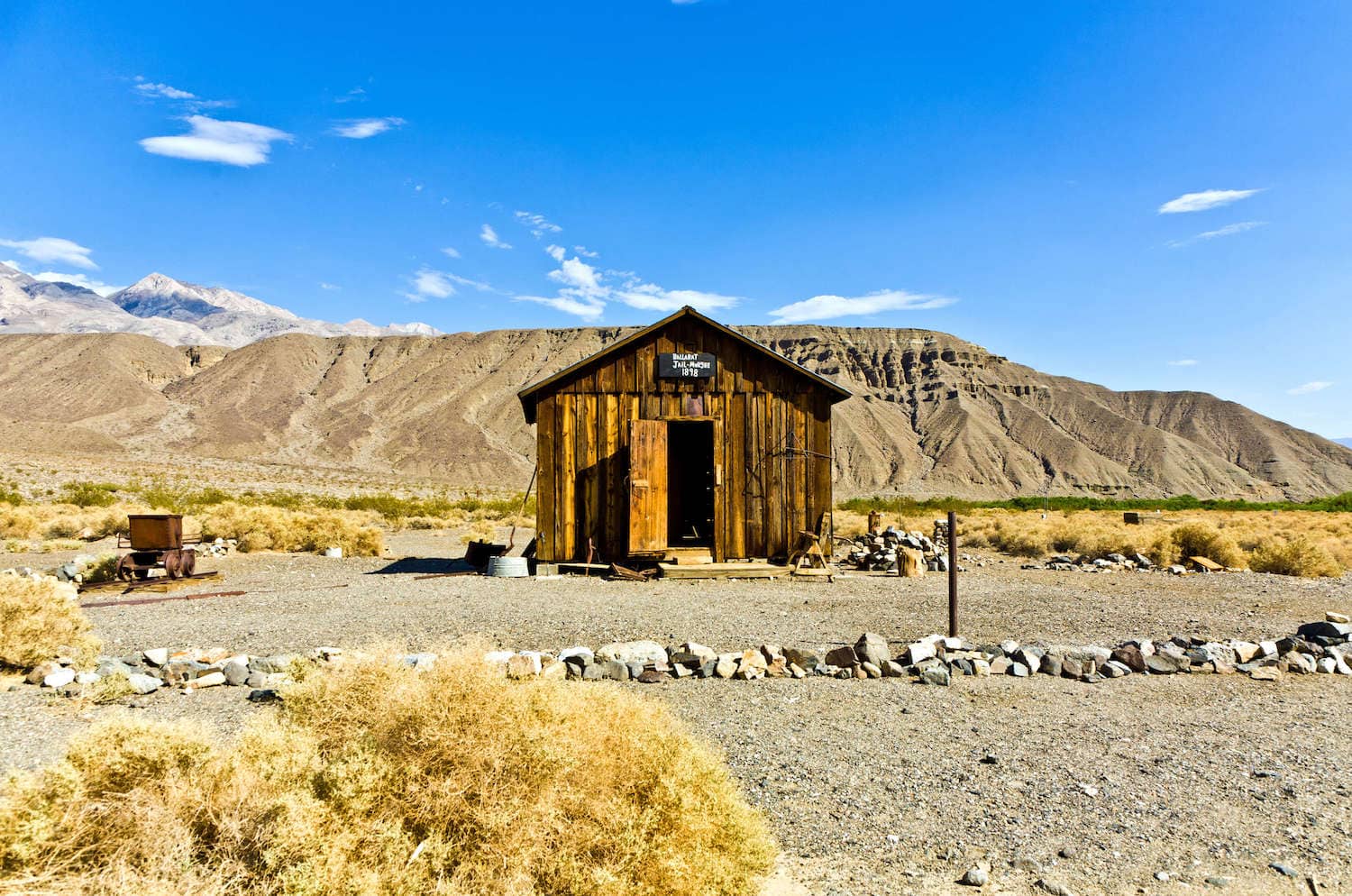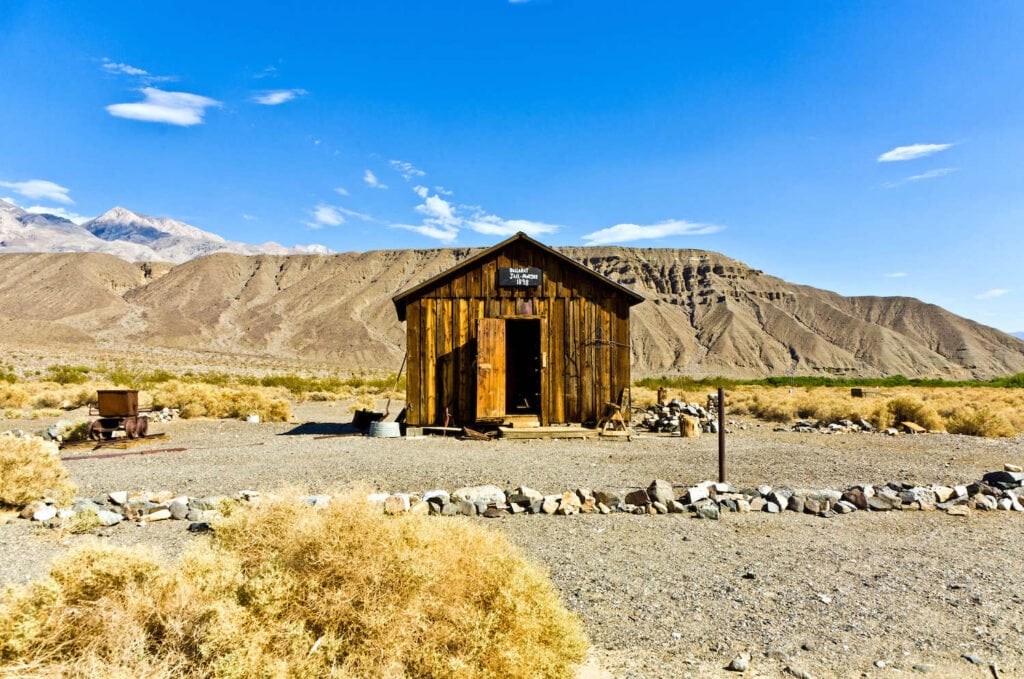 The ghost town was a bit eerie when we arrived. There was nobody in sight and as we parked and got out of our car, all you could hear was the faint sound of an alarm going off. We walked around for a while and then out of nowhere appeared Rock. We talked for a couple of minutes and before departing he made sure to invite us to an event they celebrate called Freedom Days, where he emphasized that "anything goes!" We'll just have to make a trip back to experience Freedom Days.
Read Next: 6 Coolest Nevada Ghost Towns
---
What to Bring on Your Death Valley Road Trip
Depending on what time of year you visit Death Valley, you'll need to pack accordingly. Spring, winter, and fall have the coolest day temperatures, but it can get chilly at night so it's a good idea to pack several different layers for warm days and cool nights.
If you're car-camping on your Death Valley trip, also keep in mind that there are very few places to get food, fuel, and amenities in Death Valley, so it's best to pack all of your car camping needs at home.
For information on car camping and hiking gear to bring on your Death Valley road trip be sure to check out these posts:
---
Death Valley offers so much from sand dunes to canyons to historic hotels. Any amount of time spent in the park is sure to be full of adventure and discovery! Don't forget one of Death Valleys' greatest attractions is its proximity to other National Parks like Sequoia and King's Canyon as well as other quirky off-the-beaten-path towns.
So pack some snacks, grab your maps, don't forget sun protection, and get on your way. Our Parks are waiting!
Have you been to Death Valley National Park? What are your favorite Death Valley itinerary stops? Let us know in the comments below!