5 Tips for a Budget DIY Camper Van Build
Learn how to save money on your DIY camper van build with 5 easy tips from how to choose a used van to how to do a cheap van conversion.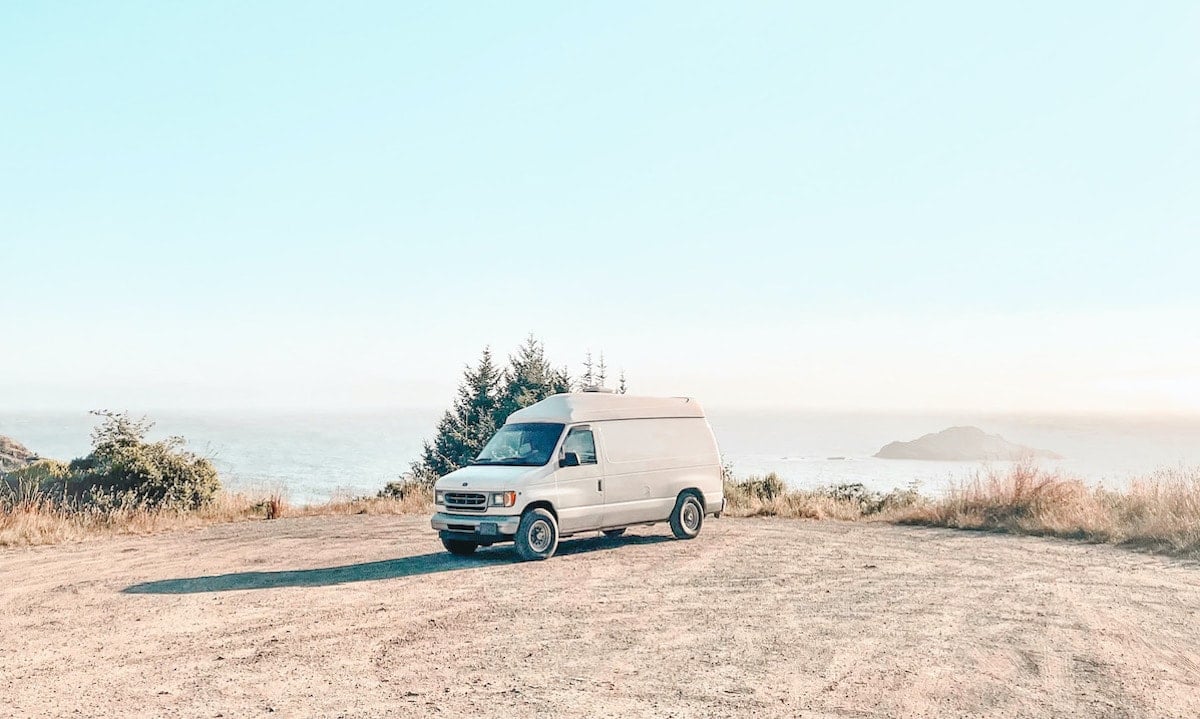 Looking to build out a budget DIY camper van and don't know where to start? It's no secret that van life has recently exploded in popularity and the Internet is swirling with beautiful, professionally-built vans filled with gorgeous woodworking and high-tech appliances. It can be intimidating when you are working with a small budget, have limited time, have zero build experience, or just want to keep it simple.
It's easy to get wrapped up in the beautiful #vanlife images on social media, but don't be fooled – you can do a DIY van conversion on a budget that is still functional, cute, and comfortable. You don't need to spend a ton of money (or time) to hit the road!
Looking to build out a DIY camper van? Read our top 5 budget-friendly tips for ways to save money on your build!
Budget DIY Camper Van Tips
#1 – Choose a Budget Camper Van
This seems like a no-brainer, but if you are looking to save money on your DIY camper van, choose a used, older vehicle. I recommend starting by asking yourself these 7 questions before choosing a van to get the wheels turning on what kind of van will fit your needs. Here are some other things to consider when buying an older, used van:
Reliability – Google your van before you buy. See if there are any red flags about vans from that year or any common maintenance issues. Car forums are a great place to find information about vehicles.
Mileage – Older vans can mean more miles but don't always let that be a deterrent. Well maintained, older vans can last 150,000 miles or more (diesel vehicles can run even longer!). Also, be aware that some vans have had their mileage "rolled over", where the odometer shows a lower number than the actual mileage.
Rust – Rust dissolves metal and eventually causes structural damage to your van, making it unsafe to drive. Avoid any rusty vehicles and be wary of buying vans from snowy climates, where rust develops faster.
Maintenance Records – Seeing a van's maintenance records will ensure the van has been properly maintained and cared for by the previous owners.
Get the van checked out by a trusted mechanic before you buy so you know what you're getting into, or at least bring someone with you who knows a little about cars. You can also get a CARFAX report on the vehicle which will tell you of any accidents the van has been in, confirm odometer mileage, previous owners, and other information. This is a great resource for peace of mind before buying a used van.
Top Budget Camper Vans
These are commonly-used, affordable vans that people buy to convert into DIY camper vans (although there are plenty of other options out there too):
Ford Econoline (E150, E250, E350)
Chevy G Series (G20, G30)
Dodge Ram (from 1990s-2000s)
Chevy Express/GMC Savana
Chevy Astro Van
I recommend setting up email alerts on Craigslist and Facebook Marketplace for "camper van", "conversion van", and any specific vehicles you're eyeing to find a cheap van to convert. I found my 1999 Ford Econoline camper van on Craigslist last summer after setting up email alerts for all the major cities around me.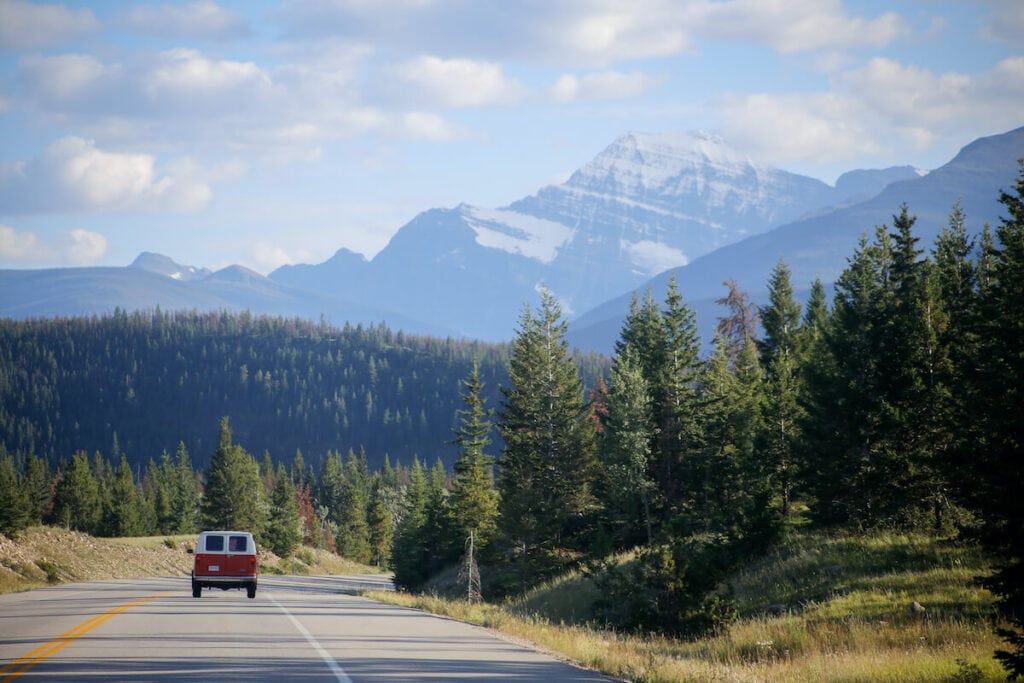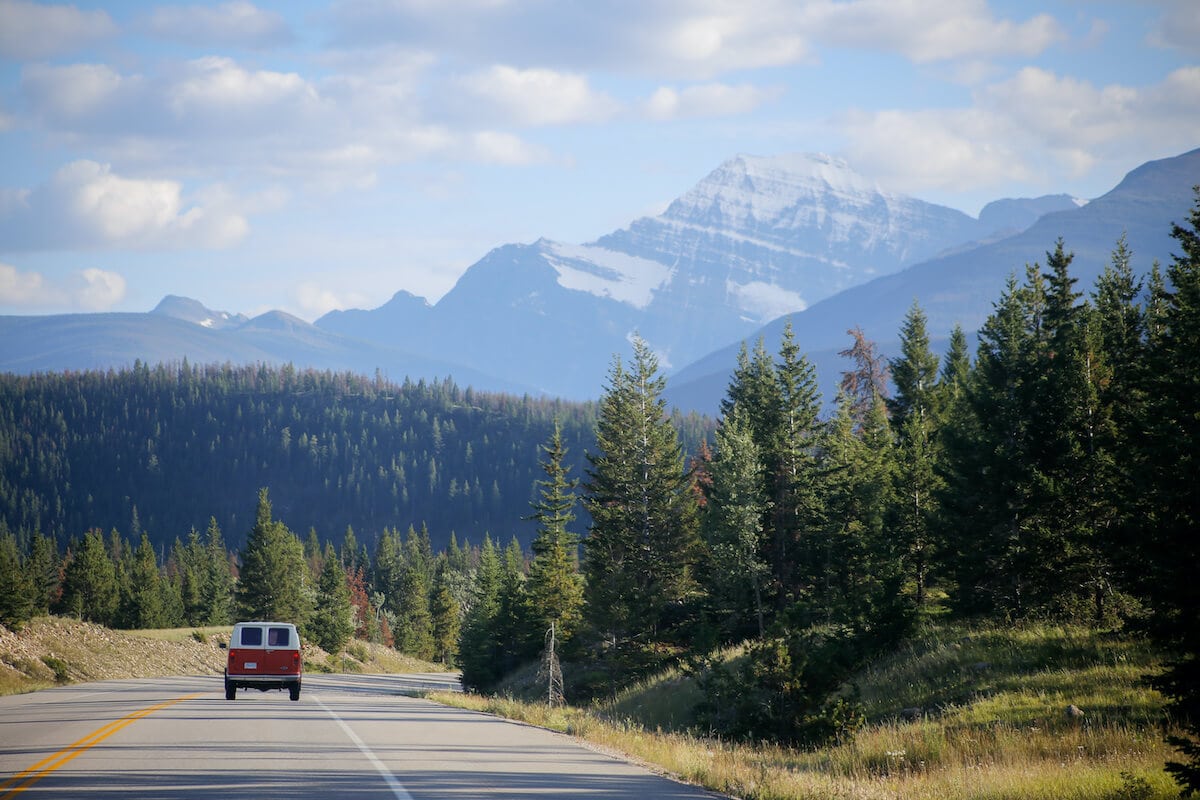 #2 – Make a List of "Needs" and "Wants"
It's easy to get wrapped up in thinking you need to have everything in your DIY van build, from a bathroom to a kitchen sink to a 12V fridge. Just remember that sometimes simple is better (at least to start).
Before buying a van and beginning your van build, write down a list of your needs and what would be nice to have, and go from there. Here are a few questions to get you started on your needs and wants:
Do you want to be able to fully stand up in your van?
Do you want a bathroom in your van?
Do you plan to cook in your van or outside?
How long is the van? How easy will it be to park?
Do you want RWD or FWD? RWD is not the best for snow but is helpful for going up mountain passes.
How much storage space will you need? Are you hauling bikes, backpacking gear, or any other large items?
Will you have any pets in the van? What kind of space will they need?
Do you need additional power for a fridge, appliances, etc. or can you do without it?
Part of the fun (and sometimes headache) of a DIY van conversion is configuring your van to fit everything in such a small space – it can feel like a puzzle. Be flexible and know that your "needs" and "wants" will likely change many times, especially after you hit the road. Things that once felt like a necessity will become an afterthought, and you will quickly see what additions or changes could be made for easier van living.
If you have the time, take your van out for "test trips" during your build to quickly see how you could change or improve your layout as you build. To read more about how to choose your camper van layout, click here.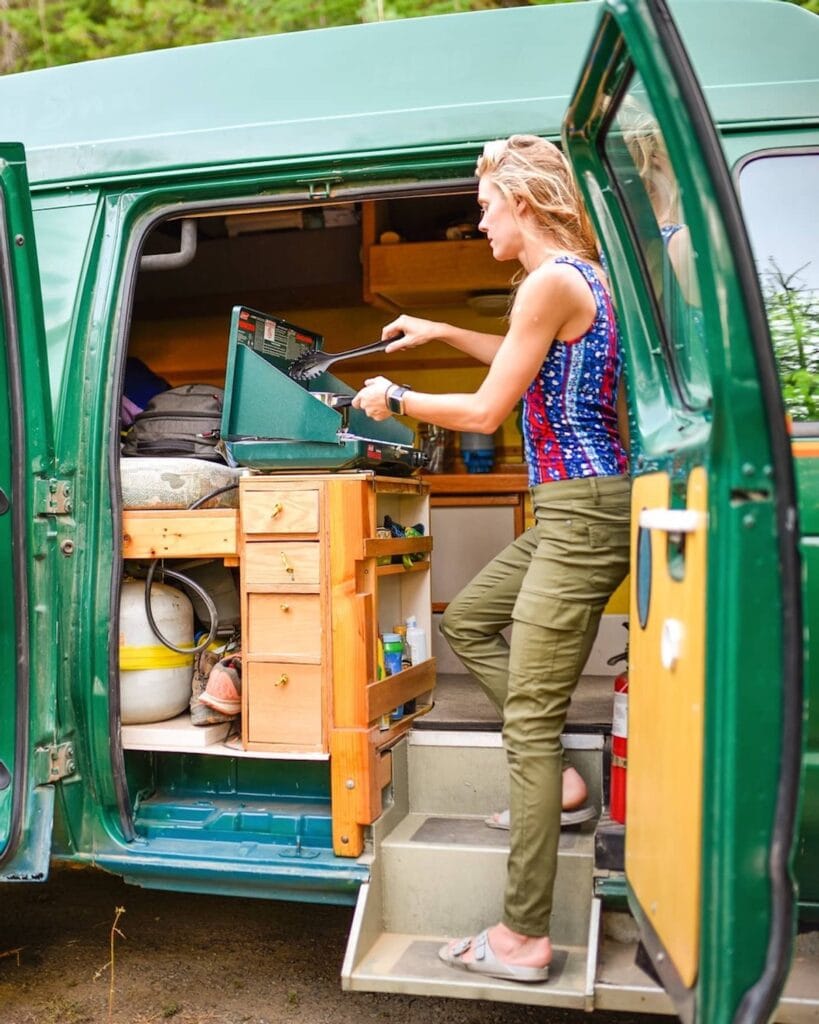 #3 – Keep It Simple
If you are tight on your build budget, start small and keep it simple, because you can always add on or change your DIY van build decisions down the road. Nail down the basics first:
When I moved into my van, my build consisted of a fixed bed and an RTIC cooler, and that's about it. I wanted to build a cabinet with a sink to use as kitchen space, but I ran out of time before I left. A year later, I'm so glad I didn't build that kitchen cabinet. Since I can't fully stand in my van, I almost never cook inside and doing dishes while crouched over a tiny sink sounds like my worst nightmare. Instead, I have a really open floor plan that allows for easy access to all the storage bins under my bed, which I appreciate so much more.
By keeping it simple in the beginning, you will save a ton of money and be able to save up to add to your build down the road.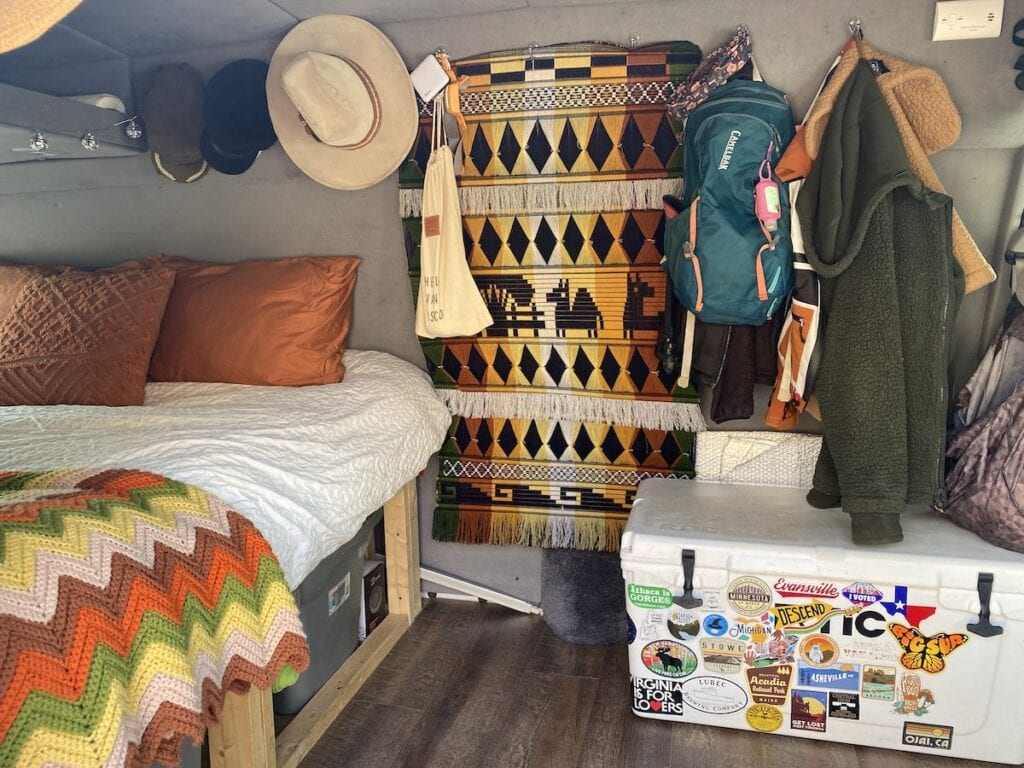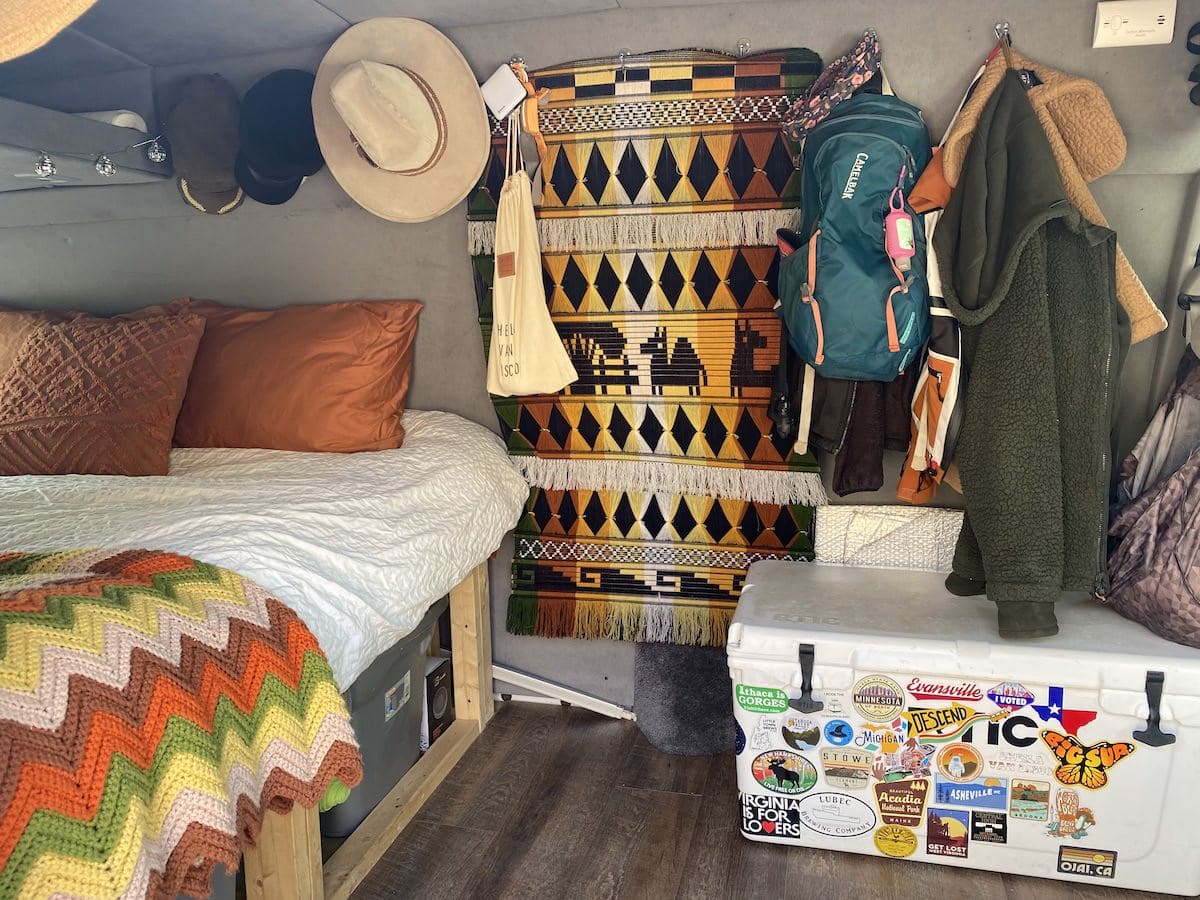 #4 – Use Secondhand Materials and Shop On Sale
Building a DIY camper van requires a lot of trips to Home Depot, but you can save yourself money by buying build materials secondhand. I was able to find vinyl "wood" plank flooring (commonly used in van builds since it's lightweight and water-resistant) at a hefty discount on Facebook Marketplace. Plywood, 2x4s, insulation, sinks, cabinets, and other van build items can be found for cheap – always shop around secondhand before buying new (which is also better for our planet!).
When you are looking to outfit your van, you can also save money by buying used items. Plus, finding secondhand cookware and decor for your van will give it a unique look. Here are my favorite secondhand places to shop for van items:
Thrift Stores
Habitat for Humanity ReStore (great for finding cabinets and larger furniture)
Craigslist
Garage Sales
Facebook Marketplac
OfferUp
"Buy Nothing" Facebook Groups
Another way to save money on your DIY van conversion is to shop sales. If you can plan far enough in advance, wait for Memorial Day, Labor Day, Black Friday, or anniversary sales to score great deals, especially on big-ticket items like solar setups and fridges. These are also great times to wait and save up for van upgrades. During non-sale periods, check if there are any refurbished models for sale (directly from the manufacturer or on Amazon) since they will usually be heavily discounted.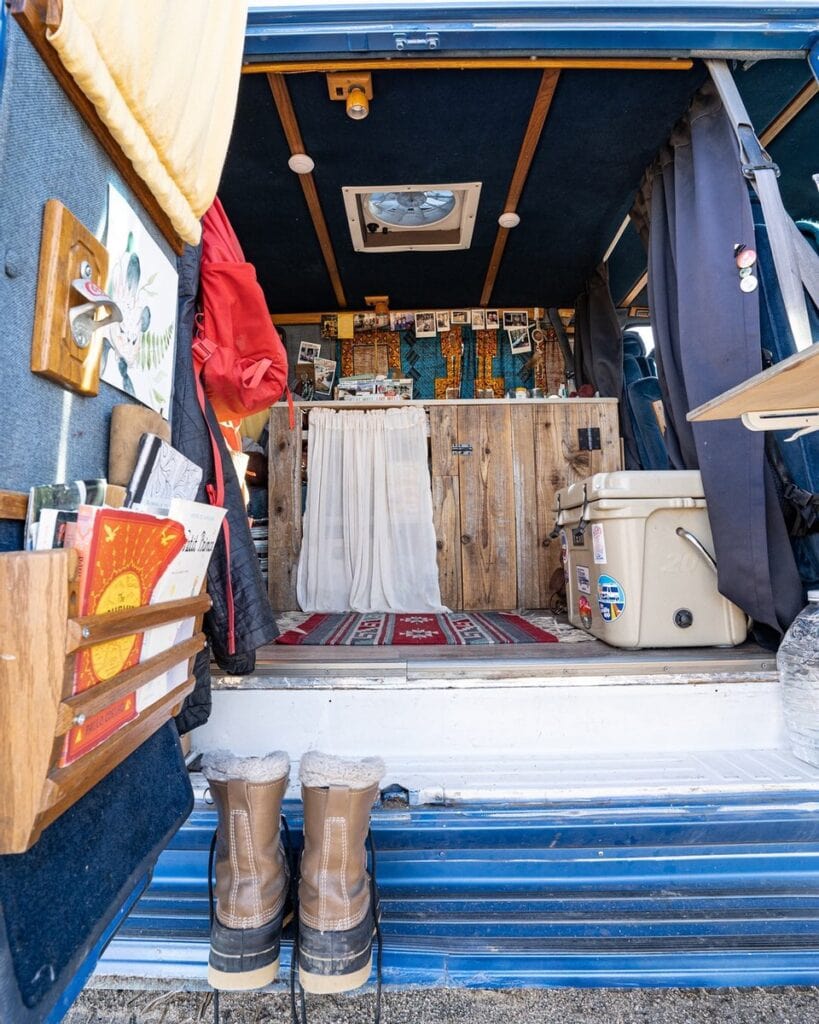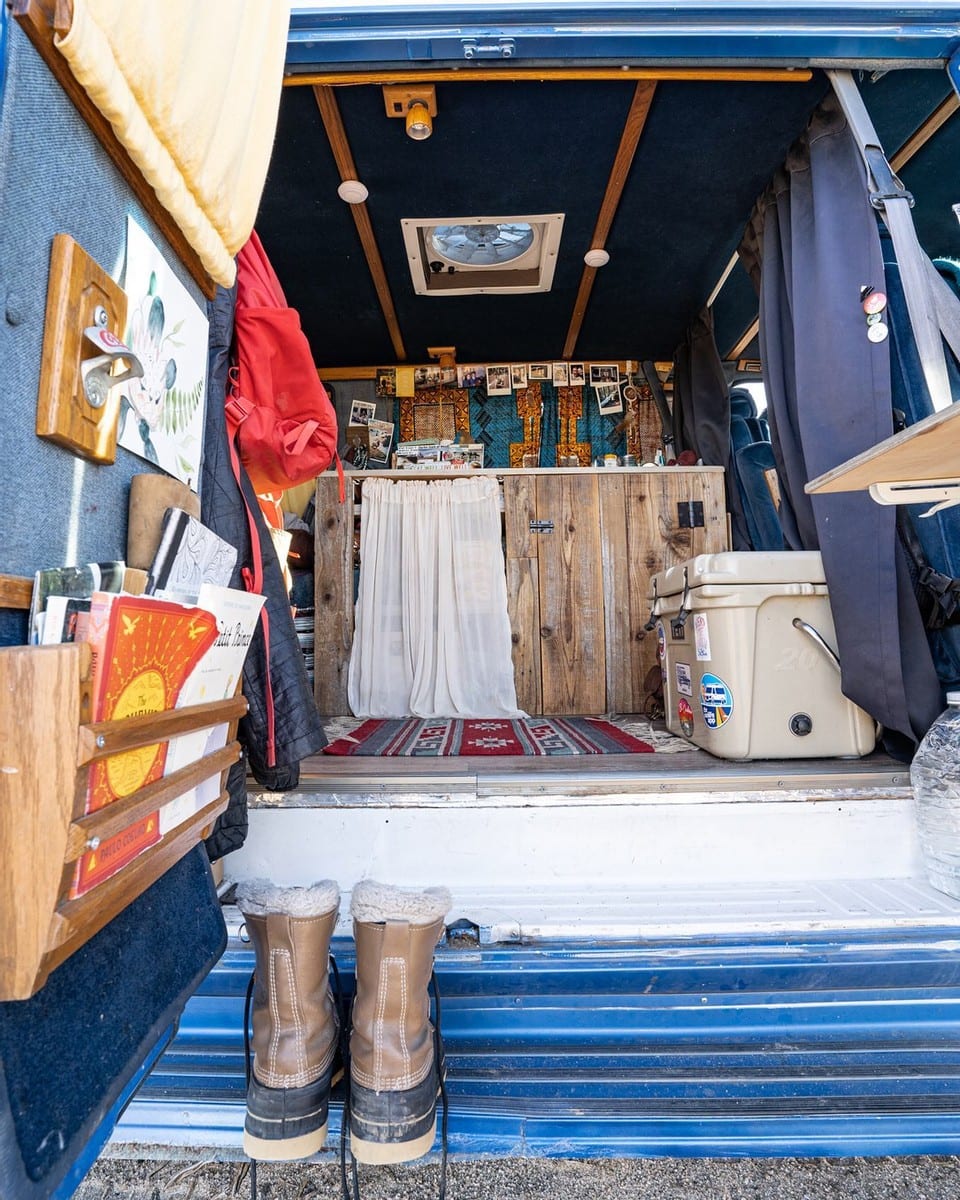 #5 – DIY As Much As You Can
Doing it yourself is hands down the easiest way to save money on a van build. There are tons of free resources online to assist you with your van build.
YouTube and Pinterest are great resources for van builds with step-by-step visual instructions for DIY van projects such as window coverings, curtains, a toilet, and more. Another huge benefit of doing a DIY van build is that it's so much easier to fix/upgrade your van because you know exactly how things were built in the first place.
If you don't feel confident in your building skills, ask your network. Do you have friends that love tinkering? Any family members that have basic tools you could borrow? Don't be afraid to ask for help – you never know who will step up!
Another easy way to save money during your DIY van conversion is to use what you already have. Can you repurpose your kitchen cookware for your van? Can you use storage bins that you already own? Finding ways to utilize things you already own will quickly cut down on the cost of your van build.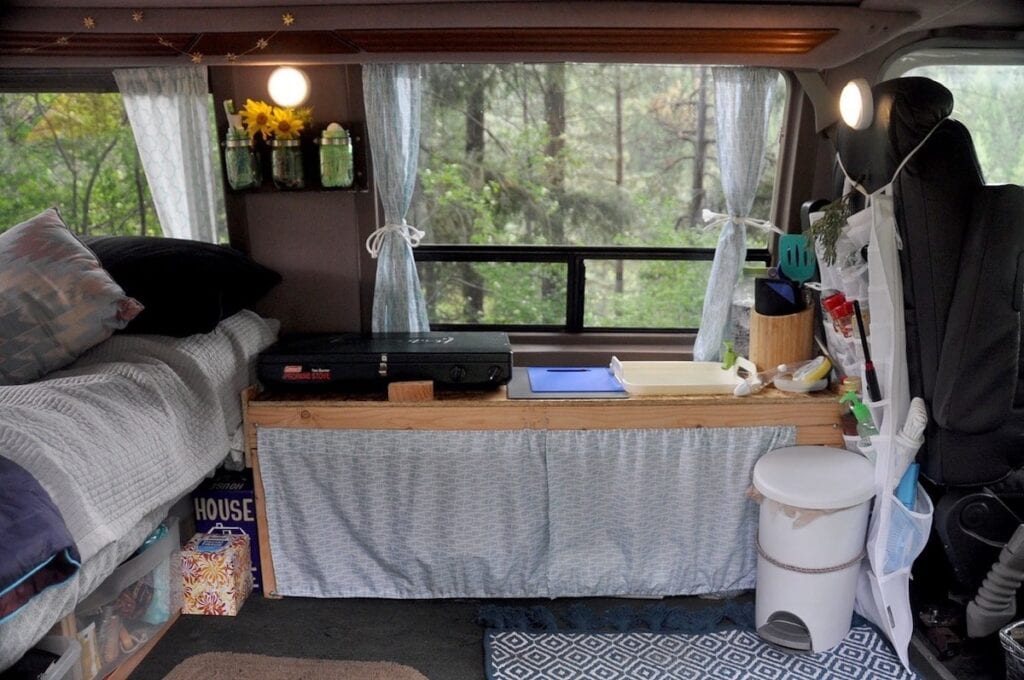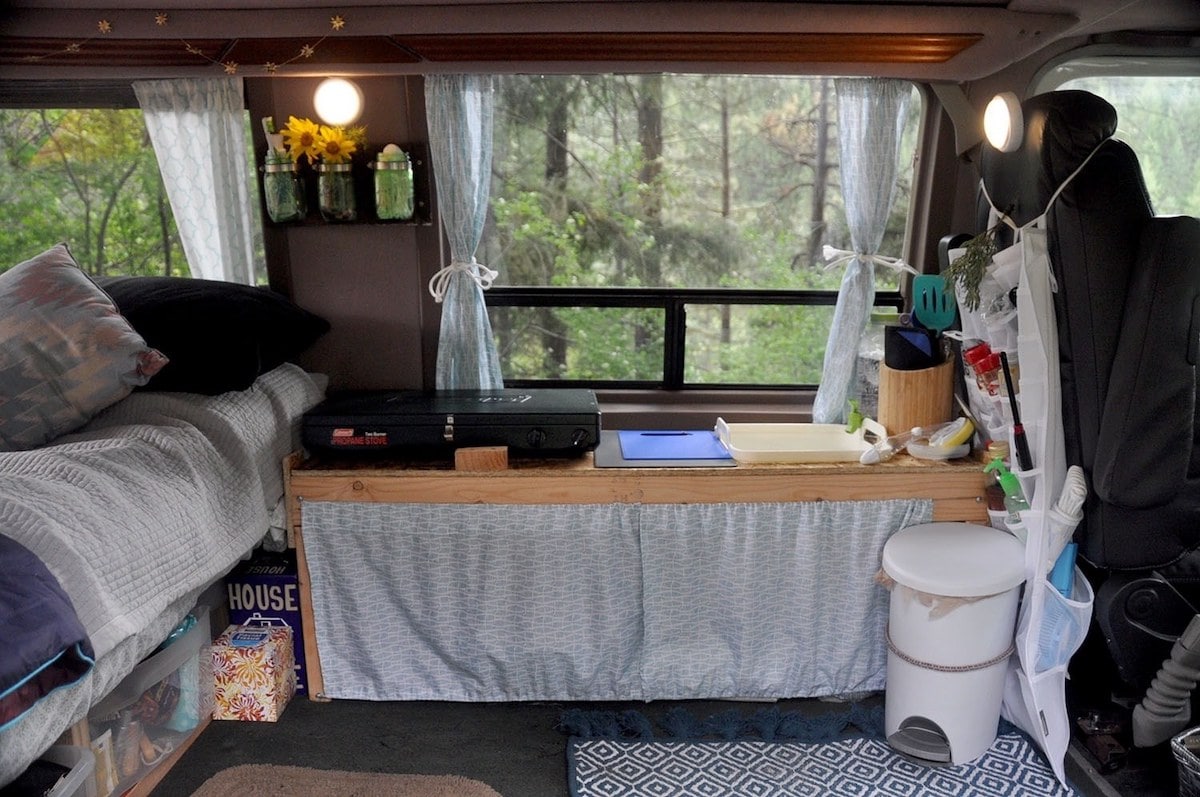 Easy Ways to Save Money on Your DIY Camper Van Build
Here are a few simple tips for saving money on your van build:
Invest in Propane: if you plan to cook on a propane stove, the cost of those 1lb propane canisters adds up quickly. Buy a 5-20lb propane tank that will easily pay for itself in no time (and save you the headache of buying propane all the time!)
Use a Cooler (to start): Fridges are notorious for being an expensive part of building a van. Invest in an RTIC or Yeti, which keep ice longer than most coolers, and buy dry ice or block ice to keep your food fresher longer.
Skip a Vent Fan (to start): Unless you plan to cook in your van, you don't really need a vent fan. Instead, buy a few USB rechargeable fans to get air circulating throughout your van in hot weather. A vent fan is the perfect "upgrade" down the road.
Skip Solar (to start): For a couple hundred bucks, you can buy a good battery, a smart isolator, and an inverter — this will make adding solar panels down the line a breeze if you choose to do so. If you are completely lost on a DIY electrical system or don't have a lot of devices pulling power, consider getting a portable power station. These aren't always as budget-friendly, but they're super simple, and since power isn't tied to your van, you can take it anywhere, like the beach or coffee shops, to use. I use the Jackery 240 Portable Power Pack to power my van and have a flexible solar panel to recharge (you can also recharge while you're driving or by plugging into a wall outlet).
Skip the Fancy Kitchen (to start): All you really need is a portable camp stove to cook on, a table you can set up outside, and a collapsible bucket for dishes. I also love having a USB rechargeable faucet that sits on my water jug.
What questions do you have about building a budget DIY camper van? Do you have any tips to add to our list? Leave us a comment below!