Van Life Internet: How to Get WiFi on the Road
Want to work from the road? Learn about vanlife internet and how to stay connected while camping and traveling in remote areas.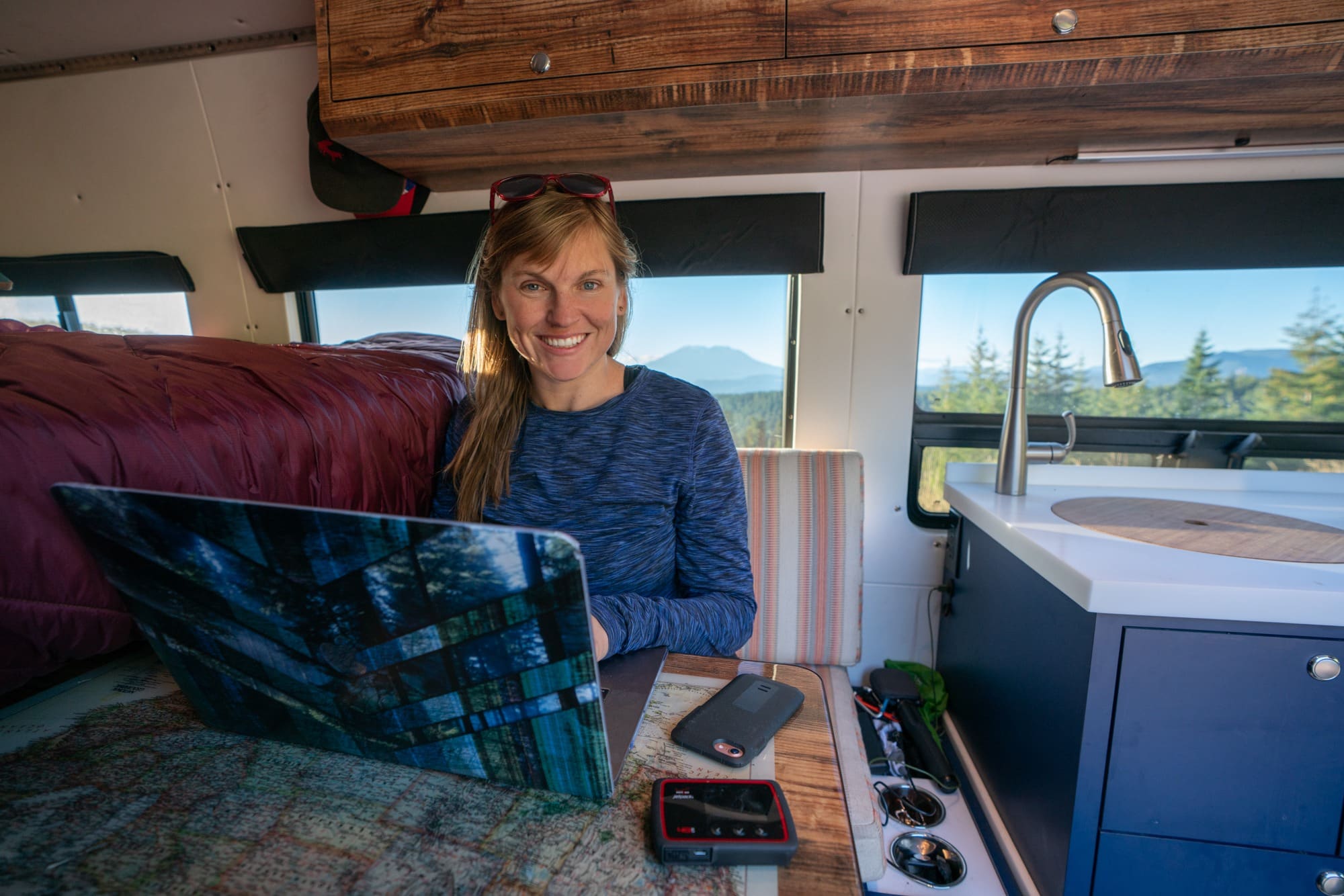 One of the most common questions I get about working from the road is about van life internet. How do I get WiFi when traveling, and is it expensive? I usually spend more than half the year on the road living, traveling, and working out of my converted Sprinter van, so staying connected and getting internet on the road is essential to my ability to make money and maintain a career.
While getting off the grid and away from it all is one of the perks of van life and camping, if you're planning to work from the road, then knowing how to get online when you need to is an absolute necessity. The internet is also a game-changer for easily being able to find parking, places to camp, water, dump stations, laundromats, and directions, as well as things to do.
Luckily, there are a lot of different options for van life internet – including the new Starlink satellite internet – and it's not as difficult to stay connected as you might think. Whether you are a full-time or part-time van lifer or simply want to take a few weeks off to road trip, these tips for getting WiFi while traveling apply to you.
#1 campsite finder app
Try The Dyrt PRO free for 30 days
Get a FREE 30-Day membership to The Dyrt PRO, one of our favorite apps for finding campsites.
Perks include:
• 5,000+ free camping locations
• 1,000+ campground discount network
• $0 extra booking fees
• Get reservations at sold-out campgrounds, and more
Use the code BEARFOOT to get 30 days free!
Cell Phone Hotspot Options
Pros: easy to use, requires no additional equipment, most affordable option
Cons: slow speeds if connecting more than 1 device, drains your phone battery, only works where you have cell signal, speed can be throttled after a certain amount of use
The easiest and most cost-effective method for van life internet access is your cellphone data plan. Smartphones have a hotspot capability that allows you to tether devices to your phone, utilizing the phone's data plan as the internet for your other devices including your laptop. It doesn't cost you anything beyond what you normally pay each month and works anywhere you have cell signal.
Depending on your carrier, reception quality varies across the country. Download the OpenSignal app (one of our must-have van life apps!) to see the signal strength of wherever you're heading. It's an interactive map that shows you where your carrier has a signal and how strong it is. This is a great tool for remote workers that will help you plan ahead and find an office with a view.
To determine how big of a data plan you need and to find ways to cut back on data usage, you can use an app called My Data Manager to see how much data you use on a daily basis.
Visible
If you want a low-cost, reliable mobile carrier for van life, BFT Team Member (and full-time van lifer) Courtney has used Visible on the road for over 2 years and highly recommends their mobile plan. Visible is owned by Verizon and uses their towers, so anytime there is Verizon coverage, Visible should also have coverage. However, when the network is experiencing heavy traffic, your Visible data may be temporarily slowed. After traveling with others with Verizon service, she's rarely noticed a difference between her cell service and Verizon cell service.
With Visible plans, you get unlimited data, talk, text, & mobile hotspot usage that is not capped. This is how Courtney hotspots to her laptop to work remotely, and she's able to take occasional Zoom calls and do all computer work easily.
Visible currently offers two plans, both of which require no annual contract:
Visible: $30/month, unlimited talk/text/data, 5G Nationwide & 4G LTE, unlimited mobile hotspot, unlimited talk & text to Mexico and Canada

Visible+: $45/month, includes all of the above + their fastest 5G speeds, premium data, international calls & texts, and international data coverage in Mexico & Canada.
As a solo van lifer, switching to Visible was a no-brainer for their budget-friendly plans, and the reliable cell signal, good coverage, and unlimited hot spot is why Courtney has continued to use Visible.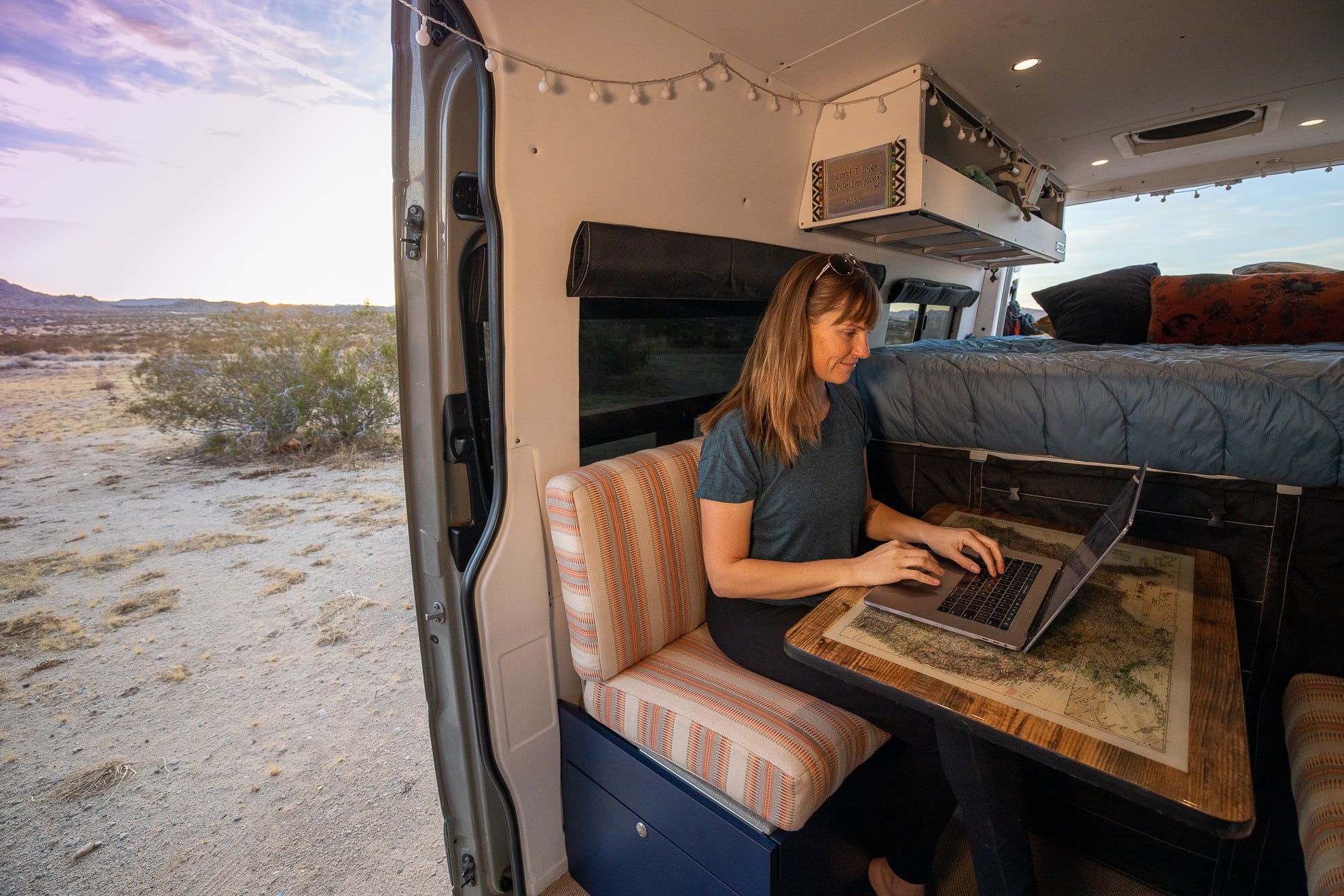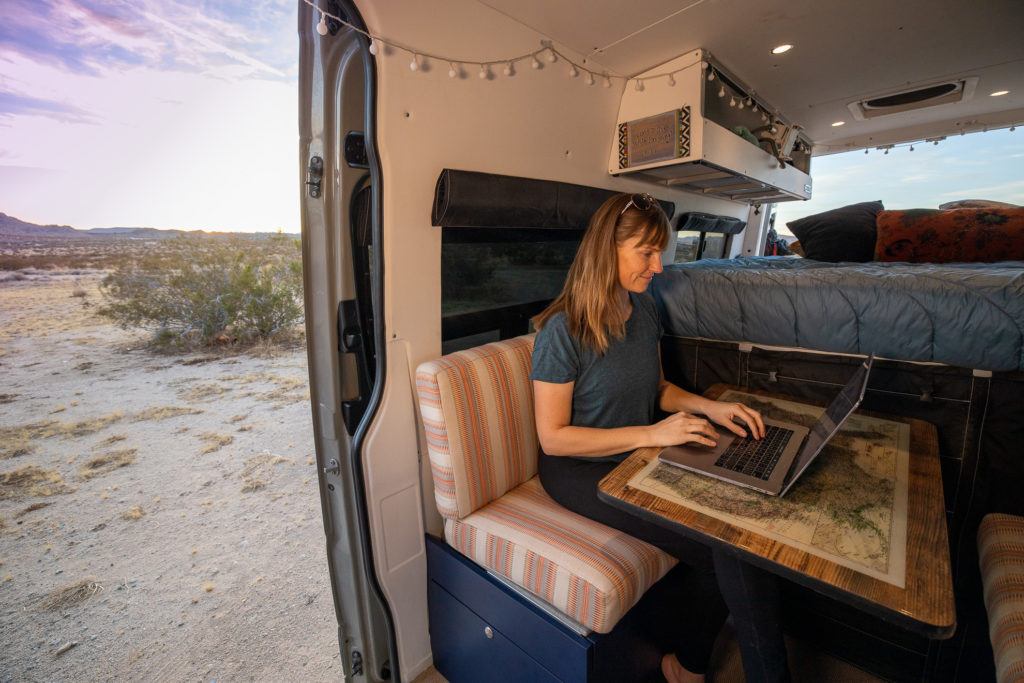 ---
Mobile Hotspot Devices
Pros: sometimes faster speeds than phone hotspot, ability to have more than one carrier, can connect to multiple devices, some truly unlimited data plans, won't drain your phone battery
Cons: requires separate equipment, equipment and plans can be expensive, only works where you have cell signal
A second option for cellular data plans is to purchase a mobile hotspot device. These are small, external devices that work similarly to your phone's hotspot and are a way to get WiFi when traveling. They can run off the same plan on your cell phone, or you can purchase a separate data plan, depending on your carrier.
The advantage of a separate hotspot is that multiple people can use the hotspot connection at the same time and they don't drain your phone battery. Here are the most common mobile hot spots:
If your traveling companion is on a different carrier with a weak signal but you both need to get online, a WiFi hotspot will come in handy. Both you and your friend/partner can use the mobile hotspot at the same time, even if they aren't a customer of the same carrier as you. All you have to do is share the hotspot password, and they can get online with your data plan.
Trying to use your phone as a hotspot for more than one device at a time really slows your signal down – and plans only allow you to connect 1 device via phone hotspot. Using your phone as a hotspot also drains your phone battery pretty quickly. That might not seems like a big deal for sporadic usage, but over time, the more your drain and charge your phone battery, the worse your overall battery life becomes.
*Hotspot trick: Consider buying a mobile hotspot from a different carrier than your phone plan so you can toggle between which carrier has better internet. For example, if you have a Verizon phone plan, buy an AT&T hotspot so you are covered in more places. Sometimes one carrier will have signal and the others won't.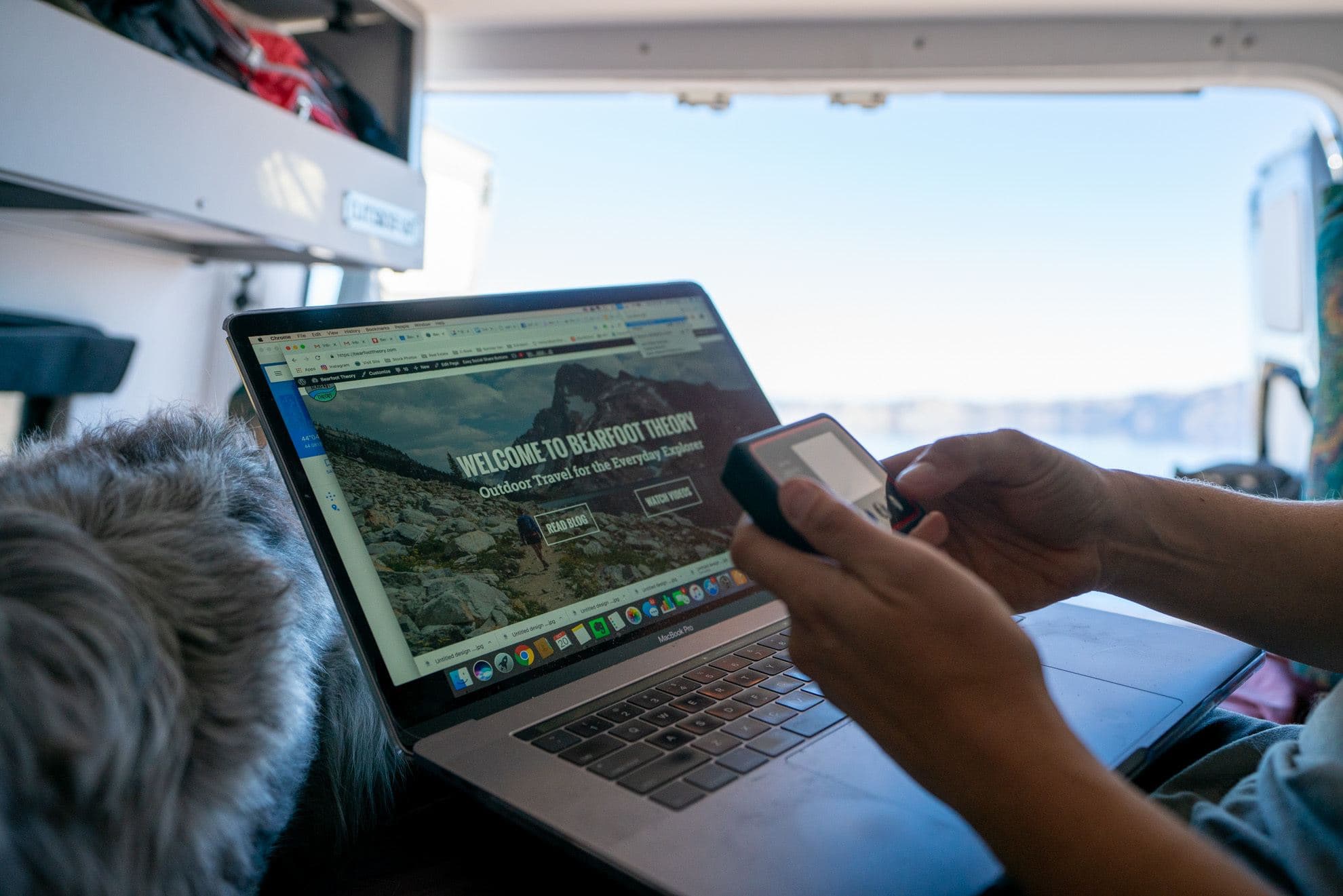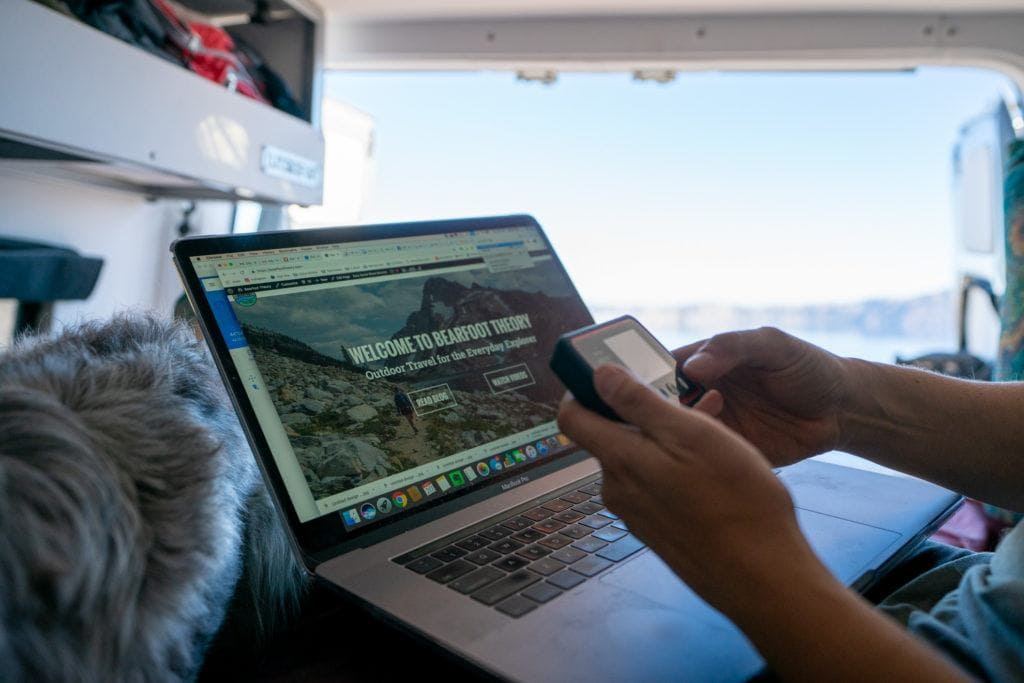 ---
Starlink Satellite Internet
Pros: works in areas with zero cell signal, incredibly fast internet speeds, unlimited data, works in Canada and Mexico
Cons: expensive investment, bulky equipment to store, pulls a lot of power, can't be used in tree-covered areas, can't be used while driving
Starlink has opened up a world of possibilities when it comes to remote work for van lifers. Unlike cell phone boosters which require some sort of signal, Starlink allows you to get a fast internet connection in places where you have zero signal on your cell phone. That means you can do Zoom meetings, upload and download large files, or even make WiFi calls far off the grid.
So far in my experience, it is faster than other mobile WiFi options with download speeds over 100mbps. I have the RV plan which isn't tied to a service address, giving me the flexibility to take the Starlink wherever I want on my travels. I took my Starlink up to Canada, where I'd normally have very limited international data on my phone with my Verizon plan, and was able to get unlimited WiFi using the Starlink all along the Icefields Parkway.
With the RV plan, you can also easily pause your monthly service plan if you aren't going to be using Starlink for a month or longer. As of October 2022, the RV plan is $135 per month, not including the $600 start-up cost of the Dishy (the satellite dish) and router. It's definitely the most expensive van life internet option out there, but if you're someone who relies on fast, reliable internet (or works a 9-5 on the road), Starlink is the way to go and it seems to only be getting better.
A couple things to note about Starlink:
It requires an AC power source and a decent amount of juice. The power draw averages between 60-70 watts. If you have a really robust power system, you probably won't notice it much, but if you're already needing to be careful with your consumption, Starlink might not be your best option, or you'll need to beef up your power system.
Starlink doesn't work if you are surrounded by a lot of trees. The Dishy needs a clear view of the sky without a lot of surrounding obstructions in order to find the satellites. Down in areas like Moab, this isn't an issue, but if you typically camp deep in the woods, you might be frustrated with Starlink's performance.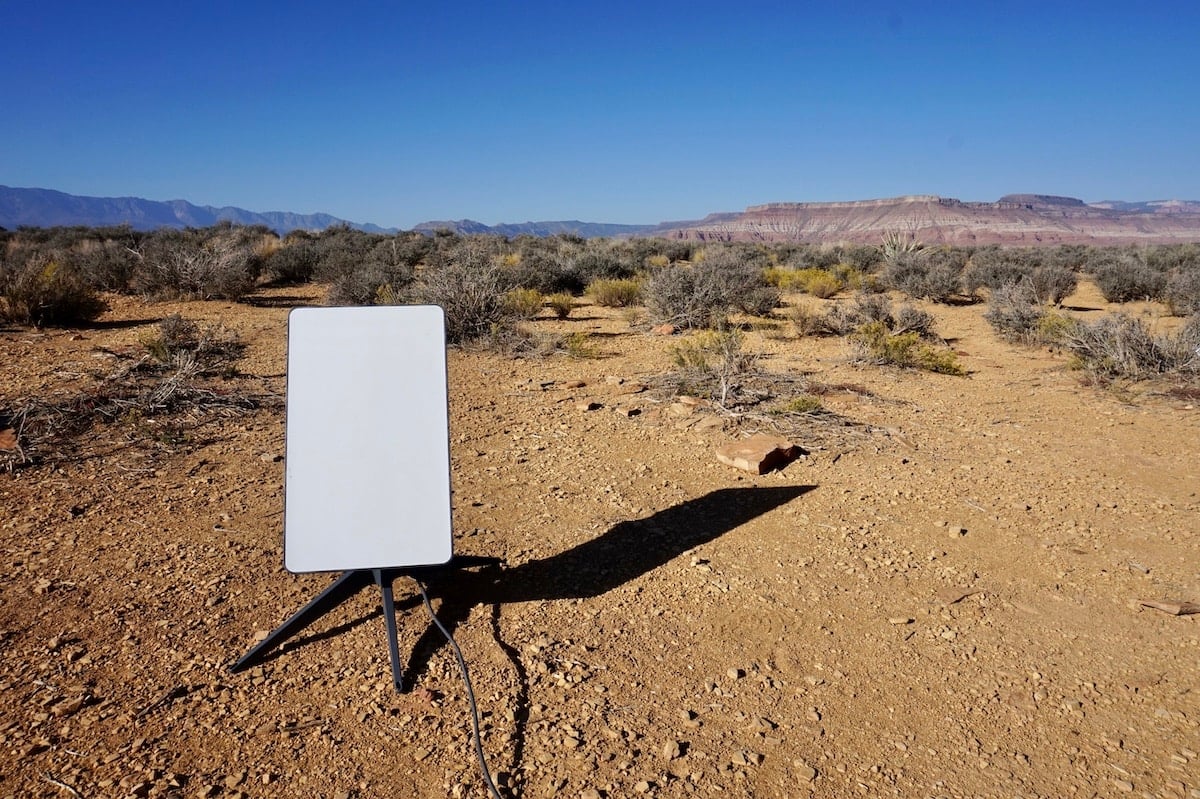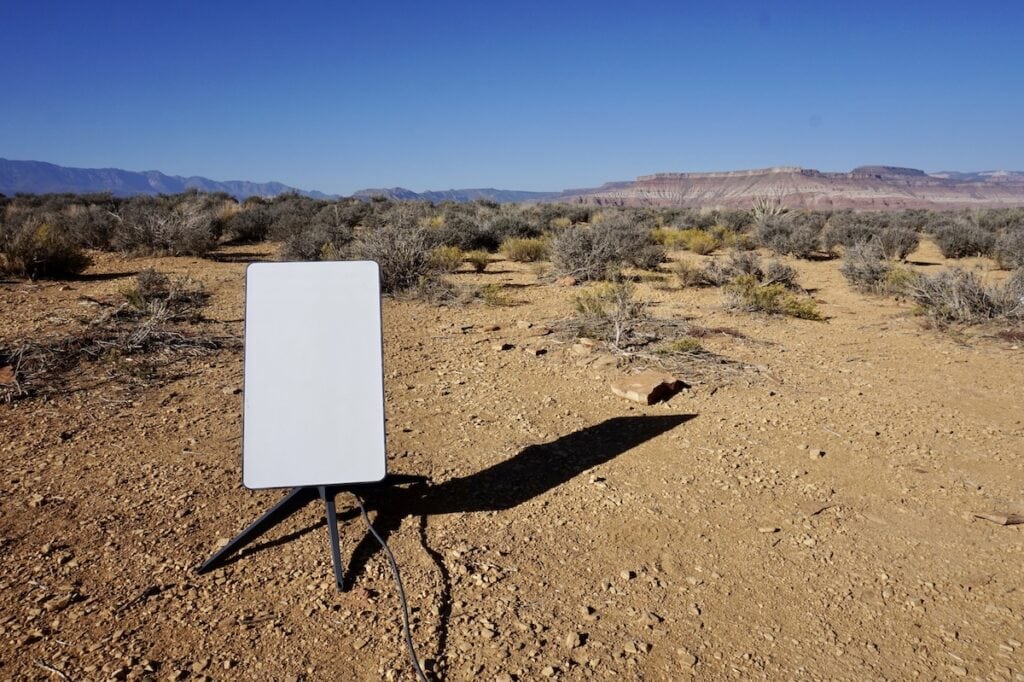 WiFi Signal Boosters
When using your cell phone data plan or a mobile hotspot for van life internet, the thing to keep in mind is that you still need a 3G connection at a minimum in order for it to work. If you have less than 3G, you are pretty much out of luck.
For added signal strength, there are cell signal boosters available for RVs, vans, and cars that boost an existing 1x, 3G, or LTE cell signal. These do not create a signal from nothing, though, so if you're in a No Signal zone, it won't do anything for you. It only works if there is some signal, and it will take that signal and boost it a bar or two. So if you are at 3G, it might turn the signal into LTE.
These boosters are a bit pricey, and if you think you'll need one in order to get better WiFi when traveling, plan in advance, as some require drilling holes through your van or RV roof.
WeBoost is the most popular signal booster that many people have success with. If you're interested, I suggest you contact the companies directly to ask about which product would be best for your rig before purchasing. Again, some of them require more advanced installs, so you'll want to consider this as you are building out your van. WiFi Boosters typically cost between $400-600 but have no monthly fees.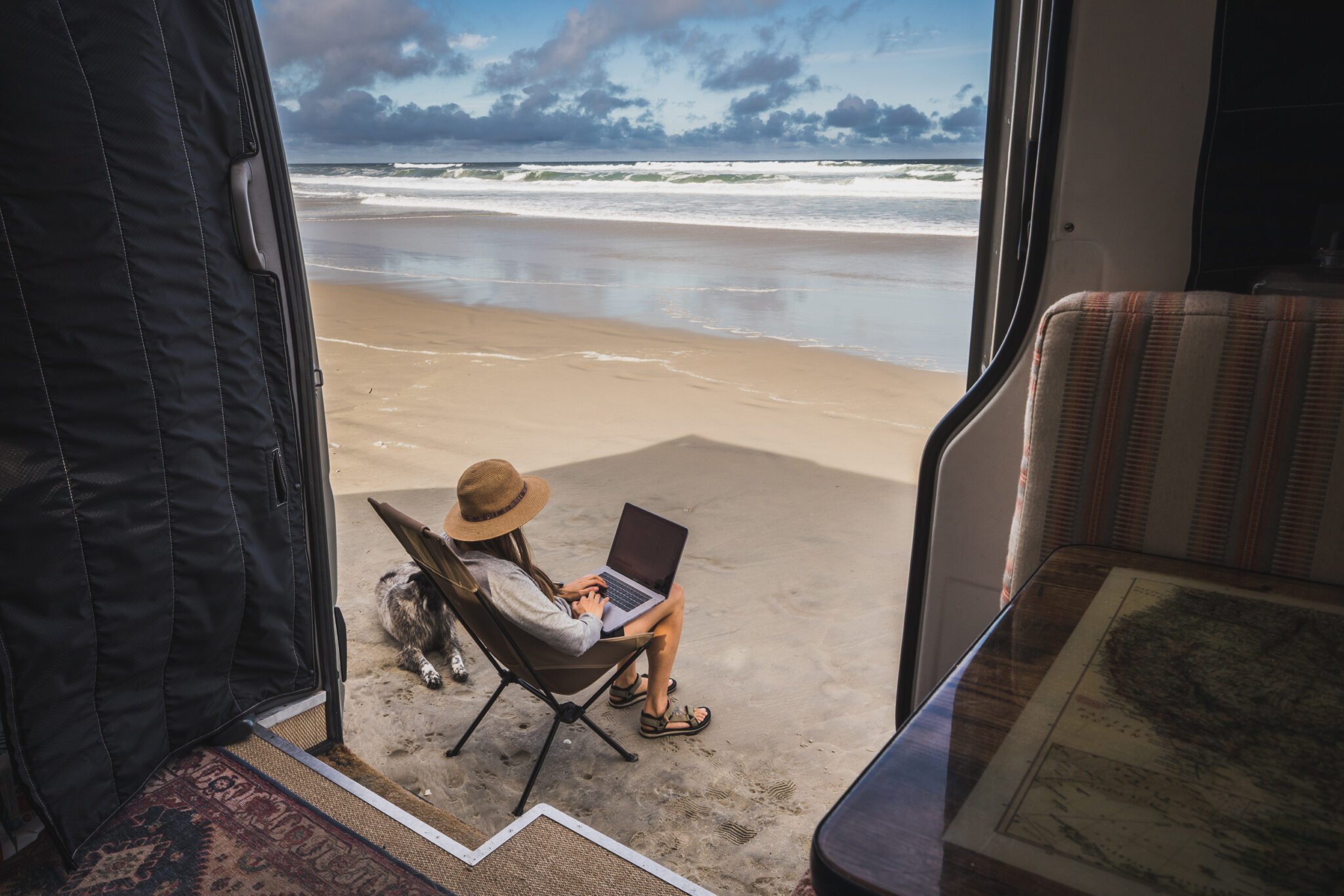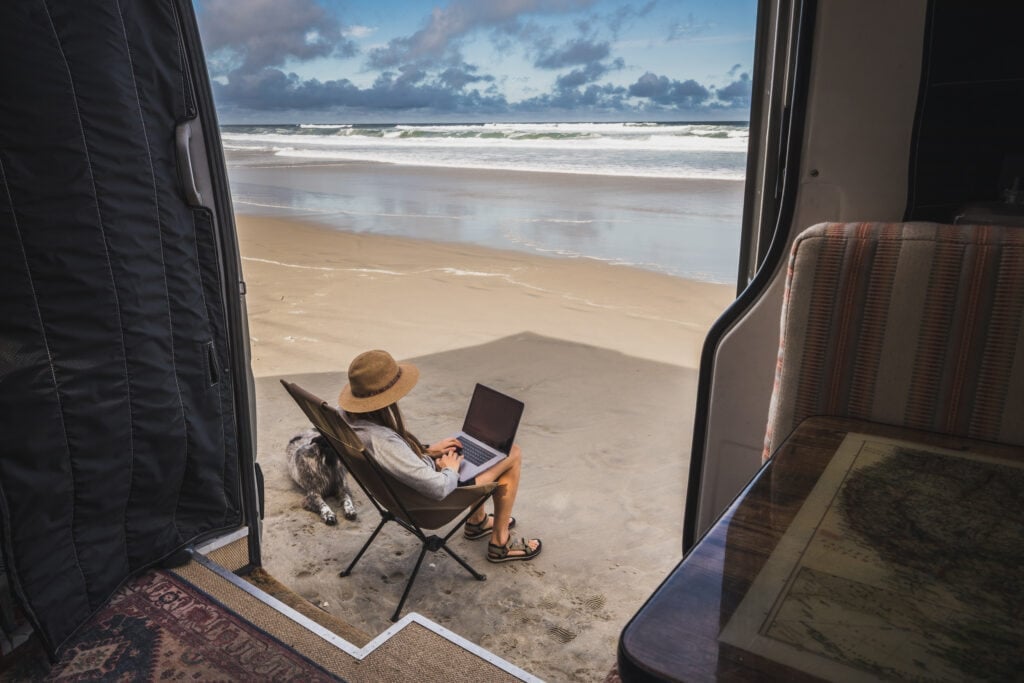 ---
Other Options for Van Life Internet Access
Here are a few additional ways to find free WiFi on the road, but keep in mind that public WiFi options are usually much slower and unreliable if you need to do video calls or download/upload large files.
Coffee Shops
Coffee shops almost always have free WiFi, and it can be fun to check out local coffee shops as you travel through new cities. Chains like Starbucks always have free WiFi and we've found their signal strength to be pretty good. However, if you're frequenting coffee shops for WiFi, the cost adds up pretty quickly so you need to weigh the options between upgrading your data plan and coffee shop expenses.
Public Libraries
Libraries are our favorite public option for a reliable, fast, and free connection. You don't need to be a library card holder in order to use the WiFi, but some have donation boxes if you'd like to support the library. Plus, you might meet some locals from the community which is half the fun of traveling through new places.
Chain Retailers
Many large big box stores like Walmart, Target, McDonald's, Home Depot, Lowe's, and some grocery stores offer free WiFi for customers. However, the radius can be small (WiFi only IN the store or right by the entrance), and the quality and speed of the internet can be unreliable.
If you use a Planet Fitness membership for showering on the road, most locations also have WiFi.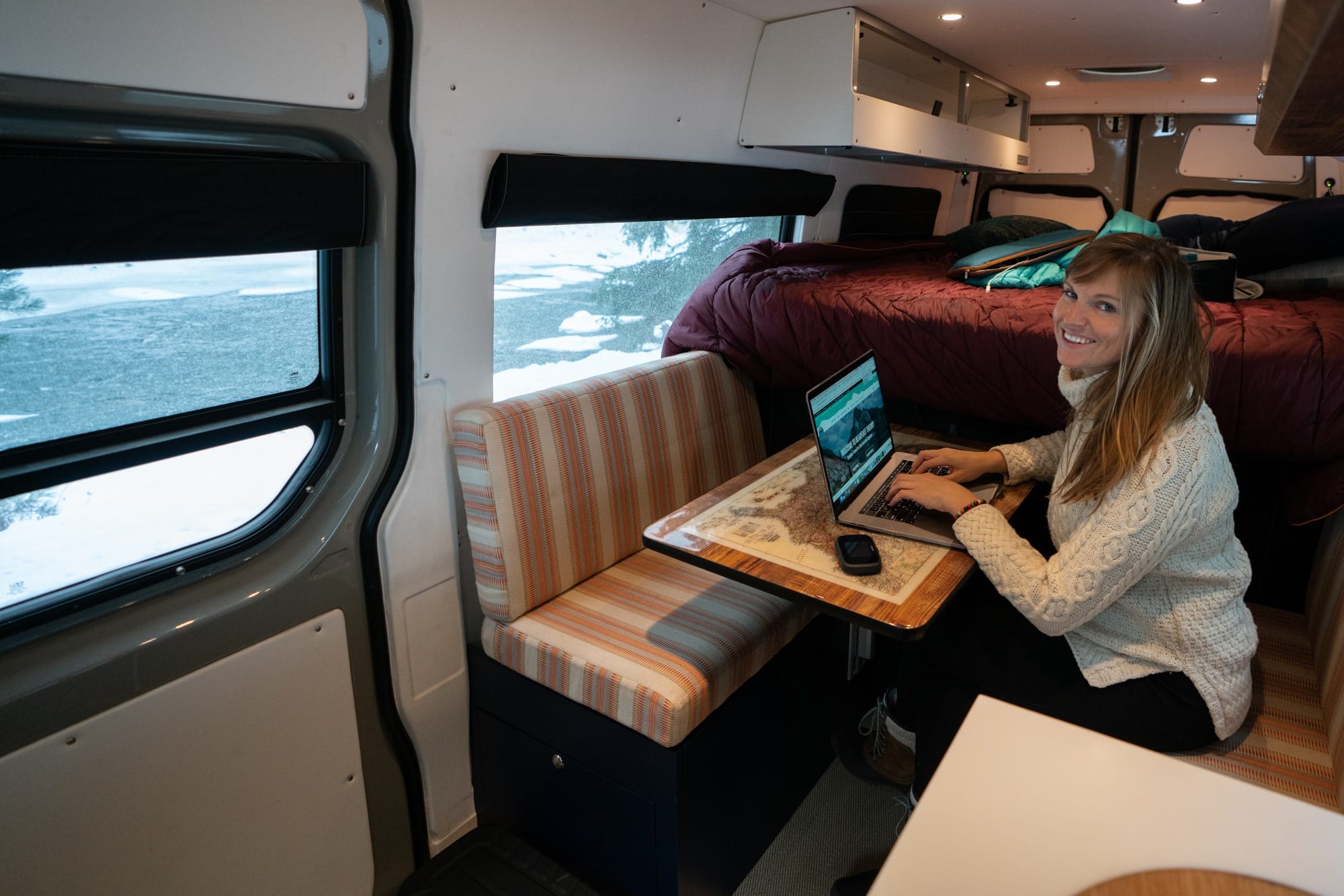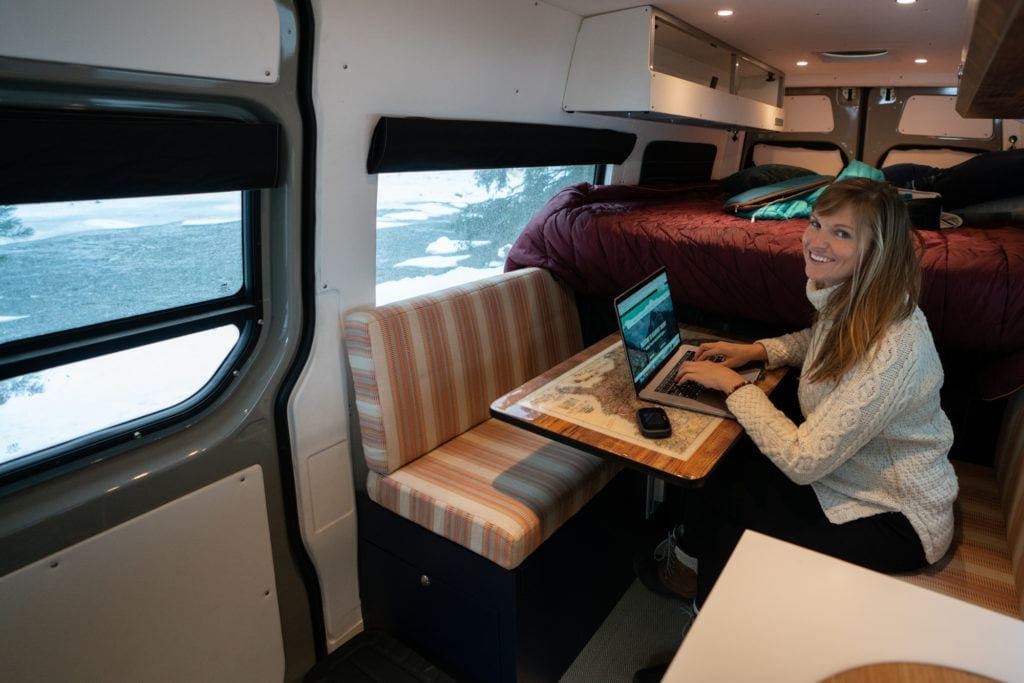 Tips for Reducing Your Data Usage
Here are a few tips for slowing your data usage and making your high-speed data last longer:
Turn off the background refresh on your apps. What is background refresh? Let's take Instagram. If you have background refresh turned ON, even when the app isn't actively running on your screen, Instagram will be fetching status updates, so as soon as you open the app, you see the latest news. This constant pulling of the latest posts eats through your data. On the iPhone, you can turn off background refresh by going to your general settings.
Turn on the "Use Less Data" setting on Instagram. Instagram preloads videos and photos before you scroll down, which means you're consuming data for videos that you might not even want to watch. To prevent this from happening, go to your Instagram settings on your profile page, then scroll down to "Cellular Data Use" and turn on the "Use Less Data" setting.
Download music and movies only when you're on WiFi. That means waiting until you're at a friend's house, a coffee shop, or the library to download that new Netflix series you've been wanting to see.
Wait to get on WiFi to upload large files online, like a new YouTube video or a bunch of high-res photos to your website. That will help you avoid quickly plowing through your data plan.
Turn cellular data off on all the apps that you don't use all the time. You can always turn cellular data on for each app as you use them.
Van Life Essentials Packing List
Below are a few of my favorite pieces of van life gear and recommendations for the road:
Related blog posts:
Got questions about van life internet and how to stay connected while road-tripping? Leave your comments and questions below, and make sure to sign up for our van life newsletter here.