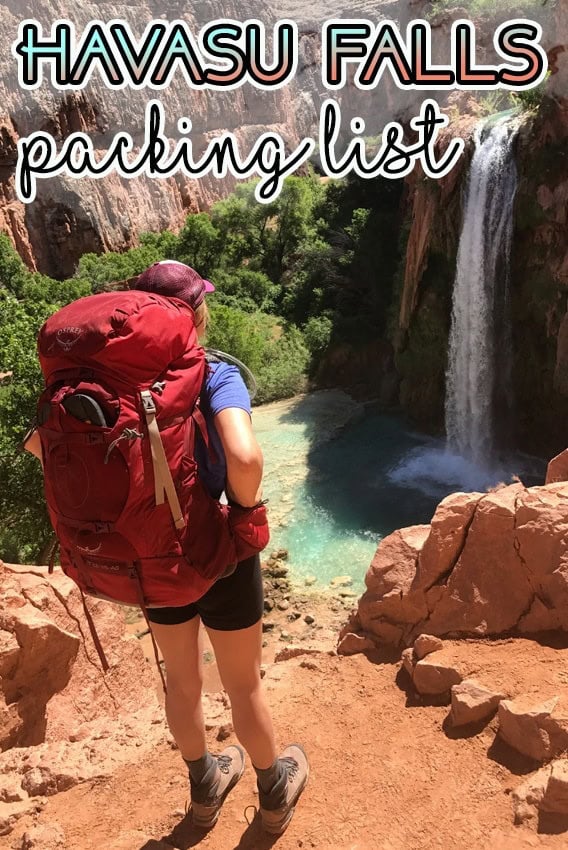 MY COMPLETE HAVASU FALLS PACKING LIST
Havasu Falls in Arizona is one of my favorite backpacking destinations. With the waterfalls, swimming holes, and warm temps for a good chunk of the year, a trip to Havasu Falls feels like a tropical vacation…except all it takes to get there is a 10-mile hike and a coveted camping permit (see how to get one here).
I hope you're here because you are planning your Havasu Falls backpacking trip and are ready to get your gear dialed. Down below in this Havasu Falls packing list, I share all of the necessary backpacking gear you should take to have a relaxing and comfortable stay. I also include specific recommendations for each gear item in case you are looking for something new.
One caveat: With this Havasu Falls packing checklist, I'll assume that you are carrying all of your own gear. When you get down to the Havasu Falls campground, you'll see elaborate basecamps with full-blown kitchens and a lot of extras that most certainly require a pack animal to carry in. There's been conflicting reports of the welfare of the pack animals at Havasu Falls. I didn't see any abuse myself, but it's something to be aware of if you want to bring more than the necessities. Another option if you want to pack a few luxuries would be to hike in and take the helicopter out.
••• PIN THIS HAVASU FALLS PACKING LIST •••
Havasu Falls Backpacking Essentials
For most people, a 50-60 liter pack should be more than adequate for a 2-5 day trip. If you don't have your own backpack yet, I'd suggest going to REI and trying on some fully loaded packs to find one that is comfortable for your body type. What works for me might not necessarily work for you and vice versa. If you've never been backpacking, check out this blog post with tips for how to pack a backpacking pack.
Your sleeping pad gives you cushion and insulation while you are sleeping. I've tried nearly a dozen different sleeping pads, and I'm now back to the Thermarest ProLite. It's not the lightest or most compact, but I like that it consists of one flat solid piece. It's also self-inflating which means you don't get out of breath trying to blow it up.
Read Next: How to choose a sleeping pad for backpacking
Sleeping bag
The sleeping bag you'll need depends on the time of year you'll be visiting Havasu Falls. In Spring and Fall, a 20 degree 3-season bag should do the trick. In summer, nights can be very warm, so you can get away with something even lighter.
Cheap Option: If you are looking for an inexpensive 3-season bag, the Kelty Cosmic Down Sleeping Bag (men's/women's) is a moderately light bag rated to 20 degrees and only costs $120.
Read Next: How to Choose a Sleeping Bag for Backpacking
Choose a lightweight backpacking tent that will accommodate you and whoever you are sleeping with. I like tents with two doors and vestibules, like the MSR Hubba Hubba, which make it easier to get in and out of and to store your gear while you are sleeping. Alternatively, if you want to sleep in a hammock, you can save weight and skip the tent, but make sure you bring a lightweight waterproof tarp to protect you in the case of rain.
The Black Diamond ReVolt Headlamp has multiple settings, including ultra bright and red night vision – which comes in handy when you want to have a conversation without blinding your friends. It also has a locking mechanism to prevent it from accidentally turning on in your bag. You can also charge this headlamp on solar if you are using BD's rechargeable batteries.
Learn how to properly pack a backpacking pack
Havasu Falls Camp Kitchen Gear
There is one spring at camp that provides safe drinking water. The Havasupai tribe tests the water regularly, so generally you don't need to worry about filtering. However, this one spring may end up being quite far from your individual campsite. So I'd recommend bringing your hydration bladder or water bottle for drinking, plus a high capacity collapsible water jug or bag that you can bring back to camp so you aren't walking back and forth every time you need to fill up. To air on the safe side, pack some purification tablets in your emergency kit, just in case.
You'll want a lightweight backpacking stove. If you are sticking to dehydrated backpacking food that only needs boiling water, I recommend the Jetboil. For a 3 night/4 day trip, we didn't even burn through one small fuel canister for 3 people, and the Jetboil is one of the fastest stoves for boiling water. If you pour the hot water directly into the dehydrated food bag, then clean-up is also really simple, and you can use that bag to pack out your micro trash.
An all-in-one eating utensil. Snowpeak makes a lightweight titanium spork that will last forever. If you are traveling with a large group they even come in fun colors so you can keep your gear separate.
If you want coffee in the morning or a warm drink at night, you'll need something to drink out of. Your Nalgene works too, but this mug will keep your coffee hot for a long time.
Anytime you are sleeping or away from your campsite, you'll want to hang your food so those pesty squirrels can't get it. Bring some paracord and a bag that you can use to tie your food to a branch. The further from the main tree trunk the better and make sure it's far enough off of the ground. If you have a bear canister or a Ursack, that's an even better option.
What Clothes to Pack for Havasu Falls
Check the weather before you go to make sure you have the right clothing. These are the clothes I packed on my 3 night / 4 day Havasu Falls trip in May where we experienced everything from hot sun to windy rain and cool nights. If you are going in the heat of summer when days are blistering and nights are warm, you won't need as many warm layers and you can adjust this Havasu Falls packing list as needed.
HOT WEATHER CLOTHING
Pack 2 short-sleeve shirts. You can wear one during the day when you are hiking and then have one "clean" shirt for night when you are hanging around camp. Avoid cotton and choose quick-dry, wicking fabrics. These Nike scoop neck shirts are my favorite, and they don't stink even after several days of wear.
Any pair of exercise shorts will do. If you have a comfy pair of board shorts that you can hike in, that's a great option since you'll be doing a lot of swimming at Havasu Falls.
Bring 1 long-sleeve layer that you can throw on as an extra layer while hiking or for mild evenings.
I always hike in leggings. These Patagonia tights are very comfortable, breathe well, and they aren't too tight in the waist band.  Keep in mind; depending on the time of year you might be more comfortable hiking in shorts or cropped leggings, but you still want might long pants for the evening.
I've tried nearly all of the different "outdoor" underwear out there, and these by Ex-officio are my favorites (although they run a little small). They clean easily, don't retain smells, wick moisture and have no panty lines. I'd recommend bringing at least 2 pairs of quick dry underwear. You can alternate days and rinse them in the river (no soap) when they get dirty.
If you want to protect your skin from the sun or want to cover up in general while you are swimming, this Carve Designs rash guard is very flattering, dries quick, and keeps you cool when it's damp. I'd suggest sizing up, as they run just a tad small.
You'll want something to dry off with or lay out on at the waterfalls. This towel is lightweight, big, and will dry very quickly hanging up at camp.
You'll want to bring a rain jacket as a just in case. This Outdoor Research jacket is very lightweight, breathable, and will keep you dry in case of a storm (Note: Rain is common July – September).
COLD WEATHER CLOTHING ADDITIONS
Whether or not you need a warm jacket like this will depend on the time of year you visit. If you are visiting in late July, chances are the nights are going to be very warm and you can survive without one. In April and May, I'd suggest bringing an insulated layer for evenings. This Patagonia Nano Puff Hoody is lightweight, warm, and windproof.
These pants are very comfortable. They are fleece lined leggings and perfect for cool nights. Again you might not need these if it's really hot out, and your one pair of hiking pants should suffice.
FOOTWEAR
Ever since backpacking the John Muir Trail, I've been hooked on these socks. I've never gotten a blister, my feet never feel sweaty, and they provide just the right cushion.
From the trailhead to the campground, you'll mostly be hiking in a sandy wash. I just got these Oboz boots and they've quickly become my go-to. For Havasu Falls, it was nice to have a high ankle to prevent sand and rocks from getting into my boots. That said, if you are more comfortable with trail runners, than you can definitely get away with those too.
Shoes you can wear in the water are an absolute must. If you plan on hiking down to Beaver Falls where there are several river crossings, these Astral water shoes are an amazing choice. They are extremely lightweight so you won't notice them in your pack down to the campground. Built like a tennis shoe, they provide a little more support than a sandal and they help keep dirt and rocks out unlike a water sandal. And if you really wanted to shave some weight from your pack, you could probably do the entire hike down to Havasu Falls in these shoes too (but take them for a good test ride first)
Other Necessary Backpacking Gear
You should always have a first aid kit when you are hiking. This ultralight, waterproof medical kit comes with the minimum supplies that you will need to address minor wounds, as well as some travel packs of some handy medications. Don't forget to add personal medication and additional blister bandaids. You'll be hiking in sand and water, both of which are tough on the feet.
When it's hot out at Havasu Falls, the sun can be very intense. Pack some waterproof sunscreen with a high SPF so you don't end up with a sunburn. This Thinksport Sunscreen comes in a small tube, is water resistant, and provides SPF50.
You'll want a small packable daypack for exploring the different falls that you can throw your suit, sunscreen, camera, and towel in.
A hammock is a must for Havasu Falls – whether you want to sleep in it or just relax around camp. This ENO Sub6 Hammock only weighs 5.8 oz. For easy hanging, bring the ENO Helios Hammock Suspension System.
99% of the campsites have picnic tables, so you don't need to worry about bringing down a camp chair. If you do want to bring a chair, this Helinox Chair Zero weighs exactly one pound and packs down to the size of two water bottles.
I hope this Havasu Falls packing list helps you get organized with the right gear for your Havasupai backpacking trip!
Have you been to Havasu Falls? Leave your tips and questions in the comments below.
**This post contains affiliate links. That means if you click on a product and purchase something, I get a small commission at no added cost to you. I only link to products that I stand behind, and every purchase helps keep this site going. Thank you for your support!
There are 25 comments on this post.