Complete Havasu Falls Packing List (2023)
Get ready for your Havasu Falls backpacking trip! Check out our complete Havasu Falls packing list with all of the gear you need for a fun & comfortable adventure .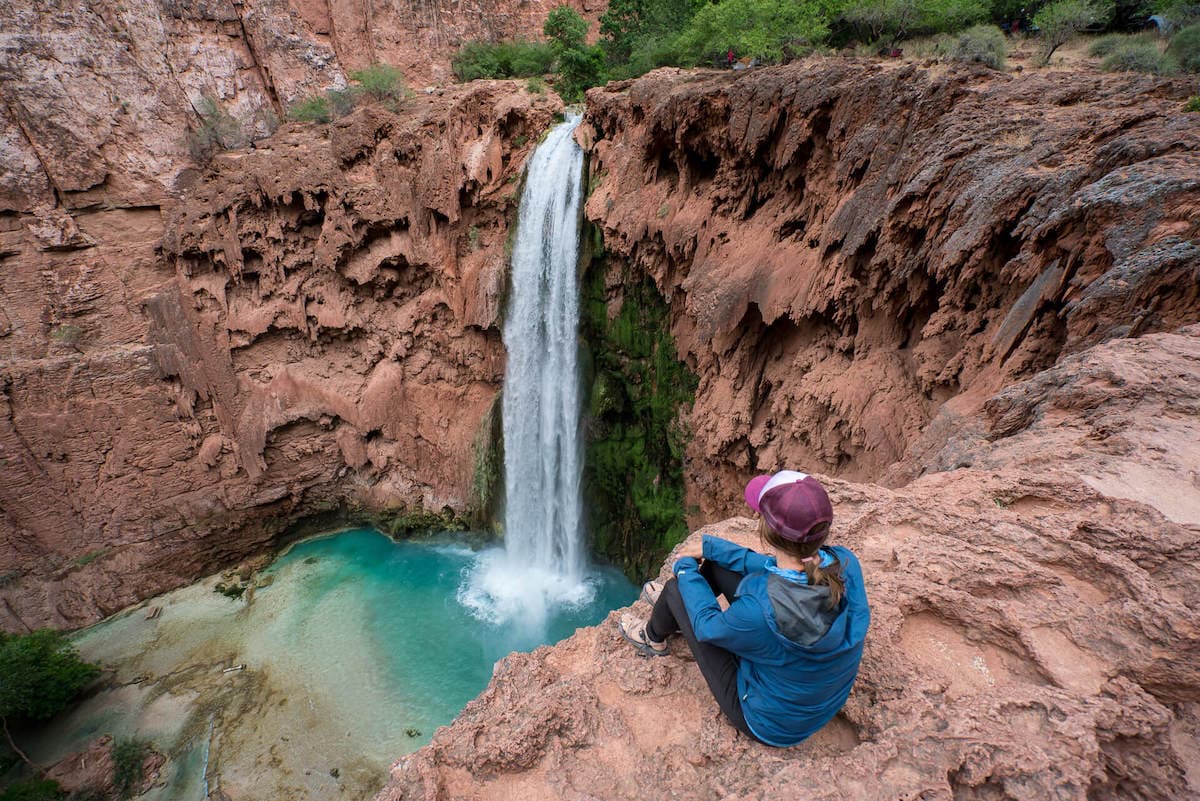 Havasupai in Arizona is one of my all-time favorite backpacking destinations. I've been twice now and both times it was a magical experience; it's one of the most beautiful places I've ever been to.
With turquoise-colored waterfalls, beautiful swimming holes, and nice weather for a good chunk of the year, a trip here feels like a magical vacation. Chances are, if you're reading this, you've landed a golden permit to visit Havasu Falls yourself (and if you don't have one, see how to get a permit here) — congrats!
To help you plan your unforgettable backpacking trip to Havasupai, I've put together this Havasu Falls packing list so you can make the most of your trip.
Important Reminder: As it goes in all of the destinations we share, please practice good trail etiquette and remember to Leave No Trace. This means packing out all of your garbage (including toilet paper), being respectful to others, and following the established rules.
---
Essential Havasupai Camping Gear
Note: With this Havasupai packing list, I'm assuming that you are carrying all of your own gear. When you get down to the Havasu Falls campground, you'll see elaborate basecamps with full-blown kitchens and a lot of extras that most certainly require a pack animal to carry in. There have been reports of abuse to the pack animals at Havasu Falls, and while I didn't see any signs of abuse myself, it's something to be aware of if you want to bring more than just the necessities.

We also saw TONS of camping gear left behind at the campground ranger station – tents, water shoes, half-empty (or fully empty) fuel canisters, food, etc. PLEASE pack out everything that you pack in. It is not the tribe's responsibility to clean up after us, and they must pay to fly out everything that is left behind.
Backpacking Backpack
For most people, a 45-60 liter pack should be more than adequate for a 4-day/3 night trip to Havasu Falls.
If you don't have your own backpack yet, I suggest going to REI and trying on some fully loaded packs to find one that is comfortable for your size and body type. What works for me might not necessarily work for you and vice versa, so it's smart to get properly fitted.
My favorite backpacking backpack is the Deuter Aircontact Lite SL 55L. I used it on my 22-day John Muir Trail backpacking trip and it held up great and most importantly, it was super comfortable. It also comes in a 45L and 70L option.
Sleeping Pad
Your sleeping pad provides cushion and insulation while you're sleeping. I've tried nearly a dozen different sleeping pads, and my favorite is the Therm-a-rest ProLite Plus.
It's not the lightest or most compact sleeping pad, but I like that it consists of one flat solid piece. It's also self-inflating which means you don't get out of breath trying to blow it up.
Sleeping Bag
The time of year you visit Havasu Falls will determine the sleeping bag you'll need. In spring and fall months, a 20-degree 3-season bag should do the trick. In summer, nights can be very warm so you can get away with something lighter and cooler like a 50-degree bag or even a sleeping bag liner.
Tent
Choose a lightweight backpacking tent that will accommodate you and whoever you'll be sleeping with.
I like tents with two doors and vestibules, like the Big Agnes Copper Spur HV UL2, which make it easier to get in and out of and to store your gear while you are sleeping.
Alternatively, if you want to sleep in a hammock at Havasupai, you can save weight and skip the tent, but make sure you bring a lightweight waterproof tarp to protect you in the case of rain. I slept in the ENO Doublenest Hammock during my first trip to Havasu and loved it.
Even if you don't plan to sleep in your hammock, you may consider packing one for this trip because there's amazing spots to hang up hammocks around the falls and river.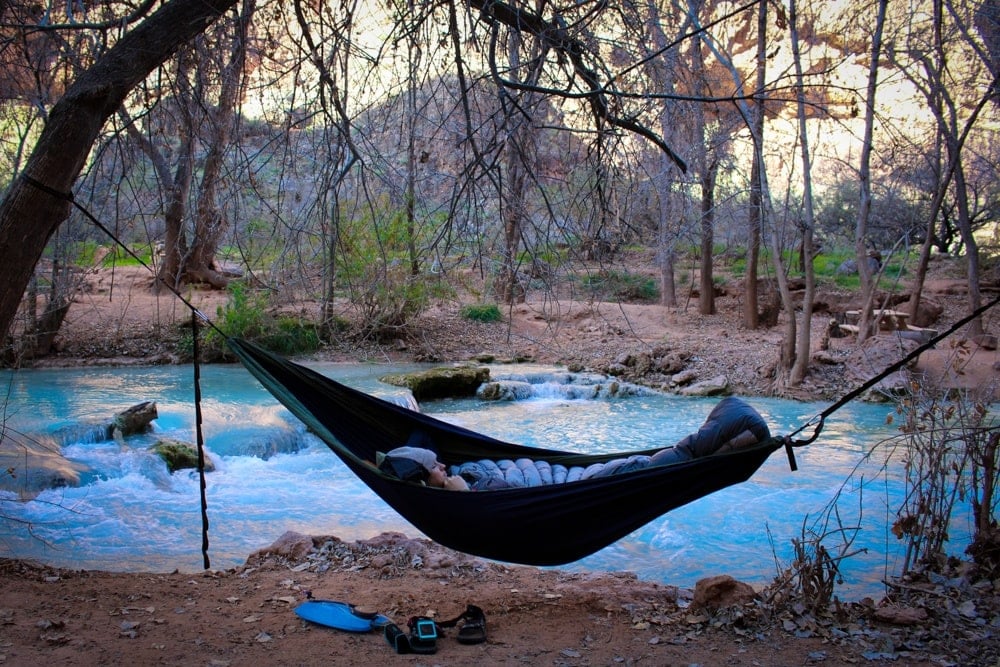 ---
Havasupai Camp Kitchen Tips & Gear
Water & Hydration
At the campground
There is a fresh piped spring at Havasupai Campground that is tested for contaminants on a monthly basis. On my trip, this is where we filled up and we didn't worry about filtering our water. You will need water bottles or a collapsable water jug to transport the water from the spring back to your campsite so you don't have to walk back to the spring every time you need water.
There are times, though, when the Camping Office will recommend you filter the water and for that reason, it's always good to bring a water filter. Good options include simple purification tablets or the Platypus GravityWorks Water Filtration System which is lightweight and effortless to use.
On the trails
Water is NOT available at the trailhead, so make sure you have plenty with you for the hike before you drive all the way out to Hualapai Hilltop. This means you should have a way of carrying 3 liters of water for the hike in and out, such as this 3 liter Osprey hydration reservoir. I especially like this bladder because the back side is made of hard plastic, making it easy to slide in and out of your pack.
You'll also want a hydration reservoir or water bottles to carry with you as you explore the trails and waterfalls during your visit to Havasupai. I love carrying Platypus soft waterbottles which roll up super small when they're not in use.
Backpacking Stove
You'll want a lightweight backpacking camp stove to cook your meals at Havasupai. If you are sticking to dehydrated backpacking food that only needs boiling water, I recommend the Jetboil Flash.
For a 3 night/4 day trip, we didn't even burn through one small fuel canister for 3 people, and the Jetboil is one of the fastest stoves for boiling water. If you pour the hot water directly into the dehydrated food bag, then clean-up is really simple and you can use that bag to pack out your micro trash.

Spork
A spork is always handy on backpacking trips and serves as an all-in-one eating utensil – spoon and fork. Sea to Summit makes a lightweight long-handled spork that is handy for eating out of deep dehydrated meal pouches and will last you forever.

Camp Mug
If you want coffee in the morning or a warm drink at night, you'll need something to drink out of. Your Nalgene works too, but this mug will keep your coffee hot for a long time. I love the GSI Outdoors Infinity Backpacker Mug. It's lightweight and holds 17 ounces of liquid.

Food Bag and Paracord
Anytime you are sleeping or away from your campsite at Havasupai, you need to hang your food so squirrels and marmots can't get into it.
Bring some paracord and a bag (Ursack is our recommendation!) that you can use to tie your food to a branch. The further from the main tree trunk the better and make sure it's far enough off of the ground.
If you have a bear canister, that's an even easier option for food storage that doesn't require hanging, although bear canisters take up more room in your pack.
---
Havasu Falls Clothing Packing List
Being prepared with the right clothing can make or break a backpacking trip. Below are the items that I packed for my 4 day/3 night trip in May where we experienced everything from hot sun to windy rain and cool nights.
If you are going in the heat of summer when days are blistering hot and nights are warm, you won't need as many warm layers and you can adjust this Havasu Falls packing list as needed.
Hot Weather Clothes
Quick-Dry Shirt
Pack two short-sleeve shirts. You can wear one during the day when you are hiking and then have one "clean" shirt for the night when you are hanging around camp.
Avoid cotton and instead, choose quick-dry, wicking fabrics. These Patagonia Capilene quick-dry shirts are my favorite and they don't stink even after several days of wear.
Hiking Shorts
Any pair of exercise shorts will do. If you have a comfy pair of board shorts that you can hike in, like these Patagonia Baggies, it's a great option since you'll be swimming a lot at Havasu Falls.
Long-Sleeve Sun Shirt
Bring one long sleeve shirt that you can throw on as an extra layer while hiking or use as sun protection while exploring the falls. One of my go-to layers is the REI Co-op Sahara Shade Hoodie.
Hiking Pants or Leggings
I always hike in leggings because I find them more comfortable than pants. These lululemon Invigorate HR leggings are my go-to for hiking because they breathe well and aren't too tight in the waistband. They also have a drawstring at the waist and two side pockets, perfect for your phone.
Depending on the time of year you visit Havasupai, you might be more comfortable hiking in shorts or cropped leggings, but you still want might long pants for the evening.
Underwear
I've tried nearly all of the different "outdoor" underwear out there, and this pair of Icebreaker Siren Hipkini Briefs are my favorite (they might feel a little small at first, but they stretch over time).
They clean easily, don't retain smells, wick moisture, and show no panty lines. I'd recommend bringing at least two pairs of quick-dry underwear. You can alternate days and rinse them (without soap) in the river when they need a refresh.
Please remember to abide by the Leave No Trace principles and refrain from using soap (even biodegradable soap) in or near natural water sources.
Rash Guard
If you want to protect your skin from the sun or want to cover up in general while you are swimming at the waterfalls, this Carve Designs Cruz rash guard is very flattering, dries quickly, and keeps you cool when it's damp.
If you're between sizes, I suggest sizing up.
Quick-Dry Towel
You'll want something to dry off with or lay on when you're exploring the waterfalls. This REI travel towel is lightweight, big, and will dry very quickly hanging up at camp.
Rain Jacket
Depending on the season and forecast, you might want to bring a rain jacket, just in case. This Outdoor Research Helium rain jacket is very lightweight, breathable, and will keep you dry in case of a storm (Note: rain is common July – September).
Swimsuit
One of the best parts about visiting Havasupai is all the amazing swimming opportunities! Whether you stay at Havasu Falls or explore the other waterfalls, be sure to pack a swimsuit so you can experience the clear blue-green waters of Havasu canyon.
Swimsuits are very personal, but I've been loving the styles by Nani Swimwear.
Hat
There is quite a bit of shade once you get to Havasu Canyon, but you'll still want to pack a hat, especially for the hike in and out, which is very exposed. Any hat will do, but I like this REI Sahara Guide Hat because it's cute and has a brim for 360-degree sun protection.
Sunglasses
Don't bring your expensive sunglasses to Havasupai because there's a chance you might lose them in the water. Instead, grab a pair of inexpensive, but polarized, sunglasses like these Goodr shades.
Headlamp
There are no lights or electricity at Havasupai, so be sure to pack a good headlamp. My favorite headlamp is the BioLite Headlamp 325. It's ultralight at only 1.8 ounces (with the built-in battery), USB rechargeable, and it has a red light mode for night vision.
Cold Weather Additions
If you'll be visiting Havasu Falls during the colder months, you'll want to pack a few extra cold-weather layers.
Warm Jacket
Whether you need a warm jacket like this or not will depend on the time of year you visit. If you're visiting in late July, chances are the nights are going to be very warm and you won't need one.
In the spring and fall, though, I'd suggest bringing an insulated layer for evenings and you'll definitely need one for winter trips. This Patagonia Nano Puff Jacket is lightweight, packable, warm, and windproof.

Fleece Pants
These Smartwool Merino fleece-lined leggings are perfect for cool nights at the Havasupai Campground. You won't need these in the summer, though.

Beanie
Wearing a warm layer on your head is super important. Much of our body heat escapes through our head, so a warm beanie will make a big difference in your overall comfort level when the temps drop. A lightweight yet warm beanie, like this North Face one, is a smart idea to keep in your pack just in case.
---
Havasu Falls Footwear
Hiking Socks
Ever since backpacking the John Muir Trail, I've been hooked on the Darn Tough CoolMax Micro Crew socks. While wearing these socks, I've never gotten a blister, my feet never feel sweaty, and they provide just the right amount of cushion. Plus, Darn Tough Socks are guaranteed for life!

Hiking Shoes
From the trailhead to the campground, you'll mostly be hiking in a sandy wash. I've been using the Oboz Bridger BDry boots for a while and they quickly became my go-to.
For Havasu Falls, it was nice to have a high ankle for the additional ankle support and to prevent sand and rocks from getting into my boots. But, if you're more comfortable with trail runners then you can definitely get away with those too.

Water Shoes or Sandals
Shoes you can wear in the water are an absolute must for Havasupai. If you plan on hiking down to Beaver Falls where there are several river crossings, these Astral TR1 water shoes are an amazing choice.
They're lightweight so you won't notice them in your pack when hiking down to the campground. Built like a tennis shoe, they provide a little more support than a sandal and they help keep rocks out, unlike a water sandal.
And if you really wanted to shave some weight from your pack, you could probably do the entire hike down to Havasu Falls in these shoes, too (but for long distances over sand, I recommend some sort of sock to prevent rubbing).
Alternatively, if you prefer a camp sandal that you can explore with, I recommend a pair of Teva's Hurricane XLT2 Sandals.

---
Additional Havasu Backpacking Gear
Power Bank
There is no electricity at Havasupai Campground, so if you need to charge your devices like cameras, phone, or headlamp, you'll want to bring a power bank. I like the BioLite Charge 40 becuase it's relatively lightweight for its size (0.6 lbs) and it can fully charge up to 2.5 smartphones.
Trekking Poles
I typically always hike with my trekking poles, especially if it's a longer hike like the trail into the Havasupai Campground. I will say, though, that you will probably want to leave them at your campsite if you hike down to Mooney and Beaver Falls because you'll need both hands to navigate the challenging trail.
If you do want to bring trekking poles, a great pair are the Montem Ultra Strong Trekking Poles.
First-Aid Kit
You should always have a first aid kit when you're hiking. This ultralight, waterproof medical kit comes with the minimum supplies that you would need to address minor wounds, as well as travel sizes of some handy medications.
Don't forget to add personal medication and additional blister bandaids. You'll be hiking in sand and water, both of which are tough on the feet.
Sunscreen
When it's hot out at Havasu Falls, the sun can be very intense. Pack waterproof sunscreen with a high SPF so you don't end up with a sunburn. This Thinksport Sunscreen is water-resistant, is mineral-based, and provides SPF50.
Bug Spray
The bugs were nonexistent during my springtime Havasu Falls visit in March, but we were told by the ranger that once the trees start to bloom, they come out in full force and bug spray is necessary.
Small, Packable Daypack
You'll want a small packable daypack for exploring the various falls – one that you can throw your suit, sunscreen, camera, and towel in. The Cotopaxi Luzon 18L Del Dia is an awesome day pack for side adventures. It's super sturdy yet packable, and it's made with 100% repurposed fabrics.
Camera Gear
Havasupai is a great place to practice your photography skills. The landscape is diverse and with so many waterfalls, it really is a photographer's dream. If you want to try and get some of those silky waterfall shots, you will want to bring a tripod.
If you're shooting with a large camera, Mefoto makes a sturdy, compact tripod for backpacking that I recommend.
If you'll be shooting with your phone or action camera, Joby makes a great flexible tripod specifically for outdoor adventures.
Camp Chair
Most of the campsites have picnic tables, but we liked having a camp chair for a little more comfort and to take to the falls. BFT team member Courtney took this Helinox Chair Zero on her Havasupai trip and it weighs exactly one pound and packs down to the size of two water bottles. It was the perfect chair for relaxing at camp and reading by the falls!
Luci Lantern
Since the campground is in a canyon, it starts to feel dark well before actual sunset time. We enjoyed having an inflatable MPOWERD Luci Lantern to light up camp so we could play cards, cook dinner, and hang out at camp in the evening. It's solar-powered, so we just left it in the sun to recharge during the day.
It was also really nice to have a lantern for packing up camp on the last day – due to the warm daytime temps, we were packing up in the dark before sunrise, and having a lantern made it much easier to see than just a headlamp.
Entertainment
Havasupai can be as adventurous or relaxing as you want and having a base camp (vs. setting up camp every night) means you'll likely have extra time on your hands. We packed a few luxury items like a Kindle, playing cards, and a journal and highly recommend bringing some form of entertainment. Most campsites have picnic tables which makes it easier to play games!
---
Havasupai Paperwork Checklist
In addition to all your camping gear, you need to be prepared with your permits, wristbands, and other paperwork for this trip. Here's a rundown of what you'll need:
Printout of your campground reservation to show at check-in and keep on your car's dashboard during your trip.
Write down your license plate info for the car you'll be leaving at the trailhead because you'll need this info when you check-in.
Trip leader ID: you will need to show this to pick up your permit/wristbands. We also carried IDs during the hike, although they were never checked against our permit.
Havasu permit & wristbands: the trip leader must pick up your official permit and wristbands for everyone in your group either the day before or the day of your reservation start date. Your permit & wristbands will be checked by a security guard about 5 miles from the trailhead parking lot, and you must have these with you throughout your trip into the canyon.
Copy of health insurance card: just in case!
Cash/credit card: the store and cafe in Supai village accept credit cards, but the fry bread and food stands near the campground are cash only. Food runs around $8-$16. If you plan to take the helicopter in or out ($100/person), you can pay by credit card but there is a $10 service charge so pack cash if you know you'll be taking this option.
Face mask: as of April 2023, the tribe is requesting that all hikers wear a face mask while hiking through Supai village. Please be respectful and follow the posted signage and mask up.
I hope this Havasu Falls packing list helps you get organized with the right gear for your Havasupai backpacking trip! Have you already been to Havasu Falls? Leave your tips and questions in the comments below.