The 5 Amazing Waterfalls of Havasu Canyon
Everyone talks about the Grand Canyon. Rafting it. Hiking it. Photographing it. As the widest canyon in the country and the holy grail of whitewater, it's certainly magnificent. However, just a short distance from the South Rim is an offshoot of the Grand and tributary of the Colorado River called Havasu Canyon which is just as worthy of the attention, but for a completely different reason.
Havasu Canyon is home to the Havasupai Indian Tribe of Arizona, whose name is translated to "people of the blue green water." This name comes from the color of the creamy aquamarine, spring-fed river here that is result of heavy limestone deposits in the cliffs that line Havasu Canyon. It's like an otherwordly turquoise oasis magically placed in the middle of the desert. Honestly, this place seems to defy nature.
The most famous waterfall of Havasu Canyon is Havasu Falls, the namesake, and this is the one most easily recognized in photos online. But what most people don't know is that Havasu Falls is just one of the 5 crazy big waterfalls of Havasu Canyon, all of which are that incredible teal and swimmable, and have an average temperature of 60-70 degrees throughout the year. On most trails, you'd be super stoked just to get a glimpse of one of these, but here at Havasupai, it's the ultimate water park for nature lovers.
In this post, I give you the scoop on these 5 waterfalls of Havasu Canyon, along with some of my favorite photos from my trip. If you want more info on the trail, camping, permits, directions, and other logistics, see my Havasu Falls Camping Guide.
Map of the Waterfalls on the Havasupai Reservation

1) FIFTY FOOT FALLS
Fifty Foot Falls is located about 8.5 miles from the trailhead and a mile or so past Supai village. When we got here, we were tempted to keep going. We thought we'd go find a campsite in the campground, drop our bags, and then go hang out at Havasu Falls, thinking that one was going to be the real ticker. The only thing that stopped us is that we were hot and tired from the hike and soooo ready for a swim. Plus the river was insanely beautiful, with tons of travertine pools where you could sit and hang out right in the middle of the river.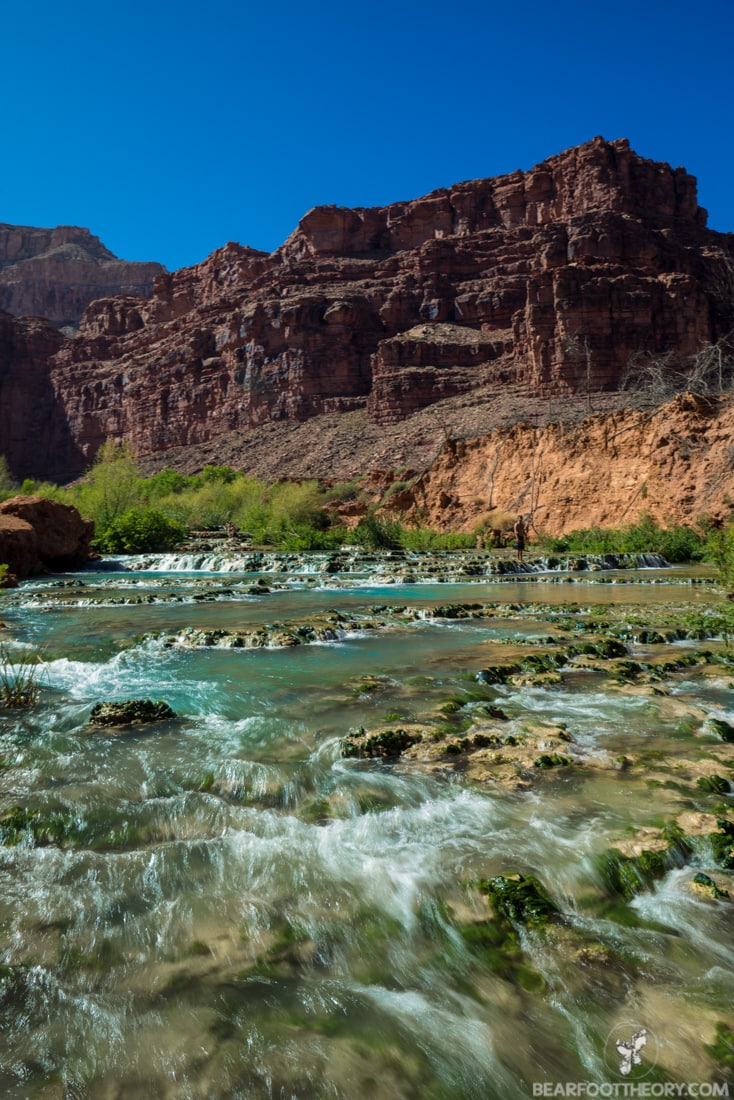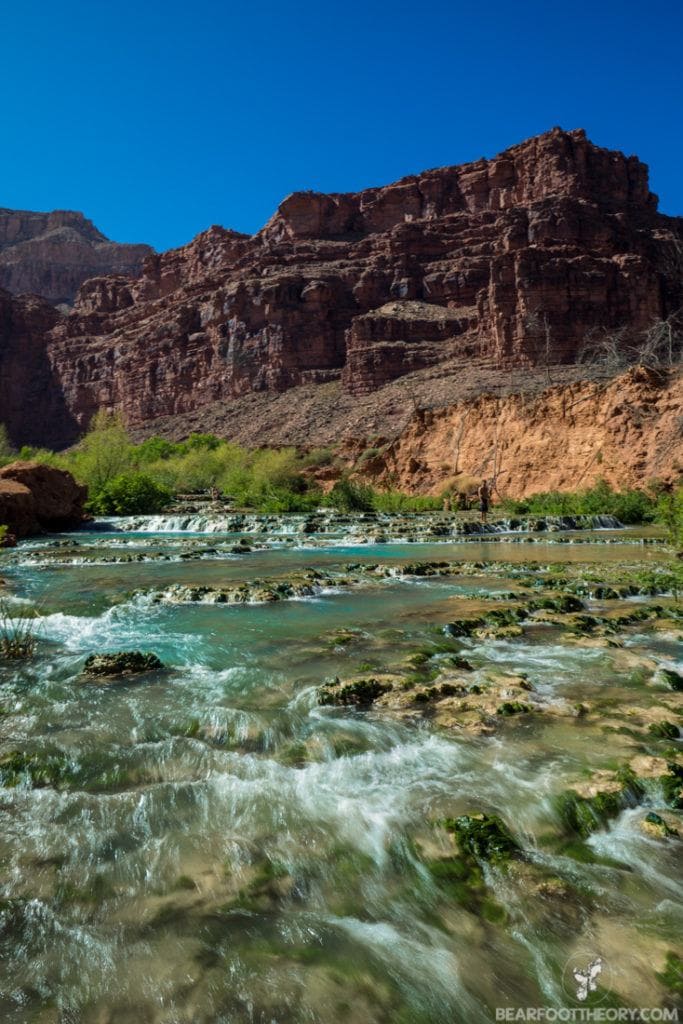 We took the obvious side trail down the hill that led to the river. Once you are down the hill, head left on a less obvious trail until you get to the large pool below Fifty Foot Falls. This waterfall and the cascades below it ended up being my favorite for swimming. They got plentiful afternoon sun, and at least when we were there, we had the pool all to ourselves.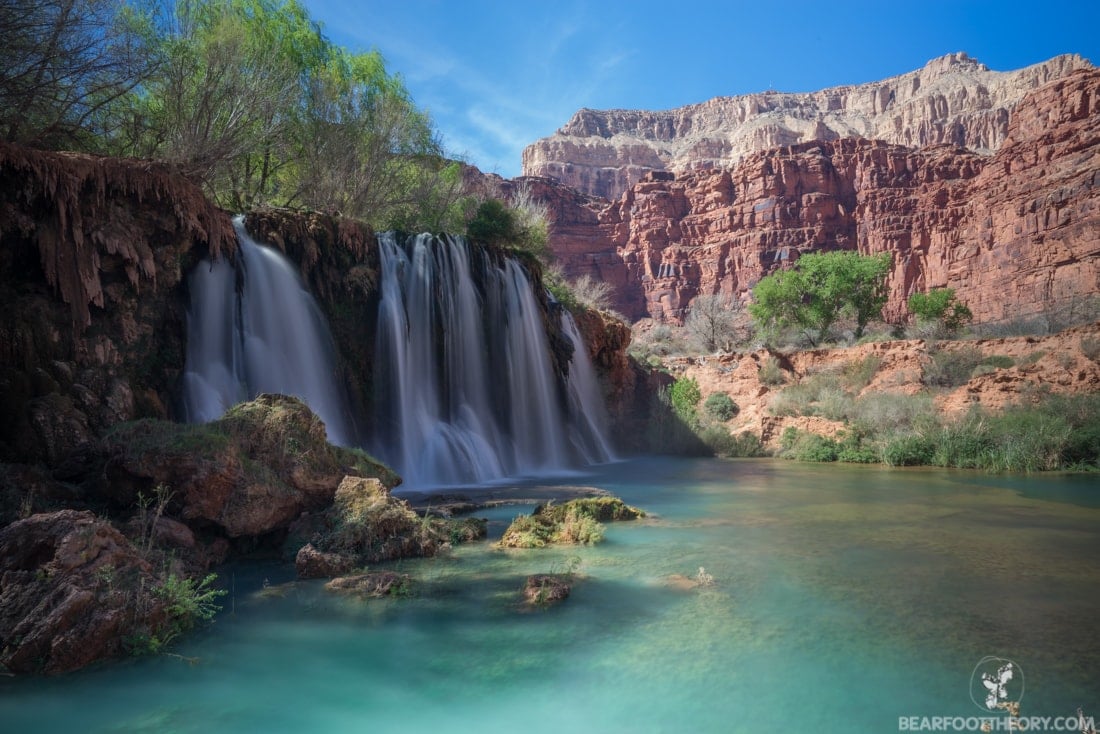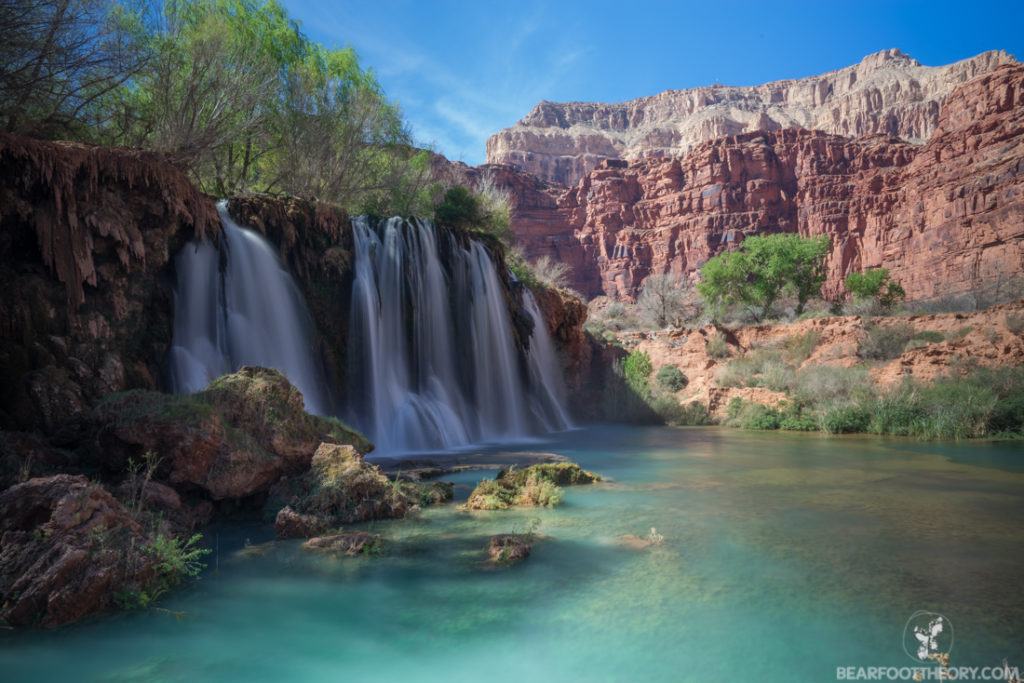 The lesson is, Fifty Foot Falls is definitely worth a stop on your way to the campground. The campground is further downhill and once you get down there, you probably won't want to make you way back up until you are on your way out at the end of the weekend. Oh and a good tip….your sleeping pad might just work as a float toy when you inflate it. Best camping hack ever!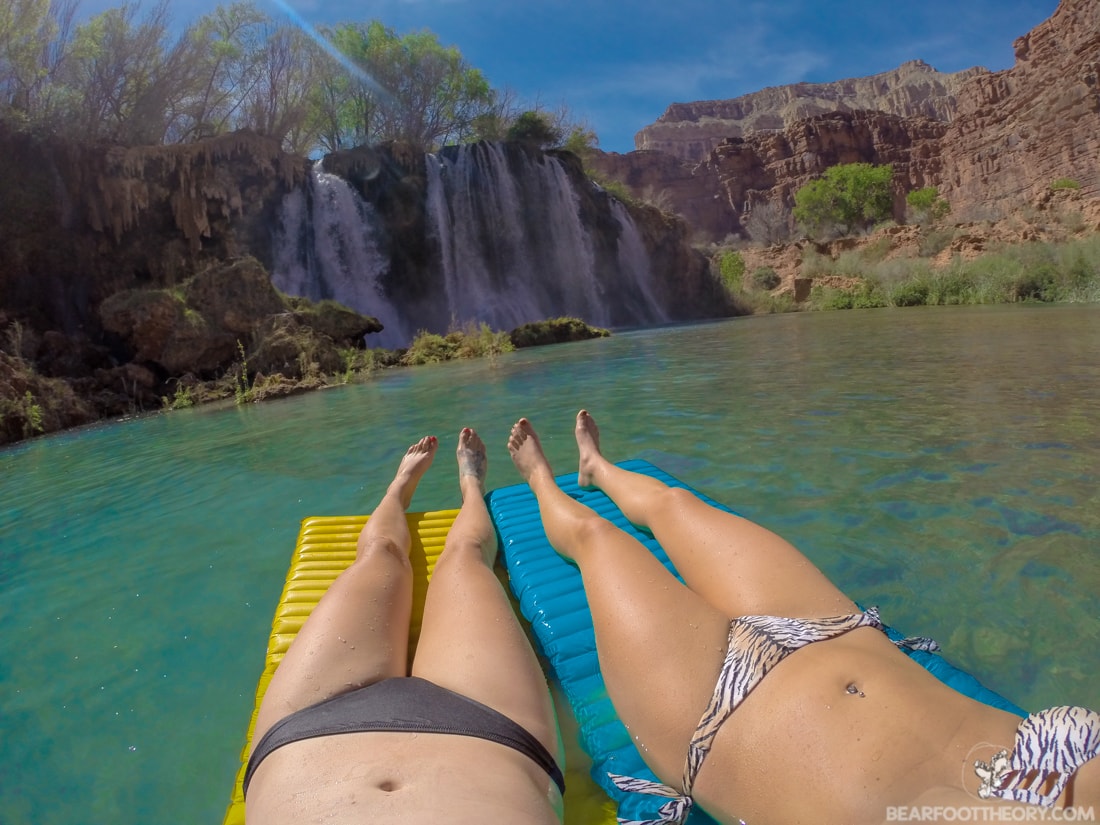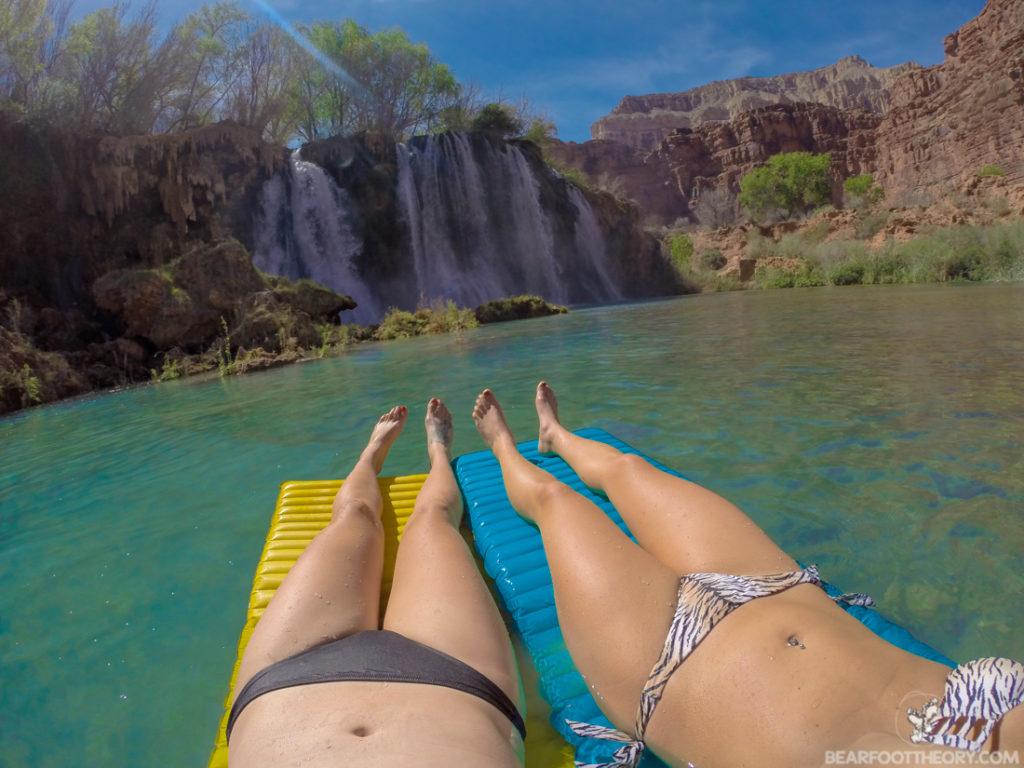 2) NAVAJO FALLS
Navajo Falls is directly below Fifty Foot Falls, so you can easily hit both of these at the same time. Apparently Navajo Falls used to look quite different, but in 2008, a flash flood roared through and completely changed the landscape. From what I hear, Navajo Falls today is smaller than it used to be, but it is still amazing, clearly. The pool below Navajo Falls was deeper than Fifty Foot, although care should be taken at all of the falls if you choose to do any jumping. The water is deceiving shallow in some places and it's really hard to tell because of the milky color. The other cool thing about Navajo is that there is a ledge that runs underneath the waterfall allowing you to walk behind it.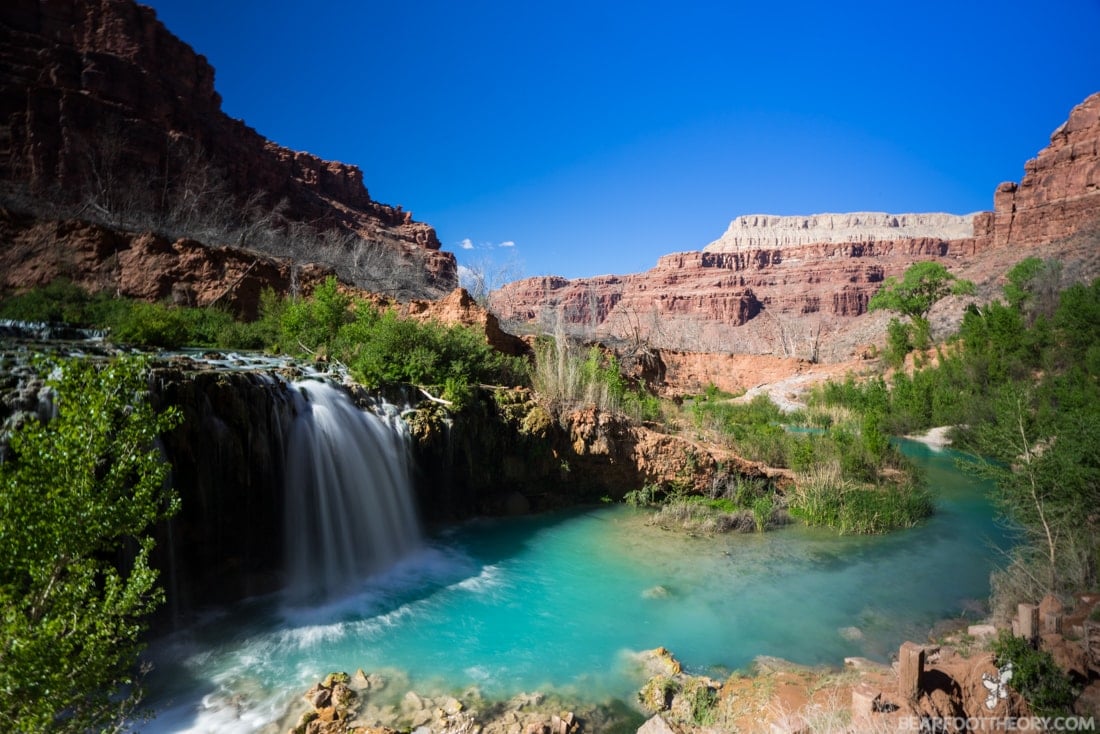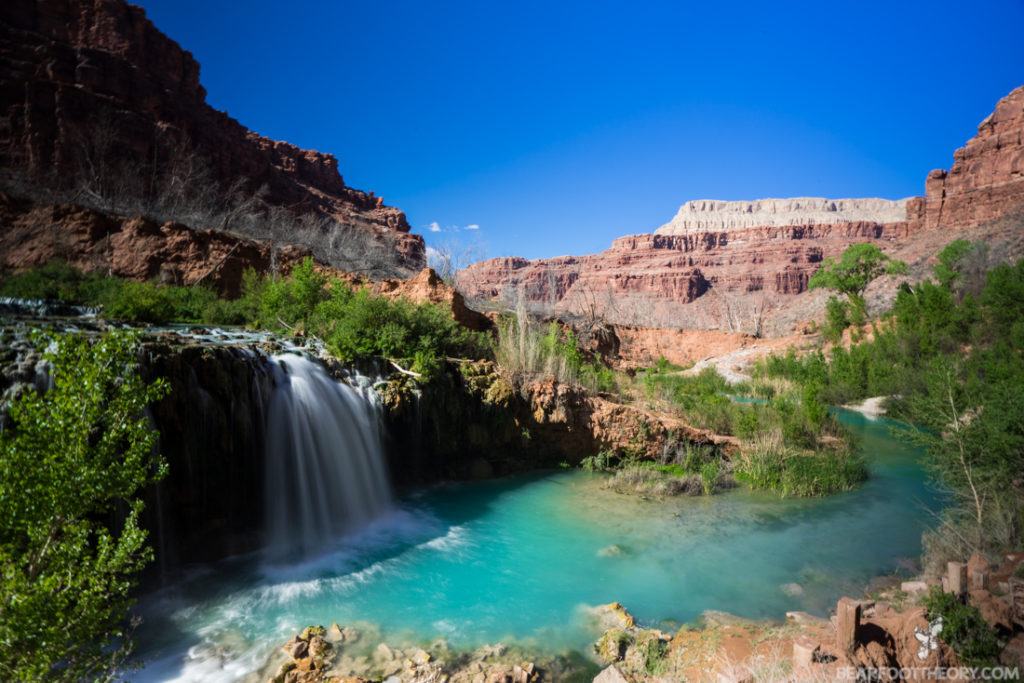 Navajo and Fifty Foot Falls are the sunniest of all the falls because the canyon is wider than the falls further in. This means if you really want to get some sunbathing in, these are the two to spend your swim time at. Just be careful because I'm sure in the heat of summer, these two are scorching, and there is very little shade. Also don't miss the flat rock right above Navajo Falls that is perfect spot to take in the view….(if wanna know more about that sweet little swivel chair I'm relaxing in, check out my full review of the Big Agnes Helinox Chair here.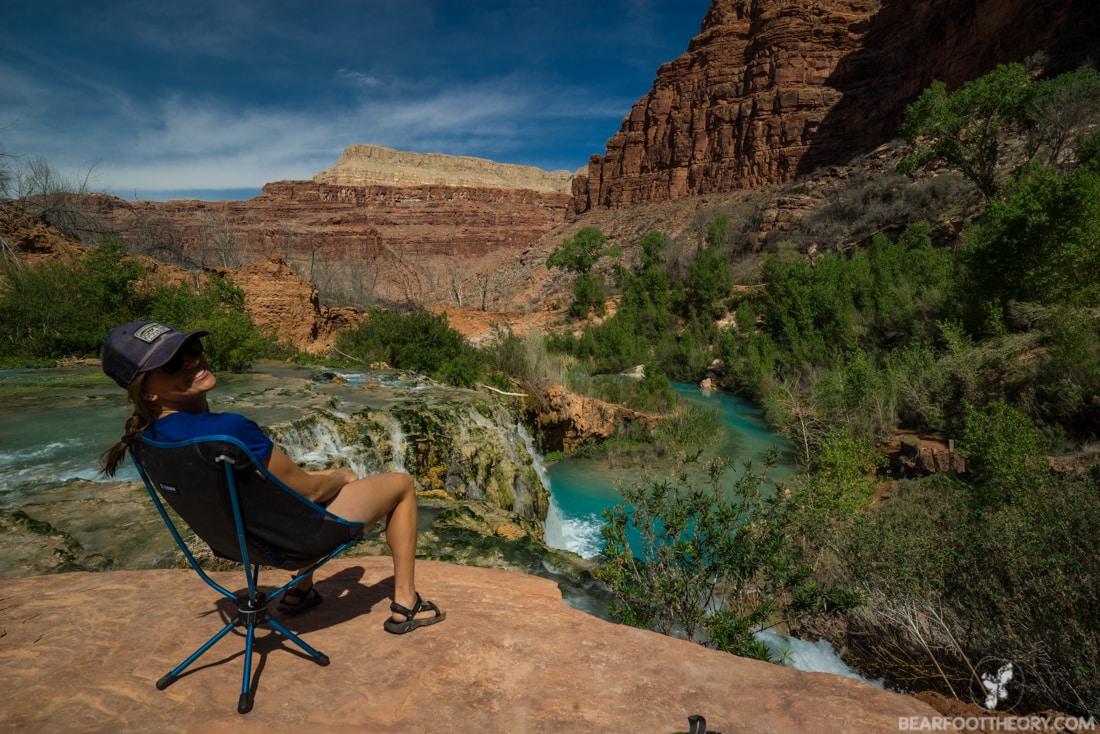 3) HAVASU FALLS
Havasu Falls is down the hill about a half to three-quarters of a mile past Navajo Falls. I was worried that when I got to Havasu Falls, it wasn't going to be like the pictures. On the contrary. I was happy to find that it is even more stunning in real life. When you first approach the falls, the trail comes in from above on the left side. There are some great photo ops on the way down the hill, so make sure to stop and snap a few shots.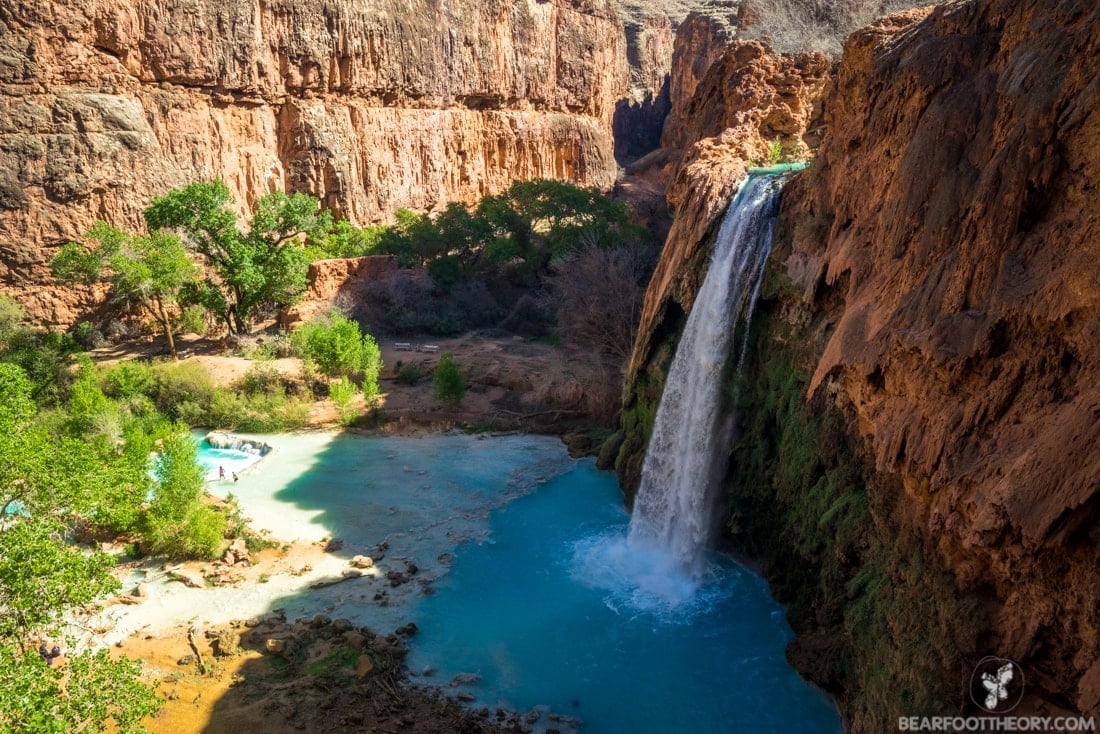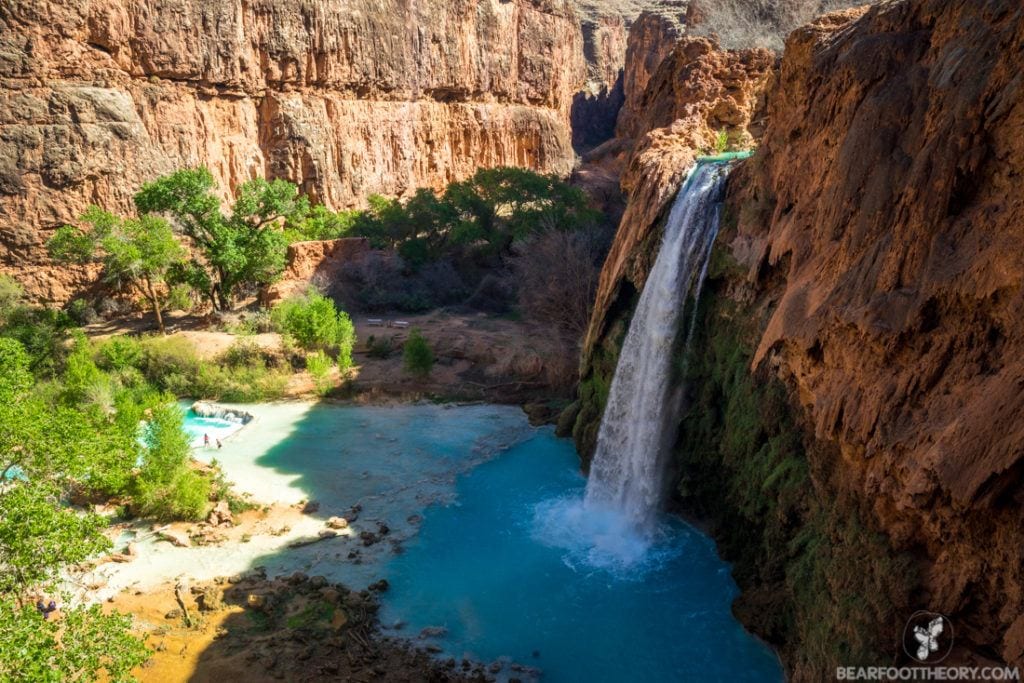 Once you get down to the bottom of Havasu Falls, hang a right down the side trail to get to the pool. There are several picnic tables where you can sit, have a snack, or stash your stuff while you go for a swim. Do beware of sneaky, food snatching marmots and make sure you don't leave any tasty treats out for them.
Havasu Falls is much more powerful than Fifty Foot and Najavo, but it's still totally swimmable. It does see shade in the afternoon, which could be good or bad depending on the time of year you visit. For nighttime photography, Havasu Falls is your best bet. It's the closest and easiest to get to from the campground in the dark. Plus the canyon walls aren't so tall that you can't get the night sky in your photos.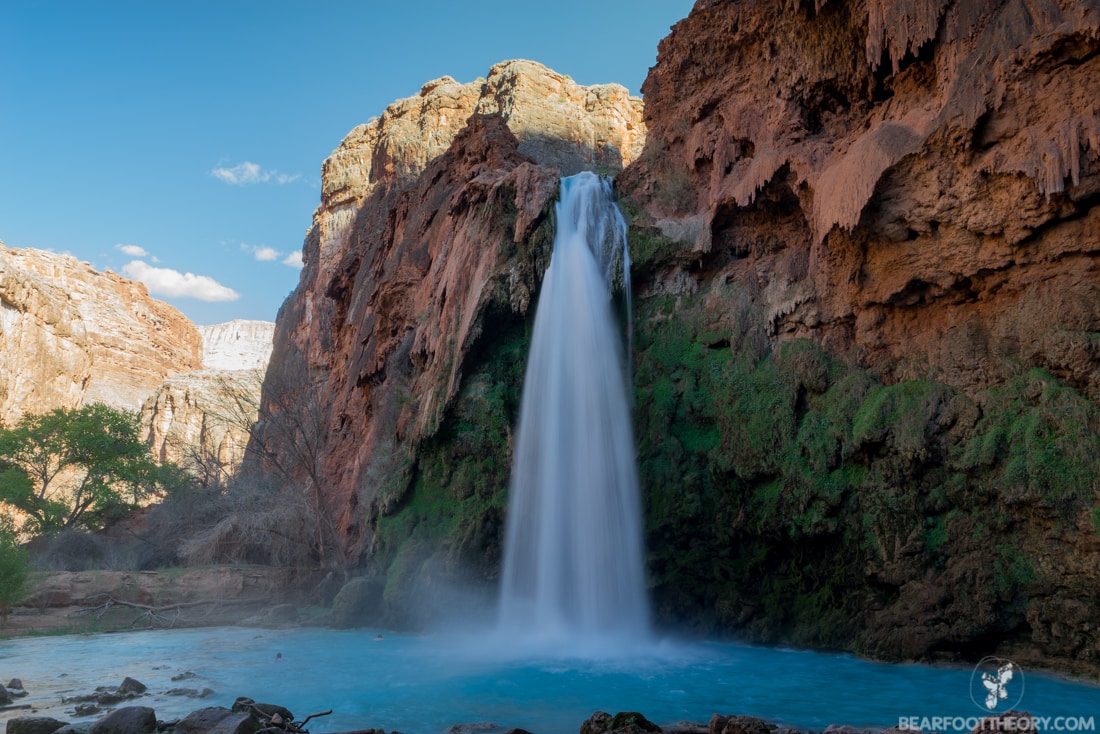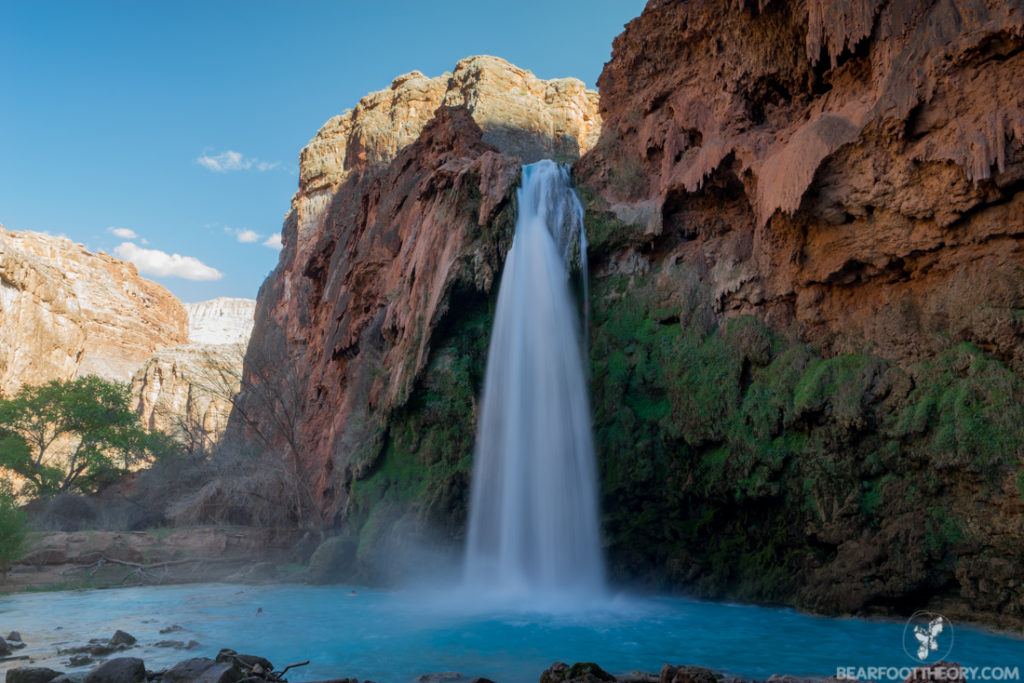 4) MOONEY FALLS
To reach Mooney Falls, you first have to pass through the campground. Then the trail to get down to the bottom is pretty sketchy by most people's standards. Your best bet is to choose a campsite, drop your stuff, and then head to Mooney Falls. I would recommend wearing a small daypack of some sort if you want to bring a camera and water and leave your trekking poles at camp. The hike is steep and slick in some places and you definitely need both hands to get down and back up the trail. Now I'm not saying this to scare you. It's totally doable, but it's better if you know what you are in for. The good news is the climb down is pretty short and doesn't take more than 10-15 minutes, and once you are there, it opens up many more miles of river to explore.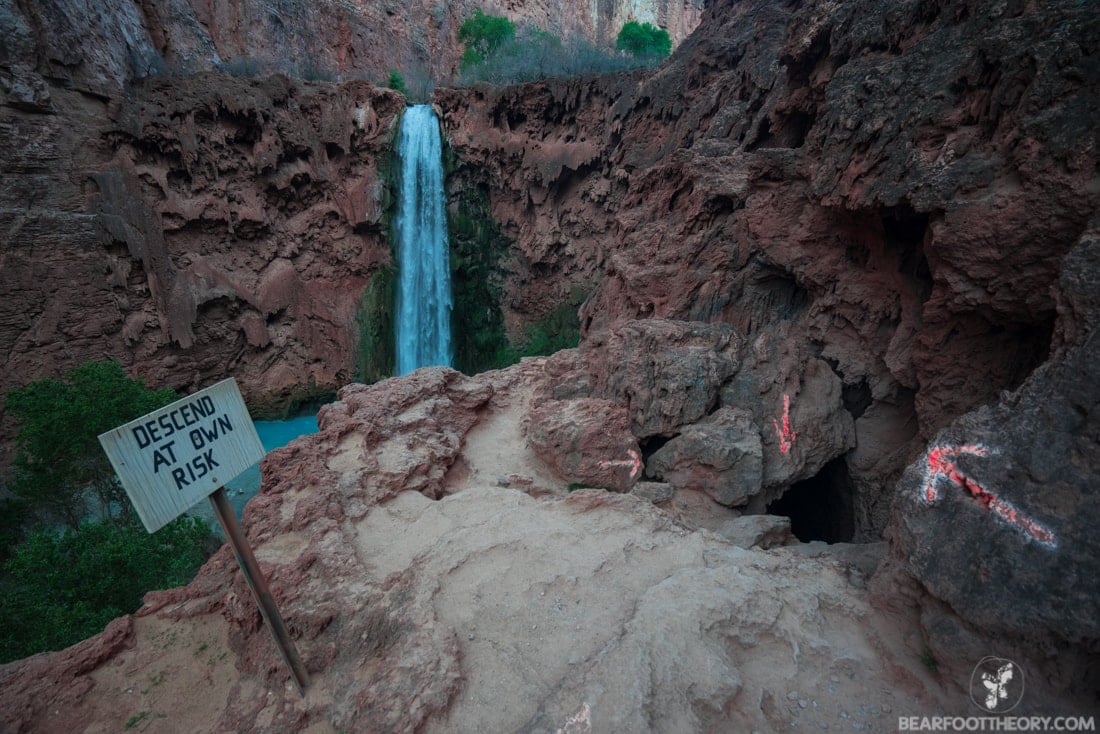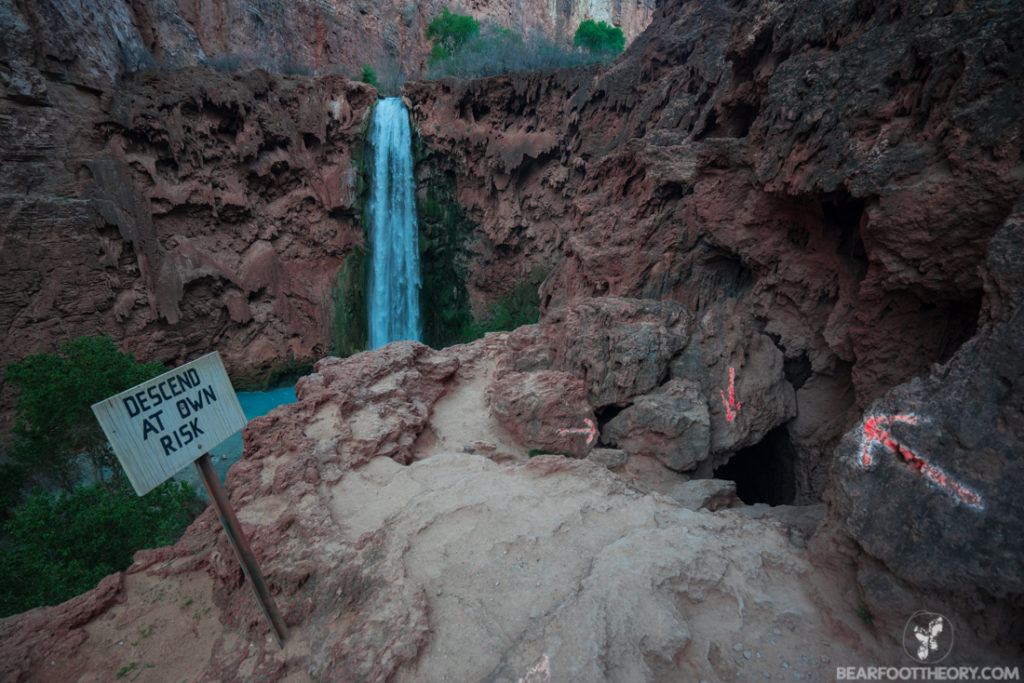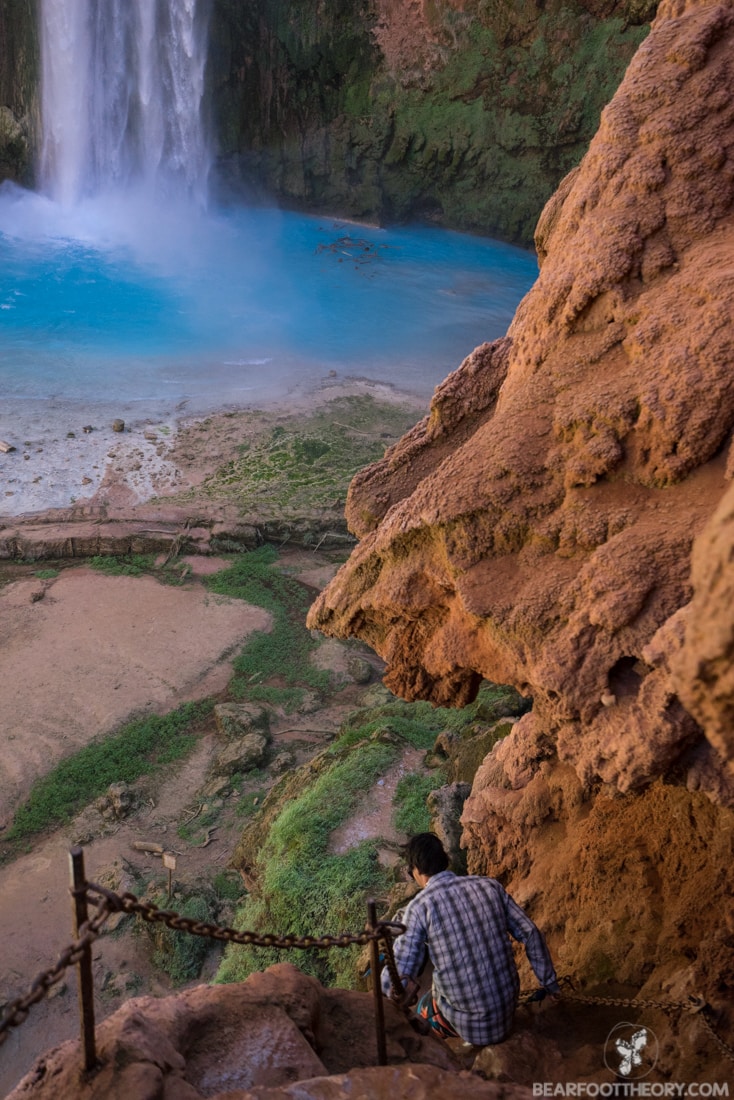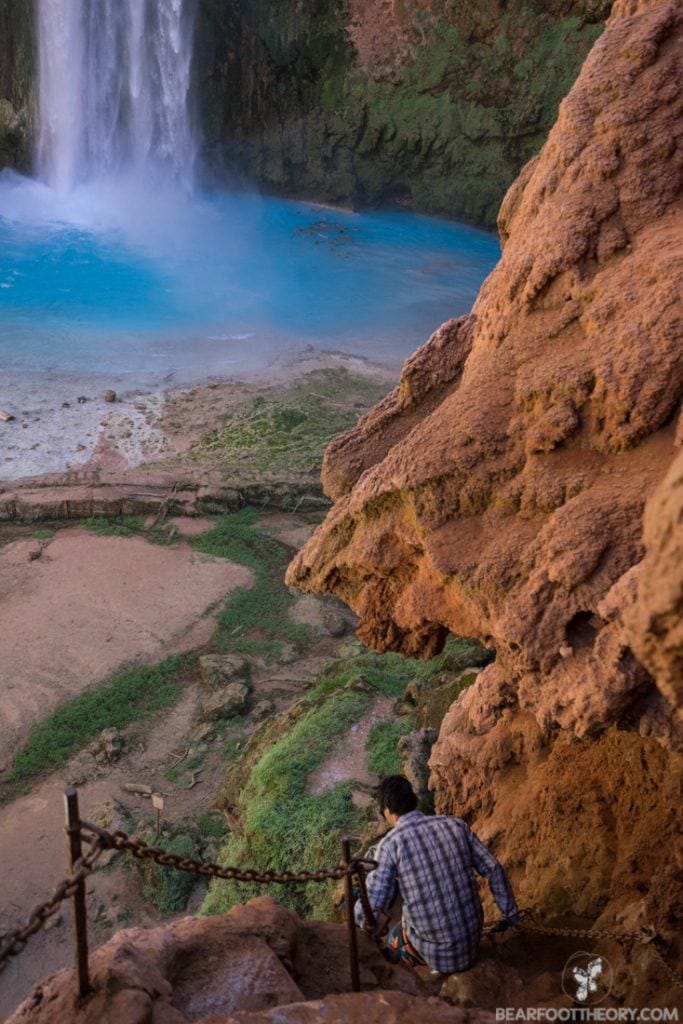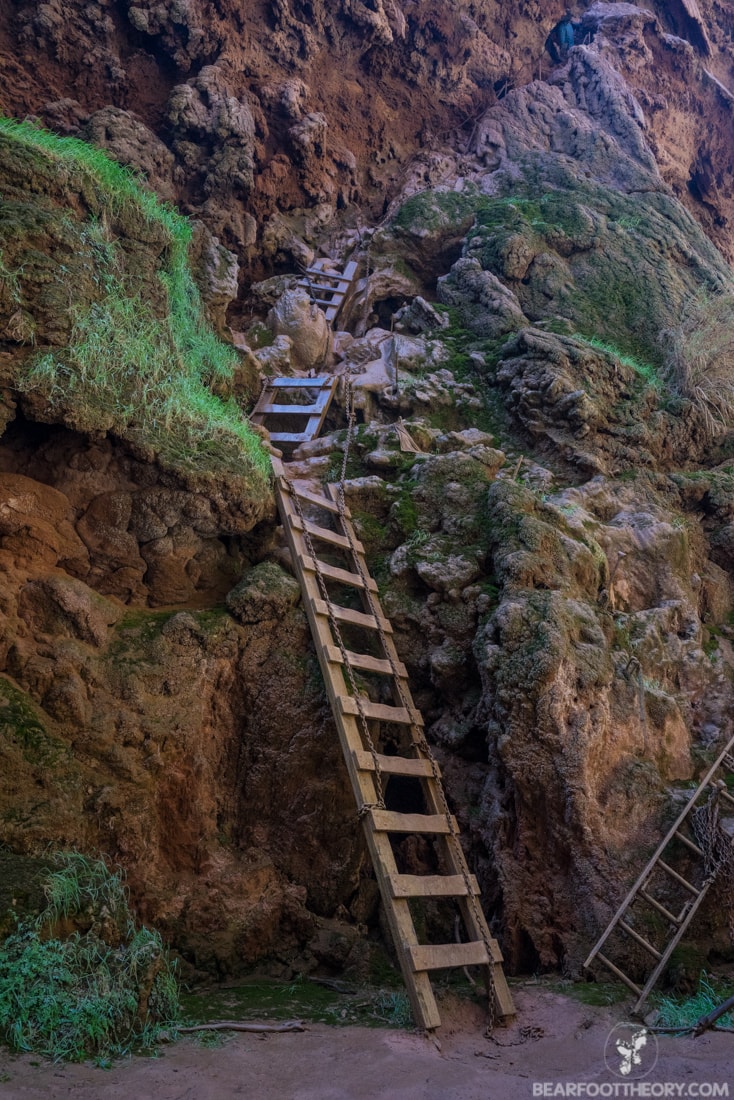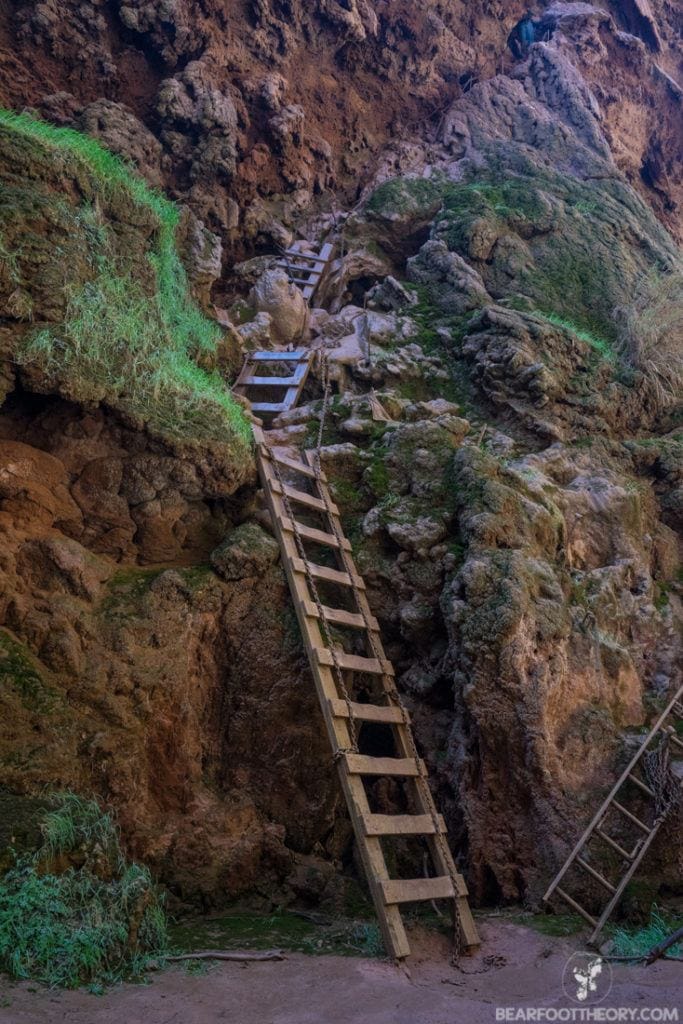 Mooney Falls is the tallest and most forceful of the 5 waterfalls of Havasu Canyon, and if you choose to swim in Mooney Falls get ready for some turbulence. The mist alone is enough to leave you pretty soaked.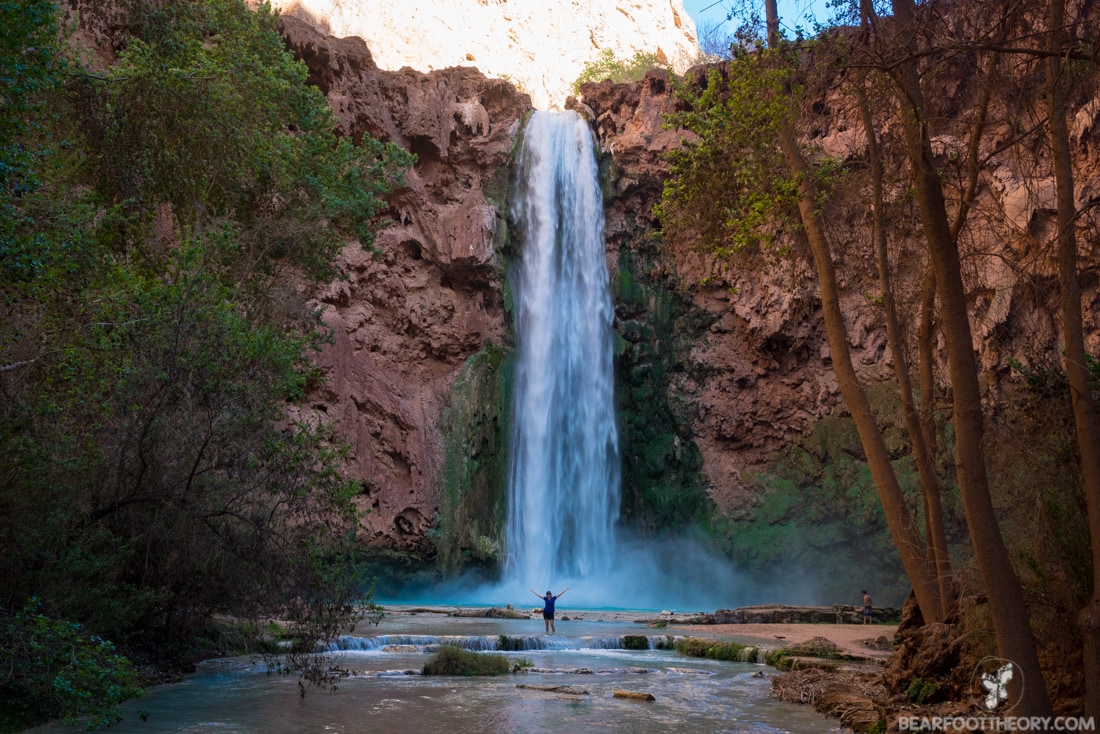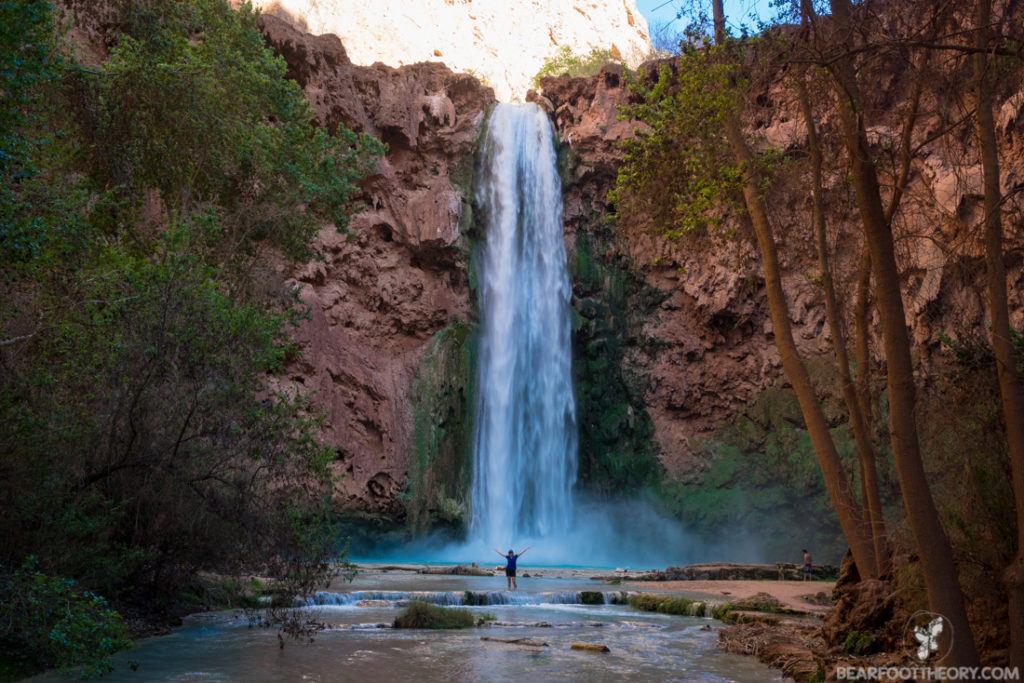 5) BEAVER FALLS
In terms of scenery, Beaver Falls was my favorite. It's deep down in the canyon about 2.5 miles past the campground. The trail to get there is dynamic, with some ups and downs, river crossings, and amazing views. Also, watch out for wildlife….you may just get lucky like we did.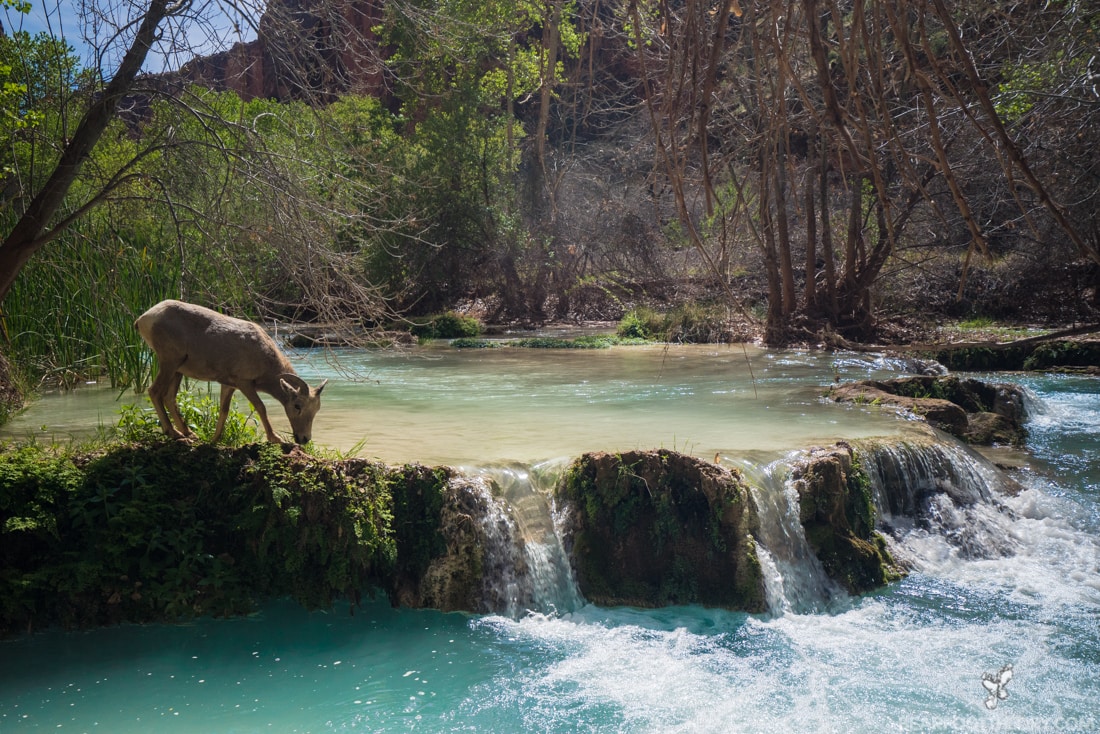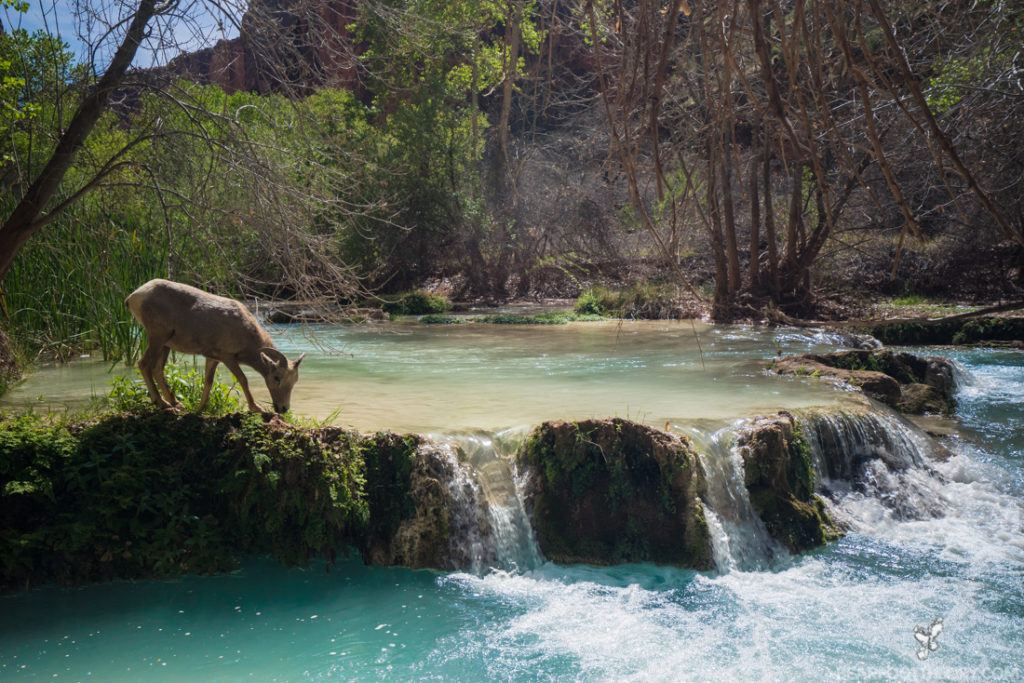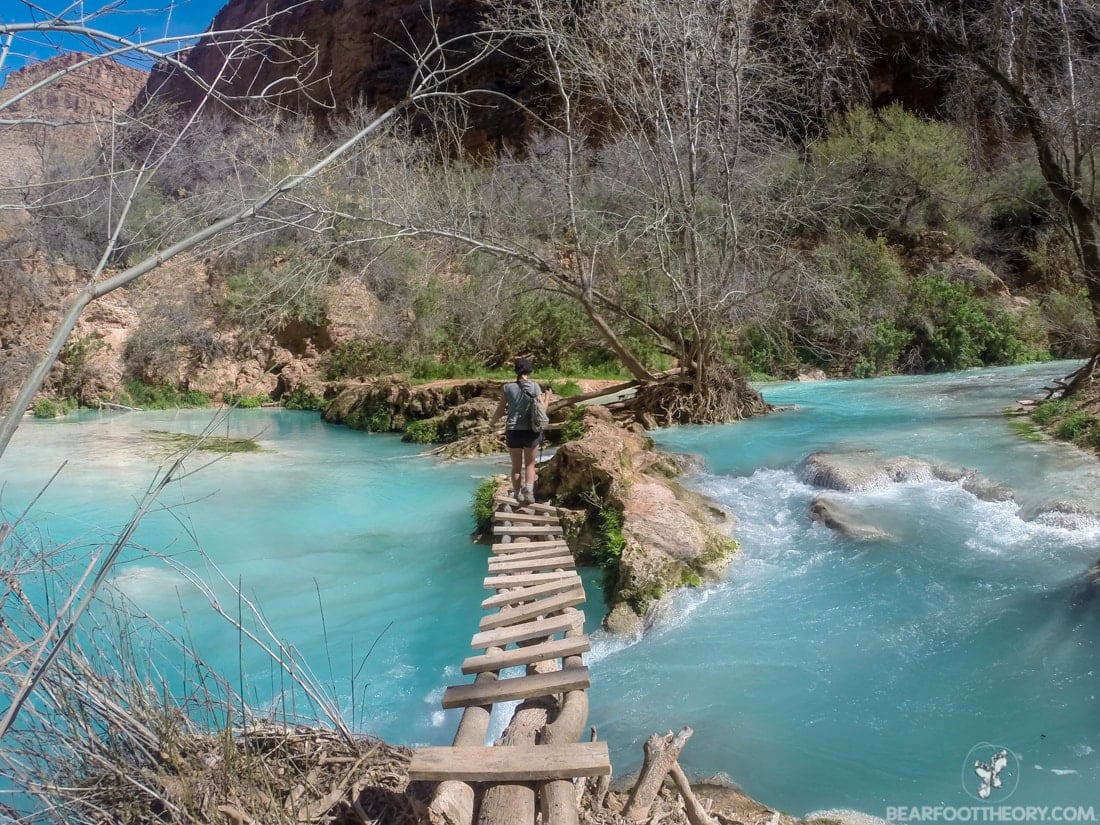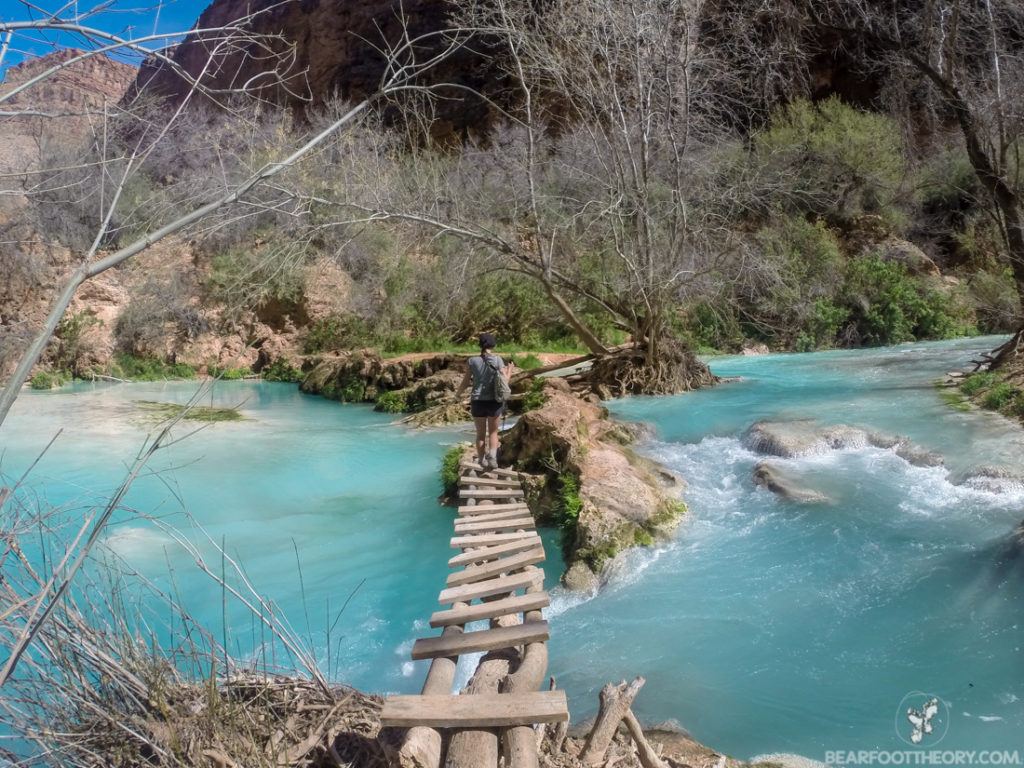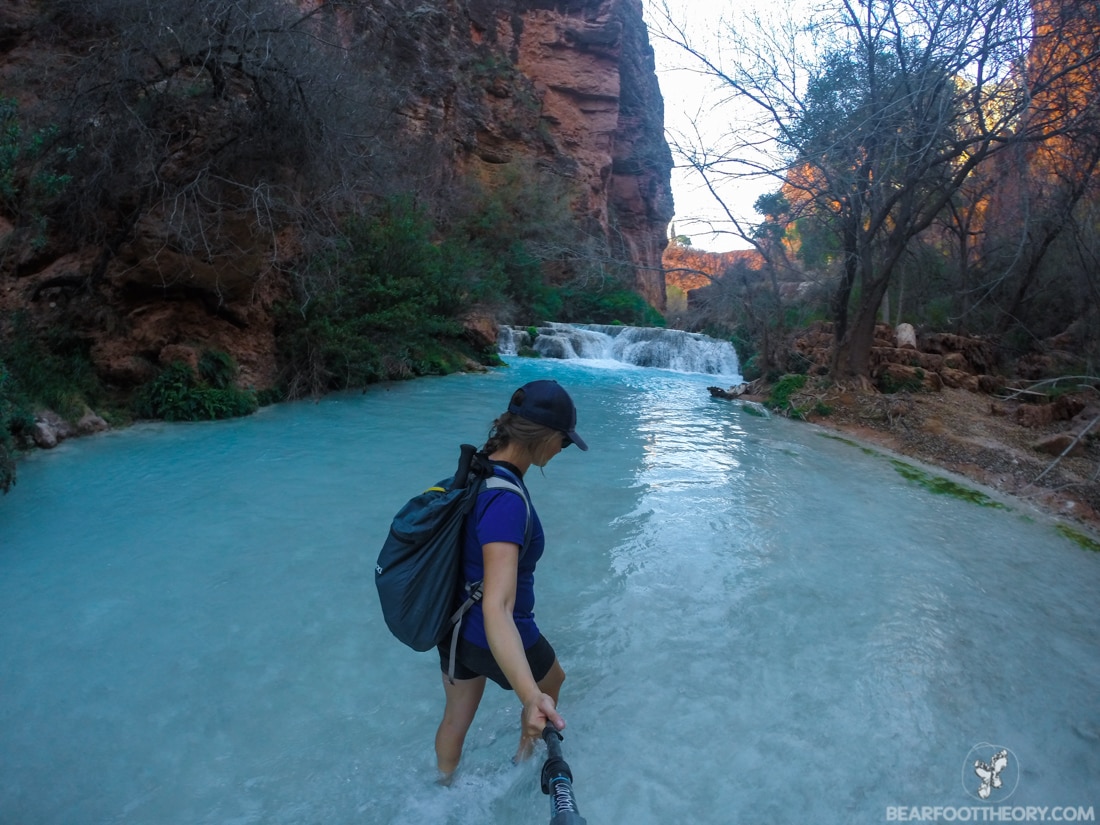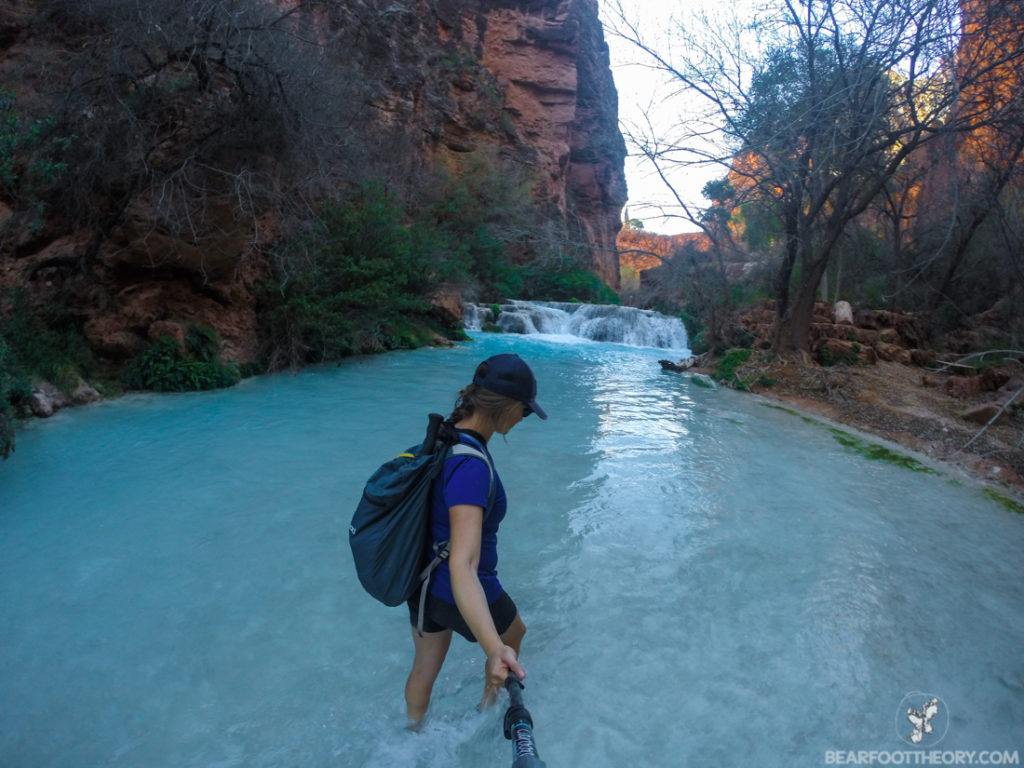 When you get to the top of Beaver Falls, there may or may not be a Havasupai Ranger at the top. If there is one there, it's just to make sure that anyone who is there paid the fee at the office in the village (more on that later).
Before you walk down the hill to get to the falls, there is a small bluff with a picnic bench. I'd recommend stopping there to take some pictures. It's also a great place to stop and have lunch before or after your swim.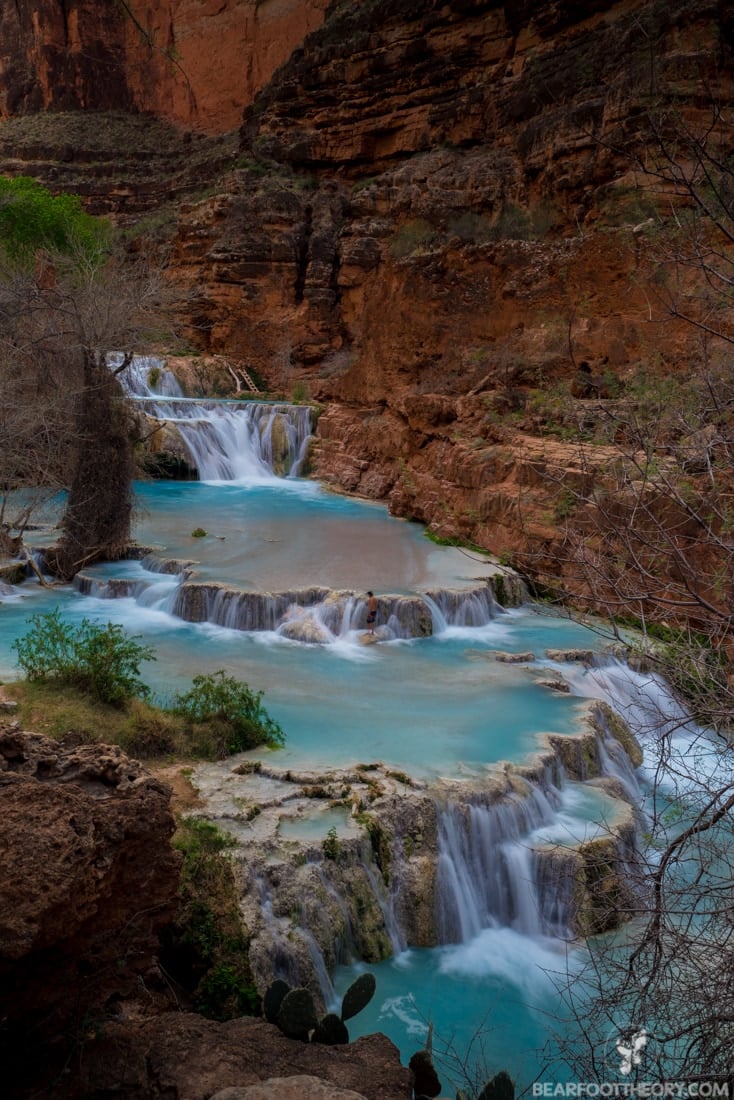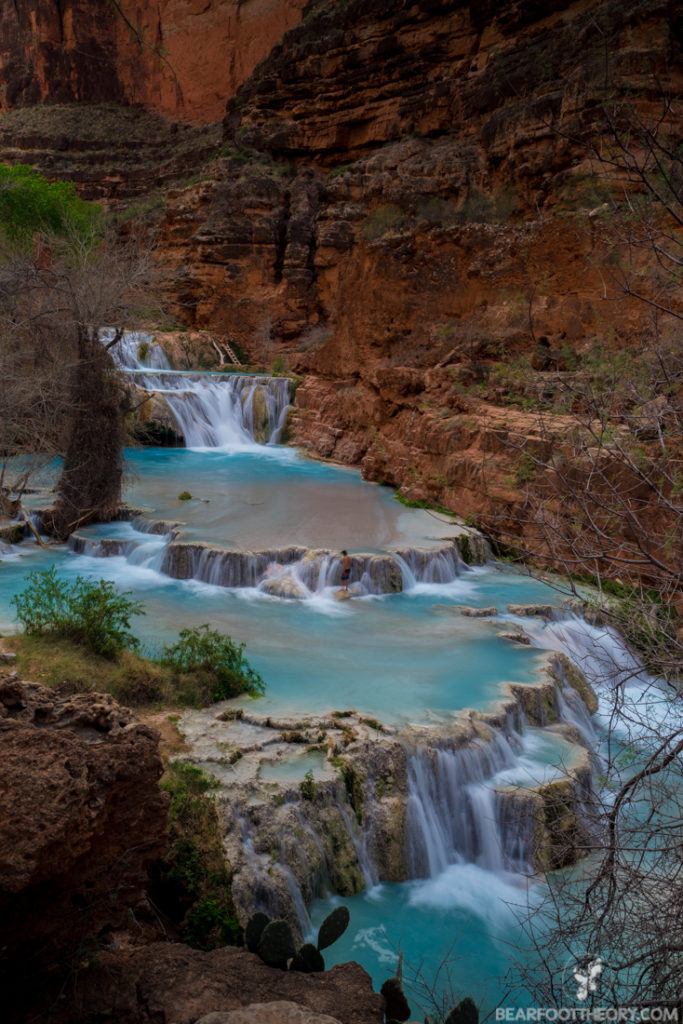 What was really cool about Beaver Falls was that you could walk up from one pool to the next, and there is also a trail that runs up the left side. While some places were deep, a majority of the pools were shallow enough to wade in and you could sit right in the falls and let the water pour over you. You should be aware that Beaver Falls (at least in March) was totally in the shade when we arrived. The canyon walls are steep and by the time we arrived in the early afternoon, the sun was long gone. Again, in summer, that's probably a good thing, but just something to keep in mind, depending on the weather.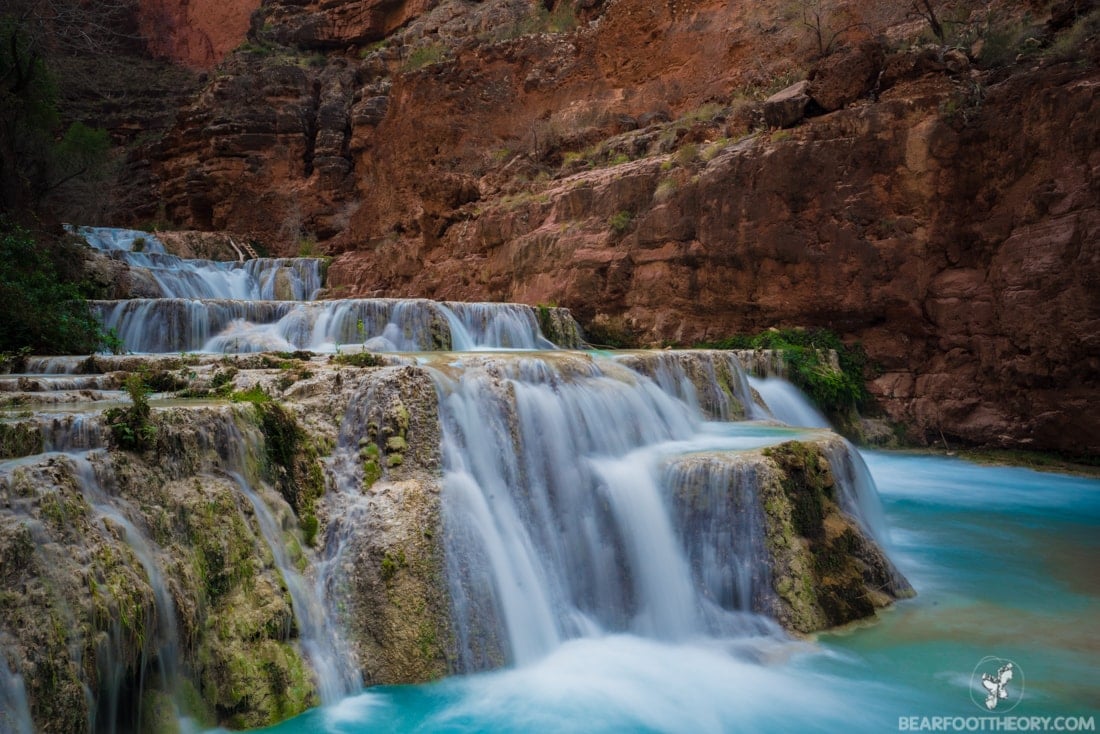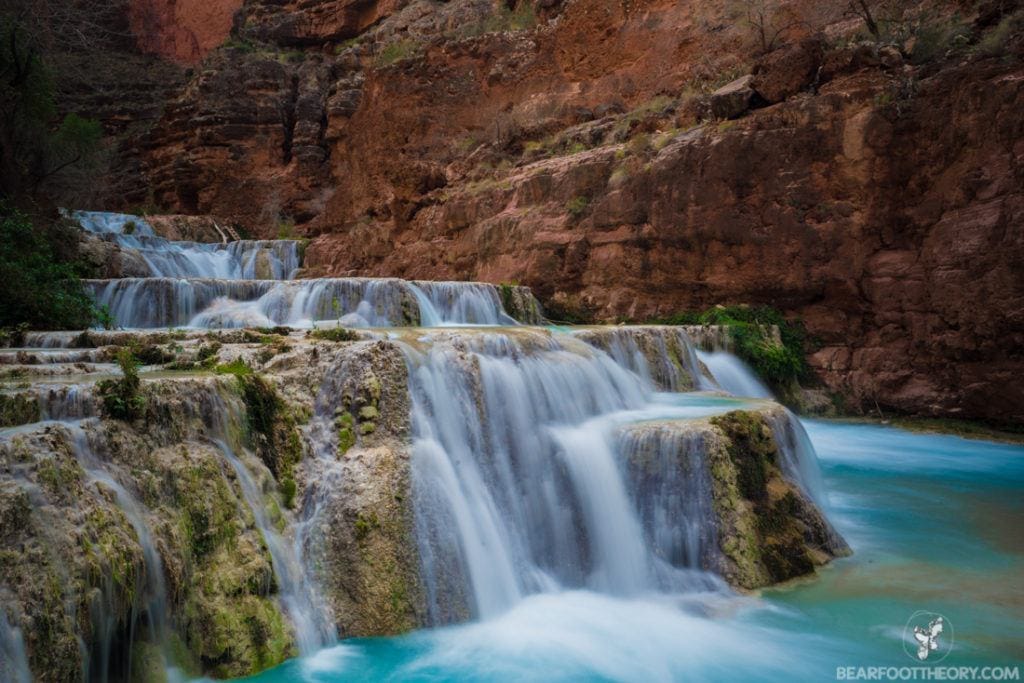 We stayed two nights at the campground, but after realizing how amazing, big, and diverse this place really is, you could easily stay and spend three nights here. That way you'd have plenty of time to explore and enjoy each waterfall for the unique features that make them different. I can't wait to go back to Havasupai!
Want to plan your own trip here? Check out my detailed Havasu Falls Camping Guide!
Have you ever swam in a waterfall? Share you stories in the comments below!