5 Amazing Waterfalls of Havasupai
Planning a trip to Havasupai? Learn about the five amazing waterfalls of Havasu Canyon including where they are, tips for visiting, and more!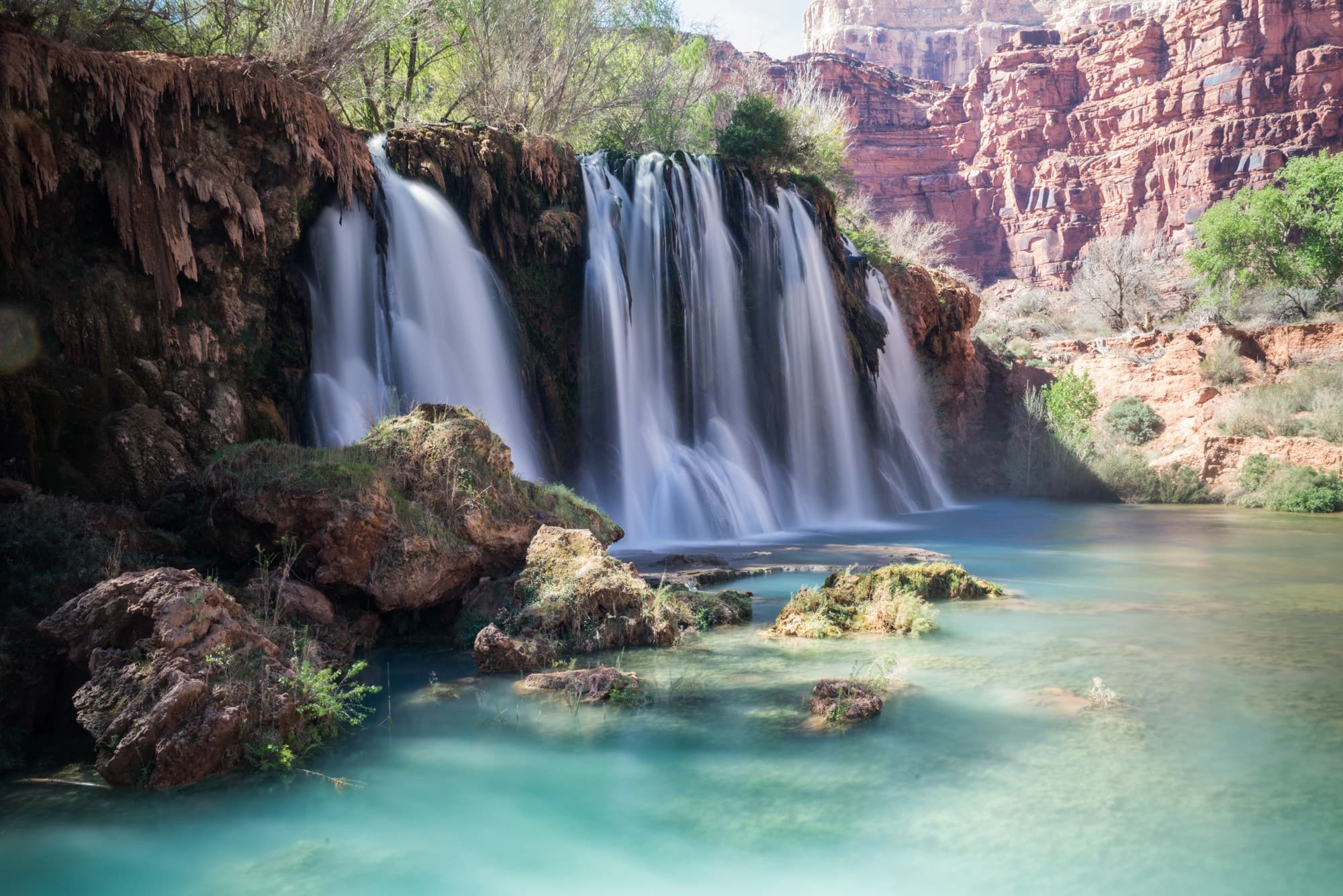 Havasu Canyon is home to the Havasupai Tribe of Arizona, whose name is translated to "people of the blue-green water." If you've seen photos of the Havasupai waterfalls, it's easy to understand how they got their name.
The creamy aquamarine, spring-fed Havasu Creek gets its exquisite color from heavy limestone deposits in the cliffs that line Havasu Canyon.
Most visitors who get a permit to Havasupai can't wait to see the stunning Havasu Falls, but what they don't realize is that there are actually several waterfalls in Havasu Canyon, all of which display that incredible teal color.
Both times I've visited Havasupai, it felt like I was transported to an otherwordly turquoise oasis that was magically placed in the middle of the desert. Honestly, this place seems to defy nature.
In this post, I give you the scoop on these 5 waterfalls of Havasu Canyon along with some of my favorite photos from my trips. If you want more info on the trail, camping, permits, directions, and other logistics, be sure to read my Havasu Falls Permit and Camping Guide.
Important Reminder: As it goes in all of the destinations we share, please practice good trail etiquette and remember to Leave No Trace. This means packing out all of your garbage (including toilet paper), being respectful to others on busy trails, and following the established rules.
---
Where are the Havasupai Waterfalls?
Havasu Canyon is located on the Havasupai Indian Reservation in Arizona. The canyon empties into the Colorado River in the Grand Canyon National Park.
The map below shows the location of the 5 waterfalls of Havasu Canyon. Three of the waterfalls (Havasu, Mooney, and Beaver) are located closest to the campground while Old Navajo Falls and Fifty-Foot Falls can be visited either on your hike into the campground or on your way back out.
Important: You cannot visit these waterfalls without a permit or as a day hike. You MUST obtain Havasupai Campground reservations before hiking to see these falls.

---
The 5 Waterfalls of Havasu Canyon
1. Fifty Foot Falls
Fifty Foot Falls is located about 8.5 miles from the Hualapai Hilltop Trailhead and a mile or so past Supai village where you need to check in at the tourist office before continuing on the campground.
On my first visit to Havasupai, I was tempted to keep going past Fifty Foot Falls. I thought we should find a nice campsite, set up our tent, and then go hang out at Havasu Falls – thinking that one was going to be the real treat.
The only thing that stopped us from continuing to the campground is that we were hot and tired from the hike and ready for a swim. Plus the river was insanely beautiful with tons of travertine pools where we could sit and hang out right in the middle of the river.
After passing through the village of Supai, we took the obvious side trail down the hill that led to the river. Once you are down the hill, head left on a less obvious trail until you get to the large pool below Fifty Foot Falls.
This waterfall and the cascades below it ended up being my favorite for swimming. The falls get plenty of afternoon sun and – at least when we were there – we had the pool all to ourselves!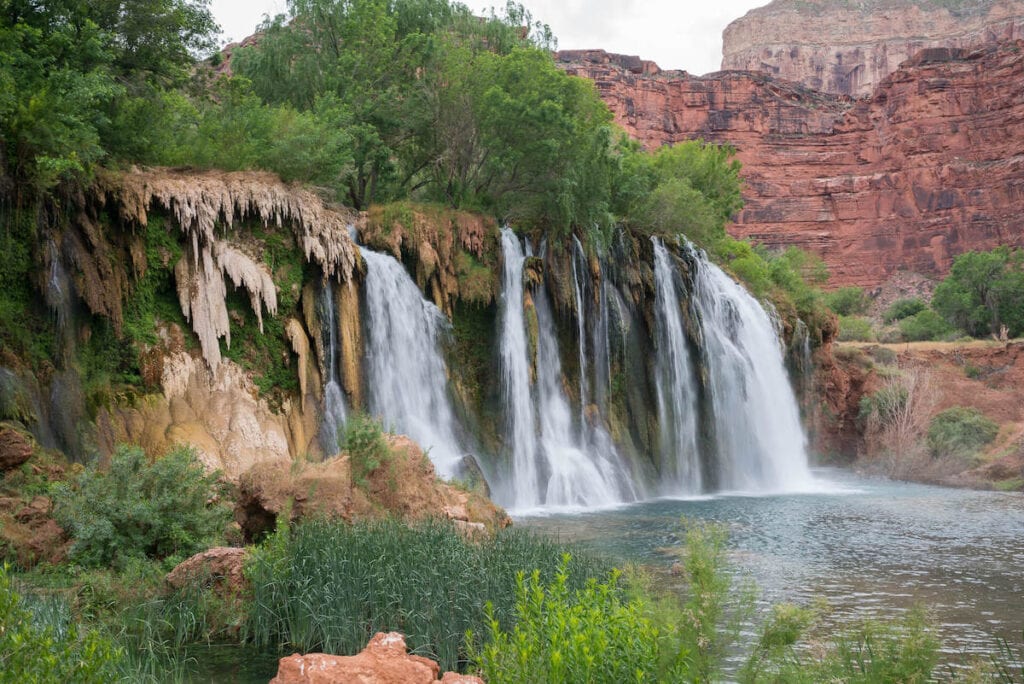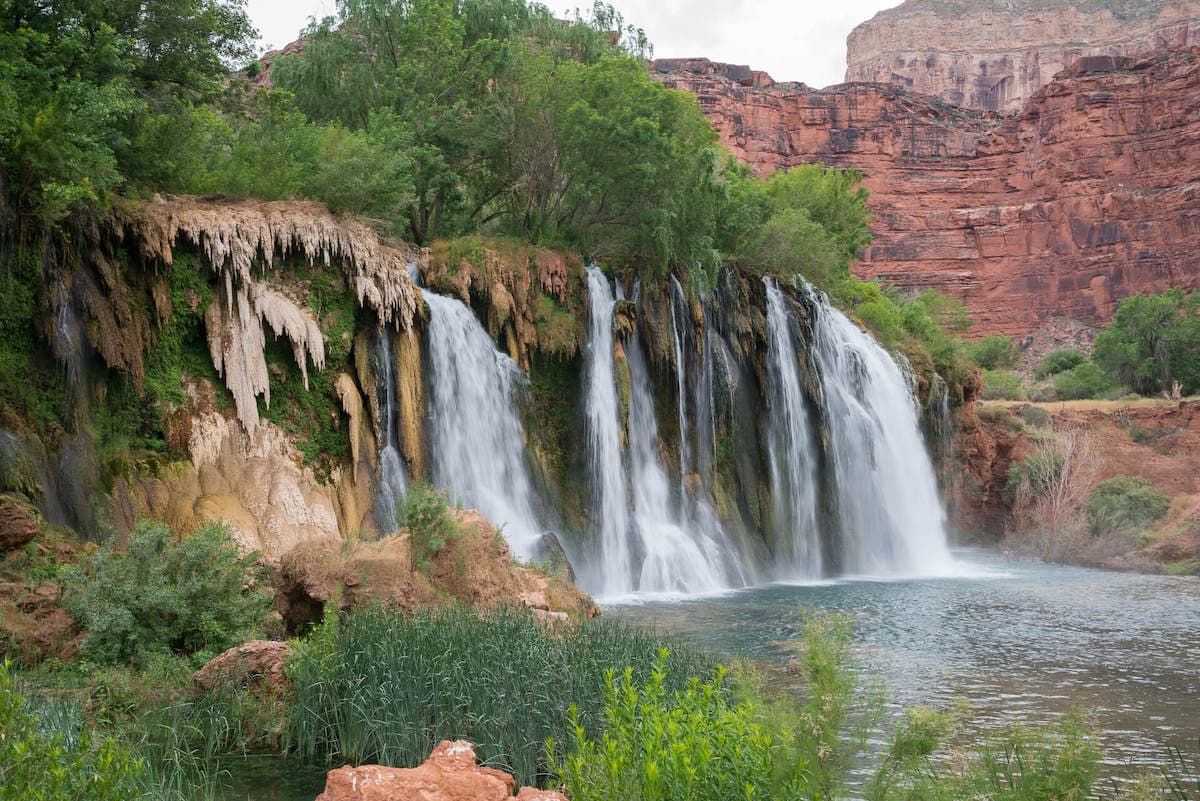 The lesson is, Fifty Foot Falls is definitely worth a stop on your way to the campground. The two miles from Supai to the campground is downhill and once you get down there, you probably won't want to make your way back up.
Alternatively, if you do really want to get to the campground early to get a good campsite, you can also visit Fifty Foot Falls on your hike back to the trailhead at the end of your stay.
Join our community for access to our free member resources!
Download our Handy Outdoor Packing Checklists and Trip Planning Guides
2. Navajo Falls & Little Navajo Falls
Navajo Falls is directly below Fifty Foot Falls so you can easily hit both of these at the same time.
Apparently, Navajo Falls used to look quite different but in 2008, a flash flood roared through the canyon and completely changed the waterfall. From what I've heard, Navajo Falls today is smaller than it used to be, but it is still amazing.
There's also a second waterfall that was created due to the flood called Little Navajo Falls (or New Navajo Falls), which is just a short distance down the river.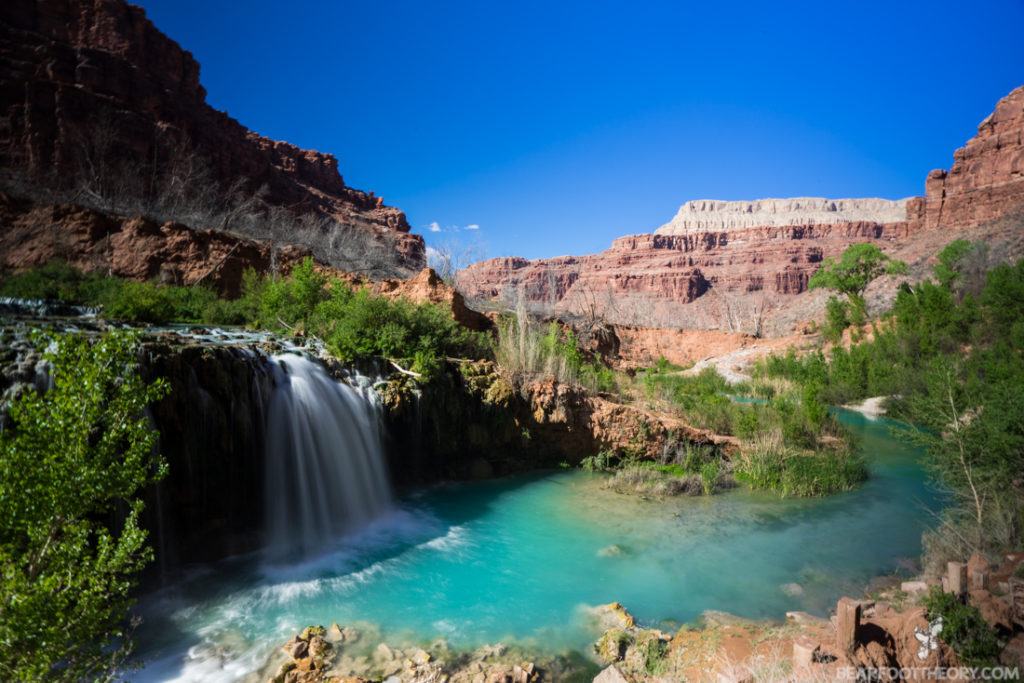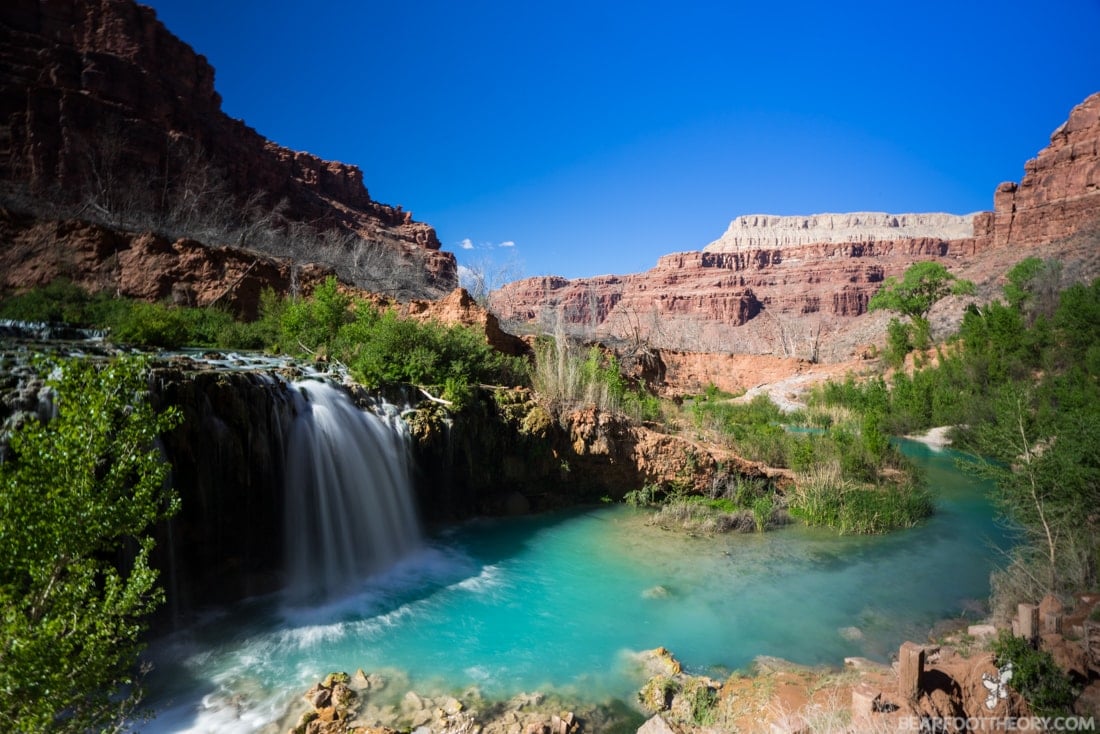 One of my favorite features of Navajo Falls is the hidden ledge that runs behind the waterfall. Be sure to check it out!
There's also a really nice flat rock right above Navajo Falls that is the perfect spot to take in the view and spend some time sunbathing!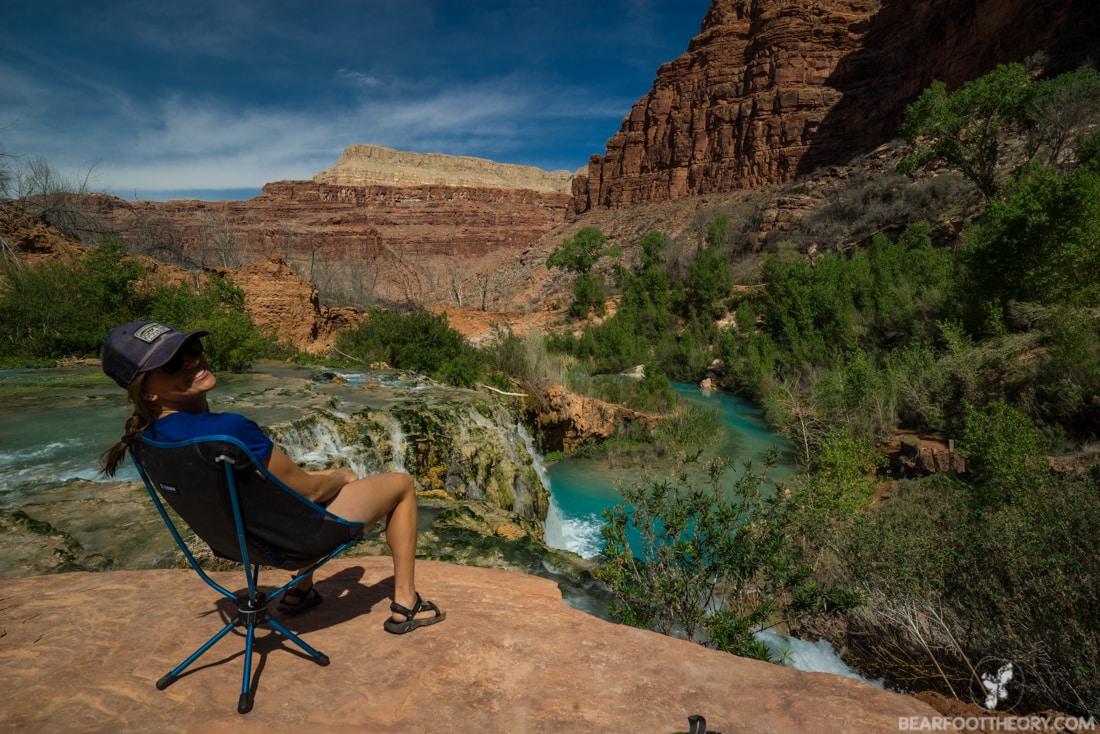 A note about monsoon season: Monsoon season in Arizona typically runs from mid-June through September. Havasu Canyon has historically seen flooding, including dangerous flash floods. Be prepared by checking the weather forecast, complying with rules and regulations, and checking in at the tourist office before you head to the campground.
3. Havasu Falls
Havasu Falls is down the hill about three-quarters of a mile past Navajo Falls. The first time I visited Havasupai, I was worried that when I got to Havasu Falls, it wasn't going to be as beautiful as the pictures I'd seen. That was definitely not the case! I was so happy to find that the falls are even more stunning in real life.
When you first approach Havasu Falls, the trail comes in from above on the left side. There are some great photo ops on the way down the hill, so make sure to stop and snap a few shots.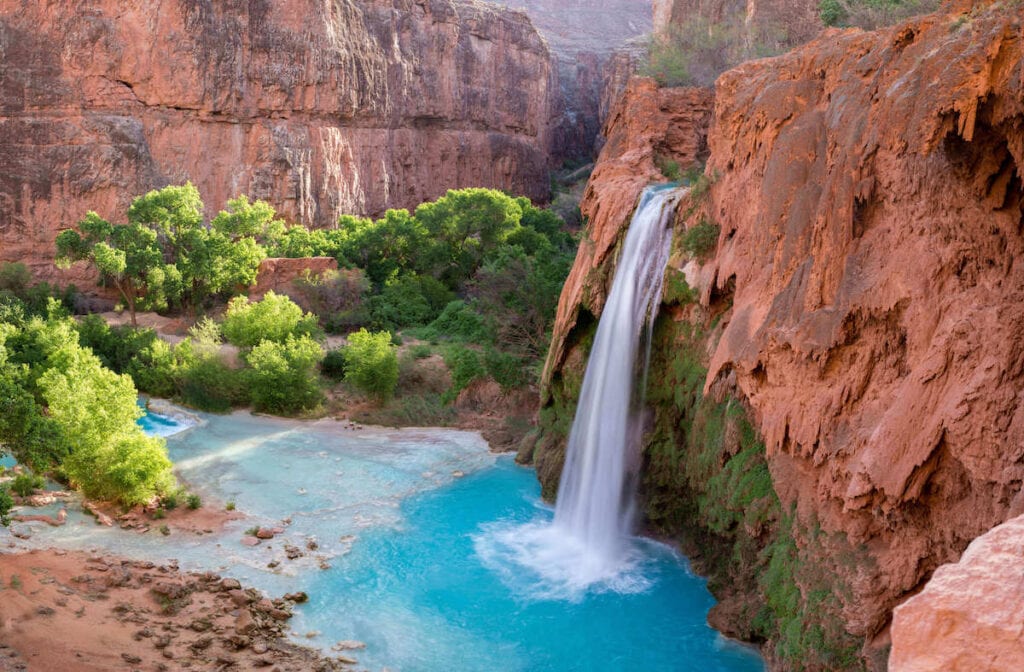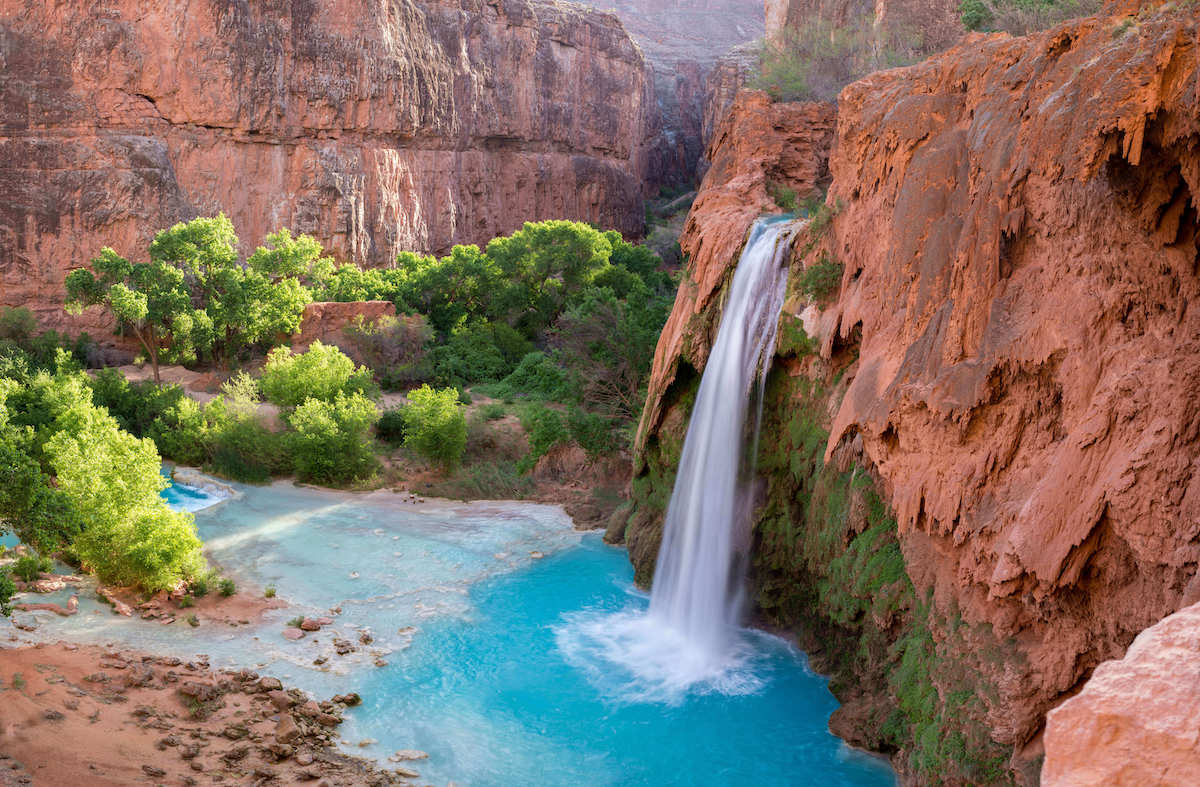 Once you get down to the bottom of Havasu Falls, hang a right down the side trail to get to the pool. There are several picnic tables where you can sit, have a snack, or stash your stuff while you go for a swim.
Beware of sneaky, food-snatching marmots, though, and make sure you don't leave any tasty treats or loose gear out for them.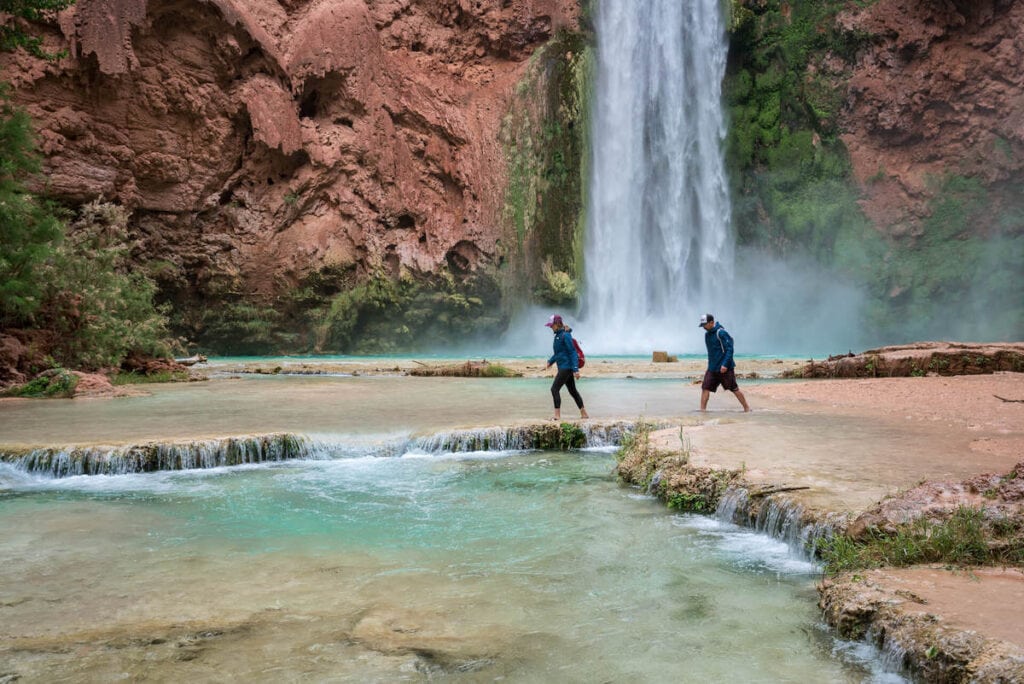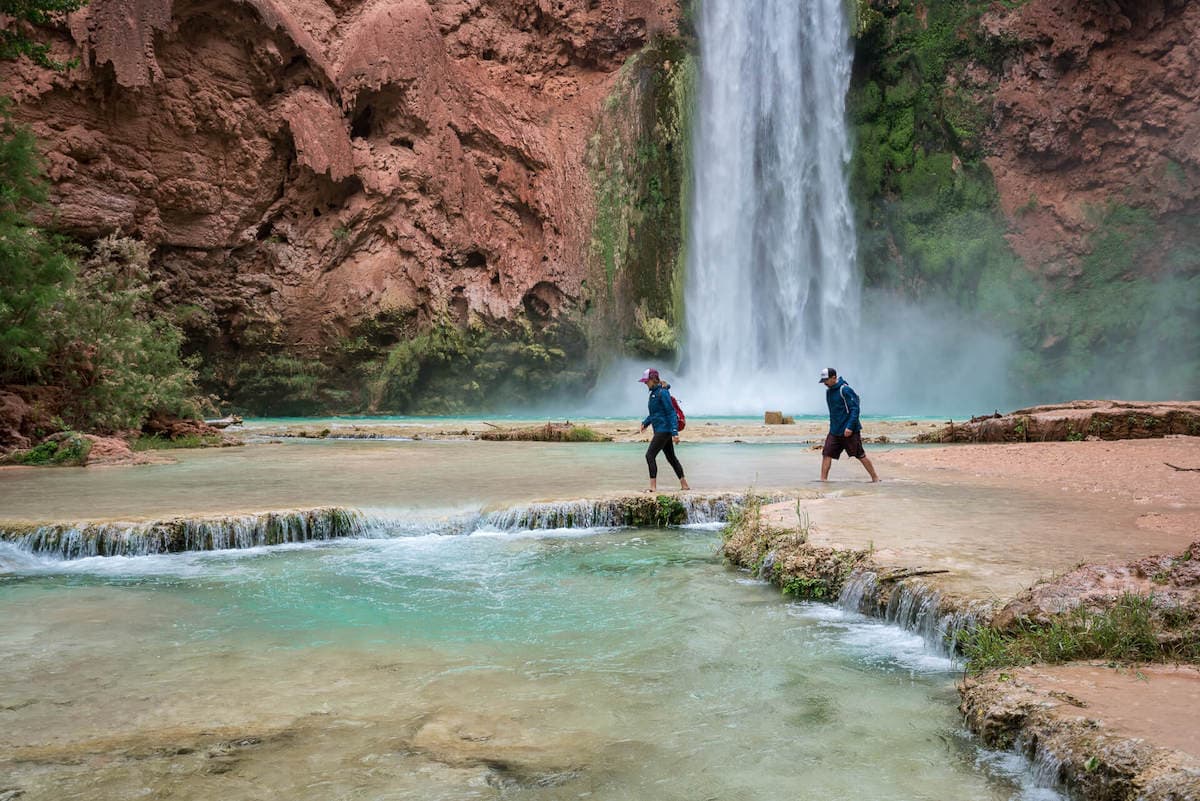 Havasu Falls is much more powerful than Fifty Foot and Najavo, but the pool is still totally swimmable. It does see shade in the afternoon, which could be good or bad depending on the time of year you visit.
For nighttime photography, Havasu Falls is your best bet. It's the closest and easiest to get to from the campground in the dark. Plus the canyon walls aren't so tall that you can't get the night sky in your photos.
4. Mooney Falls
Mooney Falls is a short distance past the campground, but the trail to get down to the pools at the bottom is pretty sketchy by most people's standards. I recommend wearing a small daypack for your stuff so your hands are free to help you down the steep, slick rocks, and ladders.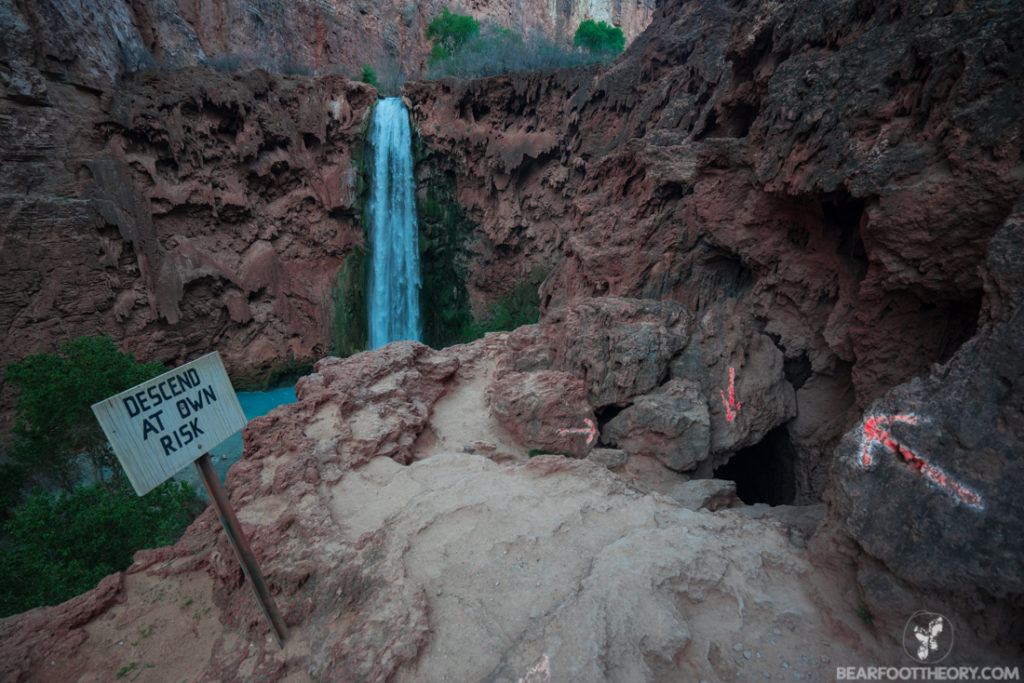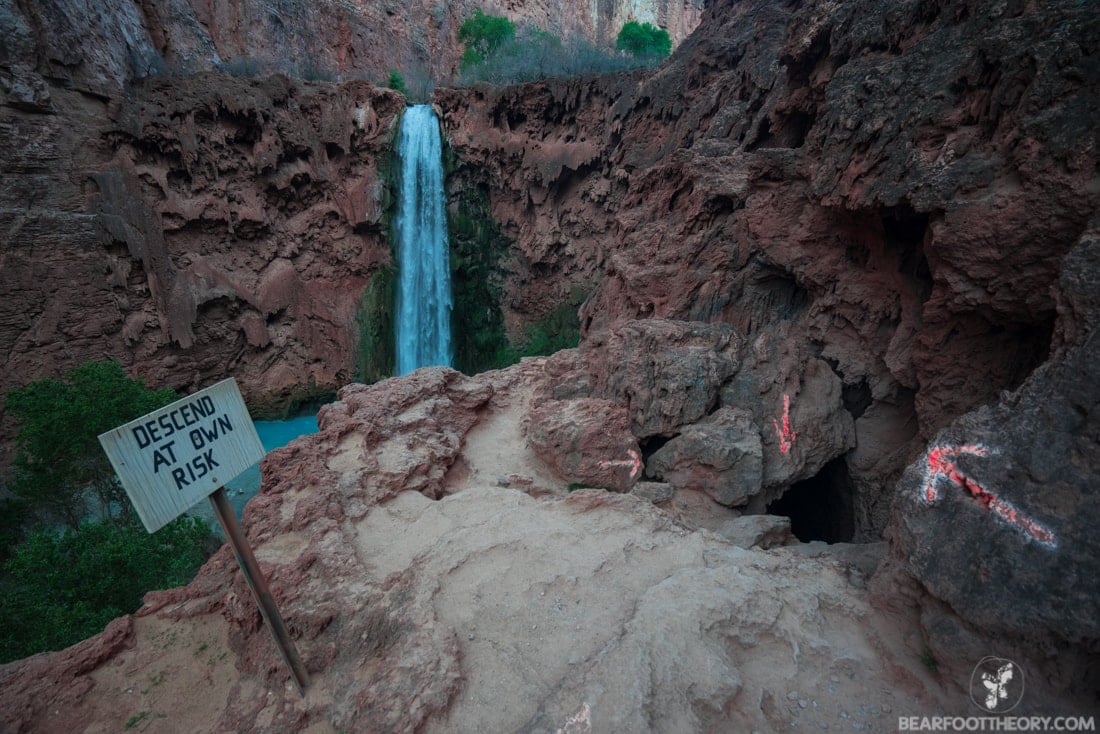 I'm not saying this to scare you, the trail down is totally doable, but it's better if you know what you are in for. The good news is that the climb down is pretty short and doesn't take more than 10-15 minutes. Once you are there, the canyon opens up for many more miles of river to explore.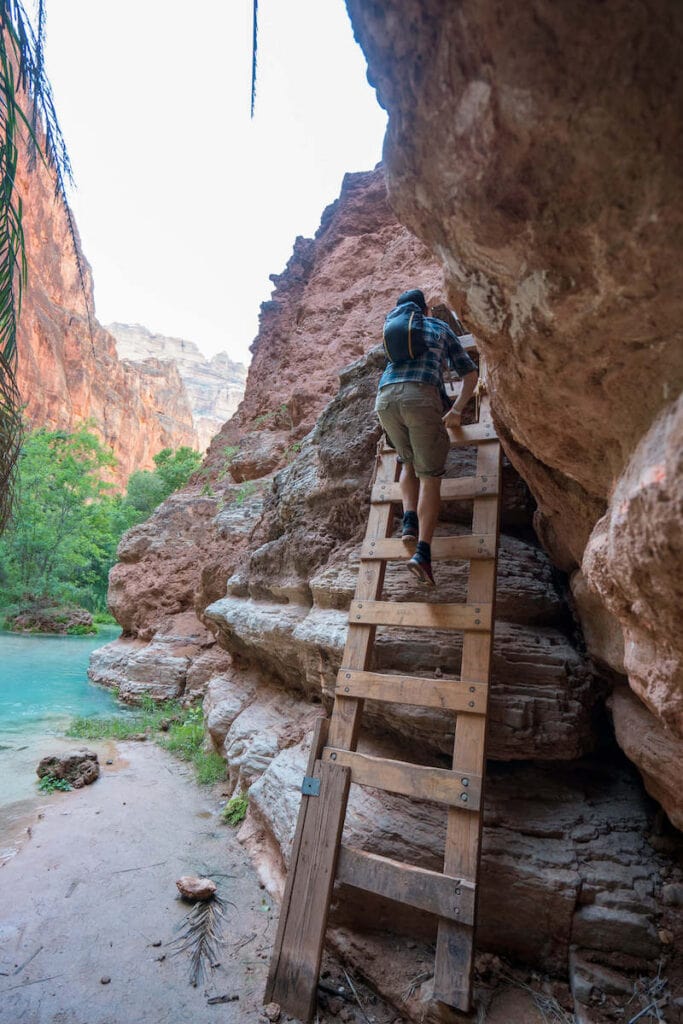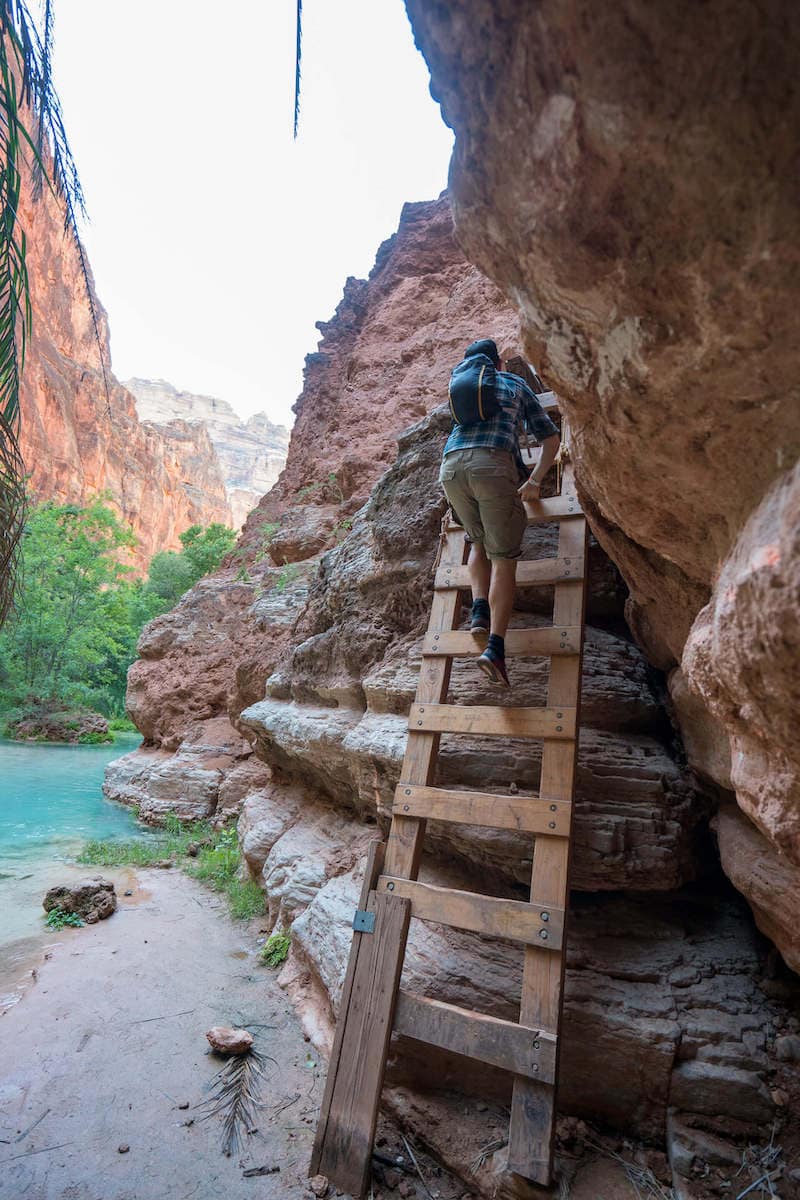 Mooney Falls is the tallest and most forceful of the 5 waterfalls of Havasu Canyon, and if you choose to swim in Mooney Falls get ready for some turbulence. The mist alone is enough to leave you pretty soaked!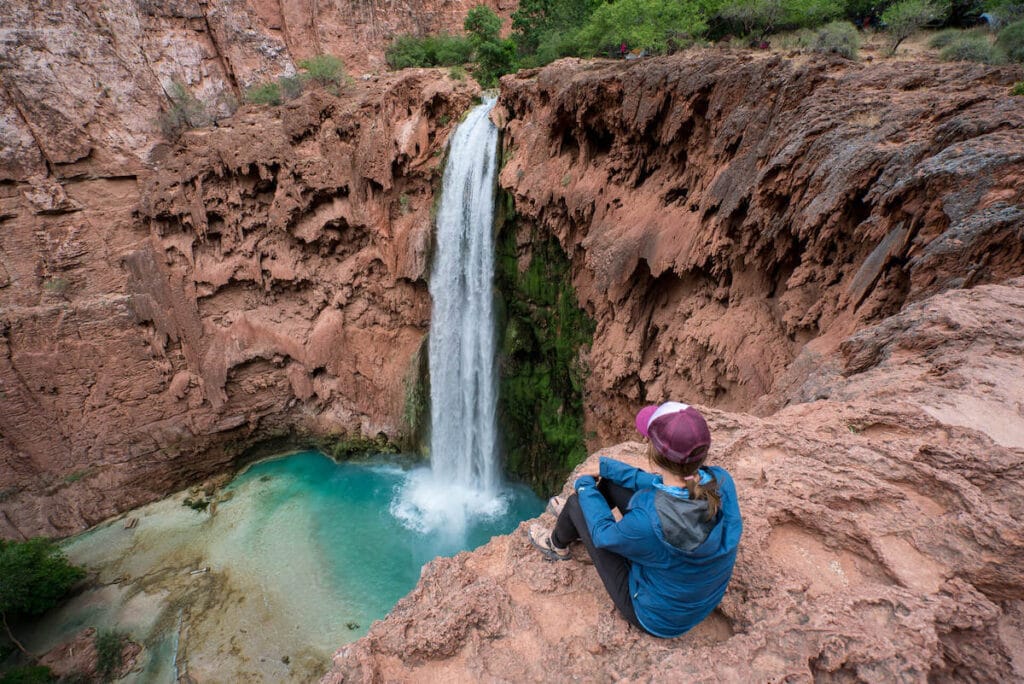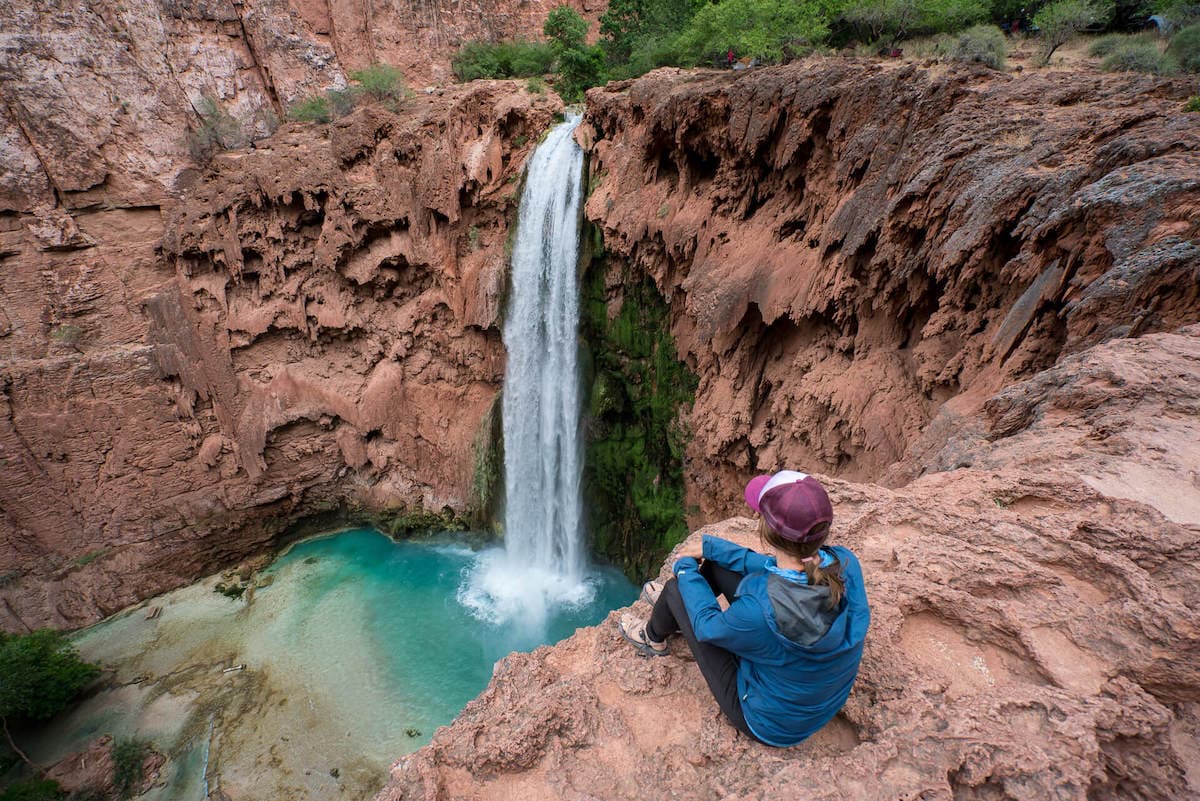 5. Beaver Falls
In terms of scenery, Beaver Falls was my favorite of the five Havasupai waterfalls. It's deep down in the canyon about 2.5 miles past the campground. The trail to get there is dynamic, with ups and downs, river crossings, and amazing views.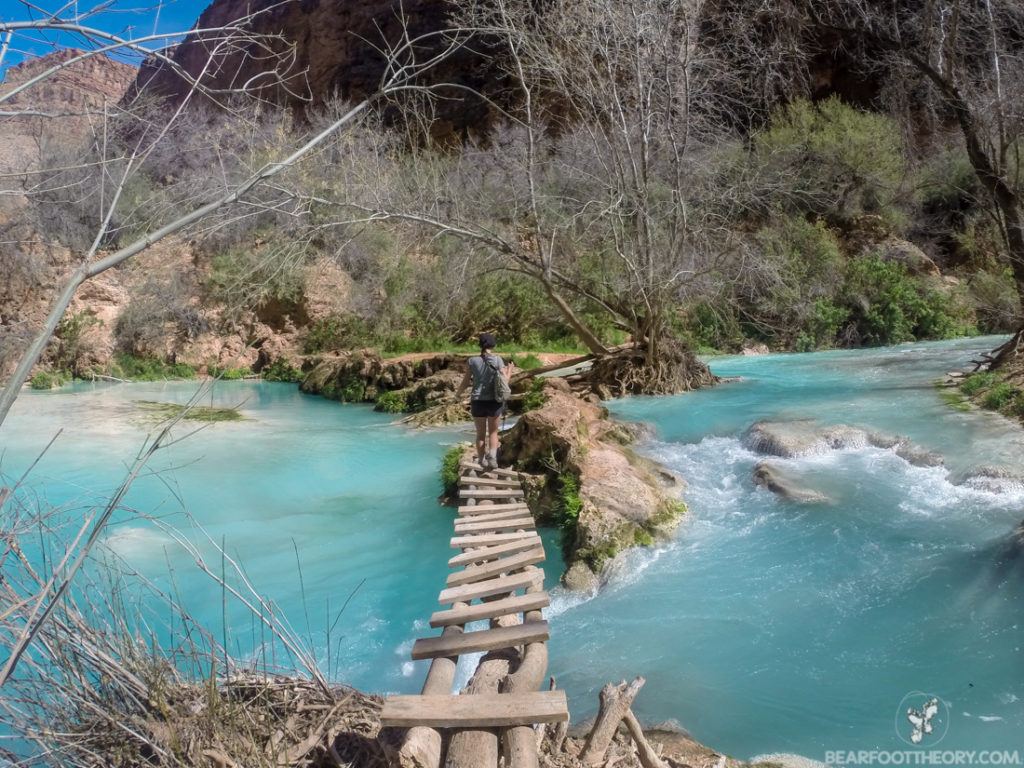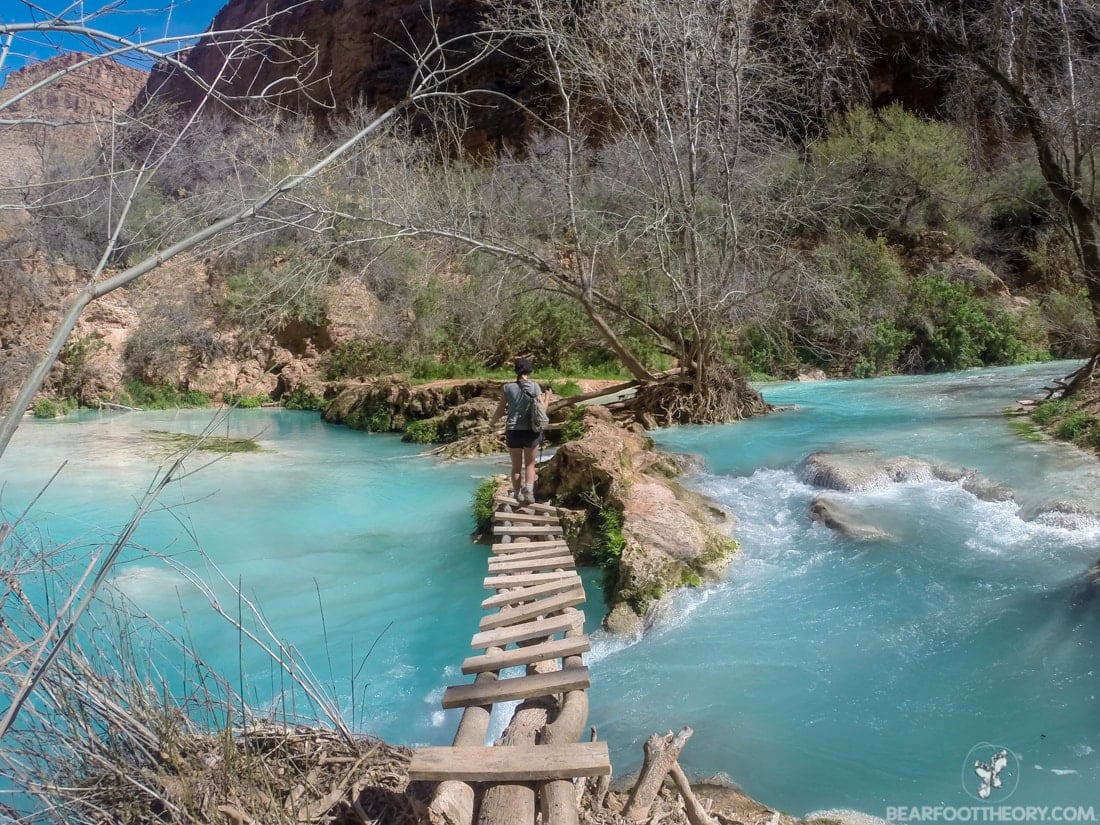 Before you walk down the hill to get to the falls, there is a small bluff with a picnic bench. I recommend stopping here to take some pictures. It's also a great place to have lunch before or after your swim.
What was really cool about Beaver Falls was that you could walk up from one pool to the next and there is also a trail that runs up the left side. While some places were deep, a majority of the pools were shallow enough to wade in and you could sit right in the falls and let the water pour over you.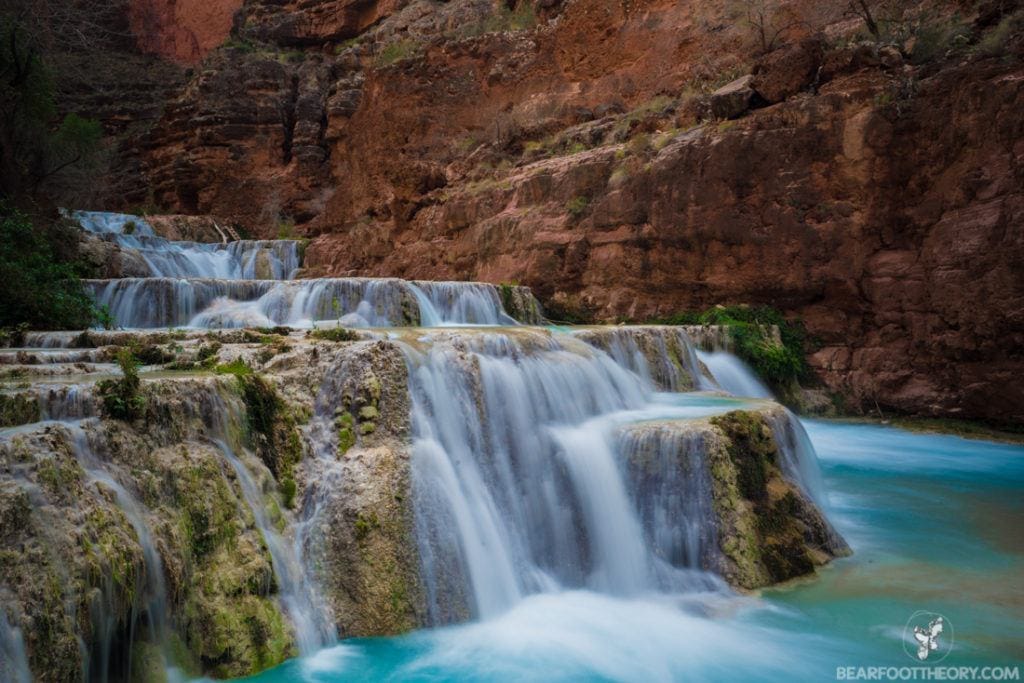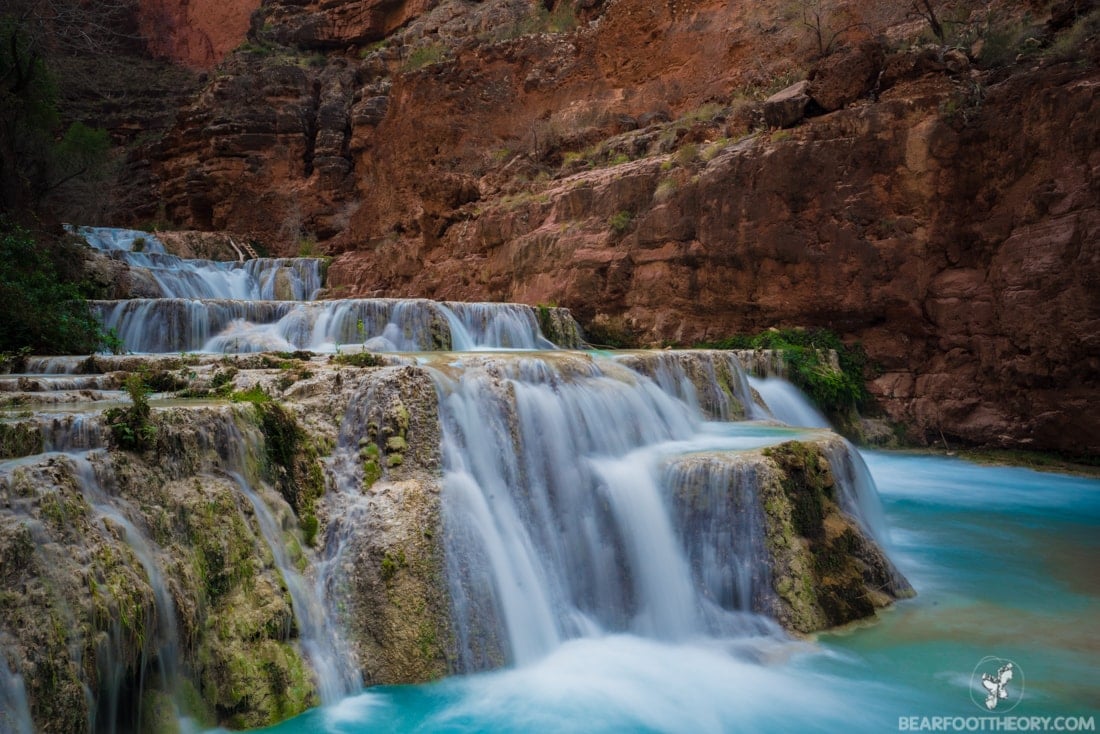 You should be aware that Beaver Falls (at least in March) was totally in the shade when we arrived. The canyon walls are steep and by the time we arrived in the early afternoon, the sun was long gone. Again, in summer, that's probably a good thing, but just something to keep in mind, depending on the weather.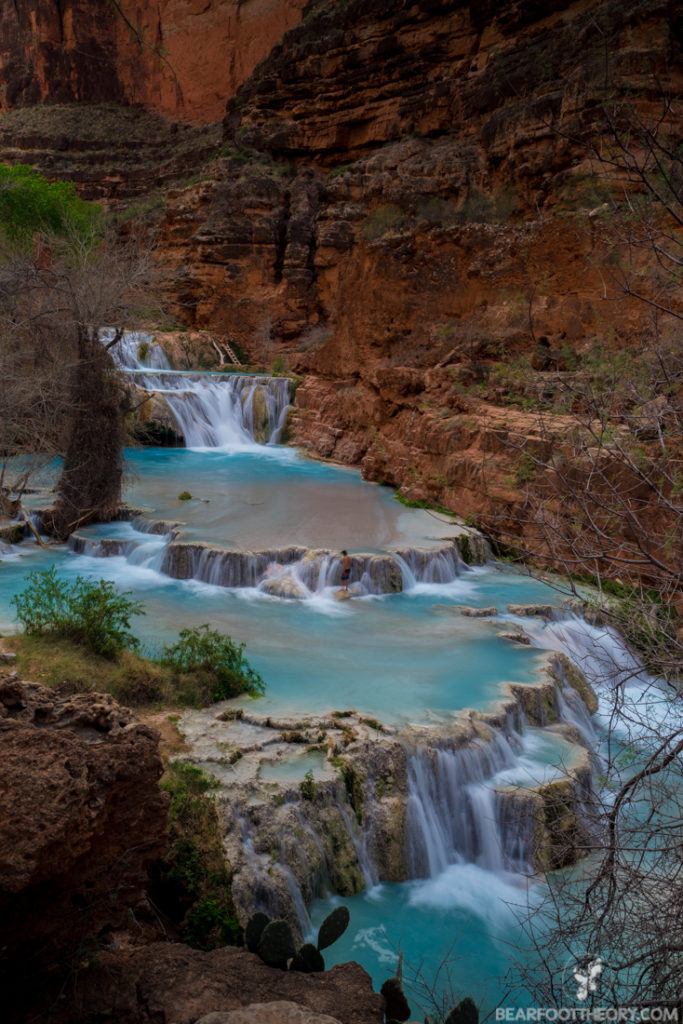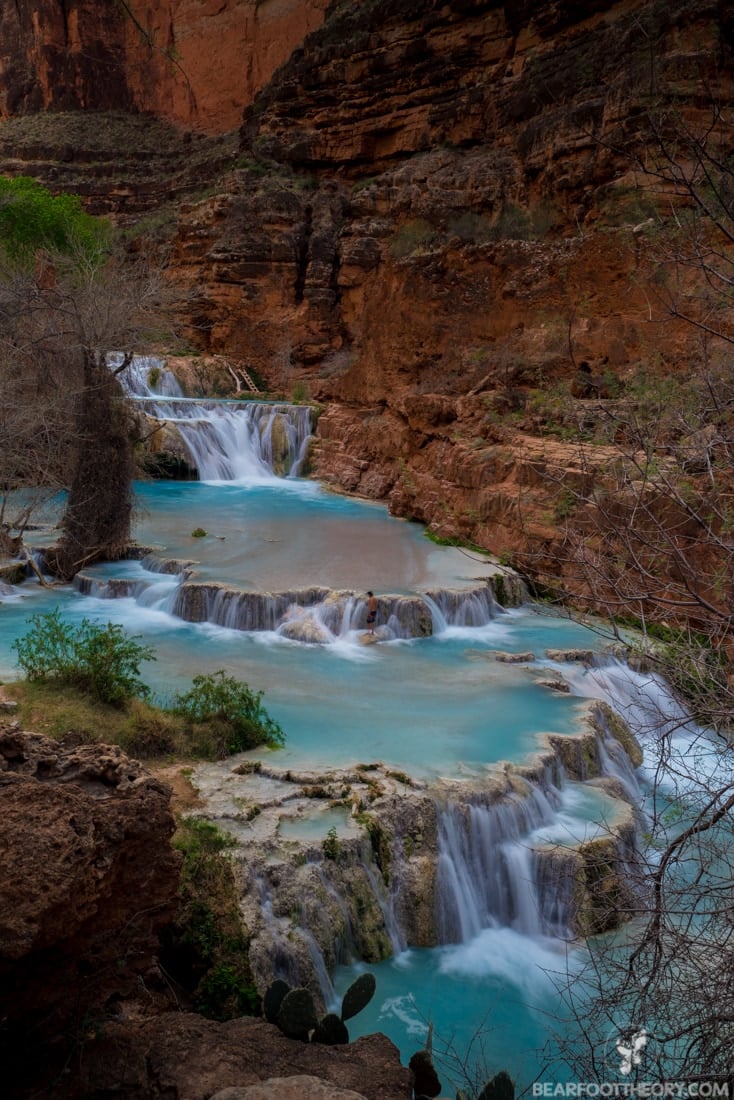 ---
Best Time to Visit the Havasupai Waterfalls
Permits for Havasupai are available year-round and reservations for the year open on February 1st. Permits usually sell out quickly on that date.
The best time to go depends on what you're hoping to see and do.
July and August are typically the busiest months since many people are on summer break or vacation, but these months are also great for swimming.
If you're looking for cooler, but still pleasant, temps, spring (March, April, and May) and fall (September, October, and November) are my favorite times to visit.
Winter can also be a nice time to plan a trip, but be prepared with warmer clothes, especially if you intend on hiking to the different waterfalls.
Have you visited Havasu Falls? Which is your favorite Havasupai waterfall? Which one are you most excited to see in person? Leave a comment below!