Do You Need Waterproof or Non-Waterproof Hiking Boots?
Should your hiking boots be waterproof? Learn the difference between waterproof vs non-waterproof hiking boots and which ones you need.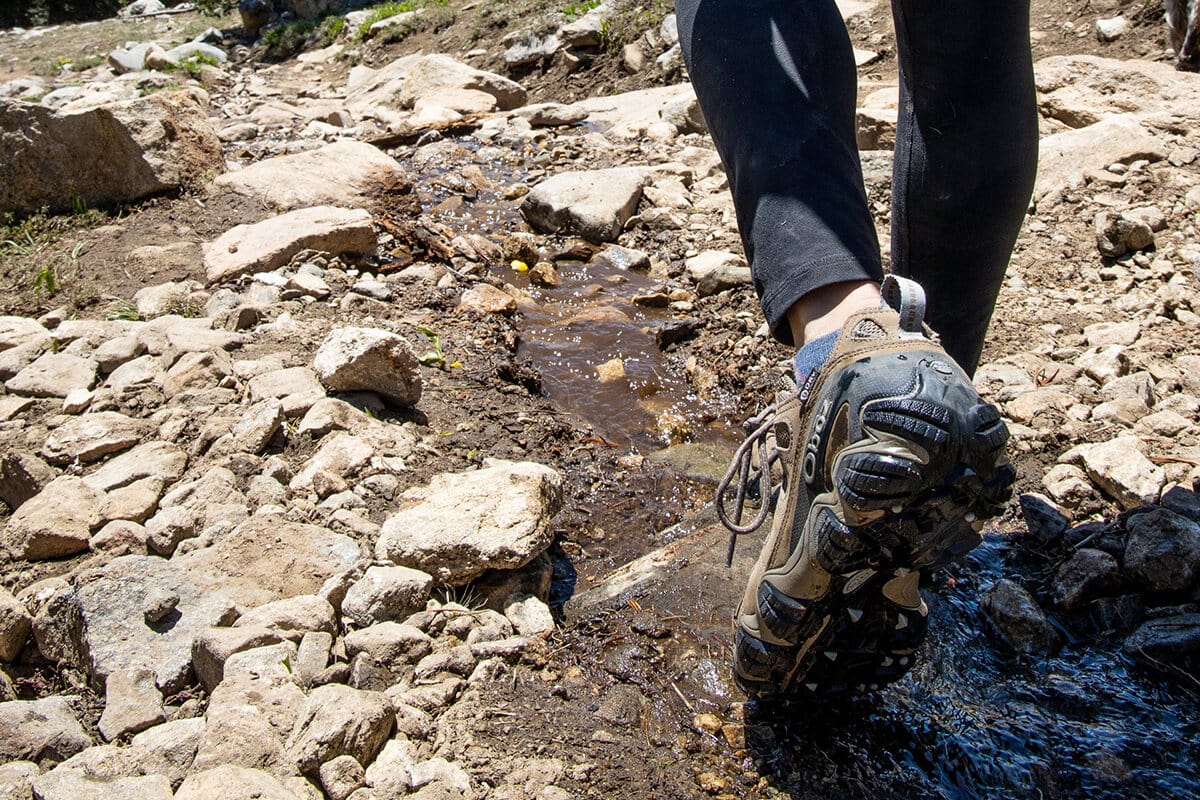 There are certain pieces of gear that you always want to get right when you're spending time on the trail, and hiking boots are no exception. If your footwear isn't comfortable, chances are you're not going to have a very good time no matter how excited you are to get outside or how beautiful the scenery is. Beyond the fit and feel of your hiking boots, you'll want to decide if your hiking boots should be waterproof or non-waterproof. Each is great for certain situations, but there are also circumstances where waterproof vs non-waterproof will make a big difference in terms of comfort and performance so it's important to understand the difference between the two.
This guide will help you decide if your hiking boots should be waterproof or non-waterproof by going over the pros and cons of each.

Difference Between Waterproof & Non-Waterproof Hiking Boots
Knowing whether you need waterproof or non-waterproof hiking boots is important because hiking in soggy boots, or alternatively, a shoe that's hot, stuffy, and doesn't breathe well, is no fun. Don't let miles in wet boots or ones that just don't work for your trip slow you down. Here's a quick summary of the difference between waterproof and non-waterproof hiking boots.
Waterproof Hiking Boot Features
Waterproof hiking boots have a water-repelling membrane that is layered into the synthetic or leather materials in the shoe. This waterproof layer is often made of Gortex or in the case of Oboz, they use a proprietary waterproofing system called BDry. This waterproofing keeps water from seeping in through the shoe itself, but if water comes in through the top, the inside of the shoe will get wet and the water will not drain out.
The tradeoff is that waterproof hiking boots are typically heavier and less breathable than non-waterproof hiking boots, although some (like Oboz) do offer some breathability, letting sweat and moisture from the inside out while not letting water in. Waterproof shoes also tend to be a little more expensive than non-waterproof shoes.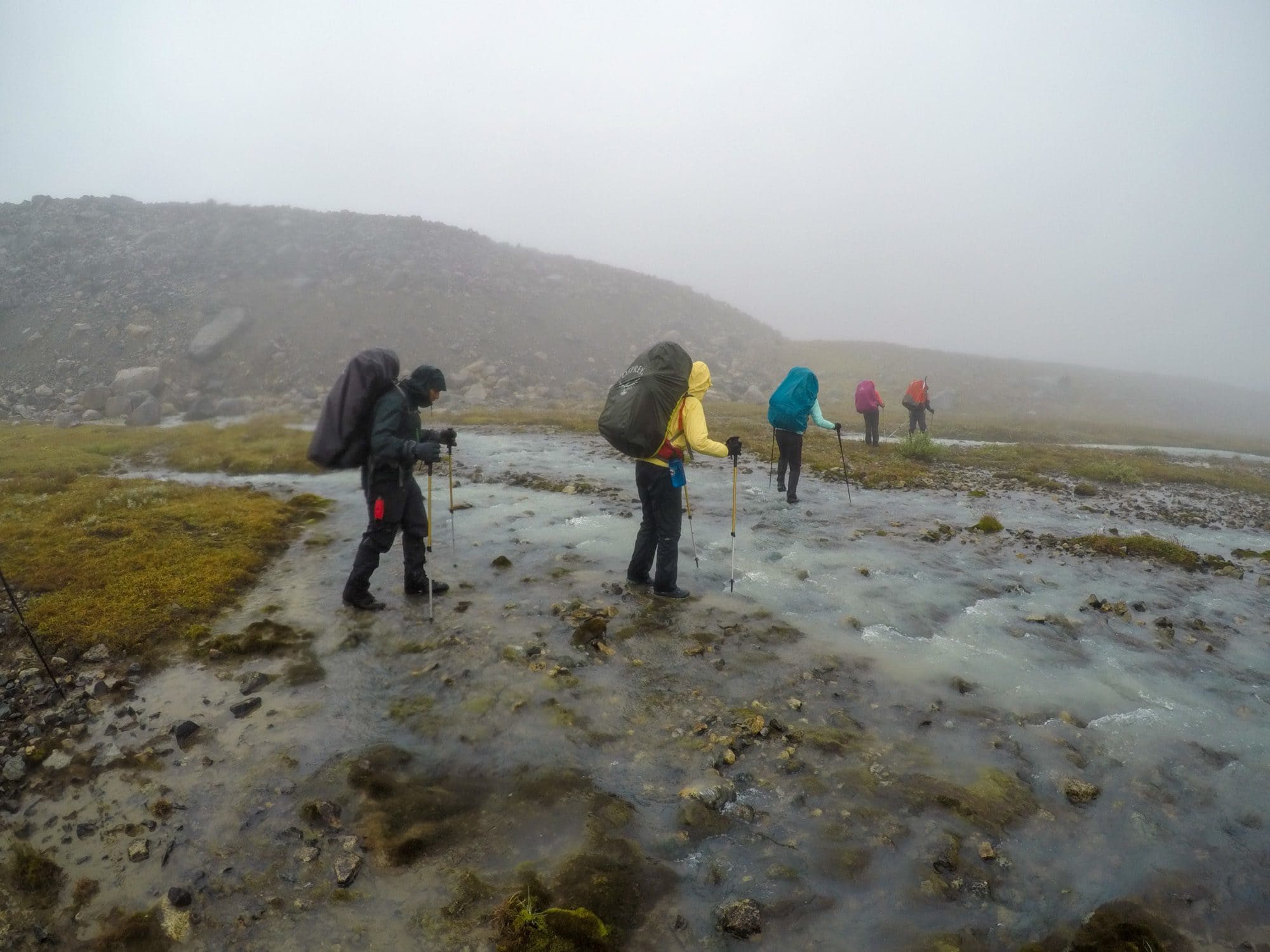 Non-Waterproof Hiking Boot Features
Non-waterproof hiking boots do not have a water-repelling membrane within the layers of materials that they're made up of. Instead, they generally have some mesh paneling which makes them more lightweight and allows for more ventilation, breathability, and flexibility than a waterproof hiking boot. In non-waterproof hiking boots, water can seep in through the shoe, but water can also exit the shoe more easily, and they dry more quickly.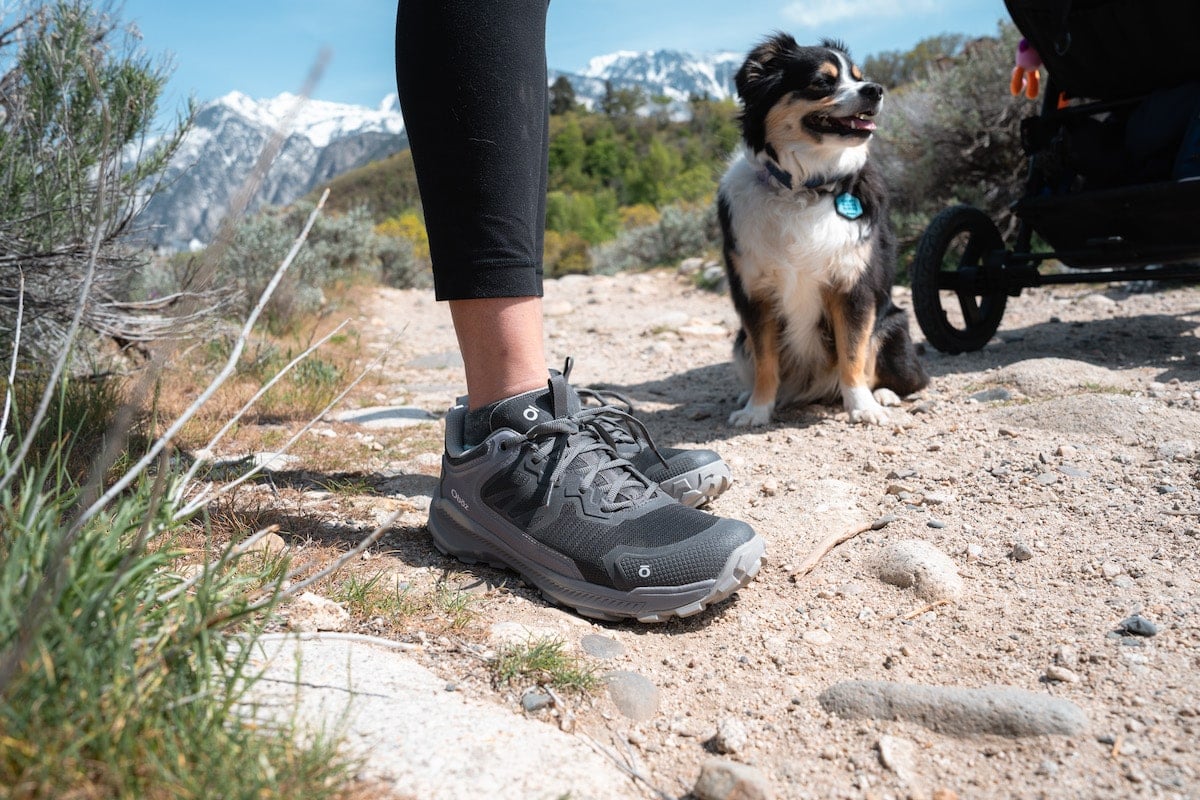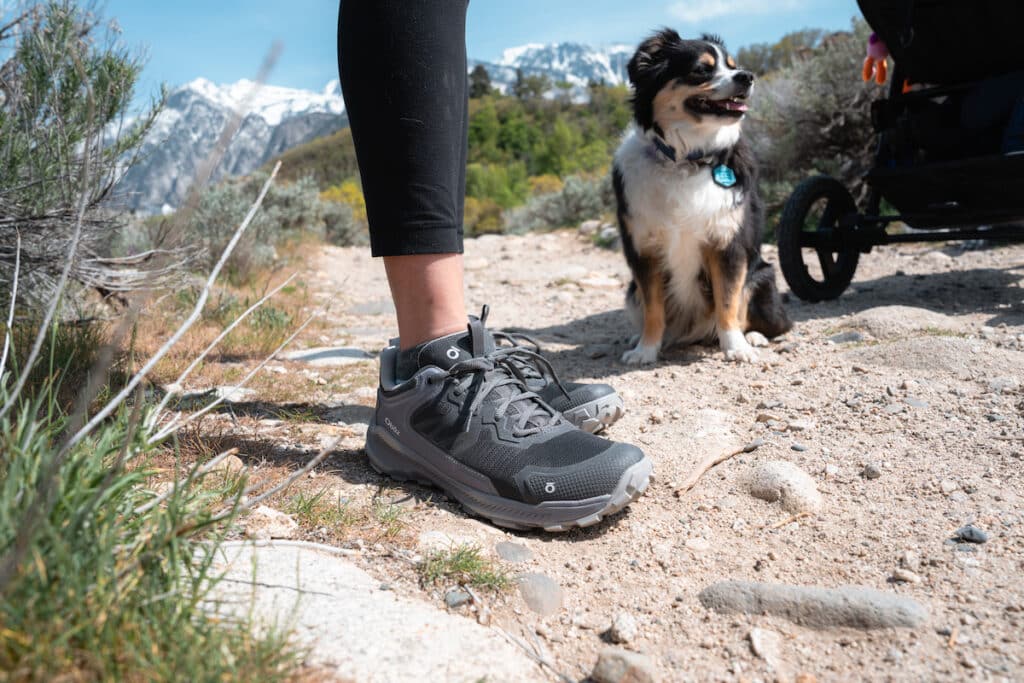 When Do You Need Waterproof Hiking Boots?
Waterproof hiking boots are best worn in climates that are mostly wet, rainy, cold, and sometimes, all three at once.
For example, when I was backpacking in Alaska where the temps were colder and there were multiple stream crossings, I chose a waterproof hiking boot to keep my feet as dry as possible. Similarly, if you often hike in rainy or wet areas, like the Pacific Northwest, a waterproof boot will keep water out and your feet warm and dry which is important for regulating your temperature but also for preventing blisters (blisters are much more prone to happen when your feet are wet). Waterproof hiking boots do well on muddy trails as well.
Waterproof hiking boots are great for walking across shallow streams and stepping in puddles without getting your boots or your feet wet, which can be nice instead of having to rock hop across. Just be sure you're not going any deeper than the top of your hiking boot – if water gets in over the top, your boots will stay wet and squishy for a long time since there's not really anywhere for the water to go. On that note, waterproof hiking boots generally are not a good fit for hikes where your feet will be submerged in water, like Paria Canyon or the Zion Narrows. In those situations, you'll want a lightweight, non-waterproof hiking shoe that will allow the water to seep back out and that will dry more quickly or a hiking sandal depending on the specific trail.
Some hikers and backpackers also choose a waterproof boot to keep out debris. Although non-waterproof hiking boots with mesh paneling dry out quickly, they can also let in dirt, tiny rocks, and other unwanted debris, whereas a mesh-free, waterproof hiking boot will not. While some hikers complain waterproof hiking boots trap more heat and cause their feet to sweat more, others don't. Personally, my feet do get slightly hotter in waterproof hiking boots, but it's a price I'm willing to pay to keep water and debris out.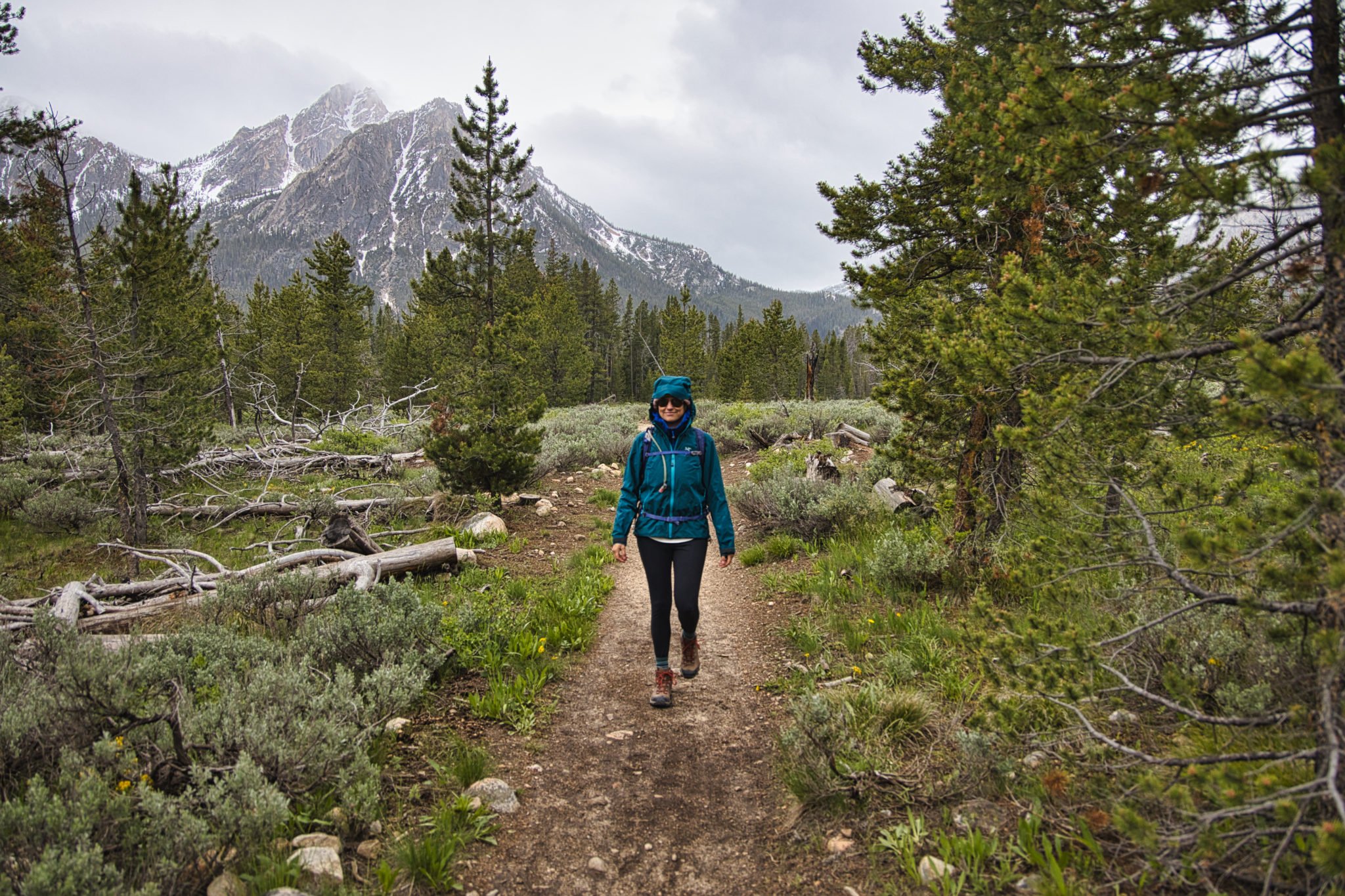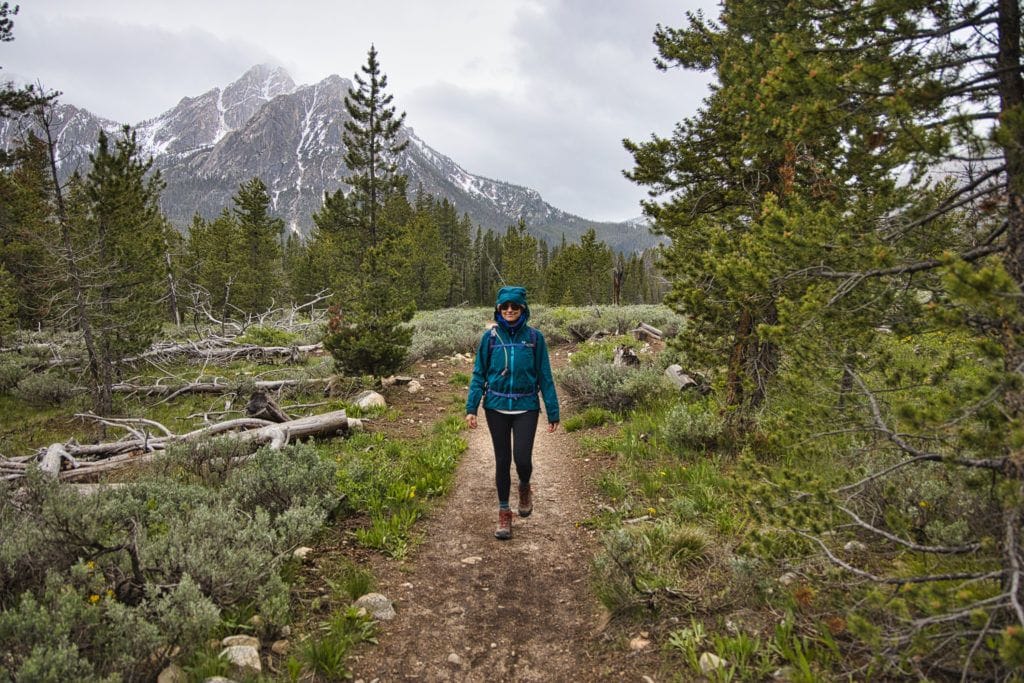 When Do You Need Non-Waterproof Hiking Boots?
The main reason for choosing non-waterproof hiking boots is primarily for breathability and temperature regulation, so they're great for warm weather. The mesh on non-waterproof hiking boots allows for more airflow which can help keep you cooler and prevent your socks and feet from getting too sweaty and holding onto moisture which can cause blisters.
You'll likely be most comfortable in breathable, non-waterproof hiking shoes when hiking in hot, desert climates with dry conditions. They can also be a great choice for hot tropical environments — even if there is some rain or stream-crossings, they'll still do you good by drying out quickly.
If you're in a warmer climate and going to be wading through deeper streams and know you'll be submerging your boots and getting them completely wet, a non-waterproof boot is the way to go since they will let the water back out and will dry more quickly.
If your feet tend to get hot and sweaty or you know you'll be hiking mainly in warm, dry conditions, you'll likely want to go with a breathable, non-waterproof hiking boot.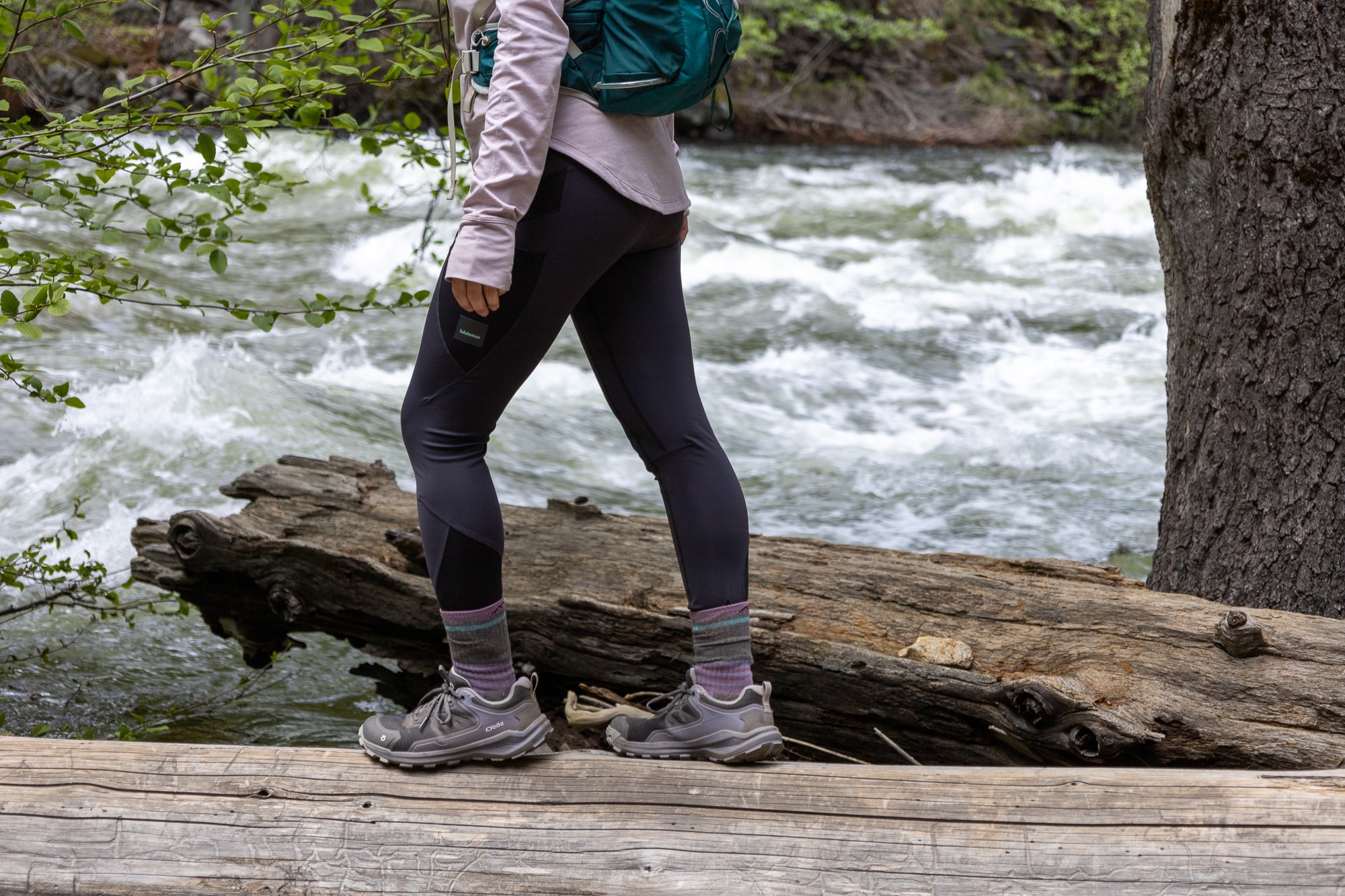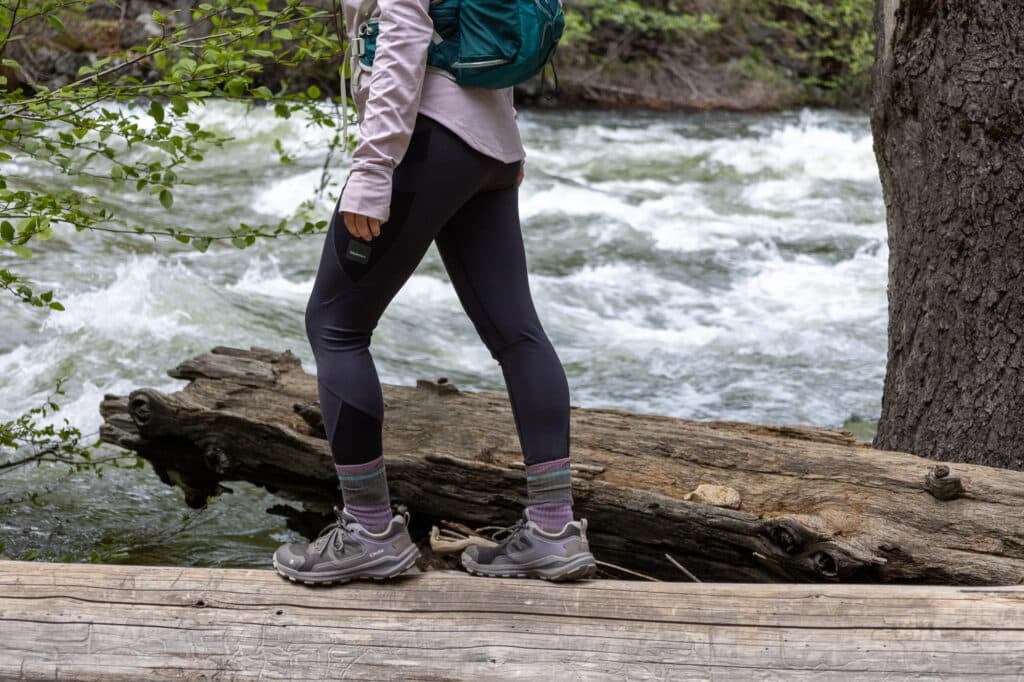 Choosing Waterproof vs Non-Waterproof Hiking Boots
To boil it down, temperature, weather, and location are the biggest deciding factors in choosing the right hiking boots. It also comes down to your body, personal preference, and how much you sweat. If you live in drier, desert climates (like Arizona) and rarely hike in the cold, wind, and rain, we recommend non-waterproof boots. If you live in the Pacific Northwest or Mountain West and hike there year-round, chances are you'll be much more comfortable wearing a pair of waterproof hiking boots.
In truth, you might end up wanting two pairs of hiking boots if you hike in both hot, dry climates as well as cold, wet climates:
A sturdy, waterproof pair for cold, wet times of the year, and
A lightweight, breathable hiking shoe or boot for shorter day hikes and the warm summer season.
When I travel in my van, I hike often so I do travel with 2-3 pairs of hiking shoes, including 1 waterproof and 1 lighter non-waterproof pair. This includes the lightweight non-waterproof Oboz Katabatic for walks and everyday wear in warm temps, the Oboz Sawtooth II BDry Lows for longer day hikes, and Oboz Bridger BDry waterproof hiking boots for colder temps, wet weather, and backpacking.
Linda, BFT's Director, wears the lightweight nonwaterproof Oboz Katabatic for hikes in Baja California where it's hot and dry, and she wears the waterproof Oboz Sypes when hiking and backpacking in the mountains in the U.S. where the weather can be more variable.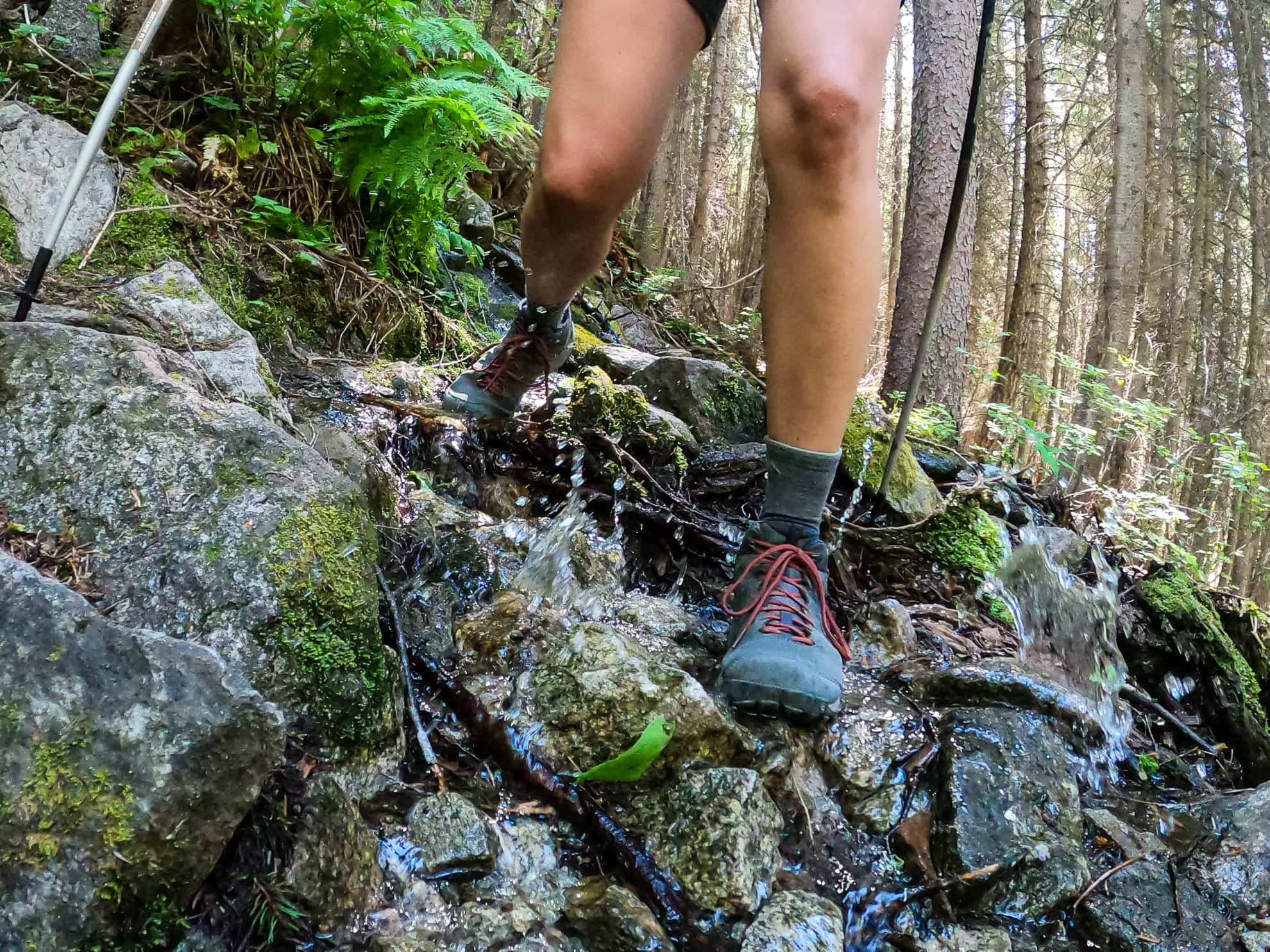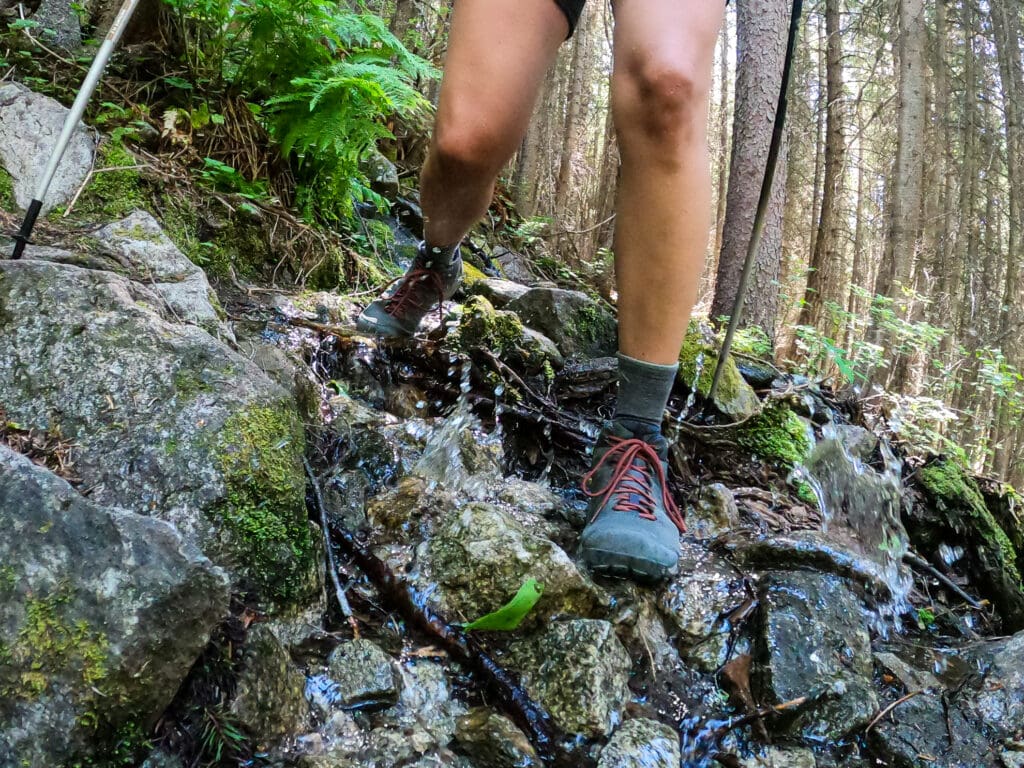 How to Keep Your Feet & Boots Dry While Hiking
If you opt for non-waterproof hiking boots you'll need to avoid stepping in puddles and streams to keep your shoes and feet dry. For stream crossings, you'll want to find your way across on rocks or fallen logs to avoid getting your shoes wet (a pair of trekking poles is helpful for balance in these situations). If there is no safe way across without getting wet, you'll have to decide whether to take your hiking boots off and wade across barefoot (I don't recommend that unless you can see the bottom and it's not too rocky) or keep them on and get them wet.
If your non-waterproof shoes do get wet during a hike or a backpacking trip, good hiking socks can help prevent blisters. I highly recommend Darn Tough hiking socks. I waded across a lot of deep streams in Alaska where my waterproof boots were completely submerged, and thanks to my Darn Tough socks, I was able to avoid painful blisters.
When you stop for lunch or make camp, take your shoes off along with your socks to let them air dry. Loosen the laces and open the shoes as much as possible to help them dry quickly and avoid funky smells from them being wet for too long. If you get your waterproof hiking boots wet from the inside (ie if water gets in through the top), you'll want to do the same to give them a chance to dry.
Whether you're unexpectedly splashing through streams or hiking in the rain, here are a few additional ways to keep both your feet and boots dry while hiking.
When wearing waterproof boots in wet conditions, use a pair of gaiters to seal off any openings at the leg of your pant, the cuff of your boot, and the top of your shoe to prevent moisture from getting in from the top.
Wear moisture-wicking socks that dry quickly, and bring a few extra pairs. Again, I love Darn Tough!
Take good care of your waterproof boots by giving them a quick brush, and wipe off the exterior with Nikwax Footwear cleaner after a hike. This will keep the waterproof sealant in good condition for longer.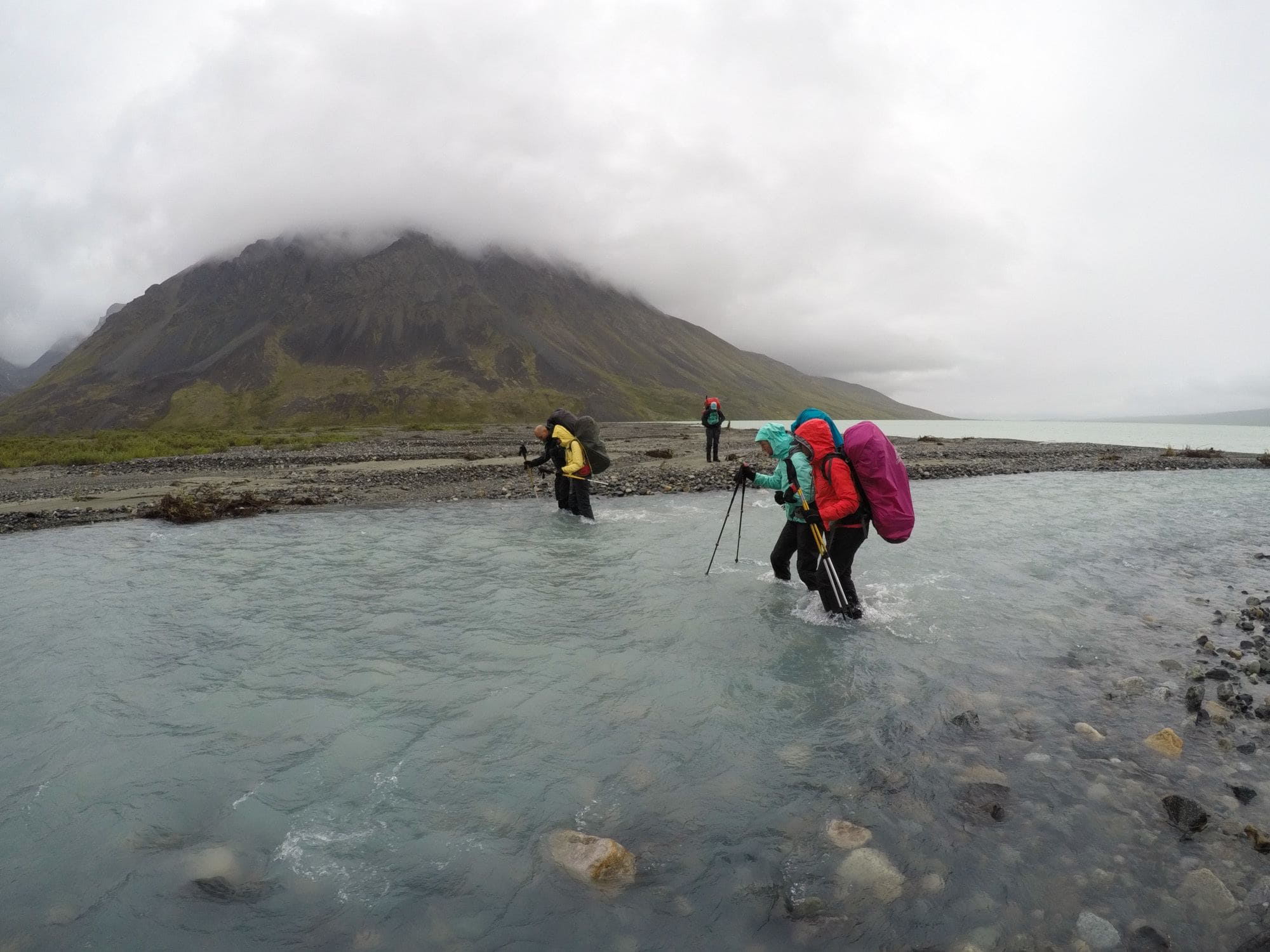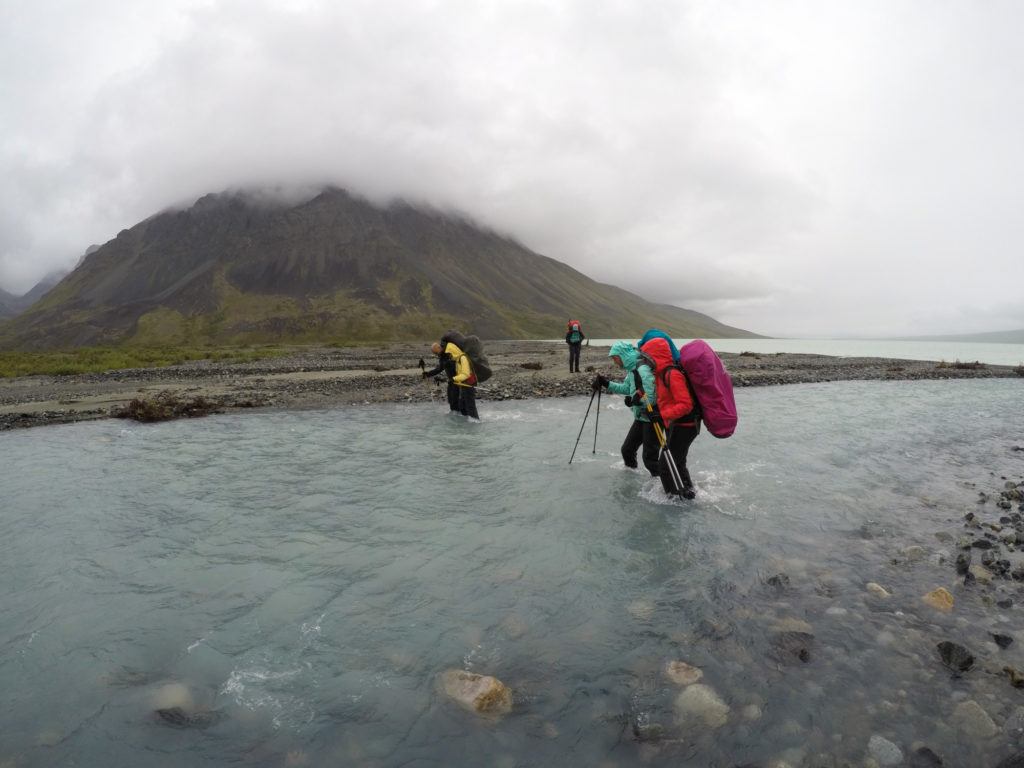 Best Waterproof Hiking Boots for Women
Below you'll find my personal favorite pairs of waterproof hiking boots and shoes. If you'd like additional suggestions, make sure to check out Oboz's Shoefinder which allows you to filter between waterproof and non-waterproof pairs.
I currently wear the Oboz Bridger Mid BDry hiking boots for hearty hikes and backpacking trips with variable weather. For day hikes and everyday wear, I love the Oboz Sypes Mid and Sawtooth Low hiking boots.
Best Non-Waterproof Hiking Boots for Women
Here are my favorite non-waterproof hiking boots and shoes. The Oboz Katabatic has become my go-to for warm climates – I wear them on day hikes in the desert, on walks around the neighborhood, and as everyday shoes when I'm traveling in my van in warm weather. The Oboz Bridger Vent and Sawtooth Mid hiking boots are great options for warm weather backpacking trips and hiking in general when you want more ankle support.