Havasu Falls Do's and Don'ts: Tips for a Successful Hike
There is no question about it, next time I visit Havasu Falls I am going for a full week. It is an absolutely magical destination and incredible spot to set up camp for a full week of exploring. With that being said you want to make sure you are prepared for the hike to the falls. Here's a full list of do's and don'ts to complement our other Havasu Falls posts.
DON'T show up without a permit
We were checked by rangers three times on our hike down, and there were signs warning against hiking without a permit. If you do show up without a camping reservation, expect to pay double (if they even let you stay), and don't think you'll just be able to sneak in. Want to know the details of the permit process? Check out our detailed Havasu Falls Camping Guide.
DON'T overpack
The hike out, especially when it's hot out, is a bit of a doozy, and the lighter your pack, the more you'll be able to enjoy it. Horses are $120 and can carry up to 4 bags. If you choose to use a horse, be aware that there have been a lot of reports of horses being malnourished and overworked. Alternatively, a helicopter is $85 a person, but locals have first dibs so you could be waiting for several hours before you can catch a ride. Reservations can be made for either at the camping office in town.
DON'T camp where you aren't supposed to
I've seen some Instagram posts recently of people camping and tents just to the lookers right of Mooney Falls on the edge (where I'm sitting in the picture below). There is a picnic table there, but it is for day-use only so people can eat lunch and hang out and enjoy the view. This is not a camping spot. You are only allowed to camp from the campground entrance to campground's final bathroom. Anywhere in between those spots is free game.
DO be nice to the locals
The Havasupai people don't have to let us visit these falls. Recognize that we are visitors, be respectful of the rules and their land, and be friendly, just as they are to us.
DO pack out your trash
There are signs everywhere that ask you to pack out your trash. Don't be lazy and leave your food or any other trash at the campsites or in the restrooms. Animals can easily get into the trash and spread it all over the campground, littering this beautiful place with your Mountain House leftovers.
DON'T leave your punctured float toys at the bottom of the falls
When we were there, there were at least 5 damaged float toys sitting at the base of Mooney Falls. Please don't leave this place looking like an wild and abandoned spring break destination.
DO bring water shoes
If you plan on swimming at all or hiking down to Beaver Falls which requires several stream crossings, you'll want a pair of shoes that you can get wet. For a full gear list, stay tuned for my Havasu Falls packing guide.
DO go swimming
If the weather allows, don't miss out on swimming in the best swimming holes on the planet. You'll regret once you leave.
DON'T leave food out at camp
The squirrels are incredibly smart at Havasu Falls.  You'll want to bring some paracord and a bag to tie your food up high off the ground from a tree, not too close to the tree trunk. We saw squirrels jumping over a foot or two off of the ground onto people's bags and ate right through their backpacks to get to the food inside. Even better, if you have a bear canister, bring that as the most fool-proof way to keep those buggers out of your food.
 DO check the weather
We visited in Havasu Falls and on the second day of our trip, it rained the entire day. Luckily we checked the weather beforehand and came with the appropriate gear, including a tarp that we rigged up over our picnic table. Without, it could have been a very miserable day.
DO bring a camera, but leave the drone at home
Havasu Falls is an photo paradise. It's literally impossible to take a bad photo and it's a great place to practice if you want to improve your camera skills. There are also plenty of places to stash your camera so it doesn't get wet, or you can store it in a small dry sack to be safe.
As far as drones….drone are not allowed on the Havasupai reservation. I packed my drone down there unknowingly and didn't see the sign until we arrived at the campground. So it stayed in my pack. I'll say it does make sense. There's a ton of people, and drones are loud and disturb the peace. And if one person gets some sick drone footage, all of a sudden, everyone is going to be down there with one. So do as they say and leave the drone at home.
 DON'T attempt to day hike
Havasu Falls is 10 miles from the trailhead. I've had many people ask if they can day hike if they are unable to secure an overnight permit. First, there are signs everywhere saying no day hiking is allowed. Further, it seems way too far to try to tackle the roundtrip hike and still have time to actually enjoy the falls. Take a rain check, keep trying a for a permit and visit when you have more time.
DON'T drive to the trailhead at night, if possible
We saw dozens of huge elk off the side of the road, and some even in the middle of the road. We had to be on full alert the entire 60 miles in order to avoid hitting something.
DO bring a hammock
There are tons of trees and riverside swinging spots that are perfect for an afternoon hammock nap.
DO be a good neighbor
The campground is busy, and you'll likely be within eye and ear sight of your neighbors. So don't be a jerk and yell all night at your campsite, like our neighbors were.
DON'T bring alcohol
Alcohol is not allowed for anyone, locals or visitors, on the Havasupai reservation. When we were there our neighbors not only disobeyed the rules, but were yelling "drink, drink, drink" which was subsequently heard by every single camper in the canyon. Be respectful of the law and the people.
DO hike to Beaver Falls
Once you get down to Mooney Falls, the trail is mostly flat and just gets prettier the further down you go. There's gorgeous secluded swimming holes around every corner and worth the effort it takes to get there.
DON'T be afraid if you've never been camping
Havasu Falls is a great introduction to backpacking. There are clean bathrooms, safe drinking water, and beautiful photos ops everywhere. If you run out of food you can always head up to the village and purchase stuff at the grocery store. Basically, having the village there provides a small safety net.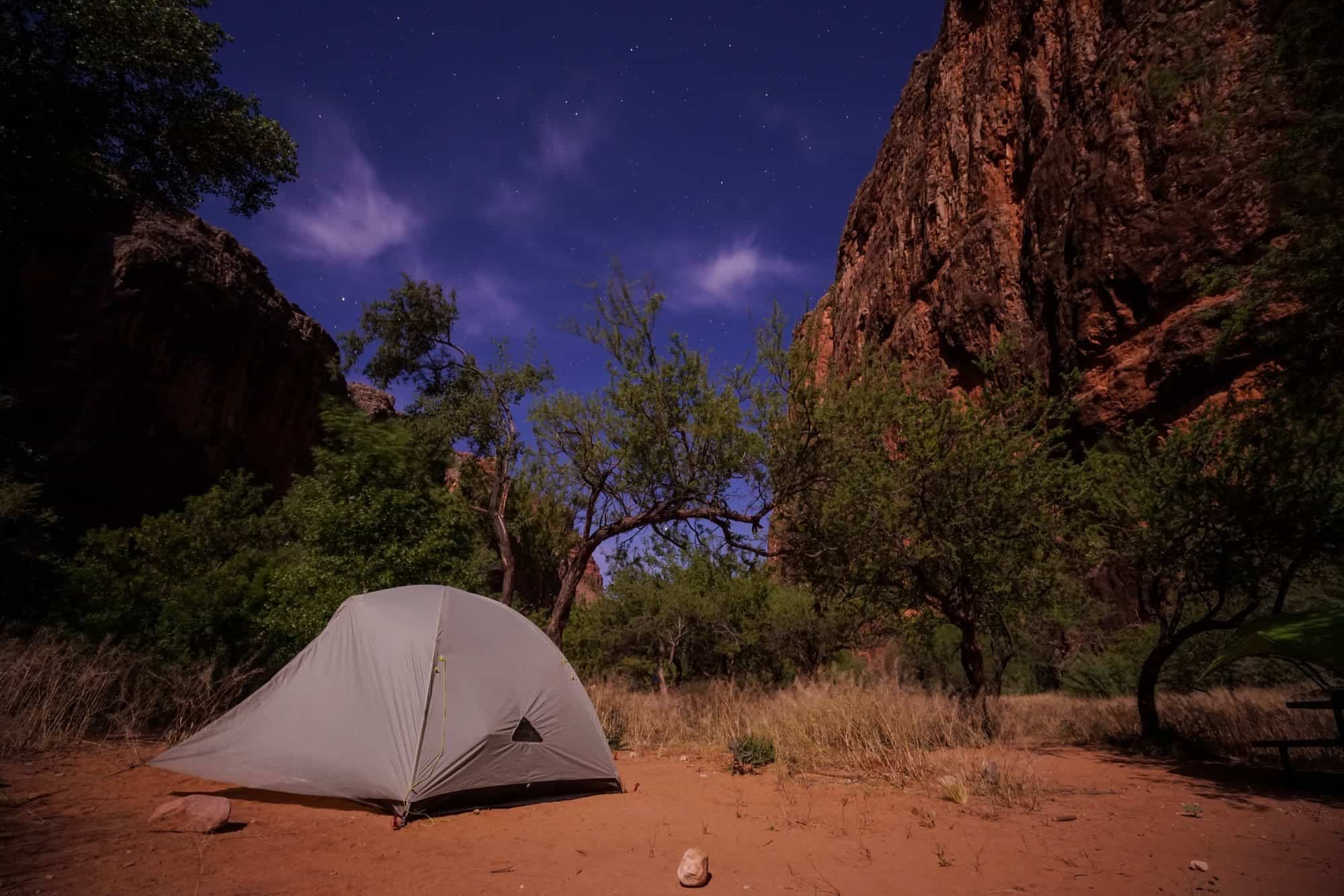 DON'T hike out in the heat of the day
The climb out is entirely west-facing with very little shade. Either get up and leave early in the morning, or stay and enjoy the falls and hike out in the early evening with your headlamps ready.
What are your Havasu Falls Do's and Don'ts? Share your thoughts in the comments below!
There are 35 comments on this post.