HOW TO PREVENT & TREAT HIKING BLISTERS
For hikers and backpackers having happy feet means happy trails. There's nothing worse than painful hiking blisters that get worse with each step and seriously keep you from enjoying your time in the outdoors. The good news is that these annoying injuries can be remedied, but you're even better off learning how to prevent hiking blisters in the first place.
In this post, we'll walk you through how to prevent blisters before you head out on the trail and share a few tips for how to deal with blisters while you're out there.
With these footcare tips, you'll be able to prevent and treat blisters while you are are hiking.
How do you get hiking blisters?
A blister is formed from damaged skin that is a result of rubbing and friction or is sometimes caused by heat, cold or in rare conditions exposure to harmful chemicals.
When you are hiking or backpacking, the most common way to get a blister is from your sock or shoe rubbing up against the skin of your feet for an extended period. The shoe may either be too loose or too tight, and it's likely that sweaty or wet feet are the main cause of getting blisters on a hike. Whatever the reason, one thing is for sure, these suckers hurt.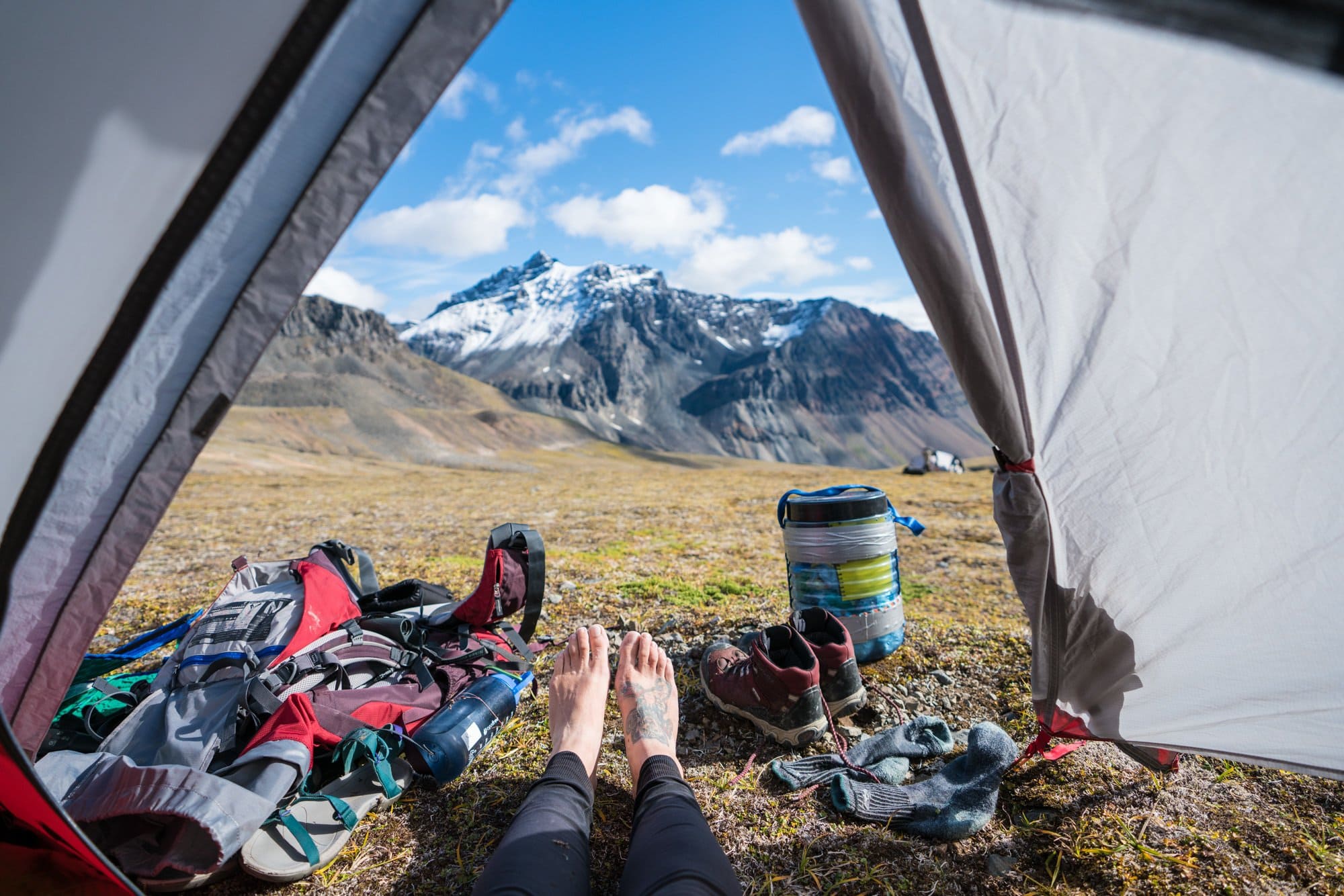 Hiking Blister Prevention 101
To keep those feet happy and blister-free on the trail, there are 5 basic foot care tips and tricks to always keep in mind before, during and after a hike.
1. Wear shoes or boots that fit right. 
Invest the time and effort needed for finding shoes that fit correctly. Your toes should have just enough wiggle room while the heel is secure and fits snug, so it won't lift up as you walk. If your boots are too big and you can't get ones that fit better, try insoles such as Superfeet for extra cushion as you hike.
2. Purchase Good Socks
As you hike, feet are likely to get sweaty and rub against the shoe. Invest in a good pair of merino wool socks, (Darn Tough is our favorite sock brand), to allow your foot breathe and stay dry but warm at the same time. Slipping and bunching in your socks are no good either, but whether or not you prefer thick or thin socks is up to you.
3. Break in your Boots Before You Head Out
This is key to blister prevention. Super stiff boots will rub and quickly cause blisters and foot pain, so take a few walks and short hikes in them to soften the material before you hit the trail.
4. Keep your Feet Dry
In most cases, wet feet come from a normal and healthy amount of perspiration while hiking, so socks with good breathability can certainly help, or you can try foot powder to absorb moisture. If you trek through water or it rains, bring an extra pair of socks to change into.
Drying out your boots or shoes by a campfire at night can help, and  if you have them, stuffing towels or paper inside overnight will absorb moisture. Since feet tend to swell and get sweaty on hikes, it's helpful to take off your shoes during a break and allow your feet to breathe. Another great tip from our former community manager, Kim, is changing your socks 1-2 times per day on a multi-day hike and attaching the damp pair to the outside of your bag to ensure you always have a fresh pair!
5. Give Your Toes Some Extra TLC
Giving your feet a little extra attention never hurts! Trim your toenails, give yourself a foot massage and keep your boots free of rocks and debris from the trail. Off trail, soak your feet in warm water and Epsom salts to speed up the healing process. Or take a dip the creek (& make sure to let your feet thoroughly dry after) to relax and soothe tired toes. The better you take care of your feet, socks and boots, the better time you'll have outdoors.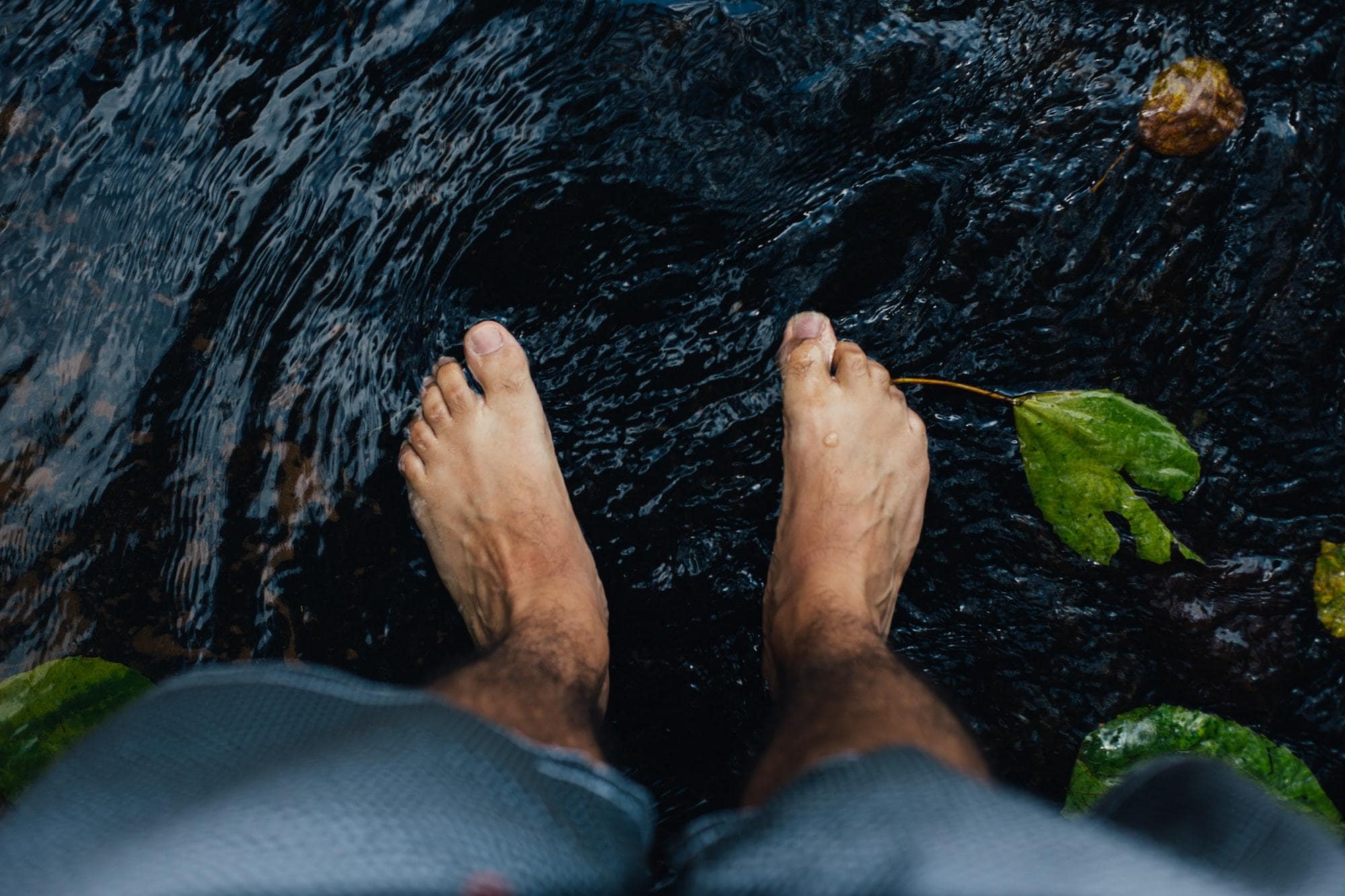 Be Prepared With A Blister First Aid Kit
For when you start to feel a hot spot or are dealing with a full-blown blister, a blister kit will help you treat it on the go — besides, it's always a good idea to be prepared. Make your own hiking blister-care kit that you can stash in your first aid kit and treat any hot spots as soon as you feel them forming.
Extra alcohol wipes
Tweezers
A small pair of scissors
Antibiotic ointment like Neosporin
Spenco Blister Pads  or moleskin
Pieces of pre-cut adhesive tape, Leukotape, or even duct tape in a jam will work
Waterproof bandages can provide added protection on top of your pad & tape
What are Hotspots? And how to treat one!
A hotspot is the precursor of a blister and a warning sign that things are probably about to get worse. Many of us have felt that that twinge of discomfort, heat, and irritation out on the trail and often keep pushing on. However, ignoring the hotspot and pushing through is the fastest way to get a painful blister, so it's better to stop and address it right away.
Easily treat a hotspot with a piece of moleskin, duct tape, sports tape or cloth tape to create a protective and durable layer of "skin" in between the foot and your shoe.
Learn how to protect your knees while hiking
How to Treat a Blister on the Trail
As we mentioned above, using ointment and a waterproof bandage will keep your foot safe in a pinch. In the case that the blister is too big and will pop as you walk, get the job done right and use a sterilized safety pin with an alcohol wipe from your kit and use that to pop the blister without risk of infection. Wipe the area with another alcohol wipe and apply ointment. Cover the area with a large bandage, sports tape or duct tape and if you have moleskin and scissors, cut a doughnut shape out of the moleskin to place around the blister to create space between the foot and shoe.
Remove the bandages and uncover the area at night to let the blister breathe while you sleep. Remember, the best way to deal with a blister is not to get a blister, so early detection of hotspots is key.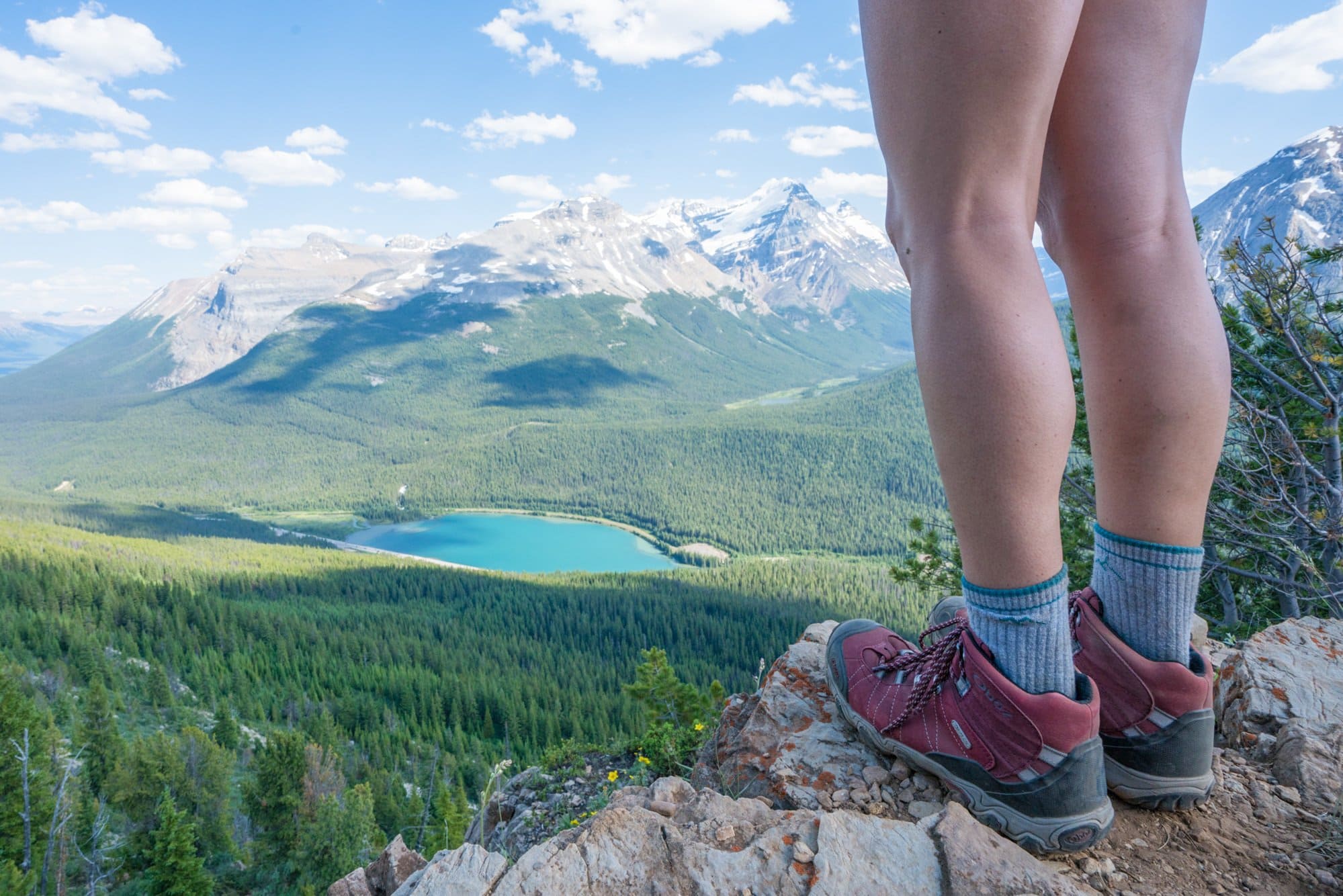 Should you really pop your blisters?
The short answer is no. You should not pop your blister. The irritated and damaged skin causes a cushion of fluid to fill the area to protect the more delicate skin beneath it, so popping your blister will expose the layer of raw and red thin skin underneath (ouch). Not popping your hiking blister is the best way to prevent an even worse injury or infection.
However, sometimes the blister is simply too big or will even pop on its own – particularly if you're on a multi-day backpacking trip. In that case, make sure the skin is still clean and do not peel the skin of the blister off the foot. Apply an ointment from your first aid kit, like Neosporin, then cover it with a bandage. Many hikers like to use a piece of duct tape over the bandage to keep it from rubbing off — or our team's favorites, Leukotape or Spenco — so if that's comfortable for you, go for it!
Got any tried and true methods for how to prevent blisters? We want to know all about 'em! Leave your best blister tips in the comments below.