Finding Health & Happiness through the Outdoors
Ok. I'm getting personal…Here I share some parts of my past I'm not proud of and how the outdoors has transformed me into the happy & healthy person I am today.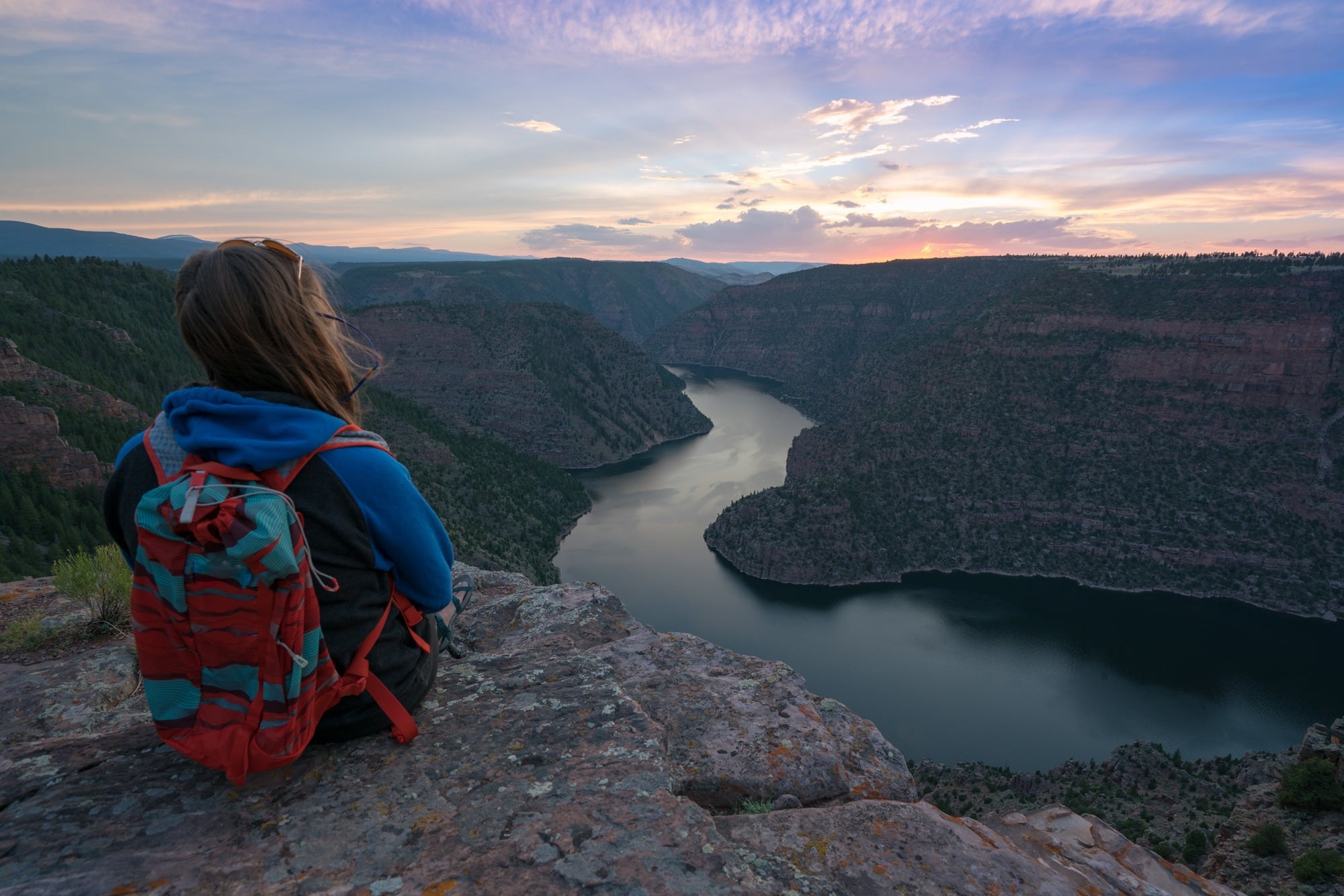 FINDING HEALTH & HAPPINESS THROUGH THE OUTDOORS
Hi! I'm Kristen. You might know me already. I'm the girl behind Bearfoot Theory. I started this website in 2014 at age 30 to show people that it's never too late to get your start in the outdoors. As I was re-designing my website earlier this year, I realized that I haven't shared too much about my own journey with the outdoors. In this post, I'm going to get a little personal. I'll share some parts of my past that I'm not that proud of and how the outdoors continues to transform me into the happy and healthy person I am today.
My first backpacking trip….or not
I grew up in Idaho, but my parents weren't the outdoorsy types. I only went on one camping trip in my entire childhood, and hiking, biking, climbing, skiing….they weren't my thing. Not because I wasn't interested in them, but because my exposure to them was limited.
Fast forward to my freshman year of college at the University of Puget Sound. It was orientation, and we had the option of going on a 2-night backpacking trip, so I nervously signed up. But then the time came to go pick up my equipment, and I felt so ill-prepared and scared that I decided to hang back at the basecamp where I ended up playing lame icebreaker games all weekend.
Wimping out that day is still one of my biggest regrets of college.
I think about all of the doors going on that backpacking trip could have opened for me, the outdoor skills I could have learned, and the new passion I could have discovered.
The college years
I was a nerd in college. I majored in chemistry, so you could usually find me in the library jacked up on coffee until 2am every night when they kicked me out. I did well in school, and between studying and my social life, I didn't have much time to exercise or explore the outdoors. Plus I was in Washington, and it rained all of the time. Who wants to go outside in the rain? Those were the excuses I made as I drank beer on the weekends and slowly packed on the pounds.
At the same time, I remember feeling self-conscious about my body and being out of shape. One memory that sticks out is a time I was down at a cool spot in Tacoma called Salmon Beach. To get down to the shoreline, you have to walk down about 10 flights of stairs. On the way back up I was huffing and puffing and had to keep stopping for air, while my outdoorsy friends zoomed past me and were waiting for me at the top.
I felt ashamed that I was so out of shape. I knew what I needed to do, but I lacked the confidence and motivation to take that first step. I was also afraid to ask those around me to show me the ropes in fear that I'd be holding them up.
My graduation present
Camping gear. That's what I wanted for graduation. I went to a local gear shop and got myself a shiny new tent, sleeping bag, and backpack, along with a hiking book for Washington trails. Then it sat in my closet for a few months. I was working at a local bar consuming my fair share of IPAs and cheeseburgers, and I was at my heaviest weight ever. I felt depressed for the first time in my life and getting healthy seemed impossible. I considered going to therapy and even told my roommate one night, standing outside the bar, that I thought I needed anti-depressants.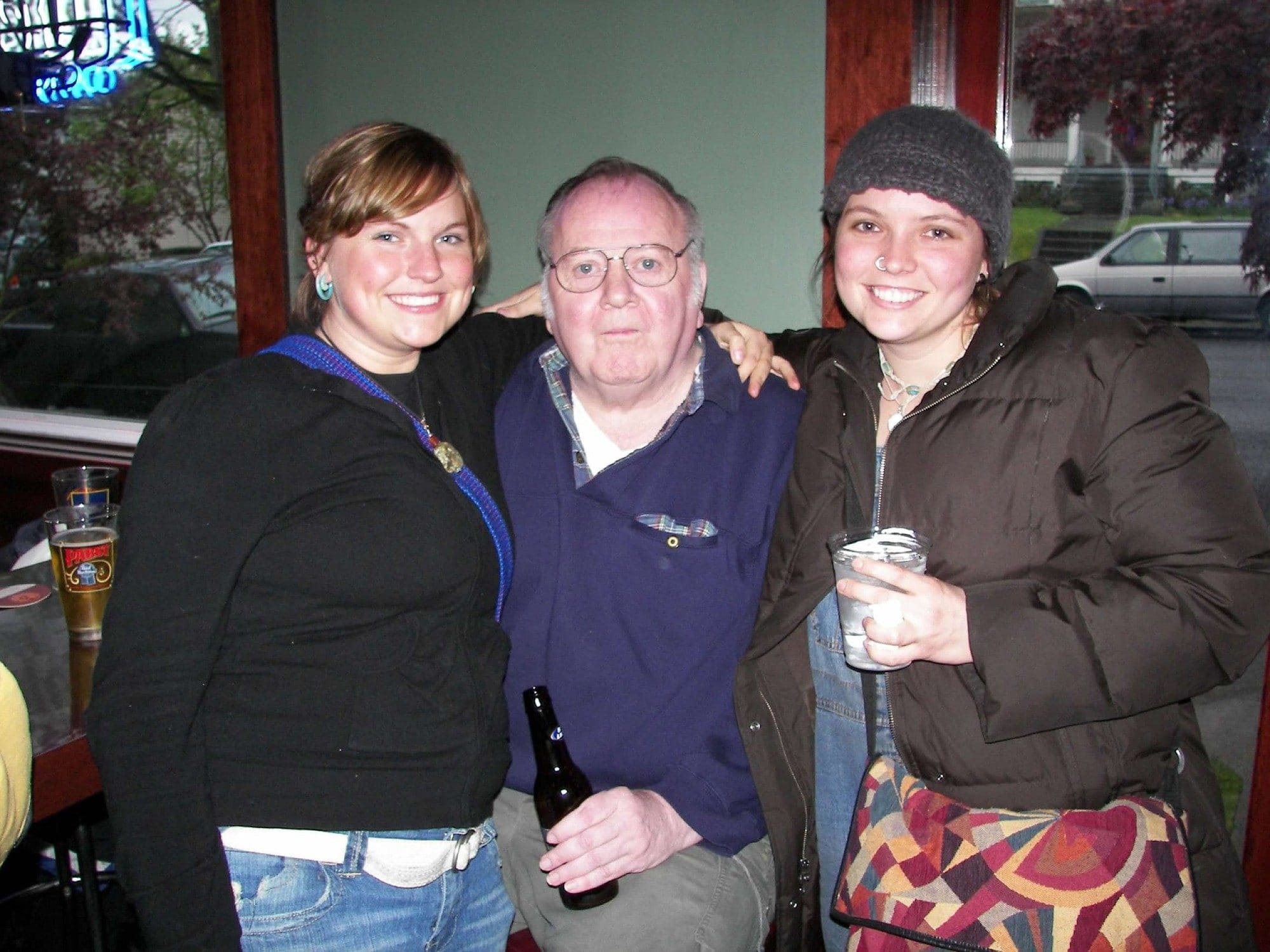 Then one day, one of my chemistry friends came into the bar for a drink. We talked about going backpacking, and I thought, this is my chance to see what it's all about. I didn't tell him I'd never been before, I just said yes. He said he'd pack the food, while I'd bring that brand new tent. Done. A few days later we were on our way to Mount Rainier.
Ok, so now my first backpacking trip….
We got to the trailhead. First thing I realized, I forgot my hiking boots. I guess I'd be hiking in Chacos. I still remember the excruciating blisters I came home with.
The trail immediately went uphill. I think it was only like 1000 feet of gain for the entire trip, but I barely made it to the top. I also remember how thirsty I was and how difficult it was to breathe. I was gasping, dripping sweat, and literally felt like I was going to die. And there were those blisters.
Then we got to a fork in the road and went the wrong way. We didn't realize it until the next day that we were lost and things weren't lining up with the map. Whoops.
And I was starving. My friend clearly underestimated my appetite.
But with all those mishaps, there was our gorgeous lakeside campsite, mountain views, the fresh air, the silence. We didn't see anyone else out there, and for the first time in my life, I felt connected to nature. I thought, maybe this was my ticket to getting healthy and having more self-confidence.
Shortly after that backpacking trip, I quit my job at the bar, moved to Hawaii for a summer, and got a job on a snorkeling boat. There was a steep trail near my house that led to a cool snorkeling cove that I started hiking regularly. Then I went on my second backpacking trip in Waimanu Valley with my friend who I was living with. It was hard. Hard as hell. But I did it. And that waterfall behind me in this picture? I swam in it. It was one of the most amazing dips I've ever taken.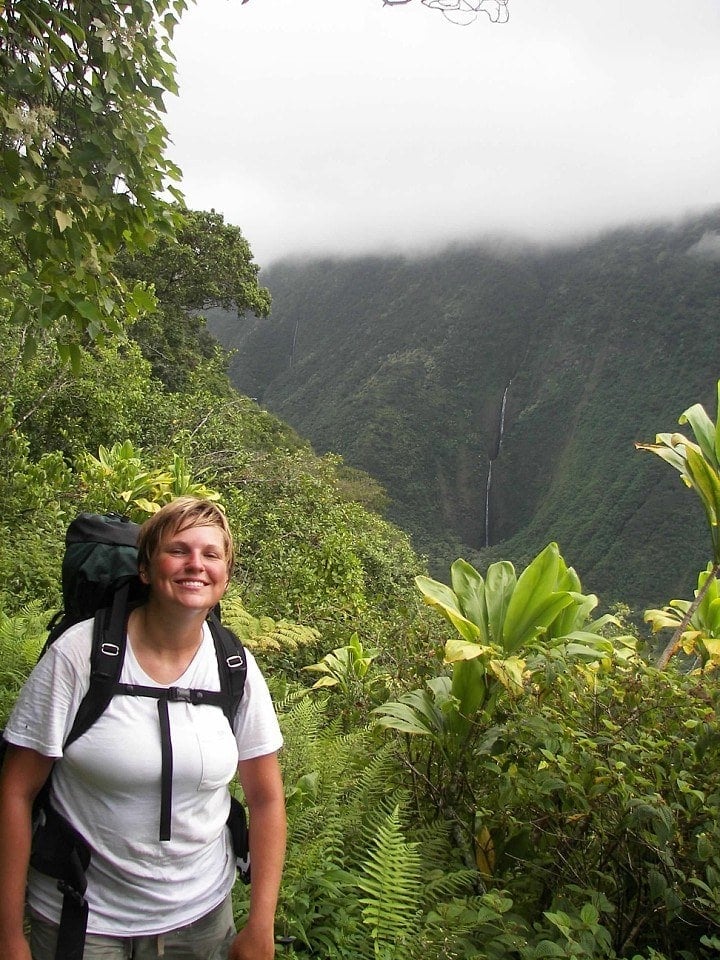 A happier, healthier life through the outdoors
It's a mighty statement, but I believe that first backpacking trip changed the course of my life. Without the outdoors, I'm not sure how I would've gotten motivated to start taking better care of myself. I learned the healthier I was, the more enjoyable hiking and other outdoor activities would be. And the more I pushed myself outside, the healthier and stronger I would become, which in turn has made me happier. It's full circle like that in the outdoors.
My best moments in life have been on my outdoor adventures, and I can't believe how far I've come. Whether it's standing on a summit, hanging around the campfire with friends, or hiking with my man and our dog, those are the times I live for.
Like watching the sunrise on the top of Mount Whitney, the tallest mountain in the lower 48, after 22 days of backpacking on the John Muir Trail…
Or arriving at Everest Basecamp (17,600 feet) after 11 days of trekking in Nepal…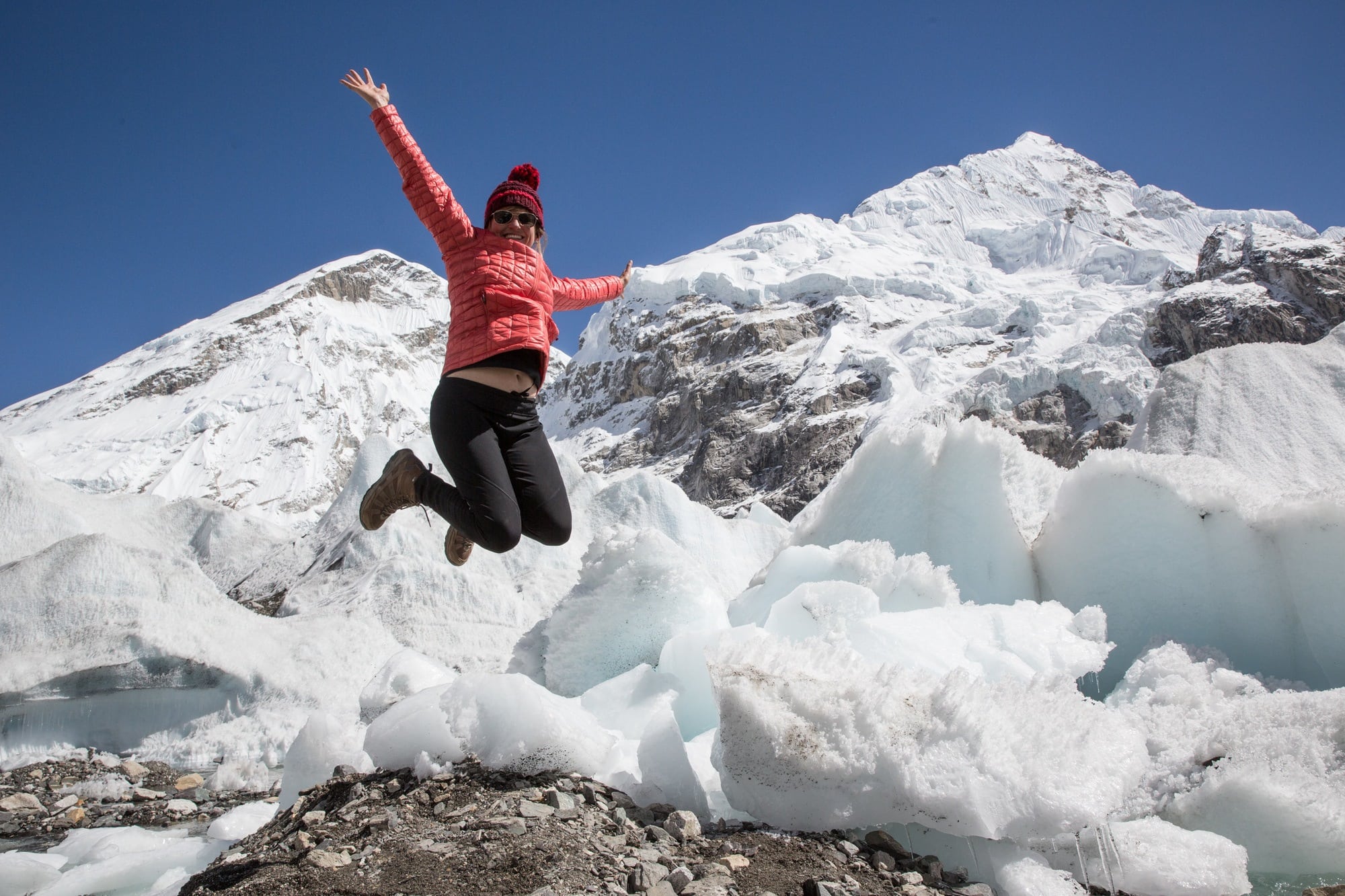 Or learning how to ski at age 32…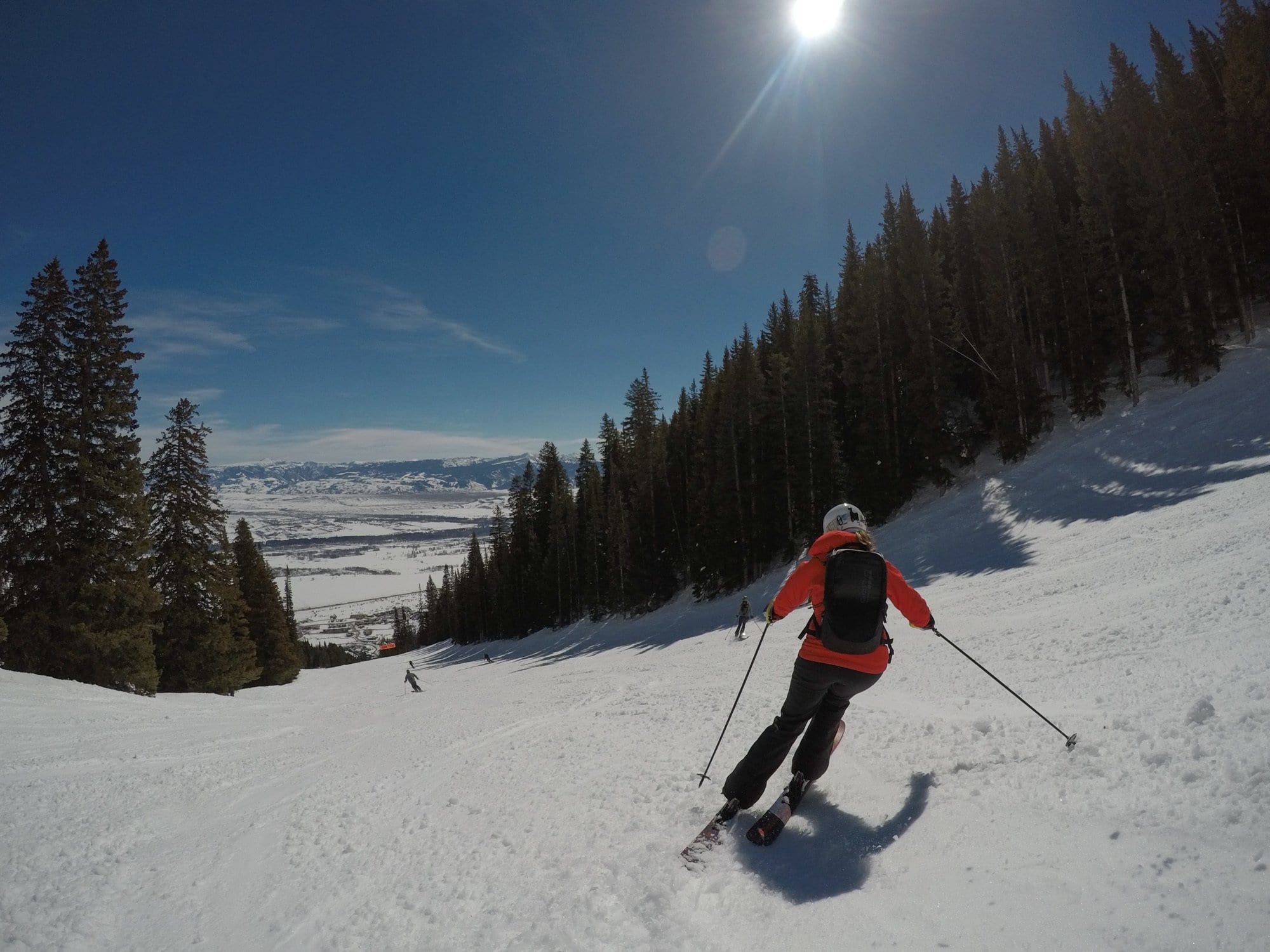 Or riding my bike 100 miles in Canyonlands National Park…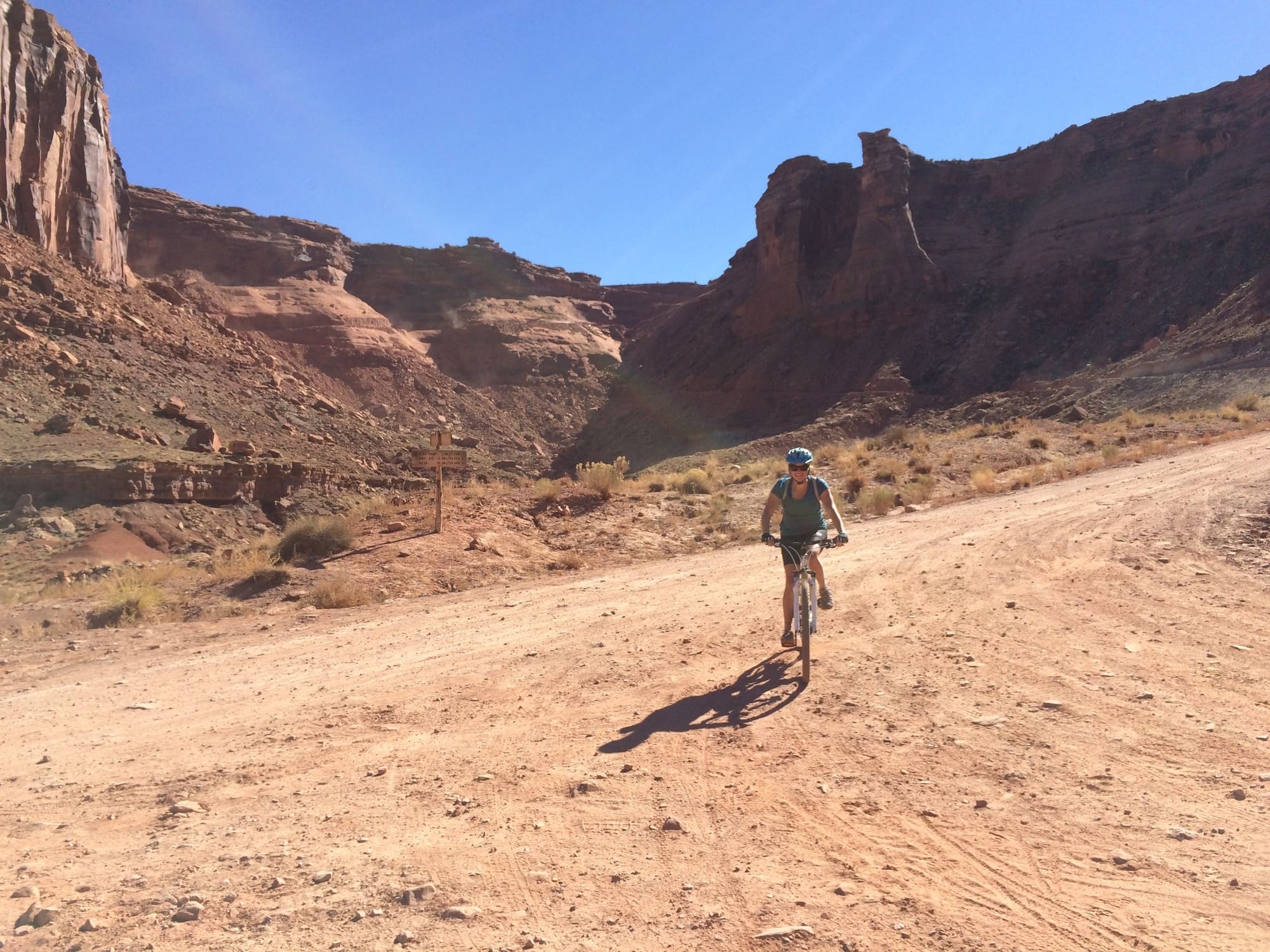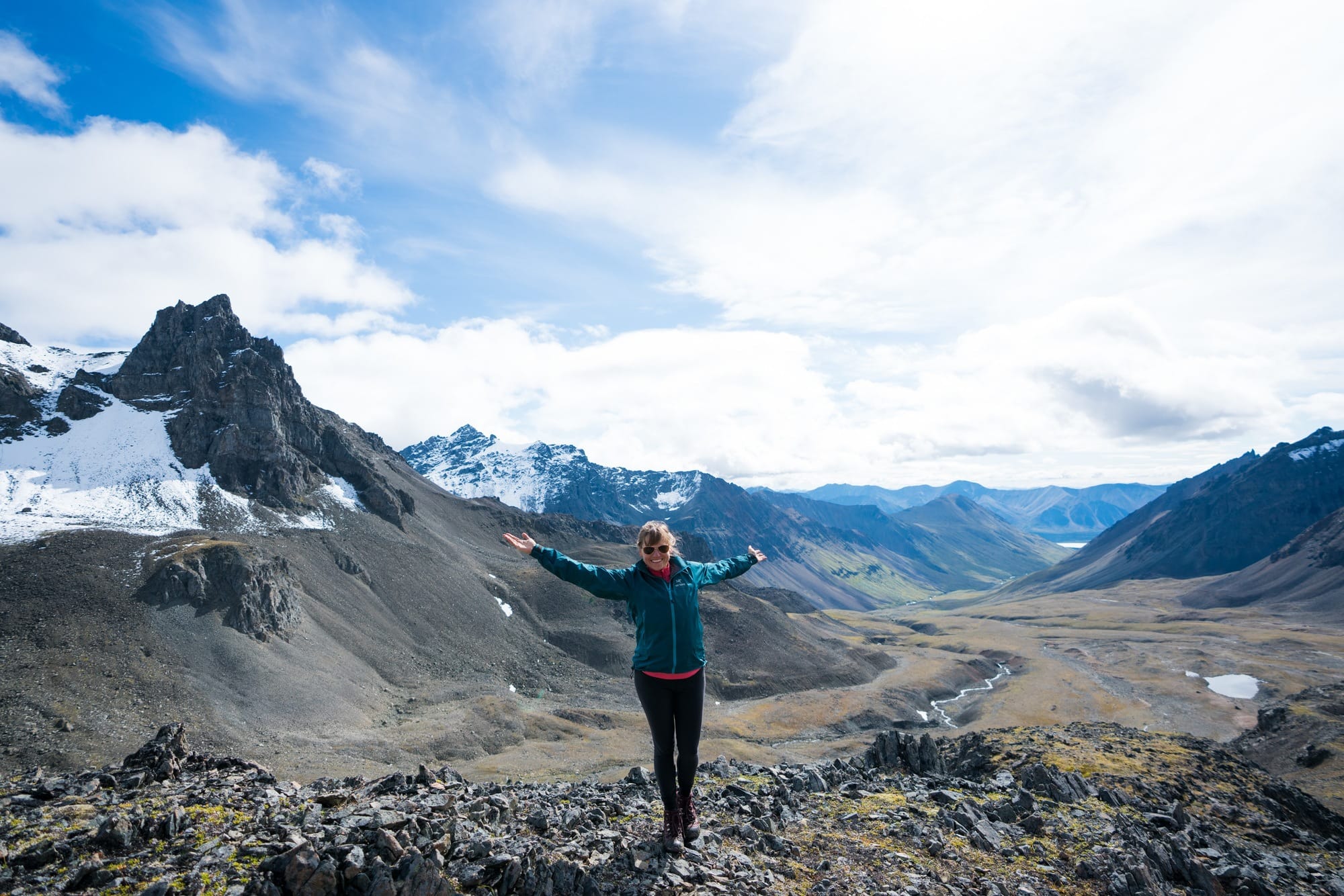 Thirty years from now, you're never going to remember that fancy meal, or that night at the bar, or that one episode of Game of Thrones. Those events will be long gone from your memory. What you'll take with you is the collection of epic things you've done and that physical body of yours – one that hopefully you've taken care of. The stories you'll tell will be the adventures that made you feel truly alive.
I hope this blog post shows you that those outdoor activities you've been afraid of or those you've told yourself you aren't in good enough shape for, you can do them. You just have to try. Your mind is the biggest obstacle. You don't have to give up the occasional night at the bar or fried food. You just have to stop making excuses so you can start reaping the rewards of getting outside.
Grow your Outdoor Skills
Start with the Outdoor 101 section on my blog. You can find everything from Hiking 101, how to plan a backpacking trip, essential Leave No Trace tips, my favorite easy backpacking food, and a lot more. Or check out some of the most popular Outdoor 101 posts below:
I'd love to hear about your journey in the outdoors! Leave a comment below and share your story.