This post was originally written by Taryn Eyton of Happiest Outdoors and was overhauled by the BFT team.
While you may not be chomping at the bit to go hiking in the rain, knowing how to stay dry and comfortable in bad weather is an important trail skill. You never know when you might get caught in a storm, and if you live in a rainy climate, like the Pacific Northwest, having the confidence to hike in the rain can prevent serious cabin fever in the wet season. Plus, I'm going to dare to say that with that the right mindset and hiking gear, hiking in the rain can actually be fun.

In this blog post, we share 5 tips for hiking in the rain that will help you embrace your outdoor experience, no matter the weather. You'll be pleasantly surprised that with the right rain gear, a positive attitude, and helpful information, you can get outside and have fun on the wettest of days.
Get ready to hike in the rain with these tips (and gear) that will help you stay dry and comfortable in wet weather.
Choose the Right Trail
Choosing where to go hiking in the rain is the first step in having a successful hike. On rainy days, you won't be able to see expansive views, so a summit hike isn't your best bet. Instead, explore a trail through the forest, alongside a river, to a waterfall or a lake. These trails are great on wet days because they usually don't feature big viewpoints, so you won't feel like you are missing out.
Consider what you're hoping to get from the day to narrow down your options. For example, are you looking for exercise or relaxation? Are you going alone or with friends? What you're looking for will help determine where you should go. If you're seeking exercise and it's super wet outside, it's smart to hit a trail that isn't steep so you can work out without much risk for slipping. If you're hoping to relax, I suggest choosing a trail that meanders through a forest so you can enjoy the relaxing rain sounds.
Whatever you choose, pick a shorter trail that can be completed within a few hours or half-day. That way, if the weather turns south you're not too far from the trailhead. On that note, it's good practice to read up on the specific trail before heading out.This is important because if the views are skewed, you want to make sure you have your bearings, so you don't get lost. If it's super steep, or there are creeks to ford, or if it's prone to flooding, it's probably best to save it for a dry day. The same goes for thunderstorms.
For an added safety measure, consider carrying a satellite communicator like the Garmin inReach Mini 2-way Satellite Communicator. This tiny handheld device has 2-way texting, SOS, and tracking capabilities. If you plan to hike in an area with spotty cell service, this could be a life-saving piece of equipment in an emergency.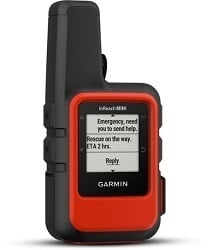 Check Price: REI
What to Wear Hiking in the Rain
You may have heard the saying, "There's no such thing as bad weather, just bad gear." While there is some truth to this, there's also not-good weather. But, we'll focus on the gear because that's the thing we have control over. Good hiking rain gear requires a balance between keeping you dry and warm but cool enough so that you're not getting sweaty. So, that means wearing a waterproof, breathable rain jacket and some lightweight waterproof hiking pants.
Hiking Rain Jackets
Investing in a high-quality, durable rain jacket that can withstand harsh conditions means you'll be more likely to get outside on those rainy days. Rain jacket technology has come a long way over the years, and understanding all the bells and whistles can be a little it can be overwhelming. Depending on the type of hiking you do, it's not necessary to have all the technical features, but some will enhance your experience. So, I'll highlight a few of the important things to look for.
I'm a big fan of rain jackets with armpit zips – they make a significant difference in my comfort level and allow me to hike in the rain without getting too sweaty. (Trust me, they work.) Another thing to keep in mind is that you don't want a rain jacket that's too tight or too loose. You may need to wear layers underneath, so you'll want enough room for that. And, you don't want it to be so loose that you're fidgeting with the excess material on the trail.
Here are some of my top picks for the best hiking rain jackets:

In Alaska, I stayed dry hiking in the Arc'teryx Beta AR Rain Jacket
For more advice on choosing rain gear, check out our buying guide on the best lightweight rain jackets.
Waterproof Hiking Pants
When it comes to rain hiking pants, look for something that's comfortable, breathable, and waterproof (not water-resistant). I also look for rain pants that have a zipper at the bottom so I can get them on and off without taking my shoes off.
One thing to be aware of is that waterproof hiking pants can be noisy when the material rubs together. They're not the most stylish, but more importantly, you'll be dry and comfortable. I suggest wearing a thin legging underneath for extra warmth or in case the rain stops and you want to take them off. Some people choose not to wear waterproof pants when hiking in the rain, but if it's a really wet day you might end up with some inner thigh chafing… and that's no fun.
Here are some great waterproof hiking pants within a range of budgets:
Waterproof Hiking Shoes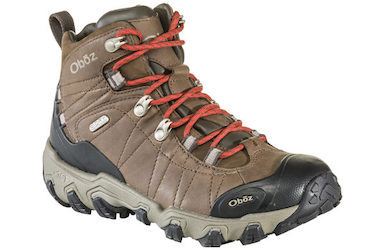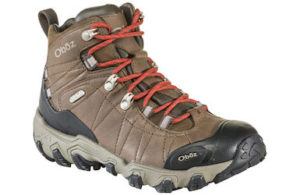 It's a major letdown when you have to turn around because your feet are soggy. So, one of the keys to a successful hike in the rain is waterproof footwear. Waterproof hiking shoes are a game changer if you'll be hiking in heavy rain. While on most day hikes, I prefer a lighter, lower ankle shoe, when hiking in the rain, I prefer a higher ankle boot. It provides more ankle support on slippery trails and keeps water out better (especially when paired with gaiters).
If you already have hiking boots, there's a good chance that they are waterproof, so double check before running out to buy a new pair for hiking in the rain. One more pro-tip: pack an extra pair of wool or synthetic socks just in case your feet get wet.
My go-to waterproof hiking boots for a rainy day are the Oboz Bridger Mid BDry Hiking Boots. I wore the older version on a 10-day backpacking trip in Alaska where it rained almost the entire trip, and I had some of the driest feet in our entire group. Plus, this shoe is associated with a great cause! With the new Bridger Premium, Oboz donates a portion of sales from this shoe to Yellowstone Forever, a non-profit dedicated to the permanent protection of Yellowstone National Park and its resources.


Gaiters
If you'll be hiking through mud or deep puddles, gaiters will keep mud and water from splashing into your shoes beneath your pants.
Here are two reliable waterproof gaiters for hiking in the rain: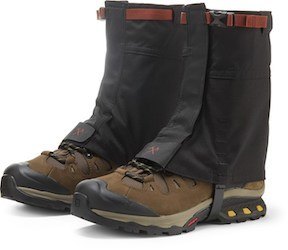 Learn more about what to wear hiking!
Waterproof Rain Cover
Protecting your body from the rain isn't the only thing to think about; it's smart to keep your pack dry, too. It's common for backpacks to come with a rain cover, but if yours doesn't, you should get one. Look for a lightweight silicone-coated rain cover that will keep your gear dry inside your pack.
Here are a couple of waterproof rain cover options: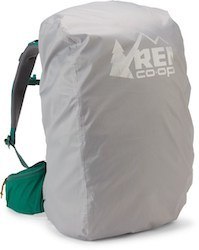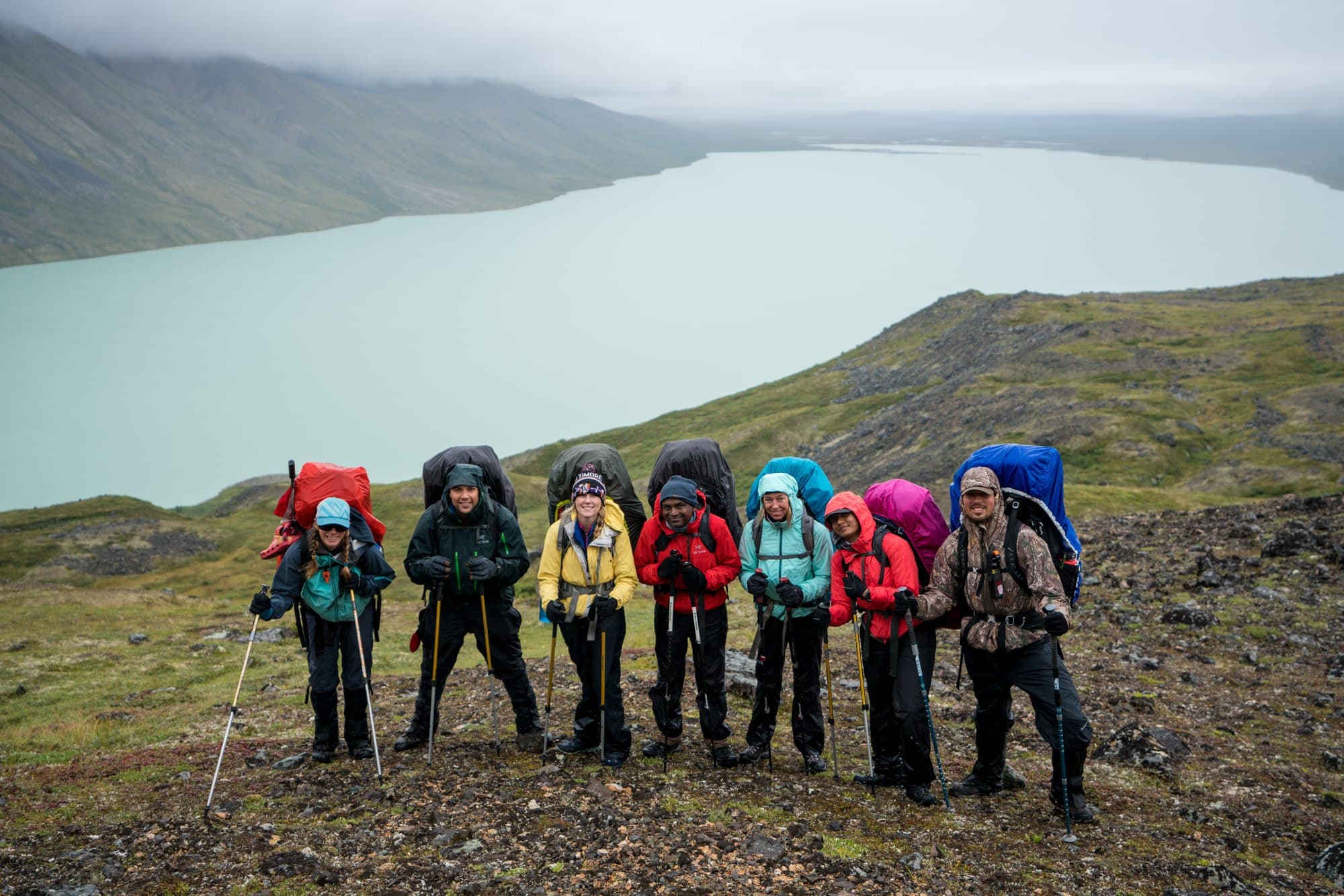 Gloves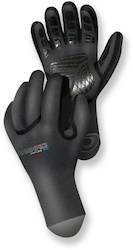 A trick I learned from my backpacking guide in Alaska is that the best way to keep your hands warm while hiking in the rain is to wear neoprene gloves. While they won't keep your hands dry, neoprene insulates when wet, so your fingers will stay nice and toasty as you hike.

Trekking Poles
One final gear item for hiking in the rain I can't recommend enough is trekking poles. Trekking poles are great on any kind of trail, rain or shine, but they're especially helpful in the rain. Having four points of contact with the ground helps to maintain your balance on slippery rocks and roots, crossing a stream, or gauging the depth of a mud pit before you step knee-deep into it.
Here are some reliable trekking poles to take on your rainy day hike: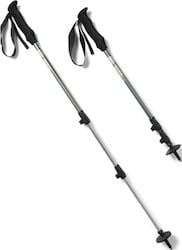 Pack Easy Snacks
If it's pouring, the last thing you're going to want to do is stop and eat a sandwich or something that requires preparation on the trail for lunch. Not only is this inconvenient, but when you stop moving, you lose body heat. Since you likely won't stop long for a snack break like you would on a sunny day, it's best to pack easy snacks you can eat on the move. Think – granola bars, fruit, or nuts. Having snacks handy will ensure you get the nutrient boost you need while you're burning calories, without worrying about stopping mid-hike. As always, please remember the Leave No Trace guidelines and pack out all snack materials (including nut shells, fruit peels, etc.).

Let Go of the End Goal
Often times, hikers get into trouble when they're too determined to make it to their final destination and "finish the hike". When conditions worsen, it's best to call it a day and head back. One of the nice things about hiking in the rain is that you can slow down a bit. Instead of setting your sights on an end goal, take in the scenery. That way, if you end up having to turn around early, you're content with what you did. Then, maybe go warm up with some tea or coffee and talk about the day (and your new-found love of hiking in the rain!)

Choose to Have a Positive Attitude towards Hiking in the Rain
I've been on both ends of the spectrum when it comes to whether or not to hike in the rain. While I was in New Zealand back in 2015, I let my trepidation about hiking in the rain stop me from doing so and, I missed out on a good time. Then, when I organized a group trip in Alaska it rained the whole trip. So, I didn't have a choice other than to go with the flow. I noticed how the shift in my mindset about the situation allowed me to let go and enjoy my time, regardless of the weather. Plus, the misty, gray days make for some really nice photos.
We can't control what mother nature does, but we can control how we react to it. So, the next time you're itching to get outside when you see a gray sky and rain coming – pack some water, snacks, and your rain jacket and go anyway! You might be one of the only people out on the trail, but I bet you'll love it.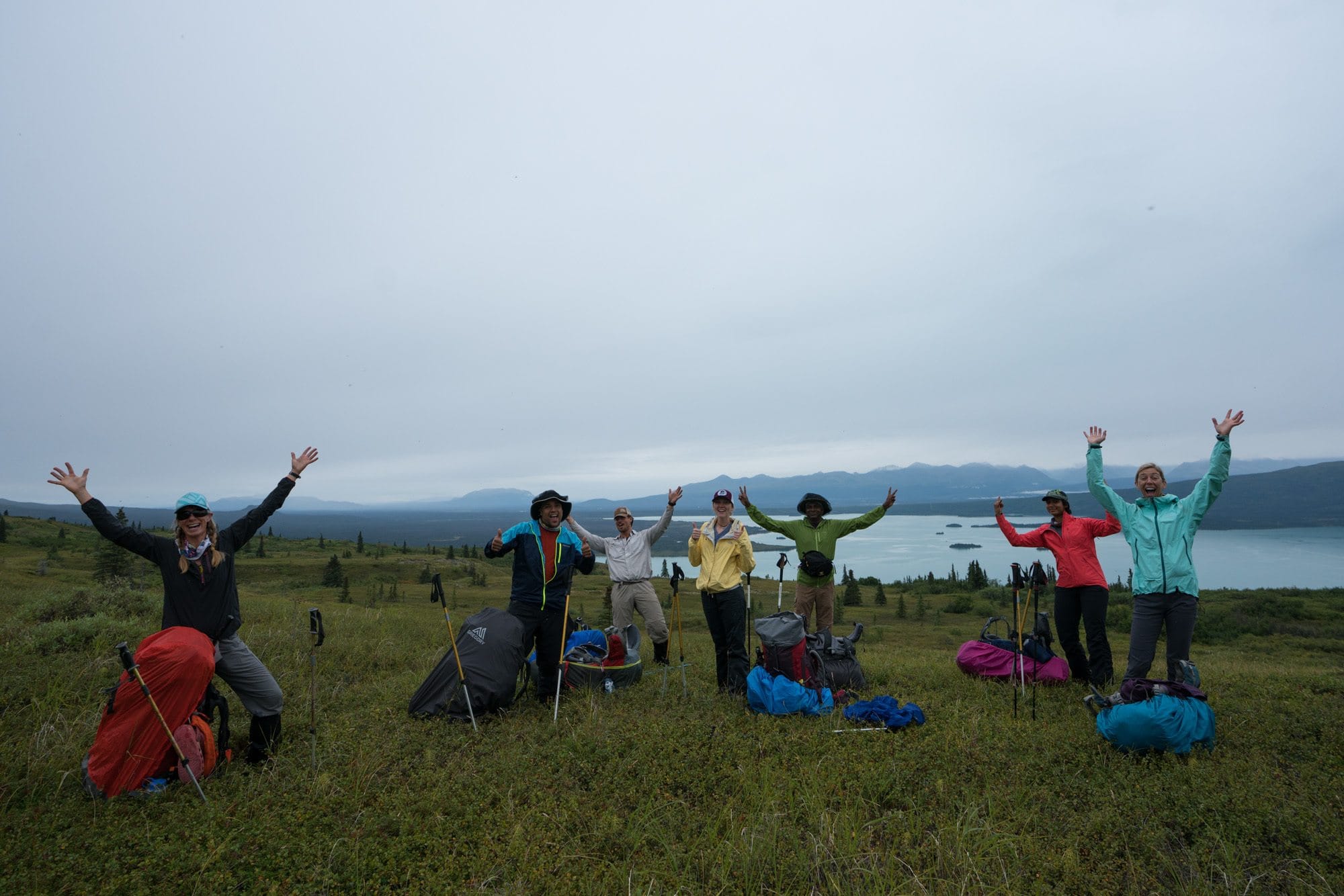 After reading these tips for hiking in the rain, I hope you feel confident and excited to go hike on the next rainy day! Where do you like to hike in the rainy season? Let us know in the comments below.
Some of the links in this post are affiliate links. Any purchases you make help to support this blog at no added cost to you. I only recommend products that I stand behind, and if you ever have any questions about any of the products featured on my site, please email me. Thanks! Kristen