Missed out on skiing as a kid? Looking to hit the slopes for the first time this winter? I've talked many times over about the benefits of skiing. Fresh air when you'd otherwise be cooped up, big mountain landscapes that are even prettier than in the summer, new friends… I could go on and on about all of the positive benefits I've experienced as a beginner skier who took up skiing at age 31.
Being new to skiing as an adult isn't easy, but armed with the right tools, equipment, and mindset, you can overcome the challenges. And you might just end up with a new favorite winter hobby!
Want to learn how to ski? Here are 10 tips for the beginner skier that I wish someone told me before I started.
Top 10 Beginner Ski Tips
1) Get a Pass & Ski as Much as You Can
Getting a season pass is a tough choice. It's expensive, you don't know if the snow is going to be good, and if you want the best price you have to buy it way in advance. But I'll tell you, it's worth it. Once you have that pass, you can head up to the mountain and ski a couple of runs anytime you want.
If the snow is good, you can ski all day until you can barely walk. If the snow is terrible, have a beer, enjoy the views, and head home. Either way, it's no big deal since the day is already paid for. Furthermore, paying upfront provides an incentive to get your money's worth and ski as much as you can.
If a season's pass isn't in your budget, see if your local mountain offers a bundle package that gives you a discount for buying a certain number of days in advance.
2) Take a Lesson

For Beginner Skiers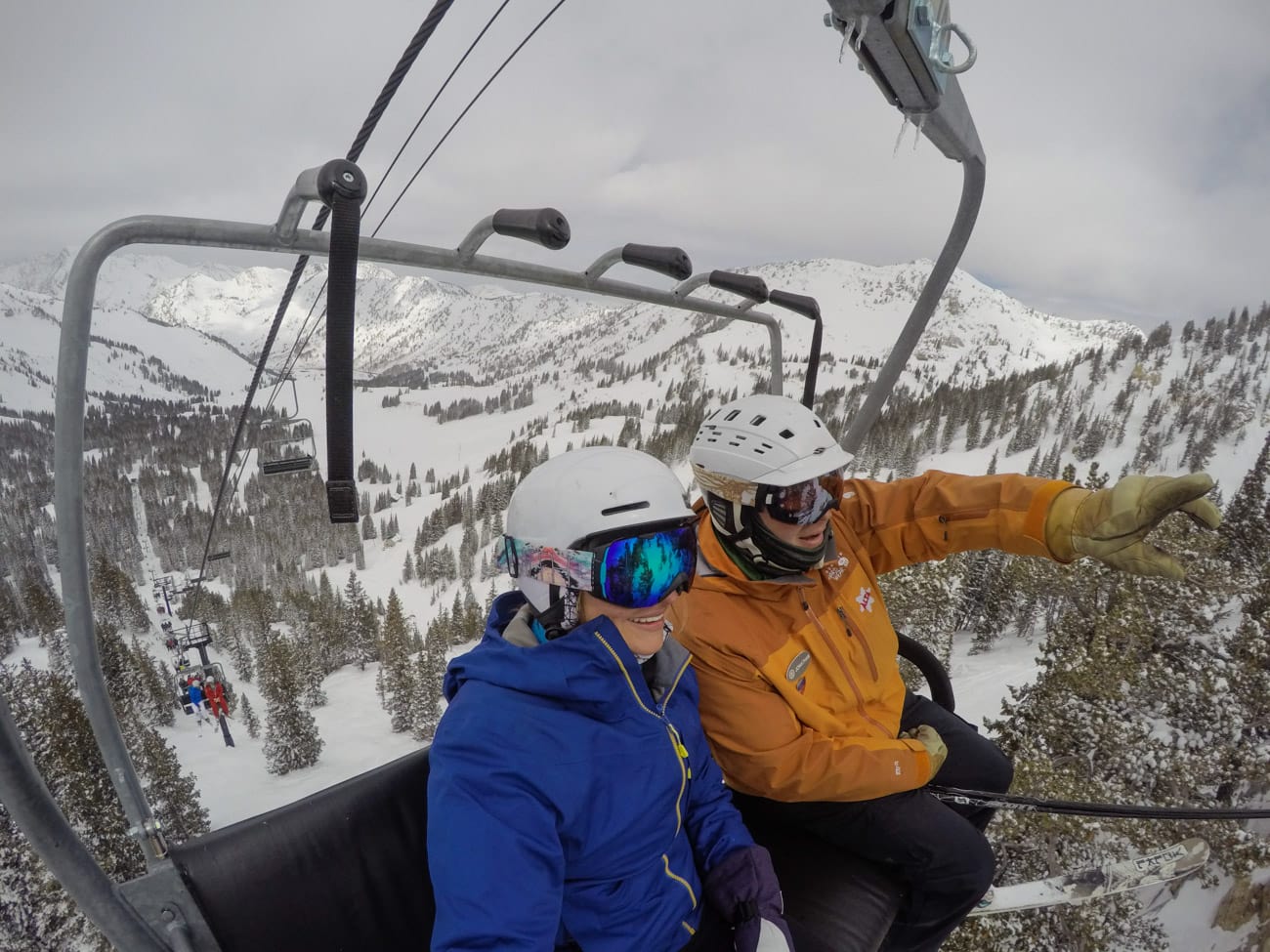 When I was first getting into skiing, I took a 3-hour private lesson at the Alta Ski School, and it did wonders for my form and confidence. If you are a beginner skier, your instructor will teach you proper form and help you avoid bad habits from developing.
If you have a little bit of experience as I did, a lesson can help you advance your skills to the next level and introduce you to new terrain that you probably wouldn't discover on your own.
Lessons can be expensive, however, so you should also check if your local mountain has a weekly group clinic for adults. Many mountains also have female-specific ski groups where women can get some awesome beginner ski tips and meet other women to ski with.
3) Buy Your Own Boots & Get Them Fitted
Ski boots shouldn't hurt, but they also shouldn't be comfortable like a pair of slippers. When you rent boots, it's common to end up with a pair that's too big because that's what's comfortable in the shop. The problem with a boot that's too big is that once you're on the hill, your feet will be sliding around in it and you'll be scrunching up your toes for balance – a common cause of foot cramps. A boot that's too big also gives you way less control over your skis.
Beginner skier tip: Boots are the most important piece of ski equipment you will buy.
Boots are like the steering wheel in your car. With a proper boot fit, you will feel the snow under your feet and you will be in charge of your skis rather than having your skis take you for a ride.
If you are serious about learning how to ski, buy a good pair of boots that can be molded to your foot shape. Don't be tempted to buy a boot that is roomy and comfortable – a very common beginner skier mistake. The boot should be very snug. A boot fitter at a ski shop can punch out areas of the boot that are rubbing in order to give you a little more room in the areas you need it. On the flip-side, if the boot is too big, there is nothing they can do.
I learned this the hard way. At the beginning of the season last year, I got a pair of boots that were size 26.5. People told me that was too big, but I didn't listen. To put that size in perspective, many of my tall male friends wear a 26.5 boot. The first day out skiing, my feet were cramping so bad, I had to quit. Turns out, everyone was right.
After that, I was back to renting until my friend Josh who runs the online store Big Ski Sale (if you're looking for a good deal and personalized suggestions, check them out) got me a good deal on a pair of Salomon boots that were two full-sizes smaller. I then took my new boots to a ski shop and they molded the footbed, liner, and boot shell to the shape of my foot. I couldn't believe what a difference it made. On my first day with those boots, I realized what it felt like to have your skis be responsive to your movements. Turning was easier, my feet hurt less, and I could actually focus on my skiing rather than the pain in my arches.
4) Unbuckle your Boots on the Lift
If your feet are cramping up while you ski, give them a break on the lift or while you are grabbing lunch by unbuckling your boots. It only takes a few seconds to tighten them back up at the top of the lift, and it can make a big difference in how tired your feet get over the course of the day.
5) Ski With People Who Are Better Than You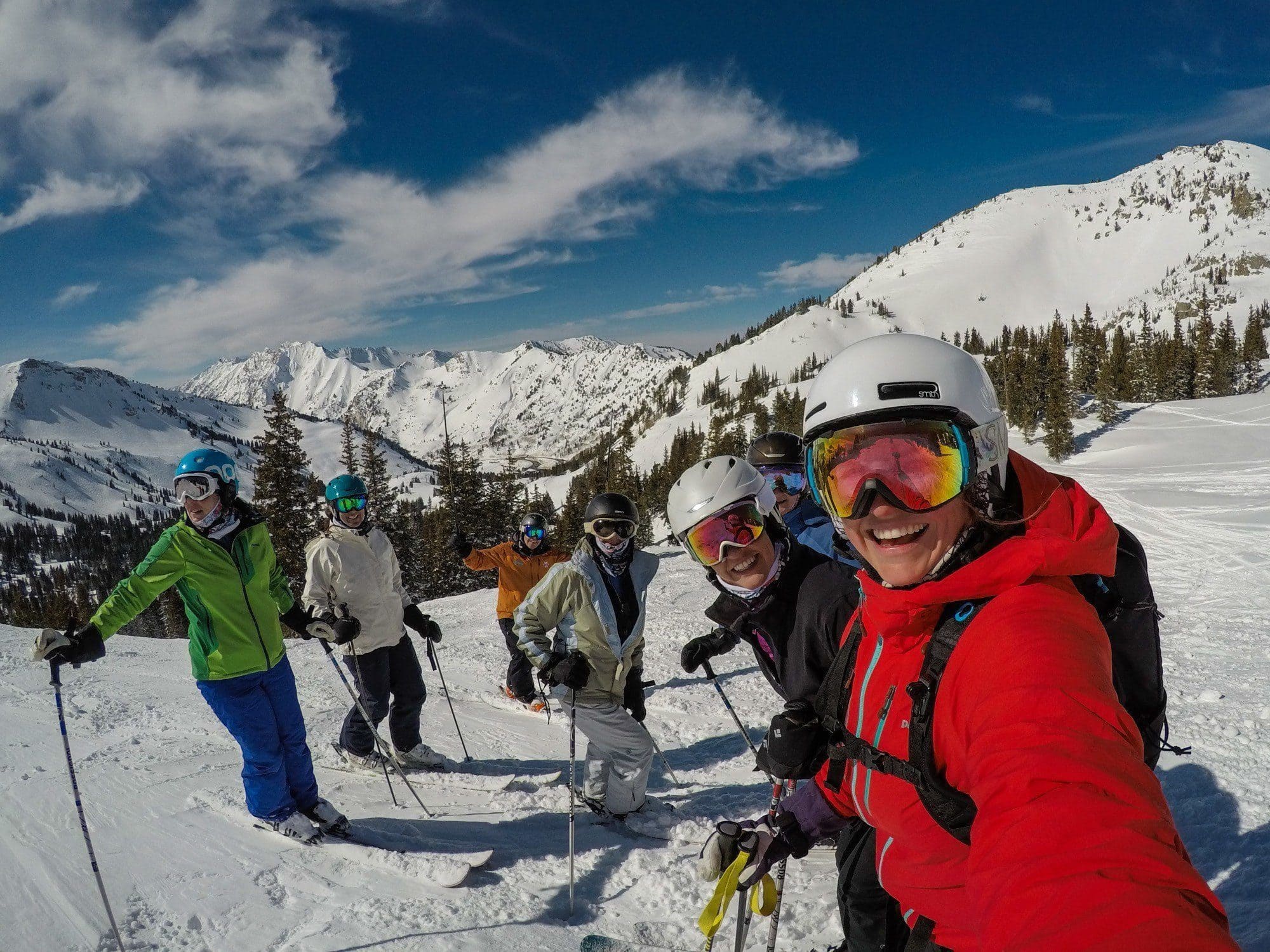 The key to improving your beginner ski skills is to find people you trust who are better than you and ski with them. These should be people who are patient, understand your comfort level, and will not take you down something that is way beyond your capabilities (since that can do the opposite for your confidence).
But you're a slow beginner and you don't want to hold up your friends, you say? That's totally understandable. They might not want to wait for you either, especially on a powder day. But you can ride the chair up together, and they can point you in the right direction. Then, make plans to meet up at the bottom after they take a few laps.

6) Ski Solo
Wait, what? You just said to ski with friends! Well… skiing alone can be just as fun as skiing with friends. Seriously, I did it all the time last year and ended up meeting some really cool new people in the process. If your friends are busy, don't be scared to head up to the mountain and tackle some runs on your own.
Skiing solo allows you to focus on your form rather than worrying about your speed and trying to keep up. And, don't just ski the same green run over and over again. Push yourself to go a little harder as you get more comfortable because after all, no one is watching if you take a little spill.
7) Lean Forward & Be Aggressive with Your Skis
Control your skis. Don't let your skis control you. Leaning forward when you are moving downhill may seem scary, but it will give you a lot more control over your skis. This isn't easy as a beginner skier, but if you want to improve, you'll need to show those skis who's boss.
8) Stay on the Groomers… at First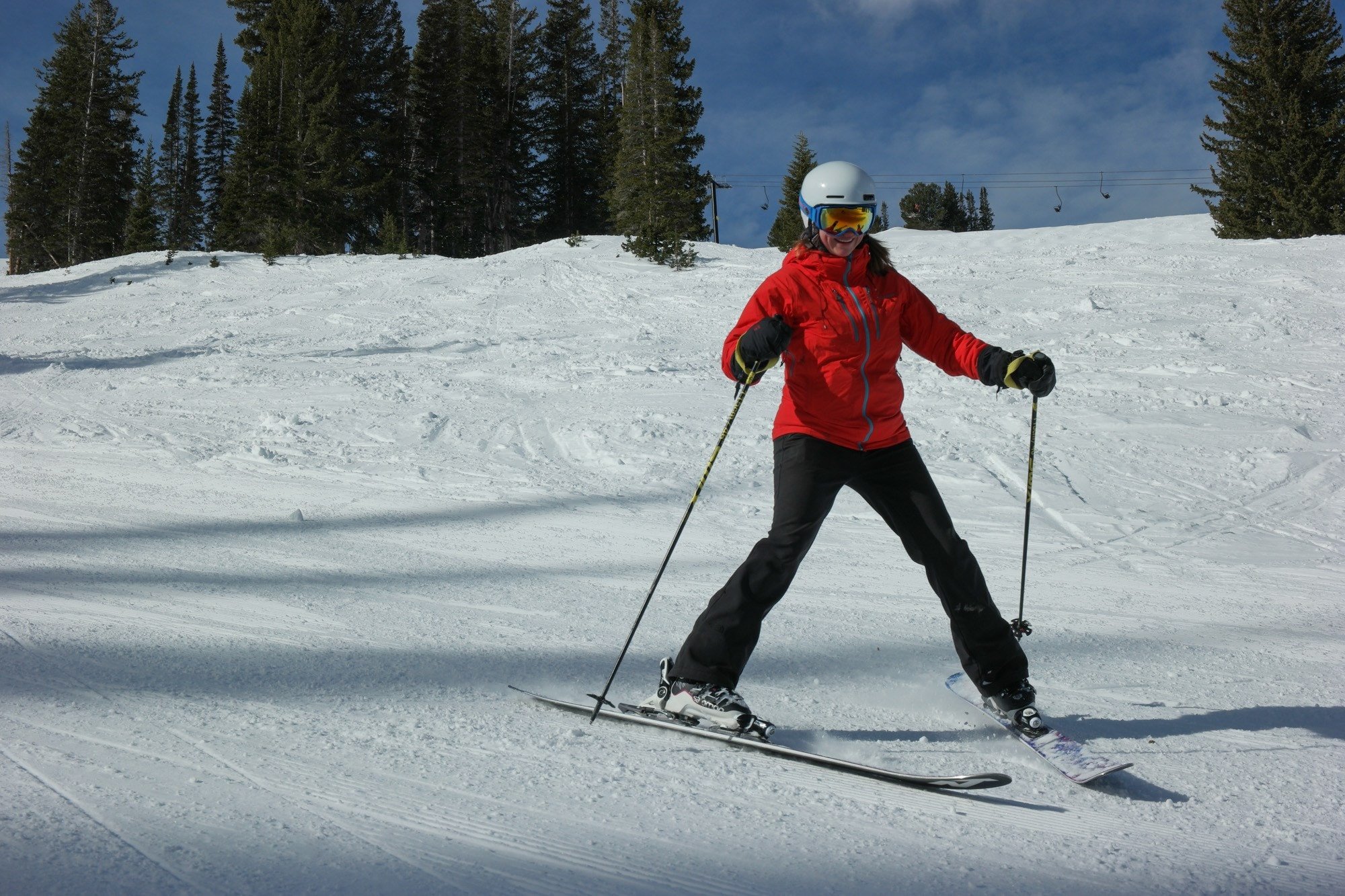 But isn't the goal to be floating through neck-deep powder? Of course! Eventually… But as a beginner skier, focus on getting strong on the groomed runs first. Skiing powder is a whole different skill with a different type of ski. If you want to test the waters, try some powder right next to a groomed run, so you can easily get back on the run if you find yourself getting stuck or unable to control where you are going.
9) Dress Appropriately
It's dumping snow outside, which means the skiing is awesome. But you're freezing cold and can't focus on anything but those numb fingers, and that's not fun at all. Make sure your clothing is waterproof (no jeans!), and remember that the top of the mountain might be windy and 20 degrees colder than the base. Wear layers so you can add and remove as necessary, and warm gloves are a must. Also, be smart and wear a helmet. I promise all the cool kids are wearing them. If you're looking for more tips on what to wear, check out our What To Wear Skiing guide.
If parts of your face and lips are showing, you'll want to wear sunscreen. The sun reflects off of the snow, and without it, you can end up with a gnarly sunburn. On that same note, ski goggles are key as well. They'll protect your eyes from the elements, including the reflecting sunlight.
10) Work on Building Leg Strength
Got a cool ski trip to Colorado or Utah planned? Don't wait until you get there to think about building up your leg muscles. The stronger your quads and calves are, the more endurance you'll have on the mountain… and the more runs you'll be able to get in each day.
You don't need to do go crazy at the gym, but adding some lunges and squats to your daily routine and taking the stairs instead of the elevator will go a long way.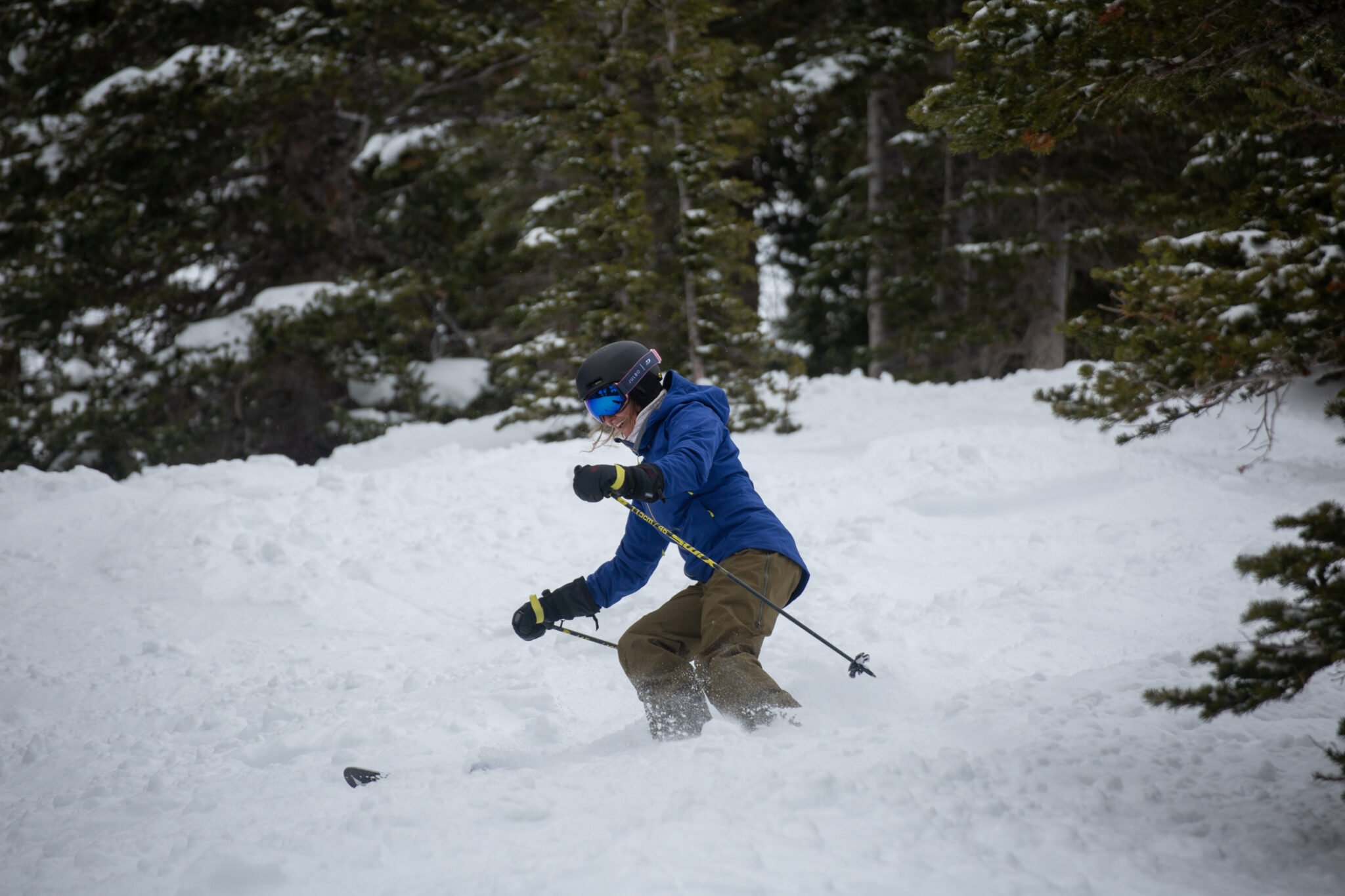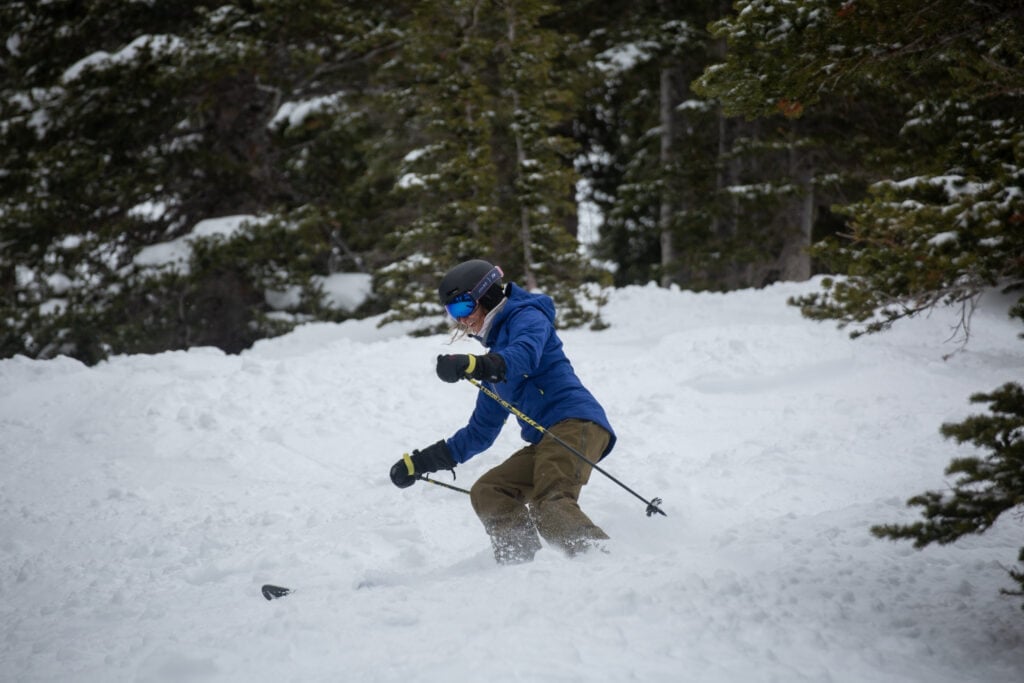 ---
I hope this post got you pumped to try skiing for the first time or to get back into it if it's been a while! As someone who started skiing at age 31, I can tell you that it's never too late to start.
Do you have any additional beginner ski tips or questions? Leave a comment below!