What to Wear Skiing: Ultimate Women's Ski Apparel Guide
What to wear skiing – the ultimate guide to skiing apparel so you have the right clothes for staying warm, dry, and comfortable on the slopes.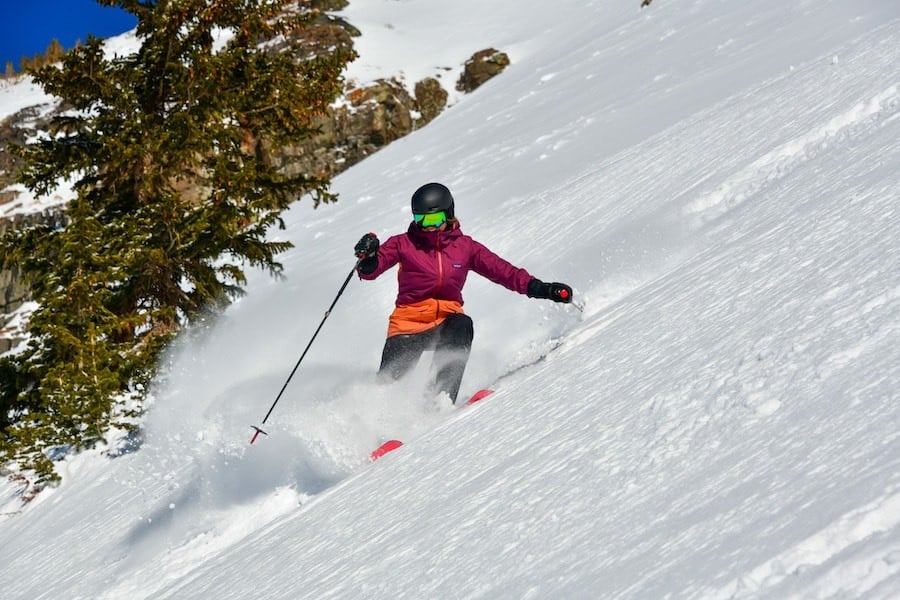 If you are new to winter sports, figuring out what to wear skiing is a process. Being prepared for the elements can make or break your experience and without the right clothes, it can affect your desire to ski altogether. The key is finding skiing apparel that will be warm (but won't get sweaty or stinky) and will give you a full range of movement.
There's no doubt that getting into skiing takes some investment. Skiing clothes are pricey, but once you buy the right gear, it will last you for years.
If you are new to snow sports, this post covers the basics of what to wear skiing along with the list of ski clothes that I wear.
Already know what to wear skiing, but need to work on your skills? Check out my top 10 beginner ski tips!
Skiing Outerwear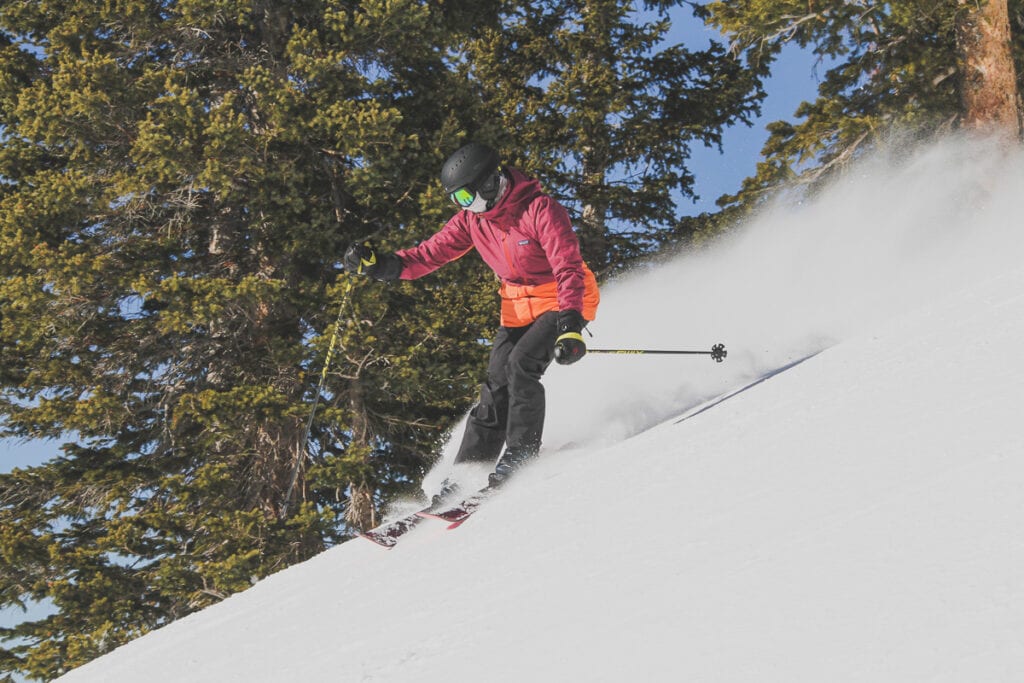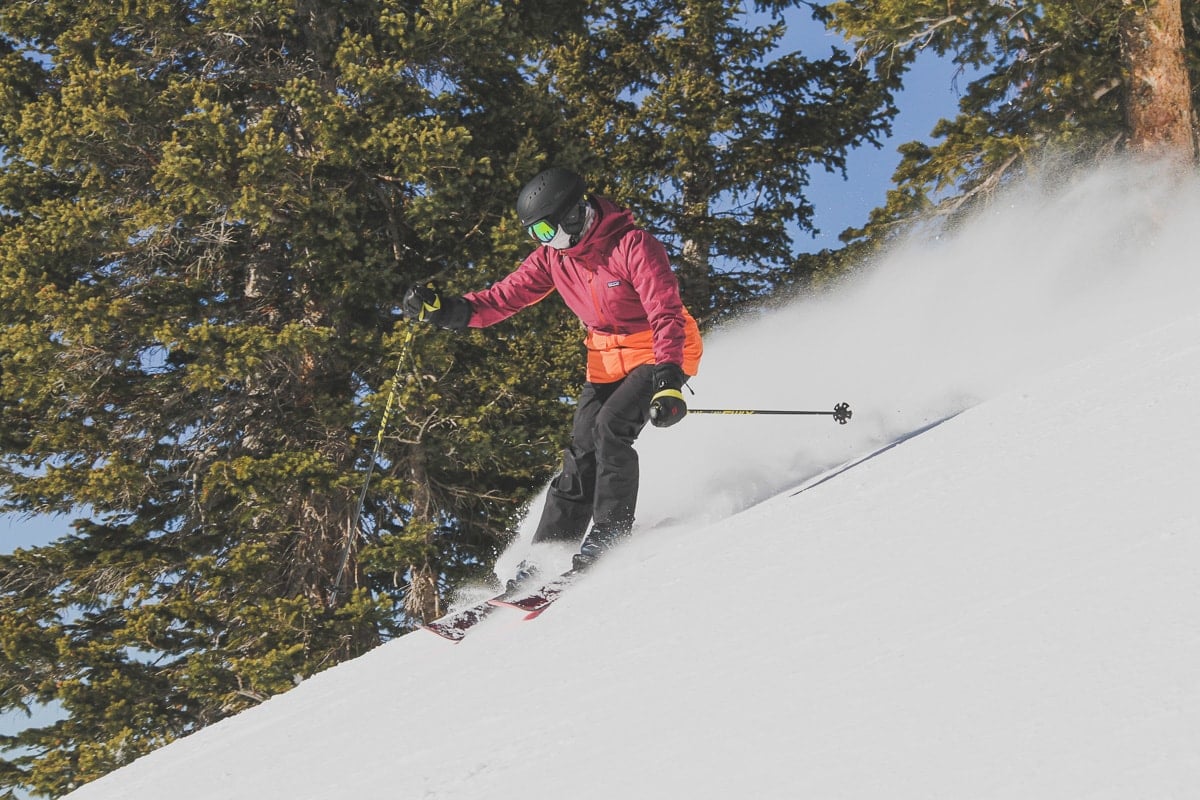 Wanna stay dry while skiing? Then you need a tough outer layer. Which outerwear you choose depends on the type of conditions you will be skiing in the majority of the time. The most important thing is getting an outer layer that's waterproof. Look for Gortex or something similar that will stay dry when it's snowing or if you take a spill.
Another major factor to consider with outerwear is breathability. While the technology is getting better every year, generally the more waterproof a jacket is, the less breathable it will be. When I'm skiing, I always wear a jacket with pit zips, which are a quick way to let some air in if you are getting toasty.
Next, you have to decide if you want to wear something insulated or a simple shell. A shell alone will not keep you warm and will require additional layers underneath. At the same time, shells or jackets with low insulation are going to be more versatile since you can adjust your temperature by throwing on or shedding a base layer. If you plan on skiing in relatively warm winter climates (spring skiing) or you are using your jacket for backcountry skiing, a shell or jacket with light insulation is the way to go. On the other hand, if you are mostly skiing in colder climates and spending time on the chairlift, a jacket with heavier insulation will be more appropriate.
Insulated Ski Jacket
The Patagonia Snowbelle Insulated Jacket is the best winter jacket I've ever owned and I wear it skiing all the time. The outer layer is durable and waterproof while the inner insulation keeps you warm and dry and wicks away sweat. The hood is also helmet-compatible, which is convenient for those extra windy days and the pit zips allow for quick ventilation on warmer afternoons.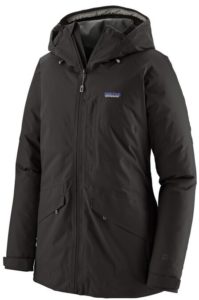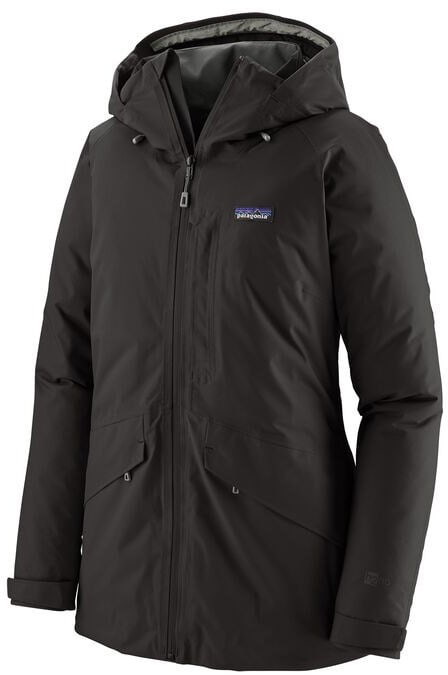 Check price: Backcountry / Patagonia / REI / evo
Ski Pants
When I ski, I wear the Arcteryx Sentinel AR Pants. They are pricey (I scored mine on sale at the end of the season), but these should last me no less than a decade. They are hardshell, Gortex-lined pants with fully seamed waterproof zippers. They are super windproof, but they aren't insulated meaning you'll want a solid base layer underneath.
I prefer non-insulated ski pants because on a cold day, I can always double up on long johns and the ski pants can be used for a variety of temperatures and activities. During spring, they have a side zipper that allows you to vent them if you're hot, making them a great choice for winter hiking as well.
If you want something more budget-friendly, I recommend the North Face Freedom Insulated Snow Pants below. They are a basic, but solid, waterproof and insulated ski pant so they'll keep you warm and dry. They're a great choice for wintery weather and resort skiing.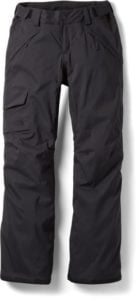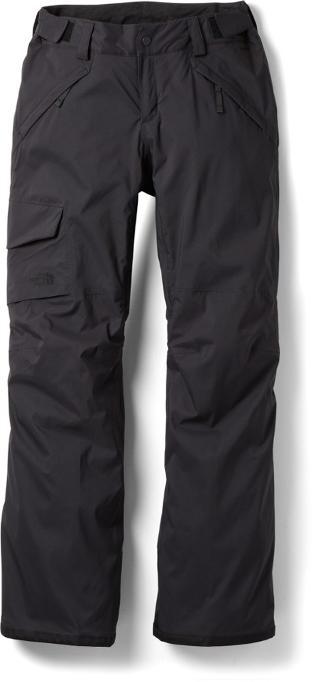 Check price: Backcountry / REI / evo
---
Skiing Base Layers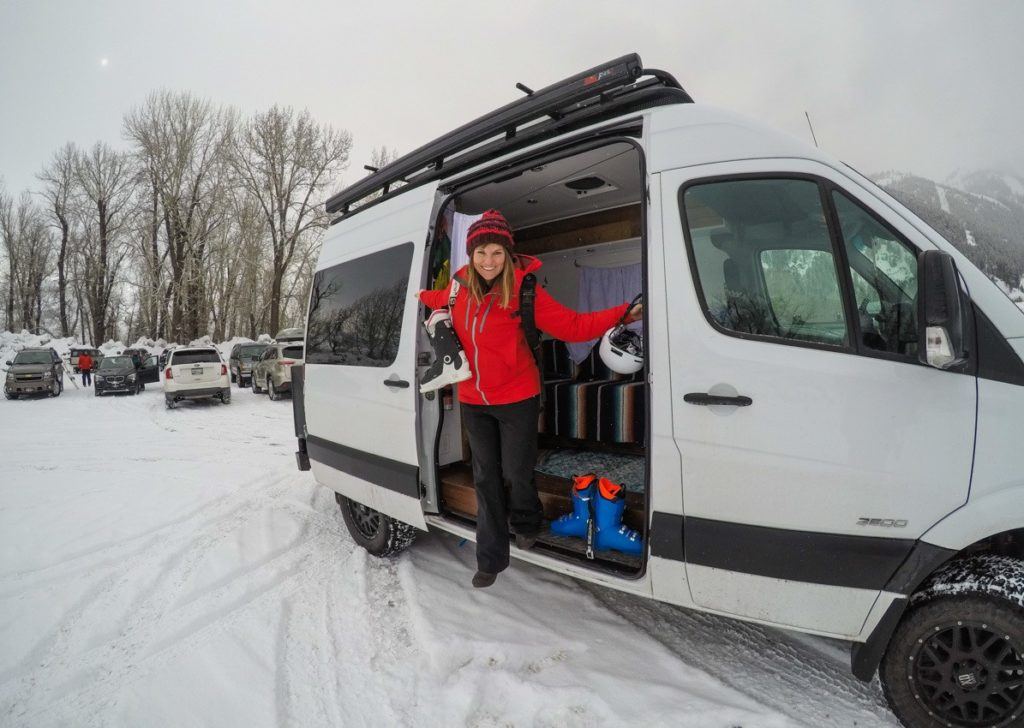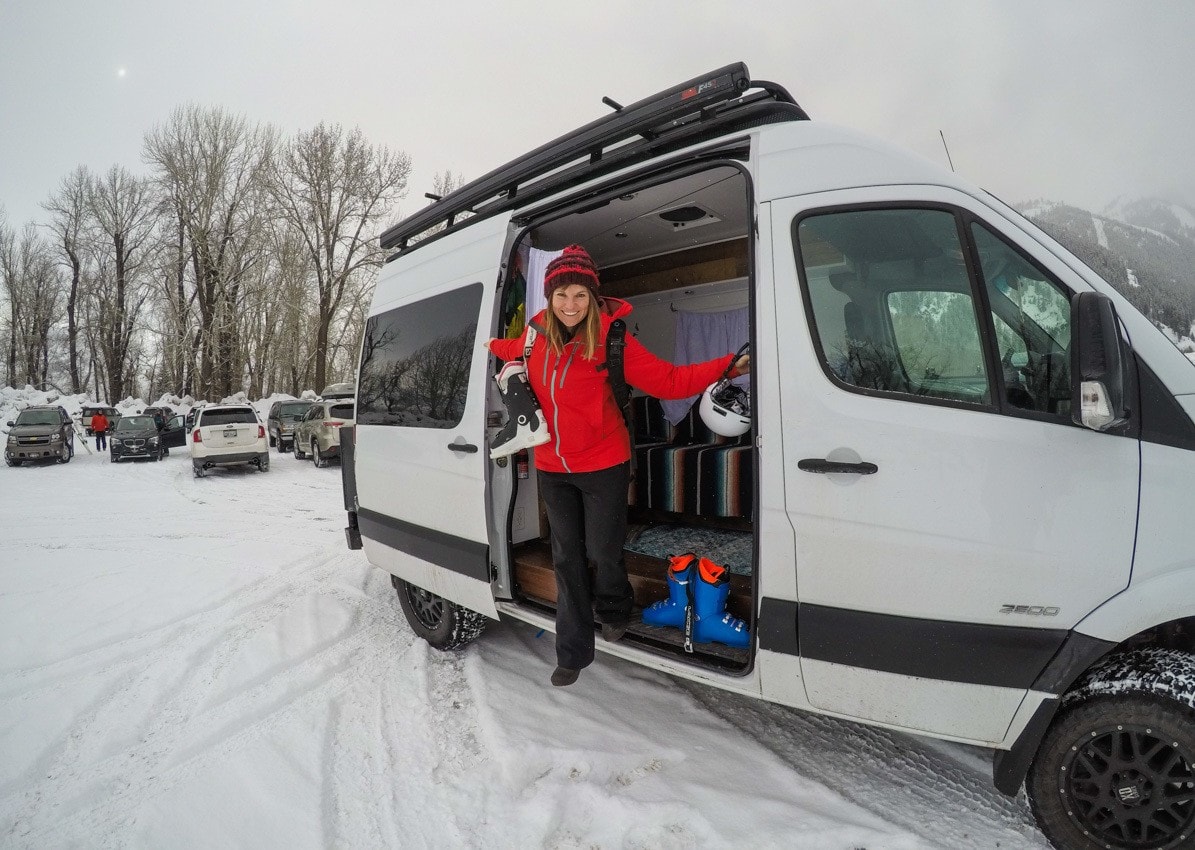 Base layers are intended to provide added insulation so that you stay nice and warm under your outer layer. Quality base layers will regulate your body temp by wicking away sweat while you're skiing. They come in different weights from lightweight to heavyweight and are intended to be combined depending on conditions.
Base layers come in a variety of materials and the key is to avoid cotton since it tends to hold onto moisture and be slow to dry. We recommend synthetic materials, like polypropylene or polyester. These tend to be both lighter and cheaper than wool and many companies are also using recycled materials, making them an eco-friendly choice.
The key to being comfortable is having the option to throw on or remove one of these layers depending on the temperature outside.
Next to Skin Base Layer
For your next-to-skin layer, I wear a wool baselayer that wicks sweat. My go-to is the Icebreaker Oasis 200 Crew top. I've worn it more than 100 days and it's a lot more durable that other wool baselayers I've tried from other brands. It's also super soft and doesn't leave you feeling itchy like wool can sometimes do.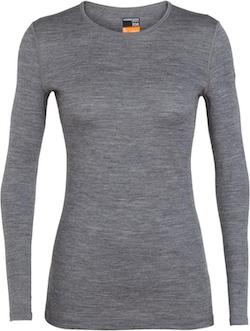 Check price: REI / evo / Backcountry
Skiing Heavier Base Layer
This is another layer I'll throw on on those very cold days. The Patagonia Thermal Weight Capilene Baselayer is made of recycled polyester and spandex and is a bit heavier than my next-to-skin layer. This layer also wicks sweat and moisture, making it perfect for active snowy pursuits when you're all bundled up.
This is a versatile piece that you can also use for hiking, backpacking, camping, and any other cold-weather outdoor activities that you need to layer up for.
Check price: Patagonia / Backcountry
Skiing Mid-Layer
On colder days, I wear the two layers above plus this Patagonia Nano Puff Jacket. This jacket is super warm, especially for how lightweight it is and it provides an added layer against chilly winds. This jacket is also great for other activities like spring hiking, camping, backpacking, and traveling abroad due to how packable it is. It also comes in a hooded version.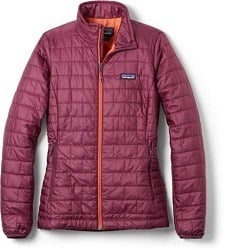 Check price: Backcountry / Patagonia / REI
Skiing Base Layer Bottoms
Under my ski pants, I wear the Icebreaker Oasis 200 leggings or the Patagonia Capilene Thermal Weight bottoms. Either will do the trick, and if it's really cold, I will wear both on top of each other since my ski pants aren't insulated. Both of these are warm, soft, cozy, and versatile for other types of cold-weather adventures.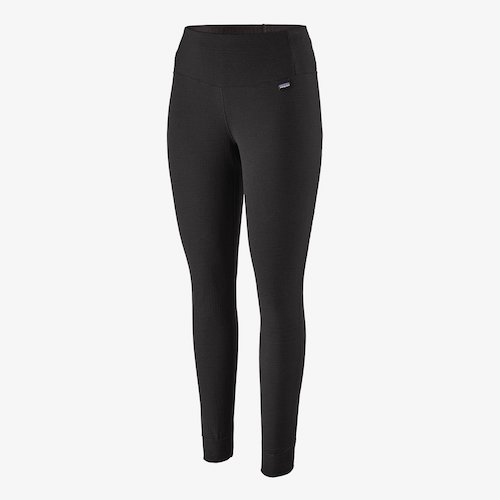 ---
Skiing Accessories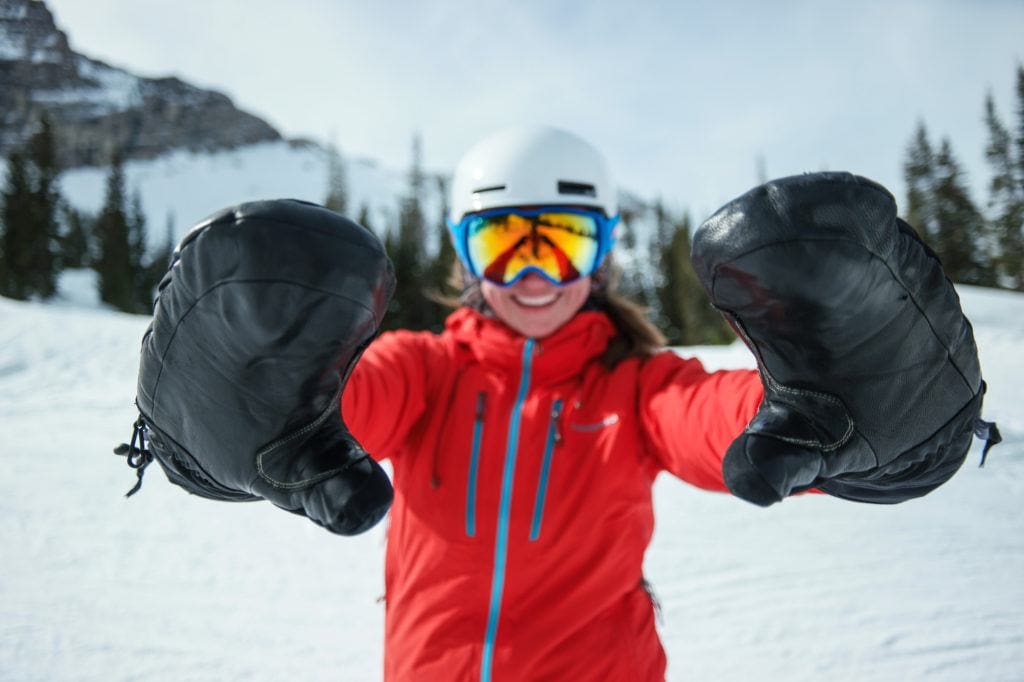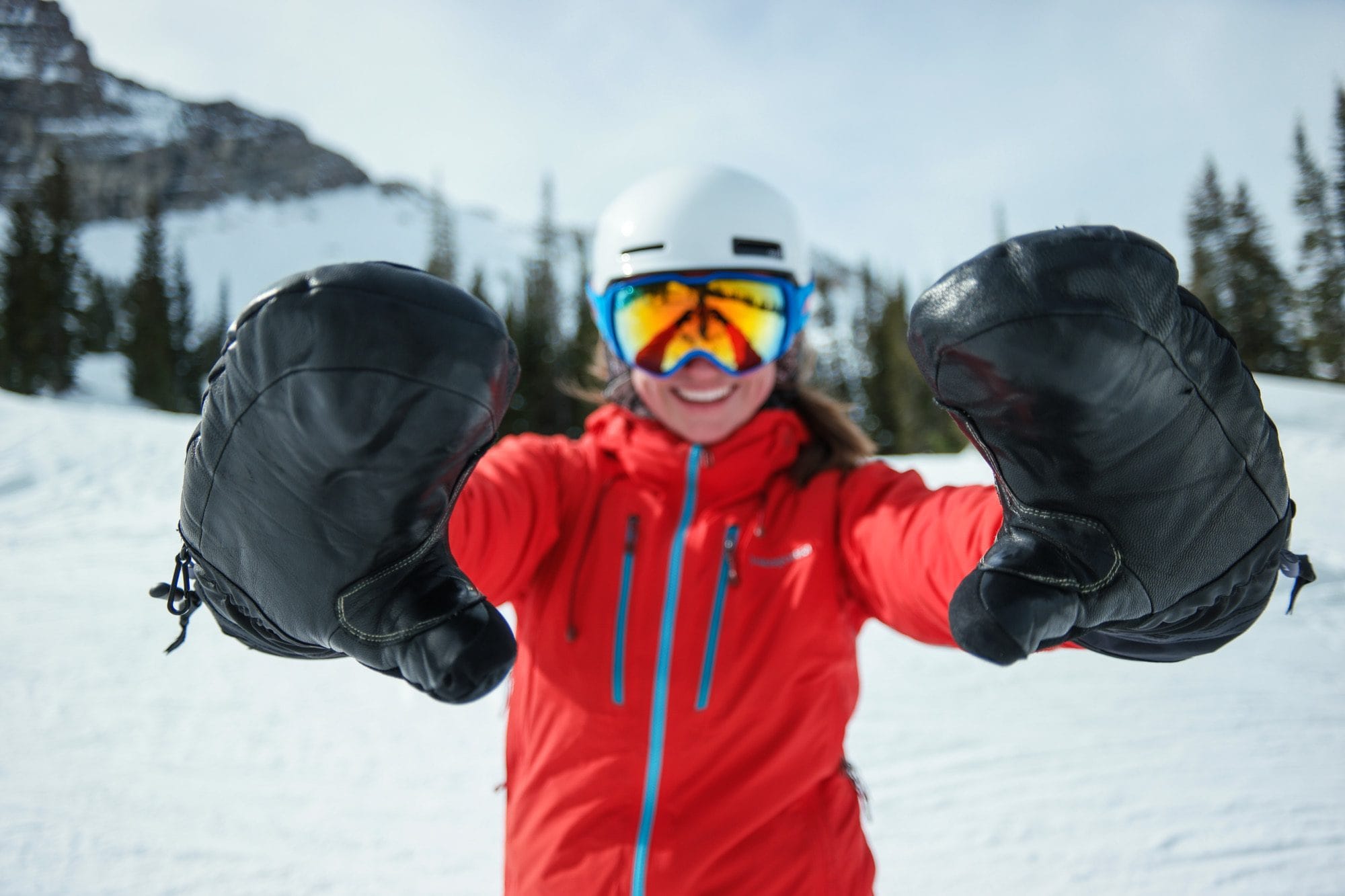 Ski Gloves
My hands tend to get really cold when I'm skiing, so I choose mitts over gloves since mittens are warmer. These Black Diamond Mercury Mittens are the warmest I've ever tried, completely waterproof, and have removable insulated liner filled with Primaloft Gold Cross Core for extra warmth. They also have an index finger inside the mitten so you have a little more dexterity.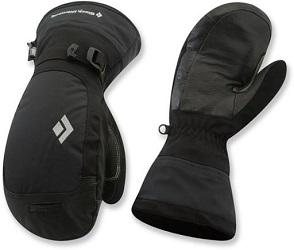 Check price: Black Diamond / evo
Ski Helmet
Get a helmet. All the cool kids are wearing them. In all seriousness though, nothing is going to ruin a good day on the hill (or your life) more than a head injury. The Sweet Protection Switcher Helmet uses MIPS technology which reduces rotational motion to the brain during impact, protecting it from injury. It's lightweight and has 22 adjustable vents so you can get some ventilation on a warmer spring day and is earbud compatible.
Another great feature is the magnetic chin clip that is easy to fasten or unfasten even with mittens on. Finally, many helmets cause my ears to ache. The ear pads on this helmet have cutouts so your ears don't get squished, making it one of the most comfortable helmets I've worn.
Before you buy, measure your head circumference and refer to the size chart to ensure a snug and proper fit.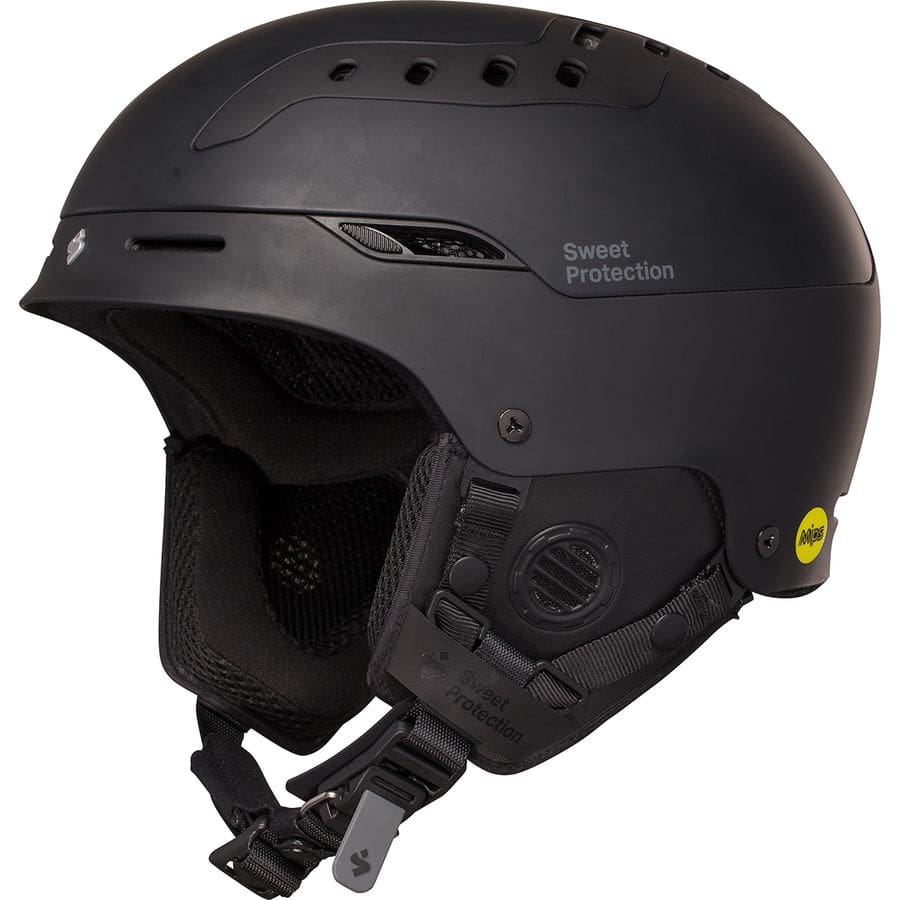 Check price: Backcountry / REI / evo
Ski Goggles
Goggles have come a long way since I was a kid. I have very vivid memories of them fogging up so badly in snowstorms that I couldn't see a thing. Also, I always wore the same pair, no matter what the lighting conditions were. Not anymore. The Anon WM1 Goggles come with two different lenses – one for bright light and one for low light – and it's incredibly easy to swap out the lens via magnets depending on the weather.
Now when it comes to anti-fogging, these perform pretty well. However, with new resort rules requiring face masks, no goggles will be completely fog-free when you are breathing into a mask. For the most part, though, I've been very happy with these!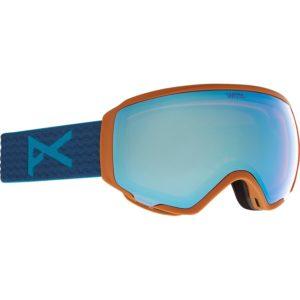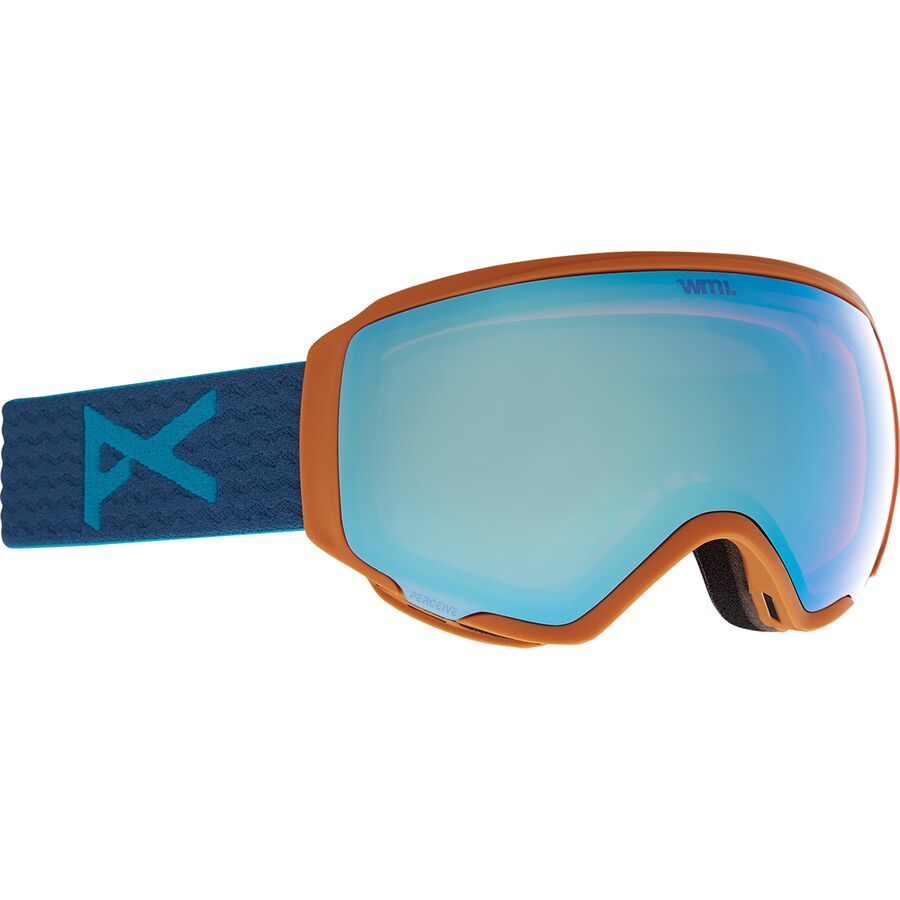 Check price: Backcountry / REI / Moosejaw / evo
Neck Gaiter or Buff / Face Mask
I've tried many other types of face masks for skiing, but this Polar Buff is my favorite for keeping the wind and cold air off of my face and neck. I literally wear it every day, except for during spring skiing when it's exceptionally warm. This Polar Buff is fleece-lined so it's super soft and cozy, and it can be pulled up to cover your face when you get chilly on the chairlift. It's easy to breathe through (which helps prevent your goggles from fogging up too much) and most jackets will zip up over the buff.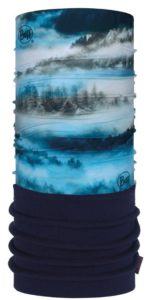 Check price: Backcountry / REI / Moosejaw
Ski Socks
Despite popular belief, thinner socks are better than thick socks when it comes to skiing because lightweight socks allow you to better feel your boot. Darn Tough is a brand I fell in love with on the John Muir Trail. I only had two pairs of socks for 22 days and came home blister-free and the socks had zero wear and tear. Turns out Darn Tough's ski and snowboard socks are just as good.
They come in a variety of different colors and without unnecessary bulk. Yet, they're still padded in all the right places like in front of the shin and the heel and they also stay glued in place throughout the day. No shifting around in my boot. I am officially Darn Tough obsessed and expect these socks to last through the next several seasons.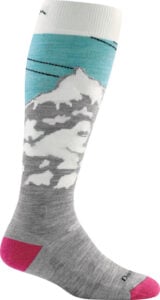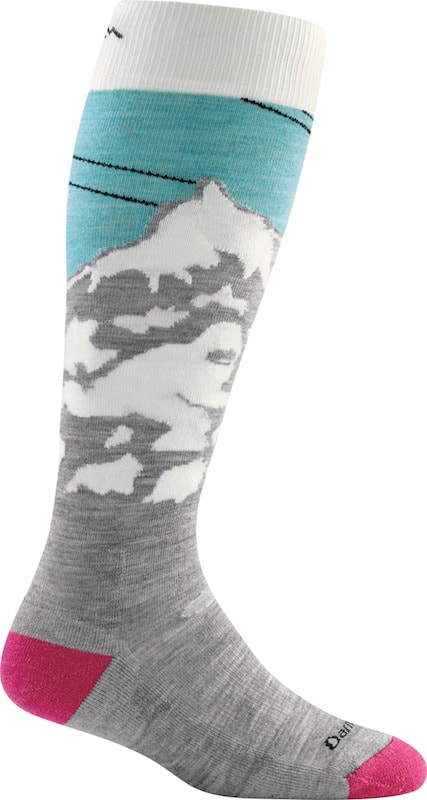 Check price: Darn Tough
---
I hope this post about what to wear skiing helps you prepare for a great winter ahead!
Got any questions or your own tips about what to wear skiing? Leave a comment below!