12 Best Ski Resorts for Beginners
Discover 12 of the best ski resorts for beginners in the West with lessons, reasonable prices, and plenty of beginner terrain.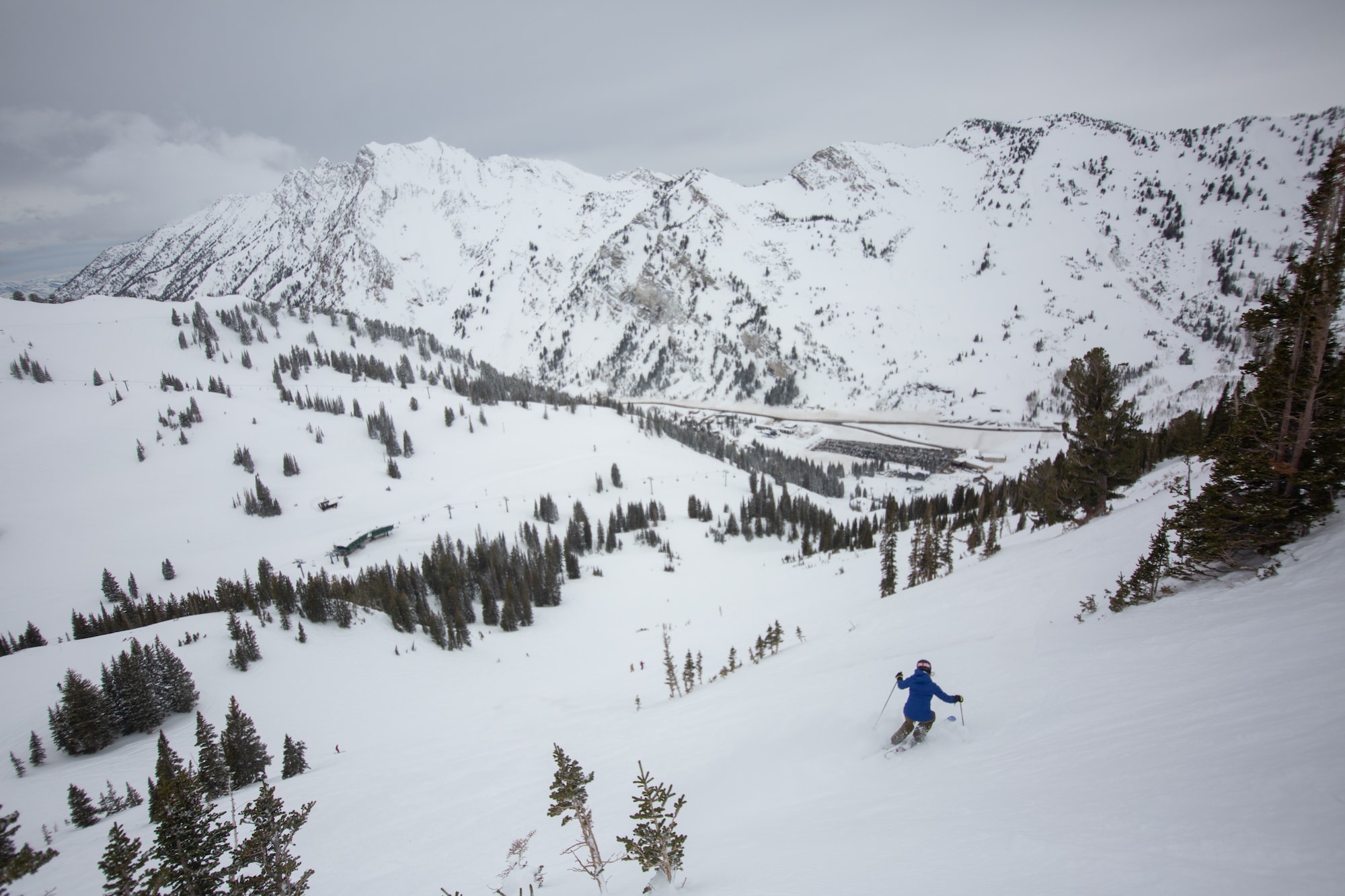 Learning to ski as an adult can be intimidating and finding the best ski resorts for beginners can be a challenge. Although I skied when I was younger, I took 10+ years off and when I started back up in my 30s, it was pretty scary at first.
But I quickly fell (back) in love with skiing, and now I spend every winter on the slopes at Alta near my home in Salt Lake City. In this blog post, I share 12 of the best ski resorts for beginners out West so you can learn to ski with confidence and find a new favorite winter hobby.
Here's 12 of the best ski resorts for beginners for you to consider this winter.
Best Ski Resorts For Beginners
Ski Granby Ranch – Granby, Colorado
Ski Granby Ranch, formerly known as Solvista Basin, is sandwiched halfway between Winter Park and Steamboat Springs on US Highway 40. This mountain is known for its gentle terrain making it perfect for beginner skiers or anyone that wants a more laid-back and budget-friendly Colorado ski resort.
>> Check Out Other Top Colorado Ski Resorts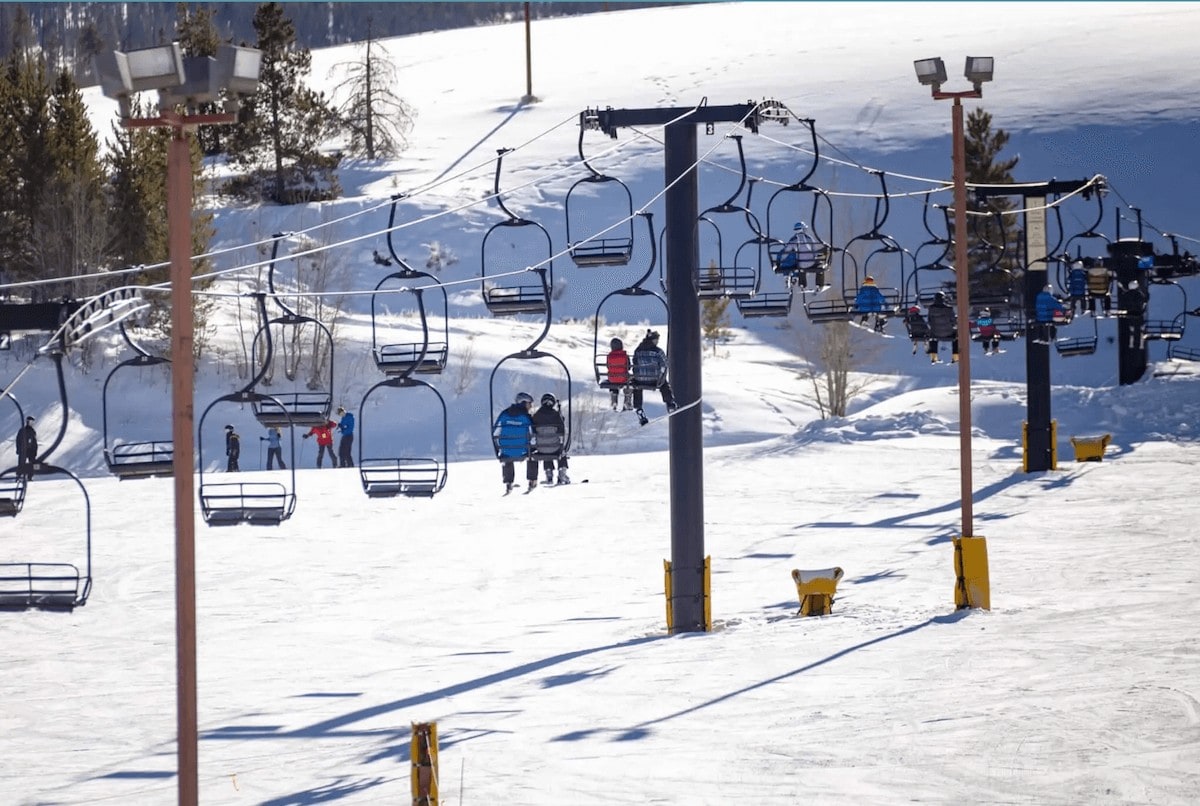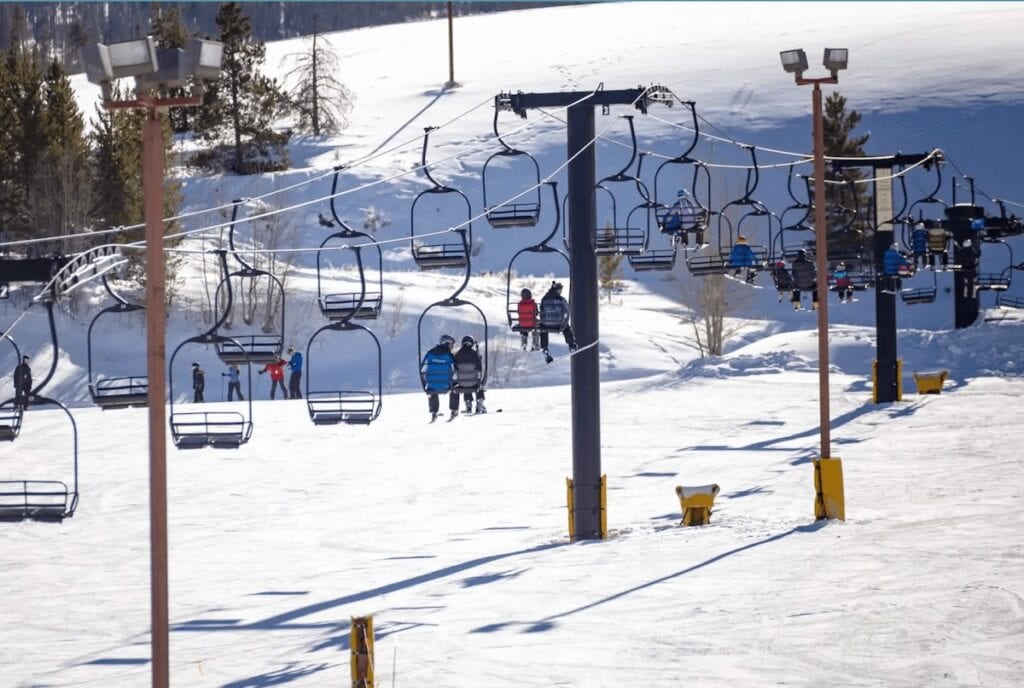 Schweitzer – Sandpoint, Idaho
Voted by Ski Magazine as "The Best Kept Secret in North America," Schweitzer in Northern Idaho is one of the largest ski resorts in the country. Fewer crowds than many other big resorts, a down-to-earth vibe, and a dedicated beginner zone make Schweitzer a great mountain for beginner adult skiers.
Nearby Standpoint is also one of Idaho's coolest small towns, with plenty of tasty restaurants and watering holes where you can warm up at the end of the day.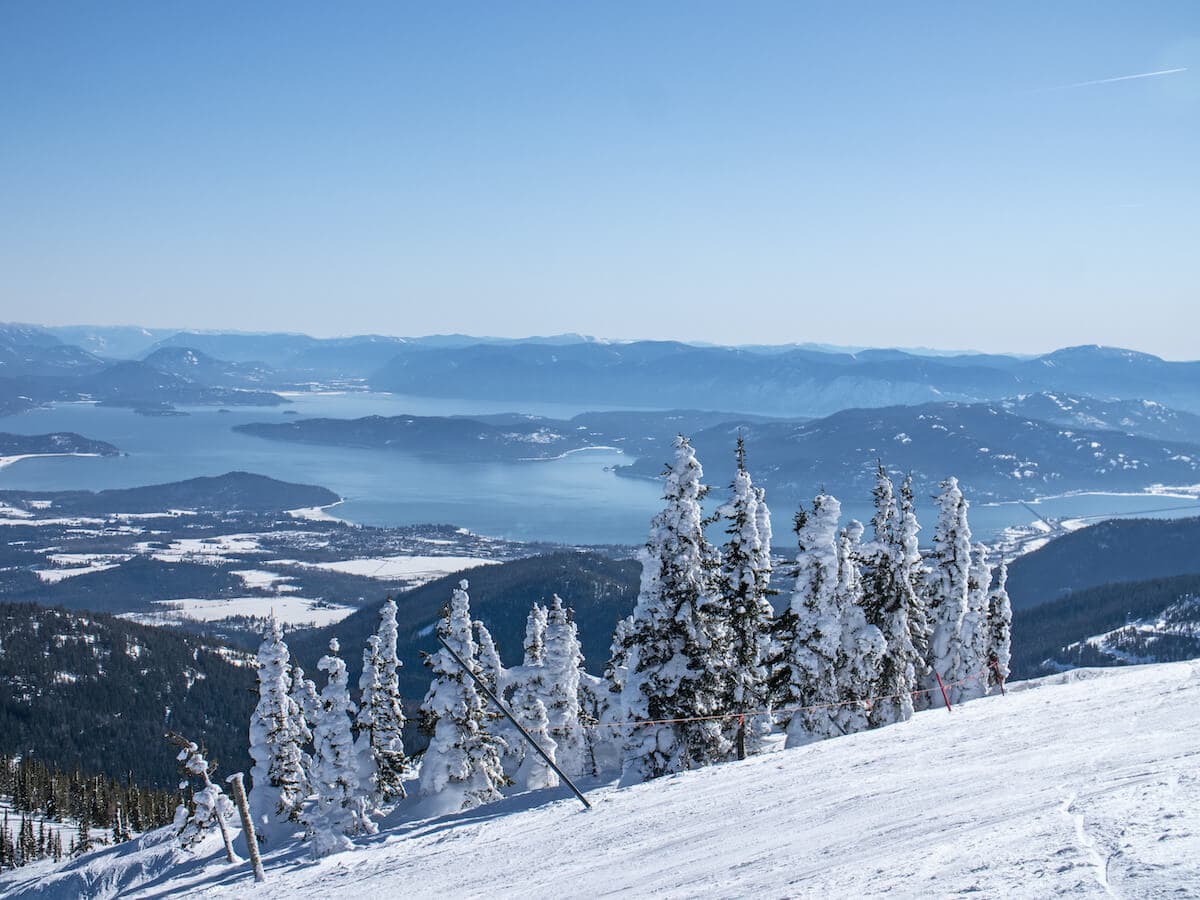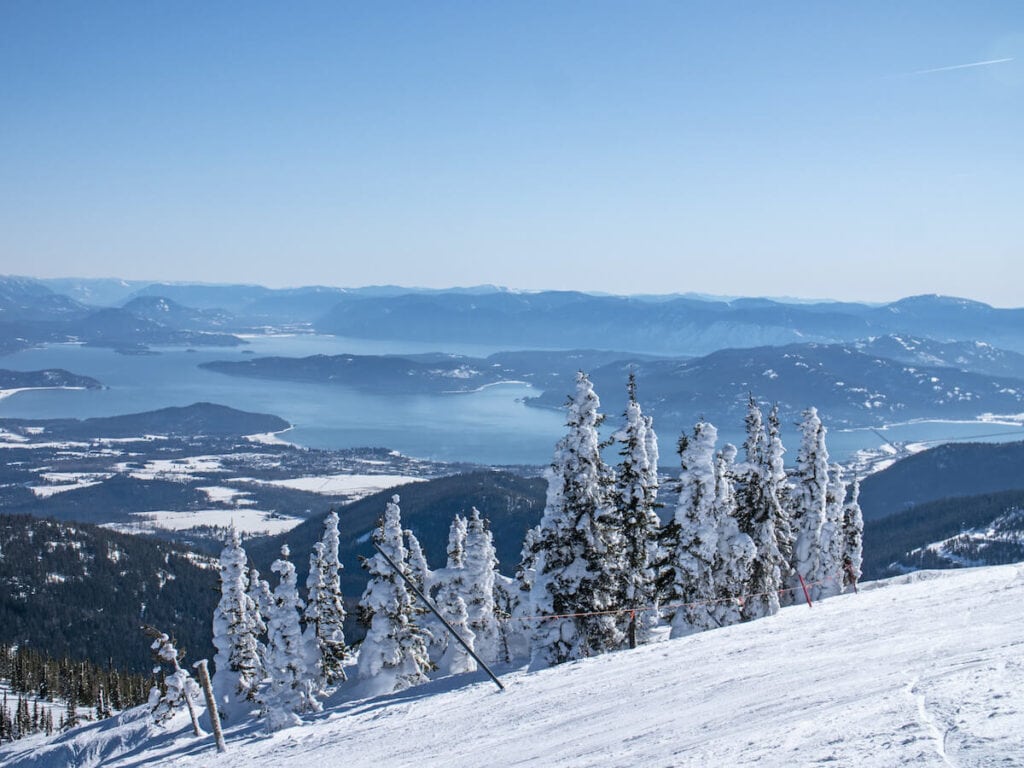 Lee Canyon – Las Vegas, Nevada
Skiing… in Las Vegas?! That's right! Located just 50 minutes from the Las Vegas Strip, Lee Canyon gets over 240 inches of snow, on average, every year. Back in 2015 when I was first starting this blog, I lived in Las Vegas and got the chance to ski at Lee Canyon. At the time, it was the first time I had gotten up on skis in over a decade.
Lee Canyon is one of the best ski resorts for beginners due to low crowds, a large bunny hill section, and complimentary coaching at the top of the bunny hill. Lift tickets and rentals are quite affordable (compared to mountains in say, Colorado or Utah). Plus, there's no better way to burn off that Vegas hangover than being in that fresh mountain air.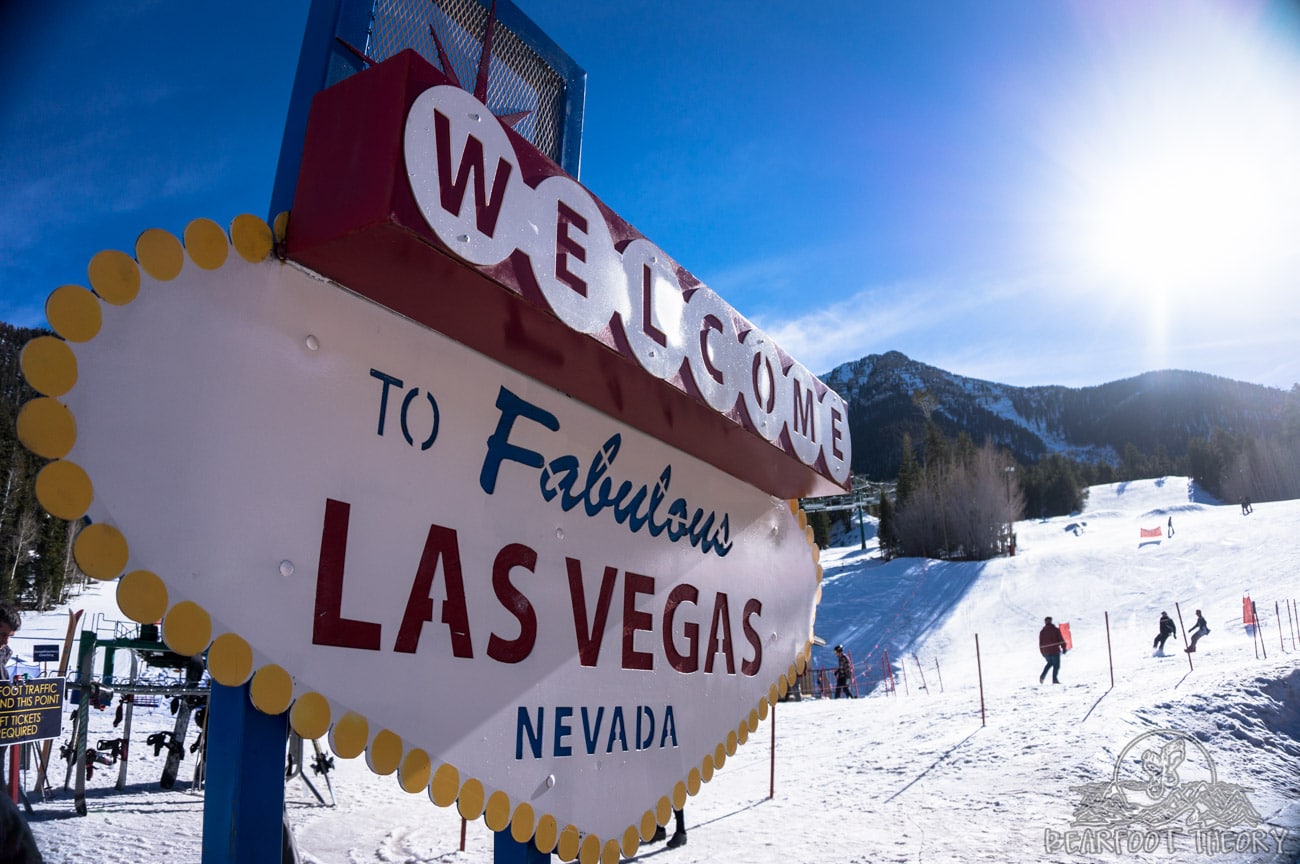 June Mountain – Mammoth Lakes, California
If you ask me, one of the best parts about skiing is the big mountain views, but at many resorts, us beginners get jipped. We get stuck on the lower half of the mountain where the easier terrain is located, and the only views we get are that of the lodge. Not so at June Mountain, the sister resort of Mammoth.
Here 80% of the slopes are suitable for beginner and intermediate skiers, and the best terrain for us newbies is actually located on the upper half of the mountain. This means you can take the lift all the way to the top, affording gorgeous views of Mono Lake and the Sierras, and still have plenty of options for getting down safely. The affordable June Mountain also doesn't attract the crowds that Mammoth sees, so chances are you'll have a run or two all to yourself.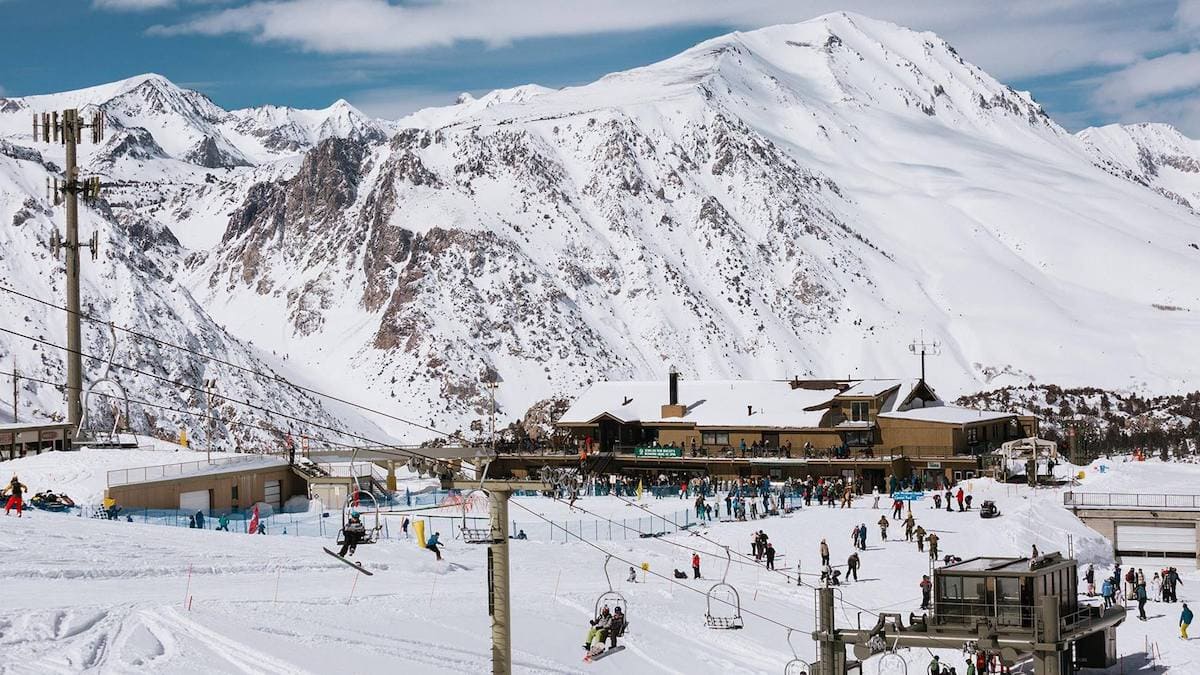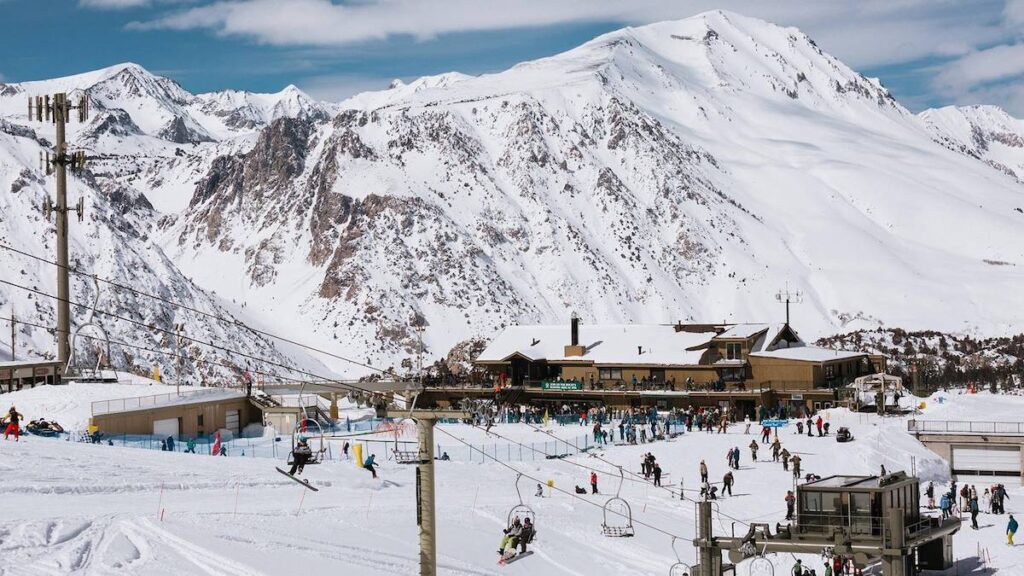 Big Bear – Bear Valley, California
If you live in Southern California, your options for skiing are pretty limited. Luckily Big Bear – one of the only ski resorts accessible to LA day trippers – is a great place to learn. Adult group lessons including rentals and a lift ticket are reasonably priced, making Big Bear one of the best ski resorts for beginners.
To make the most of your time up there, you might also consider renting a vacation cabin. Airbnb has quite a few affordable options, including some right on Big Bear Lake.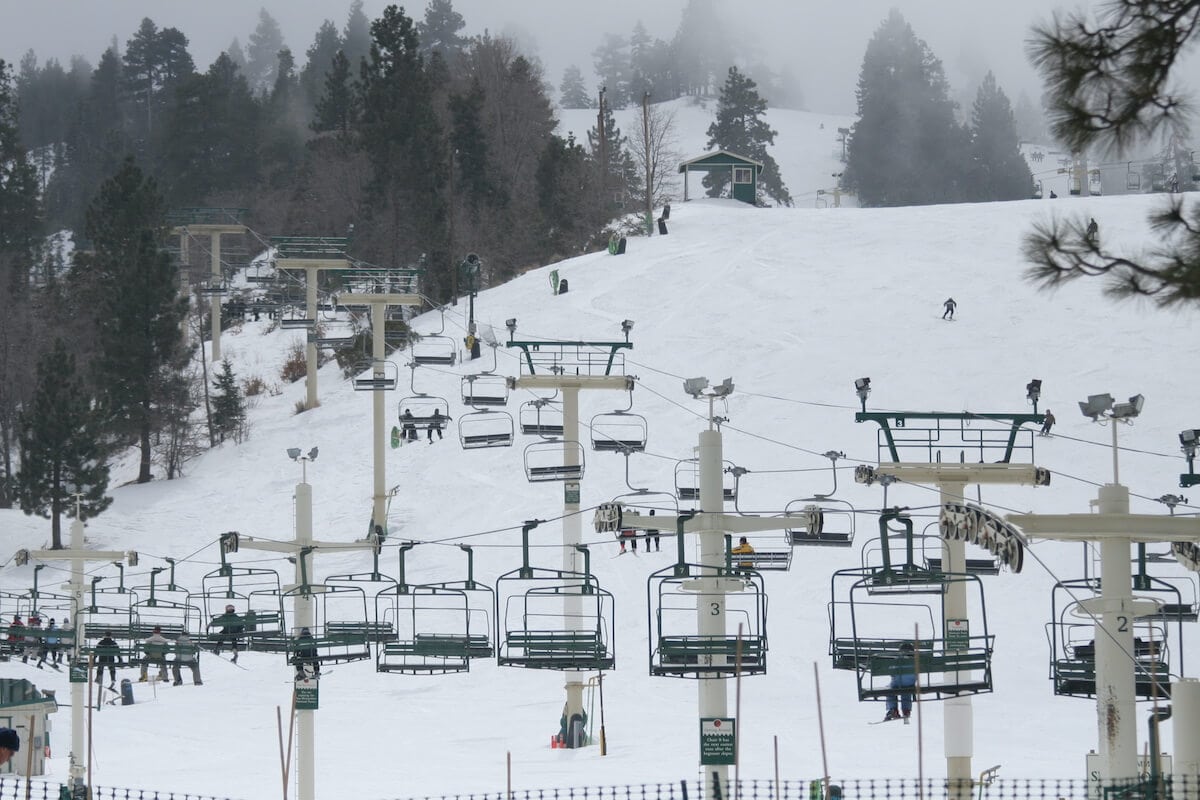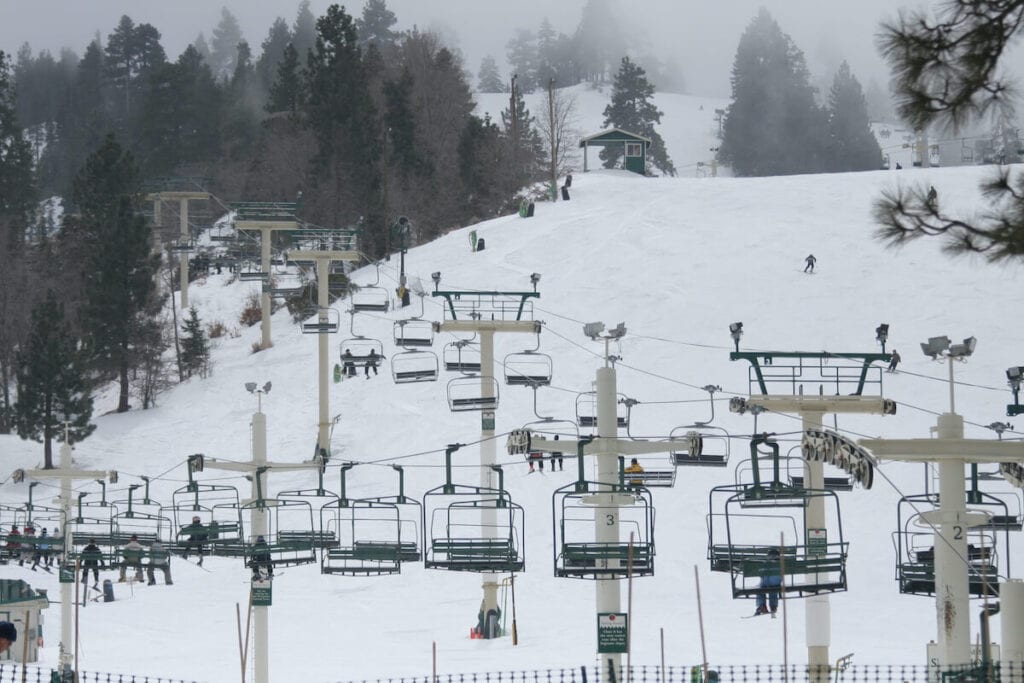 Mt. Bachelor – Bend, Oregon
Located just 30 minutes from Bend, Oregon, Mt. Bachelor has one of the best deals in the country for beginner skiers — the Ski or Ride in 5 Program. For $399 (at the time of writing), adults get 5 days of lessons, lift tickets, and rentals.
Even better, upon completion, you get a free season pass for the remainder of the year and the option to buy next year's season pass at 50% off. This is hands down one of the best deals if you are committed to becoming a skier. The only caveat is the program only allows those who are completely new to snow sports.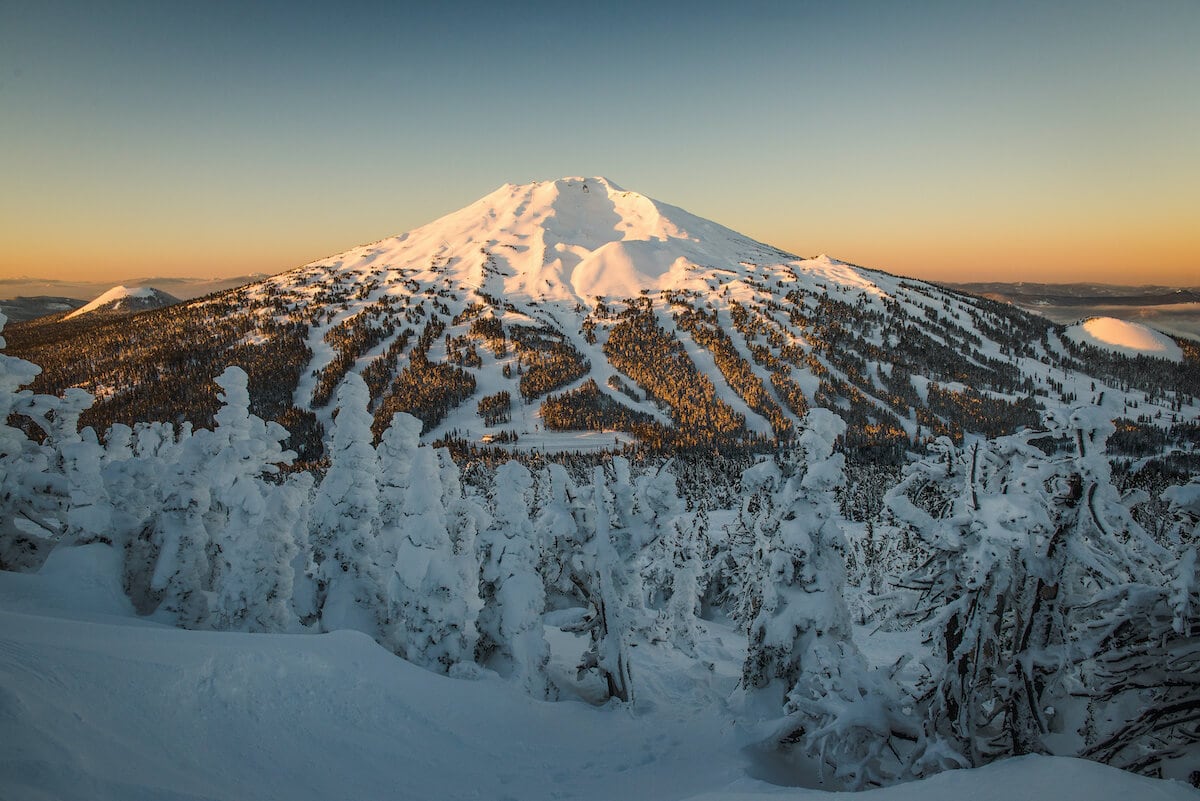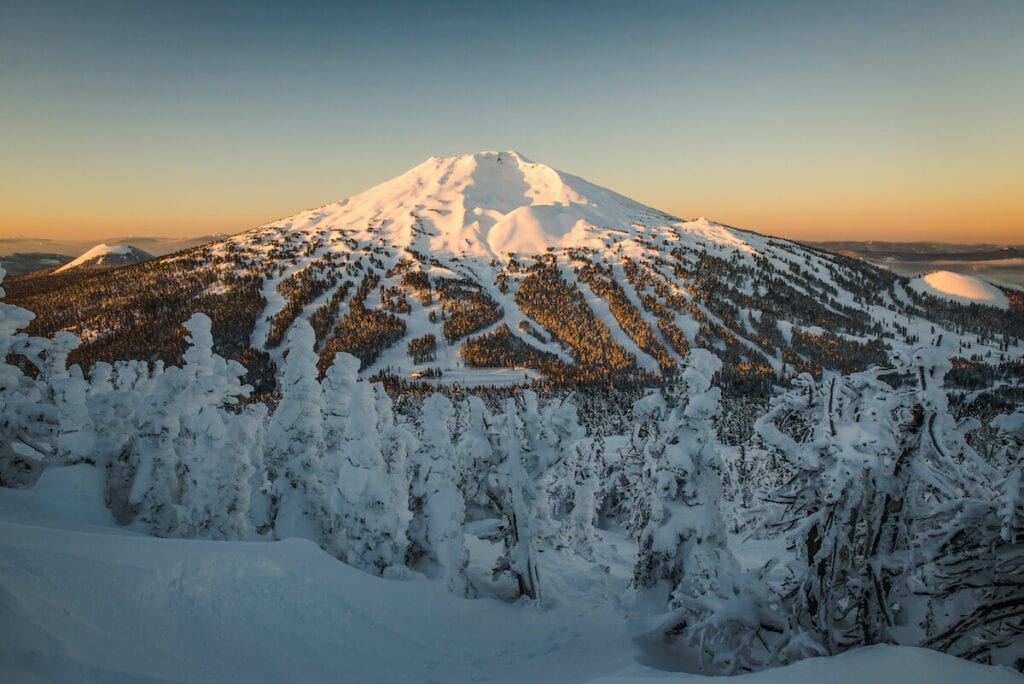 The Summit at Snoqualmie – Washington
For those living in Seattle, The Summit at Snoqualmie is the best place for beginner skiers. Every January, Snoqualmie begins a 6-8 week beginner skier program that is every Friday night. If you can't head to the mountain on Friday nights, Snoqualmie also offers private lessons, group lessons, and multi-week lessons.
With almost 2,000 skiable acres and 25 lifts, you'll have no problem finding your groove at Snoqualmie.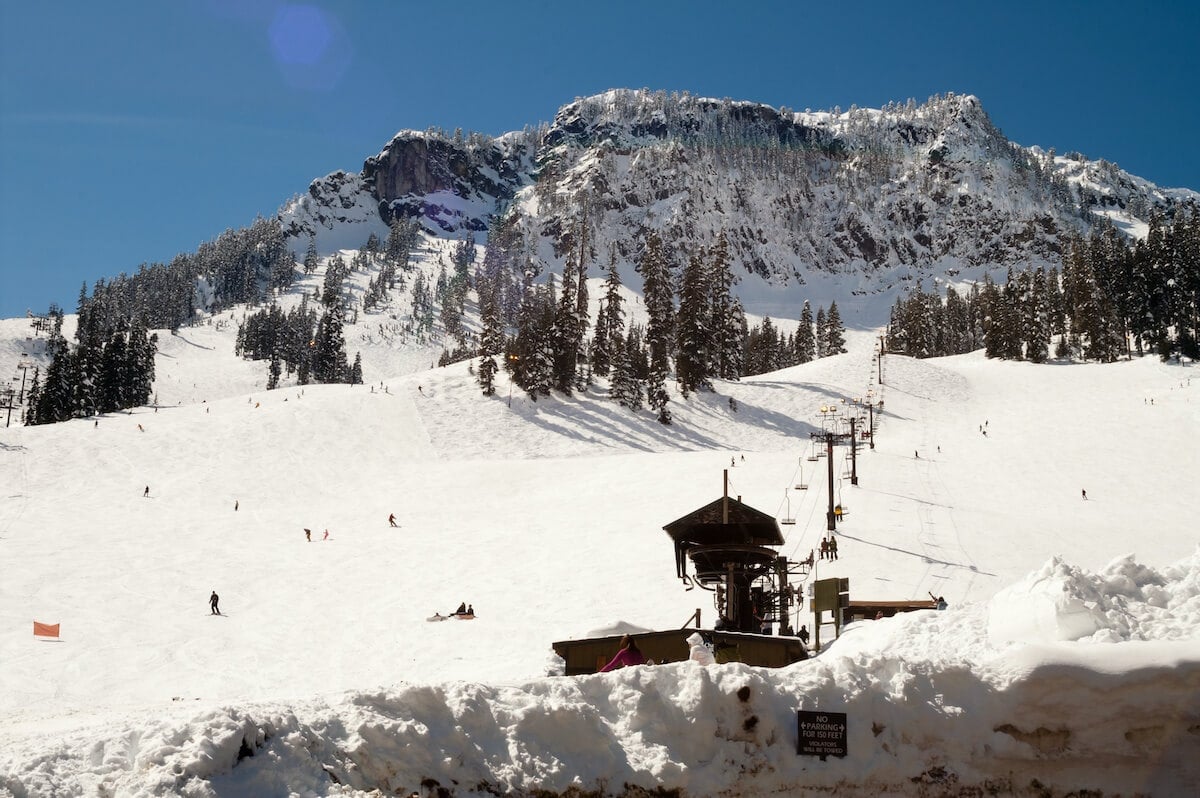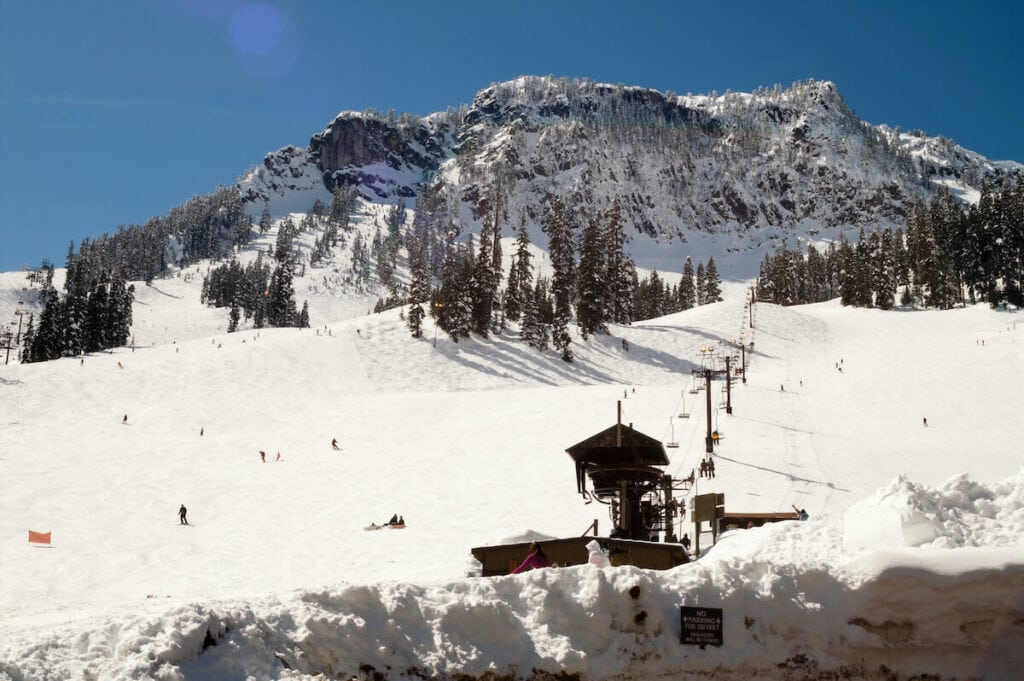 Sun Valley Ski Resort – Idaho
Sun Valley's Dollar Mountain is where I first skied as a kid before taking my 10+ year hiatus. It's a small, three-lift hill with enough gentle and intermediate terrain where you can get comfortable before advancing to the famous trails at Bald Mountain on the other side of town.
While Sun Valley's lift tickets are on the expensive side, a day pass gets you access to the slopes at both Dollar and Bald Mountain. If after a day or two, you decide that skiing just isn't for you, Sun Valley is an epicenter for some of Idaho's best winter activities so you won't be left in the dust. Instead, you can soak in some hot springs, hit up the nordic trails towards Galena summit, or snowmobile through the Sawtooths at Smiley Creek.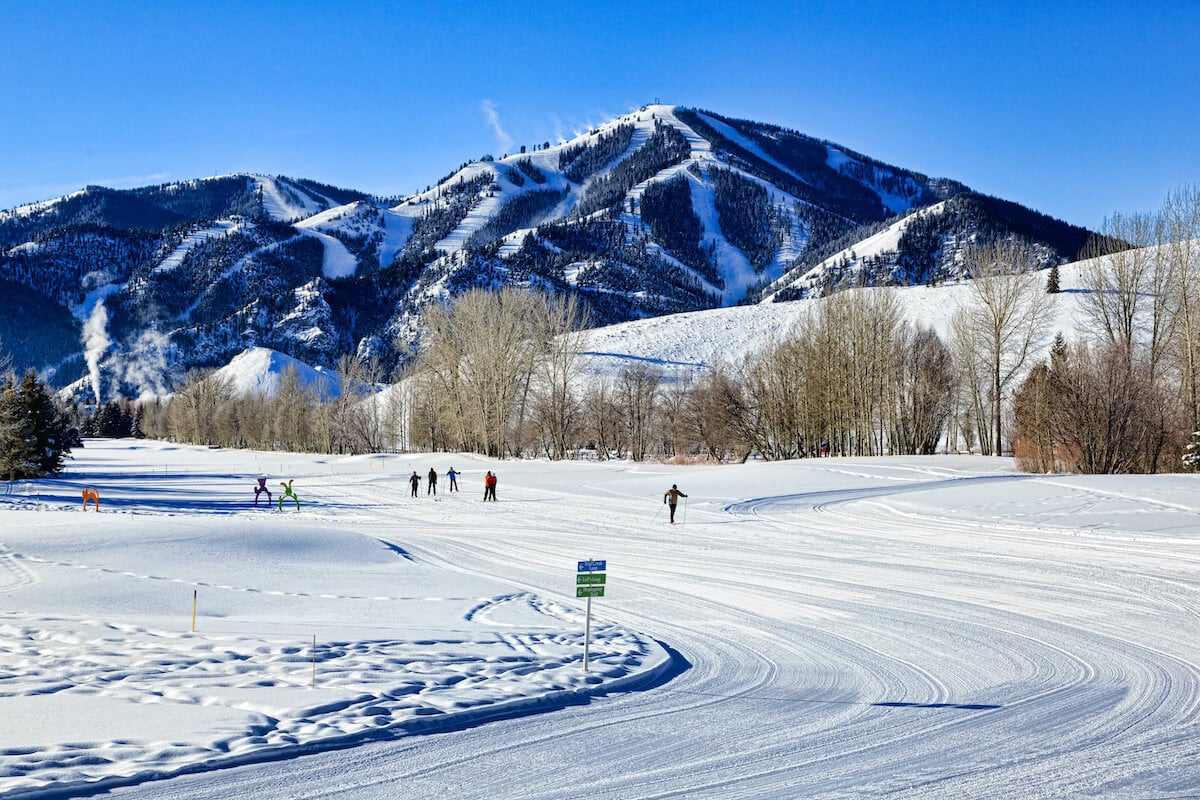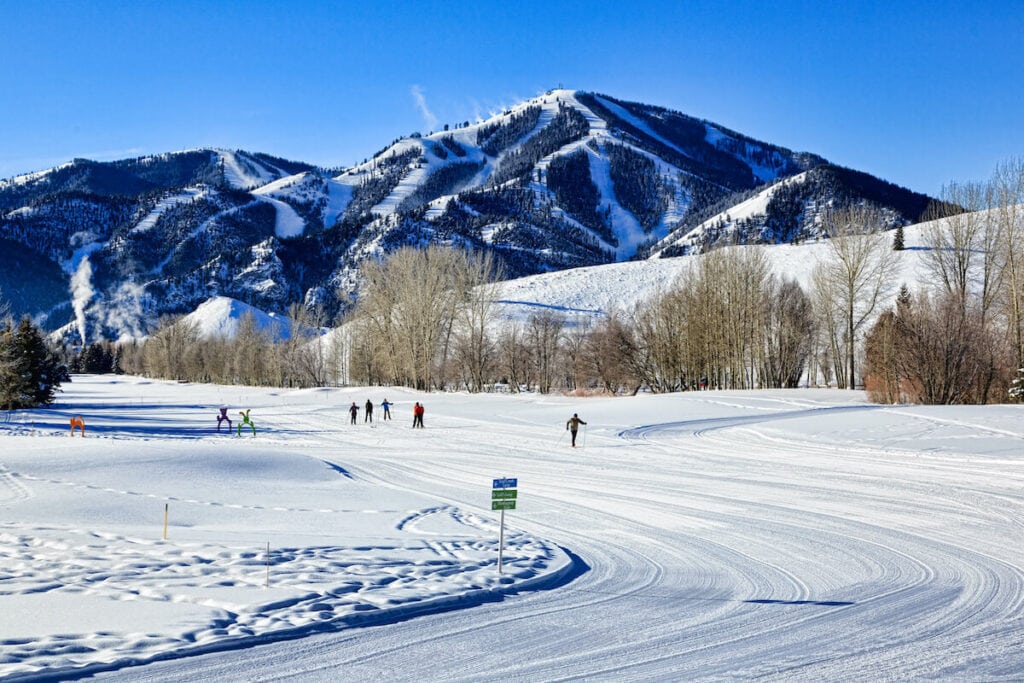 Copper Mountain – Colorado
Pizza wedging your way down the hill? No need to worry about rippers and shredders whizzing by you at lightning speeds at Colorado's Copper Mountain where the green runs are on the complete opposite side of the mountain as the black diamonds. As the 6th largest ski resort in Colorado, nearly half of its 142 runs fall into the beginner to intermediate category.
Copper Mountain sees less traffic than nearby Vail and Breckenridge, and it's also cheaper. Like many of the other resorts here, they have a total newbie program – 3 days of lessons, rentals, and lift tickets that comes with a season pass at the end. They also have a Women's Wednesdays program where ladies of all levels split up into small teams with instructors and have a chance to work on their skills in a supportive environment. You can read about 11 of Colorado's top mountains for skiing here.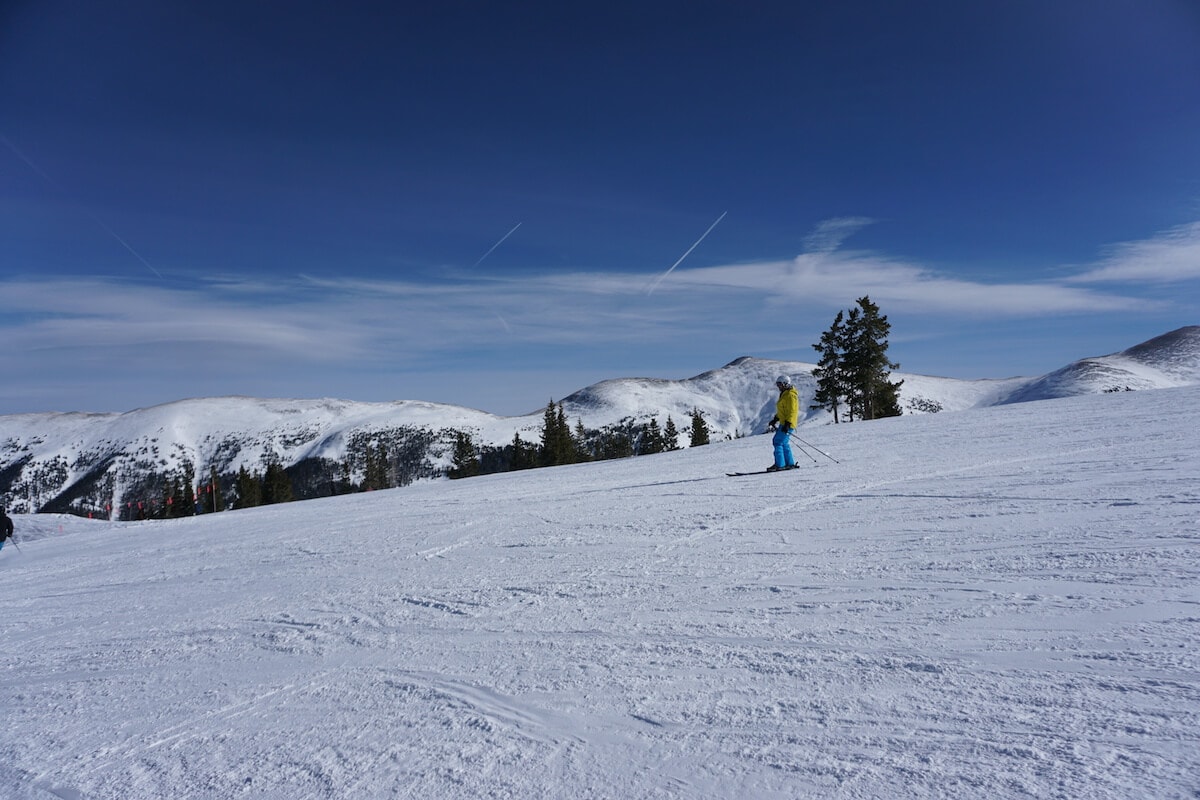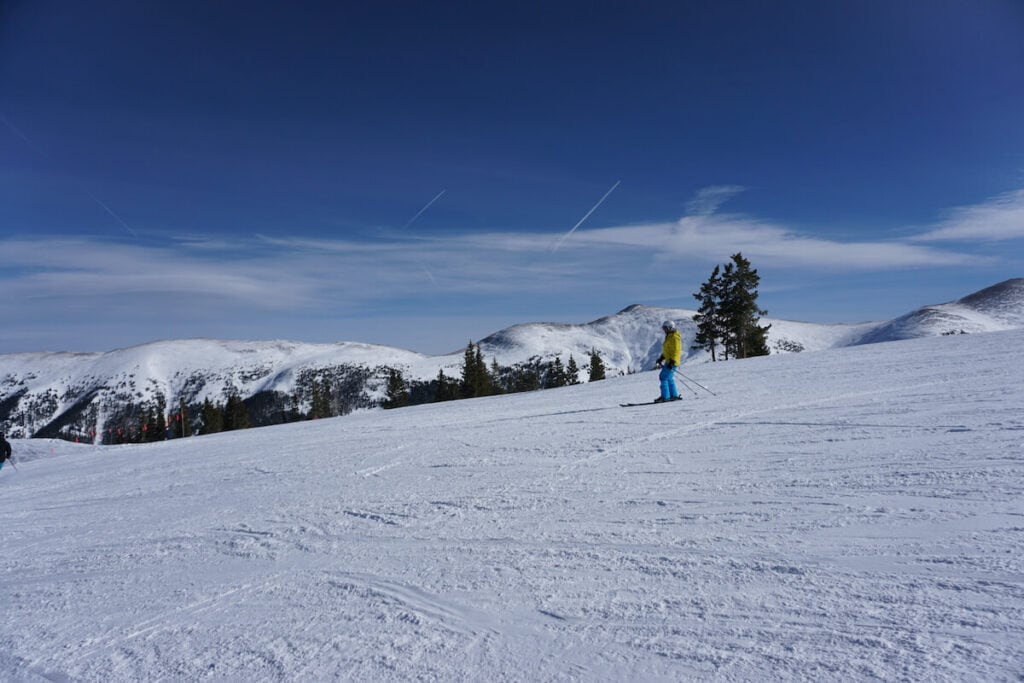 Snowy Range Ski Resort – Laramie, Wyoming
A private lesson is one of the most efficient ways to excel, build confidence, and improve your form, but private lessons at some resorts run $500 for a few hours – a deal-breaker for 99% of us. But here at this smallish Snowy Range Wyoming mountain, you can get a two-hour one-on-one lesson for around $200 (at the time of writing) with each additional hour only costing $62. Snowy Range has tons of green and blue runs – perfect for beginner skiers.
The nearby Vee Bar Guest Ranch on the Laramie River also offers reasonably priced ski packages paired with accommodations in western style, riverside cabins. If you stay there don't miss the outdoor hot tub where you can stargaze and rest those tired muscles at the end of the day.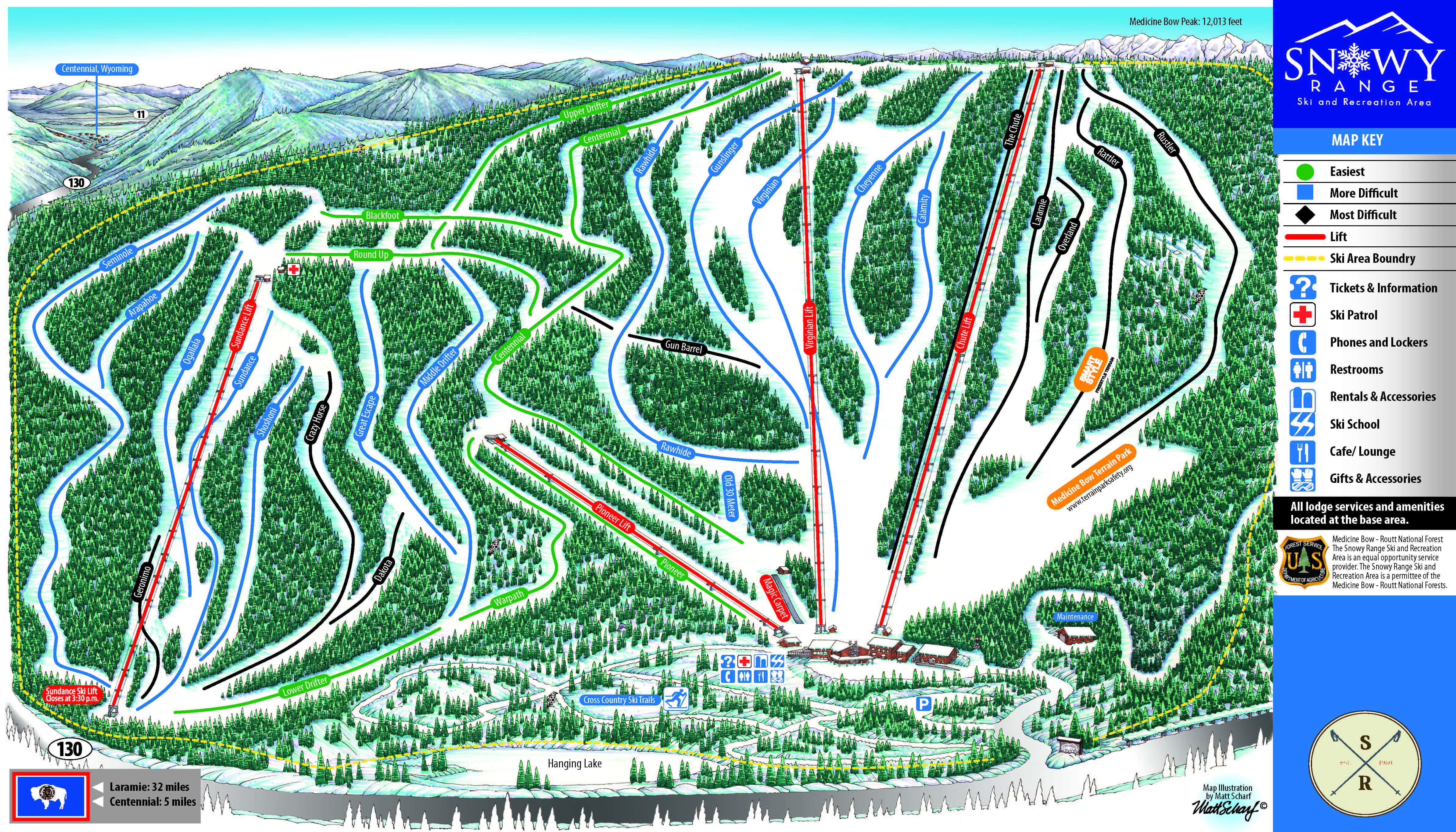 Whitefish Mountain Resort – Montana
Sitting on the edge of Glacier National Park, Whitefish Mountain Resort sits in the heart of the Rockies, and the ski resort has big mountain views to match. From the Whitefish chairlifts, you can see the peaks of the park, Flathead Lake, and all the way into Canada.
Lack of lift lines means that fresh snow stays fresh for days, and you can have the long groomers much to yourself. Whitefish has both men's and women's-only group full-day programs that span 8 sessions throughout the winter. This program is a great opportunity to build new friendships while working your way up to those blues.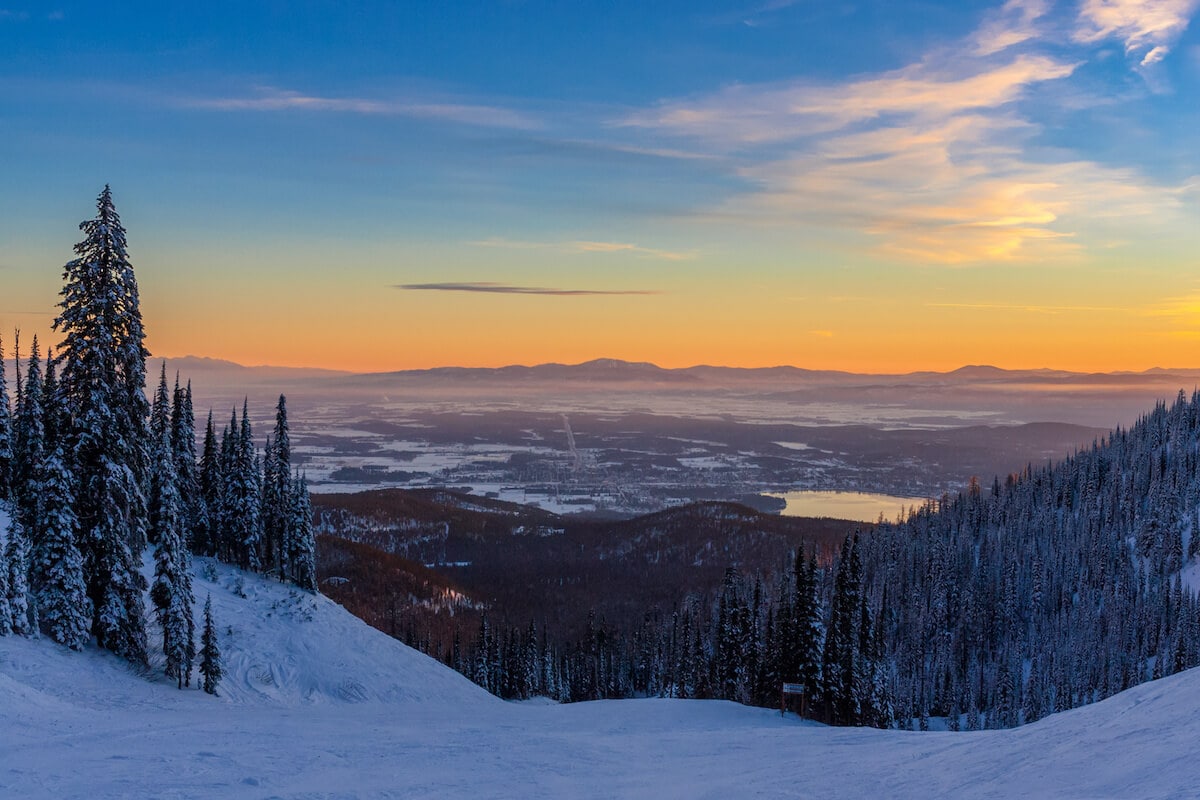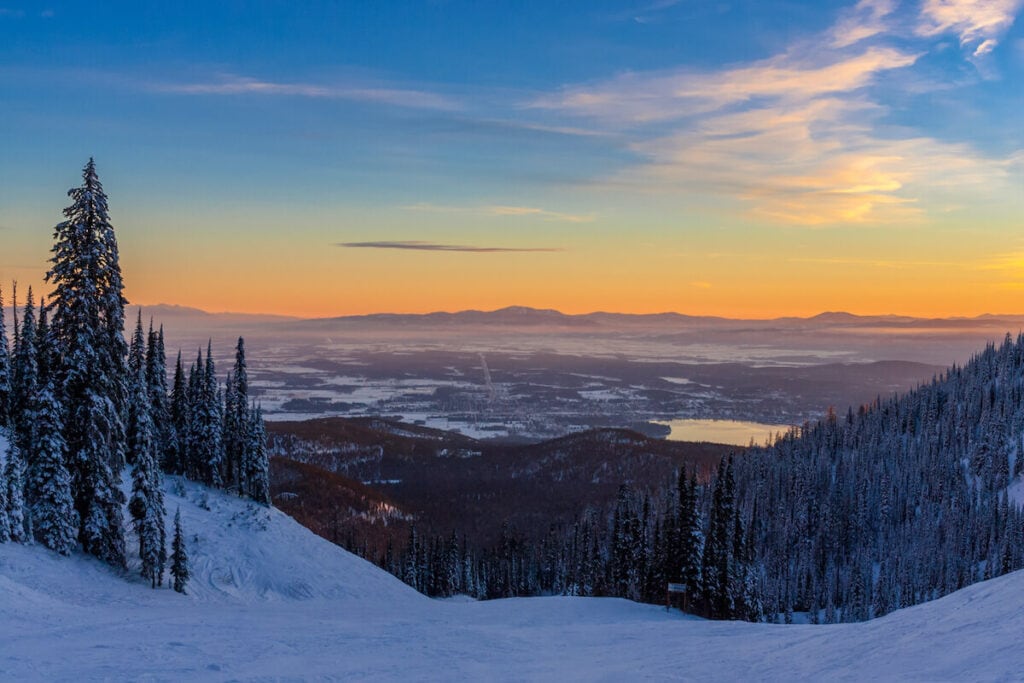 Angel Fire Resort – Taos, New Mexico
While Taos Ski Valley gets rave reviews, it's not the best mountain for beginners. Its greens and blues are considered steeper than most mountains, so unless you are prepared to bomb down the hill, you may want to look elsewhere.
Fortunately, there's another option nearby. Angel Fire Resort, just 24 miles east of Taos, offers far more beginner runs and has reasonably priced private lessons. Angel Fire also offers night skiing on the easier slopes. At the end of the day, you can shack up on-site, or head down into Taos where you can stay at one of the adobe-style hotels.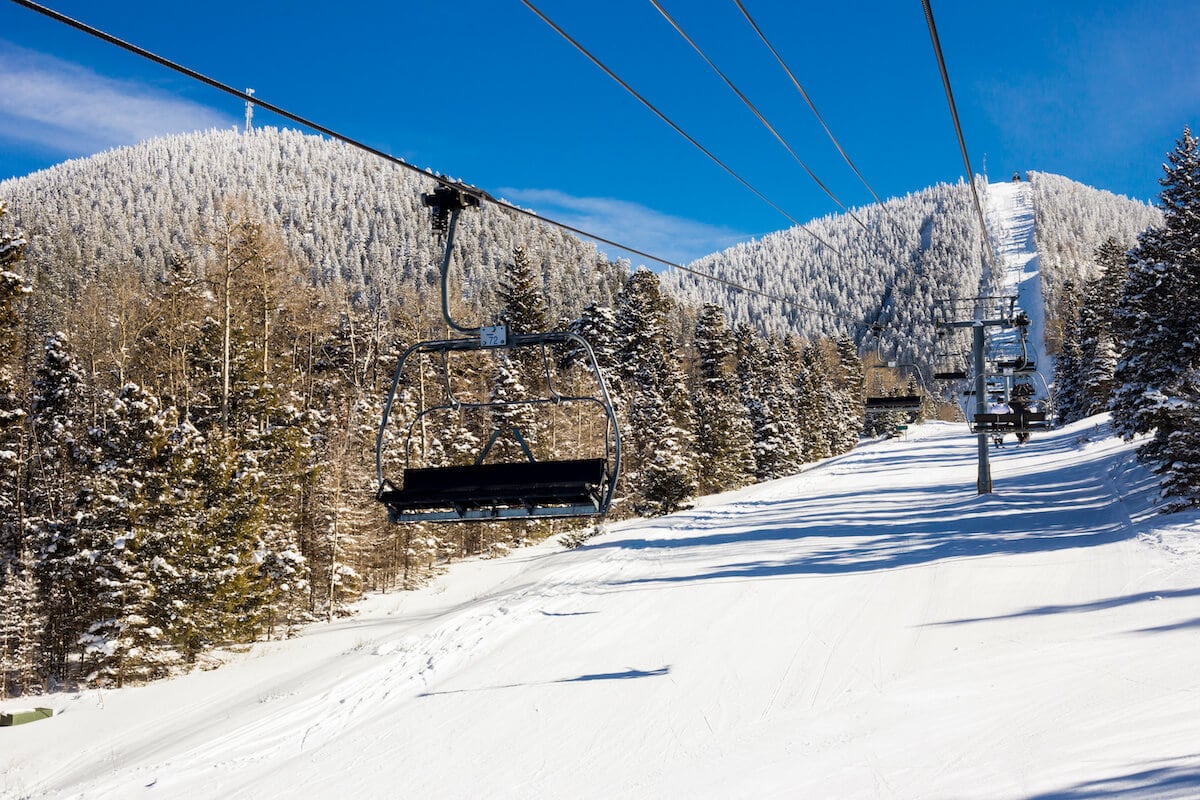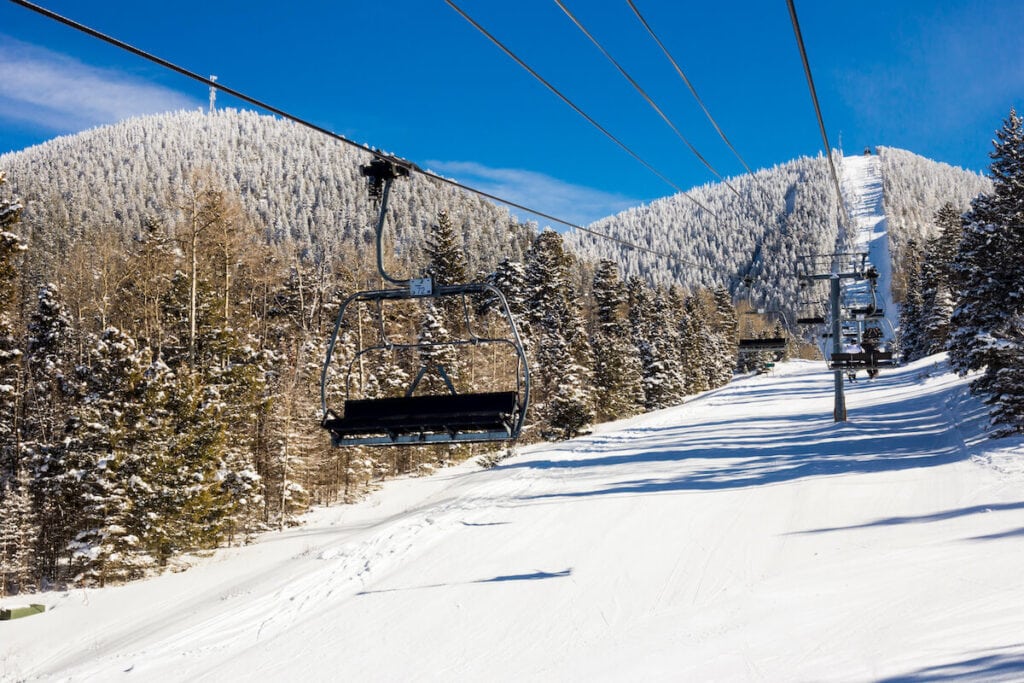 Looking to ski on the East Coast? Learn about 8 beginner-friendly ski resorts in New England.
We hope this list of beginner-friendly ski resorts helps you get on the mountain this year. Let us know where you're planning to ski or if you have questions in the comments below!