HOW TO CHOOSE SKI BOOTS
While it can be said that not all pieces of gear have to be absolutely perfect to enhance your experience of the outdoors, this doesn't go for ski boots. Integral to your comfort AND control, how to choose ski boots is one thing that you want to get right for sure. Sifting through the options, brands, colors, and styles can be a dizzying process and knowing how to choose ski boots that fit your foot best is key to making the right choice.
Not only are they an expensive piece, but they are also the most important. They are like the steering wheel of your car, and they are how you control your movement down the mountain. So you might as well get it right on the first buy.
If you're in the market for a pair that'll let you stay on the lifts 'til they stop spinning, this is your ultimate guide on how to choose ski boots.
Ski Boot Basics
Start with the basics to be your own best boot fitter. Here are the most common parts of a boot to know:
Hard Outer Shell – The firm exterior of a ski boot keeps the shape and form of your boot but is also flexible enough to let you customize the fit by tightening or loosening the buckles. Most open and close from the front but some beginner-friendly boots open from the back.
Inner Liner – The soft inner lining of a boot gives warmth and comfort. Most can also be molded to fit the contours of your feet.
Footbed – Add an optional footbed to the insole of your ski boot for extra comfort and a better fit. These can also be customized to the shape of your foot in the ski boot, so talk to an expert while you're shopping in stores.
Buckles & Straps – Every pair has several buckles and a velcro strap at the top to secure your foot inside the boot. On some, there are additional notches in the hard outer shell that let you move the buckles farther apart or closer together to adjust the fit.
If you're new to skiing don't miss our helpful first time skier FAQs
What is the Flex of a Ski Boot and Why Does it Matter?
The flex of a ski boot refers to how soft or hard the outer shell is in terms of flexibility (not actual firmness). Which is, how easy it is to lean forward into the boot and how much it pushes back when you lean into it. All boots have flex plus a corresponding number or rating on a flex index. The lower the rating is the more flex it has and vice versa. Here are flex rating examples and what they mean:
Flex rating: 80 for men/ 70 for women
This lower rating, which differs between men and women's ski boots indicates that the boot has more flexibility, therefore it has a soft flex. They are great for beginners or slower skiers who like to stay mainly on green and blue trails.
Flex rating: 85-105 for men/ 70-80 for women
As the number gets higher the flex decreases and makes for a stiffer boot. A boot that is stiffer offers better control and can handle speed and different types of terrain well. Since this rating isn't too high on the flex index it's good for an intermediate skier who likes to change it up once in a while and ski more challenging runs. It's also good for a beginner that wants to grow with their boot.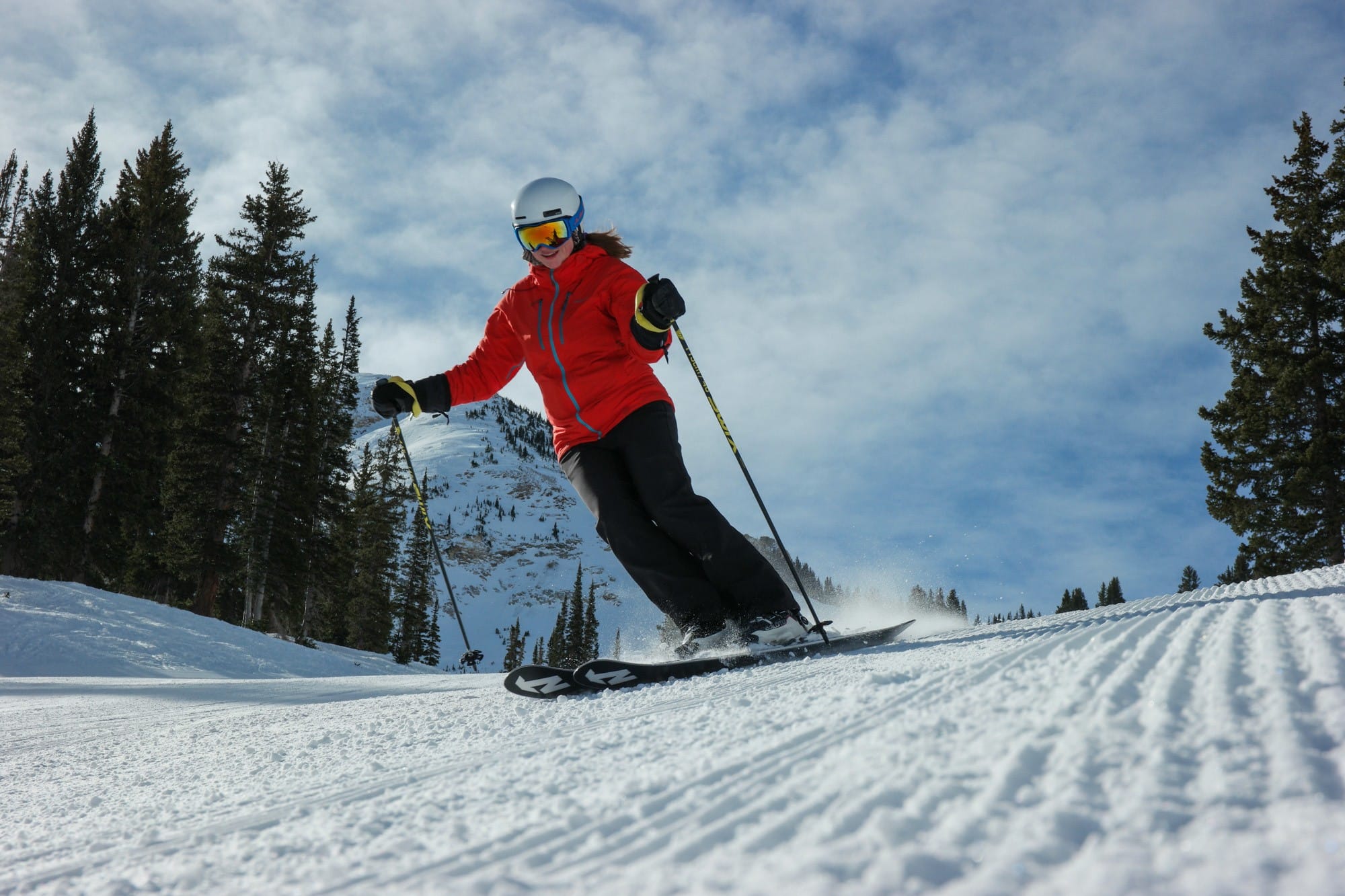 Flex rating: 110+ for men/ 85+ for women
The stiffest boot is built for advanced skiers who ski fast, aggressively and venture off on varied terrain, steepness or snow conditions. This boot is stiff but still has enough flexibility to respond well on various surfaces so you don't take all of the ground force and speed.
Try the ski boot on and test out its flex before you buy. How the flex feels to you is ultimately the most important factor and each brand constructs their boot somewhat differently than the next, so don't rely solely on flex index to tell you how comfortable you will feel.
Not sure skiing is for you? Read our 8 reasons you should give it a go.
The Difference Between Women's and Men's Specific Ski Boots
The biggest difference between men and women's ski boots is the height and size of the boot's cuff. Typically, women's ski boots are designed to have a lower and slightly wider cuff because women tend to be shorter and have more proportionally-sized calves than men do. However, they do make different sized cuffs, which means you shouldn't have to deal with an uncomfortable or ill-fitting cuff.
Don't fear if the best fitting boot for you is actually the opposite sex. If you're a tall female and have a fairly large foot then a men's size boot might actually work out great since the height of the boot won't hinder your balance or control.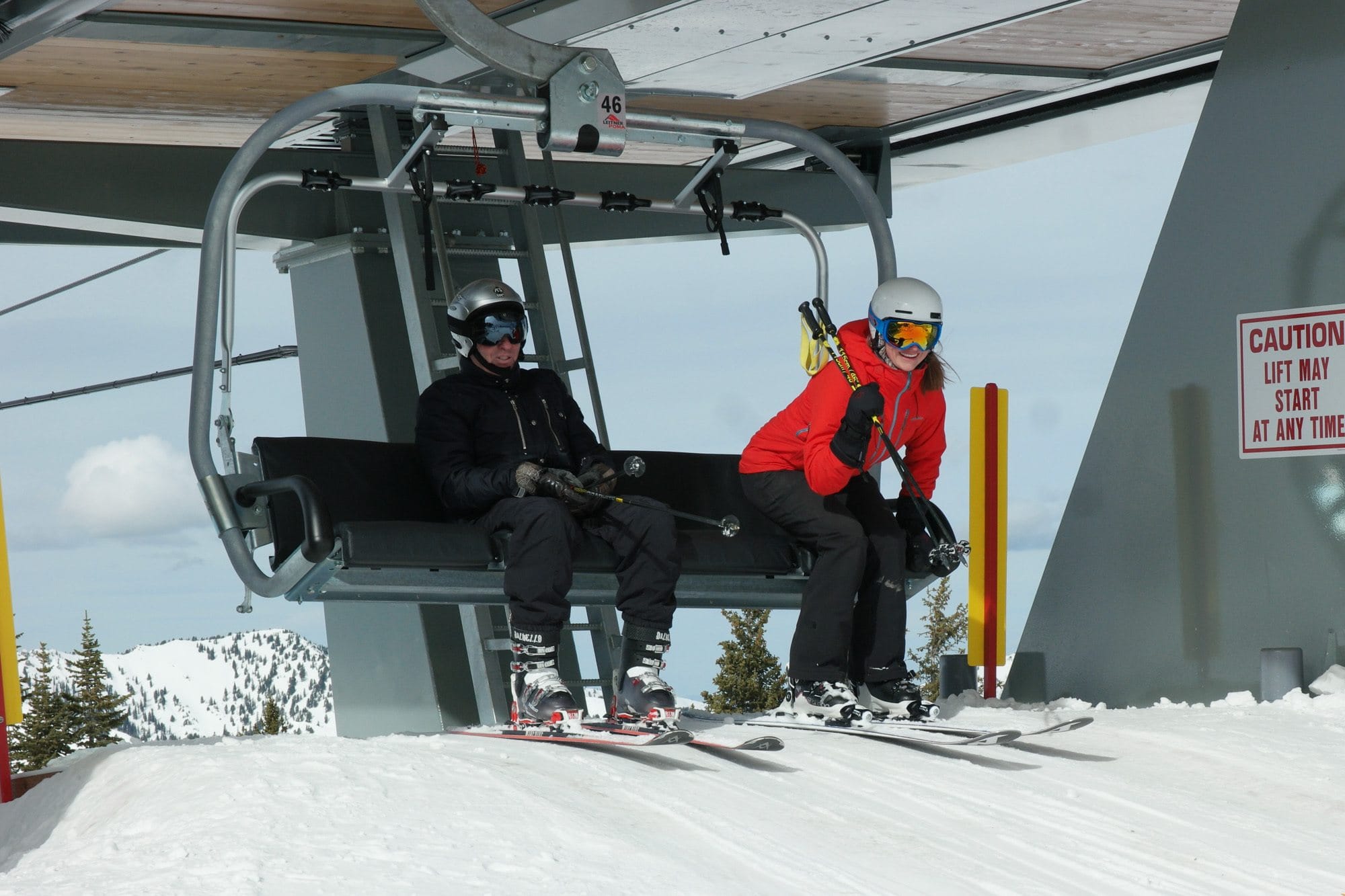 How Should Ski Boots Fit?
It's rare to find a ski boot that fits perfectly right out of the box. However, most modern ski boots can be heated, molded, punched out, and customized resulting in a boot that fits your foot like a glove.  We always recommend going to a professional boot-fitter when you are shopping for boots. They will measure the length and width of your foot in order to find the best pair for your feet. Here are a few important factors to note when you're trying on boots:
Snug fit – A boot fitter recently told me that in the store, the boot should feel half a size too small. With custom work, they can make the boot looser, but a boot that is too loose when you purchase it with will never fit right.
A few minor pressure points are ok.
Enough room to wiggle your toes slightly
Your heels should not lift up while walking. You want your heel secure in the heel pocket, so you aren't bouncing around in the boot when you hit an unexpected bump.
Wear the boot in the store for a while. If you feel numbness or tingling in your toes, the boot might be too small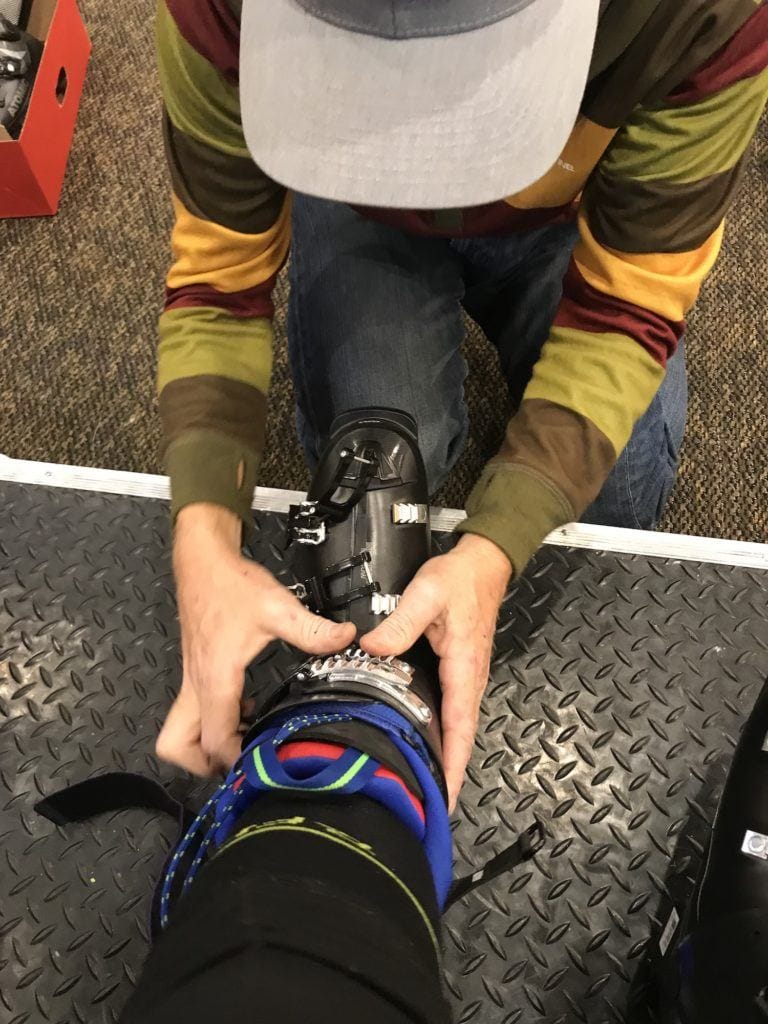 Read more about what to wear skiing
Last width
Also referred to as, low, mid or high volume, the measurement of a ski boot's inner toe box is called the "last width". The standard last width ranges from 95-106 mm. If you have a wide foot stay to the higher end (102-106mm), a narrow foot is towards the lower end (98-102mm) and a normal-sized foot will be sized somewhere in the middle (around 100mm).
As a side note, narrow boots tend to suit people looking for higher performance. While they aren't as comfortable they do provide better control of the skis at higher speeds since you won't be shifting around at all in your boot.
Other Important Ski Boot Features
Because ski boots are definitely not one-size-fits-all kind of gear, many boots come with heat-sensitive linings that can be molded or adjusted to fit your foot specifically. It is usually a built-in feature that doesn't cost extra, so take the extra 10-20 minutes to get your ski boot liners molded while you're at the ski shop. In the long run, it'll make all the difference and let you get in more turns.
This feature is primarily for folks who like to hike up and ski down mountains in the backcountry, but there are high-end ski boots that offer an adjustable walking mode. It essentially allows skiers to choose to disconnect the upper portion of the boot from the lower section for easy walkability. It's not a necessity but definitely a perk!
Favorite Women's Ski Boots
As mentioned above, the most important factor for a good ski boot is that it fits your foot. That means the boots that work for me might not work for you. How to choose ski boots is a daunting task and we've shared our favorites to help get you started.
I have skinny ankles and calves and a wide forefoot. I wear a 9.5 shoe and that translates into a 24.5-25.0 ski boot. The last few years, I was skiing in a stiffer Salomon Xmax 110, but I experienced a lot of foot pain which I believe was due to that boot being too narrow and an improperly molded footbed. It was also a fairly aggressive boot, and this year I wanted something that would be a little more responsive to my inputs.
KRISTEN's PICK: Atomic Hawx Ultra 95 (Low Volume)
I just purchased the Atomic Hawx Ultra 95 women's ski boots for the 2019 season. I wanted something with an intermediate flex since I'm not a very aggressive skier but still wanted to be able to tackle steep, uneven terrain. For more aggressive skiers, this boot also comes in a stiffer flex. This is a low volume boot for narrower feet, and I chose it because my foot stays grounded in the heel pocket, and I don't have a lot of wiggle room around my calf. I have been getting some work done on the boot to customize the parts of the boot that were very tight out of the box, and I'll come back and update this once I've tested it more thoroughly.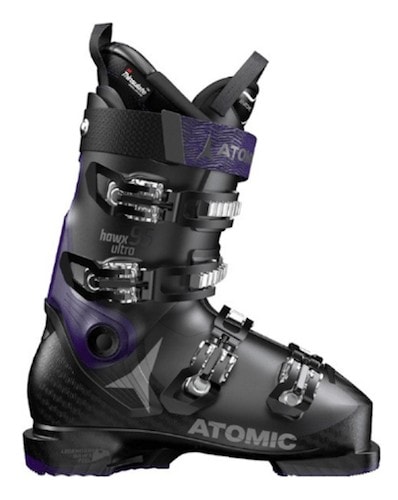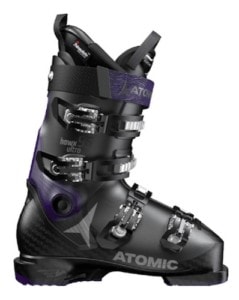 KATHERINE'S PICK: Salomon Xpro Energyzer 100 Boots (Mid-Volume)
I'm absolutely in love with my Salomon Xpro Energyzer 100 boots. As someone with a wide foot and a neuroma (a painful condition resulting from wearing too narrow shoes) which only gets worse when my toes are compressed, this was a big deal. So, you can imagine my surprise and delight when the boot fitter at a ski shop in Tahoe recommended I try a men's boot. I instantly went for it, knowing that it would fit better and when it did, we molded the soft liner to fit my foot, too. Foot pain is a no-go when you're skiing, so ladies with wide feet, don't hesitate to try something outside of the box.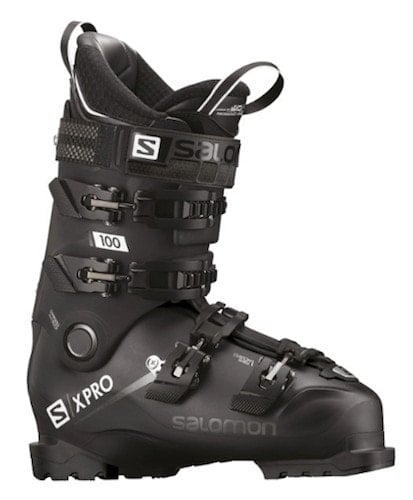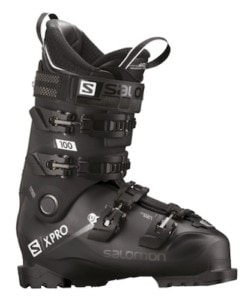 Rossignol Pure Pro Heat 100 (Mid-Volume)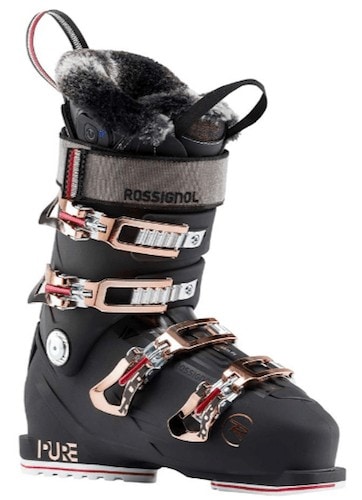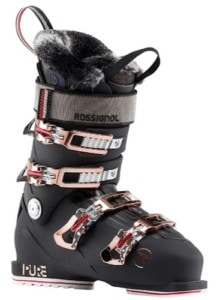 This is another ski boot I considered buying this year, the Rossignol Pure Pro Heat 100. Slightly higher volume than the Atomix I ended up with, it was very comfortable right out of the box. This boot won #3 in Ski Magazine's awards for women's All-Mountain Utility ski boots.
Dalbello Kyra 85 (High Volume)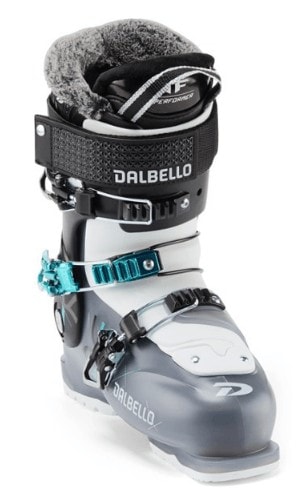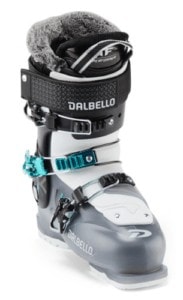 Another Ski Magazine "Best Of" for 2019, the Dalbello Kyra 85, is a great boot for beginner women with slightly wider feet (102 last). This boot also has a comfortable walk mode for getting to and from your car.
Tecnica Mach 1 LV or MV (Low OR Mid-Volume)
The Tecnica Mach 1 LV is another solid ski boot choice for women. I tried the low volume on in the store and it hugged my ankle perfectly and felt comfortable in my forefoot. My friend who heads up lift operations at Alta skis in this boot and loves it. If you have a wider foot, check out the MV version made for a more cushy fit.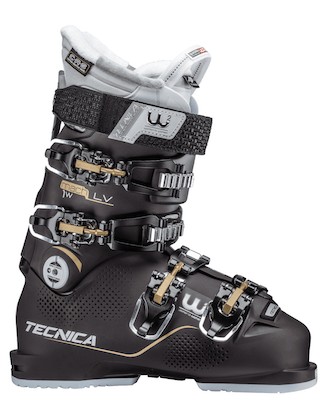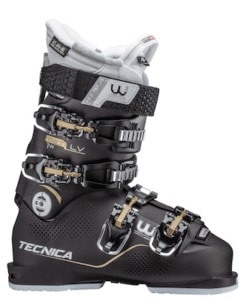 We hope this guide helps answer any questions you might have about how to choose ski boots.