How to Choose Skis: Tips for Finding the Right Pair
Learn how to choose the best pair of skis so that you can have the most fun on the slopes!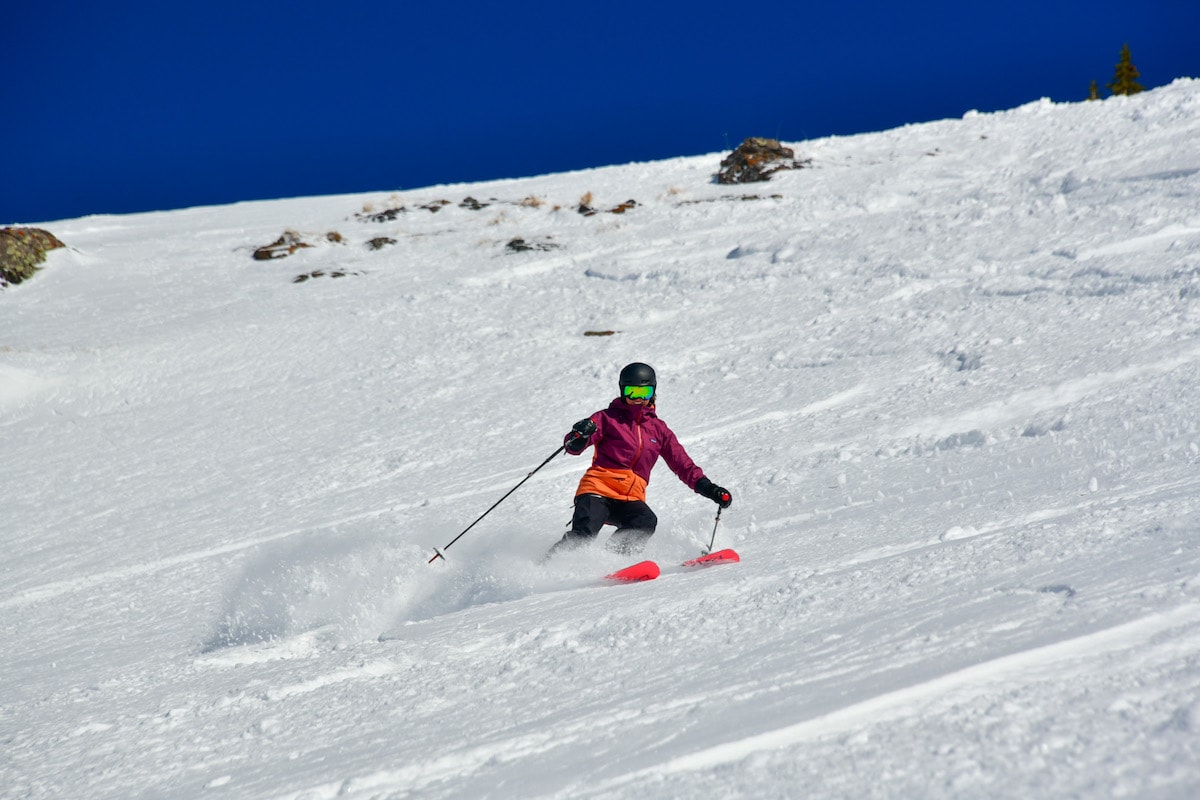 If you've been following along here for a couple of years, you may know that I only recently started skiing. At age 31, when I moved to Utah, with the popular Alta Ski Resort nearby, I decided the only way I would survive winter is to pick up skiing as a new hobby. It's been a challenging, yet extremely rewarding experience, and now rather than dreading winter, I can enjoy 4 seasons of recreation. When I first started skiing, I had no clue what I was looking for in a ski, let alone how to choose skis. Length, width, shape, camber. All of these ski specs were like a foreign language!
Now entering my fifth full season of skiing, and my third pair of skis, I have a much better understanding of how different skis perform and how different conditions affect the kind of ski you want to be on. The point of this blog post isn't to make you an expert on choosing skis, but to give you the basic background knowledge so you can go to the ski shop ready to ask questions.
If you're a beginner, don't miss my beginner tips for learning to ski as an adult.
In this blog post, we share information and tips on how to choose skis for your ability level and the terrain you plan on skiing most. Plus I share my favorite pair of skis I've found to date!
Quick and Dirty Guide To Ski Terms
Here are a few keywords to know before you walk into the ski shop:
Rocker – The amount of rise in the tip and tail of your ski, great for powder and quick turns while staying balanced in the middle of your ski.
Waist – The area of your ski that is directly underfoot. Narrow waists allow the skier to dig in more when there are firm conditions (East Coast) and a wider waist affords more float to evenly distribute the weight which is great for deep powdery conditions (West Coast).
Turning Radius – This is calculated by the ratio of the width at the tip and tail versus the width at the waist. A smaller turning radius makes it easier to make tighter turns.
---
The Different Types of Skis
For recreational skiers, downhill skis, which are also known as Alpine skis can be categorized into three different types of skis: On-Piste, All Mountain, and Powder skis. This doesn't include race skis, freestyle, or touring, styles that are more specific to each sport.
In general, whether you are renting a pair of demo skis at the ski shop or looking to buy your own pair you'll be choosing from these three categories.
On Piste Skis
The term On Piste refers to skiing groomed trails on the mountain, so they are also referred to as On-Trail skis. This ski will typically be more narrow with a good edge to help you carve into hard-packed snow.
Go for an On Piste style of ski if you are a beginner or intermediate who likes to stay on groomed trails or ski primarily in the Northeast where it can be icy.
All-Mountain Skis
The All-Mountain ski also has a name you can take literally. It's the most versatile of the bunch and can handle different types of snow and terrain easily. It's what I ski on and recommend as something you can grow with.
In addition to being a bit wider in the waist and tips, an All-Mountain Ski will have more rocker to help you easily maneuver in different types of snow. The All-Mountain ski is a great in-between option for beginners, intermediate, and even advanced skiers who don't just stick to one type of terrain or area of the country.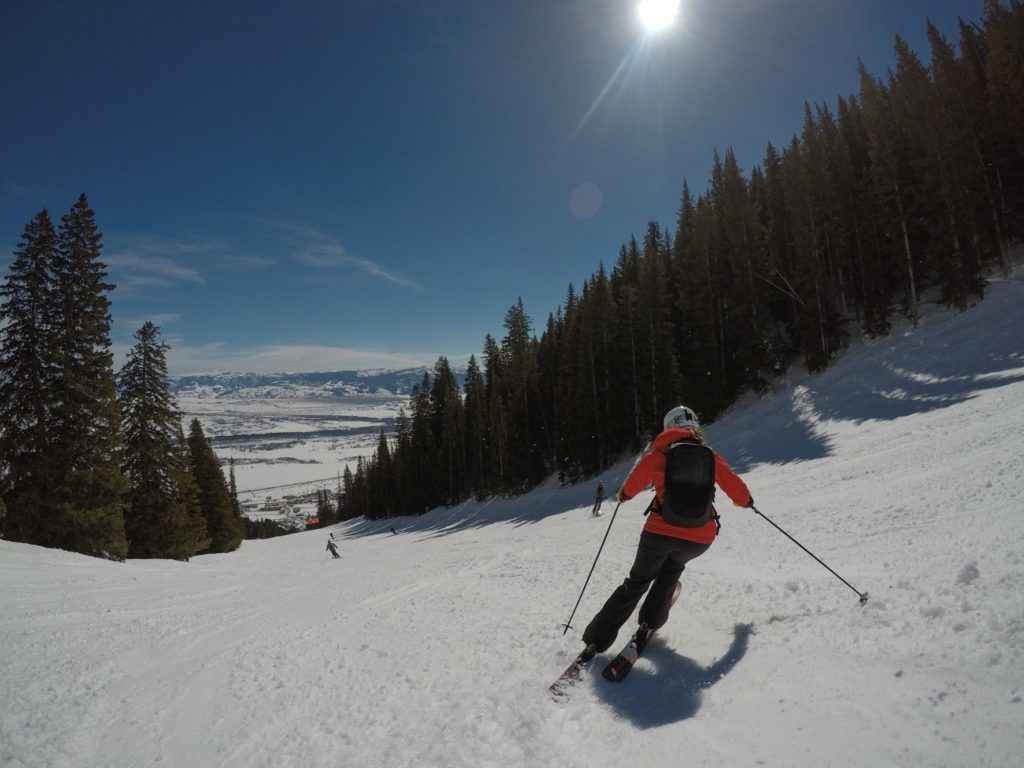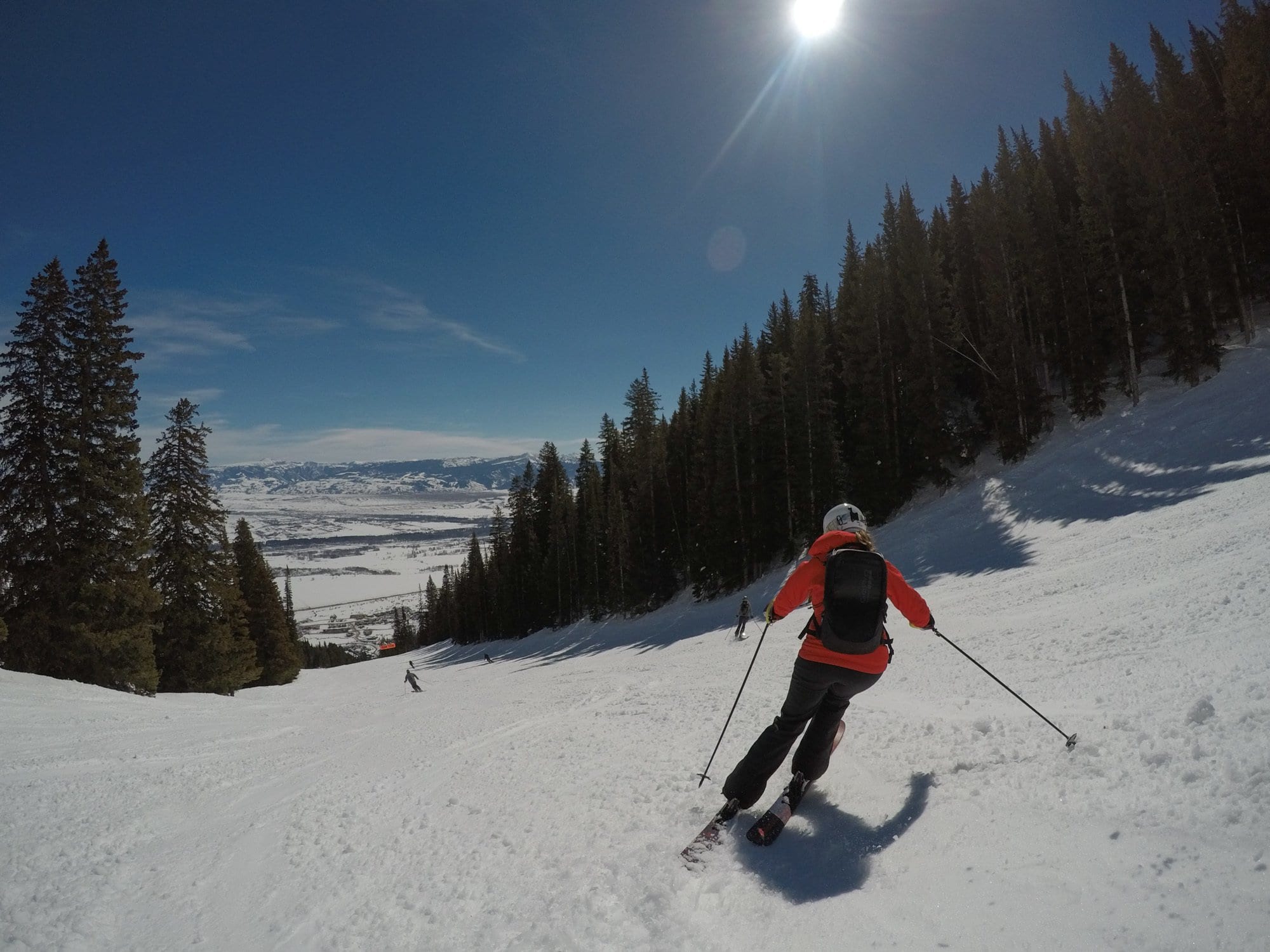 Freeski
The Freeski is the best ski for floating through powder (on or off-piste), ambitious afternoons at the terrain park, and of course, a day on the groomers with your friends. To put it more simply, the Freeski is pretty versatile but won't fare as well on hard-pack or icy slopes.
It's got a wide waist, rocker, and tips with a rocker in the tail and front tip (twin tips) that make it great for skiers of all levels who ski powder often. Freeskis are recommended more for skiers out west in the Rockies or Pacific Northwest than the Northeast.
Insider tip: Understanding Widths
Generally speaking, on-piste skis tend to be narrower, while powder skis tend to be wider. The category definitions are different between manufacturers though, so the widths listed may vary across categories depending on the brand. Remember what we mentioned before about the waist of a ski? Same goes here. Generally, a wider ski will be harder to get up on edge in hard-packed or icy conditions.
---
Factors to Consider When Choosing a New Pair of Skis
Below are a few of the most important factors to keep in mind when shopping for new skiis
1. Terrain
Where you ski is the biggest factor in determining how to choose skis that will be right for you. If you are skiing groomed trails in the Northeast or perfer to ski the entire mountain out West you'll want to choose a pair of skis that perform best in those types of conditions and terrain, regardless of your skills or ability. Think about what and where you like to ski the most and allow that to help guide you in the right direction.
Still not sure what ski works best for your terrain? Let us explain further…
Northeast – Northeast conditions are typically characterized by hard-packed, groomed trails. The snow isn't very deep and it can get icy, so a ski designed for on-trail/on-piste will have a good enough edge to help you dig in and make clear turns. They also tend to be more narrow which allows better control of your skis, too.
West and Pacific Northwest – If you ski in the Rockies with frequent powder days and uneven terrain, or any West Coast mountain for that matter, go for a ski that has a larger width and more rocker. Choose a ski to help you float, rather than sink, into the light and fluffy snow of this region.
Both – Are you a skier who doesn't just stick to one type of terrain? Go for an all-mountain ski that is versatile enough to handle any type of condition.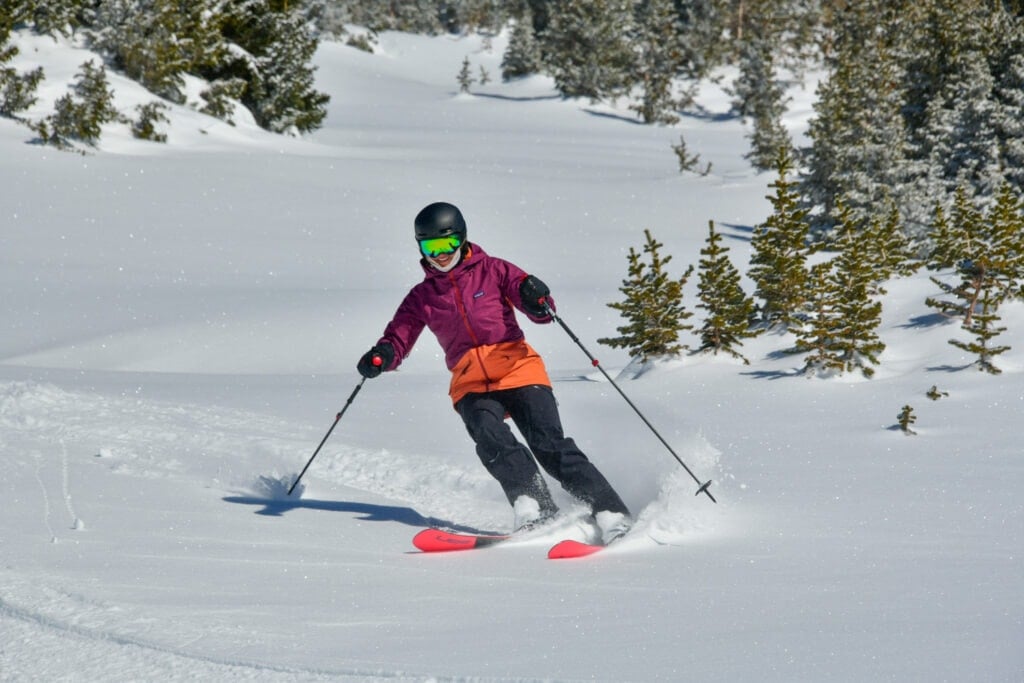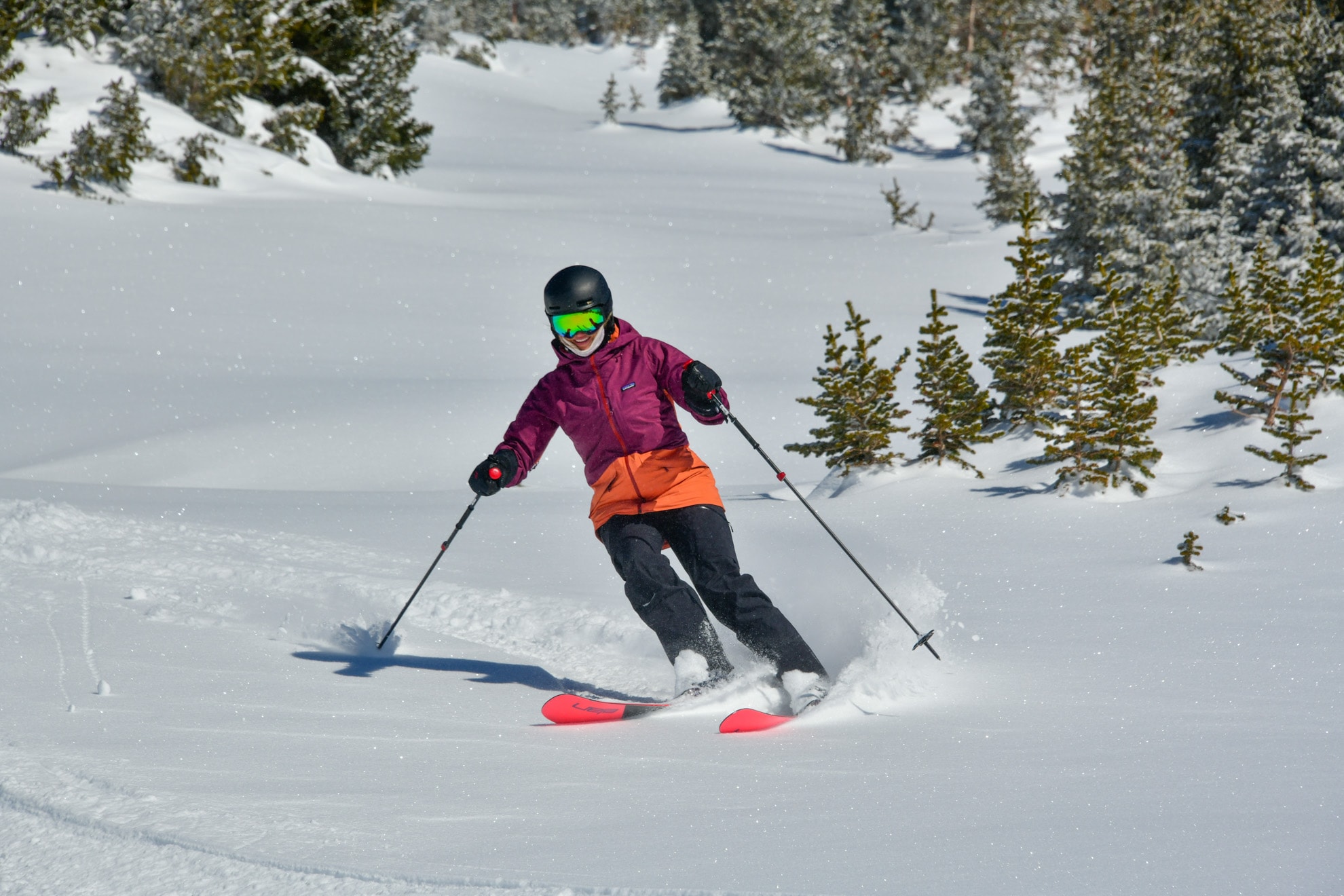 2. Ability
Second to terrain is your ability. If you are a beginner, don't shy away from choosing beginner skis. It's more important to ski on something that suits your needs now so that you can improve your level of stability, control, and confidence on the mountain.
Your ability will determine the flex and width of the waist that your skis have in addition to the terrain. A beginner ski has a softer flex, which is more forgiving for someone just starting out, plus a slightly narrower waist for better control and easier turns.
Intermediate and advanced skiers should choose a ski with a harder flex that can withstand the force and pressure of more advanced or varied conditions and their level of technical skill and control.
3. Gender
Since men and women are built differently, it's better to ski on something that fits your anatomical needs. Men's skis are made to withstand the weight and force of a hard-charging, aggressive male skier. Men's skis can also function as unisex skis but the opposite is not true.
Women's skis are built to match the anatomical needs of a woman's build and stance. A good rule of thumb for beginners is to stick to your gender when choosing a pair of skis.
4. Ski Length
Once you have narrowed it down to the type of skis you want, the last thing you'll need to choose is the right ski length. The ideal ski length varies depending on your ability, weight and height, preference, and the build of the ski.
In general, the length of your ski can be categorized two ways: chin level or head high. For most beginner and intermediate skiers, a shorter ski that measures about chin level is easier to turn, skis well on groomed trails, and are better for people who don't plan on skiing fast and aggressively.
As you progress as a skier, you can graduate to a longer ski that hits closer to the top of your head. Longer skis are most stable with speed, making them better for aggressive, advanced skiers who tend to spend more time off-piste.
For reference, I'm 5'5" and 140 pounds and consider myself an intermediate skier. My skis are 170″cm long.
Insider Tip: Demo Skis First
A great way to figure out if you like the way a ski performs is to demo them. If you rent from the mountain's ski shop, you can generally swap them out throughout the day, allowing you to try multiple pairs. If you find something you like, rental shops often sell their demo skis at a discount, making it a great way to get your first pair of skis at an affordable price.
Every single pair of skis I own were purchased as demo skis, and you should also keep an eye out for end-of-the-season sales since rental shops typically try to sell off their skis to make room for new stuff the following year.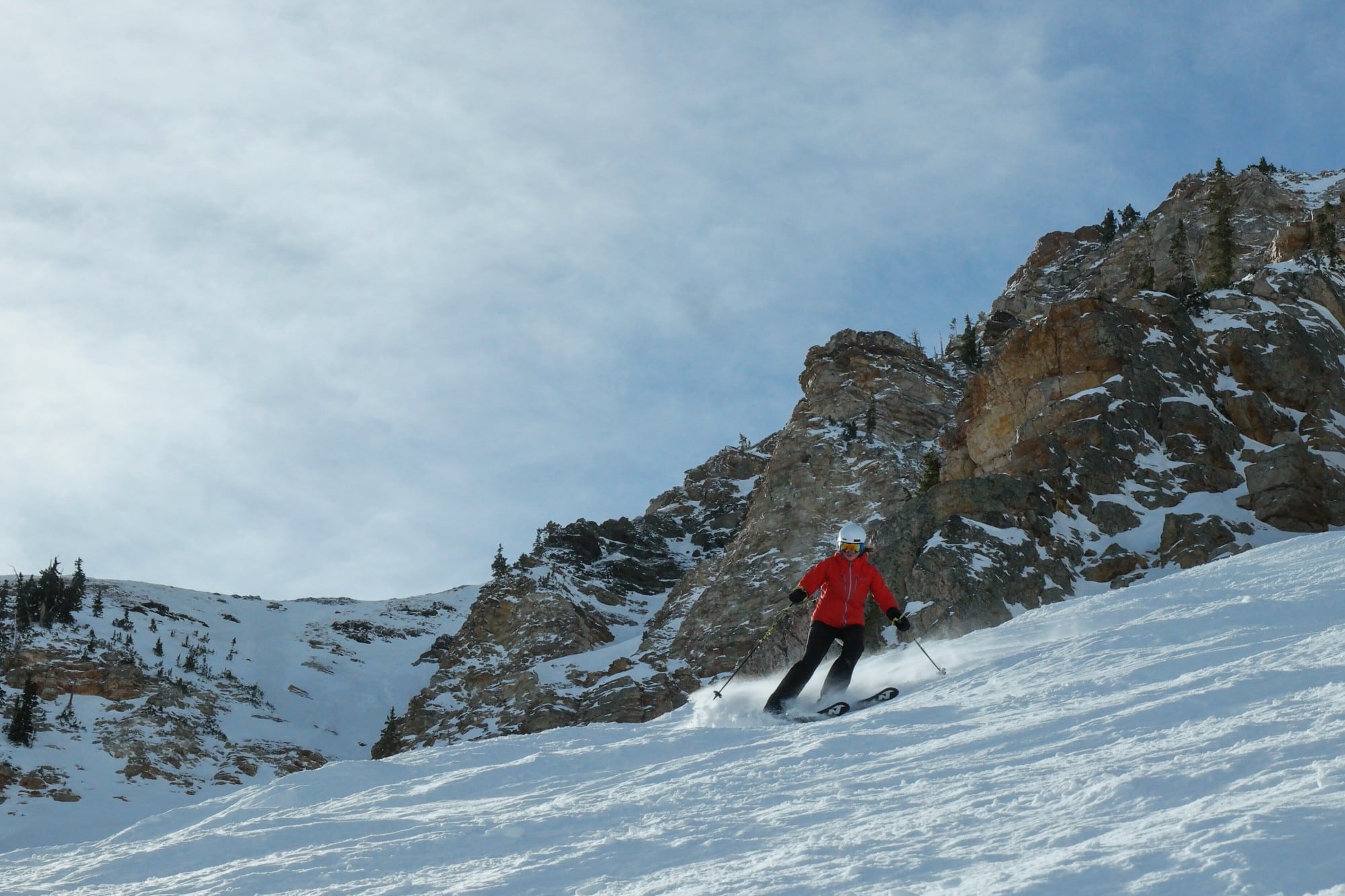 ---
My Favorite Pair of Women's Skis
Last year I switched from the Nordica Santa Ana, which is a very stiff ski, to the Elan Ripstick, and I've seen a huge improvement in my skiing.
The Elan Ripstick is a free ski and is unique in that there is a right and left ski. The edges on each ski are designed to make turning effortless. Whether you're in tight trees or in wide-open bowls, the Ripstick is extremely maneuverable, so you can pick your line with ease.
I also like how stable the Ripstick is. My old skis were considerably heavier and stiffer, which made them harder to steer, but also very stable. I was nervous to transition to a lighter, softer ski and wondered how it would handle bumps, crud, and chopped up powder. I've used the Ripstick's exclusively in the 2019-2020 season in a variety of conditions (both on groomers and powder), and I felt in control, stable, and confident. I consider myself an intermediate skier, but I think the Ripstick is a great ski for all skill levels.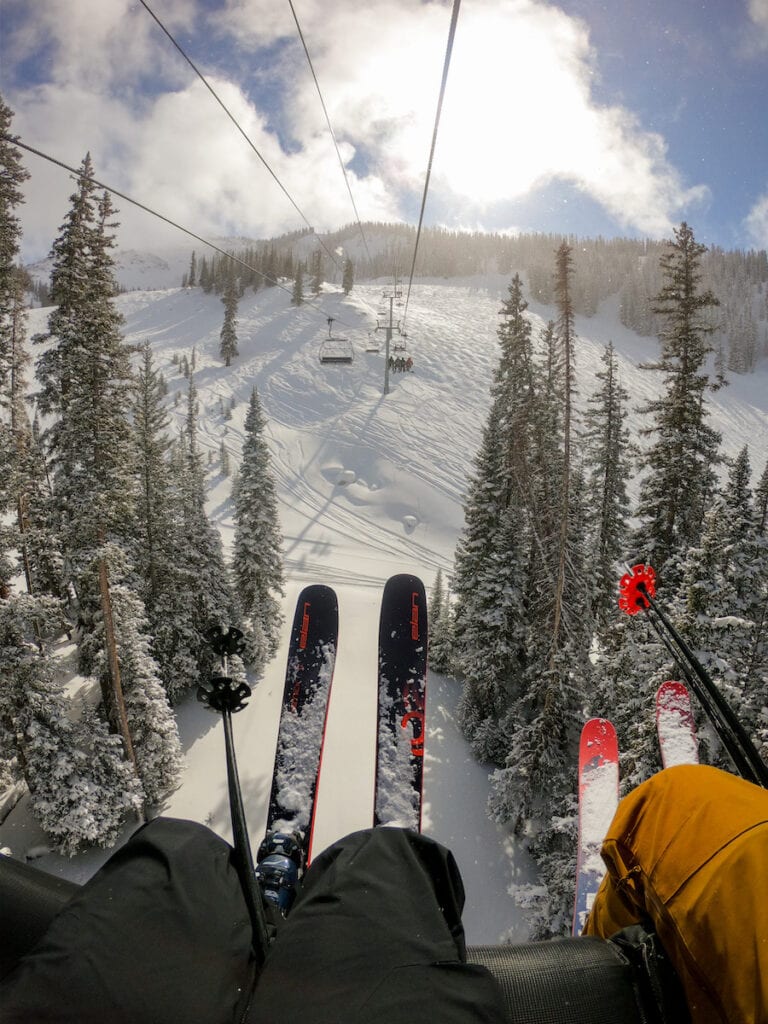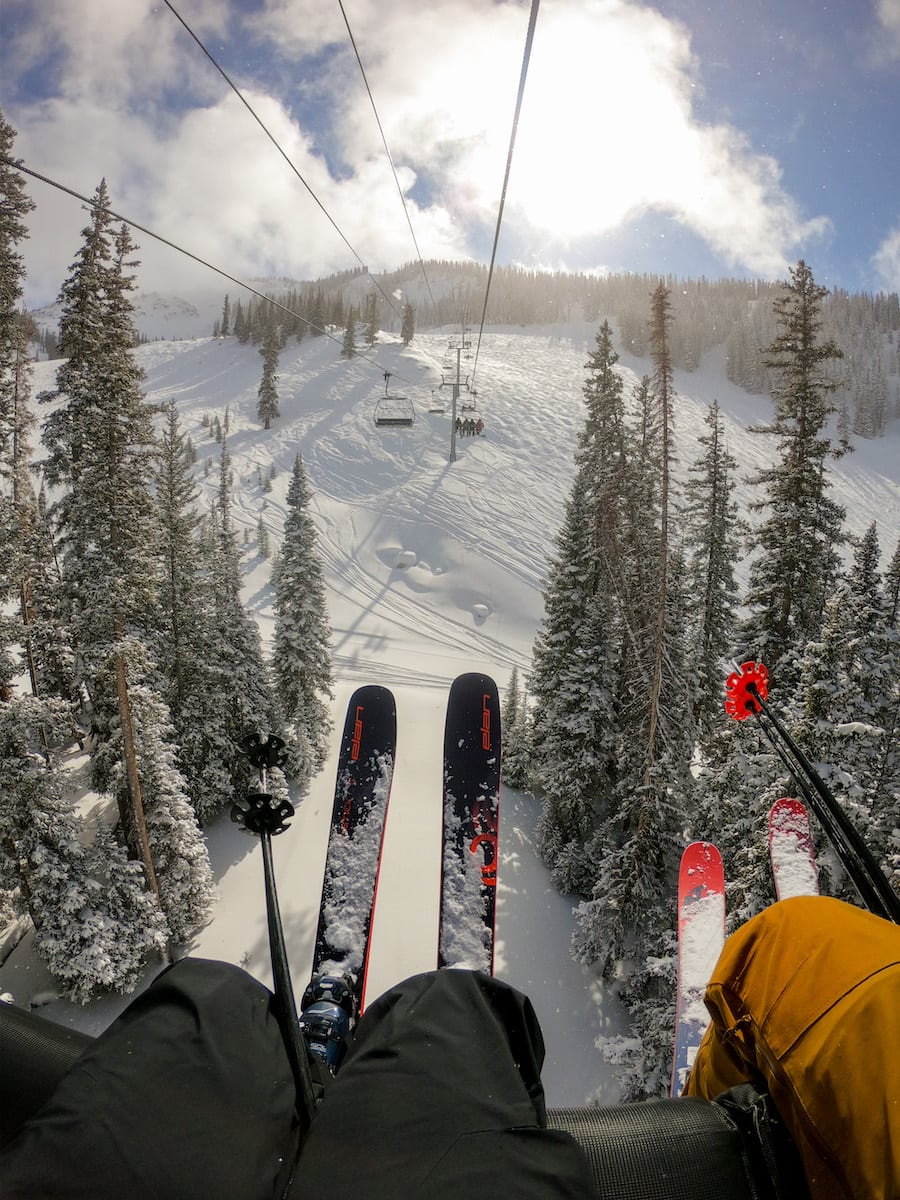 If you frequently ski powder, I'd recommend the 102 width (what I have) which floats through deep snow but can also hold an edge on the groomers, as long as it's not too firm.
If you stick to the groomers or live out east where icy conditions are common, you should consider the 94mm or 88mm width which will be more agile and easier to get on edge.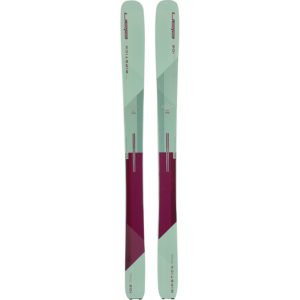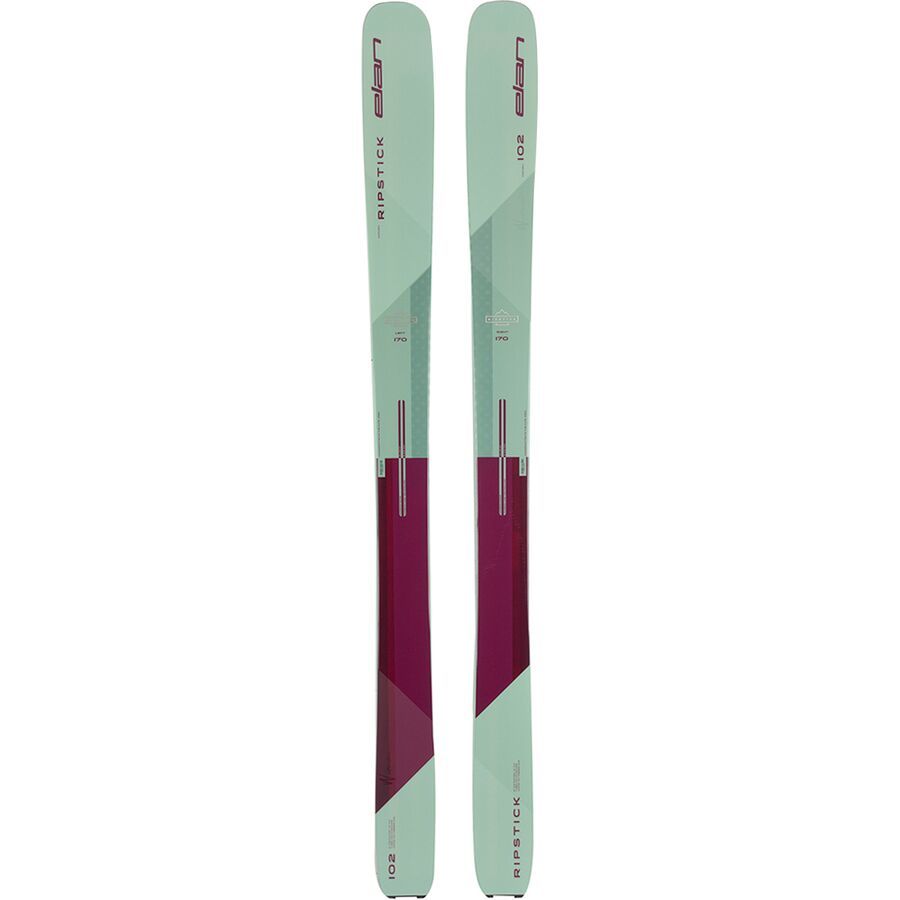 Check price: Backcountry / evo / Elan
---
We hope this guide on how to choose skis helps you pick out the best pair of skis for your winter ski season.
Do you already have a favorite pair of skis? What are they and why do you love them? Leave your comments and questions below!